2022 BMW M3 Touring: price, specs and release date
2022 BMW M3 Touring: price, specs and release date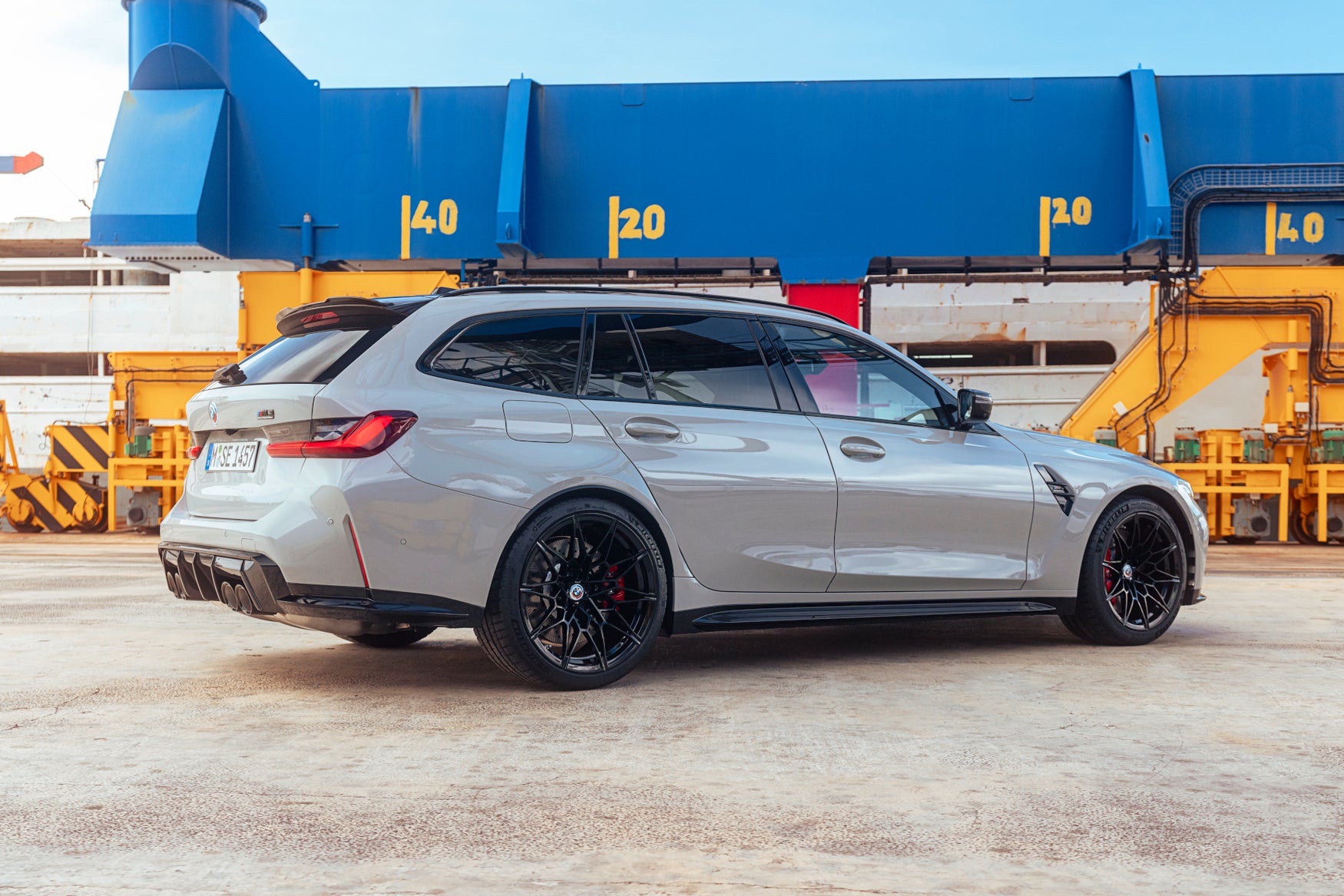 After months of teasing, the new BMW M3 Touring has been officially revealed as BMW's first production M3 estate.
Debuting as a direct rival to the Audi RS4 Avant and Mercedes-Benz C63 Estate, the BMW M3 Touring is available to order now and celebrates its first public outing at the Goodwood Festival of Speed.
2022 BMW M3 Touring: price and release date
BMW's first ever production M3 Touring is open for orders straight away. Like the M3 saloon it's only available in Competition guise in UK markets, but unlike the saloon you can only have it with the xDrive all-wheel-drive system.
This means the BMW M3 Touring commands a premium over the cheapest saloon, with a price tag of £80,550 adding just under £2,500. Oddly, though - if BMW's configurator is anything to go by - that price is £420 less than an xDrive-equipped M3 saloon. We don't understand why either, but it could make the M3 Touring a no-brainer for many.
The base price makes the M3 Touring £10,000 more expensive than the cheapest Audi RS4 Avant, although you can certainly spec the Audi up to and beyond that figure. We don't yet know how much the controversial new hybrid Mercedes-AMG C63 will cost, but given the added hybrid complexity we'd expect it to be at or even above the M3 Touring's price. Regardless of cost, the BMW M3 Touring is certainly one of the most eagerly awaited new cars of 2022.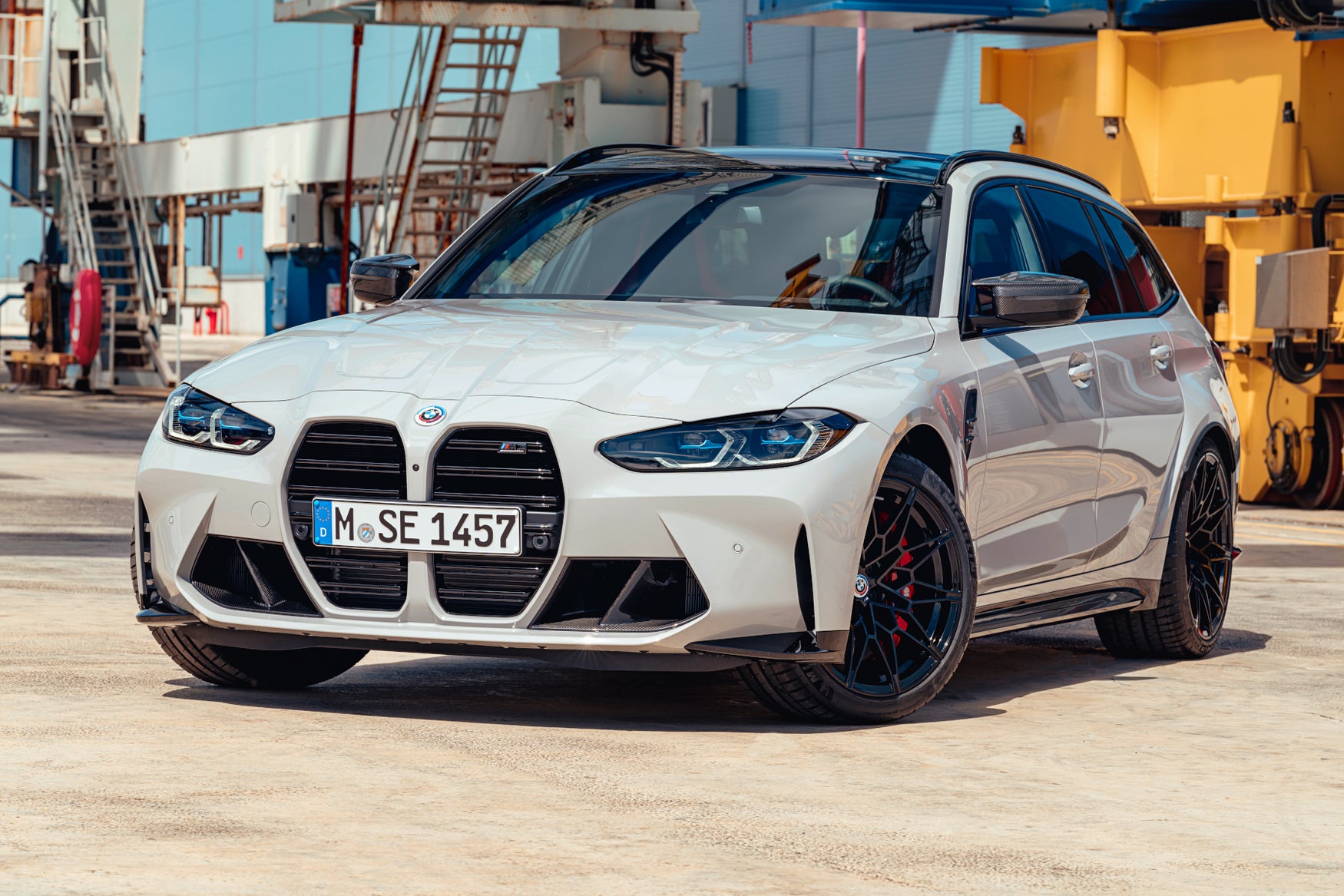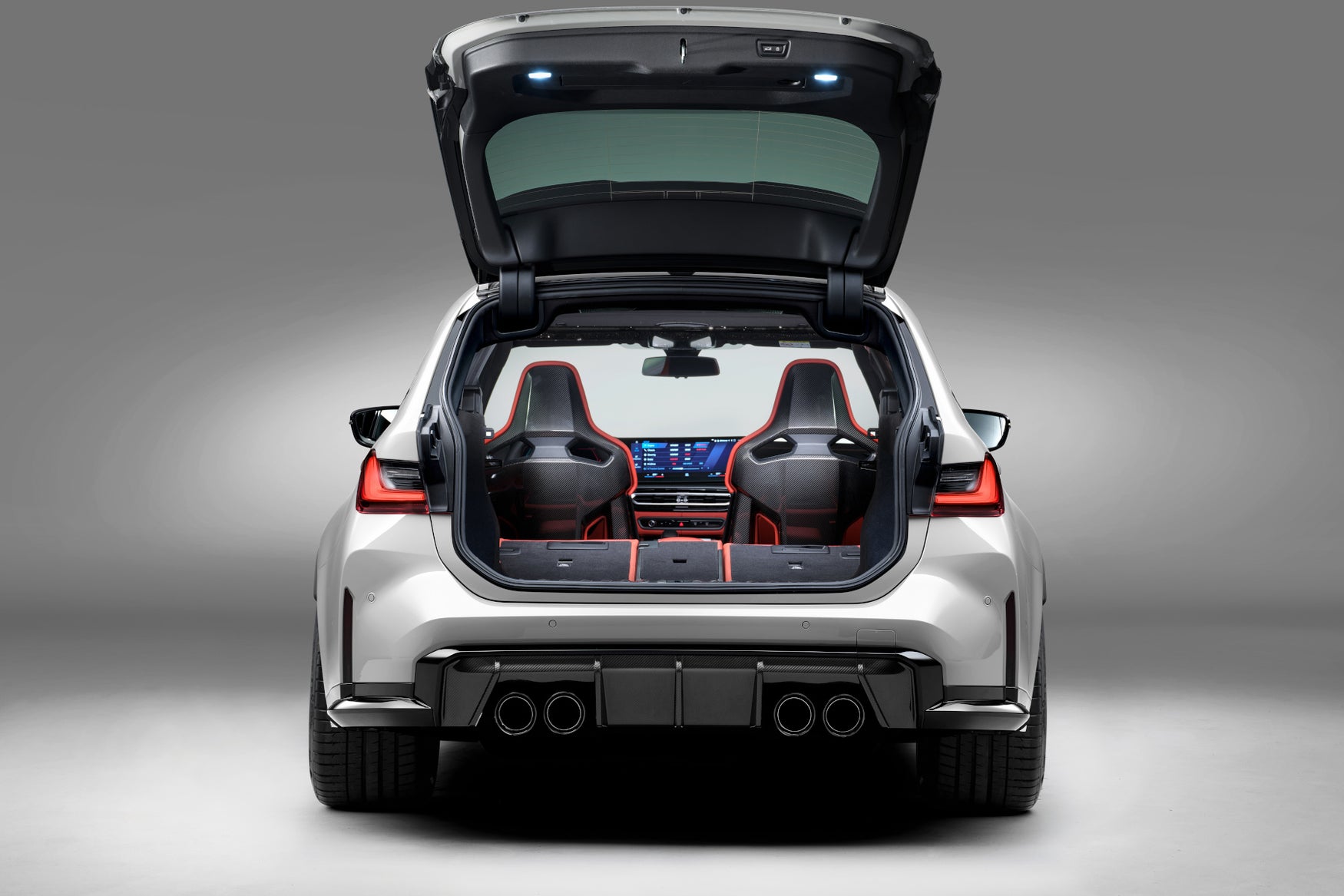 2022 BMW M3 Touring: Exterior and interior design
Nobody can act surprised when looking at the new BMW M3 Touring - it's an M3 saloon with the rear bodywork from the 3 Series Touring. But looking at the dimensions you can see there's more to it than that.
The M3 Touring's dimensions are 4794mm in length, 1903mm in width and 1436mm in height. That makes it 85mm longer, 76mm wider and 4mm lower than the 3 Series Touring on account of its muscular front and rear end designs, wider track and hefty wheelarch extensions.
Of course, it gets the M3's immensely divisive vertical kidney grille in black, sizeable M lower intakes, chunky lip spoiler and side skirts and the diffuser style rear-end with quad tailpipes. Black detailing features all over, including M-specific mirrors in gloss black and Jet Black alloy wheels.
Those wheels - 19-inches at the front and 20-inches at the rear - can be had in a two-tone diamond polished finish, or optional M forged wheels with different finishes are also available. Track tyres can be specified too, should you find a chance to ditch the kids and the dog for an afternoon.
You also get standard full LED headlights on the M3 Touring, with optional BMW Laserlights, plus an optional M Carbon exterior design package. But there's a nod to practicality with some subtle roof rails joining that estate bodywork.
Speaking of which, raise up that electrically opening tailgate and you'll find a 500 litre boot that extends to 1,510 litres with the seats folding flat in their handy 40:20:40 split. That's the same capacity as the 3 Series Touring and a mere 20 litres more than the M3 saloon, but it's the larger opening that makes it more useful.
You also get neat touches such as an opening rear window to let you chuck in smaller objects easily, plus options such as rubberised anti-slip devices that rise from the boot floor to hold your luggage in place when you decide to aggressively fling it into a bend. Handy.
Elsewhere the cabin is identical to the M3 saloon, bar a touch of extra headroom in the rear. That means you get an awful lot of carbon detailing, specific M touches such as wheel-mounted custom mode switches and bigger gearshift paddles, and the option of bold, figure hugging M carbon seats.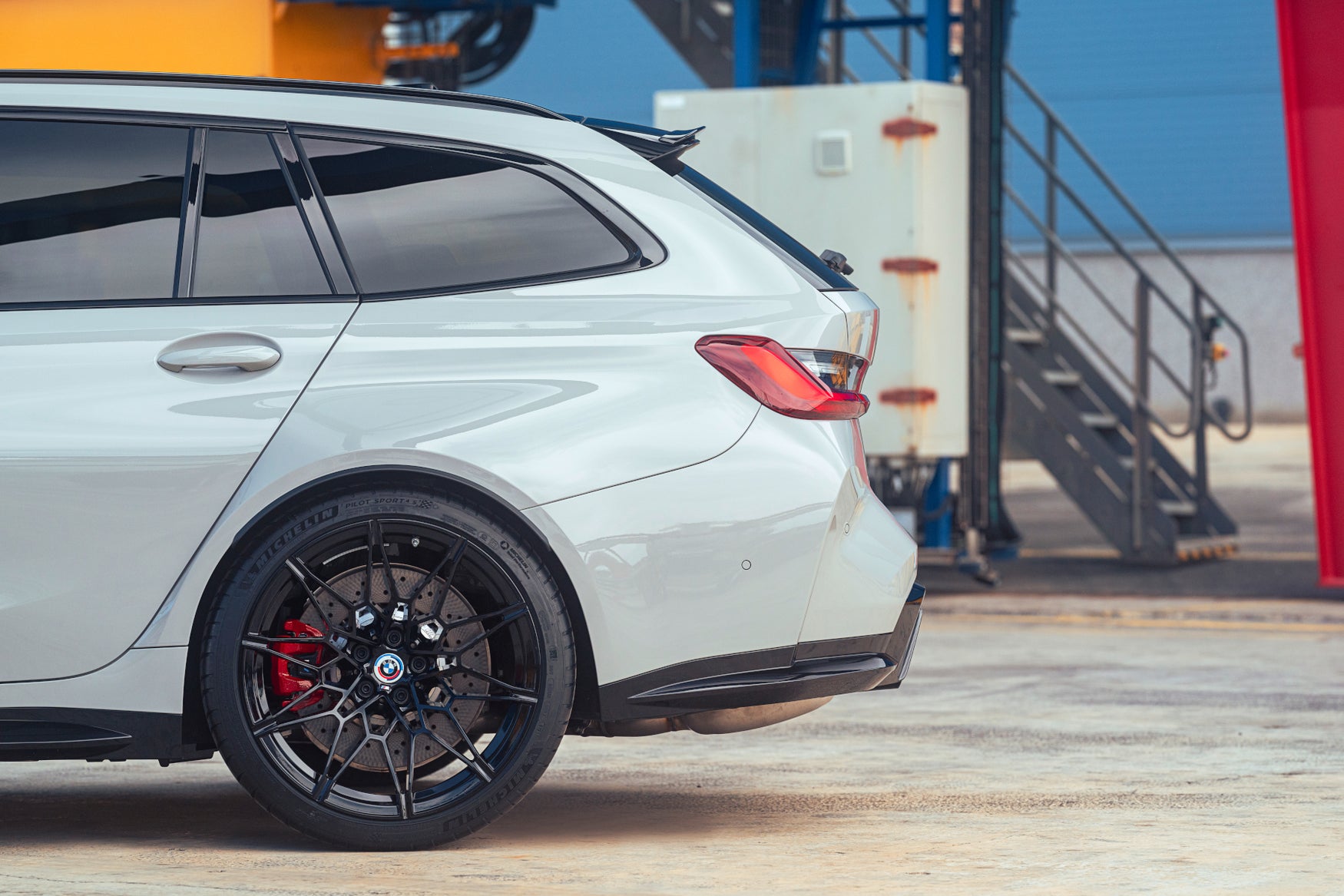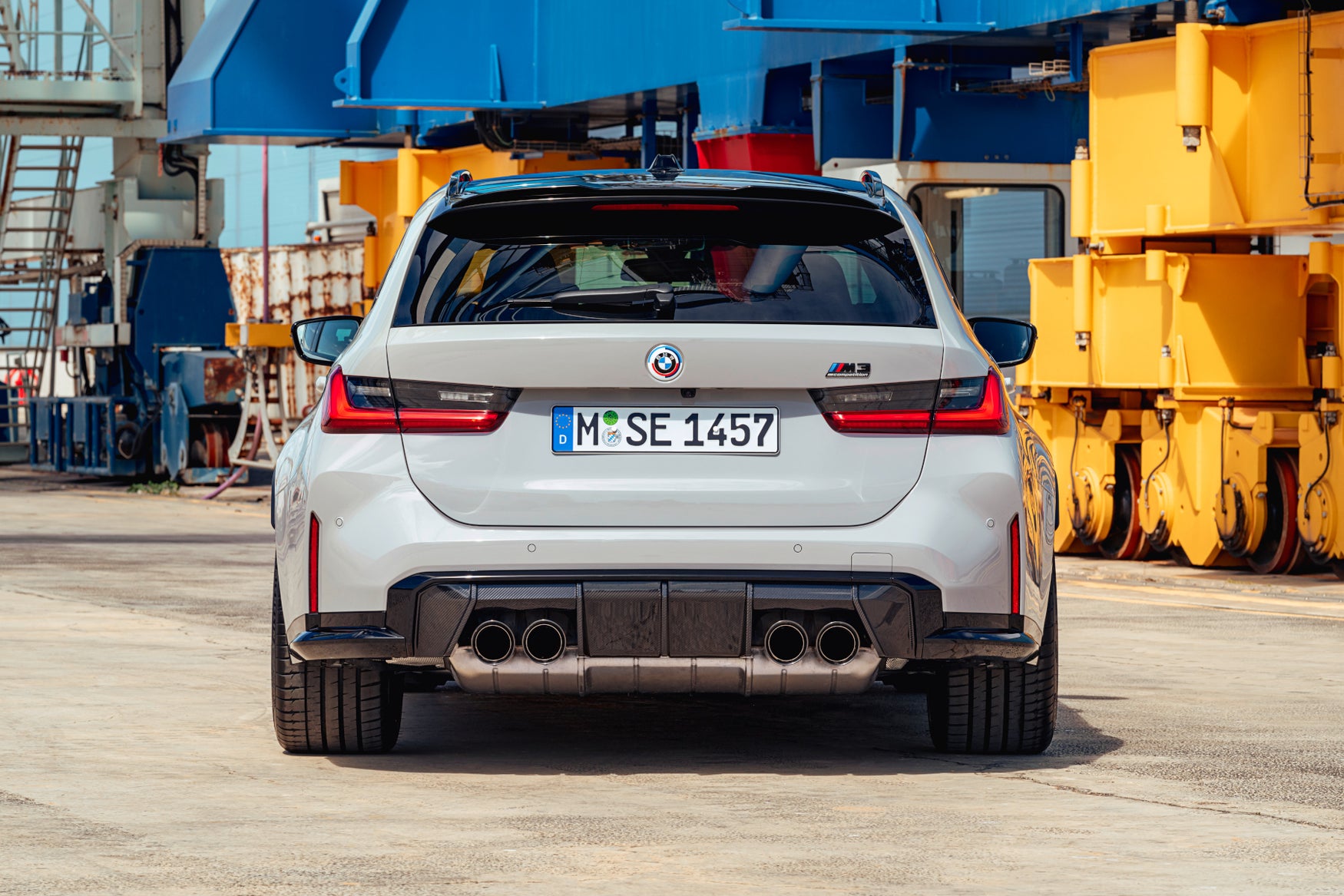 2022 BMW M3 Touring: Power and specs
The technical specs for the BMW M3 Touring are very similar to that of the M3 saloon. That means a meaty 3.0-litre twin-turbo straight-six with 510PS and 650Nm of torque putting its power through an eight-speed automatic gearbox only (other markets get a manual option).
With xDrive all-wheel drive standard fitment on the M3 Touring, it's capable of sprinting from 0-62mph in just 3.6 seconds. That's a 0.1 second deficit to the M3 saloon xDrive, something which you'd be very hard pushed to notice.
The top speed of the M3 Touring is limited to 155mph, but as with the saloon you can spec an M Driver's Pack that raises the limiter. In the saloon it takes it up to 180mph, but the Touring is limited to 174mph. That'll only matter if you spend an awful lot of time on the German Autobahn.
BMW has yet to release a weight figure for the M3 Touring, but we know there's roughly a 70kg increase between the 3 Series saloon and 3 Series Touring. That means a figure of around 1850kg is likely. Other than new rear dampers the chassis setup is identical to that of the M3 xDrive saloon.
That mean you get Adaptive M suspension, increased structural rigidity, a variable ratio steering rack, special differentials and the switchable all-wheel drive system, which allows you to move between the security of full all-wheel drive, '4WD Sport' which allows a bit of slip, and a full rear-wheel drive mode which shuts off power to the front wheels to allow for drifting antics. There's also the multi-mode traction control system, while options include carbon ceramic brakes.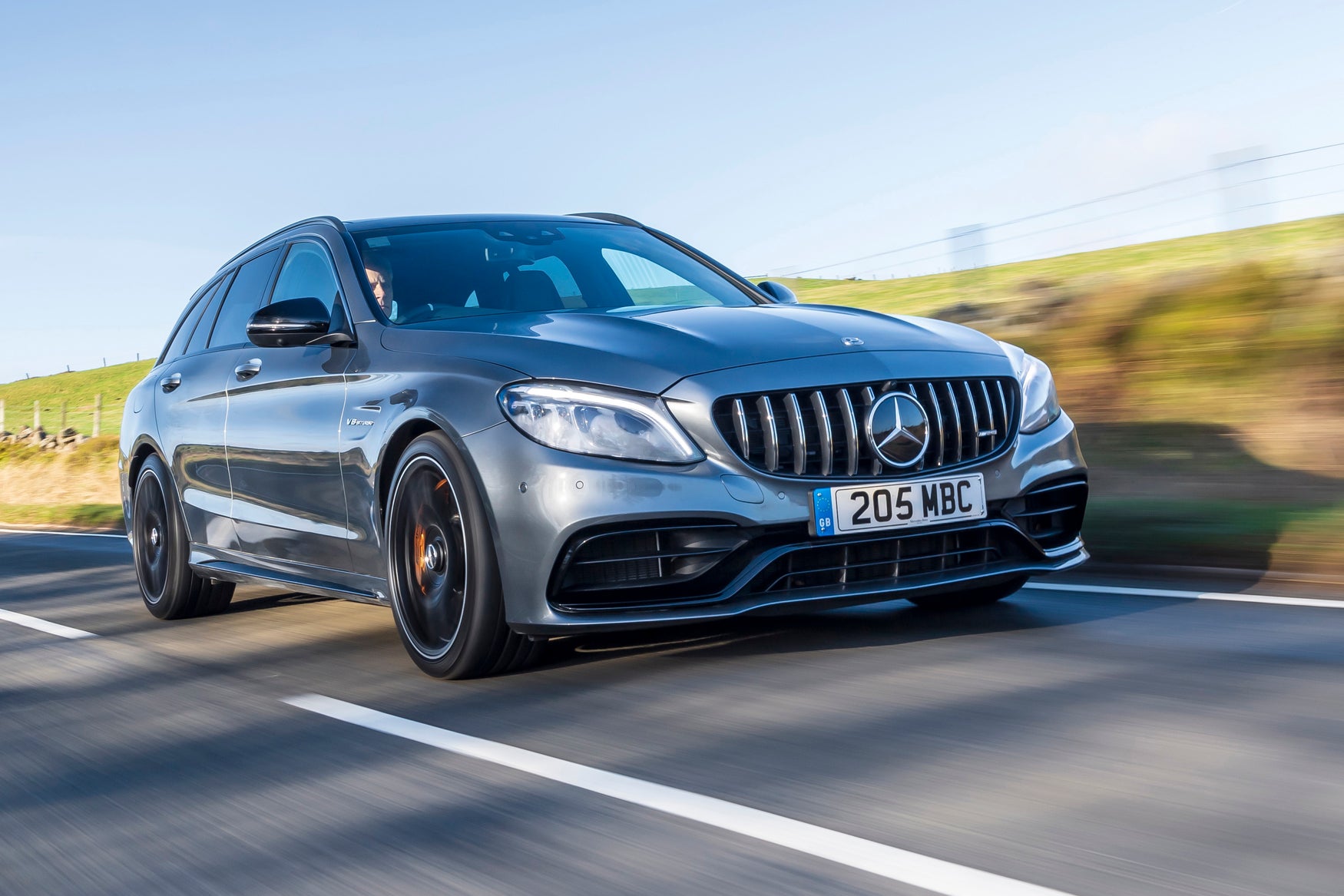 Can't wait for the BMW M3 Touring? You need a Mercedes-AMG C63 Estate...
If you want a fast German estate and can't wait for the BMW M3 Touring then this, the outgoing Mercedes-AMG C63 Estate, could be the car for you. When building a C63, Mercedes sends a standard estate to its tuning division AMG, which promptly wedges a twin-turbo 4.0-litre V8 under the bonnet, upgrades the suspension, brakes and adds a limited-slip differential. Put all that together and you have an estate that can keep supercars in its wake. Prices start from less than £35,000 but a little over £40,000 buys you a 2017 model with less than 30,000 miles on the clock.
Looking for more new car news?
We have the latest 2022 new car news on upcoming models such as the new Polestar 3 electric SUV, the latest BMW X1 and electric iX1 and the new generation Range Rover Sport.
BMW made a Touring version of the E43 M3, however, it was a prototype that never made it to production.
Touring is the name BMW gives its estates, it's the equivalent of Avant – Audi's name for its estate models.
The BMW M3 Touring is available to order now, so expect first deliveries to arrive before the end of 2022.