2022 Dacia Spring Electric: price, specs and release date
2022 Dacia Spring Electric: price, specs and release date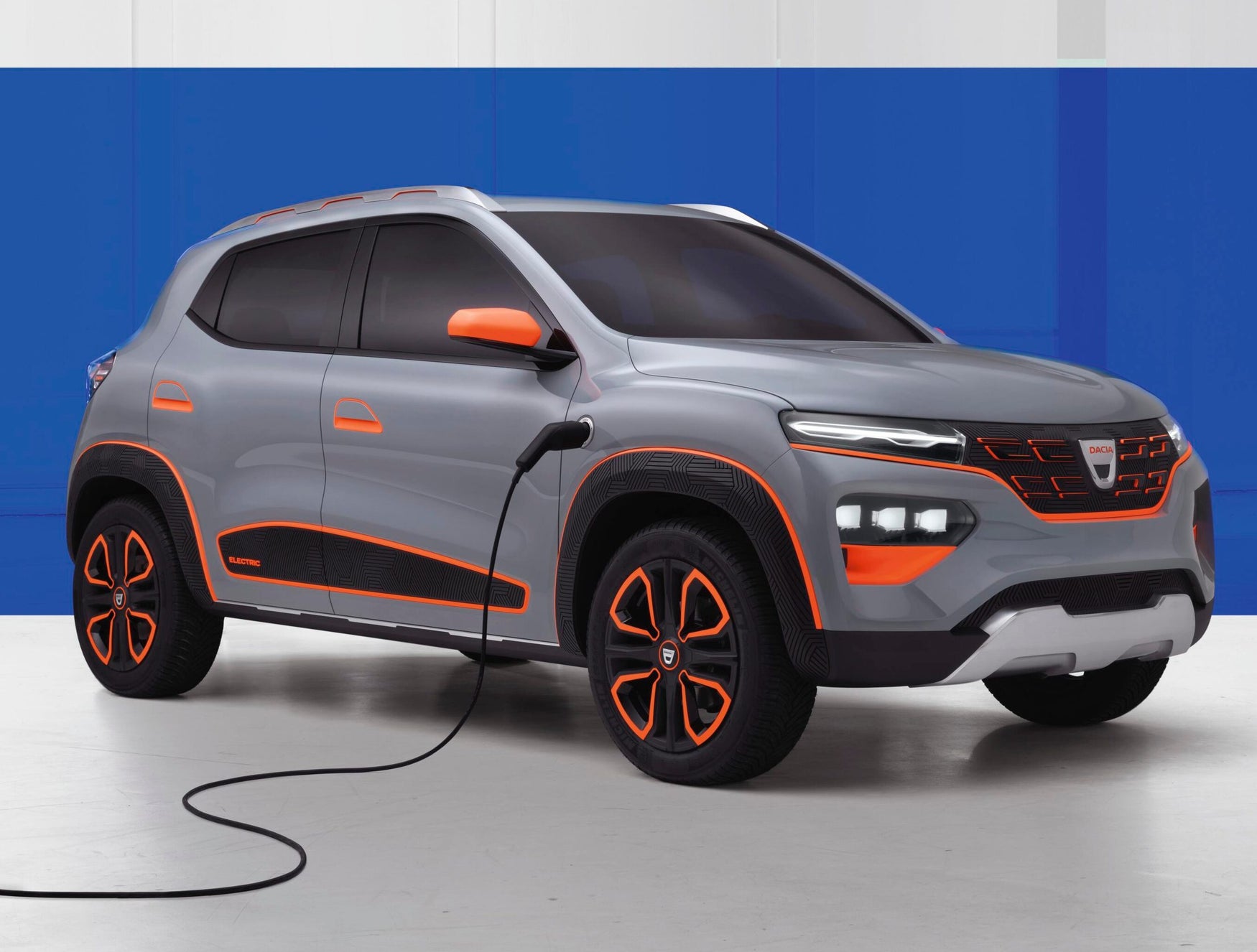 Dacia Spring Electric is set to pull off the same trick as the company managed with the Sandero – the UK's cheapest car – by becoming the country's cheapest electric car.
If the Dacia Spring Electric gets the go-ahead for sale, you can expect it to have a price tag that competes with quadricycles like the Renault Twizy, making it one of the cheapest electric cars going.
2022 Dacia Spring Electric EV price and release date
The Dacia Spring Electric's USP will not be its flash interior, clever infotainment, smart gadgets or huge range – it'll be its knockdown price, which is expected to be around £10,500.
That's around half what you'll pay for the cheapest EV in the UK currently - the Smart EQ ForTwo – a car that has two seats and a laughably small boot. By contrast, the Dacia Spring Electric will have room for four people and a boot that'll swallow a week's worth of luggage.
Despite this, Dacia has yet to confirm whether the Spring Electric will go on sale in the UK but, if it does get the go-ahead, you can expect it to be in showrooms before the end of the year. We reckon it could be a huge hit and one of the most talked-about new cars of 2022.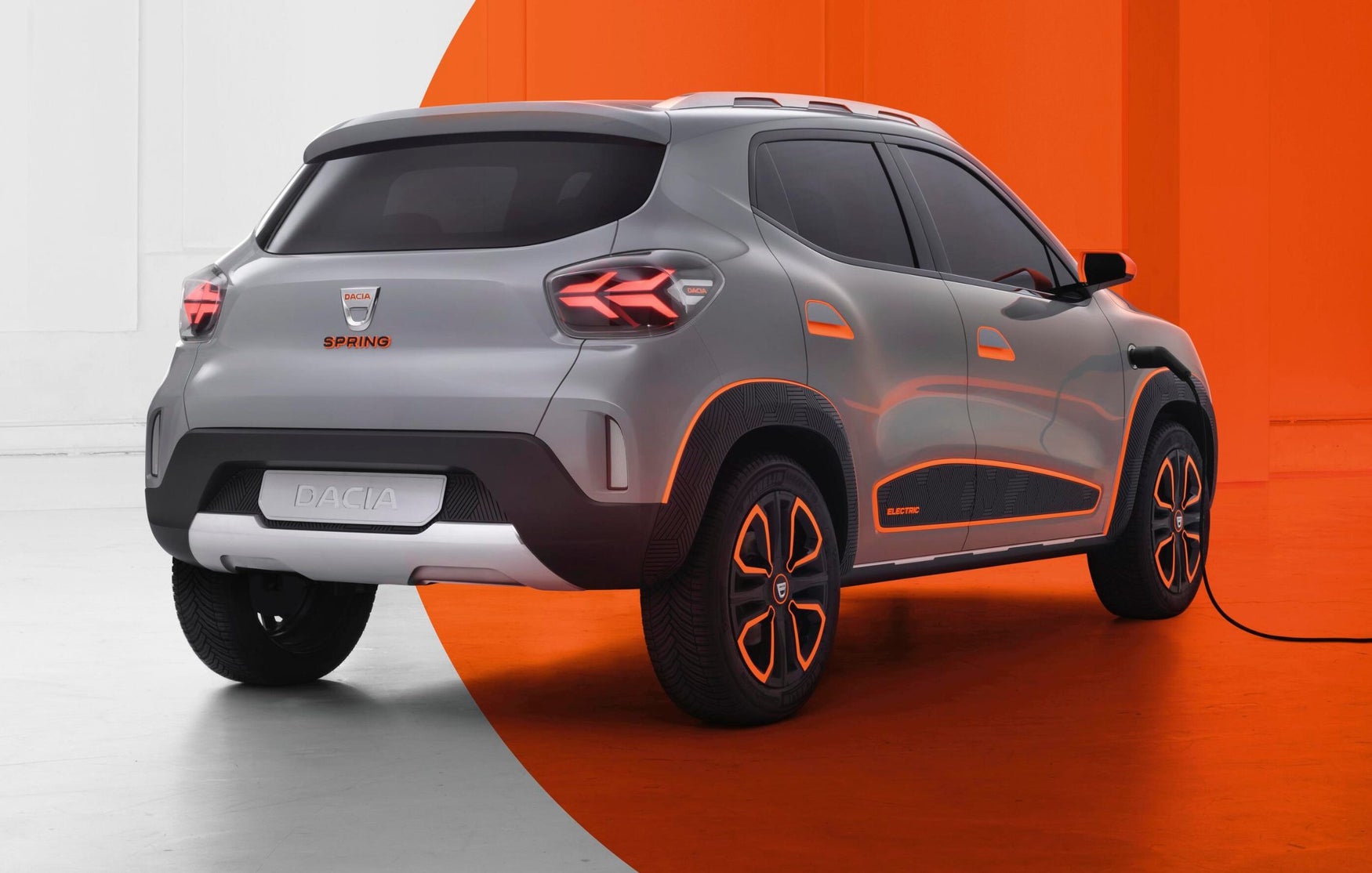 2022 Dacia Spring Electric EV exterior
The Dacia Spring Electric will follow the same back-to-basics design approach that you've already seen in models like the Sandero, Jogger and Duster.
Upfront, you get a similar black grille found on the rest of the range, while low-power-consuming LED headlights will likely be chosen over standard bulbs to boost the car's range.
Cheap, unpainted black plastics will feature heavily on the outside, and you'll get handy features like roof bars. Raised suspension makes the Spring look like an SUV and will help it deal with potholes and speeds humps, although it won't have four-wheel drive. Meanwhile, steel wheels with plastic trims look like alloy wheels but are much cheaper to produce.
You can also expect the Spring to be offered with colour packs and graphics to help it appeal to younger buyers hoping to stand out from the crowd.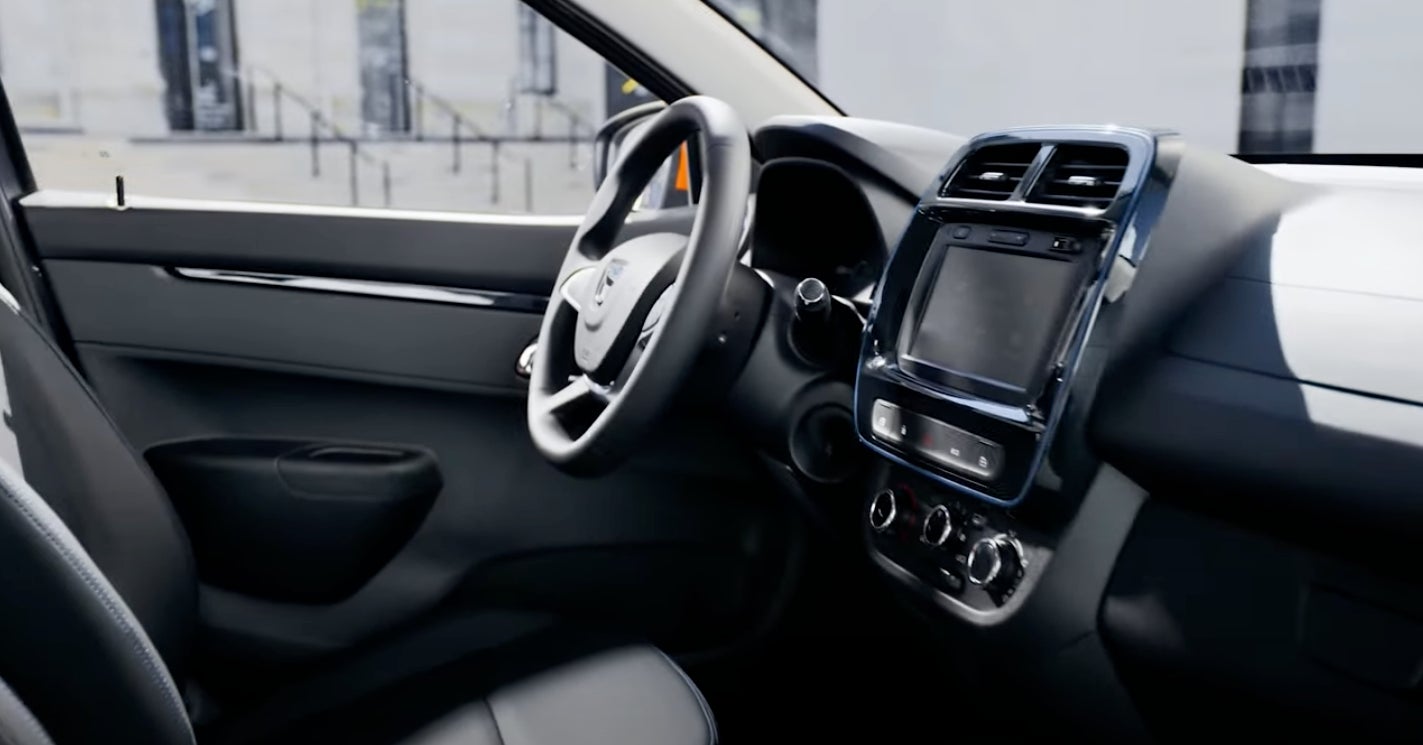 2022 Dacia Spring Electric EV interior
The interior takes much the same approach. It'll be constructed entirely from hard plastics but circular air vents lend a sporty design and several conventional buttons should make the dashboard easy to navigate. The most obvious clue that the Spring Electric is an EV comes from the drive select rotary switch between the front seats.
Disappointingly, the airy design you get in pricier electric cars – that take advantage of their electric underpinnings to give you a flat floor and no centre console – is nowhere to be seen in the Dacia. On the upside, there's room for four tall adults and the 300-litre boot is bigger than you'll find in a city car like the Volkswagen Up.
Even the kit list is generous for a Dacia, air-conditioning comes as standard, as does Apple CarPlay and Android Auto.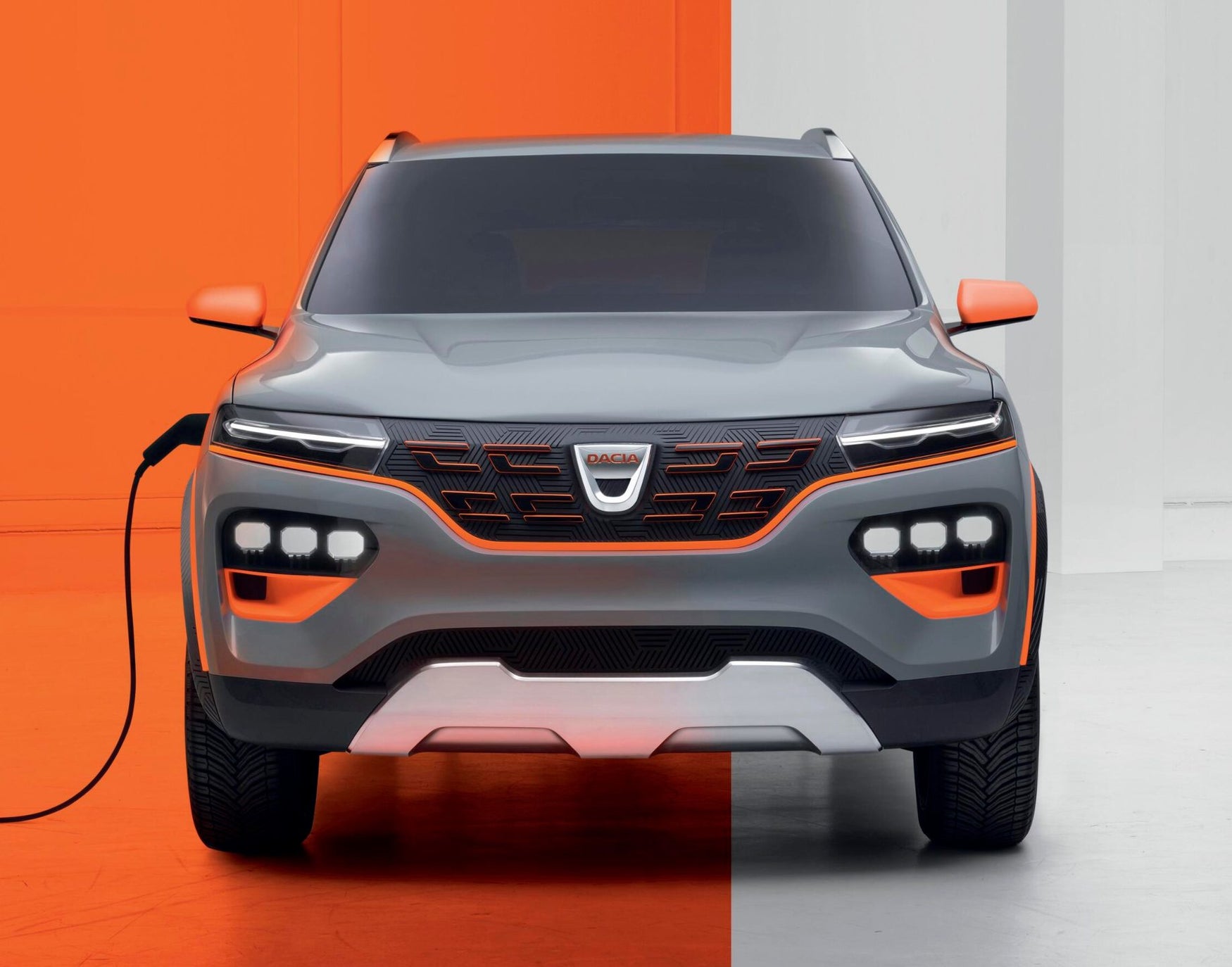 2022 Dacia Spring Electric EV performance and range
What makes this most impressive is that the Dacia Spring Electric is indeed electric, with an expensive 26.8kWh lithium battery and a 33kW (44PS-equivalent) motor. That should give it seamless in-town performance, while a range of 140 miles and a top speed of 78mph means out-of-town jaunts aren't entirely off the menu.
That said, the city is where the Spring Electric will thrive. It has a tiny 4.8m turning circle for superb manoeuvrability, while the raised suspension should help it pogo over speed humps and through potholes with gay abandon.
Using a 30kW charger – the type you find dotted around towns – it'll take you 1 hour to charge the Dacia's battery from 0-80 per cent, while it'll take 5 hours from a 7.4kWh wall box charger. Or 14 hours if you're game to plug it directly to a three-pronged plug socket.
Charging it at home will save you a fortune and, once you factor in the price, and the cheap servicing (thanks to fewer moving parts and fluids) – the Dacia has the potential to give you a wider smile than a Lidl receipt after a huge shop.
If it does come to the UK, we reckon the Dacia Spring Electric could take the market by storm in much the same way as that German supermarket brand.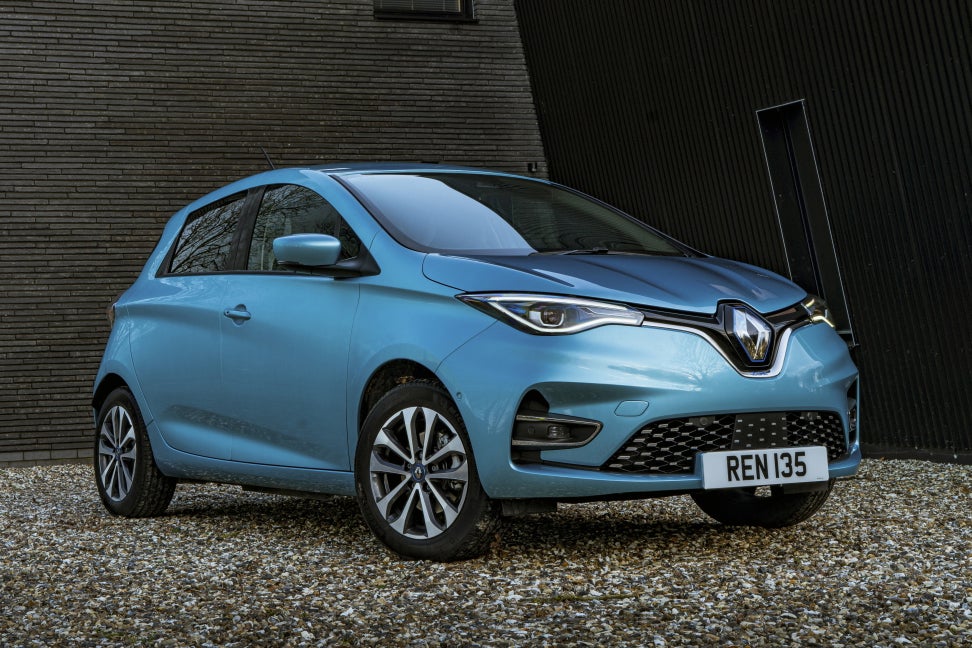 Can't wait for a Dacia Spring Electric? Time to consider a Renault Zoe…
While the Dacia Spring Electric would be the cheapest new EV on the market if it gets the go-ahead for UK sale, a second-hand Renault Zoe is even cheaper – they're going for less than £6000. That buys you a 2017 22kWh model with less than 80,000 miles on the clock. The simple design of its electric motor should translate into excellent reliability and its range – of 130 miles – is perfect for town use.
Electrifying deals on a used Renault Zoe worth up to £2,920
The Dacia Spring Electric has yet to be confirmed for the UK, but in France, it sells for the equivalent of less than £11,000.
Charging the Dacia Spring Electric's battery from 0-80% takes as little as 1 hour using a 30kW wall charger.
It depends on the battery size, but most electric cars cost less than £10 to charge at home on an off-peak tariff.
Cars the Dacia Spring Electric has to beat