2022 (G42) BMW 2 Series Coupe: price, release date, interior, engines, performance and specs

Written by
Russell Campbell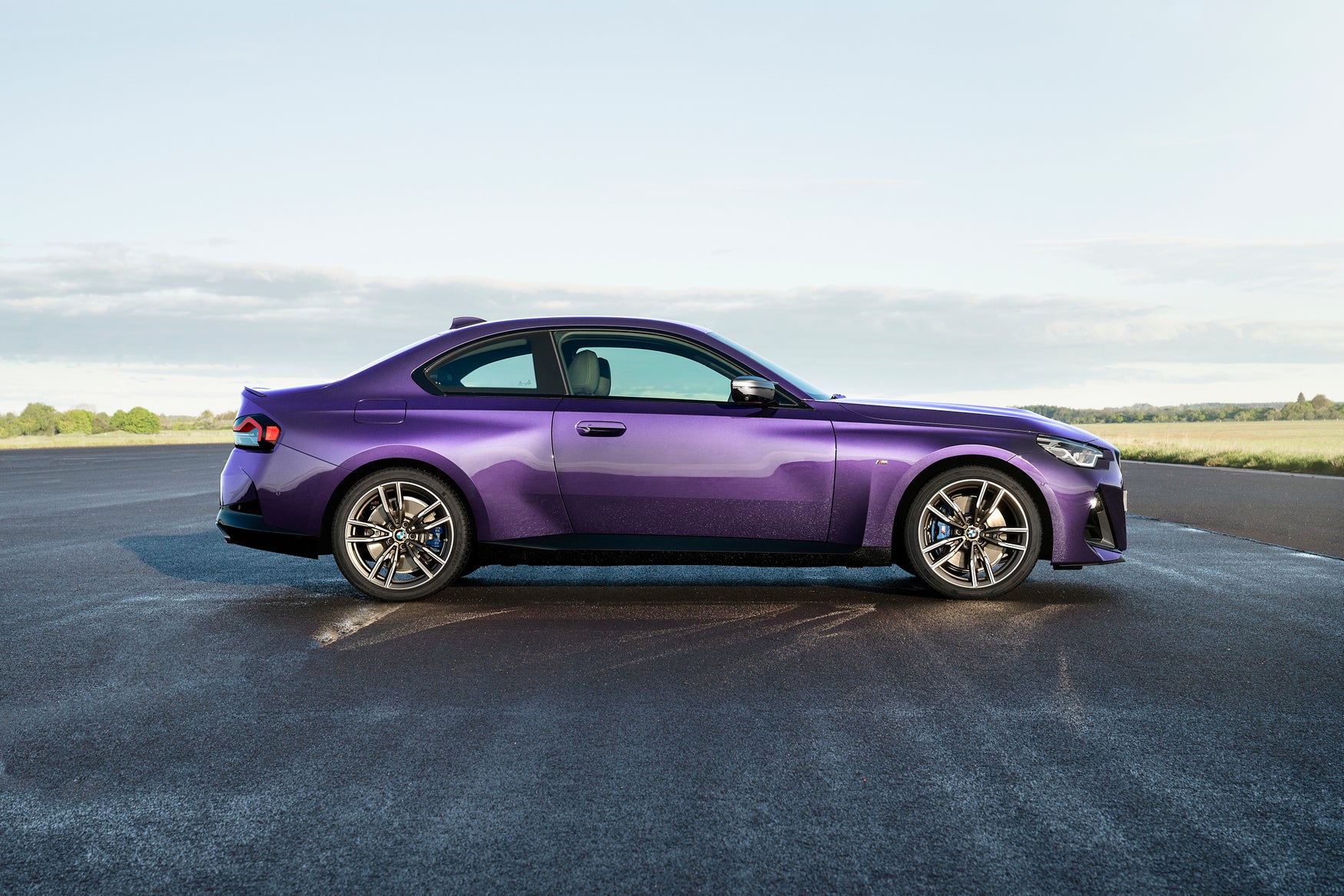 2022 BMW 2 Series revealed
M240i xDrive gets 374PS straight-six
50:50 weight balance
Priced from £34,980
On sale early 2020
Pictures of the 2022 BMW 2 Series Coupe have been revealed ahead of the car's world premiere at the Goodwood Festival of Speed.
The new 2 Series gets classic BMW coupe looks – so thankfully no 4 Series style, gopher-toothed grille – a 50:50 weight balance, the latest infotainment and an engine lineup that includes a 374PS straight-six. Keep reading for all the details.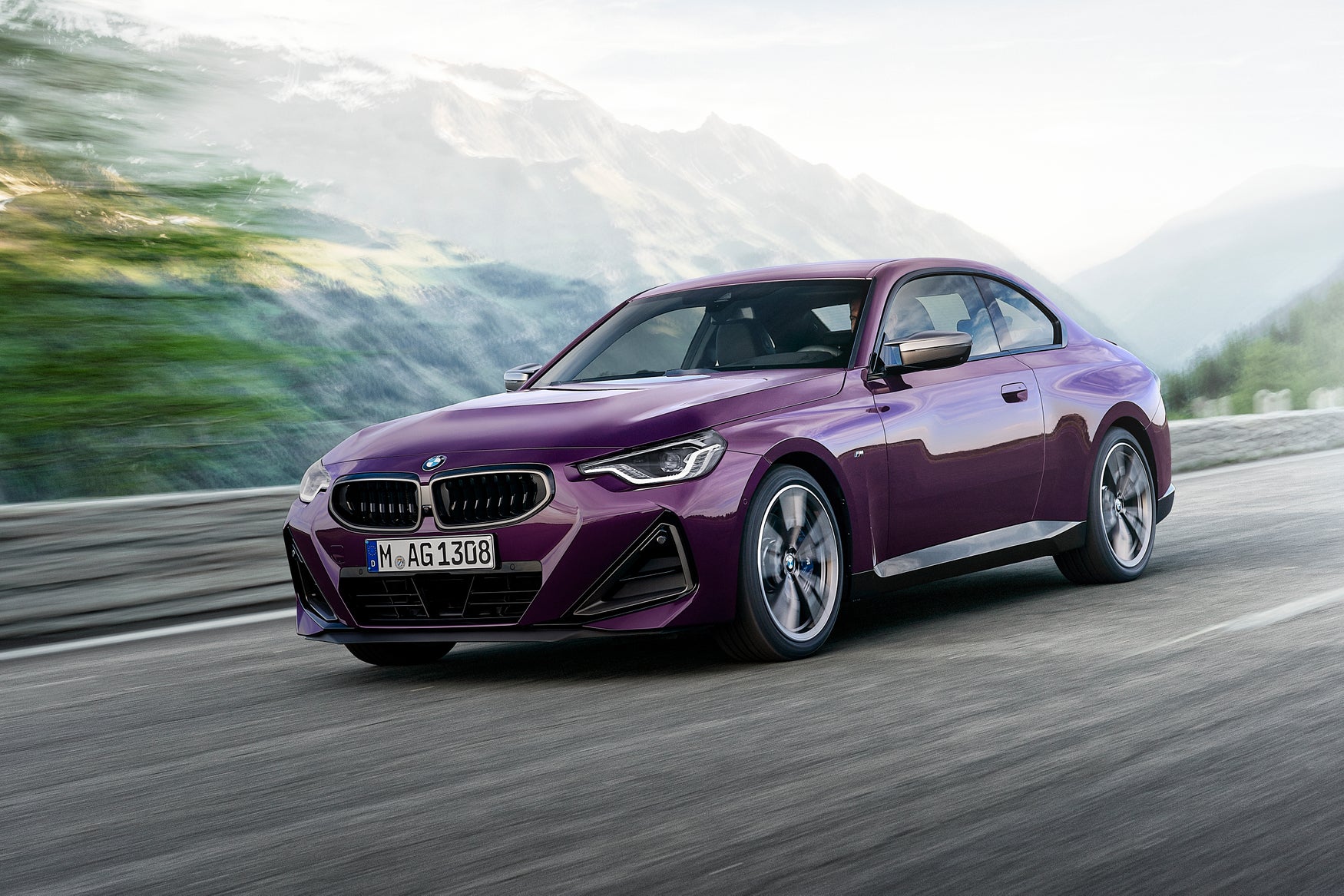 2022 BMW 2 Series Coupe price and release date
While we already have full details and pictures of the 2022 BMW 2 Series, the car won't make its first public appearance until the Goodwood Festival of Speed on 8 July. It is due for UK launch in early 2022.
The car will cost from just under £35,000 for 184PS 220i petrol, rising to £36,900 for the 190PS 220d diesel, while the M240i xDrive range-topper will tip the scales at £45,795. As a result, entry-level models will compete with basic versions of the Audi TT and Ford Mustang, while the M240i xDrive is a closer competitor to models such as the Toyota Supra and Porsche Cayman.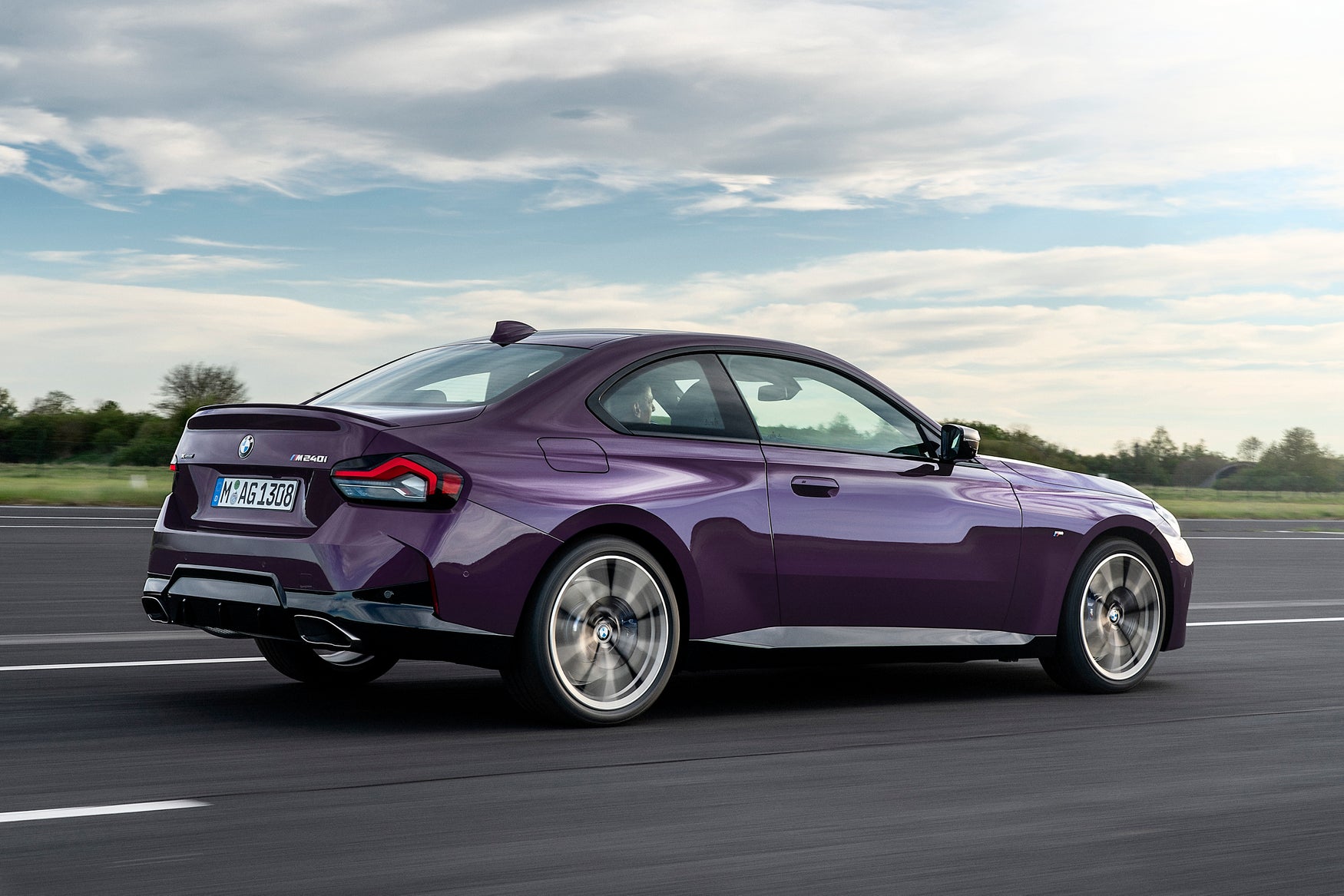 2022 BMW 2 Series Coupe styling
When it came to styling its new BMW 2 Series Coupe, BMW resisted the urge to send shockwaves through the motoring community by sticking a grille on the front of it like the one you've seen on the 4 Series.
That's not to say the new 2 Series isn't without its controversy. The pureness of the old model's shape is gone and in its place you find bulges and angles – mostly triangles – that make it look like the baby Beemer is geared up to police rowdy last orders on a Friday night. With RoboCop.
That's particularly true of the M240i xDrive in our pictures which is finished in Thundernight metallic – a shade that's exclusive to the 2 Series coupe.
In all, you can choose from one non-metallic and six metallic paint finishes. Another style statement can be found in the single lens LED headlights, which are inspired by 1966's BMW 02.
Around the back you'll find petrol models all get twin exhaust pipes – circular in the 220i and trapezoidal shaped on the M240i xDrive.
How else can you spot the M240i from a basic model? Well, it's butcher grille and lower bumper is finished in cerium grey, it gets M-specific wing mirrors, 19-inch M light-alloy wheels (the standard car gets 18s), side skirts, a rear bumper finished in high-gloss black and a body-coloured boot spoiler.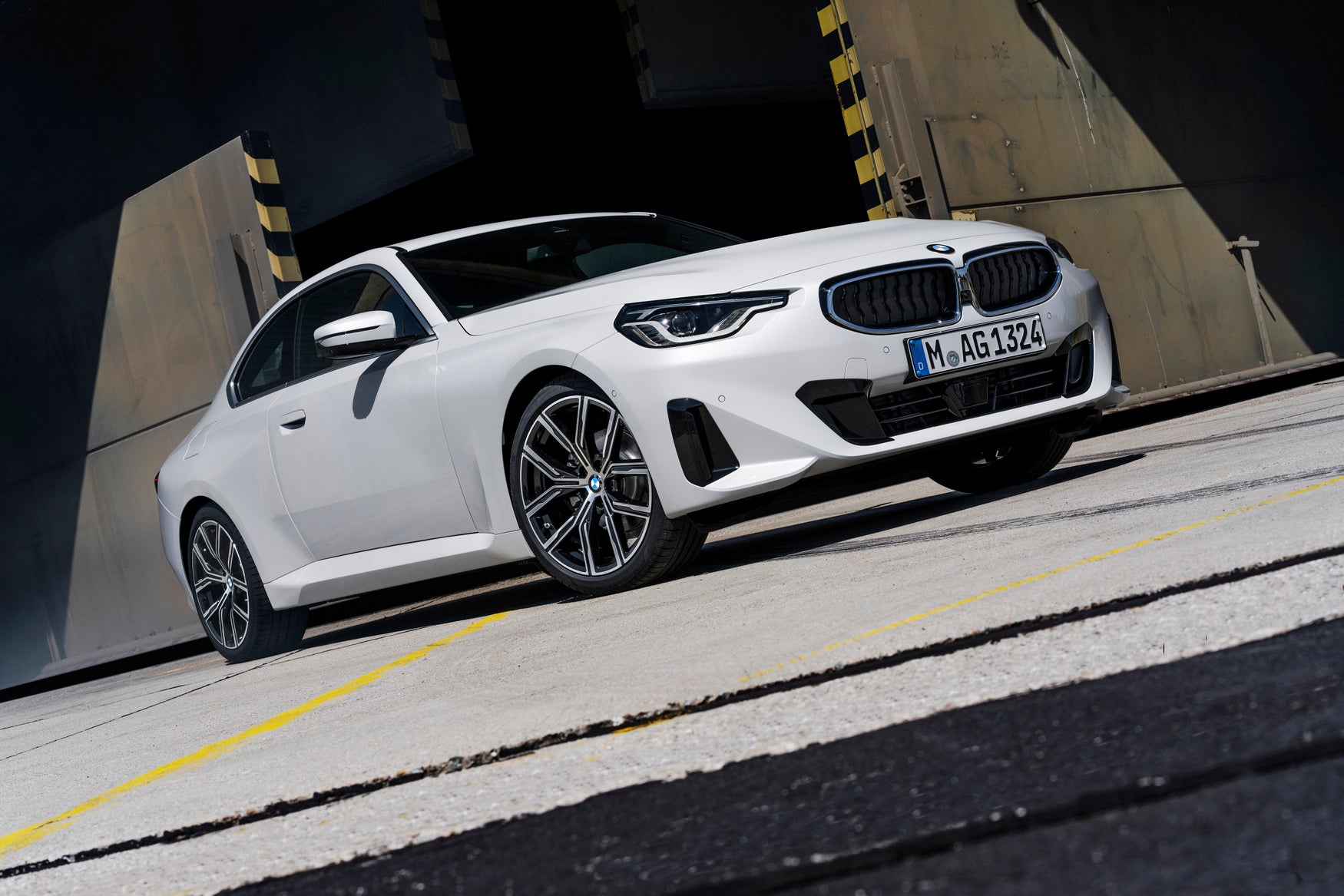 2022 BMW 2 Series Coupe dimensions
At 4537mm long, 1838mm wide and 1390mm tall the BMW 2 Series Coupe is longer (105mm), wider (64mm) and lower (28mm) than its predecessor. The track – the space between the left and right-hand side wheels – has also increased by 54mm at the front and 31mm at the back. It's even more pronounced in the M240i model which sees the track increase by 63 and 35mm, respectively.
Proportionally, then, the new BMW 2 Series looks squatter than the old model, while a wheelbase that has grown by 51mm means it has significantly more room inside. BMW confirms boot space has increased to 390 litres – 20 litres more than before.
Despite the size increase, however, you can expect the new 2 Series to be even more slippery than the car it replaces. in its grille and lower bumper, you'll find active aero flaps that can move in 10 stages for more aero or extra cooling, plus there are air breathers ahead of the front wheels, a completely sealed under body, flush-fitting door handles and aero-optimised alloy wheels.
The M240i xDrive, meanwhile, has a front splitter that helps reduce lift.
2022 BMW 2 Series Coupe design and construction
The 2022 BMW 2 Series Coupe is built from a mixture of materials that help make it lightweight, but also upto 40% more rigid and safer than before.
Its die-cast aluminium springs struts and an engine side member made from extruded aluminium help shave weight from the front of the car. Its technology carried over from the BMW 4 Series. Meanwhile, the bonnet – which pops up in a collision to protect pedestrians from the hard engine below – and front wings are also made from aluminium, cutting weight by 9.6kg.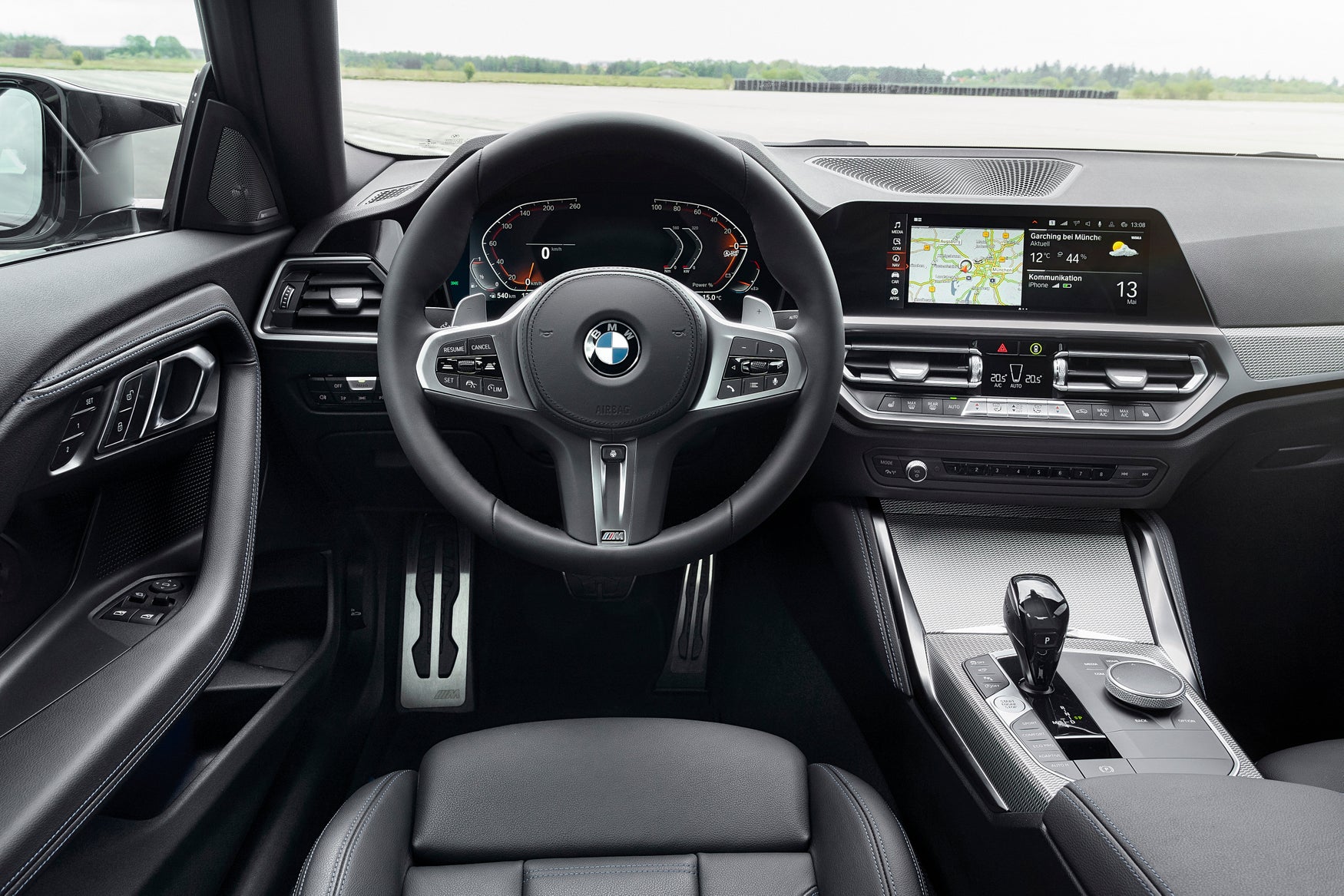 2022 BMW 2 Series Coupe interior
The 2022 BMW 2 Series Coupe keeps the driver focussed design that has been a feature in all modern BMWs. Large infotainment screens mean there's no need for a sea of switches, but you do get buttons for the systems you use the most – including the engine stop-start and drive select – and you get a proper gear selector. Expect most of the cabin to be made form squishy expensive plastics.
The triangular theme of the outside is carried over to the inside and you get trapezoidal accent surfaces above the armrests in the doors, while high-gloss plastic deals with the rest of the interior trim.
All cars come with an Anthracite headline, and get M Sport door sill covers, pedals, floor mats and an M specific digital instrument binnacle.
You also get a sports steering wheel, finished in either Alcantara or Vernasca leather (in the M240i xDrive) and heated sports seats (with integrated headrests, electrical adjustment and M seatbelts in the M240i xDrive). The front seats also slide out the way automatically to make it easier to access the back seat.
2022 BMW 2 Series Coupe infotainment
The 2022 BMW 2 Series comes fitted with BMW's latest operating system – called BMW Operating System 7. It allows you to configure the car's displays and it can be controlled using either the centre touchscreen, iDrive controller between the front seats via, the buttons on the steering wheel or using voice commands.
The last of those functions sparks into life when you say "Hey BMW..." whereon the car will understand "naturally formulated spoken instructions" – that's German for speech.
The BMW can also learn things. So, if you always lower your window to screen your pass at your work's carpark, it will learn this and lower it automatically as you pull into the entrance. Clever/scary.
The connected infotainment, meanwhil, gives you access to a concierge service and allows the car to receive over-the-air software updates.
The connected sat-nav can route around congestion and a powerful processor means it can calculate routes quicker than before. It can also find you a parking space when you reach your destination.
A head-up display is optional meaning you can have important information such as speed, projected onto the windscreen in front of you. It's larger and more colourful than before.
2022 BMW 2 Series Coupe Apple CarPlay and Android Auto
Great news for owners comes with the confirmation that the 2020 BMW 2 Series has Apple CarPlay and Android Auto fitted as standard. As result, you can use the apps on your Apple and Android phone on the car's big screen – giving you slick access to things like Google Maps, Spotify and iTunes.
You'll also be able to download the BMW App to your smartphone opening up functions like vehicle locating, remote locking and unlocking – it can even give you a view of the car's vicinity if you specify the Parking Assistance Plus pack, handy if you think there's someone poking around it that shouldn't be.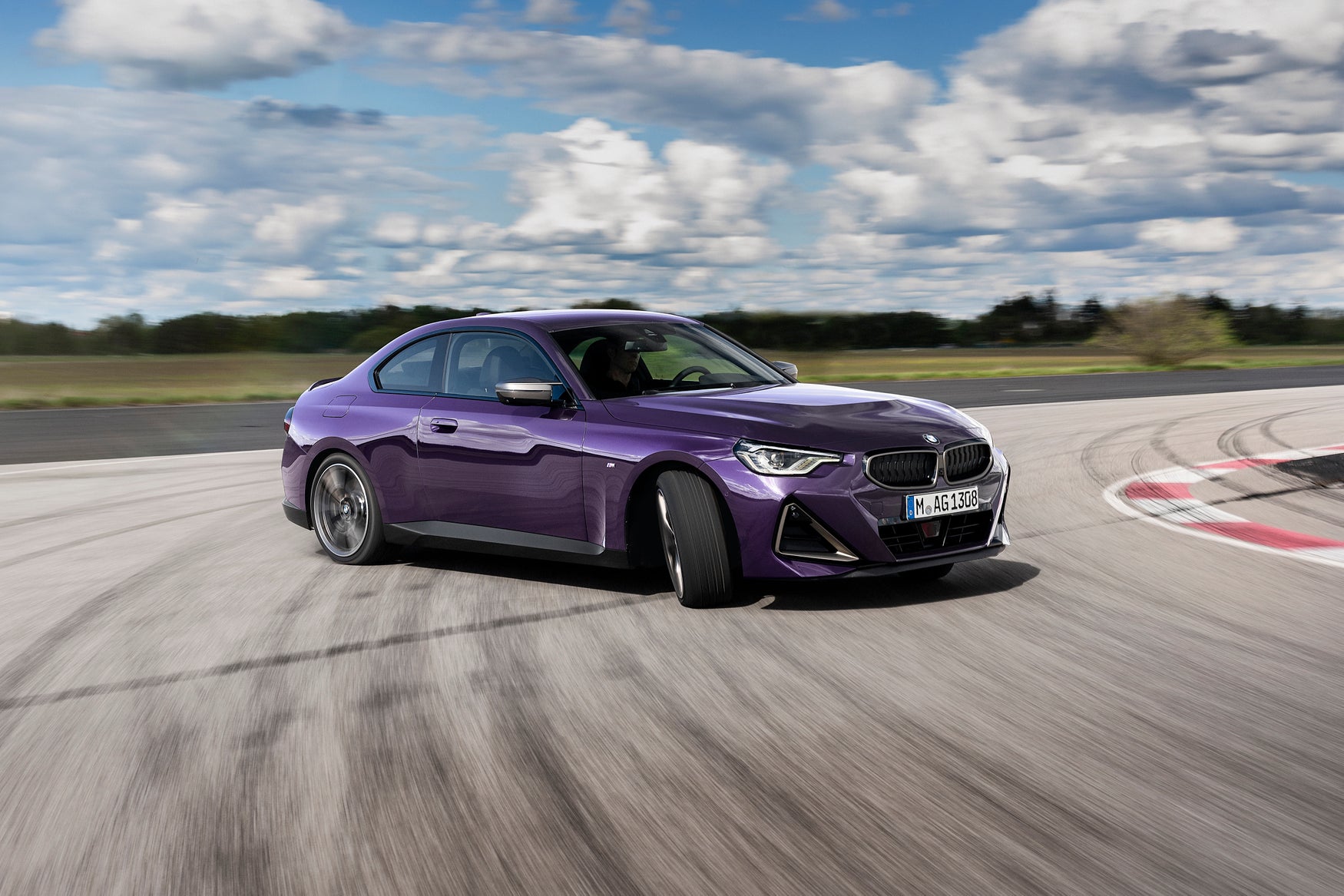 2022 BMW 2 Series Coupe: chassis, drive, brakes, xDrive
The 2022 BMW 2 Series Coupe looks to keep alive BMW's tradition for building comfortable coupes that are sportier to drive than alternatives offered by Mercedes and Audi.
BMW's baby coupe gets a 50:50 weight distribution which will help make it feel well-balanced and predictable in corners and – unlike the 1 Series hatchback, 2 Series Gran Coupe and 2 Series Active Tourer - it'll be either rear-wheel drive or (in the case of the M240i xDrive) use a rear-biased four-wheel drive system that gives it excellent all-weather grip but also adjustability in corners.
Aside from just being better to drive, BMW is promising the new 2 Series Coupe will be quieter and more comfortable. Its stiffer chassis provides better foundations for the suspension to do its work and the car comes with wheel bearings that are 2.7kg lighter – to reduce unsprung mass – and produce 45% less friction.
Adaptive suspension is available as an option allowing you to choose between a soft setup (Comfort in the car's drive select) or stiffer damping (Sport) that gives you better control in corners, or choose Adaptive which automatically sets up the car up to suit your driving.
The drive select can also adjust the accelerator response, gearbox shift speeds and the weight of the steering. All 2 Series Coupes also come with variable steering that sharpens at speed.
Braking can abe upgraded with the M Sport braking system (standard on the M240i xDrive), which adds four-pot, M branded front callipers and single piston rear brakes. They come finished in red as standard or you can pay extra to have them dunked in blue.
Further separating the M240i xDrive as the choice for sporty drivers is the electronically controlled M Sport differential. It gives the 2 Series more grip and control when powering out of corners as well as (as is demonstrated above) allowing you to get lairy angles out of bends. It comes along with xDrive four-wheel drive that can send its power to the back wheels alone when conditions allow.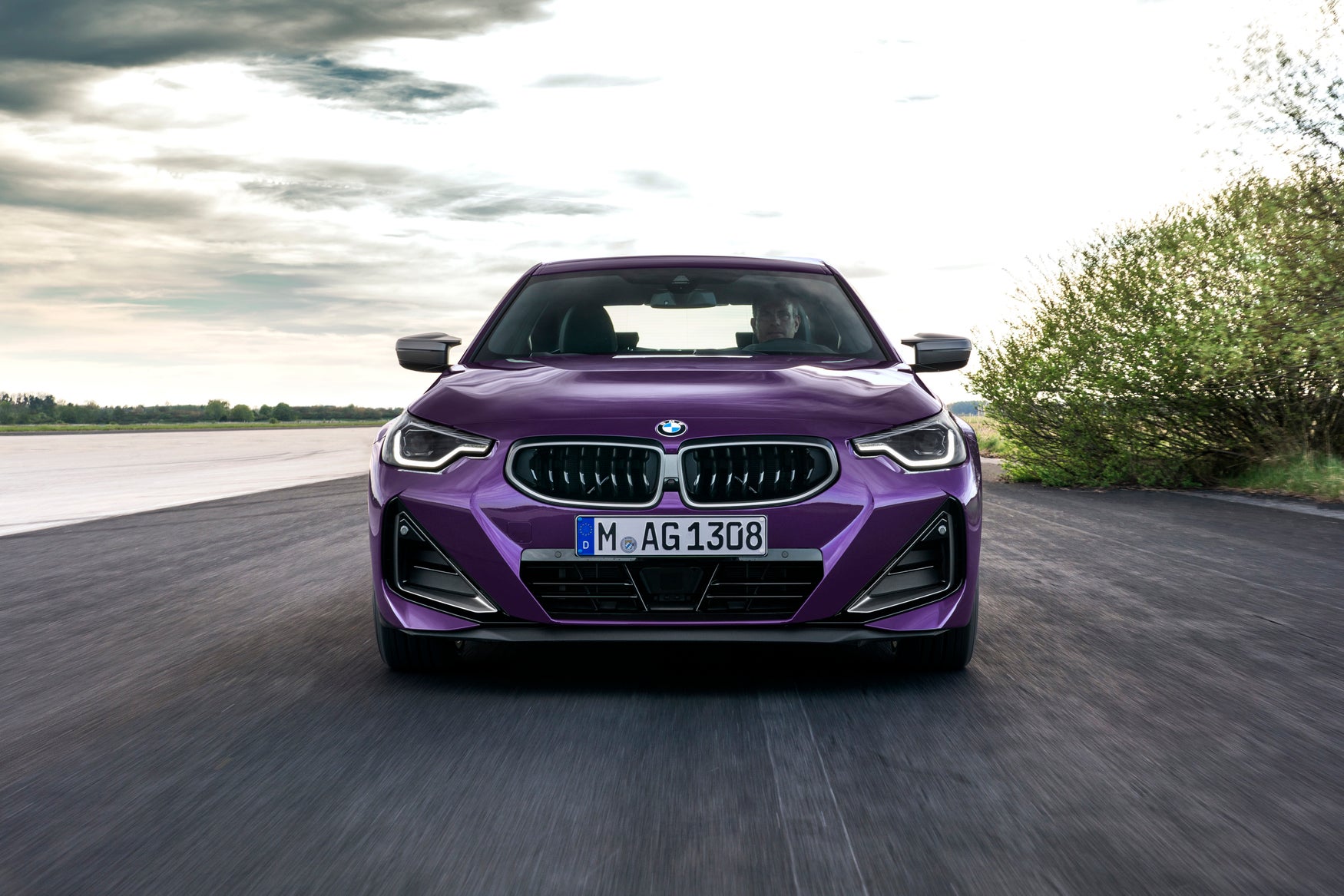 2022 BMW 2 Series Coupe engines
The BMW 2 Series Coupe will be available with a choice of three engines from launch all of which are turbocharged – the 220i and 240i xDrive petrols, along with the 220d diesel.
An eight-speed automatic gearbox comes fitted as standard and includes launch control, while quick overtakes can be performed by holding the left-hand shift paddle behind the steering wheel for one second, which automatically selects the lowest usable gear.
Clearly the M240i xDrive heads the range. It's a 3.0-litre straight-six motor that produces 374PS – 34PS more than in the old M240i – with peak torque of 500Nm arriving from 1900rpm. That should equate to serious overtaking power and means that the M240i xDrive can launch itself from 0-62mph in just 4.3 seconds, accompanied – we hope – by a creamy snarl from the standard fit M Sport exhaust.
Sitting directly below it – although way behind in terms of power – is the four-cylinder 2.0-litre 184PS 220i, which produces 300Nm of torque to skip from 0-62mph in a warm-hatch-worrying 7.5 seconds.
The 'best all-rounder' award goes straight to the 220d diesel. It's also a 2.0-litre four-cylinder this time producing 190PS and 400Nm of torque for hearty overtaking oomph and to get it from 0-62mph in 6.9 seconds, faster than some true hot hatches.
It combines this performance with an ability to return fuel economy of up to 60.1mpg, significantly better than the 220i (44.8mpg) and miles ahead of the M240i xDrive (34.9mpg).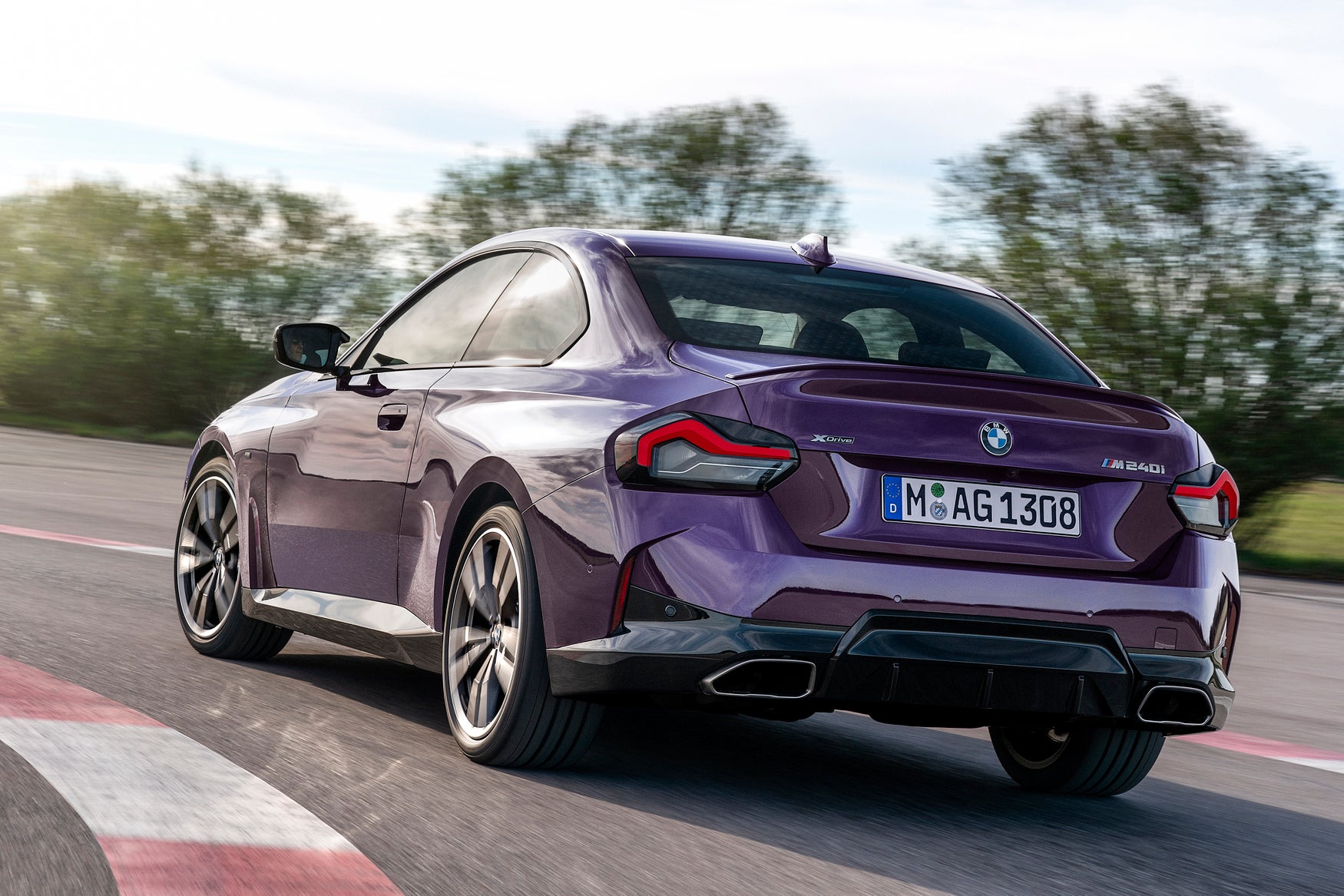 2022 BMW 2 Series Coupe autonomous driving aids
The BMW 2 Series Coupe is available with a variety of systems that make it easier to drive and safer.
All models come fitted as standard with automatic emergency brakes that can warn of an imminent collision and perform an emergency stop automatically if you don't take action – it can sense cars, cyclist and pedestrians.
You also get a speed limit function that can read signs at the roadside and has an overtaking indicator which warns you when it is not legal to cross into the opposing lane.
To that, you can add a lane assist system that can warn you when you're sauntering out of lane and direct you back in if you're not indicating to overtake. It works at speeds of between 44 and 130mph.
Many more functions are available if you take your eyes for a mosey down the options list. The Driving Assistant pack adds active cruise control that can accelerate and brake the car automatically at speeds of up to 99mph. It can even bring the car to a complete stop for up to 30 seconds before making off again automatically – in queuing motorway traffic, say.
When it comes to parking, all models come with parking sensors front and rear, while the optional Parking Assistant Plus projects a bird's-eye view of the car onto the centre infotainment screen.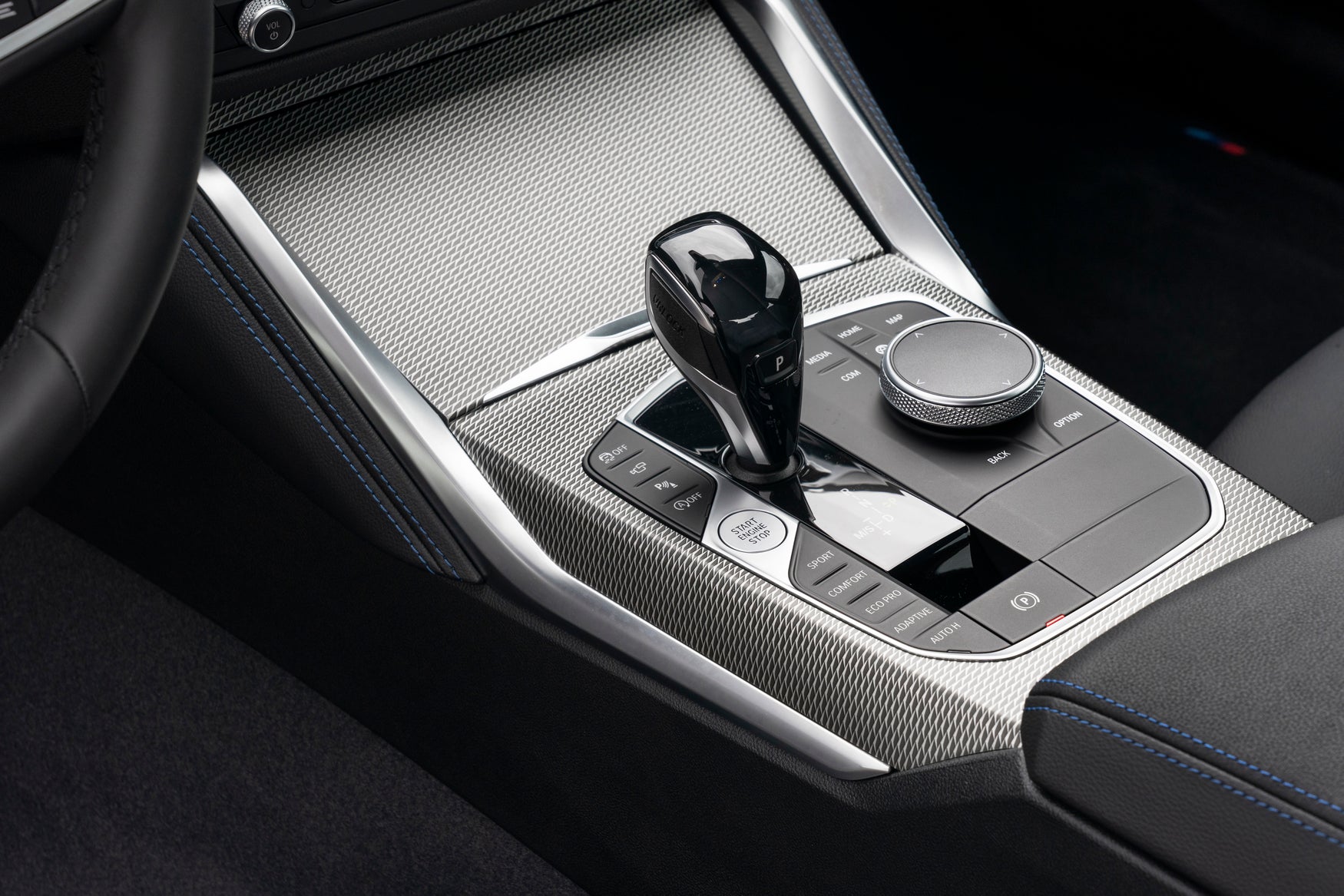 2022 BMW 2 Series Coupe equipment
Standard equipment on the BMW 2 Series Coupe includes a 12.3-inch digital instrument binnacle behind the steering wheel as well as a 10.25-inch centre display, you get electrically adjustable, folding and heated door mirrors, three-zone climate control, LED interior lighting, as well as auto lights and wipers. An acoustic glass windscreen is also standard and should help reduce wind noise.
The optional glass sunroof, meanwhile, is 20% larger than the one fitted to the old model.
BMW will also give you the option to further enhance the sporty appearance of your 2022 2 Series Coupe with a selection of performance parts. The M Sport package Pro adds kit that comes as standard on the M240i xDrive – including M Sport brakes, 19-inch alloy wheels and a body kit that includes a rear spoiler. It also adds a Harman Kardon stereo and M Sport seatbelts.
M Sport Performance parts will also be available. BMW doesn't go into detail but, if the 3 Series is anything to go by, they'll give you the option to convert your 2 Series Coupe into a Fast and Furious special. If you want to.
Read reviews of the cars the 2022 BMW 2 Series needs to beat