2021 BMW i4 EV: price, specs, release date, models, performance, range

Written by
Russell Campbell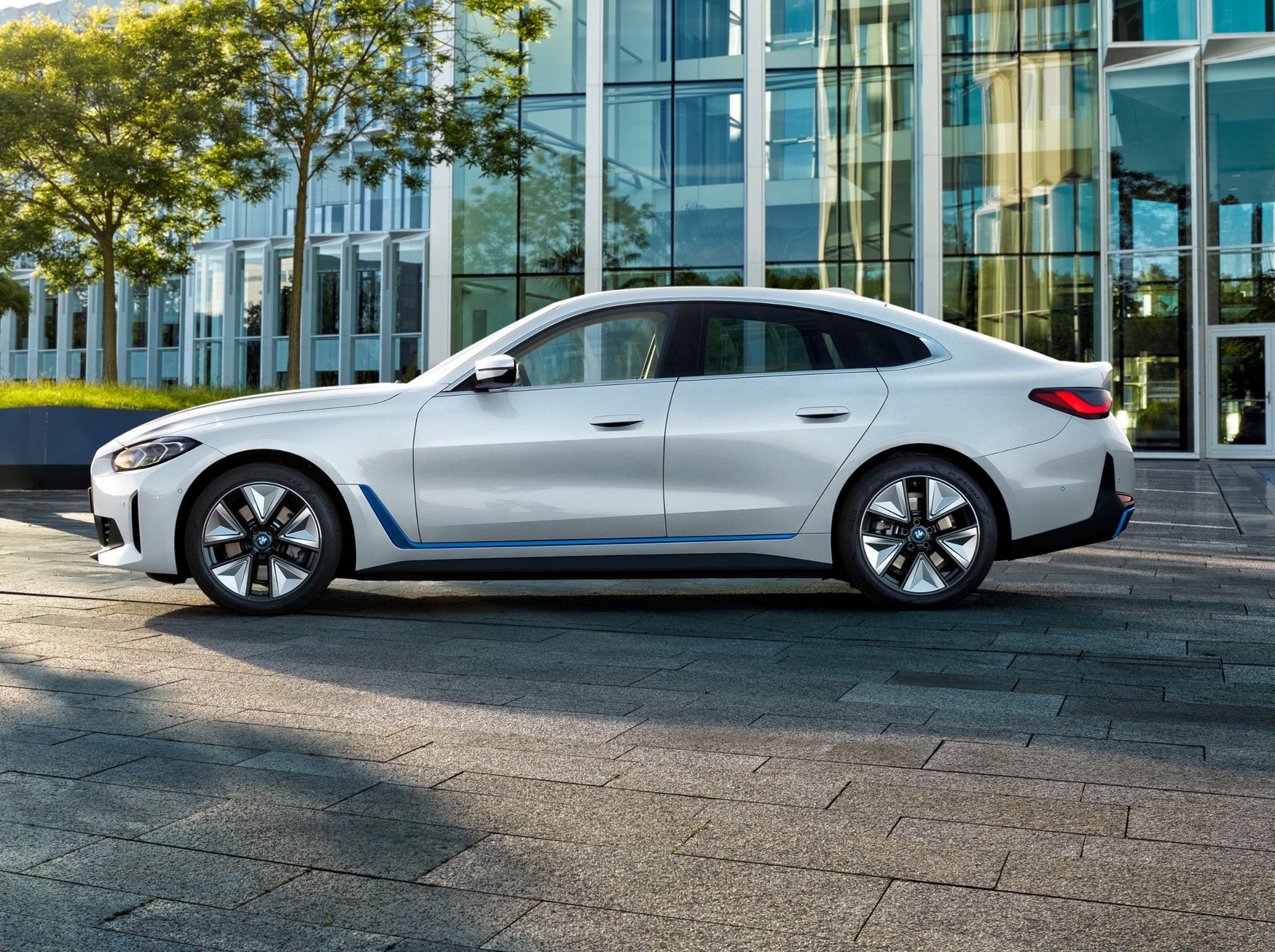 The BMW i4 is the company's first electric saloon.
The all-electric BMW offers space-age looks, supercar performance, usable range and an interior that is both spacious and luxurious. Think of it as a more conventional counterpart to the innovative BMW i3 - an electric BMW 3 Series if you will.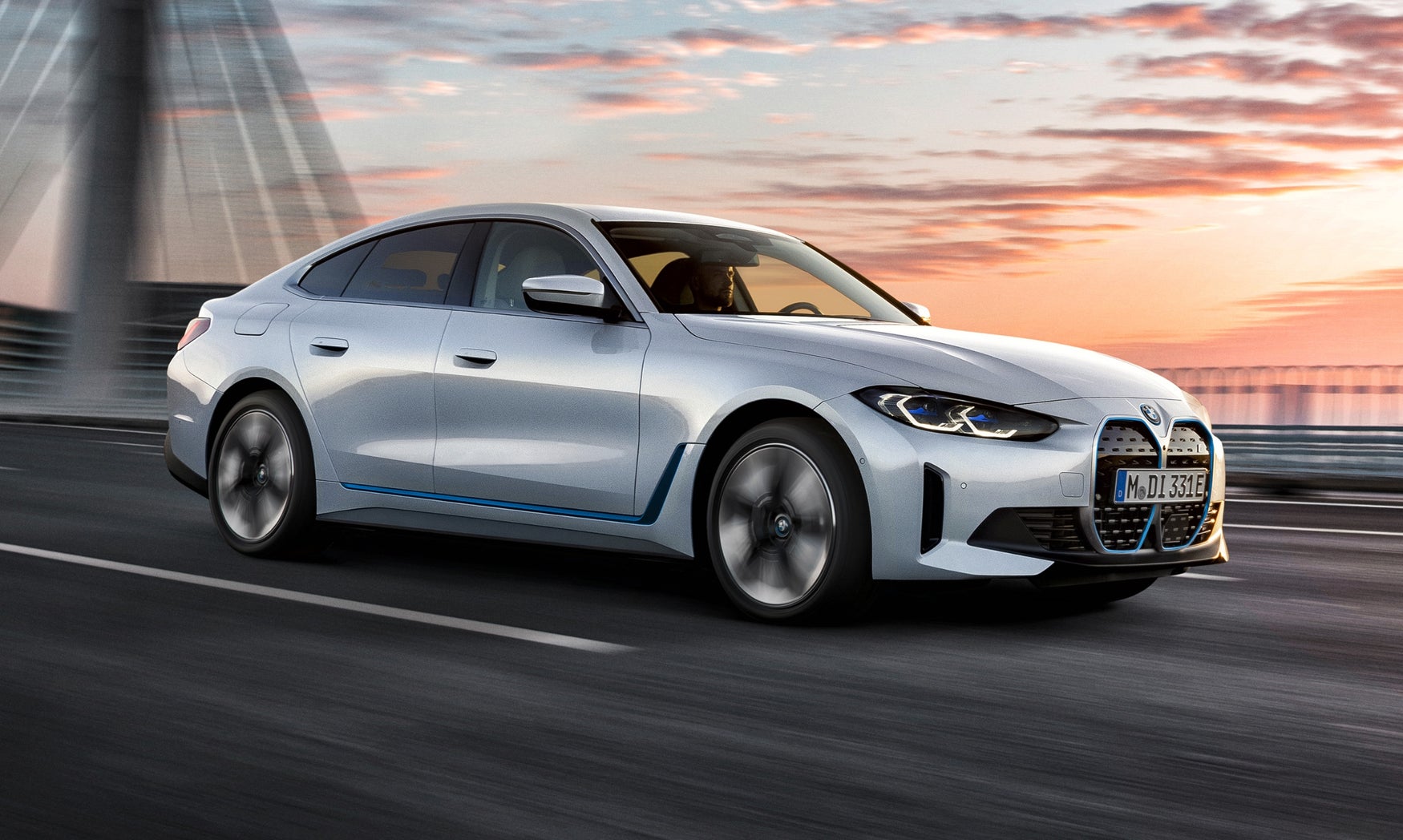 2021 BMW i4 EV (G26) price and release date
The BMW i4 is expected to go on sale towards the end of 2021 for a price of £52,000, which buys you the two-wheel-drive 340PS, long-range eDrive40 Sport model.
Its most obvious rival, the Tesla Model 3, is significantly cheaper, it costs from £41,000. You'll pay £54,000 to have the eDrive40 in M Sport trim which buys you sporty exterior and interior upgrades. The four-wheel-drive 544PS M50 version – BMW's first electric M car – tops the range at £63,905.
2021 BMW i4 EV (G26) styling
The BMW i4 looks like a BMW 3 Series saloon, which has mated with an M4 coupe, while a Tesla Model S got in on the action.
You get the gopher-tooth grille that's proven such a polarising feature on the new M4, a five-door coupe-like body style that's pure Tesla Model S and conventional BMW features like the Hofmeister Kink, where the rear windows meet the wings above the back wheels.
Blue highlights – BMW calls it iBlue – finish off the looks by highlighting areas like the grille, battery pack and rear bumper.
Aerodynamics is the name of the game with the BMW i4. To that end, it has a blanked-out grille with flaps that can open to cool the motors, recessed door handles, aero-optimised wing mirrors and a flat floor with a rear diffuser at the end of it.
Aero alloy wheels with plastic inserts are another option. They increase range by up to six miles versus the standard wheels, which come in 17, 18 and 20-inch versions.
The result of all this aero black magic is a 0.24Cd rating that, unsurprisingly, is identical to the figure posted by the Tesla Model S.
With a length of 4785mm, it's more of a Tesla Model 3 rival (4694mm), though, and while it's about the same size as a BMW 3 Series, its longer wheelbase (2856mm versus 2851mm) means it can offer more interior space.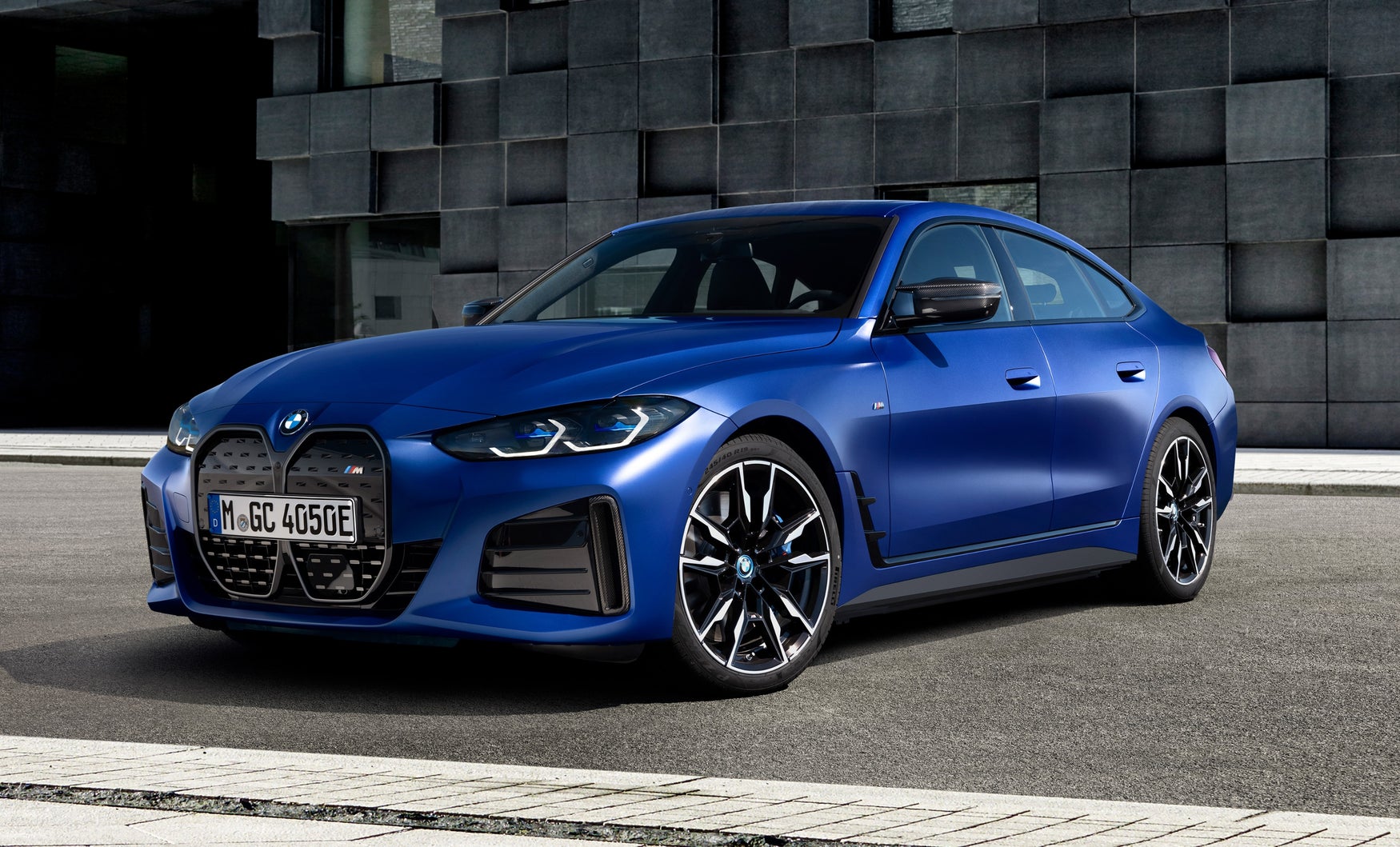 2021 BMW i4 EV (G26) models and standard equipment
The BMW i4 range kicks off with the long-range 340PS BMW i4 eDrive40 model in Sport trim. Kit includes LED exterior lights and an electronically opening and closing boot lid. Inside, you get a curved infotainment screen, sports seats, leather-trimmed steering wheel and climate control. You also get a reversing camera and cruise control with a braking function.
Above that, you get the 544PS BMW i4 M50 performance model (shown above). It's four-wheel-drive and adds adaptive suspension and various other features that make it more fun to drive. Its M Sport body kit means it looks more aggressive than the standard car.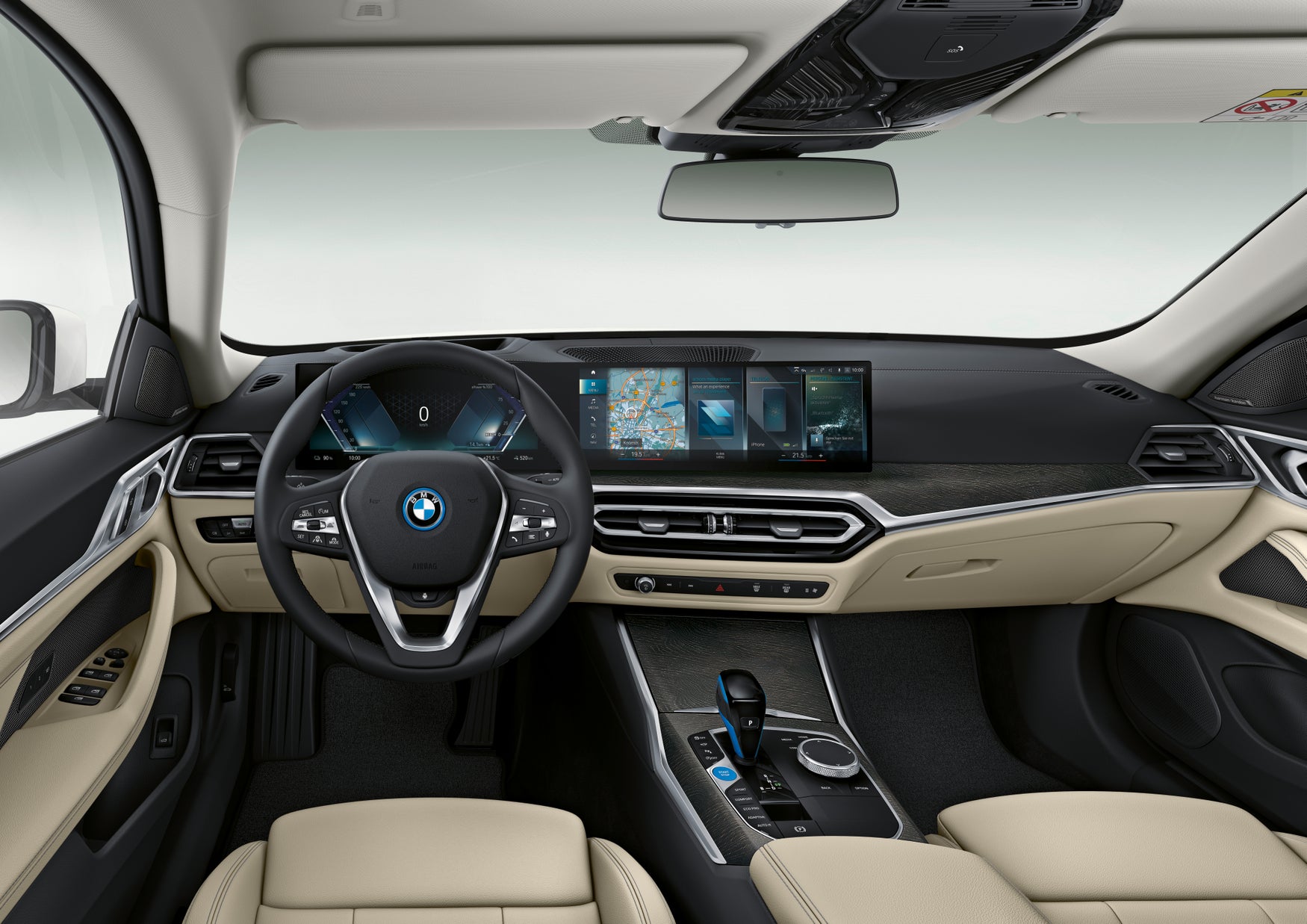 2021 BMW i4 EV (G26) interior
Inside, the BMW i4 looks a lot more conventional than its exterior with a design that's similar to its current BMW models.
The biggest talking point is the huge infotainment display.
It's composed of a 12.3-inch digital instrument binnacle that flows into a 14.9-inch centre screen. It's covered with anti-reflective glass – so there's no need for a hood to shade the screens from sunlight – and it looks like a single display. In true BMW style, it angles towards you in the driver's seat.
Apple CarPlay and Android Auto are fitted and, unlike in current BMWs, you'll be able to project their maps onto the digital instrument binnacle, not just the central infotainment screen.
Sound comes from a 100W six-speaker stereo which can be upgraded to an optional 464W Harman Kardon stereo with 16-speakers. The i4's acoustic windscreen should make it a quiet space for enjoying music.
The i4 offers more passenger space than a 3 Series saloon despite being a similar size. That is most notable thanks to the car's five full-sized seats.
The 470-litre boot, meanwhile, is 10 litres smaller than a 3 Series although its hatch-style opening should make it easier to load. It has a 1290-litre capacity with the back seats folded away.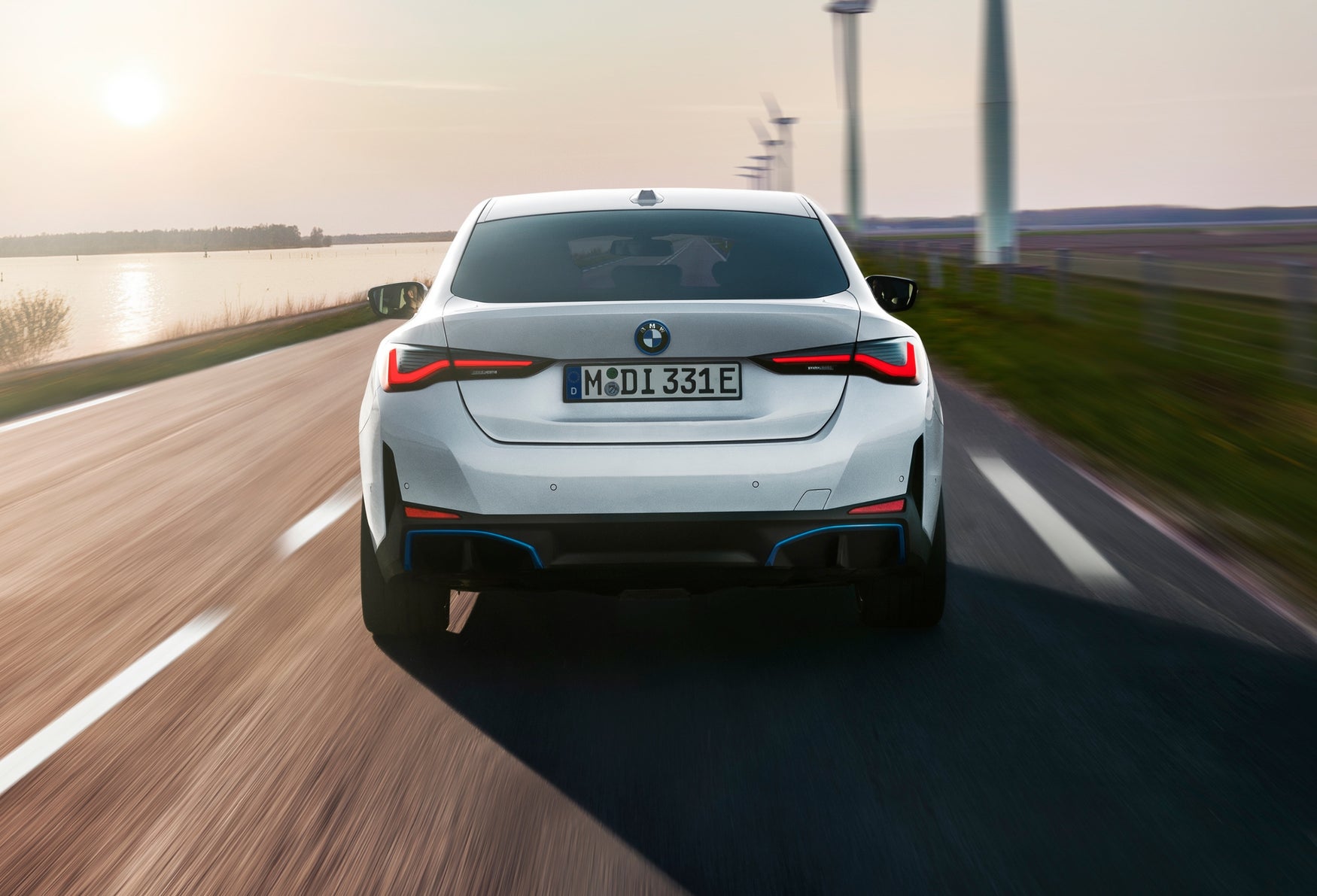 2021 BMW i4 EV (G26) performance
The BMW i4 is offered as two models – the long-range i4 eDrive40 or high-performance M50.
Both models come with comfy rear air suspension, regenerative brakes that are designed to feel as natural as possible and a traction control system (which you can turn off) that is wired directly to the ECU for quicker responses and a more natural feel. Both cars can also tow a trailer up to 1600kg in weight.
The eDrive 40 is rear-wheel drive, which helps it achieve a range of just under 370 miles. Performance is spritely nonetheless, with 0-62mph taking 5.7 seconds as it goes onto hit a limited top speed of 118mph. It eats electricity at a rate of between 20-16kWh every 62 miles.
With 544PS to call on, the M50 is very much the performance model. With an electric motor at the front and the back, the M50 is four-wheel drive, which helps it bolt from 0-62mph in just 3.9 seconds onto a limited top speed of 140mph.
Why the limiter? Without it, the i4 would chew through the battery like a beaver being drip fed espressos. Even with it, it consumes electricity at a rate of 24-19kWh every 62 miles.
It's more than just raw performance that separates the M50 from the lesser 40, mind.
Its four-wheel-drive system can shuffle power from one side of the car to the other for dynamic handling and it comes as standard with adaptive dampers that can give you a soft ride for added comfort or a stiffer setup for better control in bends.
Sport mode in the car's drive select engages the M50's Sport Boost, which gives you maximum power and torque (795Nm) for 10-second bursts. Extra bracing makes the M50s steering more precise and you get powerful M Sport brakes.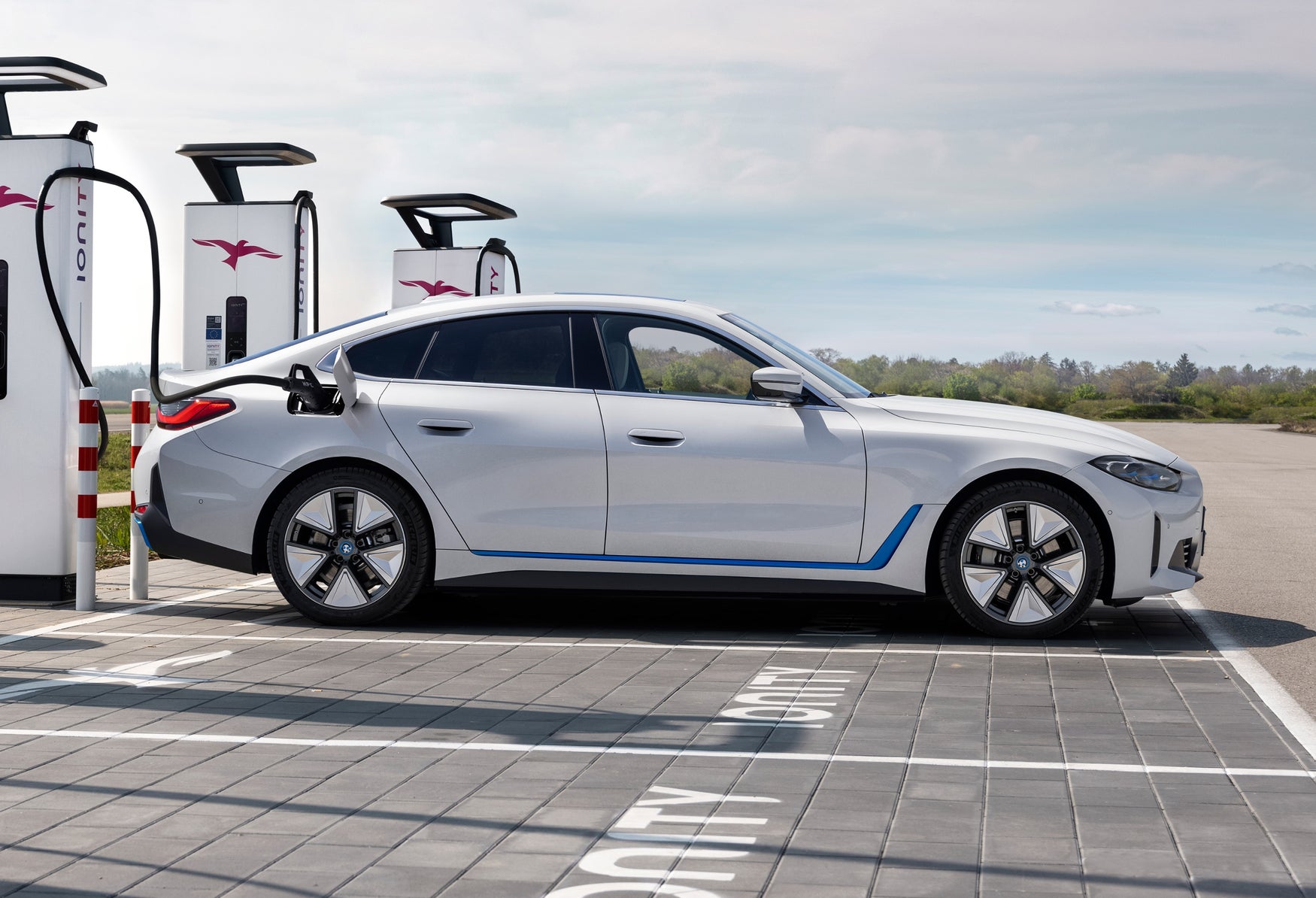 2021 BMW i4 EV (G26) charging and range
Depending on which model you choose, the BMW i4 has a 370-mile (eDrive40) or 320-mile range (M50) from its 84kWh battery. The battery comes with an eight-year 100,000-mile warranty.
The car's infotainment display relays information on what the battery is getting up to and the sat-nav can plan long journeys taking account of charging stops along the way. A full charge takes 8.5 hours from a wall-mounted home charger while 10 minutes is enough to add more than 100 miles worth of battery life using a public charger and the i4's maximum 205kWh charging speed.
Several features help the i4 eke out as much range as possible.
Both models come with regenerative brakes that do 90% of the car's stopping according to BMW. They have high, medium or low settings allowing you to adjust the braking force that's applied when you lift your foot off the accelerator. The brakes can also automatically slow the car based on information from the sat-nav when approaching a junction, say.
The i4 also comes with a heat pump as standard. It scavenges heat from the motor to keep the battery at its optimal temperature – increasing range by as much as 31% in cold climates.
According to BMW, the i4 will be 30% cheaper to run than a petrol model over 125,000 miles thanks to its mechanical simplicity. It doesn't need oil changes, there's no exhaust and – due to the regenerative brakes – discs and pads should last much longer.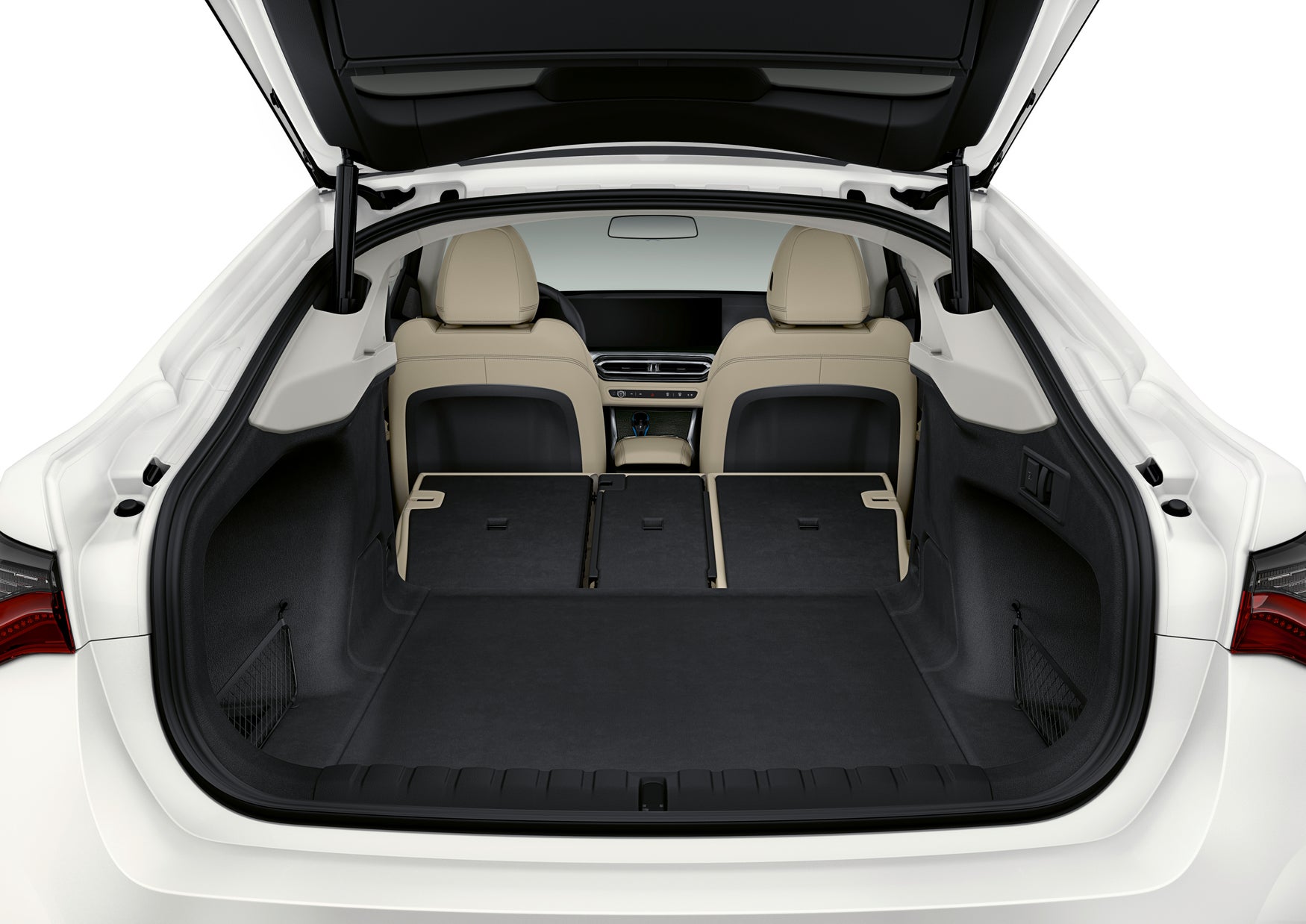 2021 BMW i4 EV (G26) autonomous driving and safety
The BMW i4 has autonomous driving aids not seen in a BMW before.
Its active cruise control can brake and steer the car like any other system, but it can observe traffic lights – braking for a red light before automatically setting off again when the light turns green.
You also get the next generation of auto park, which does everything for you. It can select a space, before slotting the car into position, operating the steering, brakes and accelerator entirely independently.
Finally, you get an 'acoustic pedestrian protection system' basically external speakers that produce a noise to warn people you're approaching. It's active at speeds of up to 13mph.
With all these gizmos, BMW will be aiming for a five-star NCAP rating.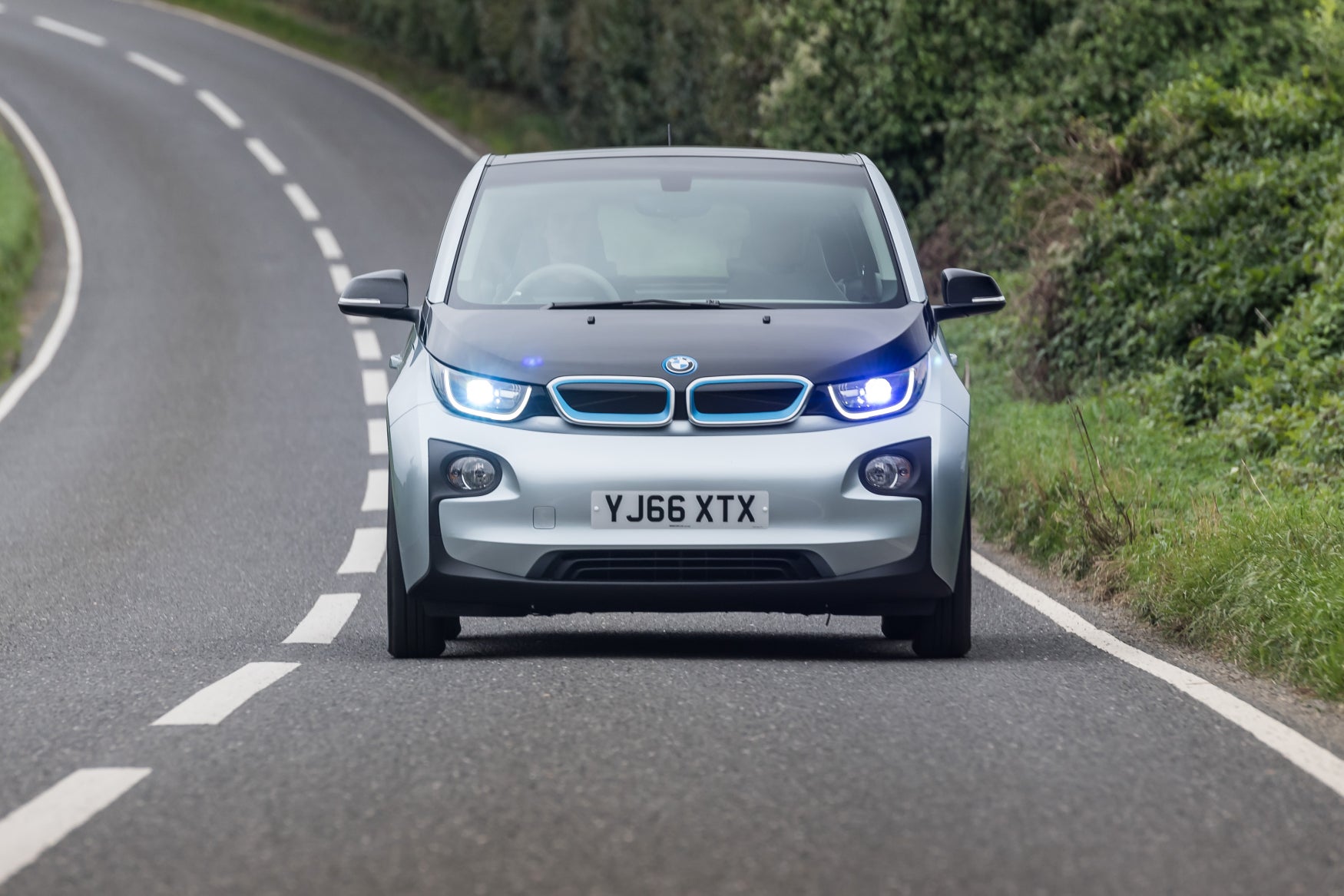 Why now is a good time to buy a BMW i3
Want an electric BMW but don't have time to wait for the new i4 to hit showrooms? Then we would suggest you take a look at the BMW i3. The i3 combines wacky looks with an airy cabin and a pure-electric range of up to 188 miles. Prices start from as little as £10,000 for a six-year-old car with 80,000 miles on the clock.
Top-dollar examples tip the scales at more than £45,000, although that does get you a brand new example of the sporty i3s model.
The BMW i4 will cost from £52,000 when it goes on sale in the UK from November 2021.
Yes, the BMW i4 is fully electric, just like the BMW i3.
The BMW i4 gets from 0-62mph in as little as 3.9 seconds and has a top speed of up to 140mph.
BMW I3
135kW S 42kWh 5dr Auto
Manufacturer Approved
Marshall BMW Scunthorpe

Lincolnshire, DN158PT
PCP: £590.59/mo
Representative example: Contract Length: 36 months, 35 Monthly Payments: £590.59, Customer Deposit: £5,083.00, Total Deposit: £5,083.50, Optional Final Payment: £12,971.72, Total Charge For Credit: £4,835.87, Total Amount Payable: £38,725.87, Representative APR: 7.9%, Interest Rate (Fixed): 7.9%, Excess Mileage Charge: 9.69ppm, Mileage Per Annum: 10,000
BMW I3
125kW 42kWh 5dr Auto
Vertu BMW Sunderland

Tyne and Wear, NE360BQ
PCP: £465.45/mo
Representative example: Contract Length: 36 months, 35 Monthly Payments: £465.45, Customer Deposit: £4,500.00, Total Deposit: £4,500.00, Optional Final Payment: £13,117.00, Total Charge For Credit: £3,907.75, Total Amount Payable: £33,907.75, Representative APR: 6.9%, Interest Rate (Fixed): 6.69%, Excess Mileage Charge: 9.6ppm, Mileage Per Annum: 10,000
BMW I3
125kW 42kWh 5dr Auto
Manufacturer Approved
Vertu BMW Sunderland

Tyne and Wear, NE360BQ
PCP: £426.63/mo
Representative example: Contract Length: 36 months, 35 Monthly Payments: £426.63, Customer Deposit: £3,870.00, Total Deposit: £3,870.00, Optional Final Payment: £11,309.00, Total Charge For Credit: £4,311.05, Total Amount Payable: £30,111.05, Representative APR: 8.9%, Interest Rate (Fixed): 8.56%, Excess Mileage Charge: 9.6ppm, Mileage Per Annum: 10,000