Hyundai Ioniq 6: prices, specs & release date
Hyundai Ioniq 6: prices, specs & release date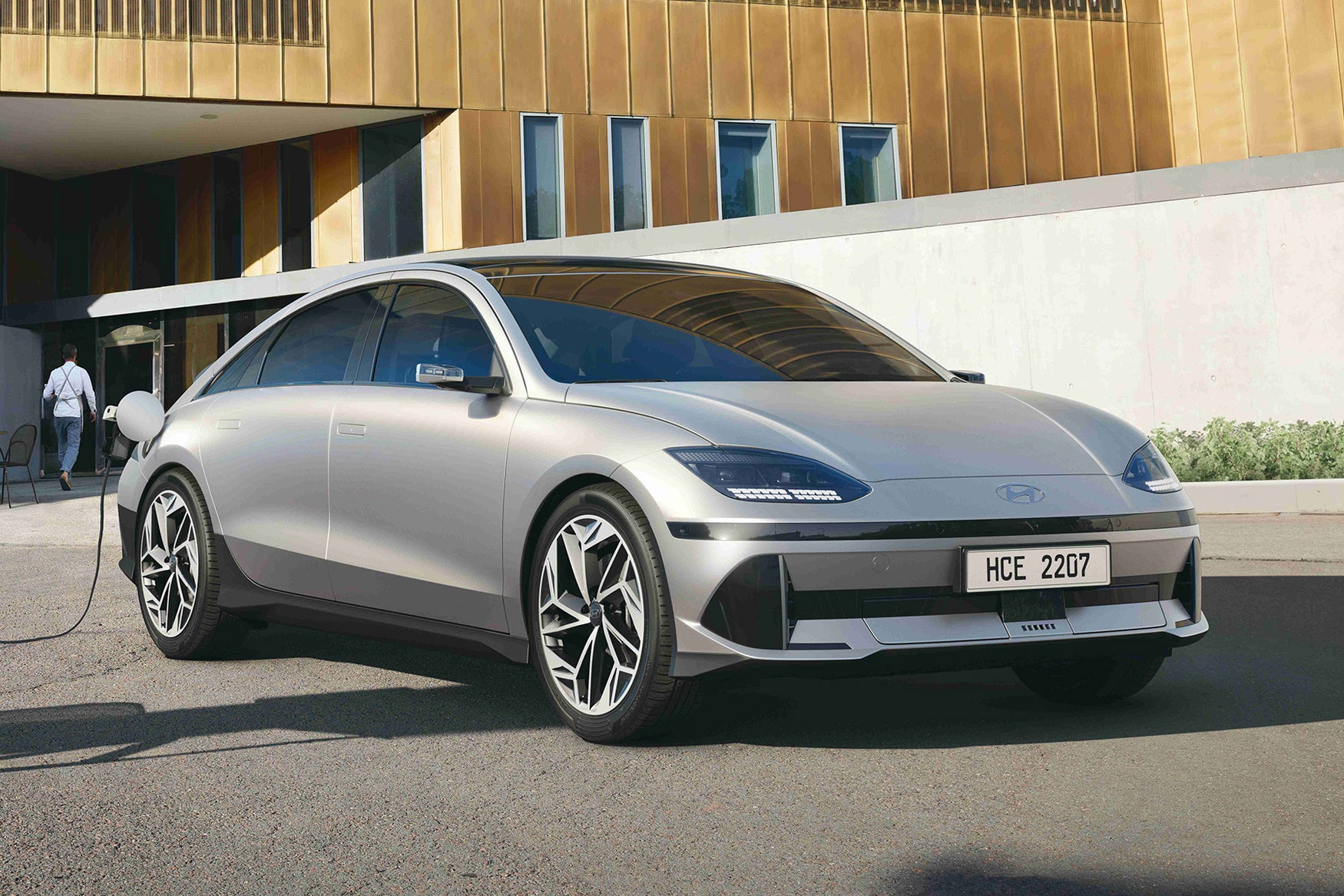 The new Hyundai Ioniq 6 is a sleek and stylish electric car that'll compete with the Tesla Model 3 and BMW i4 when it goes on sale early in 2023.
Although UK prices and specifications are yet to be announced, the 2023 Hyundai Ioniq 6 is unlikely to be a cheap electric car, with prices expected to start from more than £45,000. That's for the most affordable model, which will be powered by a single electric motor driving the rear axle. A flagship twin-motor all-wheel-drive Hyundai Ioniq 6 is also expected.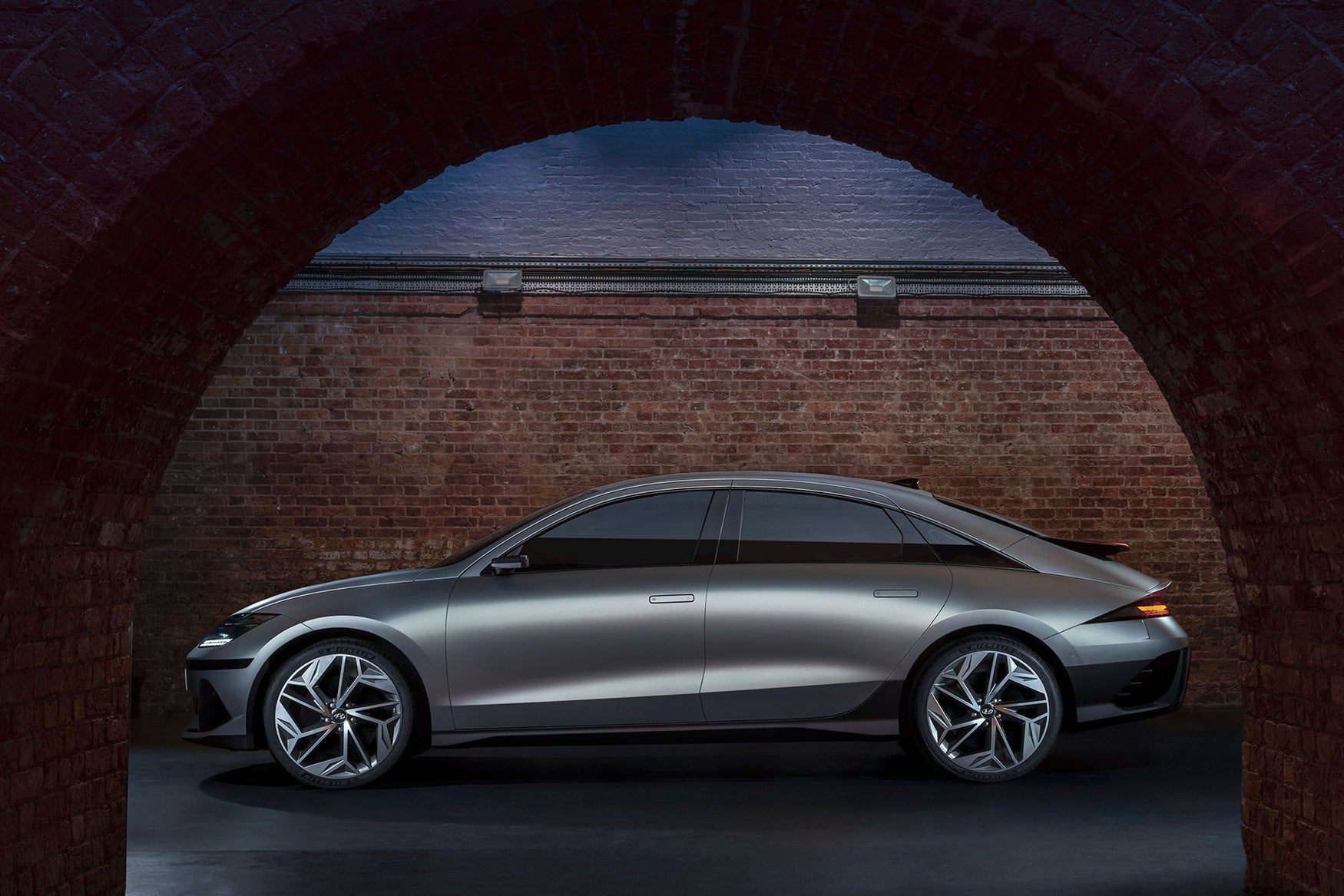 New Hyundai Ioniq 6 price and release date
The new Hyundai Ioniq 6 has recently been revealed ahead of orders opening later in 2022 and UK deliveries from early 2023.
The Ioniq 6 is based on the same E-GMP platform as the Hyundai Ioniq 5, Kia EV6 and Genesis GV60 (as well as future models like the Hyundai Ioniq 7 and Kia EV4).
UK prices are yet to be confirmed but it'll be priced above the 77kWh Hyundai Ioniq 5, which currently starts from around £45,000. It's expected to follow a similar range line-up to the Ioniq 5, which is available in Premium, Ultimate or Namsan Edition trim.
Standard equipment on the Hyundai Ioniq 6 is likely to include 20-inch alloy wheels, clever vehicle-to-grid charging (great for powering a travel kettle or even charging another electric car) and a 12-inch infotainment display with Android Auto and Apple CarPlay.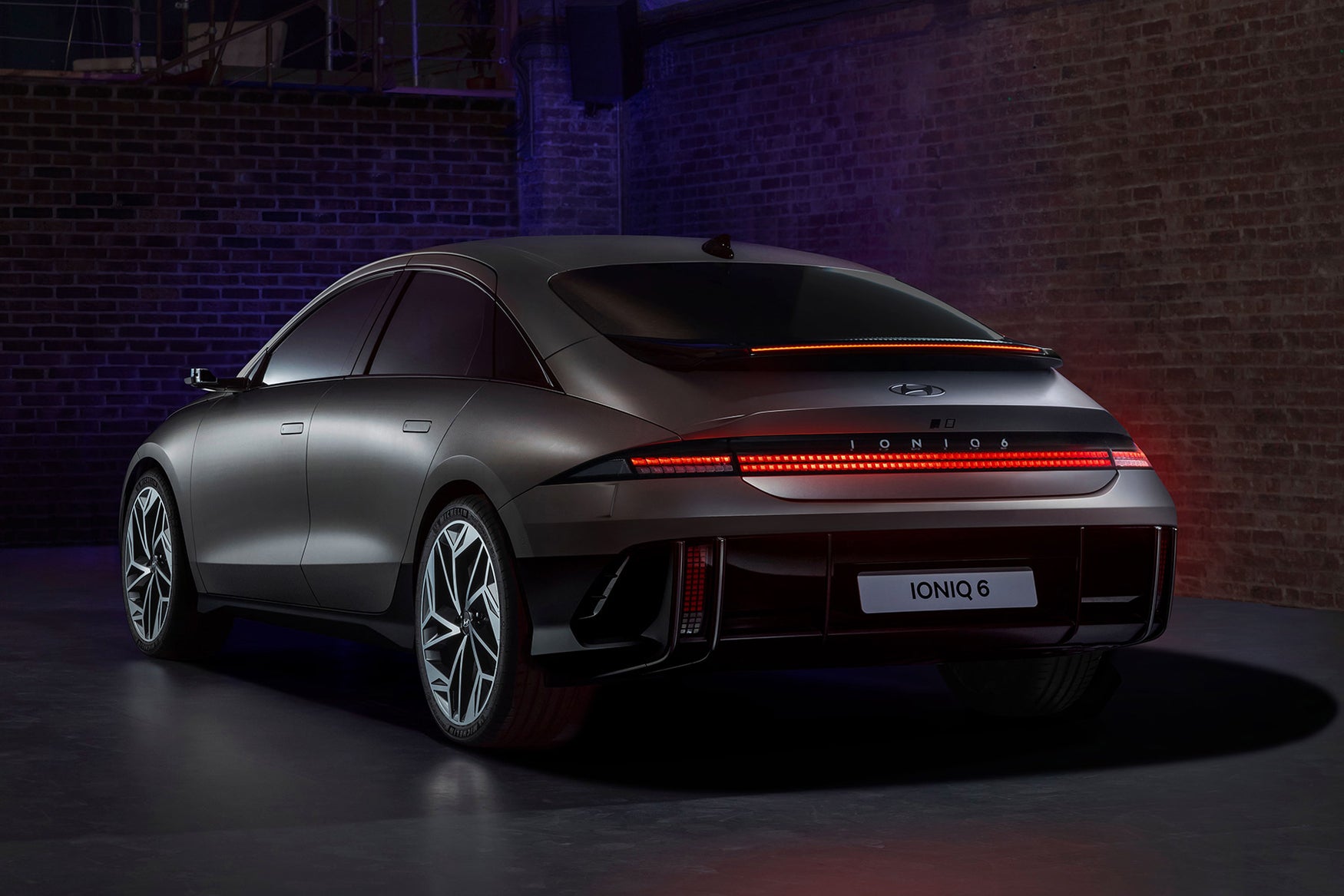 Hyundai Ioniq 6 electric motors and range
The Hyundai Ioniq 6 will be available globally with two battery packs: 53kWh or 77kWh. UK specifications are yet to be confirmed but high demand for a long electric range means Hyundai might decide only to offer the latter here.
The 77kWh Hyundai Ioniq 6 will be available as a single-motor rear-wheel-drive model or a twin-motor all-wheel-drive variant. The top-spec dual-motor Hyundai Ioniq 6 produces a combined 325PS and 605Nm of torque, taking it to 62mph in around 5.1 seconds. That's fairly sprightly but not lightning fast by electric car standards (see the Tesla Model 3 Performance as an example).
If you do want a rapid Hyundai Ioniq 6, the recent Hyundai RN22e concept car suggests an N-badged Ioniq 6 is on its way. Closely related to the upcoming Hyundai Ioniq 5 N and Kia EV6 GT, the Hyundai Ioniq 6 N will combine a pair of electric motors with the same 77kWh battery pack as the regular Ioniq 6. Total output will be a significant 585PS and there'll be 740Nm of torque on tap. Acceleration figures are yet to be confirmed but top speed is said to be more than 155mph.
Of course, if you're considering buying an electric car, you might be more interested in how efficient it is rather than how rapidly it'll accelerate. Hyundai claims the Ioniq 6 is one of the most energy-efficient models on the market, capable of travelling around 4.4 miles per kWh. That means you'll be able to travel further on a charge.
Official range figures for the Hyundai Ioniq 6 are yet to be confirmed but the bigger-battery model will be able to travel more than 379 miles between charges – making it one of the longest-range electric cars on sale.
Just like the Hyundai Ioniq 5 (as well as the Kia EV6 and new Kia Niro EV), the Hyundai Ioniq 6 will feature a vehicle-to-load function that will let you use the car to charge any electrical device using an adaptor fitted to the outside charging port. This could include a camping fridge, Christmas lights or even another electric car. There's also a second three-pin socket inside, ready to power laptops, phones and other devices.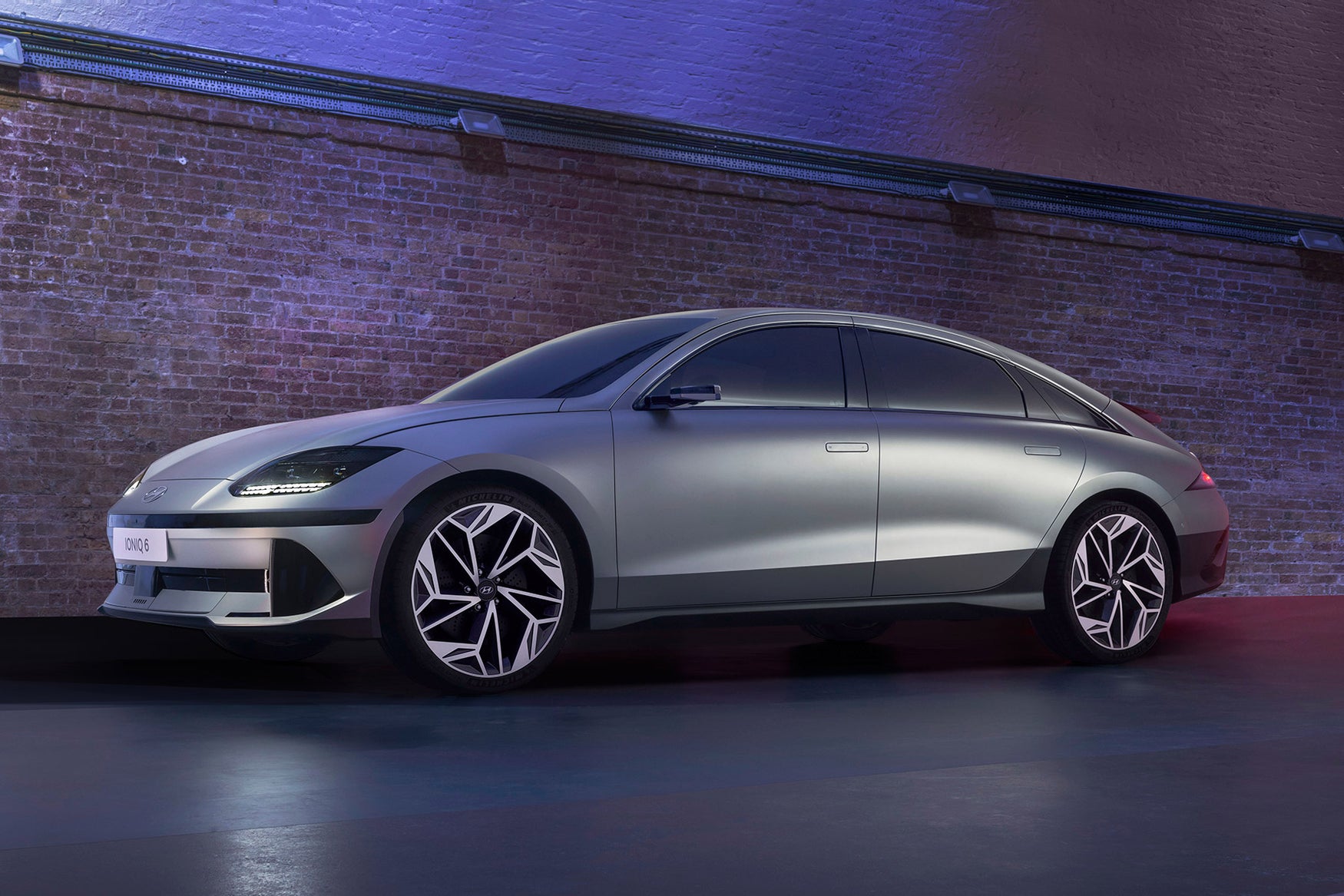 Hyundai Ioniq 6 styling and design
It's a pretty big car, the Hyundai Ioniq 6. Measuring 4855mm in overall length, 1880mm width and 1495mm in height, it sits halfway between the Tesla Model 3 and Model S in terms of size, while it's got a bigger footprint than the BMW i4.
You can look at the pictures and make your own mind up about the design of the Hyundai Ioniq 6 but, much like the Ioniq 5, there's little danger of the Ioniq 6 going unnoticed. We've seen it in the metal and its four-door coupe (Hyundai call it an 'electrified streamliner') design will certainly turn heads. It almost looks like a cut-price Mercedes EQS (not that there's a great deal 'cut price' about the way it looks).
Hyundai says customers will be able to choose from 12 exterior colours, although it's yet to be confirmed whether they'll all make it to the UK. Options include Gravity Gold Matte, Abyss Black Pearl, Serenity White Pearl, Curated Silver Metallic, Nocturne Gray Metallic, Nocturne Gray Matte, Transmission Blue Pearl, Biophilic Blue Pearl, Ultimate Red Metallic, Digital Green Pearl, Digital Green Matte and Byte Blue.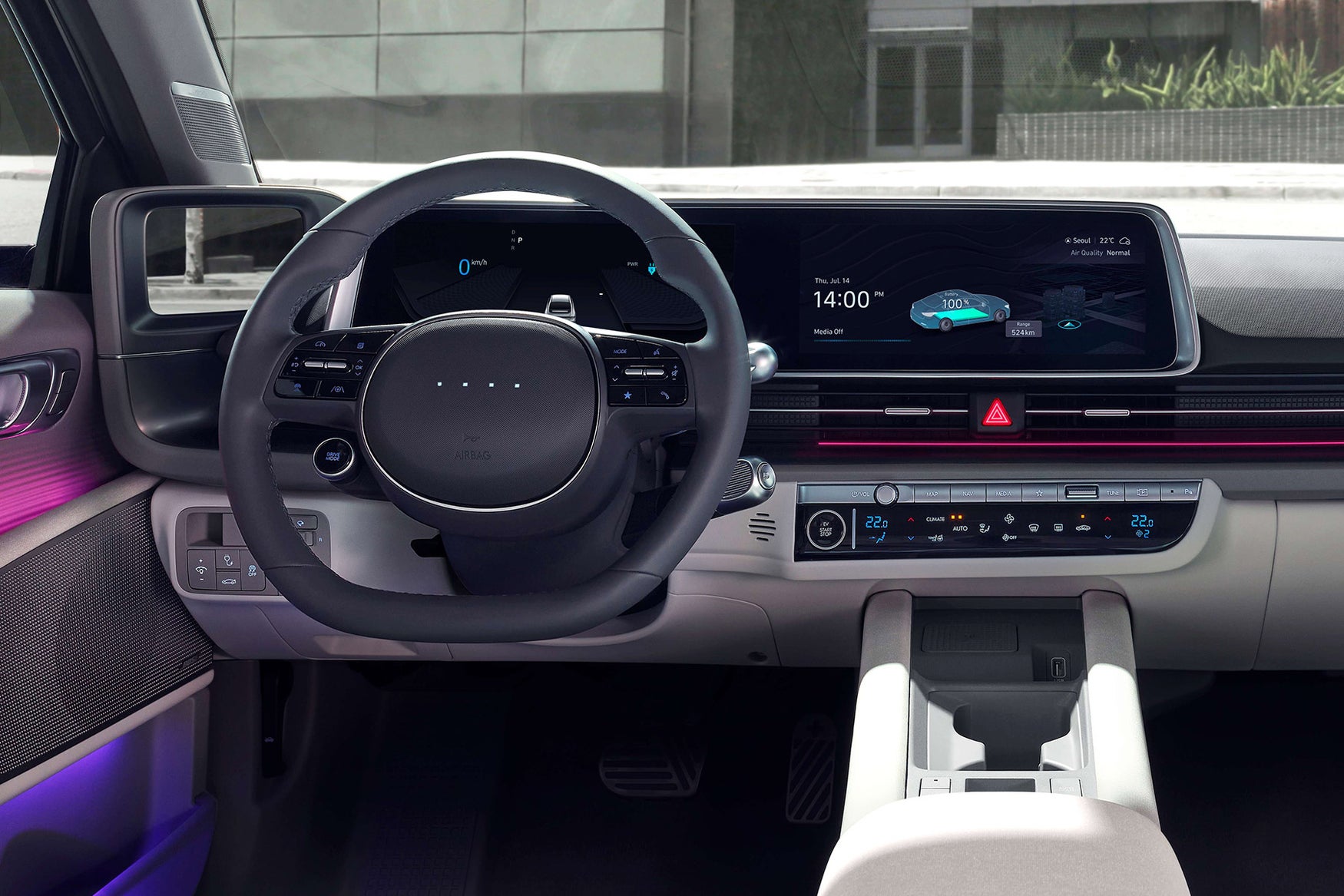 Hyundai Ioniq 6 interior and practicality
The Hyundai Ioniq 6's interior looks almost like it's been lifted directly from the Ioniq 5. That's not a bad thing, though, as it strikes an almost perfect blend of comfort, technology and ease-of-use.
The modular touchscreen dashboard combines a 12-inch infotainment display with a 12-inch digital instrument cluster. Fear not, though, as Hyundai's resisted the urge to declutter the dashboard and lump everything into the central screen. You still get physical shortcut buttons to infotainment functions, as well as a volume control. The climate control is adjusted using a touch-sensitive panel at the bottom of the dashboard.
Interior ambient lighting is another nice touch. You can choose from 64 different colours or six pre-selected themes, while there's also a Speed Sync Lighting mode which changes the brightness of the interior lighting depending on the car's speed.
With nearly three metres between the front and rear wheels, the Hyundai Ioniq 6 has quite a long cabin providing plenty of space for passengers. There's a distinct feeling of space in the front, while thin front seats mean adults should be fairly happy in the back. A flat floor helps in the rear, although the seats are a little narrow for squeezing three adults side-by-side. Anyone taller than six foot will find their head brushing the roof in the central middle seat, too.
Access to the boot is a little tight, in typical saloon car fashion, but it is pretty deep and there is some space for storing cables underneath the boot floor. You also get a small amount of stowage under the bonnet at the front, although not a huge amount (particularly on the twin-motor Hyundai Ioniq 6 we've had a poke around).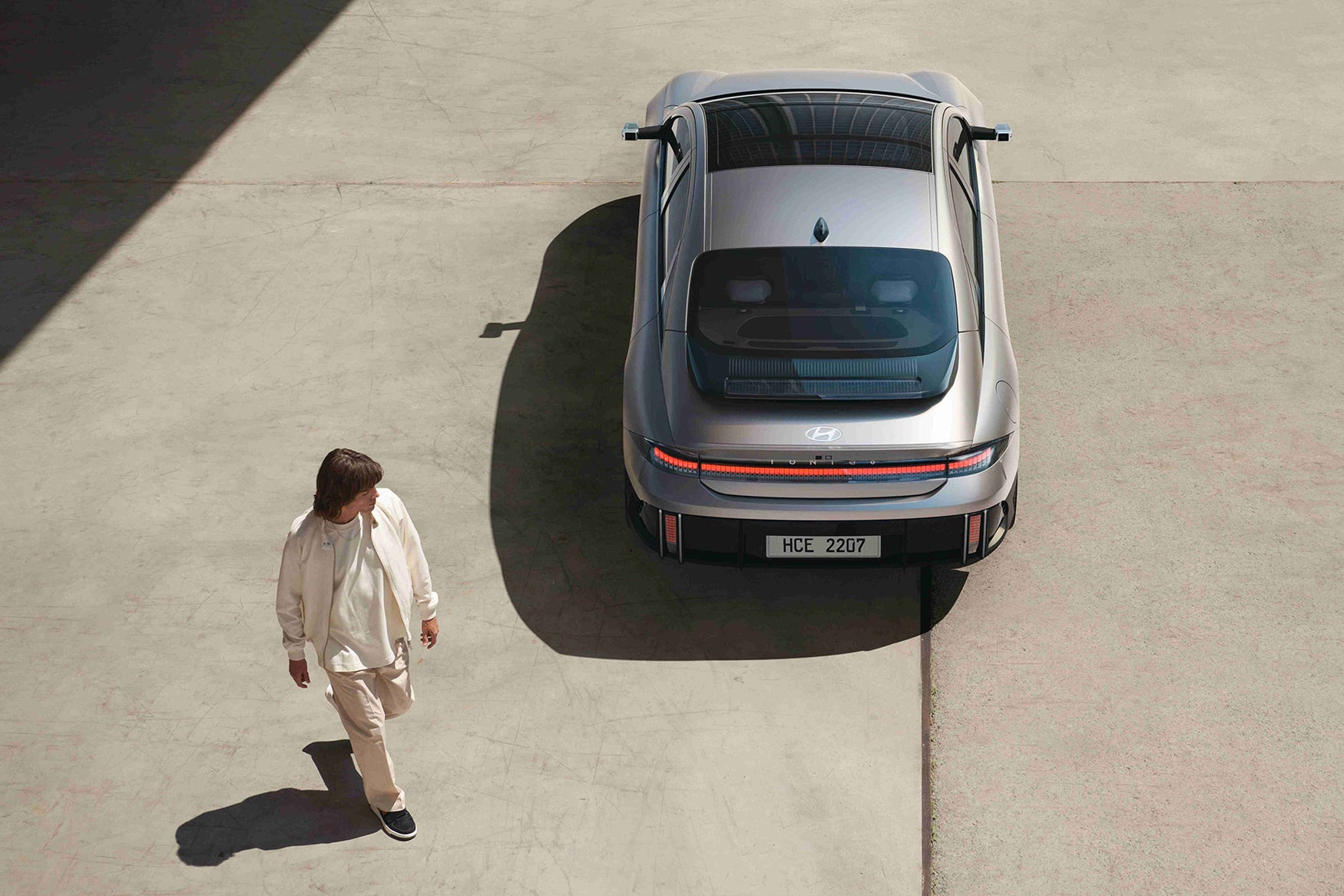 Opinion: why the Hyundai Ioniq 6 is worth waiting for
If you're considering buying your first electric car, the steady stream of new and updated models can actually be a bit off-putting. The last thing you want is "the next big thing" to be announced the day you take delivery.
Generally, we'd suggest that the right time to buy an electric car for many buyers is now. We're well past the early-adopters stage (pure-electric vehicles account for around 15% of the UK new car market so far in 2022), while the advances in technology are now pretty incremental. Sure, the latest electric vehicles (EVs) might be able to travel a few more miles on a charge than their predecessors, but we're not going to see a huge jump in range until solid-state batteries come along (and it'll be years before that happens).
So, if you're ready to submit the order form for your first electric car, why you should wait for the Hyundai Ioniq 6? It's likely to be 2023 before the first customer vehicles arrive in the UK, and high demand is likely to keep waiting lists long.
Well, for a start, the Koreans are absolutely smashing electric vehicles. Not literally, but the Hyundai Ioniq 5 is one of the best electric cars you can buy today. Its strongest competition comes from its closest relations – cars like the Kia EV6 and Genesis GV60.
The Hyundai Ioniq 6 builds on the brand's electric car experience gained from the Ioniq 5 (as well as the regular Hyundai Ioniq and the Hyundai Kona Electric). That means you get a very useable range (up to 379 miles is mooted), as well as nifty features like the brand's vehicle-to-grid capabilities.
It's also wrapped up in a very desirable package. Not everyone will like how the Ioniq 6 looks, but the Ioniq 5 looked a bit controversial when that was first revealed, and that's not harmed sales. Hyundai is no longer about blending in.
Of course, one of the biggest obstacles the Hyundai Ioniq 6 faces is it's not an SUV. That's a bold statement itself in 2022's new car market. Don't forget, though, that the Tesla Model 3 is the UK's best-selling electric car – proof that saloons can still be fashionable. And then there's the BMW i4, another one of our favourite electric cars and another with a low-slung seating position. It's also going to be one of the Hyundai Ioniq 6's biggest rivals.
In true Korean form, the Ioniq 6 will undercut the BMW in price, but that doesn't mean it feels like a budget choice. We've poked and prodded a pre-production version of the Ioniq 6 and it's well-built, while technology like the digital door mirrors add to the 'car of the future' vibe. If you're looking for a new electric car that could be 2023's next big thing, we reckon the Hyundai Ioniq 6 could be it.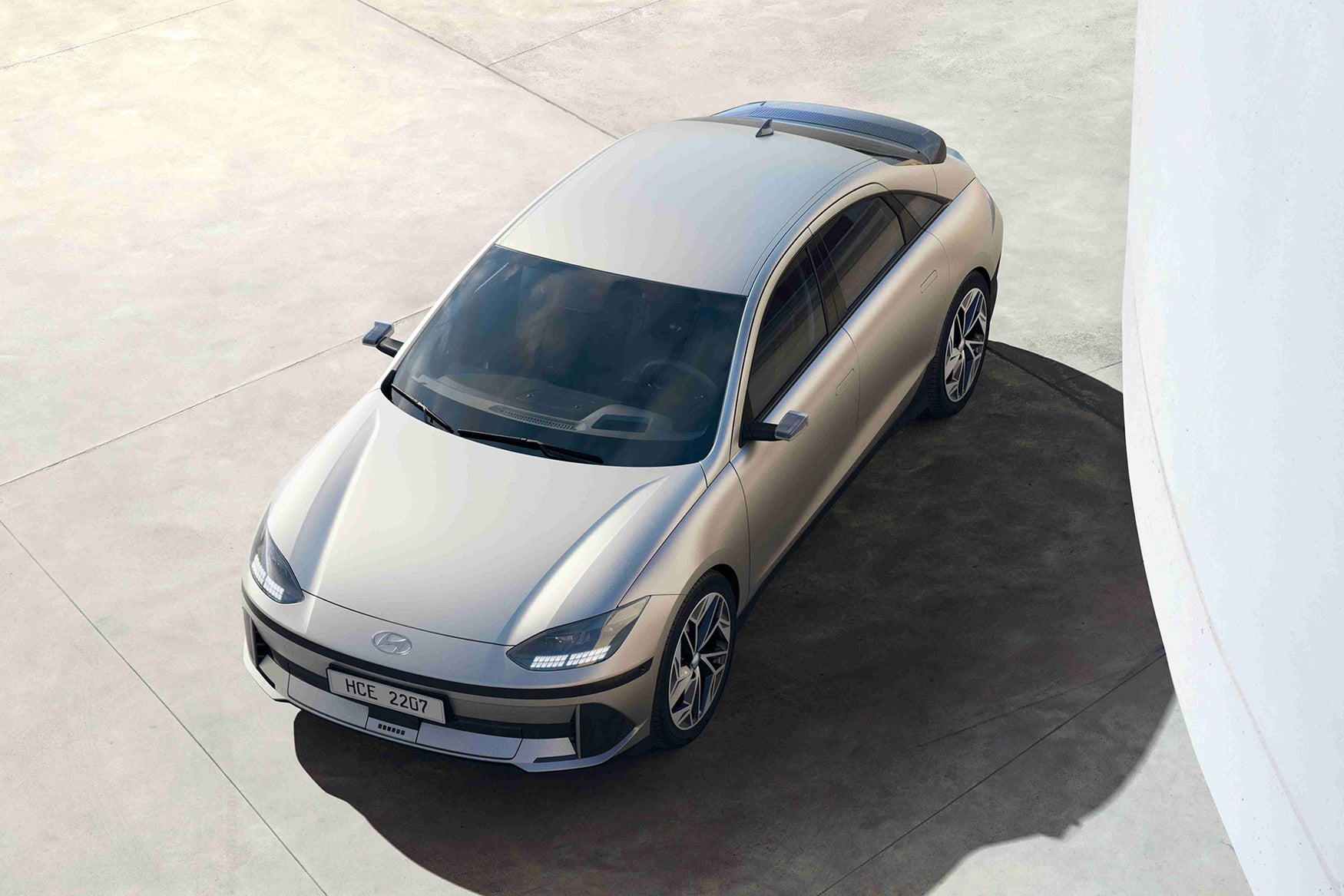 Find a used Hyundai Ioniq 5 for sale
Want to buy a new electric car but don't want to wait for the new Hyundai Ioniq 6 to go on sale in 2023? Beat the waiting list by looking at the Hyundai Ioniq 5 instead. Just like the Ioniq 6, the Ioniq 5 is an innovative electric car, albeit one that's shaped like an SUV rather than a fastback saloon.
A used Hyundai Ioniq 5 can be picked up for a smidgen over £40,000 – representing a significant saving compared to a new Ioniq 5 as well as giving you the opportunity to skip the waiting list.
Looking for more new car news?
Click on for the latest on the Toyota bZ4X , new Honda Civic Type R and the Alfa Romeo Tonale.
Prices for the new Hyundai Ioniq 6 will be confirmed later in 2022 ahead of deliveries in 2023. Expect the most affordable models to start from around £47,000.
Hyundai describes the Ioniq 6 as an 'electrified streamliner'. In reality, it's a four-door fastback saloon (or coupe if you must). It's very definitely not an SUV, unlike the Hyundai Ioniq 5 (which could be described as an overgrown hatch, a crossover or a full-blown SUV depending on your point of view).
Official range figures for the Hyundai Ioniq 6 electric car are yet to be confirmed, but the single-motor 77kWh model is expected to cover close to 380 miles between charges. That makes it one of the longest-range electric cars you can buy.
Hyundai Ioniq 6 digital world premiere
Read reviews of the cars the Hyundai Ioniq 6 has to beat