2023 Kia EV9 electric SUV: price, specs and release date
2023 Kia EV9 electric SUV: price, specs and release date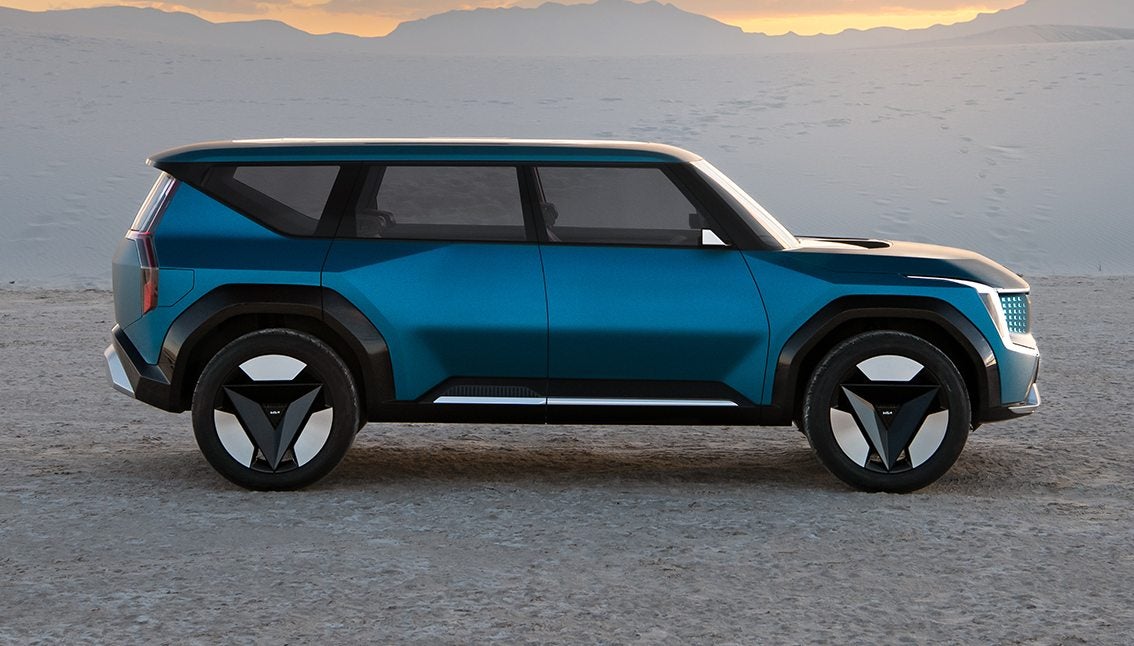 The Kia EV9 is a flagship electric SUV that'll arrive in the UK in 2023, tasked with taking on the likes of Audi e-Tron and Mercedes-Benz EQC.
It's set to have a huge 100kWh battery with 800V electrical architecture allowing for a range of more than 300 miles and super-fast charging speeds. The seven-seater SUV will have huge interior space and a cabin that's packed with infotainment screens and premium-feeling materials. Keep reading for all the info.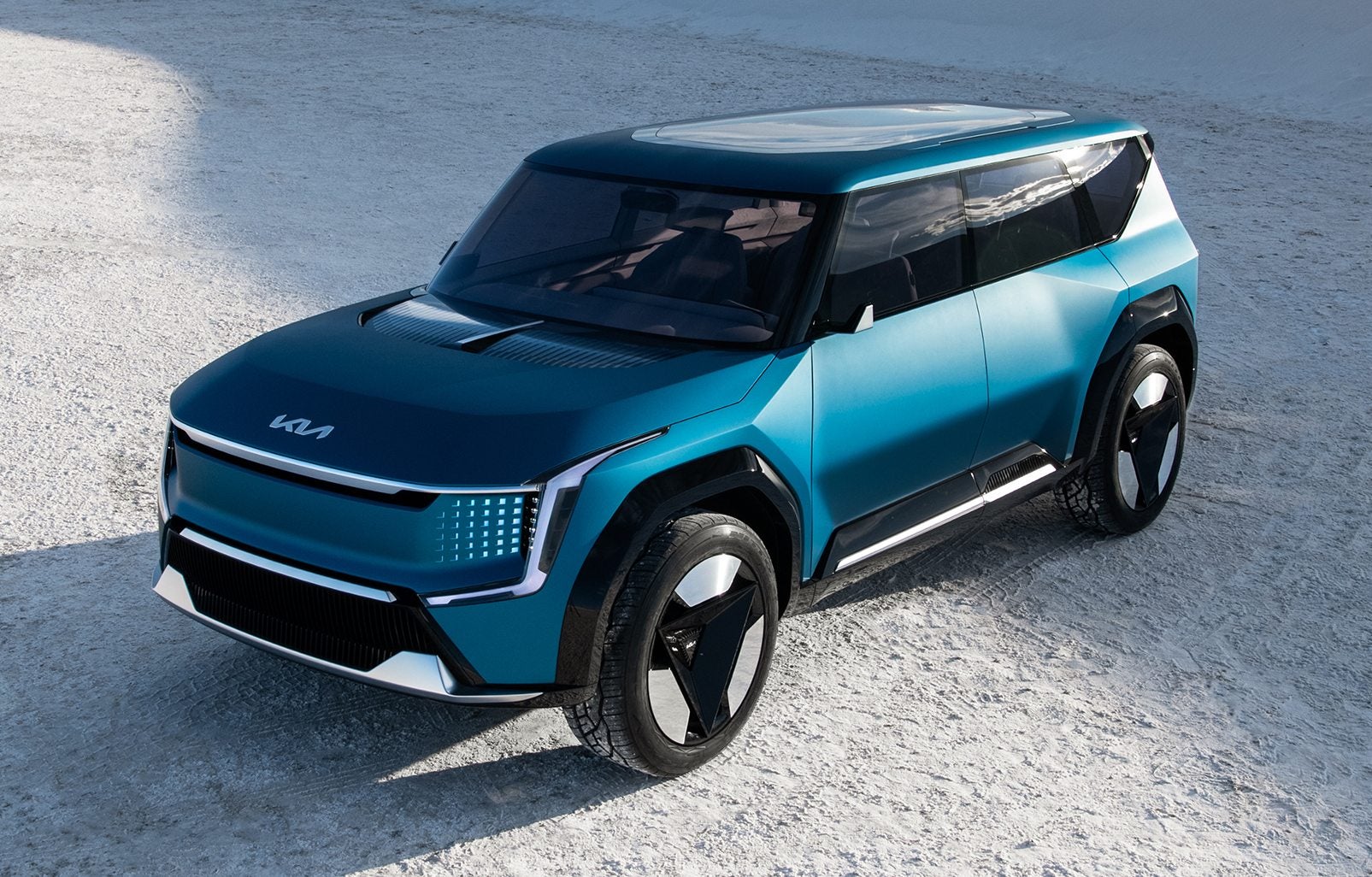 2023 Kia EV9: price and release date
The Kia EV9 is expected to be priced from around £55,000 when it goes on sale in the middle of next year. That'll buy you an entry-level, two-wheel-drive with a range of more than 300 miles. High-performance four-wheel drive versions, packing more than 300PS and acceleration of 0-62mph in under six seconds, will likely cost £80,000. By contrast, the Audi e-tron is priced from £64,000 while the Mercedes-Benz EQC – which will be significantly smaller than the Kia – starts from £70,000.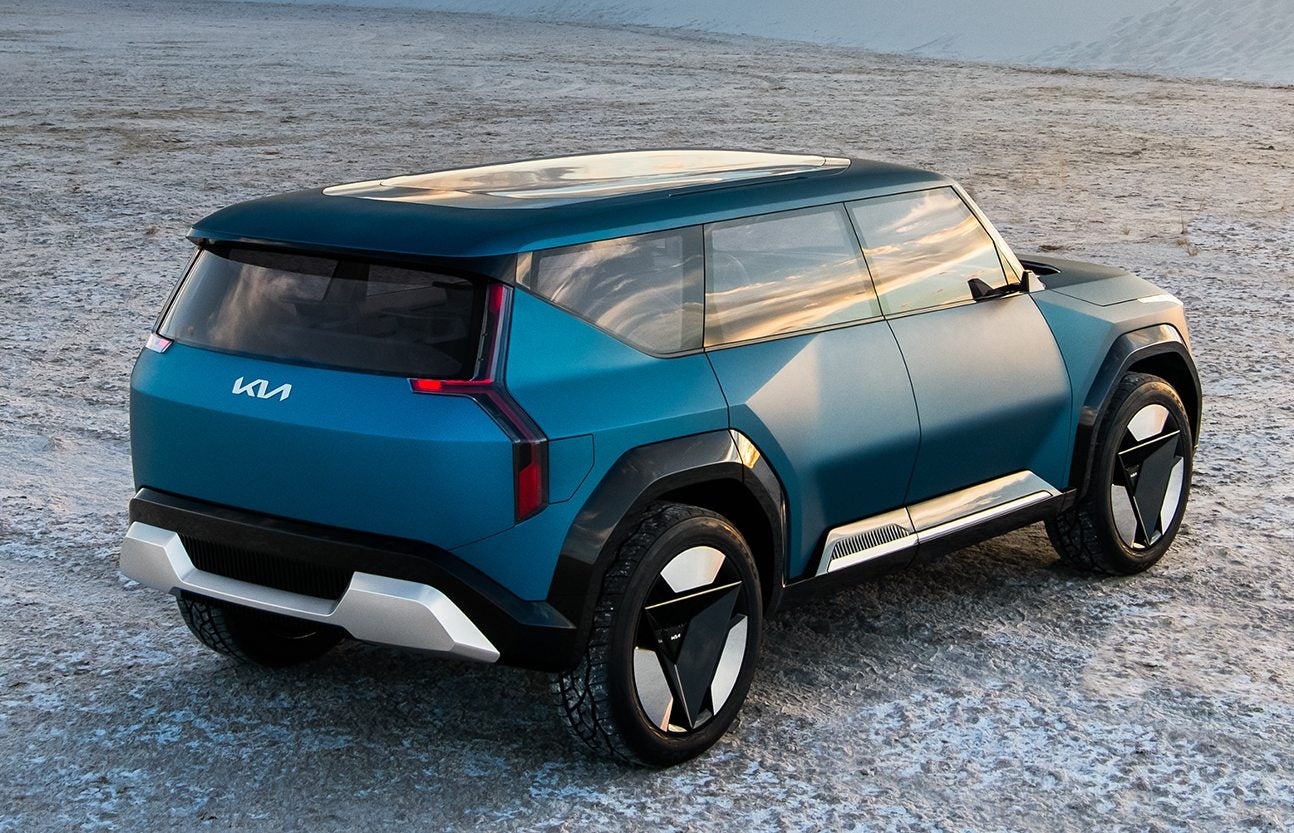 Kia EV9: exterior and interior design
While the Kia EV9 might have a high-tech powertrain, its exterior design is classic old-school SUV. It's a boxy looking thing with imposing proportions that'll appeal to anyone who's previously bought a German SUV.
A blanked off grille is the most obvious giveaway that the Kia is electric powered – EVs don't need a grille for cooling like a petrol or diesel – and on either side you'll find matrix LED headlights with LEDs that can be turned off individually to cast dark spots over oncoming traffic.
There are plenty of aero features at the front of the car including breathers that send air around the front wheels and a small air vent above the grille that sends air over the bonnet and up the car's windscreen.
Roof bars that retract when they're not in use improve aerodynamics, too, and you'll also find rear-facing cameras that don't produce the same drag as a conventional wing mirrors. Even the bonnet has a clever energy-saving trick up its sleeve thanks to solar panels that help top up the car's battery.
The Tonka toy looks of the front of the car continue to the sides. Boxed wheel arches house massive 22-inch wheels and the car's concave bodywork emphasises their shape. Pillar-less suicide rear doors give great access and you get a glass roof that helps the interior feel light and airy.
The rear-end, meanwhile, gets a characteristically square shape with a modern twist provided by a pair of thin LED tail lights that'll help the EV9 look distinctive at night.
While the EV9's exterior is traditional SUV, the interior will make a break from the norm. You can expect it to feel very roomy, with a flat floor and space between the centre console and dashboard making the EV9 feel airy next to a more cocooning conventional SUV.
The dashboard itself will get a huge infotainment screen (the concept's is 27-inches in size) that'll be used to control almost all of the car's systems and will be fitted as standard with Apple CarPlay and Android Auto.
Expect interior space to be generous. The EV9 will have space for seven tall adults – with seven seats that can rotate 360 degrees – and you can expect its boot to be huge.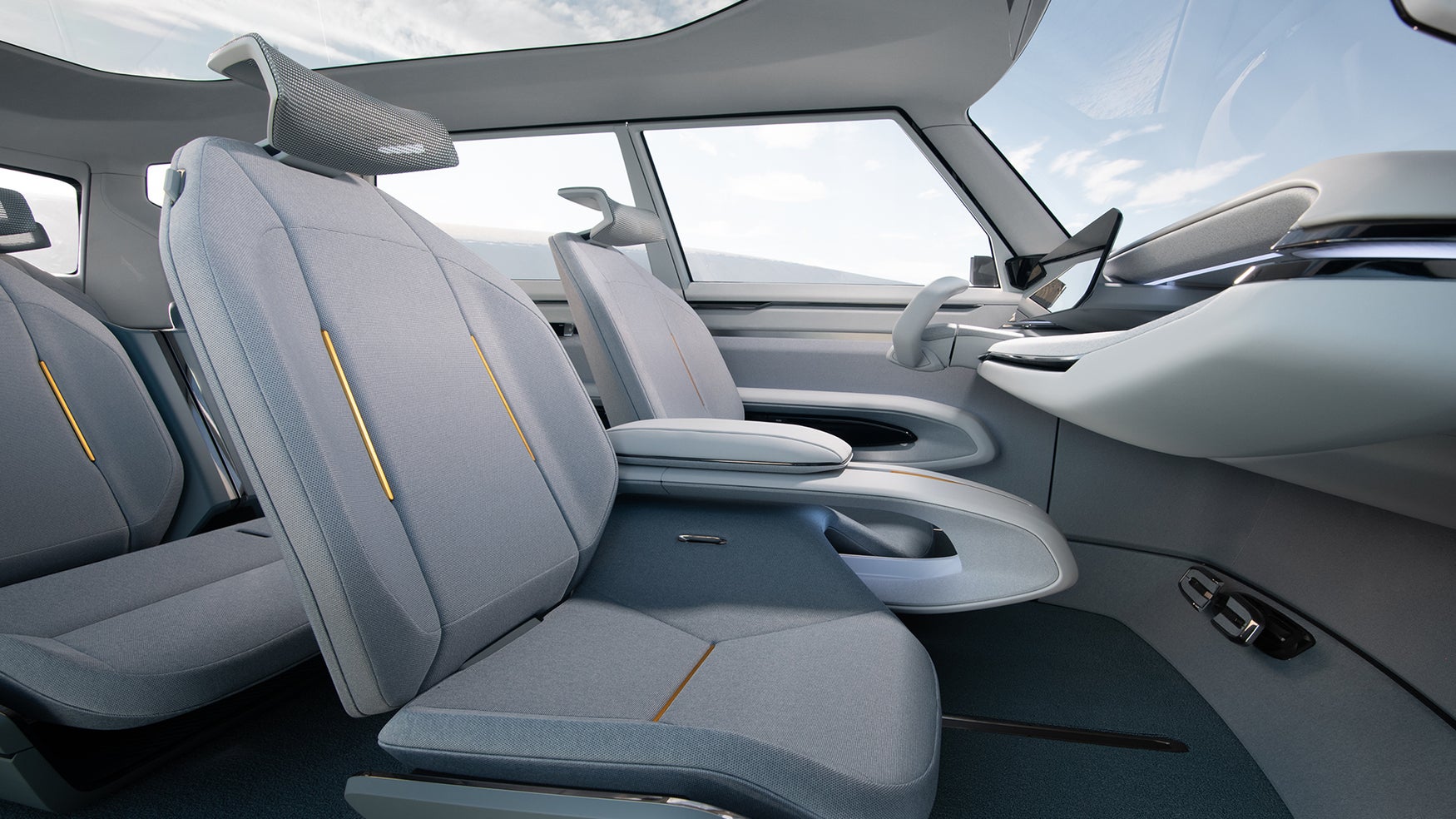 2023 Kia EV9 electric SUV: range, performance and drive
The Kia EV9 electric SUV is expected to be fitted with a 100kWh battery that'll give it a range of more than 300 miles, while 800V electrical architecture means it'll be capable of fast charging speeds of up to 350kW – meaning you'll be able to charge the battery from 10-80 per cent in less than 30 minutes using a public fast charger. Expect to need more than 10 hours to charge the battery from flat to full using a wall-mounted home charger.
You're likely to be able to choose from two version of the EV9 – a long-range model and a high-performance variant. The latter is likely to get a single 229PS motor driving the rear-wheels – as you'll find in Kia's EV6 electric car – for a range of around 330 miles and performance of 0-62mph in less than 10 seconds.
A high-performance model is likely to produce 325PS courtesy of a motor at the front and the rear, making it four-wheel drive. You can expect it to hurtle from 0-62mph in less than six seconds, although range will suffer – it'll get around 280 miles from a charge.
Now's a perfect time to buy a used Kia Sorento
With the Kia EV9 and a new Sorento already on sale, now could be the perfect time to snap up an example of the old Sorento. Possibly one of the most underrated cars Kia has built, the old Sorento was a roomy seven-seater SUV that felt solid and substantial to drive, and had a brilliant 2.2-litre diesel engine that had lots of punch but didn't cost a fortune to fuel. Prices start from less than £13,000 for a high-mileage basic spec, KX-1 model from 2015. But we would spend closer to £20,000 for a high-spec KX-4 2015 car with less than 50,000 miles.
Read the latest news on cars like the Dacia Bigster SUV, Audi Q6 e-tron electric SUV, new Ford Focus family car and the Volkswagen ID.Buzz people carrier.
The Kia Concept EV9 | Innovation inspired by nature.
Read reviews of the cars the Kia EV9 has to beat