2021 Peugeot 308 set to rival Volkswagen Golf


Ford Focus rival will reach the UK in late 2021, priced at around £22,000 when new
Hybrid options will see a 37-mile electric range with a two-hour recharge time
New 308 will offer more boot than in a Volkswagen Golf or Hyundai i30
The Peugeot 308 is getting a significant update as it moves into its third generation - with a handsome new design, upgraded interior and the introduction of a new range of efficient petrol hybrid engines.
The Ford Focus and Hyundai i30 rival gets sleek LED headlights as standard, which feature Peugeot's trademark vertical LED daytime running lights and a large grille. High-spec versions of the Peugeot 308 will get headlights that feature Matrix LED Tech, which splits the light beam into tiny blocks that can be individually turned on/off to prevent the dazzling of oncoming vehicles or lighting up corners of the road.
The new 308 is also the first model to showcase the Peugeot's new logo (a roaring lion's head), which smartly hides the radar used by the autonomous driving aids. At the rear, there's an extended roof spoiler, too.
As with virtually all cars making the transition to the next generation, the 308 is larger than its predecessor. The latest model is longer, offering more space in the back seats, while the windscreen is set at more of an angle and the roof is lower - all in the name of aerodynamics.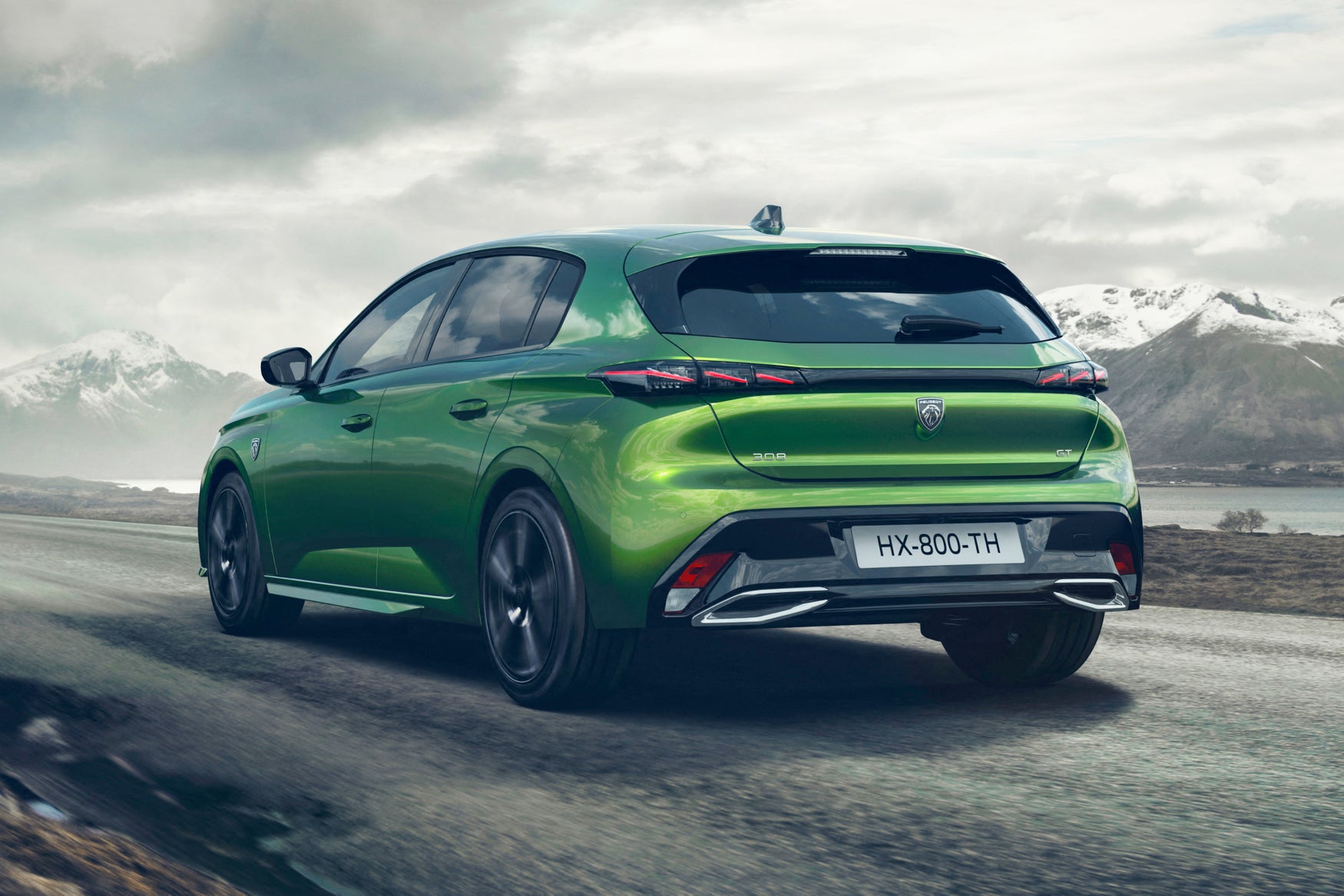 The boot offers 412 litres of luggage capacity, with a further 28 litres of storage in a hidden compart beneath the load floor. With the rear seats folded flat, the maximum capacity increases to 1323-litres - meaning there's more boot space than in the Volkswagen Golf, Hyundai i30 and Ford Focus.
Peugeot will offer the 308 with petrol, diesel or petrol plug-in hybrid power. The 1.2-litre petrol is available with 110PS or 130PS and comes paired with a six-speed manual gearbox or an optional eight-speed auto (in 130PS guise only).
The sole diesel is Peugeot's BlueHDi 130, a 130PS 1.5-litre engine - which is available with a six-speed manual gearbox. Peugeot has not revealed any performance, fuel economy or CO2 figures for the 308 as of yet.
The plug-in hybrid line-up opens with the Hybrid 180 model. This combines a 150PS PureTech petrol engine with a 111PS electric motor and a 12.4kWh battery. The 308 will be able to cover 37 miles on pure electric, according to Peugeot. With CO2 emissions as low as 25g/km, it should make it a compelling company car option.
More power is available with the Hybrid 225 drivetrain, which combines a 181PS petrol engine with the same 111PS electric motor for a maximum combined power output of 225PS. The carmaker says this variant also offers a 37-mile electric-only range.
There are two types of on-board chargers available: a standard 3.7kW charger and an optional 7.4kW fast charger. The estimated recharging time is one hour 55 minutes when fitted with the optional 7.4kW onboard charger.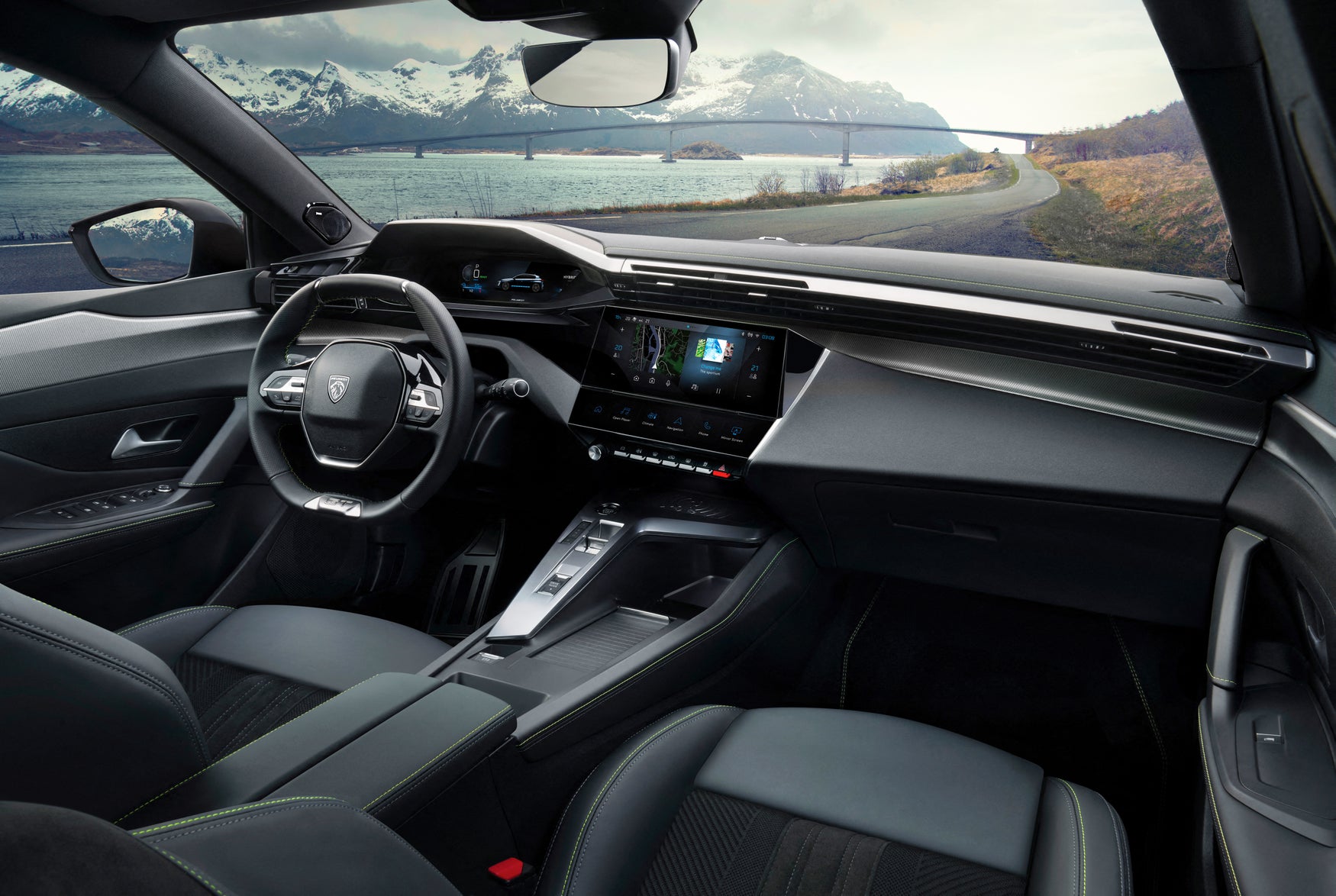 Inside is Peugeot's i-Cockpit with the familiar small steering wheel and a 10-inch digital panel above it. The central infotainment screen is also 10-inches as standard. A row of 'i-toggle' switches also sits below this screen, with each one being a shortcut to a major function, like climate control, for example.
Up to eight individual profiles can be stored and two phones can be connected at once via Bluetooth. Smartphone-mirroring functionality is now wireless as standard and the new 'OK Peugeot' voice control function can be used to change infotainment settings.
New autonomy features include long-range blind-spot monitoring, rear traffic alert, a cleaning nozzle for the reversing camera, 360-degree parking assist and wing mirrors that lower when reversing.
Peugeot has yet to reveal pricing for the new 308 but we expect the entry-level variant to start from around £22,000 with the hybrids costing slightly more. The new 308 will go on sale in Europe in the second half of 2021. However, UK orders won't begin until the tail end of 2021 (October/November).
Take a look at the new 308's competitors
Interested in the older-generation of the Peugeot 308? Check out these offers
View all results
Peugeot 308
1.6 PureTech 260 GTi 5dr
Manufacturer Approved
Robins And Day Peugeot Stockport

Cheshire, SK26PL
PCP: £434.07/mo
Representative example: Contract Length: 36 months, 35 Monthly Payments: £434.07, Customer Deposit: £3,264.00, Total Deposit: £3,264.15, Optional Final Payment: £7,853.00, Total Charge For Credit: £4,548.60, Total Amount Payable: £26,309.60, Representative APR: 11.9%, Interest Rate (Fixed): 11.9%, Excess Mileage Charge: 12.5ppm, Mileage Per Annum: 10,000
Peugeot 308
1.2 PureTech 130 GT Line 5dr
Manufacturer Approved
Drive Motor Retail Weston-super-Mare

Somerset, BS228NA
PCP: £315.07/mo
Representative example: Contract Length: 36 months, 35 Monthly Payments: £315.07, Customer Deposit: £2,385.00, Total Deposit: £2,385.00, Optional Final Payment: £5,825.00, Total Charge For Credit: £3,337.45, Total Amount Payable: £19,237.45, Representative APR: 11.9%, Interest Rate (Fixed): 11.3%, Excess Mileage Charge: 9ppm, Mileage Per Annum: 10,000
Peugeot 308
1.2 PureTech 130 Allure 5dr
Manufacturer Approved
Desira Peugeot Bury St Edmunds

Suffolk, IP327BT
PCP: £273.87/mo
Representative example: Contract Length: 37 months, 36 Monthly Payments: £273.87, Customer Deposit: £2,158.00, Total Deposit: £2,158.50, Optional Final Payment: £4,921.82, Total Charge For Credit: £2,549.64, Total Amount Payable: £16,939.64, Representative APR: 9.9%, Interest Rate (Fixed): 5.1%, Excess Mileage Charge: 14.9ppm, Mileage Per Annum: 10,000