Nissan's crossovers 'go platinum' with one million sales in the UK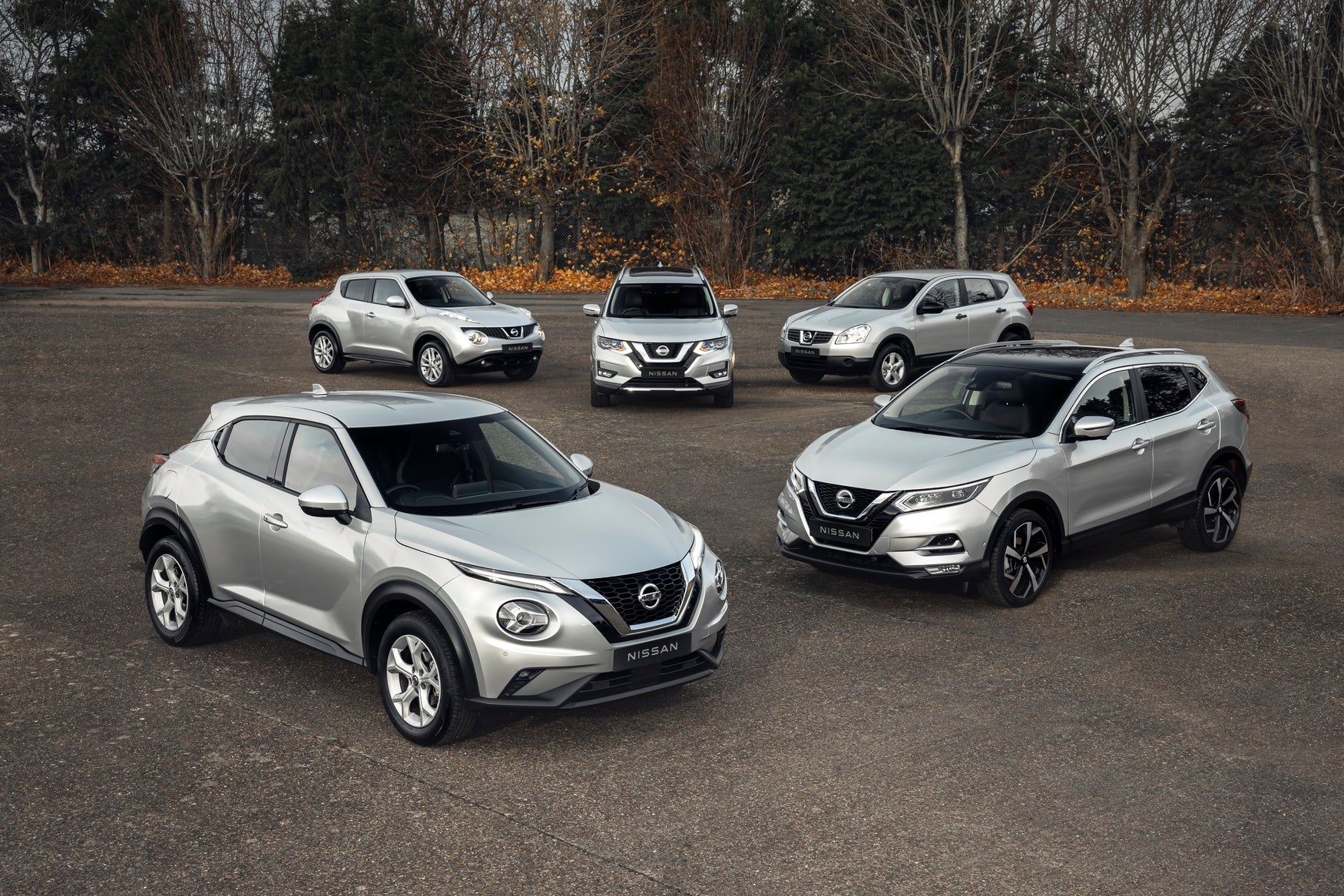 Nissan jump-started the 'crossover ' segment with the launch of the Qashqai in 2006
Over the years Nissan has added the Juke and X-Trail to its popular line-up
Nine out of ten of Nissan's best selling crossovers were built right here n the UK
Nissan is celebrating the sale of its one-millionth new crossover in the UK. The carmaker powered to the landmark figure with its trio of popular crossovers, the Qashqai, Juke and X-Trail.
Nissan is marking the one-millionth sale by wrapping the models that contributed to the milestone in platinum - a record that's traditionally awarded to music artists who achieve one million sales of their album or single.
Since Nissan created the crossover segment in 2006 with the Qashqai it has spawned countless rivals. The Qashqai is a consistent fixture amongst the UK's top 10 selling cars, with the Juke regularly entering the top 15 most popular models.
Of the one million Nissan crossovers sold in the UK, 93% were assembled at the company's Sunderland plant in North East England. Sunderland has produced crossovers for Nissan since December 2006 when the first generation Qashqai rolled off the line. Juke production began in 2010, with the second generations of Qashqai in 2014 and Juke in 2019.
Both generations of Qashqai and Juke were designed, engineered and produced in the UK. The Qashqai is the UK's largest volume manufactured car with more than three million manufactured in Sunderland and the vast majority being exported to the EU. The third-generation Nissan Qashqai, which will also be made in Sunderland, will go on sale in 2021.
Andrew Humberstone, Managing Director of Nissan Motor GB, said: "We are thrilled to have reached this unprecedented sales milestone and wish to express sincere gratitude to our customers for putting their trust and loyalty in the quality of Nissan's vehicles."
See more:
Latest Nissan crossover reviews
Nissan Qashqai
1.3 DiG-T Acenta Premium 5dr
Manufacturer Approved
Chorley Group Nissan Blackpool

Lancashire, FY42RP
PCP: £296.36/mo
Representative example: Contract Length: 36 months, 35 Monthly Payments: £296.36, Customer Deposit: £2,824.00, Total Deposit: £2,824.05, Optional Final Payment: £9,253.75, Total Charge For Credit: £3,623.40, Total Amount Payable: £22,450.40, Representative APR: 9.9%, Interest Rate (Fixed): 9.45%, Excess Mileage Charge: 5.05ppm, Mileage Per Annum: 10,000
Nissan Qashqai
1.3 DiG-T Acenta Premium 5dr
Sandicliffe Nissan Loughborough

Leicestershire, LE115HN
PCP: £299.83/mo
Representative example: Contract Length: 37 months, 36 Monthly Payments: £299.83, Customer Deposit: £2,848.00, Total Deposit: £2,848.35, Optional Final Payment: £9,067.18, Total Charge For Credit: £3,720.41, Total Amount Payable: £22,709.41, Representative APR: 9.9%, Interest Rate (Fixed): 5.1%, Excess Mileage Charge: 14.9ppm, Mileage Per Annum: 10,000
Nissan Qashqai
1.3 DiG-T MH 158 Premiere Edition 5dr Xtronic
Manufacturer Approved
West Way Nissan Mill Hill

Middlesex, NW72QR
PCP: £426.65/mo
Deposit cont. £395
Representative example: Contract Length: 37 months, 36 Monthly Payments: £426.65, Customer Deposit: £4,349.00, Total Deposit: £4,744.85, Manufacturer Deposit Contribution: £100.00, Retailer Deposit Contribution: £295.00, Optional Final Payment: £14,623.69, Total Charge For Credit: £5,728.94, Total Amount Payable: £34,727.94, Representative APR: 9.9%, Interest Rate (Fixed): 9.9%, Excess Mileage Charge: 8ppm, Mileage Per Annum: 10,000