Renault Arkana E-Tech Hybrid First Drive 2021

Best bits
Stylish alternative to Renault Kadjar
Hybrid model officially returns up to 58.9mpg
We're expecting to see some very good pre-reg deals
Not so great
Quite unrefined in terms of engine, wind and road noise
Tardy acceleration and harsh ride
Is it impressive enough to stand out against the new Hyundai Tucson?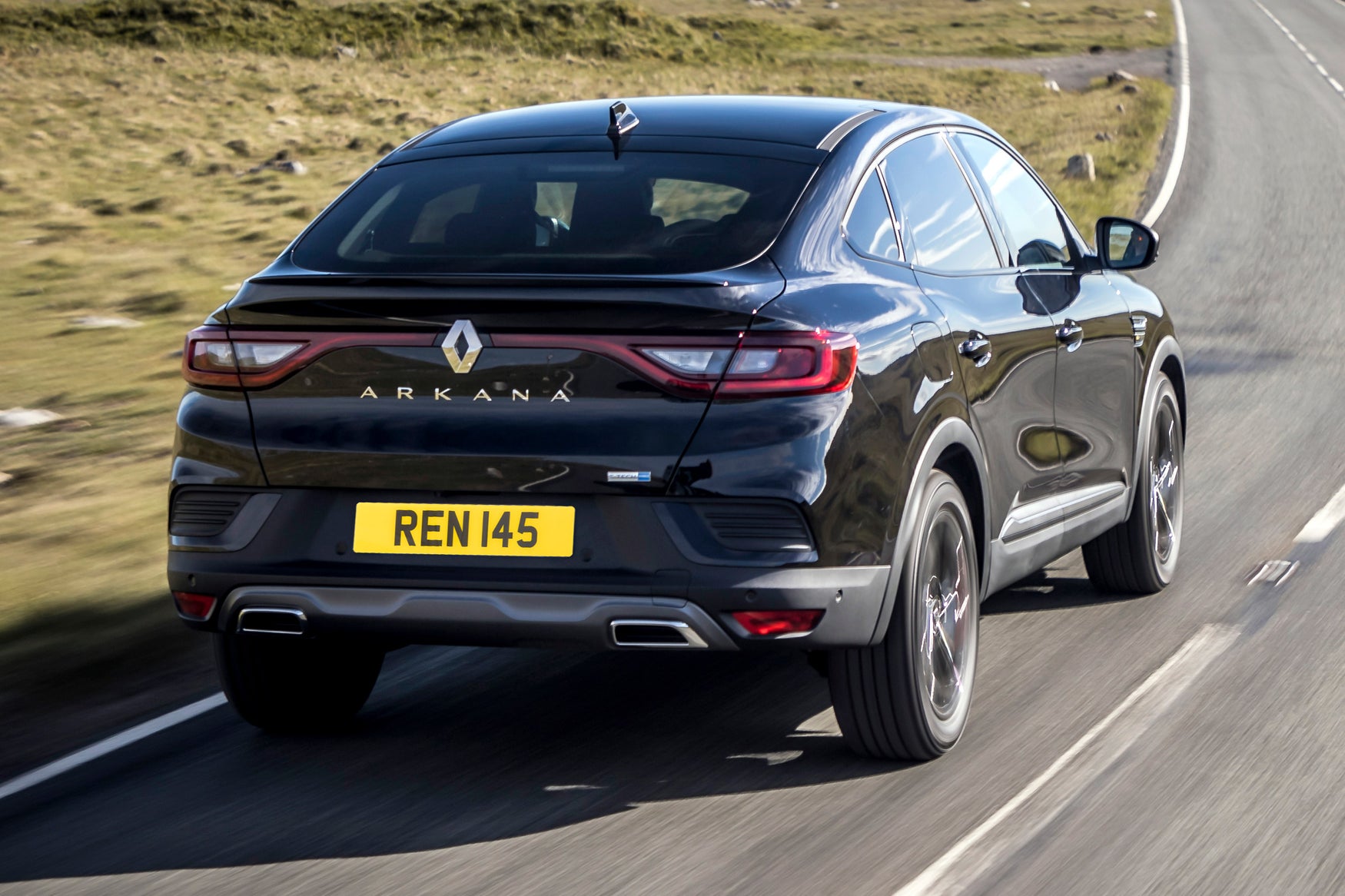 What is it?
A Renault that thinks it's a BMW X4. Hey, it's good to have ambitions, right?
Renault describes the Arkana as a hybrid vehicle, in more ways than one. Not only does it combine a petrol engine with an electric motor (two, in fact), but it also crosses the line between coupe and SUV. And we all know the world loves a small SUV crossover.
Direct rivals include similarly niche models like the Toyota C-HR, Citroen C4 and Cupra Formentor, but in reality you're likely to be considering it alongside all the usual family SUVs – cars like the Nissan Qashqai, Skoda Karoq, Hyundai Tucson and Peugeot 3008.
Prices start from around £25,000 but Renault's already offering some tempting 0% finance deals with a headline monthly figure of £249. We reckon there'll be some pre-reg bargains hitting the market soon, too, while it's telling that around a quarter of Arkanas are expected to be offered via the Motability scheme – its high seating position and automatic gearbox both appealing to an older audience, apparently.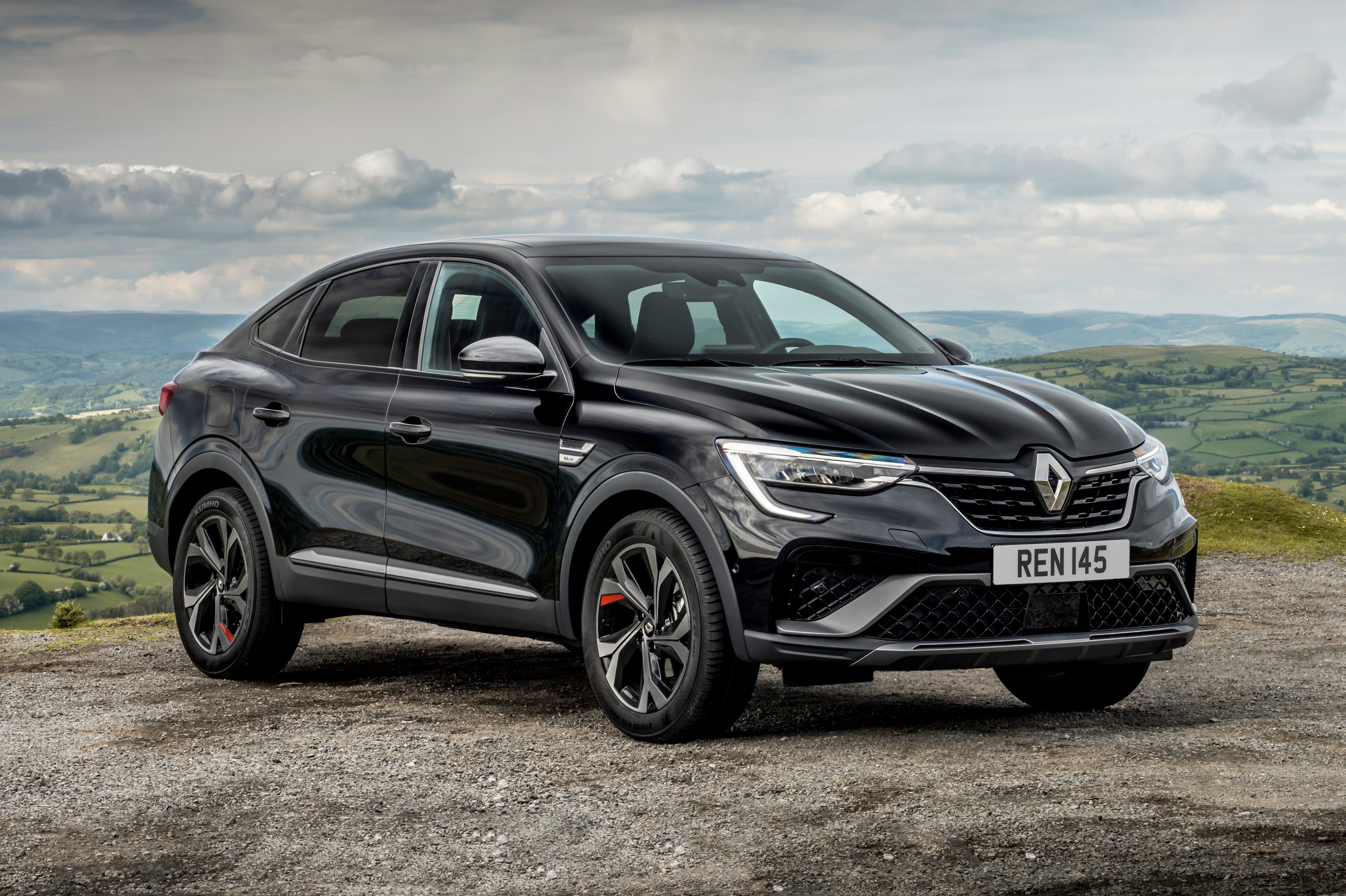 Is it a coupe or an SUV? These crossovers will never catch on...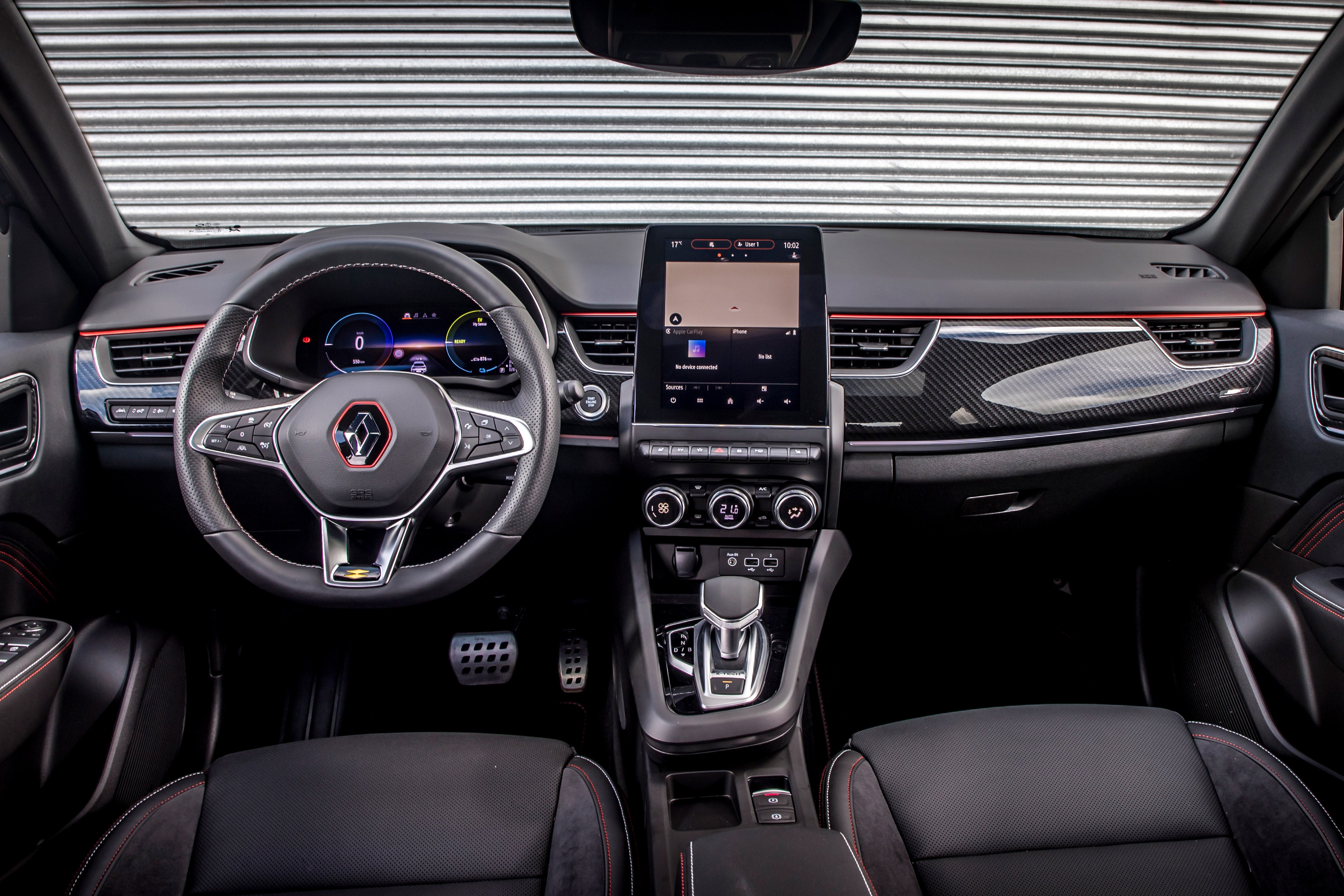 It's much like a Renault Clio in here. You can decide whether that's a good thing
Does the world need a budget BMW X4?
The posh brands have made it clear that expanding their SUV line-up into every possible niche makes perfect business sense. If you were paying attention to the 2019 Moscow Motor Show, you'd have seen the Arkana revealed back then – but that Arkana was based on an old platform and intended to appeal to markets with different standards to us.
We didn't actually expect the Arkana to be offered in the UK, but here we are. 'Our' Arkana is very different, though – it's built in a factory in South Korea and based on the Clio and Captur. That brings with it the kind of comfort demanded by Europeans, says Renault, along with a wide range of safety systems. Oh, and it caters for electrification (i.e. the ability to add batteries) – that's quite an important feature of new cars these days.
The challenge has been making the Renault Arkana look stylish, with its coupe roofline, while retaining interior space. And that's actually been done pretty well. There's a split-level boot catering for up to 513 litres of luggage, while there's only 15mm less headroom in the rear than the front. Proving that rear-seat passengers aren't second class citizens, you'll find air vents and USB charging points back there – what more could teenagers possibly ask for?
The interior will feel familiar to anyone who's driven a recent Renault model. There's a slightly laggy 9.3-inch infotainment system (standard on S Edition and R.S. Line trim levels), while piano key buttons and rotary knobs clutter the dash. That's not necessarily a bad thing, though – we'd rather than this than having to operate everything through the touchscreen.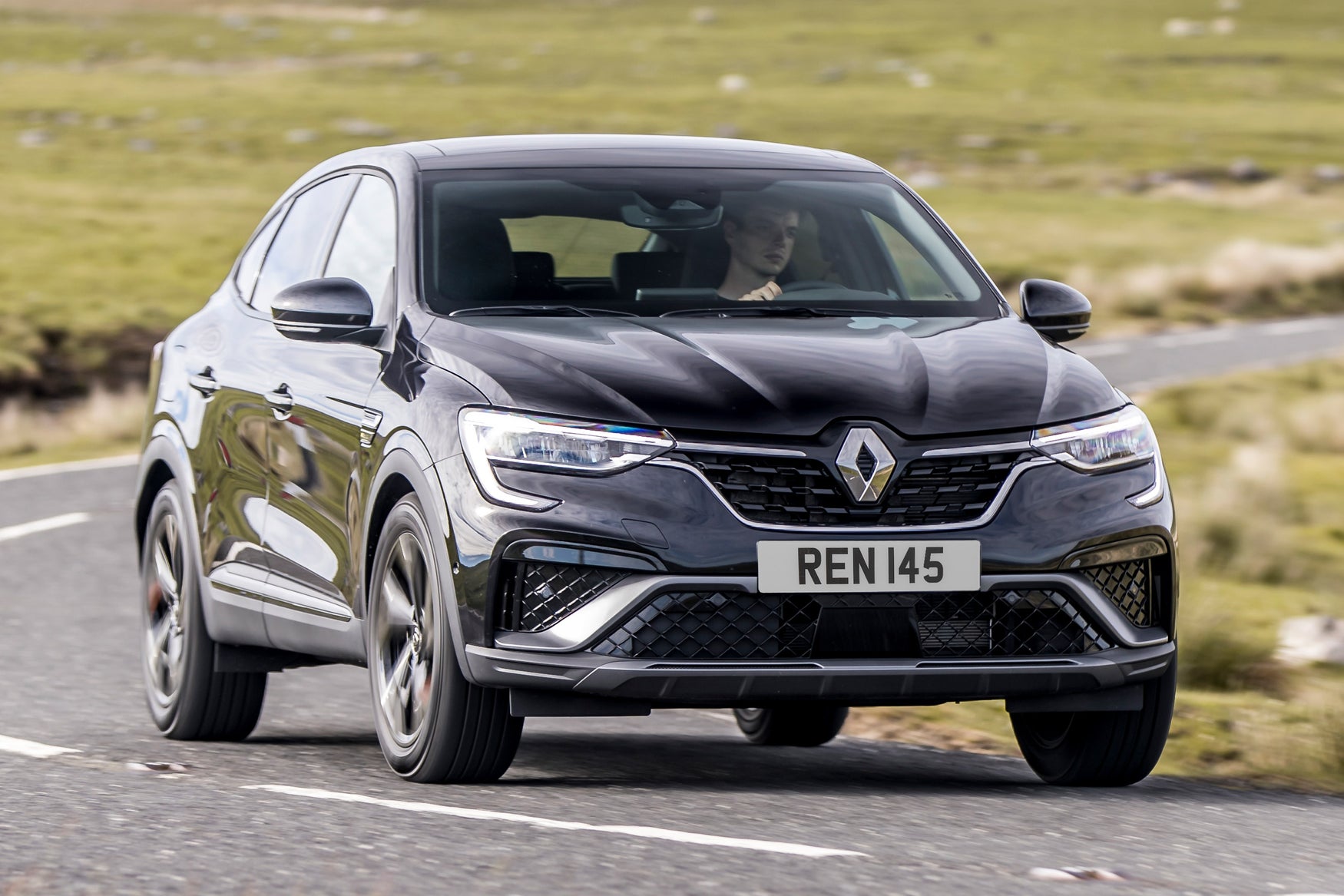 How does the Renault Arkana drive?
It's the first Renault designed from the ground up as a hybrid car. Buyers get the choice of an E-Tech hybrid setup (badged the E-Tech 145) and the mild-hybrid TCe 140. Don't walk into a dealer and ask for an Arkana with a diesel engine – you'll soon be asked to leave. Or, at the very least, explained the benefits of going hybrid.
Around two-thirds of buyers are expected to opt for the full hybrid model, and that's the one we're reviewing here. It pairs a 1.6-litre petrol engine with a 1.2kWh battery pack and two electric motors. It's not a plug-in hybrid model, so you don't have to faff around with charging, yet in official tests the Arkana E-Tech hybrid returns up to 58.9mpg. That's pretty good for a car of this size.
With 142PS on tap, the Renault Arkana is no rocketship. It bimbles to 62mph in a leisurely 10.8 seconds, while its automatic gearbox soon gets flustered and creates a bit of a din if you mash the throttle. It's much better to take it easy and let everyone else rush around you, frankly.
While you're not going to travel a substantial distance under electric power, the hybrid setup does prioritise electric mode, particularly on start-up. That means you can creep away from home without the petrol engine kicking in – ideal for those who live in city centres (or just want to keep the neighbours sweet). It's actually surprising how long the Arkana spends in electric mode, not that this is particularly beneficial to refinement.
It's quite a noisy car in terms of road and wind noise. You'll notice quite a substantial roar from the tyres, while the suspension never really seems to settle down. It's not particularly dynamic, either – sure, it feels safe, but a Mazda CX-30 or Cupra Formentor will be more enjoyable to drive.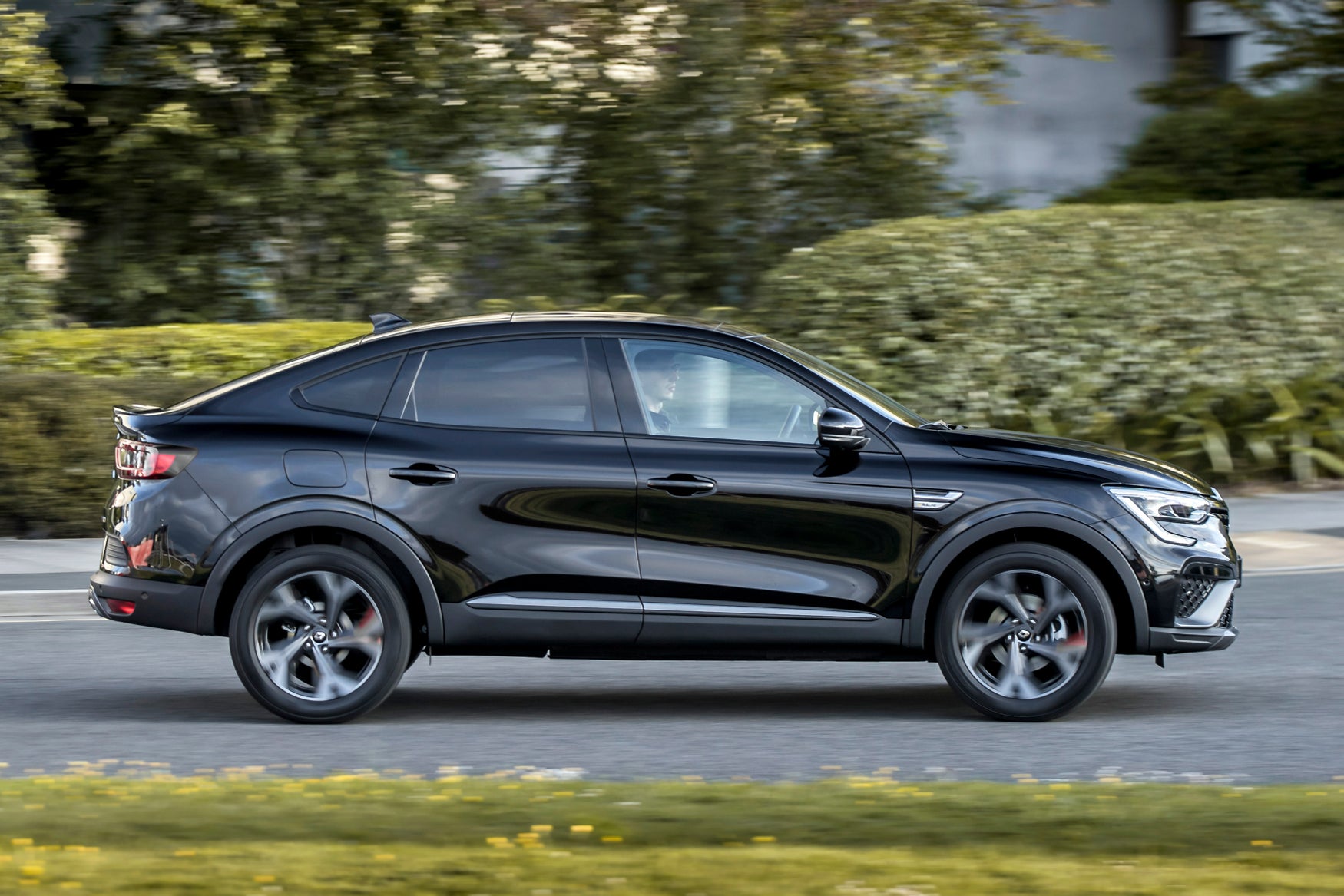 Watch: Renault Arkana TV advert
Renault Arkana: the facts
Model tested: Renault Arkana R.S. Line E-Tech hybrid 145 Auto
Engine: 1.6-litre petrol-electric hybrid
Gearbox: Dog-clutch multi-mode automatic
Power/torque: 142PS/180Nm (250Nm electric)
Combined fuel economy: 58.9mpg
CO2 emissions: 108g/km
Price from: £25,300
As tested: £30,900
The Renault Arkana is a coupe-SUV that rivals the Toyota C-HR and Cupra Formentor. It's based on the same platform as the Renault Clio and Captur, but it's closer in size to the Kadjar crossover SUV.
Renault Arkana prices start from £25,300 for an Iconic model with the TCe 140 petrol engine. The hybrid starts from £26,300 on-the-road, while the S Edition is priced from £27,600. The range tops out with the R.S. Line Hybrid which is priced from £30,900.
There's a lot to like about the Renault Arkana. It looks kinda cool, with a coupe-SUV profile. You also get a high driving position and more interior space than you might expect. It's not exciting to drive but it'll be very efficient, thanks to mild-hybrid and hybrid drivetrains.
Renault Arkana
1.3 TCe Mild Hybrid 140 R.S. Line 5dr EDC
Renault Retail Group Cardiff

South Glamorgan, CF118UU
PCP: £527.13/mo
Representative example: Contract Length: 37 months, 36 Monthly Payments: £527.13, Customer Deposit: £4,537.00, Total Deposit: £4,537.50, Optional Final Payment: £12,376.70, Total Charge For Credit: £5,640.88, Total Amount Payable: £35,890.88, Representative APR: 9.9%, Interest Rate (Fixed): 9.9%, Excess Mileage Charge: 8ppm, Mileage Per Annum: 10,000
Renault Arkana
1.3 TCe Mild Hybrid 140 R.S. Line 5dr EDC
Renault Retail Group Wirral

Cheshire, CH430SE
PCP: £533.94/mo
Representative example: Contract Length: 37 months, 36 Monthly Payments: £533.94, Customer Deposit: £4,575.00, Total Deposit: £4,575.00, Optional Final Payment: £12,376.70, Total Charge For Credit: £5,673.54, Total Amount Payable: £36,173.54, Representative APR: 9.9%, Interest Rate (Fixed): 9.9%, Excess Mileage Charge: 8ppm, Mileage Per Annum: 10,000
Renault Arkana
1.6 E-TECH Hybrid 145 R.S. Line 5dr Auto
Stoneacre Blackburn Renault Dacia

GB, BB15DG
PCP: £547.69/mo
Representative example: Contract Length: 36 months, 35 Monthly Payments: £547.69, Customer Deposit: £4,499.00, Total Deposit: £4,499.25, Optional Final Payment: £12,548.11, Total Charge For Credit: £6,221.51, Total Amount Payable: £36,216.51, Representative APR: 11.3%, Interest Rate (Fixed): 5.81%, Excess Mileage Charge: 7.8ppm, Mileage Per Annum: 10,000