Renault Megane R.S. 300 EDC First Drive 2021

Written by
Russell Campbell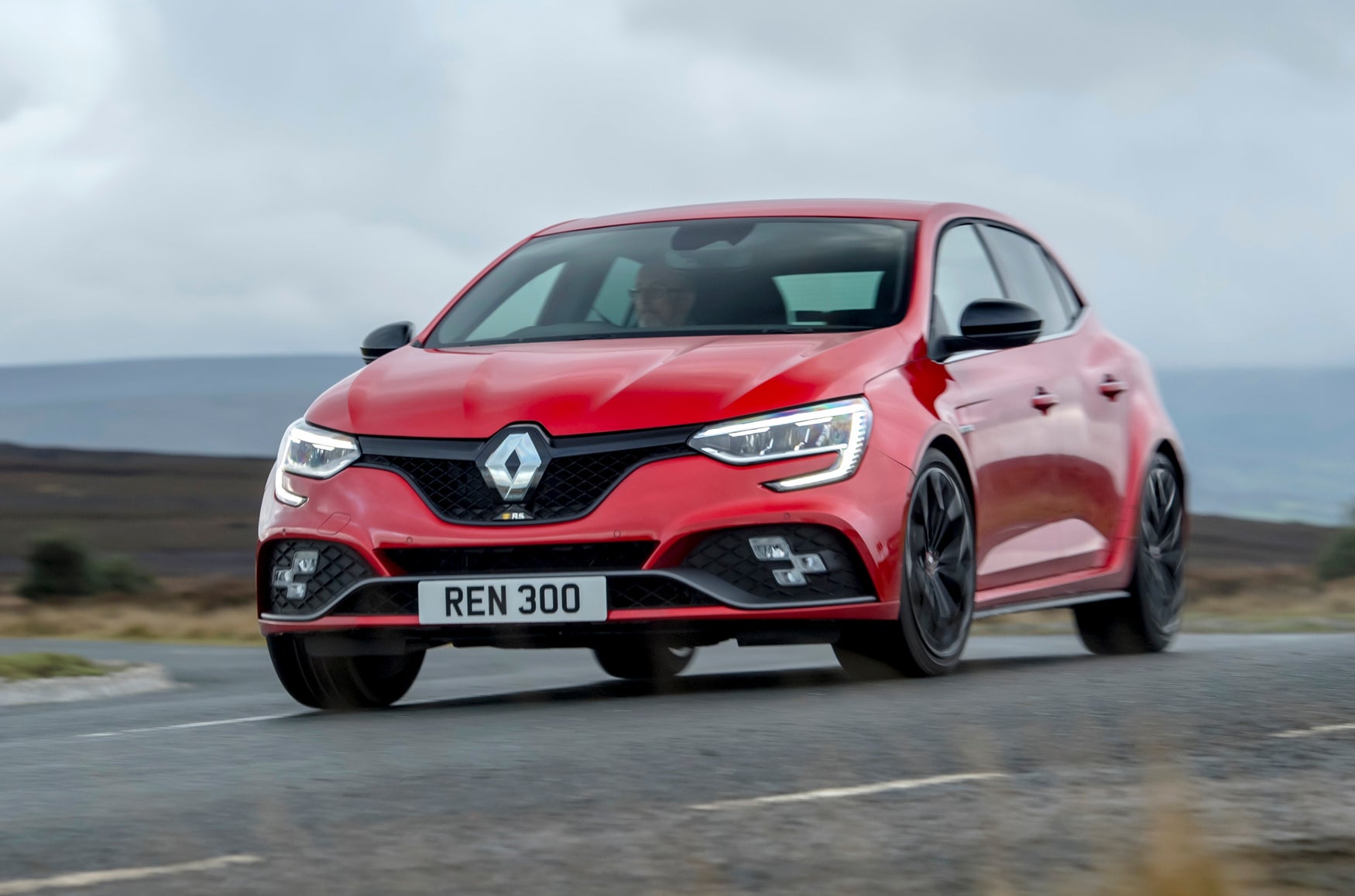 Best bits
Brooding looks
Engine/exhaust combo
It's just outrageously good fun
Not so great
Not the most practical of hot hatches
Rough and ready driving experience
Would be even better with an LSD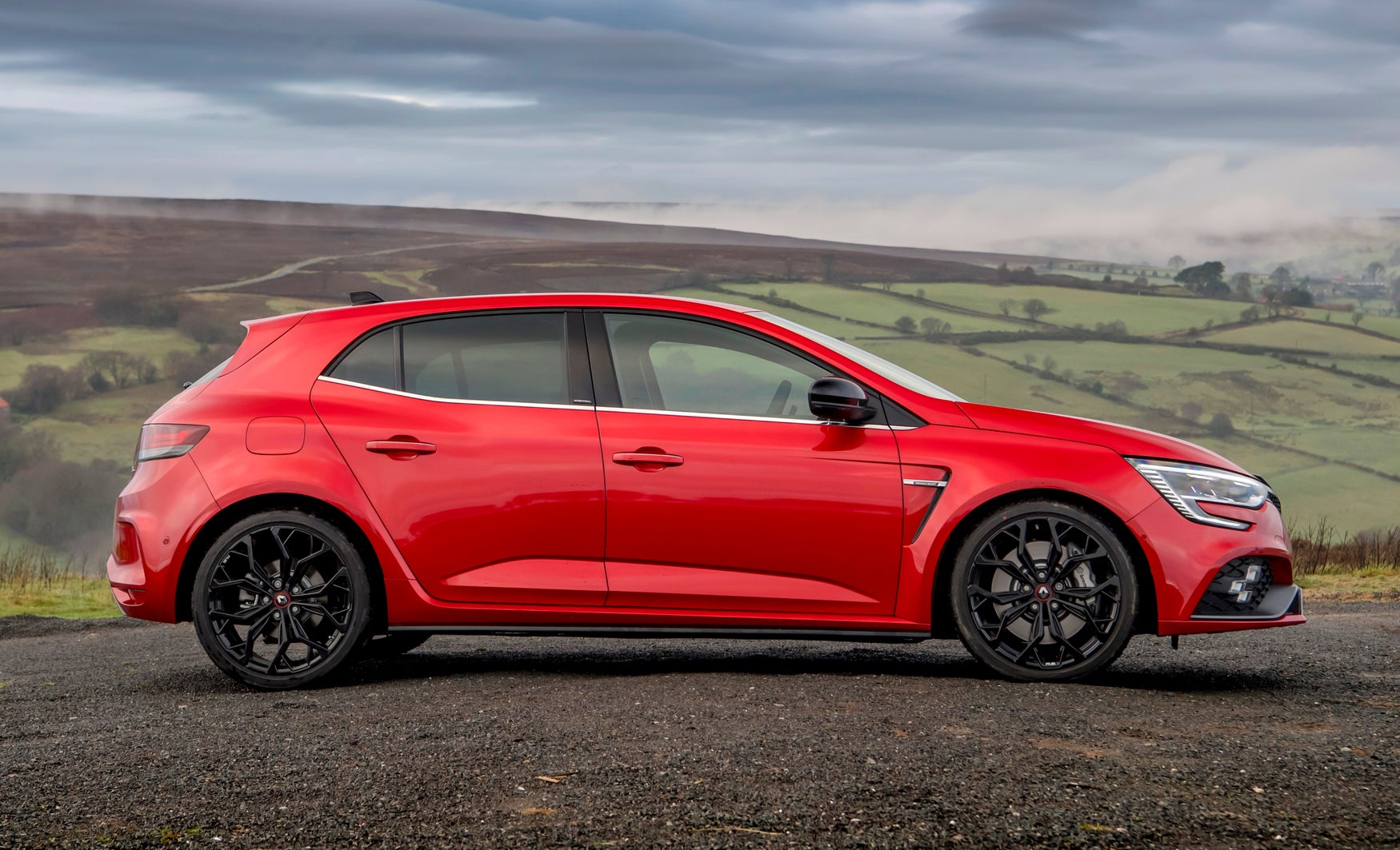 What is it?
It's the facelifted version of the fourth generation Renaultsport Megane, now called the R.S. it will very soon be called the Alpine Megane as the firm cashes in on the halo effect of running its Alpine F1 team (and building a certain mid-engined gem that carries the same badge). For now, though, you can choose from the R.S. 300 and the harder-riding R.S. 300 Trophy, it's the former we test here.
And we have to say it looks brilliant. There's an effortless menace to the Megane's styling – it's hunkered down ride height, those lovely 19-inch wheels (an £800 option over the standard 18s) and that subtle body kit – that means it looks the business, without people that matter – inlaws and the like – thinking you're a complete tool. We like that and we like that aside from new lights, Renault hasn't felt the need to mess about with it for this facelift.
The winds of change have had a more significant effect on the inside. You get new infotainment screens in the form of a 9.2 inch centre display and a 10-inch TFT instrument binnacle, plus plastic quality has been improved. It's unexciting, but inoffensive and the Alcantara wrapped steering wheel (£250) and ribcage-gripping sport seats (standard) remind you you're in something special.
The 300PS, 420Nm 1.8-litre four-cylinder engine provides a more forceful reminder. It has 20PS and 30Nm more than in the old model and provides the Megane with serious firepower as well as huge dollops of charisma as does the now standard six-speed dual-clutch EDC gearbox.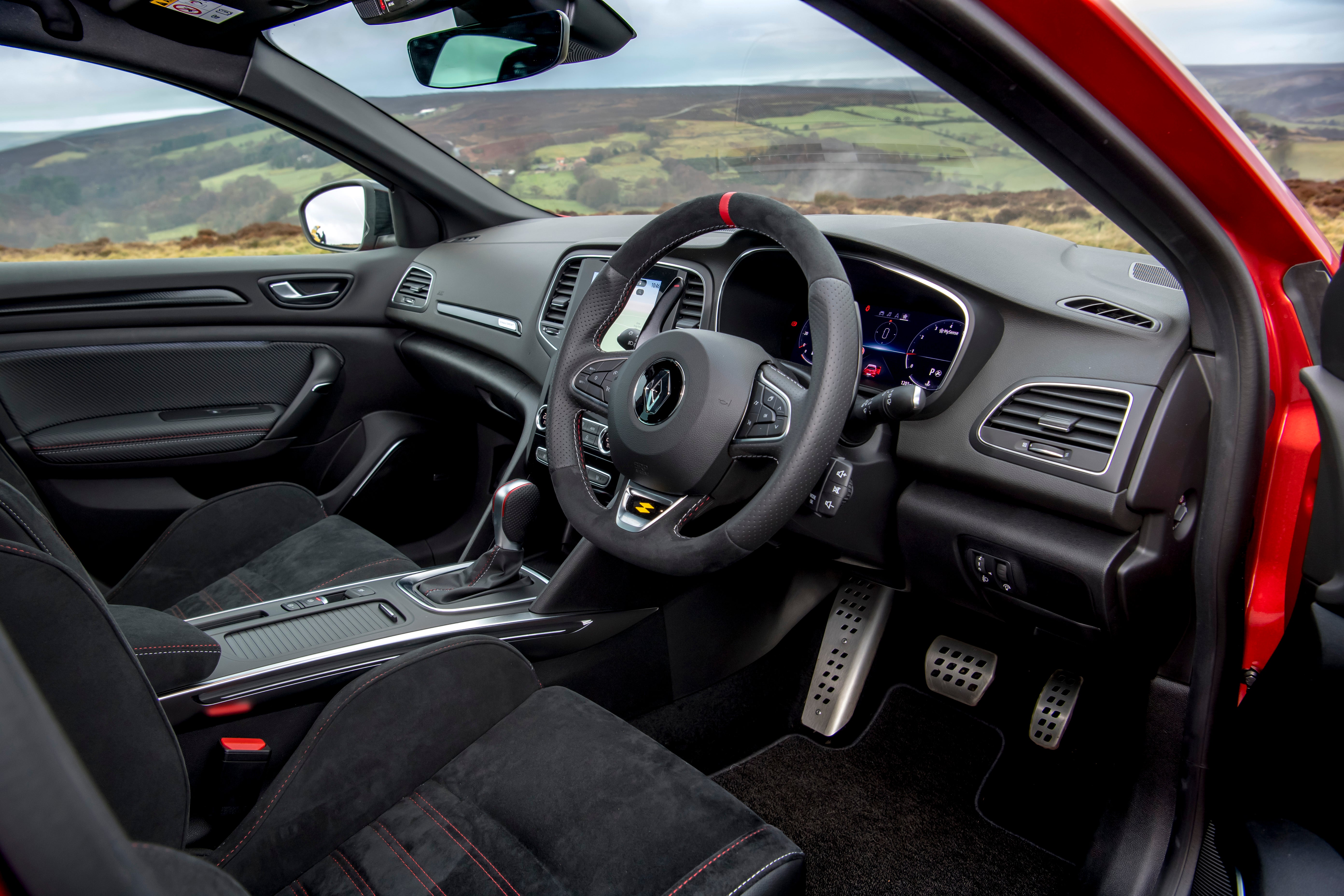 The Megane's interior feels well built and purposeful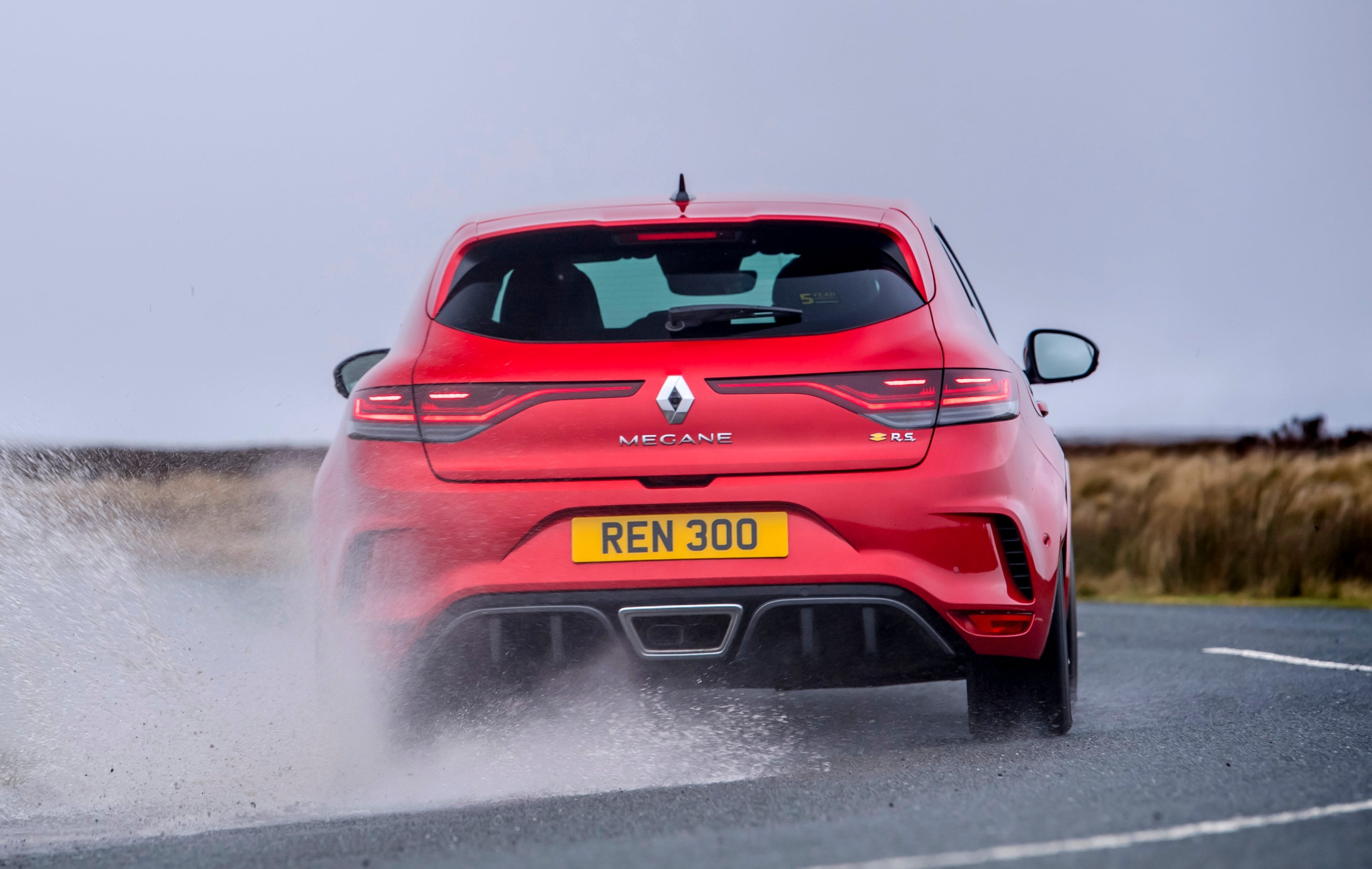 Wet roads can prove rather entertaining
Charisma you say?
That's right, charisma. There's a lot not to like about the Megane R.S. 300 – it's uninspiring inside, the infotainment is better than before but still not great and the back seat is a joke. But, when it comes to driving, the Renault gets so much right you'll forget these insignificancies once you're sat in the driver's seat.
You can sit it low to the floor for the full touring car effect and pull the steering wheel as close to your chest as you need. The metal gearbox paddles, meanwhile, are a lesson in how these things should be done – unlike the plastic ears you get in a VW Group product.
Press the starter button and you are rewarded with a flat, bassy burble from the large (well, small pipes in a large shroud) exhaust and, as you yank the right-hand paddle for first gear, it is easy to imagine chuntering out onto circuit as you gurgle through the gears.
You wouldn't feel outgunned if you were going on track. The Renault will fire you from 0-62mph in 5.7 seconds and on to a top speed of 158mph but it's the way it does it that's memorable.
You can forget the butter-smooth changes of a VW DSG, with its wick turned up on the drive select, the Renault's gearbox bangs through its cogs like a track weapon, accompanied by automatic gunfire from the now fully open sports exhaust.
The ride is similarly uncompromising. Thumping you down the road with little regard for your vertebrae, it does get more comfortable as the speeds rise, but on the bumpiest of roads it feels like you've piggy backed a sidewinder missile, which makes you wonder if the stiffer Trophy might be a little too much.
Hit your first bend and it all makes sense. The Megane suffers from very little body roll and the faster you go, the more composed it gets. Sure, the four-wheel 4Control steering doesn't have the natural feel of standard setup in a Honda Civic Type R, but you can't argue with how incisive it is as it darts you in and out of corners with a simulator like disconnect.
Thankfully, lifting off the accelerator mid corner confirms there nothing clinical about R.S. 300 – it is as happy to swing its tail as every Renaultsport Megane that came before it. It's a whole lot of fun but unless you're handy with lift-off oversteer, best sampled with the stability control on. On the upside, the brakes are well up to the challenge of stopping the Megane when things get too lairy.
If we were to complain about anything, it would be Renault's decision not to fit the limited-slip differential which comes as standard on Trophy models. Without it, the 300 will wash wide in corners – particularly in the wet – which is a shame, there's something to be said of an LSD's ability to seemingly bends physics as it tightens your line on the throttle. Partly, though, this unruly behaviour suits the 300's full-on driving experience.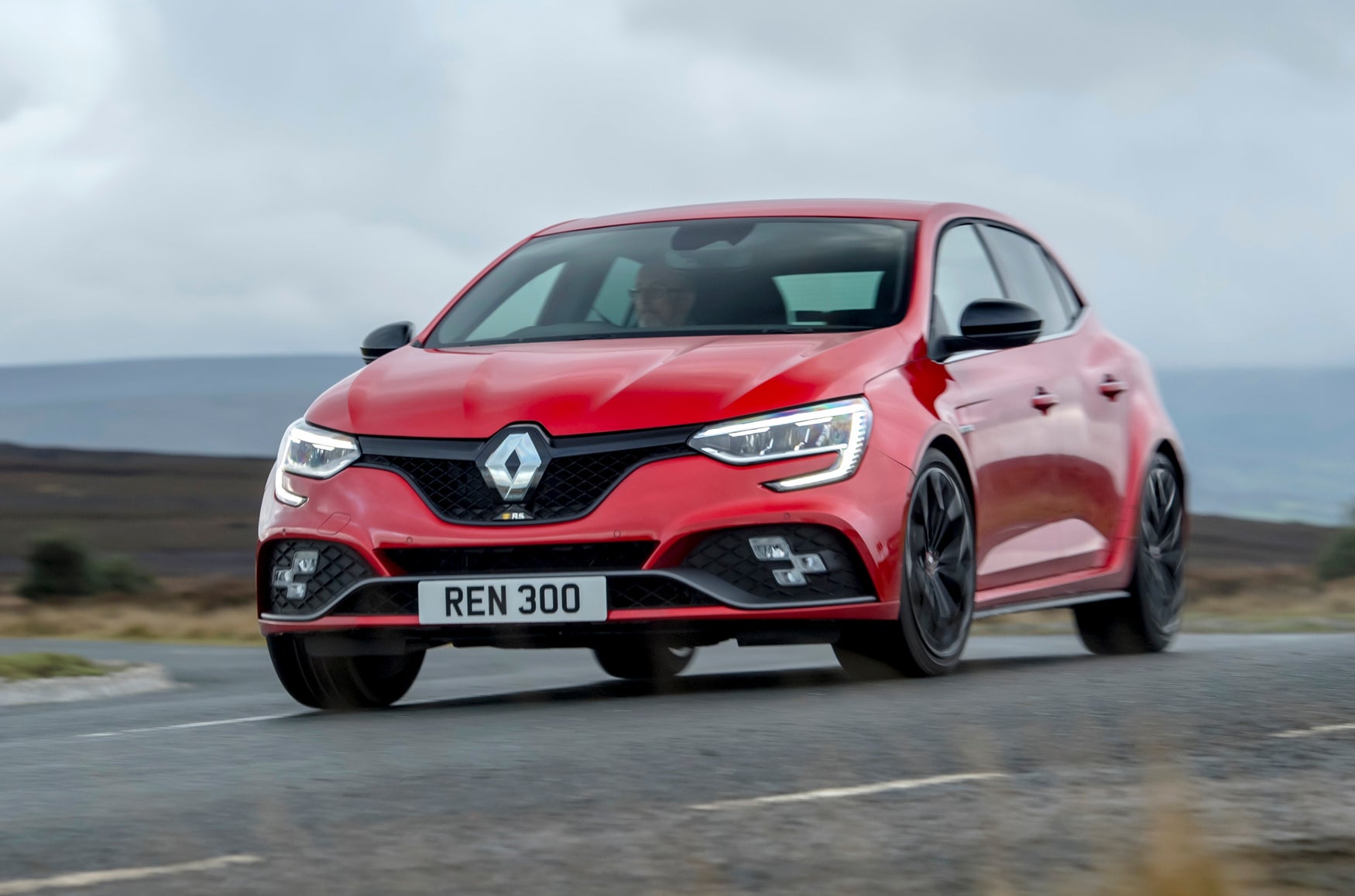 The best hot hatch you can buy?
It's certainly up there. The Megane is the polar opposite of the likes of the Volkswagen Golf GTI and Audi S3, their polished all rounders with excellent cabin quality, more space and a driving experience that ers far more towards comfort than outright thrills. Objectively, they are better cars with engines that are more flexible and a smooth DSG automatic gearbox that takes the pain out of everyday driving. Neither are anywhere near as fun as the Renault.
That leaves us with the more focussed end of the spectrum in the form of cars like the Hyundai i30 N and the Honda Civic Type R. The Hyundai is perhaps even crazier than the Renault, with a truly ludicrous exhaust and a hard-riding suspension system consisting mostly of concrete, it would have no issues keeping the Renault in sight on your favorite twisting road. That said, it doesn't have the effortless good looks of the Megane, its driving experience doesn't offer the same full-on attack on the senses and, let's face it, the N badge can't match the cache of a fast Renault.
The Honda, meanwhile, looks purposeful and ridiculous in equal measure. It's doubtless faster than Renault, its steering has the right-now reactions of a serious driving tool and its standard limited-slip differential gives it unbelievable traction out of bends. Yet its lack of adjustability on the throttle means it hasn't got the Renault's loveable rogue character.
And as a wise (hit) man once said: character goes a long way. If that's thinking you prescribe to, we suggest you drive a Renault Megane R.S. 300 before you buy any other hot hatch.
Watch: New Megane R.S.: Discover how the car conquers every corner
Renault R.S. 300: the facts
Model tested: Renault R.S. 300
Engine: 1.8-litre petrol
Gearbox: six-speed dual clutch
Power/torque: 300PS/420Nm
Combined fuel economy: 34.5mpg
CO2 emissions: 191g/km
Price from: £33,585
As tested: £36,735
No, however the R.S. models have four-wheel steering, meaning they corner hard at speed and are more manoeuvrable in town.
Renault calls the rear-wheel steering in the R.S. Megane, 4Control. It is designed to make the car corner harder and feel more stable through fast corners.
The Renault Megane R.S. 300 EDC isn't as posh inside or as spacious as some hot hatches, and it's not the quickest either. However, its engaging driving experience makes it one of the best hot hatches to buy if you love being behind the wheel.
Renault Megane R.S.
1.8 300 5dr Auto
Renault Retail Group Manchester

Manchester, M37FT
PCP: £539.44/mo
Representative example: Contract Length: 37 months, 36 Monthly Payments: £539.44, Customer Deposit: £4,927.00, Total Deposit: £4,927.80, Optional Final Payment: £14,821.33, Total Charge For Credit: £6,316.97, Total Amount Payable: £39,168.97, Representative APR: 9.9%, Interest Rate (Fixed): 9.9%, Excess Mileage Charge: 8ppm, Mileage Per Annum: 10,000
Renault Megane R.S.
1.8 280 5dr
Renault Retail Group Enfield

Middlesex, EN11TX
PCP: £405.46/mo
Representative example: Contract Length: 37 months, 36 Monthly Payments: £405.46, Customer Deposit: £3,900.00, Total Deposit: £3,900.00, Optional Final Payment: £12,627.00, Total Charge For Credit: £5,123.56, Total Amount Payable: £31,123.56, Representative APR: 9.9%, Interest Rate (Fixed): 9.9%, Excess Mileage Charge: 8ppm, Mileage Per Annum: 10,000
Renault Megane R.S.
1.8 300 Trophy 5dr
Renault Retail Group Manchester

Manchester, M37FT
PCP: £444.37/mo
Representative example: Contract Length: 37 months, 36 Monthly Payments: £444.37, Customer Deposit: £4,335.00, Total Deposit: £4,335.90, Optional Final Payment: £14,306.00, Total Charge For Credit: £5,733.22, Total Amount Payable: £34,639.22, Representative APR: 9.9%, Interest Rate (Fixed): 9.9%, Excess Mileage Charge: 8ppm, Mileage Per Annum: 10,000
Rivals to the Renault Megane R.S. 300 EDC