First drive: Skoda Fabia Monte Carlo
First drive: Skoda Fabia Monte Carlo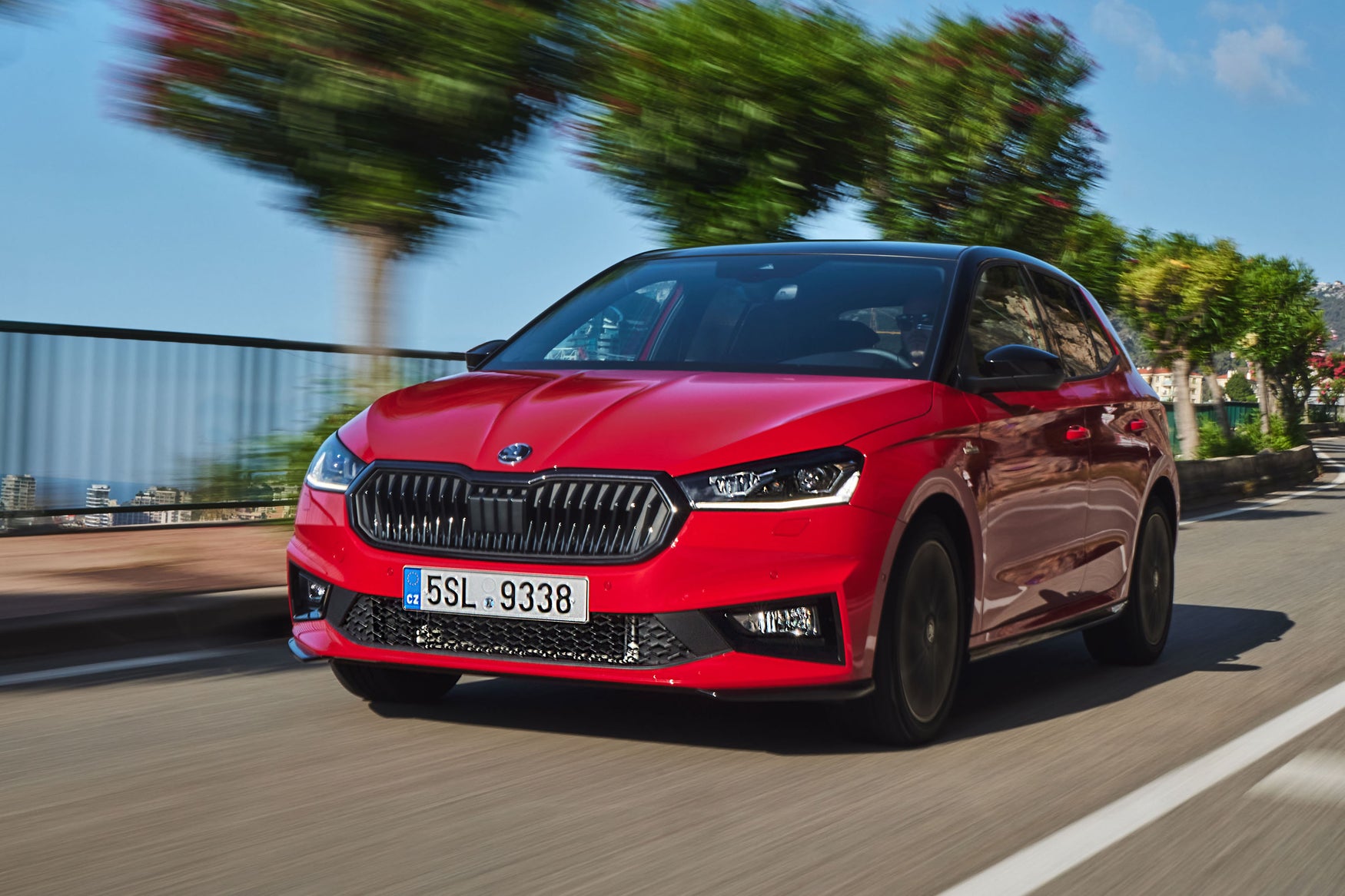 Best bits
Most stylish Fabia yet
Comfortable and refined
Great value for money
Not so great
Handling not as engaging as some
No flappy paddle option with DSG gearbox
Could be more exciting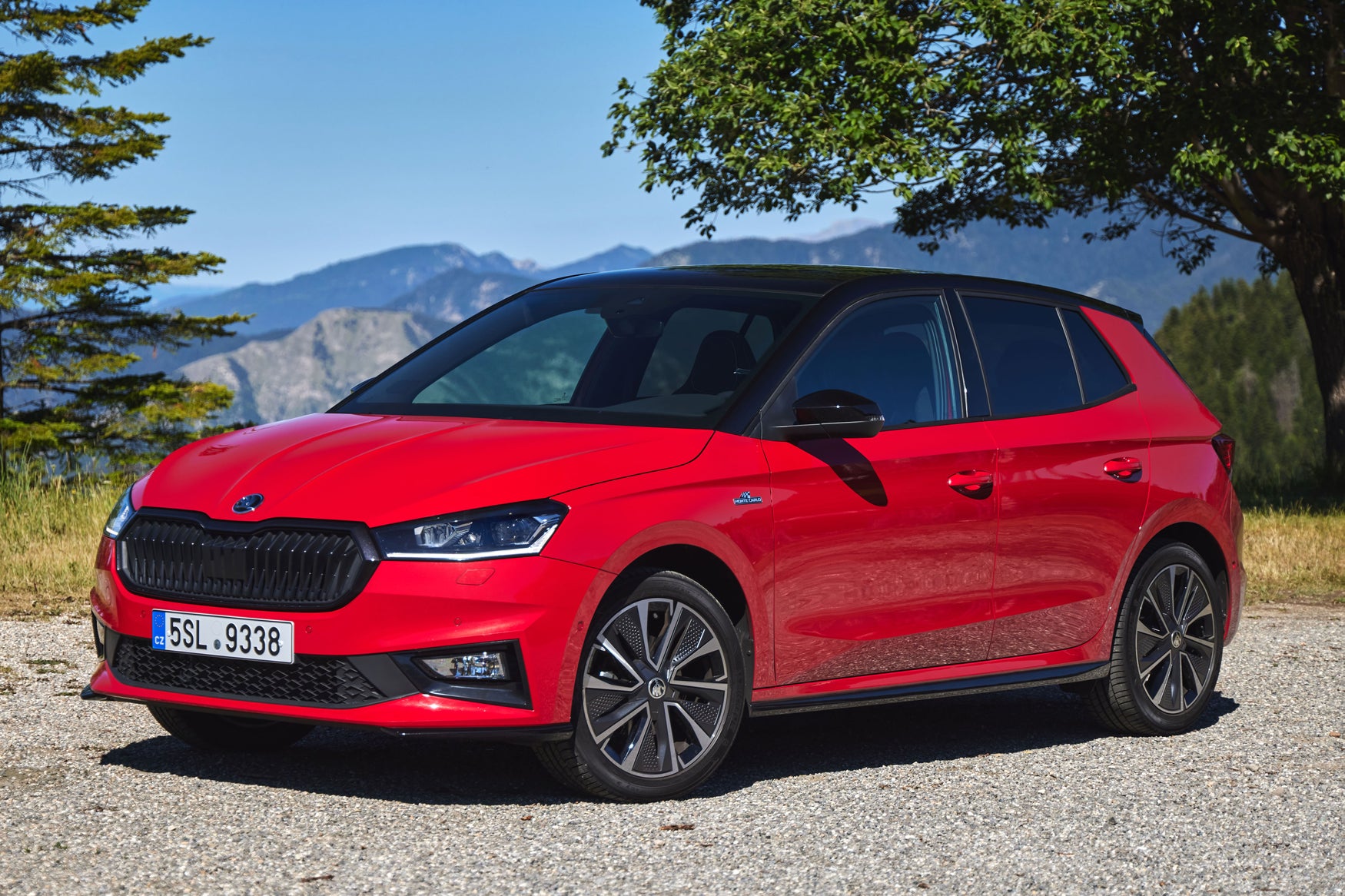 What is it?
While the names Skoda and Monte Carlo might not seem natural bedfellows are first, when you glance back at Skoda's racing heritage it starts to make a lot more sense. You see, back in 1936 the Skoda Popular Roadster finished second in the under 1.500cc class of the Rallye Automobile de Monte-Carlo. After that, the car became known as the Popular Monte Carlo and to this day, Skoda is the only car brand that's allowed to carry the name Monte Carlo on its cars.
So that must make the Skoda Fabia Monte Carlo some snarling, rally-inspired hot hatch designed to take on the likes of the Toyota GR Yaris? Not quite. The Monte Carlo edition sits at the top of the Fabia range and is designed to give you sporty looks but without the high running costs (and let's be honest, performance) that's associated with cars like the Ford Fiesta ST. It's a recipe that's proved to be very popular for the brand since it introduced it back in 2011, and now found on the Kamiq and Scala as well.
The latest Skoda Fabia Monte Carlo gets off to a strong start with a number of exterior styling treatments to set it apart from other trim options in the range. This includes a contrast colour paint job with black highlights for the grille, wing mirrors and rear diffuser, as well as black lettering on the tailgate. Buyers can also specify a black roof panel as an option - something of a trademark on the original Fabia Monte Carlo that's since been mimicked by other car manufacturers. It's an extra £300 from the options list but we reckon it really finishes off the car.
But it's not just about going crazy with the black paint, as the Fabia Monte Carlo also benefits from a sporty body kit, complete with an angular front bumper and side skirts that make the car look wider and squatter. The Fabia Monte Carlo comes with 17-inch gloss black alloy wheels as standard, though to complete the transformation, you can opt for some 18-inch wheels.
The sporty theme is carried through to the interior. The predominantly black cabin is sprinkled with red highlights and carbon fibre-like trim, while there's some nice contrasting white stitching on the dashboard. Other touch points like the steering wheel and handbrake are trimmed in leather and you get some red LED ambient lighting to boot. There's also sports seats in the front that feature a sporty racing stripe design and a three-spoke leather multifunction steering wheel.
It might be a small car, but that hasn't stopped Skoda dishing out some big-car features with the Fabia Monte Carlo, including adaptive LED headlights, turning fog lights and VW Group's most advanced Virtual Cockpit that provides a 10.25-inch instrument display. Something that wouldn't look out of place in an Audi Q5.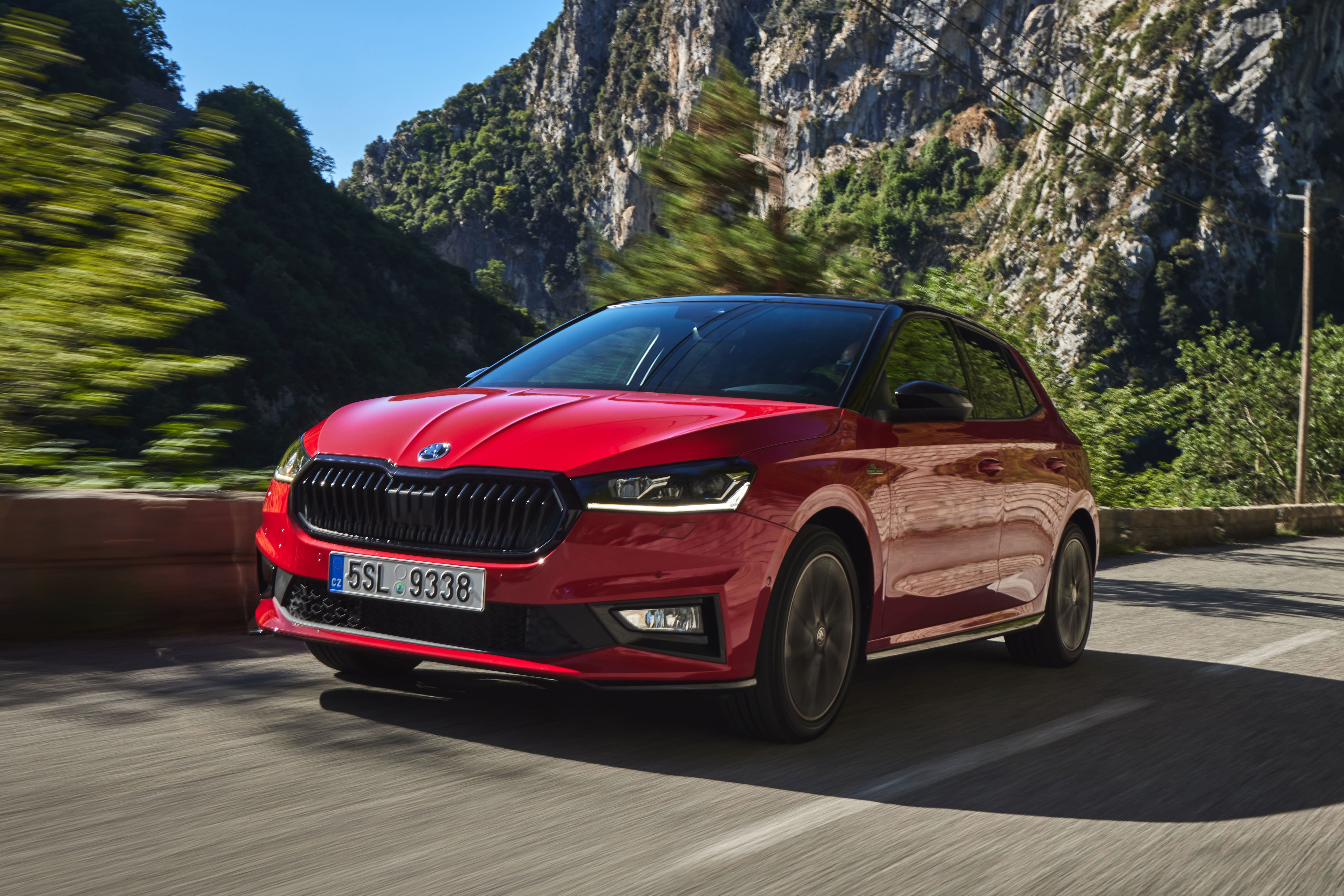 The Skoda Fabia Monte Carlo mixes sporty looks with plenty of tech as standard
The Skoda Fabia Monte Carlo handles well, though don't expect it to match a hot hatch in terms of outright pace
How does it drive?
While Skoda's engineers must have been tempted to lob the same 207PS turbocharged 2.0-litre engine in that the new Volkswagen Polo GTI enjoys, the Fabia Monte Carlo is not a hot hatch. Instead, there's a choice of two engines - a 110PS 1.0-litre three-cylinder or a more powerful 150PS 1.5-litre four-cylinder engine.
The 110PS 1.0-litre three-cylinder has a six-speed manual gearbox as standard with the automatic kept as an option. 0-62mph will take 10 seconds on the way to a 127mph top speed, while it has plenty of mid-range shove for a small car and gets close to 60mpg (something you could only dream of in a Polo GTI). The 150PS 1.5-litre four-cylinder engine with a seven-speed DSG gearbox on the other hand gets to 62mph in 8 seconds, which is only a little slower than the Polo GTI's time off 6.5 seconds.
We tested the Fabia Monte Carlo with the 150PS 1.5-litre, with our test drive starting on the seafront at Monaco (it couldn't start anywhere else really could it?) before arriving to the summit of the Col de Turini mountain pass, before dropping back down towards Nice and picking up the Autoroute.
While thoughts of Monaco might conjure up images of Formula 1 cars powering up out of Sainte Devote, it's hell if you're trying to navigate out of it on a Tuesday morning. With narrow streets, steep hills, lots of traffic and swarms of moped riders triggering the Fabia's sensors, it's anything but relaxing. However, the Fabia managed to limit the stress - it's easy to see out of, while the DSG gearbox meant we could avoid stamping on the clutch pedal every five seconds. After this experience, the Fabia Monte Carlo will make light work of the school run or rush hour.
With its 34 hairpin bends, sharp drops and overhanging rocks, the Col de Turini is something out of driving nirvana. In the right car. But it's not a road that plays to the Fabia Monte Carlo's strengths. Don't get us wrong, it got up there with ease, but it's not the car to take up there if you're after an engaging drive.
What the Fabia Monte Carlo does do very well is offer a polished and relaxed driving experience. You might not be able to attack bends as you would do in a proper hot hatch, but the Fabia Monte Carlo is assured through corners and the steering nicely weighted. It's comfortable too, while motorway driving is nice and refined.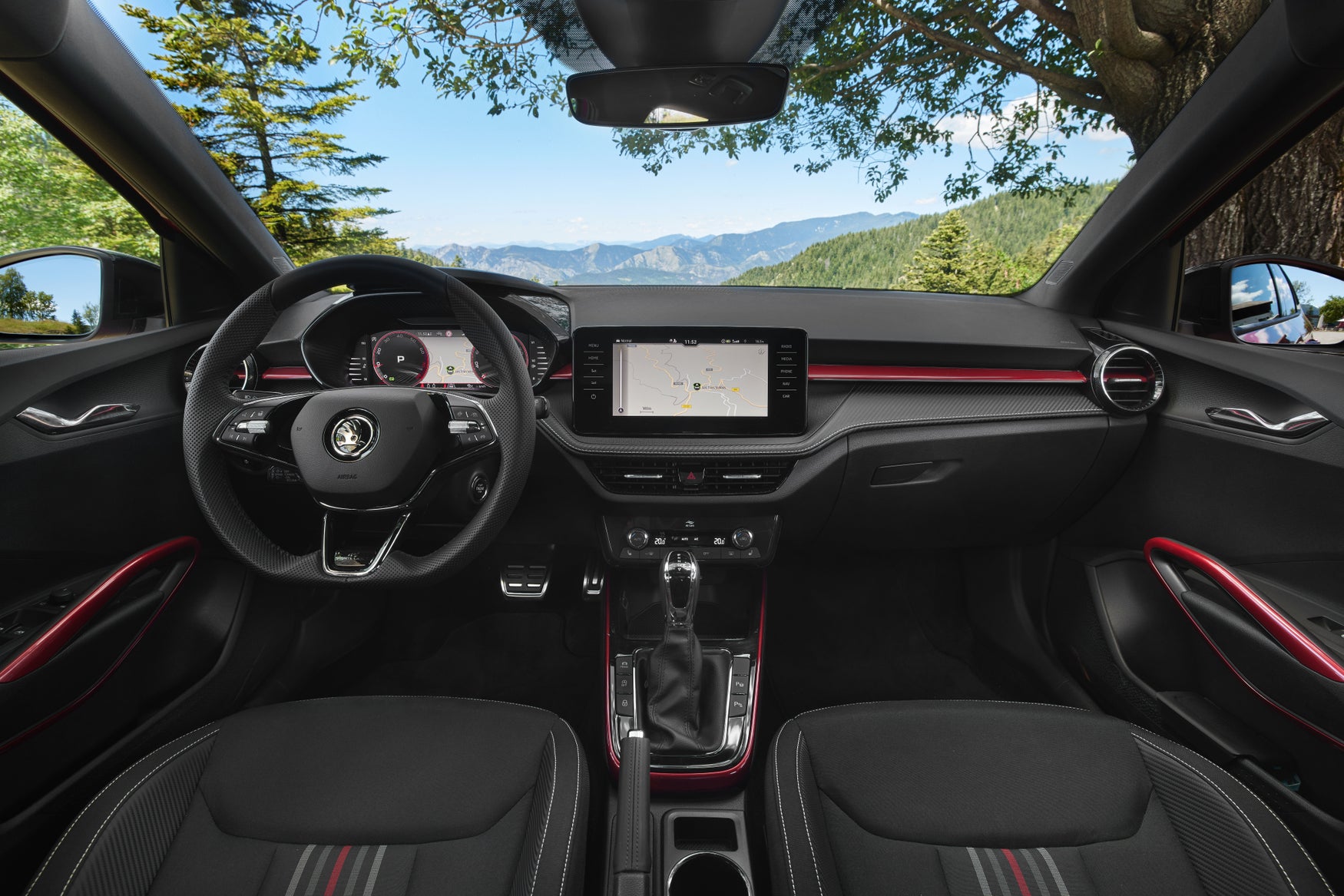 Is the Skoda Fabia Monte Carlo worth the premium?
Prices for the Skoda Fabia Monte Carlo start at £20,935. That gets you behind the wheel of the 110PS 1.0-litre three-cylinder car with six-speed manual gearbox. You'll have to pay £23,735 for the more powerful 150PS 1.5-litre four-cylinder.
That puts it at just £950 more than the SE L and we reckon it's definitely worth the extra outlay. Not only does the Monte Carlo version have a bit more presence than the more run of the mill SE L that sits on 16-inch alloys, it has a number of extras, including the Virtual Cockpit.
It looks even better value when you put it alongside a Volkswagen Polo - you'll have to pay over £25,000 for a Polo in R-Line trim with 17-inch alloys and metallic paint. And that's with the 110PS 1.0-litre three-cylinder engine and seven-speed DSG gearbox - the 150PS 1.5-litre four-cylinder engine can't been spec'd with the Polo. If you do fancy something with a bit more bite, then the Polo GTI starts at just under £28,000.
There's a big part of use who would have loved to have seen the Fabia Monte Carlo as a Polo GTI rivalling hot hatch, but not everyone wants to pretend they're on a stage of the Monte Carlo Rallye when they go to the shops. The Skoda Fabia Monte Carlo then fills the gap between normal and hot nicely, making what's one of our favourite small cars even more appealing.
Watch: Road trip to Rye in the Skoda Fabia
Skoda Fabia Monte Carlo: the facts
Model tested: Skoda Fabia Monte Carlo
Engine: 1.5-litre petrol
Gearbox: seven-speed DSG
Power/torque: 150PS / 250Nm
Combined fuel economy: 47.9mpg
CO2 emissions: 137g/km
Price from: £20,935
As tested: £23,735
The Skoda Fabia Monte Carlo is on sale now, with prices starting from £20,925 for a 1.0-litre model rising to £23,765 for the top-of-the-range 1.5-litre version. It prices ahead of the Fabia SE L that previously topped the range at £19,380.
Yes, one of the beauties of the Skoda Fabia Monte Carlo is its cheap insurance compared to an out-and-out hot hatch.
With the 1.5-litre TSI engine, the Skoda Fabia Monte Carlo will hit 62mph in 8 seconds, while those who choose the less powerful 1.0-litre TSI engine will get to 62mph in 10 seconds.