Toyota Highlander Excel Hybrid First Drive 2021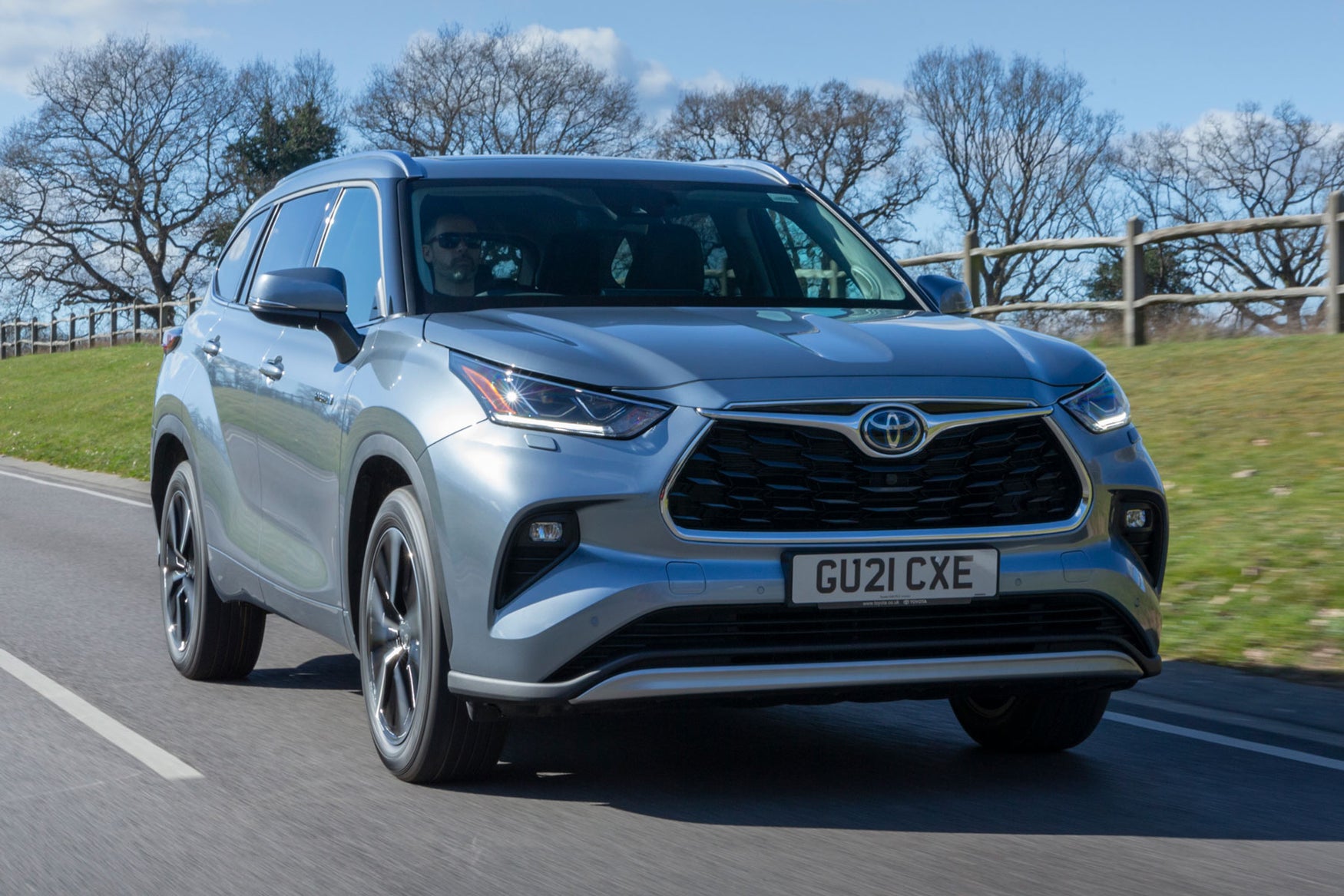 Best bits
Very versatile seven-seat SUV
Hybrid drivetrain means it should be cheap to run
Better value for money than premium competitors
Not so great
Don't expect to travel any great distance on electric power alone
Interior is functional and hardwearing rather than plush
You can pick up a Skoda Kodiaq for a lot less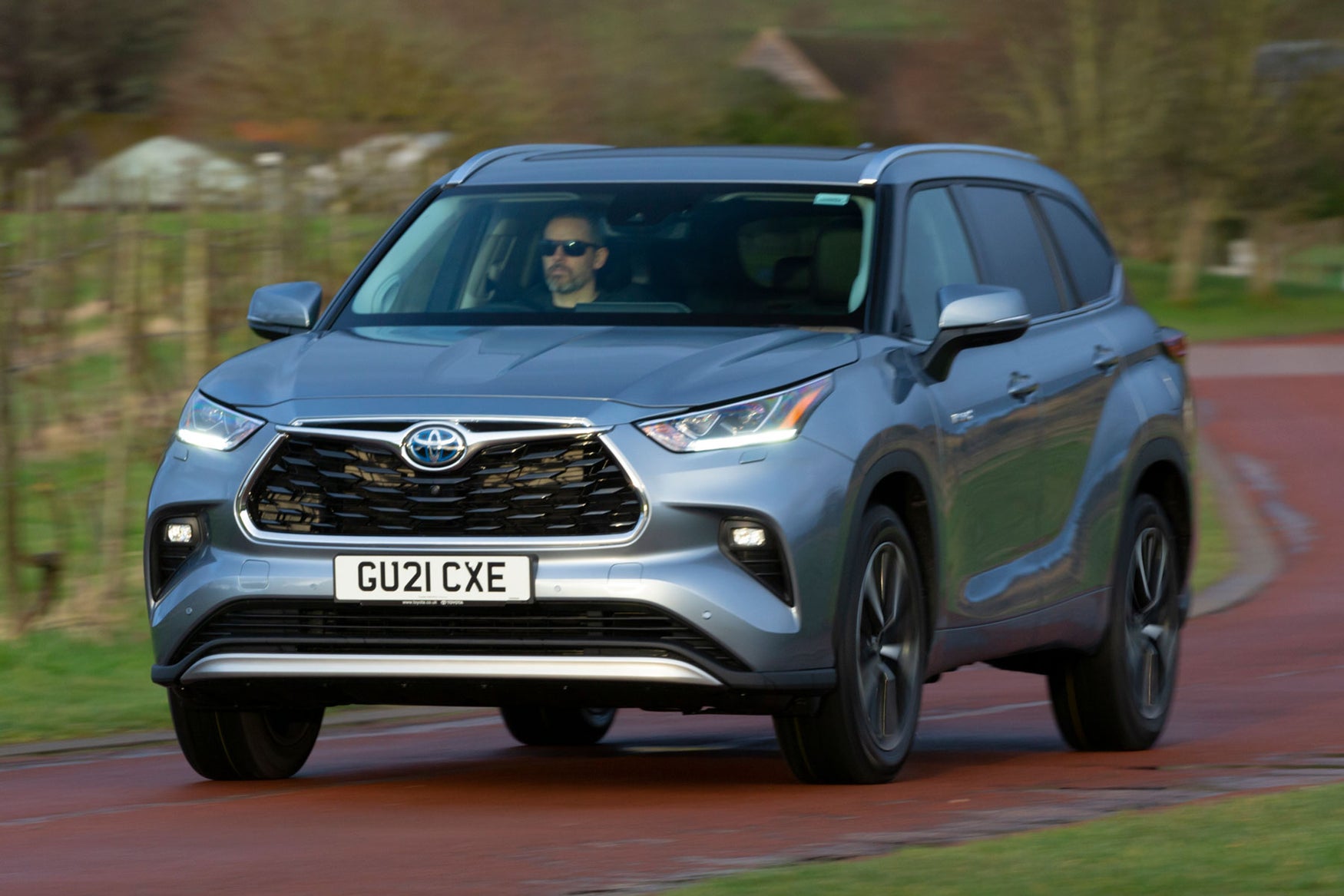 What is it?
Think of the Toyota Highlander as a seven-seat Toyota RAV4 and you won't go far wrong. It's an SUV that's been on sale in the USA and Japan for several generations now but, for whatever reason, is only just making it to the UK.
It's intended to fill the gap between the RAV4 and the big Land Cruiser but, with a price tag in excess of £50,000, the brand's also hoping to tempt some customers away from premium SUVs like the Volvo XC90 and Volkswagen Touareg, not to mention the Lexus RX L. In reality, though, you'd be better looking at it as a rival to high-end versions of the Skoda Kodiaq and the Kia Sorento.
While it's easy to balk at its high list price, the Highlander is pretty lavishly kitted out. There are just two models: the Excel (£50,595) and Excel Premium (£52,575). Highlights of the Excel include heated leather seats, a panoramic sunroof, an eight-inch media system with in-built navigation and a premium sound system. You also get 20-inch alloy wheels, privacy glass and a powered tailgate.
The Excel Premium adds heated seats in the back, ventilated seats up front, a clever digital rear-view mirror, a head-up display and a 360-degree camera. Sure, chuck another £5000 or so into the pot and you'll get yourself an entry-level Volvo XC90 or BMW X5, but it's not gonna be as fully loaded as this.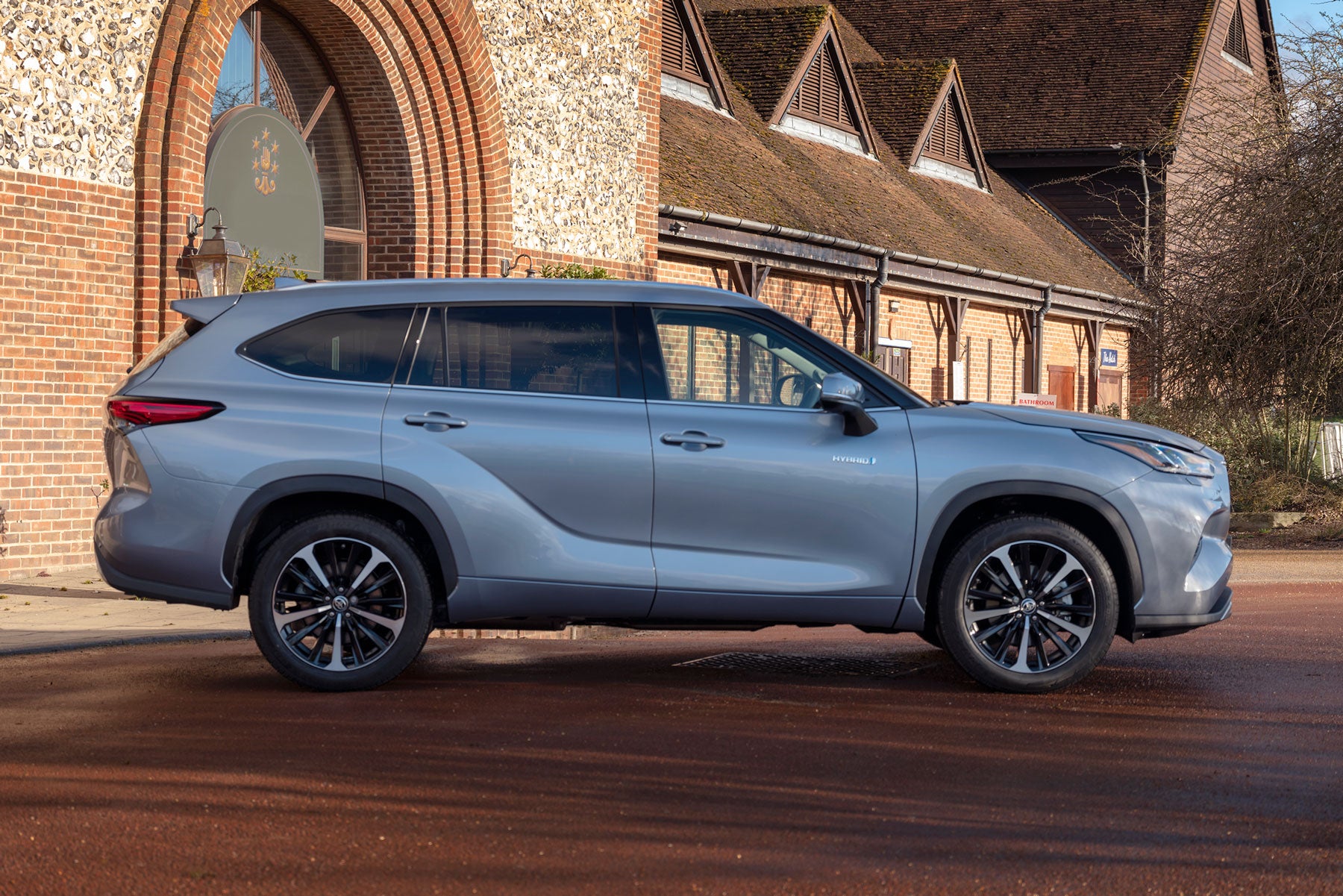 The 20-inch alloy wheels are unusually bling for a sensible Toyota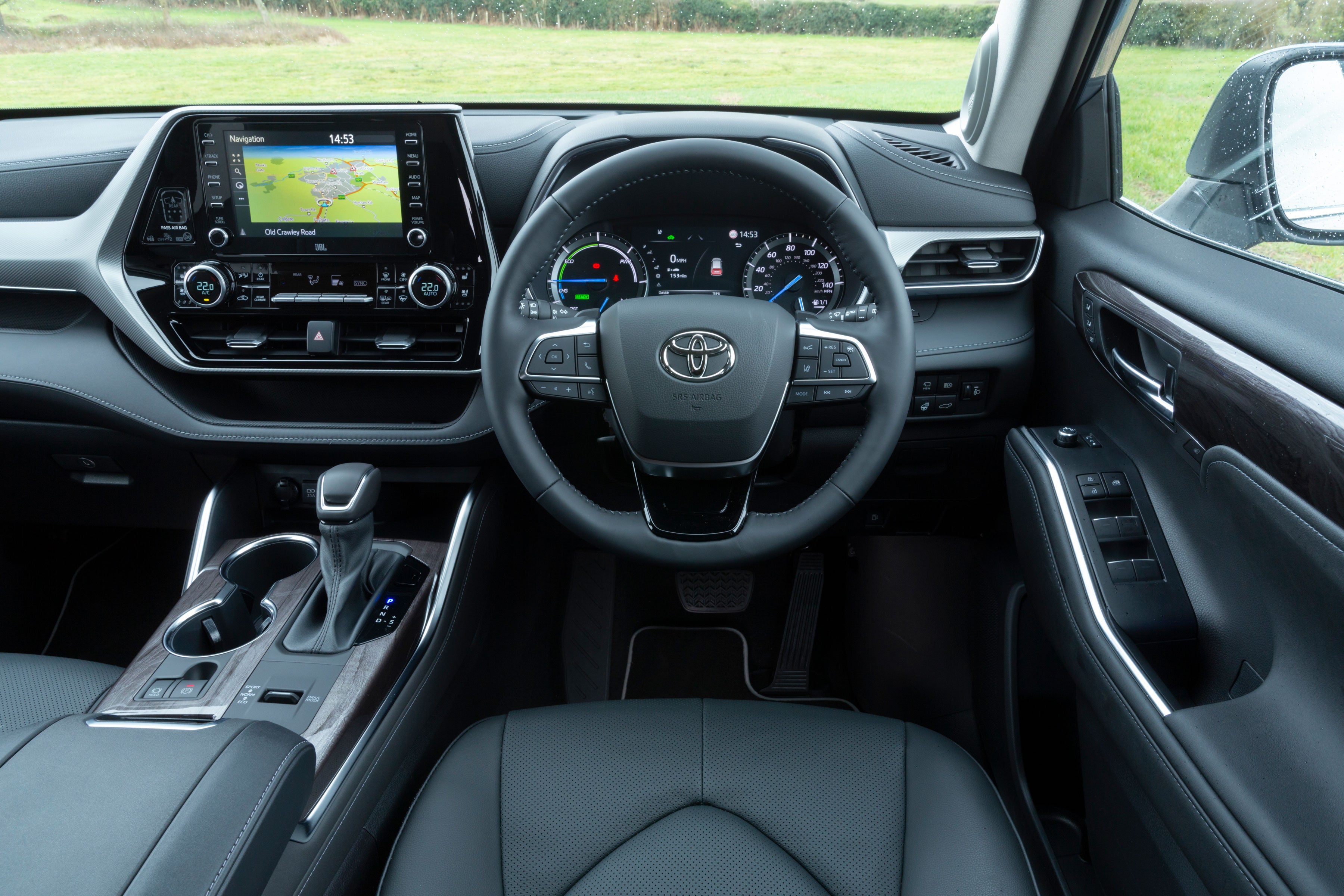 All models are well-equipped with leather seats, a premium sound system and a panoramic sunroof
It's a Toyota… it'll be a hybrid, right?
You betcha. Power comes from the same hybrid drivetrain as a RAV4, with a 2.5-litre petrol engine combined with an electric motor on each axle. That means it's four-wheel drive, giving it an element of off-road ability. We doubt it'll go wading through bogs like a Land Cruiser, but Toyota assures us that gravel farm tracks won't pose an issue.
We've only tried it on tarmac roads where it soon becomes clear that this is a car that puts the emphasis on comfort rather than outright handling dynamics. And that's a good thing for a family SUV, we reckon… you might notice a slightly harsh edge to the ride quality around town, but on the open road it's refreshingly floaty.
The Toyota Highlander one of those 'self-charging' hybrids that are very much in vogue at the moment. That means you won't have to charge it. Instead, it relies on the engine (and capturing a bit of energy under deceleration) to top up the battery. You're not going to potter around town under electric power alone like you might in a plug-in hybrid like the Sorento, but its late-30s MPG figure is fine for a car of this size.
The CVT automatic gearbox will put you off hammering the throttle (refinement takes a knock if you do), but there's enough power to build up a reasonable speed relatively quickly. Dare we say it, we'd love to try a diesel engine in the Highlander – the low-down torque and even the diesel grumble kind of suits cars like this. That's not very Toyota, though and we're more likely to see the range expanded with a plug-in hybrid version rather than a diesel.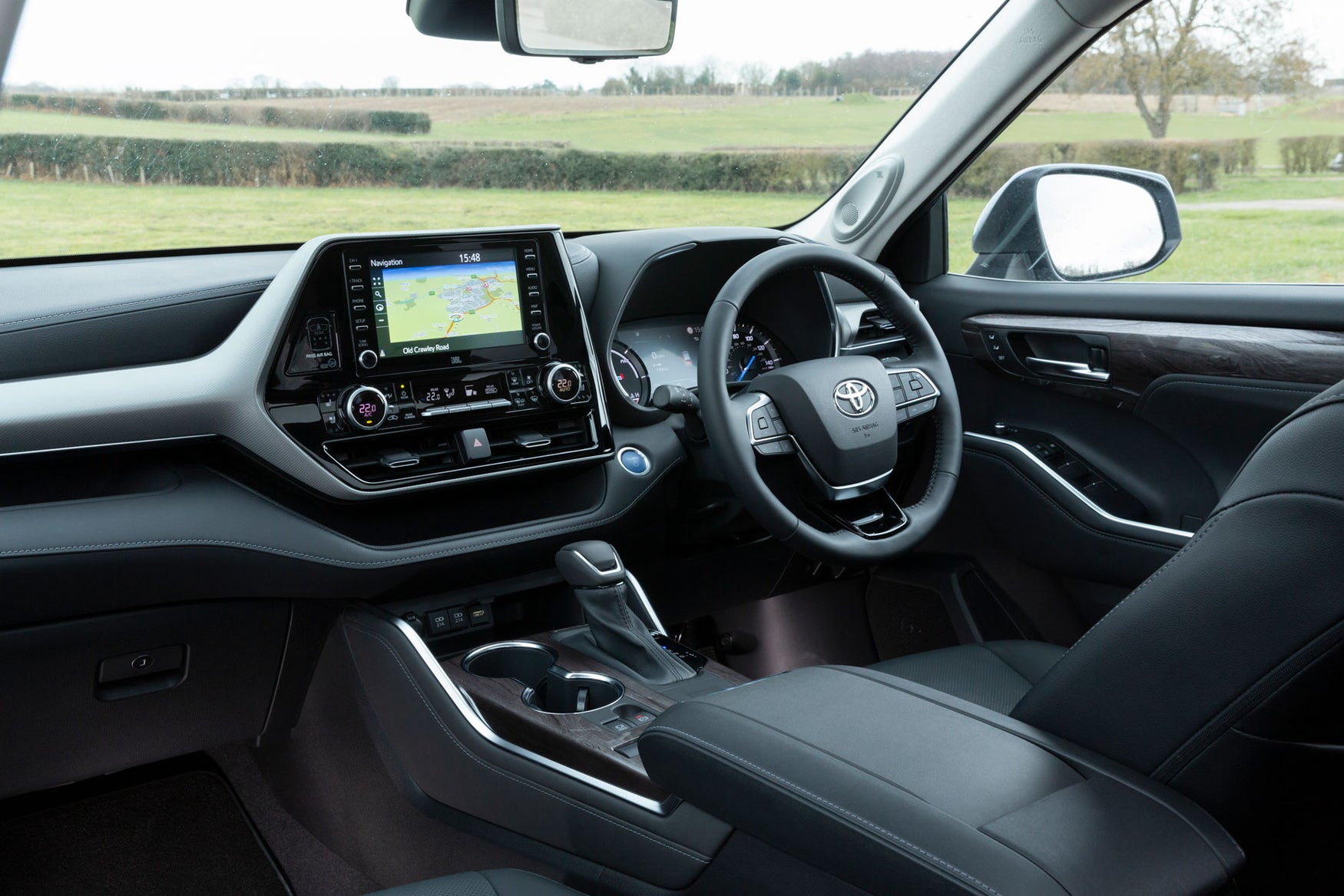 I bet it's comfy, right?
Yeah, it certainly is. It's best enjoyed in the front, where you'll find wide, squishy seats and a good view of the road ahead. Indeed, it feels like a 'proper' SUV, with a high seating position and lots of chunky switchgear – not dissimilar to the RAV4, in fact.
The middle seats are pretty good, too, with plenty of head and legroom. The standard-fit panoramic sunroof means it feels nice and airy in the back, while kids will enjoy the high-up seating position. You can slide the middle row back and forth, which means you can prioritise where you need the most space.
With the middle row as far forward as possible, there's a reasonable amount of space for passengers in the third row of seats. An adult (or growing teenager) wouldn't want to spend a great deal of time back there, though, and – typically for seven-seat SUVs of this size – there's not a great deal of boot space with them in use.
They fold flat, though, as do the middle seats – leaving a capacious boot with an almost entirely level floor.
Overall, the Highlander is a car that isn't going to sell in huge numbers. It's a niche model, catering for family buyers who really want a hybrid SUV and don't mind paying a little more for generous equipment levels – but aren't fussed about a premium badge.
Watch: Toyota Highlander Virtual Tour
Toyota Highlander: the facts
Model tested: Toyota Highlander Excel
Engine: 2.5 Hybrid AWD-i
Gearbox: e-CVT
Power/torque: 247PS/239Nm
Combined fuel economy: 39.2–39.7mpg
CO2 emissions: 159-163g/km
Price from: £50,595
As tested: £51,520
The Toyota Highlander has been sold around the world (namely in the USA and Japan) since 2000 and it's now in its fourth generation. The latest model, launched in 2021, is the first to be sold in the UK.
Yes, all Toyota Highlander models have seven seats. It's slightly bigger than the RAV4, pitched against rivals like the Kia Sorento and Volkswagen Tiguan Allspace.
For the time being, the Toyota Highlander is sold exclusively as a hybrid. It shares an engine and platform with the RAV4, powered by a 2.5-litre petrol engine combined with two electric motors.
Toyota Highlander
2.5 VVT-i Hybrid Excel 5dr CVT
Leslies Motors Toyota Isle of Wight

Hampshire, PO303BQ
PCP: £598.94/mo
Representative example: Contract Length: 36 months, 35 Monthly Payments: £598.94, Customer Deposit: £6,749.00, Total Deposit: £6,749.85, Optional Final Payment: £21,611.25, Total Charge For Credit: £4,325.00, Total Amount Payable: £49,324.00, Representative APR: 4.9%, Interest Rate (Fixed): 3.77%, Excess Mileage Charge: 9ppm, Mileage Per Annum: 10,000
Toyota Highlander
2.5 VVT-i Hybrid Excel 5dr CVT
Manufacturer Approved
Steven Eagell Toyota Peterborough

Peterborough, PE15AU
PCP: £623.24/mo
Representative example: Contract Length: 36 months, 35 Monthly Payments: £623.24, Customer Deposit: £6,750.00, Total Deposit: £6,750.00, Optional Final Payment: £20,697.50, Total Charge For Credit: £4,260.90, Total Amount Payable: £49,260.90, Representative APR: 4.9%, Interest Rate (Fixed): 3.71%, Excess Mileage Charge: 9ppm, Mileage Per Annum: 10,000
Toyota Highlander
2.5 VVT-i Hybrid Excel 5dr CVT
Shelbourne Motors Toyota Portadown Northern Ireland

Armagh, BT623RB
PCP: £466.78/mo
Representative example: Contract Length: 36 months, 35 Monthly Payments: £466.78, Customer Deposit: £6,599.00, Total Deposit: £6,599.25, Optional Final Payment: £26,588.00, Total Charge For Credit: £5,529.55, Total Amount Payable: £49,524.55, Representative APR: 5.9%, Interest Rate (Fixed): 5.74%, Excess Mileage Charge: 9.6ppm, Mileage Per Annum: 10,000