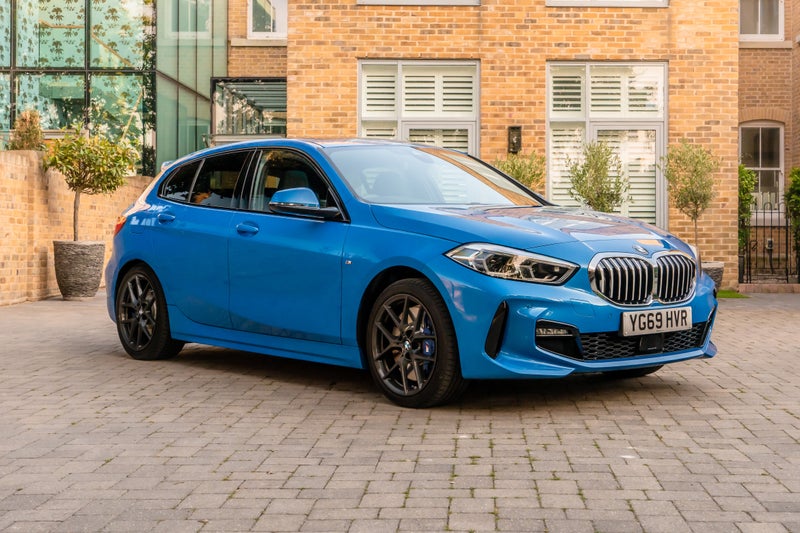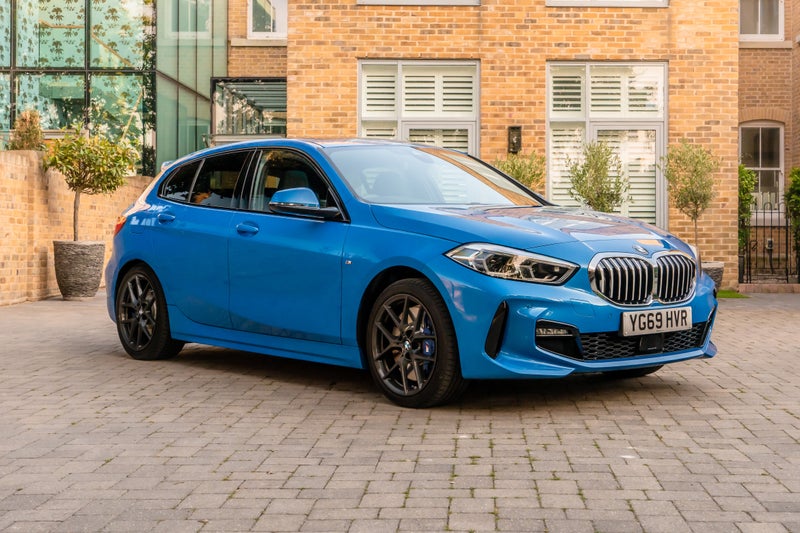 1/10
heycar rating
"Practical hatch, fun to drive"
Launched: 2019

Family hatch

Diesel, Petrol
Quick overview
Pros
Great to drive with strong engine line-up
Interior is practical and hard to fault
Lots of safety tech and five-star crash test rating
Cons
Firm ride, especially with big wheels and the M Sport suspension
Looks won't appeal to everyone
More expensive than a Volkswagen Golf
Overall verdict
On the inside
Driving
Cost to run
Prices and Specs
Common questions
Overall verdict on the BMW 1 Series
"It might be the smallest and most affordable BMW you can buy, but the latest 1 Series still has bags of appeal."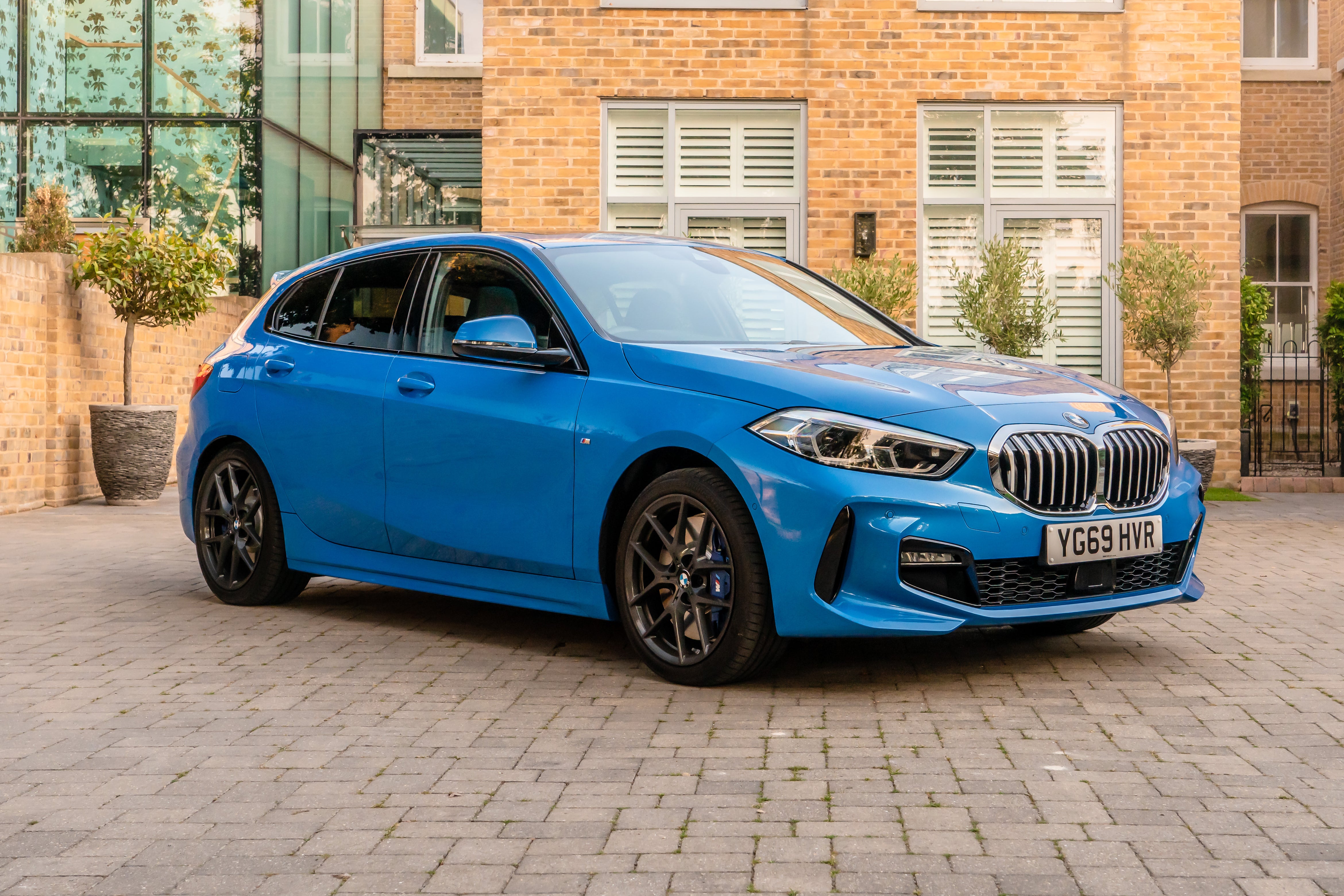 For the third-generation model, BMW's ditched the archaic rear-wheel-drive layout from - meaning it's got more interior space and is even better - and more predictable - to drive. The best hatchback you can buy? Read our 2022 BMW 1 Series review to find out.
There is a wide range of engines on offer with the BMW 1 Series, from economical three-cylinder diesels to the Porsche-baiting M135i hot hatch. Unless you cover mega miles, we'd highly recommend the entry-level 118i. This is a punchy little three-cylinder 1.5-litre petrol engine which is both efficient and fun to drive.
The diesel engine of choice is the 2.0-litre 118d, while the more powerful 120d is available with xDrive four-wheel-drive. Most buyers won't need this, but it's there as an option.
While we love how good the BMW 1 Series is to drive thanks to its precise steering and compliant (if a little firm) chassis, it's most impressive feature is its cabin. It's on a par - if not better than - the latest Mercedes-Benz A-Class and Audi A3. It uses quality materials and there's more space than ever before, particularly for front-seat passengers.
The BMW 1 Series has a big enough boot for most buyers and the rear seats are easily dropped if you need more space. ISOFIX points in the rear make fitting child seats easy, and the five-star Euro NCAP safety rating should put your mind at ease when it comes to transporting your family in the BMW 1 Series.
Standard equipment is pretty good on the BMW 1 Series, meaning you won't have to go hunting for used examples fitted with any must-have options. All models come with a very good 8.8-inch media system incorporating all the usual features such as navigation and Apple CarPlay (for mirroring apps from your phone) - although, annoyingly for Android users, there's no Android Auto.
A bigger 10.25-inch display is available as an option (standard on the M135i). This incorporates BMW's Siri-like Intelligent Personal Assistant, which responds to voice commands and learns your preferences over time. It's pretty clever.
So what hasn't the new BMW 1 Series going for it? Well, we're not so sure about its looks - like that gaping front grille and the slightly stodgy dimensions. It's just not as timeless as the old model, but you can decide for yourself whether you like it or not.
The BMW 1 Series is also pretty expensive, starting from around £24,500. That's significantly more than a Volkswagen Golf, for example - and it's in high demand, meaning you'll pay strong money for a used example.
If you're happy to pay the price for the BMW 1 Series, the latest model is easier than ever to justify. It's more practical than before and has a superb interior which puts it in the same league as the Mercedes-Benz A-Class and Audi A3. It's also brilliant to drive no matter which engine you opt for - indeed, the entry-level 118i is arguably the most appealing of the bunch.
If you're looking for the older version, you need our used BMW 1 Series (2011-2019) review.
Is the 2022 BMW 1 Series right for you?
If you want a premium family car that's more enjoyable to drive than a Mercedes-Benz A-Class or Audi A3, the BMW 1 Series is a strong choice. There's a wide variety of petrol and diesel engines - including a hot M135i model for those seeking sports car performance.
There are some caveats. While its interior is better (and more practical) than ever, it still makes a fairly cramped family car. If you're looking for something with a big boot, you'd be better putting your badge snobbery to one side and looking at a Skoda Octavia.
It's also expensive compared to mainstream alternatives. Sure, a Kia Ceed or Ford Focus might not be on your radar, but a Volkswagen Golf is very nearly as good as the BMW 1 Series and significantly cheaper.
What's the best BMW 1 Series model/engine to choose
Most BMW 1 Series models on the used market are powered by the 1.5-litre petrol engine, badged the 118i. That's a good thing as we reckon it's the best choice for the majority of buyers. It's a characterful three-cylinder engine which combines peppy performance with wallet-friendly efficiency.
If you cover high miles, consider one of the diesels - a 1.5-litre badged as the 116d will appeal to the most frugal of buyers, while the 2.0-litre 118d is also a sensible option. There's also a 120d which is available with BMW's xDrive four-wheel-drive system, if that appeals.
Anyone seeking hot hatch performance should look for the M135i, which uses a twin-turbo four-cylinder 2.0-litre petrol engine - unfortunately, not the silky six-cylinder of the previous BMW 1 Series.
What other cars are similar to the BMW 1 Series?
Before parting with your cash for a 1 Series, you should also look at the Audi A3 and Mercedes-Benz A-Class. All three are competing for class honours - there's little to differentiate between them, really. We reckon the A-Class's interior perhaps pips the BMW's for feel good factor and you get slightly more standard equipment on the A3, but there's not a great deal in it objectively.
If getting more for your money appeals, you should also consider the Volkswagen Golf. It's not got a premium badge but it's certainly a step up from cars like the Ford Focus and Vauxhall Astra.
Comfort and design: BMW 1 Series interior
"The BMW 1 Series might be the firm's entry-level car, but there's little to distinguish it inside from bigger and more expensive models. Indeed, its cabin looks very similar to that of the latest 3 Series - with angular air vents, a strip of buttons for the air con controls and a beefy steering wheel."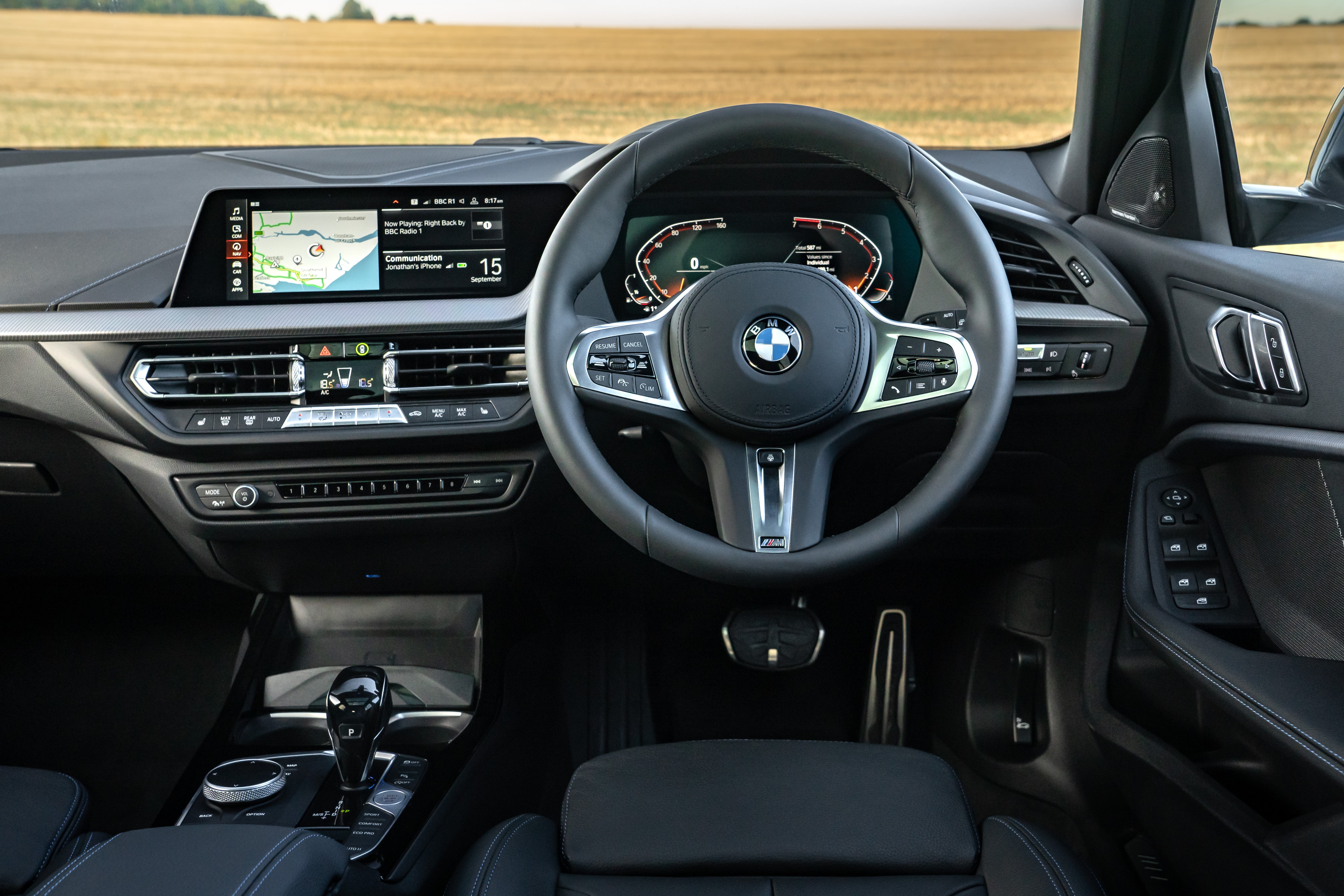 The BMW 1 Series is a five-star car in terms of driver comfort, with plenty of adjustment in the seat and steering wheel ensuring you'll find a suitable driving position very easily. It's a bit disappointing that electric seat adjustment and lumbar support are both optional extras when new, but that's par for the course in cars of this size.
For most drivers the lack of electric seat adjustment is not an issue - you'll set it up once and rarely have to make adjustments ever again. It becomes more of a problem if you're sharing the car with other people.
If you're lucky, you might find a BMW 1 Series with one of the optional comfort packs fitted. Comfort Pack 1 includes heated front seats, extended lighting, folding door mirrors and a luggage compartment package, while the Comfort Pack 2 adds steering wheel heating, an automatic tailgate, comfort access (with a digital key using your phone) and electric seat adjustment.
The standard BMW 1 Series SE comes with generic cloth seats which are comfortable enough but look a bit drab, frankly. The rest of the range comes with front sports seats which look much better and provide lots of support, while the M135i has more focussed M Sport seats with chunky side bolsters and integrated headrests.
Quality and finish
You won't have any qualms with the quality of interior of the BMW 1 Series. It feels super premium, with soft-touch materials and shiny metal trims aplenty. All the knobs and buttons have a satisfying solid feel to them while even the indicator stalk feels like it'll last forever. Insert a joke about BMW drivers here.
Sure, it might not have the instant wow factor of the Mercedes-Benz A-Class (there's no ambient lighting here), but it actually feels more solid than the Audi A3. And that's no mean feat.
We've mentioned the drab cloth seats of the entry-level SE model, but BMW 1 Series Sport models feature a number of extra features to make the cabin feel a smidgen more special. These include extra contrast stitching, Sensatec (fake leather) seats and the illuminated 'Berlin' interior trim. We'd recommend looking for a Sport model for these alone, otherwise you might as well be driving a Ford Focus.
Infotainment: Touchscreen, USB, nav and stereo in the BMW 1 Series
Most BMW 1 Series models come with BMW's latest Live Cockpit Plus, which uses an 8.8-inch display which can be controlled via touchscreen or the BMW iDrive rotary controller on the centre console. It's a brilliant system - easy to navigate and fast to respond with sharp, bright graphics. The navigation works well, providing clear and logical directions and, well, performing exactly as you'd expect for a nav system in a premium car.
There's also a larger 10.25-inch display (called the Live Cockpit Professional) which is standard on the BMW 1 Series M135i and offered as a desirable option on lesser models. This would have cost £1000 when new or would have been part of the £1500 Tech Pack 2, which also brought with it a fancy Harmon/Kardon sound system. Both of these features are worth looking out for on used models.
The bigger screen also brings with it BMW's Intelligent Personal Assistant. This is a Siri or Alexa-like system - you activate it by saying 'Hey BMW', and it learns your preferences over time.
When the third-generation BMW 1 Series was first launched in 2019, BMW had the daft idea that it would charge owners an annual subscription fee for Apple CarPlay. Fortunately, after a lot of criticism (it's free on a Kia Picanto…), it changed its mind. So, long story short, all BMW 1 Series models will have Apple CarPlay and you'll be able to use it for free. Forever.
However there's no Android Auto. Not even as an option. That's one of our biggest gripes with the infotainment system in the BMW 1 Series... and not just because we use an Android phone.
Space and practicality: BMW 1 Series boot space
While the old BMW 1 Series was never a particularly practical choice, the latest model is significantly roomier inside - despite having much the same footprint as its predecessor. If you're interested, the new BMW 1 Series measures 4319mm long and 1799mm wide.
That's because the old car stuck with a rear-wheel-drive platform and longitudinal engines (hence the long bonnet) - great for wannabe Lewis Hamiltons - not so great for families doing their weekly shop. The new model is more conventional in its approach, and you'll notice how spacious it is as soon as you take a seat.
There's loads of head, leg and elbow room in the front of the BMW 1 Series, along with plenty of stowage including large door bins and a usefully large cubby box under the central armrest.
Rear space is on a par with the Audi A3 and Mercedes-Benz A-Class, although that's not saying much as none of these small premium cars feel particularly luxurious in the back. If you plan to regularly carry adults (or lanky teenagers) in the rear seats, you'd be better looking at a bigger BMW like the 3 Series or X3 SUV. Otherwise, anyone approaching six foot will touch the roof with their head and stick their knees into the front seats. It'll be fine for short journeys when necessary, but it's not comfortable for longer trips.
Of course, kids will be happier in the back, and there are ISOFIX child seat mounting points fitted to the outer rear seats. Access to these is pretty easy - especially as all 1 Series models now have five doors. You might want to consider a crossover SUV like the X1 or X3 as an alternative, though - your back will appreciate not having to lean over to fit child seats.
The boot on the BMW 1 Series is about as big as you'd expect from a car of this size, capable of carrying 380 litres of luggage with the rear seats in use (drop them for up to 1200 litres).
That's identical to the latest Audi A3 Sportback and Volkswagen Golf, and marginally bigger than the Mercedes-Benz A-Class's 341-litre boot. Access is easy, with only a small lip, while an electric tailgate is available as a £500 option when ordering new. This is nice to have but wouldn't be a deal-breaker, in our opinion - it's not like the conventional boot lid is particularly difficult to open or close.
Handling and ride quality: What is the BMW 1 Series like to drive?
"The old BMW 1 Series was unusual in that it transferred power from the engine to the road via the rear wheels - rather than the front, like pretty much every other car of this size."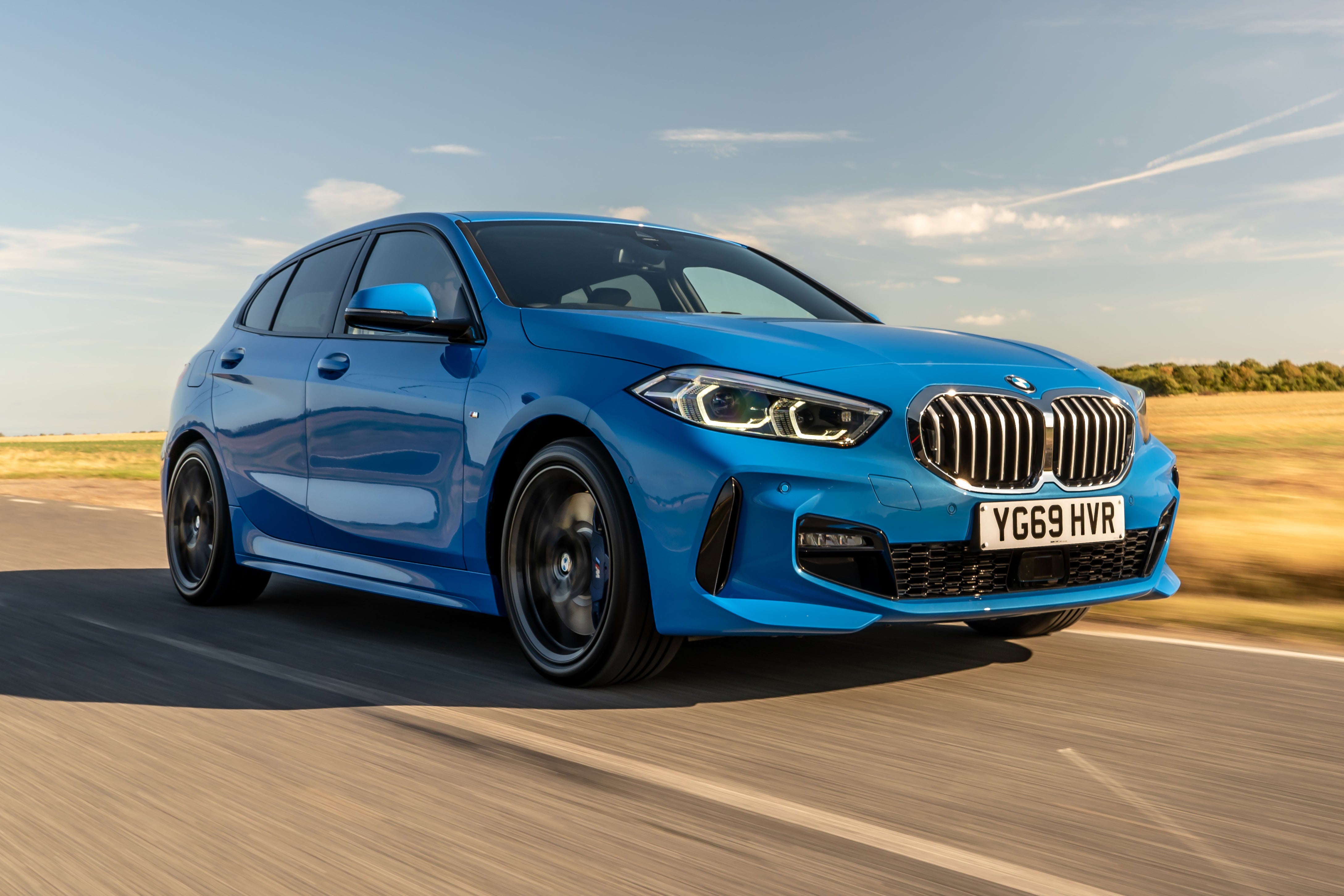 That meant it was supposedly better to drive, with the car pushed rather than pulled through bends and the front wheels left to prioritise the job of cornering.
You're not alone in finding yourself nodding off at that last paragraph. The majority of drivers of the old 1 Series didn't know (or care) that they were driving a rear-wheel-drive car, so BMW finally gave up on that idea and the latest model is predominantly front-wheel drive.
There are numerous advantages to this more conventional layout (lower running costs, safer handling and improved practicality), yet the BMW 1 Series is still the most enjoyable car in its class to drive. The steering is communicative, the brakes feel powerful and the chassis is compliant and confidence-inspiring.
BMW 1 Series M Sport models come with meatier suspension and 18-inch alloy wheels as standard. That means you'll know about it if you hit a pothole or take a speed bump at, er, speed. It's not uncomfortably harsh, but we'd recommend looking for an SE or Sport model with their standard set-up if you're looking for comfort.
The sporty M135i uses BMW's xDrive four-wheel-drive system to aid traction, while the 120d is also offered with xDrive. This costs an extra £1500 when new and will fetch a premium on the used market, too. It's not worth paying extra for, in our opinion - the standard front-drive model offers perfectly safe handling and a set of winter tyres will make a bigger difference if you're concerned about driving in the snow.
What engines and gearboxes are available in the BMW 1 Series?
The most affordable engine in the BMW 1 Series is the 1.5-litre three-cylinder turbocharged petrol, badged the 118i. It's the same engine that's used in numerous BMW and MINI models, and it's brilliant - punching well above its weight in terms of performance while also returning decent fuel economy.
This is available with either a six-speed manual or seven-speed dual-clutch automatic gearbox. We rate the auto - it changes gears quickly and makes day-to-day driving easier, but it will cost you more on the used market.
If you cover lots of miles, you'd be better with one of the multiple diesel offerings that are available in the BMW 1 Series. With 116PS from its ultra-efficient 1.5 three-cylinder diesel, the 116d is intended to appeal to company car drivers more than anyone. You won't see many on the used market and for good reason.
The big seller is the 118d, which uses a more conventional four-cylinder 2.0-litre diesel. With 150PS, this provides a considerable increase in performance over the 116d, and it's no less efficient in the real world. Again, the 118d (and the 116d) is available with a choice of manual or automatic transmissions.
If you're after a diesel with a bit of poke, the 120d provides 190PS and comes as standard with an automatic gearbox. Combined with xDrive, it can accelerate to 60mph in a fairly warm seven seconds.
Topping the BMW 1 Series range is the M135i hot hatch. This uses a 2.0-litre petrol engine producing 306PS, combined as standard with xDrive four-wheel-drive and an eight-speed automatic gearbox. This is a different beast to lesser 1 Series models, covering 0-62mph in 4.8 seconds - although it's not quite as characterful as the old six-cylinder engine used in the previous hot 1 Series model. Let's not get into the rear-wheel-drive thing again.
Refinement and noise levels
While the Audi A3 has the edge if you want an ultra-refined family hatchback, you're unlikely to have any concerns with the refinement levels of the BMW 1 Series. There's a little bit of wind noise thanks to its slightly blobby dimensions and you'll notice road noise on the bigger alloy wheels, but it's a more refined choice than mainstream alternatives like the Ford Focus.
There's no perceptible vibration through the pedals, steering wheel or gear stick on the BMW 1 Series and all the engines are generally very muted. The 1.5-litre petrol used in the 118i is characterfully vocal when you build the revs, but it's not as thrummy as a lot of turbocharged three-cylinder engines.
All of the diesels have a bit of a rumble on start-up, but that's true for the competitors too. They all settle down to a hushed idle when warm, with the stop-start system turning the engine off when you come to a halt at traffic lights.
Safety equipment: How safe is the BMW 1 Series?
As a relatively recent model, the BMW 1 Series has all of the latest safety systems designed to prevent a crash or keep you safe in a worst-case scenario.
A collision and pedestrian warning system is standard across the range, including a city braking function which can automatically apply the brakes if it detects an impending collision at low speeds. It can also alert the driver to the presence of cyclists.
The lane departure system will alert you through an impulse in the steering wheel if it detects you straying from your lane.
At £1000, the Driving Assistant feature is quite an expensive option on new models, but worth hunting out if you cover a lot of motorway miles. This adds a blind spot detection system to the blind spot warning - it can even nudge your steering if you start changing lanes when a car's in your blindspot. Other highlights of this pack include a rear crossing-traffic warning which will alert you to approaching vehicles when you're reversing out of a parking space.
Euro NCAP crash tested the BMW 1 Series in 2019, giving it a maximum five out of five safety rating. It scored well across the board - achieving an 83% score for adult occupants, 87% for children, 76% for vulnerable road users and 72% for its safety assist systems. In reality, we'd expect no less for a modern car in this category, but the 1 Series is a very safe car to travel in.
MPG and fuel costs: What does a BMW 1 Series cost to run?
"With an official combined fuel economy of up to 47.1mpg (depending on things like specification and wheel size), the petrol BMW 118i is efficient enough to make you think twice about spending more on a diesel."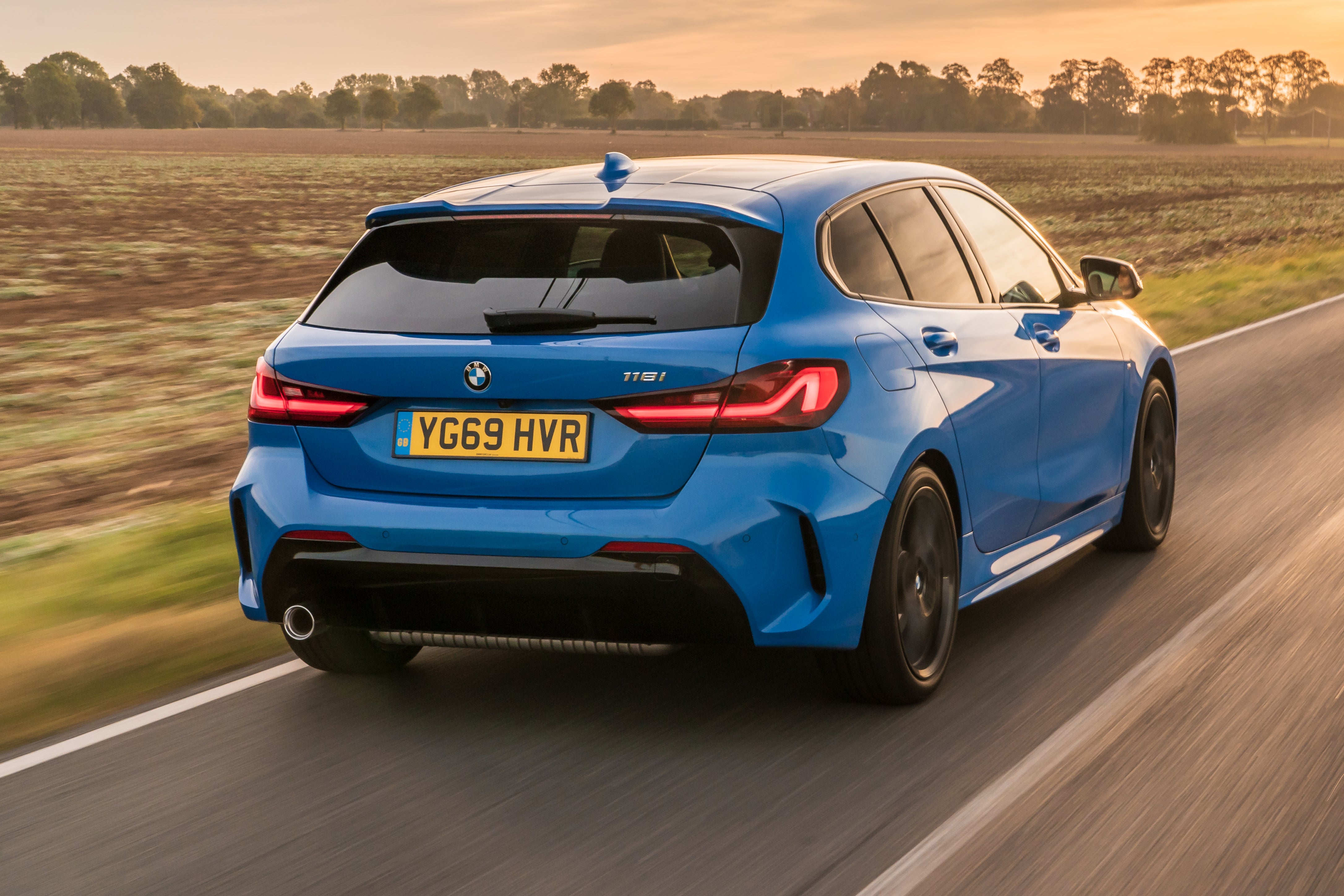 Its 50-litre fuel tank means it won't cost you more than £60 to fill up entirely. Stick with the manual gearbox and both the 116d and 118d should get close to 60mpg during gentle motorway cruising, while the 120d xDrive - unsurprisingly - the thirstiest diesel, returning up to 53.3mpg in fuel economy tests.
Hopefully, you won't be surprised to read the M135i is quite a thirsty choice, officially capable of up to 35.8mpg. That'll be considerably lower if you make the most of its full performance.
How reliable is the BMW 1 Series?
It will probably come as no surprise to hear that BMW generally has a very good reputation for reliability. BMW also came 8th out of 34 manufacturers in HonestJohn.co.uk Satisfaction Index - one place ahead of Mercedes-Benz and four ahead of Audi.
For the time being, there doesn't seem to be many common issues with the BMW 1 Series for now, with the car proving to be very reliable.
Insurance groups and costs
The cheapest BMW 1 Series to insure is the 116d, which falls into insurance group 16. There are no big surprises in the rest of the range - although it's worth noting that the 120d ranks a number of insurance groups higher than the 118d. Of course, the costliest BMW 1 Series to insure is the BMW M135i.
These groups are all broadly in-line with competitor models like the Audi A3 and Mercedes-Benz A-Class. Of course, you'll probably pay a little bit more to insure a BMW 1 Series than something like a Vauxhall Astra, but it shouldn't cost a fortune unless you're a young driver.
You might find our guide to the cheapest BMW models to insure if you're in the market for a new BMW.
VED car tax: What is the annual road tax on a BMW 1 Series?
The third-generation BMW 1 Series is taxed under the latest VED bands. That means, from the second payment onwards, you'll pay a flat £150 a year. The first owner will have covered the first CO2-based payment.
It's worth watching out for the so-called premium car tax, which applies to any cars with a list price of more than £40,000. It's difficult to spend this much on a 1 Series but it is possible - particularly if you find an M135i that's loaded with options. As desirable as this is, it'll cost an extra £325 a year in tax for its first five years. Even as the second owner, you'll be responsible for this.
How much should you be paying for a used BMW 1 Series
"The latest BMW 1 Series is still a fairly new model and its premium badge ensures used values are strong, but that doesn't mean there aren't some good deals to be had."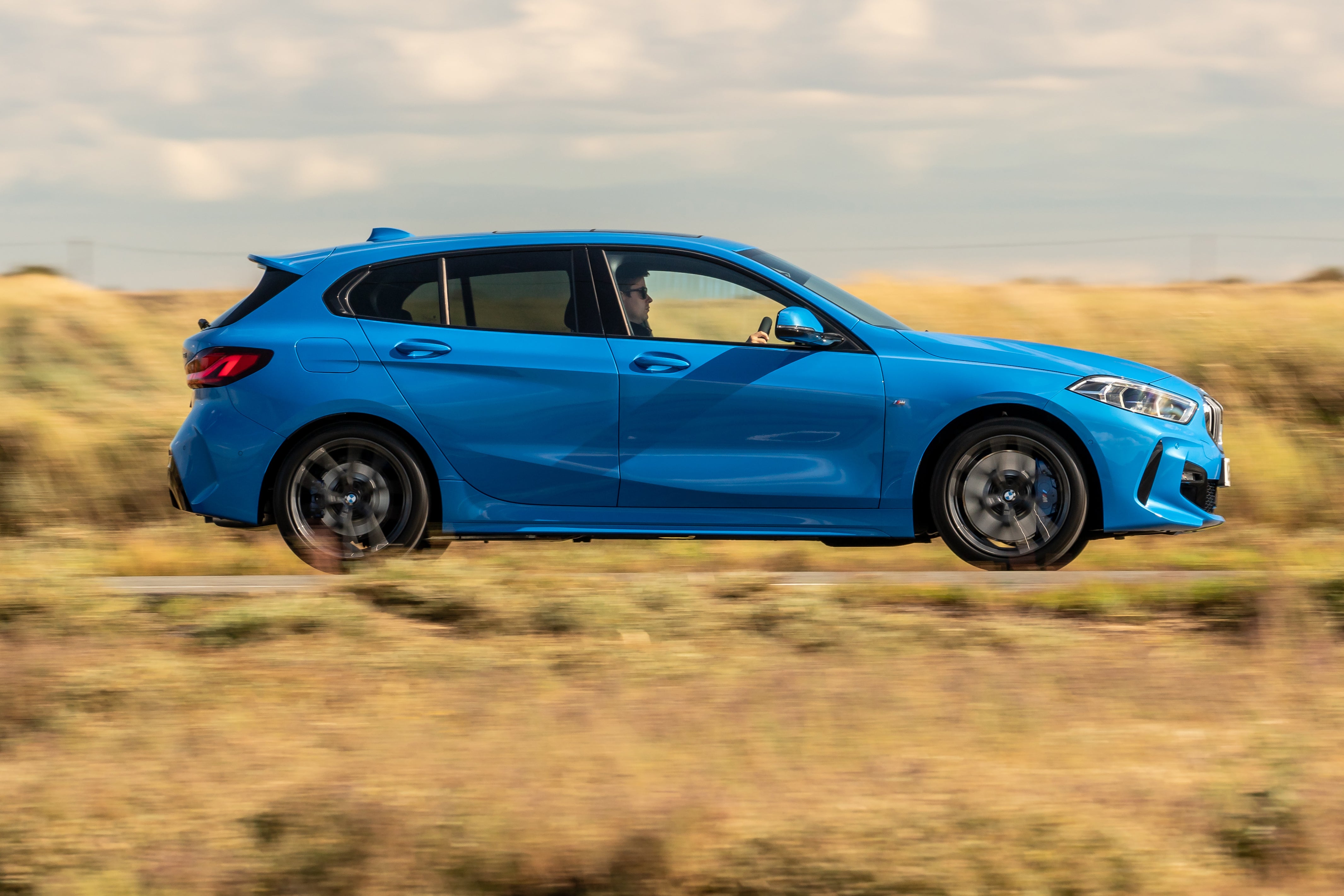 We've seen as-new pre-registered examples on sale with delivery miles for thousands less than list price - a great saving if you're not fussed about having the latest number plate or choosing colours and options yourself."
As an example, at the time of writing, £23,000 will get you an as-new BMW 1 Series 118i M Sport with the manual gearbox - a saving of more than £4000 compared to list price. That's quite a hefty saving - and it lets you skip the waiting list.
If you'd prefer a diesel, a BMW 1 Series 116d M Sport can be picked up for £22,500. That's a saving of more than £6000.
Trim levels and standard equipment
The entry-level BMW 1 Series wears an SE badge, with standard kit including 16-inch alloy wheels, automatic air con, Bluetooth, the 8.8-inch Live Cockpit Plus infotainment system, cruise control, LED headlights, front and rear park distance control, rain sensor with automatic headlights and a sport three-spoke leather-covered steering wheel.
Most buyers will want to hunt out the BMW 1 Series Sport model for its 17-inch wheels, two-zone air conditioning, various nice interior touches (such as contrast stitching the instrument panel and door sill finishers), front sport seats and sport exterior highlights.
The popular BMW 1 Series M Sport model adds 18-inch alloy wheels, automatic headlights, Dakota leather seats, M aerodynamic body styling, firmer M Sport suspension and heated front sport seats.
The range-topping BMW 1 Series M135i xDrive builds on M Sport models with bespoke 18-inch alloy wheels, the bigger 10.25-inch Live Cockpit Professional Infotainment system and various M aerodynamic bodystyling upgrades.
Ask the heycar experts:
common questions
Is the BMW 1 Series a good car?
BMW's got it pretty spot on with the 1 Series if you're looking for a premium hatchback car. The move to front-wheel drive hasn't diminished the driving experience, while it's now more practical than even, with plenty of space in the cabin for four adults and a good sized boot.

Can I buy a three-door BMW 1 Series?
Not any more. The BMW 1 Series is available as a five-door hatchback, while if you're looking for something a little more classy, there's the two-door BMW 2 Series coupe.

What is the best BMW 1 Series engine?
The range-topping 2.0-litre petrol engine in the M135i has to be the most impressive, delivering 306PS an a 0-62mph of 4.8 seconds, but perhaps the best engine for the BMW 1 Series is the 1.5-litre three-cylinder turbocharged petrol engine. Badged the 118i, it's also the most affordable, but punches well above its weight.

BMW 1 Series cars for sale on heycar
3,193
Number of cars available
£8.5K - £51K
Price bracket of these cars
Colours available on heycar
Keep me updated by email with the latest advice, news and offers from heycar
By submitting, you agree to our
privacy policy
.