1 Series (2011-2019) Review
BMW 1 Series (2011-2019) Review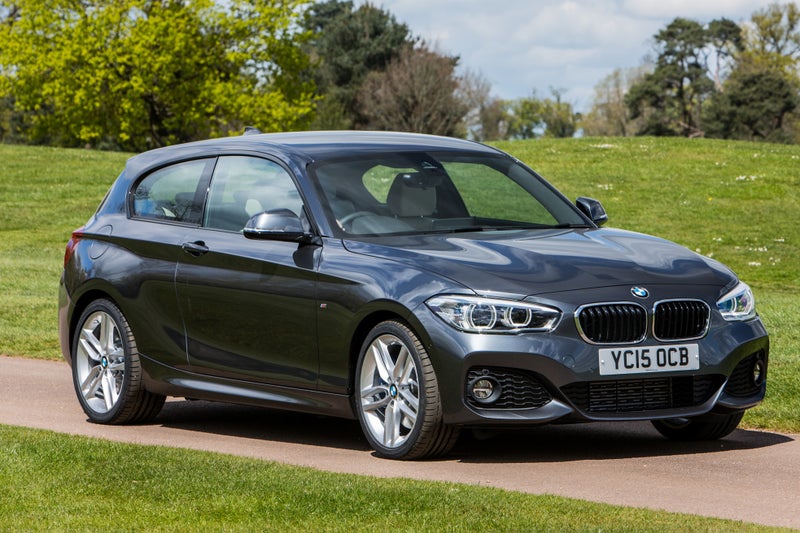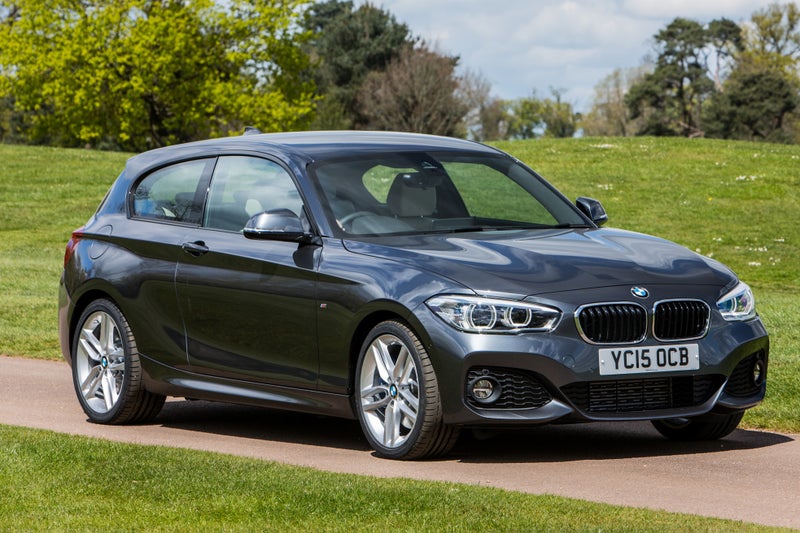 1/10
heycar rating
"Driver-pleasing compact premium hatchback "
Launched: 2011

Family hatch

Petrol, Diesel
Quick overview
Pros
Superb to drive
Powerful and economical engines
Top-notch infotainment system
Cons
Rear-seat space
Awkward boot shape
Basic equipment levels a bit stingy on pre-2015 cars
Overall verdict
On the inside
Driving
Cost to run
Prices and Specs
Overall verdict
"This is the second generation of BMW's enormously popular premium family hatchback. Offered in three-door and five-door formats, it's an upmarket alternative to a Ford Focus or Volkswagen Golf, and frequently rivals the Audi A3 and Mercedes-Benz A-Class for UK for top 10 best-selling honours. Introduced in 2011, this version has proven to be the most popular yet."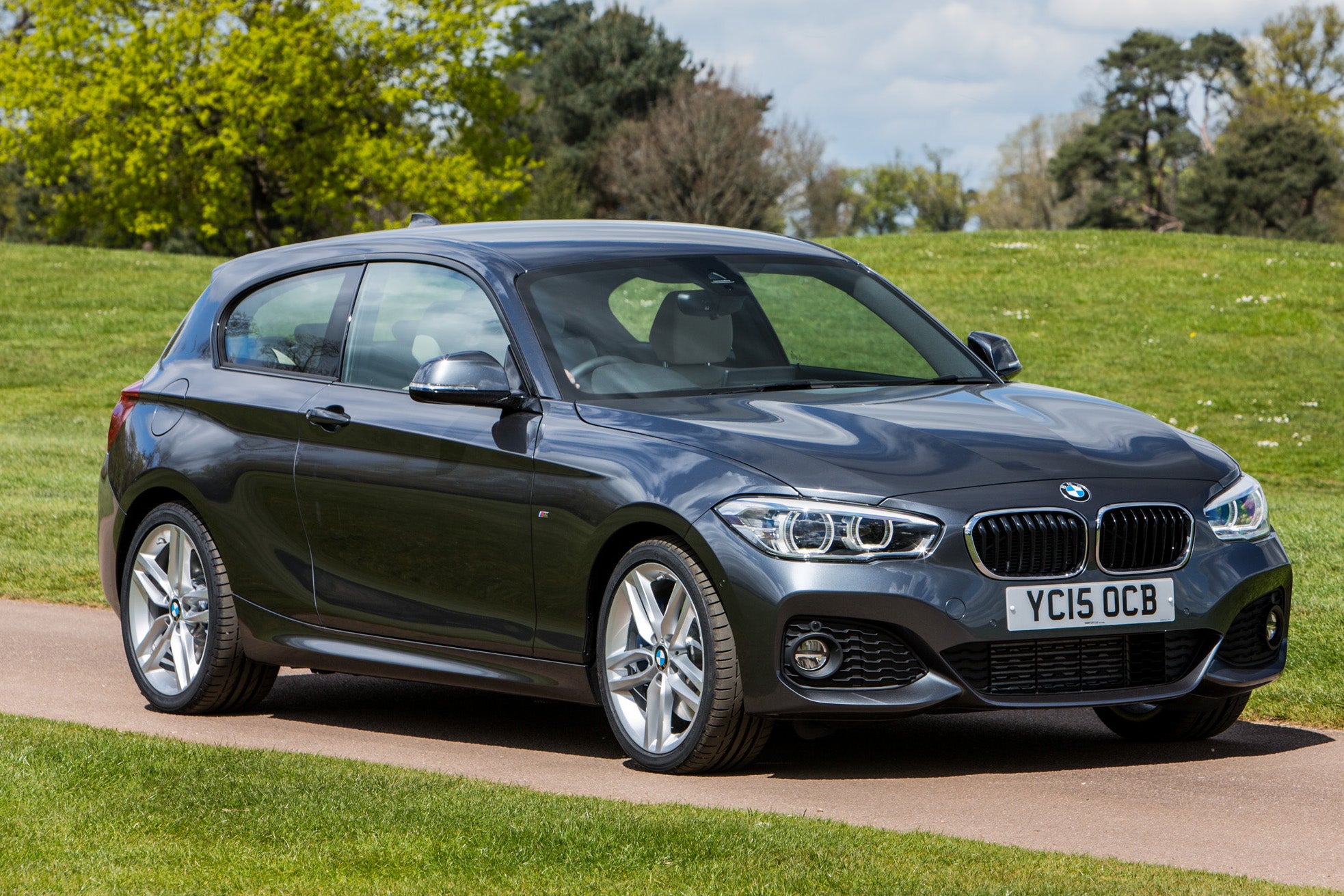 For some, the BMW sells because of its class-distinct USP: it is rear-wheel drive, the layout of choice for driving enthusiasts everywhere. For others, the allure of the BMW badge combines with neat styling and an enormous range of engines and trims, ensuring there's something in the line-up for almost anyone.
The range-topping M135i and M140i versions are particularly sought after and are becoming a bit of a modern classic among enthusiasts. With this car's replacement, the 2019 BMW 1 Series, switching to front-wheel drive, there may never again be a family hatchback quite like this one.
At launch in 2011, the 1 Series raised a few eyebrows. Its styling was broadly an evolution of the original… but along the way, it seemed to have gained an over-large set of headlights. Kindly sorts called it ungainly, others were ruder, and this was not helped by some curious launch specification packages that included dodgy white-painted wheels.
Even early 1 Series are great cars to drive, though. The engines all gave impressive bang for your buck, particularly the turbo petrols and higher-power diesels. Inside, much of the tech coming to the new 3 Series executive saloon was evident, including BMW's brilliant latest-gen infotainment systems.
We must warn you though, the 1 Series is only family-friendly at a push. Rear-seat space is much more restrictive than, say, a Volkswagen Golf, and while boot space looks OK on paper, in practice it's much more compromised. Blame the rear-wheel-drive layout.
BMW later added more engines, launched an all-wheel-drive xDrive version and, in 2015, fixed the biggest complaint with this generation of 1 Series, that awkward front end. With new, slimmer headlights carrying crisp LED running lights, it was a far better-looking car, enhanced at the rear with wider tail lamps making it seem a bit more hunkered down on the road. Sales increased accordingly.
BMW had already launched the brilliant M135i in pre-facelift guise. This performance range-topper was an instant fan favourite, and became even more when upgraded to M140i guise. The turbocharged straight-six engine delivers brilliant power and sound effects, and the handling is not far shy of a sports car.
At the other end of the range, the diesel engines continued to get more and more efficient, with the fuel-sipping EfficientDynamics models hitting new highs for mpg and new lows for CO2. BMW's front-running infotainment systems have been constantly upgraded over the years, too.
Although it is offered as a five-door and bills itself as a family contender, the 1 Series works best as a sporty model for those who travel two-up and want the best possible entry into the BMW brand.
Despite its flaws, the exciting way it drives and makes people feel ensures it has a following. That it backs this up with good reliability and low running costs, plus two exceptional performance range-toppers, means it's easy to see why the 1 Series has proven so popular over the years.
If you're looking for the newer version, you need our BMW 1 Series (2019-) review.
Is the BMW 1 Series right for you?
As we say, if you have a family and are switching from a Volkswagen Golf, it might be a bit of a surprise to step into the 1 Series. You and your front passenger may find it fine, but those in the rear will be in for an unpleasant surprise. You'll almost certainly be leaving behind bags and cases that went into the Golf just fine, too.
On the other hand, if you love driving and would rather be in a sports coupe than a regular hatchback, the 1 Series is the car for you. It feels like an enthusiastic car with breeding far higher than its price tag commands. You can feel the 3 Series spirit running through it and, whenever you come across a twisting road, you will feel chuffed with your choice.
The M135i and M140i models are our tips for future collectables and it's easy to see why they've already won such a following.
What's the best BMW 1 Series model/engine to choose?
You might expect us to say the M135i and M140i here, and you'd be right. They're fantastic. But they're also in-demand range-toppers and anything but cheap to run. Luckily, the abilities of lesser 1 Series mean there are still fine models to choose from, even if you're avoiding the full-fat option.
The 118i petrol serves up decent power and performance, with the 120d giving even better economy if you don't mind diesel. The xDrive versions offer all-wheel-drive grip, too. Over the years, the range grew exponentially, with engines ranging from a 114d diesel to the M140i petrol. But you can't go far wrong with a mid-spec variant, either diesel or petrol.
As for trim lines, ES and SE are the lead-in ones and Sport offers a bit more. M Sport is the most fancied version, thanks to big wheels, a bodykit, hip-hugging seats and M-branded interior detailing.
What other cars are similar to the BMW 1 Series?
The BMW's direct rivals start with the Audi A3, both in three-door and five-door Sportback guises. Audi's range is similarly diverse, with a sporty-looking top trim level called S Line. As for Mercedes-Benz, there's the A-Class, crowned by the AMG-Line grade, with another broad range of engines – from fuel-sipping diesels to tarmac-tearing super hatches.
The Volkswagen Golf is a more mainstream alternative with a still-decent image, while if you want to go really leftfield, you could choose the Alfa Romeo Giulietta. Volvo's safe Swedish interpretation is the V40 and Lexus offers the CT 200h. There's also the Infiniti Q30, but that's such an oddball choice, we don't expect you'll take us up on the suggestion...
Comfort and design
"The BMW 1 Series has an upmarket interior that clearly draws from that executive car favourite, the BMW 3 Series. It has the same premium displays and controls, the same overall layout and a similarly comprehensive widescreen infotainment system sat atop the dash."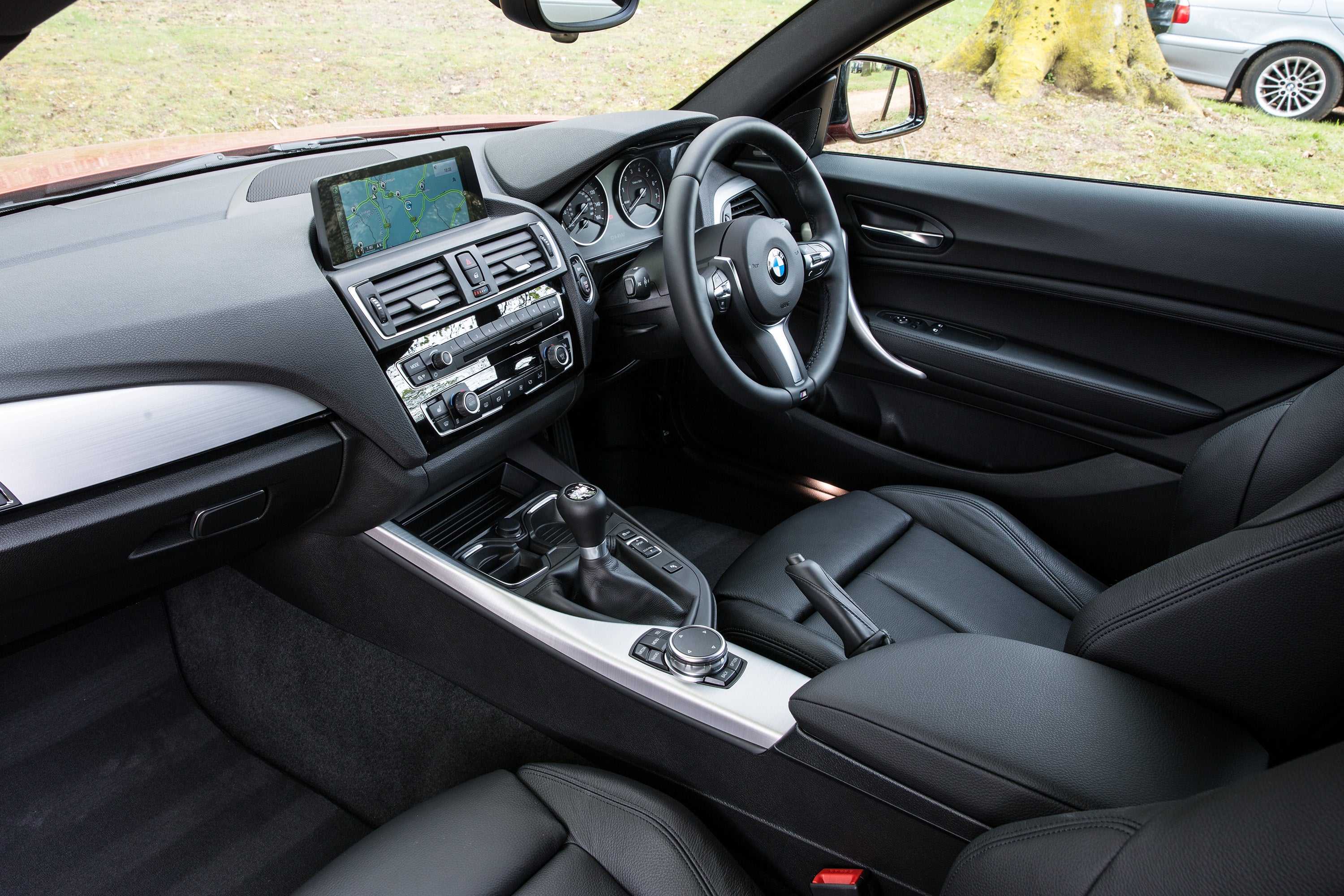 The driving position is good, with the seat able to be positioned nice and low, pedals stretched far ahead. The centre console is high, which gives a sporty feel, and manual gearboxes have short, stubby gearlevers, particularly M Sport versions. It feels purposeful and driver-focused, as you'd hope a BMW would do.
For a compact car, the design is grown-up and has a classy, upmarket feel. Nothing's been dumbed down for the entry-level BMW, and you can enhance its interior with dark trims offset with moody piano-black inlays if you wish. Only the amber glow of the dials and the chrome highlights for many of the controls will sparkle. Alternatively, you could go bold and brash with bright red leather. It's a premium car, so those ordering new had the choice.
It genuinely does feel good sitting behind the wheel, with a focused and sporty feel topped off by some excellent seats. The regular chairs are fine, but it's the bolstered chairs in M Sport versions that really appeal. They have a special seat fabric, an adjustable cushion to support the backs of your legs, and feel fantastic to sit in. The M Sport-specific steering wheel is pretty gorgeous as well.
Quality and finish
BMW builds cars a cut above the mainstream, and the integrity shows through in the 1 Series. No wonder, really, given how much it draws from the bigger 3 Series. The doors have the same thunk when you close them and the interior feels similarly substantial. Press any button for evidence there's a bit more inbuilt quality here than something like a Ford Focus.
Saying that, the finish of BMW's plastics isn't a match for Audi's. In terms of tactility and luxury appearance, Audi has the edge when compared to the slightly spongy-looking materials found within the BMW. The quality is there, be in no doubt, but the finish can't match that of its front-driven arch-rival.
Where the BMW difference really starts to show is with higher-mileage models. These will display much less of the wear you sometimes get in non-premium cars. The seats will still be firm, the displays still crisp and bright. The plastics won't rattle. That's where the BMW quality comes through.
Infotainment
Here, BMW is class-leading, without a doubt. Even the entry-level system, with a crisp and bright 6.5-inch screen, has the same faultless logic and impressive usability found in all BMWs. It makes all other systems seem incomprehensibly complicated. Sat nav addresses can be entered easily, you'll find it almost impossible to get 'lost' within the system and you'll almost never have to resort to the owner's manual to learn about something you can't work out.
The system is masterminded by a central controller wheel called iDrive. This spins, clicks four ways and can also be pressed: it's extremely intuitive. Even more alluring is the BMW Professional infotainment system. The key step-up here is the widescreen display, which includes touchscreen control on later models. The sat nav is more comprehensive – we love how the traffic alert system colour-keys busy sections of road – and you can even control it via voice control if you wish.
BMW introduced a series update to the infotainment system in 2013, with a faster processor and 3D graphics. It would also accept seven-digit postcodes. By 2015, nav was standard across the range.
On later models, BMW introduced Apple CarPlay, but curiously it was an option, rather than standard fit. It can be retro-fitted to some models, but it's not guaranteed. Saying that, the base system is so comprehensive, you won't really miss it.
Space and practicality
This is always the awkward bit for any review on the 1 Series. Because compared to the best in this class, it's easily the car's weakest area. Even those in the front, although they will find plenty of sporty-feeling space when they get in, will find the door openings of the five-door model a bit too narrow for comfort. It's even worse for those in the rear: access in the three-door is painful, while the door openings of five-door versions will leave tall adults daunted and uncertain whether to even try.
On top of awkward access, space in the back is far from generous either. If those in the front want to get comfortable, there will be negligible room for feet and knees. The rear bench is also narrow, due to intrusion from the wheelarches, meaning it's only comfortable for two – three-up is, genuinely, a hip-to-hip squeeze. Add in small windows to complete the feeling of claustrophobia. And if you thought getting in was tricky, wait until you need to get back out again…
Boot capacity of 360 litres sounds OK, as it's only 20 litres behind a Volkswagen Golf, and we know how practical that is. In reality, the load bay is just too narrow, so even folded-up pushchairs might be a squeeze. There's no space beneath the boot floor and it's pretty shallow as well. Even the shape of the boot opening isn't particularly helpful. Folding the seats takes it up to 1,200 litres, still below par for this sector.
All 1 Series have dual Isofix mountings for child car seats, hidden behind plastic flaps on the outer two rear seats. Actually putting children into them could be a back-breaker though, due to the small door apertures, and even the youngest toddlers will find it a breeze to reach and kick the back of your seat.
BMW doesn't fit a spare wheel because it's wedded to the philosophy of run-flat tyres. These theoretically don't even need a tyre repair kit as they can carry on running even when totally flat. It's probably a good idea to have a kit handy, though, particularly if a subsequent owner has fitted tyres that aren't run-flats…
Handling and ride quality
"If practicality is the 1 Series' weakness, handling and ride are its strong side. Particularly handling. Even the most basic model scythes through corners with much more precision, composure and stability than almost any rival. Thank the rear-wheel-drive layout for that, which leaves the front wheels free to simply steer. This purity and clarity are what make the 1 Series special."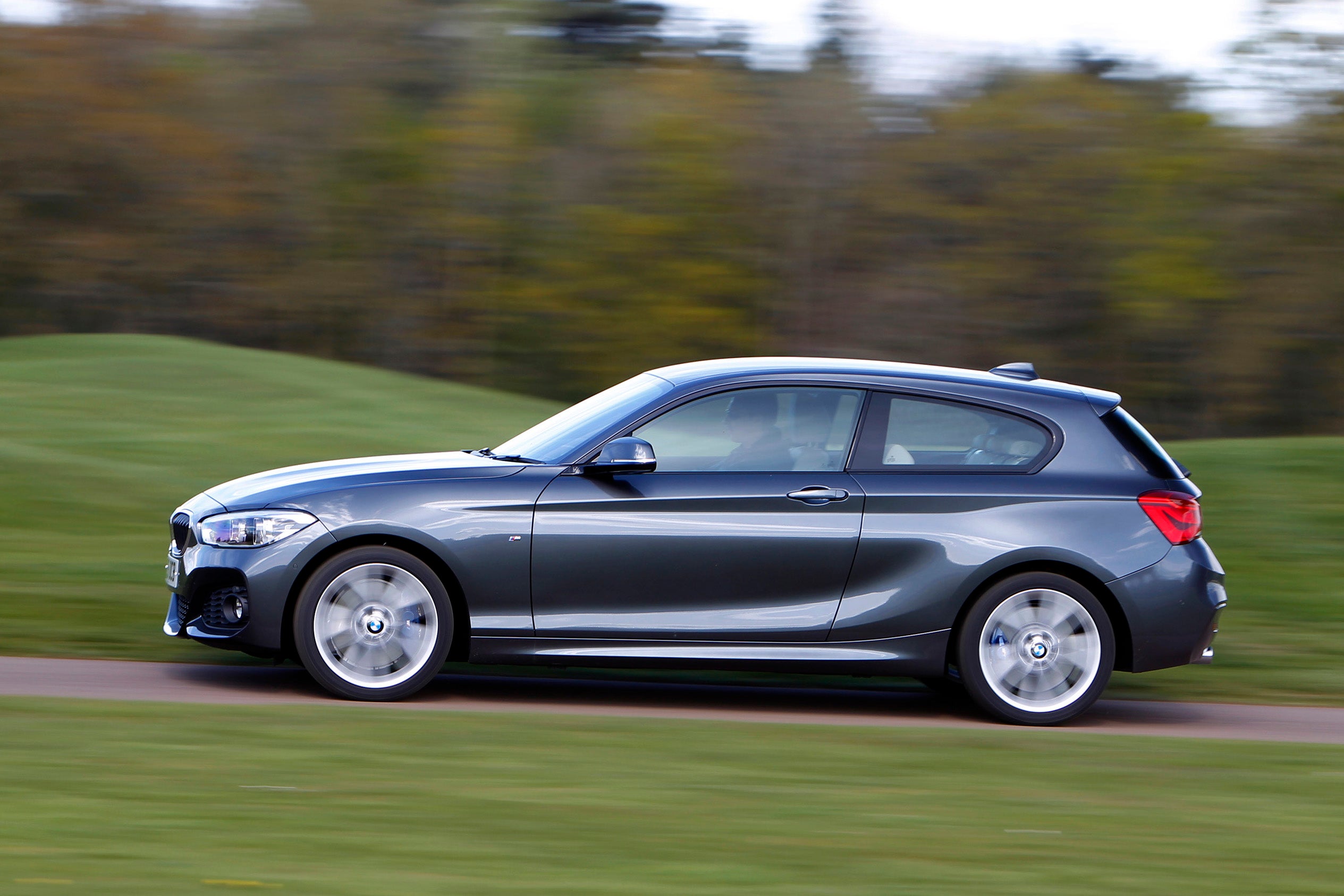 The steering has a meaty feel and the front end is very responsive. You'll soon start driving with your fingertips, not your elbows. The high-end suspension always has plenty in reserve and even blasting down challenging B-roads at eyebrow-raising speeds will not faze it. The car is always on top of things.
As you move up the range, bigger wheels and sportier suspension systems bring more grip and more feedback. The limits become higher and it becomes a matter of how brave you are, rather than any limitations with the car's handling itself. All-wheel-drive xDrive versions are even more secure and tenacious.
Ride quality does start to suffer, particularly on M Sport versions with the biggest wheels. The cars are undeniably firm and can get choppy on poor road surfaces. But such is the ability of the suspension, things never degenerate into uncontrolled and crashy harshness, as they can do in some rivals. You might wince in anticipation, but the big bang never comes.
Less sports-focused models are actually pretty compliant. They're still taut, sure, but the wheels will soak up city bumps better than many in this class, and you can feel the benefits of having such a high-end suspension system fitted to such a compact car.
A final tip: try to find models fitted with optional adaptive dampers (they came as standard on the M135i and M140i). These take the breadth of ride and handling ability even higher – and will let you firm things up for a sportier ride at the touch of a button.
Engines and gearboxes
It's easy for your eyes to glaze over when you look at the full range of engine variants offered with the 1 Series throughout its lifetime. Not to mention the choice between manual or (brilliant eight-speed) automatic, and rear-wheel drive or all-wheel drive.
The core engines are the ones you will find most frequently. Early 1 Series used four-cylinder motors: a 136PS 116i, 170PS 118i, 116PS 116d, 143PS 118d and 184PS 120d. All were turbocharged. The 116d is a bit light on power but all the others perform well, while the petrol engines have a pleasing rasp when revved. The diesels have so much torque, you rarely have to rev them that hard to make progress. Manual gearboxes are slick and precise, and automatics are faultless.
More engines came in time, including the fuel-saving 116d EfficientDynamics. Never mind the 10.3-second 0-62mph time, just look at the fuel economy. It's far more appealing than the 95PS 114d that came in 2012, which is achingly slow and best avoided.
Engines were all-new for 2015: 136PS 118i (this was actually a 1.5-litre three-cylinder turbo from the MINI Cooper), 170PS 120i, 218PS 125i and diesels from 116d to 125d. The star all-rounder of the range was the 150PS 118d, which did 0-62mph in as little as 8.1 seconds, yet still averaged as much as 74.3mpg. The overall hero was the six-cylinder M135i, with 326PS of gorgeous-sounding goodness that gave 0-62mph in as little as 4.9 seconds.
The cream of the crop, though, is the M140i: 340PS, 0-62mph in just 4.6 seconds if you chose the eight-speed automatic, and a top speed so potent, they had to electronically limit it to 155mph. Automatic versions even had launch control if you want to really show off how fast it goes.
Refinement and noise levels
Again, those premium car engineering fundamentals mean the 1 Series is generally a refined and mature-feeling car. There isn't too much wind noise and although versions with wider wheels do generate more road roar at speed, actual bumps and thumps from the road are generally dampened away pretty well.
The engines aren't too noisy, and the sounds they do make are purposeful and grown up, rather than screechy and whiney. Diesel clatter isn't excessive and, if anything, you'll want to hear more of the M135i and M140i. Most models cruise at motorway speeds with fuss-free isolation.
Basic BMW sound systems are nothing much to write home about. If you want the best sound, it's worth keeping an eye out for models fitted with upgraded Harman Kardon premium audio systems. If you love your music, the extra spend (or patience required) is worth it.
Safety equipment
The important safety essentials are standard, and the BMW scored a full five-star Euro NCAP score when crash-tested, which shows the integrity of the 1 Series is top notch. Adult occupant protection was excellent at 91 percent and child occupant protection was rated at 83 percent.
However, while stability control is standard, some of the other active safety features are add-ons – including lane-departure warning and radar-assisted autonomous emergency braking. We'd prefer for these to have been standard from day one.
BMW was, however, one of the first brands to fit eCall to models fitted with sat nav. This allowed those in an accident to summon the emergency services at the press of a button, with the exact location automatically sent using sat nav information. This was actually on the 1 Series right from launch in 2011.
MPG and fuel costs
"We won't go through the full line-up of engines and economy ratings here, because life is far too short. If you're looking at pre-2015 models, the 116i will average 50mpg and the 118i isn't far behind on 48mpg – pretty good given its 170PS output."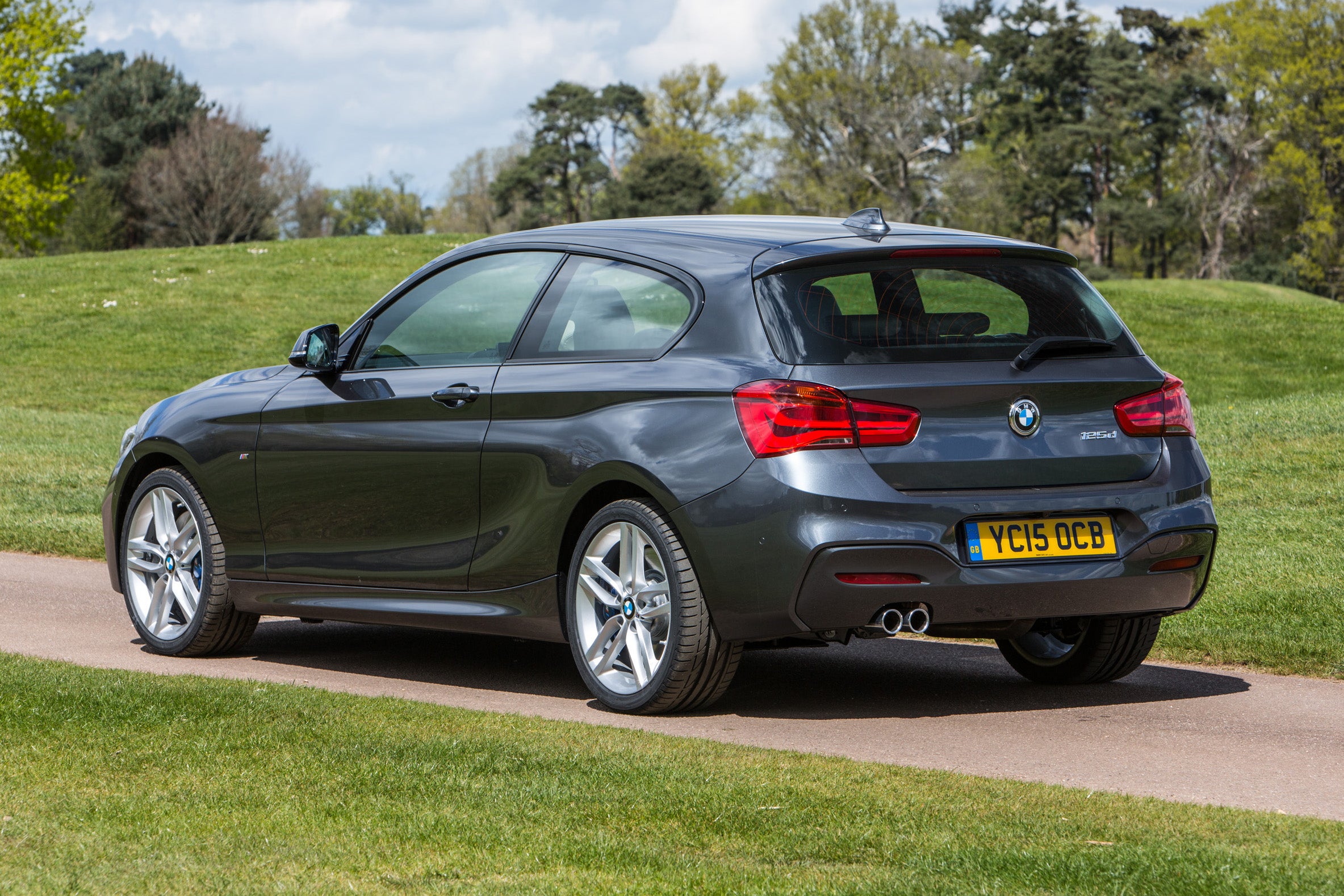 All three diesels, remarkably, are rated the same, at 62.8mpg. The 116d EfficientDynamics, meanwhile, claims 74.3mpg, which makes the 65.7mpg of the slothful 114d seem pretty average. As for the 120d xDrive, don't think you'll be penalised for choosing all-wheel drive: it averages 60.1mpg.
Engine upgrades for 2015 onwards improved economy further. The Mini-engined 118i could return 52.3mpg, and the 130i improved to 48.7mpg. By now, the 116d EfficientDynamics was up to 83.1mpg (no, that's not a typo) and the best all-rounder, the 150PS 118d, could return 70.6mpg – or 74.3mpg, matching the old EfficientDynamics, if you chose it with the eight-speed automatic.
Thirstiest, with the highest fuel costs? The M135i, which averaged around 35mpg with a manual, or 37mpg with an auto 'box. You'll be enjoying it too much to care – and, for the final surprise, the even more powerful M140i actually improved economy, to 36mpg and nearly 40mpg for manual and automatic respectively.
Insurance groups and costs
Insurance groups range from a low group 12, to a pretty expensive group 40. It's the M135i and M140i that take the headline insurance group high: mainstream models are more affordable. A 116i comes in at group 17, jumping to group 22 for the 118i – reflecting the leap in power from 136PS to 170PS. A 116d is group 15, while the 120d is group 22.
Two of our favourite 1 Series variants have competitive-sounding insurance group ratings, which should keep costs in check. The 116d EfficientDynamics is also group 15 – no different to the standard car – and the sprightly, economical 118i comes in at group 22, falling to group 19 following the 2015 facelift and introduction of the 1.5-litre turbo engine.
VED car tax
The excellent economy of BMW's efficient petrol and diesel engines has a knock-on effect in low CO2. For earlier models, emissions of 132g/km for the 116i give a £150 a year VED (road tax) rate, which the 118i matches. The 116d, 118d and 120d diesels are all rated at just £30, while the 116d EfficientDynamics, with sub-100g/km CO2, enjoys free tax.
From 2015, the more efficient 118i engine cut VED to £125 a year, and while the 116d EfficientDynamics was still free, so too was the regular 116d.
The most expensive 1 Series models to tax are, yes, the M135i and M140i. Owners will pay £305 a year for a manual-gearbox M135i, and £265 a year for the auto. On the M140i, manual models are rated at £265 a year, dropping to £205 a year for the auto.
How much should you be paying for a used BMW 1 Series?
"Prices for high-mileage 2012-2013 1 Series are now starting to dip below £7000. Here, the selection is mainly 116d and 118d models, and it's worth looking out for an EfficientDynamics variant to save money on car tax. M Sport versions, however, are very rarely found, even if you're starting with £8000 or so."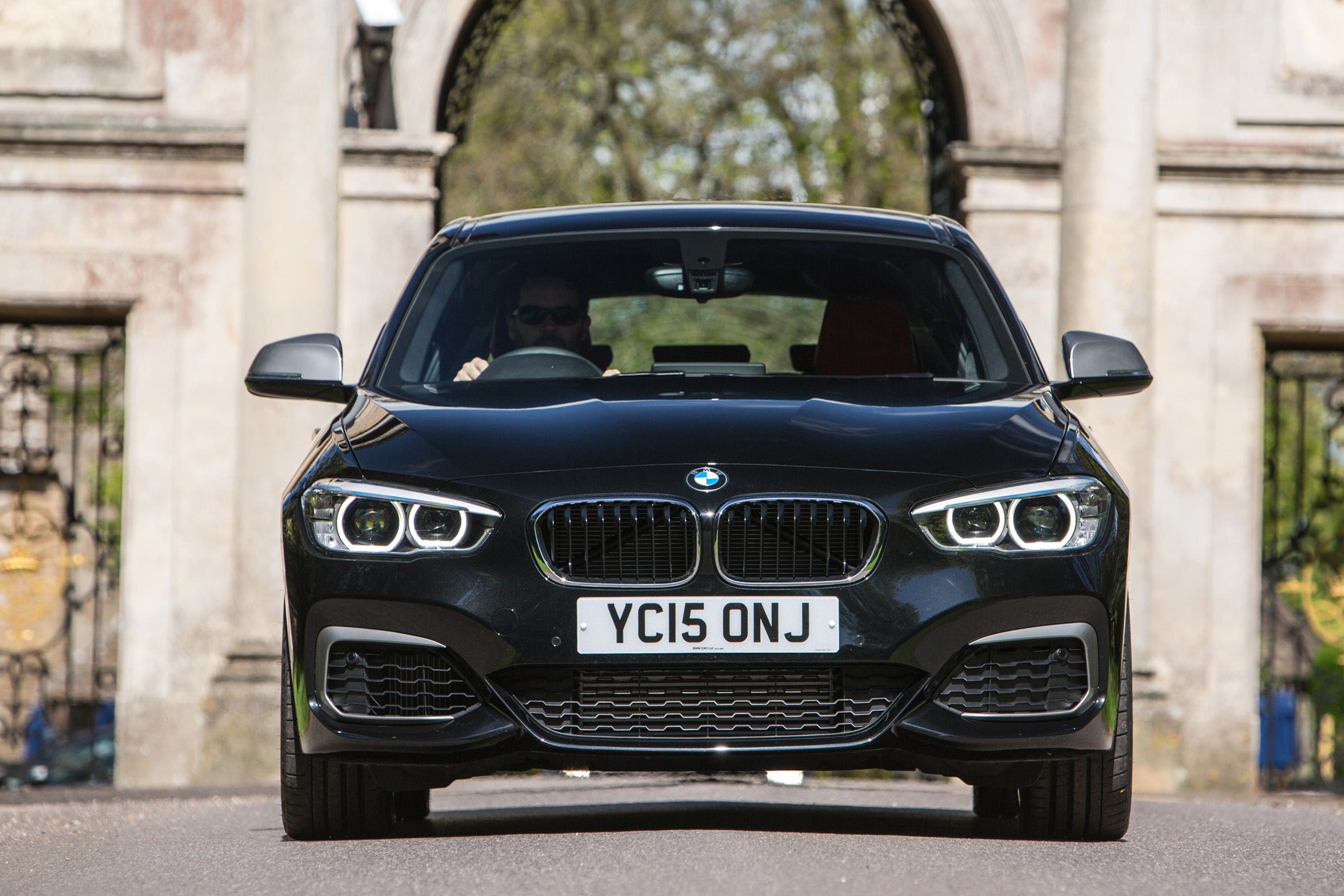 If you can up your budget to around £9000, there's much more choice – again, largely of diesel-engined variants, because these were the most popular models when new. The 116d is strongly represented here too.And £10,000 starts to bring in a broader choice of petrol versions, plus some of the more powerful engines offered in the 1 Series line-up.
The 2015 facelift models generally cost from around £11,000, and three-door versions sell for a little less than more popular five-doors. As for the M135i, you still need to budget from around £14,000 to get into one of these in-demand hot hatchbacks.
Trim levels and standard equipment
Pre-facelift 1 Series were a bit light on standard equipment, particularly the price-chasing ES. The entry-level we'd recommend is the SE, which features 16-inch alloys, a 6.5-inch screen, Bluetooth and a multi-function steering wheel, although sat-nav was standard – and even DAB was an optional extra on early cars.
Launch-grade Urban and Sport models were styling exercises, of questionable success. More appealing were M Sport models, with their aero bodykits, big wheels and Alcantara-style seat trim.
Post-facelift, equipment was improved a lot. Entry-level SE now had the 6.5-inch screen with sat-nav, Bluetooth, DAB, automatic headlights and wipers, plus standard climate control. SE Business added LED headlights and rear parking sensors. Sport alloy wheels grew to 17 inches and they featured gloss black trim on the outside and ambient lighting on the inside.
The favoured M-Sport versions had 18-inch wheels, LED foglights, leather sports seats with contrast blue stitching, an M steering wheel and standard M Sport suspension (this was a delete option for those who wanted a smoother ride).
Keep me updated by email with the latest advice, news and offers from heycar
By submitting, you agree to our
privacy policy
.