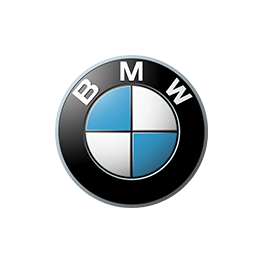 BMW 2 Series Active Tourer Review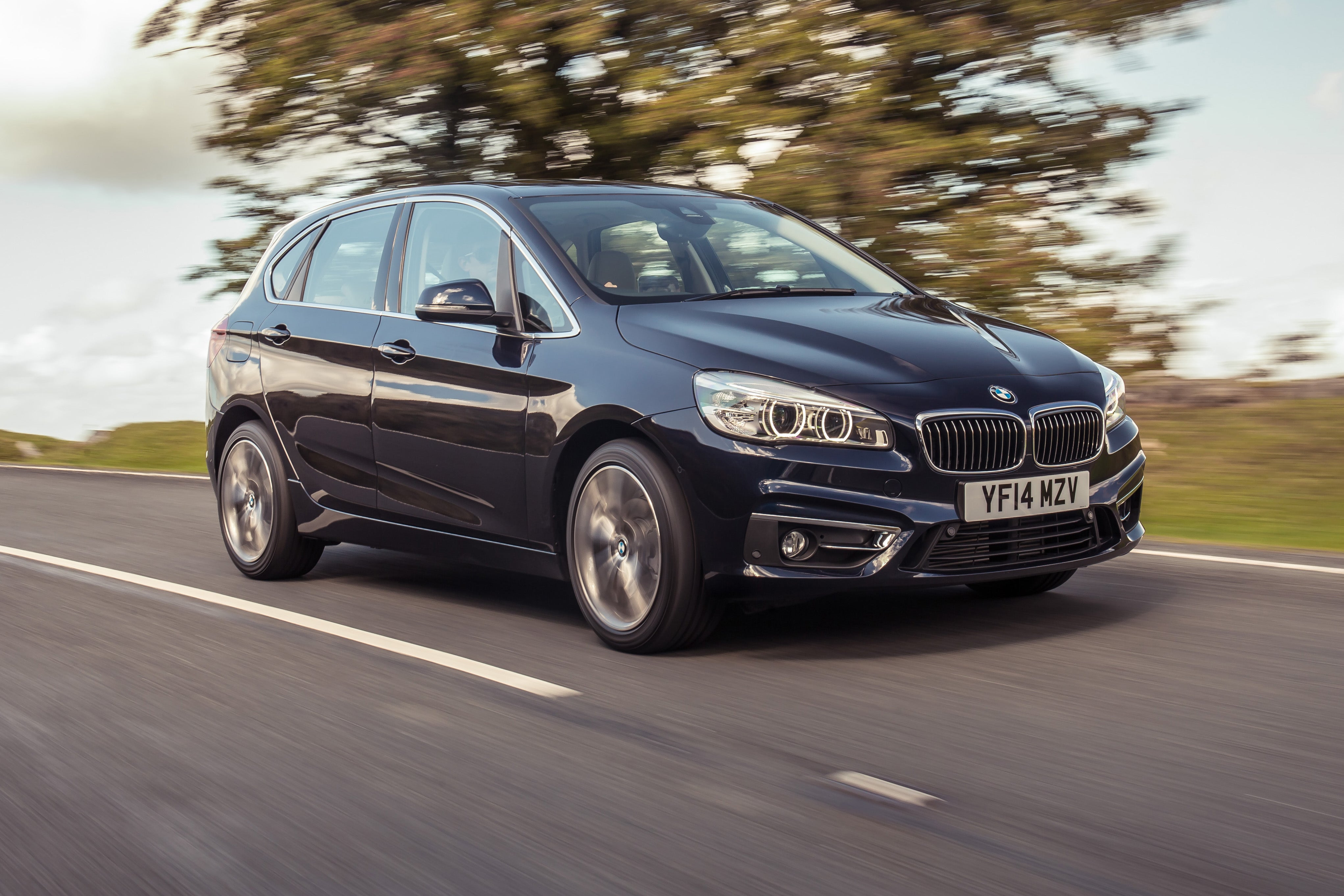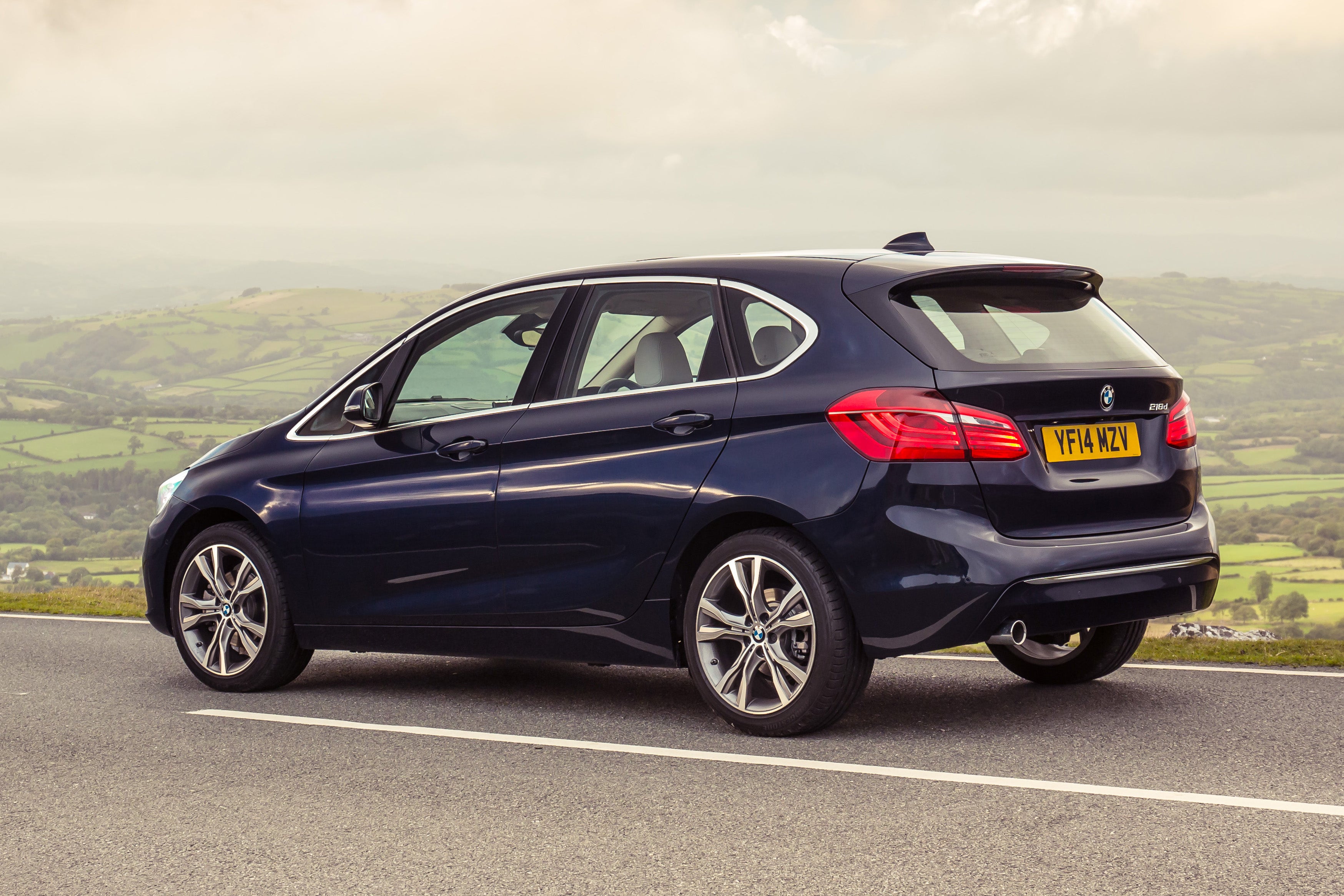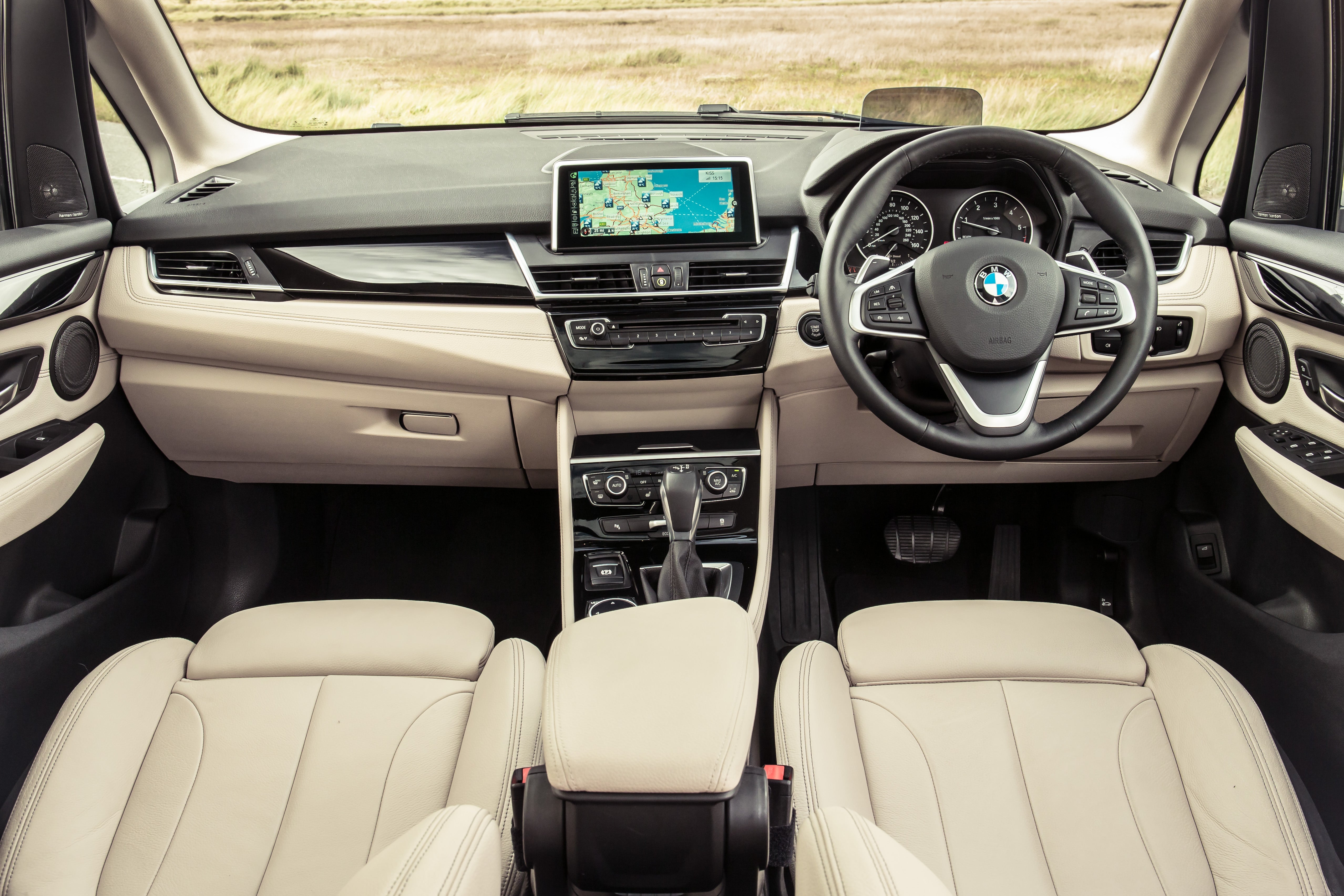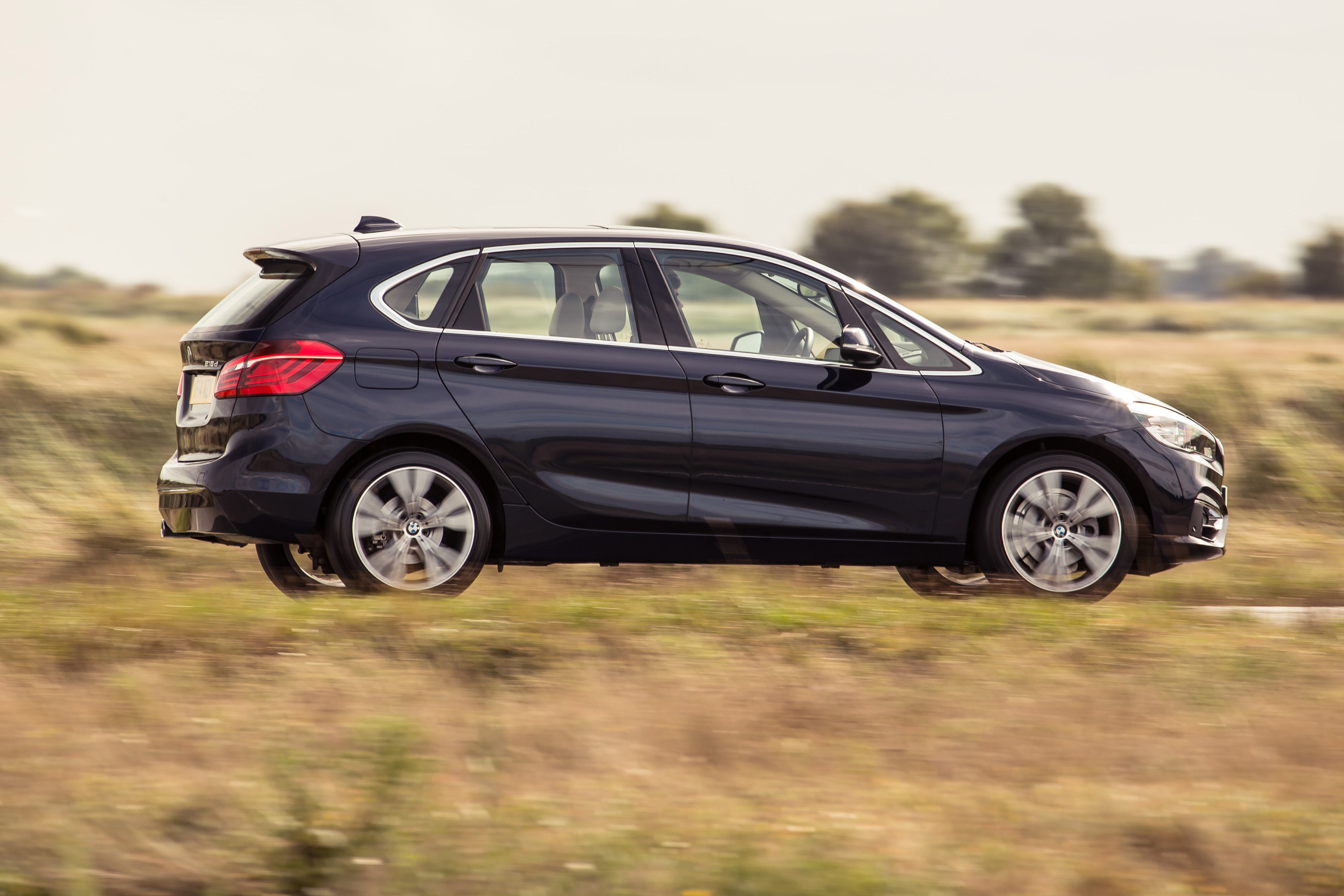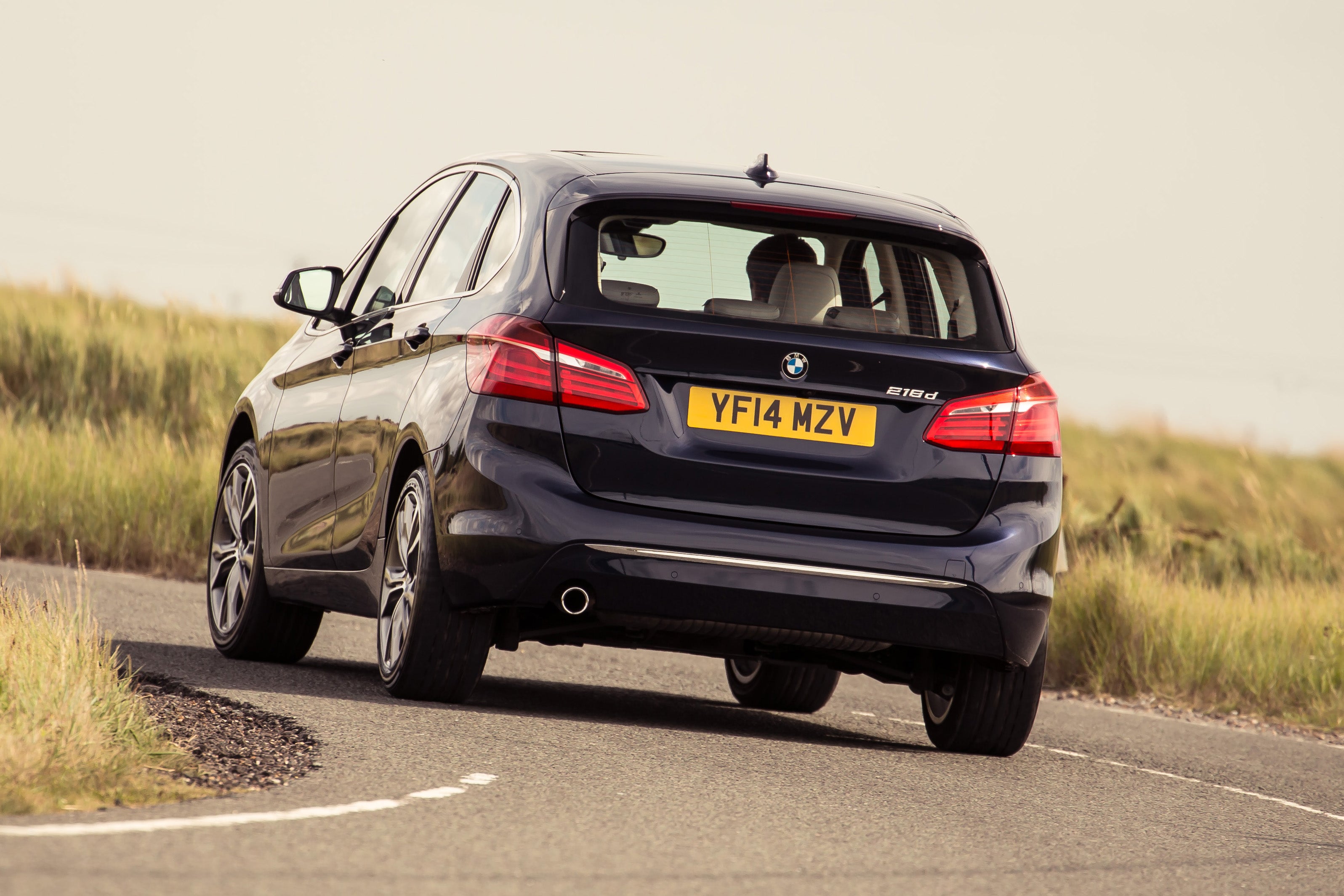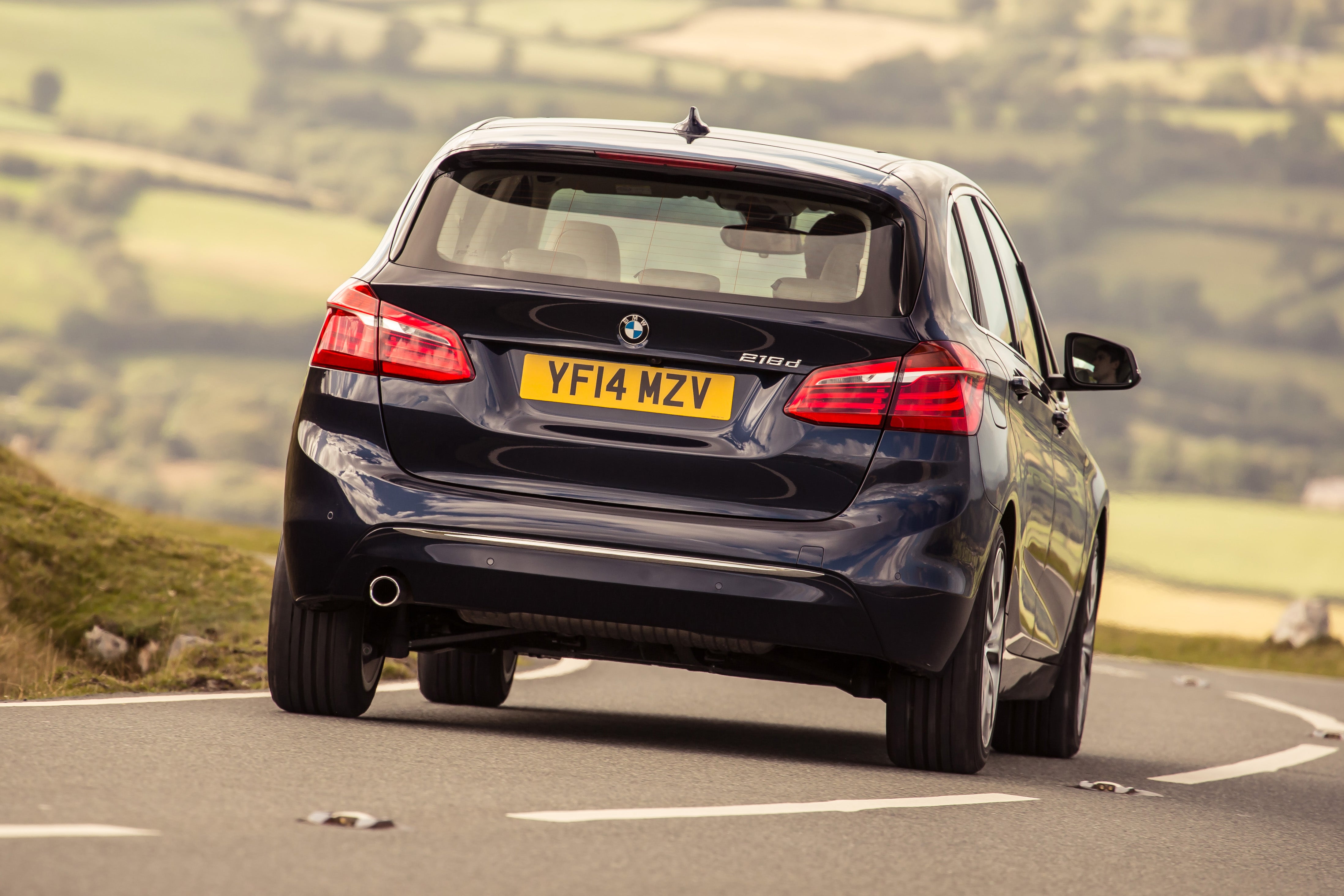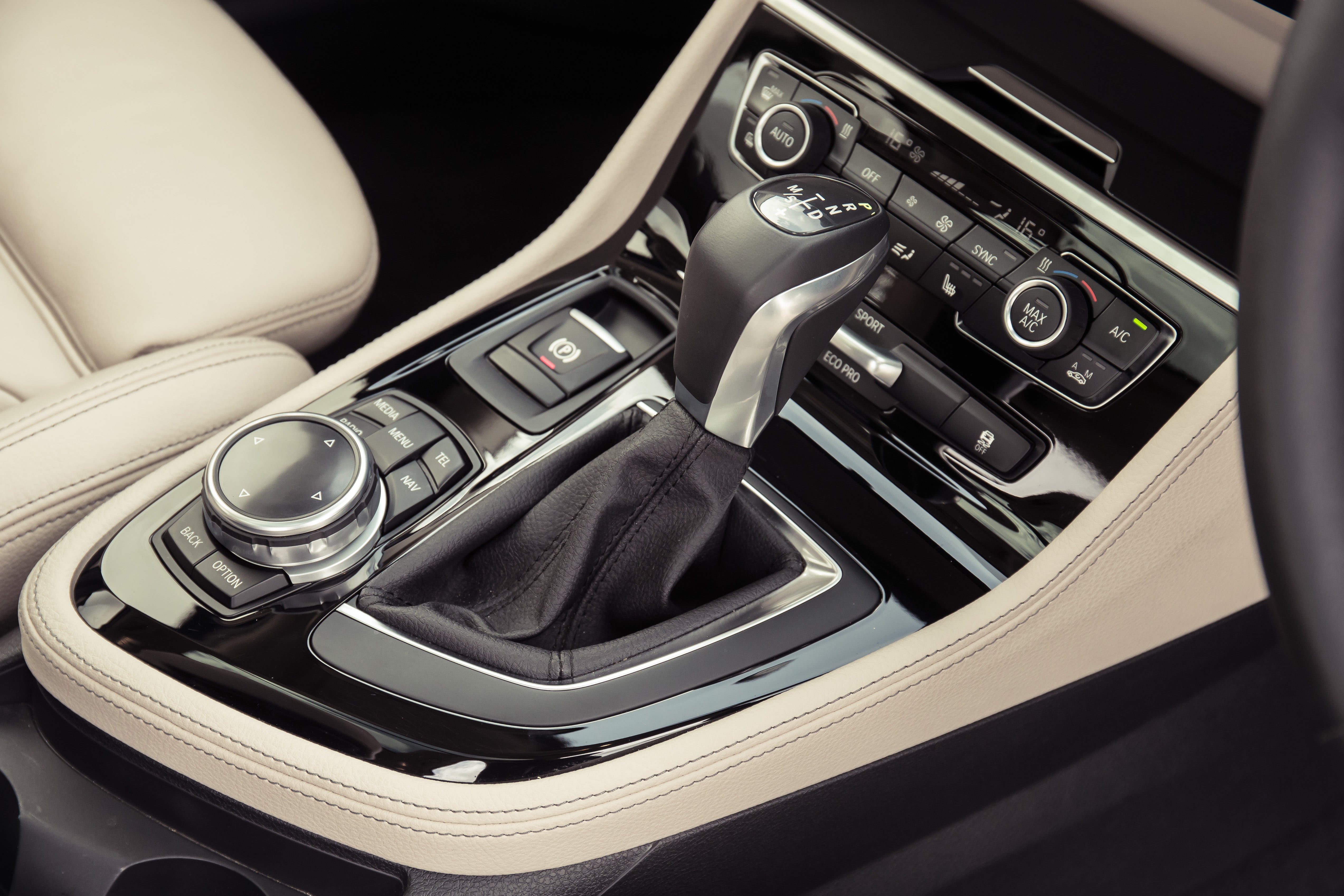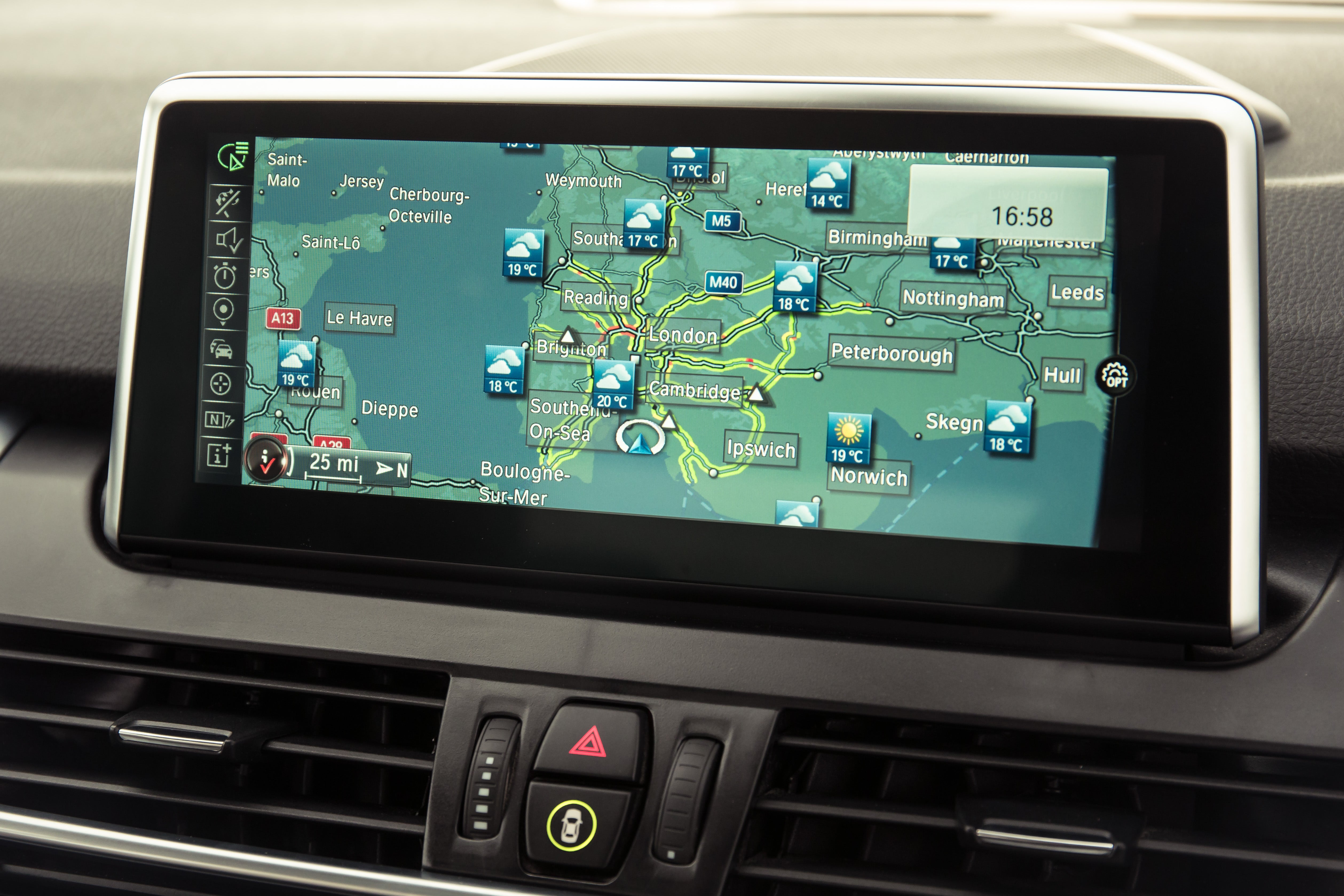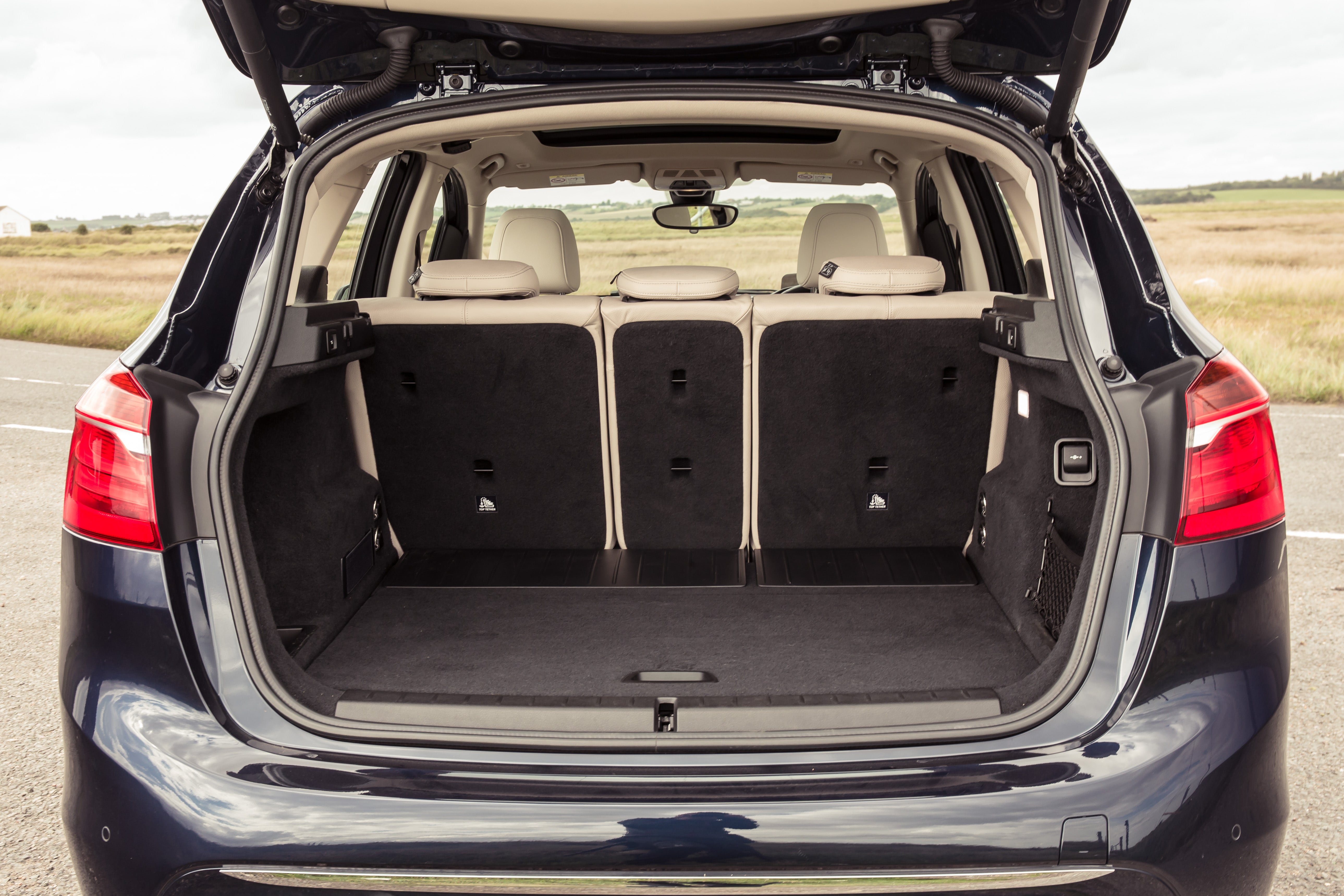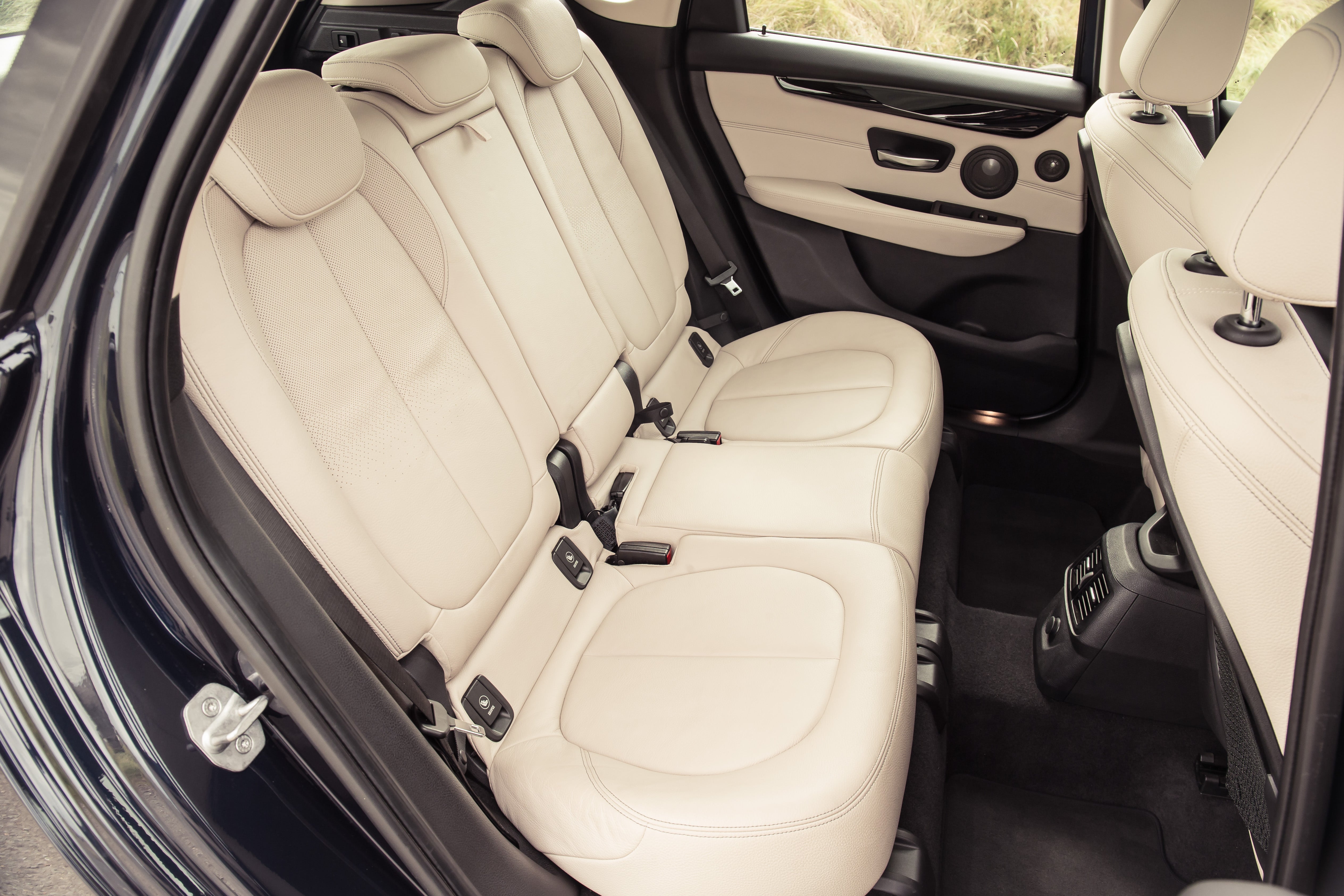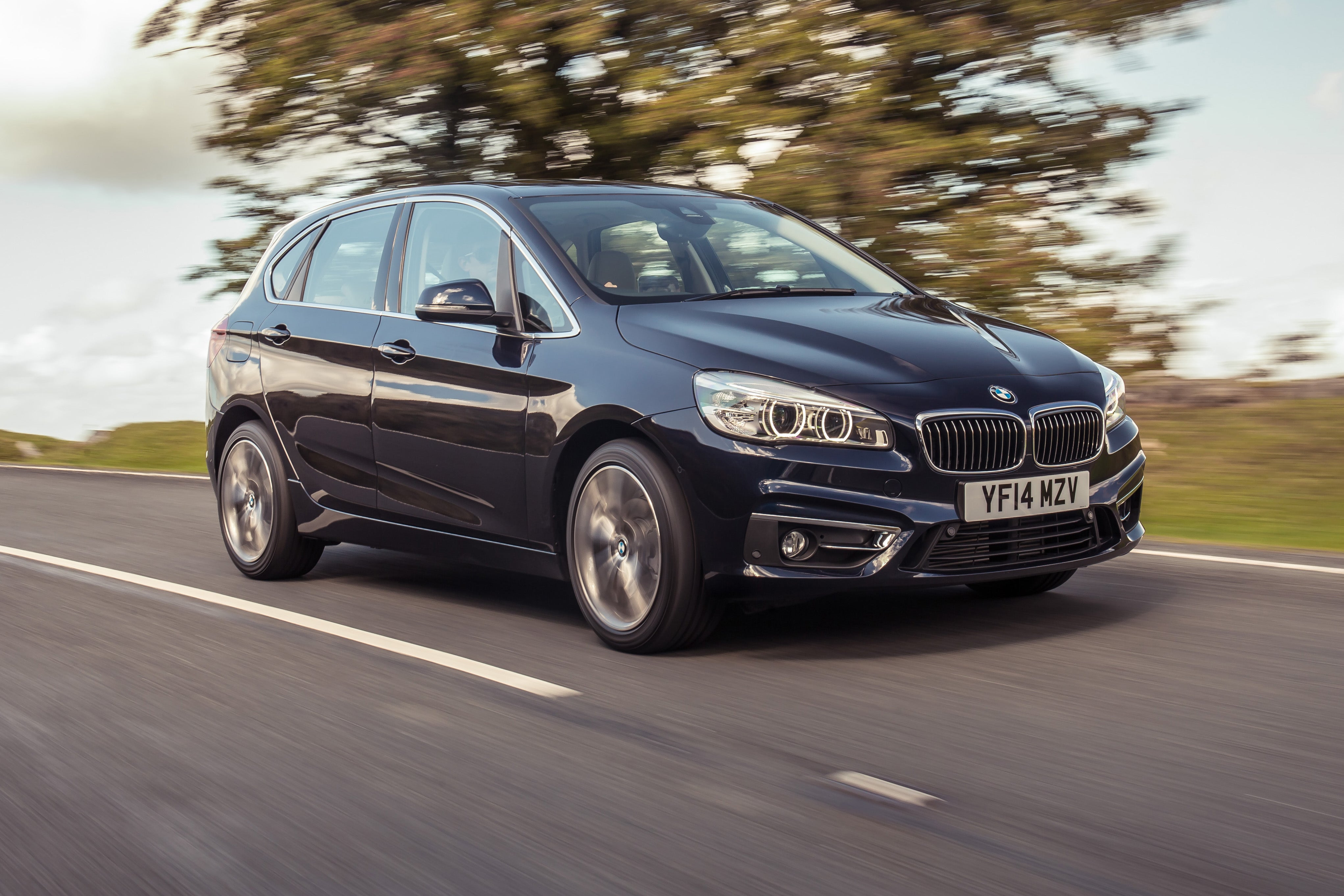 1/10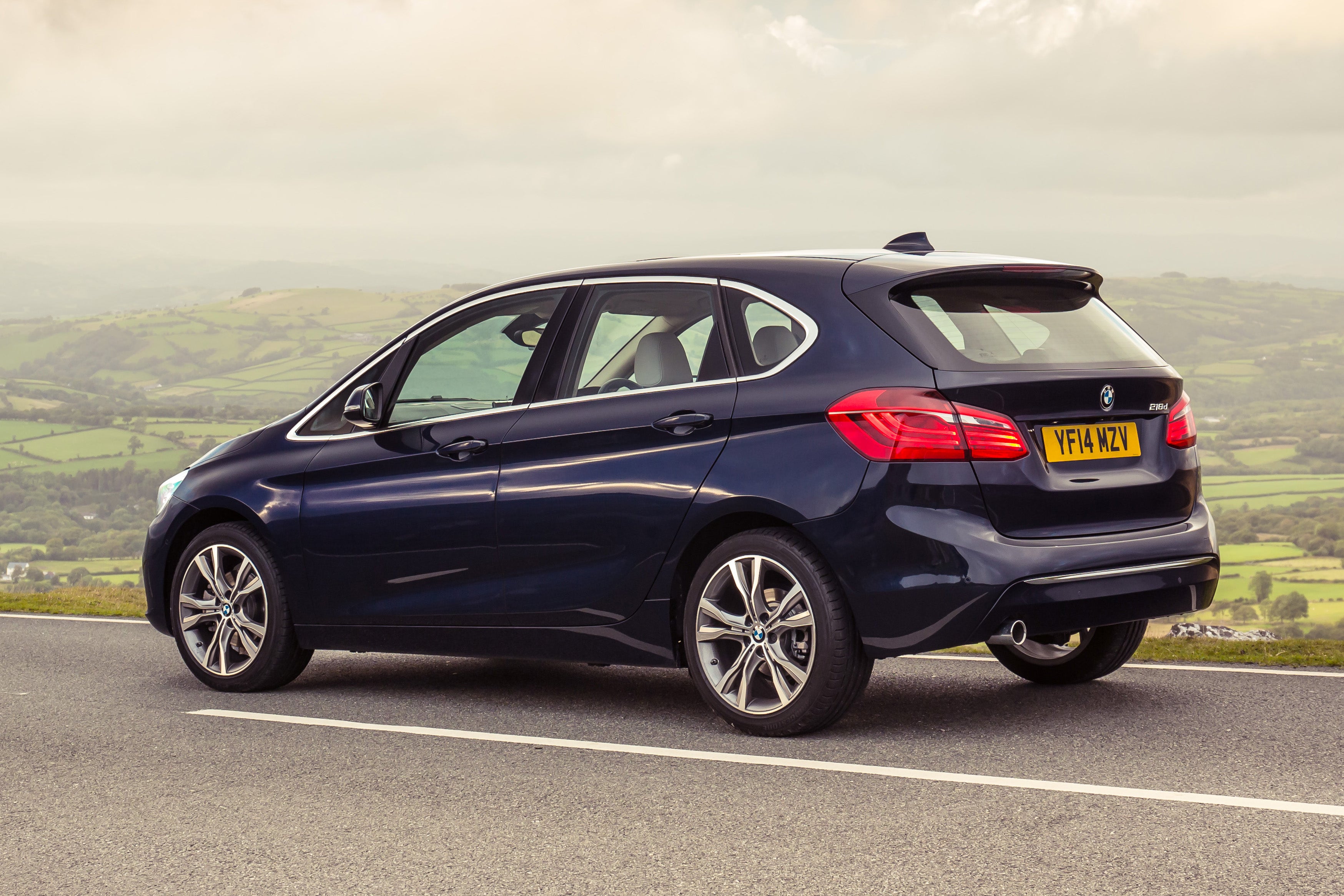 2/10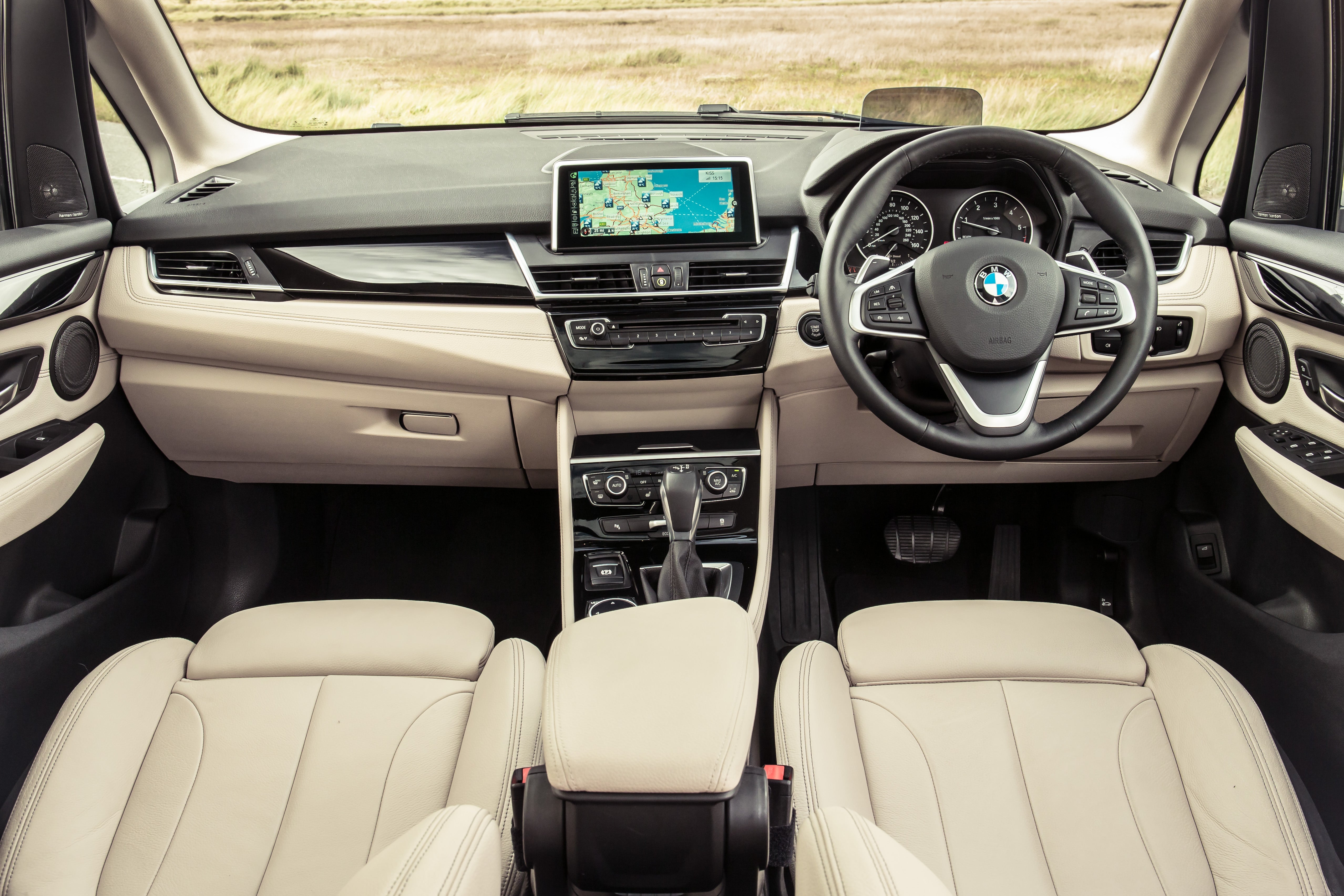 3/10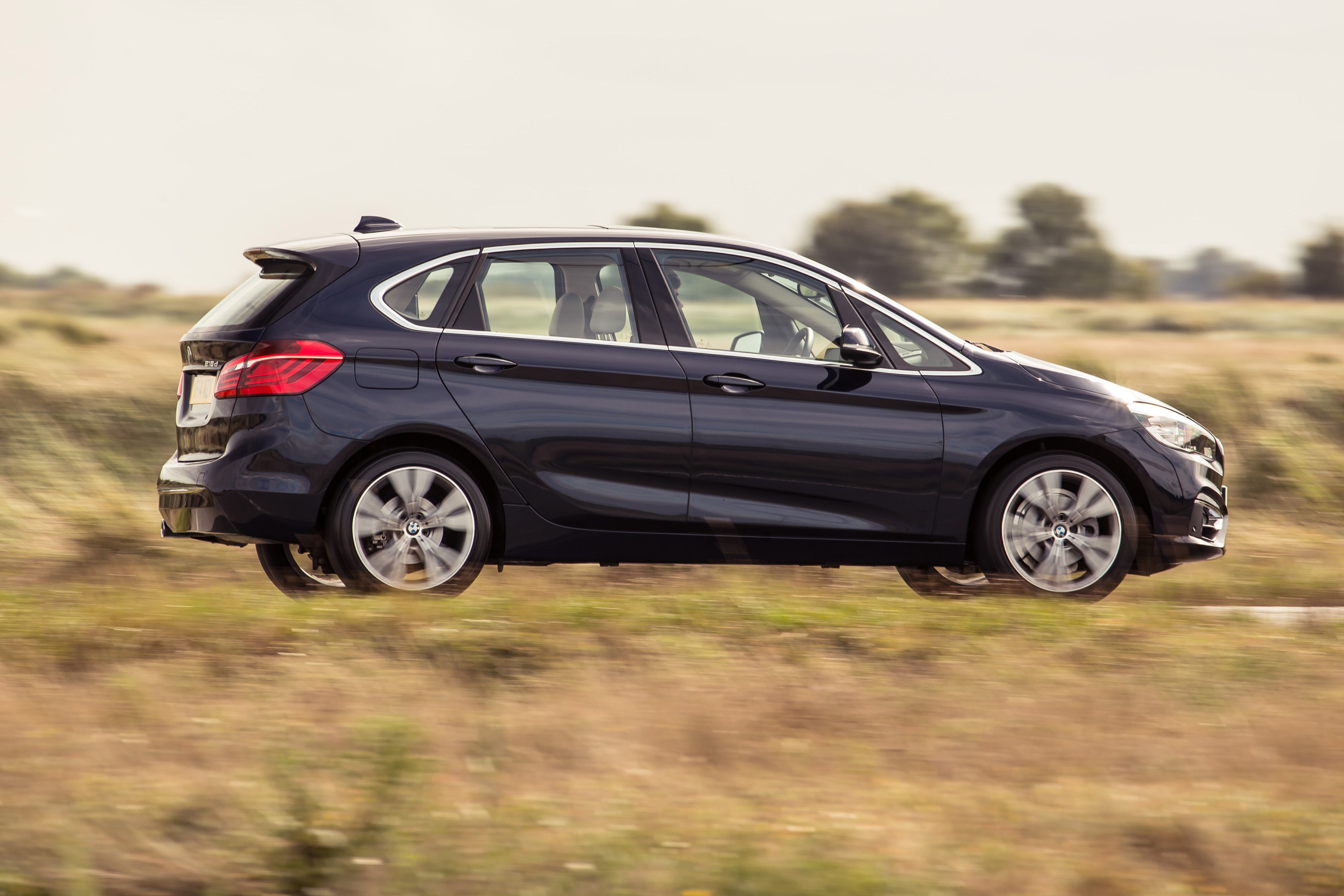 4/10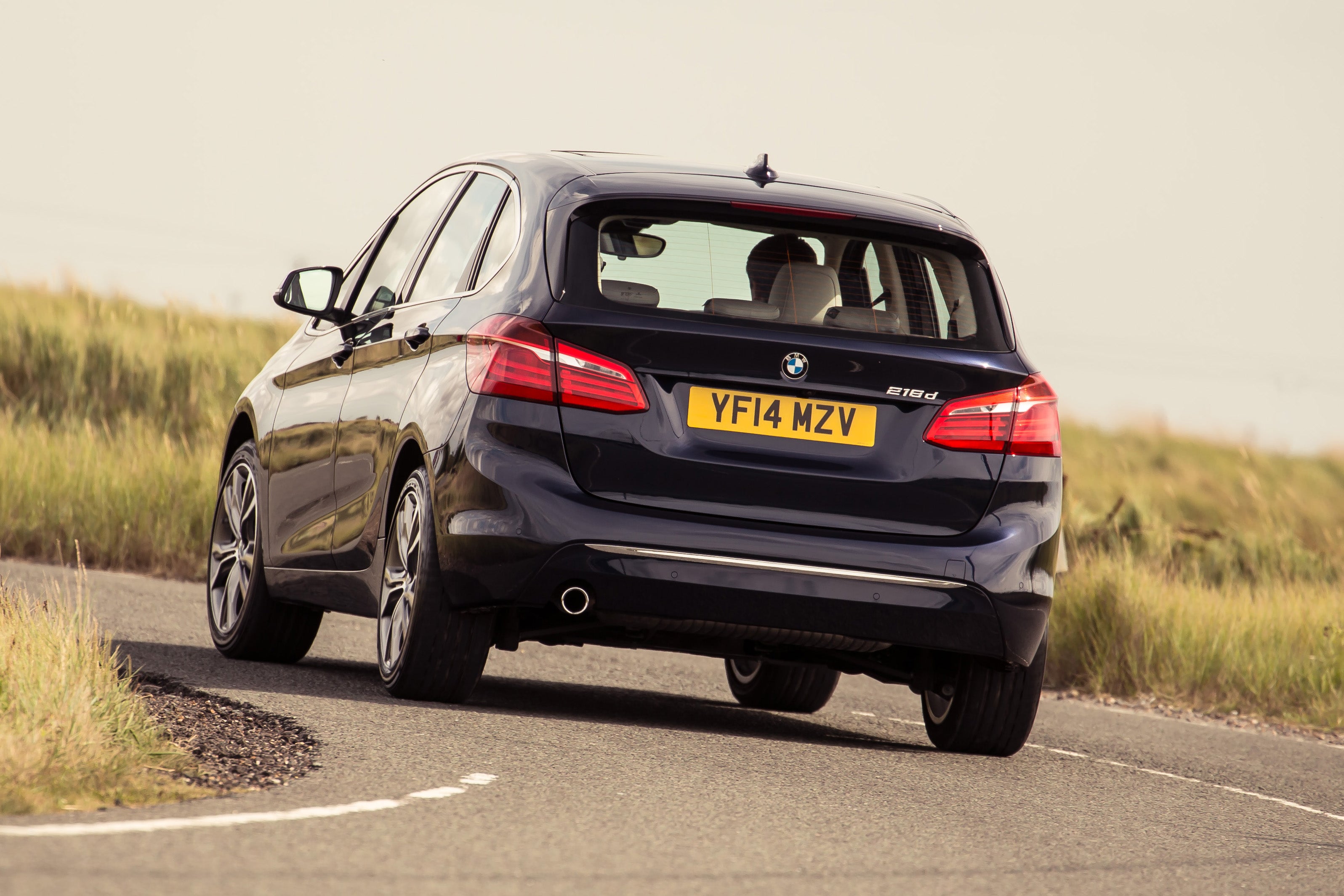 5/10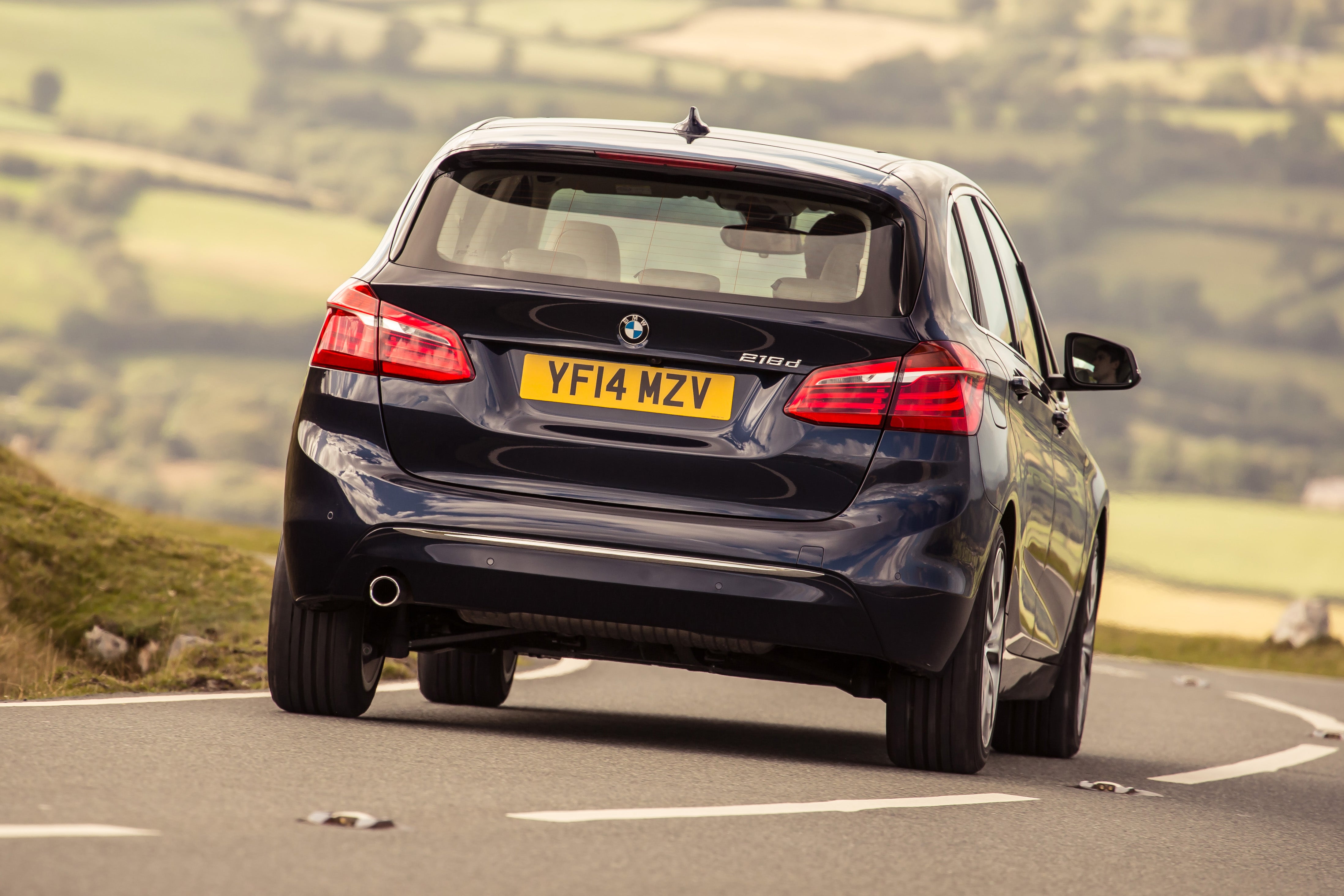 6/10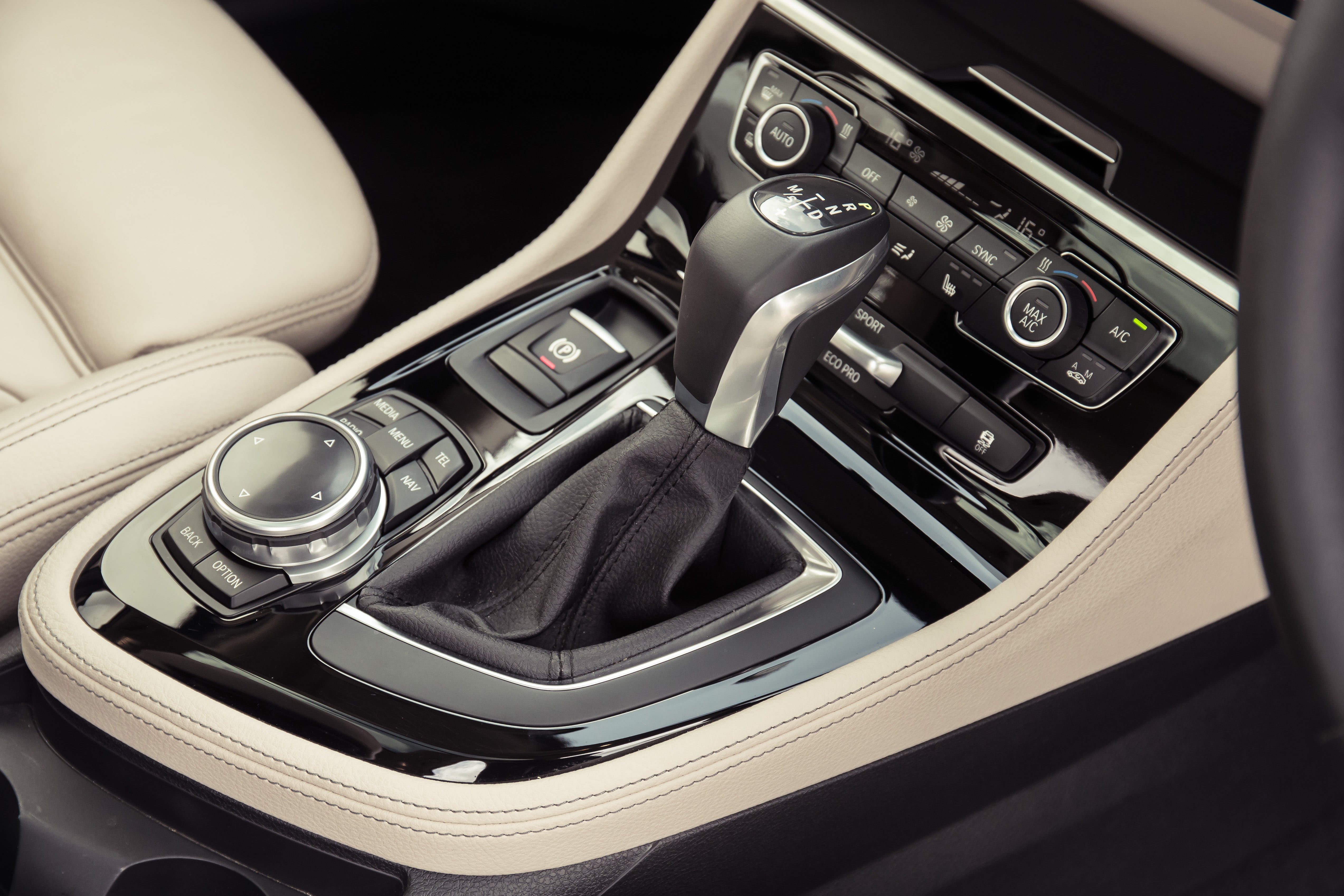 7/10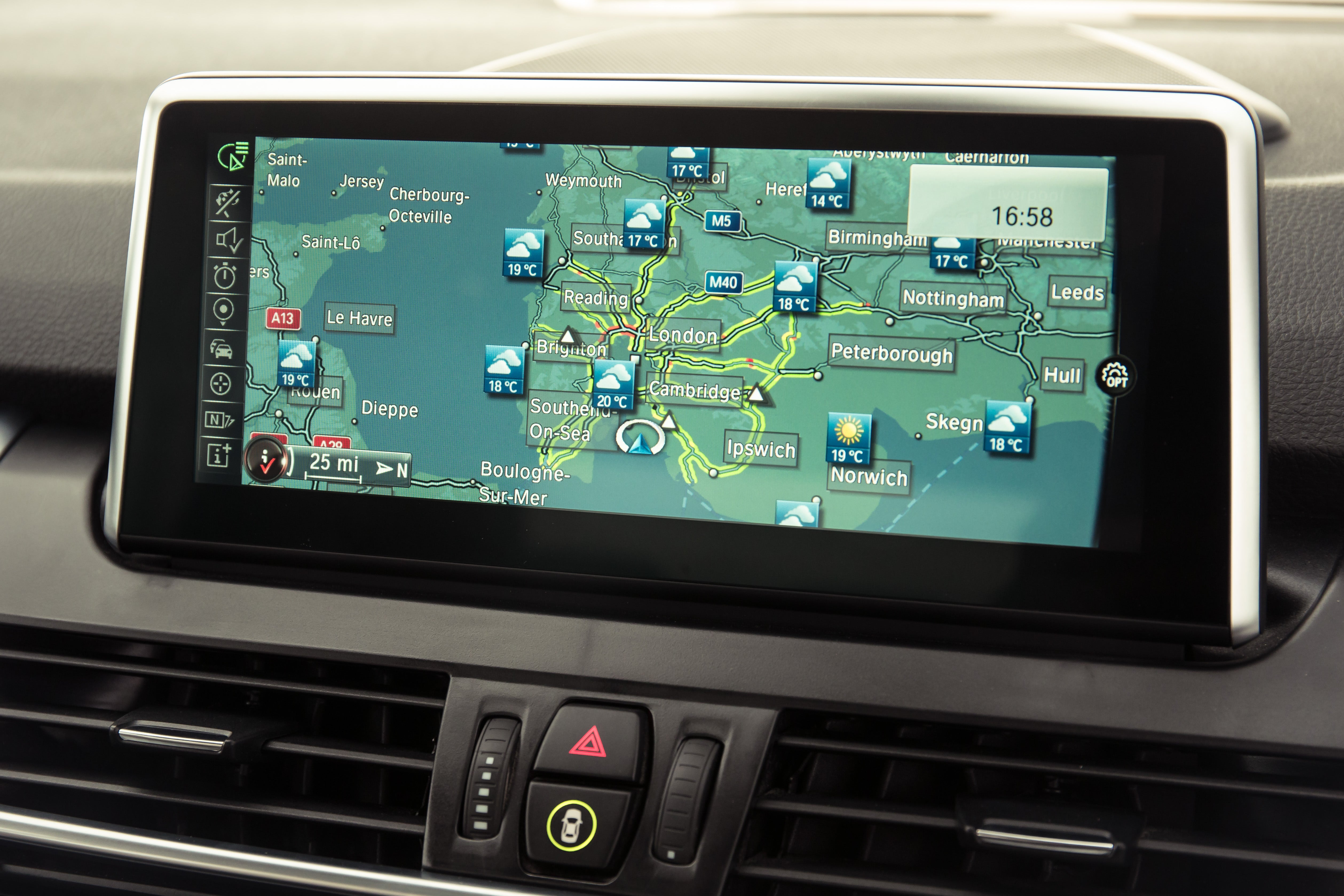 8/10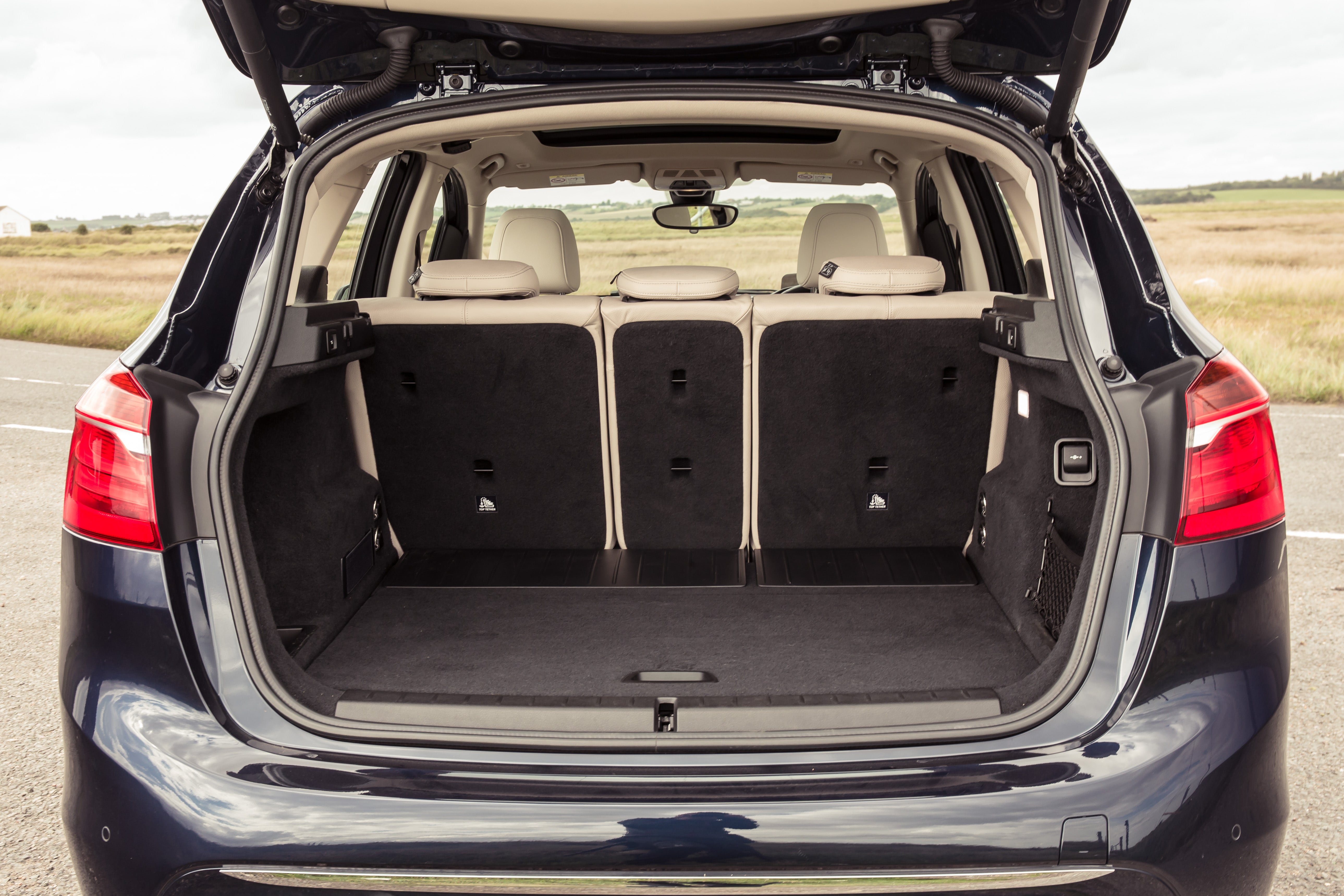 9/10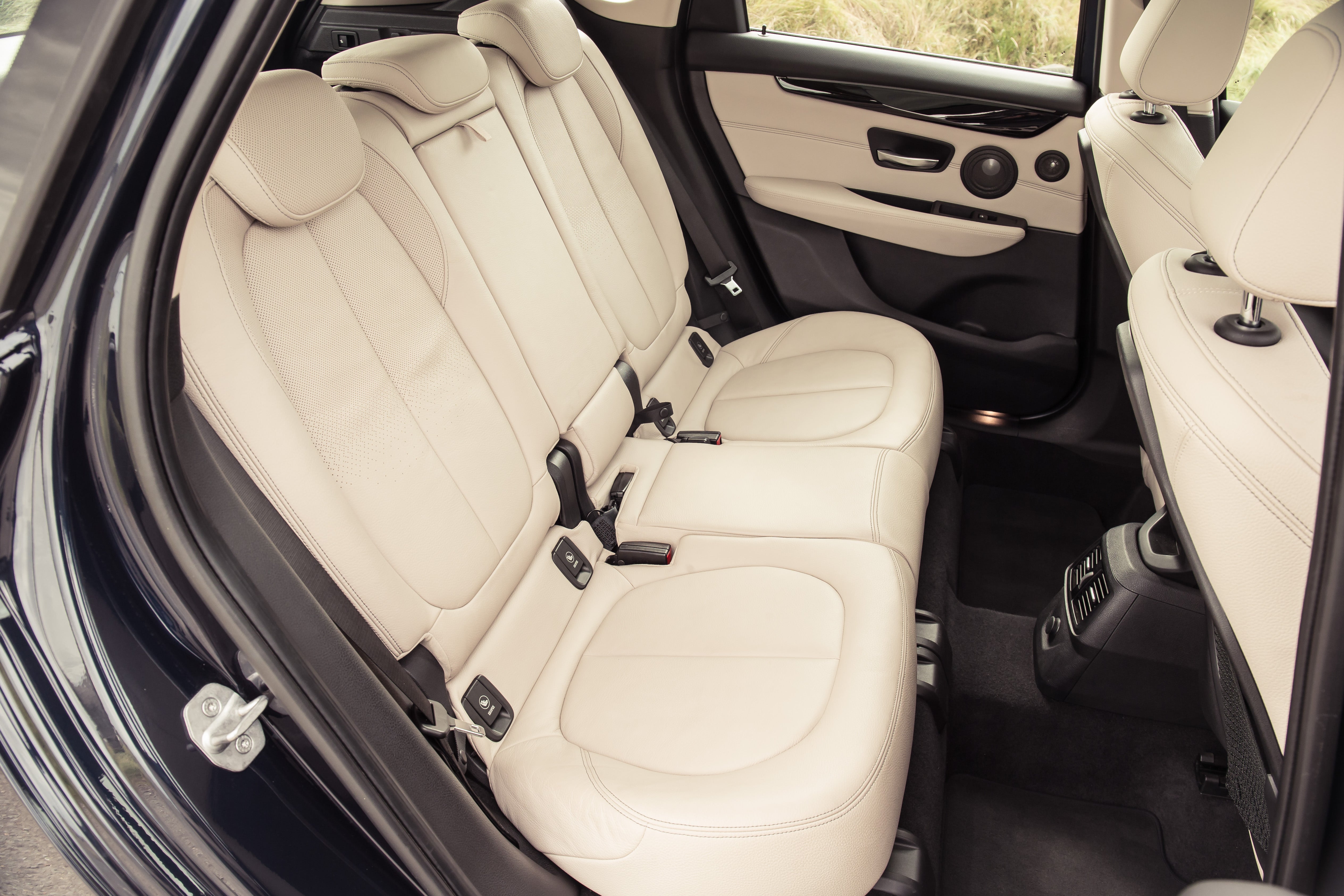 10/10
Launched in 2014

MPV

Diesel, Petrol, PHEV
Launch year

2014

Body type

MPV

Fuel type

Diesel, Petrol, PHEV


Best bits
Good to drive for an MPV
Comes with electric opening boot and navigation as standard
PHEV model has 30-mile electric range
Not so great
Ride can be unsettled at lower speeds
Thick front pillars can create a blindspot
Diesels are a touch noisy
Read by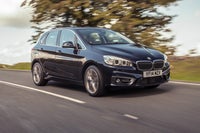 Overall verdict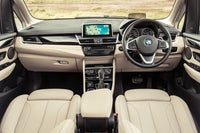 On the inside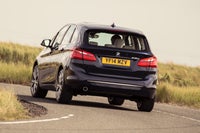 Driving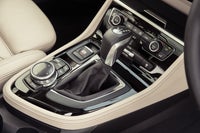 How much does it cost to run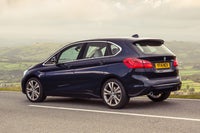 Prices, versions and specification
Overall verdict
"The 2 Series Active Tourer was BMW's first people carrier. For a brand associated with driving pleasure and performance, building a family-friendly small MPV didn't seem a natural progression. But by using the know-how gained through MINI, it managed to develop one of the best handling and highest quality MPVs around."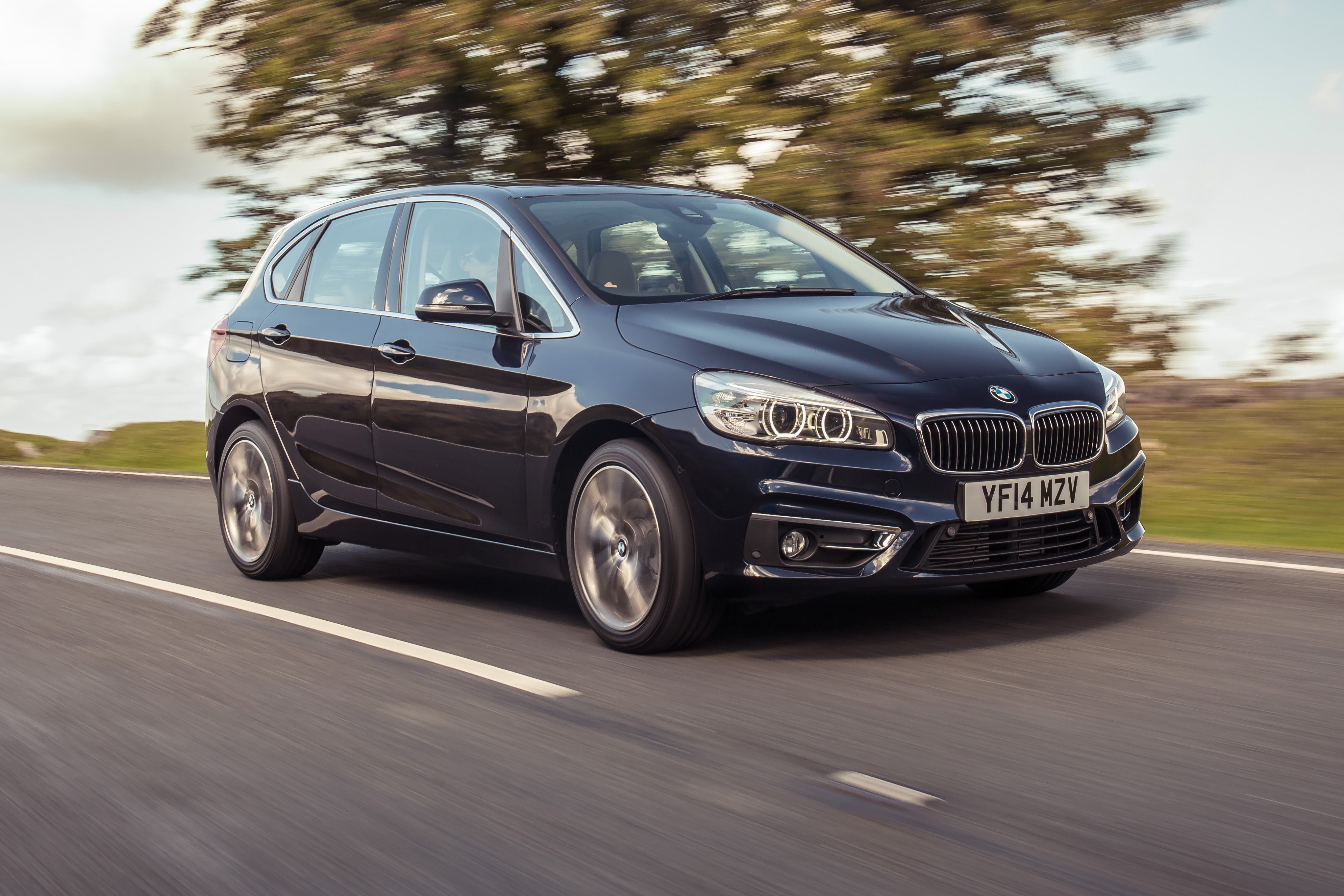 Yet this BMW isn't just a one trick pony. It's also spacious enough for families, practical with a big boot and comfortable too. A pretty attractive package then. Apart from the looks that is.
So yes, while it might not be the best looking design (few MPVs are) the 2 Series Active Tourer is arguably a better all rounder than the Volkswagen Golf SV and Mercedes B-Class, its main rivals.
The quality really shines through. This isn't a 'cheap' version of a BMW and even if you start rooting around the cabin, you won't find any hard plastics or evidence of cost cutting. It has the same high quality you'd get in a BMW at twice the price.
You get a surprising amount of equipment as standard too. All models come with dual zone climate control, DAB, navigation and even an electric tailgate. It means that you won't find any bog standard models and even the cheapest examples on the used market will have pretty much everything you need.
There's a good range of both petrol and diesels but the 218i is our choice. It's actually a 1.5-litre petrol engine but fitted with a turbo and as a result it has real character. It gives eager performance and allied with the BMW's well weighted steering, makes the 2 Series Active Tourer genuinely enjoyable to drive. Not a statement that can be said about many MPVs.
In fact much of the time, driving the 2 Series Active Tourer feels no different to driving a small hatchback. It's easy to park helped by the light steering at low speeds and the fact front and rear parking sensors are standard fit. Yet it still feels stable on the motorway.
If you're after a diesel there's the usual BMW suspects but the 218d is your best bet for a blend of performance and economy. It's also one of the most popular models, so there are plenty of used examples to choose from.
BMW has a PHEV version in the form of the 225xe. This actually uses the same small petrol as the 218i but adds an electric motor which gives the 2 Series Active Tourer a range of 30 miles on EV power alone. If you can charge your car at home and only do short journeys it means you'll rarely have to dip into the fuel tank.
If you need more space and seven seats, BMW does a bigger version - the 2 Series Gran Tourer. But for many we think the 2 Series Active Tourer will offer more than enough space. If you want a high quality and fun to drive family MPV, this is the one to go for.
Comfort and design
"With a slightly raised driving position and comfortable seats, it's easy to find a good driving position in the 2 Series Active Tourer and the clutch pedal is light, so it's easy to drive the manual in town without getting leg ache. There's even lots of room for your left foot when not on the clutch (or all the time in an auto)."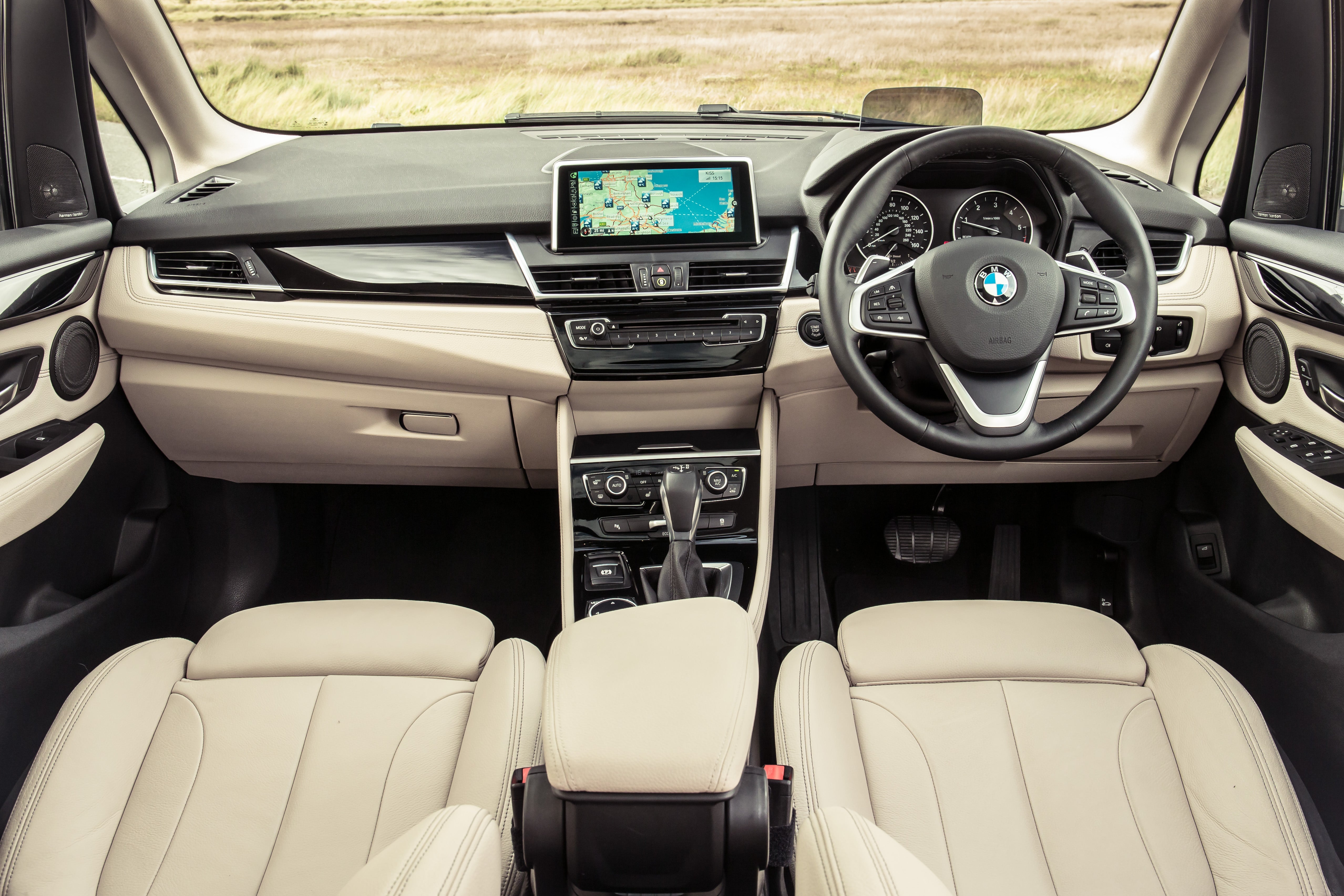 The seats differ depending on what model you go for. Sport and M Sport models get, as the names suggest, sports seats for the front, which have more side support and we think are more comfortable on long journeys.
They're optional on SE and worth looking out for as they have extendable under thigh support, although shorter drivers can find this annoying so it's worth trying both to find which suits you.
The BMW may not be the biggest MPV around but the driver's seat has plenty of adjustment, particularly in height, while the steering column has decent reach adjustment so even extra tall people won't feel cramped behind the wheel.
The 2 Series Active Tourer's interior is neatly laid out with all the controls around the driver and close at hand. The big colour screen sits on top of the dash while the iDrive rotary control for it is by the gear lever. Most things are controlled through the iDrive system which is easy to use. There's also a nice high placed centre armrest which you'll appreciate on a long drive.
Handling and ride quality
"You may not be expecting much of a small family MPV in the handling stakes so the 2 Series Active Tourer is something of a revelation. It may be front-wheel drive, but few people carriers feel as agile or as well balanced and although there's some lean in corners, this 2 Series Active Tourer feels more planted through bends than a Golf SV or a Mercedes B-Class."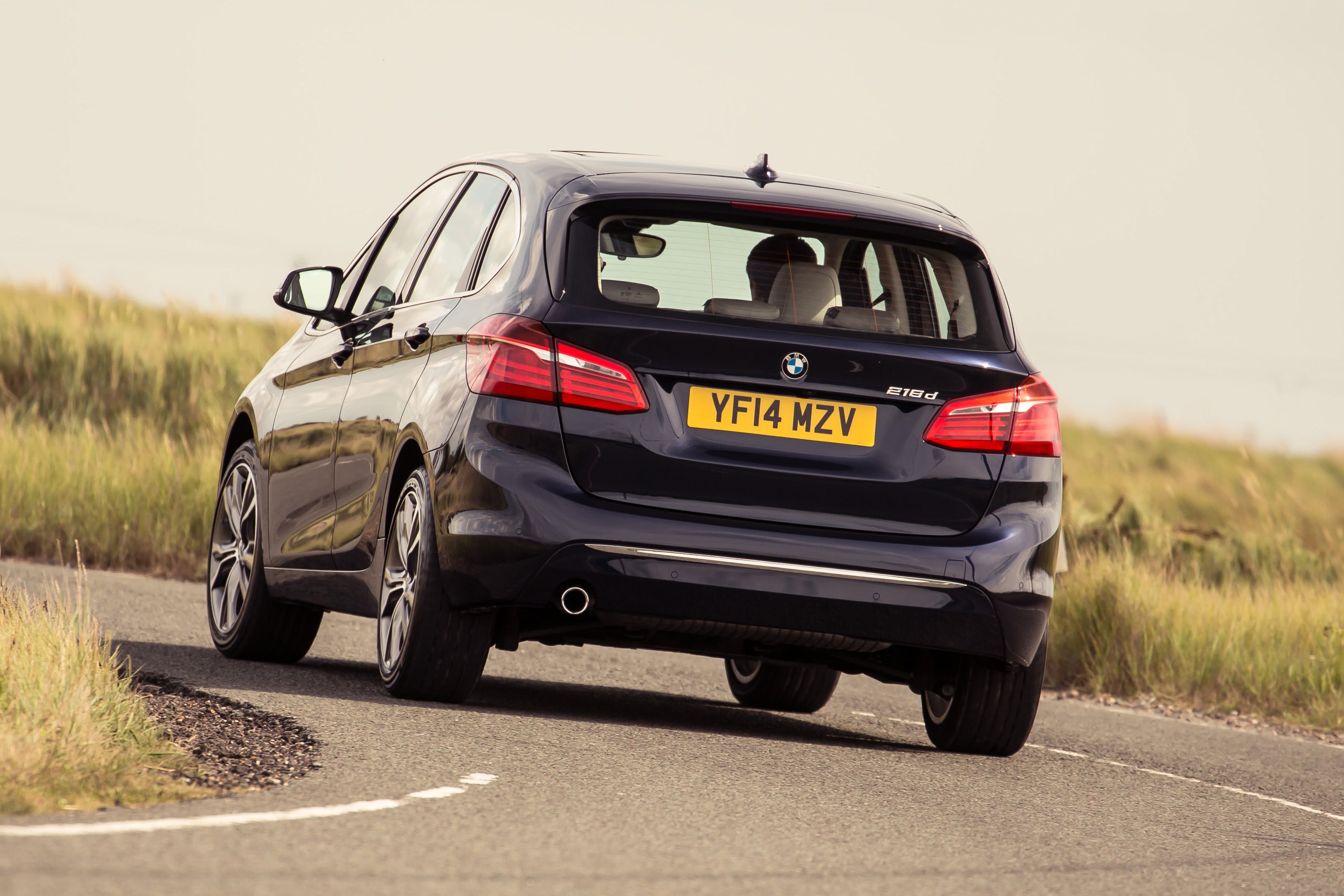 The steering has a good feel to it and there are three settings so you can alter the weight. On the heaviest setting (which we prefer) it's actually close to being enjoyable in corners, which we can't believe we just said about an MPV. The steering gets lighter at low speeds to make parking, even in a tight spot, simple.
In fact for the majority of time you're driving the 2 Series Active Tourer, it's easy to forget you're in an MPV. From behind the wheel it feels very much like a high quality hatchback that's rewarding to drive. Models with xDrive give you the added security of four-wheel drive traction but in most conditions, we don't think there's much advantage in choosing one.
The ride quality is a little mixed. At lower speeds the suspension is a touch unsettled, albeit not enough to make things uncomfortable. But we'd say a B-Class is better here. However, the quicker you go the better it gets.
Models with 16-inch and 17-inch alloys are great at soaking up bumps and rough surfaces, even down country lanes or worn out motorways. We'd suggest avoiding any bigger wheels if you want the best comfort. Those 19s may look good but the ride won't be.
MPG fuel costs
"The most economical model is actually the 218d and in real world motoring it's actually proving slightly better than the 216d on fuel returning around 55mpg although choose the automatic and that drops to below 50mpg. BMW may claim more than 70mpg but most owner's won't get anywhere near that."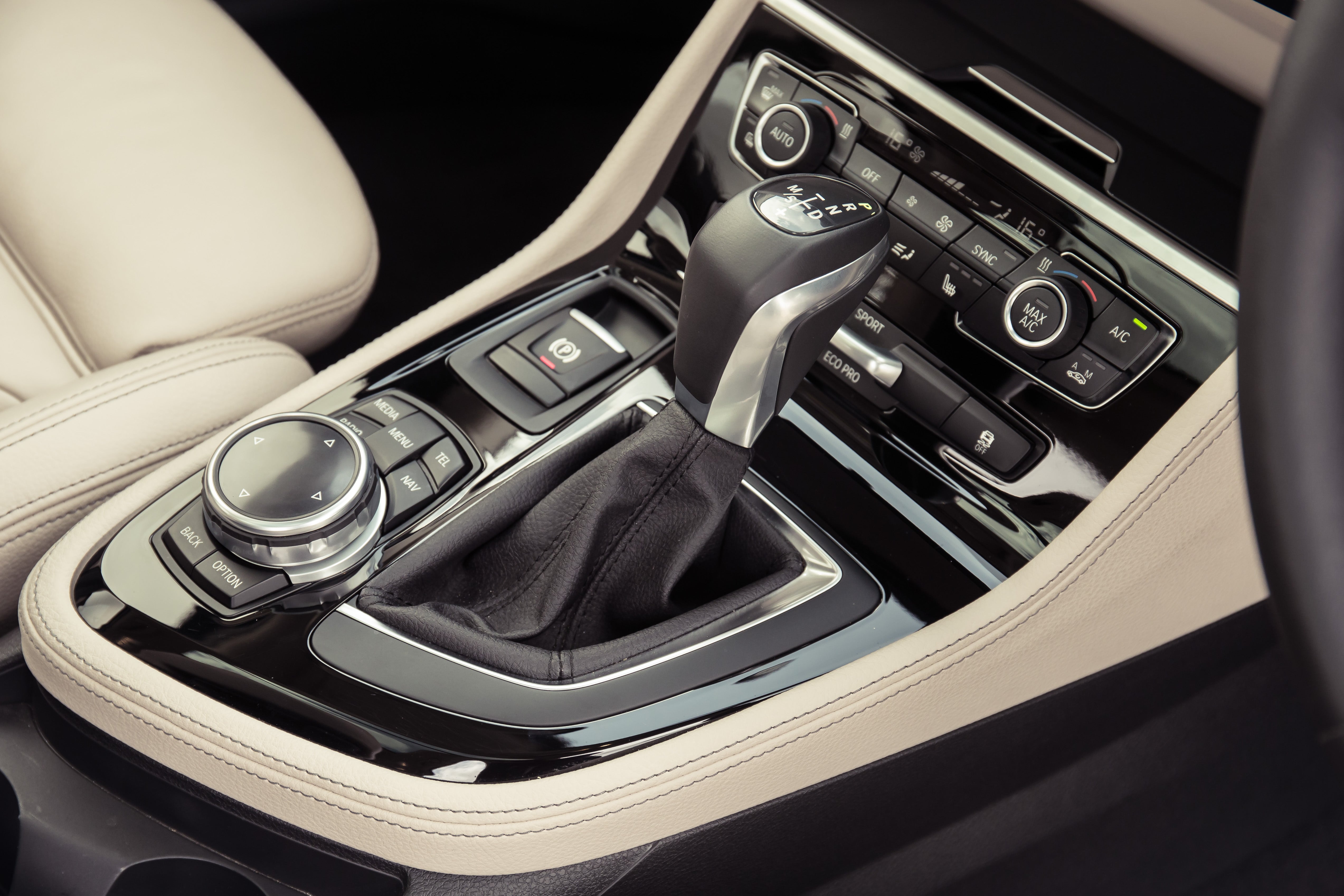 The 218i petrol will average around 40mpg which isn't exactly much to write home about but it's at least better than the 220i which looks particularly thirsty at 35mpg in the real world. That's still close to 400 miles on one tank of fuel though.
The 225xe should prove very economical if it fits around your sort of driving. Owners are seeing around 65mpg thanks to the fact it can cover 30 miles on battery power alone.
How much should you be paying?
"The cheapest 2 Series Active Tourer models tend to be high mileage diesels, so no surprise there. You shouldn't be put off as it's a well built car that will last, but if you're not doing more than around 12,000 miles a year, a petrol is a better choice."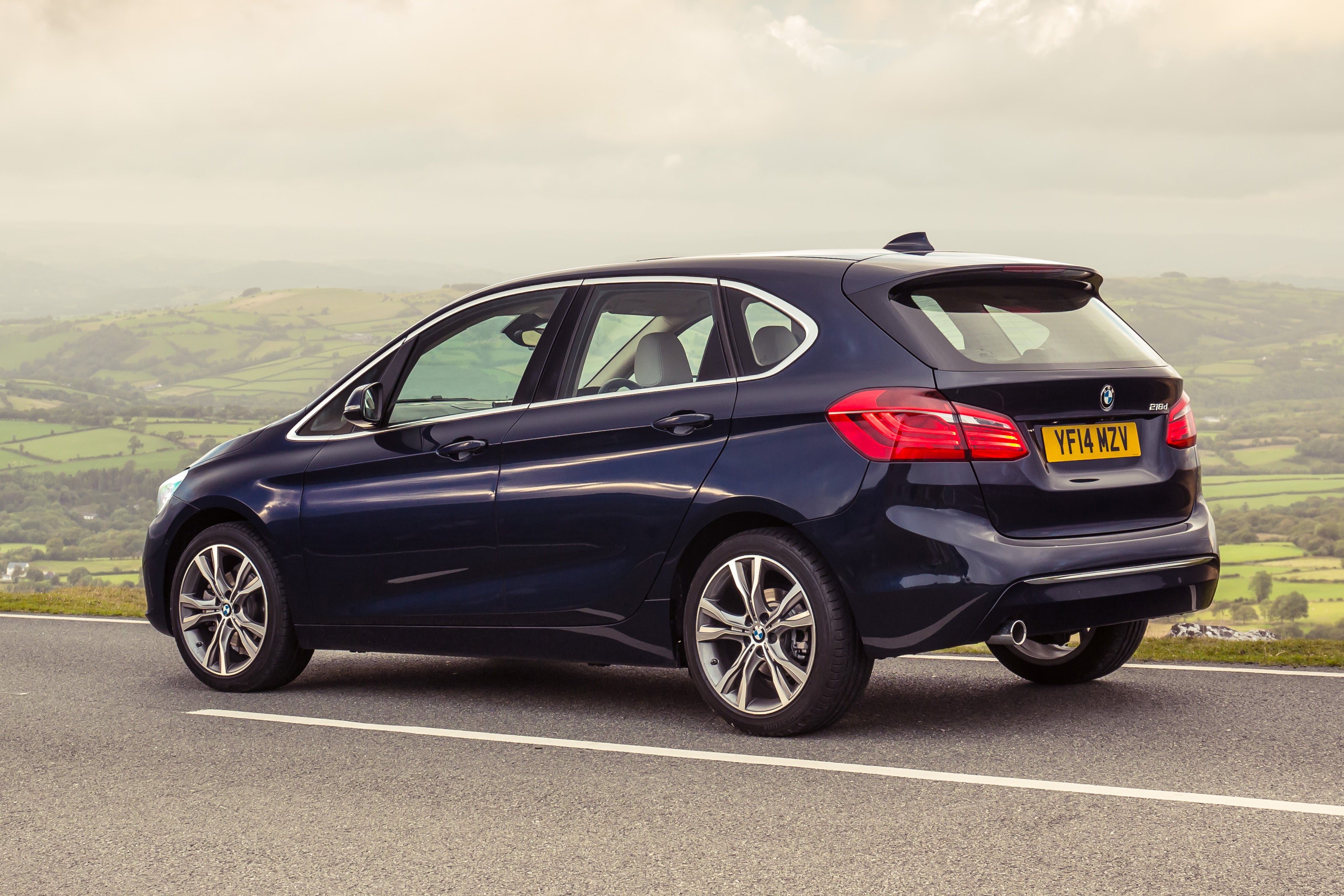 The petrols do hold their value a bit better but the bonus is that most are lower mileage examples, reflecting their use as runabouts or second cars rather than motorway workhorses. You can get a well looked after 218i for around £10,000.
Ready to get your top quality BMW 2 Series?
All cars come with a warranty
Selected dealers only
All quality checked
BMW 2 Series
218i SE 5dr
Ocean Group BMW Plymouth

Devon, PL68LD
PCP: £376.06/mo
Representative example: Contract Length: 36 months, 35 Monthly Payments: £376.06, Customer Deposit: £3,367.00, Total Deposit: £3,367.50, Optional Final Payment: £9,648.28, Total Charge For Credit: £3,727.88, Total Amount Payable: £26,177.88, Representative APR: 8.9%, Interest Rate (Fixed): 8.9%, Excess Mileage Charge: 6.59ppm, Mileage Per Annum: 10,000
BMW 2 Series
220d M Sport 4dr Step Auto
Manufacturer Approved
Snows BMW Portsmouth

Hampshire, PO35FF
PCP: £537.88/mo
Representative example: Contract Length: 36 months, 35 Monthly Payments: £537.88, Customer Deposit: £4,687.00, Total Deposit: £4,687.80, Optional Final Payment: £13,502.50, Total Charge For Credit: £5,764.10, Total Amount Payable: £37,016.10, Representative APR: 9.9%, Interest Rate (Fixed): 9.9%, Excess Mileage Charge: 9.85ppm, Mileage Per Annum: 10,000
Is the BMW 2 Series Active Tourer right for you?
If you want an upmarket but compact MPV with a quality finish and that is also good to drive, the 2 Series Active Tourer should be on your list. It's arguably the best handling MPV this size and drives more like a hatchback - it's this that sets it apart from the competition.
The tall profile and low floor mean good space inside so that those over six-feet tall will have no problems getting comfortable. Even if they're wearing a silly trilby hat. It's as happy pottering around town (and easy to park) as it is on the motorway where even the smaller-engine models have enough power.
If you want something practical that's not huge in size, and boasts a premium feel inside, the 2 Series Active Tourer will tick a lot of your boxes. It's ideal for families with young children or retired couples who want something with a bit of practicality that's also safe for the grandchildren. If you need seven seats, look at the BMW 2 Series Gran Tourer.
What's the best BMW 2 series Active Tourer model to choose?
We think the 218i is the best all rounder in the 2 Series Active Tourer range. It may only be a 1.5-litre petrol but it's a great little engine that's enjoyable to use, it's ideal for around town and not out of its depth on the motorway. Just be aware that it's not the most economical engine in the range, especially with the automatic gearbox.
The Sport trim will get you most things you need so it's not really worth paying significantly more for an M Sport or Luxury unless they're particularly well specified with options.
If you do lots of short journeys and have somewhere to charge it, the plug-in hybrid 225xe will cover around 30 miles on a single charge so it could mean rarely using any fuel. But if it's long distance economy you want, go for the 216d. Again, look for a Sport trim.
What other cars are similar to the BMW 2 Series Active Tourer?
With MPVs becoming less popular, instead replaced by the ubiquitous SUV, there aren't that many direct competitors to the 2 Series Active Tourer - the main premium brand rival is the Mercedes-Benz B-Class while there's also the Volkswagen Golf SV (the artist formerly known as the Golf Plus).
If it's the space of an MPV you require, the Ford C-MAX and Toyota Verso are usefully practical but can't match the quality of the BMW. Cast the net wider and there are plenty of SUVs that you could consider as alternatives, from BMW's own X1 to the Audi Q2 or even a Jaguar E-Pace, although the taller shape of the 2 Series Active Tourer means it has more space inside.
Quality and finish
This may be one of the brand's cheaper models (cheap being a relative term here) but the 2 Series Active Tourer is every inch a BMW. Inside there are soft touch plastics abundant and all the buttons and controls feel as solid as in a BMW that's twice the price.
Even in out of the way places there's no evidence of cost cutting and there's a quality that runs through the whole of the 2 Series Active Tourer that's missing even in rivals like the Mercedes B-Class. It never feels like you're driving a 'cheap' BMW.
This build quality gives you confidence that the 2 Series Active Tourer will last over the years and will certainly handle the daily strain of family life and whatever you can throw at (or in) it.
Of course the more you spend (and the higher the spec) the nicer the inside will be. Standard SE and Sport models come with cloth upholstery but we'd always look for models with leather. Not only are BMW leather seats superb but it also makes them easier to keep clean from stains and spills. One thing to watch is the piano black trim fitted to certain models can easily pick up micro scratches.
Infotainment
You may think you'd have to tick some expensive option boxes to get a well equipped 2 Series Active Tourer. But it comes very well equipped as standard and all models get the excellent iDrive system with its 6.5-inch colour screen.
Most impressive is the fact that navigation is standard, something which is an expensive option on rival MPVs. It's a great system too that's easy to use and quick to route.
The iDrive system is one of the best infotainment systems around and over the years BMW has continually tweaked and developed it. It can take a little while to get used to using the rotary dial, but once you're au fait with it, you'll find the iDrive system a doddle to use.
It's worth looking out for models that have the optional Tech Pack. This upgrades the screen to a wider 8.8-inch unit and adds things like traffic avoidance and a head-up display, although we find the latter more distracting than actually useful. Rather than a true head-up display, it projects onto a small piece of clear perspex which flips up on the dash top and looks untidy.
Space and practicality
It may be less than 4.5 metres long but the 2 Series Active Tourer makes the most of what it's got when it comes to space. There's lots of room for those of the tall persuasion in the front, although slide the front seats all the way back and rear legroom all but disappears.
This can create a bit of a problem with car seats. If you're using a rear facing child seat or anything else with a supporting leg, it means having to slide the front seat so far forward that there's barely any legroom and a real squeeze for most.
The boot looks useful on paper with 468 litres and it's made more handy by the fact all models come with an electric opening tailgate. It may seem like a gimmick but it's actually very useful, especially when you're running to the car in a sudden downpour with handfuls of shopping.
The boot itself is a useful size so you can get a pushchair in there laid flat although it doesn't leave you much space for anything else unless you pile shopping on top of it. However, there's hardly any boot lip and a wide opening makes it very useful.
You can fold down the rear seats using the one-touch switches in the boot, another helpful feature when you're trying to get that Billy bookcase in from your favourite Swedish flat pack furniture shop. Folding the seats down creates a usefully flat load space and you can get a surprising amount in.
Engines and gearboxes
There's a good choice of engines in the 2 Series Active Tourer but we'd suggest the 218i petrol is the best in the range. Despite the name it's actually a 1.5-litre petrol (BMW badges no longer have much to do with engine size…) and the same as you'd find in a MINI.
Despite its modest size it happily gets a move on when you want it to. What helps is the fact that the 1.5 is a three-cylinder engine with a turbo, so has that characteristic get-up-and-go at lower speeds, though you may find you need to go into first gear sooner than you'd expect though.
It's a hidden gem that in many ways makes the 220i redundant. True the 2.0-litre in the 220i is smoother but it doesn't feel much quicker and uses more fuel. You'd be better off with the 225i xDrive which is very quick and has the added traction of four-wheel drive. On the used market there's little difference in price between the two.
The 216d is the entry-level diesel but it does feel slow, especially with four people and a boot full of stuff on board. The 218d is a better choice (and there are lots of on the used market) and just as cheap to run. It's still not what you'd call fast but is fine once you're at motorway cruising speeds.
The 220d has genuine pace and certainly gives the 2 Series Active Tourer a sporty feel but we don't think it's necessarily worth spending any more on over a 218d.
The most expensive model in the range is the 225xe which is a PHEV that actually uses the same 1.5-litre engine as the 218i. It's quick from a standstill and with a 30-mile battery range, you'll be using little fuel if most of your journeys are local.
The 2 Series Active Tourer's standard six-speed manual gearbox is a little notchy at times but still pleasant to use although we'd recommend the automatic as it works well and makes sense in a family MPV. Most models get a decent dual clutch seven-speed gearbox while the 218d and 220d get a smoother eight-speed automatic.
Refinement and noise levels
If there's one criticism we could level at the 2 Series Active Tourer it's that it could be quieter. The engines, especially the diesels, can be quite noisy particularly when accelerating from low revs. That said, there's not much in the way of vibration through the pedals.
And while wind noise isn't too much of an issue, there's a fair amount of road noise from the standard fit runflat tyres and it's certainly more noticeable on cars fitted with bigger wheels.
The petrol engines are quieter and the 220i is very smooth while the 225xe is silent when using EV power for the ultimate in serene progress around town. Even when the engine does come on board it's a very smooth transition. The 218i is a little more vocal when pushed but it's a pleasant rather than coarse noise.
Safety equipment
That nice lot at Euro NCAP tested the 2 Series Active Tourer in 2014 and awarded it the maximum five stars for crash safety. Child safety was particularly strong at 85% and it scored maximum points in the dynamic tests for its protection of both 18 month babies and three-year-olds.
The BMW also has an active bonnet which lifts when a pedestrian is struck to provide greater clearance to the hard structures in the engine compartment. All models come with airbags for the driver and front passenger, they get side airbags too, and the car has head airbags for the front and rear seats.
As you'd expect there's a host of stability systems too with dynamic stability control as standard plus DTC dynamic traction control and CBC cornering brake control. All models get front and rear parking sensors also.
One complaint of the 2 Series Active Tourer is the front pillars. The rather awkward design and sheer thickness of it means visibility is compromised, particularly at junctions. It means you have to take that extra bit more care on the morning school run.
Insurance groups and costs
The 2 Series Active Tourer is cheap to insure, especially if you're an older driver and will keep it on a driveway. The 216d models are in insurance group 13 so premiums should be low while the 218i petrol is group 14. Remember this is out of a maximum of 50.
This compares well with the competition. You'd pay about the same to insure a Volkswagen Golf SV with a 1.2 TSI engine that has less power than the 218i and it's the same story with the 1.6 TDI. A Mercedes B 180 d sits in group 15.
Obviously the bigger the engine, the more it is to insure and the 220d models are group 21 while the 225xe PHEV is group 23.
VED
If you're looking at a 2 Series Active Tourer registered after April 2017, it will fall into the newer tax brackets, currently at £150 a year apart from the 225xe which is £140 a year as it counts as an alternatively fuelled vehicle.
VED for models registered before April 2017 is based on CO2 rates so the cleaner the engine, the cheaper it is to tax it. As a result, any 225xe models registered before this don't cost anything to tax. The 216d, 218d and 220d are Band C so only £30 a year for VED.
Trim levels and standard equipment
All 2 Series Active Tourer models come with an electrically opening boot and navigation, features which would cost a fair amount on most models. The SE is the entry-level trim but still has dual-zone air con, rear parking sensors, sliding rear seats plus the BMW Professional radio with a CD player (remember those) plus DAB and Bluetooth. There's not much else you'll need really.
However, we'd suggest the Sport model which crucially gets the sports front seats with better side support. You also get LED ambient lighting and 17-inch alloys. Calm yourselves.
Luxury models have Dakota leather seats and some posh wood trim inside while the M Sport models try to give an air of sportiness to a people carrier with extra body kit bits, 18-inch alloys and sportier trims inside.
It's worth looking out for cars with one of the two Comfort Packs fitted which add heated seats and even a heated steering wheel. The Tech Pack includes a reversing camera.
Learn more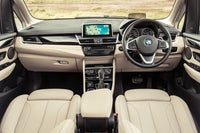 On the inside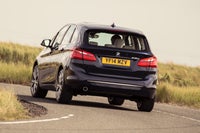 Driving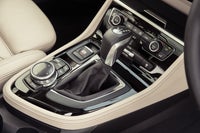 How much does it cost to run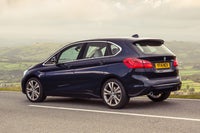 Prices, versions and specification
Reviews of similar cars
Quality checked, all cars less than 8 years old and warranty included
Looking for other BMW cars?
Quality checked, all cars less than 8 years old and warranty included