2 Series Active Tourer Review 2022
BMW 2 Series Active Tourer Review 2022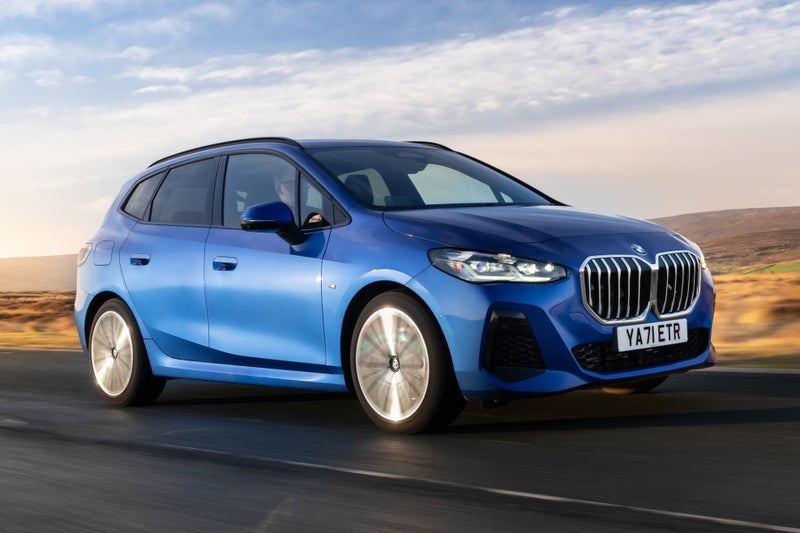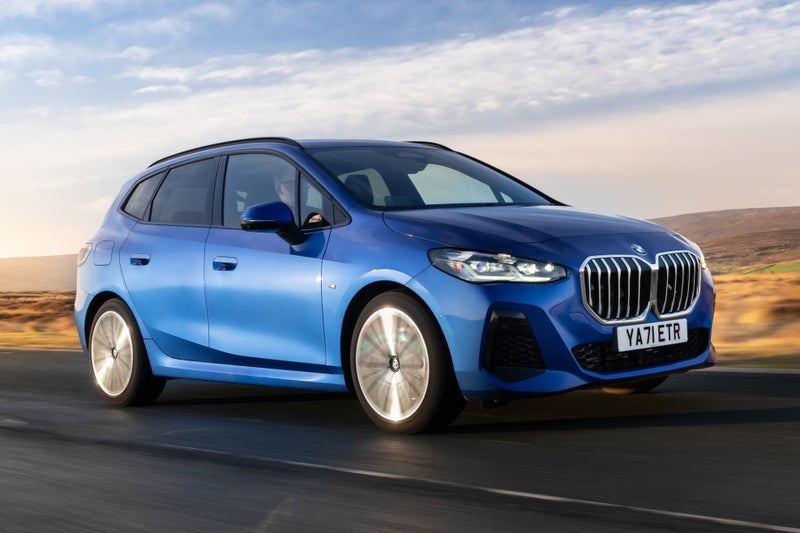 1/10
heycar rating
"A genuinely impressive SUV alternative"
Launched: 2022

MPV

Petrol, Diesel, PHEV
Quick overview
Pros
Space and rear-seat adjustability
Great cabin quality and infotainment
A hoot to drive
Cons
Not available as a seven-seater
Back seat tight carrying three
We expect the basic petrol will struggle when fully loaded
Overall verdict
On the inside
Driving
Cost to run
Prices and Specs
Common questions
Overall verdict on the BMW 2 Series Active Tourer
"While BMW and MPV might not sound like a natural fit, the new 2022 BMW 2 Series Active Tourer is one of the best family MPVs you can buy. It's bang up to date, with plenty of new tech, including BMW's latest generation iDrive interface, while the plug-in hybrid model delivers a remarkable electric-only range of 49 miles. If you're looking for a premium 5-seat people carrier, this is it."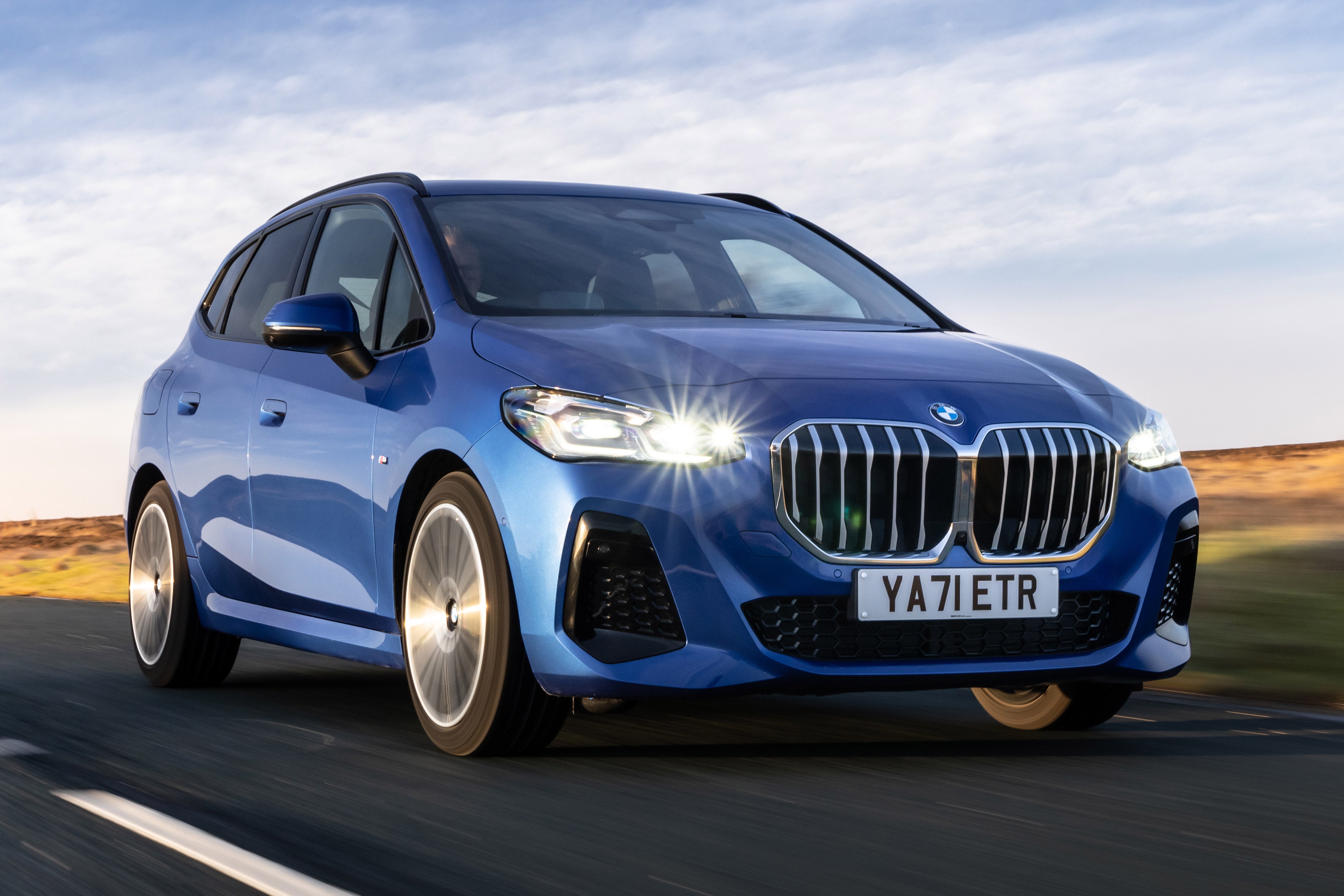 If you're looking for a desirable family carrier with a premium badge, the default choice in 2022 would be a high-riding SUV like the Mercedes GLB or Audi Q3. But, while BMW is no stranger to niche SUVs, it's sticking with the versatile MPV in the form of its 2 Series Active Tourer. Find out why we think it should be high on your family car shortlist in our 2022 BMW 2 Series Active Tourer review.
The old BMW 2 Series Active Tourer was quite a controversial car for a brand better known for making desirable sports cars and high-performance saloons. Despite being one of the most affordable BMWs you could buy, it was also one of the most practical. It didn't drive too badly, either.
No surprise, then, that it bucked the SUV trend somewhat. It turned into quite the success, selling in large numbers across Europe and attracting a high percentage of new customers to the BMW brand. Reluctant to upset the apple cart too much, the new BMW 2 Series Active Tourer looks a lot like the old one, albeit with a bigger front grille and a few other cosmetic tweaks here and there.
Don't judge a book by its cover, though, and the 2 Series Active Tourer has been quite significantly updated in a number of key areas. One of the biggest upgrades is the latest BMW iDrive infotainment – something that, so far, we've only seen on expensive electric vehicles in the form of the BMW iX and BMW i4. It stretches from behind the steering wheel to the centre of the dashboard and its intuitive layout means you don't really miss the lack of an iDrive control between the front seats.
The interior really is very well designed for family life, with room aplenty in there – you can be well over six foot and there will still be loads of room for someone the same size to fit behind you. Plus the back chair reclines and slides backwards and forwards on its runners so you can balance between boot capacity and rear legroom. Okay, so you don't get the three individual seats fitted to a Volkswagen Touran but that really is all we could grumble about.
The boot meanwhile, operates electrically, has a massive opening, a square shape and comes dripping with handy features that can block any jabs your family cares to throw at it.
Back up at the business end, you'll find this utility hasn't come at the expense of quality, there really isn't much to fault about how the BMW 2 Series Active Tourer is put together. Soft-touch plastics are everywhere – even on the tops of the rear doors – and the dashboard gets flashes of brushed aluminium and, depending on what model you go for, unvarnished wood or engineered metal trims.
So it's a great family car, but is it a great BMW? Diehards will be pleased to know that it drives pretty well indeed. Spec your Active Tourer in M Sport trim in particular – which adds lowered suspension and adjustable dampers – and you'll find this is a car you can drive the wheels off if you really want to, slicing through corners in a way that's shockingly impressive given how staid it looks.
In fairness, the launch engine line-up could put more meat on the bone, the 170PS 220i just about does the job, while the 218PS 223i is better, but not by much. We'd avoid the 136PS 218i – which frankly sounds anaemic – but consider the 150PS 218d diesel. However the stars of the show are likely to be the PHEV models which follow later and offer up to 326PS for scintillating acceleration and the ability to travel nearly 50 miles on electric power alone.
Specified like this, the BMW 2 Series Active Tourer hits its brief perfectly. It's ticks all the boxes in terms of practicality, feels as posh and drives as well as you expect of a BMW, and won't cost a fortune to run in any specification.
It may not be the most glamorous BMW to buy, but – like an HGV lorry – we reckon its ability to tackle almost any task could make it one of the most satisfying to own and run. It's certainly one of the best MPVs you can buy.
Looking for the older model? You'll need our BMW 2 Series Active Tourer (2014) review.
Is the BMW 2 Series Active Tourer right for you?
If you're excited by the prospect of owning something more practical than SUVs like the Audi Q3, Mercedes GLA and BMW X1, the 2022 BMW 2 Series Active Tourer sounds like the perfect choice. It's more stylish (inside and out) than conventional people carriers like the Volkswagen Touran, while it's not too shabby to drive, either. You might want to wait for the plug-in hybrid models, although they won't be cheap.
What's the best BMW 2 Series Active Tourer model/engine to choose?
The BMW 2 Series Active Tourer M Sport is probably the most desirable with its 18-inch alloy wheels, M Sport adaptive suspension, sports seats and adaptive LED headlights. Don't dismiss the other models, though, particularly the posh Luxury with its leather upholstery and chrome exterior trim.
The 170PS 220i model, meanwhile, is as quick as you probably need from such a focussed family car, keeps the price low and doesn't cost too much to run. That said, the 218PS 223i is quicker and gets similar fuel economy if you don't mind the £2000 premium.
The PHEV models, meanwhile, have yet to go on sale, but will make sense if you often drive in town and have somewhere at home to charge the car.
What other cars are similar to the BMW 2 Series Active Tourer?
The BMW 2 Series Active Tourer is a premium MPV that competes with models such as the more luxurious looking but less fun to drive Mercedes-Benz B-Class and somewhat stodgy but more practical, seven-seater Volkswagen Touran.
Comfort and design: BMW 2 Series Active Tourer interior
"The BMW 2 Series Active Tourer has a logical design with a dashboard that centres on the driver in classic BMW fashion."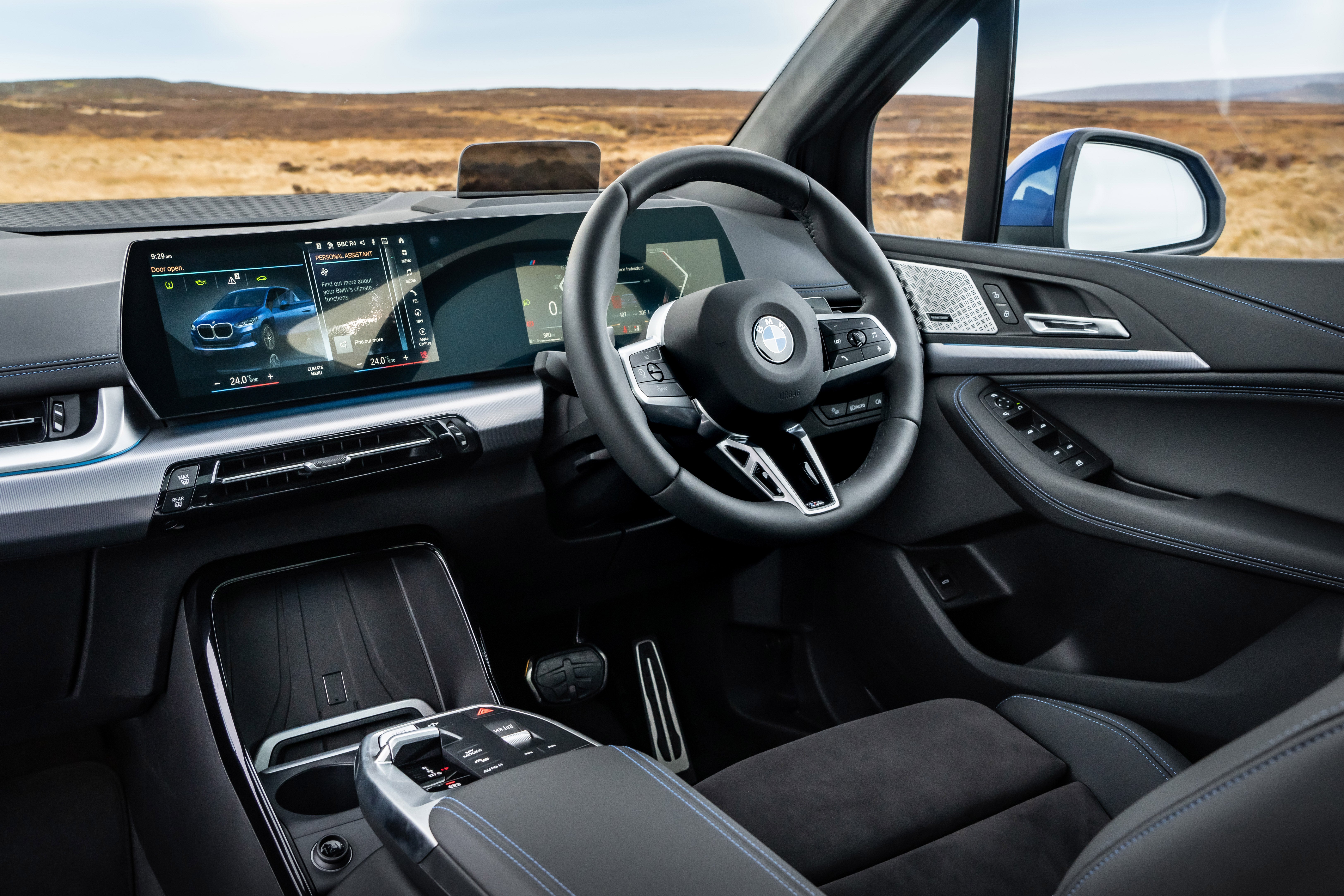 We found the seats in Luxury models to be tight on the lower legs, but has no issues with the M Sport models more body-clenching chairs. Either way, you get plenty of adjustment in the seat and steering wheel.
The Comfort Pack makes it even more relaxing. It adds electrically adjustable front seats, while the driver's chair has a memory function, lumbar support and an extremely vigorous massage function. You also get a heated steering wheel to complement the heated front seats that are standard on M Sport and Luxury models.
Quality and finish
The BMW 2 Series Active Tourer feels like a quality product. You get soft touch plastics almost everywhere, including on the tops of the back doors where you'll often catch manufacturers scrimping – and metal flashes on the centre console and through the middle of the dashboard.
Luxury models add unvarnished wood trims that could be nicked from a Volvo, while M Sport cars go for an engineered metal finish.
Infotainment: Touchscreen, USB, nav and stereo in the BMW 2 Series Active Tourer
The BMW 2 Series Active Tourer comes as standard with a 10.7 inch digital dashboard and a 10.25-inch centre screen that curves together to form one huge display, similar to the one found in the BMW iX EV.
High-definition and colourful graphics mean it looks brilliant and the powerful engine behind it means that you can swipe through tiles and pinch in and out of maps with a pleasing slickness.
The large tiles and intuitive menus make it easy to operate, which is just as well because the iDrive control you find on more expensive BMWs was apparently too expensive to fit on the 2 Series Active Tourer.
On the bright side, you do get augmented reality sat-nav – something Mercedes has offered in cars like the A-Class for a few years now. It makes it easy to navigate exactly where you're going as directions hover over an image of the road on the screen.
It's one of the few reasons why you wouldn't use the Apple CarPlay and Android Auto that comes fitted as standard and make it easy to mirror the display of your smartphone on the car's big screen.
It works when you plug your phone into one of the USB-C plugs in the tray on the car's centre console. Wireless charging is optional and it comes with a handy (if not very sturdy feeling) clip that holds your phone in place like the safety bar on a roller coaster.
Anything else? Well, there's an optional head-up display which looks a bit dated because it projects onto a separate piece of glass rather than directly onto the windscreen, however its graphics are pin sharp.
The optional Harman Kardon stereo, meanwhile, produces a crisp and detailed sound, and gives you pretty branded metal speaker covers to boot.
Space and practicality: BMW 2 Series Active Tourer boot space
The BMW 2 Series Active Tourer feels very roomy for a car of its size. It's 4386mm long and 1824mm wide – 32mm longer and 24mm wider than the car it replaces, although the 2670mm wheelbase remains the same.
Up front, there's loads of space for tall adults with what feels like a foot of headroom and plenty of space for your knees.
But it's the back seat that's the real revelation. Even if you're tall, another tall adult will fit behind you with no issues at all and the high roof means they get plenty of headroom. Large windows help the cabin feel light and airy.
The back seats has a couple of tricks up its sleeves you wouldn't find in a normal family car, so you can slide the rear bench forward and back and also recline its back rest. The only downside is that you don't get the three individual rear seats – with three Isofix points – you get in a Volkswagen Touran, which could swing the VW into favour if you've got three kids in baby seats.
That said, the BMW's back row has Isofix on its outer seats and plenty of nice features like bright-white LED lighting, a couple of USB-C plugs and an air vent. That said, the shallow tray on the back of the front centre console won't be much use for anything.
On the upside, the BMW's boot is very practical. It opens electrically, has a 406-litre capacity and handy features like a 12V socket, shopping and tie-down hooks as well as a couple of additional cubbies on either side of the load space.
Unfortunately, there are no boot-mounted levers to drop the seats – you'll find them in the usual place on top of the back rests – but with the rear bench folded away you get a maximum 1455 litres.
Smaller storage spaces are not hard to come by. You get big door bins, a big glovebox, deep cup holders and a small tray under the floating front-centre armrest. Most of the dookets have a removable rubber lining that makes them easy to keep clean.
Handling and ride quality: What is the BMW 2 Series Active Tourer like to drive?
"The BMW 2 Series Active Tourer drives better than you'd ever imagine, thanks to attention to detail that sees it get an aluminium bonnet and plastic door hangers to lower the car's centre of gravity."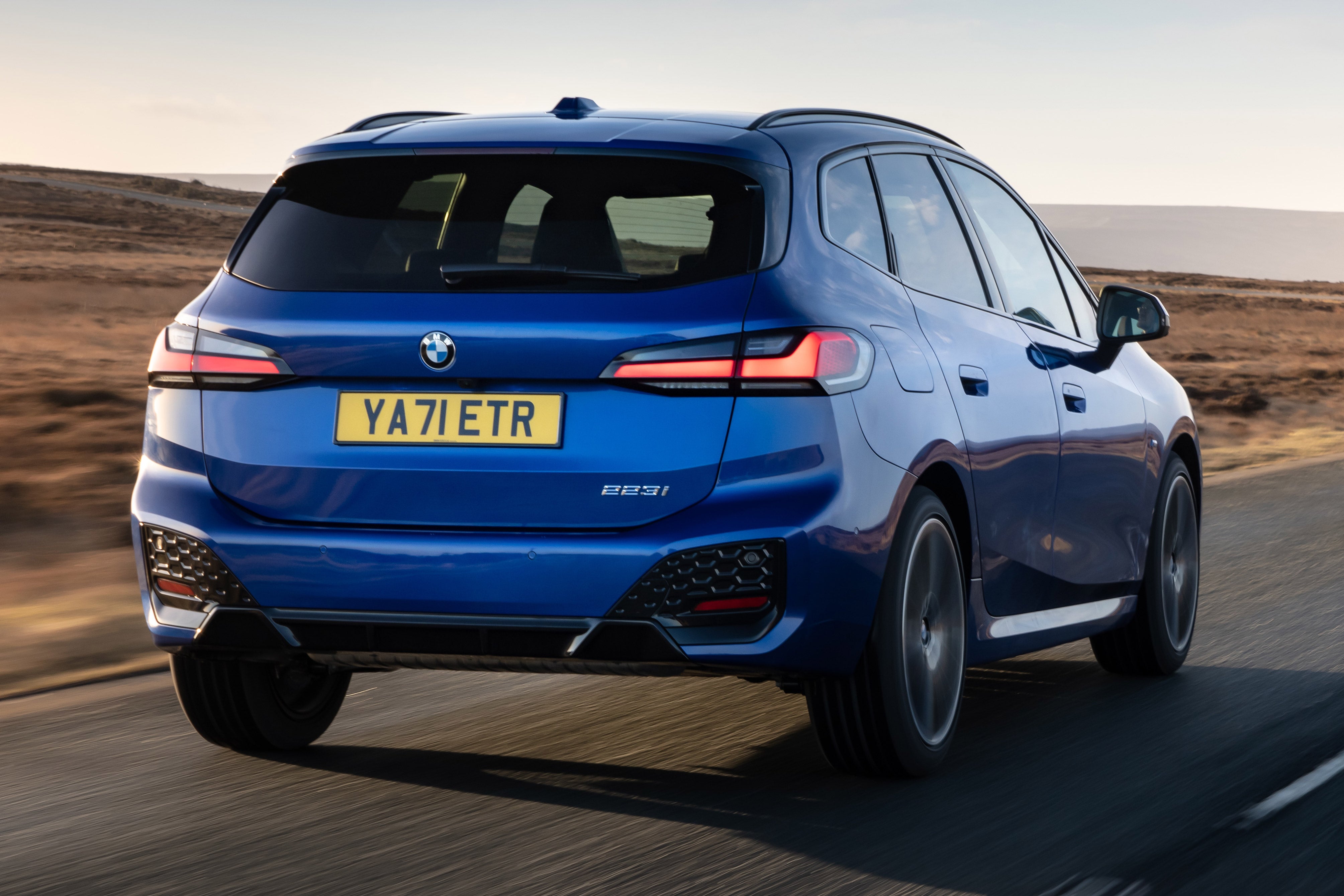 All versions drive well, but a combination of larger 18-inch wheels, wider rubber and adaptive dampers on suspension that's 15mm lower than standard, means M Sport models resist lean and grip harder than rest of the range. We'd go as far as to say the M Sport drives like a hot hatch that's been whacked on the head – mildly stunned but still capable of leaving you smiling like a Cheshire Cat that's just wandered into its own creamery.
Even the brakes are progressive and easily modulated, something that's hard to do with a 48V mild-hybrid system that harvests power under deceleration.
Thankfully, the driving fun doesn't come at the cost everyday misery. The BMW's ride is taught at low speeds – firmer than a Volkswagen Touran – but it's never uncomfortable and it smooths out on the motorway, where the quiet cabin and autonomous driving aids make the 2 Series a relaxed cruiser.
There's not much to stress about in town, either. The BMW's controls are light and the automatic gearbox (we've not had the chance to try the manual) shuffles through its gears smoothly. Big windows make manoeuvring easy and the automatic creeps at slow speeds so you don't need to worry about jerky inputs.
A reversing camera is standard so parking is simple, but the optional 360-degree camera is useful for squeezing through small spaces or getting tight against the kerb without damaging your wheels. It's augmented display also looks very cool on the car's big screen.
What engines and gearboxes are available in the BMW 2 Series Active Tourer?
The BMW 2 Series Active Tourer is available with a choice of three petrol engines and one diesel from launch, with two plug-in hybrids joining the range soon after the car goes on sale.
For now we've only had a proper go of the 220i and 223i petrols. Both feature 48V mild-hybrid technology that gives the car an electrical boost under accleration and can also recoup power when you're coasting, not that you'd know any of this cleverness is going on.
With 170PS and 280NM of torque, the 1.5-litre three-cylinder 220i sounds reasonably potent on paper – 0-62mph takes 8.1 seconds and it has a top speed of 137mph – but it never feels as quick as those numbers suggest. It makes you wonder if the 136PS 218i could feel a little underpowered when it's fully loaded.
The 220i four-cylinder increases power to 218PS and you get 360Nm of torque. It doesn't deliver the step in performance you might expect, but it's smoother and accelerates more keenly. It has a top speed of 149mph and gets from 0-62mph in 7.0 seconds.
We've yet to try the four-cylinder 218d diesel, which has 150PS and 360Nm of torque, but you'd expect it to cope well when your 2 Series Active Tourer is fully loaded.
But if you want real performance, you'll need the top-of-the-range 326PS PHEV (a 245PS basic model is also available), that we sampled briefly in prototype from. It uses its four-wheel drive to good effect launching the 2 Series Active Tourer from 0-62mph in 5.5 seconds or – as BMW's engineers were keen to point out – as quick as a E36 BMW M3 performance saloon from the mid-to-late 90s. That's progress etc.
Refinement and noise levels
The BMW 2 Series Active Tourer's upright body shape hasn't had any effect on interior refinement, there's barely any wind or engine noise at a cruise, although you will hear tyre roar emanating from the wheel wells. Engine noise varies from noticeable to slightly harsh when accelerating in the three-cylinder 220i, while the 223i's engine tone sounds fake and digitally enhanced. PHEVs models are eerily silent in full EV mode.
Safety equipment: How safe is the BMW 2 Series Active Tourer?
The BMW 2 Series Active Tourer has yet to be crash tested by Euro NCAP, but you would expect it to hold onto the five stars held by the old model.
Standard safety features include the usual multitude of air bags, automatic emergency brakes, speed limit assist (which displays the current speed limit on the dashboard), attention assist that warns when you're losing concentration and need a break, and lane assist that can gently steer the car in lane.
Automated driving aids are optional and mean the 2 Series Active Tourer can drive itself autonomously, accelerating, braking and steering the car around corners, while observing the speed limit – if you want it to.
MPG and fuel costs: What does a BMW 2 Series Active Tourer cost to run?
"The BMW 2 Series Active Tourer is a sensible family car so you don't need to worry about it having shockingly high running costs".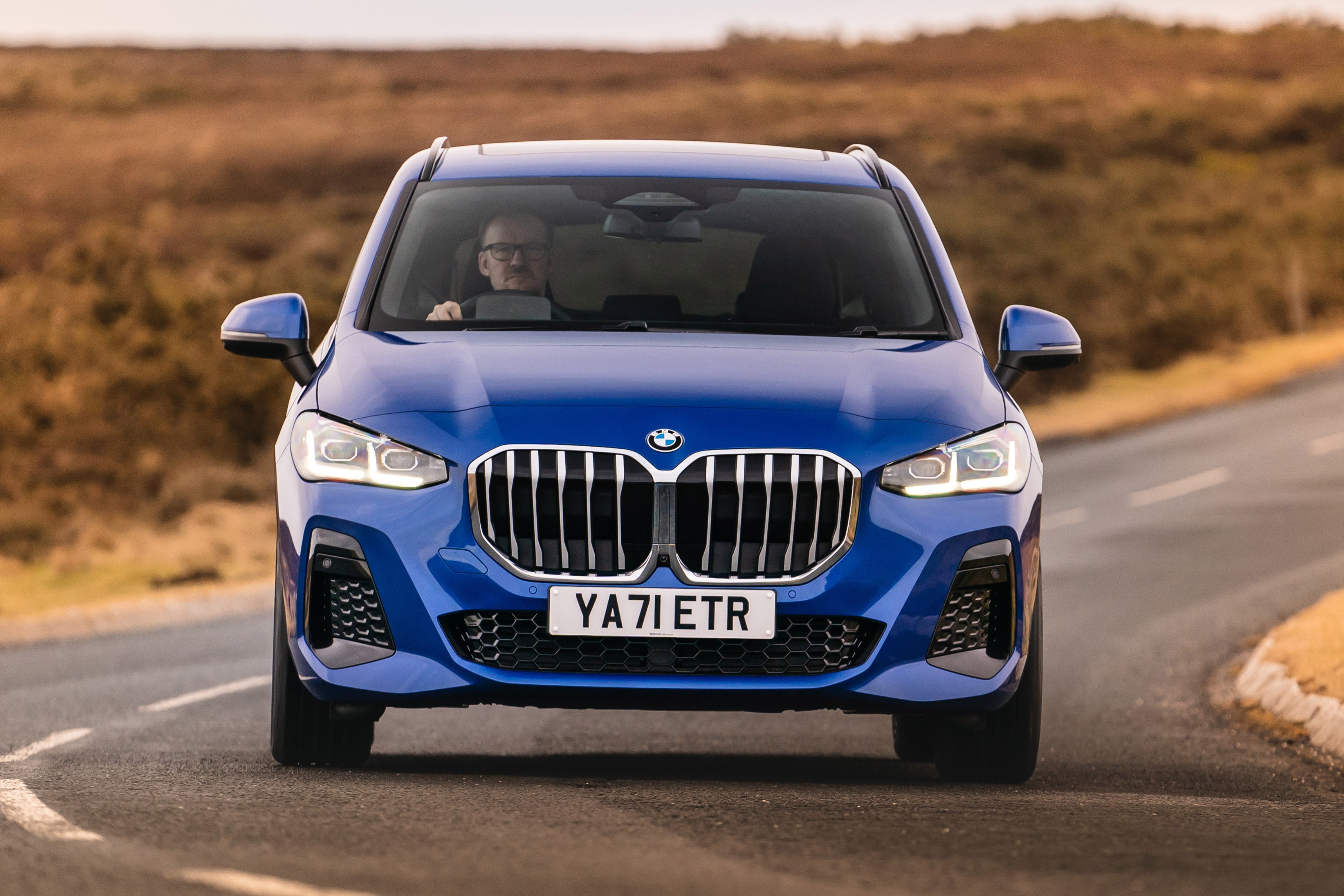 As a result, even the bordering-on-sporty 223i will return nearly 50mpg (47.1mpg) and the 220i returns an almost identical figure (47.9mpg).
The 218i is the anomaly of the line-up, the least powerful petrol is also the most inefficient it's a 45.5mpg giving you an idea how hard its 136PS engine – the same engine that's fitted to a mid-range MINI 3-door needs to work at hauling the Active Tourer along.
Diesel might not be the flavour of the month, but if you spend your weeks chugging up and down the M6 or similar, the 218d makes sense – it'll return up to 58.8mpg in a mixture of driving.
Similarly, if you do lots of short town drives and can charge your car at home, the PHEV models make a strong case for theirselves. They have a 56mile pure-electric range – a 53 per cent improvement on the old PHEV – that means even relatively long commutes can be completed on cheap electric power. Although their quoted maximum fuel economy of 256.8mpg will drop off a cliff when the battery runs flat.
How reliable is the BMW 2 Series Active Tourer?
The new BMW 2 Series Active Tourer is too new to give any accurate feedback on the car's reliability – however it does share its parts with cars like the 1 Series and various MINIs so they should be proven. Having said that, you could have said the same of the old Active Tourer which suffered from faults as varied as premature clutch wear and infotainment gremlins.
Insurance groups and costs
BMW 2 Active Tourer insurance groups are unconfirmed but you can expect them to closely match the old model that ranged from group 13-15.
VED car tax: What is the annual road tax on a BMW 2 Series Active Tourer?
Petrol and diesel versions of the BMW 2 Series Active Tourer cost £155 a year to tax, while the plug-in hybrid models cost £145. Year one road tax ranges from £180 a year to £220.
No single trim level qualifies for the premium car tax for cars costing more than £40,000, however a 2 Series Active Tourer loaded with options could push through that threshold. PHEV models that join the range later will likely also qualify.
How much should you be paying for a used BMW 2 Series Active Tourer?
"The BMW 2 Series Active Tourer 220i is priced from £30,265 in entry-level Sport trim, meaning it's actually cheaper than its most obvious rival, the £30,470 Volkswagen Touran".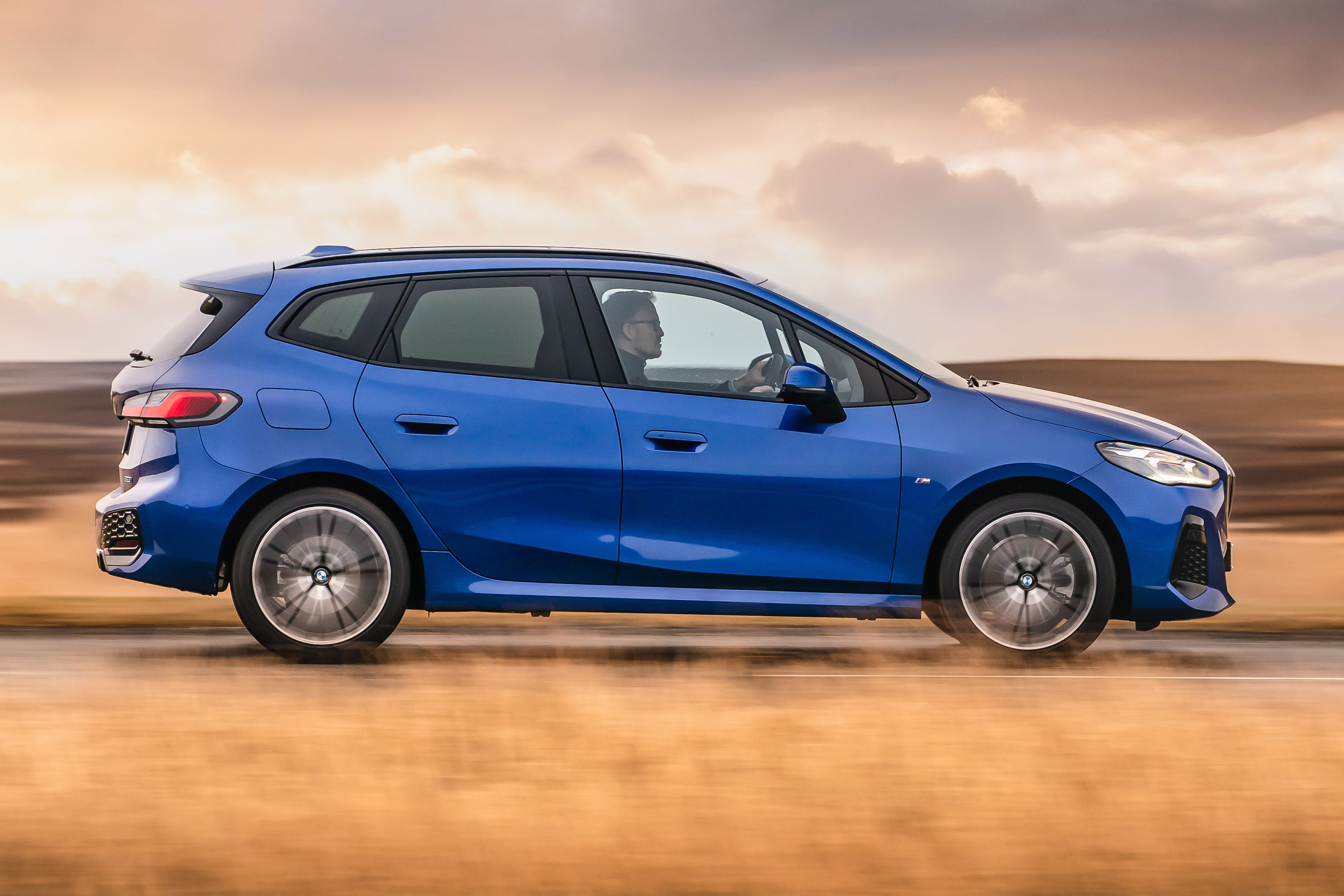 Stick with Sport trim but upgrade to the pokier 223i (with an automatic gearbox fitted as standard) and you'll pay £32,715, while the 218d – also with an auto – costs £31,830. Luxury models meanwhile are priced from £32,085 (220i) to £34,535 (223i) and M Sport from £33,940 (220i) to £36,390 (223i).
While M Sport models cost the most, they'll likely hold their value the best, although secondhand versions of the new 2 Series Active Tourer have yet to filter down onto forecourts.
Trim levels and standard equipment
The BMW 2 Series Active Tourer is available in three trim levels from launch, called Sport, Luxury and M Sport.
Sport models come with 17-inch alloy wheels, while inside you'll find cloth upholstery with silver matt interior trims. You also get automatic LED headlights, auto wipers, reversing camera, climate control, plus a 10.7-inch infotainment screen with connected services like live traffic updates.
The BMW 2 Series Active Tourer Luxury gives (unsurprisingly) a more luxurious feel. They also have 17-inch alloy wheels and you get roof rails for the easy fitment of bike racks and roof boxes. Inside, you get leather upholstery that looks posh and is also easier to keep clean than fabric, plus the front seats are heated.
M Sport models use Sport trim as a base, adding 18-inch alloy wheels and M Sport adaptive suspension. Inside, there's a dual-clutch automatic gearbox with steering-wheel mounted paddles, adaptive LED headlights, heated seats, folding wing mirrors, keyless entry and go, plus wireless phone charging.
Packs are also available. The Technology Pack includes folding door mirrors, auto-dimming rearview mirror, adaptive LED headlights, auto-dipping headlights and wireless charging. The Tech Pack Plus, meanwhile, adds a parking camera, Parking Assistant Plus, as well as heated and electrically adjustable front seats.
Ask the heycar experts:
common questions
Is the BMW 2 Series Active Tourer front-wheel drive?
Most versions of the BMW 2 Series Active Tourer are front-wheel drive, however the plug-in hybrid models are four-wheel drive with an electric motor turning the back wheels.

What is the difference between BMW Active Tourer and Gran Tourer?
The BMW Active Tourer is a five-seater; the Gran Tourer is a seven seater – both have lots of space for their size.

Does BMW still make the Active Tourer?
Yes, a new BMW 2 Series Active Tourer has just gone on sale giving you a practical family car that's way more fun to drive than you would expect.

Keep me updated by email with the latest advice, news and offers from heycar
By submitting, you agree to our
privacy policy
.