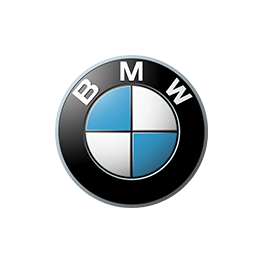 BMW 2 Series Gran Tourer Review

Written by
heycar editorial team

heycar rating
Putting the BMW into MPVs
Best bits
Feelgood driving experience
Well equipped
Practical and seats up to seven
Not so great
Dull to look at
Third-row seats are not for adults
216d diesel is a bit underpowered
Read by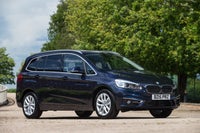 Overall verdict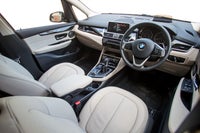 On the inside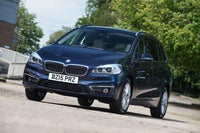 Driving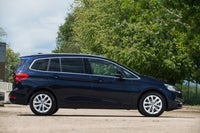 How much does it cost to run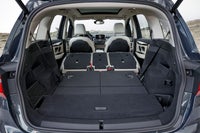 Prices, versions and specification
Overall verdict
"It might not be the first choice of MPV and BMW purists may shudder at the thought, but for those who need a seven-seat people carrier and don't want to compromise on behind-the-wheel enjoyment, we'd certainly recommend checking out the 2 Series Gran Tourer."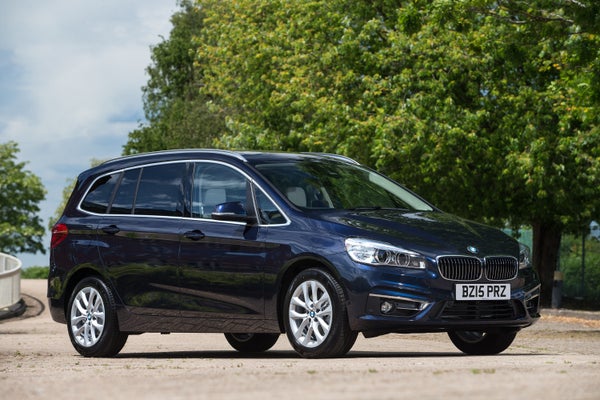 In 2015, the front-wheel-drive 2 Series Gran Tourer arrived, as the seven-seat alternative to the 2 Series Active Tourer five-seat MPV. The Gran Tourer has a longer wheelbase, a taller rear end and longer overall length than its sibling.
People carriers in general are something of a niche sector these days. But of BMW's two MPVs, the Gran Tourer makes most sense because of its three-row capability. The alternative BMW X1 only seats five, for example, and you need to spend much more for a BMW SUV that can accommodate seven.
Visually, it's a bit nondescript. That's almost inevitable with MPVs, which are designed for maximum interior space first and foremost. It still gets the classic kidney grille, though, and BMW offers some sporty-looking variants with large alloy wheels and smart trim details.
Inside, it's more authentically BMW. It has a contemporary layout similar to the brand's other models, with the trademark widescreen infotainment system and a good-to-hold steering wheel. The instruments are clear and the rest of the layout is logical. The seats in M Sport versions are among the best you will find in any seven-seater, feeling more like those from a BMW M sports car than a family-focused people carrier.
The 2 Series Gran Tourer ranks highly for interior practicality. The middle row of seats is adjustable, sliding back and forth and offering adjustable backrest angles. The seats are easy to get in and out of too. The third row is much more restricted and frankly doesn't offer adult-friendly space, despite the bulkier rear roof line. But for kids, they're fine, and fold flat into the boot floor when not needed.
Inside, there are loads of little cubby holes and stowage slots, and BMW even offers a fold-flat front passenger seat so really long loads can be threaded in with all the rear seats folded. The electric tailgate is convenient too, particularly as it can be opened via the key fob remote: perfect for parents with full hands and excitable children.
There's no such thing as a poorly-equipped BMW 2 Series Gran Tourer. Even the standard SE variant comes with a great haul of standard equipment, including BMW iDrive sat nav, dual-zone climate control, alloy wheels and automatic headlights. Moving up through the range brings leather upholstery and bigger alloy wheels, but the differences are largely visual, so well-stocked is the base model.
All the engines are turbocharged units, with either three or four cylinders. This is the era of vehicle that majored on diesel power, with a broad range of choices ranging from entry-level 216d through to the 220d, which came with an xDrive four-wheel-drive option alongside the regular front-wheel drive. The 218i and 220i petrol versions are rarer, but worth searching for.
Although the lower-powered versions are not exactly rocket ships, it's still a surprisingly authentic BMW to drive. That's thanks largely to its excellent handling, with genuinely engaging dynamics, including roll-free handling and nicely-weighted precise steering. The ride is on the firm side for an MPV, but still on the right side of comfortable unless you choose the models with the largest alloy wheels. We can almost guarantee the 2 Series Gran Tourer will drive much better than you might expect.
Being a premium car, prices were on the steep side for seven-seat MPVs when new, but a few years on, the 2 Series Gran Tourer is looking much better value for money – particularly if you take one of the fancied Sport or M Sport variants. With BMW's sophisticated engines serving up great fuel economy and low tax bills, it shouldn't prove too costly to run either.
Comfort and design
"People carriers usually go big on comfort, but the BMW is a little different in this respect. It still serves up a dash of sporty excitement, despite its MPV focus. You sense this as soon as you step in: the driving position feels good, in contrast to the more van-like arrangements of rivals, and the driver is treated to a chunky steering wheel and sporty gear lever."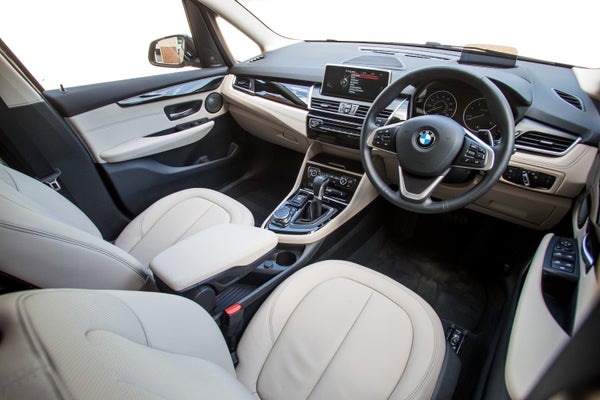 Seats are firm and supportive, rather than soft and lounge-like. The best chairs, with the nicest leather upholstery, are fitted to M Sport versions, but even the seats in base-spec SE are nicely bolstered. It's a similarly firm and supportive set-up in the rear, although the third-row seats are probably a bit too hard and thinly-padded to be truly comfortable for anyone but small children.
The design will be familiar to those who have driven other BMWs. It's not particularly flashy or exciting, in the way some Audis are, but it's impeccably laid out and very logical. The dials are clear, the infotainment well-placed and there are a few nice touches such as the sculpted door pulls and driver-focused centre console.
The same sort of upmarket dashboard trims found in other BMWs are also available here. Again, M Sport has the flashiest detailing, while Sport offers a bit more focus than regular SE. There's also a Luxury trim variant, which is nice enough, but we prefer the sportier alternatives and think they better suit the 2 Series Gran Tourer's hidden racy edge.
Handling and ride quality
"You wouldn't necessarily expect a people carrier to be such good fun to drive, even a BMW-badged one. But even though it doesn't talk about it these days, BMW's motto for years was the 'Ultimate driving machine'. And this is probably the ultimate seven-seat MPV to drive."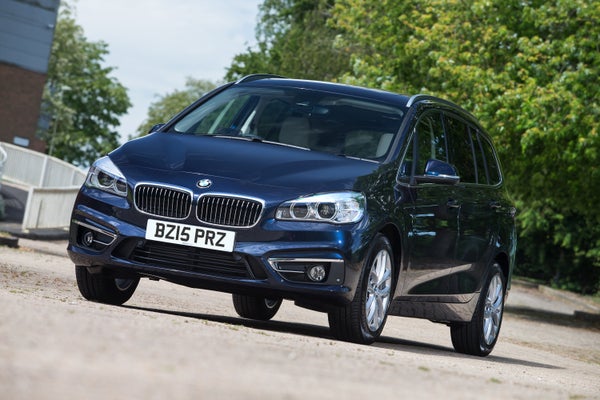 The highlight is how it handles. Those who are coming from a soft and stodgy MPV will be amazed at how crisp and tight the BMW seems. It has excellent steering, with a nice meaty feel, and you can zip along twisting roads without drama, rock or roll. It has a crispness that's very rare indeed in MPVs, although it must be said, your passengers might not always like the cross-country speed at which you feel confident to drive.
Perhaps inevitably, ride quality isn't as soft as some alternatives. Versions with larger alloy wheels can thump a bit in town, and pick out bumps that more traditional MPVs would soak up. But ride quality is very well controlled and the BMW won't heave or float over undulating roads – this can help keep car sickness at bay for some. Note that M Sport models have stiffer suspension and a 10mm lower ride height. BMW also offers Dynamic Damper Control variable suspension, which adds back in a bit of comfort as well as control.
The real positive to the BMW's set-up is how safe it feels, particularly with lots of passengers onboard. Driving people carriers can sometimes be a bit like guesswork, with stodgy body control and ultra-light, lifeless steering. Not the 2 Series Gran Tourer, which makes the driver feel more reassured than perhaps any alternative in this sector.
MPG and fuel costs
"The BMW 2 Series Gran Tourer is a very fuel-efficient seven-seater, particularly the entry-level 216d. This version will officially return an amazing 68.9mpg, and is the pick of the range for those seeking maximum miles per gallon. Our choice would be the 218d, though: it has more pulling power yet, at 64.2mpg, isn't so far behind the 216d."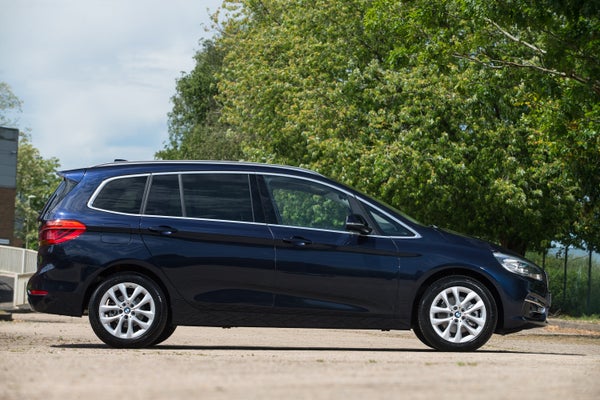 The 218i has the benefit of running on petrol, so fuel costs will be cheaper per litre, and it averages a perfectly decent 53.3mpg – not bad for a commodious seven-seater. If you prefer an automatic gearbox, average economy dips only slightly, to 52.3mpg.
The grippy 220d xDrive is a really good alternative to a full SUV in this regard. Averaging 57.6mpg, it is likely to be more economical than almost every comparable 190PS alternative, adding further to its 'thinking person's 4x4' credentials.
How much should you be paying for a used BMW 2 Series Gran Tourer?
"You can pick up an early 2015 BMW 2 Series Gran Tourer with high miles from less than £9,000 today, although such models are rare."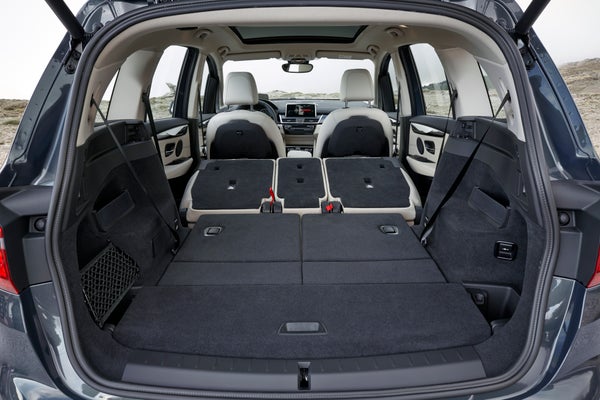 Our tip is to budget around £12,000, which will give you plenty of choice from four-year-old models – we discovered a good choice of 2016 Sport versions with either the 218i petrol or 216d diesel engine. M Sport versions with larger engines tend to sell for rather a lot more: you'll probably need to budget upwards of £15,000.
High-mileage xDrive four-wheel-drive models can be found from £15,000, but for the pick of colours and specs, you'll need to start from £18,000.
Is the BMW 2 Series Gran Tourer right for you?
Having a growing family needn't put a stop to your BMW ownership. The 2 Series Gran Tourer is the most practical BMW the firm offers of this size, with a superbly flexible interior that's just as focused on passengers as on the driver.
You may prefer the more contemporary styling of the BMW X1 SUV, but it's not a patch on the 2 Series Gran Tourer when it comes to accommodation. The fold-flat emergency rear seats are a real bonus, almost certainly proving invaluable at least for parents who tackle the school run and other family missions.
It can be your secret 'warm hatch' too – a car that looks thoroughly conventional and decidedly MPV-like, but handles with far more verve than you would expect. You'll almost certainly enjoy it more from behind the wheel. And that's no bad thing, right?
Of course if you don't need seven seats, there's the smaller BMW 2 Series Active Tourer.
What's the best BMW 2 Series Gran Tourer model/engine to choose?
Diesel dominates the 2 Series Gran Tourer line-up. Frankly, the 216d is not really powerful enough, particularly when this seven-seater is used as nature intended. It only has 116PS, so becomes bogged down a bit too easily – and it's only available with a manual gearbox.
Start with the 218d, which has a good blend of affordability and performance. We'd ideally take it with BMW's smooth-shifting automatic gearbox, if you can find one. The 218i is a perfectly fine petrol alternative, though: it produces 136PS and the 1.5-litre three-cylinder turbo engine has enough in reserve to make light work of hills. It's actually the same engine used in the Mini Cooper.
At the top of the range, BMW offers an xDrive four-wheel-drive version. For those who want to guarantee progress in all weathers, it's well worth looking out for. However, the 220d xDrive is a rare sight on the second-hand car market.
What other cars are similar to the BMW 2 Series Gran Tourer?
Quality and finish
Premium car makers know they have to finish their cars to a higher standard than more mainstream competitors. That's one of their USPs - buyers expect it and the higher prices they charge should certainly justify it. So it is with the 2 Series Gran Tourer, which certainly has a more substantial feel inside than some of its non-premium rivals.
The plastics perhaps aren't as indulgent as in something like a BMW 3 Series, but they're still robust and generally nice to the touch. The top part of the dashboard has a nice feel and some of the high gloss black trim inlays are good looking (albeit also fingerprint magnets). Steering wheels are good to hold and all the minor switches and controls have a feeling of integrity. Even the carpet is thicker and plusher than you might expect. You sense this is a carrier built to last.
BMW builds them tough on the outside too. Paint is deep and the 2 Series Gran Tourer will polish up to a deep shine, again demonstrating its high-quality premium traits.
Infotainment
A highlight of any BMW is the excellent infotainment system: a full-colour widescreen set-up located high on the dashboard and controlled by the trademark iDrive rotary dial in the centre console.
The standard BMW Professional system has sat nav as standard, with route guidance that's both a model of clarity and far easier to use than many other inbuilt nav systems. There's even voice control if you're really stuck. BMW also offered an optional sat nav upgrade, with a wider screen.
In summer 2016, the infotainment system actually received an update, using the latest BMW iDrive interface. This had a simpler navigation menu so even fewer clicks were needed to switch between functions. It came with enhanced Bluetooth, offered wi-fi internet streaming and the built-in memory received an upgrade so it was snappier and faster to use.
Large families might also appreciate the fact this upgraded system came with an additional USB socket, to try and keep the kids' devices charged.
Space and practicality
Up front, the BMW 2 Series Gran Tourer provides a flexible, multi-adjustable driving position. The seat slides through a good range and is height-adjustable, while the pedals are positioned well, with little offset. The driver sits up high, with a commanding view forward.
Some might find the A-pillars rather intrusive, as they're on the thick side. The tiny windows at the base of each pillar are only really useful for parking, and for letting a bit more light in.
In the middle row of seats, there's a good amount of space for adults and children alike. The seats slide back and forth, and the two outer chairs are individually-shaped for added comfort. The middle-seat passenger will, however, feel somewhat perched, and the design is more of a jump-seat layout compared to the outer two. Big windows give a clear view out and again, the seats are positioned higher than in a regular hatchback, for added comfort.
Getting into the third row of seats is awkward. The middle-row chairs fold down (via clever electronic one-touch buttons), but it's still a bit of a thread to get back there – perhaps underlining why it's best suited to children. Space is tight and the seats are not as comfortable as the other chairs, although large windows help keep claustrophobia at bay. Consider the third row one for emergencies rather than regular use.
Boot space is tiny with seven seats occupied, but a very practical 560 litres in five-seat mode. Folded flat, it's similarly vast, with 1,820 litres of space on offer – bigger than many large estate cars (not to mention lots of SUVs). The fold-flat function for the passenger seat enables loads up to 2.6 metres in length to be carried. Oh, and in five-seat mode, the rearmost seats fold flat into the boot floor so it's a nice, level load bay – very convenient.
Detail touches include door bins big enough to take 1.5-litre water bottles, front-seat backrests with built-in channels so a folding table can be fitted, and lidded compartments beneath both front and second-row seats.
Because it's a seven-seat model, BMW doesn't fit a full-size spare wheel as standard, but all three seats in the middle row do have Isofix mountings.
Engines and gearboxes
The 216d engine is the entry-level motor but, with just 116PS, hasn't the muscle to back up how well the 2 Series Gran Tourer handles. Our advice is to search for the 150PS 218d. With a 2.0-litre four-cylinder engine, it has appreciably more power and, as a result, is a more relaxing and easygoing drive. You won't have to rev it as much, and it also comes with the option of an automatic gearbox. The 216d is manual-only.
Automatic gearboxes are preferable, because BMW autos work so well, making the most of the turbocharged engines. The manual gearbox has a sporty, snappy feel, but we think the more relaxed self-shifter is better for this type of vehicle. Adding to the convenience, all 2 Series Gran Tourers have an electronic parking brake.
The 220d is, with 190PS, a potent-feeling choice, with 0-62mph taking just 7.8 seconds. It actually matches the 192PS 220i four-cylinder turbo petrol for acceleration. Those who want a more affordable petrol choice should look for the 1.5 three-cylinder 218i, which produces 136hp for 0-62mph in 9.8 seconds.
The xDrive four-wheel drive option available on 220d versions gives enhanced traction and grip on wintery roads. If you want the security and all-year round ability of an SUV, but still need the practicality of an MPV, it's a good choice. Not many people carriers offer a four-wheel-drive option either.
 Refinement and noise levels
Refinement is generally pretty good. Noise levels at speed are low, with only models with larger wheels sometimes causing appreciable disturbance: patter over bumps at slower speeds and a bit of tyre roar at higher speeds.
The turbo engines generally don't have to be revved too hard, so they're not too intrusive. We've mentioned the need to rev the 216d to make faster progress – 218d and 220d versions are more refined simply because they have more in reserve. Both 216d and 218i three-cylinder engines make a bit of a throbby noise, while the four-cylinder engines in other variants sound more conventional.
Want to drown it all out? Look for a model with the upgraded Harman Kardon sound system. It's powerful, clear and gives surprisingly studio-like audio quality to everyone within.
Safety equipment
On top of the core safety kit of multiple airbags and lots of ISOFIX child car seat mountings, all 2 Series Gran Tourers also come with a collision warning system with automatic emergency braking. Rear parking sensors are standard, as are both automatic headlights and rain-sensing wipers.
Add-on safety options include a head-up display, stop-and-go radar cruise control that keeps a set distance from the car ahead even if its speed varies, plus a comprehensive park assist system. A spare wheel isn't included, though, BMW supplying a tyre repair kit instead.
Euro NCAP hasn't tested the seven-seat BMW 2 Series Gran Tourer, but it did assess the related five-seat 2 Series Active Tourer in 2014. It earned a full five-star rating, with 84 percent for driver protection, 85 percent for child protection and 70 percent for advanced safety assist features.
Insurance groups and costs
The 2 Series Gran Tourer should be cost-effective to insure. Ratings start from an affordable group 10, perhaps because it's a model with a safer, more family-focused driver profile than some of BMW's sportier models. Keeping power outputs under control is another factor – that's why the 220i and 220d might be appreciably more expensive to insure, given their 190PS power outputs.
VED car tax
Great fuel economy is a by-product of low CO2 levels, and the 2 Series Gran Tourer does not disappoint here. The 216d emits a lowly 108g/km CO2, which results in an annual VED (road tax) bill of just £20 a year. The 218d, which emits 115g/km CO2, is only marginally more expensive at £30 per year.
The 220d comes with a tax bill of £125 a year, matched by the 218i (petrol car CO2 emissions are invariably higher than an equivalent diesel), with it emitting 123g/km. The most expensive is the 220i, for which owners will pay £165 a year – but because automatic models are actually more fuel-efficient than manuals, the auto's CO2 drops below 140g/km, saving £15 a year on VED.
Trim levels and standard equipment
The BMW 2 Series Gran Tourer range opens with SE grade. This has dual-zone climate control, front fog lamps, rear parking sensors, 16-inch alloy wheels, 6.5-inch BMW iDrive infotainment with sat nav, a front armrest, an electronic parking brake, Bluetooth with audio streaming and the BMW Driving Experience Control switch (which alters various settings from Comfort to Sport).
Next up is Sport, which has larger (and better-looking) 17-inch alloys, gloss black body detailing and sports seats. In contrast, Luxury versions have chrome trim, wood-effect interior trim and leather upholstery. The most desirable is M Sport, which has 18-inch alloys, an M Aerodynamics styling package, leather sports seats and an M-branded multi-function steering wheel.
Learn more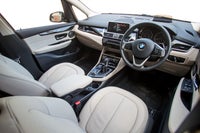 On the inside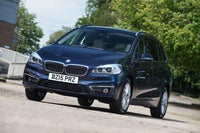 Driving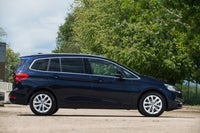 How much does it cost to run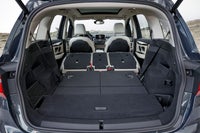 Prices, versions and specification
Reviews of similar cars
Quality checked, all cars less than 8 years old and warranty included