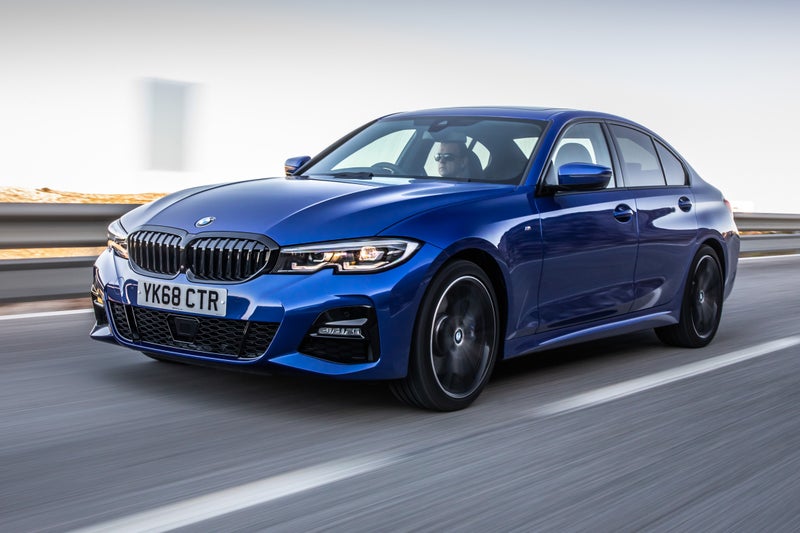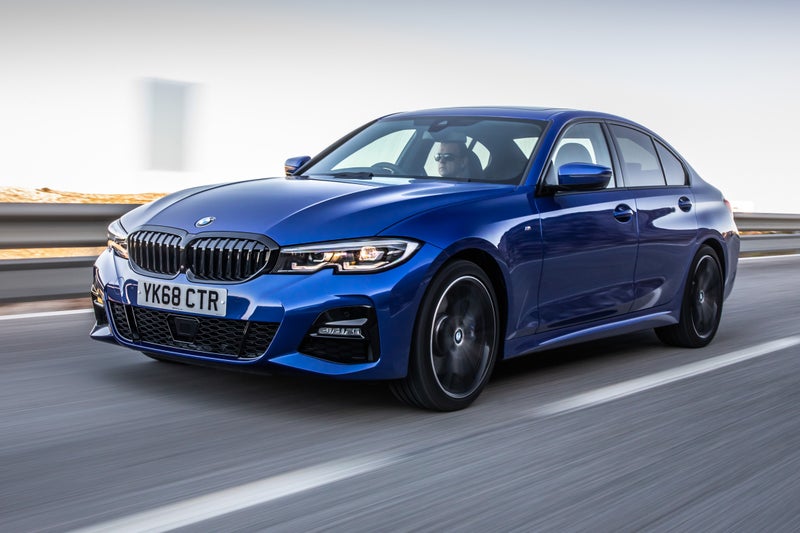 1/10
heycar rating
"Genre-defining compact executive saloon"
Launched: 2018

Premium

Petrol, Diesel, PHEV
Quick overview
Pros
Exceptional to drive
Well integrated technology
High quality throughout, and plenty of trim choices
Cons
Sheer number sold means it's hardly exclusive
Some basic equipment is an expensive option
M Sport suspension is quite firm
Overall verdict
On the inside
Driving
Cost to run
Prices and Specs
Common questions
Overall verdict on the BMW 3 Series
"The archetypal premium sporting saloon, the BMW 3 Series is a seriously compelling all-rounder. The latest model is more complete than ever, and retains that fun-to-drive element that rivals just can't quite match."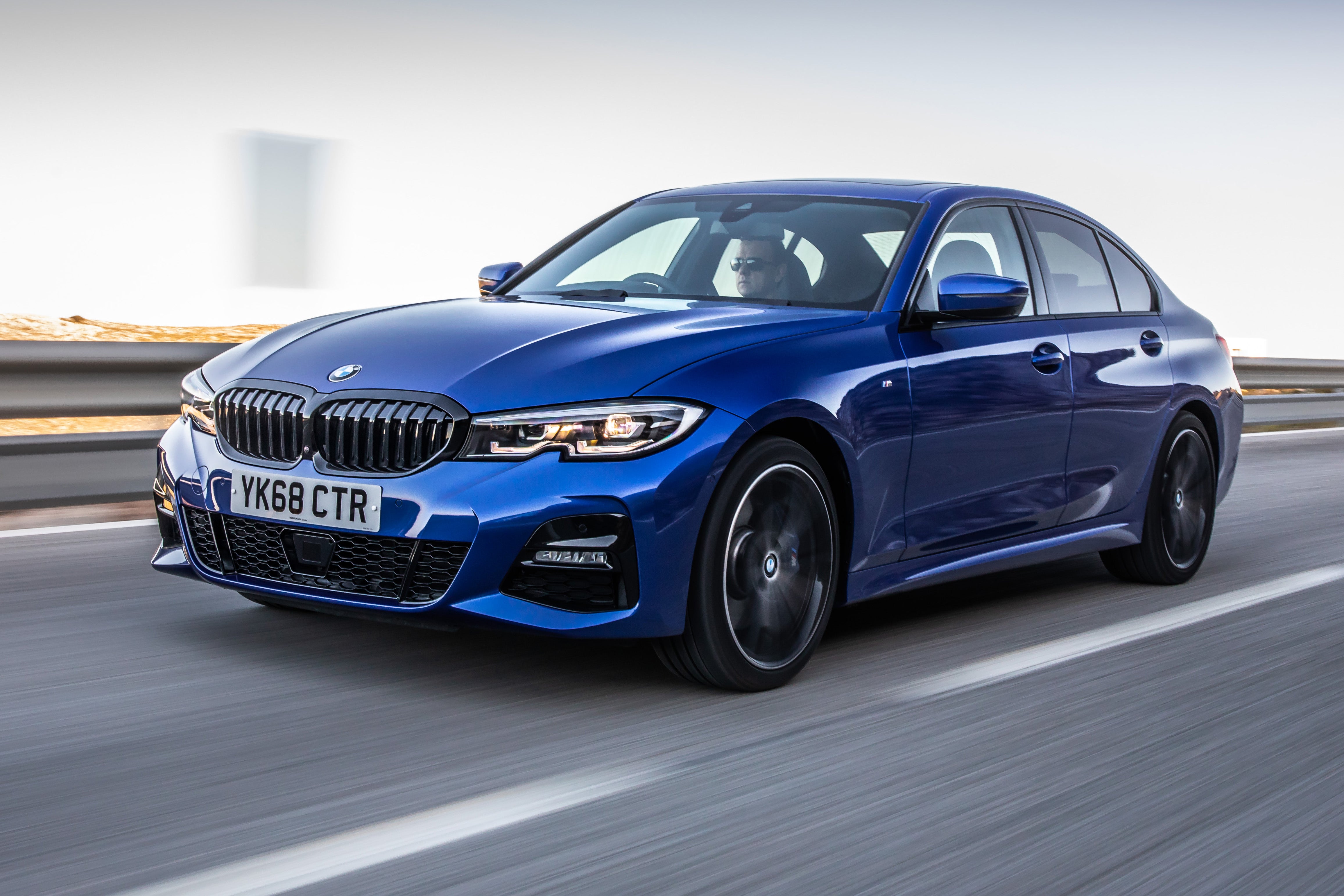 The BMW 3 Series is a segment-defining compact executive saloon. It's into its seventh generation, and as this review will show it still leads the way in many areas despite the ever-greater excellence of its key rivals.
It's sold in phenomenal numbers, but this success does bring with it a degree of ubiquity. The BMW 3 Series is so common now it doesn't have the cache it used to, but you can console yourself in the knowledge that's it's still a brilliant car.
The 3 Series saloon is available in rear- and four-wheel drive, with manual or automatic transmissions (the manual only offered with the entry level 318i and 318d models) and with power outputs ranging from 150PS right up to 374PS. If that latter figure isn't enough, there's the incredibly fast and capable BMW M3, while at the other end of the scale there is the ultra-efficient 330e plug-in hybrid that's a huge hit with business users.
Always hailed as the drivers' choice among small saloons, the 3 Series remains a fantastically enjoyable car to drive, whether it's powered by the 190PS 320d diesel engine, or (almost) any of its other four and six-cylinder engines. That's thanks to near perfect weight distribution, finely judged suspension and steering that's both nicely weighted and direct. The 3 Series' inherent balance means it's a nice car to drive at normals speeds, too.
You can also get your BMW 3 Series in Touring estate flavour for a dose of extra practicality. But even the saloon is roomier than it's ever been, with good amounts of space for four adults. It's pretty much best-in-class for that, too, while the interior itself looks and feels upmarket, with great technology and easy-to-use infotainment.
It's hardly surprising then that the BMW 3 Series has long been the benchmark car in the class for familiar rivals such as the also-popular Audi A4 and Mercedes C-Class, as well as slightly more fringe players like the Volvo S60, Jaguar XE and Alfa Romeo Giulia.
You might also consider mainstream alternatives such as the Peugeot 508, Volkswagen Passat, Mazda 6 and Volkswagen Arteon, even if none can match the BMW's driving experience or sense of quality. Trim choices follow the familiar path, with SE, Sport and M Sport derivatives, with xDrive denoting they're four-wheel drive.
If you're looking for the older version, you need our BMW 3 Series (2012-2018) review.
Is the 2022 BMW 3 Series right for you?
The BMW 3 Series is clearly right for so many people, or else why would you see so many on the road?
A big fleet seller, it's always had strong residual values, and BMW has worked to keep running costs palatable with low emissions and excellent fuel economy. A 320d is the answer to most motorist's questions, while a 330e does all that while saving your environmental conscience – it can complete short journeys using electric power alone.
But it also works for private buyers as the main family car. If you need more space, the BMW 3 Series Touring is equally as good.
The only people the BMW 3 Series isn't right for is those who want to stand out, because you'd be hard pushed to go for even a short drive and not see several. If that's what matters, you'd be better off trying one of its less popular rivals instead.
What's the best BMW 3 Series model/engine to choose?
There isn't really a weak link in the BMW lineup, but while the entry-level 318i is perfectly adequate if you're just pottering about, it doesn't really deliver the goods as a sports saloon. If you're looking at the lower end of the 3 Series range, we'd strongly recommend upgrading to the punchier 320i.
Diesel is clearly falling out of favour with new car buyers, and that's a pity because the 320d is a simply superb all-rounder. It delivers strong performance, decent refinement and the potential for over 60mpg if driven right.
BMW doesn't put a six-cylinder engine in the 330i any more, so if you want one of those you'll need to step up to the sportier M340i. That's a superb car to drive, but it isn't cheap to buy or run. However, there is still a six-cylinder engine in the 330d, which is a fantastic engine: silky smooth, powerful and still capable of 50mpg at a cruise.
If you're a company car driver, or looking to keep your running costs down to a minimum, then if your budget stretches to it the 330e is well worth considering. It can cover up to 41 miles on electricity alone making it one of our favourite hybrid cars going.
Trim levels include the Sport model, which blends sporty looks without a firmer ride, the plainer looking SE, or the M Sport car which has aggressive looks but a less comfortable ride. It's personal preference, really.
What other cars are similar to the BMW 3 Series?
The BMW 3 Series is joined by the Audi A4 and Mercedes-Benz C-Class in the posh family car class. They're its main competitors and sell in similar numbers.
However, there are plenty of alternative competitors that maybe aren't quite as good all-rounders, but still hold plenty of appeal. There's the stylish and great to drive Jaguar XE and Alfa Romeo Giulia, the comfortable and classy Volvo S60 and the left-field Genesis G70.
Mainstream brand competitors include the spacious and classy Volkswagen Passat and rakish Arteon, while the Mazda 6 might tempt you, likewise, if boot and passenger space is of upmost importance, the Skoda Superb dwarfs the 3 Series on interior space.
Comfort and design: BMW 3 Series interior
"BMW has always excelled at providing a good driving environment, and so it proves with its huge selling 3 Series. The design will be familiar to anyone who's had a 3 Series before, the driver-focused cockpit feel still evident, but with a more modern spin."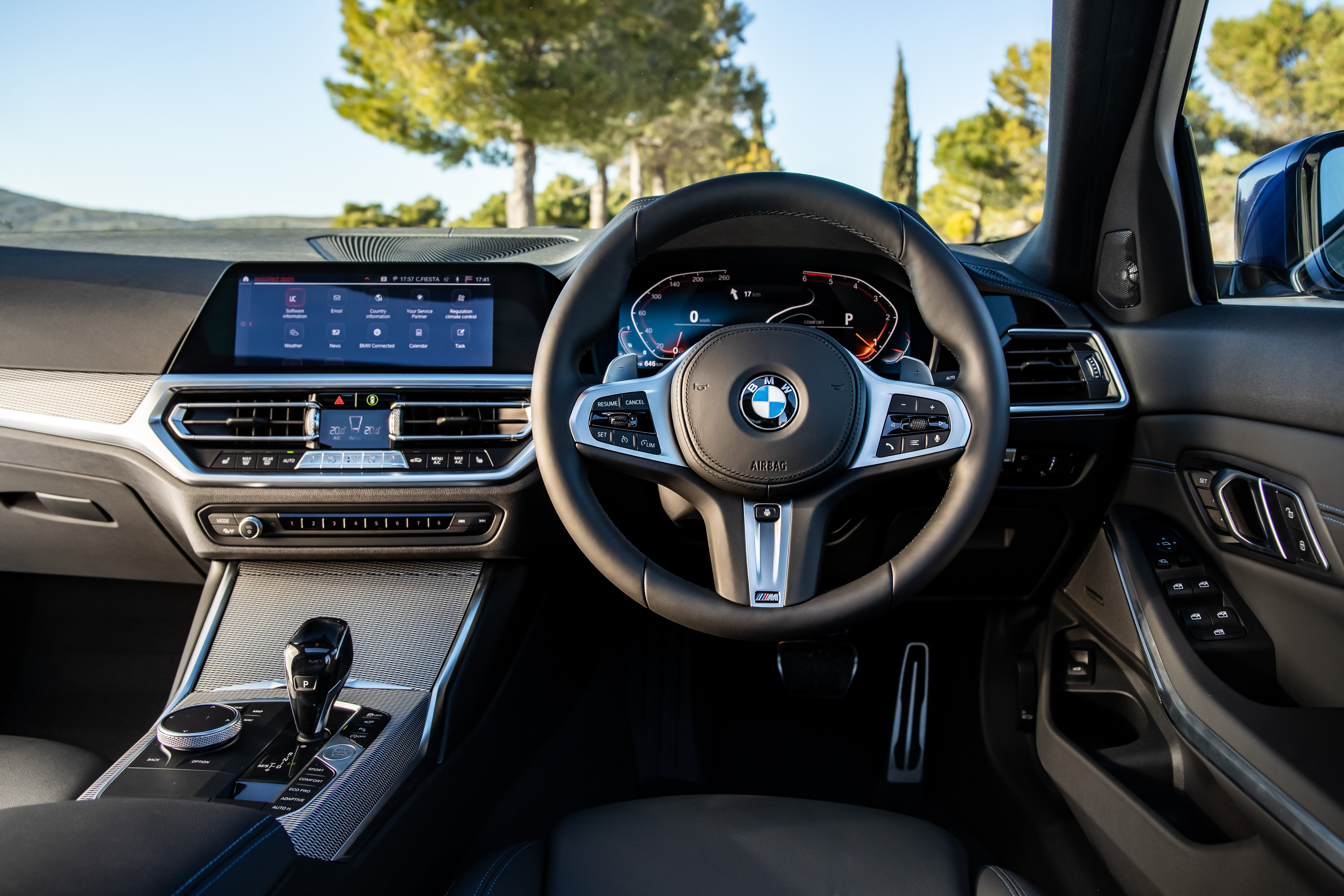 The latest BMW 3 Series has a much more classy and high-tech cabin than all of its predecessors, but BMW has still got the basics right.
The driving position is low and sporty, the seats are supportive and comfortable, and, from Sport trim upwards, they're all upholstered in leather. The SE Plus Package (available on SE models) adds black leather seats, which are heated for both the driver and passenger – and a larger fuel tank to help you make the most of that comfort.
Forward visibility is excellent for a modern car, although being a saloon it's not all that great trying to park it just by looking through the rear-view mirror. Happily, you get front and rear parking sensors, a reversing camera and a partial self-parking system as standard, while a full 360-degree camera system is on the options list.
All 3 Series models comes with ambient lighting and automatic air conditioning with three-zone control, Sport models add more contoured sports seats which embrace you that little bit tighter than SE's.
The Comfort Package, gives you a heated steering wheel, automatic tailgate opening, extended storage and a Comfort Access with smart opener – so you can open the car handsfree with your phone. Other packages worth optioning include the Premium Package, which adds electric seat adjustment and lumbar support for the front seats with a memory function for the driver's seat, and an electric glass sunroof. Lumbar support is available individually.
Space is better than in the previous-generation 3 Series because it's a larger car all-round. While it's not quite as commodious as the 5 Series, it's now a genuine alternative to mainstream family cars for those who want something that feels a bit more special.
While it's not quite as glamorous inside as the latest Mercedes C-Class, it's a match for the Audi A4 on tech and fit-and-finish. That technology is comprehensive, particularly if you spec the infotainment upgrade and digital dials. But BMW has kept the rotary click wheel as well as a touchscreen - that choice of interfaces means it's among the easiest systems to use of its type.
Quality and finish
The 3 Series is a premium model, with an upmarket badge, and the posh interior largely reflects this with high-quality soft-touch plastics and posh metal trim pieces. The infotainment and instrument screens also have high-definition displays with sharp colours.
It feels a cut above mainstream saloons and estates such as the VW Passat. Even when you start to poke and prod in the lower reaches of the cabin you'd be very hard pushed to find anything that doesn't feel suitably premium. It's the same in the rear, too.
Infotainment: Touchscreen, USB, nav and stereo in the BMW 3 Series
The BMW 3 Series offers a fast-acting touchscreen, but all of its functionality is replicated by the simple to use iDrive controller conveniently located on the transmission tunnel.
It works brilliantly. There are some scenarios where prodding the touchscreen is easier, but for the most part (and especially when driving) the rotary controller is simplicity itself. What's more, BMW gives you a neat little secondary display and button stack for the heating and ventilation rather than forcing you to interact with the main screen.
From the car's 2019 launch all models came with the BMW Live Cockpit Plus, which includes an 8.8 inch touch display, BMW navigation, BMW Concierge services, real time traffic information, remote services – so you can do things like check the car's remaining range using an app on your phone – and DAB radio. All also come with BMW Online Services, that includes BMW Apps, BMW Connected, BMW online services and voice control.
M Sport models upwards gain the Connected Package Professional, it adds connected navigation that can route around congestion and search for parking. M Sport models and above also gets BMW's Live Cockpit Professional, with sees the main screen grow to 10.25 inches, with the conventional instruments also replaced by an additional 12.3 inch screen.
That all changed towards the end of 2020, when BMW decided to upgrade the standard offering and most models came with the larger infotainment screen. Now, when you're buying new, even entry-level versions of the 3 Series come with the 10.25 inch infotainment screen and 12.3-inch digital instruments. The digital dial display isn't as configurable as that of the Audi A4, however.
To all that you can add a Technology Package, which adds a head-up display, a harman/kardon audio system and BMW Gesture Control so you can twiddle your finger in front of the dashboard to raise or lower the stereo volume. The latter does work, but it's a bit of a gimmick, and sometimes you find yourself activating it when you're just having a conversation.
As for Apple CarPlay and Android Auto smartphone connectivity? Well, the former has always been available, but BMW initially tried to charge a subscription fee for it. That was dropped entirely in 2019, meaning every 3 Series using the latest Operating System 7 software gets wireless CarPlay as standard. Similarly, Android Auto wasn't offered at all before the end of 2020, when BMW fitted it to new models and updated existing models to equip them with it.
Space and practicality: BMW 3 Series boot space
The latest BMW 3 Series is larger than the model it replaced. In terms of dimensions it's 4,713mm long, 1,827mm wide and 1,435mm tall, which is around 90mm longer and 14mm wider than the old car.
That's allowed the company to free up a load of extra rear seat room. Tall adults will have plenty of room even if you and your front-seat passenger are also tall, there's more than enough foot and knee room and even six-footers won't feel short changed on headroom.
Okay, so your middle seat passenger gets a raw deal because the large transmission tunnel that runs down the middle of the floor eats up the space for their feet and they'll feel squeezed for elbow room. That said, it's no more crushed than in any of the BMW's competitors (in fact, it's better than most) and the seat itself is reasonably compliant, not overly firm like you get in some cars.
Oddment storage throughout is decent, with good-sized door bins and glovebox, with the Comfort Package adding Extended Storage including a compartment on the driver's side of the dashboard, seatback nets, twin USB charging points in the rear, storage hooks, a 12-volt socket in the boot as well as a handsfree, powered bootlid.
Open that boot and the space is good, with a quoted volume of 480 litres for all conventionally powered models, dropping to 375 litres with the 330e model thanks to the battery pack being fitted under the boot floor. The 330e also loses the standard 40/20/40 split fold seating, which increases the luggage space and allows for longer through loads.
The 3 Series' boot is usefully accessible, with a wide opening aiding getting luggage in. If you need more practicality from your 3 Series then check out the Touring model here. Two Isofix mounts for child seats come as standard and are positioned on the two outer rear seats.
Handling and ride quality: What is the BMW 3 Series like to drive?
"The front engine, rear-wheel drive layout isn't unique to BMW. Mercedes-Benz and Jaguar do the same, but BMW has long been the best at exploiting the most engaging drive from this setup, by offering a superb balance and direct steering. Any 3 Series is a joy to drive down a twisty road because of this."
For decades the BMW 3 Series has set the class standard in terms of its engaging driving experience. Some rivals have beaten it for out-and-out comfort, but few have come close on handling terms.
That continues with the latest model. The steering is direct and well weighted, the 3 Series feeling light and nimble, with responsive turn-in, good grip levels and fine balance. Only the Jaguar XE and Alfa Romeo Giulia can compete when it comes to driving fun.
That's true in its standard SE guise, on the smallest of wheels and regular (not run-flat) tyres, but the larger wheels fitted to high-end models do spoil the supple suspension a little, meaning a well-specced Mercedes C-Class is more comfortable. That said, BMW will swap the firmer M Sport suspension out for the standard set up free of charge if you want to.
Pick the M Sport Plus package on M Sport models and you get adaptive dampers, which offer the best of both worlds, taut control when you want it, but with the ability to have a supple ride for more comfort. XDrive four-wheel drive is offered across a number of models, its not really necessary, unless you frequently drive on slippery roads, or want additional stability when towing.
What engines and gearboxes are available on the BMW 3 Series?
The BMW 3 Series offers a strong range of petrol, diesel and hybrid engines. Only the very smallest engines are a tad underwhelming, but otherwise all are excellent.
The base petrol is a 156PS 2.0-litre turbocharged four-cylinder badged the 318i, while the base 318d diesel also uses a 2.0-litre turbo four-cylinder making 150PS. While both are perfectly adequate and do the job that's expected of them, they don't offer sparkling performance to allow you to really enjoy the excellent driving dynamics of the 3 Series.
On the petrol side, then, we'd step up to the 184PS version of the same engine badged 320i, or go further with the 288PS model badged 330i. The latter in particular offers strong performance, but the four-cylinder noise that accompanies them isn't particularly inspiring. The 320i achieves 0-62mph in 7.1 seconds (7.6 with xDrive) and the 330i manages it in 5.8 seconds.
If you want a six-cylinder engine with a creamy growl, you'll need the range-topping M340i, which has a twin turbocharged 3.0-litre with 374PS. It manages 0-62mph in just 4.4 seconds, some four seconds faster than the 318i, and makes a good noise in the process. It's expensive, though and won't be all that efficient.
Diesels have been core to the model's success in the past, and there's plenty of choice, here, too. As we said, we'd step up from the 318d to the 190PS 320d, which offers effortless performance and is even quite good fun. 0-62mph comes up in a brisk 6.8 seconds.
Again, though, you might be swayed by the pace and smoothness of the six-cylinders. The 330d gets a 3.0-litre turbodiesel with 286PS and the diesel line-up is topped out by the 340PS 340d – both have six-cylinders that make them more cultured than the lower-ranking diesels. They even make a pretty good noise, while both are pretty rapid. The 340d manages 62mph in just 4.6 seconds, the 330d does the same in 5.1 seconds.
While if you're conflicted between performance and the environment, the 288PS 2.0-litre petrol/electric hybrid in the 330e is the perfect compromise, with plug-in power for local (up to 41 miles) of electric only driving, and a four-cylinder turbocharged petrol for longer trips.

The 318 models are the only cars in the 3 Series line-up to be offered with a manual transmission, with an eight-speed automatic being standard across the rest of the range. It's a slick automatic, with quick shifts.
Refinement and noise levels
All versions of the BMW 3 Series are quiet on the move, the four-cylinder diesels a little bit more vocal – very marginally so - than their smooth petrol alternatives, but not so much that it's an issue.
The six-cylinder engines (whether it's petrol or diesel) are all superbly refined when you want them to be and make a nice noise when you want that, too.
All models come with acoustic glass, which helps dampen down wind noise, and the effects are obvious on a cruise, making the 3 Series a hushed, pleasing place to while away motorway miles.
The 330e only increases the refinement levels thanks to its ability to run on electricity alone adding to the serenity, and underlining the 3 Series' good overall refinement.
Road noise is largely contained, but nastier combed concrete surfaces and expansion joints do see some road roar making it through to the interior. It's more notable on models with larger wheels and run flat tyres, as well as those on the M Sport suspension.
Safety equipment: How safe is the BMW 3 Series
BMW's Active Guard Plus comes as standard on all BMW 3 Series, so you get safety features such as Front Collision warning with brake intervention, Lane Departure Warning and Speed Limit Assist. There's Parking Assistant, too, which includes a rear-view parking camera and parking sensors front and rear to help you avoid low-speed dings.
All models also get traction and stability control (unsurprisingly), while should an accident be unavoidable there's front side, chest, knee, pelvis and curtain airbags, and a pair of ISOFIX child seat mountings on the rear outer seats.
For autonomous driver assistance you need to tick the options boxes, with Driving Assistant Professional adding Active Cruise Control, Automatic Speed Limit Assist, Crossing Traffic Warning Front, Crossroads Warning and City Braking Function, Evasion Aid, Lane Keeping Assistant with Active side collision protection and Steering and Lane Control Assistant – this suite of advanced aids is only offered on M Sport models and upwards. Fitted, it means the BMW can essentially drive itself in certain situiations.
Auto dipping headlights and BMW's powerful laser headlights are also optional across the range.
In 2019, Euro NCAP awarded the BMW 3 Series a full five stars for crash safety. Its adult occupant protection score of 97% was particularly impressive, while other scores across the board are very strong.
Maximum EV range
The 330e offers a combined output of 288PS from its petrol/electric plug-in hybrid powertrain, with the battery and electric motor able to offer a 41 mile range on electric power alone in perfect test conditions. Expect a real-world figure in the early 30s, then. It'll drive up to 87mph in electric only mode, too, and using the sat nav allows you to maximise range. It's also possible to hold a percentage of battery charge for destination electric-only use.
MPG and fuel costs: What does the BMW 3 Series cost to run?
"The BMW 3 Series caters for all running cost demands. The four-cylinder diesels are the best for all-journey real-world efficiency, but the plug-in hybrid trumps those if used correctly. Even the six-cylinder models are pretty efficient given their output."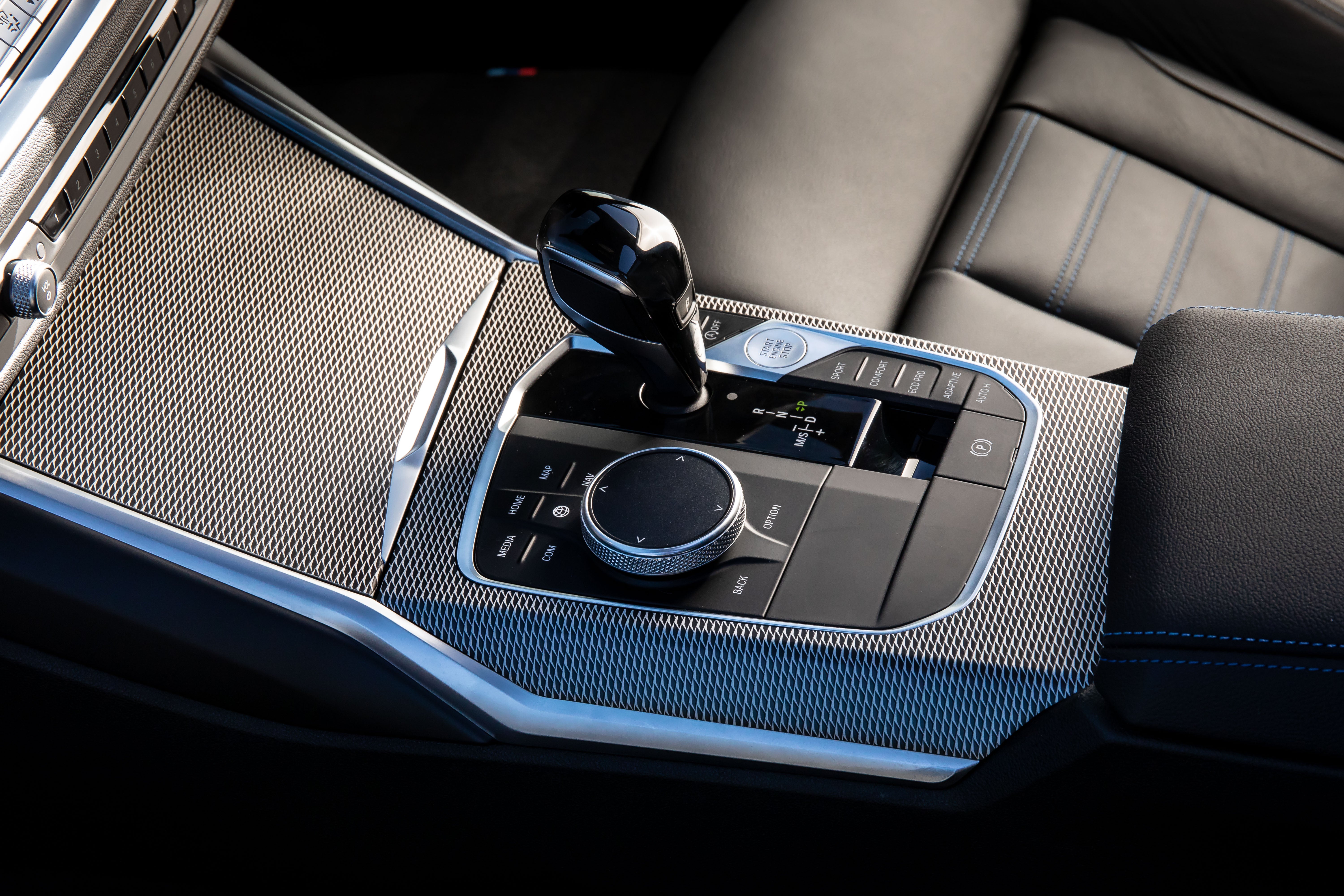 For pure combustion engine power it'll be no surprise that the diesels are the fuel economy champions. BMW claims up to 58.9mpg for the 318d with a manual gearbox, and 62.8mpg with the automatic. The 320d is only slightly behind that, managing up to 61.4mpg combined on the WLTP cycle with the automatic.
The six-cylinder diesels take a bit of a penalty, but 56.5mpg for the 330d isn't half bad for a powerful six-cylinder. The four-wheel drive only M340d, however, sees that fall to 46.3mpg combined.
The four-cylinder petrols, which all use the same motor in a different state of tune, range from 44.1mpg for the 318i to 43.5mpg for the 330i. Step up to the xDrive four-wheel drive M340i and that figure falls to 36.7mpg.
Adding xDrive four-wheel drive, which is possible on many of the petrols and diesels, takes a chunk out of the quoted fuel economy.
Charging the 330e hybrid takes around three and a half to four hours via a home wallbox or public charging point, while a conventional domestic socket will roughly double that time. It's the economy champion on paper, with a quoted mpg figure of in excess of 130mpg, but that's under favourable testing conditions.
In the real world that figure will vary massively depending on how often you plug it in. Use it on a long journey without charging stops, and it won't be that much more efficient than the regular 330i.
How reliable is the BMW 3 Series?
BMW finished in the bottom half of brands in the latest HonestJohn.co.uk Satisfaction Index, right next to Audi. It's behind key rivals such as Volvo, Jaguar and Mercedes, and well behind the traditionally reliable Lexus brand.
Having said that, the recent scores in the survey are relatively close, and the sheer number of BMWs on the road mean it's more likely that problems will be reported more frequently. So far, this generation of 3 Series hasn't been particularly problematic. As long as the maintenance schedule has been rigidly stuck to, a used 3 Series is a pretty safe bet.


Insurance groups and costs
With such a wide choice of models, prices and performance it's hardly surprising that the insurance spans from Group 24 for the entry-level petrols and diesels, right up to 42 for the M340d.
VED car tax: What is the annual road tax on a BMW 3 Series?
Keep to the low and mid-range engines and trim levels and you'll avoid the 'premium car' tax, which applies to models over the £40,000 list price threshold.
Stray over that figure, though, and you'll pay an additional £355 in VED on the first five years after registration, on top of the original road tax price.
That standard first-year rate ranges from £190 to a whopping £945 for the most polluting M340i. After that, though, the figure drops to £165 regardless of which version you have.
The exception is the 330e, which will cost you £10 in the first year before defaulting to that £165 figure.
How much should you be paying for a used BMW 3 Series?
"The current BMW 3 Series has been around for a few years now, but its desirability means prices are pretty rock solid."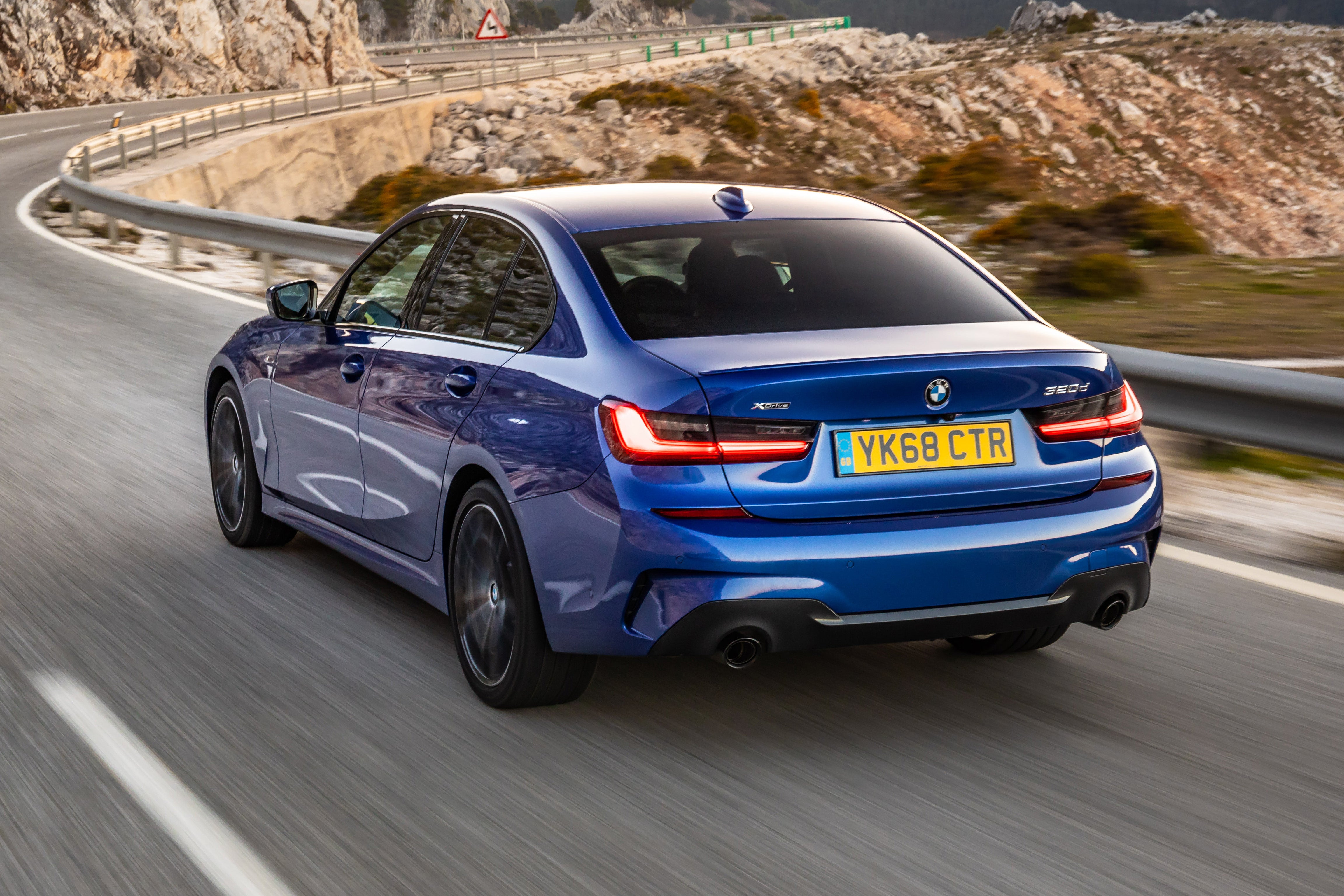 Expect to pay just under £20,000 for a 2019 318i or 318d SE with 40,000 miles on the clock. Larger engines command a bit of a premium, but stepping up to a 320i or 320d won't be too significant.
M-Sport spec is the most desirable out there, with prices starting at around £24,000 for those. The cheapest six-cylinder models are the 330d, which starts at around £31,000.
Trim levels and standard equipment
SE has 17-inch alloy wheels, acoustic glass, LED headlights, three-zone climate control, Bluetooth, Apple CarPlay and Android Auto, sat nav, DAB plus park distance control with a reversing camera.
Sport models add 18-inch alloy wheels, aluminium exterior trim, larger 59- litre fuel tank, heated front seats, leather upholstery, sports front seats and high gloss black design elements outside while M Sport goes one further with M Sport alloy wheels, BMW Live Cockpit Professional, Connected Package, M Sport design inside and out and M Sport Suspension
The M Sport Plus Edition comes with 19-inch alloy wheels, Adaptive M suspension, M Sport braking, M Sport Differential, M Seatbelts and further M Sport styling.
M340i/d xDrive models have 19-inch wheels, Adaptive M Suspension, six-cylinder engine, BMW Advanced HIFI and square dual exhaust pipes.
Ask the heycar experts:
common questions
Is the BMW 3 Series a good car?
It's an excellent car. It's comfortable, great to drive, has a superb interior and is even pretty roomy. Pick the right engine and running costs are low, too, while at the other end of the scale there's some fun and powerful engines.

What is the most reliable BMW 3 Series?
Generally speaking we'd look to go for one with modest spec if reliability is the most important thing, simply because there's less to go wrong. It's too early to well which of the latest 3 Series engines will be the most reliable.

Which is better: the BMW 320i or 320d?
The answer to that is subjective, and diesel isn't for everyone. But on paper, the 320d has more torque, slightly more power and much better fuel economy, so it would be our pick.

Answered by
Lawrence Allan
BMW 3 Series cars for sale on heycar
3,193
Number of cars available
£11K - £50K
Price bracket of these cars
Colours available on heycar
Keep me updated by email with the latest advice, news and offers from heycar
By submitting, you agree to our
privacy policy
.