BMW 4 Series Coupe Review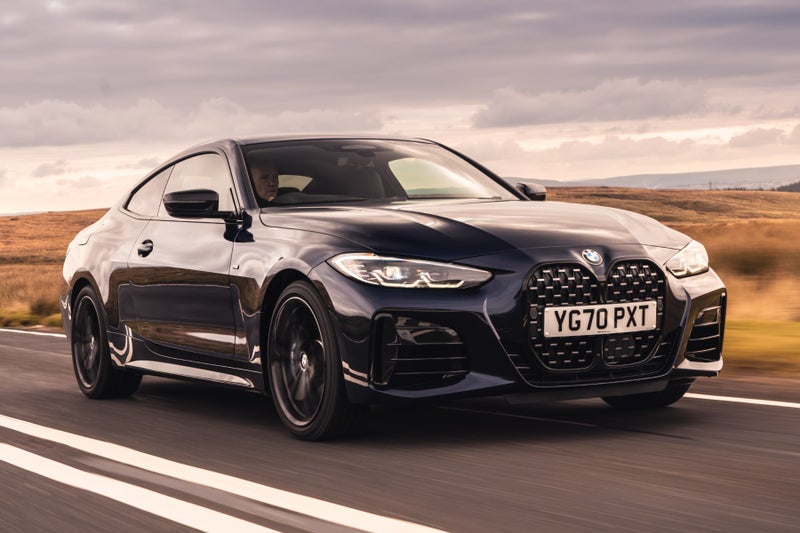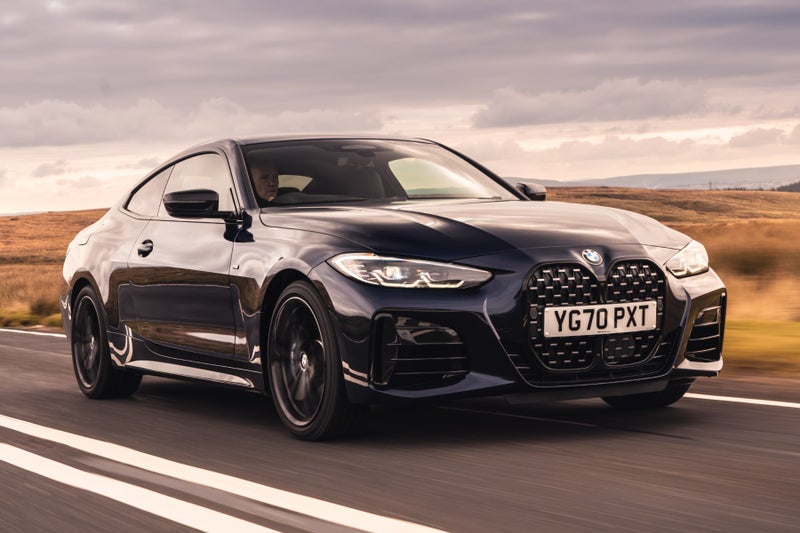 1/10
heycar rating
"Willing to overlook that grille?"
Launched: 2020

Coupe

Petrol, Diesel
Quick overview
Pros
Great to drive
Impressive infotainment system with Apple CarPlay and Android Auto
Feels more special than a 3 Series
Cons
Rivals are more practical
Firmer than an Audi A5
Not everyone likes how it looks...
Overall verdict
On the inside
Driving
Cost to run
Prices and Specs
Common questions
Overall verdict
"The BMW 4 Series Coupe is a car that makes a statement. It's more than just a 3 Series with a rakish roofline and two fewer doors; it's a stylish coupe that could almost be considered alongside a Porsche Cayman (albeit with an extra dose of practicality)."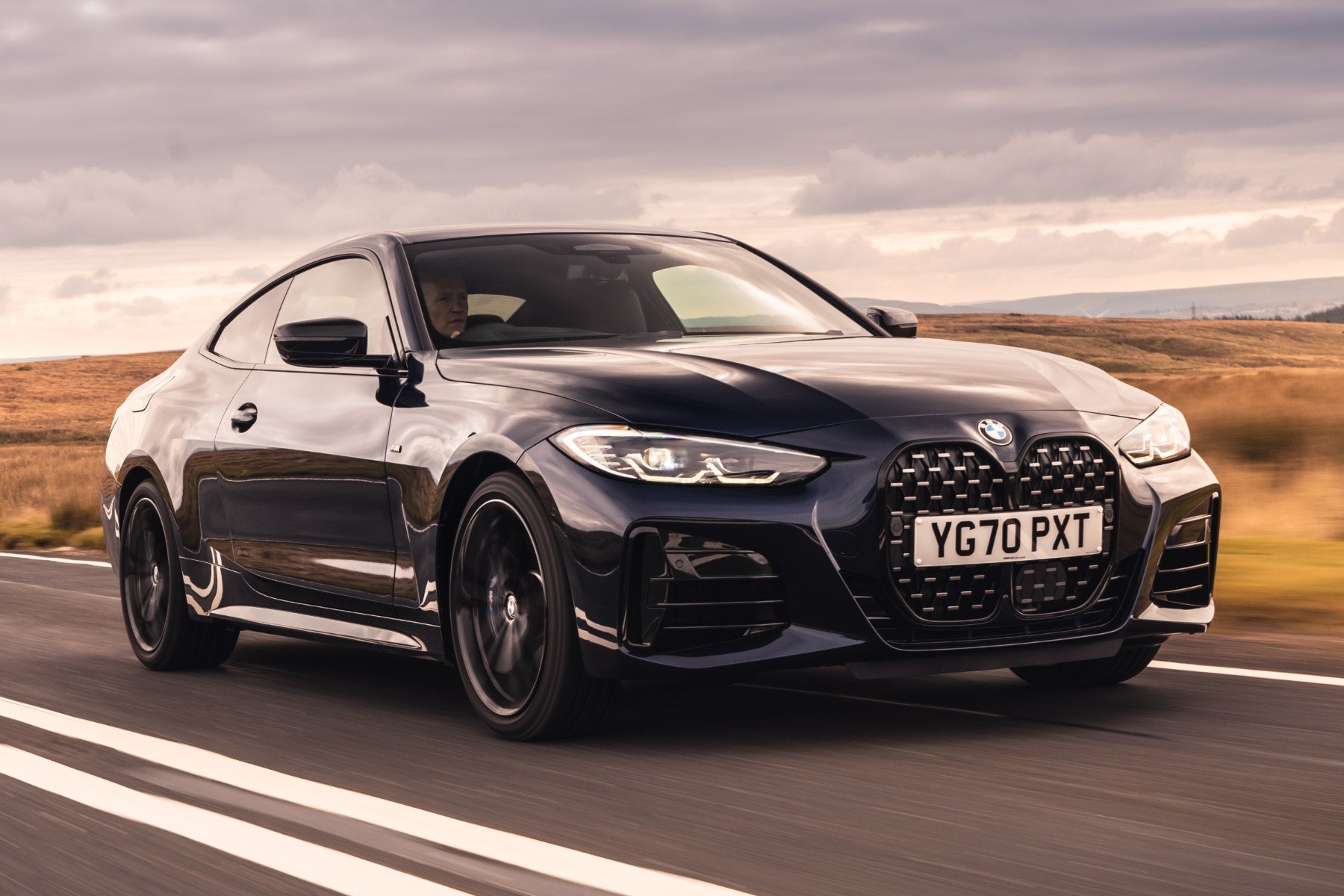 Its designers wanted the 4 Series Coupe to stand out. And it certainly does that. You won't have got this far without noticing the colossal grille on the front of the car - arguably the most controversial automotive design feature of recent times. If you hate it, you could spend your money on an Audi A5 or Mercedes-Benz C-Class Coupe instead, but we reckon you'd be missing out.
Indeed, the 4 Series looks pretty phwoar when you view it from the rear. And, even from the front, it's certainly less offensive in the metal than it is in pictures - so don't dismiss it just yet. You can make your own decision about the coupe's design but, to its credit, BMW certainly can't be accused of treading carefully.
Fortunately, designers haven't done anything too weird inside. It feels pretty much like a BMW 3 Series, with lots of lovely materials and feel-good fabrics. All models are well-equipped with leather seats as standard across the range, as well as the brand's latest infotainment system. This is excellent, with Apple CarPlay and Android Auto as well as BMW's Intelligent Personal Assistant. In theory, this works a bit like Alexa but, in our experience, it's a bit on the clumsy side.
Of course, the 4 Series Coupe is not as practical as a 3 Series (although a more versatile Gran Coupe is on its way). It's a strict four-seater at best, with the rear seats needing some yoga-like moves to access. They're fine for occasional use by children, though, and the boot will be big enough for the weekly Waitrose shop.
Being a BMW, the area in which the 4 Series really impresses is how it drives. Even the entry-level 420i (which, actually, is probably our favourite model) is a lot of fun, with power being sent to the rear wheels and lovely, communicative steering keeping you on the road. When you just want to get to your destination, the 4 Series does that too - it's a remarkably civilised car, although you will notice the odd bump in the road (especially if you buy one with the bigger 19-inch alloy wheels).
While the majority of buyers are expected to go for a 420i, there's also a diesel model (420d) for those long-distance drivers. An M440i ticks the enthusiast box, too - at least until a hot M4 variant arrives.
Marmite looks aside, there's little to dislike about the new BMW 4 Series. It's got a superb interior, is brilliant to drive and is loaded with tech that's easy to use. Chuck in surprisingly low running costs and high equipment levels and we rate the 4 Series very highly indeed.
If you're looking for the older version, you need our BMW 4 Series (2013-2020) review.
Is the BMW 4 Series Coupe right for you?
If you want a premium car that's going to get the neighbour's tongues wagging (Neighbourhood Watch will be inundated with complaints about the grille), the BMW 4 Series is a superb choice. It's more stylish but less practical than the 3 Series, while it's cabin will make you feel good about life for every minute you spend in it.
While rivals are perhaps less challenging in their aesthetics, the BMW 4 Series is the choice for anyone who enjoys driving. There's an engine to suit every requirement - all of which are fun to drive and won't cost a fortune to run.
What's the best BMW 4 Series Coupe model/engine to choose?
We really rate the most affordable BMW 4 Series: the 420i. It's the sweetest handling and its 2.0-litre engine will be quick enough for the majority of buyers. It even sounds pretty characterful (in sport mode) while, as the lightest of the bunch, it's also the most fun to drive. Save your money and go for this, unless you cover mega miles in which the 420d might make more sense.
What other cars are similar to the BMW 4 Series Coupe?
Comfort and design
"While the exterior design of the latest 4 Series might be proving controversial, there's little to dislike about the cabin."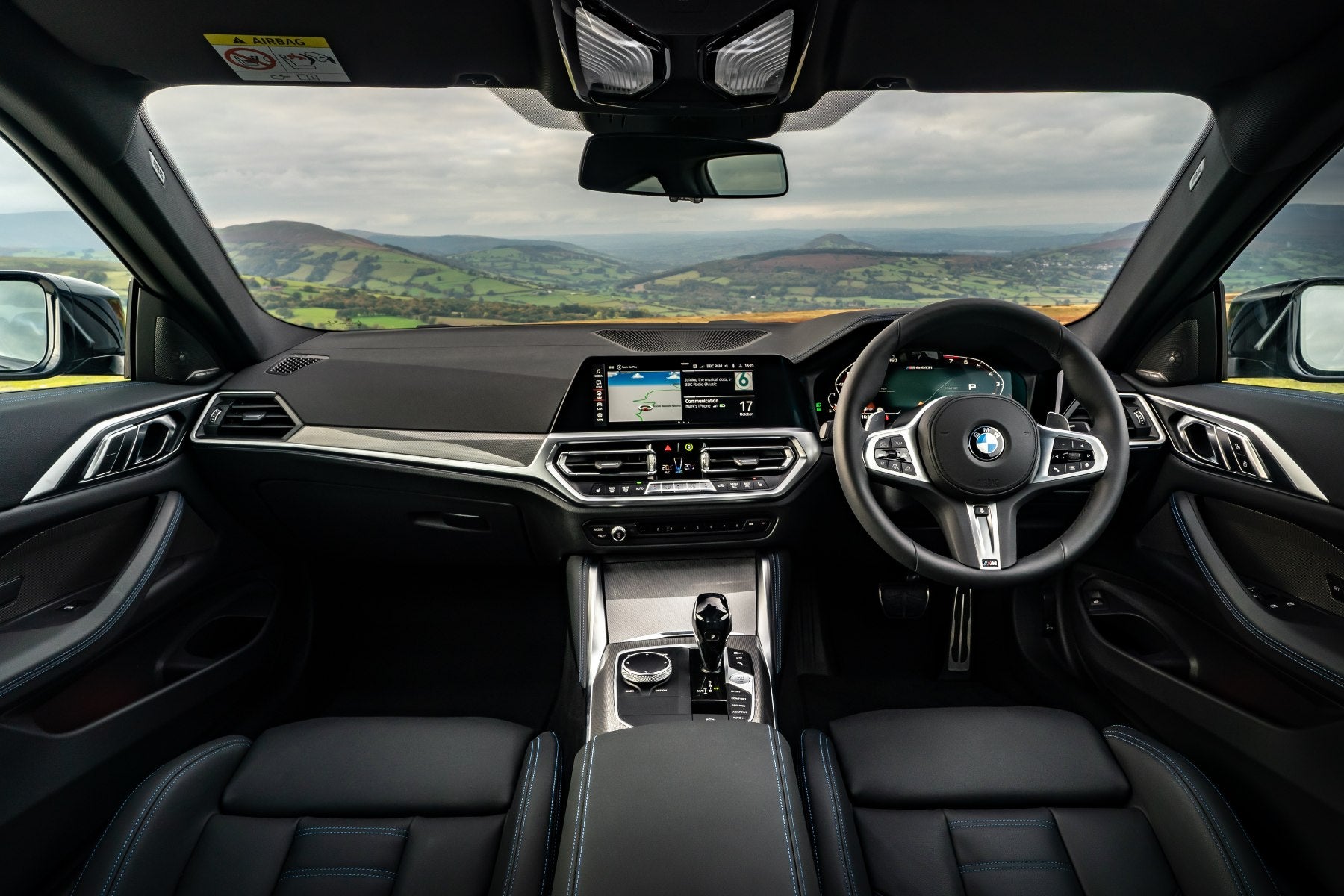 Take a seat in the driver's seat and there's a satisfyingly thick, meaty steering wheel in front of you, garnished with buttons controlling things from the cruise control to the sound system. There are quite a lot of buttons on the dash, too (a criticism of ours with the very similar 3 Series), but that's probably preferable to having to control everything via the touchscreen.
The seats are supportive enough, although you'll have to look for an example with the optional Comfort Plus Package for adjustable lumbar support and electric seat adjustment. That's a shame, really, having to manually adjust feels a bit rubbish in a £40k+ premium car (but the 4 Series Coupe is no different to rivals in this regard).
Quality and finish
Start tapping around low-down in the cabin and you might find a few firm plastics but, by and large, the 4 Series Coupe's cabin feels just as upmarket as you'd expect from a BMW.
All 4 Series models are highly equipped so that helps with the premium ambience. Leather seats are standard across the range, as is a leather-trimmed steering wheel and ambient lighting. It just looks and feels like a classy place to sit.
If we had one criticism, it's that the top-end M440i doesn't feel that different to the 420i. You'll notice a few minor upgrades inside (the M seat belts, for example), but that's about it. This is more of a statement about how well finished the entry-level car is than a knock on the top-spec model, though.
Infotainment
A wide 10.25-inch display forms the basis of the infotainment in the 4 Series Coupe. We like it - not just because of its quick responses, sharp graphics and sensible menu layouts, but also because it can be controlled via a rotary trackpad controller next to the gear lever.
That means it's much safer to use on the move than touchscreen-only systems and, if you'd prefer, it also responds to 'hey BMW' voice commands. It's pretty clever… to a point. It'll respond to vague inputs ('I'm cold', for example) and it can even perform tasks like dropping the windows. But, like a lot of these systems, it has its limits - soon becoming confused and asking you to repeat the command until you give up and press a button instead.
Smartphone integration is standard across the range, meaning you can access your phone's features wirelessly via Apple CarPlay or Android Auto. Look for a 4 Series with the Technology Package for wireless phone charging, WiFi hotspot preparation and a cool (if a little gimmicky) gesture control feature which lets you wave in front of the media system to do things like skip tracks or adjust the volume.
There's a 12.3-inch digital instrument display as standard across the 4 Series range, too. Like a lot of similar systems, this has a tendency to overload you with information, but it's nothing you won't soon get used to.
Space and practicality
There's plenty of space in the front of the BMW 4 Series Coupe. You have to lower yourself down into it (a novelty in a world of SUVs) but, once you're there, it certainly doesn't feel cramped. A tall adult driver will find it perfectly comfortable, and you're not going to be bashing elbows with your passenger.
There's a reasonably big centre console storage box under the armrest, while the door bins will carry a fairly large bottle of water. There's a couple of cup holders, too, and a slim glove box.
Of course, the 4 Series Coupe isn't really meant for carrying rear passengers. You have to climb into the rear seats (until the Gran Coupe arrives, it's two-door only) and, once there, any adult will feel pretty cramped thanks to the dropping roofline and tight legroom. The small windows might make children feel pretty claustrophobic or even travel sick, too, although you will find Isofix points back there to make fitting a child seat that little bit easier.
At 440 litres, the boot's a pretty good size and usefully square in shape. You'll squeeze a set of golf clubs in there, but don't expect a handy underfloor stowage area for storing odds and ends. There's a bit of a lip for lifting heavy items over, too. If you need more space, the rear seats split 40:20:40 and drop easily using levers by the boot opening. Once dropped, there's a fairly flat floor, but there's no getting around the narrow boot opening.
Handling and ride quality
"We rate the 3 Series as one of the most rewarding executive saloons to drive, so it's no wonder the sleeker 4 Series Coupe feels pretty special. It's just as agile as you'd expect from BMW, with the rear-wheel-drive setup (in most models) punching you out of bends and leaving the front wheels to handle the steering."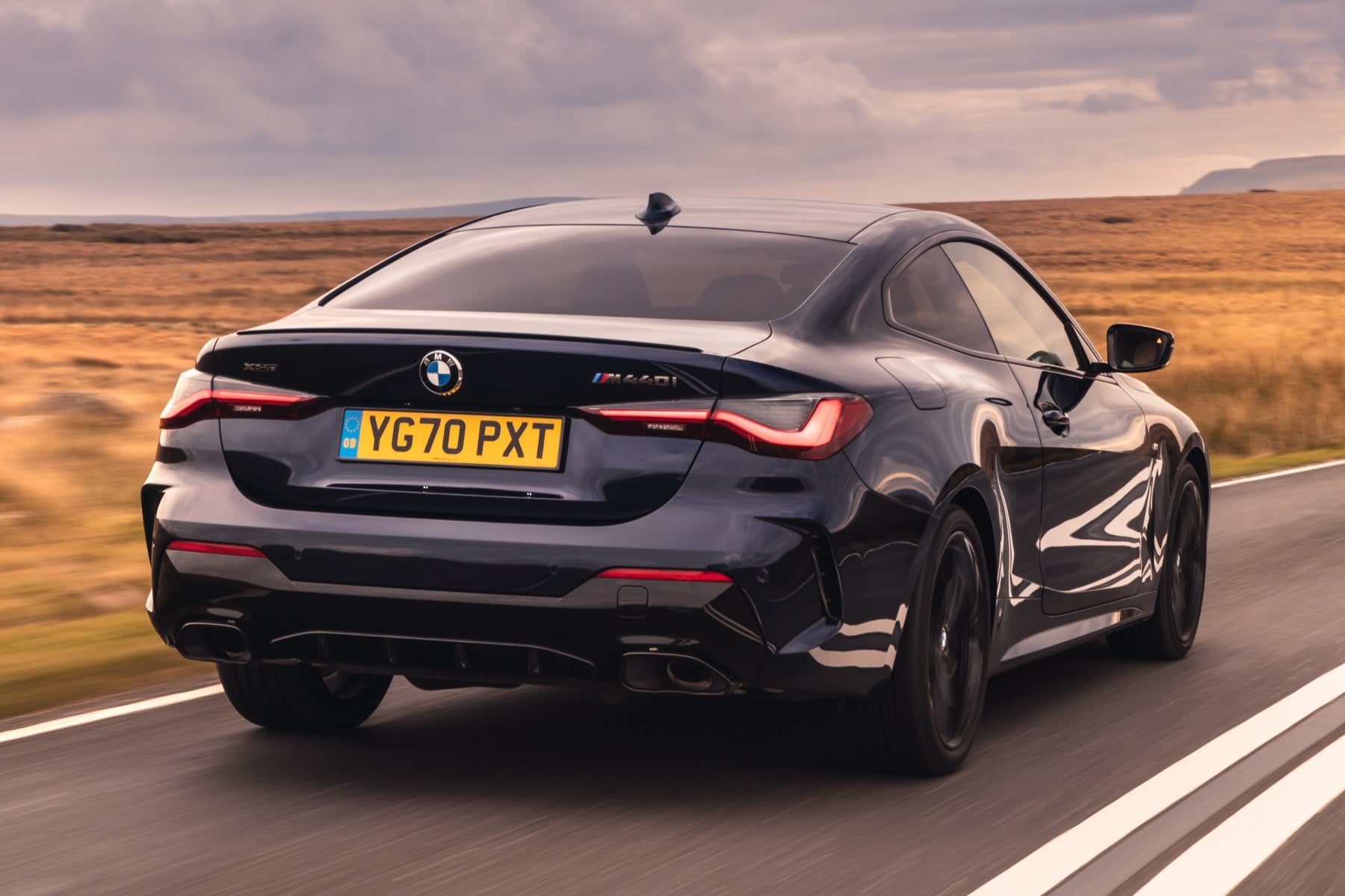 In terms of handling, the entry-level 420i is actually the sweetest. Its lightweight four-cylinder engine ensures the front end is really keen to turn in, and you can actually have a lot of fun in the most affordable 4 Series Coupe.
While the standard rear-wheel-drive 4 Series is in no way intimidating to drive, the xDrive four-wheel-drive models will appeal to those whose commute often features slippery roads. Available as an option on the 420d and standard on the M440i, xDrive will juggle power between the axles to ensure you've always got grip. A trade-off is that the xDrive models feel a little heavier and less agile, so be sure that you really need four-wheel drive before ticking that box.
While the BMW 4 Series Coupe feels noticeably sportier than the Audi A5, a trade-off is a slightly firm edge to the ride quality. We've only driven it on 19-inch wheels (18-inch alloys are also available and might provide a slightly softer edge), but you'll certainly notice bumpy roads. That said, it's fairly compliant and comfortable enough on smooth motorways.
Engines and gearboxes
Don't think you have to spend a fortune on a high-spec 4 Series Coupe to get a decent engine. The majority of buyers will opt for the entry-level 420i and, frankly, it's all most of us will need. It's a 2.0-litre petrol with 184PS, meaning it has plenty of punch for motorway driving and overtaking slower traffic.
If you want a bit more power, there's a 430i with a 2.0-litre four-cylinder petrol engine which will appeal to the enthusiast buyer. We've yet to try this but, going by our experience of the same engine in other BMW models, it won't disappoint (provided you can put up with the slight drop in fuel economy).
Rivalling the Audi S5 and Mercedes-AMG C43 Coupe is the six-cylinder M440i. This packs a hefty 374PS from its 3.0-litre petrol engine. Combine this with xDrive four-wheel-drive (which is standard on the range-topper) and you've got a car that'll make serious progress in all conditions.
Of course, there's still a market for diesel-powered coupes. The 420d ticks that box, producing 190PS from its 2.0-litre turbodiesel unit. It's usefully punchy, especially at low revs, which makes for effortless driving. It's available with two- or four-wheel-drive, too.
All 4 Series models come with BMW's eight-speed automatic gearbox. That's good news as it's one of the best on the market, providing speedy gear changes and no noticeable pause when you wish to pull away from a standstill. That's not something that can be said for all automatic gearboxes used in premium German cars (we're looking at you, Audi).
Refinement and noise levels
When you're in the mood to relax and just want to get to your destination in comfort, the BMW 4 Series Coupe turns into an uber-comfortable GT car. It'll waft along quite happily, doing a commendable job of buffering the driver (and your passengers) from the outside world.
Most of the noise you'll hear comes from the suspension, but that's not helped by the 19-inch alloy wheels of our test car (go for the smaller 18-inch wheels if you're more fussed about ride comfort than turning heads).
If you do want a bit more noise, all 4 Series models come with a number of selectable drive modes - the sportiest of which will ramp up the sound in a slightly artificial manner. The M440i sounds the throatiest, but that's because there's a 3.0-litre six-cylinder petrol engine under the bonnet. Some electrical wizardry can make even the 420i sound quite entertaining, though.
Safety equipment
Although the BMW 4 Series Coupe hasn't been crash-tested by Euro NCAP, we'd be very surprised if it achieved anything less than five stars out of five. The very similar 3 Series achieved five when it was tested in 2019, including a very impressive 97 per cent score for adult occupants.
A plethora of camera images and data gathered by sensors to monitor the car's surroundings means the 4 Series is available with a wide range of intelligent driver assistance systems. Unfortunately (or fortunately, depending on your point of view), most are part of the optional Driving Assistant Professional pack, which itself forms part of the Technology Plus package.
Clever tech on hand to keep you safe includes city braking function, lane-keeping assistant, wrong-way warning and even an automatic speed limit assist (which can automatically adjust the car to the speed limit when driving).
MPG and fuel costs
"High-mileage drivers should opt for the diesel 420d. In standard M Sport guise, this returns up to 61.4mpg in official WLTP fuel economy tests (dropping to 57.6mpg with xDrive)."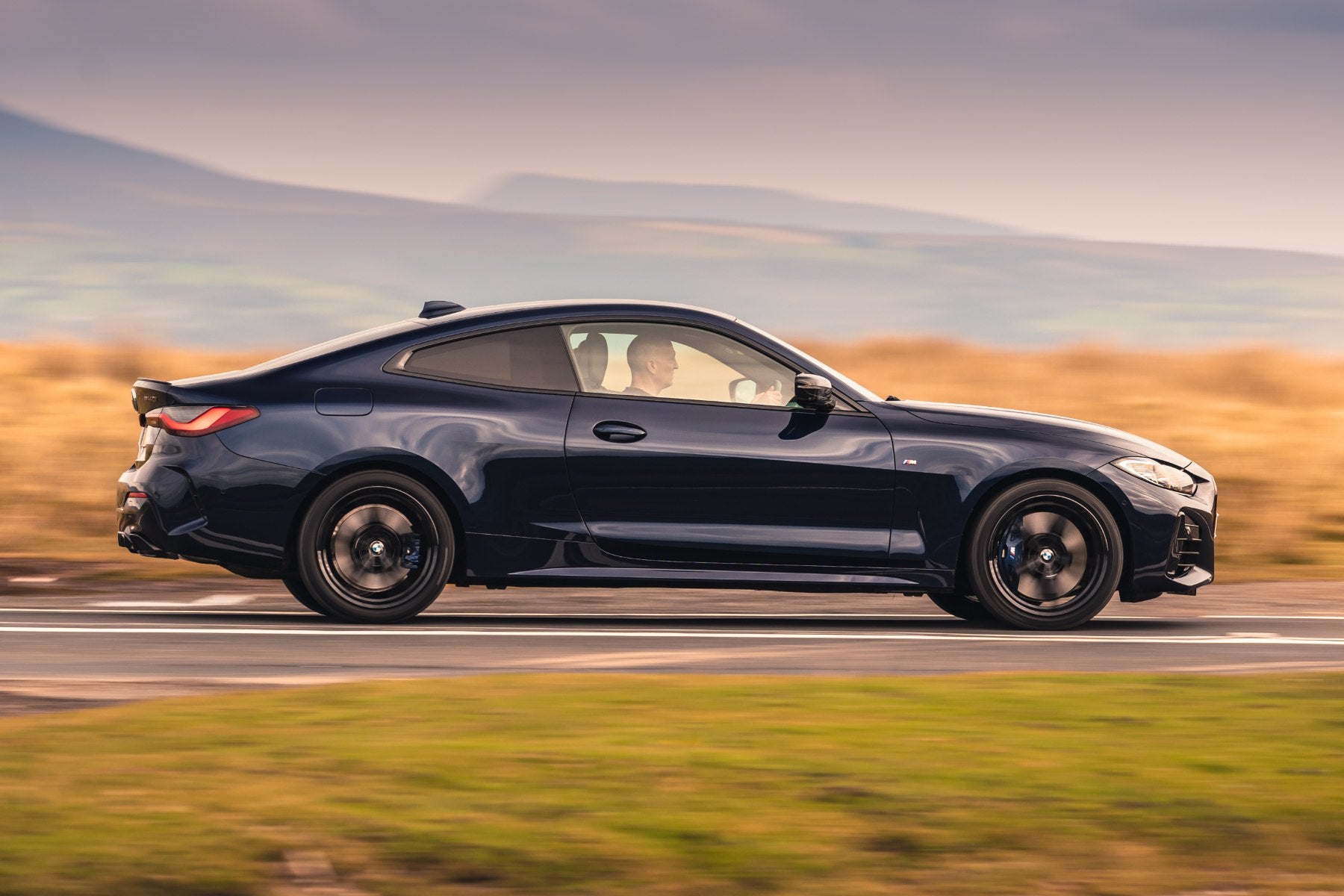 None of the BMW 4 Series Coupe models are particularly thirsty, however. A standard 420i returns up to 44.1mpg, while the 430i in M Sport trim is good for 42.2mpg. Even the pretty rapid M440i is officially capable of up to 36.7mpg.
Insurance groups and costs
Insurance groups for the BMW 4 Series Coupe are yet to be confirmed but, with its premium badge and sporty credentials, it's not going to be cheap for young or newly-qualified drivers. It's worth shopping around for insurance quotes, though - it shouldn't cost a fortune for experienced drivers to insure, and the BMW 420i is hardly a high-performance car.
VED car tax
The amount of VED (car tax) you'll pay on a BMW 4 Series Coupe depends on a wide range of factors. The first year's VED is based on CO2 emissions and lumped into the on-the-road price.
After that, the DVLA charges a flat rate of £150 a year for most cars. Mild-hybrid models (including the 420d and M440i) are classed as 'alternatively-fuelled' so you'll get a discount of £10 a year, bringing the yearly VED payment down to £140. But then, as all BMW 4 Series models have a list price of more than £40,000, you'll pay a 'premium car' tax of an extra £325 a year for the five years (from the second time the car's taxed).
Still with us? Essentially, you'll pay £465 a year in tax for the first five years for mild-hybrid models, and £475 a year for the rest of the 4 Series range.
How much should you be paying for a used BMW 4 Series Coupe?
"The latest BMW 4 Series is still very new but there are cars in showrooms and deals to had."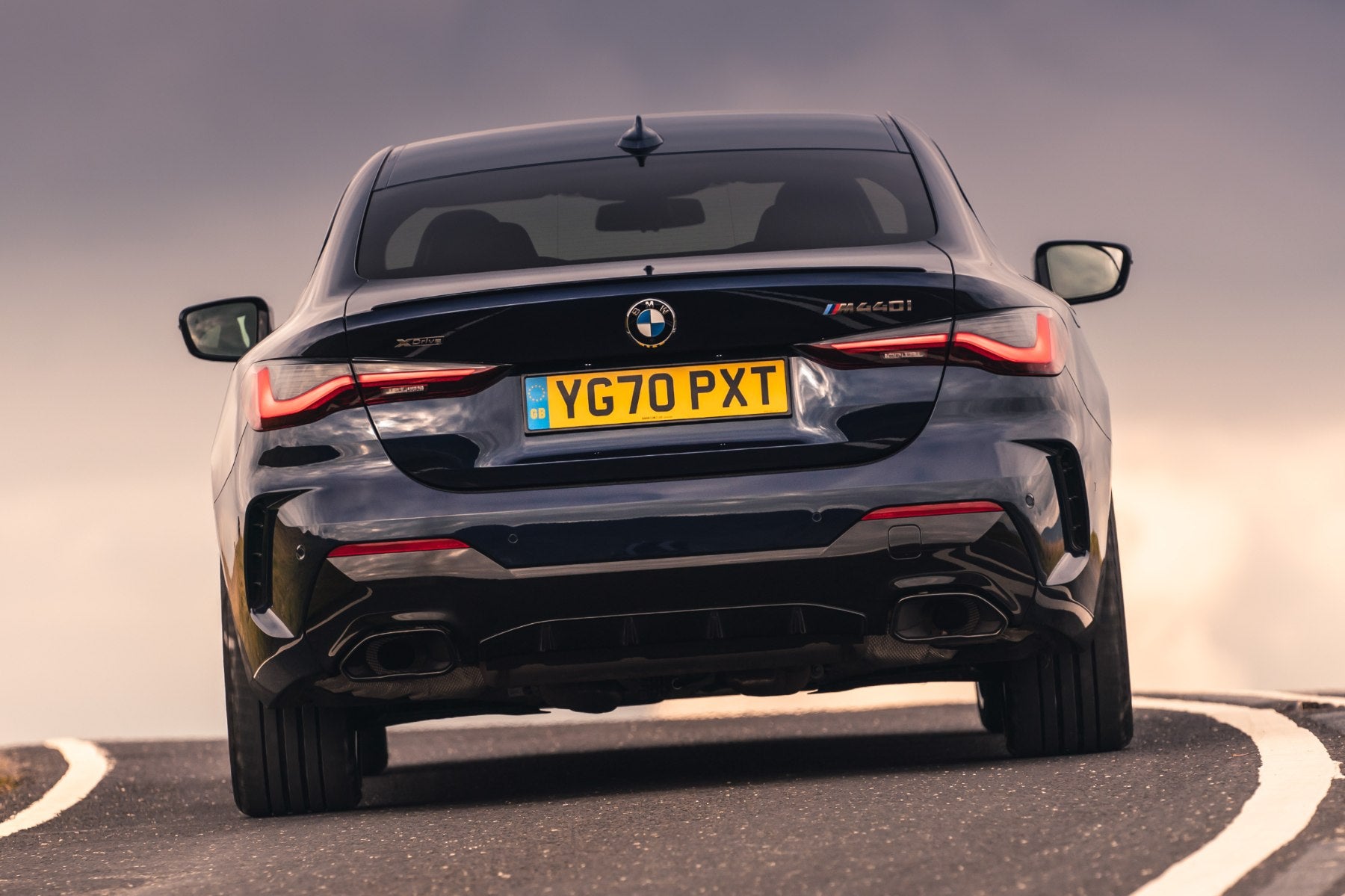 Prices for a new 420i M Sport start in the region of £40,500 but we've seen pre-registered examples on sale for around £38,000 - that's a saving of £2500, which is pretty good for such a new car.
There are bigger savings to be had on the top-of-the-range M440i, which retails at around £55,000. The savvy car buyer can pick up an ex-demonstrator for around £51,000.
Trim levels and standard equipment
Standard equipment on M Sport models includes 18-inch alloy wheels, automatic three-zone climate control, ambient lighting, M Sport suspension, selectable drive modes, cruise control, LED headlights, front and rear parking sensors, BMW Live Cockpit Professional (with 10.25-inch display and 12.3-inch digital instrument panel).
The M Sport Pro adds 19-inch alloy wheels, black exterior highlights, BMW Individual exterior paint, M seat belts, BMW Individual interior trim, Sprint mode and adaptive M suspension.
Topping the range is the M440i xDrive which includes 19-inch alloy wheels, metallic paintwork, Cerium Grey exterior highlights, M seat belts, sun protection glass, M Sport braking system, M sport differential and adaptive M suspension.
Ask the heycar experts:
common questions
How much does a BMW 4 Series Coupe cost?
A new BMW 4 Series Coupe starts in the region of £40,500 for the 420i, rising to £55,000 for the range-topping M440i.

Is the BMW 4 Series Coupe better than a 3 Series?
In some ways, you're paying more for less. As a two-door coupe, the 4 Series isn't as practical as the 3 Series, but it's more stylish and slightly better to drive.

What should I buy instead of a BMW 4 Series Coupe?
You could also look at the Audi A5 or Mercedes-Benz C-Class Coupe. The Lexus RC is a slightly left-field alternative.

BMW 4 Series cars for sale on heycar
3,241
Number of cars available
£14K - £65K
Price bracket of these cars
Colours available on heycar
Keep me updated by email with the latest advice, news and offers from heycar
By submitting, you agree to our
privacy policy
.