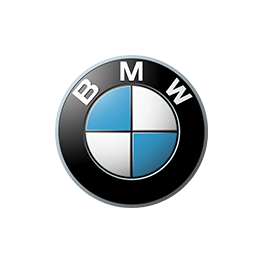 BMW 4 Series Coupe (2013-2020) Review

Written by
heycar editorial team

heycar rating
Good looking, great driving coupe
Best bits
Class-leading handling across the range
Handsome styling
Engines to suit every need and budget
Not so great
Ride is firm on M Sport cars with large alloys
Boot space is only average
Six-speed manual gearbox is not worth having
Read by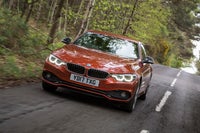 Overall verdict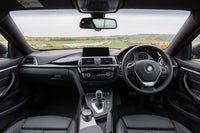 On the inside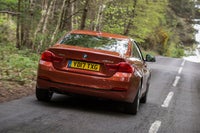 Driving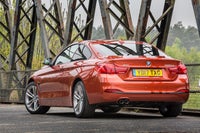 How much does it cost to run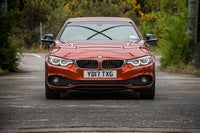 Prices, versions and specification
Overall verdict
"BMW surprised a few people when it decided to rename coupe versions of its popular 3 Series as '4 Series'. But that's now water under the bridge, as buyers have come to realise just how good this even-numbered BMW is. "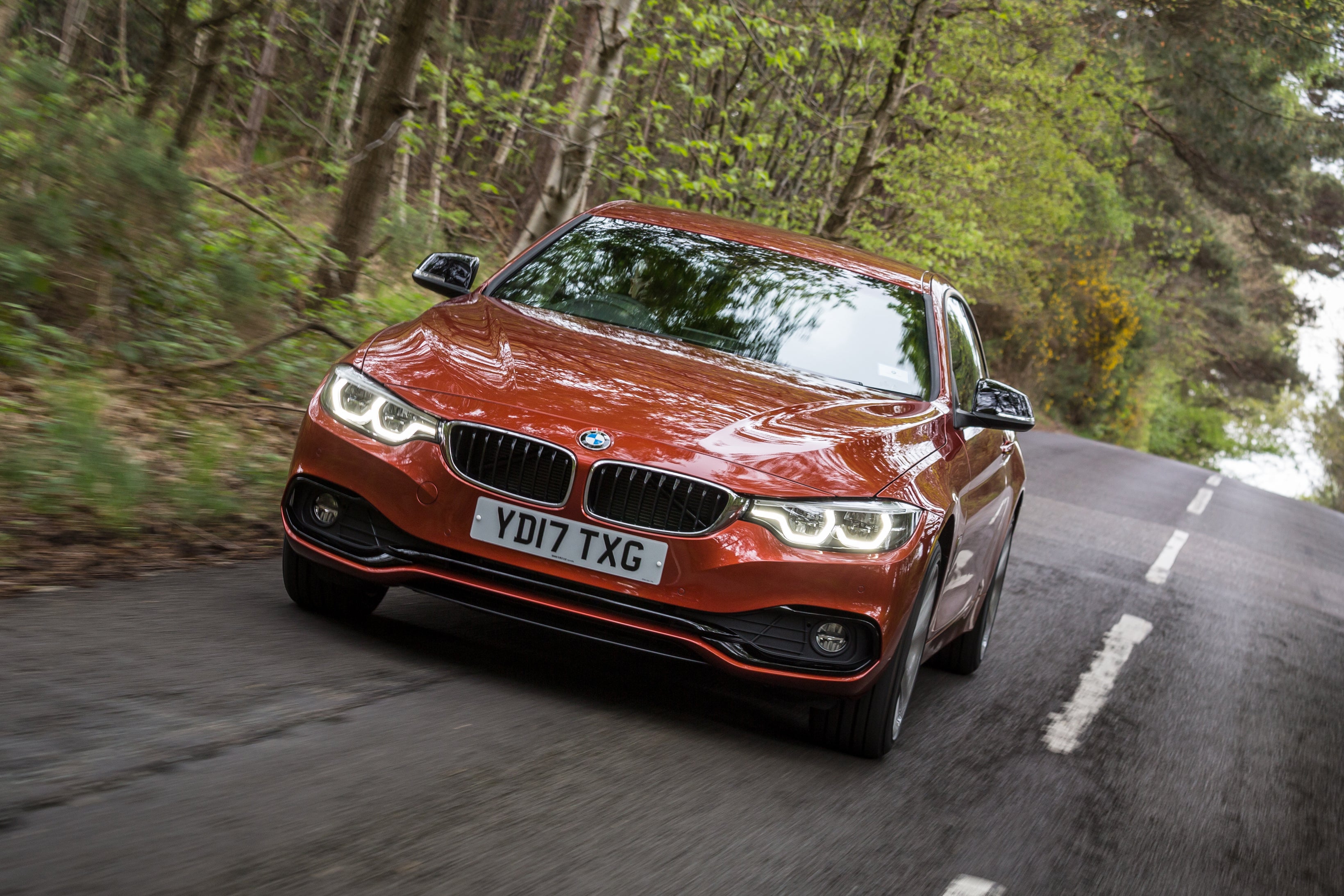 While still based on the 2012 BMW 3 Series, BMW has made plenty of effort to ensure the 4 Series feels bespoke. It certainly looks different to the conservative saloon, with a swooping roofline and wider rear end giving the 4 Series its own unique look. Compared with some other BMW designs, this one certainly hits the mark.
The styling is matched by an interior that, although not the most exciting in terms of design, is made from high-quality materials that help the 4 Series Coupe feel expensive. Standard leather upholstery helps, as does the range of decorative trims and soft-touch finishes for the dashboard. Depending on the model chosen, the interior can be filled with impressive technology, all controlled from BMW's impressive iDrive media system.
The driving experience is where the 4 Series Coupe really delivers. Against close competitors like the Mercedes-Benz C-Class Coupe and Audi A5, this is by far the most entertaining option. BMW has ensured it handles with real agility, aided by steering that feels precise and rewarding for keen drivers. Top-spec M Sport models are the most accomplished, but all versions still feel sorted.
One downside to this sporting intent is the effect it has on the ride of the 4 Series Coupe. It will be particularly stiff when driving an M Sport model on larger 19-inch wheels, but even lower-spec versions still feel taut. Options like adaptive suspension are important to look out for, as these deliver the best of both handling and ride.
Other compromises include the relatively limited space in the back. Only two people can be accommodated in the individual back seats, with headroom a little cramped for taller passengers. Legroom is less of a problem, and Isofix child seat attachments mean it is amply suited to carrying young children. Room in the front is plentiful, supported by standard electrically adjustable seats and a low, sporty, driving position. There is of course a four-door version in the shape of the BMW 4 Series Gran Coupe.
The wide range of engines available for the 4 Series Coupe offers a choice for virtually all occasions. Long-distance cruising is best-served by the four-cylinder diesel engines, with four-cylinder petrols likely to appeal to those with shorter commutes. Range-topping turbocharged six-cylinder performance comes in both petrol and diesel flavours, with the diesel 435d the fastest of all.
BMW's excellent eight-speed automatic gearbox is available across the range. The xDrive four-wheel drive system can also be added to certain models, replacing the usual rear-wheel-drive layout.
The 4 Series Coupe has proved a strong seller for BMW, making it a relatively common sight on the road. With handsome looks, a well-made interior and impressive driving dynamics, it's easy to understand why it has won so many fans.
If you're looking for the newer version, you need our BMW 4 Series (2020-) review.
Comfort and design
"Get into the driver's seat of a BMW 4 Series Coupe and the sporting intent of the car is hard to ignore. Those who have just stepped out of an SUV will be amazed at how low the seat is. The dashboard, angled notably towards the driver, is another reminder of who this car caters for. "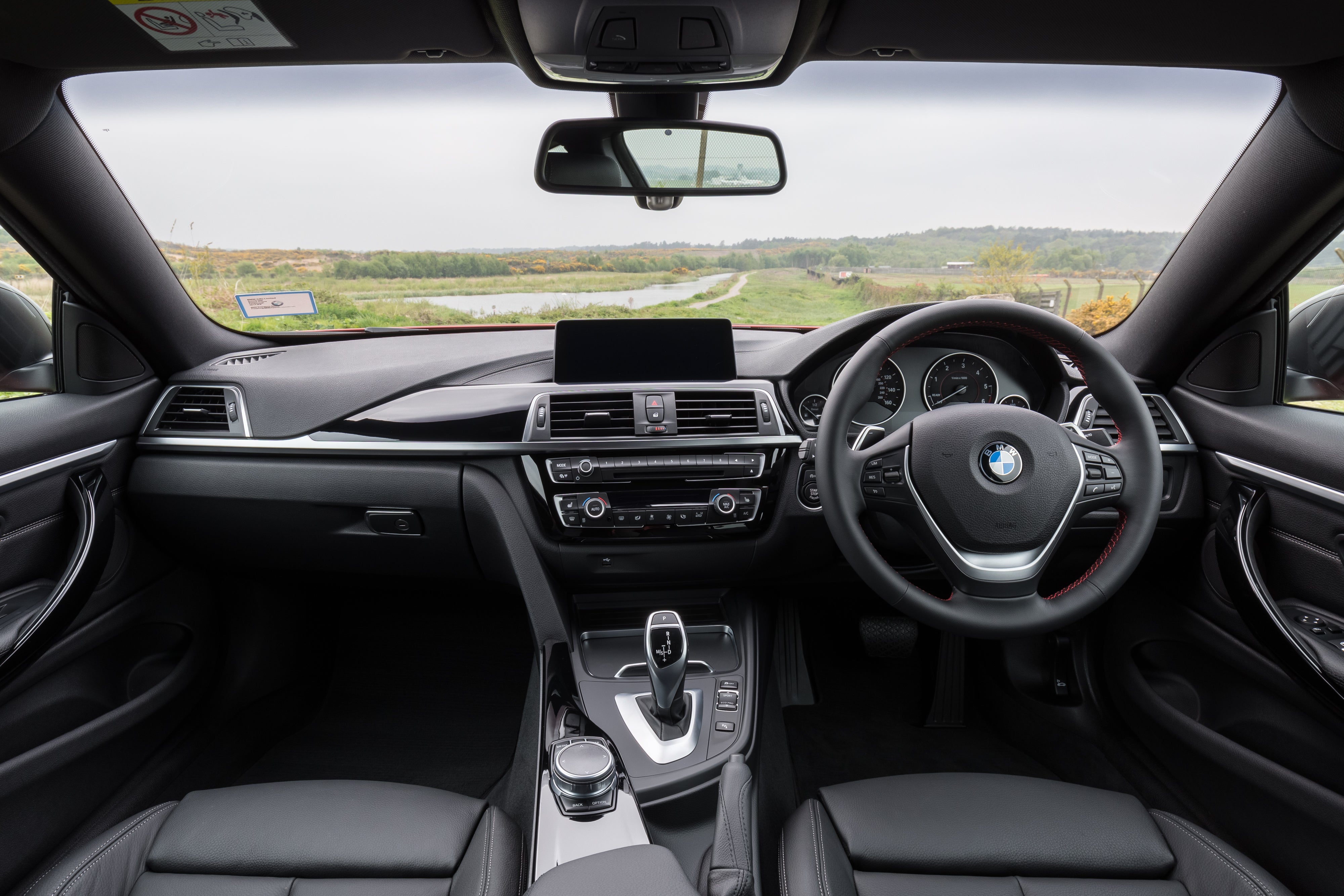 The interior design is logical and sensible, and is familiar to anyone who has spent time in a modern BMW. This is not a bad thing, with the controls being easy to use from the first encounter. A multimedia screen at the top of the dashboard is the main focus, with rows of buttons beneath.
Both driver and front-seat passenger should be able to make themselves comfortable in the 4 Series Coupe. Electric adjustment is standard across the range for the front seats, with a memory function included for the driver. Lumbar support only appears on the options list – a strange omission from the standard specification.
Other than entry-level SE trim, all other 4 Series Coupes come fitted with sport seats, including the Modern and Luxury models. Compared to the standard seats, the sports versions offer much better support, and are worth skipping SE trim for alone.
Those in the rear will be slightly less comfortable, although adults should be able to fit in the two back seats. Although the rear chairs seem a little unusual in design, they are reassuringly comfortable on longer journeys.
Handling and ride quality
"If impressive handling is what appeals most for your executive coupe, the BMW 4 Series is the answer to your prayers. BMW has a reputation for building fine-handling vehicles, and the 4 Series lives up to this legacy."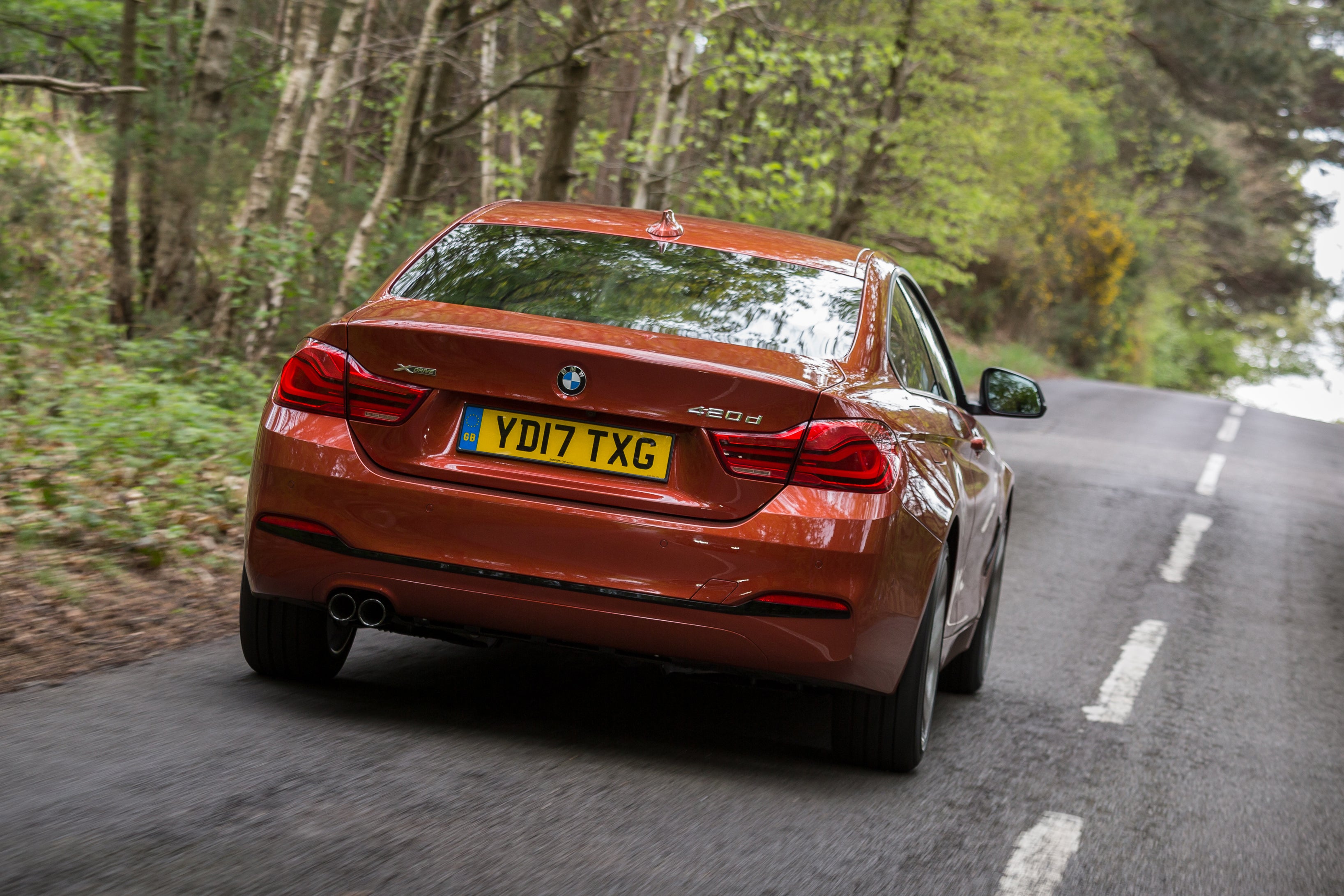 It helps that the 3 Series saloon is already an impressive car to drive, but BMW ensures the 4 Series Coupe is sufficiently different for buyers not to feel short-changed. The 4 Series Coupe sits lower to the ground than the 3 Series and the related 4 Series Cabriolet, helping improve its centre of gravity.
As a result, body-roll is well contained, even on entry-level SE models. BMW fits Servotronic speed-sensitive steering as standard to all 4 Series Coupes. Purists might expect a little more feel, but normal drivers will find the steering weighty and precise enough to thread the car through a series of bends for fun.
Variable Sport Steering was on the options list throughout the life of the 4 Series Coupe. This alters the amount of effort and angle needed to steer, dependent on speed. It can be an acquired taste, so be sure to test-drive any car with this fitted before you buy.
The payback for sporty handling is a ride quality that is on the firm side. M Sport models, with larger wheels, have the toughest ride of all. Although it may not be a deal-breaker, do not expect a cosseting experience in such cars. It is worth noting that M Sport suspension could be deleted on certain models, offering the sporty looks without the harder ride.
Finding a car fitted with the optional Adaptive M Sport suspension is the best solution. This allows the driver to switch between Comfort and Sport settings, altering the stiffness of the dampers to suit the road or your mood.
MPG and fuel costs
"It may be sporty at heart, but many buyers will use their 4 Series Coupe as an everyday commuter car. Should that be the case, these are the models that drink the least amount of fuel on the daily grind. "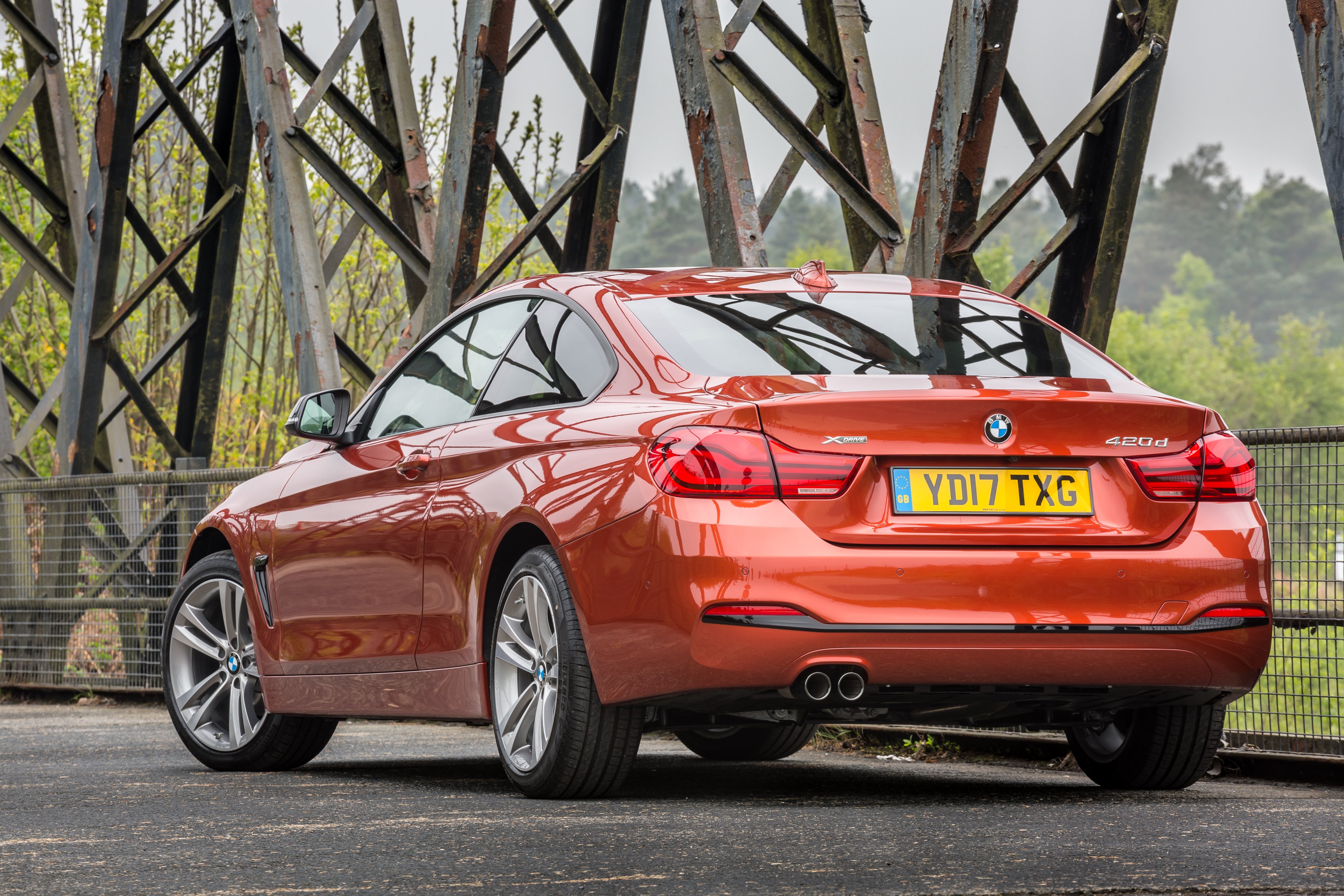 Those looking for a petrol will want to look to the 420i. In SE trim, with smaller 17-inch wheels and the automatic gearbox, it achieves an official 51.4mpg. Sport or M Sport models with larger alloy wheels can hit 48.7mpg.
With diesel power, the 420d is actually the best option for keeping costs low. Buy an SE-spec car and an official combined figure of 70.6mpg is on the cards with automatic transmission.
The lower-powered 418d can only hit 68.9mpg with the same set-up, meaning the 420d delivers on both performance and economy.
How much should you be paying for a used BMW 4 Series Coupe?
"As a popular model when new, the BMW 4 Series Coupe is in plentiful supply on the used market. It means you can shop around to find the model that suits your needs (and budget) in confidence. "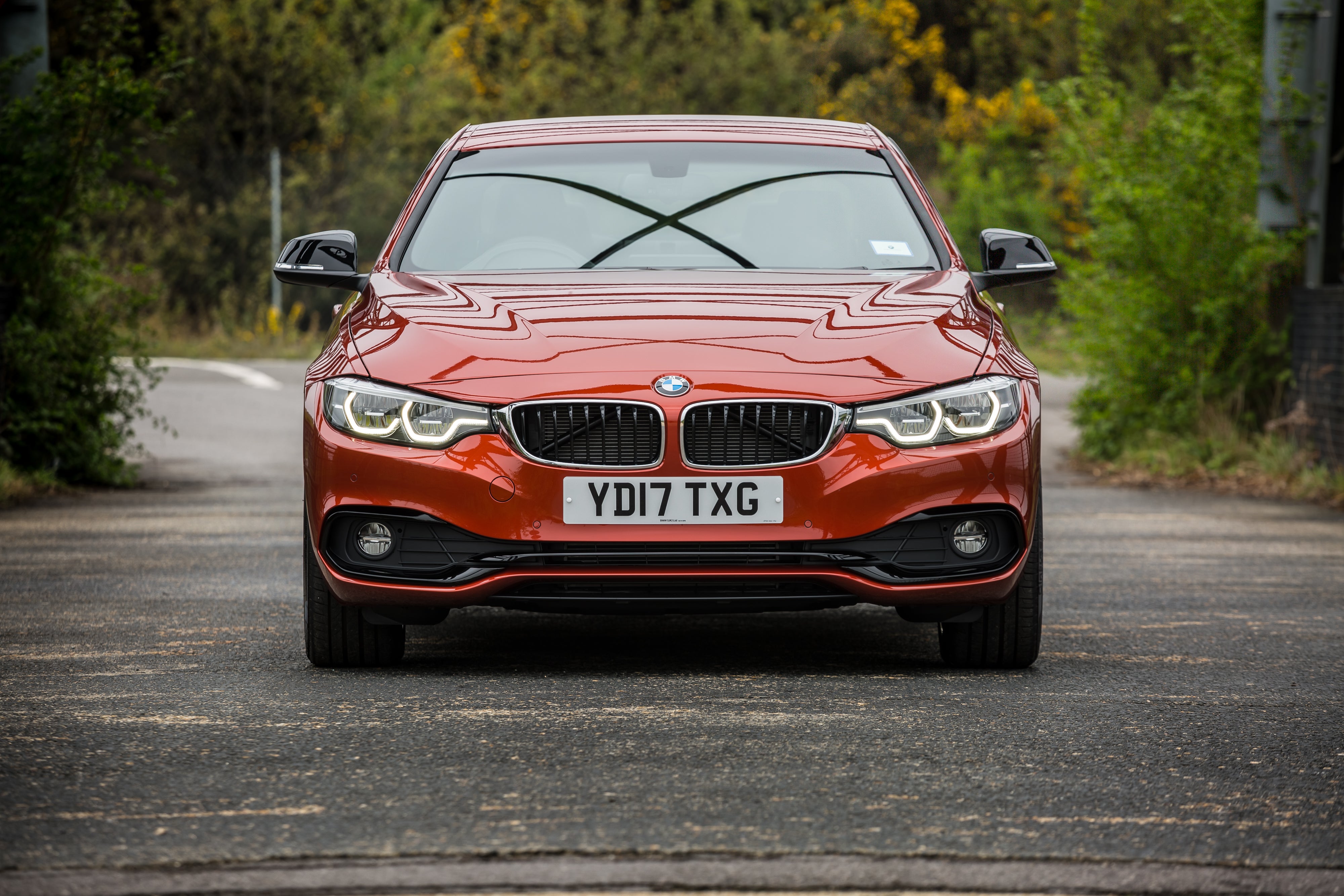 Cars in M Sport trim make up the overwhelming majority of 4 Series Coupes available on the used market. SE and Sport models are rare, whilst the short-lived Modern and Luxury trims may be hard to track down.
A pre-registered 420i M Sport Coupe could be yours from around £24,000, while opting for the diesel 420d takes things closer to £26,000.
The powerful 440i M Sport is available nearly-new for less than £40,000 with minimal mileage, representing a substantial saving on the list price.
Be aware that some dealerships may confuse the four-door Gran Coupe with the normal two-door 4 Series Coupe on advert listings.
Is the BMW 4 Series Coupe right for you?
Choosing the 4 Series Coupe over the impressive 3 Series saloon is all about making a statement. Executive coupes favour style over ultimate practicality, adding a little bit of self-indulgence to the equation.
Whether it's to stand out in the office car park, to liven up your daily commute, or to enjoy driving at the weekend, the 4 Series will deliver. It is arguably the entertaining option in its class, and comes with good looks to boot.
The drawbacks are the limited space in the rear, with only room for two passengers. While the boot is average compared with rivals, a coupe will never be the most practical choice. However, a car like the 4 Series Coupe makes being a little bit selfish seem worthwhile. You can of course have your cake and eat it with the BMW 4 Series Gran Coupe.
If you want to be even more flash there's the BMW 4 Series Convertible plus the high performance BMW M4.
What's the best BMW 4 Series Coupe model/engine to choose?
Which engine suits the 4 Series Coupe best depends on how you drive it. For those doing more miles, the range of diesel engines is likely to be popular, as it has been for many buyers.
Skip the 418d and head straight for the 420d. It offers respectable performance, the best fuel economy of the entire range, and can also be had with xDrive four-wheel drive.
A petrol engine may suit those doing shorter journeys better, and the 420i is likely to be enough for most drivers. However, the 430i delivers more power with no real penalty in terms of fuel economy.
Whatever the engine, we would plump for range-topping M Sport trim. It offers the best overall value, and comes with features that suit the sporty nature of the 4 Series Coupe.
What other cars are similar to the BMW 4 Series Coupe?
The closest rivals in price and spirit are the Mercedes-Benz C-Class Coupe and Audi A5 Coupe. Both offer similarly Germanic quality and refinement.
Choosing the Mercedes delivers a slightly more comfortable driving experience, with the Audi offering a stylish interior. There is ultimately very little difference between the three, and personal preference is likely to be the deciding factor. The Lexus RC does offer a sharp-looking alternative, but is not as exciting to drive.
A left-field option is the 4 Series Cabriolet, which uses a folding metal roof. It looks almost identical to the Coupe, but comes with the option of fresh-air motoring.
Quality and finish
Forget any ideas of dramatic design flourishes or surprise features inside the BMW 4 Series Coupe. This is a solid, sensible interior that majors more on usability and quality than ostentatious details.
What matters most is the cabin feels suitably well-made. Trying to find anything that feels built down to a cost requires serious effort, with quality materials used throughout.
Touchpoints like the steering wheel enhance the overall feeling of luxury. M Sport models have a chunky leather-wrapped rim that feels very good to hold. The top of the dashboard is also notably pleasing in how soft it feels to touch, while other trim elements feel expensive.
Helping this is the fact BMW fits all 4 Series Coupes with leather upholstery, regardless of the trim level. 'Dakota' leather is offered for all, in a wide range of colours. BMW's bespoke Individual range includes fancier 'Merino' leather options for those who want to stand out.
Satin silver interior trim is found on SE models, with Sport trim using gloss black. M Sport versions have an aluminum finish in a hexagonal design for the dashboard and centre console. Various types of wood grain can also be found on the options list.
Infotainment
When BMW first launched iDrive almost two decades ago, it left buyers feeling confused about the new multimedia system. Today, after much refinement, it is one of the best, replacing a multitude of buttons with a single rotary controller.
There are also buttons mounted on the steering wheel in all 4 Series Coupe models, while certain option packages allow for voice commands. Later models even see the iDrive controller double up as a trackpad. You can trace letters onto it for sat-nav directions.
This is all used to control a 6.5-inch display screen, which sits atop the centre of the dashboard. Higher-trim levels gained a bigger 8.8-inch display, but even the smaller unit is quite sufficient.
All models come fitted as standard with DAB radio, Bluetooth mobile phone connectivity and USB ports. BMW has been slow to introduce Apple CarPlay, with only the very latest models compatible. Even then, BMW charged for CarPlay compatibility, with it also being found on the Professional or Professional Plus media systems.
Initially, satellite navigation was standard only on Luxury and M Sport. After the 2017 facelift, it can be found on all models, including SE and Sport trims.
Space and practicality
When it comes to reasons for buying an executive coupe like the BMW 4 Series, concerns about practicality are perhaps lower on the list of priorities. Even so, being able to ensure a car fits your lifestyle is still important.
Space in the front of the 4 Series Coupe is more than generous. The driver and front passenger should have no issues getting comfortable, with plenty of headroom and shoulder room.
Storage in the front includes the glovebox, along with door bins and cubbies in the centre console. A sliding armrest is not standard, which is a curious omission when most rivals are sold with one fitted.
Those in the rear get more of a raw deal when it comes to space. BMW has created two individual seats out of the rear bench of the 4 Series Coupe. It may look odd, but proves to be more accommodating than it first appears.
Legroom is adequate for adults, but headroom may become a problem for taller passengers in the back. The sweeping roofline of the 4 Series Coupe eats into space, meaning those over six feet may find themselves forced to lean forward. Smaller adults and children should have no problems, however.
BMW will argue that those who need a 4 Series with more rear room should consider the four-door Gran Coupe, or even a 3 Series saloon.
Boot space in the 4 Series Coupe is similar to that found in rivals like the Mercedes-Benz C-Class Coupe or Audi A5. In total, 445-litres of luggage can be stored in the boot, making it more accommodating than a typical family hatchback. The loading lip is quite high, but overall space is good.
The standard folding rear seats allow for carrying larger items, while the options list offers up a through-loading system for skis on non-xDrive models. Comfort Access for the boot is also a useful option, allowing the trunk to be popped simply by waving your foot beneath the rear bumper.
Engines and gearboxes
At launch in 2013, the BMW 4 Series had only a handful of engine options. This expanded considerably over time, with multiple choices for petrol and diesel buyers.
The petrol range begins with the turbocharged four-cylinder 2.0-litre 420i. Its 184PS should be sufficient for most drivers, offering 0-62mph in 7.3 seconds for the manual version. The automatic gearbox increases this to 7.5 seconds. Buyers could also pick the xDrive four-wheel drive system.
Those seeking more pace can opt for the 428i, another turbocharged 2.0-litre four-cylinder engine, which produces 245PS. In 2016, this was replaced with the 430i, taking power to 252PS. Performance is much more impressive: 0-62mph in 5.8 seconds with the automatic gearbox.
If only a six-cylinder engine will do, the 3.0-litre turbo straight-six is the place to be. At launch this was badged as the 435i, with an output of 306PS. Changes in 2016 saw it rebranded as the 440i, with power increased to 321PS. It brings big performance, but bigger running costs at the same time.
Diesels start with the 143PS 418d 2.0-litre turbo, which was later boosted to 150PS. Although not slow, with 0-62mph in 8.6 seconds, it does not offer the fuel economy benefits to recommend it over the 420d.
That 420d produces 184PS (later 190PS) and delivers a much more enthusiastic drive, with 0-62mph in 7.2 seconds. BMW's xDrive four-wheel drive can also be specified.
More powerful diesels include the 430d, which has a 258PS single-turbocharged 3.0-litre straight six. Top dog is the 313PS 435d, which comes with four-wheel drive as standard. It can rocket from 0-62mph in an impressive 4.7 seconds.
Where possible, we would recommend choosing a car with the excellent eight-speed automatic gearbox over the six-speed manual. It offers a better driving experience, and is typically matched with better fuel economy.
Refinement and noise levels
When developing the 4 Series Coupe, BMW invested a substantial amount of time in making it as aerodynamic as possible. Along with having benefits for improving fuel economy, it also helps with overall refinement.
The efforts of the BMW engineers were not in vain, as they have made the 4 Series Coupe a notably relaxing and refined car. Wind noise is kept to a minimum, even at motorway speeds, with only a hint of tyre noise detectable. This is more prevalent on sportier models with fatter rubber, but never feels like a major issue.
Petrol-engined models are particularly quiet, with hardly any noise entering the cabin. The fastest 435i and 440i add a bit more bass and soul to proceedings, and sound particularly good at higher revs. Just try not to worry about fuel economy when experimenting.
The diesels are slightly more vocal, with the 2.0-litre four-cylinder versions ensuring you never forget what kind of engine is beneath the bonnet. Again, this never becomes a major problem, but it serves as a reminder that some rivals produce quieter-sounding diesels.
Safety equipment
BMW has never submitted the 4 Series Coupe for crash testing by the Euro NCAP organisation. Fear not, though, as it did have the 3 Series saloon evaluated, and it scored the maximum five-star rating. Given how much the 4 Series shares with the 3 Series, we see no reason why this model would not perform just as well.
Multiple airbags are fitted as standard to the 4 Series, along with electronic stability control and traction control. Child seats can be securely accommodated on the rear bench, with all versions featuring ISOFIX anchor points.
Xenon headlights were fitted to all cars when first launched, along with headlight washers. These were upgraded to even brighter LED units following the 2017 mid-life facelift.
Front and rear parking sensors are installed on every version of the 4 Series, and can be supplemented by an optional Advanced Parking package. This includes a rear-view camera, along with Park Assist to allow the 4 Series to steer itself into spaces. Later cars would gain the option of a fancy surround-view camera, too.
The options list also includes other ways to spend big on safety. Models sold after the 2017 facelift could be specified with a Driving Assistance Package. This adds features such as Lane-Change Warning, City Collision Mitigation and Lane-Departure Warning. Earlier models could be specified with the similar Active Security package.
Run-flat tyres are standard across the 4 Series Coupe range, meaning there is no spare wheel or repair kit inside the boot.
Insurance groups and costs
The BMW 4 Series Coupe is an unlikely choice of first car, and is instead aimed at more experienced drivers. This should make its higher insurance group ratings less of a problem, but nobody likes unpleasant surprises.
Rated group 23 out of 50, the 418d in SE trim should work out as the most affordable model to insure. Opting for this engine in Sport or M Sport pushes things to group 25.
The 420i SE is the petrol-powered 4 Series Coupe with the lowest insurance rating, scoring group 30. At the other end of the scale, the 440i M Sport is in group 37.
VED car tax
As a result of being introduced in 2013, the BMW 4 Series Coupe manages to cross multiple different VED (road tax) schemes. Two identical cars registered within days of each other could be liable for substantially different amounts each year.
To minimise your outgoings, the diesel 418d in SE is cheapest when it comes to tax. With CO2 emissions of only 110g/km for cars with 17-inch wheels, it will cost just £20 a year.
At the other end of the scale, more recent examples fall inside the VED scheme that adds an additional rate for cars costing more than £40,000. This affects numerous models sold from April 2017 onwards, and sees them paying £475 for the five years after the first year of registration.
Benefit-in-kind company car tax rates start at 30 percent for the 418d SE, increasing to 36 percent for the 440i M Sport.
Trim levels and standard equipment
BMW experimented with different trim levels for the 4 Series Coupe throughout its time on sale.
All SE models have 17-inch alloy wheels, dual-zone climate control, a DAB radio, leather seats and exterior trim in matt aluminium.
Moving up to Sport brings 18-inch alloy wheels, gloss black bumper inserts, a different front grille design, sports seats and a Drive Performance Control switch.
Modern specification was only available until May 2014. These cars have 18-inch wheels, chrome detailing for both the interior and exterior, plus sports seats.
Luxury trim models were sold until July 2017. They boast 18-inch wheels, M Sport suspension, exclusive Dakota leather upholstery and Chromeline exterior trim.
Finally, the range-topping M Sport delivers 18-inch alloy wheels, bespoke M body styling, an M Sport steering wheel, sports seats, M Sport suspension and black headlining.
We think M Sport trim represents good value for money – and gives the 4 Series Coupe much more presence on the road.
Learn more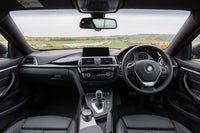 On the inside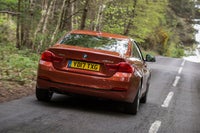 Driving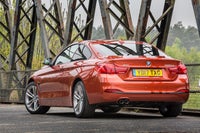 How much does it cost to run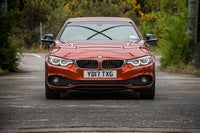 Prices, versions and specification
Reviews of similar cars
Quality checked, all cars less than 8 years old and warranty included
Looking for other BMW cars?
Quality checked, all cars less than 8 years old and warranty included