4 Series Gran Coupe Review 2022
BMW 4 Series Gran Coupe Review 2022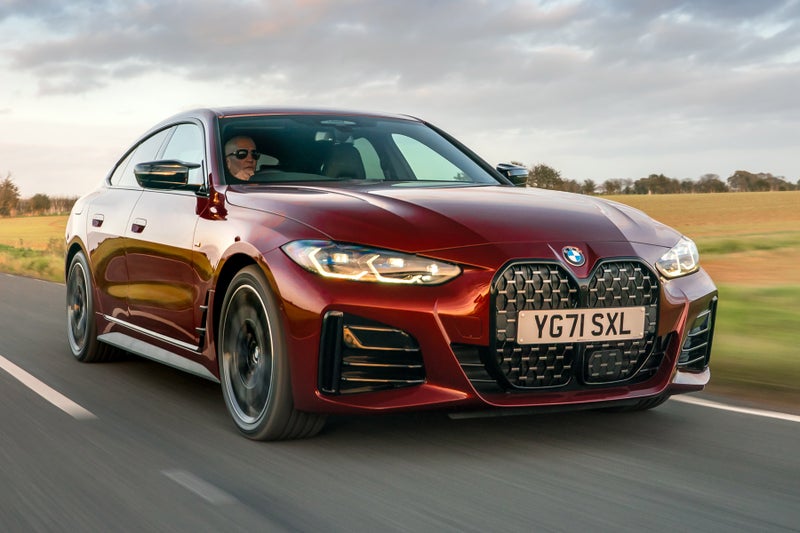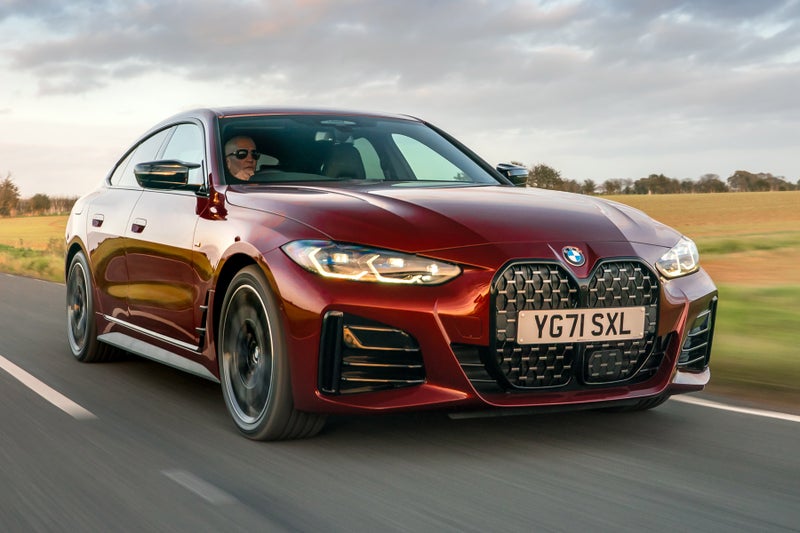 1/10
heycar rating
"Stylish BMW 3 Series alternative"
Launched: 2021

Premium

Petrol, Diesel, Mild Hybrid
Quick overview
Pros
We think it looks the business
Barely any less practical than a 3 Series
Great to drive – even the entry-level 320i
Cons
It's not cheap
Minimalists might not be so keen on the interior
Is it strictly necessary?
Overall verdict
On the inside
Driving
Cost to run
Prices and Specs
Common questions
Overall verdict on the BMW 4 Series Gran Coupe
"Now in its second generation, the BMW 4 Series Gran Coupe has matured into a very desirable five-door coupe. Sure, a BMW 3 Series does much the same thing for less, but the 4 Series Gran Coupe's head-turning looks and superb interior means it makes more of a statement than the fleet favourite."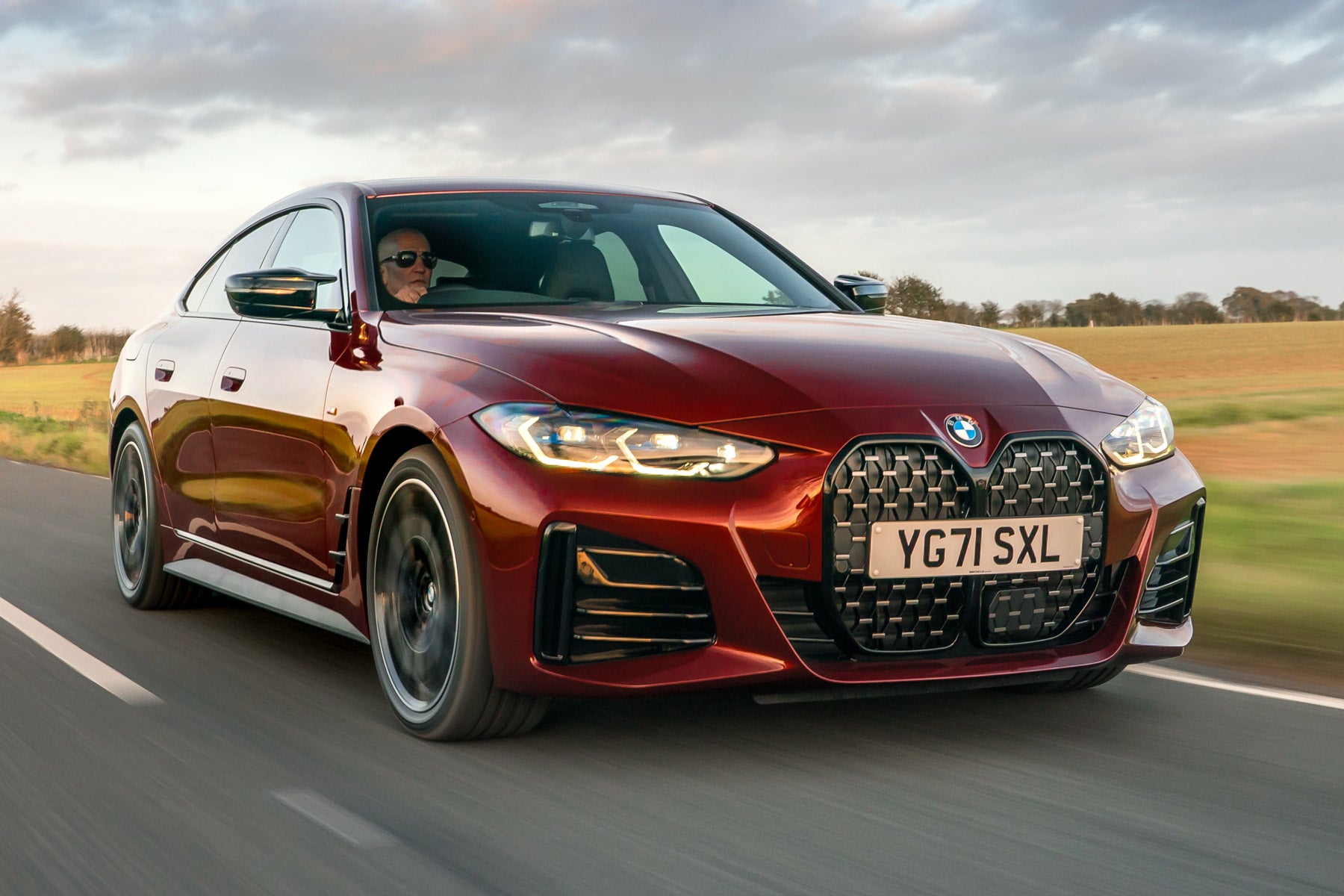 Much like its direct rivals, the Audi A5 Sportback and Volkswagen Arteon, the BMW 4 Series Gran Coupe is a niche model that no one really asked for. But it's more useable day-to-day than a 4 Series Coupe, while it also spawned one of the best electric cars currently on sale: the BMW i4.
So far we've sampled both bookends of the BMW 4 Series Gran Coupe range: the BMW 420i Gran Coupe and the BMW M440i Gran Coupe. The entry-level car is far from the poor relation – a punchy 2.0-litre petrol engine combined with a slick eight-speed automatic gearbox and nimble handling proves that you don't need mega horsepower figures to enjoy the process of travelling from A to B.
At the opposite end of the scale, the BMW M440i feels a BMW M3 or M4 without the theatrics (and, until the BMW M3 Touring arrives, a greater dose of practicality). It's got a lovely six-cylinder petrol engine, all-wheel drive and enough power to beat an Audi S5 away from the line, while mild-hybrid assistance means it won't be woefully inefficient.
Also in the range is the BMW 430i Gran Coupe which, despite its name, uses a 2.0-litre petrol with a welcome but not strictly necessary power boost over the 420i – and the 420d Gran Coupe, an efficient diesel model which'll appeal to drivers who spend most of their time on the motorway.
No matter which engine you choose, the BMW 4 Series Gran Coupe has a simply superb interior. You sit low down – which adds to the sporty vibe – while the infotainment, with its rotary controller, is impressively slick and easy to operate.
All models are well kitted out, while buyers get the choice of M Sport or M Sport Pro trim levels – the latter with sportier styling, bigger alloy wheels and adaptive suspension. With an extra pair of doors over the BMW 4 Series Coupe, the Gran Coupe is practical enough for family life, while the boot also gets a useful increase in capacity compared to the standard car.
The BMW 4 Series Gran Coupe is now on sale with prices starting from a smidgen over £40,000, while the top-end models are nearly £55,000. It's certainly not a budget option but that's the price you pay for a car that looks this good, is excellent to drive and has an interior that's hard to beat.
Looking for the older version? You'll need our BMW 4 Series Gran Coupe (2013) review.
Is the BMW 4 Series Gran Coupe right for you?
If you want a premium car that's a bit more interesting than the BMW 3 Series yet more practical than a BMW 4 Series Coupe, the BMW 4 Series Gran Coupe is an excellent choice. It's great to drive, looks the business and the interior is just as high quality as you'd expect. For lower running costs, look at the all-electric BMW i4, but otherwise the 4 Series Gran Coupe is a thoroughly desirable five-door coupe.
What's the best BMW 4 Series Gran Coupe model/engine to choose?
We rate the entry-level BMW 420i Gran Coupe highly. It's got a characterful engine with plenty of performance, meaning few buyers will feel the need to step up to a 430i. Petrolheads should consider the BMW M440i Gran Coupe, though – it's brilliant to drive with an addictive six-cylinder soundtrack. It won't be particularly cheap to run, but it's less in-your-face than the new BMW M4.
What other cars are similar to the BMW 4 Series Gran Coupe?
While the BMW 4 Series Gran Coupe is a niche model, it still has direct competition in the form of the Audi A5 Sportback. Mercedes doesn't do a four-door coupe version of the C-Class, but you might also want to consider the smaller Mercedes-Benz CLA Coupe. The Volkswagen Arteon is another strong alternative, as is the new Genesis G70 Shooting Brake.
Comfort and design: BMW 4 Series Gran Coupe interior
"The 4 Series Gran Coupe's interior offers few surprises if you've sat in any other recent BMW. That's not a complaint – the BMW 3 Series and 4 Series Coupe both have superb cabins, with exemplary build quality, user-friendly infotainment and a masses of feel-good factor."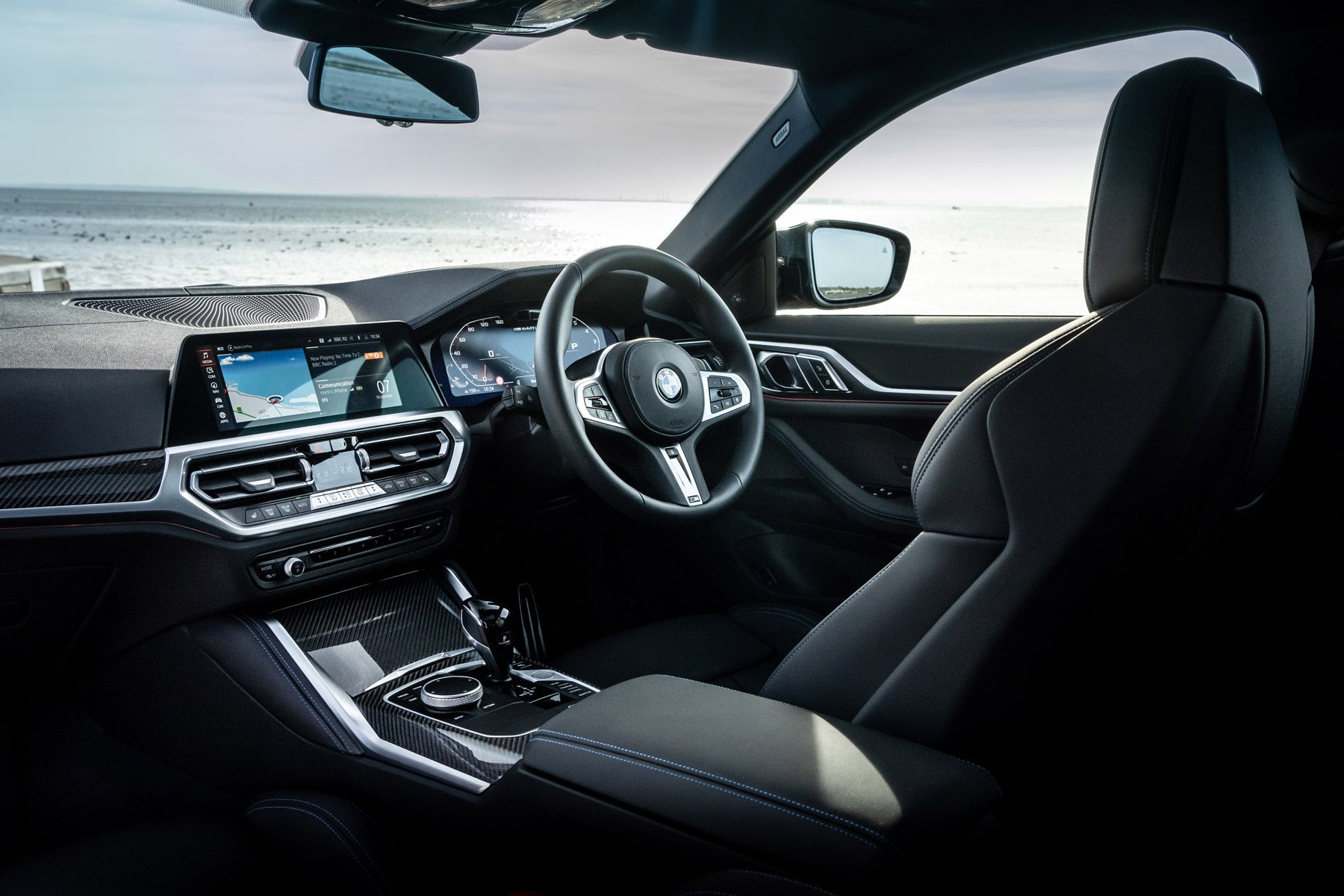 It's certainly a driver-focussed interior, with a beefy steering wheel and a digital infotainment screen positioned high up on the dash and angled slightly towards the driving seat. Combine that with figure-hugging seats mounted low down in the cabin and a wide centre console, and the BMW 4 Series Gran Coupe's interior feels like it means business.
If you're of the minimalist persuasion, you might find the number of buttons on the BMW 4 Series Gran Coupe's dash to be a bit overwhelming. You get buttons to adjust the climate control, buttons for the heated seats, numbered buttons which can be programmed to act as shortcuts to whatever takes your fancy – even buttons to skip tracks or adjust the volume of the sound system. While so many buttons look a bit dated (tellingly, the electric BMW i4 does without some of them), you'll soon get used to where everything is – and, crucially, they're less distracting than having to operate everything via the infotainment system.
Quality and finish
The bar's pretty high for interior finishes in the premium car market, and the BMW 4 Series Gran Coupe doesn't disappoint. You might pay a premium for a car like this, but you'll be able to see where your money's gone every time you sit in the cabin. All the buttons feel satisfyingly tactile; even the indicators operate with a satisfying clunk.
Leather seats (that's genuine leather – none of this artificial nonsense) are standard across the BMW 4 Series Gran Coupe range, while standard LED interior lighting add to the upmarket ambience.
Infotainment: Touchscreen, USB, nav and stereo in the BMW 4 Series Gran Coupe
All BMW 4 Series Gran Coupe models come with the brand's 10.25-inch Live Cockpit Professional infotainment system. As well as navigation with a built-in SIM card providing 4G connectivity, this also provides access to Apple CarPlay and Android Auto – perfect for using Google Maps to navigate, for example, or accessing Spotify on the move.
The screen is bright, the graphics are sharp and the menus are easy to navigate – but the best thing about the infotainment setup in the 4 Series Gran Coupe is that it can be controlled via a rotary controller positioned conveniently on the centre console. That feels a lot safer than trying to reach forward and navigate a touchscreen system when you're also involved with the important task of driving a car.
As well as the central infotainment screen, the BMW 4 Series Gran Coupe also features a smart 12.3-inch digital instrument cluster behind the steering wheel. These are easily configurable and provide all the information you could possibly need, but the graphics are a little more complicated than perhaps ideal.
Space and practicality: BMW 4 Series Gran Coupe boot space
The new BMW 4 Series Gran Coupe measures 4783mm long, 1852mm wide and 1442mm in height, meaning it's longer, wider and even (very slightly) taller than the BMW 3 Series Saloon. That means it's spacious inside, although its coupe shape does limit practicality to an extent.
Still, access to both the front and rear seats is pretty easy (you very much climb down into the 4 Series Gran Coupe, though, unlike SUV alternatives like the BMW X4). Headroom in the back will be fine for children, although you might want to look elsewhere if you regularly carry adults in the rear seats. Grooves in the rear of the front seats help with legroom, although there is a lump in the floor which might get in the way if you want to squeeze three people into the rear seats.
The boot can accommodate 470 litres of luggage, which is up 30 litres compared to the regular BMW 4 Series and down just 10 litres compared to the BMW 3 Series. There's a bit of a lip for lifting things over but, as hatchback, access is pretty good. If you need more room, the rear seats drop individually to provide up to 1290 litres of space.
Handling and ride quality: What is the BMW 4 Series Gran Coupe like to drive?
"Much like the BMW 3 Series and 4 Series on which it's based, the 4 Series Gran Coupe is one of the sharpest handlers in its class. It's ultra rewarding to drive, thanks to its rear-wheel-drive layout, while the steering is precise and communicative."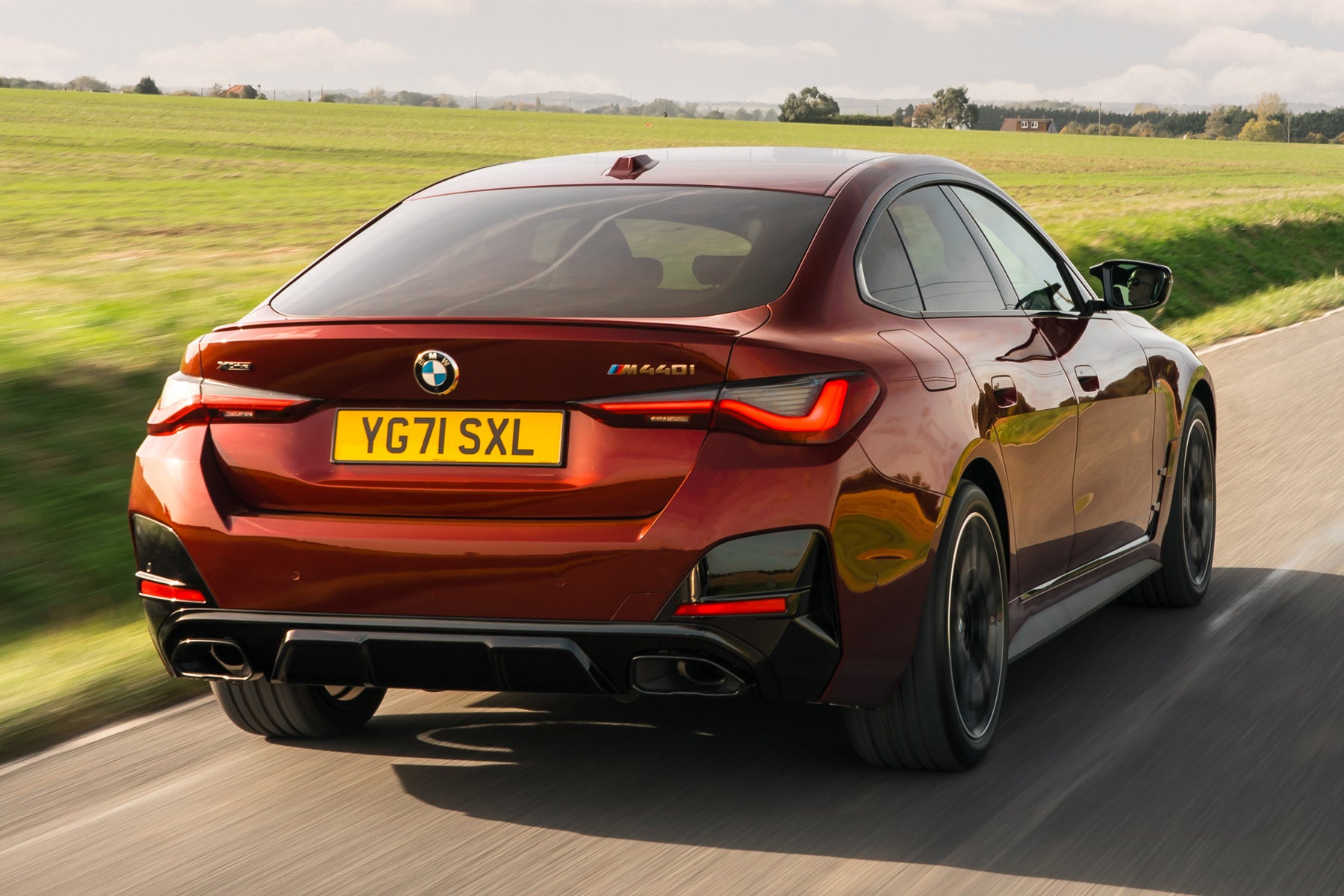 It's that rear-wheel-drive platform and smaller engine which perhaps make the entry-level 420i Gran Coupe feel a little nimbler than the range-topping M440i. The M-badged model comes with xDrive all-wheel drive as standard, although it's a rear-biased system and can shift torque between the axles to provide extra grip when required.
There's the usual mix of drive modes to allow you to change the Gran Coupe's driving characteristics depending on your mood, while higher-spec models come with adaptive suspension. This means you can choose whether you'd prefer a soft and floaty ride or a more focused setup; to be honest, it's always pretty well-judged, doing an impressive job of soaking up broken road surfaces.
Unsurprisingly, it's just as easy as a BMW 3 Series to drive around town, with the coupe roofline doing little to hinder visibility. A reversing camera is standard across the range anyway, while the Parking Assist function will even take over the steering and leave you to control the brake and accelerator pedals as you tackle a parking space.
What engines and gearboxes are available in the BMW 4 Series Gran Coupe?
The BMW 4 Series Gran Coupe range kicks off with an impressive 2.0-litre four-cylinder petrol engine badged the 420i. We like this engine a lot – it's got more than enough performance (thanks to 184PS and 300Nm of torque), while it won't cost a fortune to run, either. Like all of the BMW 4 Series Gran Coupe range, it's paired as standard with an eight-speed automatic gearbox which is nothing less than superb – providing fast responses and timely gear changes.
For a bit more grunt, the BMW 430i Gran Coupe uses the same engine but with a power boost to 245PS, while 400Nm of torque makes for effortless acceleration. We're yet to sample the BMW 430i Gran Coupe but expect it to be much like the 420i, albeit with a bit more power.
Diesel fans are catered for with the BMW 420d Gran Coupe, which is available with or without the brand's xDrive all-wheel-drive system. The BMW 4 Series Gran Coupe of choice for those who cover a lot of miles, the 420d packs 190PS and 400Nm of torque.
Topping the range is the BMW M440i xDrive Gran Coupe. This uses a 3.0-litre six-cylinder twin-turbo petrol engine with mild-hybrid assistance to produce 374PS and 500Nm of torque. It's by far the fastest BMW 4 Series Gran Coupe you can buy, covering 0-62mph in 4.7 seconds – only a second and a bit slower than the hot BMW M4 Competition Coupe. Check out our guide to the best hybrid cars to find out more.
Refinement and noise levels
While the BMW 4 Series Gran Coupe is a little sportier than rivals like the Audi A5 Sportback, it still impresses in terms of refinement. You'll find that very little noise makes its way into the cabin, while the engines can be pleasantly hushed when you want them to be.
That said, we were surprised by how rorty the 2.0-litre petrol engine used in the 420i can be under acceleration. That's not a bad thing – it adds to the character of the car, and it only comes to light if you're heavy with the throttle. Sit back, relax and avoid the sportier drive modes if you don't want the hear the engine.
The BMW M440i Gran Coupe is noisier still but, again, only when you really want it to be. And it's a satisfying six-cylinder burble that makes its way into the cabin – almost like a watered-down BMW M4.
Safety equipment: How safe is the BMW 4 Series Gran Coupe?
BMW says there are around 40 automated driver-assistance features available on the 4 Series Gran Coupe, designed to increase safety and comfort by supporting the driver in monotonous driving situations.
The functions included in the optional Driving Assistant include Rear Collision Prevention and rear crossing traffic warning that reduces the danger of a collision when reversing towards roads with poor visibility. Lane Change Warning increases safety in overtaking manoeuvres on multi-lane roads.
The standard-fitted Cruise Control with brake function helps make driving over longer distances more relaxing. The optional Active Cruise Control with Stop&Go function offers even more extensive assistance by using sensor data from cameras and radar to not only maintain the preferred speed, but also automatically to keep a safe distance from vehicles travelling ahead.
The BMW 4 Series Gran Coupe is yet to be crash-tested by Euro NCAP.
MPG and fuel costs: What does a BMW 4 Series Gran Coupe cost to run?
"The most efficient BMW 4 Series Gran Coupe is the 420d diesel which, thanks to mild-hybrid assistance, returns up to 58.9mpg in official WLTP fuel economy tests."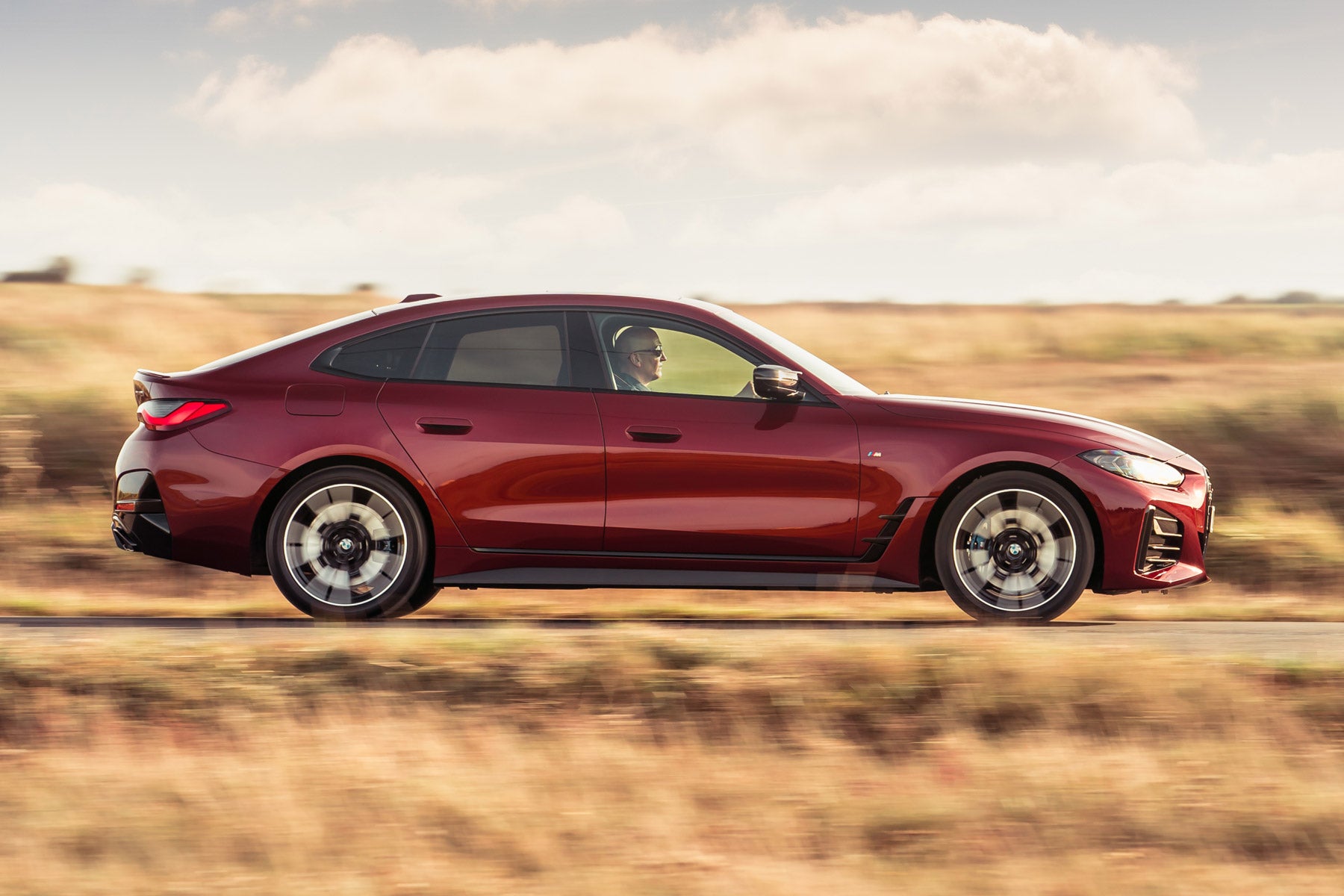 Opt for the four-wheel-drive BMW 420d xDrive and this figure drops to 55.4mpg – still quite an impressive figure that'll mean you won't have to visit petrol stations all too often.
If you cover a lot of town driving or don't cover enough miles to warrant a diesel, the BMW 420i Gran Coupe is still fairly efficient, returning up to 42.8mpg. The BMW 430i Gran Coupe has an official combined fuel economy figure of 41.5mpg.
The BMW 440i xDrive Gran Coupe packs a punch in terms of performance but – predictably – you'll pay for that at the pumps, with an official fuel economy figure of 35.3mpg.
How reliable is the BMW 4 Series Gran Coupe?
The BMW 4 Series Gran Coupe shares mechanicals with a wide range of BMW models and we haven't heard horror stories about any of them, really. Servicing costs might be a little higher than mainstream alternatives, though, while BMW's three-year warranty isn't as lengthy as some rival brands. BMW's performance in the latest HonestJohn.co.uk Satisfaction Index was pretty mediocre, coming in 20th position out of 30 – behind brands such as Mercedes and Jaguar, but ahead of Audi.
Insurance groups and costs
The cheapest BMW 4 Series Gran Coupe to insure is likely to be a 420i M Sport, which is in insurance group 30. The BMW 420d Gran Coupe is group 32 or 33, depending on model. A BMW 430i Gran Coupe is in insurance group 34, while the BMW M440i xDrive Gran Coupe is insurance group 40.
Of course, these numbers will mean different things to different people. If you're a young or inexperienced driver living in an area with lots of crime, you might want to shop around for an insurance quote before buying a BMW 4 Series Gran Coupe. More senior driver living in the suburbs of a quiet town? Insurance should be relatively affordable.
VED car tax: What is the annual road tax on a BMW 4 Series Gran Coupe?
The first year's VED (car tax) is based on CO2 emissions, so will range from £180 to £1345, depending on which model you buy. This makes up part of the on-the-road price of a new car, though, so don't be too concerned about these figures – especially if you're buying a used or nearly-new example.
From the second year onwards, tax will cost £155 a year plus, for five years, an extra £335 a year in premium car tax. That means your total tax bill will be £490 a year. If you're reluctant to shell out so much in tax, consider the electric BMW i4 instead.
How much should you be paying for a used BMW 4 Series Gran Coupe?
"The BMW 4 Series Gran Coupe is a premium car with a premium price tag. You'll pay upwards of £40,000 for an entry-level car, while the desirable BMW M440i xDrive is close to £55,000."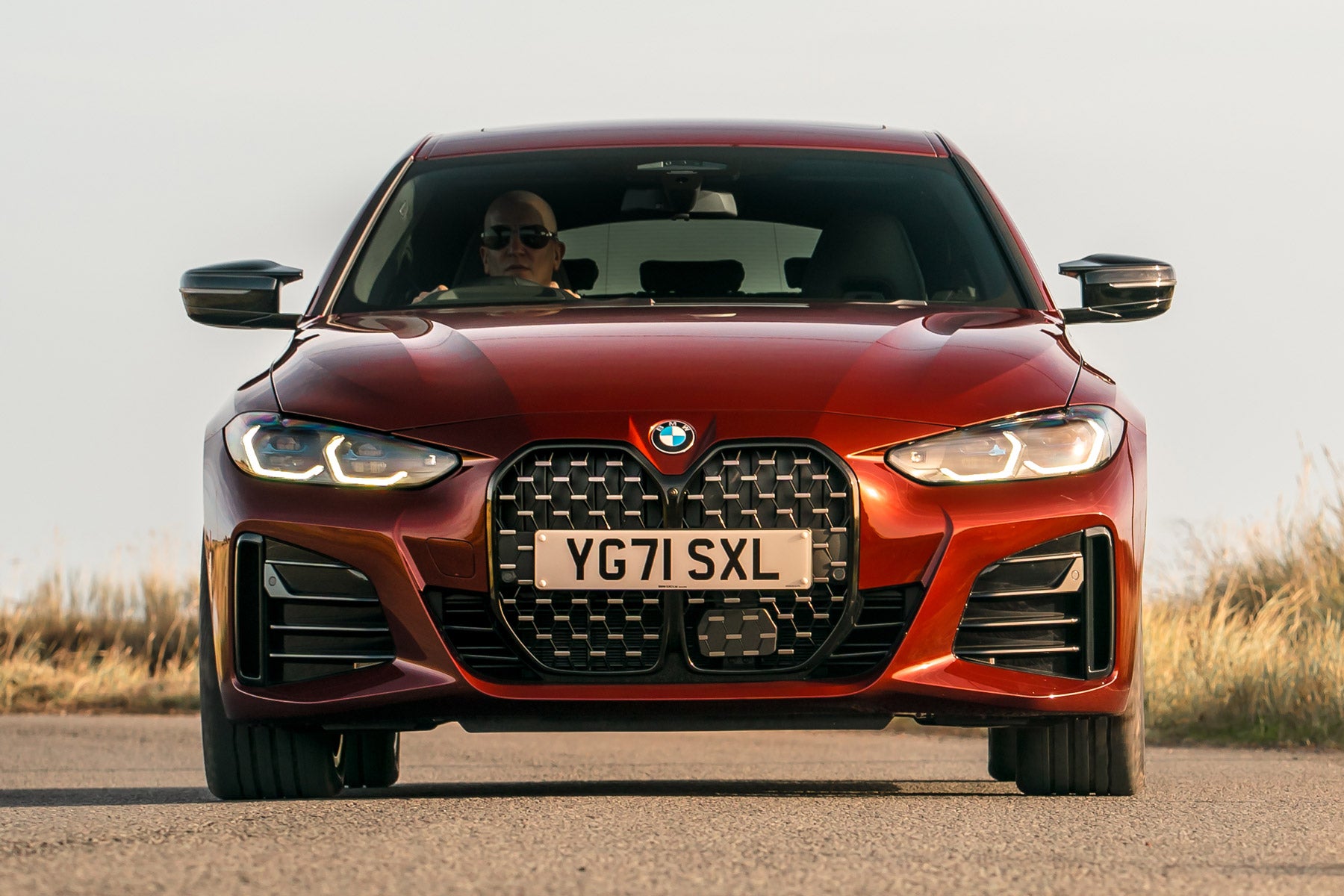 First deliveries of the new BMW 4 Series Gran Coupe started in November 2021, so it's still a very new car and the used market isn't exactly flooded with examples. If you're looking to skip the waiting list, though, there are ex-demonstrator and pre-registered models available now – just don't expect a chunky saving over list price.
If you're looking to save money, take a look at the old BMW 4 Series. It's been around since 2014 so there's a much wider choice in the second-hand marketplace.
Trim levels and standard equipment
Standard equipment on all BMW 4 Series Gran Coupe models includes sport seats, a sport leather steering wheel, automatic air con, LED headlights and rear lights and an automatic tailgate. There's also a reversing camera as standard, as well as cruise control with brake function.
The BMW 4 Series Gran Coupe M Sport adds M Sport suspension, M Sport exterior styling (incluyding the Aerodynamics package and M Sport spoiler), Parking Assistant and BMW Live Cockpit Professional.
BMW 4 Series Gran Coupe M Sport Pro Edition models comes with exclusive BMW Individual paintwork (Tanzanite Blue, Dravit Grey or Aventurin Red), 19-inch bicolour Midnight Grey alloy wheels, Aluminium Fabric or Piano Black interior trim, M Adaptive Suspension, M Sport brakes with red calipers and sun protection glass.
As well as its M Performance TwinPower Turbo six-cylinder petrol engine, the BMW M440i Gran Coupe features adaptive M Suspension and an M Sport differential.
Ask the heycar experts:
common questions
Is the BMW 4 Series Gran Coupe a good car?
We rate the BMW 4 Series Gran Coupe very highly. It's excellent to drive, has a superb interior and is more practical than the standard BMW 4 Series. It's an impressive alternative to an Audi A5 Sportback or Mercedes-Benz CLA.

How much is a BMW 4 Series Gran Coupe?
The new BMW 4 Series Gran Coupe starts from £40,465. That's for a BMW 420i Gran Coupe, while the range tops out at £54,670 for a BMW M440i Gran Coupe.

What's the difference between a BMW 4 Series and a BMW 4 Series Gran Coupe?
The BMW 4 Series is a two-door coupe, while the 4 Series Gran Coupe comes with an extra pair of doors and extra space for rear passengers. It's ideal if you want a car with a bit more style than a BMW 3 Series, but need to be able to comfortably carry rear-seat passengers.

Keep me updated by email with the latest advice, news and offers from heycar
By submitting, you agree to our
privacy policy
.