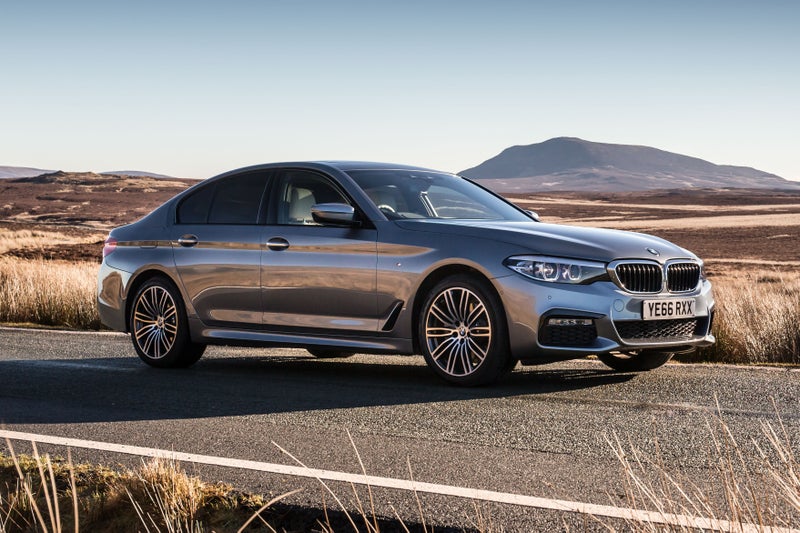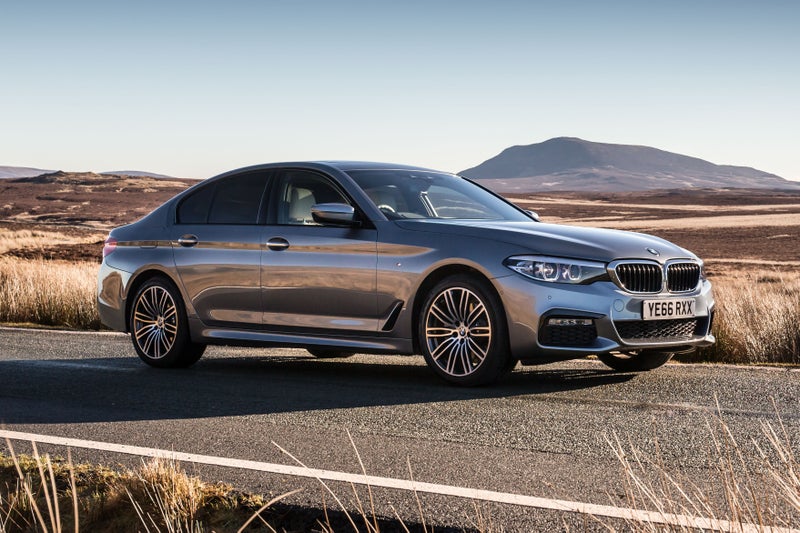 1/10
heycar rating
"Executive saloon tour de force "
Launched: 2017

Premium

Petrol, Diesel, PHEV
Quick overview
Pros
Blend of refinement and comfort
Supreme handling
Efficient engines
Cons
Some options are pricey
Rear seats not as roomy as some rivals'
No all-wheel drive for some models
Overall verdict
On the inside
Driving
Cost to run
Prices and Specs
Overall verdict
"The BMW 5 Series saloon is a barometer for the executive market. As the sector's regular best-selling model, when things are good for the 5 Series, they are good for everyone. This is because when the Five is booming, business is booming thanks to the BMW being the desired choice of so many company car drivers."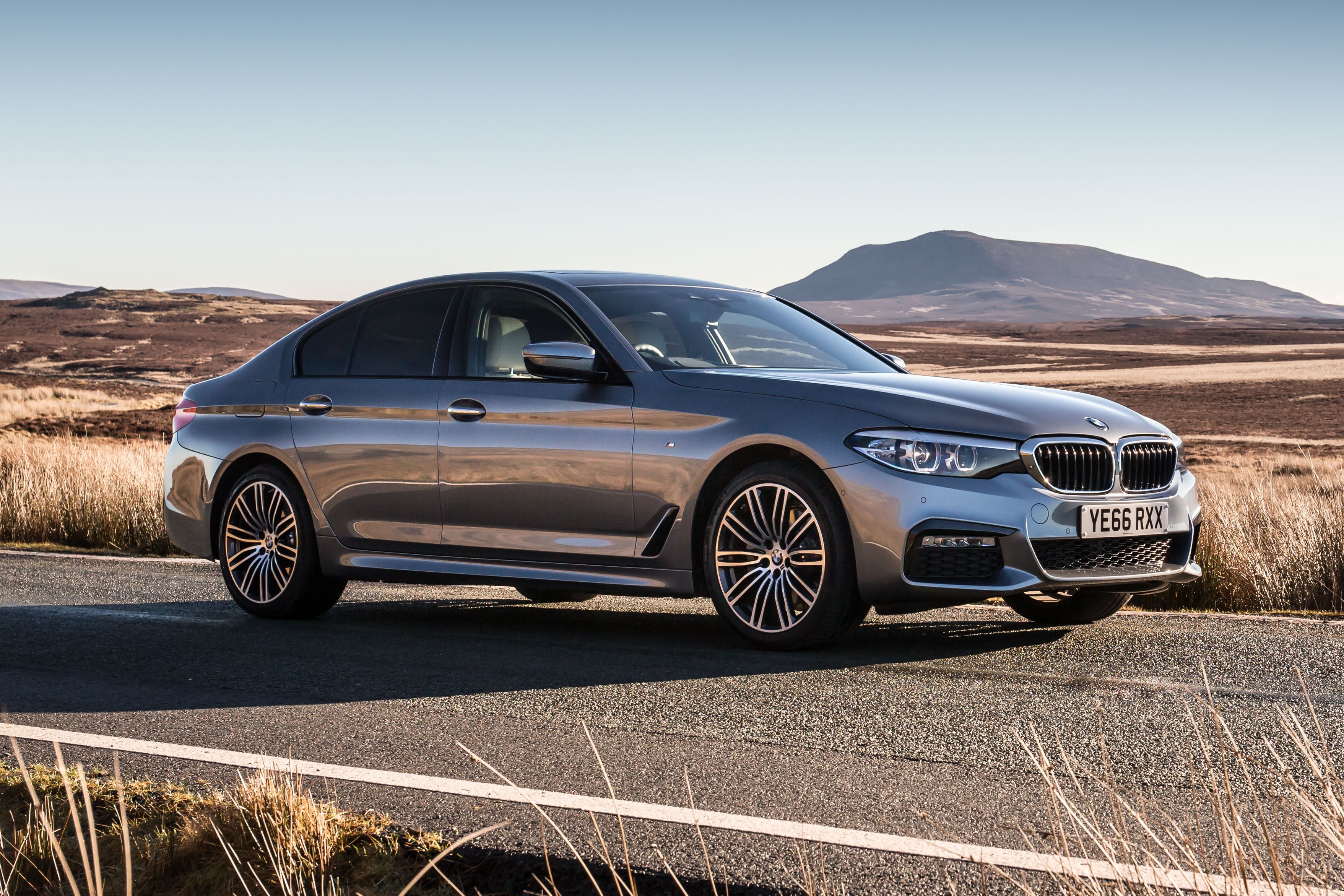 It's easy to see why, too. The 5 Series is a superb executive saloon, with top notch refinement and quality throughout. Like its predecessor, BMW's trademark driving enjoyment shines through on a challenging road, although some might feel that the interior feels a little flat against the equally excellent Mercedes-Benz E-Class. However, that's a very subjective matter.
If your heart's set on the BMW, you're unlikely to be disappointed. It has a wonderfully finished cabin and is packed with the latest convenience and safety tech. It also provides ample space for a family of four and is an outstanding long-distance motorway cruiser.
That's true even if you go for the basic 520i or 520d models. Despite forming the entry point into the 5 Series range, both come with an automatic transmission as standard, plus they are powerful, torquey and quiet, providing plenty of overtaking punch. Should your budget or company car allowance permit, then the 530i or 530d are even quicker, yet still economical. You also have the choice of a 530e hybrid model (one of the best hybrid cars you can buy), as well as the 540i and 550i models for superlative performance.
As good as the 5 Series is on a long run, it really stands out on a country road. Compared to rivals from Mercedes-Benz and Audi, the BMW is a touch more poised and direct, giving a real sense of connection between the driver and the road. If you really enjoy driving, this is the best car in its class and puts even the Jaguar XF in the shade.
The front seats provide plenty of adjustment, while the back row provides ample space. The boot, too, is a decent size but since this is a saloon its practicality is limited if you want to carry bulky stuff. But if space is a big concern you can always go for the Touring version, which is about as practical as cars come.
Be in no doubt, the BMW 5 Series is a brilliant executive saloon. The Mercedes-Benz E-Class may have a slightly more luxurious feel to its cabin, but the BMW is the more involving to drive. It means the BMW is very easy to recommend, though you may want to try the Merc just to make sure the 5 Series is perfect for you.
If you're looking for the older version, you need our BMW 5 Series (2010-2017) review.
Is the BMW 5 Series right for you?
The success of the BMW 5 Series in all its generations suggests the German firm has struck on the ideal formula for executive saloon car success. That doesn't mean BMW has ever stopped refining the Five and this latest generation is the very best yet. It offers more cabin space than ever before, which was always a slight negative for rear legroom, and has a superb sense of interior quality.
There are two simple trim choices to pick between and BMW even lets you have the more aggressively styled M Sport model but with the smoother SE suspension as a no-cost option. It's one we'd choose for the SE set-up's cushier ride. There's also a choice of rear- or four-wheel drive for both diesel engines and hybrid models and selected petrol versions.
All of this means its simple to tailor a 5 Series to your needs and thrown in as standard with every version is a level of driving fun that no other car in the executive sector can rival. It makes the BMW that rare thing of a dual personality car without any compromises in achieving either discipline of comfort or agility. If you need more space, the BMW 5 Series Touring is the best estate on the market. There's also the high performance BMW M5.
What's the best BMW 5 Series model/engine to choose?
Which BMW 5 Series saloon is right for you depends largely on whether you are a private buyer or a company car driver. For those funding the car with their own cash, we'd recommend the 520d in a heartbeat as it offers excellent fuel economy and emissions for a car of this size while also delivering massively on refinement, comfort and performance. We'd also say the all-wheel drive xDrive model makes sense for anyone concerned about winter driving.
Business users will be better off with the 530e in rear-drive M Sport trim as it slashes Benefit in Kind payments to 10 per cent. It also offers an electric-only range of up to 37 miles, while WLTP official combined fuel consumption of up to 201.8mpg will have the company accountant jumping for joy.
As for the decision between SE and M Sport trims, the racier M Sport wins on looks, but we'd take the no-cost option of the SE suspension for a more soothing ride.
What other cars are similar to the BMW 5 Series?
The BMW 5 Series saloon has two main rivals in the shape of the Audi A6 and Mercedes E-Class. Both have vault-like build quality, a fine range of engines and the option of all-wheel drive. The Audi is more slanted towards motorway cruising, while the Mercedes prefers outright comfort to the BMW's agility.
It's also worth considering the Jaguar XF, which is closest to the BMW in its driving manners. Volvo's S90 prefers a soothing ride, while the Maserati Ghibli is an expensive though appealing alternative if you can afford its asking price and running costs.
Comfort and design
"From the driver's seat the 5 Series is a familiar BMW. The centre stack is angled slightly toward the driver and the instrument binnacle has clear, easy-to-read dials, while the layout looks like an evolution of the earlier car rather than a radical, all-new change. That said, everything is logical and easy-to-use."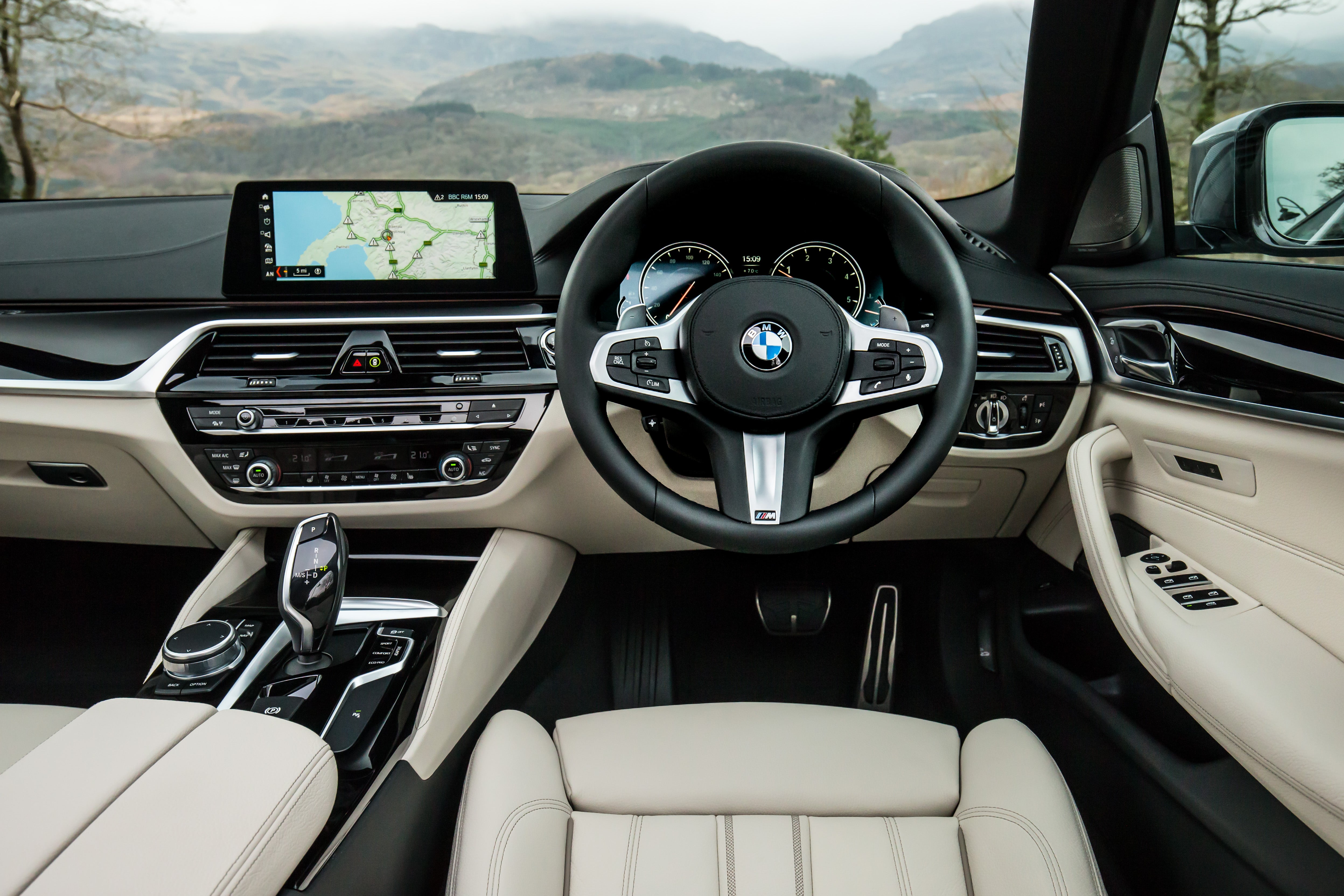 There are plenty of modern touches too, like a digital instrument binnacle framed by traditional dial surrounds. There are even high-tech touches like gesture control for the infotainment system, though in practice this feels like a gimmick rather than a useful feature.
There's nothing gimmicky about the generosity of space or range of adjustment for the driver. Every 5 Series model enjoys a supportive, cosseting seat with an ideal driving position easy to achieve thanks to the variety of movement in the seat. The steering wheel moves for height and reach, so drivers of all shapes and sizes will soon be comfy.
Vision in all directions is good for the BMW driver and you also benefit from an airy feel in the cabin thanks to the amount of space for head, legs and shoulders. Even in the M Sport models with their dark headliner, the 5 Series avoids feeling sombre or oppressive in the way some executive cabins can if the buyer opts for dark upholstery and trim finishes.
All of the controls have a solidly pleasing feel to their actions for the driver and the gear lever for the eight-speed automatic gearbox is soon learned and understood for anyone who hasn't used this type before.
Quality and finish
While Audi and Mercedes-Benz have built entire reputations based on the quality of their materials and how they are screwed together, BMW has been more about driving ability. However, this overlooks the fact that the BMW 5 Series is every bit as well put together as its key rivals.
All 5 Series models come with leather upholstery as standard, which imparts a feeling of quality straight away. This is enhanced by the hide having a more premium finish than that found in more mainstream saloon cars. The rest of the plastics and materials in the Five are equally well produced and put together with care and attention.
This approach is also applied to the ease of use of the 5 Series functions and controls. The iDrive controller is simple to comprehend and operates a slick infotainment system. There's also a very good, though pricey, head-up display. We're not so convinced by the Gesture Control to work the infotainment with touch-free hand swipes as it's hard to finesse your inputs.
Infotainment
The infotainment system in the 5 Series has the latest version of BMW's iDrive set-up and it's very easy to use, with a dial to scroll through various menus and settings. It's very intuitive and means you can do most things without distracting yourself from the road ahead, whether you're tweaking the zoom level on the map or changing radio station.
We're not convinced the Gesture Control function is worth bothering with, but it does mean you don't have to reach as far to work some basic functions on the screen. However, when there are steering wheel buttons to adjust the stereo's volume, it seems a bit pointless to twirl your finger in front of the screen.
The 10.25-inch Professional Multimedia screen that's standard in all 5 Series is a touchscreen, which again defeats the object of Gesture Control. There are also shortcut buttons in the dash's centre console to take you to favourite menus or pages, such as pre-programmed sat-nav destinations or radio stations. All of this makes the iDrive system one of the best infotainment systems to use while driving and for its clarity of information.
Space and practicality
BMW has finally laid to rest any qualms you might have about rear seat space with this generation of 5 Series. It manages to offer a fraction more knee room than its old adversary, the Mercedes E-Class, and access to the back of the BMW is excellent thanks to the wide-opening doors.
Once sat in here, the rear quarters of the 5 Series provide ample space for two adults. They are afforded plenty of headroom and lots of width for their elbows and shoulders. A third rear passenger can be accommodated, but they will be a lot less comfortable due to the raised centre cushion and shape of the base. However, BMW does provide a trio of three-point belts anyway and there are ISOFIX child seat mounts in both outer rear seats with easily accessed slots behind pull-out plastic covers.
Although the window line in the 5 Series is typically high for this class of car, there is still a sufficiently open, airy feel in the back half of the cabin for it to avoid feeling hemmed in.
When it comes to load capacity, the 5 Series saloon is more than up to a family holiday trip thanks to a boot size of 530-litres with the rear seats in place. The 40-20-40 split and tip back seats are very simple and easy to cant forwards. However, you should be aware that choosing the 530e means accepting a smaller 410-litre boot size as the battery pack takes up some luggage space.
It's also important to note the 5 Series' boot does not have quite as wide or uninterrupted a floor area as an Audi A6 or Mercedes E-Class saloon's, which can make sliding in larger cases a hassle. However, the BMW enjoys a wide boot opening and the lid swings up high so that you have the full size of the aperture to use when packing in bigger items. If you need to pack in more, then you should be looking to the 5 Series Touring as the more practical option.
Handling and ride quality
"The BMW 5 Series saloon's suspension is very good to start with, but there is some room for improvement if you want the ultimate in comfort. As standard, it shrugs off most lumps and dips in the road with a calm efficiency, yet in corners there's taut control and excellent steering feedback, especially in the models with lighter four-cylinder engines in place of the heftier six- and eight-cylinder motors."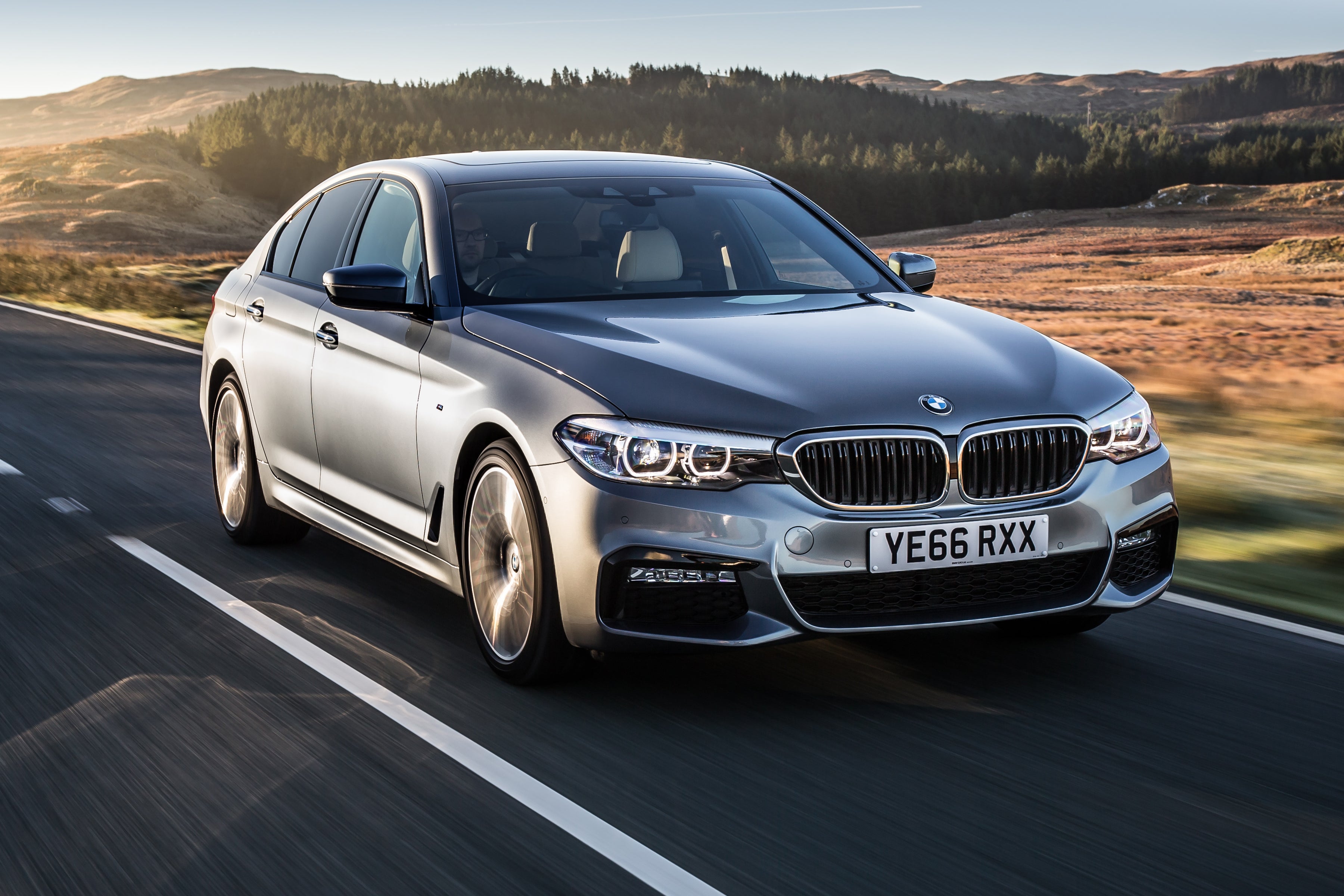 Some of the 5 Series' room for improvement is due to the run-flat tyres that are fitted to most models as standard. They bring a slight firmness to the way the car deals with potholes and ridges, so you would be well advised to choose the Variable Damper Control option that smooths out the car's responses, even at low speeds on terrible urban tarmac.
With the M Sport version of the 5 Series, a firmer suspension setting is standard to underline this model's athletic nature. However, BMW offers buyers the opportunity to deselect this and have the SE's suspension tune instead. It's what we'd choose as you get all of the M Sport's looks combined with the SE's greater ride comfort.
Taking this route does not undermine the 5 Series superb handling in any way, shape or form. Rather, it lets you make the most of the Five's wonderful balance and cornering poise as you're not constantly scanning the road surface for battered tarmac to avoid. Next to its rivals, the BMW is easily the finest handling executive saloon on the market and not even the supple Jaguar XF gets close enough to worry the BMW's supremacy in this field.
Engines and gearboxes
There's no shortage of choice when it comes to engines in the BMW 5 Series. The range kicks off with the four-cylinder 520i and its turbocharged 2.0-litre motor with 184PS. It's smooth and more than punchy enough for most needs, while the 530i uses the same engine in a higher state of tune. This delivers more pace when you press hard on the accelerator pedal, but it's not so noticeable in everyday driving.
The other petrol-only models are the 540i and 550i. The 540i has a 3.0-litre turbo motor producing a strong 340Ps that can rocket the car from zero to 62mph in just 4.7 seconds. However, if you want near M5 performance without the added cost, the M550i xDrive scorches from 0-62mph in a mere 3.8 seconds thanks to its 530PS 4.4-litre V8 with twin turbochargers. It's impressively swift and smooth, but comes at a price most won't want to pay.
Then there is the 530e plug-in hybrid with its 252PS. It sees off 0-62mph in a brisk 6.1 seconds, but more importantly can offer an electric-only range of up to 36 miles depending on which version you choose as there are rear- and four-wheel drive models.
The diesel engines are also offered with the same choice of two- and four-wheel drive. The 2.0-litre turbodiesel in the 520d is ideal for almost all needs and never feels in any way short of puff in the 5 Series. The six-cylinder 530d is brawnier and offers even more relaxed high-speed cruising, but its higher emissions and lower fuel economy count against it.
All 5 Series come with a very easy-shifting eight-speed automatic gearbox as the only transmission choice. This is no hardship as it's a pleasure to use in every situation.
Refinement and noise levels
There isn't a dud among the whole BMW 5 Series range when it comes to refinement, but we would point out that picking 19-inch wheels with run-flat tyres will introduce a bit of road noise to the cabin. Otherwise, the BMW enjoys near cathedral hush as it makes progress along faster or rougher roads as the suspension does an excellent job of isolating the interior from outside disturbance.
It's the same with wind noise, which is to be expected given the 5 Series has been developed in Germany where the car must perform well at extremely fast autobahn speeds. On other motorways, there's barely a whisper as the car passes through the atmosphere.
All of the engines are commendably quiet in use. You will notice a little burble from the 520d models under hard acceleration, but it settles back to a near-silent hush when cruising.
With the larger 530d's six-cylinder motor, it's never anything but well-mannered, while the petrol motors are all very refined. Choose the 530e and it's silent in EV model, while the petrol engine cuts in quietly and without any hesitation. We are also fans of the eight-speed automatic gearbox used in every 5 Series for its seamless transition from one gear to the next.
Safety equipment
In Euro NCAP tests, the BMW 5 Series scored a full five-star rating. This was helped by its impressive 91 per cent score for adult occupancy safety, along with an 85 per cent ranking for child occupant safety. However, it was marked down to 59 per cent for safety assistance technology, which is reflected in the BMW not including lane departure warning as standard.
You can add the Lane Departure Warning as part of the Driving Assistant package and it's something we'd heartily recommend any 5 Series customer to choose. This pack also comes with cross-traffic warning, rear collision prevention, lane change warning, and speed limit information. You could also upgrade this to Driving Assistant Plus for even greater safety.
All 5 Series models come with twin front, side and curtain airbags, as well ESP traction and stability control. There are three-point seat belts for all five occupants and Isofix child seat mounts fitted to the outer rear seats.
BMW also included autonomous emergency braking with every 5 Series to warn the driver of approaching hazards. If the driver fails to react, the system will apply the full power of the brakes to avoid a collision or lessen its impact. There is also a deployable bonnet that pops up to create a bigger cushion for a pedestrian if the come into contact with the car.
Maximum EV range
If you choose the BMW 5 Series hybrid 530e model in SE trim, it offers up to an official combined economy of 201.8mpg. This is achieved when you make full use of the battery range of up to 36 miles on a full charge. In the four-wheel drive M Sport model, that drops to 31.1 miles of EV range and 141.2mpg.
Charging up the 530e is as simple as any other plug-in car with a charging port placed just behind the front left wheel. The car comes with a cable for Type 2 public fast chargers to recharge to 80 per cent in as little as 30 minutes and there's the option of a BMW i Wallbox home charger.
MPG and fuel costs
"Aside from the 530e mentioned above, the most economical BMW 5 Series model is the 520d SE that offers up to 56.5mpg combined consumption. That compares to a Real MPG of 51.8mpg. Choose this engine with xDrive all-wheel drive and it has an official best of 52.3mpg and Real MPG number of 43.2mpg."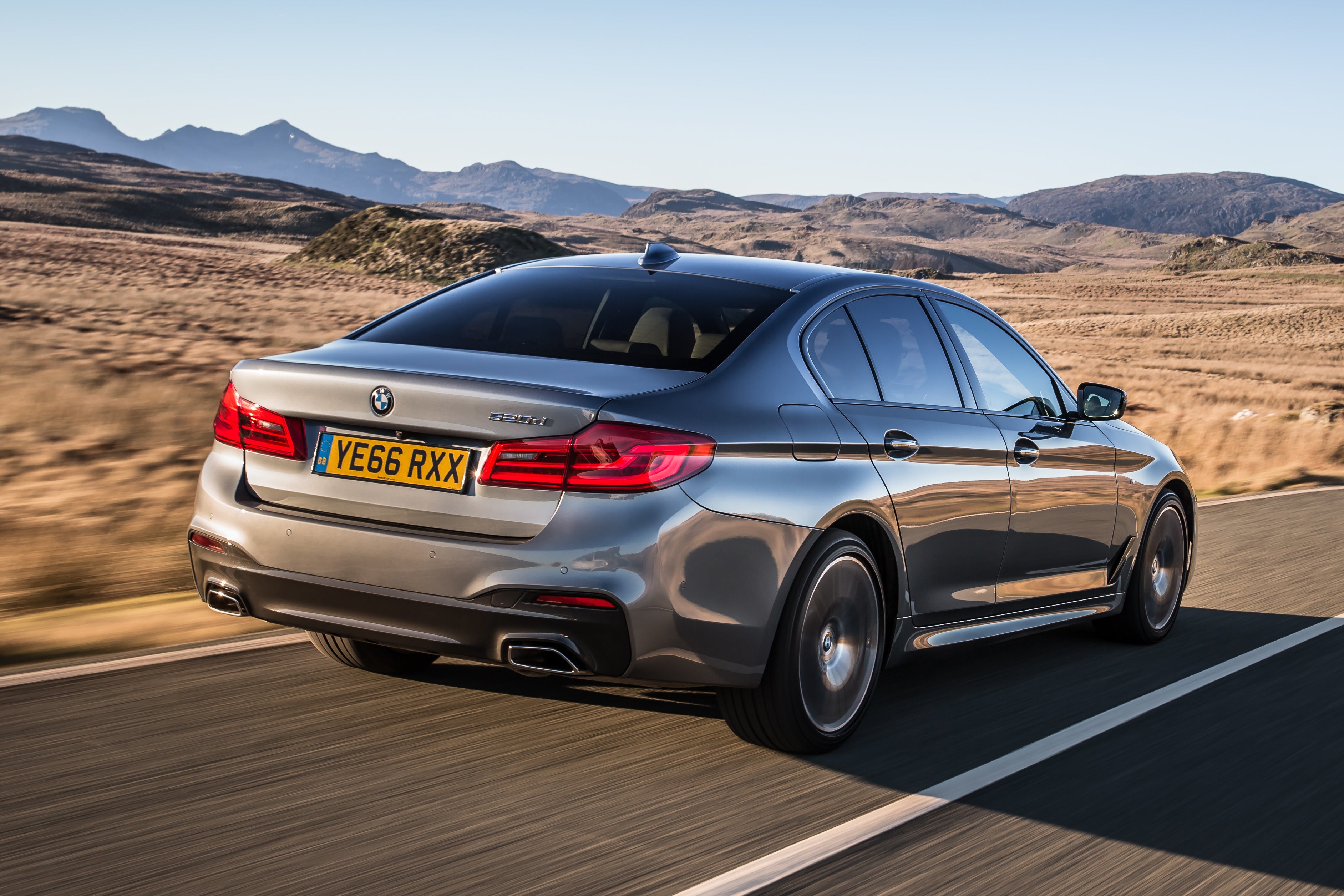 The 530d SE offers a best combined consumption of 48.7mpg under WLTP testing, while Real MPG shows this at 43.4mpg. Go for the 530d xDrive M Sport and these numbers drop to 42.8mpg officially and 40.7 from Real MPG.
Insurance groups and costs
Both the 520i and 520d in SE trim fall into the same group 30 band for insurance. This puts them on a par with their rivals from other manufacturers. Specifying either of these models in M Sport trim pushes them into group 31.
The 530i sits in group 35 regardless of trim choice, while the 540i is in group 39 as an SE and group 40 in M Sport form. The 530e sits in groups 36, 37 or 38 depending on trim and if you want xDrive all-wheel drive or not. Take the 530d and all versions sit in group 41 regardless of trim or if its rear- or four-wheel drive.
VED car tax
The BMW 5 Series in 530e guise qualifies for free road tax in its first year, though the xDrive M Sport model attracts a £15 first-year charge as its emissions sneak over the 50g/km mark. However, this will go up to £465 after that as the 530e costs more than £40,000 new.
The 520d SE is the next cheapest for road tax in the first year at £540. If you stick with this model and add no options at all, its list price just sneaks in under the £40,000 threshold so subsequent years will cost £150 in road tax. However, if the car's list price goes over that bar, you'll pay £475 per annum.
How much should you be paying for a used BMW 5 Series?
"A three-year old BMW 5 Series can be yours from £18,000 if you choose a 520d SE with around 30,000 miles on the clock. This will most likely come from a car supermarket but will have a full service record and be ready for plenty more miles."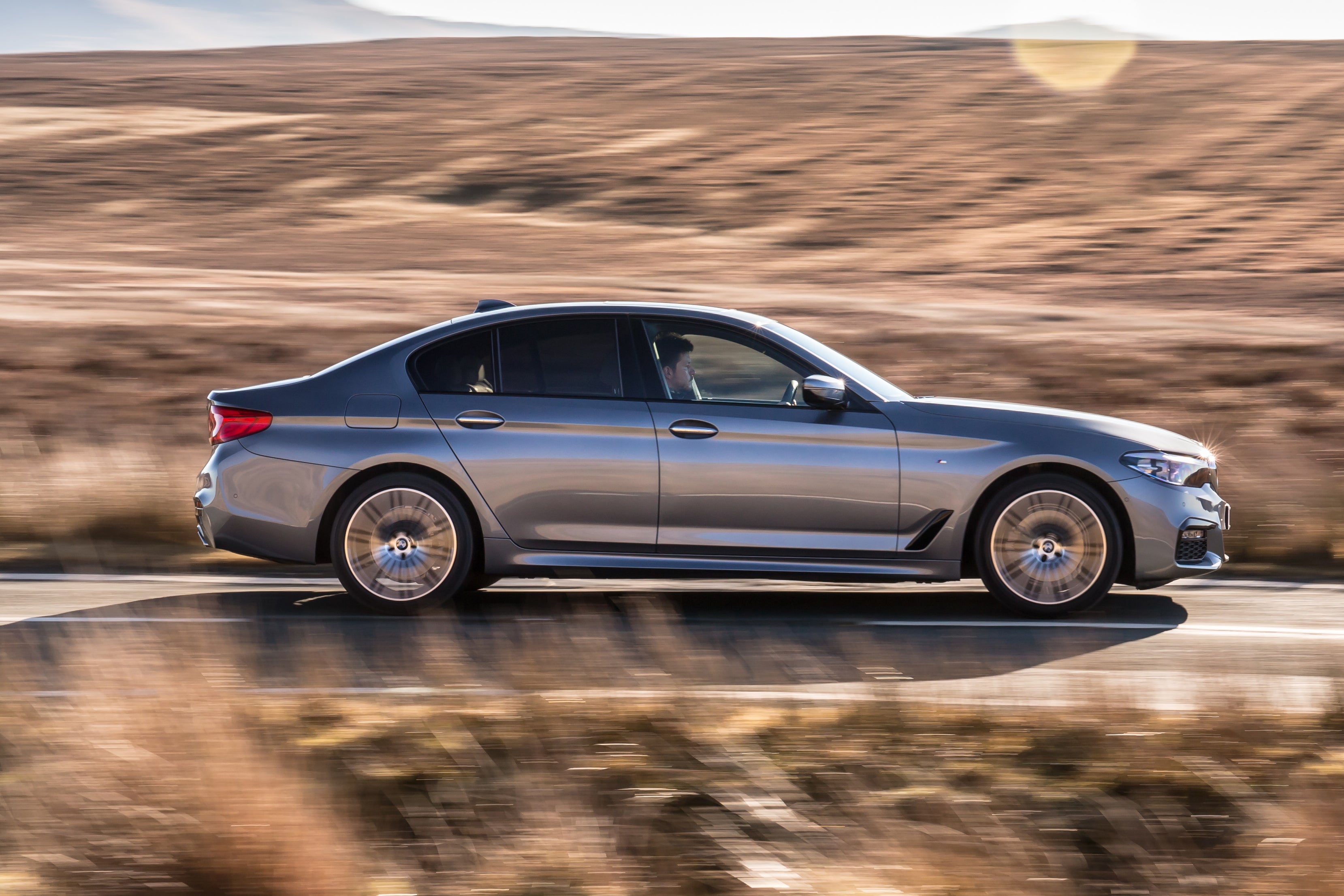 Look for a 530e similar age and mileage and the price will start around the £21,000 mark for an SE model and the M Sport will come in around £1500 more.
A nearly new or pre-registered 5 Series is a very good bet and dealers have these on offer with savings of up to £8000 for a 520d M Sport. This is for a car with 1500 miles on the clock that has likely been a dealer demonstrator and comes with plenty of optional extras to sweeten the deal.
Trim levels and standard equipment
Aside from choosing between the standard rear-wheel drive or xDrive four-wheel drive offered with most BMW 5 Series models, you have a simple decision between either SE or M Sport trims.
The SE comes with 17-inch alloy wheels on the 520i and 520d, while the more powerful versions have 18-inch wheels. You also get LED headlights, all-round parking sensors, automatic headlights and wipers, cruise control, and the Drive Performance Control to choose different driving modes to suit the conditions. Inside, there's air conditioning, iDrive with 10.25-inch touchscreen, heated front seats with electric adjustment, and leather upholstery.
M Sport models have 18-inch alloys for the smaller engines and 19-inch rims for the more potent versions. There's M aerodynamic body styling and M badges, along with twin exhaust pipes and LED fog lights. For the interior, BMW supplies an anthracite headlining, and M-specific steering wheel, pedals and floor mats.
The 530e models come with a fast-charging cable, black-panel instrument cluster with hybrid-specific functions to show battery usage information, and an e-button to choose between different driving modes. There is also a flap in the left front wing where the plug-in charger is fitted.
BMW 5 Series cars for sale on heycar
3,240
Number of cars available
£13K - £74K
Price bracket of these cars
Colours available on heycar
Keep me updated by email with the latest advice, news and offers from heycar
By submitting, you agree to our
privacy policy
.