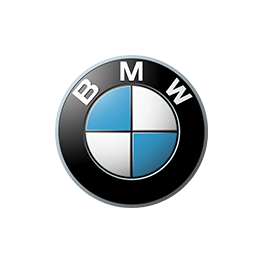 BMW 5 Series (2010-2017) Review

Written by
heycar editorial team

heycar rating
"Famous five's a star car"
Best bits
Superb car to drive
Efficient, powerful diesel engines
Classy appearance and luxurious interior
Not so great
Styling a little anonymous
Diesel dominates the used car listings
Desirable M Sport versions cost more
Read by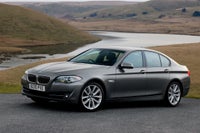 Overall verdict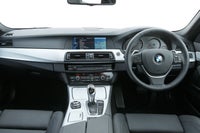 On the inside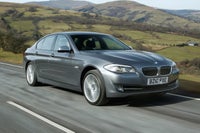 Driving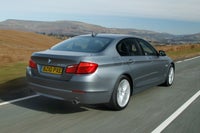 How much does it cost to run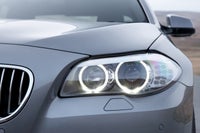 Prices, versions and specification
Overall verdict
"The 5 Series is one of the core models within the BMW range, a brand-defining executive saloon that has delivered premium-grade motoring to fortunate owners since the early 1970s. BMW built its reputation on cars such as this, and it's an integral part of its range that everyone in the company holds in the very highest regard. If there's a car they all know they need to get right, it's the 5 Series."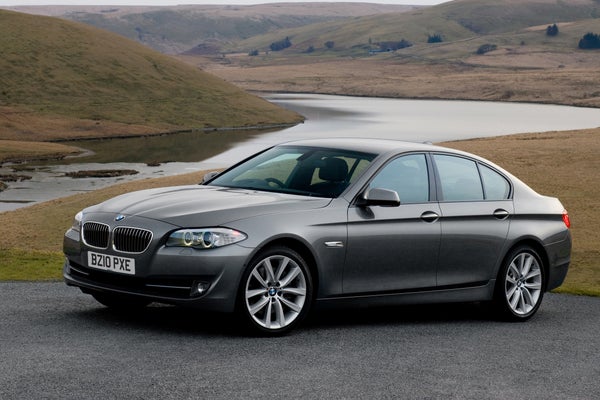 Compared with its angular predecessor, the 2010 BMW 5 Series was a much more subtle and rounded affair. BMW's customer base clearly told it to tone things down a little, which they then underlined by choosing the sober silver, grey and black colours so many 5 Series are painted in. The advantage of this approach today? Even a decade-old 5 Series still looks reasonably contemporary and fresh, and much less divisive than the previous version.
Inside, occupants are treated to an upper-class cabin closely modelled on the range-topping 7 Series. It's more welcoming than older models, with an open-plan feeling and sense of comfortable warmth, compared to the stark and design-led setup of the older car. Everything centres around BMW's iDrive infotainment system, which is neatly integrated into a widescreen monitor high up on the dashboard.
The 5 Series is a near-faultless car to sit in, with perfectly-placed controls, extremely comfortable seats and a commanding feeling from behind the wheel. You feel that you're driving something a bit special. It's more spacious than older 5 Series models, too – BMW doesn't quite offer the space its rivals from Audi and Mercedes-Benz do, but there's still a decent amount of room for passengers in the rear. And that's certainly not something you can say about the British alternative, the Jaguar XF.
The engine range is focused on diesels, particularly the 520d. This may be 'just' a 2.0-litre four-cylinder, but it's a very strong engine with a great blend of performance and fuel economy – particularly the EfficientDynamics version. It's nice and refined, too, particularly when cruising on the motorway, which is where most 5 Series spend the early years of their lives. With the impressive eight-speed automatic gearbox as well, you won't feel short-changed.
More powerful engines are a tempting step up. The 525d is a decent half-way house, using a 3.0-litre six-cylinder turbodiesel, but the one you really want is the 530d. This has a muscular 245PS and tireless response to the accelerator pedal, even at higher speeds. It's not loud, but the noise it does make is very appealing. Petrol engines are also out there to buy, but they're much rarer and pricier to run.
The model range is nice and straightforward: SE and M Sport. All are very well equipped, coming with luxuries such as heated leather seats, climate control and alloy wheels. But M Sport is by far the more visually appealing trim, with bigger wheels, M body styling, M Sports suspension and bespoke interior trim that includes a beautiful M leather steering wheel. M Sport cars carry the price premium to match this extra appeal, mind, so it is SE versions bargain-hunters should hunt for.
The 5 Series was facelifted in 2013, with new engines and now-standard sat nav. It's a discreet update, with only the clear-lens xenon headlights giving the game away. However, the extra standard features mean these later cars are worth going for if you can. Even if your budget is smaller, though, this generation of 5 Series is still worth checking out. It's easy to see why it's stuck around for so long, because it's a car still at the top of its game.
If you're looking for the newer version, you need our BMW 5 Series (2017-) review.
Comfort and design
"BMW leant on the luxurious layout of the larger, even more luxurious 7 Series for this generation of 5 Series. It is sophisticated and cohesive inside, with a nicely flowing dashboard and smoothly-integrated switches. The 'black panel' climate control system looks modern and we like the clever combination of analogue instruments with digital displays set within."
As with the exterior, it's not as instantly charismatic as some older models, but it's a more comfortable and a welcoming place to sit. It's less stark and angular, and it feels like you're sitting within the car, rather than perched on top of it.
We like the big, multi-adjustable seats in the regular SE, and love the more bolstered and supportive sports seats in M Sport versions. They have a nicer steering wheel, too, plus a black anthracite roof-lining that gives the interior a darker, moodier feel.
Those who are familiar with other modern BMWs will find the design very easy to use. Everything is laid out in a way that closely follows the firm's rule book, from the buttons on the steering wheel to the electric window and door mirror switches. Even the electronic parking brake handle is neatly integrated into the automatic gear lever surround. The dial that alters face-level air vent flow from warm to cool is in its familiar place, next to the hazard warning light switch.
Handling and ride quality
"If Audi is about sophistication and Mercedes-Benz is about comfort, then BMW is about driving enjoyment. The 5 Series doesn't disappoint. This is a very talented and dynamic car with a huge repertoire of abilities, and you'll struggle to find a road or a challenge that fazes it."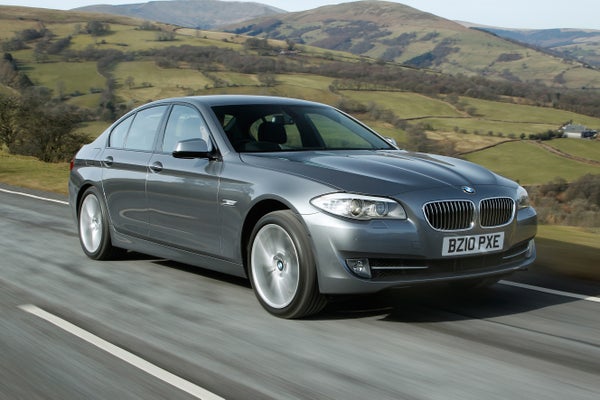 The car has a poise and stance that you normally associate with smaller, sportier models such as the 3 Series. BMW's perfect weight distribution makes the big 5 Series feel natural and extremely agile, even when it's thrown around in a way you wouldn't normally dream of for such a large car.
Even better in this regard are models fitted with Dynamic Damper Control, an adaptive suspension that heightens the car's abilities yet further and also lets you choose, via a button next to the gearlever, whether you want a sportier or more comfortable setup. Even the most relaxed setting doesn't generate excess body-roll, though.
Steering is precise and accurate, with a reassuring weight. The only criticism here could be that some of the granular feel of older BMWs is lacking – in the quest for comfort and refinement, that last little edge has been lost.
Still, those who were familiar with the generation of 5 Series before this will think it a price worth paying, because of the vastly improved ride quality. It's incredibly absorbent, with comfort approaching Mercedes-Benz levels, and certainly more suppleness than an Audi A6. It's very settled and fluid at higher speeds too, genuinely soaking up hours and hundreds of miles with not a trace of discomfort. It's firmer on M Sport models with bigger wheels and tighter suspension, yes, but even then it is never uncomfortable.
MPG and fuel costs
"The favoured 520d version is an exemplar in this regard. At launch, the 184PS version could return over 60mpg in both manual and automatic guises."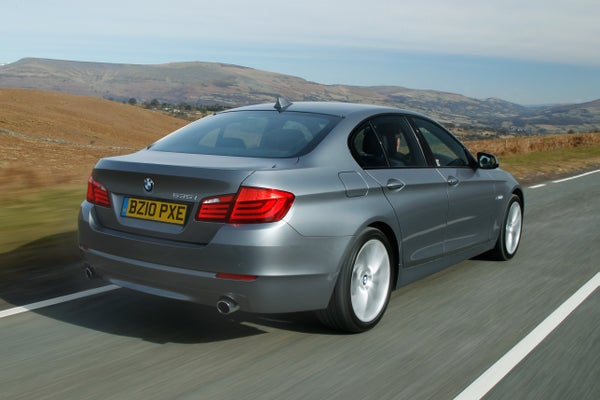 This was later improved to 65.7mpg for the enhanced, post-facelift 190PS motor (matching the earlier 520d EfficientDynamics variant). Automatics really are as economical as the manuals, and in everyday driving, you might even find them a touch more efficient.
Such impressive economy helps keep fuel costs low, which is why the 520d versions is still so sought after. The cheaper, lower-power 518d isn't actually any more economical, which underlines what a good job BMW did (and why it's not worth putting up with the 518d's lesser performance if you don't have to).
You pay for the extra refinement of the 530d. It returns a more average (but still decent) 50mpg. Petrol versions are thirstier still, with the 535i averaging 35mpg and the 550i managing just 32mpg.
How much should you be paying for a used BMW 5 Series?
"Prices for approved used BMW 5 Series begin from around £9000 for higher-mileage SE models."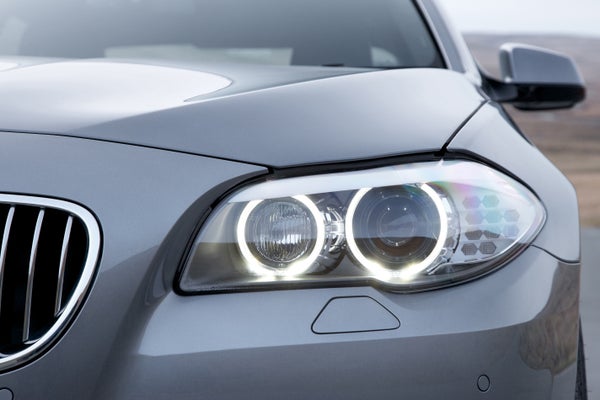 If you prefer fewer miles, budget from around £10,000, while M Sport versions generally start from £11,000 for 2013 models. Our tip is to start with around £12,000-£13,000 and search for a facelifted model if you can.
Cars at this level will be almost unanimously be 520d versions. We struggled to find a 530d for less than £15,000, which shows how much you need to budget. As for the 550i, that's like hen's teeth, and we didn't actually encounter one during our search. We did spot a few 535i six-cylinder turbo petrols though, priced from around £18,000.
Is the BMW 5 Series right for you?
Although more and more people are hankering after SUVs these days, the BMW 5 Series still has plenty going for it, even in four-door saloon guise. For starters, it's very comfortable for passengers. Compared to an alternative family hatchback, the kids will feel like they've been upgraded to business class – and driving it will feel like you've stepped up in the world, too.
Saying that, an Audi A6 offers more legroom in the rear, so if you regularly carry adults, it might not be the most complete all-rounder. And although it drives extremely well, committed purists may find the steering doesn't have quite the degree of feedback you normally get in a BMW. If you need more space, you need look no further than the BMW 5 Series Touring.
What's the best BMW 5 Series model/engine to choose?
The most popular and best-selling 5 Series variant is the 520d, and it's easy to see why. This is a surprisingly strong engine that has ample pulling power, yet also returns extremely impressive fuel economy (the 520d EfficientDynamics and later 190PS 520d are particularly strong here). It's a genuine all-rounder that shows what a well-crafted machine the 5 Series is.
By all means step up to a 530d if you can – it delivers more of the same, with an even nicer engine note – but the 520d won't leave you feeling short-changed.
Of the two trim grades, we can't resist the more stylish M Sport. SE is well-equipped, but M Sport has the looks to go with it. Sporty trim details inside make it even more purposeful to sit in, too.
What other cars are similar to the BMW 5 Series?
The two most obvious rivals for the BMW 5 Series are the Audi A6 and Mercedes-Benz E-Class. They too are built around economical four-cylinder turbodiesel engines, offer a broad array of other engine choices and have a comprehensive executive-level standard spec.
For a British alternative, there's the Jaguar XF, while the Lexus GS is a Japanese take. The Volvo S80 is a bit more forgettable, and you have to admire the ambition of Infiniti with its Q70 rival – even if the model ultimately flopped in the UK.
 Quality and finish
This generation of 5 Series marked a real step up for BMW after its slightly plasticky predecessor. Hard, shiny plastics were out, and smooth, soft-touch materials were in – with a large area of the dashboard covered in stitched material, for an added quality touch.
It all feels very substantial and exactly how you'd expect a BMW to appear. It trades blows with Audi for overall interior quality, and is certainly a step up compared to the equivalent Mercedes-Benz E-Class. You sense BMW has even tuned the thunk of the doors to give off an impression of perfectly-finished precision.
BMW offers a choice of appealing inlay trims, from convincing wood-effect panels to cool piano black. All are surrounded by polished aluminium trim stretching the full width of the dashboard and into the doors, giving another tactile touch to this high-quality interior. And those in the rear aren't short-changed, enjoying a similar feeling of executive-level substance. It seems a cut above the family-focused norm.
Infotainment
BMW has a well-deserved reputation for infotainment excellence and the 5 Series doesn't let the side down. Its widescreen colour display is centrally positioned at the top of the dashboard and it seems as if everything has been designed around it, rather than simply plonked on top.
The standard screen was a 7.0-inch setup, with many going for the 10.2-inch upgrade that is even nicer to use. All are controlled using the central BMW iDrive controller wheel: this twists, toggles and presses in a brilliantly logical and straightforward way. It's almost impossible to get 'lost' within the system, and entering sat nav destinations is quick and easy.
Infotainment could be supplemented by a head-up display that projects key information onto the windscreen ahead of the driver, including sat nav directions. It was useful, but expensive when new – so is rare to find.
With the 2013 facelift, sat nav became standard on all models. An emergency call button was fitted as standard, and other ConnectedDrive technologies included. The optional BMW Professional media package became more comprehensive and feature-packed, including gadgets such as real-time traffic information and intelligent route assist. The iDrive controller also gained touch-sensitive control for written entry of addresses.
Space and practicality
The BMW 5 Series is designed first and foremost to indulge those who cover long distances at high speeds. It's a car made for the motorway, built to accommodate the busy, harassed executives who drive it. Front-seat comfort is thus of huge importance. Needless to say, it delivers.
The driving position feels good, in that slightly sporty BMW way. It seems just a bit more focused than in a comparable Audi A6, with nicely-positioned pedals and a perfectly located steering wheel. Just be aware the pedals do feel a little offset to the right in the (rare) manual gearbox versions.
Even if you're very tall, you'll never feel cramped behind the wheel of the 5 Series, such is the tremendous amount of seat adjustment on offer. However, while it's bigger than the previous model in the rear, direct rivals are bigger still – and do spoil passengers just that little bit more.
The rear seats are very comfortable though, even the middle seat. The biggest complaint there might be the lack of foot space, due to the chunky transmission tunnel running through the middle of the car. Headroom front and rear is excellent.
On paper, boot space is good: 520 litres is considerably larger than something like a Volkswagen Golf. However, the 5 Series boot was actually smaller than all its competitors, and the space itself is a bit on the narrow side for such a large car. The saloon boot opening isn't as practical as a hatchback (or the 5 Series Touring estate) either.
Unforgivably, BMW charged extra for a folding rear seat at launch (it was a 40/20/40-split arrangement, but still). It means that you can't guarantee it will be fitted on a used car – check before you buy if you think you'll need to carry longer loads.
Isofix mountings for child car seats are standard in the rear and, apart from door openings that are perhaps slightly on the small side, it's a practical car for loading babies and toddlers. The Euro NCAP safety score for child protection was a reasonable 83%.
Engines and gearboxes
We'll concentrate on the 520d, simply because BMW sold so many of them. There were times when nine in 10 new 5 Series sales were this version.
The 184PS 2.0-litre turbodiesel four-cylinder engine is a great match for the car, with lots of pulling power and, if you try hard, 0-62mph in just over 8.0 seconds. It rarely feels slow and, while it can be a bit audible when revved hard, settles down extremely well when cruising.
A later power boost to 190PS thanks to a new improved engine was even better, dipping below 8.0 seconds for the 0-62mph dash. We wouldn't hesitate in choosing it, particularly with the favoured automatic gearbox. We would perhaps pause if we encountered the less powerful 518d, though. With 143PS (later 150PS), this motor just doesn't have the oomph to fully deliver the famed 5 Series experience.
The lovely 530d does, though, thanks to 245PS (later 258PS) and 0-62mph in as little as 5.8 seconds. The 204PS 523d, later a 218PS 525d, aren't that much faster than the 520i, and have worse fuel economy, but do provide six-cylinder smoothness for those who want it.
The torquey six-cylinder diesels are preferable to the 272PS 530i petrol, in fact. If you are looking for a petrol-powered 5 Series at this level, we'd steer you to the 306PS 535i or exceptional 450PS 550i V8. Be warned, though: both are very rare indeed.
Refinement and noise levels
This 5 Series is a beautifully refined car. That smooth, subtle interior is a haven of quietness and comfort, particularly when eating up miles in the outside lane of the motorway. Wind noise is kept at bay, road noise is well isolated, and the engines make little more than a murmur. The eight-speed automatic gearbox is particularly good in this respect, keeping engine revs low and changing gear with genuinely imperceptible finesse.
If there's a complaint about the four-cylinder diesels, it's that they can be a bit rattly when first started up in the morning. But they soon quieten down when warmed through. The noise of the six-cylinder and V8 versions is never objectionable – if anything, you'd like to hear more of them.
Where the 5 Series is particularly good is in isolating passengers from the noise of passing vehicles. This makes it very easy for them to snooze on long trips, because they won't be disturbed by the whoosh of other cars and trucks. It's another small detail that makes the 5 Series so appealing to families.
Safety equipment
It's airbags aplenty with the 2010 5 Series, along with standard stability control. A good range of active safety features was also offered with this model, including lane-departure warning, lane-change warning (alerting you if you were about to pull into the path of a car racing up from behind), speed limit information and a head-up display.
Even night vision was available as an option, helping pick out people and animals in absolute darkness. However, because it was pricey, few actually chose it when new. We like BMW's high-beam assist feature as well, which automatically dips the headlights when it detects an oncoming car, so you don't dazzle them. It makes it easier to keep the main beam on for longer, and was enhanced in 2013 when high-intensity xenon headlights became standard-fit.
Safety watchdog Euro NCAP awarded the 5 Series a full five-star score (something its predecessor failed to achieve). Adult occupant protection was particularly strong, on 95 percent, while pedestrian protection was rated 78 percent, helped in part by an active bonnet that popped up on impact to protect pedestrians' heads. And all that active tech gave the car a remarkable 100 percent score from Euro NCAP for safety assist.
Insurance groups and costs
This is an executive car, so it costs more than the family car norm to insure. Ratings start from group 30; for a similar-age Volkswagen Golf, they begin at group 10. Cheapest to insure is the 518d SE, a 520d SE jumps up to group 34 because of its extra performance, and a 520d M Sport is group 36.
It's a similar story for the six-cylinder diesels, with a 525d SE rated group 39 and the 530d SE in group 43. Petrol models are pricier, particularly the high-performance ones, with the 550i sitting in group 46 for insurance.
VED car tax
Low CO2 emissions are another reason why the 520d is popular, and this equals affordable VED tax rates. Early models emitted 132g/km CO2, so they cost £150 a year for VED (road tax). That's a bit of a saving over the £240 rate for the 530d, while you pay for having that great V8 in the 550i with a £565 a year annual tax bill.
If you want to save even more, look out for the 520d EfficientDynamics, launched in summer 2011. This took CO2 emissions down to 119g/km, and costs just £30 a year to tax. Impressively, the facelifted 190PS version of this engine matched the EfficientDynamics grade for CO2 emissions, and the addition of NOx storage traps means it also meets Euro 6 emissions standards. The 550i also dropped below 200g/km CO2 at facelift time, taking its tax bill down to £305 a year.
Trim levels and standard equipment
The BMW 5 Series was launched in 2010 purely as an SE grade. Standard equipment includes leather upholstery, 17-inch alloys, rear parking sensors, front fog lights, all-round electric windows, climate control, auto lights and wipers, part-electric front seats and iDrive with a seven-inch display and Bluetooth connectivity.
M Sport models add the M bodykit and 18-inch alloys, sports seats, M steering wheel and gear lever and special M aluminium interior trim. BMW also offered a huge array of optional equipment, some of which we've detailed above, which makes searching through the used car adverts an enjoyable process.
Face-lifted 2013-onwards cars get sat nav as standard, so they're worth looking out for, particularly as the system was enhanced with built-in eCall, a handy safety feature that contacts the emergency services after an accident. New Luxury and Modern variants were available, with greater personalisation options, although most preferred either value-priced SE or desirable-looking M Sport.
Learn more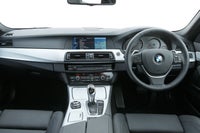 On the inside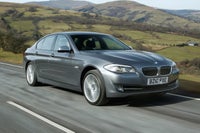 Driving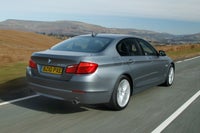 How much does it cost to run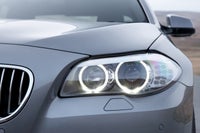 Prices, versions and specification
Reviews of similar cars
Quality checked, all cars less than 8 years old and warranty included