BMW 5 Series Touring Review

Written by
heycar editorial team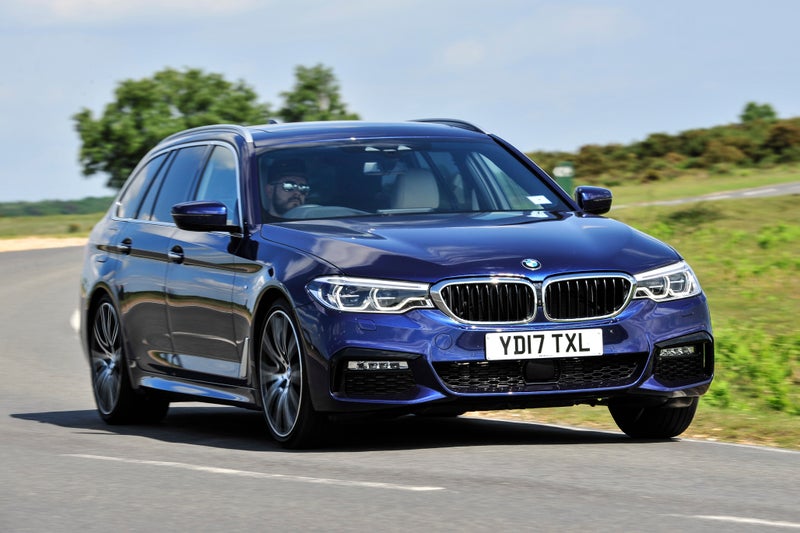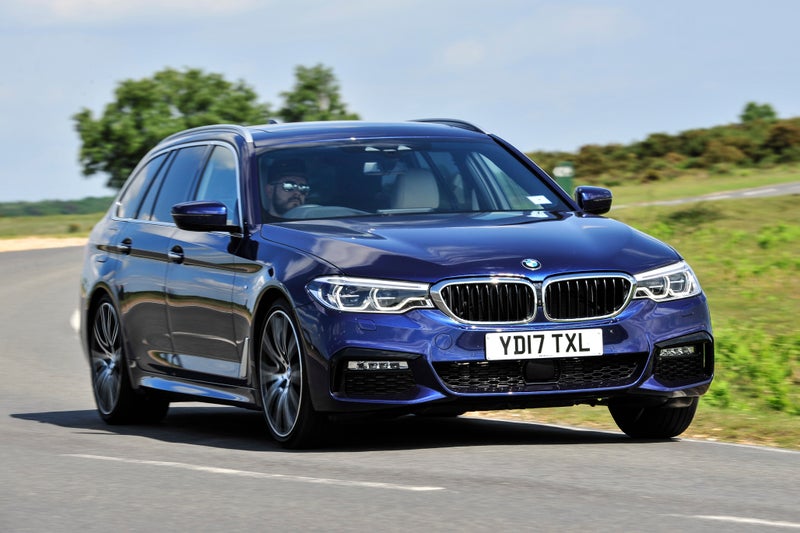 1/10
heycar rating
"Possibly the best premium estate"
Launched: 2017

Estate

Petrol, Diesel, PHEV
Quick overview
Pros
Excellent balance of handling and comfort
Flexible 2.0-litre diesel engine
Appealing cabin
Cons
Rough ride in M Sport models
Back seats suited to two not three
Overall verdict
On the inside
Driving
Cost to run
Prices and Specs
Overall verdict
"If you have the money to buy a big premium estate then you're spoilt for choice. The 5 Series Touring is spacious, comfortable, attractive inside and out and great to drive. Get the right specification for you and you'll have a car you won't ever want to sell."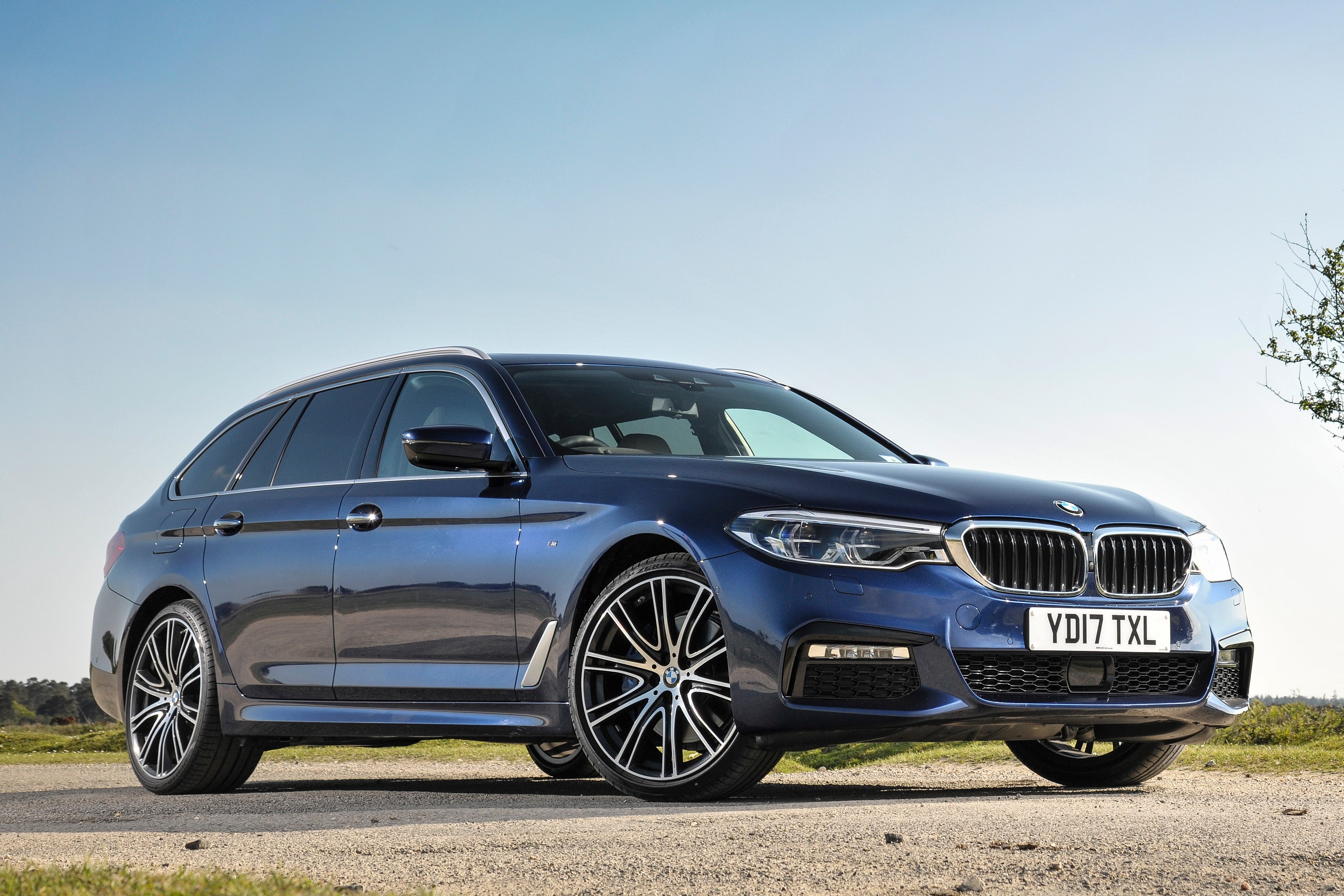 Reputation and a strong back catalogue counts for a lot in premium-car land, and nowhere is that more apparent than when it comes to medium estate cars. There's been an estate - okay, Touring - version of the BMW 5 Series saloon going all the way back to the late 1980s, and its success has been down to successfully retaining the quality and enjoyable driving experience of the saloon but with a hefty slice of additional practicality.
From the front you're highly likely to mistake the Touring for its saloon sibling. It's not until you get to beyond the rear doors that there's any real difference in the bodywork, but BMW has integrated the wagon tailgate neatly into the design. This is still a handsome car - there's no shame in preferring it to the saloon in fact - so you won't feel like you're driving around in a glorified van.
This is not a 'lifestyle' estate though - not only does it have the space, it also has some clever features that make it extra practical. You're paying extra over the saloon for the estate rear end, so it needs to deliver. There's 570 litres of boot space with the rear seats in place and a significant 1,700 litres with the seats folded, and the rear bench is split 40/20/20 so you can carry two passengers and have bigger loads too.
There's lots of choices to be made when it comes to engine options. On the petrol front there's a 2.0-litre, four-cylinder in 184PS and 252PS forms (badged 520i and 530i respectively) as well as a 3.0-litre, six-cylinder petrol with 333PS (badged 540i). On the diesel front there's a 2.0-litre, four-cylinder with 190PS and a 3.0-litre, six-cylinder with 286PS, and all options have mild hybrid technology. The Touring will also be available in plug-in hybrid form late in 2020.
Inside, the 5 Series Touring is highly appealing, wherever you happen to be sitting. There's plenty of space for starters, with plenty of space for four adults. You can fit a fifth in the middle but it's not a full-width seat and has a transmission tunnel stealing some of the legroom. The layout of the fascia is textbook BMW - it's swimming in tech, but manages to avoid looking like the inside of the Space Shuttle.
To drive, the Touring offers an almost identical driving experience as the saloon. So you get strong performance from every engine option, good grip and finely balanced handling that makes it a real pleasure to drive. It is spec-sensitive - there are three suspension options depending on the model so it's important to choose the one that's right for you - but the fundamentals are excellent.
The 5 Series Touring is a popular choice of premium wagon and with good reason, mainly because it delivers so consistently in so many areas. It's great to drive, comfortable, spacious, smart, safe and nice to look at. It's not cheap and you need to be careful with the spec, but no one could fault your decision making by choosing the 5.
If you're looking for the older version, you need our BMW 5 Series Touring (2010-2017) review.
Is the 5 Series Touring right for you?
If you have a small to medium sized family but the idea of an MPV or SUV makes you wince, then the 5 Series Touring will happily step in. If you have small children in car seats or older ones that like to complain about stuff, you don't need to worry - the Touring can handle them both. If you need a car to use every day for commuting the Touring can happily do that too - the refinement on offer is strong so you can cover big distances with ease.
If you like the idea of all these features but don't really need the extra space, then you can save a bit of money by going for the Saloon. Similarly, if you spend a lot of time doing short journeys and are in and out of town a lot, you might want to consider something a bit smaller.
What's the best 5 Series Touring model/engine to choose?
Even if you've decided the Touring is the car for you, you still need to make some crucial decisions. With a sensible head on, the 520d is all most people will ever need. It's surprisingly quick but also the most economical. If it has to be petrol, the 540i is lovely to drive but thirsty - we'd hang on for the plug-in hybrid version. You can have most models in xDrive four-wheel-drive form too, but for most people there's no need, as it just adds expense and weight.
The two trims available are SE and M Sport, with the latter adding bigger wheels and appealing cosmetic add-ons. The SE is the most sensible, but if you go for the more appealing M Sport we'd suggest specifying either the standard suspension or the upgraded adaptive suspension option - the sports suspension that's standard on M Sports hurts the ride too much.
What other cars are similar to the 5 Series Touring?
There's some very obvious competition for the 5 Series. The Mercedes-Benz E-Class and Audi A6 Avant are the key German competition - the E-Class is a little more comfortable and spacious, while the A6 has the smartest cabin and the best build quality. Jaguar also has a contender with the XF Sportbrake, which is the nicest to drive of the lot, while Volvo's V90 is stylish, distinctive and practical too.
Comfort and design
"BMWs have a reputation for making the driver feel special, but in truth the 5 Series does that for all its occupants. It's still a driver-centric layout in here though, and at first glance it almost looks austere. That's just the dual digital displays - a fully digital instrument display for the driver and a 12.3-inch central infotainment display."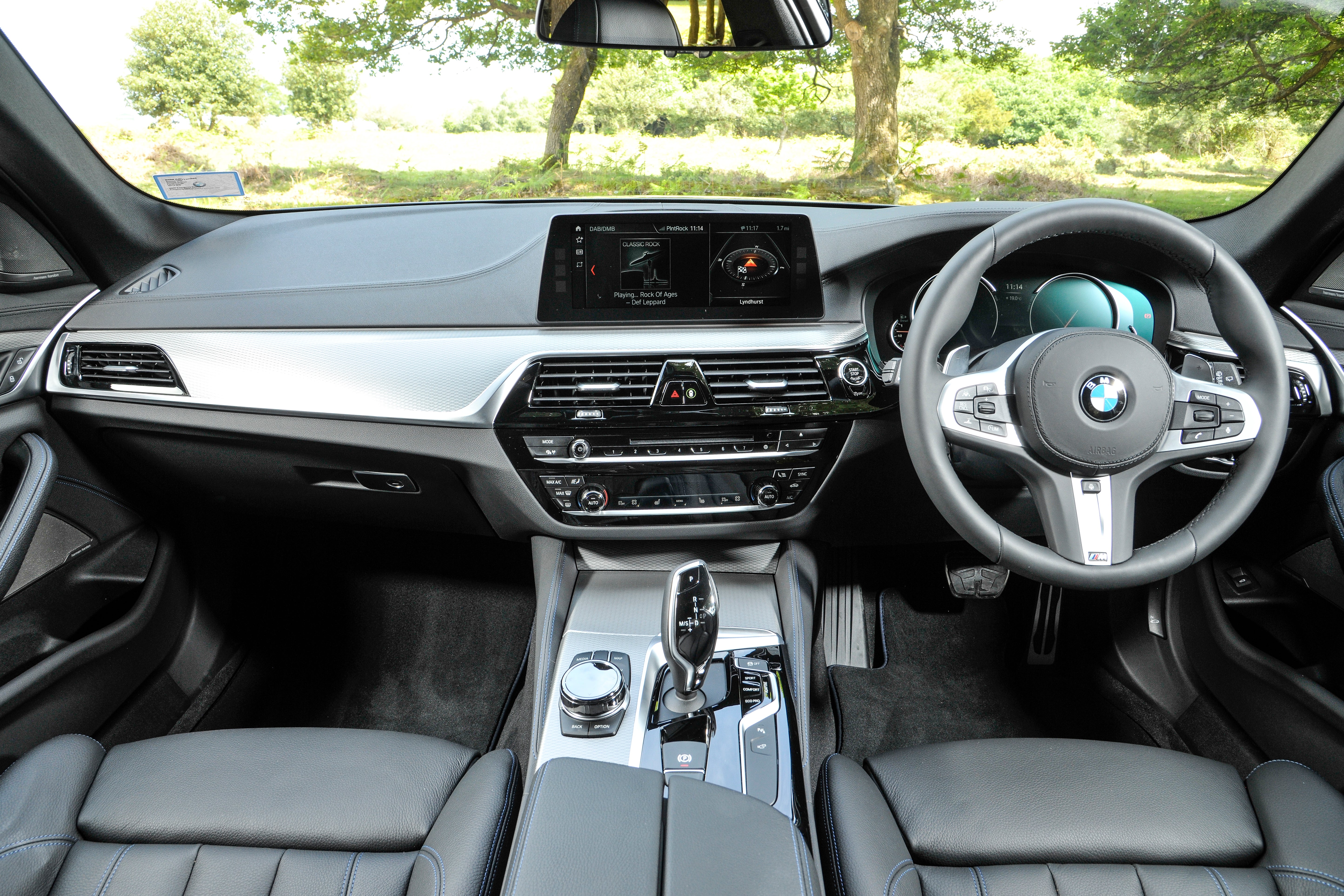 The dashboard avoids being too button-heavy also, with the control divided between the centre console, steering wheel and infotainment system. It may take a little time to get the setting you need, but you can also jump in and drive away without having to fiddle around too much.
Getting comfortable should be easy for any size and shape of driver, as all models are fitted with electric adjustment for the backrest and seat height. There's also the option to upgrade the seats with a memory function and adjustable lumbar support - a shame this isn't fitted as standard. There's plenty of adjustment range in the steering wheel too, so you can get a driving position that suits your preferences. The seats themselves are impressively comfortable, so much so that long journeys can be undertaken with ease. It's the same for rear seat passengers too, although the centre rear seat has reduced legroom and isn't a full-width chair.
Visibility is generally good too, and the Touring isn't hampered by massive pillars that obscure your view. Rear visibility isn't the best, but parking sensors are standard and a reversing camera is optional, which makes life a lot easier.
Quality and finish
If you're spending upwards of £40,000 you're entitled to a certain level of quality, and thankfully the Touring delivers on this front. If you're buying new you get a fair amount of choice in terms of what you get in here. Leather is standard but there are three standard colours as well as upgraded Nappa leather in additional colours, as well as a choice of trims (some of which are optional). Even if you go for the completely standard setup it's a smart and elegant interior, with plenty of soft-touch surfaces. The plastics are good quality too, so even when you are exposed to something that isn't leather or metal it still feels good to the touch.
The standard of build quality is high too, although possibly not quite as high as in the Audi A6 Avant. Everything shuts and snaps together as it should, and the doors close with a reassuring thunk, and while there's nothing that sticks out as being below-par or insubstantial, it's not quite as good as the very best. Unless you've just jumped out of a new Audi though, you'll enjoy the quality.
Infotainment
Given the relatively hefty list price it's good to know that the 5 Series Touring comes with a pretty capable infotainment system as standard. You get that big 12.3-inch touchscreen mounted on the top of the dash, DAB, Bluetooth and Apple Car Play, although it does not include Android Auto. It also includes BMW Connected Services, where the car itself has a data connection and can stream music, connect to location services and retrieve data from the internet, plus a 20GB hard drive to store music and even video files.
Better still, it's all very easy to use too. You can control the system via the touchscreen, via the steering wheel controls, voice control or the BMW iDrive rotary controller and supplementary buttons on the centre console. That might seem like overkill but it means you can operate the system however you like, which might vary depending on whether you're driving or sat in traffic.
There are upgrade options too, including a wifi hotspot, digital TV and two upgraded audio systems by Harman Kardon and Bowers & Wilkins - the latter costing over £4,000. The sound quality is obviously superb, but this kind of outlay certainly won't be recouped when it comes time to sell.
Space and practicality
No estate car is going to be competitive if it can't provide a good deal of space. It's not just about having a big boot either, as they are frequently used as family cars. The 5 Series Touring is capable of dealing with all kinds of permutations however, and makes good use of the space available.
Front seat occupants can luxuriate in a huge amount of space. You can slide the front seats back until the footwell is too far away for your toes, and there's lots of headroom too - if you're more than six foot tall you'll still find it easy to get comfortable. Shoulder room is good, although the centre console is quite substantial as it covers up the transmission tunnel, but this will only be an issue if you're exceptionally broad around the hips.
Head for the back seats and there's still sufficient room for taller adults to get comfortable. Even if the front seats are rolled all the way back there's still a reasonable amount of legroom, while headroom is sufficient to accommodate six-footers and a little above. For two people the back seats are just about perfect, and while the Touring can swallow a third, the person in the centre gets a rougher deal - the centre seat isn't as wide or shaped for comfort like the outer seats are, and the transmission tunnel runs right under the seat so there's less space for their feet to go.
Perhaps most importantly for the Touring, the boot space is highly impressive. There's 570 litres available with the rear seats in place, rising to a mighty 1700 litres with all the rear seats folded - that's not the biggest boot in the class, but it's mighty close.
There are lots of smart features back here too, like the rear bench that splits 40/20/20 so you can accommodate various combinations of luggage and people and you get the classic BMW split tailgate so you can access the boot through the top window without having to open the whole thing.
Handling and ride quality
"It might be a long time since BMW touted their products as being the ultimate driving machines, but the truth is that even in a big family wagon like the 5 Series Touring, they are still seen as being the choice for drivers - and rightly so."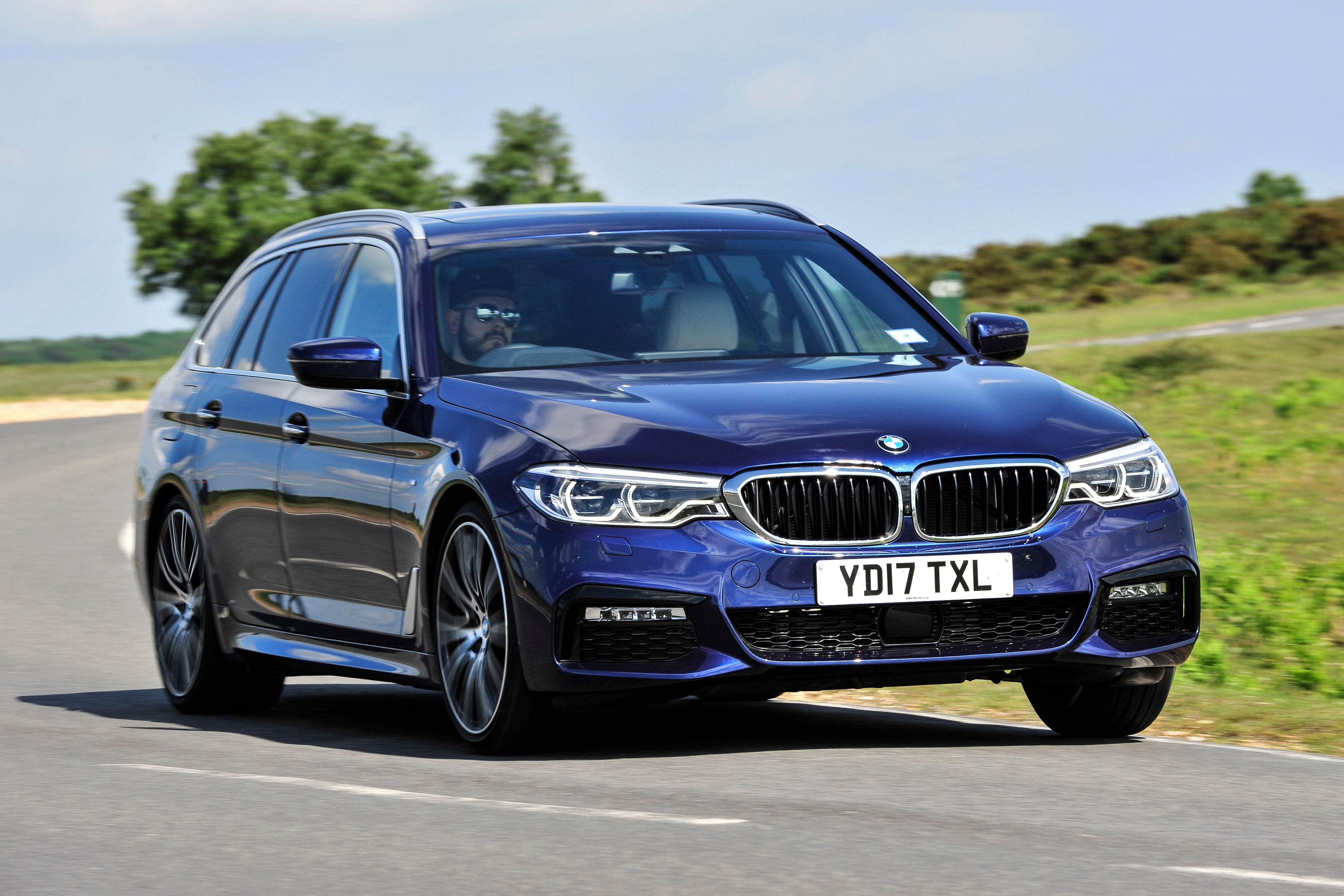 It's not a sports car of course. There's only so much you can do with what is a relatively big bus that weighs nearly 1800kg, but what it manages to do is feel more agile and composed than its size and weight would suggest. Driven at sensible speeds the 5 Series Touring has an impressive ability to ghost along the road, filtering out the lumps and bumps and keeping the cabin largely undisturbed.
Should you decide to cover the ground a bit more quickly the Touring is happy to join in. Despite the mass in play it's a well-balanced car, and it turns into a corner with impressive ease and accuracy. As standard all 5 Series models are rear-wheel-drive, and that benefits both weight distribution and the way it behaves through corners. With the front wheels relieved of the duty to put power to the road, it behaves with more consistency as a result. Specifying xDrive four-wheel-drive increases traction in poor weather conditions, but for most people in most conditions this is an unnecessary expense.
As for ride comfort, the 5 Series Touring is capable of smoothing out poor quality surfaces and providing a comfortable experience for passengers, although it does depend on the specification you choose.
The basic SE model has the softest suspension and smallest wheels as standard, which delivers the best ride quality. Move up to the M Sport model and you get 19-inch wheels and sports suspension, which creates far more disturbance over bumps and sacrifices the ride quality as a result. You can add adaptive suspension as an option, and the ability to change the settings mitigates this, or you can specify standard suspension on the M Sport - choose one of these to avoid the overly-firm ride.
Engines and gearboxes
With a broad choice of engines there is something that should suit all requirements, but the reality is that for most people the 520d offers the best combination of performance and economy.
The 520i and 530i versions are fitted with a 2.0-litre turbocharged petrol engine, with differing power outputs, and although they offer good performance their fuel consumption is not as impressive - the forthcoming plug-in hybrid version may be the best non-diesel option. If fuel consumption is no issue, then the 540i model with its 3.0-litre six-cylinder turbocharged engine is exceptionally fast - with xDrive four-wheel-drive as standard it is almost as quick as the high performance M5 version, but that comes at the cost of the purchase price and fuel consumption.
The 530d offers a good compromise between performance and economy. With six cylinders rather than just four, it is smoother and more refined than the 520d as well as offering considerably more performance - it's not far behind the 540i in terms of acceleration. If you can justify the extra cost up front, it makes the Touring a highly competent long-distance cruiser that is quick cross country too.
Diesel may no longer be the flavour of the month but the 520d will be the best option for most people. It is as refined as the four-cylinder petrol most of the time, and its strong torque from low engine revs means it is as quick as most people will ever need. Add to that the fact that it is comfortably the most economical engine option available and it's hard to argue for an alternative.
Refinement and noise levels
As a premium family car there is an expectation that it will look after the people travelling in it, and that means refinement is key. It's good news for the 5 Series Touring here, because it offers a high level of comfort and noise insulation, almost regardless of which model you choose.
All versions are very well insulated from exterior noise sources. Wind noise is hushed even at higher motorway speeds and when you're in traffic there's a pleasing lack of intrusion from other vehicles. Tyre noise is also low on most models, but this is very much specification-dependent. SE models have the smallest wheels and therefore the least noise, but if you go for a model with 19-inch or 20-inch wheels you can expect a bit more rumble and thrum to come through.
As for engine noise, not much is allowed to enter the cabin, particularly at low engine speeds regardless of which version you go for. The four-cylinder petrol and diesel engines are quiet, with even the diesel rarely creating any of the typical clatter you might expect. The six-cylinder engines are particularly smooth, and when they do make any noise - which is only when they're being exercised - they provide a pleasing snarl rather than anything unwanted.
Safety equipment
Euro NCAP tested the 5 Series in 2017 (the saloon was tested rather than the Touring but this was determined to make no significant difference to the rating) and it achieved the full five stars. It achieved a very impressive 91 per cent for adult protection, and 85 per cent for child protection. It also scored well for pedestrian mitigation at 81 percent, although the safety assist score of 59 percent is less impressive.
As standard all 5 Series versions come with ESC, automatic emergency braking with pedestrian detection, six airbags including side and curtain airbags, as well as an active bonnet which deflects in the event of contact with a pedestrian.
There is also a large offering of optional safety equipment including lane departure warning, adaptive LED headlights, high-beam assistant, front and rear parking sensors and/or camera amongst others. Choose the Technology Plus package and you get a bundle that includes lane departure warning, cross traffic alert, active cruise control and traffic light recognition plus a host of technology features - it's not cheap at almost £5,000 but adds everything you could possibly need.
Most versions of the 5 Series Touring are fitted with a tyre inflation kit as standard, but you can swap to run-flat tyres at no extra cost. That provides additional protection in the event of a puncture, although the downside is that the ride quality is not quite as good.
MPG and fuel costs
"The 5 Series Touring is a big car by any measurement, yet if you choose the right specification you'll find its fuel costs are actually quite reasonable."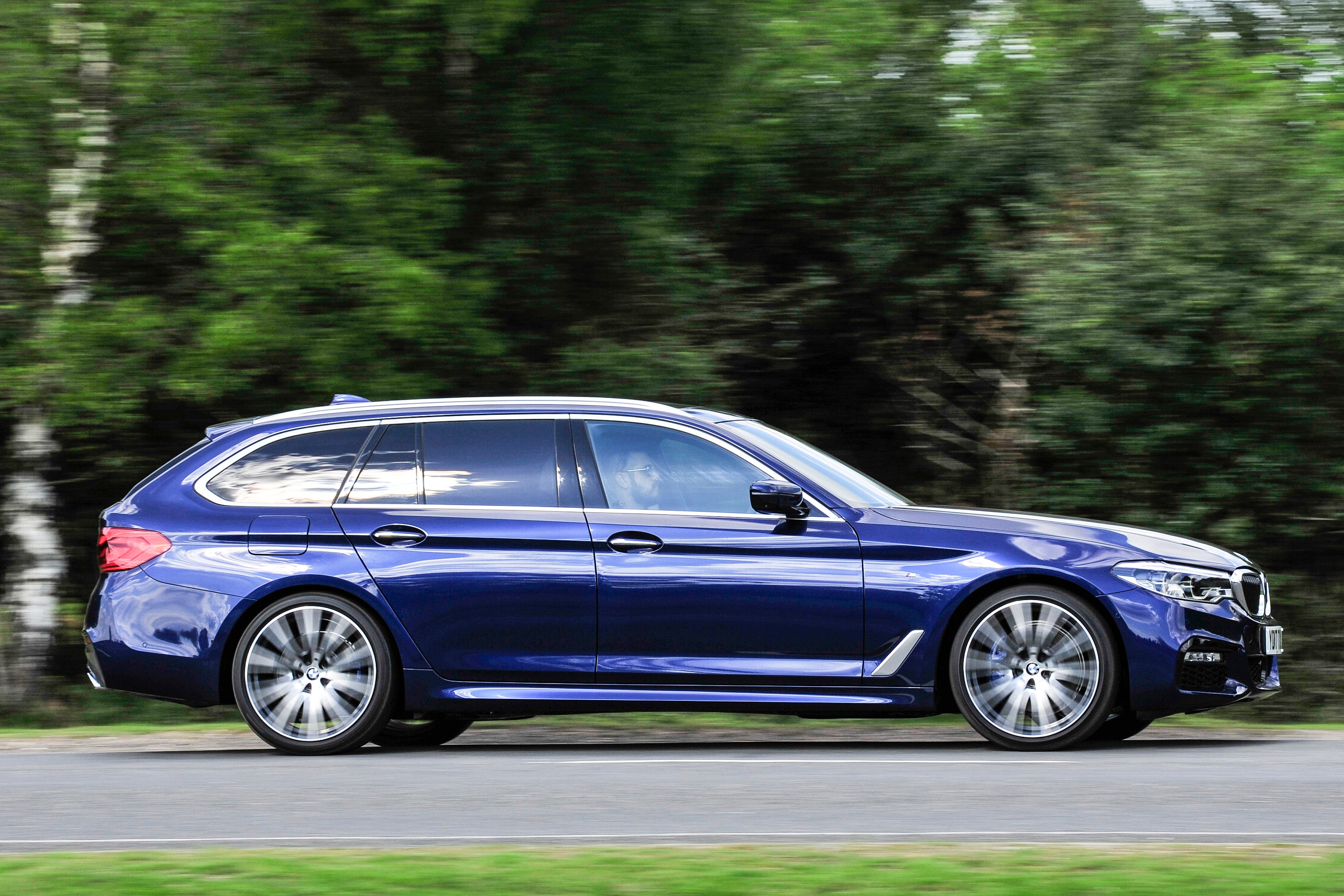 Pick of the bunch is the 520d. Under the tougher WLTP regulations it offers a claimed 52.3mpg combined, which should mean that 40mpg-plus is attainable with ease - opt for the xDrive version and this drops to 49.6mpg combined. The big 530d isn't far behind at 46.3mpg either.
Of the petrol options, the 520i declares an official combined figure of 40.4mpg, behind both diesel alternatives, which will mean regularly dipping into the 30s in normal use. Finally the most powerful 540i claims 34.9mpg combined, so you may have to face the horror of regularly getting under 30mpg.
Insurance groups and costs
The 5 Series Touring is a big, expensive car fitted with a range of increasingly fruity engines, so you should prepare yourself for some significant insurance bills even if you have a saintly driving record and are 58 years old.
A 520d SE is your cheapest option, falling into group 30, while the same engine in M Sport trim moves that up to group 31. A 520i falls into group 30 too, whereas the same engine but with additional power in the 530i is group 35. The 540i is in group 40, and the 530d is group 41, so with groups only going up to 50, it would be worth getting some quotes before taking the plunge.
VED car tax
All current generation 5 Series Touring models new and used come under the latest VED rules, which includes a £325 additional fee for the first five years from new because the list price is above £40,000 in almost all cases - the 520i with zero options may just squeeze under the barrier if you're careful, and will cost £150 per year as a result.
All other models get hit with the £325 extra, so whichever version you choose you'll pay £450 a year for the first five years of the car's life, then revert to £150 afterwards.
How much should you be paying for a used 5 Series Touring?
"Always a popular car, you should have no trouble finding a 5 Series Touring, although with so many engine and specification options you might have to search around to find an example that has everything you want."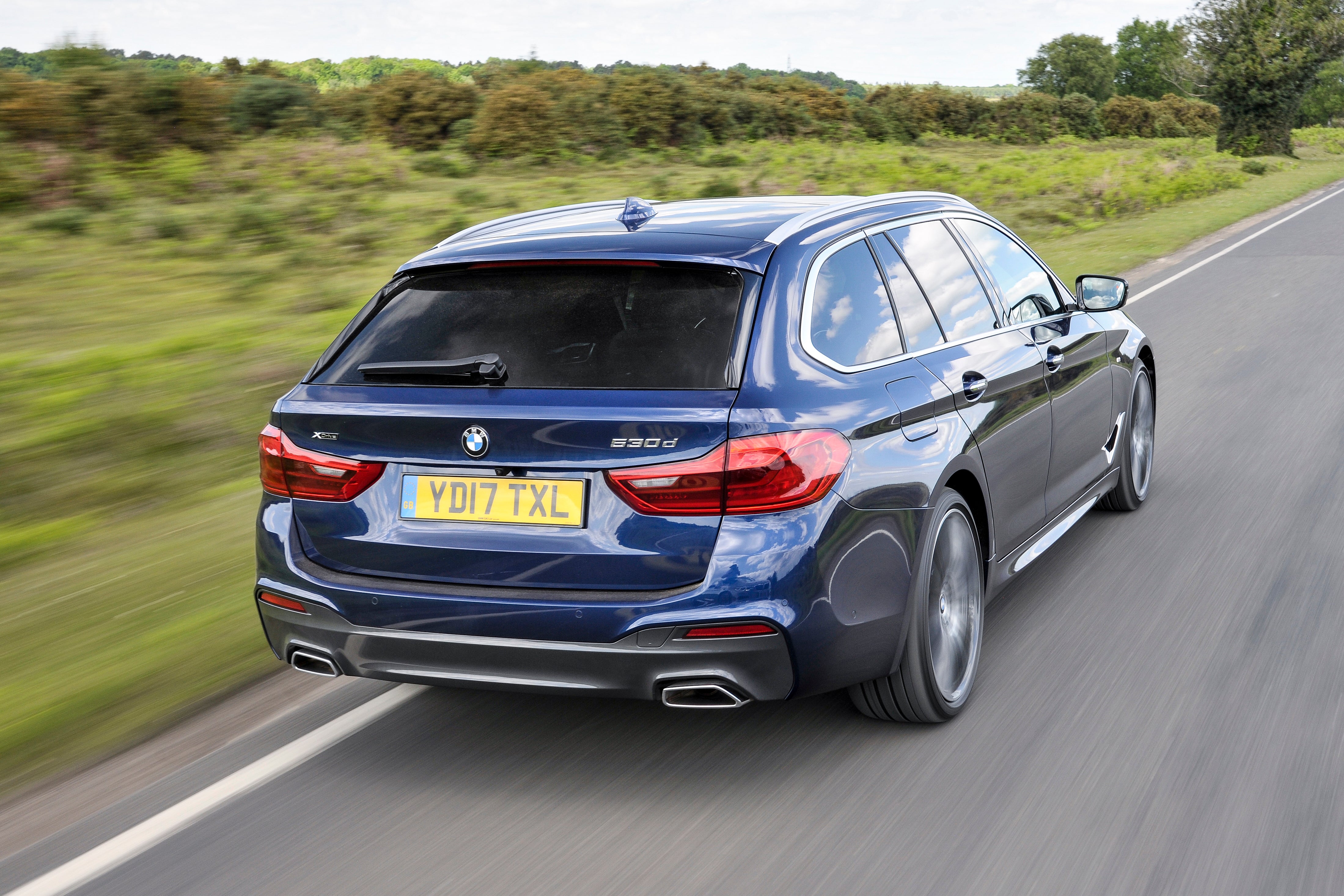 At the newer end of the scale there are plenty of examples that are still only wearing their delivery mileage. We found several 2019 examples in the HeyCar classifieds in a variety of specifications - a 520d M Sport with less than 10 miles on the clock was up for £32,000, almost £10,000 off list price.
As for older cars, the earliest 2017 examples are only just coming out of the manufacturer warranty period and so are good value. We found a 2017 520d SE with under 40,000 miles for £19,000.
Trim levels and standard equipment
While it's hard not to be seduced by the fancy exterior and the bigger wheels of the M Sport model, for best value it is the SE model you should be paying close attention to. The standard specification is excellent, with Bluetooth, BMW Connected Drive free for 12 months, DAB, sat nav and automatic tailgate amongst others.
Arguably of greater importance is which optional extras are fitted. Standard suspension on SEs and M Sports or the adaptive system if you're on big wheels is a big plus, as are any of the technology packages that add in things like wifi, TV tuner, and additional connectivity. We'd also consider adding parking sensors or the parking camera if not already included in a tech pack - it's a big old bus and you don't want to be making a mess of it...
Keep me updated by email with the latest advice, news and offers from heycar
By submitting, you agree to our
privacy policy
.