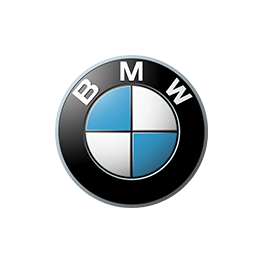 BMW 5 Series Touring (2010-2017) Review

Written by
heycar editorial team

heycar rating
"Practical, economical enjoyable premium estate"
Best bits
Excellent to drive
Practical load bay
Smart styling and interior
Not so great
Early cars don't have standard sat-nav
Rivals beat it for luggage space
Desirable M Sport versions cost more
Read by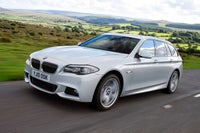 Overall verdict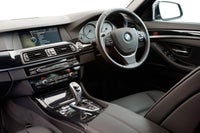 On the inside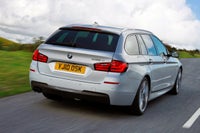 Driving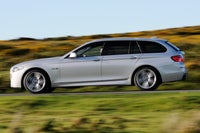 How much does it cost to run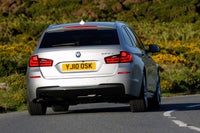 Prices, versions and specification
Overall verdict
"The BMW 5 Series Touring is a fantastic estate car with the added appeal of affordable second-hand prices. It still looks modern – and feels it inside – and has a well-sized boot, engines that combine power and economy, plus the dynamics and feelgood drive you'd expect from a BMW."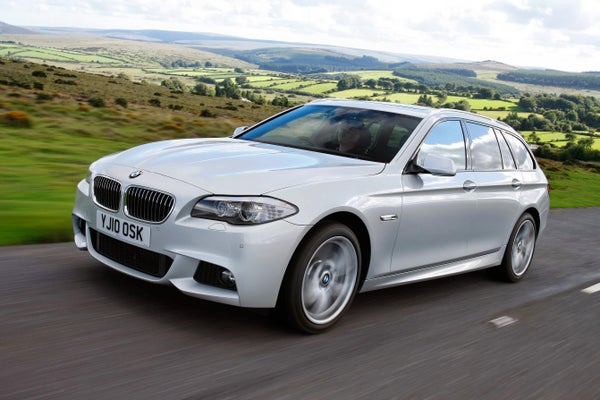 The 5 Series Touring offers the same all-round excellence as the BMW 5 Series saloon, but with one important added extra – a much larger and much more practical boot. The BMW's direct rivals in this sector may be roomier still, but no alternative delivers an overall drive as impressive as the 5 Series.
The Touring's launch closely followed the roll-out of the saloon in 2010. The model line-up was similar, focused on core SE and M Sport models, with a broad range of engines that included some powerful diesels. Four-cylinder diesels were the core models, plus there were also some very desirable six-cylinder engines – and even a V8 range-topper.
The fuel economy and power of the four-cylinder 520d made it by far the most popular variant. Buyers didn't feel short-changed by not having a larger-engined version, as response to the accelerator was surprisingly surging and noise wasn't excessive either. Then there's the outstanding efficiency: better than many smaller cars. A special EfficientDynamics version was best of all, averaging an outstanding 60mpg.
The 5 Series was facelifted in summer 2013. These cars had updated engines that were even more efficient. Now, every regular 520d emitted 119g/km, meaning the EfficientDynamics version was no longer needed, and it was discontinued. The iDrive infotainment system was improved and the interior lifted with more chrome detailing. Spot a facelifted 5 Series from its more jewel-like headlights and indicators in the door mirrors, rather than the front wings.
All models feel sophisticated inside, even today. The 5 Series before this one was a bit stark and upright inside, and has aged badly. This car has a more open-plan and sophisticated look, crowned by that iDrive infotainment setup and finished with high-end trims throughout. It feels a very commanding car to drive.
Practicality is why you might consider it today alongside a more mainstream family car. The boot offers 560 litres of space with the seats up, extending to nearly 1,700 litres with them folded. Packing in the kids' bikes will be child's play, and even teenagers will find rear-seat space impressive. The Touring is a much more practical car than the 5 Series saloon, that's for sure.
Our favourite trim is M Sport. This combines all the 5 Series' core strengths with very desirable styling upgrades, including bigger alloy wheels, sportier bumpers and M-branded interior fixtures and fittings. That's not to say value-priced SE models should be ignored, though, as even they feel like proper luxury cars, with a generous amount of standard equipment.
This generation of BMW 5 Series Touring is a brilliantly capable all-rounder that's more family-friendly than the saloon and therefore has further enhanced appeal on the used car market. Prices are becoming ever more affordable, too. Here are the essentials you need to know.
If you're looking for the newer version, you need our BMW 5 Series Touring (2017-) review.
Comfort and design
"The Touring version of this BMW 5 Series has a long, elegant body shape for a slightly more modern appearance than the four-door saloon. This modernity is carried through to the inside. For a car that was first launched a decade ago, its interior feels anything but dated, helped by the excellent BMW iDrive infotainment system (more on that in a moment)."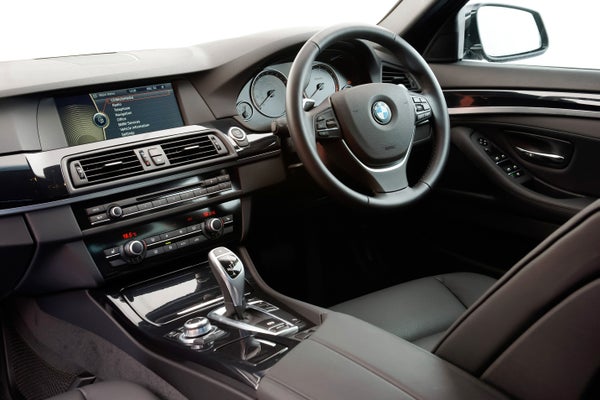 The driver feels powerful, looking out across a flowing, wide dashboard that's subtly oriented towards them. Everything is clear and cleanly designed, giving a classic BMW feel, with four analogue instruments ahead of the driver, backed up by a neatly integrated digital display.
The climate control panel is smart. It's a 'black panel' design, so is invisible when the engine is off. On the move, the temperature settings and other information glow amber behind. It's a clean and sophisticated look, complimented by a further row of buttons above that incorporate BMW's cleverly-designed 'touch-shortcuts' (instead of pressing the button, rest your finger on it and one of eight user-configurable shortcuts pops up on the infotainment screen. You then press the screen to call up this function).
M Sport versions have the sportiest appearance, with a dark-themed design that includes an Anthracite rooflining. SE versions are a bit brighter, but lose none of the Germanic sophistication. When new, BMW let customers choose from a range of trim inlays, so look out for these if you don't fancy the default aluminium-effect trim.
Handling and ride quality
"How its cars drive is how BMW set itself apart from the competition. Certainly, with the 5 Series Touring, few can match its blend of tight handling and smooth ride quality. It may be a practical estate, but it's also a car with a rare blend of handling precision and involvement. Body control is superb even across challenging roads and the suspension feels like it can cope with anything thrown at it."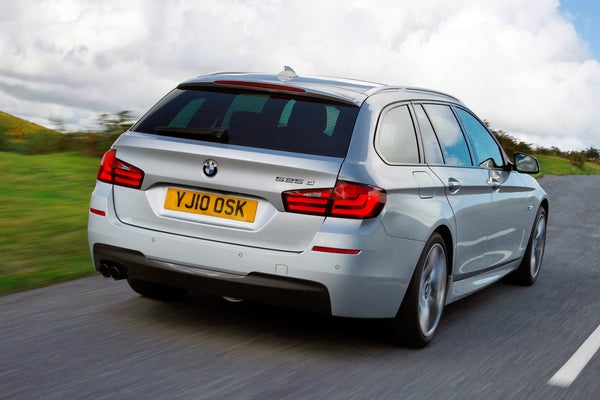 Feedback through the lovely steering wheel is natural and pure, helping drivers place the front wheels accurately even on tight, twisting roads (important with a car this big). It is also stable on the motorway, tracking straight at higher speeds.
Ride quality is assured too, helped by both the sophistication of the suspension and the self-levelling rear end, which keeps things consistent no matter how much you've loaded in the back. This will also be good news for those who tow – no saggy bottoms in this car.
M Sport models are firmer, and can get a bit bristly over bumpy city centre roads, but generally the 5 Series Touring rides in a very assured and compliant manner. It's not soft and wallowy, but neither is it harsh or uncomfortable. It's a compelling blend of driver involvement and passenger-pleasing comfort that no rival can quite match.
MPG and fuel costs
"The 520d models (and lesser 518d) were so popular when new because of their excellent economy. Whichever one you choose, you'll enjoy competitive fuel costs thanks to official fuel consumption figures either in the high 50s or 60mpg plus. You won't get this in real-world use, of course, but it should be possible to get high 40s showing on the trip computer during daily driving."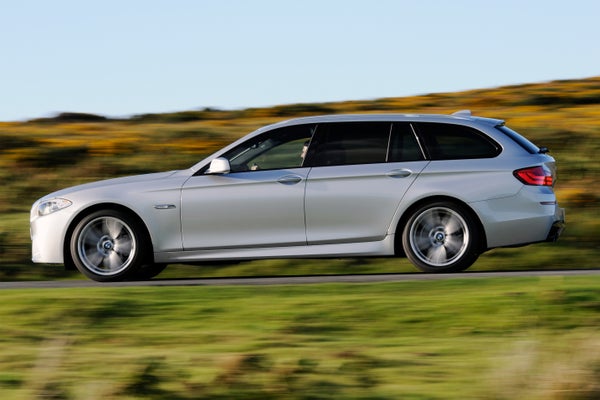 The six-cylinder diesels aren't bad either - we'd estimate 40mpg should be possible so long as you're not making full use of all their power. Petrols are thirstier, but even these won't bankrupt you – and do note, automatic models are officially more economical than petrol versions, an advantage that should be replicated in real life.
How much should you be paying for a used BMW 5 Series Touring?
"Used BMW 5 Series Touring prices start from around £12,000. This will just about get you into a facelifted model, almost certainly a 520d in SE grade. The mileage might appear a bit high, but this is a premium car and it can take it."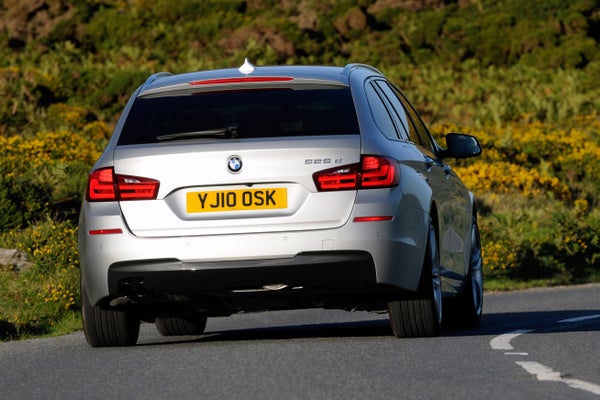 Our research showed most choice comes at around the £15,000 mark. Certainly, this is where you get a good choice of M Sport versions, in a wide range of colours. We'd look out for an automatic 520d, which will be labelled 'Steptronic' in the classified ads.
It's rare that you'll find a used BMW 5 Series Touring that isn't a 518d or 520d, but they are out there. We spotted a beautiful low-mileage 2015 535d priced at just over £19,000. That's certainly a lot of performance diesel estate for the money.
Is the BMW 5 Series Touring right for you?
In terms of practicality, the 5 Series Touring has plenty of appeal. It is a big car anyway, which means the load bay is long and broad. Also, we love the added practicality of a separately-opening glass tailgate window – ideal for quickly chucking in a holdall or backpack.
There's a very tempting range of excellent engines – even the entry-level 520d motor that dominated sales when new still has plenty going for it. BMW's diesel engines were that bit more powerful than rival alternatives, which means a welcome extra bit of performance, despite fuel economy that also betters the competition.
It might be right for you in another way, too: the fact it still looks so upmarket and premium. This is a smart-looking car, and one that is ageing well, with a refined air that will still impress the neighbours. They need never know how much of a bargain the 5 Series has become.
What's the best BMW 5 Series Touring model/engine to choose?
The BMW 5 Series you'll see most frequently is the 520d. More than eight in 10 new 5 Series Tourings sold used this engine, because of its extremely tax-friendly nature. It saved company car drivers – and the businesses that employed them – thousands in fleet car liabilities. The benefit today is low-rate VED (road tax) and, of course, very impressive economy.
SE trim is entry-level, yet still comes with a very good level of standard equipment, including BMW's excellent iDrive infotainment with, on post-facelift cars, standard sat-nav. These are the best bargains on the second-hand market and still look sporty enough.
M Sport models are sportier still, and very desirable. These versions have bigger wheels, more muscular styling and a nicely enhanced interior with bespoke BMW M details. They are the most appealing trim level for the 5 Series Touring, although prices do carry a premium that reflects this.
What other cars are similar to the BMW 5 Series Touring?
Just as it did when new, the BMW 5 Series Touring today goes head-to-head with the Audi A6 Avant and Mercedes-Benz E-Class Estate. The Jaguar XF Sportbrake is another premium contender, and the Volvo V90 is a nicely modern take on the classic Volvo estate (the earlier V70 is looking a bit bland these days, but offsets that with lower prices).
By now, many in this sector were looking at SUVs – models such as the BMW X3 and larger BMW X5, plus the Audi Q5 and Volvo XC60. The success of the SUV is part of the reason why estate cars such as this aren't so popular today.
Quality and finish
BMW build quality is highly regarded and the effort it puts into the 5 Series line, a long-running core car in the range, is second to none. The interior oozes quality, with high-end plastics throughout – even the harder finishes lower down the dashboard somehow feel more upmarket than in lesser machines.
All the controls are tactile and robust, with a nice action to the buttons and an iDrive controller that feels well-engineered and accurate – important when you're navigating the media screen on the move. Even in SE versions, the seats are well finished in leather, while the quality trim in M Sport cars gives the cabin an extra lift.
Thick paint quality is a given, too. The BMW 5 Series Touring can still be cleaned up to an as-new look. It is built for the long run, and that quality shines through both outside and in.
Infotainment
The dashboard of the BMW 5 Series Touring is built around the iDrive infotainment screen, which is mounted high up and in clear view. All cars have the same logical menu structure, the differences come in the size of the screen and whether sat-nav is standard or not. Base models get a narrower but still clear display, and no nav. All versions have the iDrive controller on the centre console.
BMW Business Advanced Media adds sat-nav, and the BMW Professional Multimedia system has the wide-format screen that's even better looking than regular versions. When navigation is fitted, BMW ConnectedDrive is also bundled in – this comprises online functionality that, for example, allows you to locate your 5 Series Touring from a smartphone app (and check how much fuel is in the tank, and whether it's locked or not). ConnectedDrive also includes real-time traffic information and Google local search.
When the 5 Series was facelifted in 2013, sat-nav became standard on all models, with the BMW Business Navigation system. Optional BMW Professional Media included a new iDrive Touch controller that allowed data entry via handwriting recognition on the face of the device.
Space and practicality
The BMW 5 Series Touring is a big car, more than 4.9 metres long and almost 1.9 metres wide. Even the wheelbase stretches to almost three metres. BMW didn't waste this space, however, serving up a driving position that is very roomy and multi-adjustable. There is a long range of fore-aft seat travel, and the steering wheel is fully adjustable.
In terms of comfort, automatic models are best - the pedals in manual cars are slightly offset to the right. Otherwise, the 5 Series Touring is very comfortable, particularly with the bolstered and fully adjustable sports seats in M Sport versions. These are quite wonderful seats and do a convincing impression of genuine BMW M performance car chairs.
Rear legroom is generous, aided by the long wheelbase. No matter how lanky the driver, those sitting behind them should find decent space, and the rear seat itself is comfortable and supportive. It's really best reserved for two people rather than three, though, due to the bulky transmission tunnel in the middle that eats into space for feet. Otherwise, room for feet and knees is decent, and there is a bit more headroom than in the saloon, thanks to the longer roofline.
Boot space measures a practical 560 litres with the seats up. That's not quite as big as something like a Mercedes-Benz E-Class estate, but it's still a good size. The space is well shaped as well, with flat, vertical sides helping squeeze out as much usable width as possible. There are straps and nets in the side panels for storing odds and ends (lift the boot floor and there's an extra stowage area there, too), plus a rail system in the boot floor with movable lashing hooks. BMW sold stowage kits to make fuller use of these rails, so look out for them.
The rear seats split 40/20/40, and fold flat to create a total load area of 1670 litres. Standard self-levelling rear suspension helps you make the most of it.
The BMW 5 Series Touring comes as standard with Isofix mounts for the outer two rear seats, but doesn't have one for the front passenger seat. Nor is there a standard airbag cut-off switch.
Engines and gearboxes
Best-selling BMW 5 Series models used a 2.0-litre four-cylinder turbodiesel. Most were in 520d spec, which produced 184PS from launch and, even today, delivers excellent performance. Zero to 62mph takes 8.3 seconds with the six-speed manual gearbox, which is actually something of a rare sight on 5 Series. No fear, though: the eight-speed automatic is outstanding, and certainly preferable – and it cuts the 0-62mph dash further, down to 8.2 seconds.
There was a cheaper 518d alternative, but this only produces 143PS and 0-62mph is a much less impressive 10.0 seconds.
Other engine choices include the six-cylinder 530d diesel and 530i petrol. Again, the diesel is so good, the 530d actually accelerates 0.5 seconds faster than the petrol, hitting 62mph in a scant 6.2 seconds. Perhaps a more preferable petrol choice is the 528i, which used a 2.0-litre turbo four-cylinder motor producing 245PS.
The facelifted 2.0-litre diesel engine from 2013 is even better. Now producing 190PS, it sprints from 0-62mph in 8.0 seconds in auto guise. The 518d is a bit quicker too, while an added entry-level choice came in the form of the 520i, with a 184PS 2.0-litre petrol turbo. It'll do 0-62mph in 8.3 seconds and, today, is a good choice for those seeking an affordable 5 Series Touring that isn't a diesel.
BMW didn't sell the range-topping M5 in Touring guise, but it perhaps didn't need to, given the power and performance of the turbocharged six-cylinder 535i – or, better still, the more efficient 535d, which will reach 62mph in just 5.4 seconds. Not bad, seeing as it will also average nearly 50mpg. Either is a more cost-effective choice than the 545i V8 (which became the 550i post-facelift), which is smooth, but not as well-rounded and expensive to run.
Refinement and noise levels
Refinement is very impressive, befitting the BMW 5 Series Touring's luxury car feel inside. It's executive-level in terms of how it isolates passengers from the world outside. Indeed, it feels almost like BMW's 7 Series flagship, so peaceful and refined is it.
Suspension noise is all but absent and it's only a bit of tyre roar from M Sport models with larger 18-inch alloys that you hear at speed. There's impressively little wind noise and the engines are quiet – don't worry about choosing a four-cylinder diesel, as the upmarket feel isn't spoiled by excessive engine clatter. BMW's diesels are among the smoothest and quietest around, particularly the facelifted 2013-on motors. The smooth hum of six-cylinder versions is even more refined.
We like the automatic models as they are designed to keep engine revs low in everyday use. This further reduces the noise from the petrol and diesel motors, while gearchanges are also smooth and barely perceptible, further adding to the feeling of refinement.
Safety equipment
This generation of BMW 5 Series was rated very highly indeed when crash-tested by Euro NCAP in 2010. A full five-star score was granted, with 95% for adult occupant protection, 83% for child occupant protection, 78% for pedestrian safety and a brilliant 100% for safety assist features.
What led to Euro NCAP giving such a high score for safety assist? The standard inclusion of stability control and a speed limiter helped, but it was BMW's comprehensive eCall that really impressed the safety organisation. This was one of the first systems to automatically dial the emergency services in the event of an accident, using the onboard navigation to exactly pinpoint the car's location. A genuine life-saver.
Front and side airbags are standard, and head airbags extend from front to rear. There are also seatbelt load limiters front and rear, plus a seatbelt-on reminder for all five passengers, although the pretensioners only stretch to front-seat occupants. There are no knee airbags either.
Following the 2013 facelift, BMW launched a new driving assistant pack that used a camera-based autonomous emergency braking system, plus lane-departure warning and pedestrian recognition in the city. BMW Night Vision was also available, using a thermal imaging camera to 'see in the dark'.
Insurance groups and costs
The BMW 5 Series Touring is an executive-grade car and this comes with more expensive insurance. Even the cheapest version is in insurance group 30 (out of 50) and the powerful models move up to group 46.
It's 518d models that drop into group 30, with the 520d in group 32. Do note, though, that more powerful facelift versions went up to group 34. A 520i is group 36 and the 530d starts from group 39: assume most will be in the 40s. A 535i is group 45 and the priciest is the 550i in group 46.
VED car tax
The choice diesel versions are cost-effective in terms of VED (road tax). Most later 520d and 518d models should only cost £30 a year to tax, which is remarkably little given what a big car this is (and their impressive performance). Earlier cars may be a little pricier as their CO2 emissions were higher, but still not more than £125 a year. You might even find some automatic versions enjoy a £30 rate, while the direct manual equivalent is £125. Check the small print carefully.
The fuel-efficient nature of other, more powerful, versions means they'll still be competitive in terms of VED despite the acceleration they offer.
Trim levels and standard equipment
You don't have to worry about missing out on any expected features when buying a used BMW 5 Series. Even the entry-level SE is well equipped, featuring 17-inch alloy wheels, 'Dakota' leather upholstery, dual-zone climate control, four electric windows, front and rear parking sensors, cruise control and climate control. The iDrive media system is standard, too, so all versions feature a colour infotainment screen. The days of the poverty-spec basic BMW are no more…
M Sport models are more appealing still. They have wonderful-looking 18-inch M double-spoke alloys, an M body styling kit and dark chrome exhaust finishers. Inside, there are those wonderful M sports seats (with part-electric adjustment), an M leather steering wheel and dark Anthracite roof lining. Aluminium interior trim gives a jewel-like appearance inside and M Sport models also had lower sports suspension – which was a no-cost delete option for those who preferred the more comfortable standard set-up.
BMW also sold the 5 Series in Modern and Luxury trim lines, which have alternative styling features, but these weren't too popular when new. See them as an SE and M Sport in-betweener.
Learn more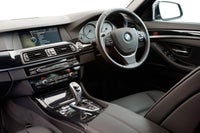 On the inside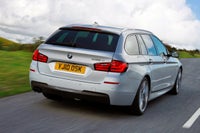 Driving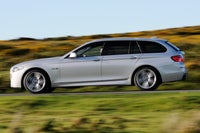 How much does it cost to run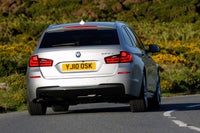 Prices, versions and specification
Reviews of similar cars
Quality checked, all cars less than 8 years old and warranty included