6 Series (2011-2018) Review
BMW 6 Series (2011-2018) Review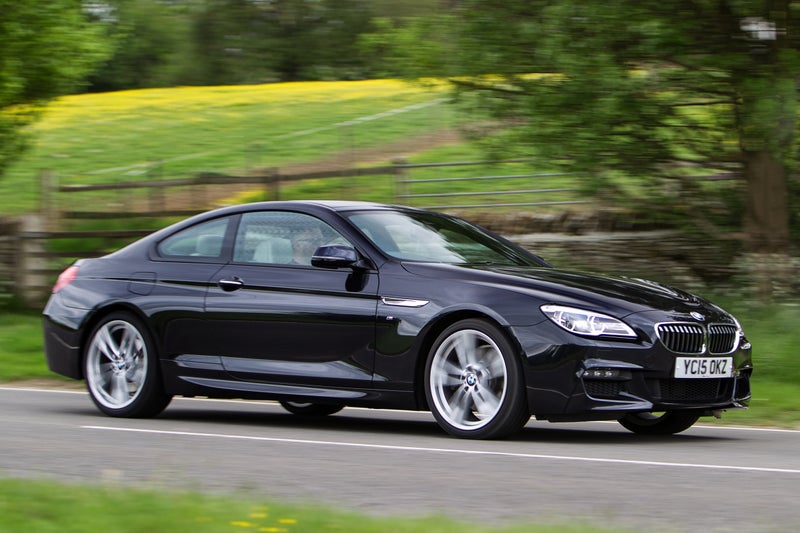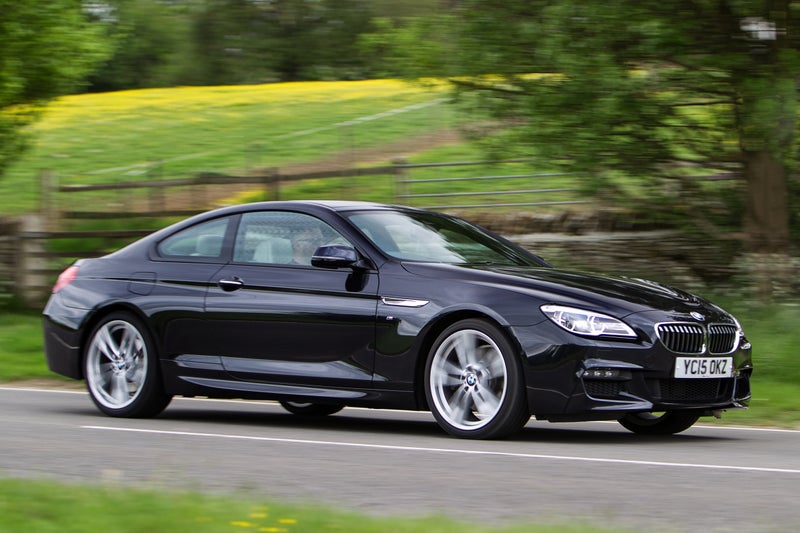 1/10
heycar rating
"Luxurious long-range cruise missile"
Launched: 2011

Coupe

Petrol, Diesel
Quick overview
Pros
Plays the grand tourer role perfectly
High-quality and luxurious interior
Boot space better than most rivals
Cons
Rear seats are very small
Driving experience not as engaging as you'd hope
Ride on M Sport models is firm
Overall verdict
On the inside
Driving
Cost to run
Prices and Specs
Overall verdict
"The BMW 6 Series Coupe offers a strong combination of performance, luxury, comfort and everyday practicality. Throw in handsome looks and a quality interior and it becomes a very attractive proposition indeed."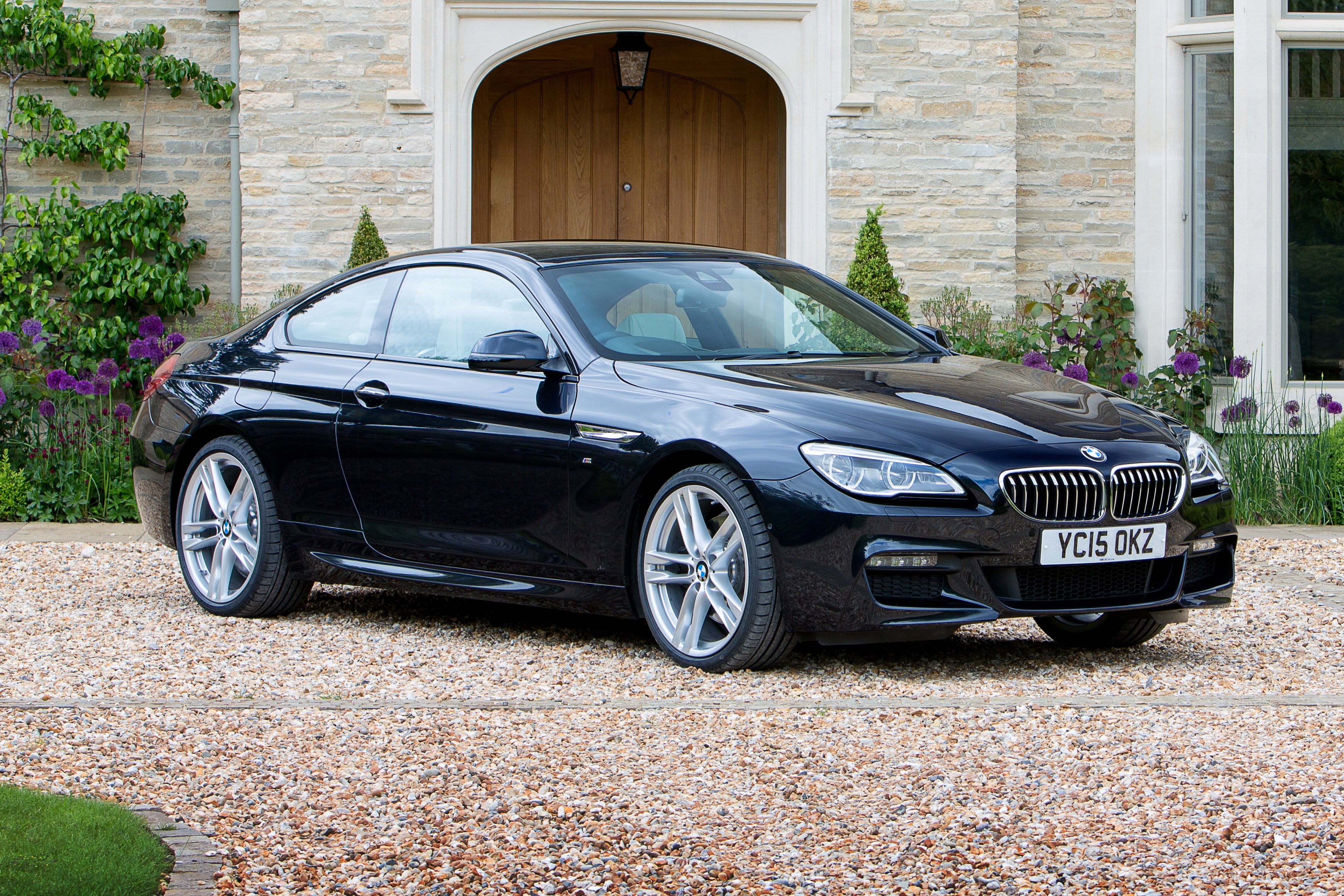 Compared to the model it replaced, the 6 Series Coupe is a genuinely good looking car. The classic 'long bonnet and short tail' proportions are striking, while the overall design is more pleasing than many of BMW's more recent efforts.
Some might expect the 6 Series Coupe to be a hardcore sports car, able to tear up a race track or carve across country roads. In reality, it falls under the banner of being a grand tourer, designed for drivers to cover long distances cocooned from the outside world.
However, this is still a BMW, and it offers a considerable degree of driving engagement. The 6 Series has neat and precise steering, and suspension that resists body-roll. But all of this comes against the backdrop of a rather large and heavy car, which is better suited to being driven with an eye on comfort.
Helping this idea are a trio of engines that offer effortless power and refinement. The diesel 640d is the unexpected star, delivering plenty of low-down torque and impressive economy figures. If you want to make long journeys, but limit your time filling up with fuel, it is hard to ignore. A standard eight-speed automatic gearbox adds to the cosseting experience.
A high level of standard equipment increases the appeal of the big BMW. Electrically adjustable leather seats, satellite navigation, parking sensors and an impressive sound system are fitted to all models. The options list allows for even greater customisation, plus the temptation of the M Sport trim level.
Along with sportier bumpers and sports seats, this also delivers bigger alloy wheels and stiffer suspension. Compared with other models, M Sport cars can suffer a stiff ride. It's one of the few negatives to affect the German machine.
The only other notable downside to the 6 Series Coupe is the rear seats. These are really just token gestures towards practicality, rather than proper accommodation for adults. Very short trips, or use with child seats, is all they can offer.
BMW's answer is the four-door 6 Series Gran Coupe, designed for those who want to carry rear-seat passengers regularly. It makes the two-door coupe very much a personal luxury car, albeit one with a sizeable boot that holds 460 litres of luggage.
The 6 Series Coupe is a comprehensive luxury package. Think of it as being a slightly self-indulgent purchase, but one aimed at making your driving experience as calm and relaxing as possible.
Is the BMW 6 Series right for you?
A large and luxurious vehicle like the BMW 6 Series Coupe is not for everyone. It appeals most to drivers who want to cover major distances in effortless comfort. Using a car like this for short trips to the shops seems like overkill. It exists to charge from one end of the country to the other.
That the 6 Series Coupe can be used everyday widens its appeal; it would be perfect for those with lengthy commutes. At weekends, it is also practical enough to carry your golf clubs, or your luggage for a short holiday.
It would be best used as a second car for a family, though, given the limited space in the rear seats. The priorities here are the comfort and contentment of the driver.
What's the best BMW 6 Series model/engine to choose?
BMW has kept the model range for the 6 Series relatively compact, making it much easier to understand the nuances of different versions.
Despite being the entry-level offering, SE trim crams in all the luxury and technology the average GT customer needs. It also avoids the stiffer suspension of the M Sport model, and loses very little in terms of additional equipment.
Engine choices will be dependent on how you plan to use your 6 Series Coupe. Longer cross-country journeys would make the 640d diesel a perfect choice. It returns impressive fuel economy, is quiet on the motorway, and still offers a decent turn of pace when needed.
For those looking to use their 6 Series less frequently, there is an argument to be made for going all-out with the V8 petrol 650i. It sounds wonderful and is seriously quick. Higher fuel costs and other expenses will be less of an issue for infrequent use, too.
What other cars are similar to the BMW 6 Series?
The pricing and scale of the BMW 6 Series places it in an unusual niche compared with models from other manufacturers.
A Porsche 911 Carrera comes close in terms of cost, but with its rear-engined layout and sporting bias, it is a very different machine to the BMW. It also lacks the boot space of the 6 Series Coupe.
Other contenders include the Mercedes-Benz E-Class Coupe and Audi A5, but neither offers the same degree of luxury. The Maserati GranTurismo and Jaguar XK meet the brief better, but both feel old alongside the BMW.
Comfort and design
"Central to the appeal of the 6 Series Coupe is a comfortable cabin that makes travelling long distances a pleasure. Rather than being dramatic or lavish in design, the BMW features a solid and slightly ordinary interior layout."
For many buyers this will be an advantage. Nobody particularly likes getting into a new car and having to spend hours working out where all the controls are. In the 6 Series Coupe, everything is placed logically, with buttons and the iDrive rotary controller falling easily to hand. The dashboard is angled slightly towards the driver, with the standard 10.2-inch iDrive multimedia screen its main focus.
There will certainly be no complaints about the comfort of the seats inside the 6 Series Coupe. SUV drivers may be a little surprised at how low to the ground they are, however, which may lead to some initial concerns about visibility.
The leather front seats are electrically adjustable in all versions, and feature a memory function for both driver and passenger. SE models come with the standard seats, while Sport versions feature the 'Comfort' design and M Sport cars gain more supportive items – but all are very accomodating.
The steering wheel adjusts electrically for reach and rake, meaning drivers of all sizes should be able to get comfortable in the 6 Series Coupe. Heated front seats are also a bonus.
Those in the back will not feel quite so content, with limited legroom and headroom. It makes the rear bench best reserved for children, to avoid complaints from adult passengers.
Quality and finish
Make no mistake, the BMW 6 Series has an interior that lives up to its quality image. Although the main dashboard isn't an exciting design, there can be no complaints about how it all feels.
There is plenty of leather on the centre console and door armrests, with facelifted versions getting a leather-trimmed dashboard as standard. A curious ceramic finish for the gear lever, iDrive controller, and climate control dials could also be specified. BMW said this helped them to stay cool in direct sunlight.
Regardless of options, the interior is well made. You'll have no concerns about cheap components being used to keep costs down.
SE models come with interior trim strips finished in brushed aluminium, while American oak and dark grey poplar finishes were options. M Sport models have sportier hexagonal aluminium detailing instead. As part of its luxury appeal, the rare Sport version comes with an intriguing 'Fineline Cognac' high-gloss finish.
Dakota leather upholstery is standard on most models, with post-facelift 650i versions wearing fancier Nappa leather. BMW's pricey Individual customisation scheme offered up Merino leather to cover almost every part of the cabin.
Infotainment
The previous-generation 6 Series Coupe was one of the first BMWs to receive the company's then-revolutionary iDrive media system. It proved to be complex and controversial, but fortunately the system found inside this newer 6 Series is much improved.
Atop the centre of the dashboard is a 10.2-inch multimedia screen, responsible for a host of functions. All 6 Series Coupes come as standard with BMW Professional satellite navigation, Bluetooth telephone connectivity, a single DVD player and USB and auxiliary input ports. This is all managed by the rotary iDrive controller, or via voice commands.
Big changes came for 2016 models when BMW installed a new, high-resolution 10.2-inch display, designed to be easier to read and requiring fewer button-presses to access key menus. DAB radio was also added, along with upgraded Bluetooth connectivity and even the potential for wireless charging of compatible smartphones.
These later models also benefit from a digital instrument panel, with the colour and layout of the dials adjusted according to the driving mode selected.
A nine-speaker audio system is standard, with BMW offering an upgraded Harman Kardon set-up from the options list. For those wanting the ultimate audio experience, a powerful 16-speaker B&O Advanced audio system could be specified.
Space and practicality
The BMW appears a big car on the outside, but the reality inside is a little different. It may be described as a four-seater, but the 6 Series is very much about the driver and front-seat passenger.
This approach does make some sense, at least. As part of the 6 Series range, BMW also offers the four-door Gran Coupe version. Along with an extra set of doors, the Gran Coupe has a longer wheelbase, making it more practical for those who need to accommodate more than just two people.
Inside the 6 Series Coupe, those in the front seats get a great deal. They have electric adjustment as standard, and sit low to the floor. There is plenty of legroom, while headroom is also more than adequate for the tallest of occupants.
The centre armrest offers a useful storage cubby underneath, along with a pair of cupholders at the front of the centre console. Door bins, a storage net in the passenger footwell and a glovebox all provide extra room for stowing oddments.
Moving to the rear of the 6 Series Coupe, passengers are in for a disappointing deal. Legroom is improved over the previous-generation car, but it's still very tight indeed for adults. The shapely roofline eats into available headroom as well. At least the two rear seats come with Isofix attachments for child car seats included.
Opening the boot reinforces the highway-travelling nature of the 6 Series. Being able to accommodate 460 litres of luggage makes this a genuinely practical coupe. Multiple sets of golf clubs, or luggage for a short holiday, will fit without any drama, although the boot lid opens at a slightly awkward angle.
The back seats do not split or fold, but BMW did offer a 'ski bag' option for those wanting to carry longer loads.
Handling and ride quality
"BMW was keen to describe the 6 Series Coupe as a 'grand tourer' when it was launched, rather than marketing it as a sports car. That distinction was clearly to ensure buyers did not feel misled by how the 6 Series drives. It conjures up images of crossing several countries in one day."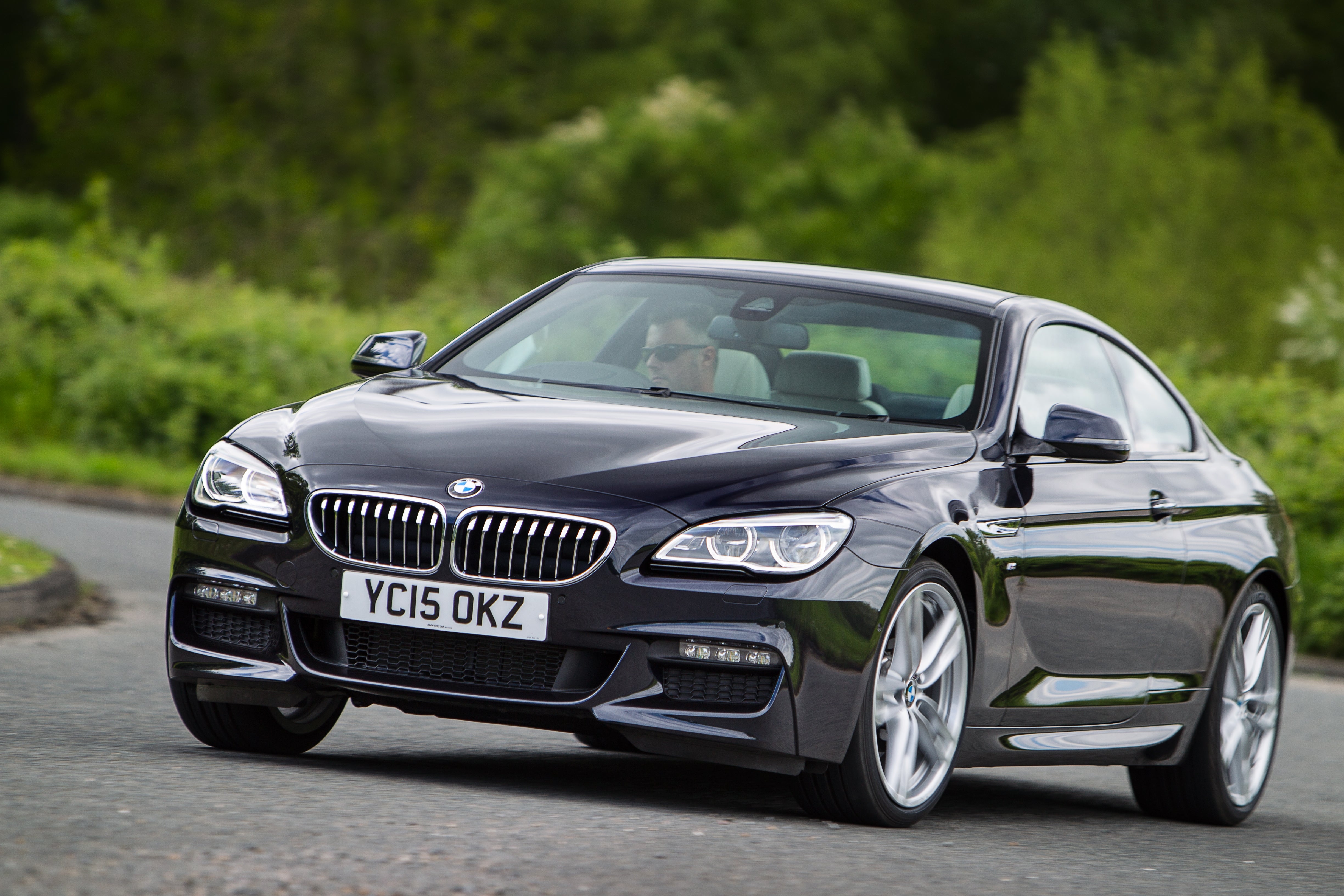 The pan-continental cruiser idea fits perfectly with the 6 Series Coupe, and makes a lot more sense once you are behind the wheel. Measuring close to 4.9 metres in length, and with a kerb weight approaching two tonnes, this is a big car to drive. Attempting to make it handle like a true sports car would have been a tough ask, even for BMW.
Instead, the 6 Series Coupe presents a laid-back and relaxing machine, but with a reassuring hint of performance beneath the surface. Its steering is quick and precise, with a decent weight. Feedback is less apparent, however, and twisty roads will see the driver working hard to overcome the sheer bulk of the big BMW.
Integral Active Steering was available for the 6 Series, giving it the ability to turn with all four wheels. It was a rare option, but does make a difference to the driving experience.
Despite the mass at play, body-roll is kept to a minimum by the suspension. SE and Sport models have a more comfortable ride quality, while M Sport versions sometimes feel taut and uncomfortable. Blame this on a combination of big wheels and stiff dampers, making the M Sport 6 Series unforgiving on rough roads.
The optional Adaptive Drive suspension solves some of these issues, allowing a tailored choice of suspension stiffness. Comfort makes sense on the motorway, while Sport is best reserved for enthusiastic A-road moments.
Engines and gearboxes
Engine options for the BMW 6 Series Coupe are short but rather sweet. All models come with an eight-speed sport automatic transmission, with the UK market only receiving cars in rear-wheel-drive form.
The 3.0-litre twin-turbocharged straight-six diesel of the 640d is the unexpected star of the show in the 6 Series line-up. With 313PS and a healthy dollop of pulling power, it offers an enchanting blend of feisty performance and fuel economy that exceeds 50mpg.
Accelerating from 0-62mph takes 5.5 seconds, with an electronically limited 155mph top speed. Yet it's the mid-range shove it delivers that impresses in the 640d. It gains speed effortlessly, and really does suit the GT nature of the car.
Producing 320PS from a turbocharged 3.0-litre straight-six, the petrol 640i is only marginally quicker than the diesel. It takes 5.4 seconds from 0-62mph, but lacks the muscular feel of the 640d.
Top in the power stakes is the 650i with its 4.4-litre twin-turbo petrol V8. Initially offered with 407PS, mid-life tweaks saw this raised to 450PS. It accelerates from 0-62mph in 4.6 seconds, and sounds good doing it. Thirst will be an issue, though, as will other expensive running costs.
While the two petrol engines in the 6 Series Coupe are fine in isolation, it is easy to see why the majority of buyers were inclined to vote diesel. The 640d maintains a considerable level of performance, yet offers the fuel economy to shame much smaller cars.
Refinement and noise levels
A few hours behind the wheel reveal the 6 Series to be an impeccable grand tourer. It's ideal for covering long distances without breaking a sweat, leaving its driver feeling refreshed.
Motorway cruising is a relaxing process. The eight-speed automatic gearbox keeps revs from the engine low, and wind noise is well contained. Only some rumble from the tyres, particularly on versions with the biggest 20-inch wheels, is likely to ruffle feathers.
All three engine options are smooth and refined. Worries of raucous diesels will disappear with the 640d, which actually sounds surprisingly pleasant. This is aided by imitation engine sounds played through the stereo speakers, helping to disguise any clatter.
Both of the petrol versions are generally subdued, although the post-facelift models gained a new sports exhaust system with switchable valves inside. This allows the driver to flick between two different modes, altering the tone from the tailpipes. It makes the 850i sound particularly good, but it never becomes wearing on longer runs.
Safety equipment
BMW did not submit the 6 Series Coupe for crash testing by the Euro NCAP organisation when it was first launched. It is related to the 5 Series saloon, though, and that particular model scored the full five-star rating when evaluated.
Standard safety equipment includes front, side, and curtain airbags. The front headrests are designed to minimise whiplash, while BMW supplies a first aid kit and warning triangle as part of the standard specification.
Parking sensors for both the front and rear are standard on the 6 Series Coupe. Given its long nose, and restricted rear visibility, drivers should find these very welcome. Park Assist, allowing the 6 Series to steer into spaces itself, was an option from launch. A reversing camera with surround-view was also available.
BMW offered a host of optional safety equipment for the 6 Series Coupe. Night vision with automatic pedestrian recognition was a particularly pricey option, as was cruise control with a 'stop and go' function. Lane-keep assist, adaptive LED headlights and a head-up display were also worth having.
Both the two rear seats include standard Isofix attachment points to take child seats.
There is no spare wheel fitted, or available as an option for the 6 Series Coupe. Instead, BMW relies on run-flat tyres, although tyre pressure monitoring did not become standard until late in the car's life.
MPG and fuel costs
"For a large grand tourer, the BMW 6 Series Coupe can be relatively fuel efficient with the right options."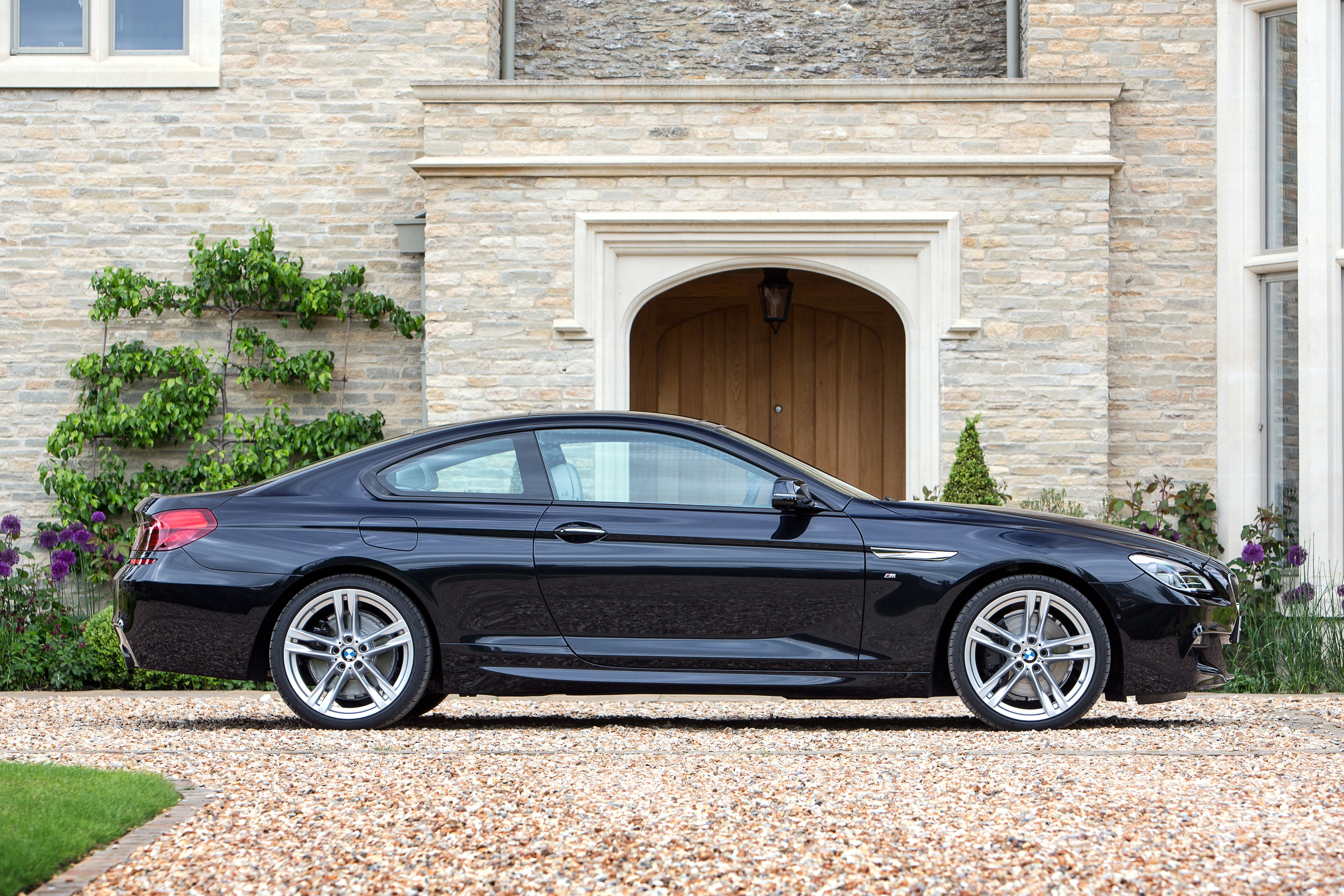 Predictably, the diesel 640d manages to be the most efficient model. Official testing sees it achieve an average of 51.4mpg. Changes to post-facelift models saw this improve to 52.3mpg.
At the other end of the scale, the petrol 650i managed just 26.6mpg when first introduced. Later cars eased this upwards to a more respectable 32.1mpg.
Splitting the pair is the 640i, with a combined average of between 36.2mpg and 37.2mpg.
Insurance groups and costs
Given the power and prestige on offer, insurance for the BMW 6 Series will undoubtedly be on the costly side. Experienced drivers should be able to manage their premiums, but younger drivers may find it a struggle.
Earlier examples of the petrol 640i SE fall into group 47 out of 50, meaning even they will be expensive. Later versions of the same car move up to the maximum group 50. The 640d and 650i are also in group 50 for insurance.
BMW did offer a vehicle tracker in addition to the standard alarm and immobiliser. Investing in one may help cut insurance costs, and offer peace of mind.
VED car tax
Due to the time period the 6 Series Coupe was on sale, it spans multiple VED (road tax) regimes. Be sure to check exactly what the cost will be on any example you consider buying.
A diesel 640d, when registered before April 2017, will be liable for £165 per year.
Early 650i models fell into a higher VED band, so owners of those sold until June 2012 will be charged £565 a year. Later examples are £330 per year.
All cars sold after April 2017 incur VED at £150 per year, with an additional £325 a year surcharge for the first five years after registration.
How much should you be paying for a used BMW 6 Series Coupe?
"Premium coupes like the BMW 6 Series are not designed to sell in huge numbers, meaning finding your perfect used example may take time."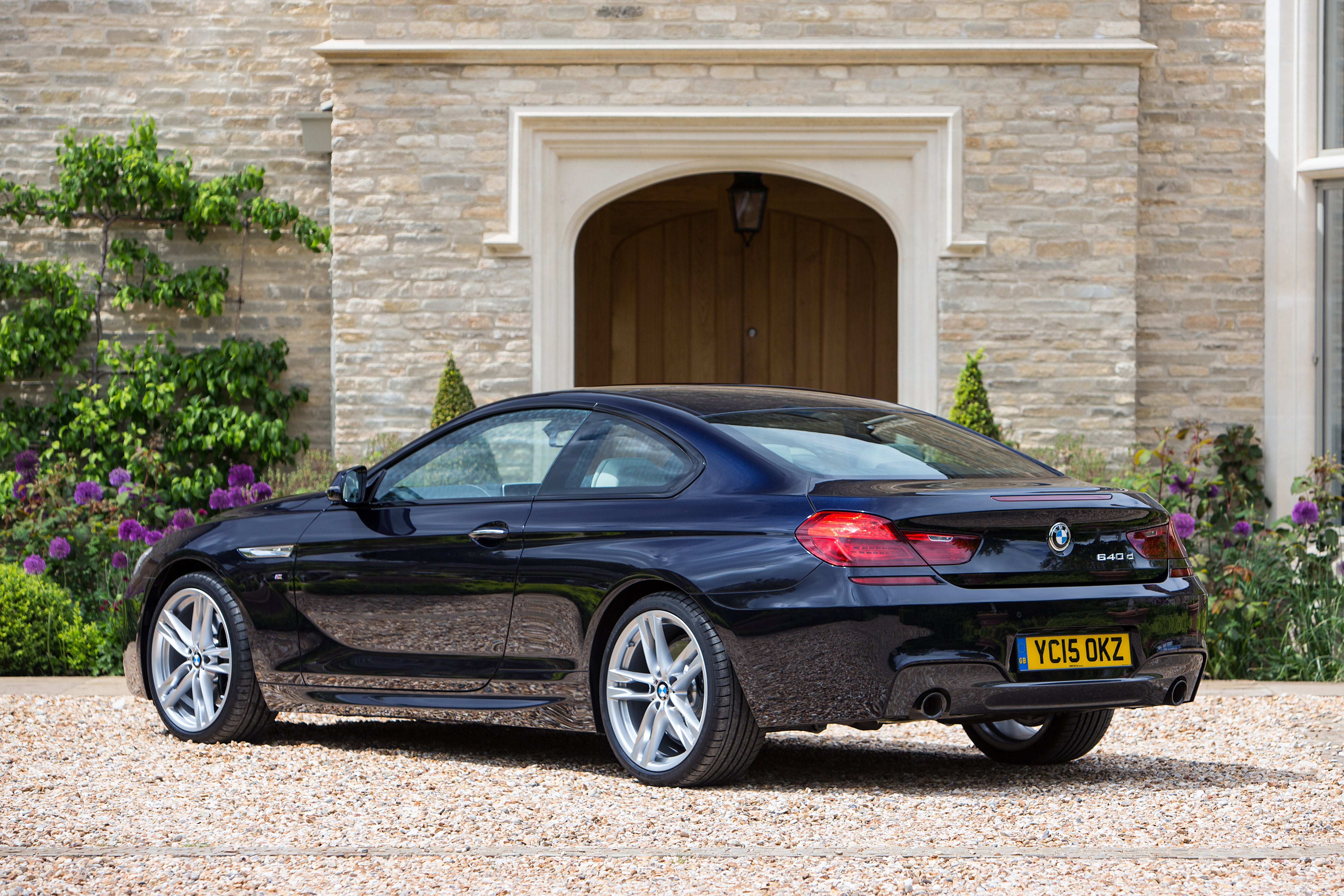 Looking at the used marketplace reveals the diesel 640d is easily the most popular model. Petrol versions are hard to find, while M Sport is the most common trim level.
A 640d, in M Sport trim and with low-mileage, should be available from around £27,000. The best examples can generally be found as part of approved used stock at BMW dealerships.
For those wanting a petrol model, the 640i is easier to find. A low-mileage car, again in M Sport trim, will command prices around £23,000 for the tidiest examples.
Trim levels and standard equipment
BMW kept the trim options for the 6 Series Coupe pleasingly simple, with only a handful of different grades.
SE represents the entry-level trim, but is far from short on standard equipment. Dakota leather upholstery, satellite navigation, parking sensors and xenon headlights were all included when the car was first launched. Petrol 650i models gained larger 19-inch alloys, compared to the regular 18-inch rims.
Changes as part of the 2015 update saw extra items added to SE specification, including LED headlights and ConnectedDrive navigation.
M Sport trim was also available from launch, with unique body styling and 19-inch alloy wheels. Leather sports seats, a black headlining and exhaust tailpipes in dark chrome are some of the key highlights.
Sport specification was added as part of the 2015 facelift, but only for the 650i. It offers 19-inch wheels, comfort seats trimmed in Nappa leather and additional chrome exterior detailing.
SE trim does offer plenty of value for money, with the other two grades being essentially styling upgrades. Despite this, M Sport proved the most popular with buyers.
BMW 6 Series cars for sale on heycar
3,194
Number of cars available
£21K - £36K
Price bracket of these cars
Colours available on heycar
Keep me updated by email with the latest advice, news and offers from heycar
By submitting, you agree to our
privacy policy
.