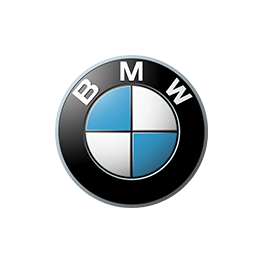 BMW 7 Series Review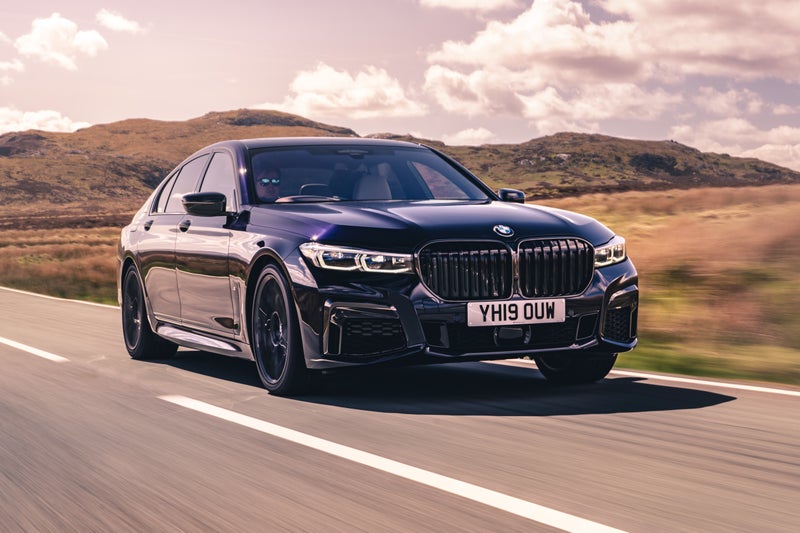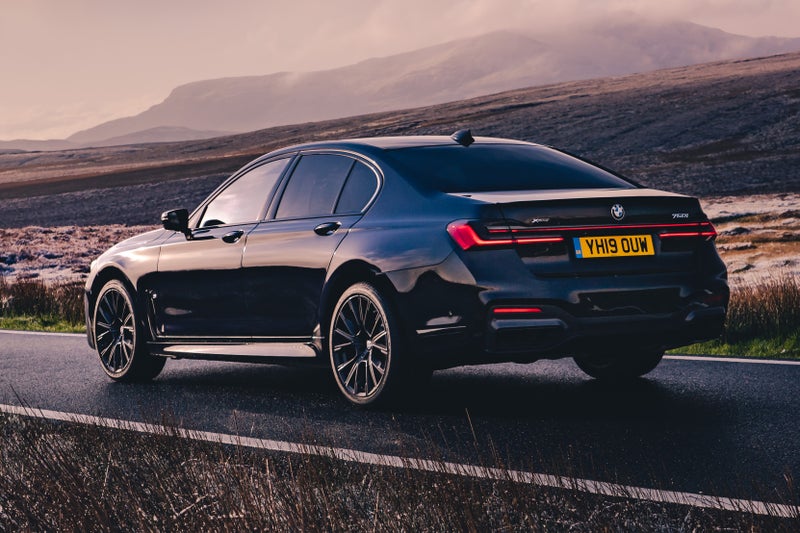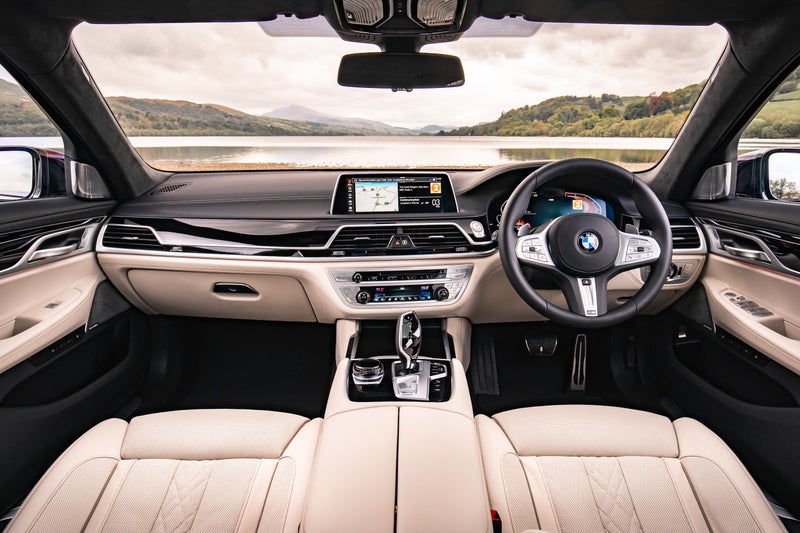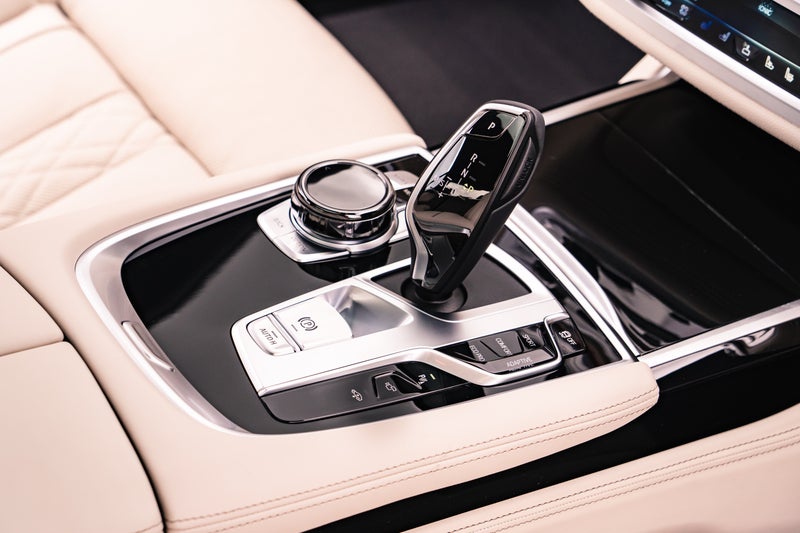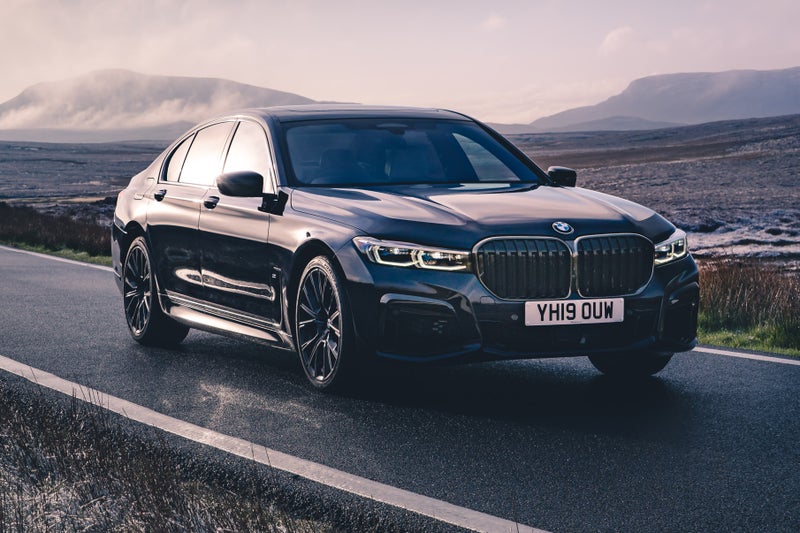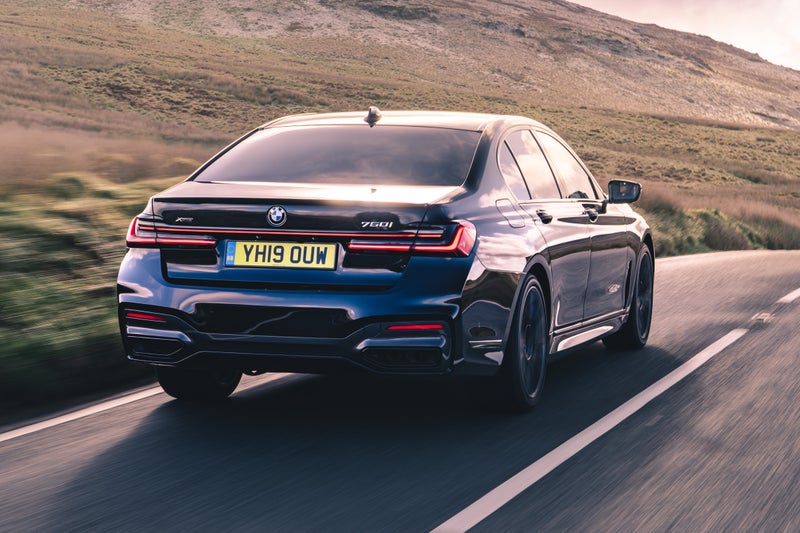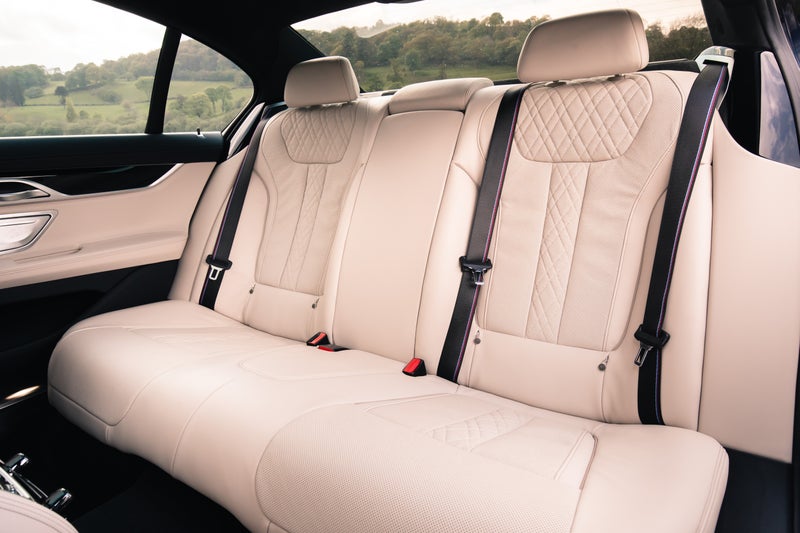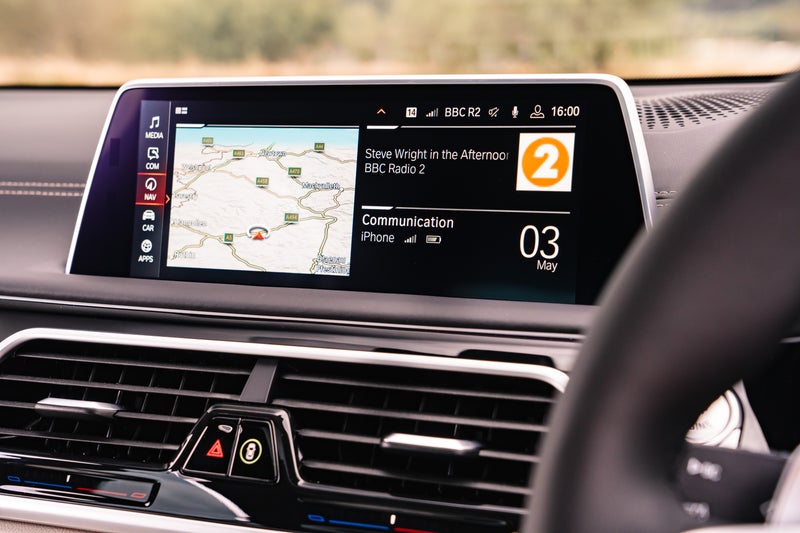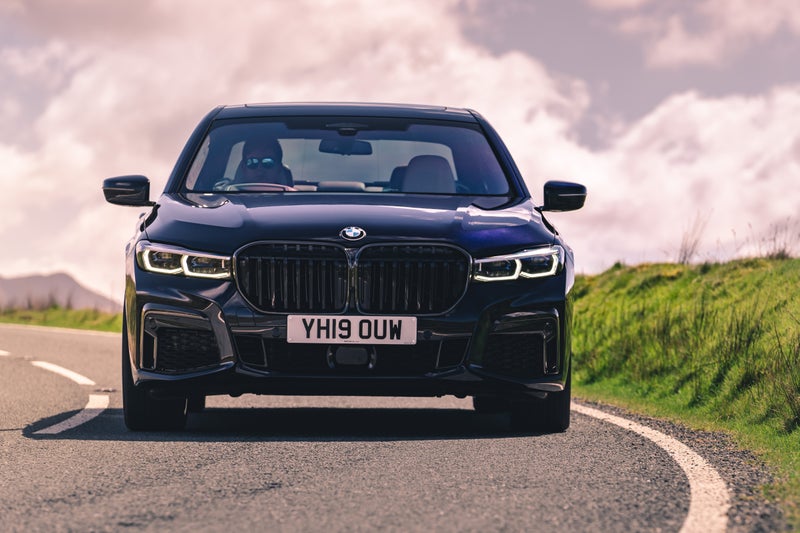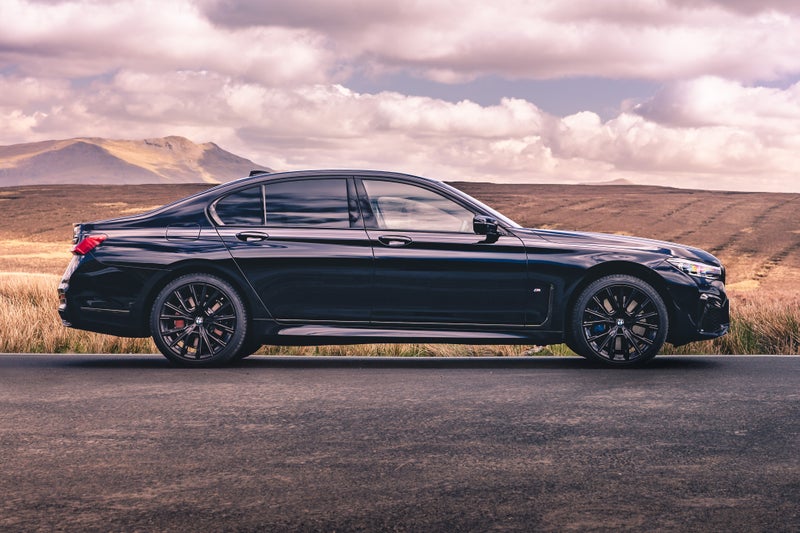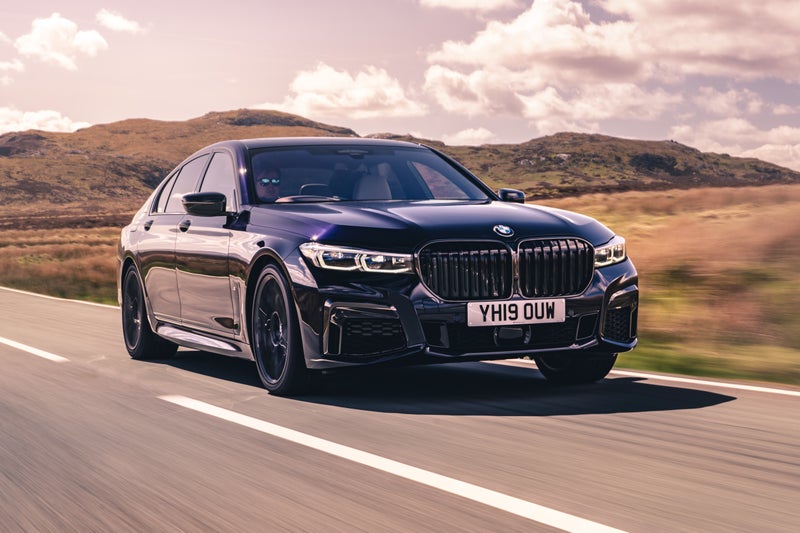 1/10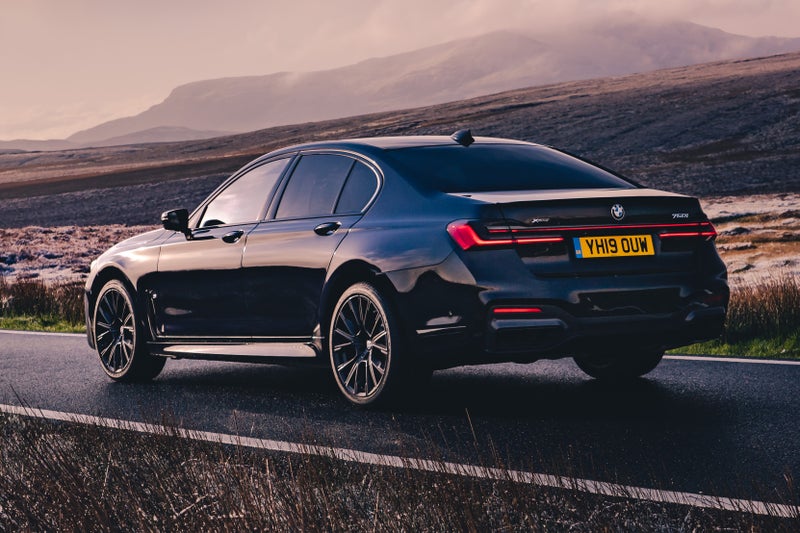 2/10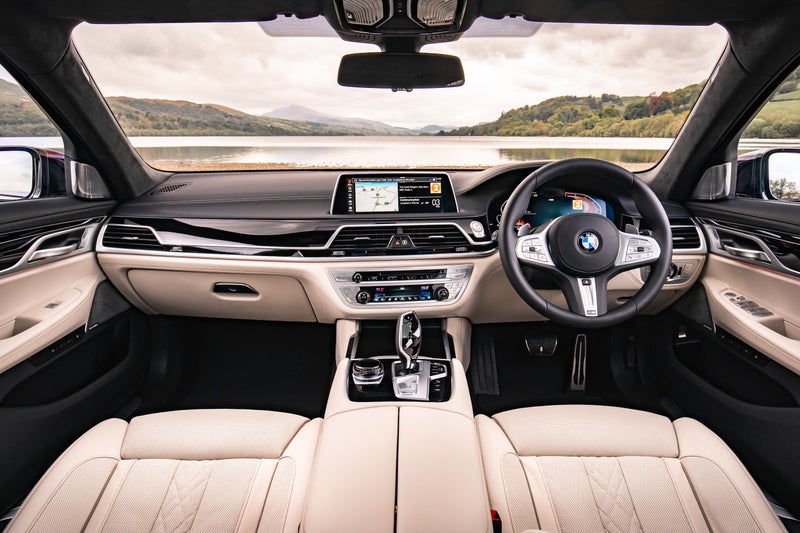 3/10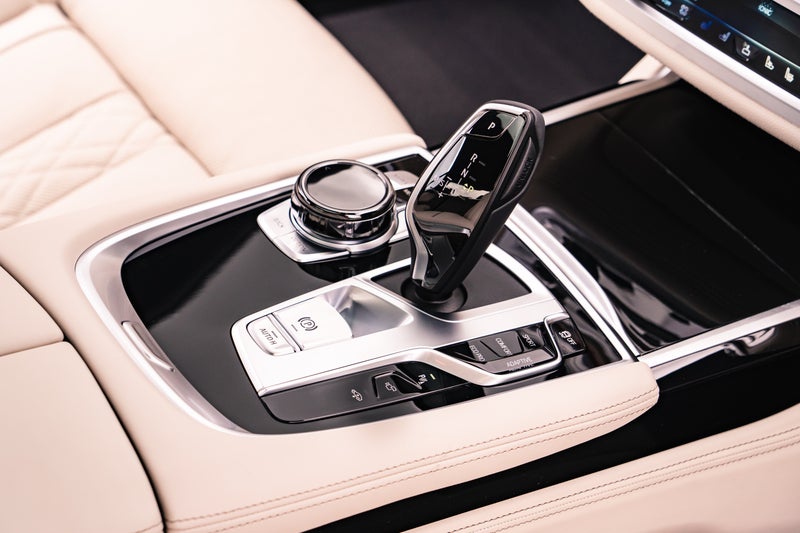 4/10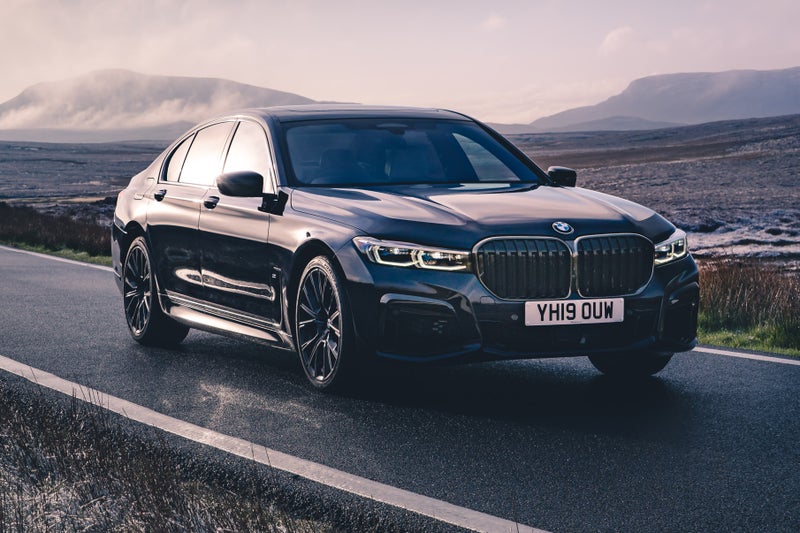 5/10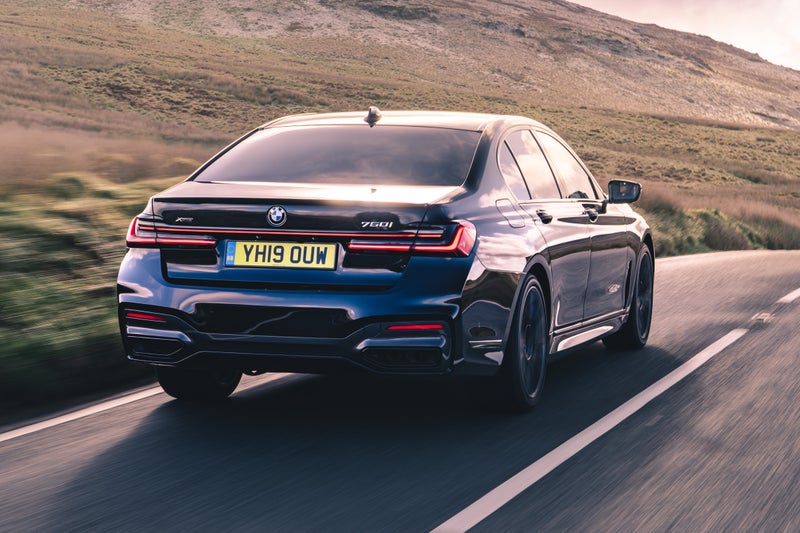 6/10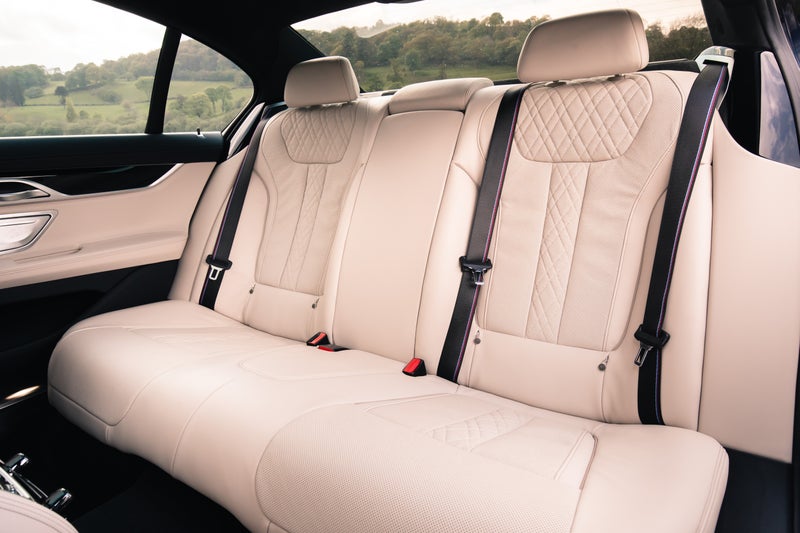 7/10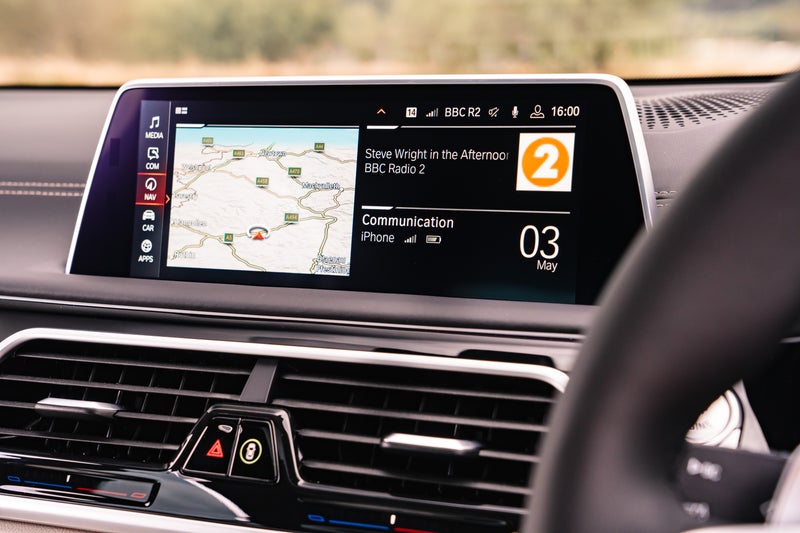 8/10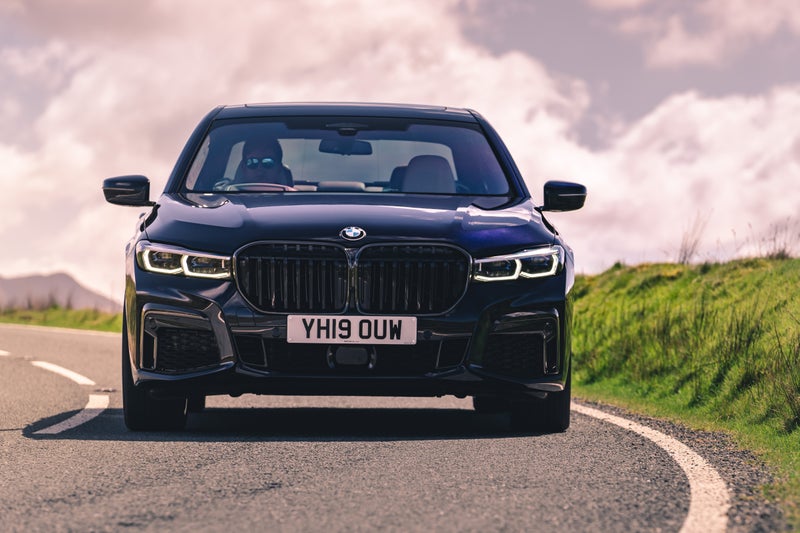 9/10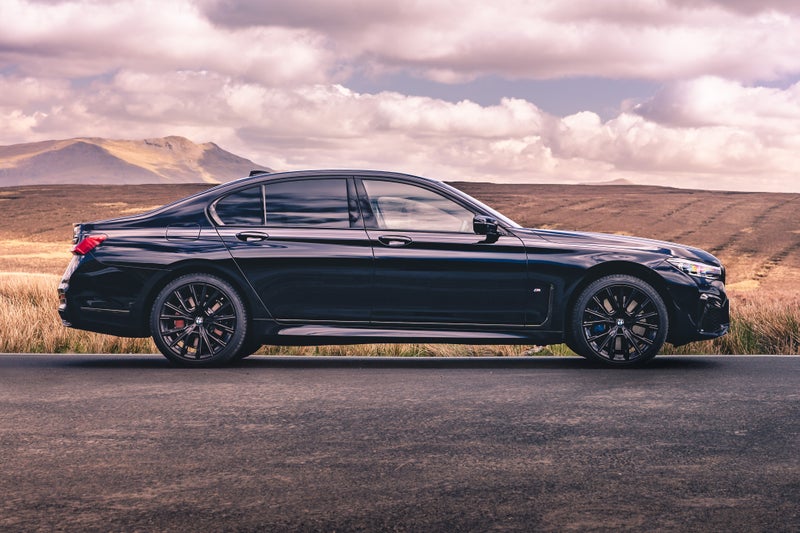 10/10
Launched in 2016

Luxury

Petrol, Diesel, PHEV
Launch year

2016

Body type

Luxury

Fuel type

Petrol, Diesel, PHEV

Written by
heycar editorial team

heycar rating
High-tech, high class luxury
Best bits
Superlative ride comfort
Huge cabin space
Hybrid option
Not so great
Can be tricky to park
Petrol engine running costs
Vague steering feel
Read by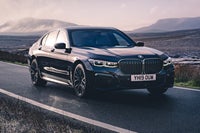 Overall verdict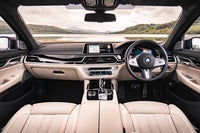 On the inside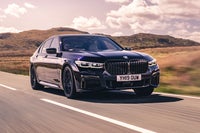 Driving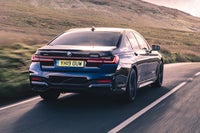 How much does it cost to run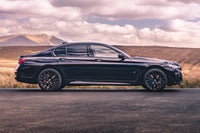 Prices, versions and specification
Overall verdict
"Luxury cars are all about wafting around with the minimum of fuss and maximum of comfort, and the BMW 7 Series is impeccable when it comes to how it deals with lumps, bumps and potholes. Its predecessor didn't ride very well but there are no such problems with this generation."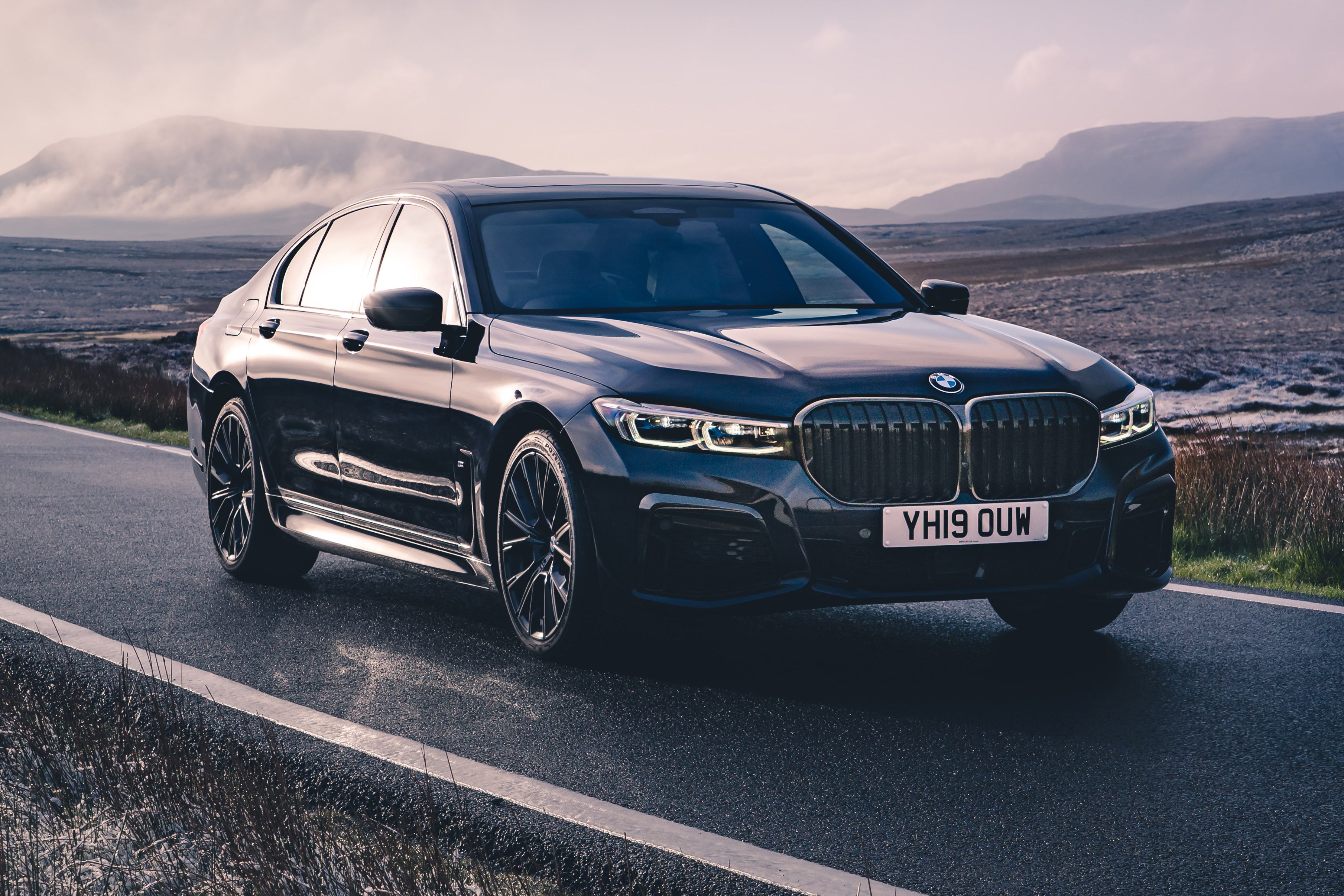 This BMW 7 Series was launched in 2016, updated in 2019 and is the largest car the German brand has ever produced. The long wheelbase version is huge and stands at more than 5.2 metres long, yet thanks to those familiar BMW proportions it hides its size well, looking more like a 6 Series Gran Coupe. This is no bulky four-door but a surprisingly sleek and good-looking saloon.
BMW has ditched coil springs and dampers in favour of what the Americans call 'air ride', where cushions of air take the place of more traditional steel springs to absorb the blows dished out the by the road's surface.
This sophisticated self-levelling air suspension system comes as standard and means the 7 Series is wonderfully smooth over even the poorest of surfaces. It really comes into its own at motorway speeds where the lack of road noise and its ability to effortlessly glide along make this a relaxing car to drive or travel in. This sort of effortless ability makes it one of the main contenders for your attention and cash at this pricey end of the market.
Performance is all that you'd expect of the flagship BMW model, with the mainstay engine being the impressive 730d. It offers all the power you need with 265PS but it's the strong in-gear acceleration that makes more of an impression in everyday driving as you just don't expect a car of this size to build speed with such ease. It's also available with xDrive four-wheel drive for added traction and security in wet or wintery conditions.
Alternatively, there's a more powerful 740d model or the silky smooth 740i or 750i with petrol V8. If you have bottomless pockets, the V12-powered 760i is the ultimate BMW limo in many ways, but others will prefer the frugal charms of the petrol-electric hybrid 745e.
When it comes to technology, the 7 Series can give the Starship Enterprise a run for its money. It has an iDrive system, an excellent head-up display and an incredible 360-degree camera. You can even remotely park it using the key.
There is, of course, acres of space inside, particularly in long wheelbase models, although the lengthy rear doors mean you have to be wary of standard parking bays which the 7 Series dwarfs. The interior quality is impeccable with a truly luxury feel and great attention to detail.
The only criticism of the 7 Series is the steering, which feels light and overly assisted even in its sportiest setting. Then again, this isn't a car designed to tackle tight corners. What it does do is offer more standard equipment than its S-Class rival for the same sort of money, making the BMW one of the best luxury saloons around.
Comfort and design
"As you'd expect of a car of the calibre of the BMW 7 Series, the driver's seat is electrically adjusted and has a memory function to make it easy to return to your ideal setting should you share the driving duties with someone else. There's also powered adjustment for the steering wheel position, so finding the ideal driving position is a cinch."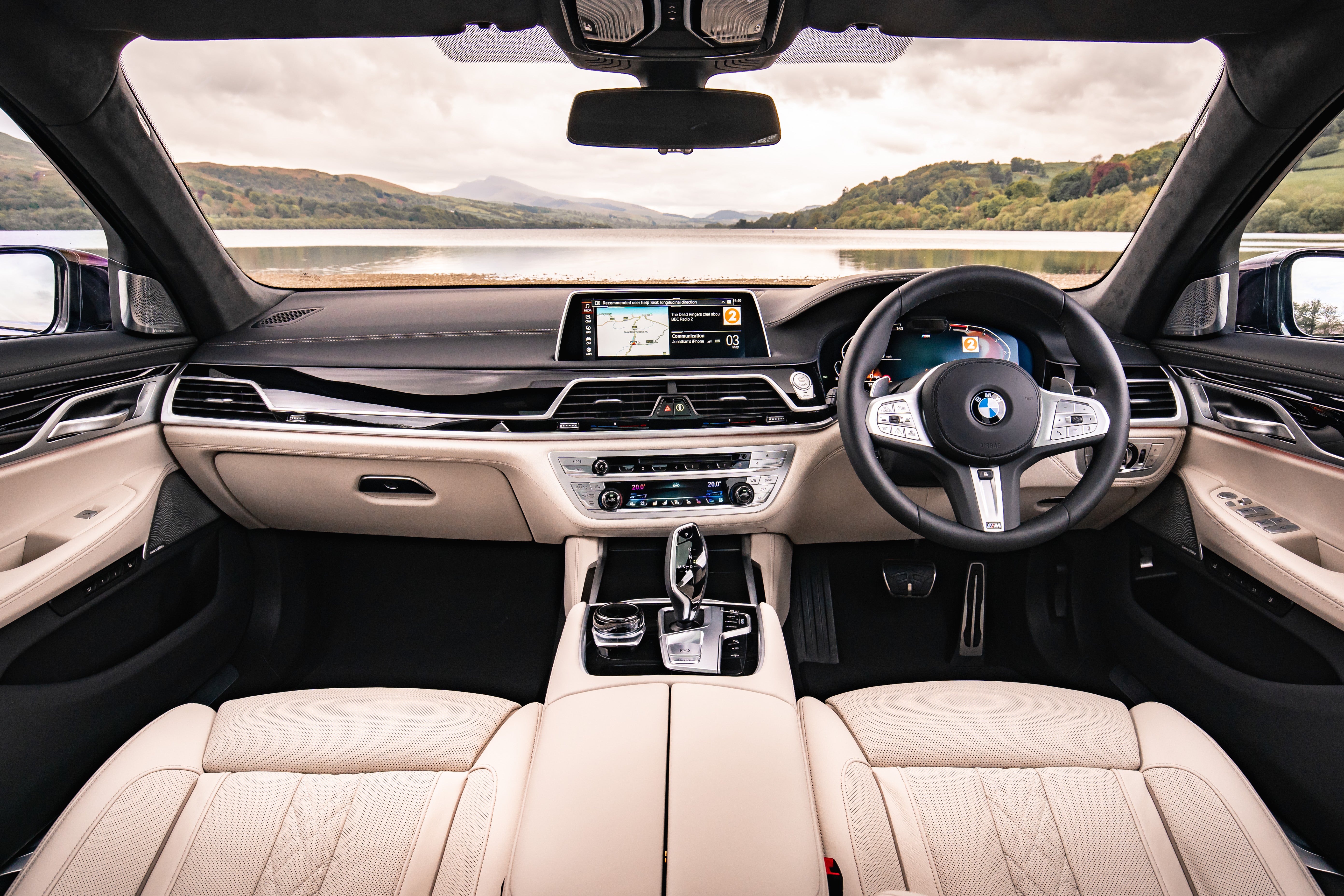 When you do have the seating sorted, you'll find the 7 Series offers a good view to the front and side, though the rear of the car can seem a very long way off. Luckily, every 7 Series come with all-round parking sensors that are very accurate and a rear parking camera. This is just as well as the 7 Series is a big car that occupies the whole of most parking spaces.
For this reason, too, you need to be aware of where you park so passengers can get in and out of the car easily as the doors are quite long, especially in the extended wheelbase models. Luckily, you can use the intelligent key to remotely park the car if the space is just too tight.
As for the driver's seat itself, it's plushly upholstered in top grade leather and offers all the support and comfort of a favourite armchair. Naturally, it's heated and there's the option of adding cooling ventilation and a massage function to knead away the stresses of the boardroom as you head home.
Handling and ride quality
"The main criticism of the previous BMW 7 Series was its ride. It was by far the harshest luxury saloon on the market. However, BMW was clearly stung by this and listened to its customers as this generation has impeccable road manners with a wonderfully cushioned ride."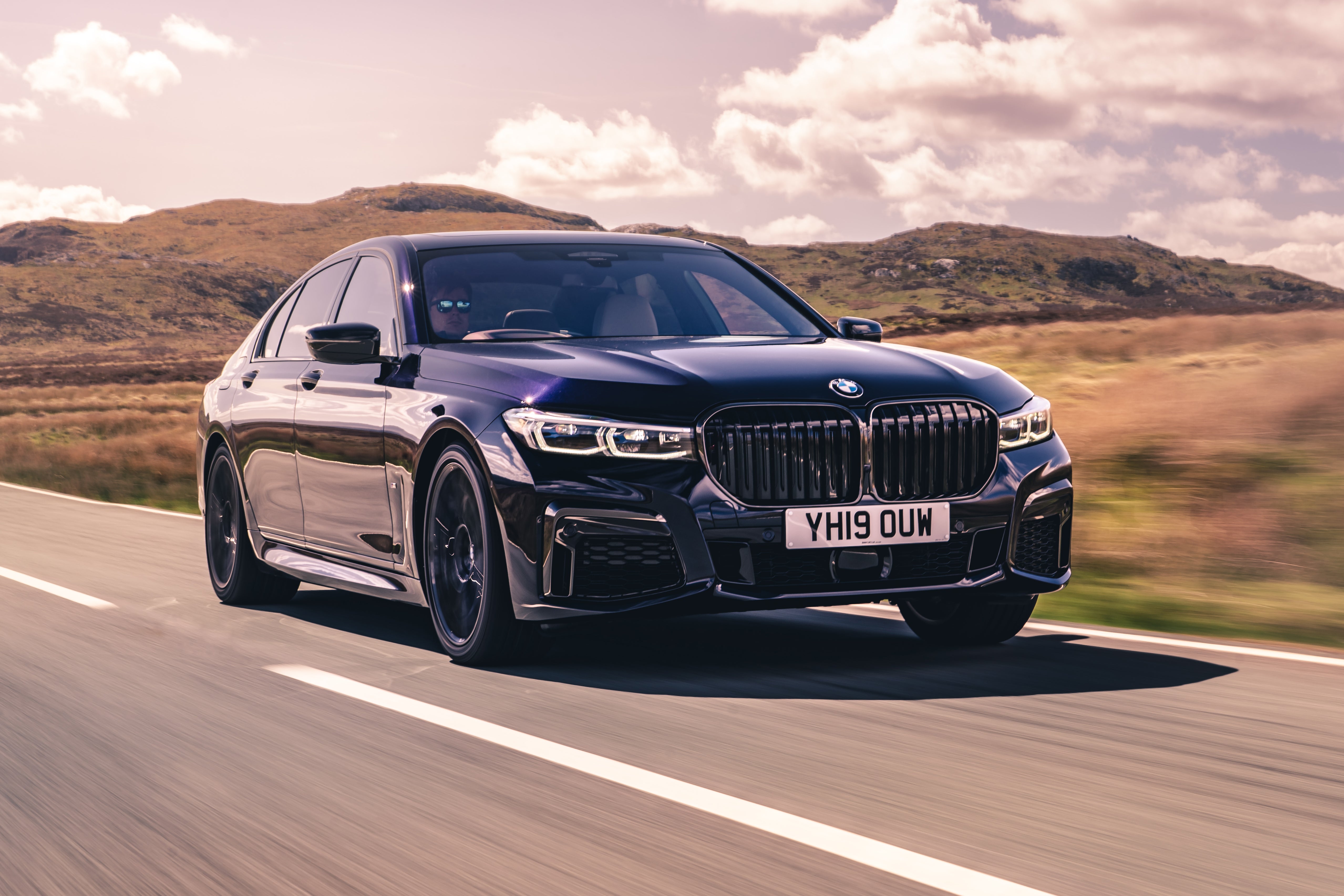 That's down the fact it's fitted with self-levelling air suspension as standard, rather than standard coil springs of old. This means the 7 Series is always smooth, even over poor road surfaces or motorway expansion joints. It's easily good enough to be a match for the excellent Mercedes-Benz S-Class. For long motorway journeys, the combination of an effortless ride and good noise insulation means the 7 Series is a wonderfully cosseting car to travel in.

Around town where many luxury cars ply their trade as private hire cars, the ride is equally free from jitters and jiggles. The Seven's occupants will be blissfully unaware of anything this side of a crater thanks to the way it has been finessed.

The one let down is the steering. While the 7 Series handles impressively in corners for such a big car, the new electric steering system lacks the weight you'd expect of a BMW, especially compared to the smaller 5 Series.
It feels light and overly assisted, not giving you much feedback and subsequent confidence through high speed corners. However, this is not a car that's designed for throwing through bends, rather it's an effortless cruiser. As a result, we can overlook the dull steering feel as the 7 Series compensates with its imperiously stability at all speeds. It's also pleasingly easy to slot into tight spaces thanks to a good turning circle.
MPG and fuel costs
The 745e is the most economical of the BMW 7 Series range as it can offer up to 128.4mpg combined fuel economy under the latest WLTP testing regime. This is achieved using the car EV-only mode to best effect.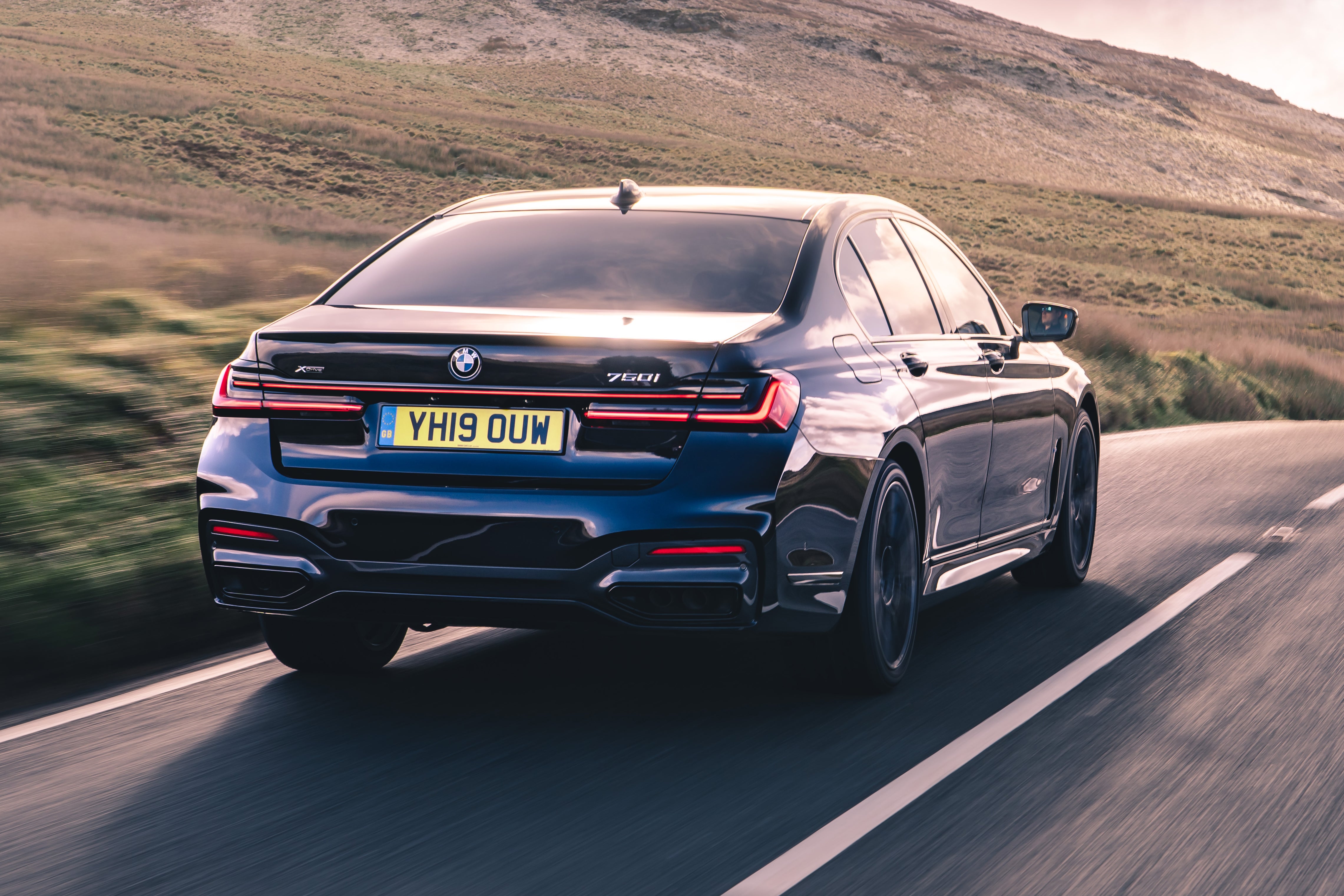 The next best in the range is the 730d that offers as much as 44.8mpg in standard wheelbase form. That compares favourably with its key rivals and means this 7 Series is capable of travelling as much as 850 miles on a cross-continent motorway cruise. Real MPG figures tell us the 730d is able to offer 45.4mpg average economy, so its official number is very close to reality.
How much should you be paying for a used BMW 7 Series?
"Depreciation is rarely kind to large luxury cars and so it proves with the BMW 7 Series. You can find four-year old examples of the 730d with 30,000 miles under its nose from £23,000."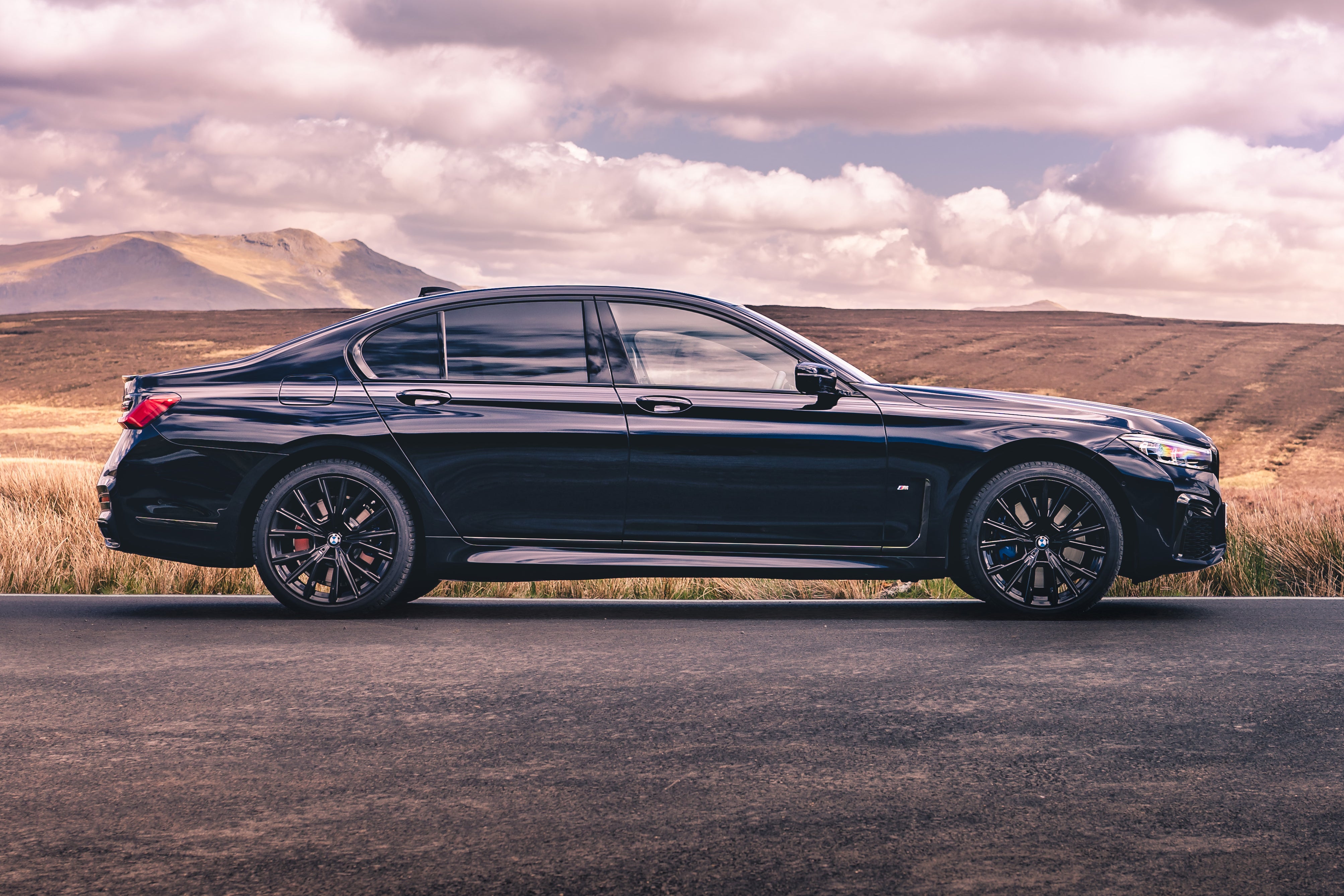 This will give you a choice of standard or M Sport models and also a fair selection of long wheelbase versions too.
If you'd rather look for a younger example, nearly new and pre-registered 7 Series can be found from £63,000 from a BMW dealer. That's a significant £13,000 saving on the £75,720 list price of a 730d M Sport model. If you take a nearly new car with a mere 1500 miles under its wheels, you could have the same model for £55,000 to save yourself a sizeable £20,000 on that new price.
Ready to get your top quality BMW 7 Series?
All cars come with a warranty
Selected dealers only
All quality checked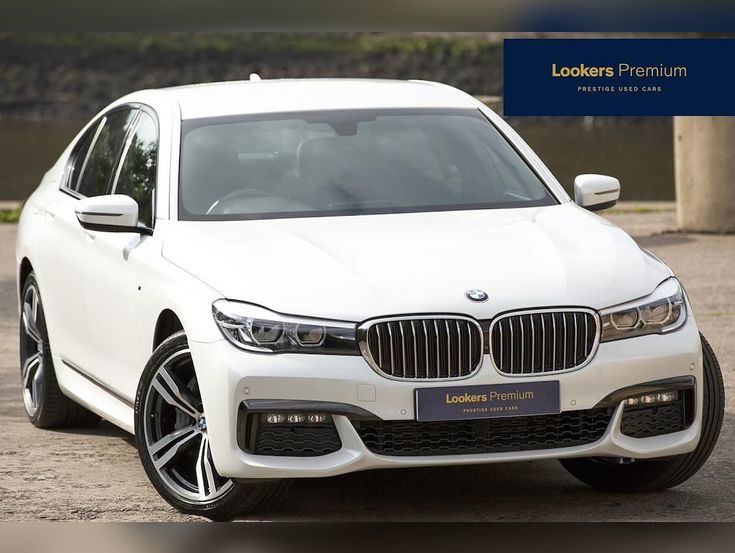 BMW 7 Series
730d xDrive M Sport 4dr Auto
Lookers Premium

Tyne & Wear, NE21AR
PCP: £628.70/mo
Representative example: Contract Length: 36 months, 35 Monthly Payments: £628.70, Customer Deposit: £5,024.00, Total Deposit: £5,024.85, Optional Final Payment: £12,364.00, Total Charge For Credit: £5,894.35, Total Amount Payable: £39,393.35, Representative APR: 9.9%, Interest Rate (Fixed): 9.46%, Excess Mileage Charge: 14.4ppm, Mileage Per Annum: 10,000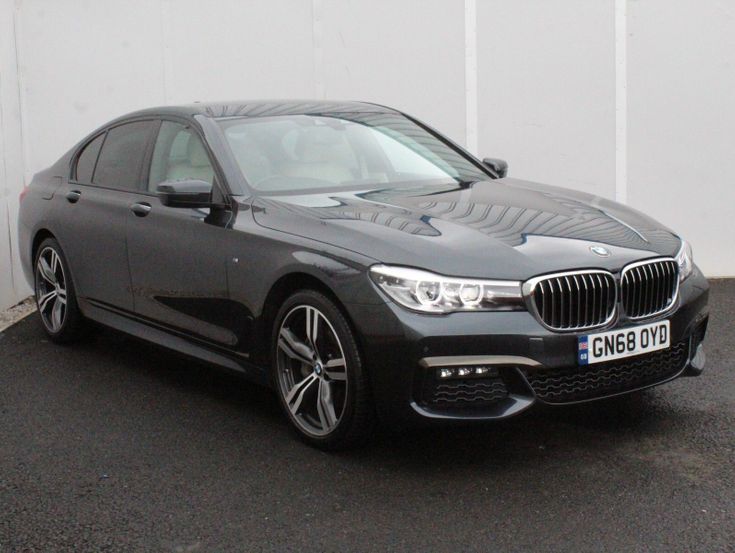 BMW 7 Series
740d xDrive M Sport 4dr Auto
Chorley Group Kia Blackpool

Lancashire, FY42RP
PCP: £649.55/mo
Representative example: Contract Length: 36 months, 35 Monthly Payments: £649.55, Customer Deposit: £5,699.00, Total Deposit: £5,699.25, Optional Final Payment: £16,593.13, Total Charge For Credit: £7,031.63, Total Amount Payable: £45,026.63, Representative APR: 9.9%, Interest Rate (Fixed): 9.47%, Excess Mileage Charge: 11.42ppm, Mileage Per Annum: 10,000
Is the BMW 7 Series right for you?
BMW claims the 7 Series is the car for the people who drive the world, or in other words those wealthy enough to fund the car and may well prefer to sit in the back. If that's you, congratulations because you are in for a treat with the 7 Series because it is one of the most silkily smooth riding cars in a class where this is a vital skill.
For those in the rear seats, there's acres of space to spread out and BMW offers a long wheelbase 7 Series to give the full limousine treatment. All of this can be upgraded with various options packs to make the car even more luxurious and comforting.
As standard, the Seven comes with a raft of luxury, labour-saving and high-tech gadgets. It also gets the basics spot on, so you get large, comfortable chairs with masses of cushioning and adjustment to give all-day support to all of the BMW's occupants.
What's the best BMW 7 Series model/engine to choose?
Some will choose the big, powerful petrol engines just because they are a statement of outright status, but most will pick the more frugal but no less creamily smooth 730d with its 3.0-litre turbodiesel engine. It's the one to have for most owners, thought he 740d offers a bit extra in the way of overtaking oomph.
If you do choose the punchy 750i or V12-engined 760i, you get the sort of pace and overtaking power more normally associated with cars bearing BMW's M badge.
Or there's the 745e with its 2.0-litre petrol engine and additional battery power to deliver up to 128.4mpg and 29 miles of EV-only driving. This is an intriguing option and one that's well suited to those who spend most of their time in city traffic. The 3.0-litre turbo petrol engine is every bit as refined as the other engines the range, so you don't need to be committed to going green to make this decision.
What other cars are similar to the BMW 7 Series?
The clear rivals to the BMW 7 Series both hail from Germany and are the usual suspects of the Audi A8 and Mercedes-Benz S-Class. The A8 is constructed from lightweight aluminium and enjoys a degree of sprightliness that you don't normally connect with luxury saloons.
Mercedes' S-Class is, for many, the default luxury car choice and it's easy to see why thanks to its relaxed drive, calming interior and smooth ride. However, it's not quite as much fun in the driver's seat as the BMW.
If you value driving pleasure, the Jaguar XJ is a good bet, though it makes compromises in cabin space and ride comfort. You could also look to the Lexus LS that is only offered with hybrid power or the Maserati Quattroporte for a very different take on luxury motoring.
Quality and finish
The 7 Series is every inch the luxury car that BMW bills it as with a real premium feel to everything. Yes, it's an expensive car, but that's reflected in the leather finish on the dash top and doors, while all the buttons and switches are finished in aluminium, as are the door handles and engine start button. There have been no corners cut here.
That impression continues as your hands come into contact with more of the cabin's surfaces. Everything has a solidly manufactured feel and all of the controls work with the sort of precision and positive actions that quietly impart a deep sense of satisfaction in the user.
Another element of this attention to detail is how easy the 7 Series is to use. The dash has been de-cluttered of any excess buttons, yet it's also simple to find any of the functions or systems you need quickly. That's reflected in how simple the iDrive control is to operate for the infotainment set-up.
One other way to tell how substantial the 7 Series is in its build is the way the doors close. If you don't use the soft-close function, they pull shut with a vault-like thunk, which is really impressive.
Infotainment
The BMW 7 Series' iDrive system has been improved and the main 12.3-inch colour display is now a touchscreen, in line with most other cars at this level. Still, many will find it easier to use the dial control down by the gear lever as it's very simple to operate and behaves in the same way as a computer mouse.
The system has a huge number of functions and settings, but the display is fairly easy to navigate and there are also shortcut buttons to take you to favourite pages in an instant. All of this can also be worked using 'Hey BMW', which is a voice-activated system that acts as your onboard butler.
In the rear, there's the Touch Command unit that's housed in the fold down armrest. This is a removable Samsung seven-inch tablet which can be used from any seat and even outside the vehicle. It lets you control functions such as seat adjustment, interior lighting and air conditioning, as well as the infotainment, navigation and communication system. It can also be used to play external audio and video files, as a games console or for browsing the internet.
Space and practicality
Nobody is going to feel short-changed on space when they are sitting in the back of the BMW 7 Series. If you do feel the need for a little more leg and knee room, the long wheelbase model adds an extra 14cm to the distance between the front and rear wheels and all of it is devoted to those sat in the back of the car.
Getting in and out of the 7 Series is very easy thanks to the wide-opening rear doors. The only time this might prove tricky is if the car is in a closely packed parking space as the long doors can make it awkward to squeeze out, so you may have to ask the chauffeur to drop you at the front of the destination instead.
Of course, if you really want to look after those in the back, there's the Executive Lounge Seating option. As the name suggests, it's similar to business class on a plane, with backrests that can be reclined up to 42.5 degrees. It's amazingly comfortable with extra padded headrests making this the best place from where to enjoy the 7 Series. If you've got someone else to drive you.
On top of that there's an electrically operated fold-out footrest on the back of the front passenger seat while the rear-seat entertainment system screen can be electrically adjusted to the ideal viewing angle. And to control everything there's something called the Touch Command unit that's housed in the fold down armrest.
Or you could go the whole hog with the Ultimate Package that brings ventilated seats, television, sun blinds and upgraded speaker system for the stereo, as well as a host of other choice extras.
Turning our focus to the boot, the powered lid opens to reveal a luggage compartment with 515-litres of space. This should be more than sufficient for most needs and the deep boot has not interruptions on the sides. This is the same in the standard and long wheelbase versions, but the 745e's battery pack pinches some cargo volume and drops it down to 420-litres.
Engines and gearboxes
It also comes with some of BMW's best engines, with the mainstay of the range the 730d. With 265PS it has plenty of power but it's the hefty 620Nm of torque that makes this the perfect engine for the 7 Series. It pulls along with real gusto if you want, yet is near silent if driven gently.
The 730d is available with xDrive four-wheel drive plus you can opt for a long wheelbase. However, if you want those two together it means opting for the 740d model. It uses the same engine as the 730d but with power boosted to 320PS and more torque at 680Nm.
It's incredibly quick with a 0-62mph time of just 5.3 seconds but what's impressive is the effortless way it accelerates. However, there's very little difference between the 740d and the 730d in every day driving so you'd be better off saving the money and also enjoying the 730d's better fuel economy.
BMW continues to offer petrol versions in the 7 Series, even if few take up the opportunity. There's the 740i with twin-turbo six-cylinder motor and the even rarer 750i that uses a 4.4-litre V8 engine. The pinnacle of the range is the 760Li with a twin turbo 6.6-litre V12 engine producing an immense 600PS.
Of more interest is the 745e plug-in hybrid model that replaced the earlier 740e. This emits just 48g/km of carbon dioxide emissions in rear-wheel drive versions or 52g/km in the 740Le xDrive model with the longer wheelbase and all-wheel drive. These emissions make the 745e exempt from the London congestion charge.
Refinement and noise levels
For anyone looking for the most hushed way to travel, it's hard to top the BMW 7 Series in its 745e hybrid set-up. It can travel on electric power alone for up to 36 miles, which means no noise from under the bonnet and only the very most distant whirring sound of the electric motor doing its job. Even the 3.0-litre, six-cylinder petrol motor comes into play, it's still very muted in all situations.
The popular 730d is also impressively quiet, as is the more powerful 740d version that uses the same basic engine. You will be hard-pressed to tell there's a diesel under the nose of this BMW such is the way it keeps noise to a minimum.
As for the petrol motors, both the 740i and 750i make attractively silent progress, with only the occasional growl under hard acceleration. If you choose the 760i, it's V12 motor operates with hardly any perceptible vibration or noise, making it credible rival for its Rolls-Royce cousin.
Wind and road noise are also reassuringly absent from the Seven's cabin. And topping off this supreme performance are the seamlessly smooth shifts of the eight-speed automatic gearbox that complement the engines to perfection.
Safety equipment
The BMW 7 Series has not been tested by Euro NCAP, but it's fair to say it would perform very well thanks it is size and strength. Some of the might comes from a carbon fibre-enhanced body structure that helps to make the car lighter and more crash-resistant at the same time.
Every 7 Series comes with twin front and side airbags, as well as curtain airbags that extend the full length of the cabin to protect both front and rear occupants. All five people in the car have a three-point seat belt as standard unless you specify the 7 Series with a two-seat rear compartment.
It also comes with the expected DSC traction and stability control, as well as a tyre pressure monitoring system and autonomous emergency braking to avoid collisions by applying the brakes if the driver doesn't react to warning of impending danger.
BMW also supplies all 7 Serie models with its Icon Adaptive LED headlights, Dynamic Safety pack, High Beam Assistant to prevent oncoming drivers being dazzled, and a Drive Recorder that uses cameras to monitor what happens in the immediate run-up to any collision.
The 7 Series in all guises also comes with the Parking Assistant Plus pack that includes rear view camera, parking sensors and surround view. It will also help guide the car into a parking space by working the steering.
Maximum EV range
The BMW 745e is able to drive for up to 29 miles on battery power alone depending on which model you choose. It can drive at up to 87mph on EV power, so this is not a plug-in hybrid that is just restricted to very gentle town driving.
Recharging the 745e's battery is easy with a fast charger and can be completed in around 30 minutes to get around 80 per cent of a full charge. As you drive, the car will automatically work out the best balance of power between the electric and petrol motors to maximise efficiency. It will also recharge the battery using regenerative braking to recycle energy that would otherwise be lost as the car slows.
Insurance groups and costs
It won't take the services of Hercule Poirot to work out the BMW 7 Series is gong to be a pricey car to get insurance cover for. All of the 745e plug-in hybrid models sit in the highest group 50 category and so do the 750i and 760Li models.
If you want to keep your premiums more affordable, the 740i is the model to choose as it sits in group 48 in standard wheelbase form, but the longer version trips into group 49. The 730d also sits in group 49 unless you choose the M Sport model that sits in group 50 alongside the 740d.
VED car tax
The 745e is the BMW 7 Series that saves you money on road tax thanks to its lower emissions. So, you will pay noting in the first year for Vehicle Excise Duty if you go for this model and in subsequent years it comes in at £465 as you pay the £325 additional tax for a car with a list price over £40,000 on top of the £140 for an alternative fuel vehicles.
The 730d comes in at £870 for the first year in its standard form and £475 for subsequent years. Take the 740d and that first-year cost rises to £1305. However, that seems reasonable next to the £1850 the 750i will cost you or the whopping £2175 for the 760Li thanks to its 6.6-litre V12 motor.
Trim levels and standard equipment
The starting point of the BMW 7 Series range is the 730d that comes with 18-inch alloy wheels, powered boot lid opening, soft-close doors and metallic paint. It also has climate control, heated and electrically adjusted front comfort seats, and leather upholstery throughout, plus heated rear seats. Every 7 Series comes with cruise control with braking function and Parking Assistant Plus, as well as Gesture Control to work the 12.3-inch colour infotainment touchscreen screen.
The 750i model upgrades with 19-inch alloy wheels, while long wheelbase versions get an electrically operated glass sunroof and roller blind for the rear windows.
M Sport versions of the 7 Series come with 19-inch alloy wheels, aerodynamic body kit and runflat tyres. They also have an anthracite headlining, M Sport steering wheel and glossy black wood dash trim.
Choose the 760Li and it has 20-inch alloy wheels, Merino leather upholstery, Bowers and Wilkins surround stereo system, comfort rear seats, and TV Function Plus.
BMW also offers the Ultimate Pack for £25,000 that justifies this price with a sport braking system, Climate Comfort glass, massaging and ventilated seats, Executive Lounge rear console, sun blinds, and driver's head-up display. You also get TV Function Plus, uprated stereo and Remote Control Parking using the key.
Learn more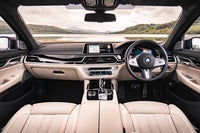 On the inside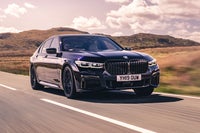 Driving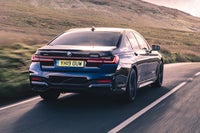 How much does it cost to run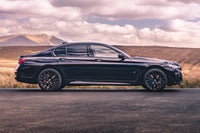 Prices, versions and specification
Reviews of similar cars
Quality checked, all cars less than 8 years old and warranty included
Looking for other BMW cars?
Quality checked, all cars less than 8 years old and warranty included
Keep me updated by email with the latest advice, news and offers from heycar
By submitting, you agree to our
privacy policy
.