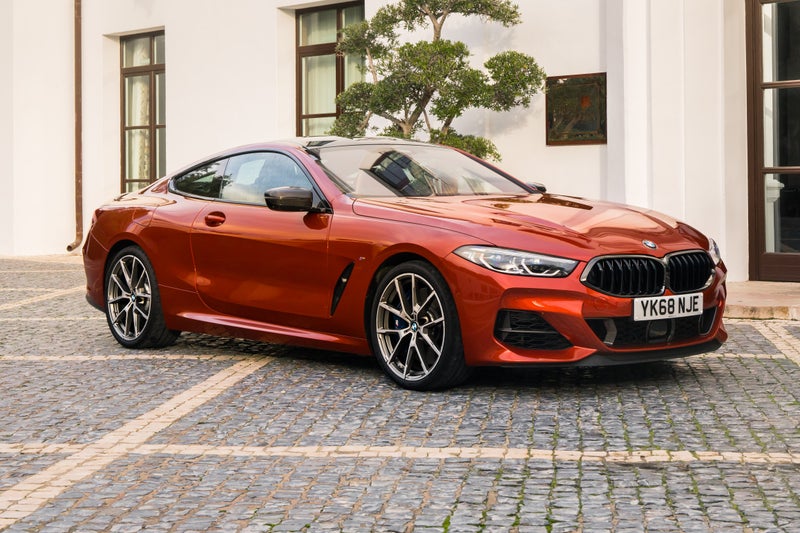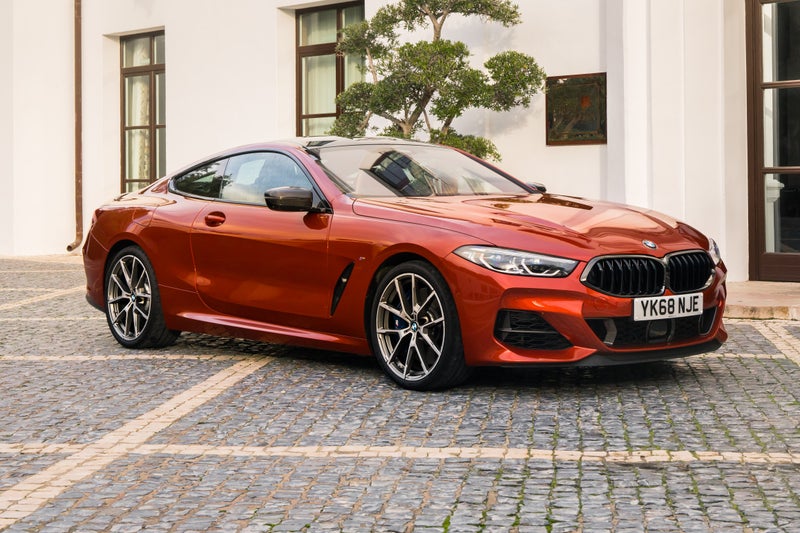 1/10
heycar rating
"Sporty luxury coupe from BMW"
Launched: 2018

Luxury

Petrol, Diesel
Quick overview
Pros
Comparatively, quite good value for money
Engines give stonking performance and refinement
Infotainment system is the best in the business
Cons
Steering could offer more feedback
Cramped rear seats might as well not be there
Arguably not as glamorous as some rivals
Overall verdict
On the inside
Driving
Cost to run
Prices and Specs
Overall verdict
"The BMW 8 Series is handsome to look at and pleasant to sit in, and it delivers an appealing blend of sporty handling and long-distance comfort. The engines are great, too, but it's the diesel version that makes the most sense and gives the car a unique selling point."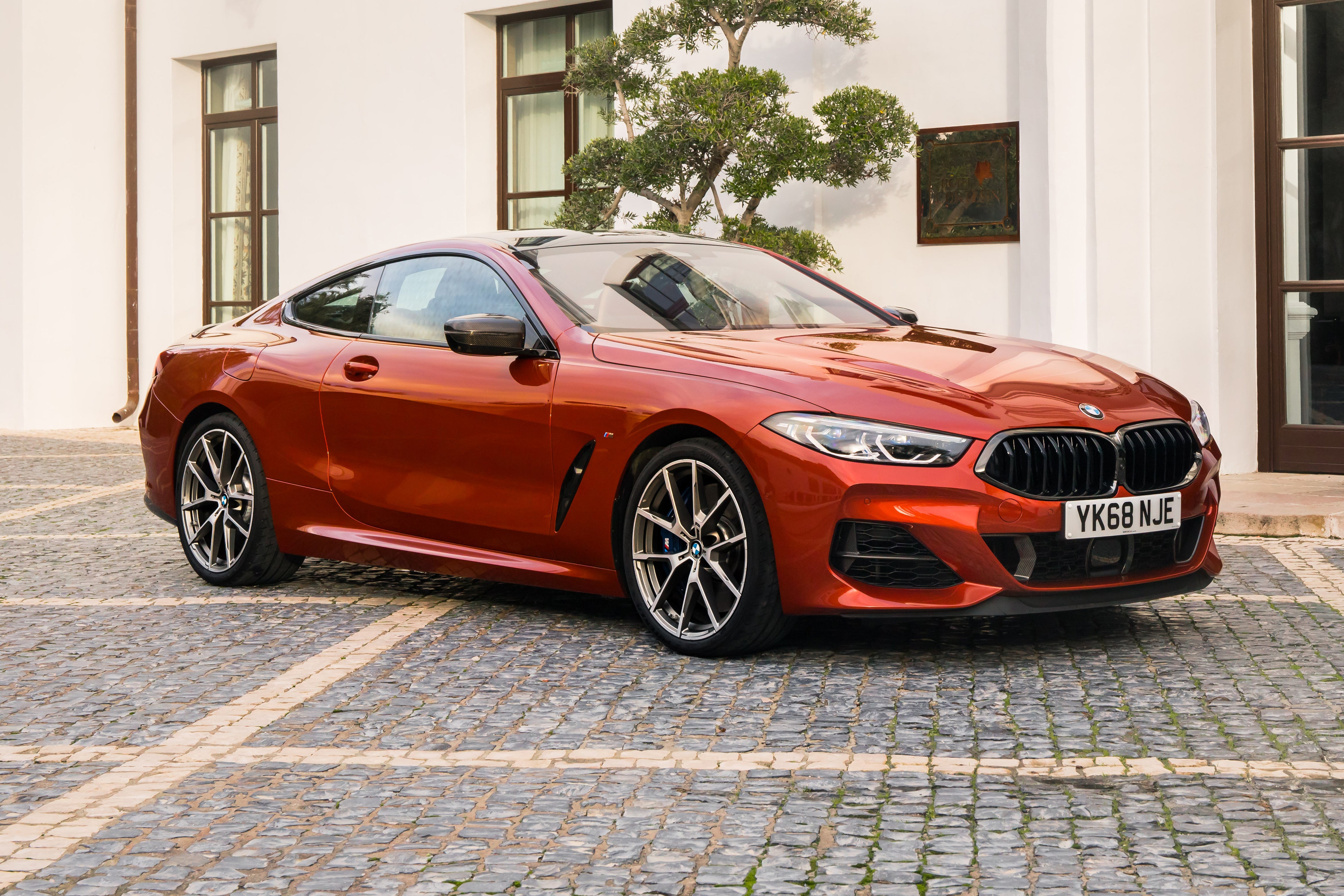 The word 'flagship' gets bandied around a lot in the car world, especially by a company like BMW. The 7 Series has for several years served as the firm's flagship luxury saloon, whereas the X7 sits on top of its popular SUV range. You could argue, though, that having gone one better than both of those cars in terms of the number in its name, the 8 Series is the company's real flagship, sitting at the very pinnacle of its model range.
What is it? Well, it its simplest terms, it's a large luxury coupe with four seats and two doors (convertible and four-door versions are also available, which we'll review separately), putting it on a collision course (metaphorically, not literally) with cars as diverse as the Mercedes-Benz S-Class Coupe, Lexus LC, Aston Martin DB11, Bentley Continental GT, even the Porsche 911.
But what does the big BMW bring to the party that others don't? Well, that will much depend on which version you go for.
Let's begin with the range-topper, the 850i. Powered by a monstrous petrol V8, it has the performance and soundtrack to match its rivals. It's also bang-on with the Mercedes for price, and way cheaper than the Aston or Bentley. Having said that, it also feels pretty similar to those cars in terms of the job it does. No bad thing in such esteemed company, but by the same token, there isn't much to mark it out against its rivals.
The 840d diesel version, on the other hand, is a different matter entirely. No rival offers an equivalent - even the Mercedes is, perhaps somewhat surprisingly, petrol-only - and that immediately gives the 8 Series an appeal that no other car does. And quite aside from the improved economy and extended touring range a diesel gives you, the engine is quiet, smooth and effortlessly muscular. Okay, diesel isn't exactly the height of fashion these days, but for high-mileage drivers looking for a bit of luxury and style, this will be a very tempting package.
Whichever 8 Series you plump for, though, you'll get a car that's very handsome to look at, an absolute joy to sit in (provided you're not in the cramped back seats, that is) and rammed full of luxury kit, including the best infotainment system in the business. It's good to drive, with sportier handling than many rivals, but with a ride that's comfortable enough to make it a capable daily driver. Stick with one of the more humble versions, and it even manages to look like pretty good value compared with most rivals. What's not to like?
Is the BMW 8 Series right for you?
Do you spend much of your time driving huge distances on motorways, but you want to do it with the kind of style and glamour that a luxury saloon just can't deliver? Well provided you don't need the space and practicality of a saloon, then the diesel-powered 8 Series could well be the answer.
Like most big luxurious coupes, the 8 Series is comfortable and quiet on the motorway, allowing you to demolish huge distances quickly and easily. However, while the rest of the class only offers petrol power, the 8 Series' diesel offering will mean cheaper fuel bills, and much longer stints between fill-ups, which will be a big help for your rate of progress.
As well as the coupe, there's the flashier BMW 8 Series Convertible and the more practical four-door BMW 8 Series Gran Coupe.
What's the best BMW 8 Series model/engine to choose
It may not be very fashionable these days, but the diesel is definitely the pick. You see, the big V8-powered 850i is all very nice, with huge performance from its crackerjack of an engine. However, there are quite a few luxury four-seat coupes out there with big petrol engines, making the 850i just another choice.
The diesel, meanwhile, is something completely different, and has no direct rivals. Lexus offers the LC with a petrol-electric self-charging hybrid drivetrain, but that's about as close as rivals get. So, if you plan to use your 8 Series to cross continents and regularly blatt along motorways, the superior economy and extended cruising range of a diesel will be very appealing.
What other cars are similar to the BMW 8 Series?
There are a few large luxurious coupes out there, but they vary greatly in terms of their ethos and price.
Predictably, the closest rival for the 8 Series comes from Mercedes-Benz, in the form of the S-Class Coupe. Lexus will be looking to tempt the same buyers with the stunning Lexus LC, and if you look (quite a long way) further up the price scale, luxury grand tourers such as the Aston Martin DB11 and the Bentley Continental GT come into view.
Alternatively, if you view the 8 Series as a sports car rather than a grand tourer, you'll also want to consider the good old Porsche 911.
Comfort and design
"If you climb into the 8 Series expecting wow-factor, you might be a shade disappointed. While rivals like the Mercedes S-Class Coupe employ flamboyant interior design, the 8 Series is quite conventional and conservative by comparison. You could just as easily be sitting in one of BMW's big saloons."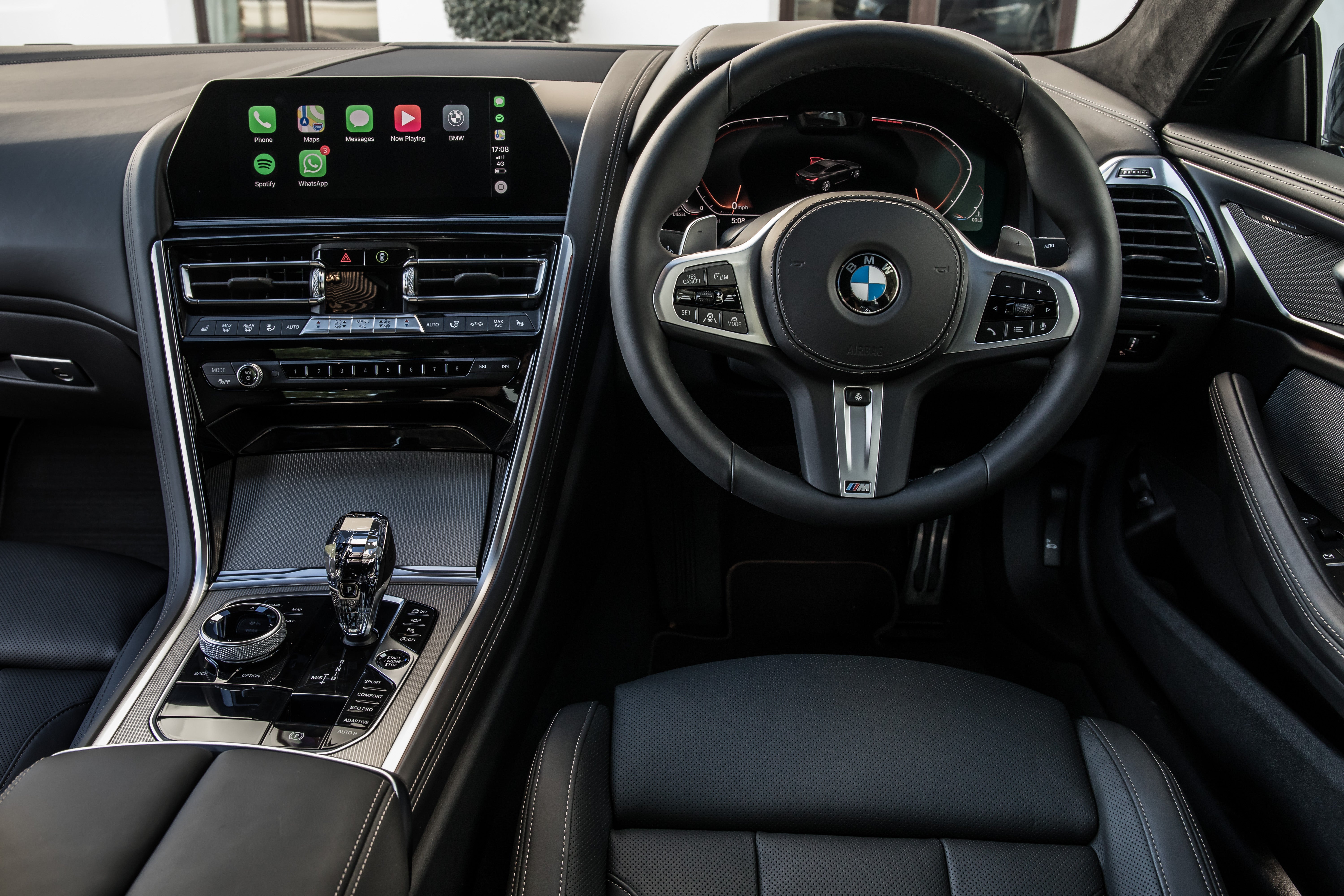 While this isn't great news for style, it's fabulous news for ergonomics. All the various controls sit exactly where you'd expect to find them, and all your various buttons and dials are clearly marked and easy to use. All versions also get a digital instrument panel behind the steering wheel in place of traditional dials, and this presents lots of information to you in a clear, logical way. What's more, all versions have a head-up display that beams the most important information directly into your line of sight, so you hardly ever have to take your eyes off the road.
The standard sports seats are very supportive and hold you in place snugly, and they move electrically in all versions to help you find a comfortable driving position. Lot of adjustment in the steering column helps on that score, too.
Visibility is pretty good at the front of the car, but the swoopy roofline does mean that your rear view is pretty limited. However, all versions get a reversing camera and parking sensors at both ends of the car.
Quality and finish
The big BMW's interior design may lack a little bit of wow-factor, but the same can't be said of the materials used in the cabin. Every surface you see looks dense and lustrous, and most of them are as much a treat for the fingertips as they are for the eyes.
Everything is thoughtfully finished, too, with splashes of brushed chrome trim here and stitched leather there. And, with flush-fitting panels and extremely sturdy assembly, everything feels like it's built to last.
Okay, so it can't match the hand-made feel of a Bentley Continental, but it's a match for the Mercedes S-Class Coupe on quality, and a sight better than an Aston Martin DB11.
Infotainment
Unsurprisingly, the 8 Series gets BMW's latest infotainment system, and the good news is that it's one of the best in the business. Importantly, it's got most of the important functionality covered. There's navigation, DAB radio, Bluetooth, a wifi hotspot, wireless phone charging and a whole bunch of clever connected services. Apple Carplay is also supported, but Android Auto isn't. It will be in time, but only on a handful of Android devices.
By far the best thing about the system, though, is that it's so easy to use. Like every other system in every other high-end car, it has touchscreen functionality, but what marks out the BMW's system is that it can also be operated using shortcut buttons and a scrolling wheel on the centre console.
That means it's much simpler and much less distracting when you're driving. Despite the complexity of the system, it's really intuitive to use, with logically arranged menus and easy-to-find features. The graphics are fast and sharp, so it's nice to look at and slick to operate. This really is as good as it gets.
Space and practicality
The 8 Series has four seats. However, it's best to look upon that statement as a technicality, rather than a reality. The ones up front are as roomy and as comfortable as you'd expect, with plenty of handy storage spaces dotted around.
However, the two in the back are very cramped, considerably more so than in the Mercedes S-Class Coupe, and even a modestly-sized adult will find their knees pressing into the seat in front and their barnet pressing into the headlining.
Smaller children in booster seats should be okay, but you might struggle to get bulky child seats back there. That's not only because of the tight space, but also because of the small opening that results from tipping the front seat forward to gain access to the rear, something that also makes getting in and out of the back seats a less-than-graceful business.
The boot is a decent size in terms of capacity, but unsurprisingly in a car like this, the space is rather narrow and shallow. The opening is also rather small, and there's a big lip to lift items over. You'll get a couple of sets of golf clubs in, but nothing too much bulkier than that. A powered tailgate is provided across the range, though.
Handling and ride quality
"Big, posh expensive coupes like this are usually fairly deliberate in their dynamic goals: they're either comfortable grand tourers like a Bentley Continental GT and Mercedes S-Class Coupe, or they're all-out sports cars like the Porsche 911. The 8 Series, lies somewhere in between, although it comes down more on the sporty side of things."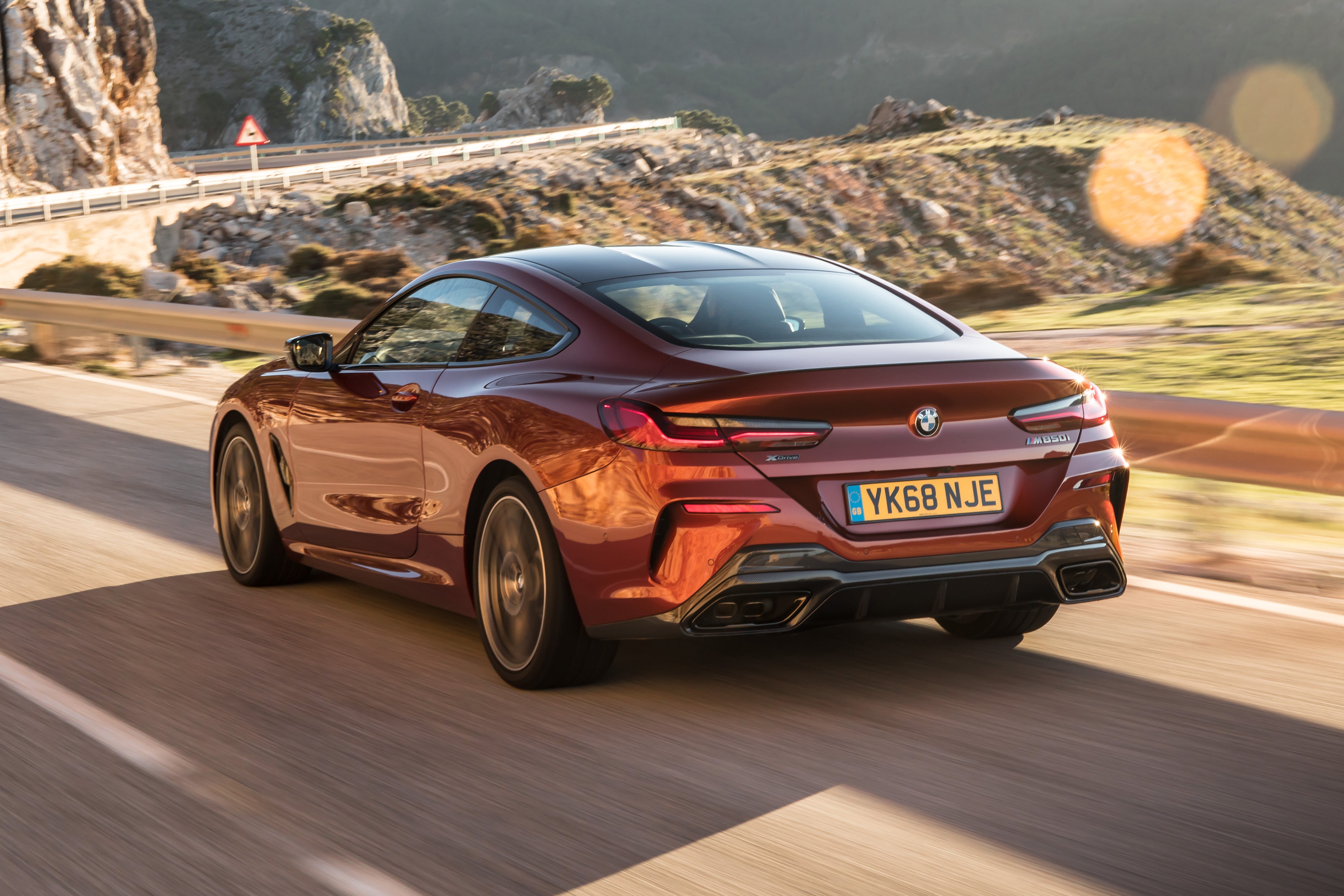 We haven't yet driven the 40i, which is the only version to have rear-wheel drive, but we've had a shot in the others, which both get four-wheel drive and four-wheel steering as standard. What's more, all cars come with adaptive suspension that firms things up or softens them off according to which of the various driving modes you select.
Whichever you select, though, the 8 Series is an enjoyable car to drive. It has bags of grip and traction to call upon, and sharp body control also helps to deliver really crisp direction changes.
Perhaps more impressively, it really manages to shake off its considerable size and weight down a country lane, making it feel more athletic than most big coupes, although you'll still won't be fooled into thinking you're in a Porsche 911. The only slight area for complaint is the steering, which doesn't deliver a great deal of feedback, but that really is splitting hairs.
The question is, does this impressive handling ability translate into a bone-shaking ride? Well, no, not at all. Granted, you won't feel as cosseted as you will in the Bentley or the Mercedes, but this is still a comfortable car, keeping things civilised and serene on the vast majority of surfaces, and never feeling harsh or uncomfortable.
Engines and gearboxes
We haven't yet tried the entry-level 8 Series, the 840i, which uses a 3.0-litre straight-six petrol engine developing 340PS. We have had a shot in the 840d, though, which has a 320PS diesel engine of the same size and configuration.
Despite its power disadvantage, the diesel is actually a fraction quicker than its petrol counterpart in the benchmark 0-62mph sprint (4.9 seconds plays 5.0 seconds, so both are quick), probably by virtue of the extra off-the-line traction delivered by the diesel's standard four-wheel drive. However, the diesel's real talent lies in the ease with which it builds speed. It delivers huge low-down pull, so you can execute overtakes without breaking a sweat, and its power delivery is as smooth as it is effortless.
The 850i, meanwhile, has the same 4.4-litre petrol V8 found in the M5 saloon, but detuned to give 'just' 530PS. Predictably, this is even faster, doing the benchmark spring in just 3.7 seconds. Again, there's a mammoth slice of low-down torque, which means you can deal with nine out of ten driving situations without having to tap into the upper half of the rev range, just like you can in the diesel.
And, in most of these situations, you probably won't detect much of a performance difference between the two. The difference comes when you really plant your right foot: while the diesel's willingness to rev is more limited, the petrol just keeps on pulling.
All versions drive through an eight-speed automatic gearbox, which is an absolute cracker. It swaps cogs smoothly and gently when you're taking things easy, and quickly and intuitively when you're getting a wriggle-on.
Refinement and noise levels
The other big difference you'll notice between the two engines we've tried is in the noise they make, both the amount of it, and the nature of it. Both are great.
The diesel gives off a pleasant burble under hard acceleration, and that melts away to barely a whisper once you reach cruising speeds and ease off, making it a fabulous long-distance companion. The fact that wind- and road noise are also well contained contributes even further towards the 8's impressive cruising abilities, even if an S-Class Coupe is even more hushed overall.
The 50i is just as quiet and smooth as the diesel at 70mph, but the way it gets there is rather more dramatic, especially when you select the sportiest driving mode. Your epic acceleration is accompanied by an even more epic soundtrack, characterised by a bassy metallic bellow and pops and cracks from the exhausts.
Safety equipment
The 8 Series hasn't been smashed up by the good folks at Euro NCAP yet, and because it's likely to sell in such low numbers, it probably never will be.
It comes with most of the safety gear you expect - airbags and traction aids and all that - plus a couple of things you might not. All versions get a head-up display that beams key information directly onto the windscreen in front of your eyes so that you seldom have to look away from the road, while the headlamps have a handy automatic high-beam function.
Automatic emergency braking is also provided, but it's perhaps a little disappointing (although not entirely surprising) that some of the cleverer driver-assistance systems - such as active cruise control with lane-keeping assistance and stop-and-go functionality - are left on the options list. No version gets a spare wheel. The 850i comes with a pot of tyre sealant, while the 40i and 40d come on run-flat tyres.
MPG and fuel costs
"As we'll see, owning an 8 Series is never going to be a cheap business, but if you have any sort of eye whatsoever on fiscal matters, you'll definitely want to choose the diesel."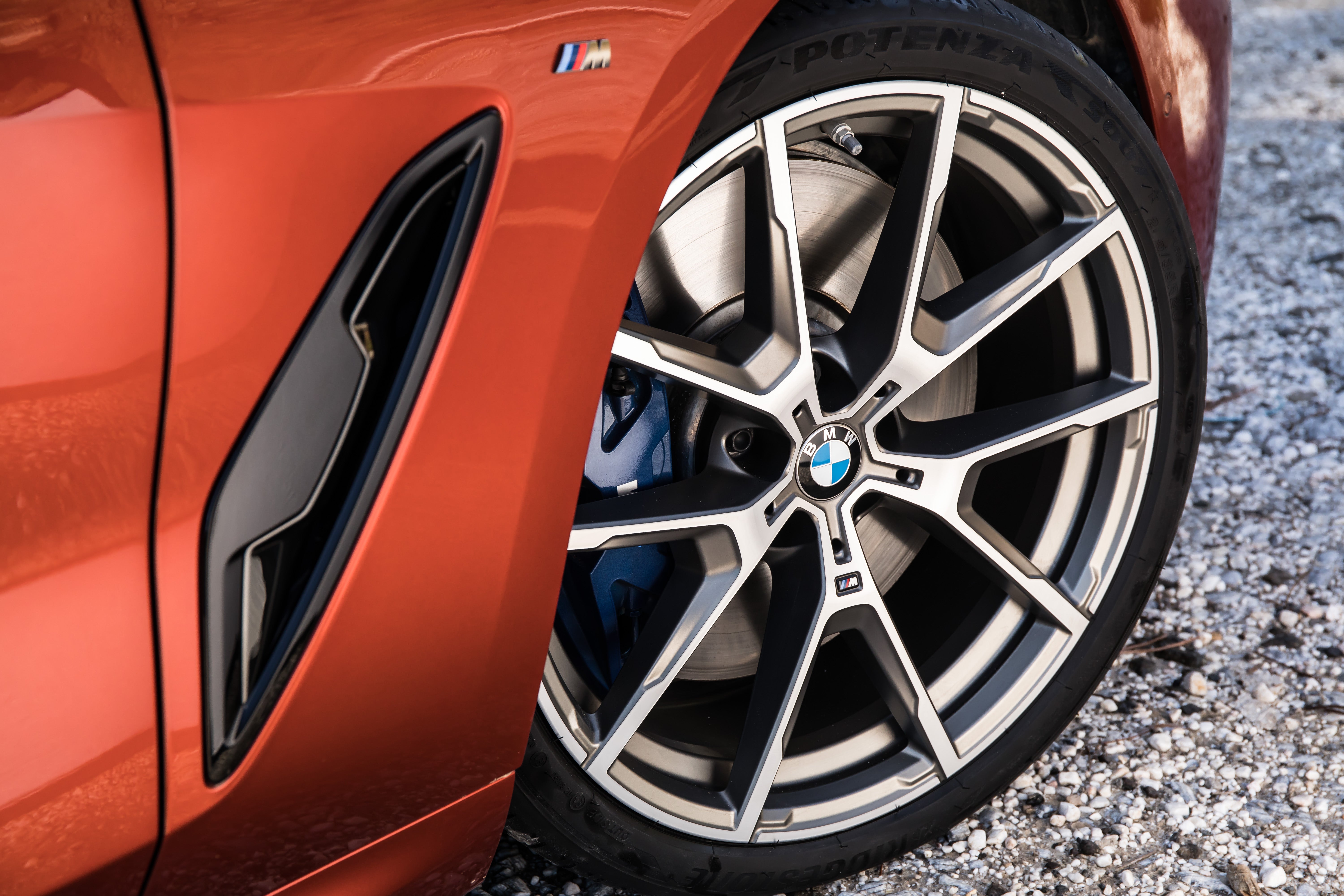 According to official WLTP figures, its maximum average fuel return is just upwards of 40mpg, which is significantly better than the equivalent figures of 34mpg for the 40i and 25mpg for the 50i.
Bear in mind, too, that these are laboratory figures that you'll only have a prayer of getting anywhere near if you drive like an angel. Let your halo slip, and drive like you've been possessed (which with the power on offer, will be very tempting indeed), and your return will drop into single-figure territory very quickly, especially on the petrols.
Insurance groups and costs
It's big, it's posh, it's powerful and it's expensive. As such, you wouldn't expect a car like the 8 Series to be cheap to insure. Your expectations are spot-on. The 40i sits in group 45 for insurance, making bills a fraction more palatable, but both the 40d and 50i sit in group 50, the most expensive group there is. There won't be any way around it, so you'll just need to accept that premiums will be high.
VED car tax
On a car as extravagant and as expensive as the 8 Series, it'll come as no shock whatsoever that tax bills will be, well, as high as it's possible to get. On all versions, you'll pay the flat rate of £150 per year, and between years two and six of your car's life, you'll also pay a £325 surcharge on top, taking your annual outlay to £475 during that period.
As a used car buyer, just be grateful that you've swerved the steep first-year tax payment - between £1305 and £2175 depending on the version - that forms part of the car's list price. On all versions, company car drivers will pay Benefit-in-kind on 37% of the car's value, which is the maximum possible. That'll make it ruinously expensive.
How much should you be paying for a used BMW 8 Series?
"Lots, probably. Sorry about that. At the time of writing, prices for brand new examples of the 8 Series started at around £74,000 for the 840i, while the 40d checked in just above £78,000. If it were the 50i that took your fancy, you'd have been looking at an outlay of £102,000. Yikes."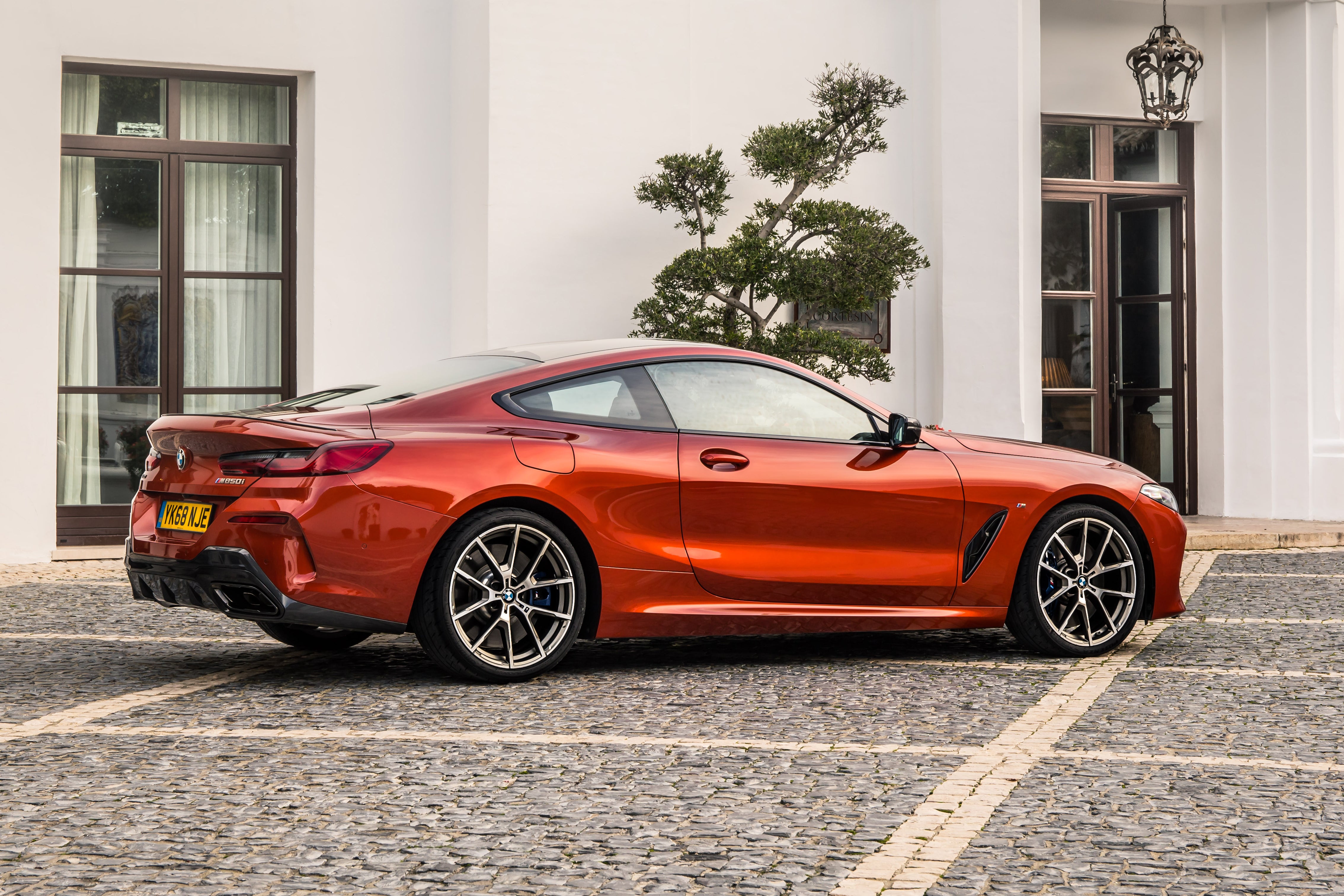 Obviously, the various options and packs would've taken prices even higher: the Ultimate Pack (we'll describe this in the next section) on its own would've set you back up to £19,000. Cripes. There's good news and bad news for used buyers. Good news? Despite these astronomical prices, they're still a bit lower than those of a Mercedes S-Class Coupe, and a lot lower (we're talking fifty grand here) than those of an Aston Martin DB11 or Bentley Continental GT.
Bad news? In percentage terms, the BMW holds onto its value better than any of them, so after four years or so, you'll actually pay more for it than you will for the Merc. And obviously, having only been released in 2018, prices haven't had the chance to fall that far yet. Look at our listings, and you'll find a few examples (a mixture of 40is and 40ds) at around the £55,000 mark.
Trim levels and standard equipment
The 8 Series doesn't have trim levels as such. The various versions are differentiated mainly by the engine they have. There are one or two other minor differences between them, such as a few styling tweaks of what sort of braking system they get, but in terms of luxury kit, the specification is pretty much the same across the board, and each version is very much a luxurious high-end offering.
That means your standard kit includes two-zone climate control, leather upholstery, heated front seats, ambient interior lighting, keyless go, a powered tailgate, all-round parking sensors and a reversing camera.
As always with luxurious cars like this, there were also dozens of options that could be added. Many were bundled up into packs, and most of these were also bundled up and offered as one fantastically expensive pack called the Ultimate Package. This gave buyers all-sorts, including soft-close doors, ventilated front seats, 360-degree camera, TV functionality and a Bowers and Wilkins Surround Sound audio system.
BMW 8 Series cars for sale on heycar
3,195
Number of cars available
£45K - £73K
Price bracket of these cars
Colours available on heycar
Keep me updated by email with the latest advice, news and offers from heycar
By submitting, you agree to our
privacy policy
.