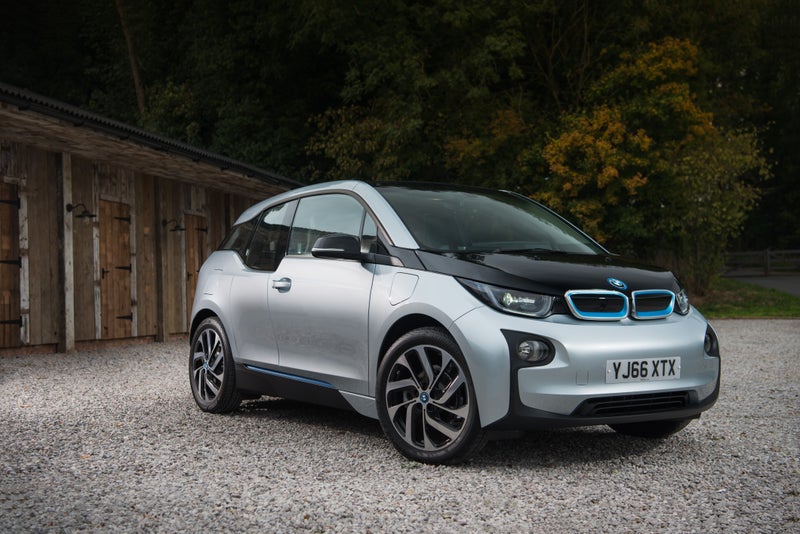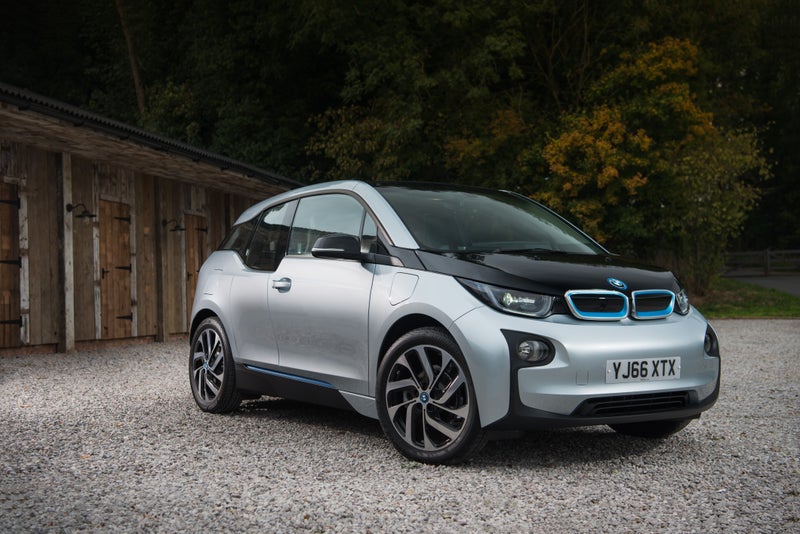 1/10
heycar rating
"Fun and frugal electric car"
Launched: 2013

Family hatch

EV, Range-extender EV
Quick overview
Pros
A blast to drive but still capable of 200 miles on a charge (just not at the same time)
Eye-catching design is thoroughly modern and clever with it
Still feels like a BMW through and through
Cons
Expensive compared to EVs of a similar size
End of range-extender version means 200-mile range might be too little for some buyers
Standard equipment is short on active safety systems
Overall verdict
On the inside
Driving
Cost to run
Prices and Specs
Common questions
Overall verdict on the BMW i3
"If any car could convince you that EVs are a good idea, the BMW i3 is it. It has sufficient charm and appeal to make you want one regardless of the engine under the bonnet, yet delivers all the big EV plus points too."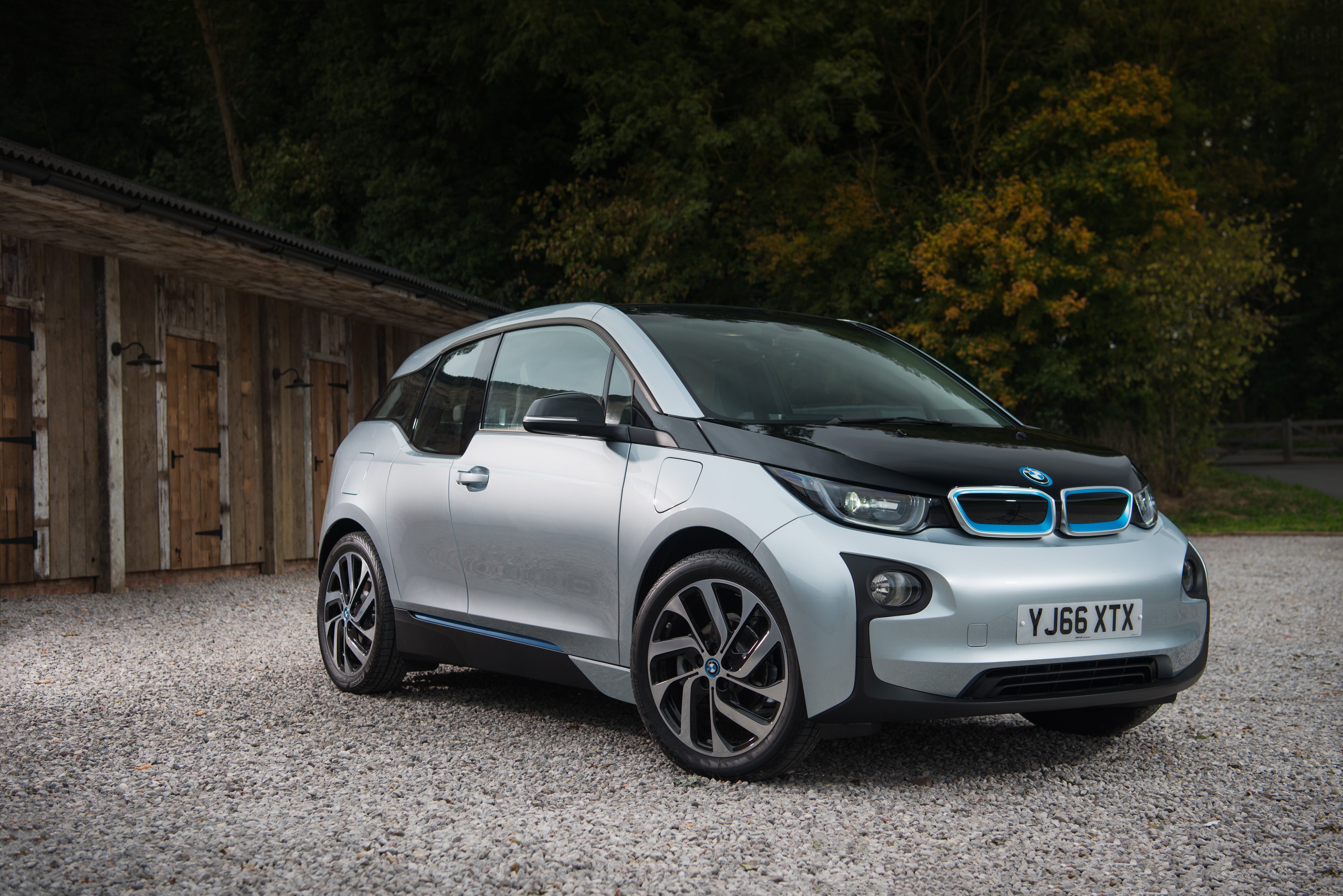 Before we dive into our BMW i3 review, you really need to appreciate the electric car landscape before it arrived. While pure electric cars have become fashionable, and the idea that they are only suitable for eco-crazies or nerdy engineers is long gone. In 2013 however it was quite a different story. If you were brave enough to take the plunge you had three choices: the Nissan Leaf, the Renault Zoe and the Telsa Model S.
BMW strode confidently into the electric car arena with a grand plan. It introduced two electric cars, not just one, and built them out of lightweight composite materials, whilst also ensuring they included lots of recycled materials. Plus, they ensured that they were as much fun to drive as a regular BMW. An impossible dream? Well, when the BMW i3 arrived alongside its big sister BMW i8 (which was technically a hybrid car), the world sat up and took notice. Since then and it was only in 2021 that the range of BMW electric cars grew significantly.
At launch, the BMW i3 came in two versions, each with a 60Ah battery and an electric motor, offering 170PS and 250Nm of torque. The pure EV version had a range of between 80 and 100 miles on a full charge, while a range-extender version (called REx) included a small 647cc engine that could only be used to recharge the batteries, extending the potential range to 186 miles.
In 2016 the battery capacity was increased to 94Ah, increasing the range to 195 miles and 276 miles respectively, while in 2017 BMW introduced the i3S model, with a slight increase in performance, revised suspension and styling upgrades.
Most recently, all i3 models received a bigger battery in 2018 with a capacity of 120Ah. Range was increased to 223 miles for the standard i3, while the REx model was discontinued as it was no longer felt necessary.
With just two models and no trim levels to choose from, the BMW i3 is a car that requires little deliberation. The exterior design is as modern as they come, with short overhangs, body panels that don't appear to meet each other and black plastic where you might expect a grille.
The same goes for the inside of the BMW i3, which is a lesson in minimalism and can be decorated in a variety of earthy shades and materials, alongside the usual suite of display screens for infotainment and instruments.
The BMW i3 is a strict four-seater, but thanks to the way it is packaged the amount of room on offer is impressive. Legroom is generous for front and rear passengers while headroom is good enough to sit taller adults even in the back seats. The boot is relatively small with 260 litres on offer, but this is to be expected from a car so short and you still have the option to drop the rear seats if need be.
The driving experience will be something of a revelation if you haven't experienced an electric car before. Forget any notion of expensive milk-floats. The way the BMW i3 can blast away from a standstill up to 30mph and beyond will change your mind very quickly.
The rest is equally grown up, with light and accurate steering that makes it easy to nip along with traffic. It's comfortable too, and although the suspension is relatively stiff to make sure it handles well and doesn't roll too much, only really bad bumps make it through to the cabin.
The BMW i3 is not a cheap electric car to buy. When it was new it started at more than £36,000 while the i3S was closer to £40k. It has held its value strongly, but you at least get a lot for your money and will continue to hold its value. Standard equipment levels are decent, while the BMW i3 is cheap to run and you also get a car that's a pleasure to drive.
Is the BMW i3 right for you?
If an EV is on your shopping list and you don't need a massive boot or to carry five people, the BMW i3 is worth serious consideration. If anything it makes for an ideal stepping stone from a conventional petrol or diesel because it drives so well and offers comparable performance. Enjoying the drive while running on electric power has never been so much fun.
If you can live with the price, the BMW i3 also makes a strong financial case for itself. Not only will it cost peanuts to keep topped up with electricity, it is one of the best-performing pure electric cars in terms of depreciation, and insurance costs should be modest too.
It may cost a little more to buy than some of its rivals, but the BMW i3 has the edge on most of them in terms of its design, its image and how it drives.
What's the best BMW i3 model/engine to choose?
With just two versions to choose from, you don't have to think too long or hard about what model to choose. The basic BMW i3 should tick all of the necessary boxes, with plenty of performance, the best range and most of the equipment that the more expensive BMW i3S gets.
If you have some budget to play with and want the sharper-looking and driving i3S then there are no major downsides, but your extra money might be better spent on a few choice upgrades for the standard car.
As well as fractionally decreased range compared to the standard BMW i3, the i3S has stiffer suspension that makes the car ride less comfortably. The range extender is sought after but usually costs more.
What other cars are similar to the BMW i3?
In many ways the i3 is something of a loner in the EV class. Similarly-sized EVs are significantly cheaper while EVs for similar money are bigger inside and out. Crucially, none of its premium rivals offer an EV in this class.
City cars like the Volkswagen e-Up can carry four people in similar comfort, with a good quality cabin and a lower purchase price, but the e-Up can't match the BMW i3's range or its impressive performance and handling.
The Nissan Leaf is closer to the i3 in terms of price but its bigger footprint means seating for five and a larger boot, although it is less fun to drive than the BMW. Go for the top spec version and you can have over 200 miles of range too.
Comfort and design: BMW i3 interior
"The inside of the BMW i3 is probably unlike any other car you've been in, partly because its dimensions are relatively unusual but also thanks to the layout."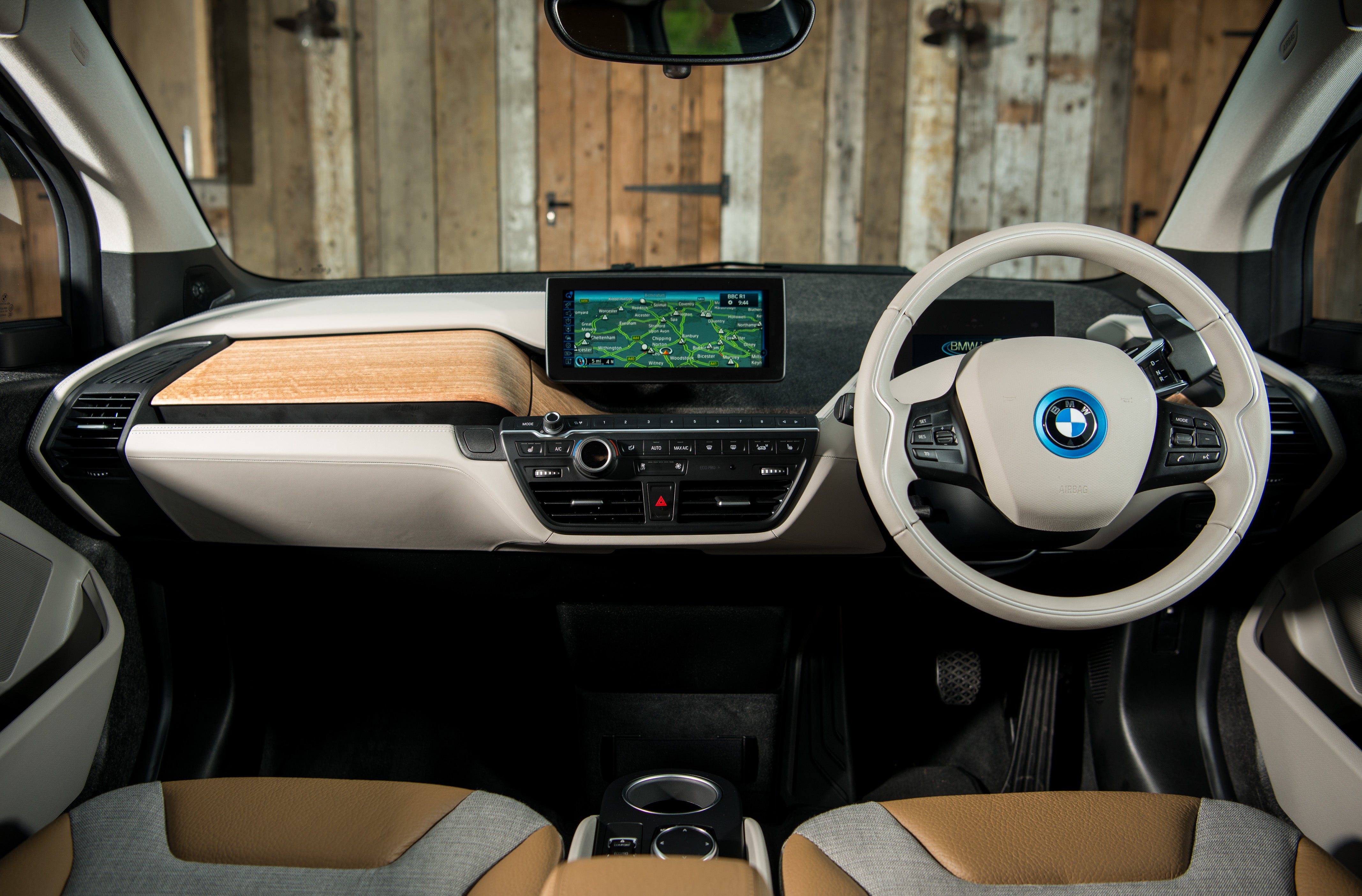 For starters the BMW i3 has 'suicide' doors - a normal pair of front doors but smaller rear doors that pivot from the rear. Because the BMW i3 is built from carbon fibre, a lightweight but ultra-strong material used for racing cars, supercars and things like tennis racquets, it doesn't need a central pillar (the one you normally get between front and rear doors) to make it strong. So hopping into the rear is a cinch as you climb through a massive opening when both doors are open.
Sit up front and you are greeted with a vast front windscreen that stretches way out in front, while the dashboard is very minimalist. All you see is the steering wheel, the twin screens for infotainment and the instrument display. The same goes for the floor - with no conventional engine and gearbox there's no need for a transmission tunnel, so the BMW i3 gives you a virtually flat floor.
The seats may look relatively thin but they offer good levels of support, while the driving position is excellent. It might feel a little odd at first with the windscreen so far away, but in truth the view out is excellent and it's very easy to get comfortable.
Quality and finish
You expect a certain degree of quality from a BMW and the i3 delivers, though it takes a slightly different approach from other BMWs. The stripped-back approach gives a feeling of space rather than making it feel like you've been short-changed, but also the materials aren't necessarily what you might expect to find in a premium car.
Many of the controls are standard BMW, which feel solid and are easy to use. However, the BMW i3 uses recycled materials to save weight, while the whole vehicle's structure is made from carbon fibre. Open the door and you can see unpainted elements of the structure that would normally be metal. You might think that looks cheap, but it's actually showing off how this is more advanced than your common or garden car.
The BMW i3 doesn't have trim levels as such either. Instead BMW offers three 'interior worlds' (yes we've reached peak hipster levels) called Loft, Lodge and Suite, each of which comes with its own colour scheme and material choices with different types of wood and leather.
Infotainment: Touchscreen, USB, nav and stereo in the BMW i3
Early examples of the i3 were fitted with BMW's lower specification navigation - pretty much an essential when running an electric car so you can always find somewhere to charge. The Professional system is standard on new models, which gets you a larger 10.25-inch screen and features like real-time traffic and charging point information.
The standard audio system does include Apple CarPlay as standard, but there is no provision for Android Auto - sorry Samsung, Google Pixel, Sony phone owners (and all the others). However, you can still connect your Android phone via Bluetooth and use the USB port to play media. DAB is also standard, but there is no CD player should you want to go old school.
The systems work well and are easy to use, with the option to use voice or touch control as well as BMW's iDrive controller which has been honed to perfection over the years.
Space and practicality: BMW i3 boot space
The BMW i3 is similar in size to a small hatchback, at least in terms of length, but compared to more conventional cars of a similar exterior size, it has both positives and negatives.
The BMW i3 is a fraction under four metres in length at 3999m, and 1775mm wide, making it small enough to fit into most parking spaces. This is helped by the BMW i3's very small turning circle. Better yet, if you squeeze into a small space in a car park the suicide doors make it easy to actually get out. The lack of that middle pillar also means getting your little (or not so little) ones into their car seats is much easier.
Inside, you'll find the amount of room a surprise. The BMW i3 definitely makes the most of its height, with loads of headroom - enough to insert actual tall adults in the back should you wish to do so. Legroom is decent rather than excellent in the back, but up front you get both the height and the length, ensuring comfort for even the tallest human. The sense of space is enhanced by the flat and uncluttered floor.
The downside of the minimalist cabin in the BMW i3 is that there isn't a whacking great centre console in which to hide all your stuff. Between the seats there is a slim storage area underneath the armrest with a couple of cupholders, but you need to make use of the glovebox and door bins if you keep a lot of odds and ends in your BMW i3.
The boot has a relatively high floor thanks to the electrickery underneath, but the space itself is a good, square shape. With the rear seats in place, the BMW i3 gives you 260 litres of boot space to play with - not as much as some rivals but a reasonable amount - and you still have the option to drop one or both of the rear seats to open up a maximum of 1100 litres. Beware that to save space the BMW i3 has no spare wheel - only an emergency inflation system.
Handling and ride quality: What's the BMW i3 like to drive?
"BMWs have a reputation for being good to drive, but this isn't your typical BMW: tall, relatively short and running on electric rather than a powerful petrol engine. However, the brand has managed to give the i3 the feel of a BMW, if not quite a sports car, despite the focus on zero-emissions rather than big thrills."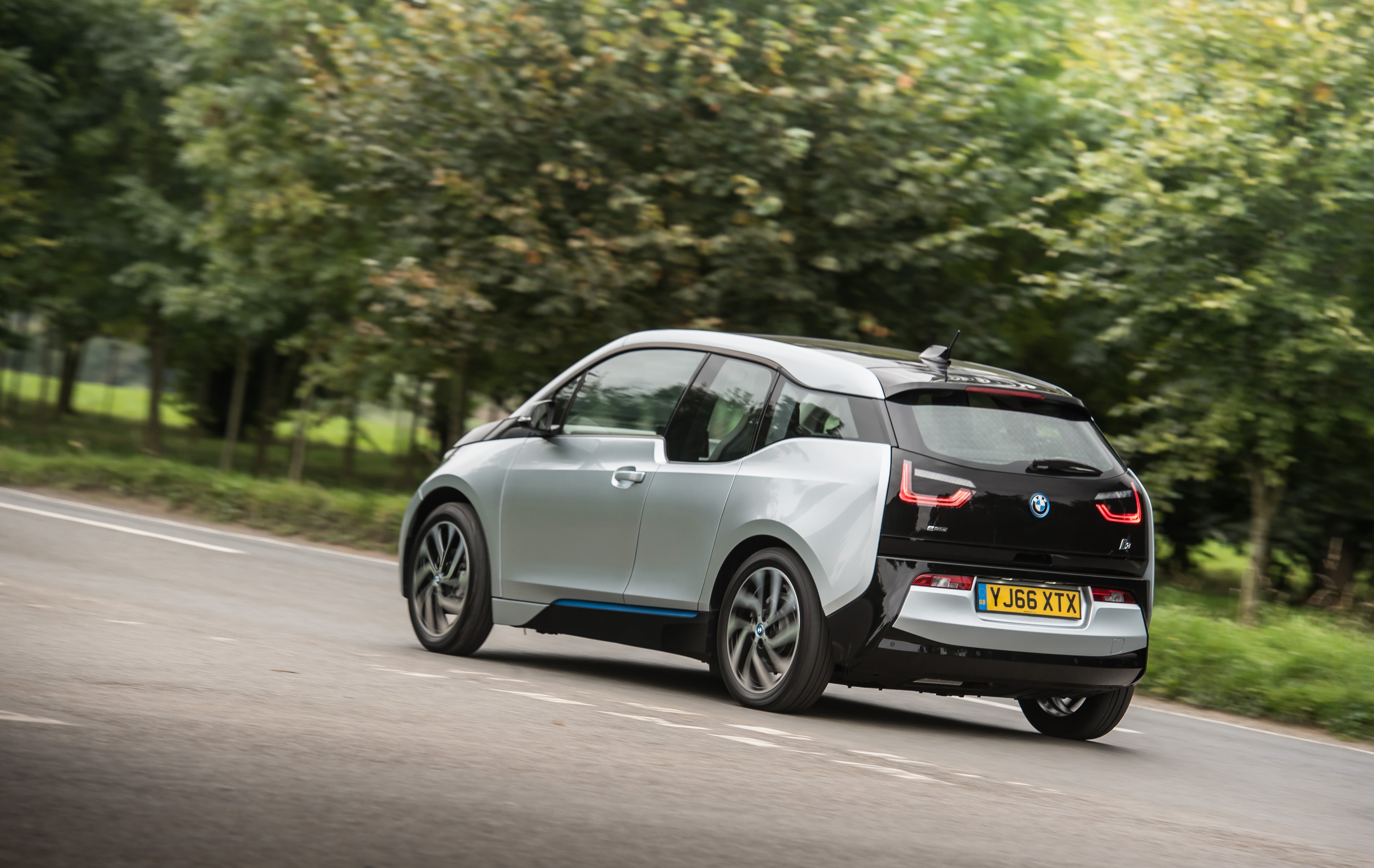 While the BMW i3's height might have you thinking that it would roll around at the first sign of a corner, it remains impressively stable, dispelling any concerns you might have that it is too tall for its own good. The steering is a delight, being light enough to make short work of urban cut and thrust but with enough weight and feel that you have a sense of what the front wheels are actually up to.
This balance and poise is partly achieved thanks to the relatively stiff suspension, the trade-off being that the ride quality is not as soft as we'd like. Most of the time the BMW i3 rides well, ignoring bumps and dealing well with road imperfections, but over bigger bumps the stiffness of the suspension is noticeable. However, unless you have a glass spine, the i3 is a comfortable car...
Better yet, should you wish to have some fun while using no petrol, the BMW i3 is happy to oblige. Spend enough time behind the wheel and you'll find it hard to resist its quick steering and lack of bodyroll.
When pushed a little harder the BMW i3 is as good to steer as a performance car but ultimately, the skinny tyres mean it has similar grip to a regular hatchback. It's great fun nonetheless.
Parking the BMW i3 is a breeze and although it only gets rear parking sensors as standard, it is easy to judge the extremities and the sharp turning circle is a big help. There is also a Park Assist package that adds front sensors and a camera, so it's worth looking for cars with this fitted.
What engines and gearboxes are available in the BMW i3?
In the beginning, the BMW i3 was offered in a single version with a 60Ah battery, which was subsequently upgraded to 94Ah in 2016 and then 120Ah in 2018. Essentially, the bigger the number, the longer the range.
A further split came in 2017 with the introduction of the BMW i3S model. This has a little more power and torque to go with its more 'aggressive' design. A range extender version called REx was also available from launch, adding a 647cc twin-cylinder petrol engine used solely to recharge the batteries, but this has been discontinued.
With 170PS on offer in the standard BMW i3 and 184PS in the i3S, this is a car with more performance than you might normally expect from an electric car.
Compared to more conventional EVs like the Nissan Leaf, the BMW i3 is in a different league. With 250Nm of torque available from a standstill even in the standard i3, rapid and almost silent acceleration is available at the drop of your right foot.
To save excessive drain on the battery the top speed is limited to just 93mph (99mph for the i3S) but it is the acceleration that is the most impressive part, helped by the simple automatic gearbox that just requires you to put it into D.
The extra power and torque of the i3S is a nice bonus if your budget can stretch to it, but in terms of actual performance figures it is a shade faster than the standard car, so unless you desperately want the best i3 that money can buy, stick with the regular version.
Maximum range in the BMW i3
Official statistics give the BMW i3 a WLTP range of more than 180 miles on a full charge for the 120Ah model, which is a significant increase compared to the earliest 60Ah version which would do about 80 to 100 miles, although this was under the old economy tests.
In 2016, the BMW i3 94Ah replaced the 60Ah and the range increased to 195 miles, again under the outdated system.
In the real world you can expect to get 150 miles from the 120Ah model on a single charge if you drive sensibly, and more if you are careful and use the EcoPro drive mode which cuts back on air conditioning and limits the car's top speed.
Unless you drive in excess of 200 miles on a regular basis the BMW i3 should have sufficient range to be in daily use. It is worth noting that the i3S has a slightly lower range at 175 miles.
Refinement and noise levels
If you've never been in an electric car before it might take you a little while to get used to the BMW i3. Like most electric cars, the BMW i3 has almost no noise. At most you get a faint, distant whine when accelerating hard, but for the most part it is silent.
What that does however is throw into contrast any noise coming from elsewhere that would normally be drowned out. So you notice a little wind noise at speed and the faint thrum from the tyres, this is again something which increases with speed.
The truth is that this is a quiet car and certainly quieter than most cars with a conventional engine. What noise there is tends to blend together into a white-noise-like whoosh. As it doesn't change in tone or pitch - only volume as your speed goes up and down - it becomes part of the experience.
As you might expect, there is no real difference in noise levels between the BMW i3 and i3S models, other than the i3S has slightly bigger wheels and tyres which cause a tiny increase in road noise - but you can have these wheels and tyres fitted to a regular i3 anyway.
Safety equipment: How safe is the BMW i3?
The fact that the BMW i3 arrived in 2013 means it does not offer the level of safety that you might expect. It was tested by EuroNCAP in 2013 and received a four-star overall rating, which is strong, but less than some key rivals. It is worth noting however that the i3 is due a retest given the age of the original test.
It scored highly for adult and child protection, but did less well in terms of pedestrian mitigation, partly hampered by the very short bonnet. It also scored lower marks in terms of safety assist systems fitted. Where the BMW i3 does well is in terms of the physical strength of the structure - carbon fibre is very light and strong - and despite the short overhangs it has proven good crash performance.
As standard, the BMW i3 is fitted with front and side airbags, but a knee airbag is not fitted or optional. Isofix seat mounting points are standard, along with passenger airbag deactivation.
Since it was first introduced BMW has added the optional Driving Assistant Plus package (£790 when new) which includes Active Cruise Control, City Collision Mitigation, Forward Collision Warning and Pedestrian Detection.
Charging times: How much does it cost charge a BMW i3?
As standard the BMW i3 comes with a 5.0 metre 3-phase public rapid charging cable with a Type 2 connector, as well as a three-pin connector for charging at home.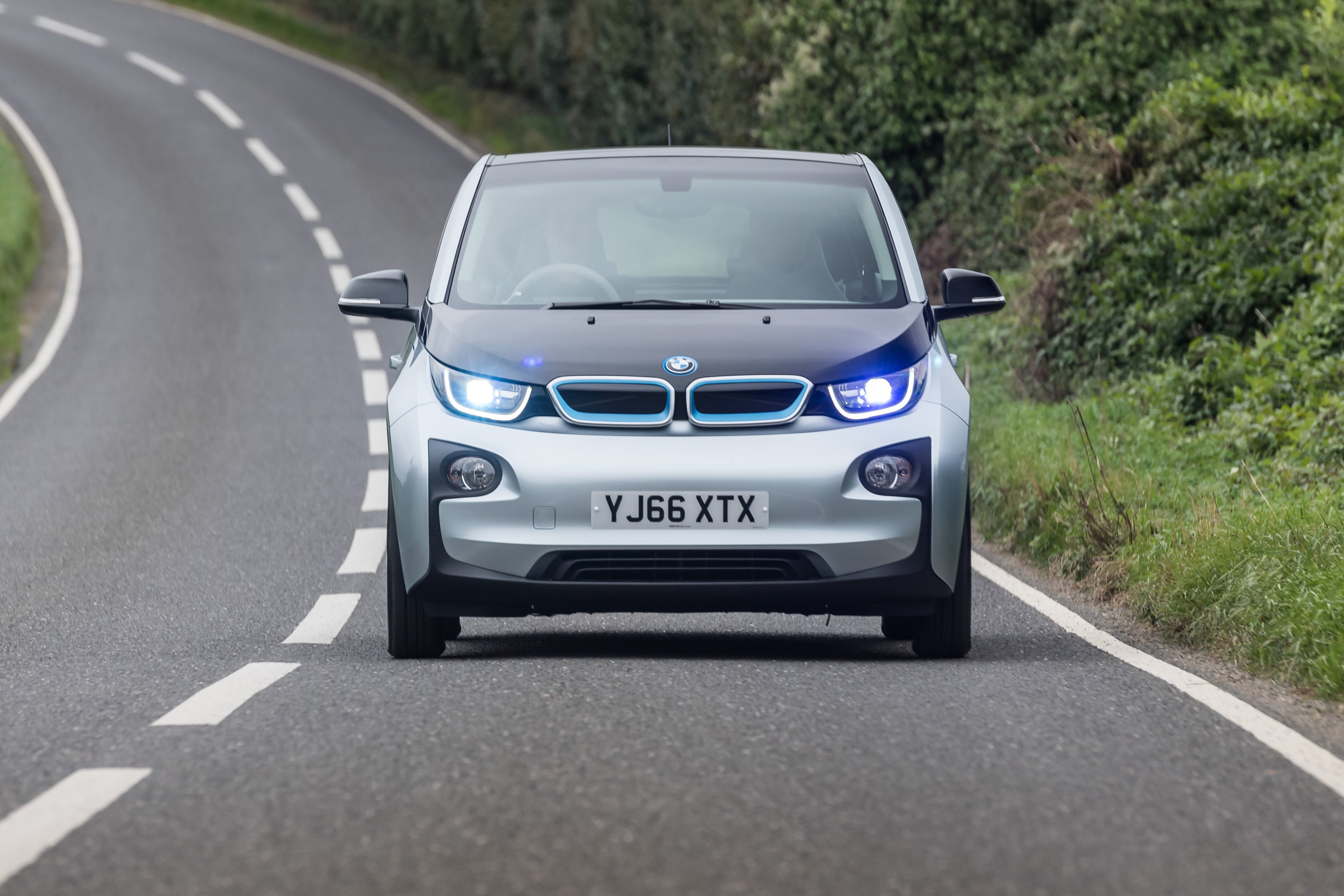 You can purchase a 1-phase fast charge cable (8.0 metres) for an additional £195, as well as a home charge wallbox installed from £975 and a ChargeNow monthly subscription for public charging at £7.95 per month.
BMW claims an 80 per cent charge from flat through a standard home three-pin socket will take 15 hours on the i3, but with a home wallbox running at 11kW this time is cut to around three hours. Find a rapid charger running at 50kW and the same charge is cut to 45 minutes.
Depending on the cost of your home electricity, a full charge will cost approximately £6, while a fast charge at a public station will cost you around £10.
How reliable is the BMW i3?
The BMW i3 has been available since 2013 and in that time, no common problems across the range have come to light. In fact, the i3 scored an impressive 9 out of 10 overall in the recent HonestJohn.co.uk Satisfaction Index, while BMW as a manufacturer has a good reputation for reliability.
Insurance groups and costs
Despite its performance and relatively high sticker price, the BMW i3 range falls between groups 28 and 29 which is right in the middle of the scale, with the standard i3 model achieving Group 21. That compares favourably with cars like the Nissan Leaf, so you can enjoy the premium badge without being penalised on the insurance.
Inevitably the sportier i3S is in the higher group so you will have to pay a little more, but the difference should be measured in tens of pounds rather than hundreds. Read our guide to the cheapest BMW models to insure for more info.
VED car tax: What is the annual road tax on a BMW i3?
Thanks to its zero-emissions status the BMW i3 attracts no VED in the first year or subsequent years. Although it is worth noting that electric vehicles that cost over £40,000 attract VED from the second year onward at the rate of £325 per year for five years, so if you're buying a high spec model that's only a few years old, bear this in mind.
How much should you be paying for a used BMW i3?
Although the BMW i3 has been around for a while, it is still a relatively rare sight. That has helped keep prices relatively strong - the i3 has one of the lowest depreciation rates amongst EVs - which is both good and bad news if you're looking to buy used.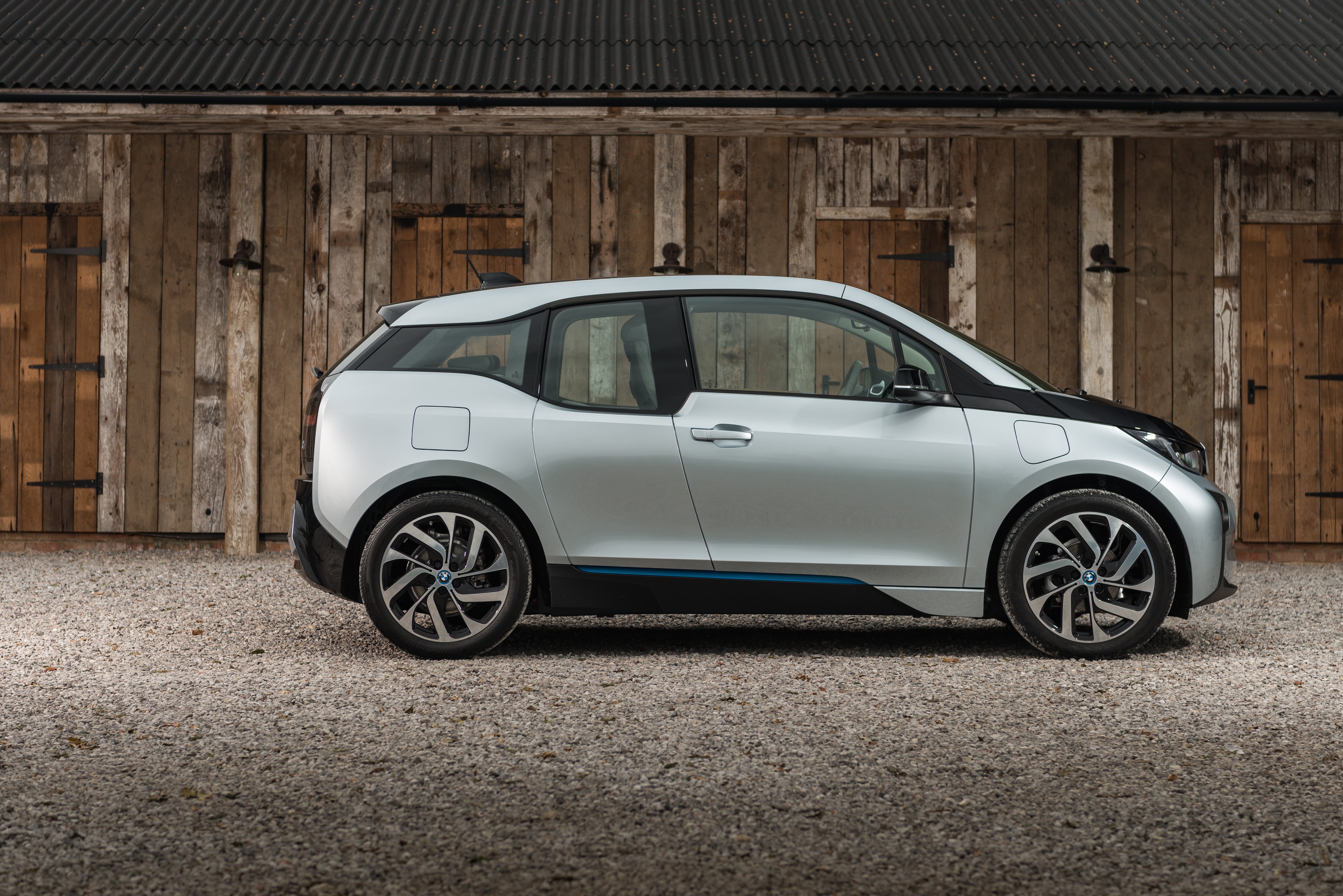 That said, you shouldn't have to look too far to find a decent selection of used BMW i3 models. The more niche i3S is far less common, but the standard i3 provides much the same driving experience and specification. The earliest models are now approaching the £10,000 mark, while the range-extender version generally cost a little more than the pure EV equivalents.
At the other end of the scale, pre-reg versions are in plentiful supply from £35,000 or less, with low-mileage demonstrators ducking under £30,000.
Trim levels and standard equipment
The BMW i3 range is pretty simple with two models and no trim levels. The standard i3 is pretty well specified, getting 19-inch alloy wheels, Bluetooth and USB connectivity, nav with DAB and Apple CarPlay, heated front seats and rear parking sensors as standard.
Move up to the BMW i3S and you get an additional 14PS and 20Nm of torque from the electric motor, 20-inch alloy wheels, the Sport driving mode, gloss black exterior details and revised suspension, as well as some subtle i3S badging.
One thing to consider is the different 'interior lounge' options. The standard Atelier is relatively plain, where the other version adds leather and wood to good effect. On both models the Plus package adds different alloy wheels, online entertainment and the upgraded Harman Kardon audio system.
The Park Assist package adds a reversing camera and front parking sensors while the Driving Assistant Plus safety pack, gives you Active Cruise, City Collision Mitigation, Forward Collision Warning and Traffic Jam Assist.
Ask the heycar experts:
common questions
Has the BMW i3 been discontinued
Unfortunately, the BMW i3 has been officially discontinued, so you won't be able to get a new one. However, there's a great selection used examples available.

Is the BMW i3 fully electric?
The BMW i3 is fully electric unless you buy the range extender model. This includes a very small 647cc two-cylinder engine that only kicks in when you run out of juice, enabling you to do slightly longer journeys when needed without having to stop to top up.

How long does the battery in the BMW i3 last?
The BMW i3 has a 8 year/100,000 mile warranty for the battery, while the mechanical warranty is for 3 years.

BMW I3 cars for sale on heycar
3,091
Number of cars available
£20K - £37K
Price bracket of these cars
Colours available on heycar
Keep me updated by email with the latest advice, news and offers from heycar
By submitting, you agree to our
privacy policy
.