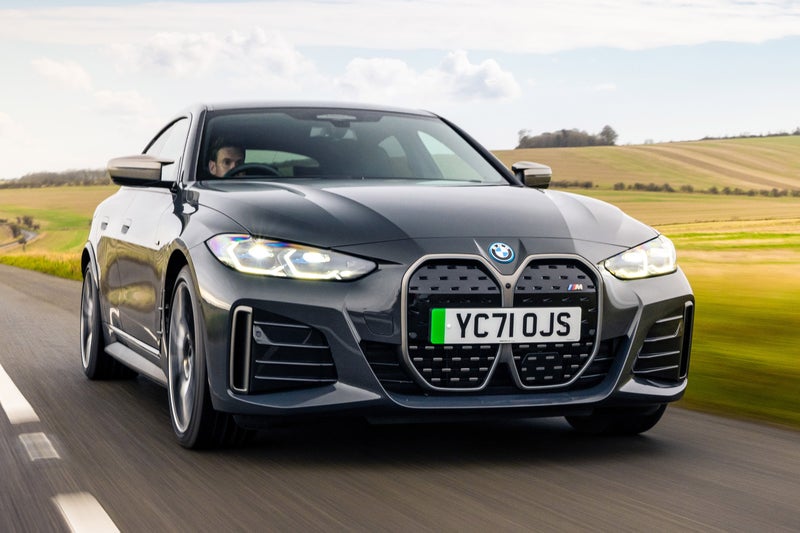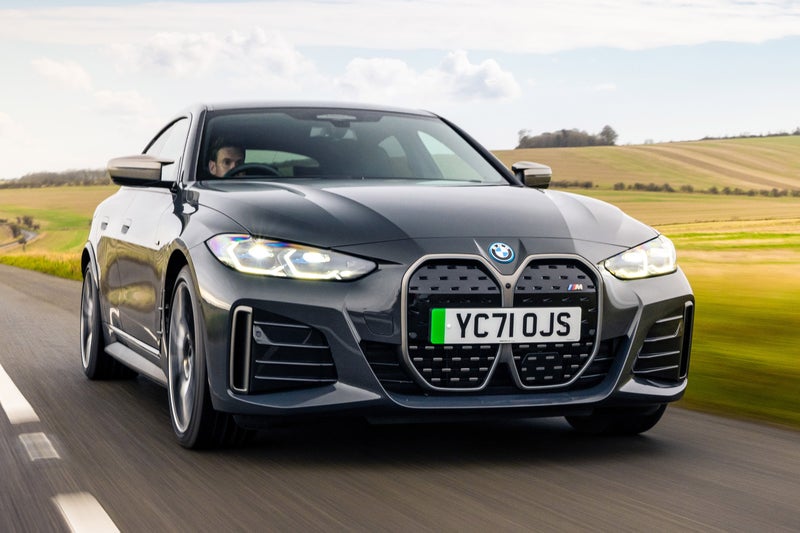 1/10
heycar rating
"Stylish and great to drive"
Quick overview
Pros
Even the entry-level BMW i4 eDrive40 is great to drive
Cabin is just superb
We even like how it looks
Cons
It's more expensive than a Tesla Model 3 or Polestar 2
Won't turn heads in the same way as a BMW iX
The Hans Zimmer soundtrack is a bit annoying
Overall verdict
On the inside
Driving
Cost to run
Prices and Specs
Common questions
Overall verdict on the BMW i4
"The BMW i4 proves that electric vehicles don't have to be weird and wacky to be desirable. It looks very similar to the BMW 4 Series Gran Coupe, while there's little inside to make it stand out from its petrol or diesel counterpart. Yet it's brilliant to drive, feels totally premium and should be very cheap to run – if not to buy."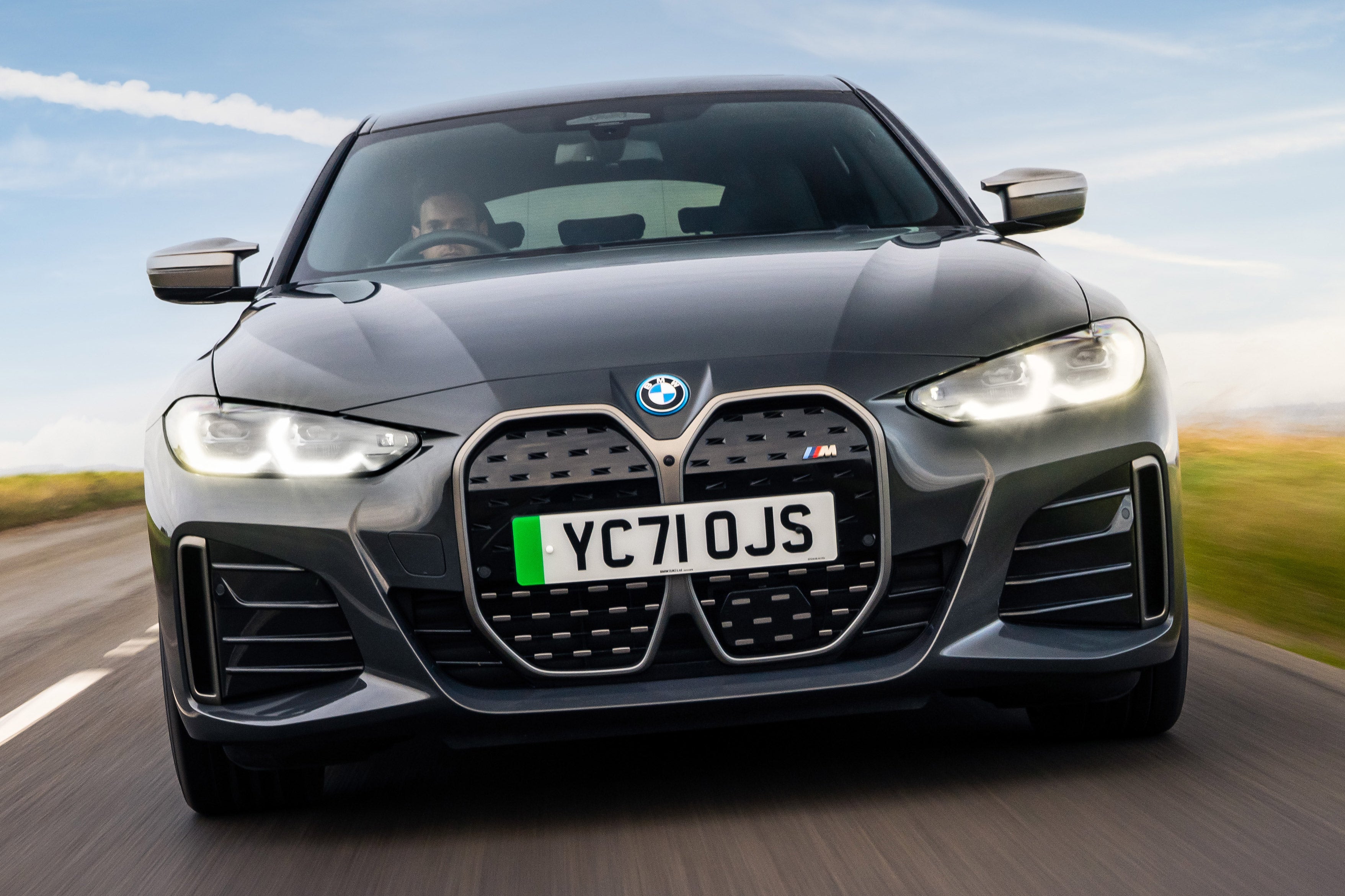 In some ways, the BMW i4 is a bit of an oddity. From its name, you'd expect it to take a similar approach to the BMW i3 – a small electric car that was (and still is) nothing like anything else produced by the premium German carmaker. But it's actually aiming at the traditional BMW 3 or BMW 4 Series market, which means it can't be too abnormal if it's going to enjoy the kind of success the brand is aiming for.
Of course, conventional BMW 3 Series buyers have recently been catered for with the Tesla Model 3. You only have to look at sales figures over the last few years to see that company car drivers are flocking to electric cars en masse. The BMW i4 is also set to take on the Polestar 2, while it's filling in a gap in the market left by rival brands as they launch electric SUVs such as the Audi Q4 e-tron and Mercedes EQA.
While the internet has been horrified by the BMW i4's gaping front grille, we don't think it looks too bad in reality. And the rest of the car looks sleek and sharp - much, much more attractive than the also new BMW iX, in our opinion. You can look at the pictures and judge the i4's exterior for yourself, but there's no denying that the interior is just superb. It's much like a BMW 3 Series in there, with premium finishes and a large new infotainment system spreading across the dash.
Practicality takes a knock compared to the BMW 3 Series but the front of the cabin is very comfortable for a pair of adults. The boot's pretty big, too, helped by the positioning of the batteries under the BMW i4's floor.
There are two core flavours of BMW i4 on offer: the BMW i4 eDrive40 and the BMW i4 M50. The former is a moderately sensible single-motor electric car, sending all its juice to the rear wheels and – as BMW is keen to point out – just as powerful as the brand's current most powerful six-cylinder diesel engine.
The first M-badged electric vehicle, the BMW i4 M50 is a sensationally quick car that can accelerate to 62mph in just 3.9 seconds. It's not just a one-trick pony, though – it drives like a BMW, with responsive steering and a clever traction control system that allows you to have just the right amount of fun. With air suspension on the back, it rides surprisingly well, while it's amusing how much the front end lifts as you point it towards the horizon.
Of course, if you're driving an electric car, you're going to be more concerned about how far it can travel before needing a top-up. The BMW i4 eDrive40 will officially cover up to 367 miles while the i4 M50 has a range of up to 316 miles. Both of these figures make the BMW i4 a very usable electric vehicle.
If there's one area in which the BMW i4 falls down, it's the price. A brand new BMW i4 eDrive40 Sport starts at £51,905, while the M Sport version is £53,405. The rapid BMW i4 M50 is nearly £64,000. With time, you'll soon be able to save money by looking for a nearly-new example. But, for now, you'll have to pay top whack for 2022's most desirable electric car. And we don't think it's an exaggeration to describe the BMW i4 in that way...
Is the BMW i4 right for you?
If you want a premium coupe that looks good, feels good and is brilliant to drive – and just so happens to be electric, the BMW i4 is a great choice. It will take an eagle-eye to spot the differences between the BMW i4 and the 4 Series Gran Coupe, but not everyone wants to get into conversation with Tesla aficionados when going about their daily business. If you do, you might want to look at the more outlandish BMW iX instead, while our guide to BMW electric cars might also help you make up to your mind.
What's the best BMW i4 model/engine to choose?
While the in-your-face performance of the BMW i4 M50 appeals, we think the more affordable BMW i4 eDrive40 is actually the better choice. It's got more than enough performance, while its lighter weight and rear-wheel-drive handling means it feels slightly nimbler. The added range is a bonus, too.
What other cars are similar to the BMW i4?
It probably won't have escaped your attention that the majority of premium manufacturers are concentrating their efforts on electric SUVs – so you could well be considering the BMW i4 against an Audi Q4 e-tron, Mercedes EQA, Volvo XC40 Recharge or even in-house alternatives like the new BMW iX and iX3. It's also up against the Ford Mustang Mach-E, Polestar 2 and – perhaps its most direct competitor – the Tesla Model 3.
Comfort and design: BMW i4 interior
"The BMW i4's interior is much the same as any other BMW. That means it's exceptionally well finished, while all the controls are easy to find and the infotainment is nothing less than exceptional."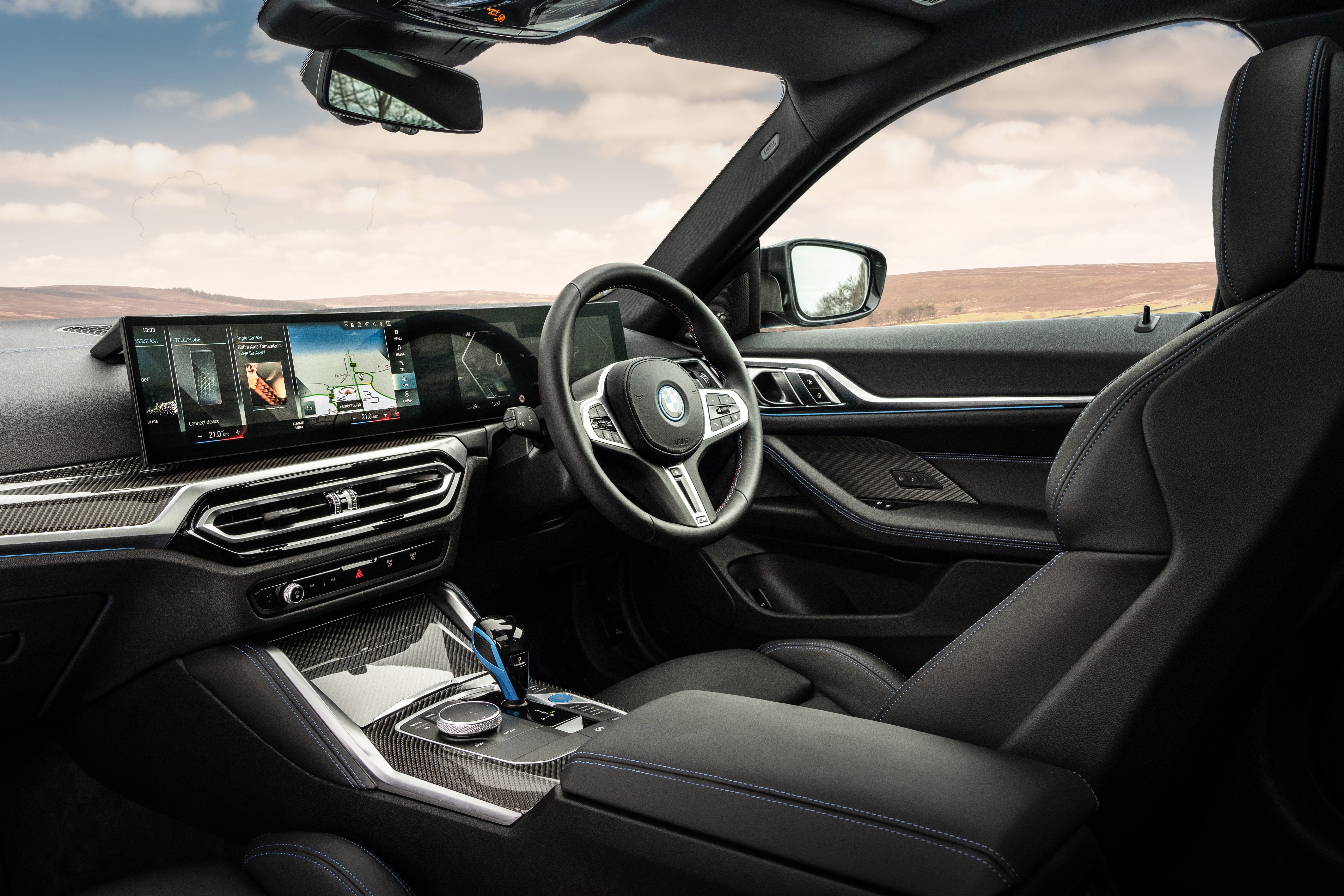 The only giveaway that you're driving an electric car is the blue start/stop button and a splash of blue on the gear selector. We don't mind that but, if you want to be made to feel like you're driving a car from the future, look at the BMW iX SUV instead.
You sit low down in the BMW i4, which makes it feel sportier than electric SUV alternatives, yet there's plenty of adjustment in the seat. It's really comfortable with a generous amount of back support, while you can tweak the lumbar support to prevent any aches and pains on a long journey.
Quality and finish
BMW interiors are up there with the very best when it comes to interior quality and the i4 is no exception. It feels just as posh as you'd expect for a car that's one of the priciest in its class – but then, compared like-for-like with a Tesla, you can see where the money goes. It's full of neat touches, soft finishes and sharp digital displays.
As is all too often the case, though, you do have to pay extra for some of the nicest finishes. Sensatec artificial leather is combined with Alcantara as standard, for example, rather than full leather seats. Unsurprisingly, the priciest BMW i4 M50 is also the plushest – with ambient interior lighting, electric leather memory seats (heated in the front) and an M Sport leather steering wheel as standard.
Infotainment: Touchscreen, USB, nav and stereo in the BMW i4
The BMW i4 uses the brand's eighth generation of iDrive unit, with a large curved display made up of a huge 14.9-inch infotainment system combined with 12.3-inch digital dials. It feels a bit Mercedes-Benz in its approach, while traditionalists might complain that it's a bit distracting, but the Tesla Model 3 has proven there's a market for oversized touchscreens in electric vehicles.
It's certainly easier to use than the Tesla's system, helped by a rotary controller positioned within easy reach next to the gear selector. It's quick to respond, too, although there is a fairly extensive amount of sub-menus which can take a while to navigate. You can get around this by using Apple CarPlay or Android Auto to mirror apps from your phone. Alternatively, you can use the Intelligent Personal Assistant, which is basically Siri but in your car.
Space and practicality: BMW i4 boot space
The external dimensions of the BMW i4 are within millimetres of the BMW 4 Series Gran Coupe, measuring 4785mm in length, 1852mm wide and 1448mm high. The space between the front and rear wheels is 2856mm.
As such, the BMW i4's 470-litre boot is identical to the 4 Series Gran Coupe, although slightly smaller than the BMW 3 Series saloon's. Access is easier than the Tesla Model 3's luggage compartment, while there's a useful underfloor storage area for keeping your charging leads hidden away from view.
While there's a reasonable amount of space in the back, headroom is a little limited and there is a lump in the floor that will get in the way of anyone using the middle seat. We doubt many BMW i4 buyers will want to travel with three in the back regularly but, if you do, you might want to look at the BMW iX SUV instead.
In the front, there's no shortage of space. You sit rather low down, giving the BMW i4 a sporting feel, but there's loads of adjustment in the seat and steering wheel. You'll find the usual generous amount of storage space – including a bulky glove box and big door bins.
Handling and ride quality: What is the BMW i4 like to drive?
"Combine BMW's expertise in handling with a responsive electric motor and the result is a car that's brilliant to drive. The steering is sharp and precise, while the rear-wheel-drive layout leaves the front wheels to handle direction changes."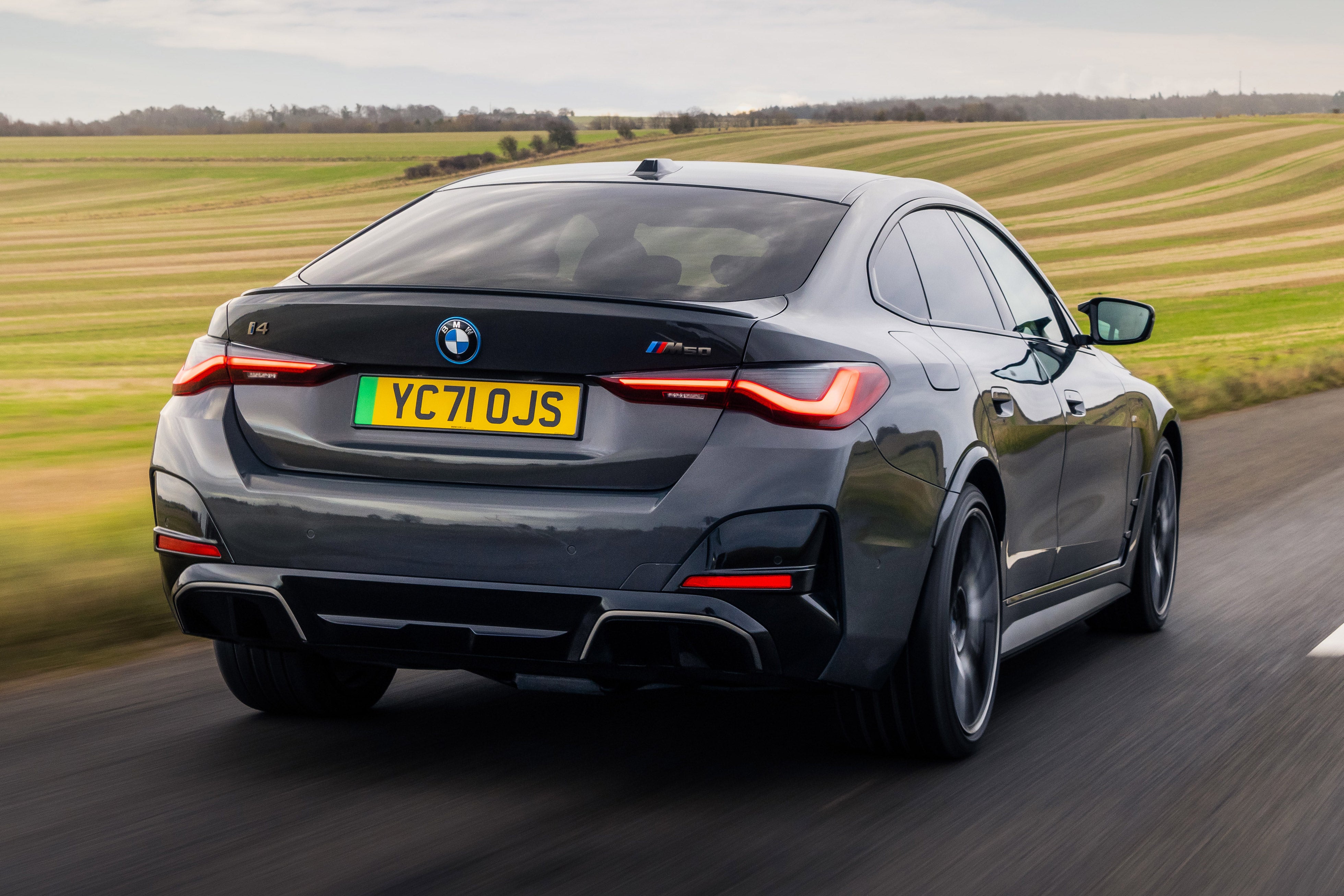 You'd expect the weight of the (rather chunky) battery pack to blunt the BMW i4's handling but it doesn't – not to an extent you're going to notice on public roads, anyway. By positioning it under the floor, BMW says it's managed to lower the i4's centre of gravity by up to 53mm (on eDrive 40 models) compared to a 3 Series Saloon.
As a result, everything feels rather tight, with very little sway during cornering. While the BMW i4 M50 gets the security of all-wheel drive, it still send most of its torque to the rear wheels, yet has the ability to shift it about to increase traction when required.
Rear air suspension is standard on the BMW i4 and it generally rides very well, especially considering its weight and relatively sporty setup. It's a touch more supple in Comfort mode, but you'll no doubt spend a lot of time in a sportier mode, making the most of the i4's sensational acceleration.
It's worth mentioning the BMW i4's regeneration braking system, too. Like all electric cars, the i4 can capture energy ordinarily lost when you're slowing down. You can increase or decrease the amount of regen, too – with it ramped up high, it slows down quite considerably when you lift off the accelerator. Reduce it to its minimum and the car will coast when you lift off.
What makes the regen system in the i4 a bit special is the adaptive mode. This uses artificial intelligence to judge the road ahead and increase or decrease as necessary. When you're approaching a bend, for example, it slows down when you lift off – on the open road, it will coast freely. As a result, you rarely have to actually touch the brake pedal.
What motors and batteries are available in the BMW i4?
Both the BMW i4 eDrive 40 and M50 use a sizable 83.9kWh battery pack hidden away rather neatly under the floor. In the BMW i4 eDrive 40, this powers an electric motor driving the rear wheels, while the i4 M50 has a motor on each axle.
Even the lesser-powered i4 eDrive 40 model produces 340PS and instantaneous peak torque of 430Nm, which means it feels rather sprightly from the get-go. Officially it covers 0-62mph in 5.7 seconds but, in the real world, it actually feels quicker than that.
As BMW's first M-badged electric car, the i4 M50 boasts pretty sensational acceleration. With 544PS on hand and an incredible 795Nm of torque, it can surge forward at a faster rate than anything this side of a Tesla Model 3 Performance. Officially it covers 0-62mph in just 3.9 seconds – that's quicker than a Porsche Taycan 4S.
Maximum electric range in the BMW i4
The BMW i4 eDrive 40 has an impressive electric range of up to 367 miles according to WLTP tests. Sure, it will drop a little bit in reality, but we found the predicted range figure to be fairly accurate during our test drive. As a comparison, the Tesla Model 3 Long Range can cover 360 miles between charges, while a Polestar 2 can only manage 335 miles.
The quicker BMW i4 M50 has an official WLTP range of 316 miles. Expect that to drop pretty dramatically if you make the most of its boisterous acceleration, but it should be able to make light work out of long journeys.
Refinement and noise levels
In terms of refinement, the BMW i4 is excellent. You might think that's a given for a car without a conventional engine, but you'd be surprised by how many electric vehicles manage to create a din on the move. No matter what the speed, the BMW i4 is utterly soothing, with very little in the way of wind or road noise disturbing your peace and quiet.
There is a caveat – but one that's easily fixable. All BMW i4 models come with the brand's IconicSounds system. Developed by Hans Zimmer, this is basically an artificial sound piped into the cabin and increasing in intensity as you accelerate. Some people seem to like it but we just found it annoying. Fortunately, it's easy enough to turn off.
Safety equipment: How safe is the BMW i4?
The BMW i4 comes equipped with the brand's Driving Assistant. This is a camera and radar-based driver assistance system which is intended to reduce the risk of potential collisions and high and low speeds. Features include Approach Control Warning, rear Crossing-traffic Warning, Lane Change Warning, Lane Departure Warning, Rear Collision Prevention and Speed Limit Info.
The optional Driving Assistant Professional builds on that with Automatic Speed Limit Assist, Crossroads Warning with City Braking Function, Emergency Stop Assistant, Evasion Assistant, Front Crossing-traffic Warning, Lane Change Assistant, Lane Keeping Assistant with Active Side Collision Protection, Steering and Lane Control Assistant, Steering and Lane Control Assistant with Active Navigation Guidance, Traffic Light Detection and Wrong-way Warning.
The BMW i4 is yet to be crash-tested by Euro NCAP.
Charging times: How much does it cost to charge the BMW i4?
"If you can find a quick enough public rapid charger, a 10-minute charge will adds up to 102 miles of range in the BMW i4 eDrive40 and 87 miles in the flagship BMW i4 M50."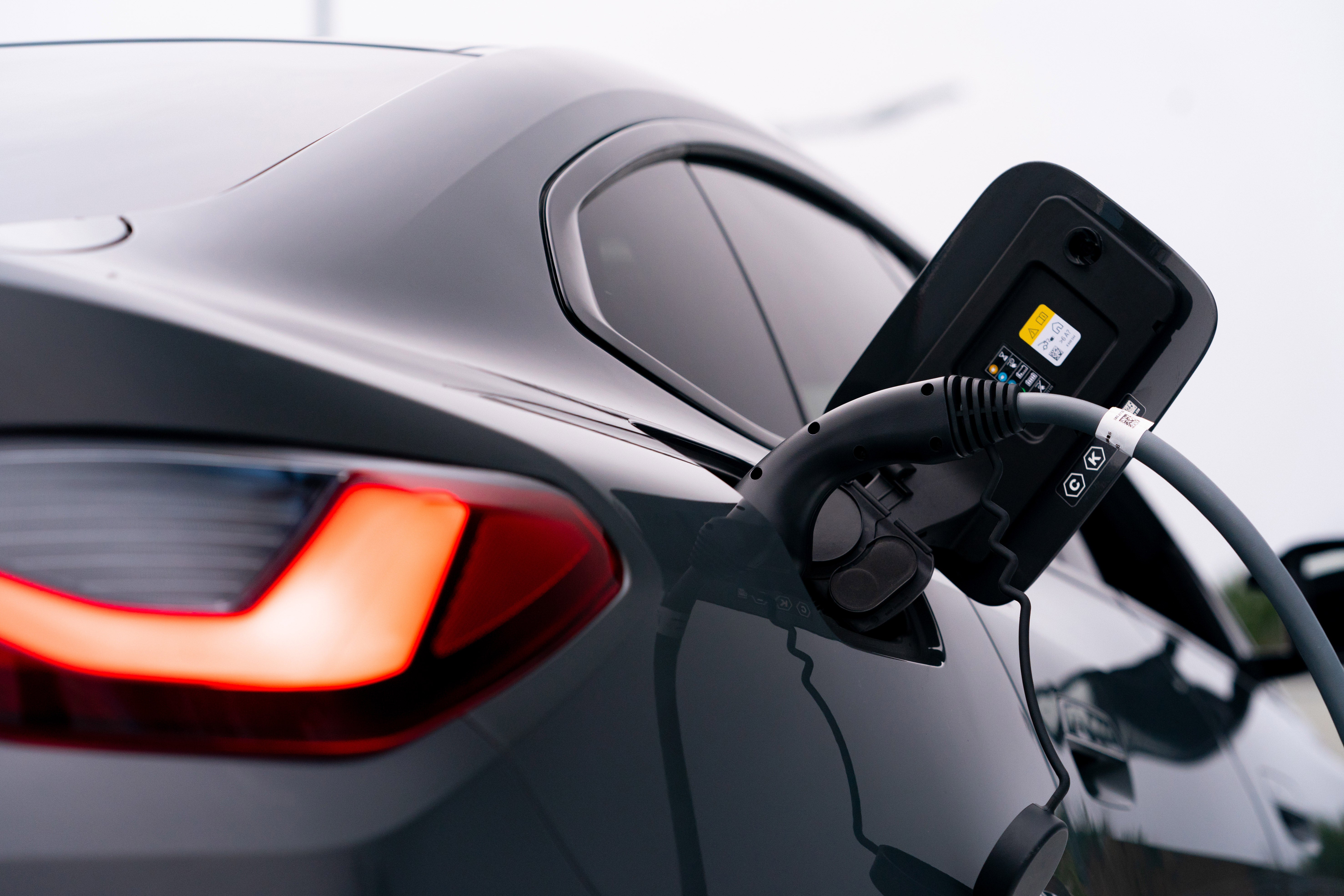 These impressive figures are down to the BMW i4's 200kW charging ability, although you'll need to hunt out the fastest public rapid chargers to make the most of that. For the ultimate fuss-free charging, you might want to look at a Tesla, as that gives you access to the brand's Supercharger network.
At home, the BMW i4 can charge at a rate of up to 11kW. This will top up the battery from totally empty to 100% in under 8.5 hours – overnight, in other words. Depending on how much you pay for your electricity, you'll pay around £14 to fully charge the BMW i4's 80.7kWh battery.
How reliable is a BMW i4?
The BMW i4 is too new for any serious reliability issues to come to light. For an idea of long-term reliability, though, take a look at the BMW i3. That's been on sale since 2013 with very few faults reported by readers of HonestJohn.co.uk. BMW generally performs well in the brand's Satisfaction index, while electric cars are usually very reliable due to the lack of, well, an engine.
Insurance groups and costs
The BMW i4 eDrive 40 Sport is in insurance group 35, while the M Sport has been placed in group 36. With its extra performance, the BMW i4 M50 is in insurance group 43. We'd also recommend shopping around for insurance quotes – particularly on high-performance electric cars like the BMW i4.
VED car tax: What is the annual road tax on a BMW i4?
Nil. As it's a pure-electric vehicle, the BMW i4 won't cost anything to tax each year. It's also exempt from the £335/year premium car tax that hits petrol or diesel alternatives.
How much should you be paying for a used BMW i4?
"Prices for the new BMW i4 eDrive 40 start from £51,850, while the desirable i4 M50 is nudging £64,000. That's a lot of money when £45,000 will pick up a Tesla Model 3 or long-range Polestar 2."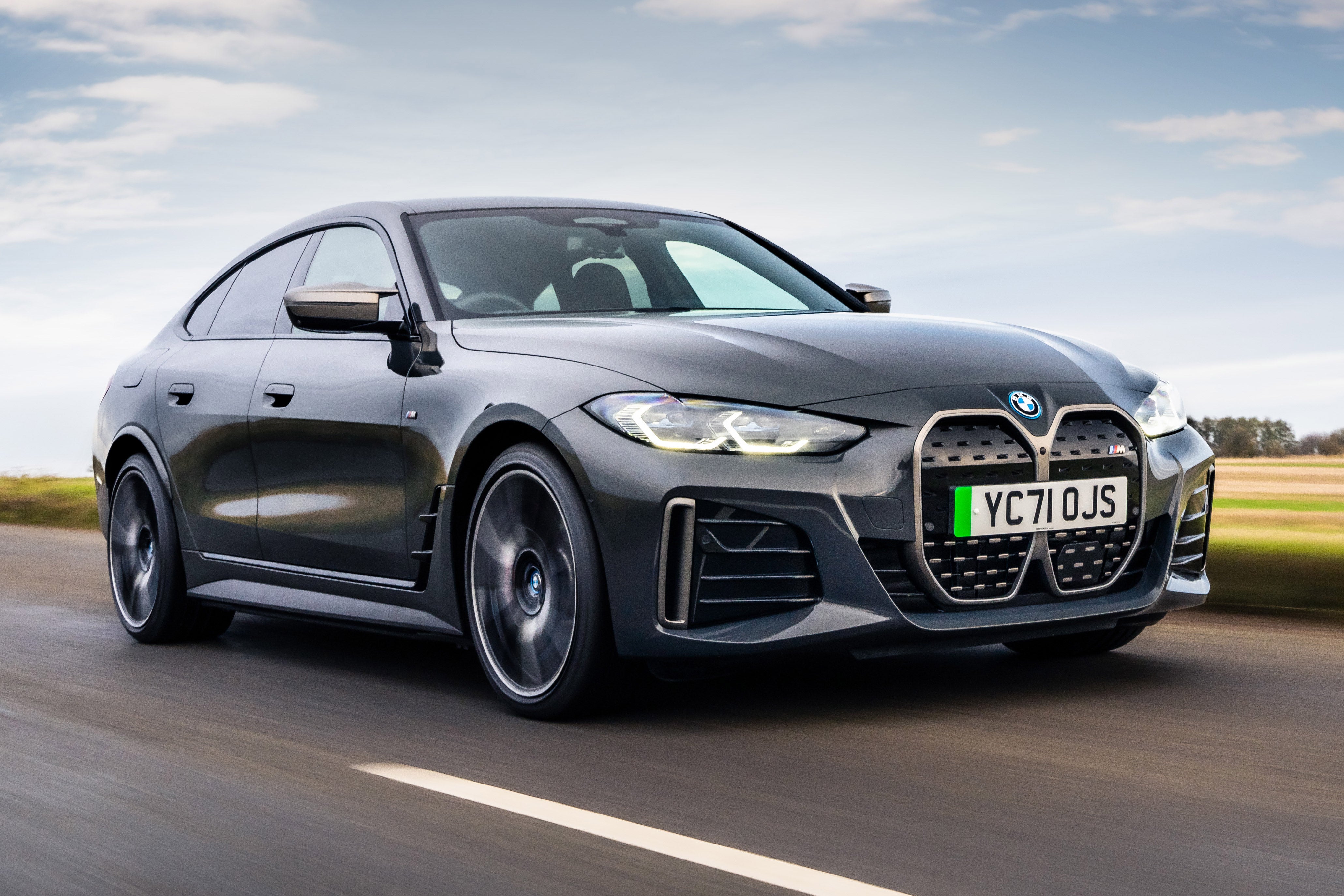 We'd never expect the BMW i4 to be a mainstream offering when it comes to price but it seems significantly more expensive than a petrol or diesel BMW 4 Series Gran Coupe. It's still a very new model, of course, and high demand means we're unlikely to see any huge savings on the used market in the near future.
In the i4's defence, it is more affordable than other electric BMW models. The BMW iX3 starts from around £61,000, while the BMW iX starts from close to £70,000.
Recent changes to the plug-in car grant mean you won't receive any contribution from the government towards funding your electric BMW i4, either.
Trim levels and standard equipment
The BMW i4 eDrive 40 is available in two trim levels: Sport and M Sport. Standard equipment on the BMW i4 eDrive40 Sport includes a reversing camera, Parking Assistant, automatic air conditioning, ambient lighting and LED lights front and back. Customers can choose either 17-inch aerodynamic alloy wheels or 18-inch alloy wheels with a double spoke design. Live Cockpit Plus is also included on all models and the interior is set off with a Sport leather steering wheel, High-Gloss Black interior trim and Black Alcantara/Sensatec.
Highlights of the BMW i4 eDrive40 M Sport include 18-inch M aerodynamic wheels with mixed tyres, Live Cockpit Plus and Black Alcantara/Sensatec. It also shares the same M Sport Exterior Styling, M Sport Spoiler and Aluminium Rhombicle Anthracite Trim of the flagship BMW i4 M50.
Topping the range, the BMW i4 M50 features 19-inch alloy wheels, M Sport exterior styling, metallic paintwork and an automatic tailgate. Inside, you'll find ambient interior lighting, electric leather memory seats (heated in the front) and an M Sport leather steering wheel. There's a 14.9-inch infotainment system (with sat-nav), a 12.3-inch instrument display and a Harman Kardon surround-sound audio system. BMW's Parking Assistant is standard, as well as a reversing camera, cruise control and LED front/rear lights.
Ask the heycar experts:
common questions
How much will a BMW i4 cost?
Prices start from £51,905 for a BMW i4 eDrive40 in Sport trim and £53,405 for the M Sport. The BMW i4 M50 is priced from £63,905.

What is the range of a BMW i4?
The BMW i4 M50 has an official WLTP electric range of up to 316 miles. The BMW i4 eDrive40 Sport and BMW i4 eDrive40 M Sport both have a WLTP range of up to 367 miles.

Is the BMW i4 better than a Tesla?
In a lot of ways, yes. The BMW i4 has a much more premium cabin than any Tesla ever sold, while we'd also say the driving experience is a bit more polished. The BMW i4 eDrive40 has a longer range than the Tesla Model 3 Long Range, too.

BMW I4 cars for sale on heycar
3,091
Number of cars available
£64K - £73K
Price bracket of these cars
Colours available on heycar
Keep me updated by email with the latest advice, news and offers from heycar
By submitting, you agree to our
privacy policy
.