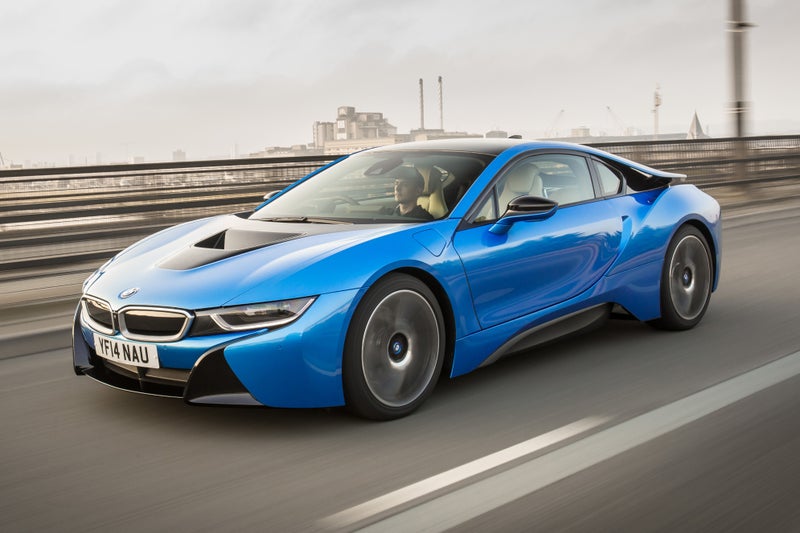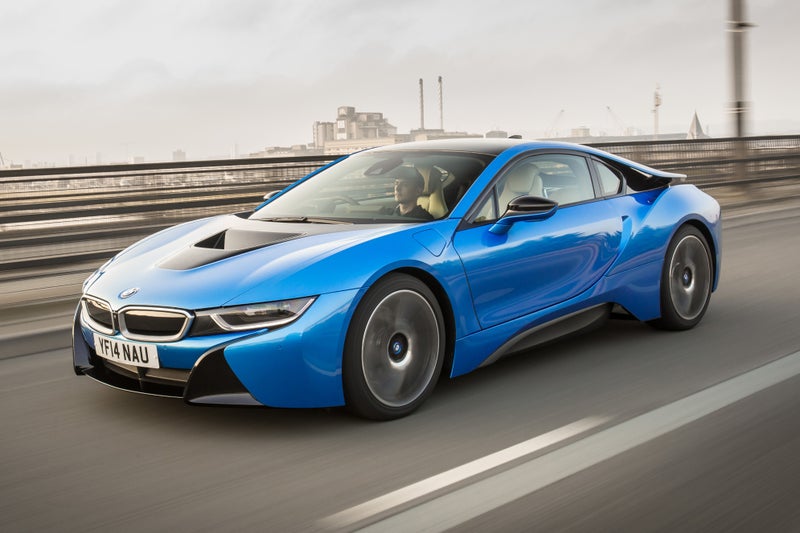 1/10
heycar rating
"Fast and frugal hybrid coupe"
Launched: 2014

Performance

Hybrid
Quick overview
Pros
Redefines hybrid performance
Incredibly low CO2 figures
Stunning futuristic design
Cons
Tiny 154-litre boot limits practicality
Petrol-powered rivals are more thrilling
Needs charging regularly to maximise its performance
Overall verdict
On the inside
Driving
Cost to run
Prices and Specs
Common questions
Overall verdict
"The BMW i8 is a technological tour de force. Its pioneering hybrid powertrain broke new ground in the supercar world, mixing impressive performance with ultra-low CO2 emissions. Although it looks and feels like a six-figure sports car, it drives more like a grand tourer, but there's still nothing like it."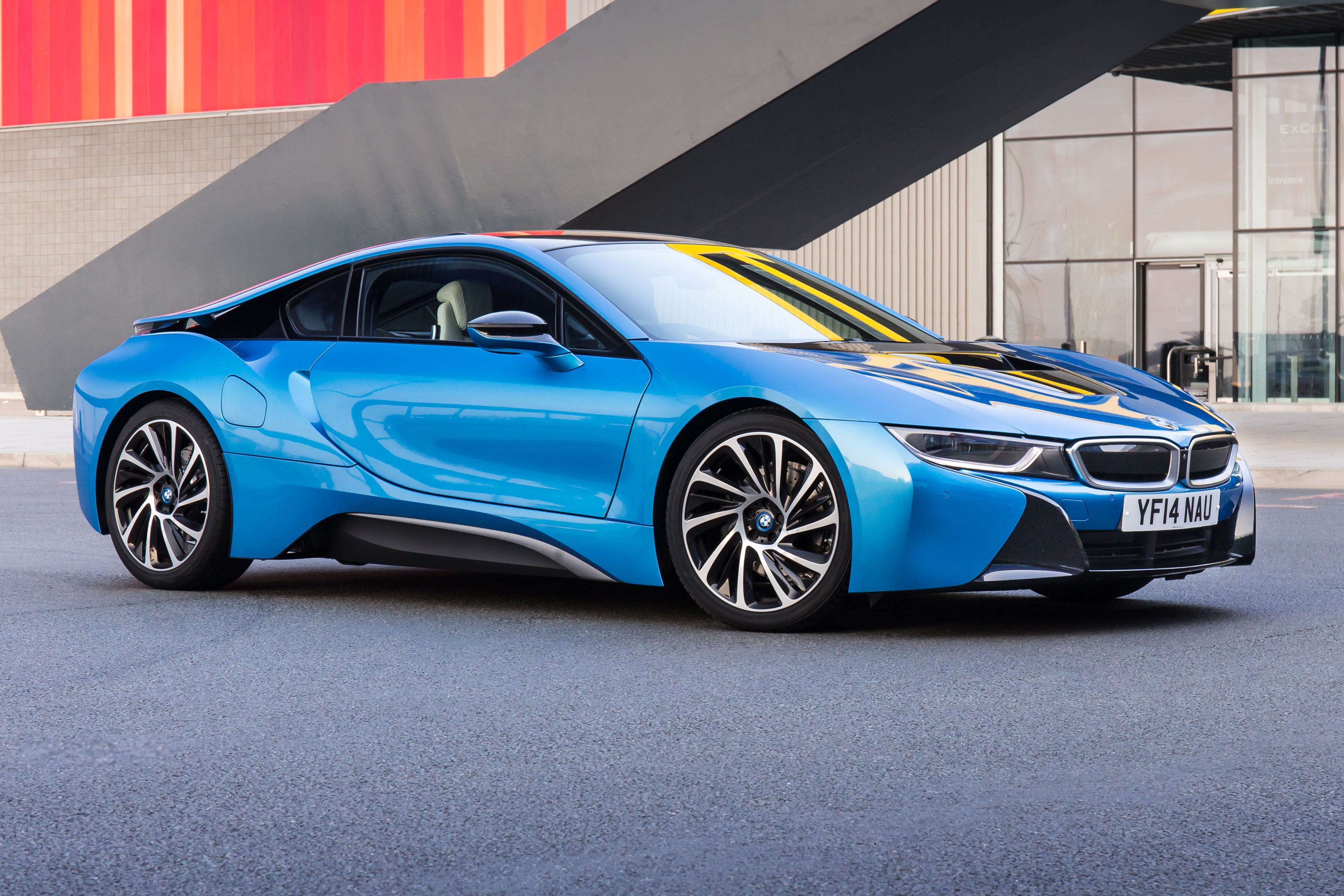 In years to come, the BMW i8 will come to be regarded as the missing link in the evolution of the sports car. When it was first launched it was a stunning blueprint for what a futuristic, electrified performance machine could offer - although now it has ceased production, it feels a bit more like 'yesterday's car of tomorrow.'
Its dramatic looks - all sharp angular lines and aerodynamic curves - are as head-turning today as they were on its debut, but the plug-in hybrid powertrain under the skin is not as ground-breaking as it once was. Using a small turbocharged petrol engine in combination with a powerful electric motor to boost performance and improve fuel economy is now common place in big SUVs, but only BMW has tried this combo in a sports car.
The 1.5-litre 231bhp engine from a MINI is mounted in the middle of the car, paired to a six-speed automatic gearbox. This three-cylinder unit is ably assisted by a 144PS electric motor under the bonnet. It provides a big acceleration boost, helps drastically reduce fuel consumption, or takes over driving duties altogether.
The result is a truly unique vehicle. It has urgent performance and impressive traction thanks to its innovative four-wheel drive setup, with the electricity powering the front wheels, and fossil fuel driving the rears. Yet with a fully charged battery pack, it can drive from Trafalgar Square to Gatwick airport without starting its engine.
Pair this divergent set of abilities with its miraculous (and rather misleading) official economy of 128.4mpg and CO2 emissions below 50g/km and the i8 promises supercar thrills with supermini running costs. Does that all sound a bit too good to be true? Thought so. The reality is a car that can't quite fulfil that promise in its entirety.
For starters, the sheer cost involved in the i8's development makes it a very expensive alternative to a petrol sports car. A price tag north of £100k puts it up against some very talented competition, like the Audi R8, Honda NSX and Porsche 911. These cars are quicker, more exciting and (except the Honda) smarter inside.
The everyday running costs of the BMW will be a tiny fraction of what the others will need in super unleaded alone. However, with a real-world economy closer to 40mpg, weak residual values, and new government rules making pure-electric cars the cheapest company cars, that advantage is not as large as it once was.
A cutting-edge battery electric car like the Porsche Taycan 4S is faster, roomier inside and just as advanced, with the ability to carry four adults in comfort and even cheaper daily costs. If you're interested in the coupe, with its restrictive 2+2 layout, then we'd highly recommend looking at one of these instead.
If you only need to carry two, the i8 Roadster is in a class of one. It has a stylish interior that still feels modern and comes highly equipped. Practicality is severely limited though, with a minuscule 88-litre boot. A truly innovative sports car that proved for good that hybrids can be fun as well as frugal, the i8 has been left behind by advances in battery technology. Potentially a future classic, it remains an interesting used buy.
Is the BMW i8 right for you?
If you're shopping for a £100,000 sports car then the chances are that the automotive world is your oyster.
Choosing a BMW i8 over a long list of loud, fire-breathing, tyre smoking competitors like the Porsche 911, Aston Martin Vantage and Audi R8 becomes a philosophical decision. It says: 'I want to try a different way'.
Its advanced plug-in hybrid powertrain means you can enjoy a guilt free zero-emission city commute, then shift it into sport mode, use the 369PS total output and four-wheel drive for a back road blast home again.
No other sports car on sale can offer those two seemingly wildly opposing experiences in the same day.
Enthusiastic drivers will likely turn their noses up and the i8's lukewarm performance and restrained driving dynamics, but futuristic design and sheer mechanical complexity make it an intriguing alternative choice.
It's not as affordable to run as a pure battery electric car, but it doesn't always need charging like one either.
What's the best BMW i8 to choose?
There is only one powertrain option in the i8. That's understandable given how complex the combination of a mid-mounted 1.5-litre petrol three-cylinder turbo engine and powerful electric motor must have been to build.
Not all i8s are alike though, and it's worth buying a car built after the mid-life facelift (BMW calls this an LCI). That's because the later car has a more powerful 144PS electric motor and larger 11.6kWh battery pack. It makes the i8 better at its hybrid party tricks, increasing the zero-emissions range and improving economy.
The handling was also tweaked over the course of the car's life, with thicker anti-roll bars and improved adaptive dampers added to the later cars to make them sharper through corners and more supple in town.
Roadsters get these changes as standard, and that's part of the reason we'd recommend the drop top over the coupé. It adds an extra dimension to the i8's curious mix of talents, and while a strict two-seater is not much less practical than the (already fairly cramped) coupé, it helps that it looks absolutely stunning, too.
What other cars are similar to the BMW i8?
Even after six years on sale there are no plug-in hybrid rivals to the i8 - that's how much it broke the mould. Battery technology has moved on though, and buyers with deep pockets who need a high performance car without the guilty conscience (and running costs) are now better served by a pure battery electric vehicle.
The entry-level Porsche Taycan 4S is more four-seat GT than sports car, but has mind-bending performance, a beautifully built cabin, futuristic design and a lot more space on board than the smaller, lighter BMW.
Extroverts looking to turn heads with a hybrid supercar could be tempted by the re-incarnated Honda NSX, but it uses its electric motors to boost its petrol V6's performance rather than save fuel or lower CO2 output.
Thrill seeking drivers who prioritise pin-sharp handling and maximum performance for the biggest adrenaline rush possible should opt for a larger engined, petrol-powered rival like the McLaren 570S or Audi R8 V10.
Comfort and design
"The i8 looks as fresh and ground-breaking on the outside as it did on the day it was revealed. Compare that sleek, futuristic design to the rather conventional interior though, and you'll be left feeling disappointed. BMW certainly played things safer inside their hybrid supercar than they did in the wonderfully quirky i3 supermini."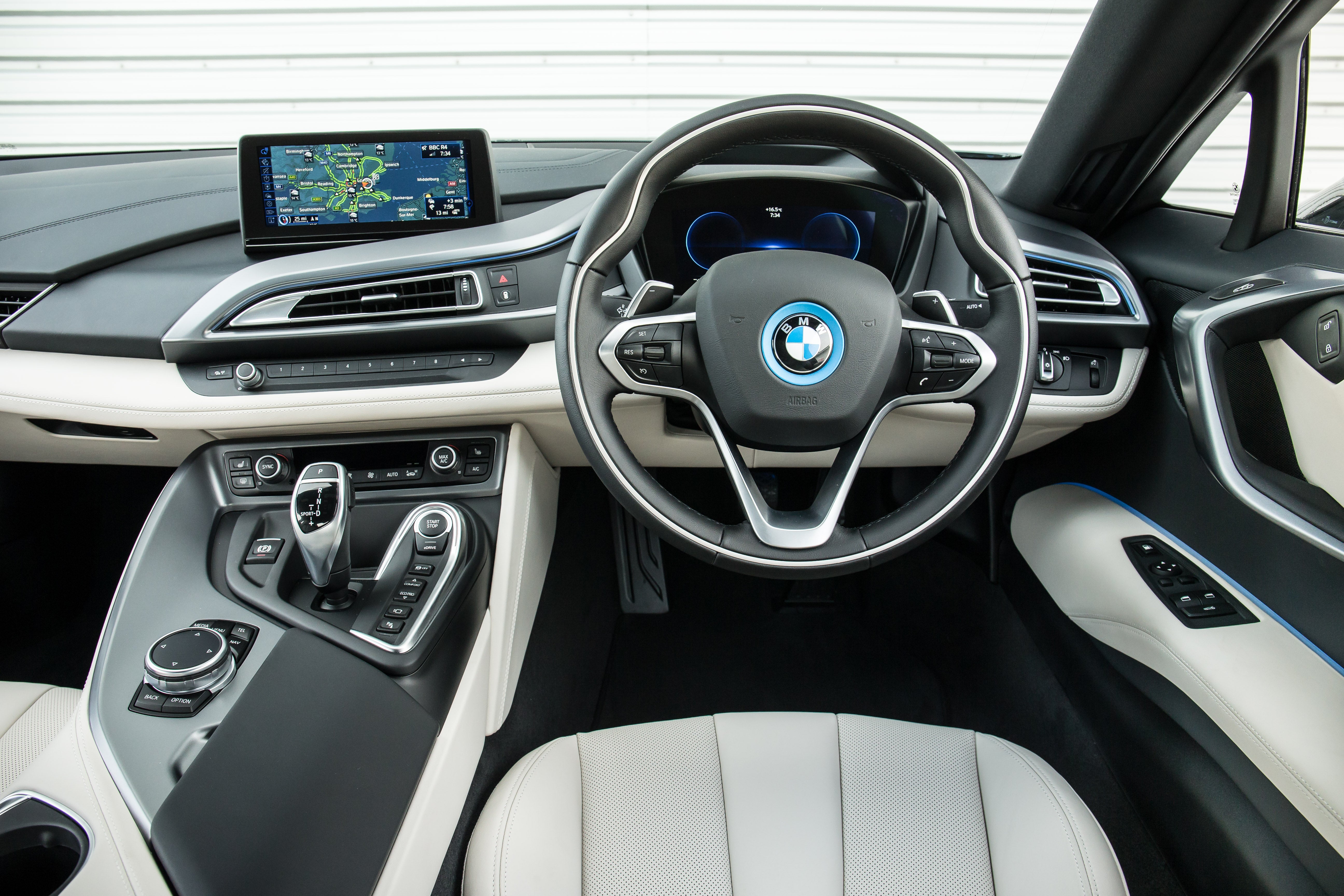 Sure, there are sweeping lines, curves and cutouts in the stepped dash board, but most of the switches and controls (apart from the steering wheel) will be instantly familiar to anyone who has been in an old 3 Series.
Getting in and out can be a real challenge (more on that later) so it's a good thing you'll be comfortable once you are installed inside. The front seats are comfortable and supportive, set nice and low for a sporty driving position. They feature a range of electric adjustment and heating elements as standard; great for longer trips.
The steering wheel adjusts for reach and height, so you can easily fine-tune your view of those digital dials through the rim, but it's nice to have the back-up of a head-up display projected onto the windscreen. We like how the climate controls and driving mode switches are placed within a finger's reach of the gear shifter too.
It's not as overtly sporty or exciting to spend time in as supercars from McLaren or Porsche, and the steeply raked windscreen and thick A-pillars create blindspots, but otherwise it's usable enough to be driven daily.
Quality and finish
Buyers forking out six-figure sums for a sports car will have high expectations for interior quality, but the i8 should (just) meet them. The snug cabin cocoons you in real cow hide, with leather trim along the sweeping dash surfaces, doors, and even the top edges of the wide centre console and transmission tunnel.
The interior panels and switch gear feels solidly built, and sturdy enough to remain squeak and rattle free for years. Closer scrutiny reveals some fairly average plastics that it shares with more humdrum BMWs though.
An Audi R8 feels more like a robust, expensive vehicle inside, let alone the space-age new Porsche Taycan.
On a more positive note, BMW does give its customers some flexibility to tailor the interior ambience to their personal tastes. As standard you can have exotic carbon fibre surrounds for the gear selector, dash air vents and door handles, and a ceramic finish on the iDrive controller that's cool to the touch, and feels upmarket.
There is the option to pay to upgrade to two different design themes the brand calls its 'interior worlds'. The 'Halo' theme underlines the i8's hybrid chic with electric blue seat belts and interior accents, while 'Accaro' cars have E-Copper (that'll be orange then) leather seats with cloth inserts and bright silver dash highlights.
Infotainment
BMW's iDrive infotainment system is one of the best in the business. The version fitted to the i8 is now a few generations behind what you'll find in the brand's latest models, but it's still quick to respond and easy to use.
As is more common now (but certainly wasn't in 2014) there are two screens that share infotainment duties. At 8.8-inches, the central display is not huge by modern standards, but image quality is nice and sharp. You can control all the major functions with either a handy rotary dial or by swiping and pressing the touchscreen.
The second screen is also 8.8-inches, and replaces the conventional dials. Key driving information is clearly displayed, and it shifts the layout depending on what driving mode you've got the car in (big rev counter and bright red colour for Sport mode - battery info and calming blue for ECO PRO mode) which is a nice touch.
As befits its high price tag, the i8 has a load of toys, with a premium Harmon Kardon stereo, 20GB storage for music, sat-nav, online services, and Apple CarPlay (but frustratingly not Android Auto) connectivity too.
From 2018 onward, it also came with BMW's Display Key fob, with a tiny 2.2 LCD screen that can tell you if the doors are locked, and what the charging status of the battery is and so on. For us, it's a bit of a gimmick, and much like the car that it belongs to, it needs to be regularly charged if you don't want it to run out of juice.
Space and practicality
While the i8 doesn't have the outright speed of the current crop of supercars, it's just as impractical to own. Getting in and out is the first challenge. A three-stage process that begins with ducking under the dramatic 'butterfly' upswung doors, stepping over the wide sills and then sliding down into the low-slung sport seats.
Once you're installed behind the wheel things do improve slightly, with enough (electric) seat adjustment for even taller drivers to get comfortable. It has a few small trays for stuffing your phone and wallet into hidden in the central transmission tunnel, but no door pockets, a narrow glovebox and a lone small cupholder to share.
The swoopy exterior, and tightly-packaged powertrain (remember the i8 squeezes an engine and set of batteries in between the front and rear wheels) take precedence over providing much usable luggage space.
The Roadster is a strict two-seater, with a boot volume of just 88 litres. That's not much bigger than a travel bag, so even with a storage shelf behind the front seats, weekend trips will present a real packing challenge.
The coupé is better, with a 2+2 layout that means the cramped rear seats can double up as extra storage. Still, try putting fully-grown adults back there for anything longer than 20 minutes and you could be liable for unlawful imprisonment. Kids will fare better, and the i8 even has a set of ISOFIX mounting points. With patience and determination, you can fit a rear-facing child seat, but do so and there's no space for a front-passenger.
Without the need to stow a fabric roof, the coupe also has a marginally bigger boot, with a 154-litre capacity that compares favourably with supercar rivals like the Porsche 911 (145 litres) and Audi R8 (112 litres). The loading bay is a really shallow, awkward shape though, which severely limits the type of things you can carry.
Of course, the i8 is very unlikely to be the only car in your garage, but given how effortlessly it can cover long distances, it would be nice to have a smidgen more space inside to be able to use it as a true grand tourer.
Handling and ride quality
"Despite its eco-credentials, the i8 still provides all the driving fun you'd want from an expensive sports car. Its small engine and carbon fibre body keep the weight down, so it feels nimble and eager to change direction. It grips well through turns thanks to its four-wheel drive layout, and the body stays flat and composed at speed."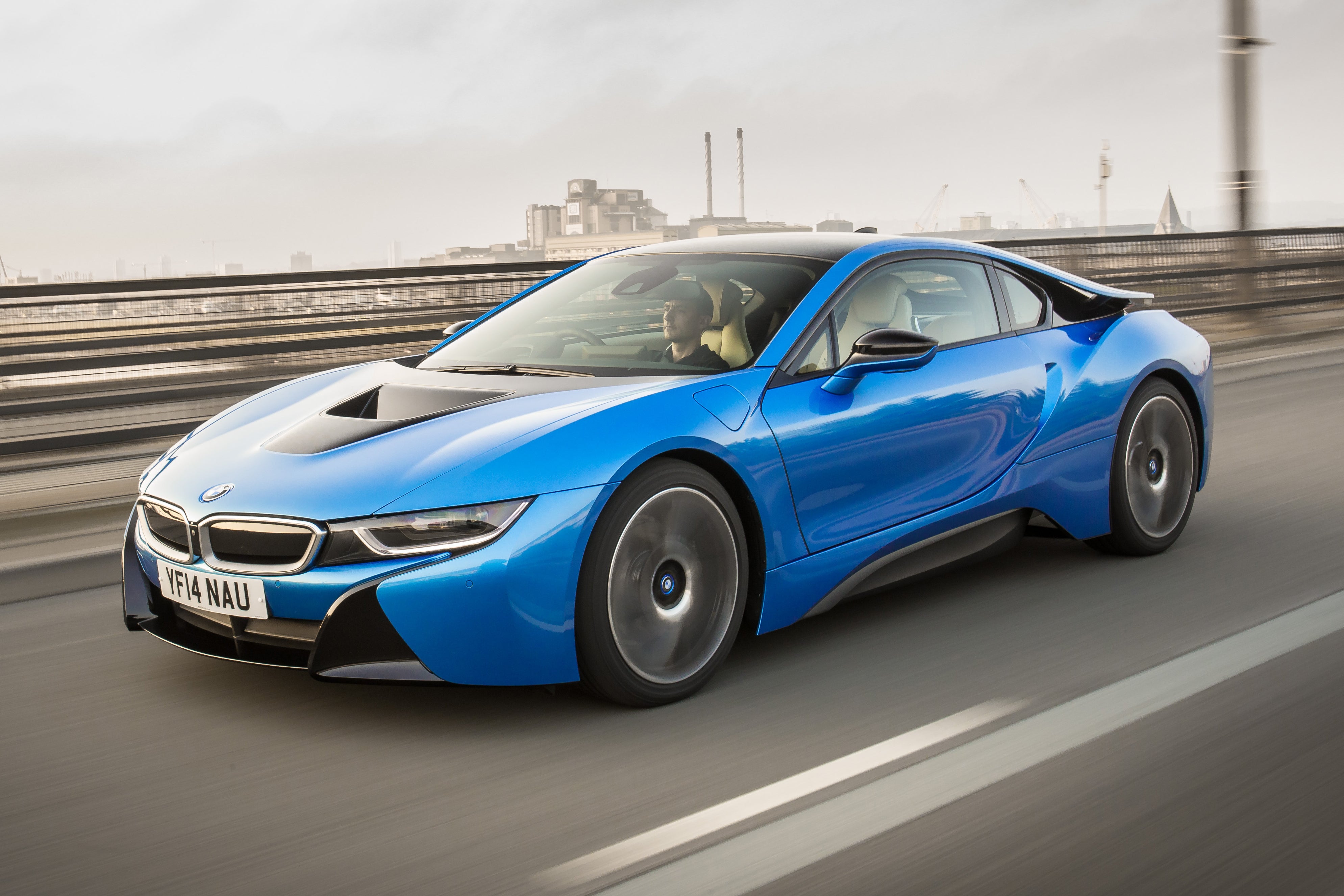 The batteries are mounted low in the car, and the petrol and electric halves of the powertrain balance each other out to give it a near 50:50 weight distribution that is great for handling. The steering is precise, but very light compared to, say, a Porsche 911. That makes the i8 a doddle to manoeuvre and park, but it also lacks feedback. Leaving its driver in the dark when trying to push a little harder on a challenging stretch of road.
A set of tyres that is simultaneously juggling the performance requirements of a sporty supercar and a saintly zero-emissions vehicle inevitably end up feeling like a compromise. Grip levels are good, but it will wash out at the front if you start trying too hard - it's better to simply back off and enjoy the i8's qualities as a fast GT.
The ride is sporty and firm - as you would expect - but the adaptive suspension strikes a decent balance between stiffness at low speed and a limber compliance once you're going a bit quicker. Comfort mode is perfect for most trips, but Sport is best kept for really smooth surfaces, otherwise you'll feel every bump.
Even if you drove the Roadster back-to-back with the Coupe it would be hard to notice a difference in the way they handle. The drop-top i8 is just as planted through corners, with no unwanted flex in the chassis. It's one of those rare convertibles that are every bit as accomplished and relaxing to drive as the standard car.
Engines and gearboxes
As is often the case with sports cars, the i8's engine totally defines its character. Except instead of a wailing V10 mounted just a few inches behind your head, it's the 231PS 1.5-litre turbo from a MINI Cooper S.
This three-cylinder petrol engine drives the rear wheels through a six-speed automatic gearbox, but is only one half of the plug-in hybrid equation. The front wheels are driven by a 144PS electric motor which also provides 250Nm of torque from a standstill, for combined total output of 374PS and a four-wheel drive layout.
As with other hybrid cars, the electric motor provides assistance to the petrol engine when needed and can also power the i8 all by itself, with a range of 33 miles and a maximum speed of 75mph. There are four driving modes, including a dedicated EV setting for city trips, and Sport for when you're feeling naughtier.
That may sound a little complex, but from behind the wheel of the i8 there's no need to worry about any of that. The car takes care of the power distribution, you just get to enjoy the stunning performance.
On paper, it doesn't come close to the straight-line ferocity of supercars at a similar price, but in reality the i8 feels a very rapid car point-to-point. The instant torque (with a maximum output of 570Nm) and snappy in-gear acceleration make it brilliant at overtakes. This is no frantic racer, but a refined, flexible GT instead.
Refinement and noise levels
One of the biggest advantages of the i8's fiendishly complex hybrid system is how quiet it is around town. If the battery is charged up, then it starts up and creeps onto the road without much more than a low whirring.
The lack of engine note when in EV mode serves to amplify both tyre and road noise, and because a carbon fibre body shell is more resonant than ordinary materials, you'll hear rocks pinging into the wheel arches too.
When the engine does chime in (once you're up to speed or driving with more purpose) it actually sounds surprisingly fruity given its size. The off-beat three-cylinder growl it makes encourages you to push on in Sport mode, but some of that character is artificial, since the car amplifies the exhaust through the speakers.
The six-speed automatic gearbox is a smooth operator, and while there is a lot going on underneath as the car shuffles back and forth between its electric and hybrid settings, from behind the wheel it's imperceptible.
With the three-layer fabric roof in place the Roadster is almost as refined as the coupe, even at motorway speeds. Take it down to catch some sun however, and you'll want to stick below 60mph to be comfortable.
Safety equipment
The i8 was produced in such small numbers that it has never been officially crash tested by Euro NCAP. Yet its strong carbon fibre passenger cell and an impressive array of safety gear should still keep you safe.
Sophisticated traction and stability control systems are there to prevent sudden slides, and tyre pressure monitors will alert you to flats. LED headlights are standard, with ultra-bright laser units a (very) pricey option.
Cruise control with a braking function is included too, along with a full complement of six airbags, including side and curtain airbags, which deploy to protect your head from the door and window frames on impact.
A Driver Assistance Package is standard in the latest version, and includes automatic emergency braking to prevent city shunts, a reversing and two parking cameras, high-beam assist, and also pedestrian protection.
Of course the i8 has the ability to run on purely electric power, but in busy city streets it's problematic to be silent. Unwitting pedestrians who can't hear you coming run the risk of stepping in front of the car. To prevent this, BMW can fit an acoustic warning system for £85. It plays a turbine-style whooshing noise below 19mph to alert people of your approach in EV mode - but we're not sure if it'll works on anyone wearing headphones.
Maximum EV range
BMW claims that with a fully charged battery you can travel up to 34 miles in the i8 using the electric-only 'eDrive' mode - that's usefully more than the 22-mile range in the pre-facelift model with its smaller battery.
However in our experience, it is difficult to match that figure in real world conditions unless you drive the i8 incredibly gently. Especially in colder weather conditions, when driving above 60mph, or just going uphill.
The battery pack never fully drains, since it can recharge itself using the petrol engine as a generator, but this is an inefficient way to deploy the plug-in hybrid powertrain. It's worth charging up as often as possible.
MPG and fuel, Charging times and costs
"Plug-in hybrids tend to overpromise and under deliver when it comes to fuel economy. We doubt many i8 owners get anywhere close to the 128.4mpg official figures. Drive it gently and recharge it often, and 50mpg is entirely possible - mightily impressive considering its brisk performance - but mid-thirties is more realistic."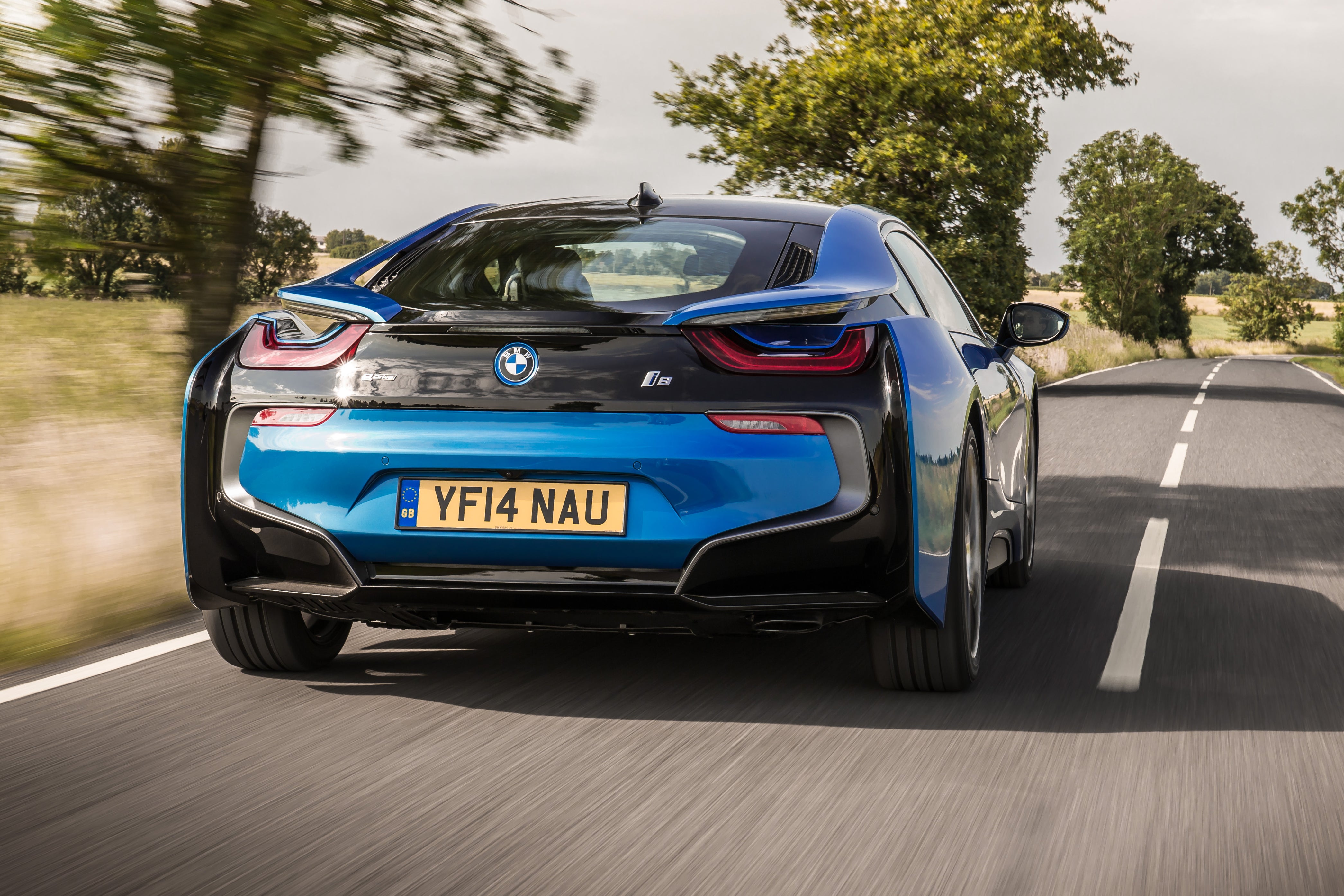 There are exceptions. If your daily driving routine includes a 25-mile commute and you're able to charge the battery at the office, then in theory you'll hardly use any of the petrol in the 42-litre tank, but if not then you'll be making regular stops. BMW reckons on a cruising range of 400 miles or so, including 30 in electric mode.
The 2018 cars have a 11.6kWh battery pack (up from 7.1kWh) helping you stay in the zero-emissions eDrive setting for a lot longer. It'll take about 4.5 hours to charge from a standard three-pin plug. Use a 3.6kW home wall box and it'll take less than two hours to reach 80%, but it isn't compatible with the latest rapid chargers.
A five metre three-pin charging cable and Type 2 fast-charging cable are both supplied with the car. There is a handy nook for storing the cable under the bonnet, and the charging port is located on the front wing.
Insurance groups and costs
The i8 shares both its 374PS maximum power output and 4.4 second 0-62mph time with another four-wheel drive BMW - the M340i saloon. Sadly, performance is not the only deciding factor in insurance costs. That means that while the pumped-up 3 Series is Group 38E the i8 sits in the top insurance band, Group 50E.
Perhaps that's no surprise considering the i8's complicated powertrain, carbon fibre reinforced bodywork, rarity and price. If you do have a crash (even a minor one) it's going to be very expensive to fix. Still, you better have a lengthy no-claims bonus and a spotless driving record if you want to avoid sky-high premiums.
VED car tax
The rules and regulations for calculating road tax (VED) company car Benefit-in-Kind rates and grants for hybrid and zero-emissions vehicles have been torn up and rewritten several times during the i8's life cycle.
Cars registered before April 2017 are totally exempt from paying road tax. Models registered after that are subject to charges of £140 a year rate plus a £325 premium charge for the first five years of ownership. That's because i8 costs well over the £40,000 upper limit for the 'showroom' tax as the higher rate is known.
As a company car its low BIK rate of just 10% means you'll save a lot of cash compared with a petrol sports car, but recent rule changes make the zero-emissions Porsche Taycan 4S even cheaper for business users.
How much should you be paying for a used BMW i8?
"Although BMW officially ceased production of the i8 in April 2020 there are still a handful of new-ish models for sale. These are all Roadsters though, and you're also likely to have to travel to secure one."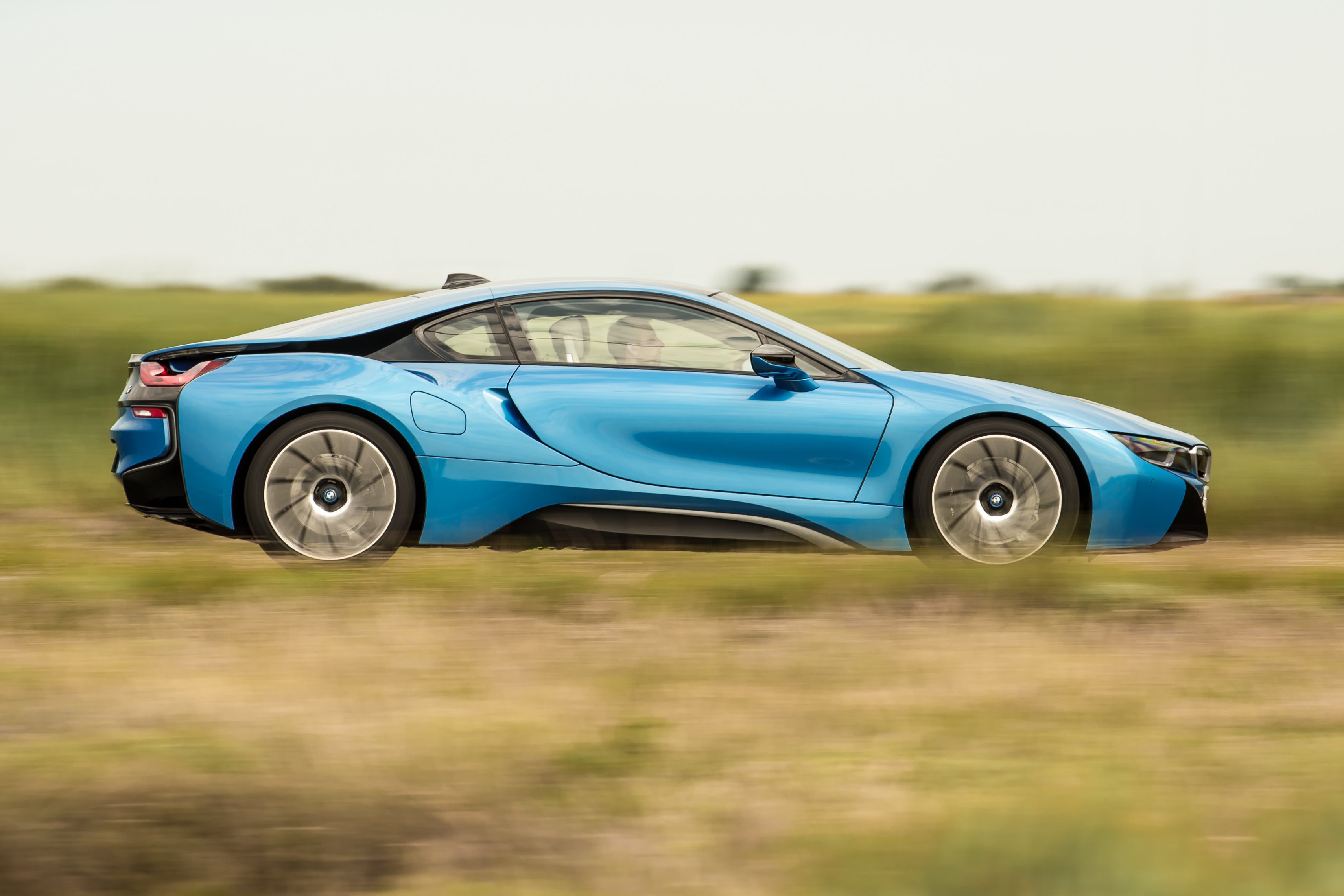 The costliest models are over £100,000 (but significantly down from the £126,000 retail price) but our old friend depreciation means that you don't need to pay anywhere near that much to get one on your driveway.
Used prices haven't just dipped, they've performed a total nose-dive. So you can get an essentially brand new i8 Roadster with a choice set of optional exterior upgrades for less than the sum of £80,000. Just don't expect to see more than half of that money if you plan to try and sell it again in a few years time.
Current shape coupes have shed even more value, with manufacturer approved 2018 models available for around £60,000. A finance deal on one of these will cost you around £915/month with a £10,038 deposit.
Earlier coupes with the smaller battery pack and more miles on the clock (but still a full BMW service history) are the cheapest route to i8 ownership. Just £38,000 will get you one of these, which is a real bargain.
Trim levels and standard equipment
There is just one solitary trim level for the i8 whether you want a coupe or Roadster. That makes its starting prices seem higher than in sports cars like the Porsche 911, but a lot more equipment is standard fit here.
On the outside, the standard alloys are 20-inches in diameter, with LED headlights, adaptive dampers and metallic paint included in the price. You can pay for different wheel designs, but not to increase the rim size.
Leather upholstery, cruise and climate control, parking sensors and cameras, heated seats with electric adjustment (and memory function in the drop-top) are all entirely appropriate for a premium car. The iDrive system has BMW's Professional navigation system, head-up display and a decent Harmon Kardon stereo.
On earlier i8s Apple CarPlay was a stingy £235 option, but comes standard on the latest versions. A special 'Ultimate Sophisto Edition' limited run model was launched at the end of the car's life, with styling upgrades, bespoke two-tone grey and copper paint, and a jazzier interior - but the regular model is every bit as stylish.
Ask the heycar experts:
common questions
Is the BMW i8 electric?
While the plug-in hybrid i8 is a ground-breaking sports car, it is not electric. It does have a battery pack and an electric motor that allows it to cover short distances using just electricity, but also a 1.5-litre turbocharged petrol engine that takes over once the battery is depleted.

What is the difference between a hybrid and a plug-in hybrid?
Hybrid cars use a combination of a petrol engine and an electric motor to create drive. In a hybrid the battery is quite small and the pure electric range is short, while in a plug-in hybrid, you get a more powerful electric motor, larger battery, and smaller engine. This big battery needs to be charged up regularly (by plugging it in), but delivers much stronger performance.

Is the BMW i8 a supercar?
With its futuristic styling, dramatic butterfly doors and a starting price of over £100,000 the i8 ticks a lot of supercar boxes. However, its brisk (rather than brutal) straight-line performance and a relatively conventional interior mean it feels more like a sports car to drive and own.

Can I get the i8 as a convertible?
Yes, finally. Although BMW previewed an open-top version of the i8 with a concept car as early as 2012, it didn't arrive in production form until 2018. It has a folding fabric roof, and unlike the coupe the i8 roadster is a strict two-seater, but also gets a slightly bigger battery.

What is the electric range of the BMW i8?
The brand claims that with a fully charged battery you can travel up to 34 miles in the i8 using the electric-only 'eDrive' mode. In our experience, it is difficult to match that figure in real world conditions, especially in colder weather, when driving over 60mph, or going uphill.

BMW I8 cars for sale on heycar
3,241
Number of cars available
£48K - £74K
Price bracket of these cars
Colours available on heycar
Keep me updated by email with the latest advice, news and offers from heycar
By submitting, you agree to our
privacy policy
.