BMW M2 Competition Review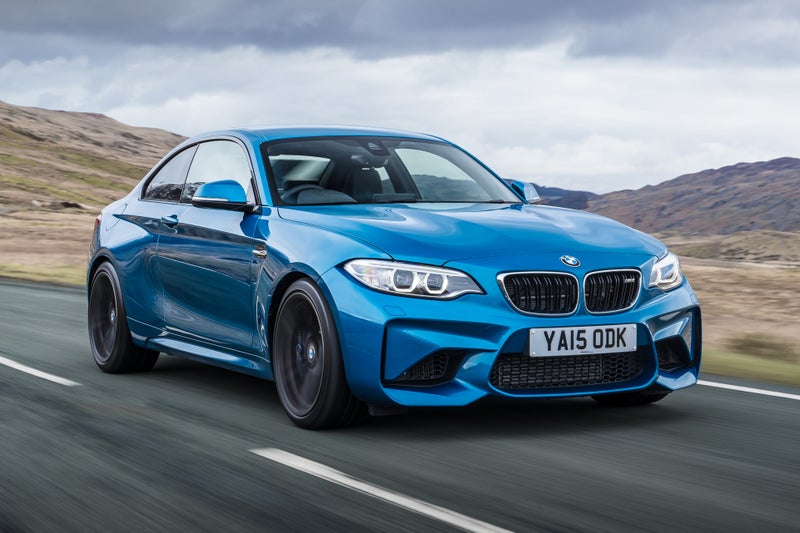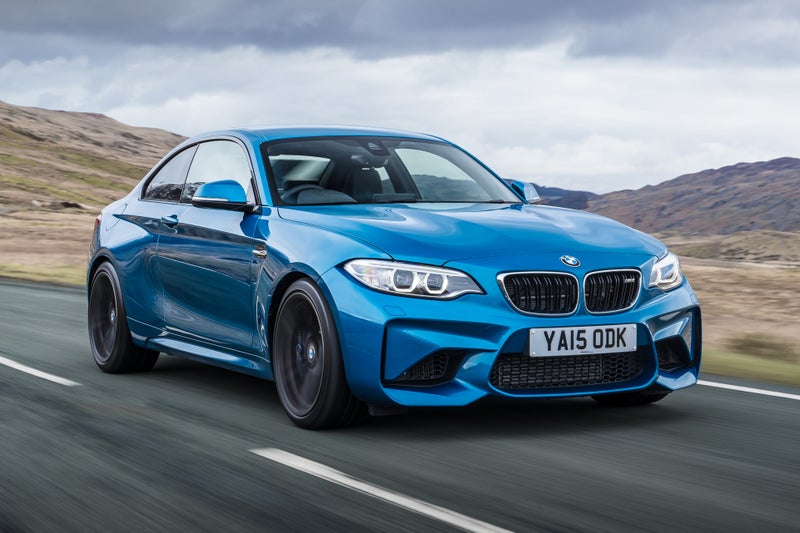 1/10
heycar rating
"Raucous high-performance muscle car"
Launched: 2015

Performance

Petrol
Quick overview
Pros
Incredible performance
Brilliant fun to drive
Surprising practicality
Cons
Expensive to buy and run
Not the most precise manual gearbox
No convertible version available
Overall verdict
On the inside
Driving
Cost to run
Prices and Specs
Common questions
Overall verdict
"The BMW M2 Competition is a raw and engaging driver's car that has few natural rivals. It's incredibly fast, handles well and sounds fantastic, but it's not as razor sharp to drive as the best sports cars. The interior is starting to feel dated now but it's also roomy and practical enough to be a superior everyday proposition than a two-seater."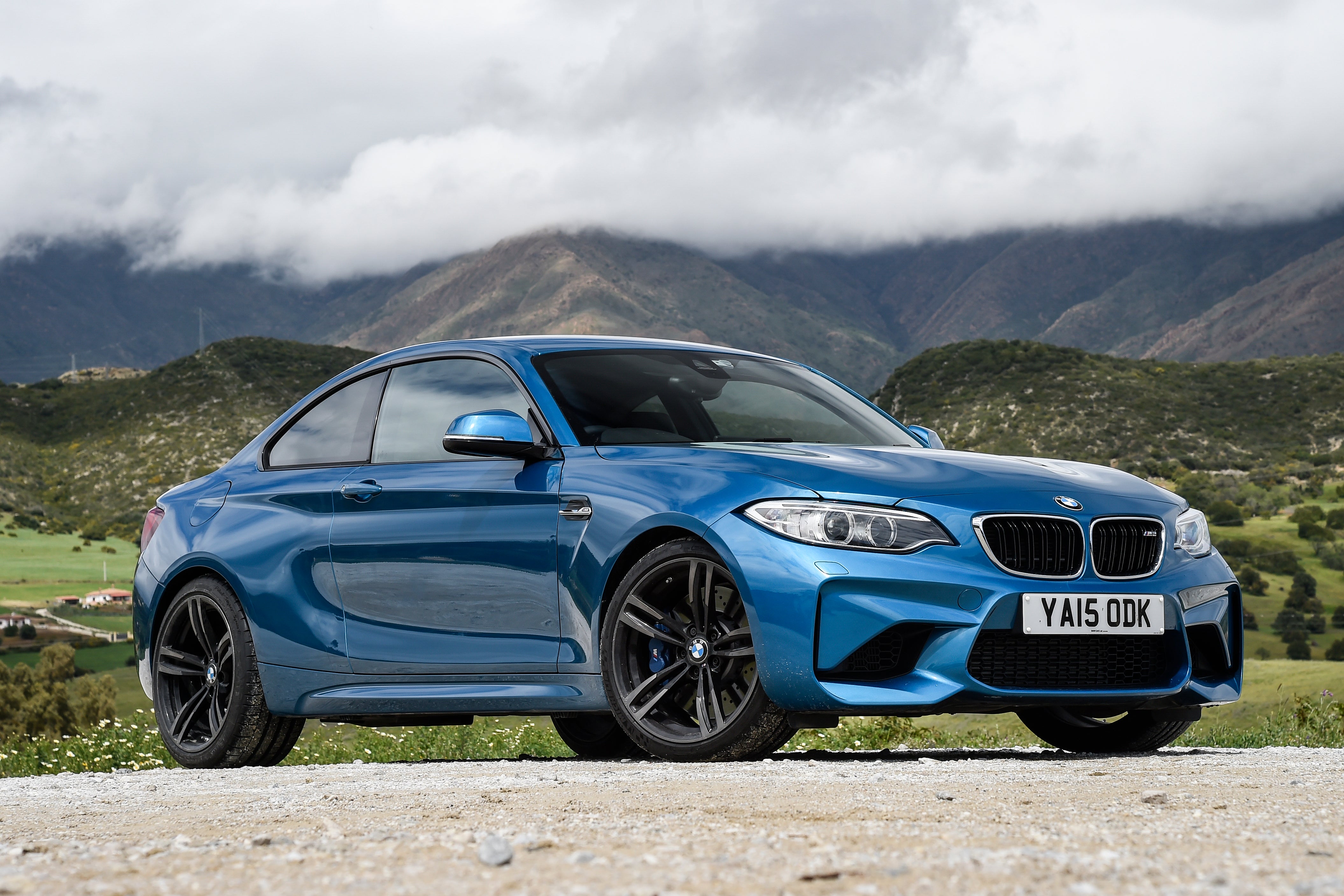 Based on the BMW 2 Series Coupe, the M2's pumped-up styling serves to remind any casual onlookers that this is an altogether different proposition, with swollen wheel arches, a wider track, four exhausts and bigger intakes. It'll soon be replaced by the 2023 M2.
Mechanically, it borrows liberally from the M4, with a wide range of mechanical upgrades designed to boost its performance and handling abilities. Launched in 2016, it was replaced by the M2 Competition in 2018.
The earlier car had strong performance, with a muscular 3.0-litre six-cylinder engine producing 370PS. The M2 Competition really feels like a true M car though, with a twin-turbocharged motor and bonkers 410PS.
Like any traditional sports car, the M2 sends its plentiful power output to the rear wheels, with a six-speed manual gearbox as standard, and a seven-speed DCT automatic available as an option. There are quite a few advantages to the auto - refinement and economy chief among them - but we'd pick the manual 'box.
For this type of car the driving experience is right at the heart of its desirability, and with three pedals the M2 is very engaging to drive. Each downshift letting you explore more of the engine's explosive turn of speed.
Prioritising driving pleasure does come at the expense of comfort. The M2 creates a lot of road noise, and the stiff ride and standard 19-inch alloy wheels mean you'll feel every single lump and bump at low speed.
However, for such a focussed machine it's useable enough to be your only car. There is space to seat four, and a boot that's bigger (just not as well shaped) than many hatchbacks. The cabin can cope with carrying an assortment of daily items better than rivals like the Alpine A110 (good luck fitting your passport in that).
As you'd expect from a car that starts around the £50,000 mark, the cabin is draped in the racy trappings of carbon fibre, stripy M-badges and thickly-bolstered bucket seats. However, it's not as upmarket inside as the Mercedes A 45 AMG or Porsche Cayman - with some disappointingly flimsy plastics in parts of the cabin.
If feels like the money for a luxurious cabin has been invested elsewhere. Namely, the firecracker of an engine and a finely-honed chassis that make it such an exciting driver's car on the right road. Equipment is very generous, although there are a few optional extras that are worth investing in to create the perfect spec.
The BMW M2 feels like the spiritual successor to the original M3; a small and pretty coupé with a powerful engine and finely honed handling that makes it brilliant fun to drive on road or track. It's heavier than other sports cars - but the combination of a rowdy engine, playful handling and a manual gearbox is hard to beat.
Is the BMW M2 right for you?
Most sports car buyers will have a mental list of essential requirements that a car must have to excite them. Depending on the person, that's likely to include aggressive styling, a big petrol engine, and rear-wheel drive.
The M2 and M2 Competition are aimed squarely at this exact group, with the added allure of an (increasingly rare) manual gearbox option, it offers up a traditional driving experience that will soon be a thing of the past.
As with any high-performance vehicle, it's expensive and comes with steep ownership costs. However, it also demands fewer compromises that a strict two-seater, with a big boot and set of small rear seats improving its usability.
For ultimate handling thrills, there are better alternatives, and its interior is starting to be left behind by the latest generation of hot hatches. Still, this would be a very fun car to own and drive daily, if you can afford it.
What's the best BMW M2 model/engine to choose?
When it was launched the M2 had all the ingredients to make it a great new addition to BMW's iconic 'M-car' line-up - with rear-wheel drive, two-doors and a manual gearbox option. However, the six-cylinder engine was not as special as the powertrain in its bigger brothers, the M3 and M4 - with one turbo and a modest 370PS.
That changed in 2018 with the arrival of the M2 Competition. This car features the same twin-turbo engine from the M3 and now produced over 400bhp. It felt a lot more exciting to drive, and it's the M2 we would pick.
Choosing between the manual and semi-automatic DCT is harder. Purists will enjoy the added interaction of having a clutch pedal, but it's not the nicest shift, and the dual-clutch M2 is more civilised and cheaper to run.
What other cars are similar to the BMW M2?
There aren't many two-door coupes with the raw performance and visual drama to match the M2. Rivals such as the Porsche 718 Cayman and Alpine A110 feature four-cylinder engines and two-seater cabins.
Both are stunning to drive - especially the Alpine thanks to its lightweight design - but neither is as useable or raucous as the BMW. If you need a major dose of practicality with your performance then Mercedes and Audi will sell you two of the fastest hot hatchbacks ever made: the AMG A 45 S+ or five-cylinder RS3 Sportback.
This pair has the power to match the BMW (with well over 400PS each) and come with four-wheel drive to help rein in their handling. All of these cars will cost roughly £50,000 though. So if price is a factor but you want similar looks to the M2 then its worth considering the six-cylinder M240i coupe - it's £10,000 cheaper.
Comfort and design
"The cabin of the M2 Competition certainly looks special, but its design is hardly what you'd call subtle. There are 'M' badges and BMW's tricolour racing colours all over to ensure you don't forget that its the flagship car."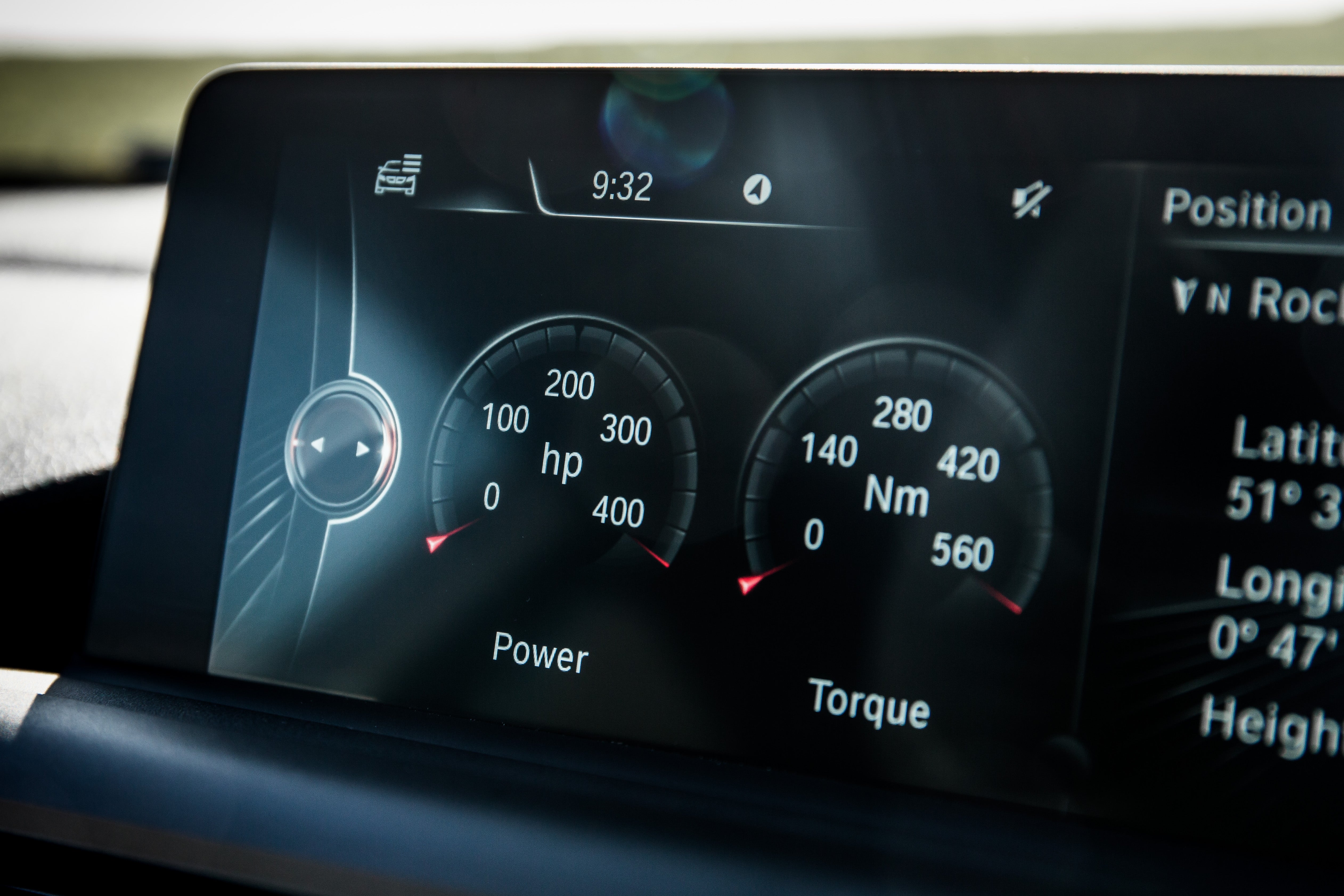 Thickly bolstered sport seats with 'M' logos in the headrests (these are backlit and glow at night) swathes of Alcantara, a thick-rimmed steering wheel and carbon fibre trim inserts all help to create a junior race car feel.
However, once you look past this cosmetic garnish, most of the layout is borrowed from the 2 Series coupe on which its based. That means it's fairly easy to use, but also quite plain looking. A lot of black plastics are on show, with two rows of climate and radio controls, and a recessed 8.8-inch screen recessed into the dash.
Putting its drab design to one side, as a pure driving environment the M2 is more successful. Those leather sport seats are figure-hugging and very supportive, with heating and lumbar support as standard. Finding a comfortable driving position is made harder by the off-set pedals, which force you to sit at a slight angle.
Raising or lowering the driver's seat is also trickier than it should be, with fiddly controls, but there is at least a good range of adjustment. The steering wheel also adjusts for height and reach, and BMW gives buyers the option to add electric seats with memory function. The catch? It'll add a cool £650 to the asking price.
Quality and finish
Since it's based on a less expensive car, the M2 has a strange mix of exotic materials but average plastics. It's almost like its interior has been given a few rounds of cosmetic surgery to help hide its advancing years.
The ergonomics are good, and the steering wheel, gear stick and (on automatic versions) shift paddles all feel like high-quality items. Look past the shiny faux carbon trim though, and the ordinary plastics in the dash and around the air-vents, plus the bog-standard 1 Series BMW switchgear brings you back down to earth.
Now that's not to say it's not robust, everything feels solid and it fits together nicely. Still, it's not anywhere near as luxurious as bespoke sports cars like the Porsche Cayman. Although rivals like the Mercedes A 45 AMG and Audi RS3 are also based on more humble mainstream cars, they feel a bit more modern inside.
BMW doesn't give you much choice either to personalise either. You can change the seat stitching from blue to orange, but if the racy look isn't your thing you can't swap the carbon fibre out for something more subtle.
Infotainment
The iDrive system in the M2 Competition is a generation behind what BMW fits to its latest models, but it's still one of the easiest infotainment systems to use, and has most of the features you'd expect for the price.
With a solitary 8.8-inch screen, it's on the small side for a modern car, but has a high-resolution display, and gives the driver the option to control it via a rotary dial between the seats or via touch. The latter is great for zooming into maps or typing addresses while parked, while the former is easier to use when you're driving.
The blacked-out digitised analogue dials look cool, but lack the functionality of a fully digital driver's display. So viewing the sat-nav, driving modes and entertainment settings are all done through the main screen. The excellent navigation system has real-time traffic information, and online services (with a BMW Connected Drive account) plus Bluetooth, DAB radio, and a USB port, and Apple CarPlay for using your phone apps.
If you have an Android smartphone then it won't connect; very frustrating if your work phone is a Samsung. The standard stereo is not particularly impressive. You can upgrade to a BMW Advanced unit for £295 or - and we'd recommend this option - the impressive Harman/Kardon Hi-Fi instead. Downsides? It costs £600.
Space and practicality
Having space to carry four people gives the M2 a big advantage over most of its sports car rivals. Taller adults won't want to stay in the back for long though. Anyone over six-foot will struggle for headroom and if those sitting in the front slide the chunky front seats too far back the modest legroom quickly disappears.
Still, it's great for family buyers who want to bring the kids along to enjoy the ride. The two-door layout makes fitting a child seat a properly physical challenge, but it is possible to fit a rear-facing infant seat or a Group 1- 3 child seat. Do the former and you're unlikely to squeeze a passenger in the front seat at the same time.
The 390-litre boot means the M2 can carry more luggage than you might expect. As standard the rear seats fold 60:40 - but pay a bit extra and you can have the more flexible 40:20:40 - better for carrying longer items.
This also turns the folding centre section into an armrest with cupholders too; handy if you'll regularly sit four.
All of this gives the M2 a huge practicality advantage over mid-engined alternatives like the Porsche Cayman and Alpine A110 and makes this is a car you could drive every single day. However, the narrow loading bay and coupe body style mean a hot hatchback is a lot more versatile since they have five seats and five doors.
A taller roofline also means space for rear seat passengers is better in these types of cars, so it's a tradeoff between how much you value the aggressive coupe styling and the mundane requirements of everyday life.
Storage inside is good though. There's a deep cubby underneath the central armrest, generous door pockets and a decent glovebox. The extended storage pack is standard, and includes net pockets in the front seat backs and a handy extra pair of 12V sockets in the rear seat compartment and boot; great for vacuuming.
Handling and ride quality
"The M2 Competition is exactly the kind of car that will make go the longest possible way home (like via the Scottish Highlands) it's just so much fun to drive. It feels totally different to the rest of the 2 Series range."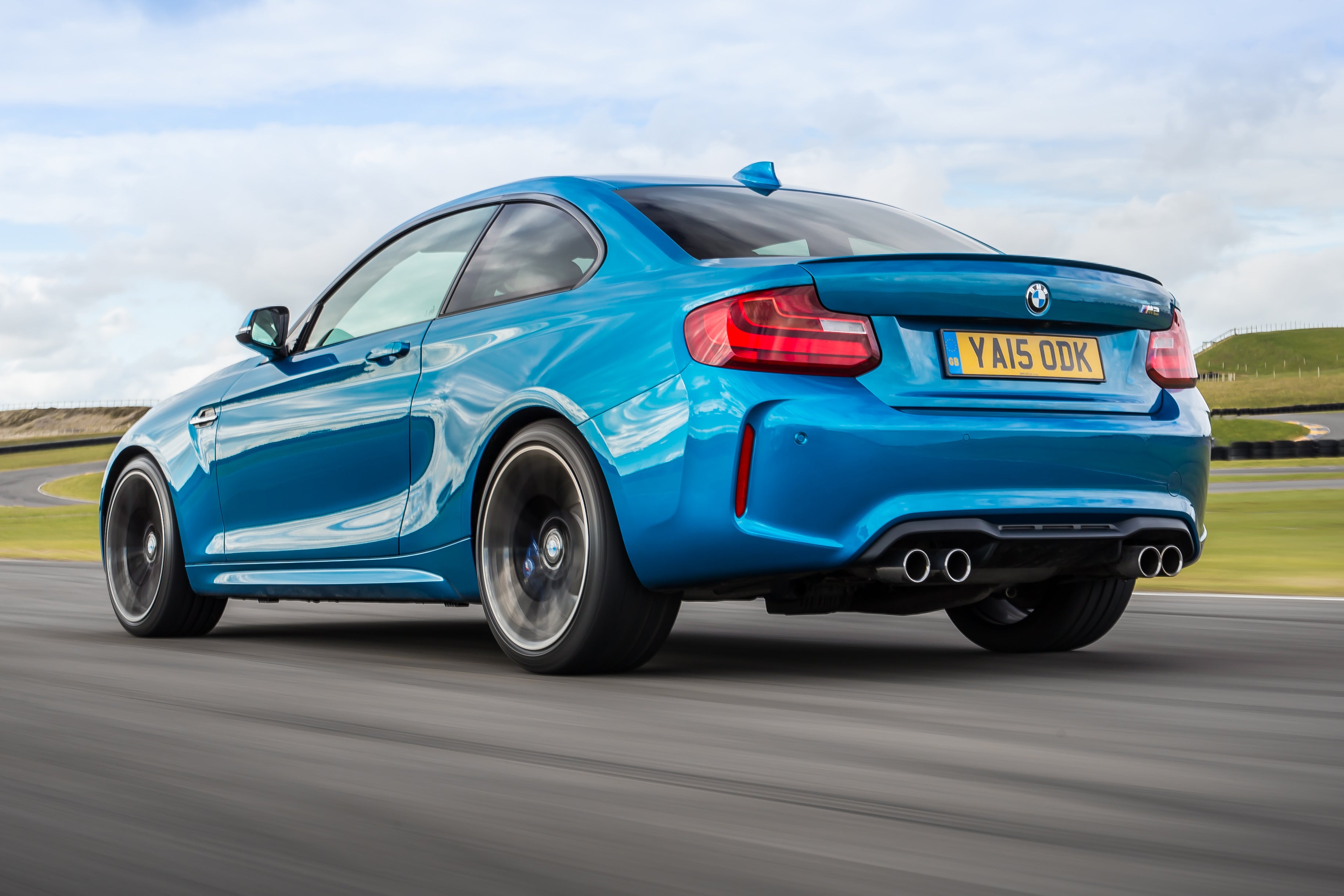 The steering feels weighty but natural, giving you the confidence to place the car accurately on the road. It has tenacious grip from its wide tyres, but with so much power and a rear-drive layout, it'll break traction if you aren't gentle with the throttle. Traction control keeps everything in check, but leave it on in wet weather.
It handles with a balance and brio that four-wheel drive hot hatches like the Audi RS3 can only dream about, but it's heavier than most two-seater coupes - with a higher centre of gravity - so it's not quite as nimble.
The various driving modes also allow you to dial up the steering and throttle response, with the aggressive Sport+ setting also knocking back the electronic safety aids. In this mode, you can feel the rear end sliding, but it's natural and progressive, and the traction control steps back in to help you if make a hash of things.
The standard M2 has a stiff suspension setup so around town you'll feel every bump and rut you drive over. However at higher speeds, it also had a tendency to bounce and lose its composure when faced with a series of dips and crests. The M2 Competition has a raft of suspension upgrades that improve things considerably.
It's still sports car firm (there are no adaptive dampers here) so it's no more comfortable at low speed, but the body control is a lot better. It won't toss you around as much on a challenging B-road. An Alpine A110 gives a smoother ride on rough roads, and the low centre of gravity of the Porsche Cayman makes it more agile.
Engines and gearboxes
As we have alluded to earlier in this review, the power and performance of your M2 will depend on when you bought it. All of them use a 3.0-litre straight-six turbocharged petrol, with a six-speed manual gearbox. Each comes with the option to swap it for a seven-speed DCT automatic transmission, for the sum of £2,645.
The standard M2 has a single-turbo unit that is closely related to the M135i and 235i coupe. With 370PS it's no slouch, but has a lower rev-limit and less aggressive character than the twin-turbo in the M2 Competition.
This engine - with outputs of 410PS and 550Nm - is a detuned version of the motor in the M4. Yes it's faster, with brutal mid-range grunt, but it's the way it delivers that power (especially at higher revs) that sets it apart.
It also has a redesigned sports exhaust, with flaps to control how raucous it sounds, and four black tailpipes.
The optional dual-clutch automatic is excellent. It kicks down sharply when required, but can swaps the cogs smoothly when you're just pootling along too, and is fractionally quicker than the manual from 0-62mph. The six-speed gearbox requires more effort on behalf of the driver, with its weighty, long-throw shift action.
Still, if you want to feel involved in the mechanical process of driving, it's the one to have. The small penalties to fuel economy, refinement and CO2 emissions will be well worth it every time you go for a proper drive.
Refinement and noise levels
A big set of 19-inch wheels and low profile Michelin rubber produce quite a lot of road noise. This can get quite wearing on longer journeys, and BMW removed much of the sound deadening from the 2 Series to make the M2 feel sportier. Yes, it sounds raw and exciting when you're driving it hard, but it gets tiresome.
The benefit of its six-cylinder engine is that it feels smooth and refined in normal driving, with effortless pace, but makes a wonderful growling noise once you start to push it a bit harder. The DCT model's seven speeds do help to improve cruising refinement, keeping the revs low and easing the leg-strain of long traffic jams.
Safety equipment
BMW supplies all the standard safety kit you'd expect, with a full set of airbags, three different driving modes (ECO PRO, Comfort and Sport) and a sophisticated traction control system. This electronic safety net has a halfway 'MDM' setting (M Dynamic Mode) that lets you enjoy the playful rear-drive chassis relatively risk-free.
Cruise control, LED headlights and acoustic parking sensors all feature, but a number of important active safety aids are missing, so you'll need to pay extra to get them. Most are bundled with Driving Assistant. It's a £390 option pack that includes automatic emergency braking to avoid low-speed crashes, lane departure warning and an attention monitor that will alert the driver if the car thinks it's high time you took a coffee break.
Even with these features fitted, BMW still wants another £200 for traffic sign recognition (showing you local speed limits) and high beam assist only comes with the upgrade to adaptive LED headlights (£790). There is also a brake upgrade for £1,350 but we'd hope the standard brakes on a £50,000 car were up to the task.
The 2 Series coupe has never been crash-tested by Euro NCAP - and it's unlikely that it will be - but expect it to perform in a similar fashion to the previous-generation 1 Series. It got the maximum five-star rating back in 2012 and provides good adult and child protection, but the tests are much harder now then they used to be.
MPG and fuel costs
"If running costs are a critical factor in your car buying choices then the BMW M2 is not the right car for you. It's not a total disaster though either, with the extra ratio in the automatic version making 30mpg achievable."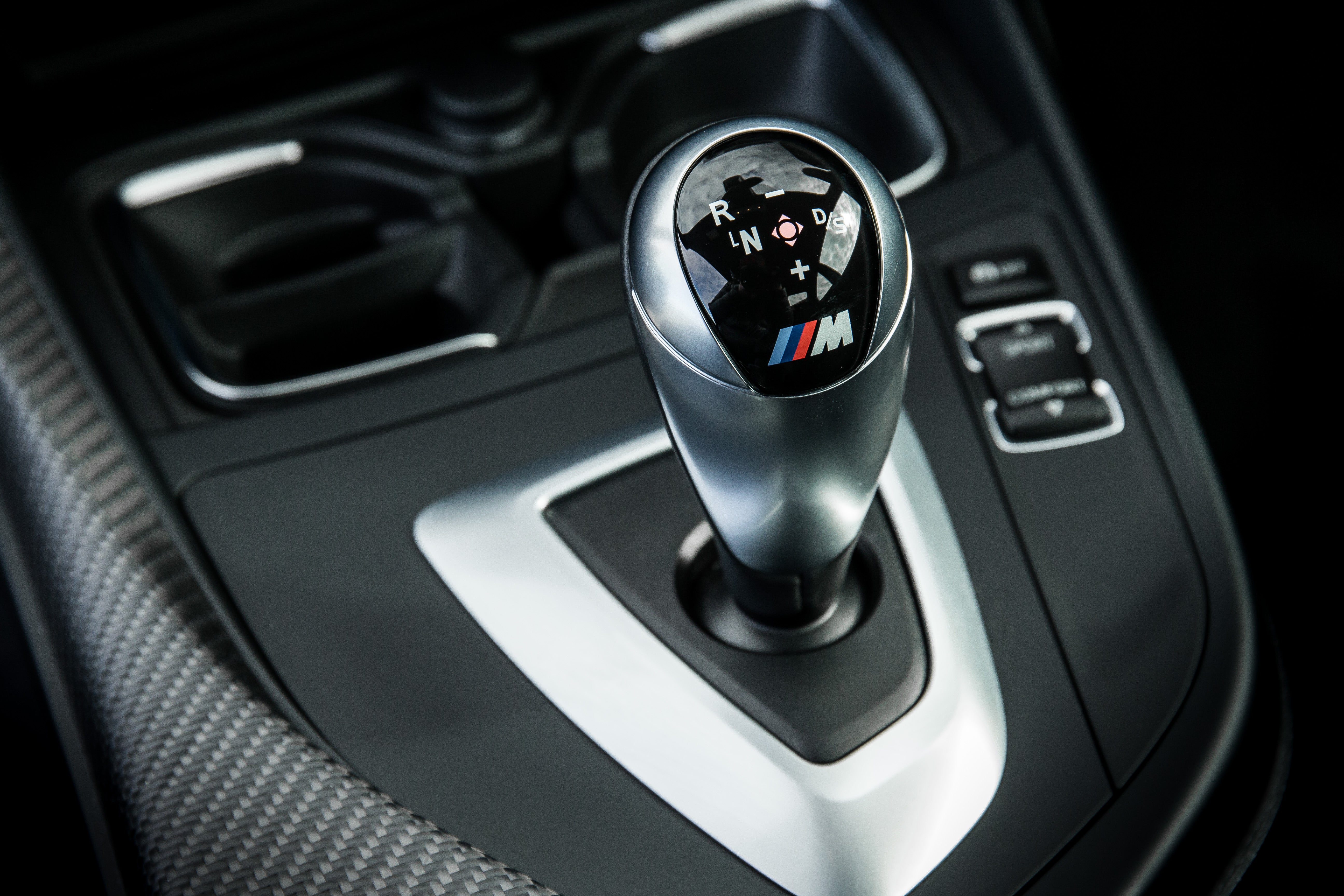 However, that's only true if you drive with a feather-light right foot when cruising to keep the revs low. If you indulge in spirited driving then the twin-turbochargers spin up and you'll be lucky to see more than 15mpg.
A high-performance engine like this one will require premium fuel, and with a 52-litre fuel tank, expect to be visiting the forecourt every 200 miles or so. As we mentioned though, driving style makes a big difference.
Insurance groups and costs
Hairy-chested performance cars like the M2 are unashamedly focussed on speed and handling prowess, so won't be cheap to insure as a result. The single-turbo model from 2016 is the cheapest to cover in Group 42.
Later versions with the 410PS twin-turbo engine borrowed from the M4 will need a bigger monthly premium. The M2 Competition fitted with this engine is in Group 47, while the limited-edition M2 CS sits in Group 50.
Fancy the looks but mortified by the insurance costs? Then the M240i could be the answer, it's in Group 44.
VED car tax
Under the new road tax system, all versions of the M2 will be liable for an annual VED (road tax) bill of £475 consisting of a £150 standard rate plus a £325 surcharge because the car costs more than £40,000 new.
Used models registered before April 2017 will cost you a little less since their tax liability is measured by its CO2 output alone. The dual-clutch automatic car will set you back £265 a year; the dirtier manual is £305.
Sky-high carbon emissions and mid-teens fuel economy, when driven with enthusiasm, means that company car buyers should steer well clear of this mini M-Car, since it qualifies for the maximum 37% BIK bracket.
How much should you be paying for a used BMW M2?
"Brand new prices for the M2 Competition fall either side of £50,000. The manual version slips just under, while the DCT automatic pushes the starting price (before adding any options) right up to £52,295."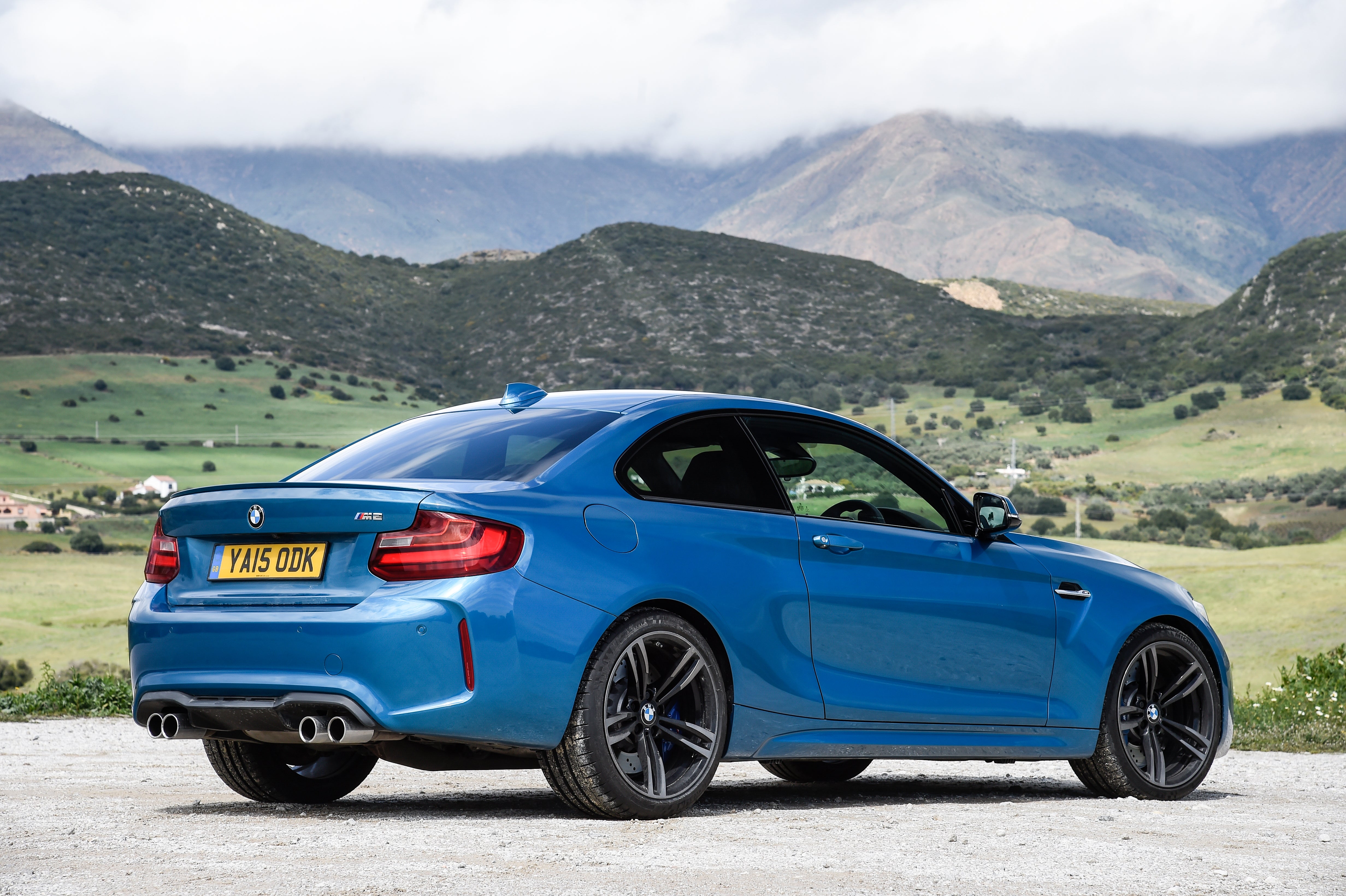 In the UK it's rare (BMW was only allowed to sell a few thousand) and that scarcity has kept used prices fairly buoyant. Be very wary of Cat S cars available for a low price. This means the car has been written off at some point in its life and subsequently repaired - and uncertainty over repair quality is not worth the risk.
Aim to pay between £38,000 - £40,000 for a very low miles M2 Competition with the popular automatic 'box. Manuals are a lot harder to track down, so you might need to travel to find one in your choice of colour.
If you're willing to go for an older example with the single-turbo engine then expect to pay around £24,000 for a DCT that has covered 45k miles, with a couple of owners and a full service history. Look out for.
Trim levels and standard equipment
The M2 range has a range hierarchy that is based on power output, rarity, and price. The standard M2 is at the bottom of the pyramid, with the least standard equipment. It's still reasonably kitted out since it comes with leather upholstery, Xenon headlights, climate control, sat-nav, DAB and Bluetooth connectivity.
Later M2 Competition models were given a spec boost, with fixed-back sports seats that are a lot more supportive than the standard chairs, LED headlights, digitised dials, heated seats, and Apple CarPlay.
From the options list it's worth investing in a better stereo, and the Driving Assistant safety bundle, while the reversing camera (£330) is pricey but could certainly come in handy since rear visibility is pretty limited.
You can also add tech upgrades like electric front seat adjustment with memory function (£650) and even a wireless charging pad under the armrest for phones (£395) - leaving the cabin free of messy power cables.
Ask the heycar experts:
common questions
What is the BMW M2?
It's the smallest, most affordable model you can get from BMW's 'M' Performance division, with a bespoke engine, upgraded chassis, and stronger brakes to make it a better track car.

Answered by
heycar editorial team
How fast is the BMW M2?
When it was first launched the M2 had a 3.0-litre six-cylinder petrol turbo with 365PS, but now it is only available in M2 Competition guise, with two turbos and an impressive 404PS. That means it does 0-62mph in just 4.2 seconds when paired with the dual-clutch gearbox.

Is the BMW M2 a good car?
It's a little unusual, since most of its rivals are either hot hatches (like the Audi RS3) or two-seat sports cars (like the Porsche Cayman) but the M2 is a brilliant car if you like driving.

What is the difference between the M240i and M2?
The M240i has similar looks, but it produces less power from its engine, doesn't get the M2's trick suspension or the option of a manual gearbox. It also costs around £10,000 less to buy.

Is there a BMW M2 convertible?
No, unlike on the standard 2 Series (and pricier BMW M4) there is no drop-top version of the M2, however a track-focused M2 CS special edition with 440bhp will soon join the range.

BMW M2 cars for sale on heycar
3,193
Number of cars available
£29K - £46K
Price bracket of these cars
Colours available on heycar
Keep me updated by email with the latest advice, news and offers from heycar
By submitting, you agree to our
privacy policy
.