M3 Review (2014-2020) Review
BMW M3 Review (2014-2020) Review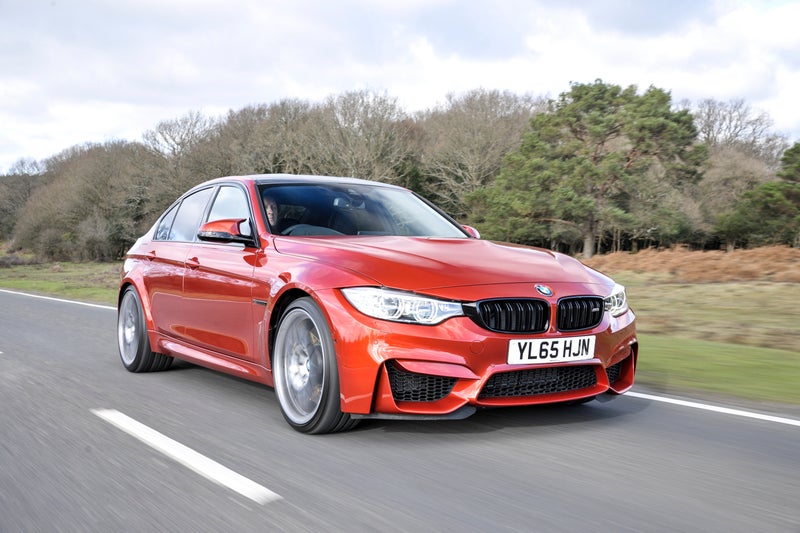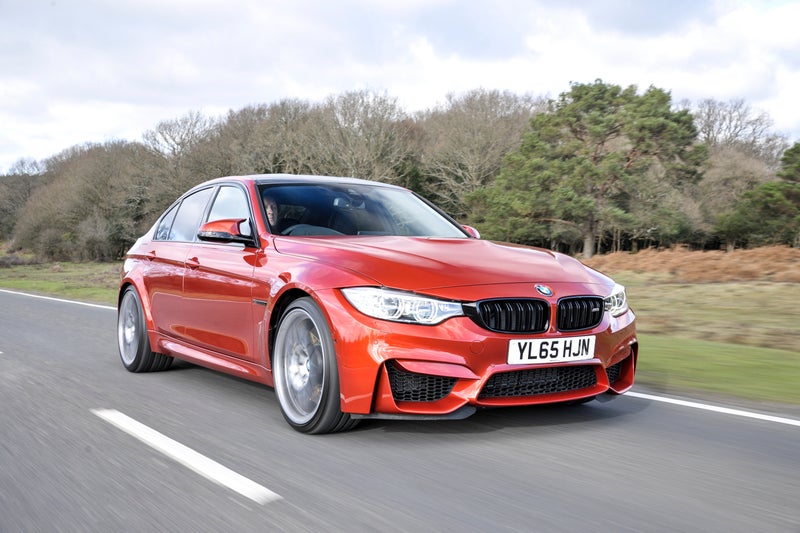 1/10
heycar rating
"The original souped-up saloon car"
Launched: 2014

Performance

Petrol
Quick overview
Pros
Muscular performance
Practical four-door body
Generous standard equipment
Cons
Some rivals are more fun to drive
Lots of road noise
Twitchy handling
Overall verdict
On the inside
Driving
Cost to run
Prices and Specs
Common questions
Overall verdict
"The BMW M3 is a fearsome, exciting driver's car that feels like its been honed for the track. Sharp handling, a brutally powerful engine and rear-wheel drive make it super engaging when you're testing the limits. When you want it to settle back down again though, it's not the most refined or useable super saloon on the market."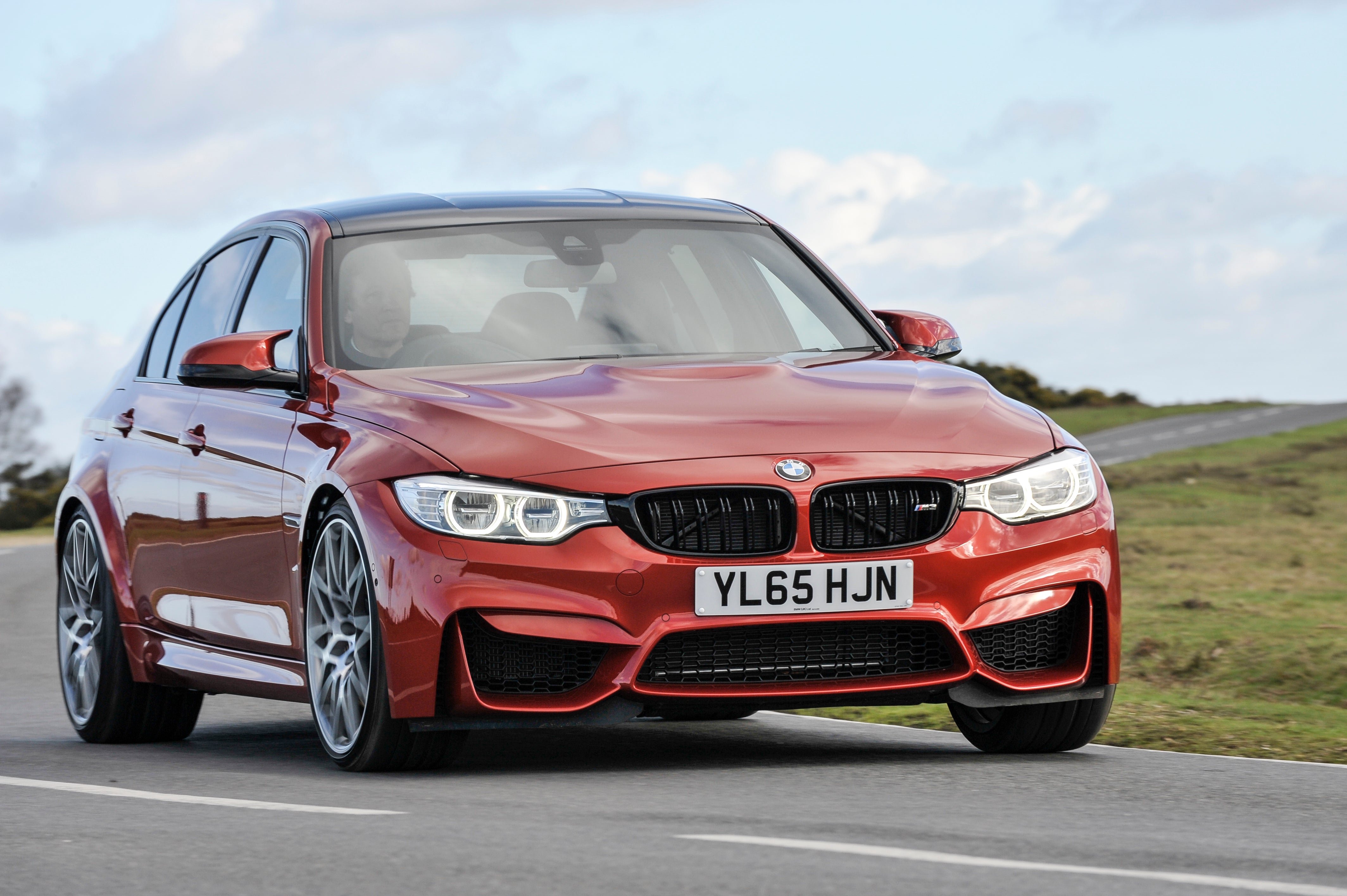 For years the BMW M3 was THE super saloon. It was the default choice for driving connoisseurs who needed family car practicality, and it practically invented the hot saloon sub-genre back in the mid-eighties. Now though, those waters are a little muddier.
Firstly, it's no longer clearly the best handling car in this class, nor the nicest inside, or the most refined. It still does many of these things with aplomb, but has lost the aura of invincibility it once had as the clear class-leader.
Based on the popular BMW 3 Series, the M3 shares its engine, suspension and interior with the M4 coupe and convertible, but the saloon is the starting point for the range, we've reviewed its stylish siblings separately.
The four-door competes with the likes of the Mercedes-AMG C 63 S, the Audi RS4 and the Alfa Romeo Giulia Quadrifoglio.
The introduction of its twin-turbo six-cylinder engine massively improved efficiency and low-down power compared to the old V8 model, but it sheared the M3 of its defining feature – an exotic engine with a soundtrack to match – and BMW has been struggling to claw back its crown ever since.
There is nothing wrong with its prodigious outputs - 431PS and 550Nm - and the M3 is still one of the fastest ways four adults can travel across country, but it lacks the refinement and aural drama of the engines in its best competitors.
Driving its rear wheels only through a six-speed manual gearbox, the M3 can deliver old school driving thrills that are becoming rarer in this segment. However given the speed and ferocity of its 3.0-litre engine the DCT twin-clutch automatic (with rapid-fire changes and adjustable settings) gives you greater control over the car.
You'll soon discover how important having two hands on the wheel is once you start driving the M3 at its limit. It has more than enough power to overwhelm its rear tyres if you're not careful and in wet weather the stability control's orange light will flicker like a hyperactive indicator.
With the stability off, you'll find this car is a real handful. That said, it is capable of tackling corners at incredible speed, with weighty steering and impressively taut body control. Getting from 0-62mph takes less than 4.5 seconds but it's the mid-range punch – as the turbos spool up – that'll really blow your socks off.
An M3 Competition version was introduced in 2016 with even more power, but also a range of updates that helped make the car feel more like an ally and less like a sparring partner. This version isn't as spiky to drive, with updates to the traction control, adaptive suspension and chassis giving it a less intimidating feel.
This optional upgrade also improved the ride quality, taking the M3 – in its Comfort drive mode – from overly firm to surprisingly plush. Unfortunately it didn't cure its poor refinement, with loud tyre roar still a constant disturbance at speed.
That's a shame since in other respects the M3 is easy to live with, with a decent boot and a roomy cabin. That said, it only comes as a saloon – both the Mercedes C63 and Audi RS4 can be had as estates, the latter exclusively.
The said, the M3 remains the precision driving tool of the three. More demanding to use day-to-day and more of a handful at the limit, but ultimately more rewarding when you cut through a series of corners just right.
Is the BMW M3 right for you?
The enduring appeal of cars like the M3 is their dual purpose nature. It is a four-door, five-seat saloon that looks like a humdrum diesel 3 Series with a fancy body kit, but goes like a rocket ship.
Mixing everyday practicality with near race-car levels performance is a powerful formula, and the M3 will suit those buyers who absolutely love driving, but don't want the sacrifices associated with owning a dedicated sports car.
It's relatively discreet but thrillingly fast, with a classy, understated cabin, and all the equipment you'll need. The BMW is a more serious machine than some of its rivals, and is more demanding to live with as a result.
What's the best BMW M3 model/engine to choose?
The current M3 gradually evolved over the course of its life, as the brand honed it in an attempt to respond to early criticism of its spiky handling, and gruff-sounding engine. Later cars - especially if fitted with the optional Competition Package - are the ones to go for.
They get their power down onto the road with less drama thanks to changes in the stability control, rear differential, and adaptive damper settings. As an added bonus, the M3 Competition also gets a 19PS power boost over the standard car, taking its total to 450PS.
If you are a driving purist then by all means choose the six-speed manual gearbox, but the overwhelming majority of M3 owners opt for the quick-shifting M DCT twin-clutch transmission. It suits the ferocious engine better, letting you keep two hands on the wheel at all times.
What other cars are similar to the BMW M3?
If you're in the market for a high-performance four-door saloon there are only two rivals who come close to matching the BMW on performance and price.
The Mercedes-AMG C 63 S feels more luxurious and modern inside, and its sonorous twin-turbo V8 engine has just enough muscle to outgun the M3 in a straight-line shootout. The Mercedes edges out the BMW for cruising refinement too, but has less space in the rear seats for its passengers, and is only available with a nine-speed automatic gearbox, there's never been a manual option.
Alternatively, the Alfa Romeo Giulia Quadrifoglio can't match the Germans for build quality, but steers, rides and handles with real panache, drips with Italian style and has a Ferrari-derived V6 that produces a noise that belongs in heaven.
If you're willing to look outside the saloon world and want even more space with your pace, the four-wheel drive Audi RS4 Avant estate is equally fast, but in a more understated, accessible way, with a gorgeous cabin.
Comfort and design
"BMW knows how to craft a purposeful driving environment, and the M3 brings that experience to bear. The fantastic wing-back leather front seats are mounted lower in the car for a sportier driving position. Support is great, but they don't grip you so hard that you'll be feeling like a bruised peach at the end of a long drive."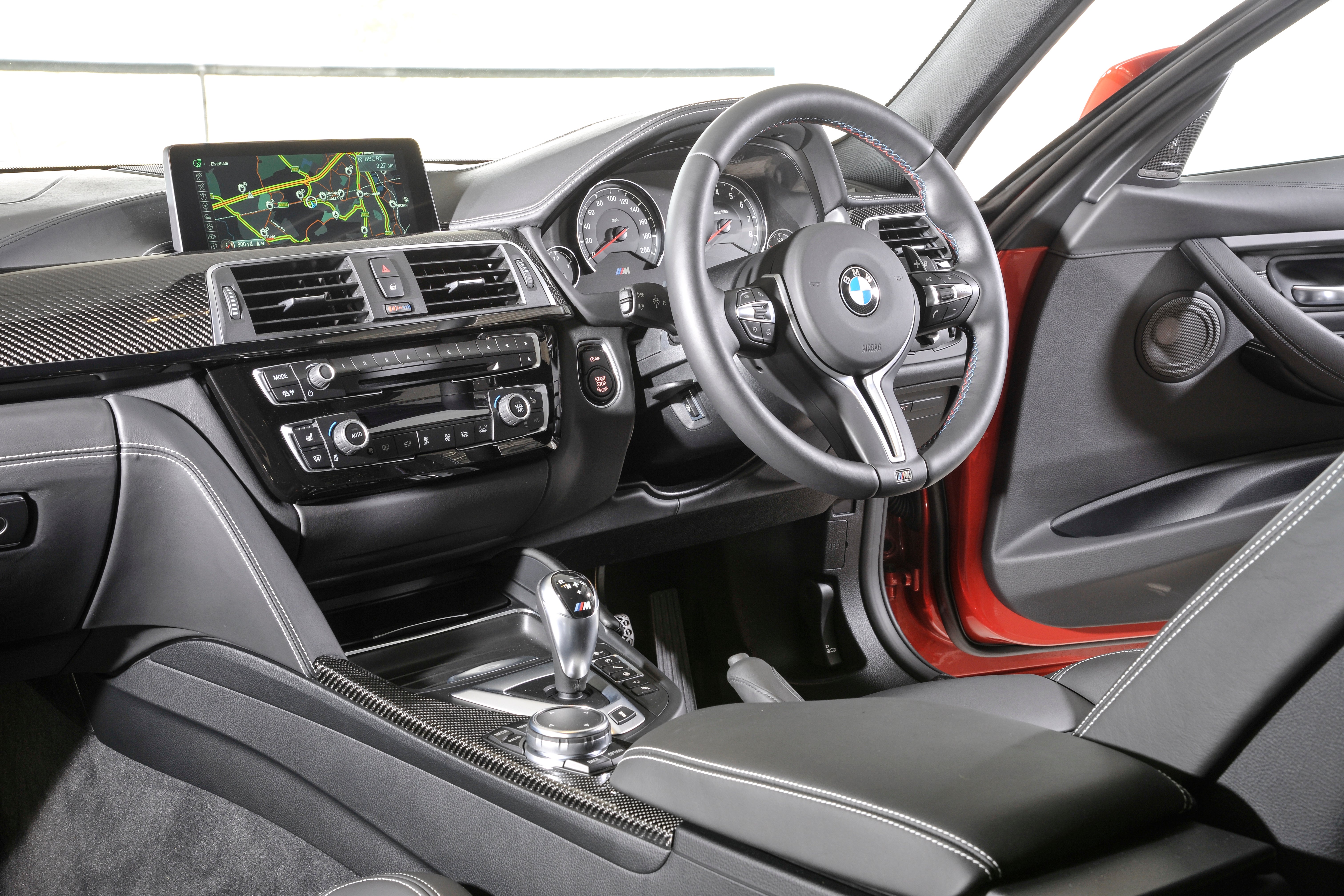 With electric adjustment, lumbar support and heating as standard, they'll keep you comfortable and relaxed at the wheel for mile after mile. Once you've tinkered with them long enough to find the perfect position, there is a memory function for storing your settings so it can slide right back into place if someone borrows the car.
The short handbrake in the centre console is a bit of a throwback, but otherwise the dash is smartly laid out. Having the infotainment screen set at the same height as the grey M Sport dials makes it very easy to glance at without taking your eyes off the road, and the iDrive controller is so intuitive it takes seconds to master it.
This car has extra buttons for adjusting the suspension, gearbox and steering on the fly, but BMW also lets you program these complex functions into a single 'M' button on the wheel.
Quality and finish
The M3's interior is based on an eight-year old design, and in places it's starting to show its age. You still get the high-level build quality you'd expect from a premium executive saloon, but it's looking a little dated now.
A thick-rimmed M Sport steering wheel and stubby gear selector unique to the M3 feel expensive to hold, but the black plastic radio and climate controls are identical to what you'd find in a normal 3 Series. It all works well enough, but doesn't have that tactile feeling of the best Audi interiors.
Extended leather trim with stitched details on the armrests, doors and dashboard help gussy things up, and if you want your interior to look more sporty, you can raid the options list. It's possible to swap out the dash trim for a choice of aluminium, piano black, wood veneer, or even shiny carbon fibre inlays for the taste impaired.
The advantage to using a tried and tested design is that BMW built hundreds of thousands of this generation of 3 Series, so it should prove robust.
Infotainment
The M3 doesn't have the snazziest version of BMW's iDrive infotainment setup, but it's still very good indeed. There are no touchscreens, gesture controls or flashy digital dials in here, but honestly you won't miss them.
The bright 8.8-inch colour display in the M3 is mounted high on the dashboard, and you can flick through its menus using a handy click/scroll wheel and set of shortcut buttons handily located on the M3's transmission tunnel.
It's easy to use without getting distracted, and the feature set includes everything you'd need from a modern car. Sat-nav, Bluetooth, DAB radio, Connected Services (via an integrated sim) and a wireless charging pad are all standard. One omission is Android Auto and Apple CarPlay.
You can pay a little extra for a TV (£825) and beefier branded loudspeakers (£675) but as standard the M3 leaves you wanting very little. Its infotainment might not have the cutting-edge technology of the updated Mercedes C 63 S but runs rings around the dark, confusing and sluggish system in the Alfa Romeo Giulia.
Space and practicality
With four doors, five seats and the same generous 480-litre boot as the normal 3 Series, the M3 will handle the school run without hesitation.
As a four-seater everyone on board will be comfortable, with enough head, leg and shoulder-room to keep their hands to themselves on a longer journey. Trying to fit five is a real challenge though. The middle seat is narrow and thinly padded, and space in the footwells is obstructed by the thick central transmission tunnel.
Just like a normal 3 series it has ISOFIX anchor points in the outer rear seats. They're easy to get at and the access is better than in most performance cars, so fitting a child seat shouldn't present too many issues.
The rear seats split and fold as standard, giving you the flexibility to carry a wider range of luggage, but as is the case with most saloons, the shallow boot height will restrict what you can carry. A through-loading hatch for carrying longer items is an option. Trouble is, Mercedes will sell you its C 63 S as a more spacious estate and the Audi RS4 only comes in this shape – both are better than the BMW when it comes to lugging loads.
There's not a huge amount of small storage in the M3's cabin, but the door pockets will take a litre bottle of water, the glovebox is a reasonable size, and you'll find a pair of cupholders underneath a plastic tray in the dash.
Look under the boot floor and you won't find a spare wheel. That's not uncommon, but a foam tyre repair kit won't do you much good if you take your M3 to a track day and blow out a rear tyre on a banked kerb.
Handling and ride quality
"While it might look similar to a 3 Series on the outside the M3 has a thoroughly reworked chassis to ensure it can devour a winding country road, or even feel at home when attacking the leaderboards at a racing circuit."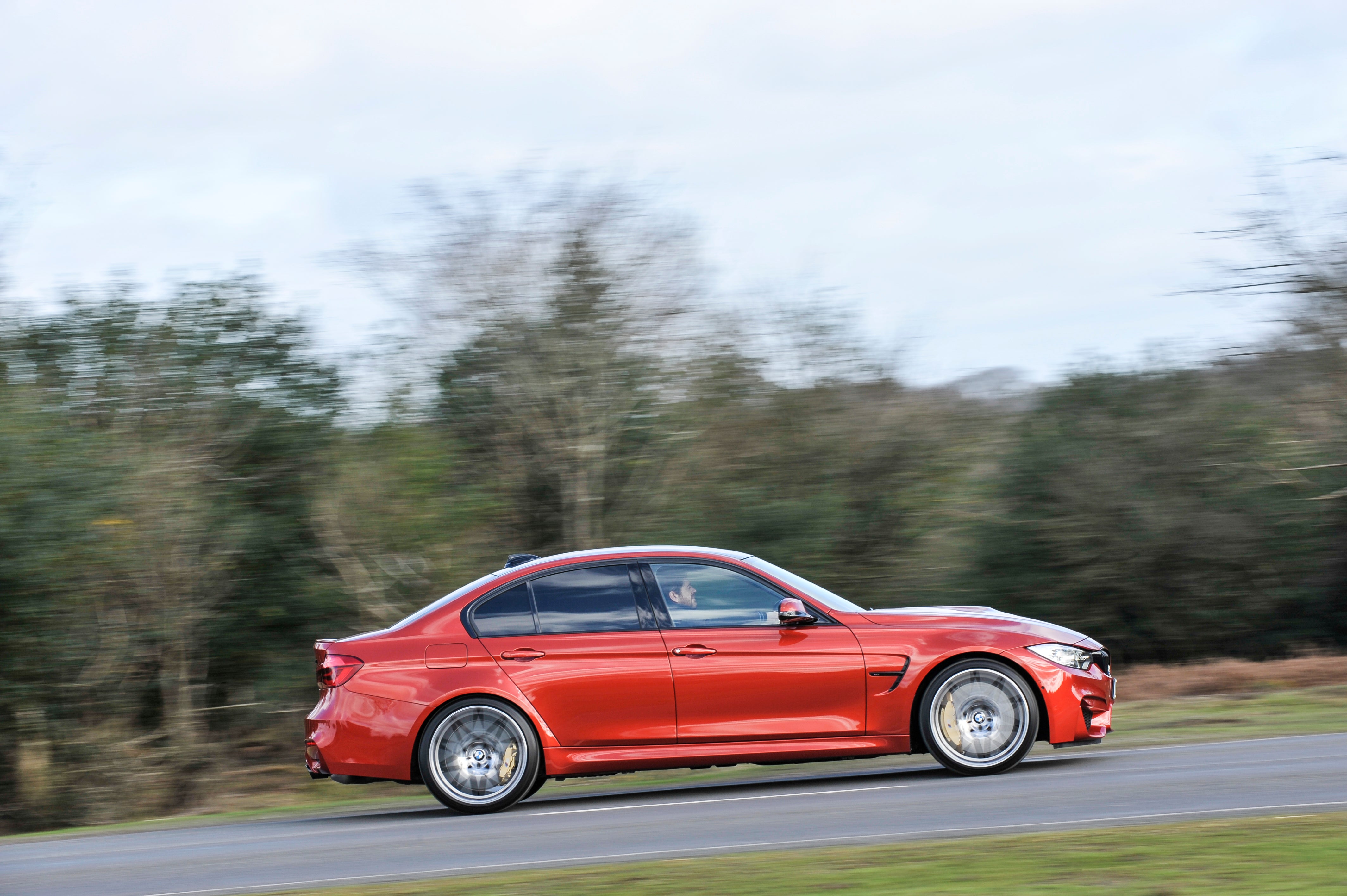 To help it do that it's fitted with adaptive suspension, firmer springs, and a squat rear end that's a lot wider than the standard car. It even has a carbon fibre engine brace to improve its body stiffness when cornering.
This motorsport-inspired approach translates to a pretty firm ride on the road, even with the suspension in its softest 'Comfort' setting. It's not bone-shakingly harsh, and things smooth out once you're going a bit quicker.
Put the dampers into their more aggressive Sport and Sport+ modes and the M3 feels like a clenched fist, taut and menacing. There is a tremendous amount of front-end grip, and hardly any body lean, even in high-speed corners. The weighty steering doesn't quite have the hyper alert responses of the Alfa Giulia Quadrifoglio, though.
In the dry the M3 has impressive traction, but when in wet weather the handling on early cars can charitably be called 'unforgiving'. The engine's aggressive power delivery sends big spikes of torque to the rear tyres, and bumpy roads exacerbate the problem, causing sudden (and scary) slides - it's not an enjoyable feeling if you're not ready for it even if, ultimately, the car's stability control should stop anything disastrous happening.
The later M3 Competition is a lot more faithful, with a thoroughly reworked suspension setup that brings the best traits out of this car. It's more composed and comfortable in its Normal driving, and far more predictable at (and over) the limits of grip, so you can drive it faster (but also feel a lot safer) than you would in the old car.
Engines and gearboxes
Switching from a high-revving V8 to a twin-turbo straight-six completely transformed the character of the M3. The new engine certainly has its positives, with thumping low-down response and a huge increase in torque.
As standard it produces 431PS and 550Nm, meaning it actually has slightly less power than some rivals, but it still feels indecently fast for a four-door saloon. There is no perceptible delay between pressing hard on the right pedal and the whole car surging forward, and it pulls strongly in any gear, building revs very quickly.
This rapid-fire character means you're better off with the optional seven-speed DCT twin-clutch auto than the six-speed manual. The change in the standard gearbox is fine, but the sheer speed and extra control you get by using the steering-wheel-mounted paddles in the auto helps you stay on top of the car if it's unruly powering out of corners.
Sometimes though, this six-cylinder engine can be overzealous when trying to deliver its raw performance. Marshalling its power through the rear-wheels alone, it's easy to overcome the tyre's grip, especially in greasy conditions.
The M3 Competition - with 450PS - is even more rapid, but it deals with the rampant engine better thanks to its retuned traction control system and upgraded dampers. When it does break away, it's less frightening.
Refinement and noise levels
Excessive tyre noise is a fairly major weakness in the M3's dynamic makeup. It's a problem on the standard car, and the constant droning gets even louder in the M3 Competition, which has larger 20-inch alloy wheels.
It makes longer motorway journeys a tiring experience, forcing you to crank up the stereo when you're alone and raise your voice to be heard if you have a passenger in the car alongside you. Both the Mercedes C 63 S and the Audi RS4 do a better job of impersonating a big grand tourer.
The engine doesn't help. While the BMW's straight-six will sound suitably fearsome to anyone you drive past, inside the car it makes a gruff noise that has none of the bassy melody of a Mercedes-AMG V8, nor high-revving ferocity of the Alfa's V6. The BMW sounds good, but not brilliant.
The M3 Competition gets a sports exhaust that does improve things, but it's still more appliance than opera. That's a shame because in other ways the M3 is very civilised for a high-performance car. The optional DCT gearbox is not quite a smooth as a traditional torque-converter auto, but the driver can adjust the settings to make the changes a lot less aggressive, and it's more easy-going than the six-speed manual around town.
Safety equipment
The M3 has never been crash tested, but shares its safety credentials with the regular 3 Series. That car got a full five-star rating from Euro NCAP in 2012, with high scores for adult, child and also pedestrian protection.
Modern crash tests are a bit stricter now, with more of an emphasis placed on active technologies that help prevent accidents, not just the passive systems that minimise the damage once you are involved in a shunt.
Still, the M3 has plenty of the latter, with a full suite of airbags, a three-stage traction control system (it has a halfway off setting that BMW calls M Dynamic Mode), tyre pressure monitors, and all-round parking sensors.
You can also choose to add optional safety kit to offer a bit more assistance during more mundane driving. A comprehensive Active Security Pack includes City Collision mitigation (auto emergency braking), blind-spot monitors, and lane departure warning, which gently vibrates the steering wheel if you start drifting out of line.
This package costs £855 but includes Dynamic Safety, a system that uses the car's sensors to monitor your driving. If it senses an emergency situation, it'll close the windows, tighten the seat belts, put the front seats into an upright position (essentially taking an automotive brace position) and locks the brakes to stop the car being involved in a secondary impact.
It's the only box you need to tick to get peace of mind, but it's refreshing that BMW lets you fit some of this kit separately. High-beam assist, LED lights, a reversing camera and head-up display are available for a price.
MPG and fuel costs
"Tighter emissions regulations coming into force effectively killed off the M3 early in the summer of 2018, although its coupe siblings - the M4 and M4 Convertible - continued to be sold new through dealerships."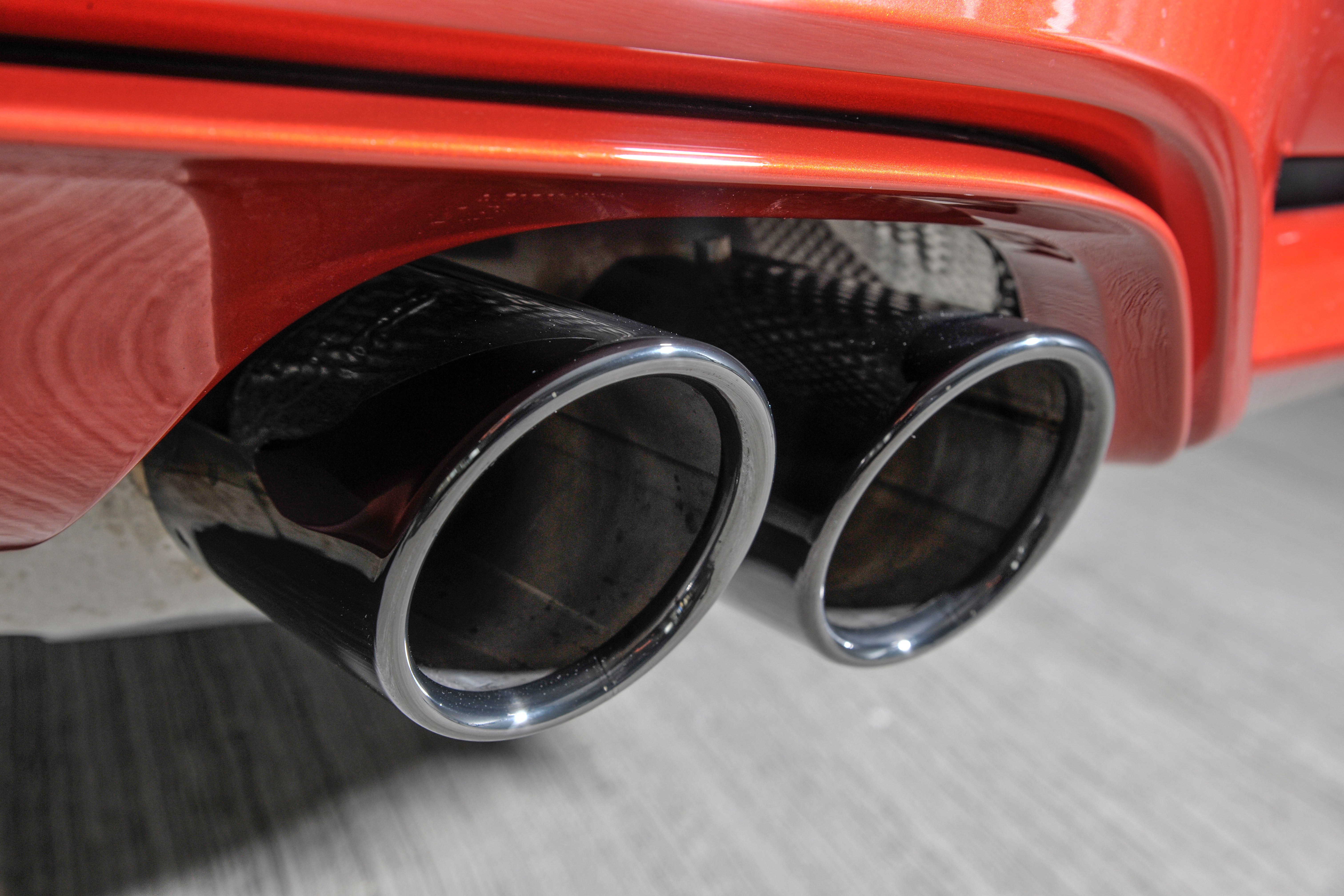 Its twin-turbo straight-six engine is actually relatively frugal considering the performance on offer. It'll return an official 34mpg with the DCT automatic gearbox, and around 32mpg with the manual. In the real world, it's likely your regular average will hover around the 25mpg mark, sinking even lower if you drive it really hard.
Based on those figures expect a cruising range of about 360 miles. That's way better than the previous V8's sub-200 mile potential, but a bit less than the Mercedes-AMG C 63 S due to that car's larger fuel tank.
Insurance groups and costs
Unfortunately, insurances firms are just as aware of the M3's performance pedigree as driving enthusiasts. It sits in Group 45, making it one of the most expensive cars to cover, even with a healthy no-claims discount.
However, compared with its nearest premium rivals, the news it actually not as bad as you might think. The Mercedes-AMG C 63 S is in Group 48, while the Audi RS4 and Giulia Quadrifoglio both sit in Group 46.
Naturally, none of them will be cheap, but if you can afford this sort of car then it's likely that its comparatively high running costs won't put you off owning one.
VED car tax
Annual car tax for M3s registered before the changes made to VED in April 2017 will be higher than most. As an automatic it officially emits a relatively high 194g/km of CO2, that means you'll pay the DVLA £305 a year.
Choose the manual (which emits 204g/km) and it goes up a tax band, so your tax cost will be £330. Those registered after that date will pay a lower flat rate of £150, plus a luxury car tax of £325 in the first five years.
Not many company cars users are likely to be considering using an M3 for commuting, since it sits in the top 37% BIK bracket so the annual cost would be prohibitive, but it's no worse than a Mercedes-AMG C 63 S.
How much should you be paying for a used BMW M3?
"Since it's been discontinued the barrier to M3 ownership has fallen to around £25,000. That money will get you behind the wheel of an early 2014/15 example with average mileage and a full BMW service history."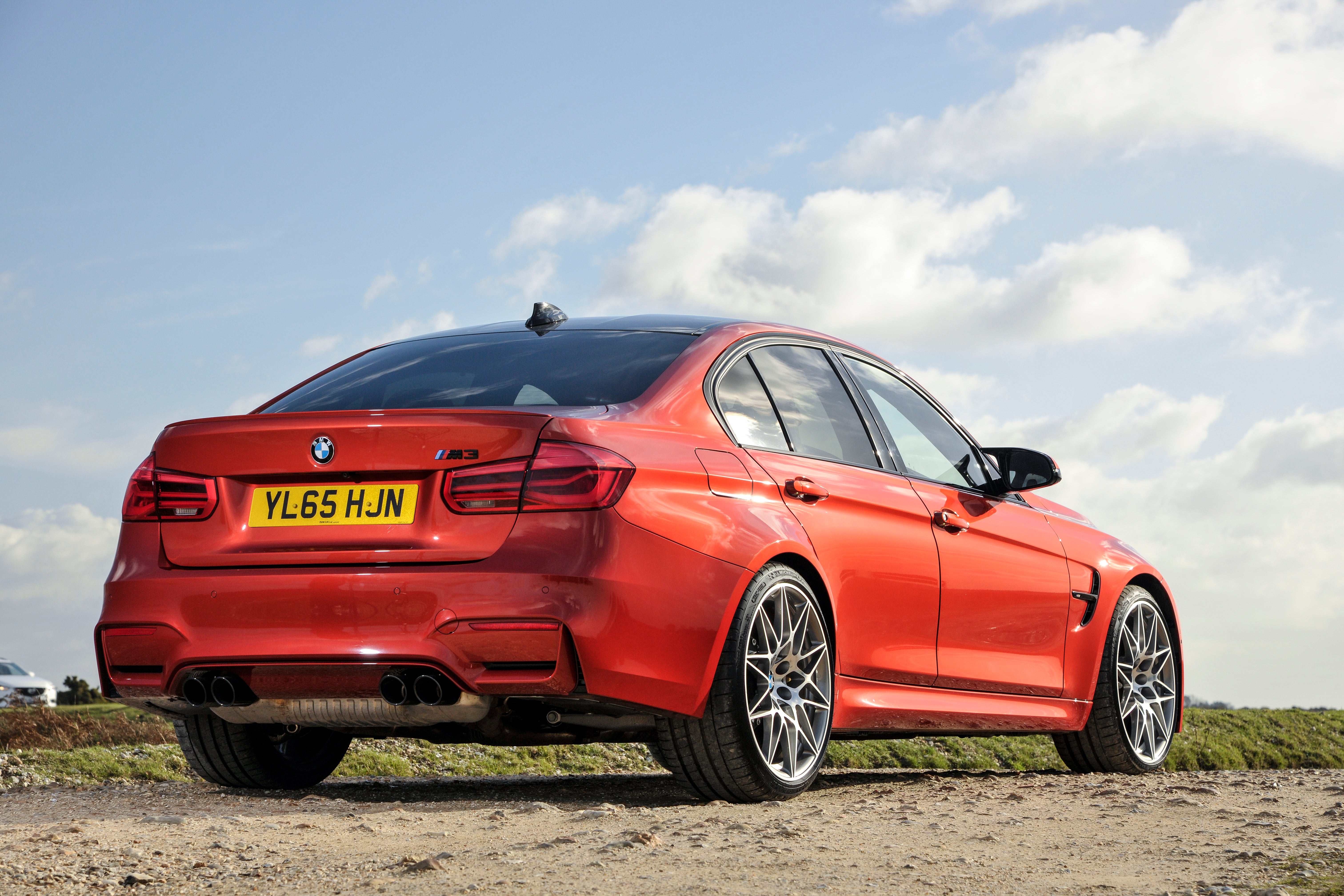 Finding a manual is like searching for a needle in a haystack, so expect to wait patiently and travel a long way to collect the car if you want one. Prices for Competition Pack cars start at £30,000 for a high mileage example, expect to fork out another £5,000 for a less well used 2017 car with a franchised dealer history.
This is a specialist car and there are plenty of used examples with modifications. Be sure to check exactly what has been fitted before you buy, and ask if it can be returned to stock, as it may cause insurance issues.
Given how few were built, there are a surprising number of limited edition M3 CS models out there. For these rare beasts, you'll need to part with £60,000.
Trim levels and standard equipment
The M3 is a standalone performance model. That means it effectively comes as it's own separate trim level, but you can sub-divide the range further into the standard model and ones fitted with the Competition Pack.
As standard, you get 19-inch alloy wheels, adaptive suspension, quad exhausts, a carbon fibre roof, Xenon lights, an aggressive body kit, and metallic paint.
Inside, you get a laundry list of creature comforts like dual-zone climate control, heated leather wingback seats with integrated headrests, an M-specific steering wheel and dials, parking sensors and cruise control.
The 8.8-inch (non-touch) infotainment screen is also standard, with a full set of features including navigation, DAB radio, Bluetooth connectivity, a wireless phone charging pad, Wi-Fi hotspot and BMW concierge.
Choosing the Competition Pack brings 20-inch alloys, and a bespoke chassis setup, with retuned springs, dampers, and anti-roll bars, plus tweaked driving modes and a different stability control unit.
The M3 Competition gets a modest power boost, an upgraded stereo and different interior trim finishers too. It costs £3,000 more than the standard car when new, but you could still add plenty of options if you wanted.
Brighter LED headlights (£1600) are a big upgrade over the standard bulbs, and you can switch the stereo with a booming Harmon/Kardon unit for £675 (it's just £245 with the Competition Pack).
The costliest option is a full set of carbon ceramic brakes for a cool £6,250. They provide hugely effective stopping power and won't fade like the steel discs, but are mainly aimed at drivers doing regular track days.
At the end of the M3's life BMW launched a limited edition M3 CS. A last hurrah for this generation of M3 that came with lightweight panels, stickier tyres and a small power (but big price) hike - just 1200 were built.
Ask the heycar experts:
common questions
Which is the best BMW M3?
BMW fans get very geeky about the M3. Versions from different eras have their own numerical codes, so this question prompts statements like: "I definitely think the original E36 was a sweeter car than the E90 V8." We don't want to start an argument, so they're all great...

Answered by
heycar editorial team
Does the current M3 use turbocharging?
Yes, which caused quite a stir when it was launched. The idea of a turbocharged M3 was controversial (it had never happened before) but the result is a car with more performance, that is much more accessible at normal speeds, and uses a lot less fuel than it did before.

Is there a new version of the M3 arriving soon?
There certainly is. Production has stopped on the the 2014 car (although you can still buy this version at dealers who have them in stock) with its replacement arriving late in 2020

BMW M3 cars for sale on heycar
3,193
Number of cars available
£41K - £76K
Price bracket of these cars
Colours available on heycar
Keep me updated by email with the latest advice, news and offers from heycar
By submitting, you agree to our
privacy policy
.