BMW M5 Competition Review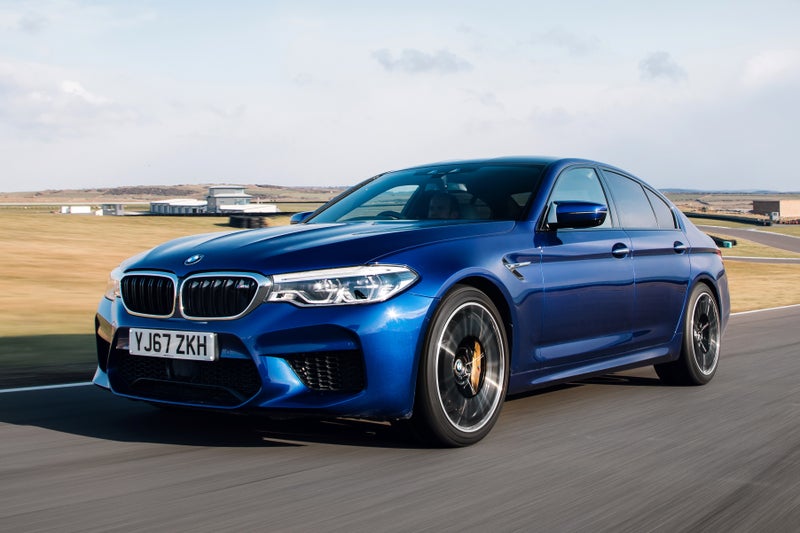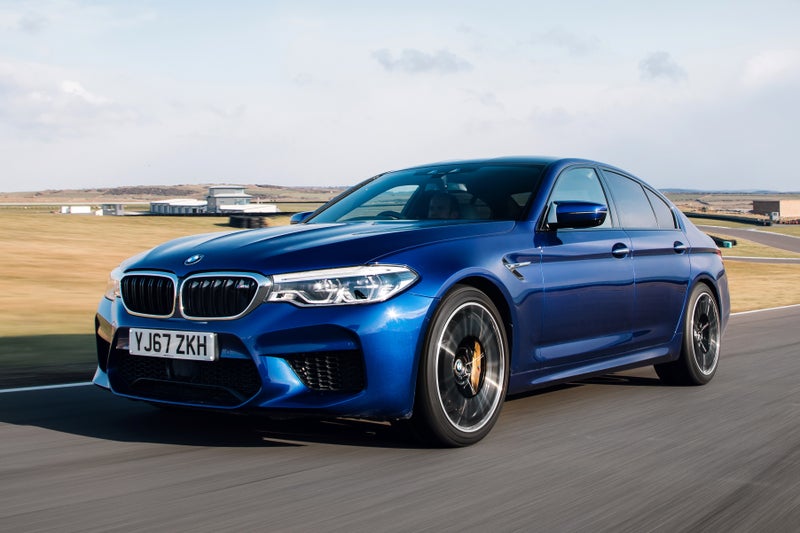 1/10
heycar rating
"Civilised, iconic, BMW super saloon "
Launched: 2019

Performance

Petrol
Quick overview
Pros
A hugely competent all-round performance car with space for four in real comfort
Relatively discreet styling doesn't give the big performance game away, too much…
Four-wheel drive gives the M5 proper all-weather capability
Cons
The steering is well weighted, but it's also a bit numb in relation to feel
For all the engine's mighty performance, it's a bit short on aural theatrics
Not quite as bonkers as its AMG E63 rival, and only available as a saloon
Overall verdict
On the inside
Driving
Cost to run
Prices and Specs
Overall verdict
"BMW sorted out what few criticisms there were of the M5 with the Competition model, and, sensibly in the UK it's the only offering. It's a shame it's only a saloon, rivals offering estate versions, but if you need, and want, a saloon that really can do everything then the M5 is a compelling solution. The BMW M5 is about as sensible as spending £100,000 on a performance car can be."
The BMW M5, or correctly, since 2019, BMW M5 Competition, heads the BMW 5 Series range. It's different enough to warrant its very own report, as while a 520d buyer might bask in the glory of the mighty M5 being spun off the same 5 Series model as their four-cylinder diesel, an M5 owner doesn't necessarily want reminding of their M5's parsimonious fleet special relation.
The standard BMW M5 arrived in the UK in 2018, it being the sixth generation of BMW's performance flagship. Powered by a 600PS 4.4-litre twin turbocharged V8 the M5 uses four-wheel drive to put all that power onto the road (or track), all that performance potential wrapped up in the relatively sober-suited BMW 5 Series body, obviously, with a few visual identifiers highlighting that it's not a 520d.
The M5's not insignificant power output, as well as the extensive chassis revisions, and styling changes have long meant that BMW M5s have always been something of an iconic car among enthusiastic drivers. The M5, of any generation, really is able to park alongside supercars and hold its head high, it being the thinking, or family persons' driver's car, and hugely respected for it. There really is the possibility to carry five in comfort, at speeds you'd more usually need a super or sports car for.
BMW pulled a bit of a dummy with the launch of the M5 in 2018, as within a few short months of its 600PS model arriving in the UK it announced the M5 Competition, an M5 that dropped 7mm in ride height, added 25PS to that power output, nibbled 0.1 seconds off the 0-62mph time (achieving 3.3 seconds).
It also gained a few Competition styling tweaks – black grille, standard 20-inch alloy wheels and more - to signal you've spent a little bit more on your M5. That must have riled a good few M5 customers who had gotten their orders in early for their standard M5s, as the cars being delivered to them were already bettered by a new one offered on BMW's configurator.
That sting was redoubled when BMW quietly dropped the standard M5, instead only offering its Competition variant from mid-2019, so the only new M5 you can buy today is that M5 Competition, unless, of course, BMW decides to add a special above it.
Unlike some of its rivals BMW is firmly wedded to the idea of the M5 being a family saloon, so if you're after an estate car version then forget it, you'll have to leave the pooch at home, or borrow your mate's AMG E63 S estate when you've a Chesterfield to shift between your various homes.
A performance car that really can be everything to everyone, unless, perhaps you're an antique dealer and really want an estate, the BMW M5 Competition is rightfully considered one of the best cars of its type, as has pretty much always been the case.
Is the BMW M5 right for you?
If you need a car that's capable of doing the school run, strain against its 155mph electronic speed limiter (paying more allows a 190mph limit) on business trips to Germany, a few, brisk laps around the Nurburgring while you're there, all while having the ability to turn off the four-wheel drive and turn your rear tyres into smoking doughnuts, then step right up.
Seriously, though, the M5 really is a car of incredible breadth of ability, it as useful at the mundane as its lesser BMW 5 Series relations, yet having the performance to seriously compete with some highly regarded sports and supercars.
That does mean it'll appeal to a certain type of buyer, it highly improbable that it'll be an owner's only car. Indeed, the BMW M5, and its supersaloon rivals, are more often than not, picked as daily drivers for people who have numerous exotic cars in their garages, and are used to the sort of performance that these bring. For them, and possibly you, that makes the M5 the perfect all-rounder, for when your family can't squeeze into the Ferrari.
What's the best BMW M5 model/engine to choose?
There's only one, now, much to the chagrin of those early buyers, the M5 Competition therefore being the best one to pick. There are some choice options though, which we'd suggest on ordering, the Comfort Package a worthwhile addition, and if you want that 190mph top speed potential you'll need to specify the M Driver's Package.
If you're planning on using it on a track then you might want M Carbon ceramic brakes, but we'd suggest saving the near £8,000 they cost, as you'll have other cars that are better suited for lapping circuits, however fast and capable the M5 might be.
What other cars are similar to the BMW M5?
The BMW M5 used to have the performance saloon marketplace pretty much to itself so impervious was its performance and handling, but the competition has caught up in the last decade or so. Mercedes-AMG offers a similarly weaponised E-Class in the guise of the E63 S, while Porsche will happily sell you a Panamera Turbo, too.
If you want your M5 alternative really similar then look up Alpina, which makes a BMW 5 Series performance saloon (and estate) of its own, the B5 Bi-Turbo. That Alpina is a niche within an already small niche and is certain to reduce well-informed car enthusiasts into a state of frenzy when spotted, while not even registering on anyone else's consciousness. A bit like the M5 used to be, before the internet, that is.
Comfort and design
"Being based on an executive saloon means the M5 is already in pole position in relation to comfort over the sports and supercars its performance rivals, and that's a huge part of the appeal."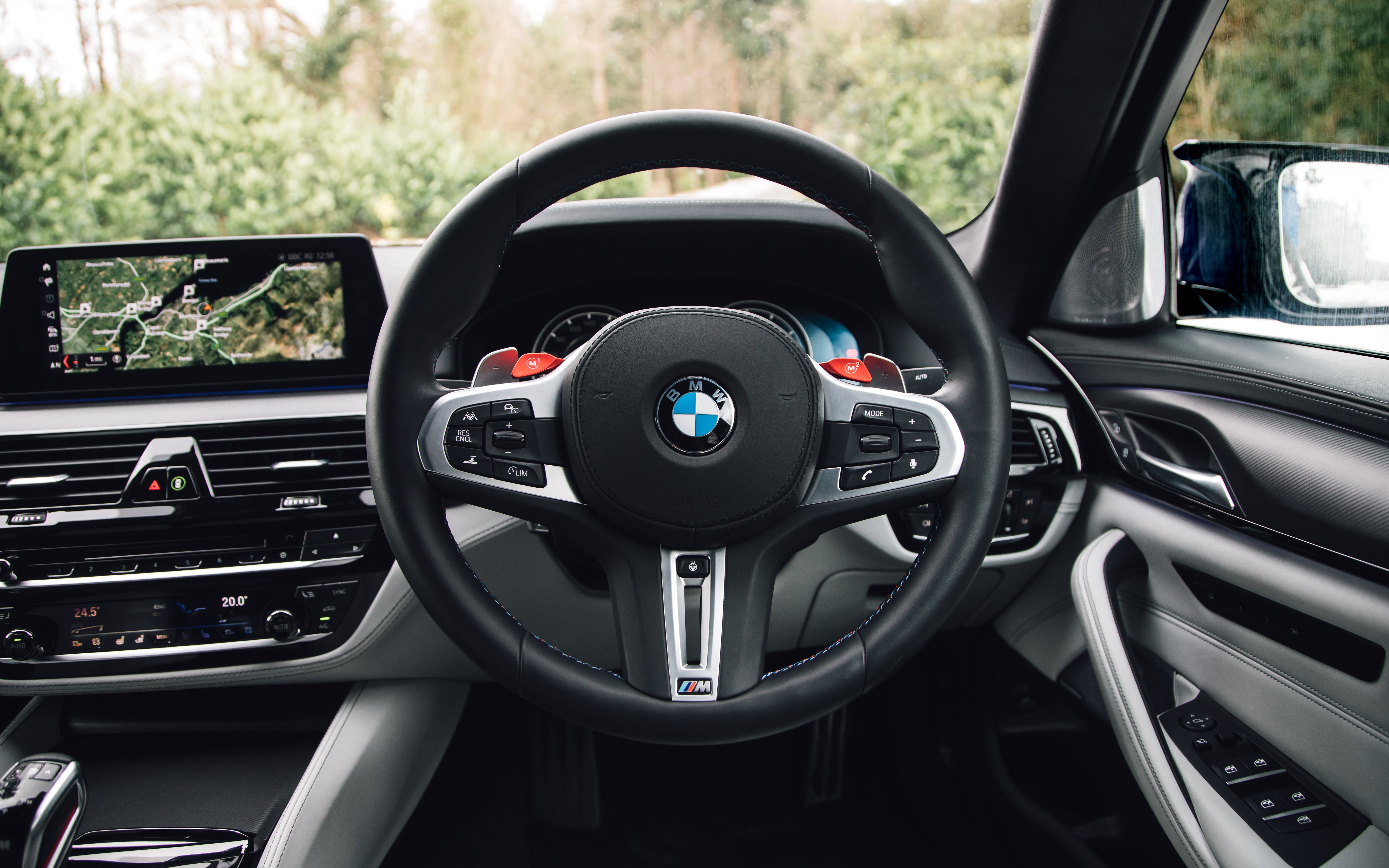 t's all familiar in there, too, if you've ever sat in a regular 5 Series, and while the front seats are obviously a lot more heavily bolstered in their shape, they offer a huge range of adjustment to suit a variety of shapes and sizes. Likewise, the steering column offers plenty of movement, which means you shouldn't have any trouble getting comfortable behind the wheel.
The layout is all the same, too, so there's what looks like a conventional instrument binnacle in front of you which contains a digital representation of dials, while the infotainment screen is sat atop the centre of the dashboard. There's a head-up display as standard, too. The dashboard is quite old in its style over newer rivals like the Porsche Panamera and Mercedes-AMG E63 S, with their bigger, more integrated screens, but it's actually quite welcome here, as everything works with an easy familiarity, and there's no digging about sub menus on touch screens to do something as simple as change the temperature or airflow inside.
Naturally, at the top of the range, it comes fully loaded with kit, but the Comfort Kit adds a heating to the seats front and rear as well as the steering wheel, while a Premium Package offers soft close doors, an ambient air system, and a massage and ventilation function to those front seats, some of these options available as individual items too.
Quality and finish
The BMW M5 Competition might trail its rivals in their more modern looking interiors, but the fit, finish and materials are all of a quality that you'd expect at the M5's lofty price point. All the switches and dials feel like they'll still operate with the same satisfying action for decades, the interior feeling luxurious.
As is always the case at this price point there's a decent scope for personalisation, with differing leather surfacing and colours on offer, likewise, trim materials like wood, carbon fibre and aluminium can be specified, to make your M5 your own. The seats are supremely comfortable, but the illuminating M logo within them is a little bit too showy for some.
While it shares much of its interior with regular BMW 5 Series models, there are some unique touches in the M5. The gear selector and steering wheel are M5-only, that steering wheel adding some M-specific programmable buttons controlling the drive modes to the mix, though it, like all BMW M steering wheels does feel unnecessarily girthy.
Infotainment
The M5's interior might be a little lacking in the sort of massive touchscreens that dominate its newer rivals, but it's no worse for it, and indeed, it's arguably better. The infotainment system is all logically operated via either that central touchscreen, or, if, like us, you want your screens free of fingerprints, by the excellent iDrive rotary dial situated on the centre transmission tunnel. There are programmable favourite buttons on the dash, too, which provide excellent shortcuts to particular radio stations etc.
There's gesture control, too, which allows you to waggle fingers and suchlike for some functions, but it's a daft solution to a problem nobody really had.
Add a good degree of control from the steering wheel buttons, and plenty of proper (rejoice) buttons elsewhere for the ventilation and climate systems and all is good with the M5. All that controls a huge portfolio of audio and connectivity equipment, from the standard Harmon Kardon DAB HD stereo (upgradeable to Bowers & Wilkins) to BMW's Connected Drive, system, which contains all manner of streaming, app, nav and real time traffic info. BMW's connected obsession goes so far as having a special, optional, connected key, though it's so power hungry and huge (it's got a screen) that it actually needs charging. Naturally, Apple CarPlay is specified, which makes a lot of the standard stuff redundant, anyway.
Space and practicality
Here's the crux, you'll not find many better ways of carrying four in real comfort at nearly 200mph with space for luggage in the boot. That boot offers 530-litres of space, only ten litres off that of a E63 S saloon, so plenty for most, though the Comfort Package option does add split fold to the rear seats, allowing longer loads to be carried – a bike will go in, no problem with the front wheel removed.
Through loads can be accommodated too with the seats in position, BMW offering a ski bag, too, to protect the interior when you're doing so. That bootlid is electrically opened and closed as standard, though the floor is only flat for a portion down the middle, limiting its usefulness, but only slightly.
Obviously, it's not as hugely accomplished at carrying luggage/kit as you'd experience with a E63 S estate, Audi RS6 Avant or that Alpina B5 Bi-Turbo Touring, but it's evidently not a serious handicap for most buyers as the M5 still sells well. There's plenty of interior space for four adults inside, though and while a fifth person can be accommodated it'll be a squeeze in the back seat if you do so.
The high middle seat, allied to the transmission tunnel meaning the middle passenger will need to be a bit shorter so as not to touch the roof with their head, and have smaller feet to find foot room either side of the transmission tunnel.
There's the potential to have a towbar fitted if you're a caravanner in a particular hurry, or, more likely, want to hang bikes off the back of it rather than putting them on a roof rack. ISOFIX mounts in the two rear seats allow easy child seat fitment, too, the M5 Competition is as practical and spacious at all its other BMW 5 Series relations, only it's practical and spacious while also having the ability to reach 62mph in just 3.3 seconds.
Handling and ride quality
"The 7mm drop that BMW added to the M5 Competition was transformative in how it drove. It wasn't all it did, as along with the slightly more hunkered stance, the Competition's springs and damper rates were adjusted, ball-jointed rear suspension, revised geometry and changes to the anti-roll bar mounts."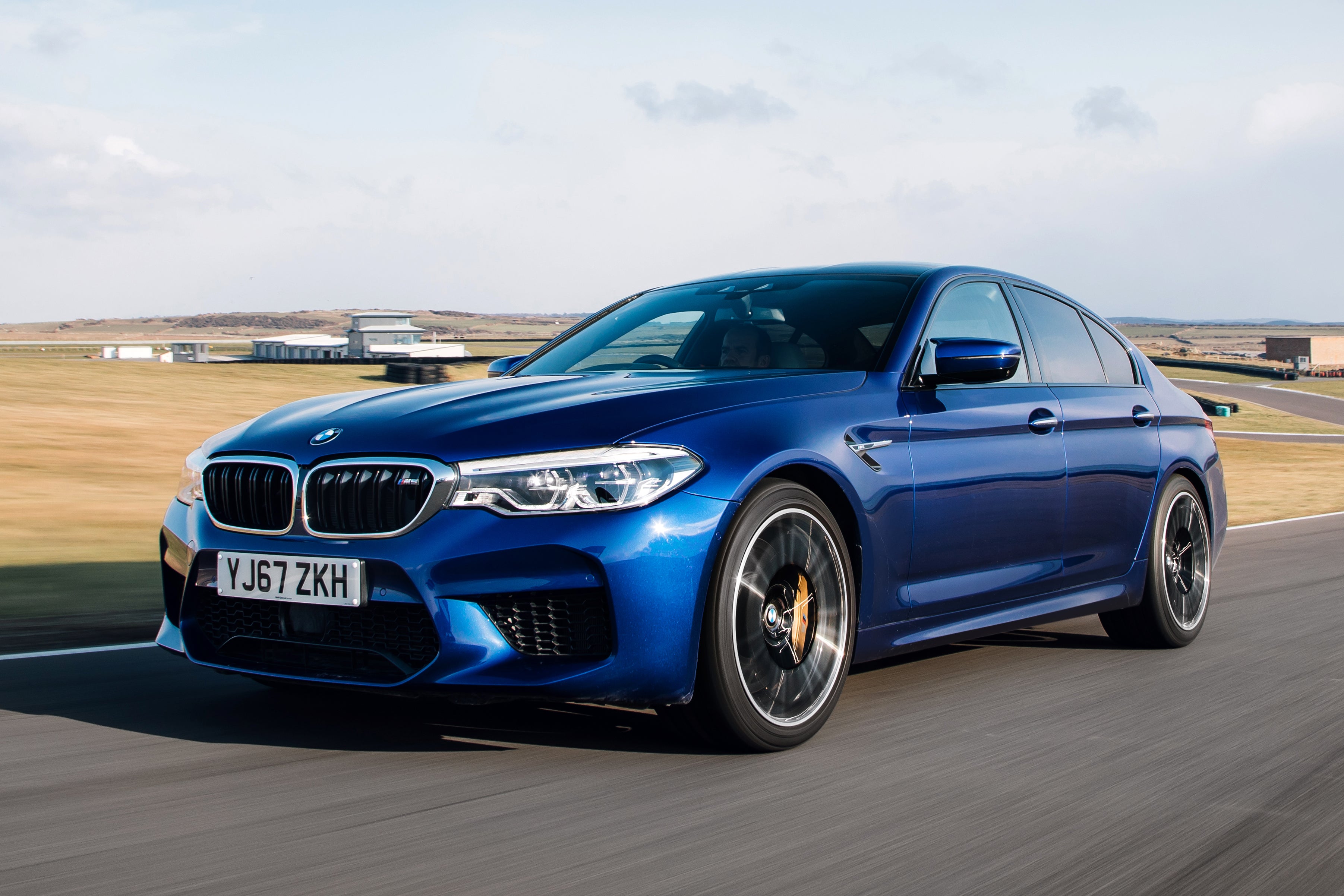 All the sort of stuff you'd do on a competition car, as it happens. The Competition is a sharper M5, then, and there's a touch of comprise as a result when it comes to outright ride comfort, but the far more detailed control it offers is well worth it.
Not that the regular M5 was a blunt tool, but the Competition improved it, which makes it hardly surprising in the UK it has been adopted as the sole model. With four-wheel drive traction it's surefooted, the drive predominately going to the rear wheels, but when there's slip detected, or under heavy loadings the transmission will shift power to those at the front.
It's all done imperceptibly at road speeds, and, via the myriad of driver-selectable options there's the opportunity to turn it into a tyre-toasting monster, by channelling all its drive to the rear. Do that and you'll also remove the stability and traction systems, so it's best avoided, on the road, at least.
The adaptive dampers offer a choice of settings, these being Comfort, Sport and Sport+, the first being the best all-rounder, but if you're lucky enough to be on smooth road Sport's worth exploring, but Sport+ only adds tautness at the expense of comfort, having a brittle effect on the ride. It's agile, though, incredibly so for a big, weighty saloon, but, even with the steering offering different settings, none of them deliver much in the way of feel through the M5's needlessly girthy steering wheel.
Engines and gearboxes
Given the engine is at the very heart of the M5 experience, it's odd that BMW doesn't shout about it loudly in its brochures for the car. Indeed, there's no reference to the fact it's a V8, nor its capacity, or, indeed, where in the rev range its power and torque is produced. Rivals have a least a page dedicated to their engines, with lots of engineering-style shots. For reference, then, it's a 4.4-litre twin turbocharged V8 petrol engine, which produces 625PS at 6,000rpm, and its peak 750Nm of torque between 1,800-5,800rpm.
That torque is key to the M5's pace, which allied with the eight-speed M Steptronic automatic transmission gives huge flexibility, the M5 mighty in any gear.
That gearbox isn't a twin-clutch set-up, instead being a more traditional torque convertor automatic, but it's quick shifting, and reacts well when you take over via the paddles on the steering wheel. There's all manner of configurability within the drive settings, too many in truth, but take the time to set it up how you like it, one softer, daily driving setting and another more focussed one for when the mood takes you and you can programme the red buttons on the steering wheel to adopt your choices.
Do that and you can just go about enjoying the M5's huge ability, though like the brochure is about the engine, the V8 itself is a bit quiet, it lacking quite the overtly theatrical sounds of its key AMG E63 S rival, and what sounds are produced do sound a bit synthetic at times, largely because they are.
Refinement and noise levels
Remarkable civility, really, given the potential to hound sports and supercars, the M5 Competition the very manifestation of a grand touring machine that could drive you across Europe to a coastal hotspot, while goading you to take a diversion through the mountains just for the joy of driving it. That breadth is impressive, and thanks to the relative refinement on offer.
Yes, it'll make V8 noises if you push it hard, yes, the suspension does get upset by tougher road surfaces and you'll get a bit more road noise than a regular 5 Series, but it's marginal, and not enough to detract from owning it. Indeed, if anything, the M5 could do with being a bit more boisterous, aurally at least, particularly when you're revelling in its ability and enjoying all the performance it offers.
Safety equipment
With 625PS it's little surprise that the M5 Competition has a wide array of driver assistance systems, with standard stability control, anti-lock brakes with cornering brake control, dynamic brake control, dry braking function – which pulses the brakes briefly to dry them in wet conditions as well as BMW's all-wheel drive system.
There's a tyre pressure monitoring system as standard, too, while occupants inside have driver and front passenger front and side airbags, head airbags for both the front and rear seats, three-point seatbelts on all five seats with latch tensioner and belt force limiters on the front seats. A standard head-up display means you don't have to take your eyes off the road too often, either.
Two child seats can be fitted in the rear seats with ISOFIX mounts, while there are whiplash reducing crash active front head restraints. The BMW 5 Series scored a five-star EuroNCAP crash test rating, so it should protect you very well if an accident is unavoidable. BMW's Driving Assistant is also standard, it including, among other kit, speed limit information, Lane Departure Warning and Lane Change Warning as well as Cross Traffic Warning. There's a pedestrian detection system as well, these and other features relying on a myriad of cameras and sensors to operate.
Optionally you can add Driving Assistant Plus which can undertake full braking in an emergency situation. It's a shame BMW charges for its Dynamic Safety, which monitors driver drowsiness, such a system being standard on the Mercedes-AMG E63 S among others. You can add a night vision camera, and more, but clever as these systems are, they can prove more of a distraction (and frustration) than actually helpful.
MPG and fuel costs
"The M5 pays for its huge performance with some less than parsimonious consumption, but if you've gotten this far you'll already understand that."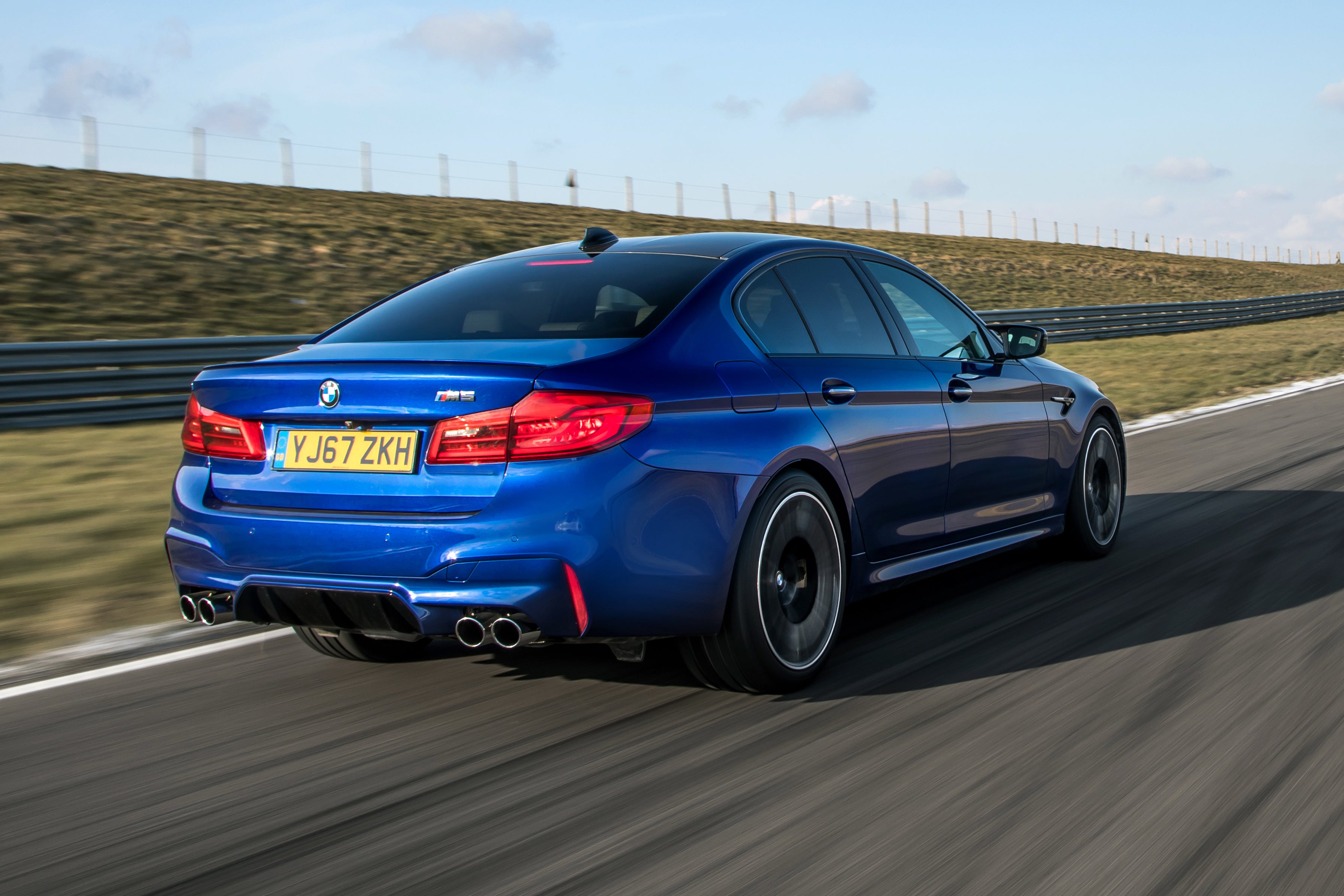 WLTP combined economy is rated at between 25.2-27.7mpg, that likely to tumble to teens if you're actually enjoying the M5 Competition as intended.
Insurance groups and costs
Again, the M5 Competition is a car with performance to rival super and sports cars, so it's unreasonable to expect that it'll be cheap to run, insurance attracting the highest end of the groupings at 50. Servicing, tyres and more won't be cheap, either. All those 'connected' systems in the infotainment will require subscription payments after the initial three-years BMW gives you for free, too.
VED car tax
CO2 emissions of 255-251 mean that the M5 Competition attracts the top rate VED rate, so a first year payment of £2175, followed by payments of £475 for the following years.
How much should you be paying for a used BMW M5?
"We're assuming you want the Competition, right, as you should here. Starting prices on the used market are around the £60,000 mark, for a sub-10,000 mile car that's just over a year old."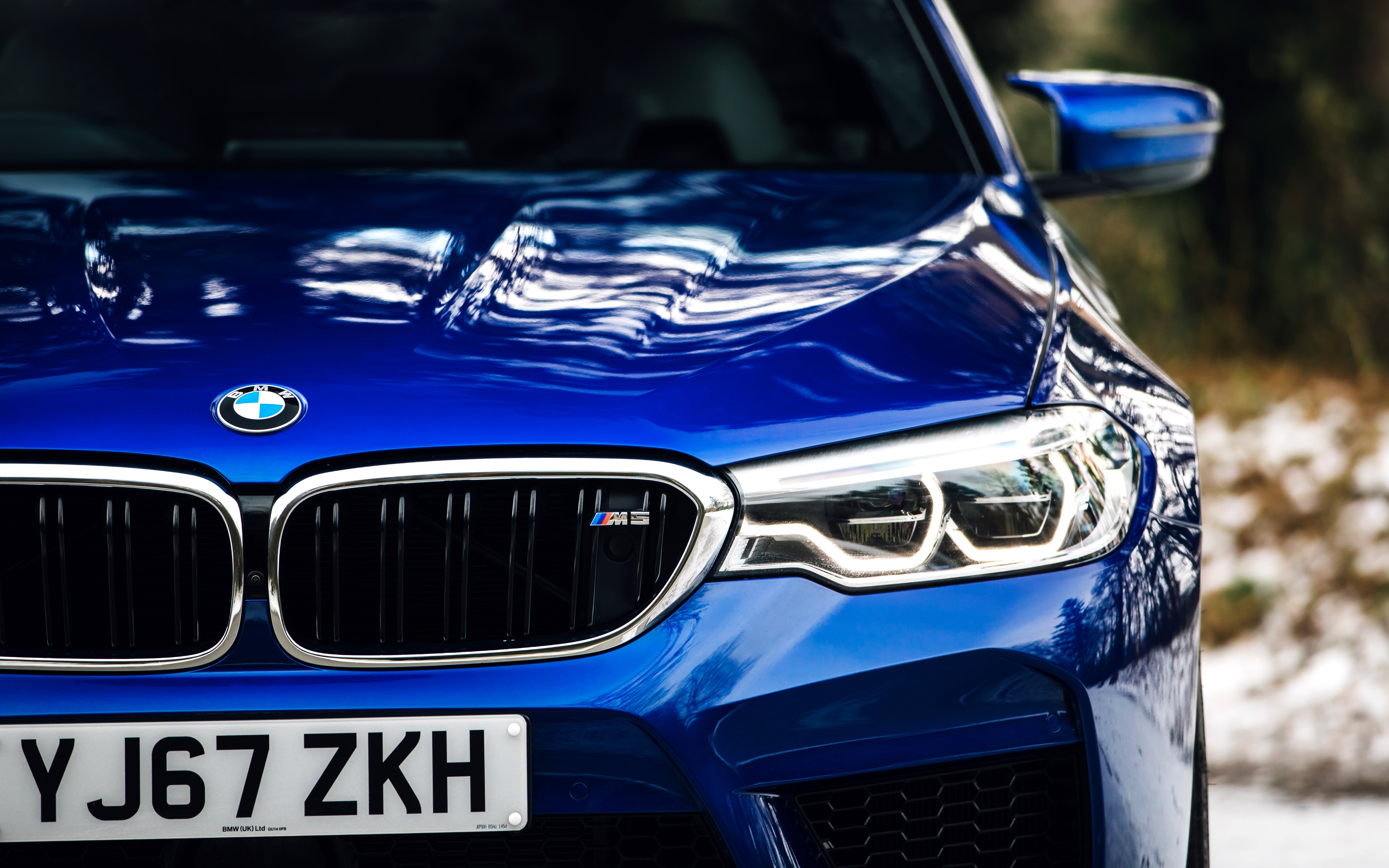 That's a huge saving over a new model, and there's a lot of choice out there should you want one. Indeed, if it's a choice of a year, or two-old M5 Competition or a new 540i xDrive, BMW's next highest performing model, we'd take the M5, even if it's a still about £10,000 more.
Trim levels and standard equipment
There's only one M5, the M5 Competition, which leaves the decision making simply the colour and trim choices inside and out, and whether you want the Comfort Pack, you do, the BMW M Driver Package which raises the top speed to 190mph, and how far you want to go with your infotainment choices. It really doesn't need much adding to it, as you'd expect at £100,000.
BMW M5 cars for sale on heycar
3,193
Number of cars available
£29K - £112K
Price bracket of these cars
Colours available on heycar
Keep me updated by email with the latest advice, news and offers from heycar
By submitting, you agree to our
privacy policy
.