Written by
heycar editorial team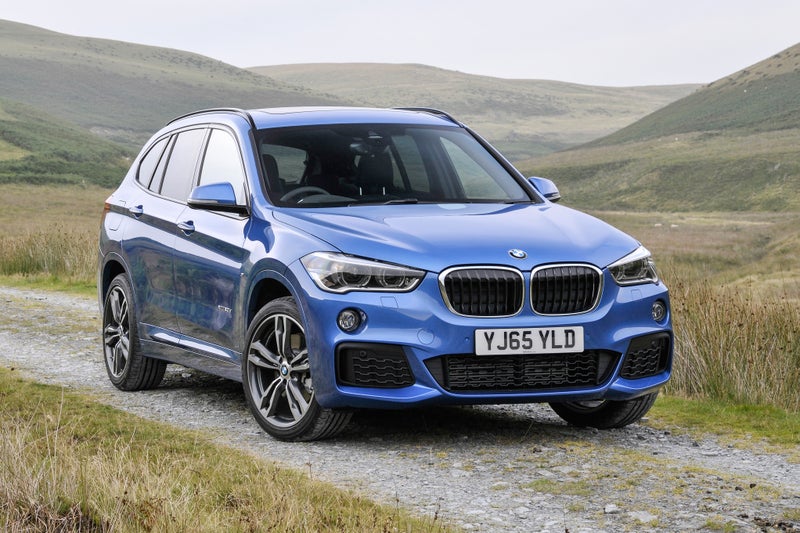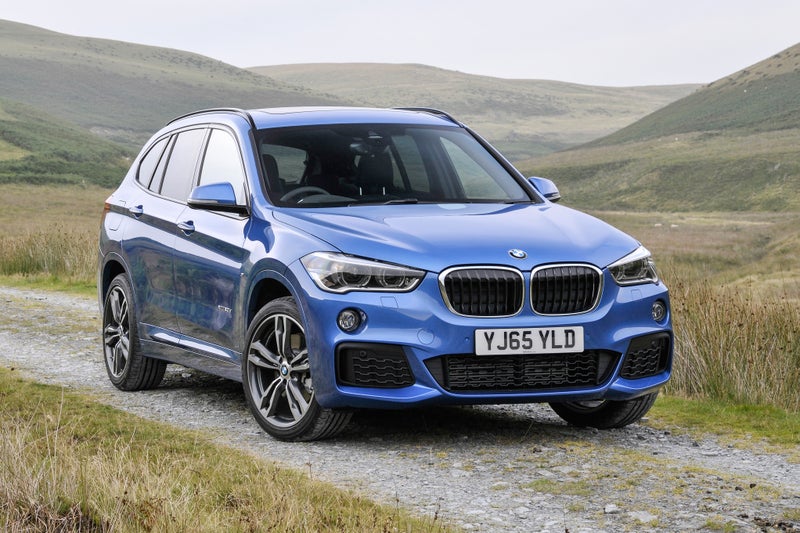 1/10
heycar rating
"Roomy, well-built small SUV"
Launched: 2015

SUV

Petrol, Diesel, PHEV
Quick overview
Pros
Generous standard equipment
High-quality interior
Plug-in hybrid is super efficient
Cons
Smaller boot than some rivals
Highlights bumps on poorly surfaced roads
Noisy on the motorway
Overall verdict
On the inside
Driving
Cost to run
Prices and Specs
Common questions
Overall verdict on the BMW X1
"The BMW X1 is a sporty small SUV that's fun to drive, has a practical, spacious interior and a high quality cabin. It's a shame that some of its options are so expensive, but if you are willing to splash out, then you'll end up with one of the very best cars in this class. A firm ride and so-so refinement are the only real negatives."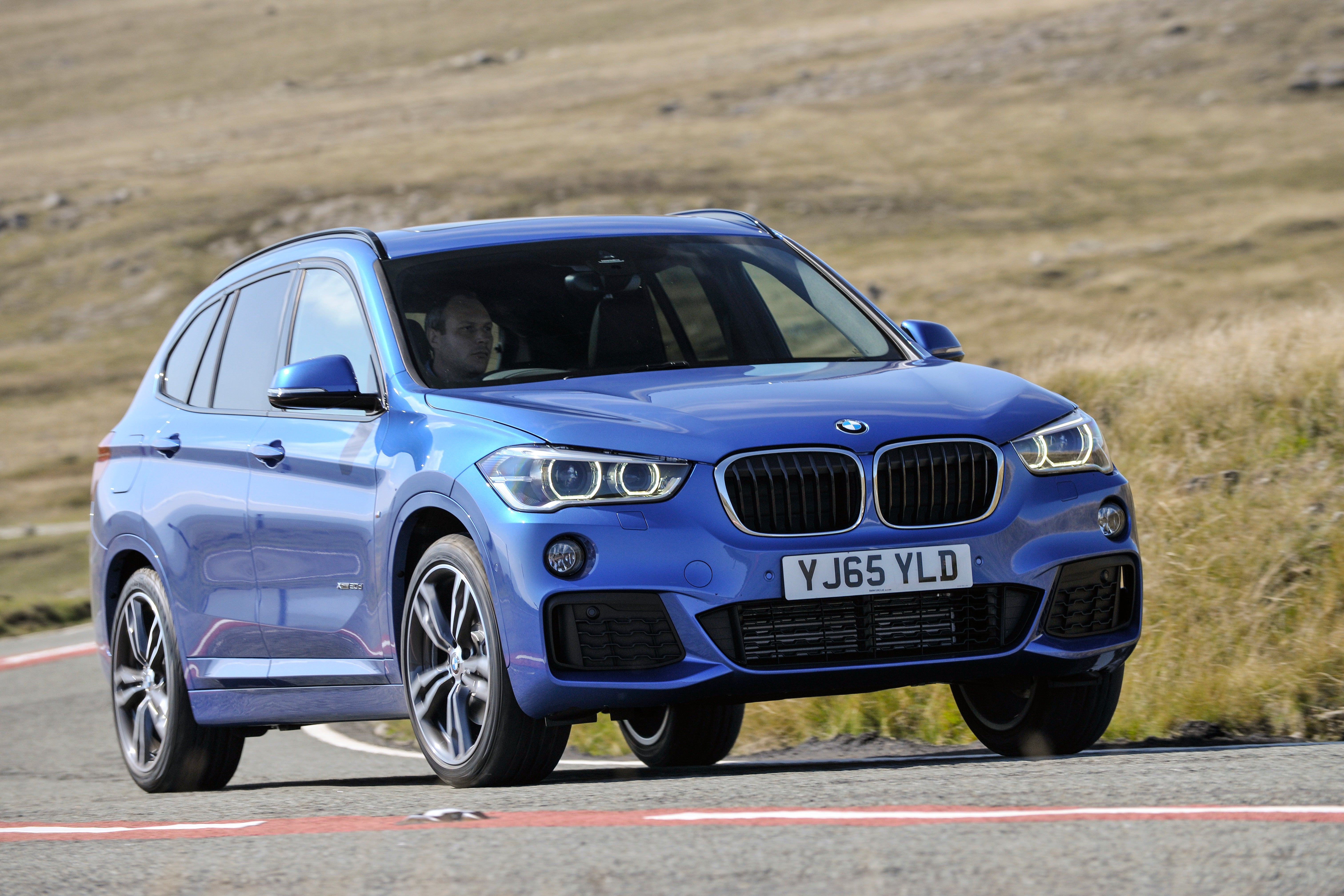 The original BMW X1 was one of the first premium small SUV entrants, proving popular but deeply flawed. However, the second generation BMW X1 has transformed it into one of the most competent cars in a class now awash with posh alternatives for all different tastes and budgets. While the BMW X1 is nowhere near as flashy or fashion-forward as some newer rivals, a recent facelift has ensured it remains close to the top of the pile. Let's take a deep-dive into its pros and cons with our 2022 BMW X1 review.
Under the skin, the BMW X1 shares many components with the MINI Countryman, and just like in that car, buyers can pick from a range of petrol and diesel engines. The entry-level petrol is a three-cylinder turbo, where all the rest have a 2.0-litre capacity and four cylinders, with outputs ranging up from 140PS to 192PS in the xDrive 20i.
Whichever fuel type you choose (our pick is the front-wheel drive sDrive 18d for its compelling blend of gutsy pulling power and economy) both come with two or four-wheel drive options, while a mix of manual and automatic transmissions are offered with the BMW X1.
A plug-in hybrid SUV flagship version (badged xDrive 25e) joined the line-up in 2020, combining a 125PS 1.5-litre petrol engine driving the front wheels with a 95PS electric motor turns the rears. It has claimed CO2 emissions from as low as 41g/km, and an electric-only range of 31 miles - perfect for commuters and company car users.
To drive, the BMW X1 feels like a normal family hatchback. It's not top heavy and won't lean or roll through corners like some SUVs. It copes well in the cut-and-thrust of city traffic, and it's not intimidating to manoeuvre. This agile handling is helped by weighty steering, and even front-wheel-drive models are grippy and stable.
The downside to this sporty character is a firm ride, and poorer rolling refinement than you'd expect in such a family focused car. The BMW X1 generates a lot of tyre roar on the motorway, especially in the higher trim levels with larger alloy wheel designs. Its diesels are also noisier under strain than its rivals such as the Volkswagen Tiguan.
That means it's not quite as relaxing on long journeys as softer SUVs that put a focus on passenger comfort. We think that's a shame, since in many ways the X1 is a very welcoming space to spend time. This is the smallest SUV BMW makes yet it has loads of room for tall adults and a boot that will happily swallow their luggage for a fortnight.
The BMW X1's cabin is conservatively styled, but nicely appointed, with expensive-feeling materials throughout and the high level of fit and finish you would expect from any premium SUV. Since the facelift the standard kit list has ballooned to include important features like smartphone mirroring and automatic emergency brakes.
Everything inside the BMW X1 just sort of works. It goes about its business in a very understated, capable manner. If you're considering a stylish premium SUV with a smart design and a high-quality interior, we think you should take a test drive in the BMW X1 as well. It's the perfect control, with talents that will soon expose flaws in rivals.
Is the 2022 BMW X1 right for you?
The BMW X1 is a small premium SUV for people who want a sporty drive, decent fuel economy and few compromises. It delivers on all those counts, with a practical interior, clever boot, and strong engines.
If you want a cosseting and refined motorway cruiser, then sadly the BMW X1 will disappoint. The agile way it goes round corners also makes it fidgety and stiff on uneven roads, and the tyres (and diesels) are noisy.
It'll suit buyers who need the load-carrying abilities and passenger space of an SUV, but have no plans to go off-road. While it does come with four-wheel drive, it's not the best car for countryside excursions.
What's the best BMW X1 model/engine to choose?
We would stick to the diesel engines in the BMW X1. They're not as refined as their petrol counterparts, but strong performance combined with excellent fuel economy is a difficult combination to beat in a practical family car.
The 150PS 2.0-litre in the BMW X1 18d is more than up to the task of hauling it around, and unless you live in a part of the country that gets a regular dusting of snow and ice, we'd go for the cheaper two-wheel drive model.
In this form, the BMW X1 is relatively affordable, although we would definitely splash out the £1600 extra for the eight-speed automatic gearbox. It's wonderfully smooth, with crisp and rapid changes in its sportier modes.
Simple is best when it comes to the trim levels too. The aggressively-styled BMW X1 M Sport models are popular, but its sports suspension does no favours to the ride comfort. Entry-level X1 SE cars come with everything that you need equipment-wise, and picking the more affordable model gives you the scope to add a couple of extras.
What other cars are similar to the BMW X1?
Every premium brand does its own version on the small SUV theme - with similarly steep pricing and a lot of choice between engines, gearboxes, two- and four-wheel drive options - so you're free to be led by styling and badge preference.
If you want something that will really turn heads, the Range Rover Evoque is the catwalk model of this class, but suffers from higher daily running costs.
For those uninterested in a sporty driving experience, the more relaxed Volvo XC40 has a really plush ride. It's every bit as stylish as the British car, with a smarter interior and one of the best crash safety ratings.
Any growing families who want to carry up to seven passengers in a relatively small footprint will need to go for the Mercedes GLB. It's the only premium compact SUV to offer this functionality, with a hi-tech interior. Of course don't discount the high quality Audi Q3.
People looking to save on their fuel bills but not yet ready to invest in a plug-in hybrid could pick a Lexus UX. Its petrol-electric powertrain doesn't need charging, and it's very refined, though not as practical as the BMW.
Of course, if you are shopping on a smaller monthly budget, there are plenty of mainstream alternatives that are either better equipped for the same money, or significantly cheaper. Our favourite is the Skoda Karoq.
Comfort and design: BMW X1 interior
"The cabin of the BMW X1 reminds us of vanilla ice-cream. The approach to its design takes zero risks, and will appeal to those with simple tastes, and while it's not the most exciting choice, the vast majority will enjoy it."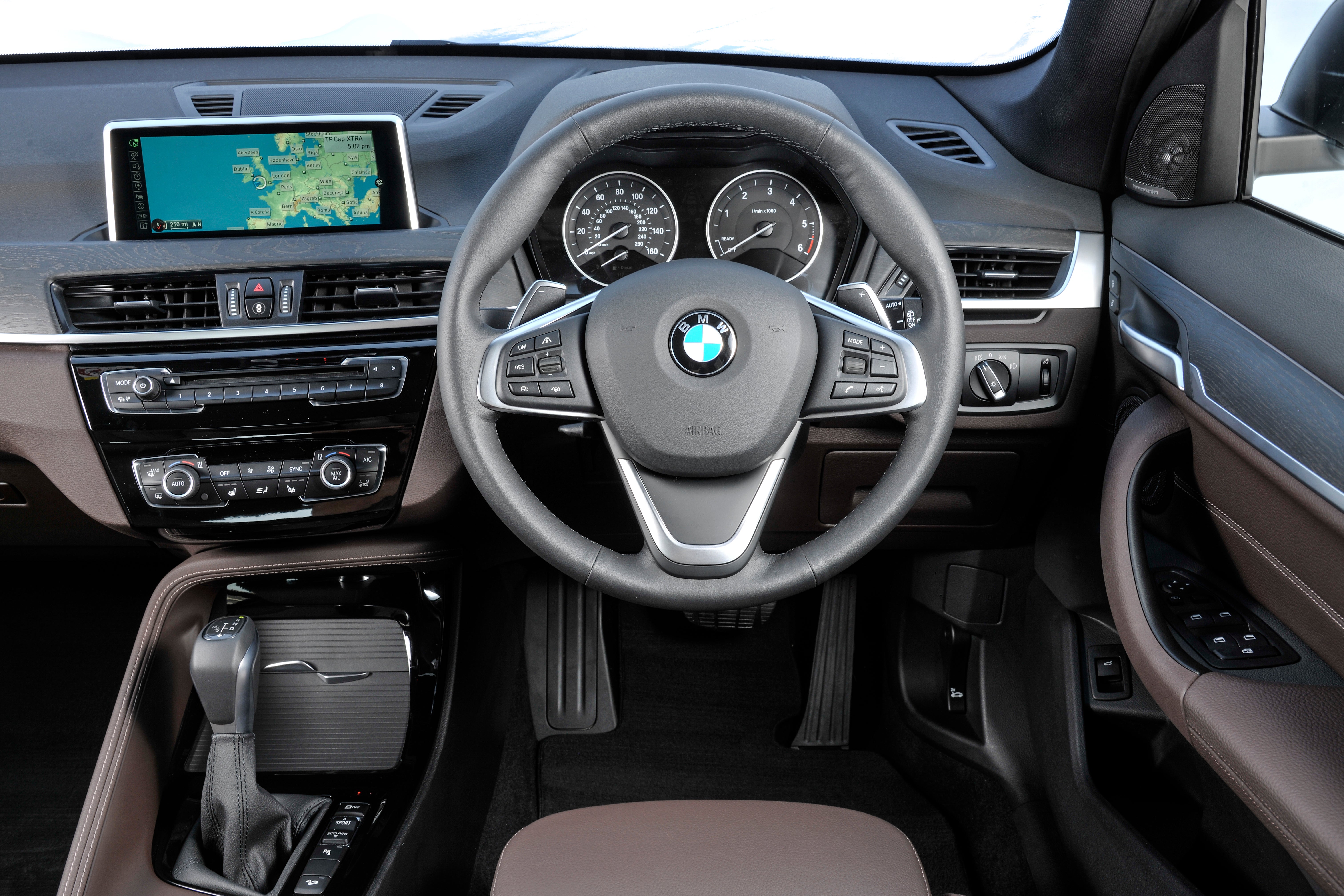 We certainly can't object to the driving position of the BMW X1, which gets all the basics spot on. You don't sit as high up as in some SUVs, but the standard seats are supportive, with plenty of adjustment for finding the right position.
You can move the steering wheel closer to you, as well as alter its height, but lumbar support is optional on all models. That's a shame, since it's a useful feature that can make a big difference to comfort after a long stint at the controls. Adding electric adjustment is only possible through a pack that costs £1000.
The layout is so classic that owners of 80s BMWs will recognise it, with a driver-oriented central stack that is layered with controls in ascending order of use. Climate controls are at the bottom (but still easy to reach) media switches in-line with the spokes of the multi-function steering wheel, and the media screen on top.
After a few hours in the X1, even the least tech-savvy person will have no trouble locating all the important knobs, buttons and switches. A set of analogue dials are super clear, if not as stuffed with information as the latest digital alternatives. Visibility is better in Audi's Q3 - especially out the back - but it's a minor issue.
Quality and finish
Despite its conservative looking design, the BMW X1 feels like a premium car inside. All the controls feel nicely damped and precise to operate, giving you a strong sense of the BMW X1's underlying quality and sturdiness.
Everything you'll touch regularly feels reassuringly robust, so although its not as flashy as the cabin in the Mercedes GLB or Volvo XC40, it should be able to stand up to the daily abuse of family duties.
The materials look and feel expensive, even on the BMW X1 SE, although this model does have to make do with dark cloth seats, and a fairly reserved colour palette, since everything is finished in black or matte silver.
Step up to a BMW X1 Sport model for racy red stripes on the cloth and leatherette upholstery (this looks better than it sounds - promise) classy stitched detailing on the centre console, doors and dash, and a choice of piano black or brushed aluminium for the fascia. Top X1 xLine and M Sport versions get leather seat upholstery, although you can stump up extra to add it to the Sport trim. We're not sure why you would though, fabric seats last longer.
Infotainment: Touchscreen, USB, nav and stereo in the BMW X1
Earlier versions of the BMW X1 now feel a bit behind the times when it comes to keeping you connected. As standard, the pre-facelift model got a small 6.5-inch fixed screen, with big black borders like a picture frame.
The feature list was decent, with sat-nav, DAB, Bluetooth and USB port all present and correct, but having such a small display did make it harder to read (and use) than the crisper, brighter optional 10-inch screen.
Controlling it was very easy though, with a set of shortcut buttons and the BMW iDrive rotary dial on the centre console that allowed you to scroll through its various menus and push to 'click' on your selections in a really intuitive way.
Newer BMW X1 models (from 2019 onwards) come with a sharp 8.8-inch screen that you can touch to interact with. Apple CarPlay and Android Auto are now also included throughout the range, allowing you access to the full ecosystem of your phone's navigation, audio and messaging apps by simply plugging it into the USB socket.
Apart from the new features, this system has superior graphics and processing power to its predecessor. Its software has been given a tune up so it's easier to understand, and faster to switch between its functions. It feels very much like the difference between swapping from an old iPhone 5 to one of Apple's latest creations.
It's dead simple to use, but unlike most rivals, the X1 has plain analogue dials, with no option for fitting a swish digital alternative. Still, a head-up display that projects onto the glass, and huge 10.25-inch screen with even clearer graphics are offered for a price. A wireless charging pad and in-car WiFi are in another bundle.
Space and practicality: BMW X1 boot space
This generation of BMW X1 has grown significantly when compared to the cramped original. This is now a properly practical family car, with a spacious cabin and big boot that give it a clear advantage over a saloon or hatch of the same size. If numbers are your thing, the BMW X1 measures 4447mm in length, 2060mm in width (including door mirrors) and 1598mm in height.
With a boot capacity of 505 litres, you'll be able to squeeze a useful amount of extra luggage into the back of the BMW X1 than you could in the old model, although the PHEV model's electric gubbins mean you lose the cavernous under floor storage. While it's true that both the Audi Q3 and Mercedes GLB can carry fractionally more, we think you'll have few complaints about the X1's load-lugging abilities.
Better yet, the BMW X1's boot has some impressive functionality built in. A pair of pre-loaded triggers for dropping the rear seat backs mean you can do this one-handed from the boot, and they spilt in a useful 40:20:40 configuration. The tailgate opens electrically by waving your foot under the bumper (or on the key fob) and the load bay is flat. With the rear seats dropped, the BMW X1 can carry 1550 litres of luggage.
The good news continues for your passengers, there's room for four adults to stretch out comfortably, and five to press in rather cosily on shorter journeys when required.
Headroom is particularly generous, and a six-foot passenger will be able to fit behind a similarly tall driver with few complaints. A sliding rear bench is available for £350. We think it's worth it, as it gives you the ability to shift the interior about to suit the size of the people on board and it lets you recline the backrests as well.
This rear seat roominess means fitting child seats should be no problem, even a bulky rear-facing one. The ISOFIX mounting points are clearly marked and easy to get at through the wide doors. All X1s come with an Extended Storage Pack as standard, which includes netted pockets in the front seat backs, an armrest with cupholders for those sat in the back, and a 12v socket in the boot that you can use for a mini fridge or tools.
One thing to note is that the batteries in the plug-in hybrid model are hidden underneath the back seats, so this means you sit slightly higher, eating into headroom. Still, only very tall passengers are likely to notice.
Handling and ride quality: What is the BMW X1 like to drive?
"Driving the BMW X1 feels closer to piloting a regular five-door hatch like the 1 Series than a full-size SUV. It's not necessarily a bad thing, since we like the way that car flows down the road, but it's stiffer than many rivals."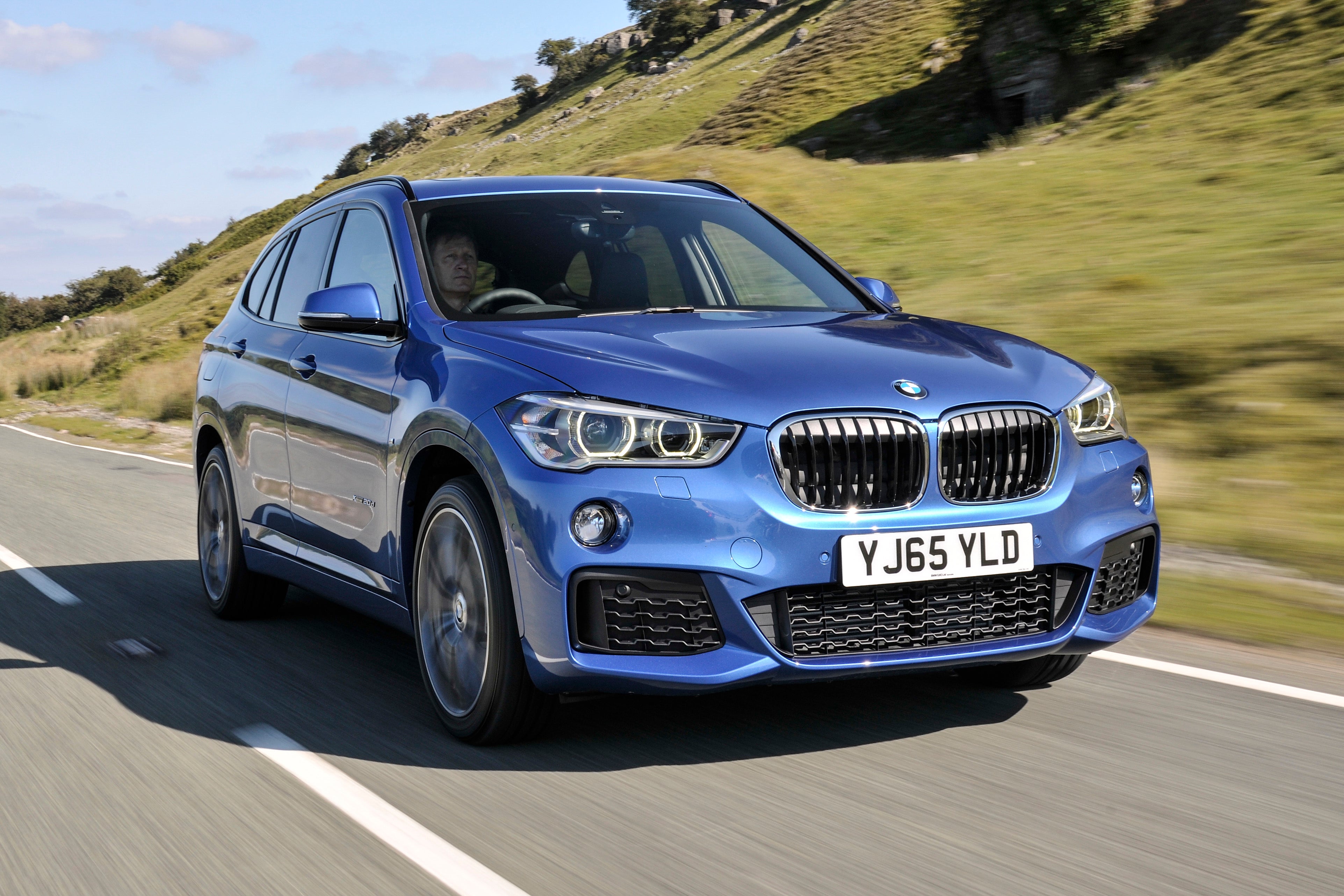 On the plus side, that means it rolls less in corners. The body stays steadfastly upright even when you are hustling along quite quickly, the front wheels responding smartly to any inputs you make with the steering.
There is more resistance and weight through the rim than in some cars, but this helps it feel stable at speed.
While we like how nimble the X1 feels on faster A roads, there is a price to pay when you slow things down.
It's not firm in a harsh way (it won't crash or thump over imperfections) but there is less give and take in its standard suspension than what you'll find in more cushioned rivals from the likes of Volvo and Range Rover.
BMW X1 Sport and xLine cars – with larger wheels – fidget on coarser Tarmac more than the X1 SE. Go for a range-topping M Sport version and the suspension is firmer still, but you can fit optional adaptive dampers.
These allow you to tweak the ride at the push of a button, with a sportier setting for tight body control and a comfort mode to slacken everything off. It makes a big difference, but even as its softest the X1 is still stiff. Some drivers won't mind the sporty setup, but your passengers might.
One thing we can't fault is the impressive amount of grip. Even the front-wheel-drive cars stick faithfully to the road and do an excellent job of putting down the engine's power, those with xDrive four-wheel drive just enhance that feeling. Consider its four-wheel drive as a benefit on greasier roads, rather than an invitation to go exploring off them.
What engines and gearboxes are available in the BMW X1?
When the BMW X1 first launched there were three diesels and a solitary petrol to choose from, but now buyers have swung in the opposite direction, it's offered with three petrols (including the PHEV) and just two diesels.
We'll start with those. Both are 2.0-litres in size, with the entry-level 18d getting 150PS and front-wheel drive (BMW calls this sDrive) and a manual gearbox. The 20d has a meatier 190PS, four-wheel drive, and an automatic gearbox.
The standard car is a remarkable performer, and feels stronger and more flexible than its figures suggest. It has more urgency and top-end pulling power than the diesels in cars like the Jaguar E-Pace.
For that reason, it's our favourite, especially since BMW lets you add an xDrive four-wheel drive system and superb eight-speed automatic if you want. The latter is essential, the former only if you need the capability.
As for the petrols, the entry-level car uses the same 1.5-litre three-cylinder petrol turbo as the BMW i8 (and the MINI hatch) but detuned to deliver 140PS. Its not as quick or as punchy as the diesel, and is only available with front-wheel drive. Still, it's quite flexible, and smoother than the gritty sounding 18d in stop-start traffic.
If you're looking for something faster, the more powerful 2.0-litre petrol in the 20i fits the bill. It's quick even in sDrive guise, and more fun to rev out than the diesels, but running costs are the highest in the range.
However the flagship - whether you want performance, power or efficiency - is the plug-in hybrid xDrive 25e. It uses the 1.5-litre unit from the 18i and a 95PS electric motor for a combined 220PS and 385Nm of shove.
Naturally, a lithium-ion battery, advanced powertrain and charging capabilities aren't cheap to buy, but it does cost buttons to run. The claimed economy is a ridiculous 148.7mpg with a 41g/km CO2 output. You'll have to charge it at the end of every trip to get close to that figure, since the max EV range is 31 miles.
Refinement and noise levels
This is not the BMW X1's strongest suit - and it's something that BMW has failed to address with the recent facelift. It would be unfair to describe it as noisy, but it's nowhere near as hushed on the motorway as its close rivals.
There are two main issues. The first is the amount of tyre roar it transmits into the cabin through the wheel arches. It gets especially loud on cars fitted with larger alloys, becoming genuinely intrusive on rough roads.
It's frustrating because it never disappears, forcing you to raise your voice or turn up the volume at 70mph.
The second problem is the four-cylinder diesels. Performance is excellent, but both the 18d and 20d have a gruff, coarse character when pushed. It's not as noticeable as the road rumble though, and on the plus side you won't feel any unwanted vibration through the pedals.
As for the two petrols, they're generally smoother, but the BMW X1 hybrid 25e is totally serene for doing shorter trips. Its ability to drive on electric power alone (for around 30 miles) makes it near-silent in this mode, with a barely audible hum from the motor.
The standard six-speed manual is not as precise or easy to use as the one in a Volkswagen Tiguan. The clutch is springy and it can be notchy when engaging the gear you want. There are two automatic gearboxes, but the traditional eight-speed transmission (optional on the 18d, standard on the 20d and 20i) is the smoothest.
Safety equipment: How safe is the BMW X1?
Every premium SUV worth its salt has a full five-star crash rating from Euro NCAP, and the X1 is no different. However, that rating is for the pre-facelift model, and completed in 2015 when the tests weren't as stringent.
Nevertheless, with a 90% score for adult protection and 86% for safeguarding children it should perform well if the worse happens. A number of rivals have higher individual ratings, and the Volvo XC40 is best in class.
Previously, BMW only offered autonomous emergency braking (AEB) as an option, but on the revised 2020 model this comes as standard across the range - without it the X1 would not have kept its five-star status.
This system can help lower your insurance costs, since it helps you avoid the typical low speed accidents that make up the majority of claims. It monitors the road ahead for obstacles, hitting the brakes if you don't, and also warning you about any potential collisions, giving you a chance to react if you are being distracted.
There's plenty of passive safety equipment too, including front, side and curtain airbags, cruise control with a speed limiter, ABS, and the usual range of traction and stability control systems to keep you pointing straight.
Keeping the chunky bumpers pristine is made easier by the standard front and rear parking sensors. The X1 even has parking assist, which measures parallel spots and will do all the steering for you.
BMW gives you just one option for upgrading the on-board safety. Still, the Driving Assistant Plus bundle is extremely comprehensive, including adaptive cruise control, lane departure warning, and high-beam assist.
That's not all, it also has a self-driving feature that works in bad traffic. The catch? It costs over £1,000 and is only compatible with automatic models, so really it costs more like £2,500.
MPG and fuel costs: What does a BMW X1 cost to run?
"The X1 has reasonably low fuel consumption for this type of car. Even after being tested to the stricter WLTP standard, all of the diesels get over 50mpg, with only a 5mpg penalty for the four-wheel drive models. If you do a lot of of long journeys and driving holidays you can pay £50 for a bigger fuel tank."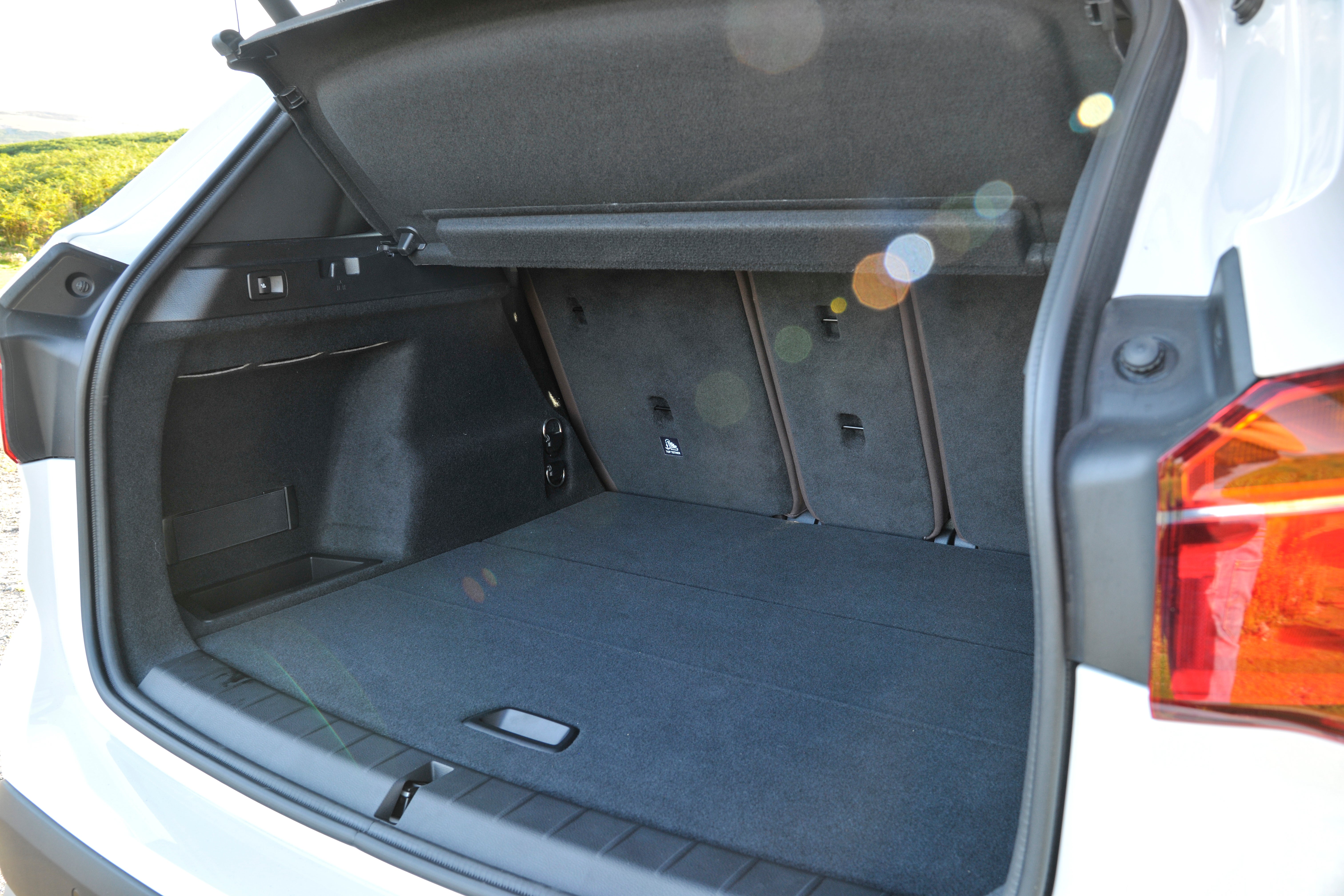 Petrol cars are not quite as efficient. Expect to see just over 40mpg for the entry-level sDrive cars and closer to 35mpg for the more powerful 2.0-litre in normal conditions. Our Real MPG testers got a 35.6mpg average. For comparison, a petrol-electric hybrid such as the Lexus UX can return 48mpg with a similar power output.
Of course, BMW makes its own hybrid, the plug-in xDrive 25e. It has a 9.7kWh battery that can take you 31 miles on a charge in pure-electric mode. It comes with a standard three-pin plug, recharging from a home socket in about five hours. You can also use a wallbox and Type 2 cable to drop this down to 3.5 hours.
If you juice it up with electricity regularly (for instance at home and at work after your commute) then you'll rarely need to fill the tank with petrol. Don't do that and you'll struggle to get over 40mpg.
How reliable is a BMW X1?
BMW is one of the most reliable premium car manufacturers, and the X1 is proving to be a very reliable SUV.
In the 2020 HonestJohn.co.uk Satisfaction Index, the BMW X1 scored an impressive score of 9.51 out of 10 for reliability. A few readers have reported electrical gremlins, though, while injector issues can occur on diesel models.
Insurance groups and costs
Considering its steep price and premium badge, insurance costs for the X1 are pretty reasonable. It'll cost more to cover than equivalent mainstream SUVs like the Skoda Karoq and Nissan Qashqai though.
Compared to its posher peers though, it's relatively affordable. The front-wheel drive versions will be the cheapest to get comprehensive cover for. The petrol 18i is in Group 22 (out of 50) and the 18d is Group 23.
That is a couple of bands lower than the Audi Q3 or Mercedes GLB, and several lower than a Range Rover Evoque or Alfa Romeo Stelvio. In fact the only upmarket rival that'll cost you less is the super safe XC40.
VED car tax: What is the annual road tax on a BMW X1?
All new X1s and cars registered after April 2017 will pay the same standard tax rate that now applies to all petrol and diesel cars, currently it's £150 a year. The plug-in hybrid 25e saves you a tenner off that price.
Used models from before this are charged a variable rate depending on CO2 emissions, no more than £205.
Cars with options that push the price over £40,000 will also incur a luxury car tax, and will have to cough up an additional £320 for the first six years of ownership, before reverting back to the normal flat-rate after that.
While the plug-in xDrive 25e won't save you much in VED, it comes into its own for company car drivers. Its Benefit-in-Kind tax rate of 10% is much lower than the sDrive 18d at 30% or the 33% you'll pay for a petrol.
How much should you be paying for a used BMW X1?
"With one exception, new prices for the latest X1 are fairly evenly spread between £30,000 and £40,000. Go for the pre-facelift model though, and on the used market you'll be paying a lot less to get behind the wheel."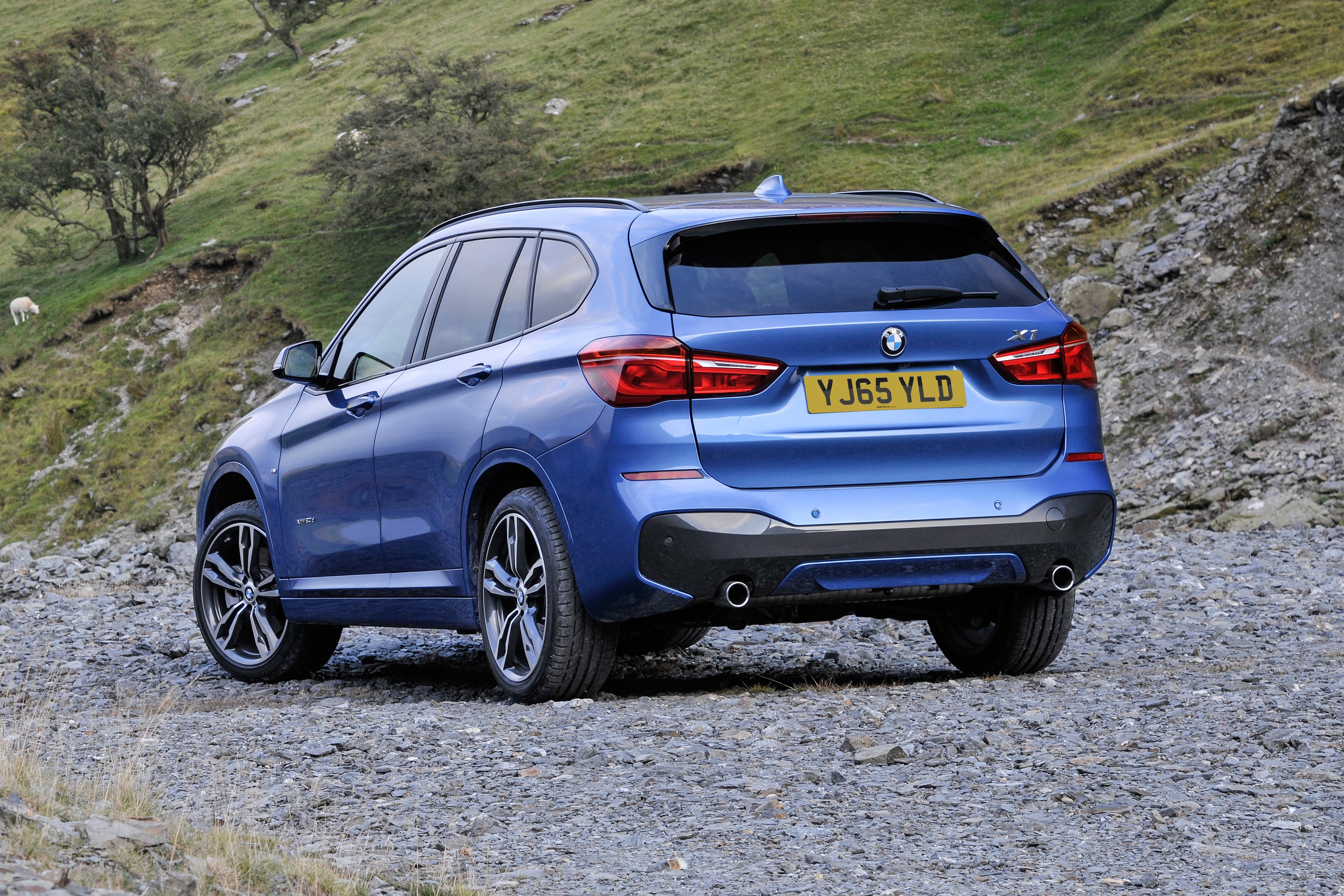 For around a third of the starting price of a new car, you can secure an early 2016 model with a diesel engine and a manual gearbox. Word of warning, at that price it will have covered big miles.
Up the ante to £13,000 or so and you'll find a car from the same year will less than 50,000 miles and a main BMW dealer service history. Some will be four-wheel drive, with a choice of X1 SE and Sport trims to pick from.
You'll need to add at least another £1,000 to that total if you want a car with an automatic gearbox (and trust us - you definitely do) and a whopping £4,000 to get yourself into the 2.0-litre 192PS xDrive 20i petrol model.
Prices for newer examples from 2019 kick-off from £20,000 and these later cars come with a wider choice of engines, including the 1.5-litre 18i petrol. The cheapest ex-demonstrator current shape cars start at £30,000.
This gets you into a powerful four-wheel drive petrol in desirable M Sport spec, so still a big saving from new.
Trim levels and standard equipment
While BMW offers plenty of expensive ways to upgrade your X1 should you wish, the standard model is so generously specified that the options remains exactly that - optional.
The entry-level BMW X1 SE looks pretty mundane, but still has 17-inch alloys, LED front and rear lights, and a big old pair of chrome grilles. Inside though, is where it really impresses. After its 2020 facelift, the smallest size of central display is 8.8-inches, and sat-nav, DAB, Bluetooth, Apple CarPlay and Android Auto are all standard.
Handy everyday essentials like cruise control, front and rear parking sensors, and auto lights and wipers will make the X1 a hassle-free ownership prospect, and the powered tailgate is a total lifesaver with full hands.
Style and luxury are the two dials you'll crank upwards if you spend a little more. The BMW X1 Sport comes with a pair of chrome exhausts, sporty 18-inch wheels, and sprinkled with little details to lift the cabin and exterior looks.
xLine trim is sort of the suave younger brother to the range-topping BMW X1 M Sport. It puts the emphasis on luxury, with a full leather interior, heated front seats. The latter has a wide body kit, sports suspension and seats.
Make your own decisions on the looks front, but the SE grade offers the best value for money, hands down.
At the cheaper end of the options list, we think it's well worth fitted the sliding rear bench (£350) for greater cabin flexibility, electric lumbar support in the front (£230) and a space saver spare for emergencies (£150).
If you want to splash out, the upgraded 10.25-inch Professional sat-nav is really slick, with sharper graphics and maps. A Technology Pack adds a reversing camera, adaptive LED lights, plus a wireless charging pad.
Ask the heycar experts:
common questions
How much boot space is there in the X1?
The BMW X1 has a 505-litre boot capacity that is generous by the standards of this class, and that space expands to 1,550-litres with the rear seats folded. It's a flat load bay too, with back seats that split in a useful 40:20:40 ratio as opposed to the more common 60:40 layout.

What is the BMW X1?
As the number in its name suggests, this is BMW's smallest SUV, but in fact it's bigger (and a touch more expensive) than a lot of small SUVs, since it's not based on a supermini.

Is a BMW X1 fuel efficient?
Yes, most engine variants emit between 113g/km and 125g/km of CO2, and even the quicker petrol variants with four-wheel drive stay below 145g/km. That translates into fuel economy stats that range from mid-fifties to high thirties, depending on if you choose a petrol or diesel X1.

Does the BMW X1 come as a 4x4?
Absolutely. Pick an 'sDrive' model and your X1 will be front-wheel drive, but all the diesels and the quicker petrol come with the option of fitting BMW's intelligent xDrive all-wheel drive.

Is the BMW X1 a good car?
The X1 is great fun to drive, surprisingly practical and nicely finished inside, but it's easy to push the price up with the wide array of expensive options, so it's not an affordable choice.

BMW X1 cars for sale on heycar
3,677
Number of cars available
£10K - £42K
Price bracket of these cars
Colours available on heycar
Keep me updated by email with the latest advice, news and offers from heycar
By submitting, you agree to our
privacy policy
.