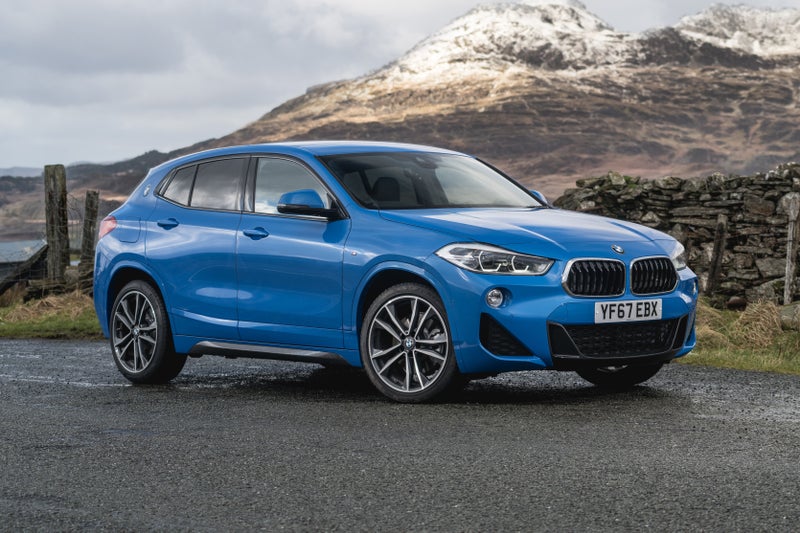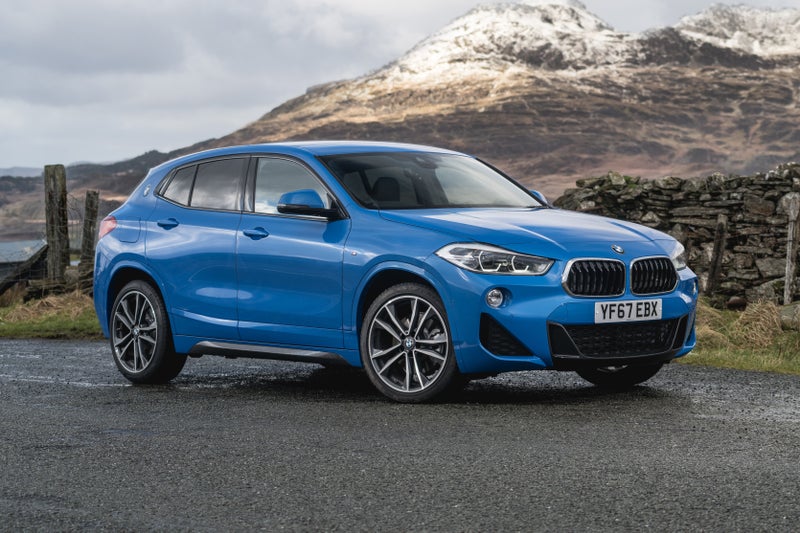 1/10
heycar rating
"Fashionable yet impractical small SUV"
Launched: 2018

Small SUV

Petrol, Diesel, PHEV
Quick overview
Pros
Stylish looks
Premium interior that'll wear well
Great to drive with strong engine line-up
Cons
Pricier than the BMW X1
Less spacious than the BMW X1
You should probably buy a BMW X1
Overall verdict
On the inside
Driving
Cost to run
Prices and Specs
Common questions
Overall verdict on the BMW X2
"The BMW X2 is, objectively speaking, quite a flawed car. It's uncomfortably firm, not as practical as the cheaper X1 and doesn't really offer much over the 1 Series hatchback. But the BMW X2 does offer stylish looks, a superb interior (if you don't need to carry rear-seat passengers) and it's fun to drive. It's a niche model that'll appeal to a limited audience, but for a narrow band of people it's really rather appealing."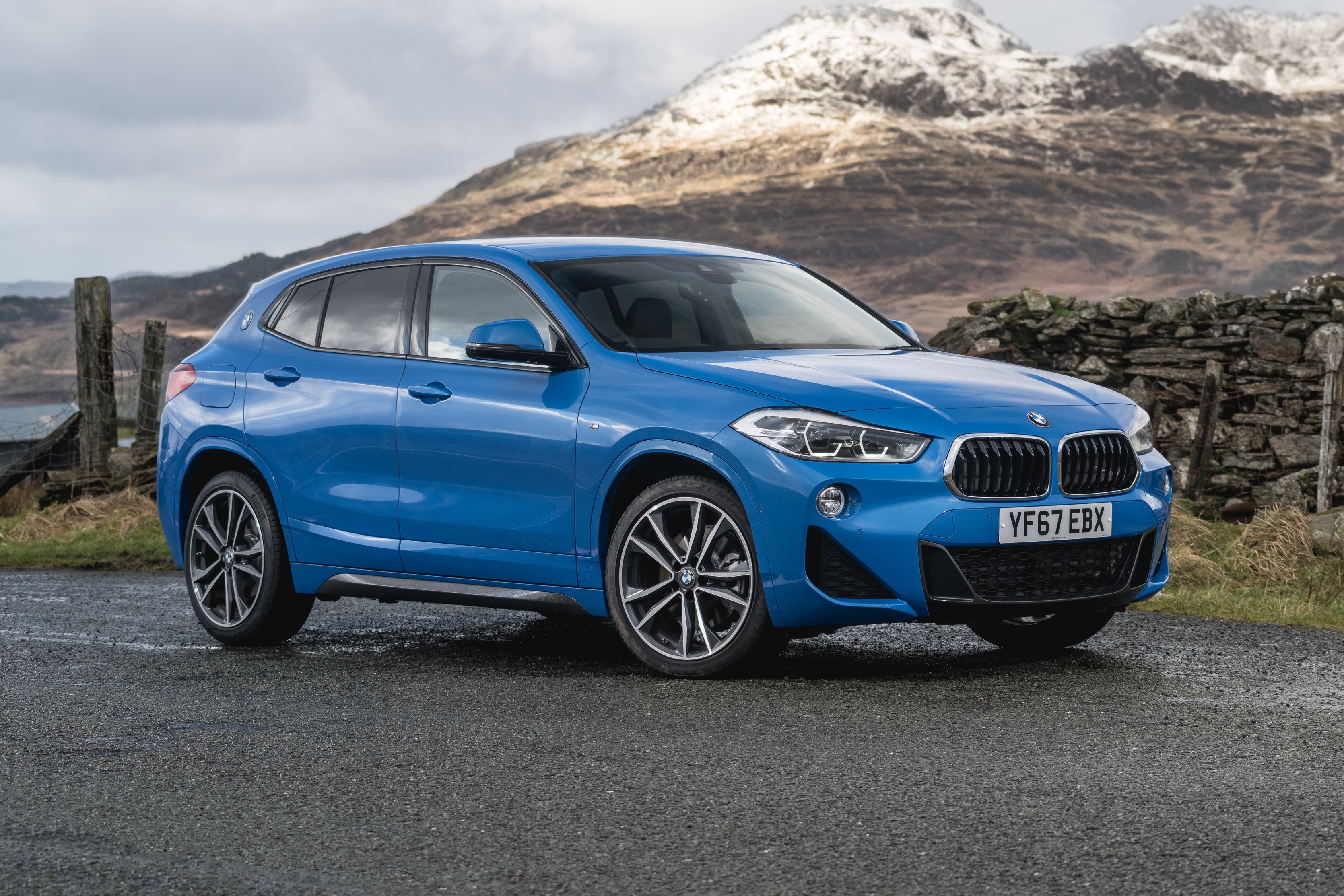 Practicality isn't cool. That's why BMW offers less versatile yet more stylish versions of many of its most popular SUVs - and charges a premium for them. Arguably, the BMW X2 serves no purpose apart from filling the gap between the BMW X1 and BMW X3 in its naming strategy. Can it make a case for itself? Our 2022 BMW X2 review will take a closer...
It shares mechanicals with the X1 (and the MINI Countryman, in fact). That means a range of petrol and diesel engines - ranging from 1.5- to 2.0-litres in capacity with power from 140 to 190PS. Two- and four-wheel-drive models are offered, as well as a choice of automatic and manual gearboxes.
The BMW X2 is an even more focussed car than the X1, meaning it's borderline uncomfortable - especially with the M Sport suspension and big alloy wheels. On the plus side, it almost feels like a small hot hatch to drive quickly - with precise steering and little in the way of body lean.
That's helped by the car-like seating position, which won't appeal to SUV buyers looking for a commanding view of the road ahead. You barely sit any higher than in a 1 Series.
The BMW X2 is comfortable, though, and the interior is up there with the best in its class - certainly leagues ahead of the Jaguar E-Pace and possibly even beating the Audi Q3 Sportback. There are soft-touch materials aplenty and it ticks the 'makes you feel good' box very well indeed.
That's unless you're sitting in the back. The BMW X2's lower roofline compared to the X1 means it's a little cramped for rear-seat passengers. Combine that with a bone-jiggling ride and sitting in the rear of an X2 isn't particularly pleasant at all.
The BMW X2's boot capacity is only marginally smaller than the X1, though, and a usefully square shape which makes it surprisingly versatile. It's bigger than conventional family hatchbacks like the 1 Series, and an electric tailgate is standard across the range.
The range starts with BMW X2 SE and Sport models, which are comprehensively kitted out with an 8.8-inch media system with Apple CarPlay (no Android Auto, though), LED headlights and rear parking sensors.
BMW X2 M Sport and M Sport X trim levels are the most popular, with various cosmetic upgrades like 19-inch alloy wheels, bespoke M Sport bodystyling and Dakota leather upholstery. Careful, though, as these come with lowered sports suspension which makes the X2 even firmer to drive.
For those clinging onto their youth, there's a hot X35i model which packs 306PS from its twin-turbo 2.0-litre petrol engine. This is a bit silly, frankly - and, if you must do the 'hot SUV' thing, we reckon the Cupra Ateca is a much better buy.
Is the 2022 BMW X2 right for you?
The BMW X2 won't meet the needs of a lot of small SUV buyers but that's kind of its appeal. It's a niche model compared to the X1 and X3, selling in much smaller numbers than both of them when new. While it's compromised in terms of practicality thanks to its low roofline and cramped rear seats, it's got a superb cabin with high-quality materials and plenty of feel-good factor - even pipping the Audi Q3 Sportback and Volvo XC40 inside.
The BMW X2 handles like a hot hatch and, if you find one with one of the more powerful engines, is quick enough to amuse most enthusiastic drivers, too. It's flawed but, if you rarely carry passengers, want a premium cabin and appreciate a car that's fun to drive (and don't mind the compromise of a firm ride), the X2 is actually a very desirable choice.
What's the best BMW X2 model/engine to choose?
There's a pretty even split between petrol and diesel BMW X2s on the used market so you'll have to decide which will meet your needs better. Diesels are better suited to motorway driving, providing more power from low down in the rev range - meaning you won't have to thrash the car down a slip road or shift gears when changing lanes.
If you spend more of your time driving in town or cover low annual miles, we'd recommend one of the petrols. With 140PS, the entry-level 18i is fine if you're not fussed about outright performance, although you'll find a wider choice of 20i models. With 190PS, this is more fun to drive and makes overtaking on open roads easier.
Entry-level BMW X2 SE and Sport models are actually the most comfortable thanks to their standard suspension. Most buyers will be tempted by the flashy looks of the M Sport or M Sport X trim levels, but you'll have to be prepared for a firmer ride provided by the lowered suspension. If you want a hot-hatch-like small SUV, consider the BMW X2 M35i. Or do it properly and just buy a hot hatch like the M135i...
What other cars are similar to the BMW X2?
The Audi Q3 Sportback takes the same approach as the X2 - combining a drop in practicality with stylish looks and a stronger price tag. The Jaguar E-Pace is another small SUV that's good to drive, although it's flawed in other areas. There's also the latest Range Rover Evoque which is a fashionable yet pricey choice, with an impressive tech-packed interior.
If it was our money, we'd look for a Volvo XC40. It's not as sporty as the BMW X2 but it's much more comfortable and we love its quirky looks.
Comfort and design: BMW X2 interior
"The first thing you'll notice about the BMW X2 is how low it feels. You really sit 'in' it rather than 'on' it, which is a great thing for people who want to sit close to the road and pretend they're driving a sports car. Most buyers of small SUVs like this one would rather sit high up, though, with their legs bent at close to 90 degrees and a high driving position giving them a good view of the road ahead."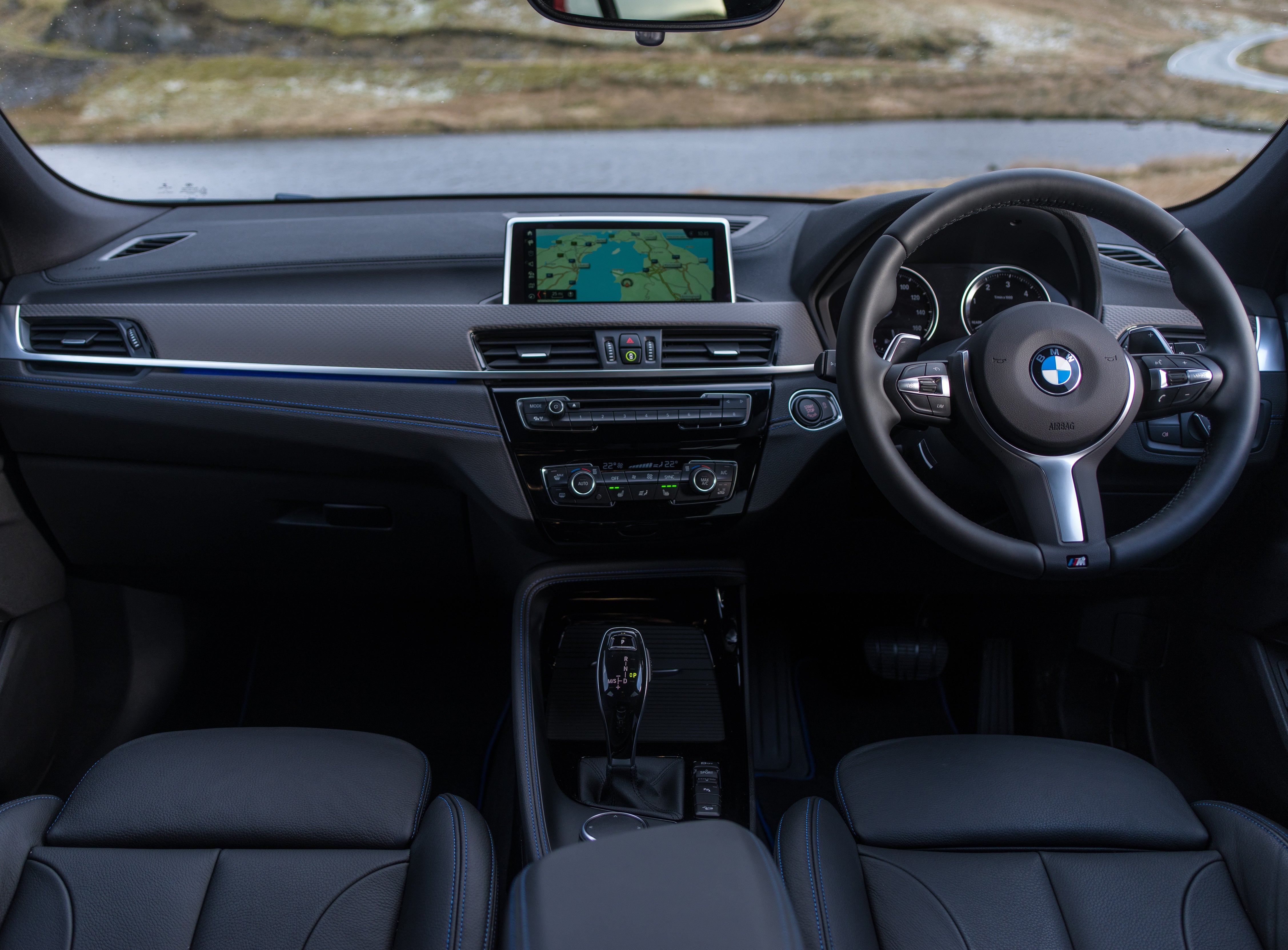 Still, from the standard cloth seats of the SE model to the M Sport seats offered on the M35i, the BMW X2 is surprisingly comfortable. The comfort pack, a £740 option when new and available across the range, is a desirable option - as well as a heated steering wheel, this adds things like electric front seat adjustment with driver memory (great if different people drive your car) and lumbar support for the front seats.
Leather upholstery - a £1,150 option on base models when new - does a good job of making the X2's cabin feel more upmarket and will make a used example more attractive, in our opinion. That said, the part-Alcantara seats of the M Sport models look the part, too.
The BMW X2 has a well-designed cabin, even if there's nothing particularly groundbreaking about it. That means there's little to date the car as it gets older, though, apart from BMW's tendency to provide quite a lot of buttons for things like the climate control and shortcuts to the navigation system.
Quality and finish
It's the quality of the BMW X2's interior and cabin which really makes it feel special. Everything you touch feels superbly made. From the thick-rimmed leather steering wheel to the tactile radio controls, this is a car that feels every bit worth the premium price tag.
Even if you go hunting for harsh plastics, all you'll find is squishy materials and fabrics which feel like they'll last a lifetime. While the X2 is still too new for us to say for sure how baggy the interior will feel in 10 years' time, BMWs tend to wear very well - there's a reason they're popular with UK police forces.
M Sport models get quite a few interior highlights which manage to make it feel that bit more special - things like aluminium trim, Anthracite headlining, contrast stitching on the centre console and dash as well as ambient lighting are all nice little touches.
Infotainment: Touchscreen, USB, nav and stereo in the BMW X2
As standard, the BMW X2 comes with an 8.8-inch media system, which is smaller than the 10.1-inch display used across the Q3 Sportback range. It's a decent system to use, though, with things like navigation, Bluetooth and DAB radio as standard. The graphics are clear with crisp responses, while the menus are logically laid out meaning it won't take you long to access anything you could possibly want. It's also easy to operate on the move thanks to an intuitive rotary iDrive dial positioned between the front seats.
If you're of the opinion that bigger is better, look for an X2 with the Tech Pack - a £1260 option when new. This adds the BMW Navigation Plus system with a 10.25-inch touchscreen display - controllable via touchscreen or the iDrive controller. It also includes a head-up display, projecting information such as the current speed and navigation directions onto the windscreen, as well as wireless phone charging.
Apple CarPlay and Android Auto are both offered on the X2. These are useful as they mirror apps from your phone onto the car's infotainment screen.
Space and practicality: BMW X2 boot space
While there are more spacious and practical small SUVs on the market (the cheaper BMW X1 for a start), the BMW X2 isn't as impractical as you might expect for a car that appears to put style above substance.
Indeed, up front there's just as much space as the X1. It feels more like a hatchback than an SUV thanks to its low seating position but there's still plenty of headroom for the tallest of adults. There are various useful storage cubbies around the cabin including a generous glovebox, bulky door bins and some useful extra storage in the centre armrest.
The rear of the BMW X2 feels a little claustrophobic thanks to the lowered roofline and small rear windows, but a pair of adults ought to be able to squeeze in without too many complaints. That's as long as you don't buy one with the panoramic sunroof which further eats into headroom. Middle-seat passengers won't thank you, either - a lump in the floor gets in the way of feet, and the X2's really narrow dimensions means they'll be fighting for shoulder room.
Kids will be happier back there, and there are ISOFIX points on the outer rear seats - helping you out when it comes to fitting child seats.
The BMW X2's 470-litre boot capacity is 35 litres smaller than the X1's, but it's still bigger than conventional family cars like the BMW 1 Series or Volkswagen Golf. There's a bit of a lip for lifting heavy items over, but the boot is usefully square and an electric tailgate is fitted as standard across the range. There's also a useful extra bit of room under the boot floor which can accommodate a space-saver spare wheel.
The exterior dimensions of the BMW X2 are similar to the X1. It measures 4360mm long, 2098mm wide (including door mirrors) and 1512mm high.
Handling and ride quality: What is the BMW X2 like to drive?
"The BMW X2 is even sportier than the X1 on which it's based - which itself puts more emphasis on driving enjoyment than rivals like the Audi Q3 and Mercedes-Benz GLA."
No matter whether you buy a front-wheel-drive sDrive model or a four-wheel-drive xDrive, the BMW X2 is massively confidence inspiring. It remains very flat in bends, while the steering is precise and the front end is eager to turn in. It feels much more like a hatchback than an SUV… and that's probably because it is more of a hatchback than an SUV.
A trade off is the ride quality. It's acceptable on the standard suspension fitted to SE and Sport models, although M Sport models and above come with a sportier setup, sitting 10mm lower than standard and providing tauter spring and damper tuning. Combine this with bigger wheels (19-inch as standard on the M Sport) and less compliant run-flat tyres, and the result is a car that's keen to alert you to every lump and bump in the road.
It's not just on bumpy roads that you'll notice the harsh M Sport suspension. It'll jiggle about over cat's eyes on the motorway and will alert you to imperfections you can barely see with the naked eye.
A solution is to look for an BMW X2 with the optional adaptive suspension - £150 well spent by the original owner as it provides a smoother ride which can be firmed up at the touch of a button when you're in the mood for some sporty driving. Frankly, we'd stick it in comfort and leave it there.
What engines and gearboxes are available in the BMW X2?
The majority of used BMW X2s on the market are sDrive20i models, and that's a good thing. This is the best combination - with 192PS, it's got a bit more power than the entry-level 18i (making it more relaxing for day-to-day use), without the higher running costs of the xDrive model (no one really needs four-wheel drive, anyway).
The sporty M35i packs 306PS from its 2.0-litre petrol engine, covering 0-62mph in less than five seconds. But, while it's fun, it's also a little pointless - if you want this kind of pace, we'd recommend a 'proper' hot hatch. It's also expensive to run.
Diesel drivers can opt for a 150PS 2.0-litre available with manual or automatic transmissions, and two- or four-wheel drive. The gearbox comes down to personal preference, really (although the auto's good and suits the car well, so we'd recommend that) - and again, avoid xDrive unless you really need it.
For the ultimate long-distance mile muncher, we'd recommend the more powerful xDrive20d. Coming with four-wheel-drive and an automatic transmission as standard, this isn't quite as economical as the 18d, yet it should return mid-40s mpg and offers plenty of performance, with torque available low down making it a relaxed cruiser.
Coming soon is a plug-in hybrid model which combines the three-cylinder petrol engine from the 18i with an electric motor. This makes a lot of sense if you mainly cover short journeys and are able to charge a car at home, although it'll be a while before it starts trickling down onto the used car market.
Refinement and noise levels
While it's very spec dependent, the BMW X2 might not be as refined as you'd expect from a premium small SUV.
The harsh ride from the M Sport suspension doesn't help refinement and comfort levels - you'll jiggle about in your seat on harsh roads, and even minor road imperfections can be felt through your rear-end. That's not good.
The run-flat tyres fitted as standard to M Sport models (and on smaller wheels available as an option on lesser trim levels) create quite a distinctive rumble which will make you want to change them for conventional tyres as soon as possible. There's also a considerable amount of wind noise at speed - surprising for a small SUV that's more 'car' than 'SUV'.
Fortunately, the engines are fairly hushed. The petrols make a bit of noise when you rev them, although this is characterful and easily avoided by being light with the accelerator pedal. In standard diesel fashion, the diesel engines create a bit of a rumble on startup but soon settle down on the move.
Safety equipment: How safe is the BMW X2?
Although Euro NCAP hasn't crash tested the BMW X2, it has given it a five-star safety rating. How does that work..? Well, it has tested the X1, and it says the two models are so similar the X2 can leech off the X1's top-drawer result.
That means it's been awarded a 90% rating for adult occupants, 87% for children, 74% for pedestrians and 77% for safety assist features - all impressive results that should put your mind at rest when transporting your family in the X2.
If you're after driver assist features, we'd recommend looking for an BMW X2 with the £790 driver pack fitted. No, this doesn't come with your own chauffeur driver, but it's not far off. Highlights include a city collision mitigation system which can automatically apply the brakes if it detects a potential low-speed collision. There's also a lane departure warning, which'll notify you if you're straying from your lane, and high-beam assistant, which'll control your high-beam lights for you when driving in the dark. All this is pretty clever stuff, admittedly, but it's also increasingly widespread even on cheaper cars - and other manufacturers don't charge extra for it.
The optional vision pack should also be on your radar, particularly if you're nervous about reversing. While all X2s come with rear parking sensors at the very least, this adds a rear-view camera making reversing much safer, particularly as rear visibility isn't the X2's forte.
MPG and fuel costs: What does a BMW X2 cost to run?
"The BMW X2 sDrive18d is the one to go for if you're after frugality - it'll return up to 56.5mpg on the combined WLTP test cycle, which means it should be fairly easy to see this in the real world. None of the diesels will be particularly thirsty, though, although you do pay a small price for opting for four-wheel drive."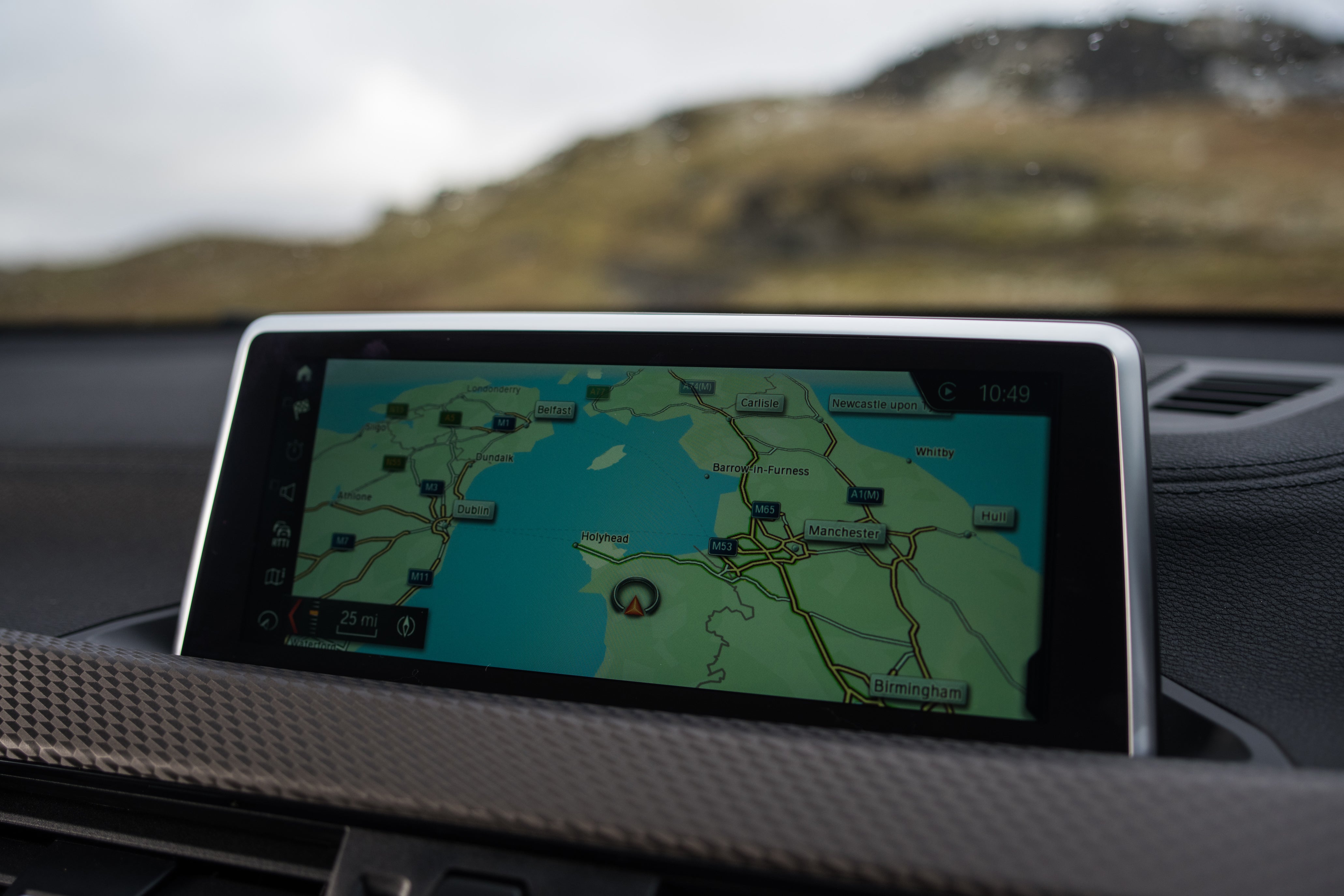 Out of the petrols, the sDrive18i is the most efficient, returning up to 43.5mpg on the combined cycle in WLTP tests. The sDrive20i will return around 40mpg depending on trim level and specification (wheel size makes a difference), while the M35i is - unsurprisingly - rather thirsty. This'll officially return up to 34mpg. Good luck with that…
We've touched on the new plug-in hybrid xDrive25e. BMW says this can travel for up to 35 miles under electric power alone with a freshly-charged battery. Officially this'll see up to 148.7mpg - but don't expect that in the real-world unless most of your journeys are within 35 miles of home.
How reliable is a BMW X2?
As you'd expect from a premium brand like BMW, there are no reliability concerns of note with the X2. The biggest issue we've heard of was a blocked windscreen washer (something BMW blamed on the type of screenwash used).
As a brand, BMW scored highly in the 2020 HonestJohn.co.uk Satisfaction Index. It was given an average score of 9.13 out of 10 for reliability.
Insurance groups and costs
Insurance groups range from 22 to 42, with the M35i - unsurprisingly - being the costliest to insure. The cheapest sDrive18i models in SE trim are the cheapest to insure, although the X2's premium badge and sporty credentials means it might cost a bit more to insure than comfort-focused rivals.
It's worth bearing in mind that M Sport and M Sport models are in higher insurance groups than the equivalent SE and Sport models, and it's worth shopping around for quotes if you're concerned about insurance prices. Insurance for the BMW X2 shouldn't be extortionate but it could well be pricier than a more conventional Volkswagen Golf, for example.
VED car tax: What is the annual road tax on a BMW X2?
All BMW X2s have been registered since the latest VED rules were introduced in April 2017, meaning it'll cost you a flat rate of £150 a year to tax. The first year is dependent on CO2 emissions - but that'll have been picked up by the initial owner.
It's surprisingly easy to spec up an X2 to more than £40,000 when new. Be wary of this as it'd mean it'll be subject to a premium tax for the first five years, costing an extra £325 a year. Even as the second owner you'll have to pick up the tab for this - ignorance is no excuse, as they say.
The plug-in hybrid xDrive25e will be classed as an alternative fuel vehicle, so you'll save a tenner a year in tax - with an annual VED rate of £140.
How much should you be paying for a used BMW X2?
"If you want an as-new BMW X2, consider a pre-registered model. These are cars that have been ordered and registered by dealers in a bid to meet manufacturer targets, before being offered at a reduced rate. They're a great way of saving money and beating the waiting list - but you can't be too picky about things like specification and colour."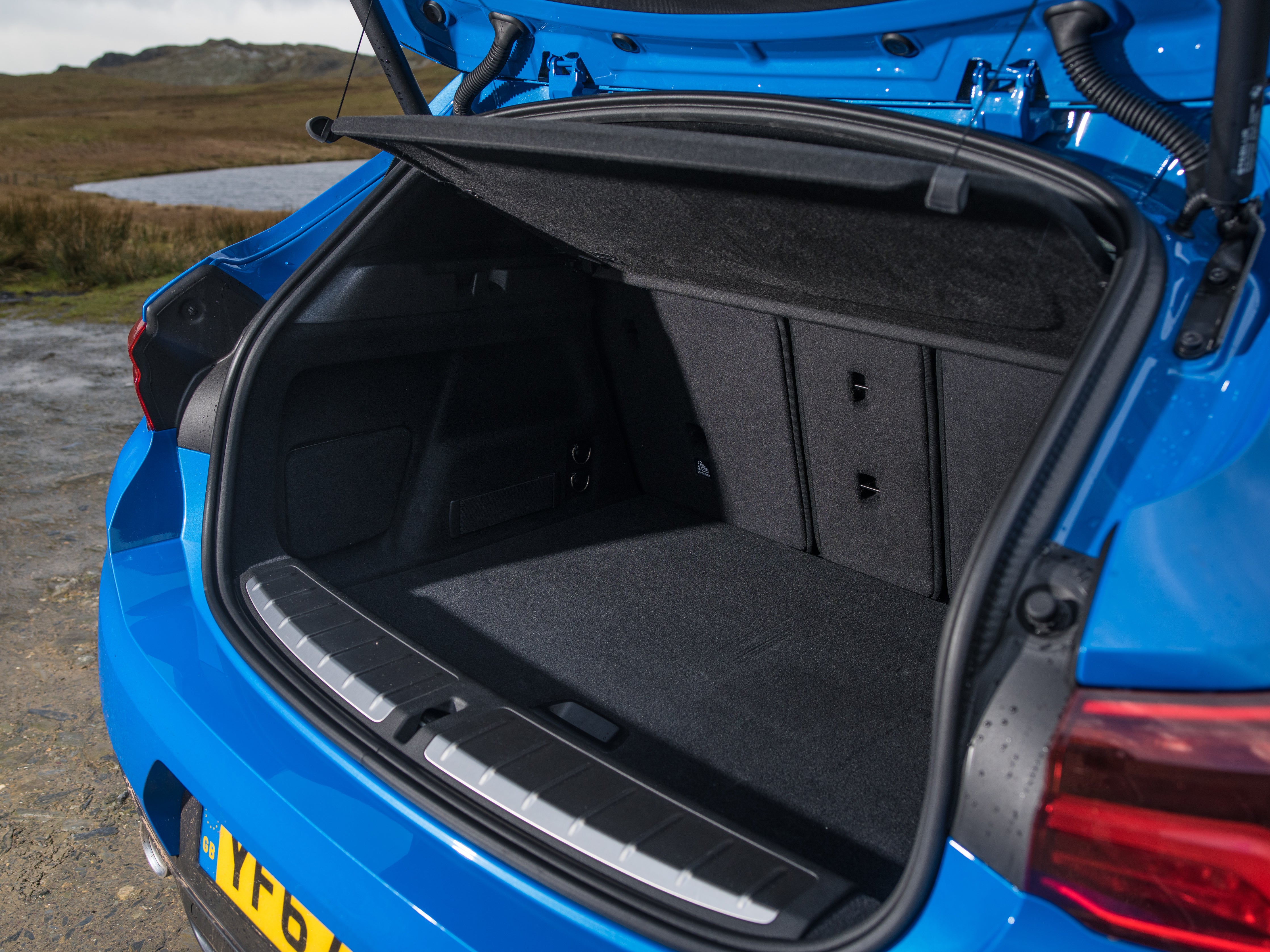 We've seen pre-registered BMW X2 sDrive20i Sport models with just 100 miles on the clock selling for around £26,500 - the same car would be £35,000 ordered new. Similarly, a BMW X2 xDrive20d M Sport can be found for around £35,000 - a saving of £5500.
If you're looking at slightly older examples, a year-old X2 sDrive20i M Sport could cost you anything from around £26,000 to more than £30,000 depending on how heavy handed the original owner's been with the options list and how desirable the colour is.
Economy hunters should look for an sDrive18d which, in desirable M Sport trim, will set you back around £27,000 at a year old.
If you're shopping for an X2 on a budget, two-year-old examples in low-spec SE or Sport trim with the entry-level engines can be found for around £20,000.
Trim levels and standard equipment
The range starts with the BMW X2 SE which comes with 17-inch alloy wheels, air conditioning, an 8.8-inch infotainment system (with navigation, Apple CarPlay, Bluetooth and DAB radio), cruise control LED headlights, rear parking sensors and a three-spoke leather-covered steering wheel.
The BMW X2 Sport adds 18-inch alloy wheels, ambient interior LED lighting, contrast stitching on the dashboard, front sports seats and race cloth upholstery (which, apparently, makes the X2 accelerate faster).
Popular BMW X2 M Sport models come with 19-inch alloy wheels, Dakota leather upholstery, aluminium interior trim, an M rear spoiler, M Sport aerodynamic body-styling, an M Sport multi-function leather steering wheel, M Sport suspension and front heated seats.
X2 M Sport X trim adds unique 19-inch alloy wheels, aluminium exterior trim, unique aerodynamic body-styling and aluminium roof rails.
The top-spec BMW X2 M35i comes with 20-inch alloy wheels, an eight-speed automatic gearbox, a 5.7-inch colour display within the instrument cluster, various M Sport styling upgrades and front heated sports seats. It also comes with bespoke M Sport suspension with an M Performance setup and an M Sport braking system.
Ask the heycar experts:
common questions
Is the BMW X2 a good car?
While it's certainly stylish and great to drive, the BMW X2 is more expensive than a BMW X1 which offers more space and better value. But can you put a price on style?

Answered by
heycar editorial team
Is the BMW X2 bigger than the BMW X1?
The BMW X2 is smaller than the BMW X1 thanks to its low ride height, shorter length, and snappy coupe-esque lines. It's prioritised the driving experience over practicality and interior space.

Which is better, the BMW X1 or the BMW X2?
Which you prefer will depend on your needs. If you need space and practicality, go for the BMW X1. But if you're into looks and a decent driving experience then you might prefer the BMW X2.

Answered by
Georgia Petrie
BMW X2 cars for sale on heycar
3,193
Number of cars available
£19K - £41K
Price bracket of these cars
Colours available on heycar
Keep me updated by email with the latest advice, news and offers from heycar
By submitting, you agree to our
privacy policy
.