X4 M Competition Review 2022
BMW X4 M Competition Review 2022
1/10
heycar rating
"Fast, fun, expensive to run"
Quick overview
Pros
Practical
Powerful and quick
More stylish than the X3
Cons
Expensive to run
Not that great to drive for an M car
One person's stylish is another person's vulgar
Overall verdict
On the inside
Driving
Cost to run
Prices and Specs
Overall verdict on the BMW X4 M Competition
"If the BMW X4 M Competition was an item of clothing it would be a pair of Y fronts to the X3 M Competition's boxer shorts. It takes the roomy and comfortable shape of the X3 and makes it less roomy and less comfortable in the name of, er, style."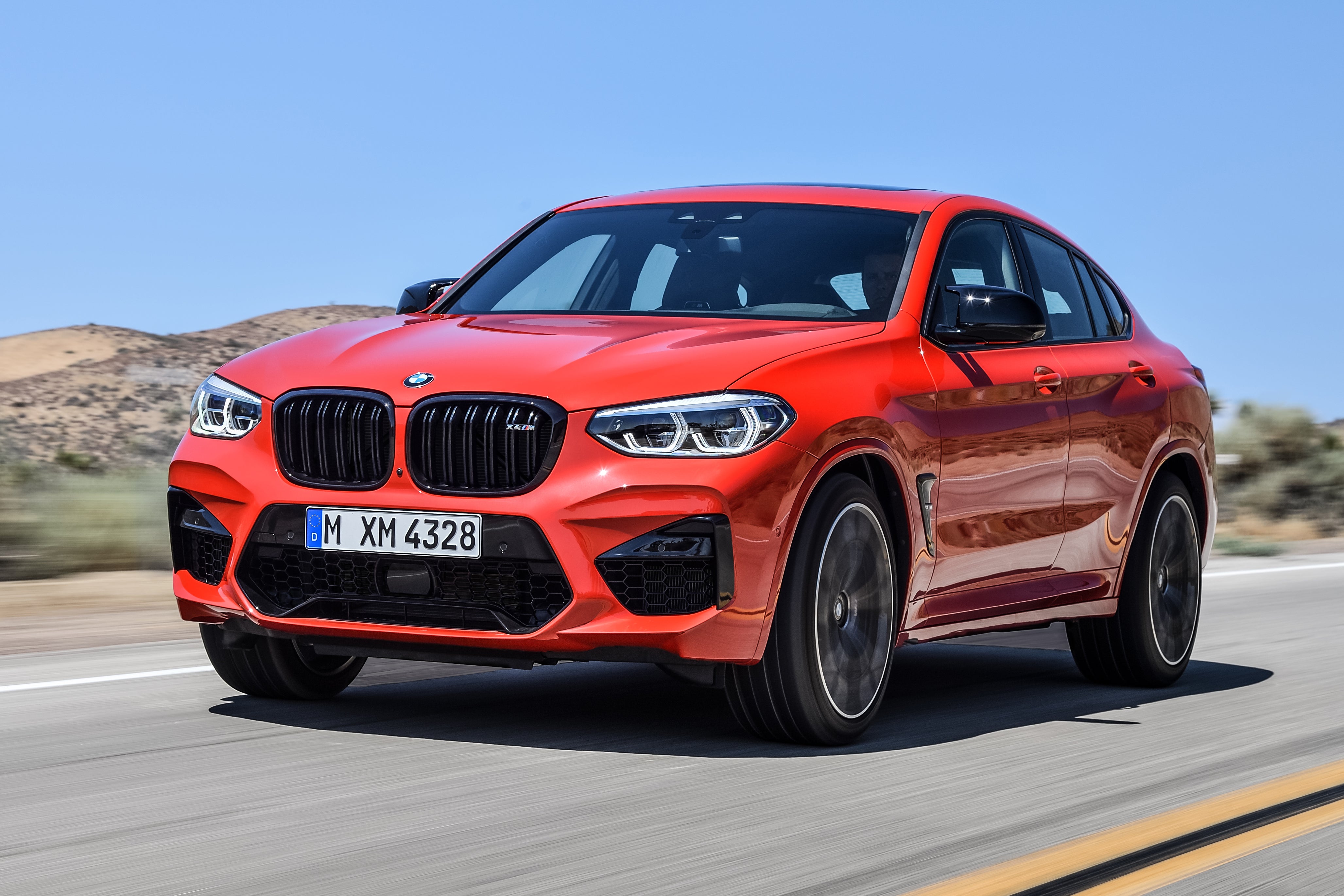 Basically, it's an X3 M with a more coupe-like body. That means it gets the same 3.0-litre twin-turbocharged straight-six petrol engine – incidentally, it's the engine fitted to the new M3 – giving the X4 M Competition indecent performance along with running costs that will be equally shocking.
It should be stunningly good in the corners because, instead of getting an off-road-biased four-wheel-drive system, its four-wheel drive is borrowed from the M5 super saloon, complete with its clever rear differential. Sprinkled with a variety of driving modes, it means the the X4 M Competition can be a relatively placid family car on the one hand or – after a few button presses – an unhinged lunatic on the other.
As a result this is an SUV you can realistically (if you really want to) take on track, where it will happily keep up with sports cars, but it's okay cruising up the motorway or dawdling about town. This adjustable nature has become the cornerstone of the modern M car.
Like the majority of M cars, look underneath the X4 M Competition's pumped up body kit and big wheels and you'll see it's just as practical as a normal family car. It has masses of room for adults in the front and tall people will also happily fit in the back, even though a few millimetres of headroom have been sacrificed for that coupe-like roofline. Even the boot is huge and its large opening makes it very easy to load.
You get the BMW M treatment on the inside, too, though. Up front, you'll find body-hugging sports seats, the dashboard and doors can be finished in a selection of sporty trim pieces and you get unique M readouts on the car's digital displays.
So it's a do anything car – practical enough for the family, fun enough to keep you happy when you get it to yourself – except the X3 M Competition does that too and has even more space. In that respect the X4 M Competition makes little sense unless you're sold on its looks.
Comfort and design: BMW X4 interior
"The BMW X4 M Competition is just as practical inside as the standard X4, but it gets sporty touches that make it feel more special."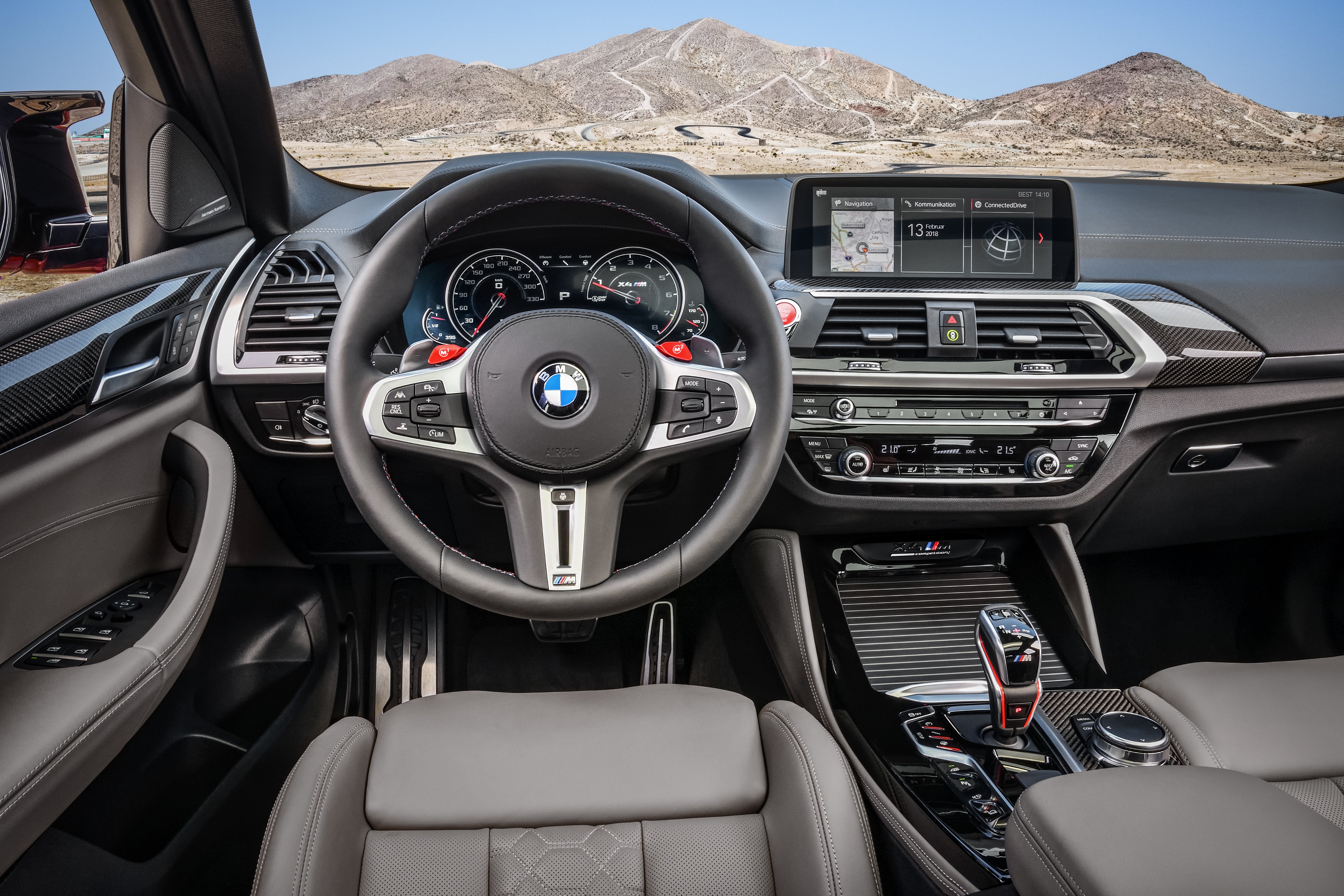 You won't confuse the BMW X4 M Competition for a normal X4 when you get sat in the driver seat.
You get a chunky M steering wheel with two prominent red buttons labelled M1 and M2 – so you can preselect and save your preferred driving settings. You also get a M gear selector, an interior that's decked out in carbon fibre trim pieces and heavily bolstered sports seats wrapped in quilted leather.
This is still a practical car though. There's space in the front for tall adults and plenty of adjustment for a variety of body shapes to get comfortable behind the wheel. Unsurprisingly – thanks to that low set roof – headroom isn't as good as in an X3 and the bulky sports seats also rob your rear seat passengers of some knee room compared to what they'd get in a regular X4.
Boot space remains the same, though, so you get a 525-litre capacity and a boxy shape that means the X4 M can swallow most things you'll throw at it. Drop the back seats down – they split 40:20:40 – and you'll be able to get an adult's bike in with both its wheels attached. How many sports car can you say that about?
Handling and ride quality: What is the BMW X4 M like to drive?
"The BMW X4 M Competition is more excitable than a hyper active teenager but, when you're not in the mood, it's never as relaxing as the standard X4".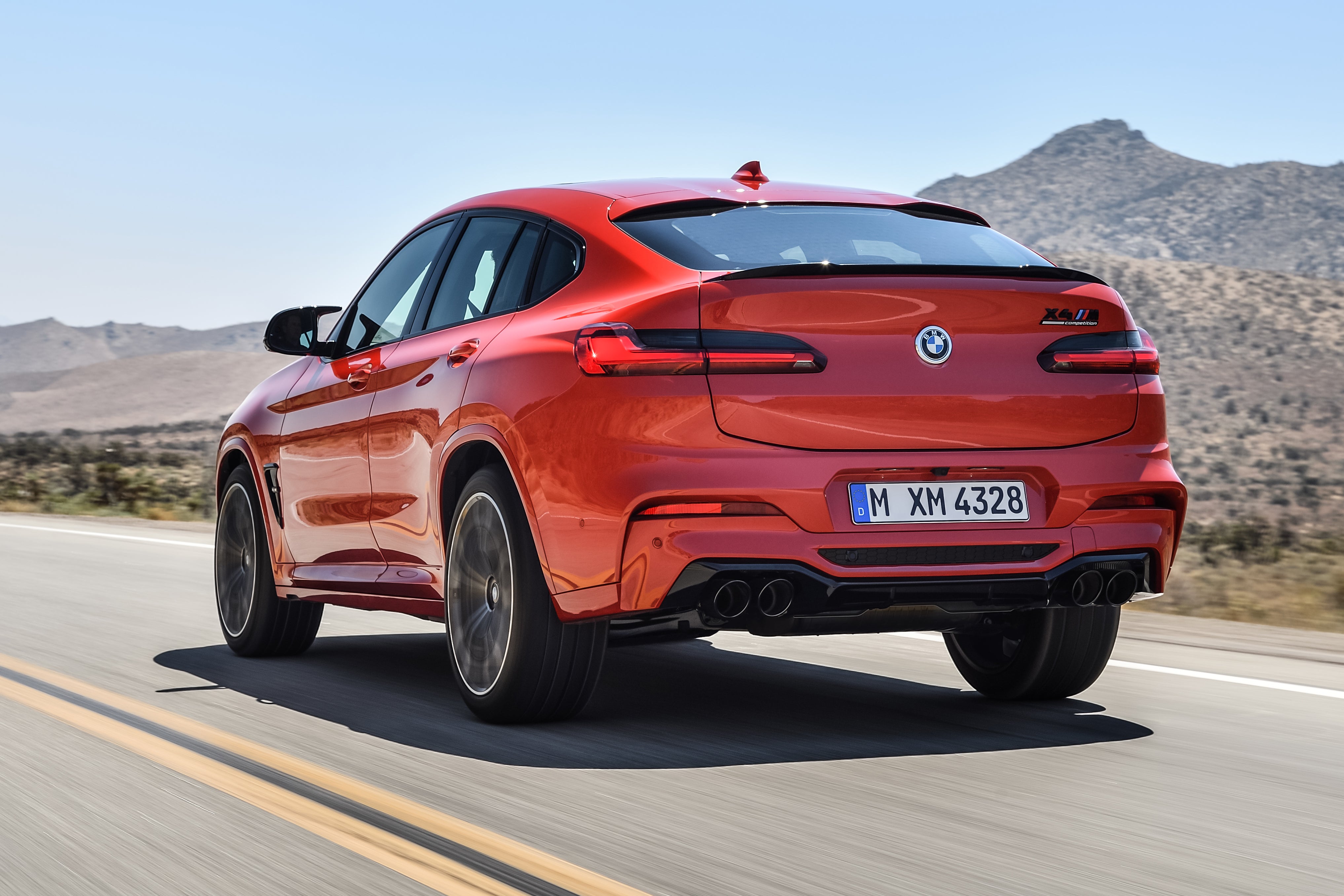 The BMW X4 M Competition tries to be all things to all people.
For a kick off, with 510Ps on tap, it's explosively fast – it gets from 0-62mph in four seconds, will hit 100mph in under 10 and keeps on going until it hits 177mph. Figures that comfortably put the traditional do-anything performance car – the Volkswagen Golf R estate – to bed.
It's also quite a lot of fun on corners. Quick steering means the X3 can dart from left to right quicker than a shoal of mackerel and its super stiff suspension means the X4 M Competition's upright body remains, well, upright.
The trouble is, it can also feel a little too lairy for what is, at the end of the day, a car you could have your kids in. Instead of understeering predictably on the limit, the BMW is more than capable of lurching you into snap oversteer – fun if you're ready for it, not so much if you're not.
That would be fine if this nervousness could be engineered out by fiddling with the car's various settings but the trouble is the X4 M never feels all that comfortable or relaxing to drive, you'll have to buy it knowing you're sacrificing comfort for performance.
MPG and fuel costs: What does a BMW X4 M cost to run?
"With a powerful twin-turbocharged 3.0-litre straight-six engine under the bonnet, a hefty weight and a body shape that's less aerodynamic than it could be, the BMW X4 M isn't exactly an economy machine – you can expect it to return about 25mpg driven sensibly – rather a lot less if you so much as breath on the throttle."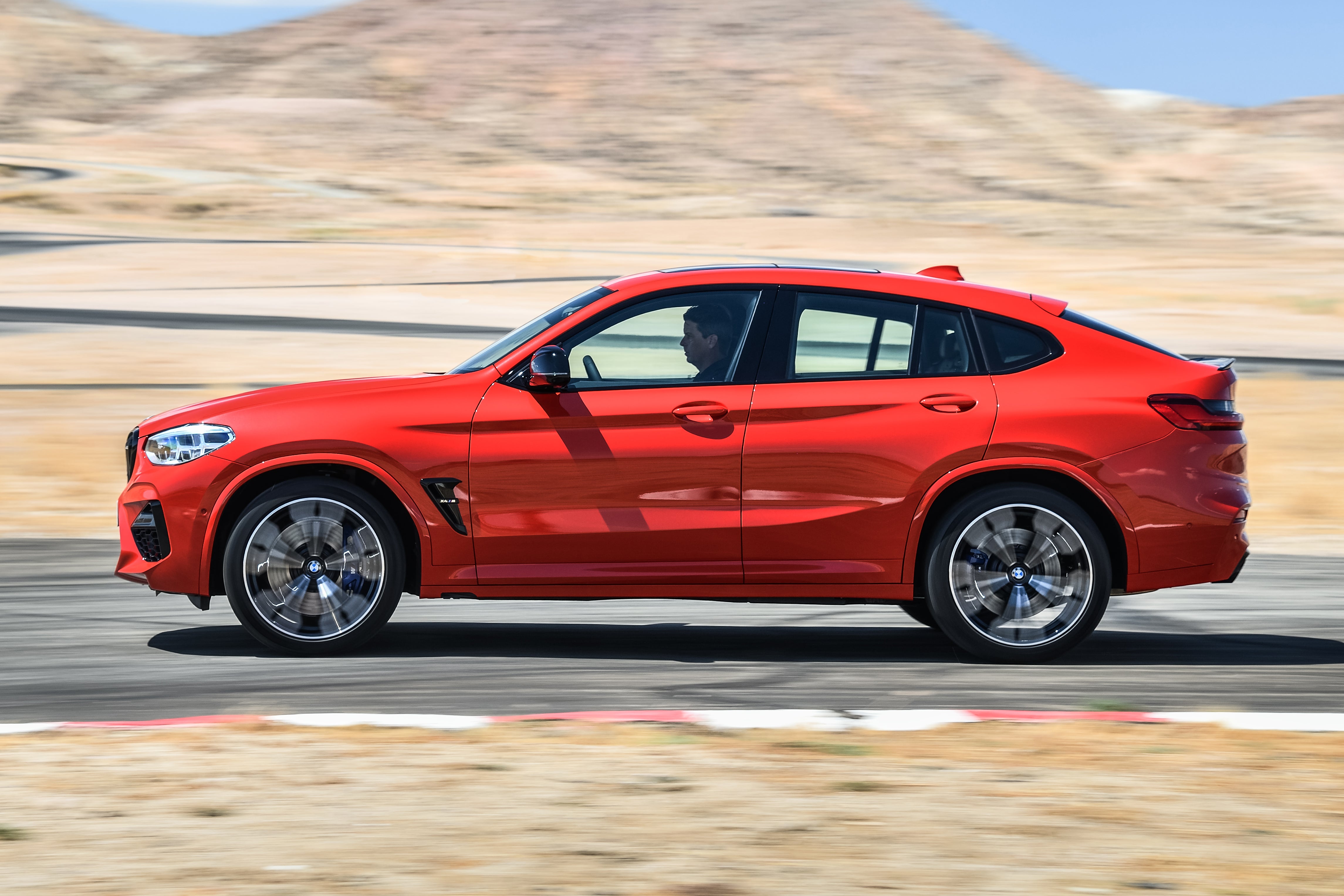 Insurance will also come with a sturdy premium – expect to pay around £2000 in your 20s for cover, but even if you're in your 50s you can expect to pay £800 a year. Factor in road tax of a whopping £2175 in the first year and £475 every year thereafter for five years and, it goes without saying, the X4 M is not a car you buy with one eye on your wallet.
How much should you be paying for a used BMW X4 M?
"The BMW X4 M Competition comes with a host of kit that means it looks and feels nothing like the regular model, although you pay a hefty premium for the privilege."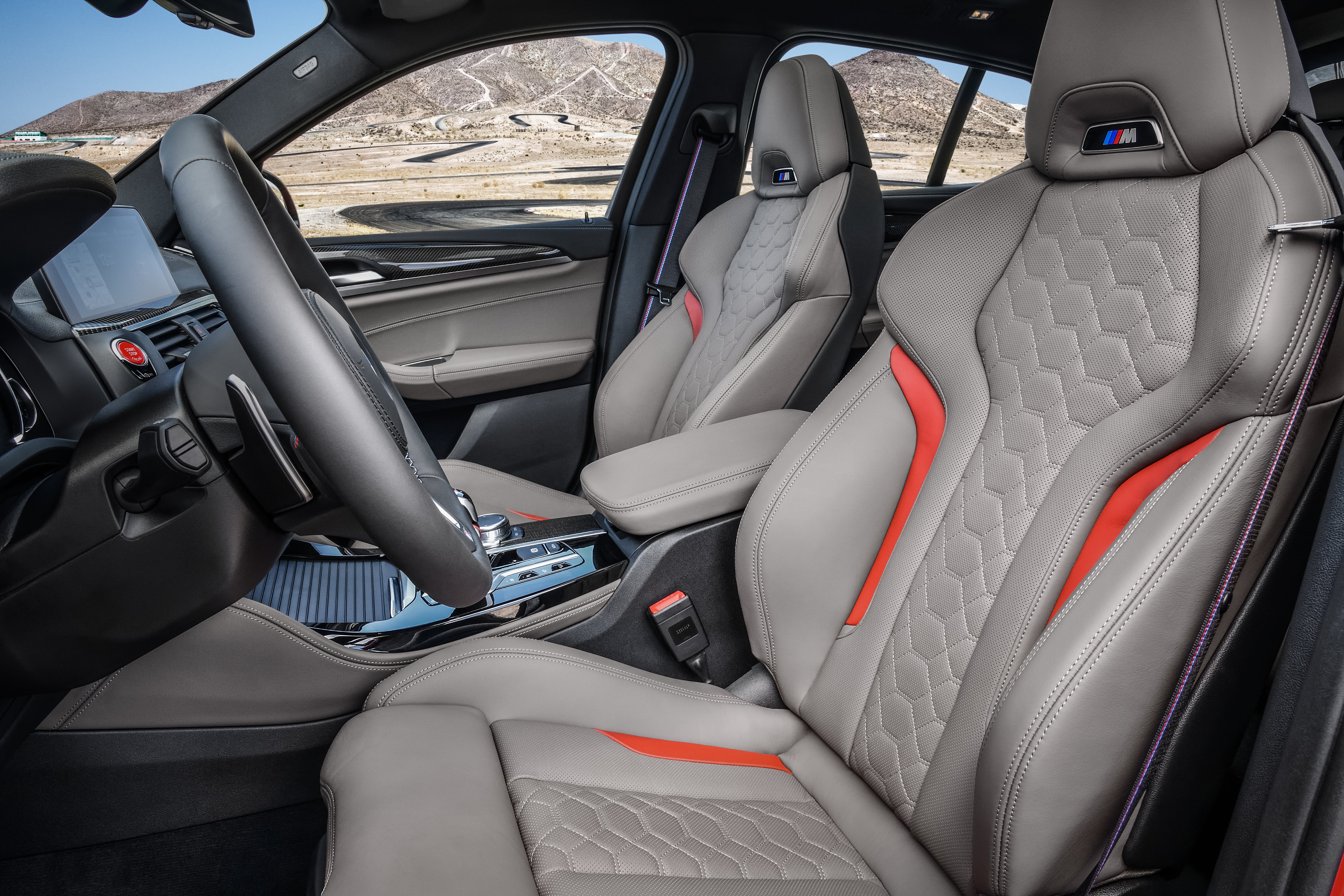 On the outside, it has a M body kit that comprises chunky front and rear bumpers, side skirts, wing mirrors, a subtle boot spoiler and four less-than-subtle exhaust pipes. Inside, it's much the same story, there you'll find kit that's specific to the X4 M including sports seats, a head-up display and a sports steering wheel.
Kit, meanwhile, includes auto-dipping headlights, a Merino leather interior, a Harman Kardon stereo, adaptive LED headlights, a digital instrument binnacle, electrically adjustable seats, 10.25-inch infotainment screen, front and rear parking sensors and a reversing camera. New, the X4 M Competition cost a little less than £75,000.
Buy one used, though, and the price looks a lot more agreeable. A year-old car with 15,000 on the clock can be yours for more than £20,000 less. Or you can snap up a pre-registered brand-new car for £10,000 less than list.
BMW X4 M Competition cars for sale on heycar
3,152
Number of cars available
£50K - £64K
Price bracket of these cars
Colours available on heycar
Keep me updated by email with the latest advice, news and offers from heycar
By submitting, you agree to our
privacy policy
.