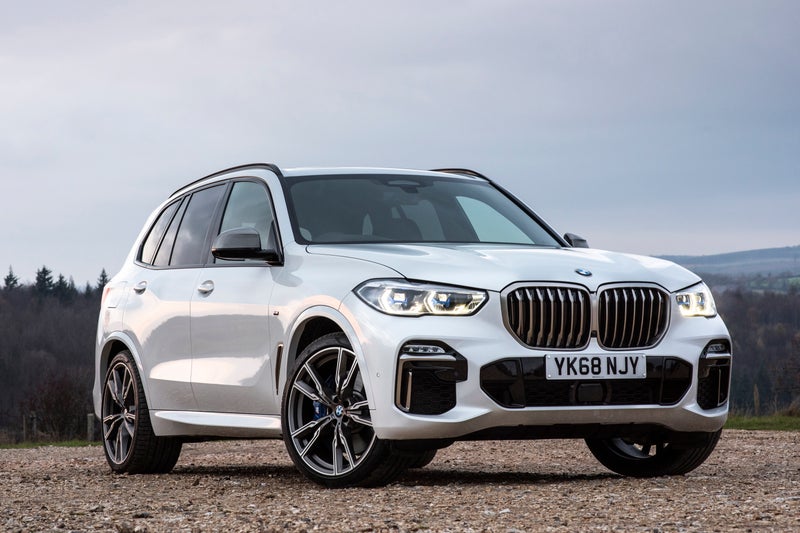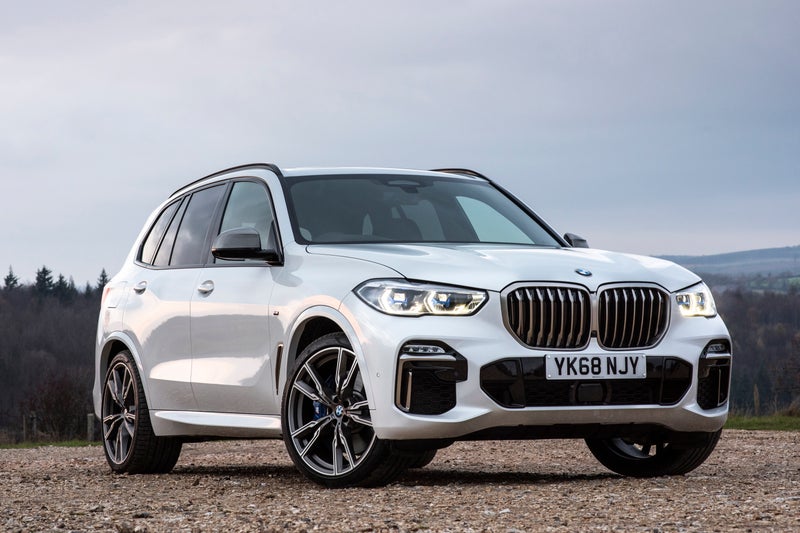 1/10
heycar rating
"Luxurious, fast and sporty SUV"
Launched: 2018

SUV

Petrol, Diesel, PHEV
Quick overview
Pros
Incredibly luxurious cabin
Great to drive in the right spec
Plug-in hybrid 45e is exceptional
Cons
Not as competent off-road as some
Expensive to buy
You have to pay for seven seats
Overall verdict
On the inside
Driving
Cost to run
Prices and Specs
Common questions
Overall verdict on the BMW X5
"The BMW X5 is a highly impressive large SUV. It's practical, spacious and comfortable, but also quite fun to drive for something so big. A fantastically smooth gearbox, powerful engines and supple air suspension make it a compelling package. It's expensive, but the plug-in hybrid 45e has low running costs and is luxurious enough to feel worth it."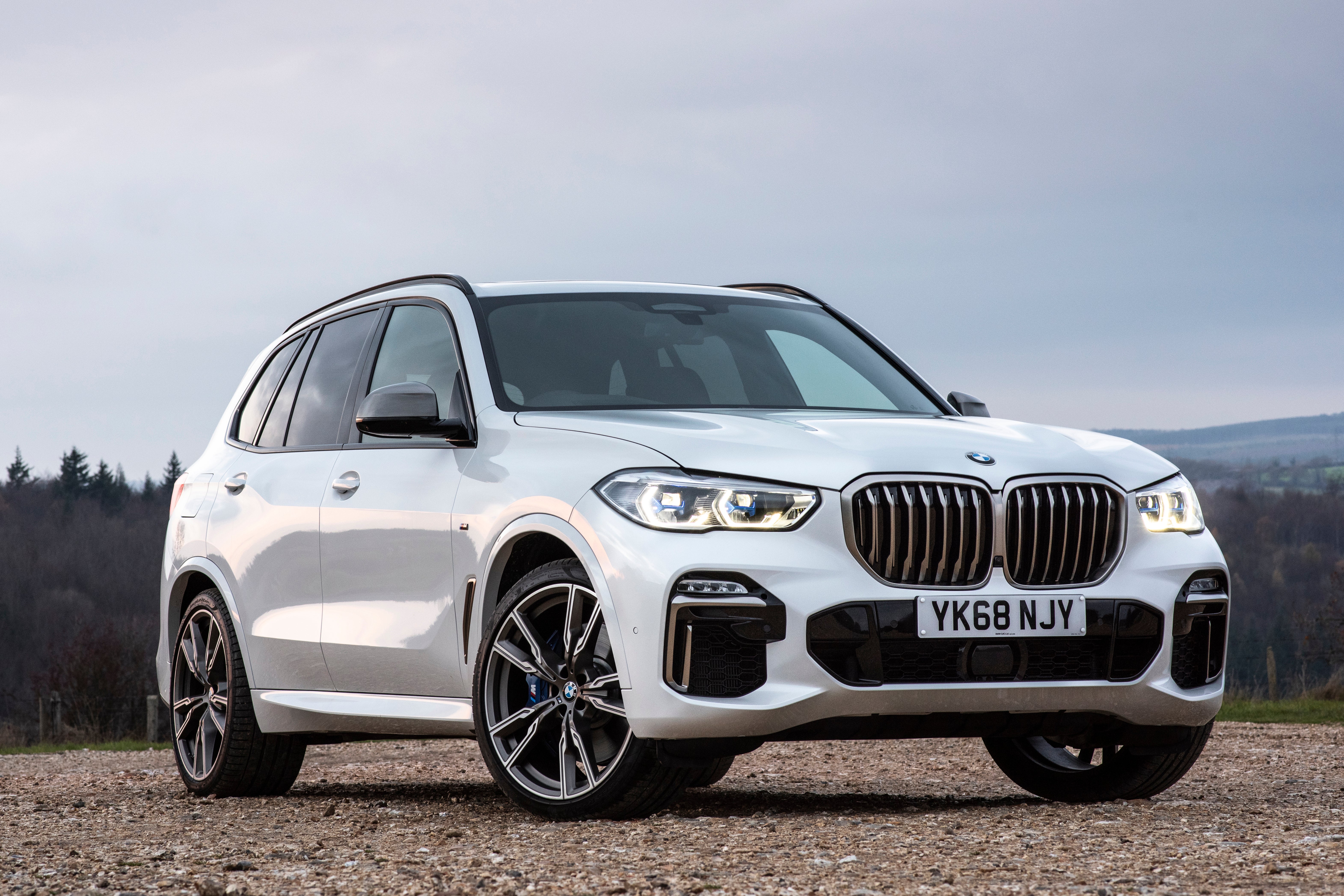 If you think about big, posh SUVs like Olympic athletes, most of them pick a single discipline to specialise in. Volvo sets the gold standard in safety with its XC90, Land Rover's Discovery is unbeatable off-road, and so on. The BMW X5, though, is a heptathlete - it won't necessarily beat its rivals in one specific area, but is dominant in many, as we'll show in this review.
That 'jack of all trades' approach makes it a fantastic all-rounder, especially as with the latest model, BMW has added luxury and comfort into a mix that already included fantastic engines, strong practicality, and a surprisingly complete driving experience.
The spectrum of its abilities is so broad in fact, that you can order your BMW X5 as a plug-in hybrid that emits less than 50g/km of CO2 for ultra-low running costs, or an outrageous high-performance missile with over 600PS (the bonkers X5 M).
Let's start with practicality. No it doesn't have the biggest boot in the class, or seven standard seats (you can fit them as an option) but still provides generous passenger and luggage space. You can fit five adults inside without complaints from those in the back, and the boot has enough functionality to compensate for its size.
The excellent 3.0-litre diesel 30d will be more than quick enough for most buyers. It has impressive pulling power across the rev range, and works beautifully with its standard-fit eight-speed automatic transmission. An update in 2020 means it also features mild-hybrid tech, boosting performance while lowering CO2 output.
Of the seven engines available, we think it strikes the best balance between price, pace, and fuel economy. It also has a massive cruising range of over 700 miles, making it perfect for those cross-continental road trips.
Still, if you want a fully electrified driving experience, then the plug-in BMW X5 xDrive 45e is one of the best hybrid cars going. With a fully charged battery, it can travel over 50 miles on electric power alone, up to 83mph, so it gives you more opportunities for zero-emissions driving than either the XC90 T8 or Range Rover Sport P400e will.
It's no slouch either, with a combined output of nearly 400PS it feels every bit as fast as the xDrive 40i petrol. The only place you pay a penalty for its advanced drivetrain is in the corners, where is feels heavier and less nimble than the standard models. It's still surprisingly easy to hustle down a twisty road, but rolls about more.
Equipped with a conventional engine, the BMW X5 is impressive to drive. Every model gets four-wheel drive and (with the exception of the hotter M50i and M50d models, where it's optional) cushioned air suspension that's incredibly comfortable. It can switch between smooth, supple motorway cruiser and sharp handling B-road hustler at the press of a button. It's not quite a 5 Series in that department, but for something so tall and heavy it's a great achievement.
As one of the flagship models in BMW's range, the X5 commands a seriously high price. To help you swallow that pill, it's incredibly well equipped - the base xLine trim is crammed with everything you could need or want. It feels more luxurious inside than its rivals too, with stunning cabin materials and exceptional build quality.
It's safe to say we're big fans of the BMW X5. As the do everything, Swiss Army knife of large, premium SUVs, it does everything you'll ask of it and more. If you only need five seats, then it should be at the top of your list.
If you're looking for the older version, you need our BMW X5 (2014-2018) review.
Is the 2022 BMW X5 right for you?
The BMW X5 was pretty much the first 'sporty' SUV that was genuinely fun to drive on the road, while still being able to take you further than a normal family estate car off it. The latest model stays faithful to those characteristics.
If you want a large SUV that feels good to drive but comfortable with it, there aren't many better than the big BMW. Unlike rivals such as the Porsche Cayenne, this sportiness doesn't come at the expense of ride comfort or practicality.
As a five-seater, it's one of the most complete large SUVs money can buy, with an impressive standard equipment haul that balances out its high asking price. For carrying seven (or as much luggage as possible) there are roomier options, and it's a similar story if you want your 4x4 to specialise in off-roading capability. In fact, a Land Rover Discovery is better in both respects.
However, as an all-rounder, the BMW X5 is hard to beat, especially now that it comes with such a wide range of different engines, covering everything from advanced plug-in hybrid tech to savage straight line performance.
What's the best BMW X5 model/engine to choose from?
Unless you're a company car driver, then we can't see any reason not to go for the entry-level xDrive 30d. It has a smooth, powerful six-cylinder engine, supple air suspension, and is the most affordable and efficient diesel BMW X5.
With the smallest wheels and non run-flat tyres, it's also the most comfortable and hushed version of this car when cruising long motorway distances - qualities that we think are essential on a big, luxurious family SUV. If the 30d model isn't quite fast enough for your liking, then the punchier still 40d is excellent - while still remaining fairly economical.
The same can't be said of the petrol models, which while impressive to drive will hurt your wallet at the pumps. Even the lowest powered 40i model has a 333PS turbocharged straight-six, and that's plenty - but you'll be doing well to see 30mpg out of it. The M50i on the other hand? It's a twin-turbo V8 with serious pace, but that'll be more like 21mpg. To be honest, though, it makes the 'full-fat' X5 M look rather ludicrous.
If you plan to buy a petrol, then frankly you'd be mad not to go for the plug-in hybrid xDrive 45e. It's only a little more expensive to buy than the xDrive 40i, but will be much cheaper to run and tax, and its pure-electric driving capabilities make it a wonderfully stealthy and soothing car for navigating stop-start city traffic.
The xLine trim has everything you need specification wise, so again unless you're desperate to pump up the already brash styling we wouldn't bother with the pricier M Sport version (although plenty of buyers will). You can use the cash you save to plump up for a few extras, like the Technology Pack or the third row of seating. It's worth avoiding the very largest 22in wheels if you can, as the BMW X5 loses some of its imperious comfort with them fitted.
What other cars are similar to the BMW X5?
The usual suspects Audi and Mercedes both offer cars that rival the BMW X5 for luxury, size and performance. The Audi Q7 comes with seven seats as standard, an even bigger boot, and costs a bit less in a like-for-like trim level. It's also good to drive, but the cabin isn't quite up to the latest X5's standards.
Mercedes' GLE is not quite as luxurious inside, and comes with a four-cylinder diesel and steel suspension in its most affordable guise, whereas the X5 gets six-cylinder and cushioned air springs throughout its range. I
These rivals both offer their own plug-in hybrids aimed at company drivers, although unusually the GLE pairs its electric motors with a diesel engine - giving it better fuel economy than the X5 once the battery is depleted.
However neither is quite as sporty to drive. If you want high-performance thrills and even sharper cornering the Porsche Cayenne feels even more agile than the BMW, though it's not as well equipped or comfortable.
For intrepid SUV drivers who actually want to go off-road (surely there are some?) Land Rover's Discovery has seven full-size seats, and is unbeatable in the rough stuff thanks to its 4x4 gadgets and chunky tyres. And for those who want something a bit left-field, then the impeccably built (and hybrid-only) Lexus RX, or the newly-launched Genesis GV80 are worth a look.
Comfort and Design: BMW X5 interior
"The BMW X5's raised suspension means you can slide straight into its wide, comfortable front seats. The driver gets a huge range of electric adjustment, with the seat and steering wheel both moving at the push of a button."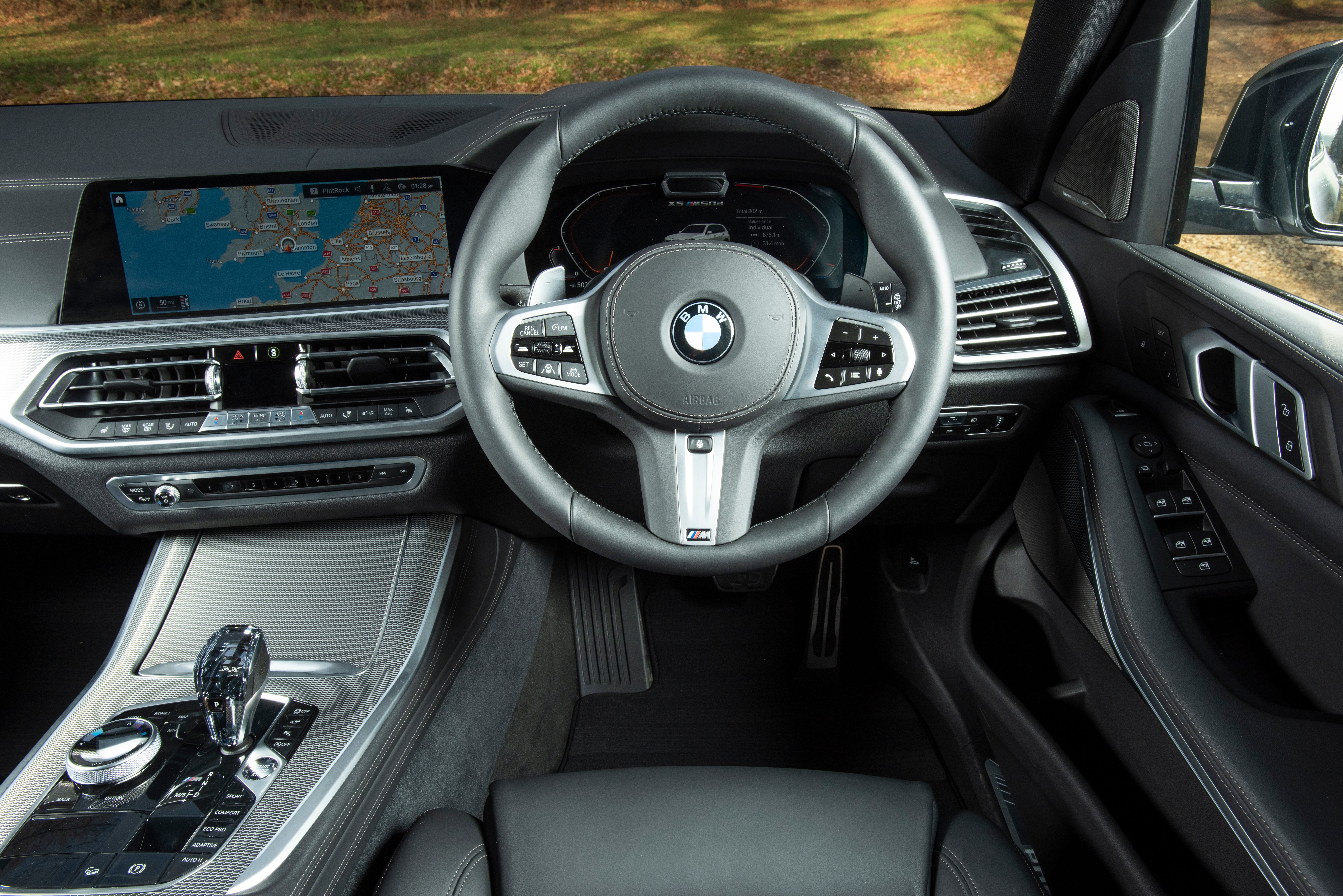 The electric adjustment in the BMW X5's extremely comfortable front seats covers not just the backrest angle and distance to the pedals, but also an extendable thigh support cushion.
Lumbar support, seat heating and a memory function are all standard, so if you share driving duties with your spouse you can reset the seat to your preferred position without having to fiddle with all the controls.
If simple seat heating isn't enough, you can option the centre and door armrests to be heated too, alongside the usual ventilation and massaging functions. That used to be the reserve of the most expensive luxury cars.
As with most SUVs, you sit up high - giving you a commanding view down the bonnet - and over most normal traffic. For such a large car, visibility is pretty good, although the chunky rear pillars mean it can feel intimidating to navigate round confined spaces like airport car parks. Luckily its various sensors and cameras lend a hand.
Older BMWs used to be a bit of a button-fest. They had dash designs that were deliberately complex, to try and show you just how expensive the cars were by bamboozling you with the sheer number of switches.
Its latest models have moved away from that approach, so are now a lot more user-friendly. The controls are all grouped together in zones. So the driving modes, suspension settings and so on are right next to the gear selector, the climate controls are a strip under the vents, a row of touch-sensitive media buttons below that.
In fact, it's so well executed that once you've got your bearings, finding the right switch takes just a moment.
Our only gripe is that its digital dials don't let you change to a circular speedo or rev counter, or customise the layout or design in any way. Why not BMW?
Quality and design
It's hard to fault the BMW X5 for quality. The expensive materials, impeccable fit and finish and slick technology on-board make for a potent mix, and the attention to detail in here is far better than in the previous generation.
The angular design helps improve the upmarket feeling in the cabin, but the sheer quality of the materials is the biggest sea-change. Where in some rivals you might come across plastics masquerading as metal, BMW uses aluminium. Dense soft-touch plastic is everywhere, too, even often overlooked places like the glovebox lid.
It's not just better than the old X5 either. This is one of the most luxurious SUVs at any price, and feels better constructed than any of its contemporaries, even the Audi Q7 and Mercedes GLE. The leather upholstery is pleasingly soft, and the switches and dials are all nicely damped. Using the controls feels palpably premium.
The standard patterned inlays are attractive, but at some angles looks a bit like a magic-eye puzzle. If you aren't a fan, BMW gives you the option to swap it for piano black, or various wood veneers for around £250.
M Sport trim looks sportier inside, with a thicker steering wheel, metallic pedals and illuminated door sills.
Some of the optional extras for sprucing up the interior stretch the boundaries of taste, such as a pack that replaces some of the buttons and gear stick with a jewel-like crystal glass finish that's quite bling. If you have deeper pockets you can upgrade the normal leather to an even more supple grain, but it's really expensive.
Infotainment: Touchscreen, USB, nav and stereo in the BMW X5
We have nothing bad to say about the standard iDrive infotainment system in the BMW X5. Simply put, it's one of the best in any car on sale in terms of the features it offers combined with its general ease of use.
Every model comes with a pair of 12.3-inch screens that are brilliantly sharp, bright and easy to read. Sure, a Tesla Model X may dazzle with its giant central touchscreen, but it's trickier to use certain critical functions on the move.
The main display is tilted towards the driver, and peels off to the side from the instrument binnacle, where the second screen sits in the form of a set of digital dials. The latter is not as clearly laid out, or easy to take in with one glance as Audi's Virtual Cockpit, with the slim rev counter and speedo confined to the outer edges.
The latest version of BMW's software is lighting fast, never stuttering even when juggling complex tasks. The display is customisable and lets you choose and rearrange your most frequently used functions on-screen. It comes as standard with DAB radio, Bluetooth, wireless phone charging, and an excellent navigation system.
Wireless Android Auto and Apple Carplay also feature, too. BMW was slow to offer the former at first, but has brought it out in its most recent models due to overwhelming customer feedback.
You can control is any way you like, too. The large rotary controller next to the gear selector, with dedicated shortcut buttons for navigation and media are best to use while driving. You can also press, swipe and touch the screen, which is snappy and responsive, or use your voice if you don't want to leave greasy fingerprints.
You don't need to worry about it going out of date either. Just like a smartphone, all X5s get over-the-air map updates, live traffic and weather information, and even a concierge service. The subscription to this service is free for the first three years of ownership, but after that you'll have to cough up to keep your car connected.
Space and practicality: BMW X5 boot space
At 4922mm long, 2004mm wide and 1745mm tall the BMW X5 is a seriously large car, and those ample external dimensions mean it feels really spacious inside.
Those lucky enough to sit in the front will be able to stretch out to their heart's content, with a good distance between the seats, and very generous head- and legroom.
Things are great in the back too, with kneeroom that's not far off that of a plush executive saloon despite the option of an extra row of seats behind, and room for three adults to sit next to each other without too much discomfort. There is only a small hump in the footwell to put your feet either side of if you're in the middle, and the tall roofline means only basketball players will struggle.
The seats are very comfy on long journeys, but unlike in its rivals from Mercedes and Audi, they don't slide back and forth or recline, so if you don't like the seating position in the back you can't do much to change it. At least you can heat them optionally, while you can also spec an entertainment system with TV and the ability to set the navigation from the rear seats.
There are ISOFIX points for child seats in the outer two positions, with flip-up plastic covers that hide them from view when not in use. With wide-opening rear doors, getting a bulky seat in should pose few problems.
Unlike the Volvo XC90 and Audi Q7 the BMW doesn't come with seven seats as standard. If you do choose to add them from the options list, you'll find they're quite small and cramped, and only suitable for small kids.
With all seven seats up you'll also struggle to fit more than a few shopping bags in the boot, unlike in the Q7.
As a five-seater however, boot space is excellent. Although its 650-litre capacity is a bit less than its closest competitors, it's a very smartly designed luggage area. For starters, there's no loading lip, and the flat sides make it very easy to stack suitcases on top of each other and make full use of the available space on offer.
It comes with helpful features too, including a split tailgate, which can double up as a bench seat when you're by the roadside, and opens electrically as standard. The rear seats drop at the touch of a button, and split in a 40/20/40 configuration, which means you can carry two adult passengers and luggage at the same time.
Things aren't quite as rosy in the plug-in hybrid 45e, since it's only available with five seats, and misses out on some valuable under floor storage in the boot. If practicality is a big concern, the X7 might be a better bet.
Handling and ride quality: What is the BMW X5 like to drive?
"Most versions of the BMW X5 come equipped with air suspension, with different driving modes to tailor the ride to suit what type of driving you're doing. It's brilliantly judged too - soft and cosseting in Comfort mode, it'll glide over bumps and potholes, almost totally isolating you and any passengers on board from the road's surface."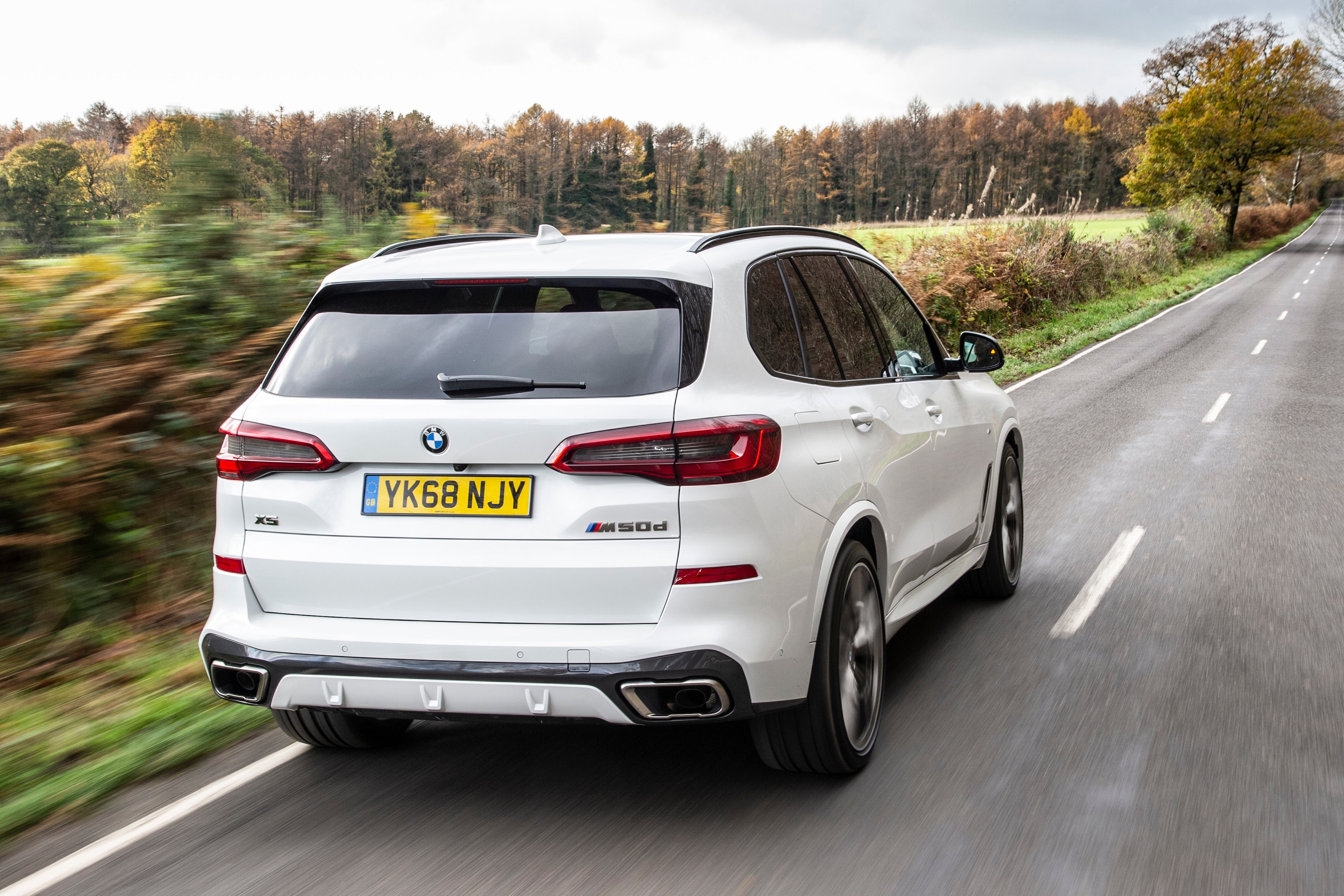 The BMW X5 has always been the benchmark for how a road-biased SUV should ride and handle, and the latest car is no different. Rivals still can't match its blend of stability, handling and plushness.
With air suspension standard on most models and options on the others, the BMW X5 can be adapted to suit the driving environment. Models fitted with larger alloys (and run flat tyres) will occasionally trip over sharper-edged deviations, but in general this is one of the most comfortable cars of its type, and won't fidget at low speed like a Volvo XC90.
Swap into Sport mode on the right road, and the whole car lowers itself closer to the Tarmac, tightening up its body control, and doing a superb job of keeping the X5's not inconsiderable weight in check through corners. For such a large car it feels agile, changing direction sharply thanks to progressive, nicely weighted steering.
Every model has four-wheel drive as standard, and while the system sends more power to the rear wheels to push you out of bends, it also provides impressive traction. It feels particularly stable on twisty country roads, where the wide tyres generate huge grip. This is one SUV that was clearly setup with on-road driving in mind.
The range-topping M50i and M50d models have conventional steel springs and adaptive dampers. It gives them a different character to the standard cars, with a noticeably firmer edge to the ride, and less body lean. Air suspension can be specified but again, it's more tuned towards handling than comfort.
They feel eager to change direction and fairly sporty for a large SUV, but not quite as sharp in bends as Porsche's Cayenne. The steering is a little sharper, too.
However they're simply not as comfortable on pockmarked urban roads; they're far from jarring, but as big SUVs should prioritise comfort the the standard setup will suit most buyers better. The heavy plug-in hybrid is also the least nimble X5 to drive thanks to the weight of its batteries.
What engines and gearboxes are available in the BMW X5?
The X5 features some of BMW's strongest engines. Some of this car's rivals lower their starting prices by offering a four-cylinder model to kick-off the range, but every X5 comes equipped with six cylinders or more - more in-keeping with a large luxury model.
The cheapest model also happens to be one of the best. Labelled xDrive 30d, it has 286PS and 650Nm, so performance is plentiful. It sounds fruitier than most diesels, delivering strong, consistent pulling power right through the rev range. It has more than enough oomph to get the X5 moving, and is relatively economical.
That should really be enough performance to satisfy any buyer. Still, if you do a lot of towing or just want even more pace, the 40d uses the same size engine, but adds an extra turbo for satisfyingly fast overtaking ability. It's probably the most complete BMW X5 in the lineup with it fitted.
Frankly, the quad-turbo, 400PS M50d is an engineering marvel - and astonishingly rapid - but feels like overkill to us, both in terms of cost and power.
If you're looking to avoid diesel altogether, BMW has got you covered. The xDrive 40i has a straight-six 3.0-litre petrol that's wonderfully smooth, even more refined than the diesel models, and sharper to respond, if a little on the thirsty side.
Performance purists can indulge in the V8-powered M50i. With 523hp it's a bit of a monster that can go from cruising along with that distant eight-cylinder burble, to charging forward with almost alarming pace for a big SUV and a rorty soundtrack. It's a great cruiser, too, but like the top diesel it feels like overkill in a car such as this. It also chews through a tank of fuel at an uncomfortable rate.
The M50i is silly and indulgent enough on that front, so frankly we don't see the point of the ludicrous 625hp X5 M. Unless all that matters to you is pub bragging rights or showing off, it doesn't make any sense in the UK.
We think the best petrol option is one that comes with a side order of battery assistance - the 45e. A plug-in hybrid with a powerful electric motor and impressive 54-mile EV range. Despite its weight, it feels just as quick as the 40i, but will cost you a lot less to run, especially if you do a lot of shorter trips fully charged.
Every model comes with four-wheel drive to transfer their power effectively to the road, and BMW's superb eight-speed automatic transmission, which is incredibly smooth, and faster shifting than most of its rivals.
Refinement and noise levels
With so much bad press around diesels, many large SUVs try to mask the sound of their oil-burning engines to make them as anonymous as possible, fading into the back ground in a vain hope that no one will notice.
BMW has taken the opposite approach in the X5, and the straight-six in the 30d makes a surprisingly raucous and engaging noise if you push it. It's not unpleasant, a bit like distance rumbling thunder, but it's a surprising presence in the cabin of a luxury SUV.
It actually goes one step further in Sport mode, pumping fake exhaust sound into the interior using the X5's speakers. While some buyers will love how meaty this sounds, others are likely to prefer a quieter cruiser. The 40d diesel is broadly similar, while the M50d ups the synthesised note even further.
Enter the xDrive 40i petrol. It's super smooth and subdued when you're just bimbling around town, but when you want to have fun it perks up, growling in a more enjoyable and authentic way than its diesel sibling does.
The plug-in hybrid 45e takes the petrol model's exceptional refinement one stage further. By pairing the 40i's engine up with an electric motor, it's whisper quiet when you're driving on battery power alone. Even if the combustion engine kicks in, the transition from electric to petrol power is super-smooth and instantaneous.
The M50i and X5 M use BMW's 4.4-litre twin-turbo V8, which in this application makes a thunderous noise at full chat and a pleasingly muted burble at a cruise.
Regardless of the engine, all X5s do an excellent job suppressing wind noise on the motorway. While the air suspension never clonks or thuds like a conventional setup would, even on rougher surfaces. The standard eight-speed automatic transmission is also one of the smoothest, most decisive gearboxes fitted to any SUV.
Only one thing disturbs the sense of quiet. The sportiest models come with very large diameter alloy wheels, and some also feature run-flat tyres, both of which create more tyre roar then you'd want at higher speeds. They also allow more thumping into the cabin on bad road surfaces.
Safety equipment: How safe is the BMW X5?
As one of the flagships in BMW's extensive SUV line-up, the X5 benefits from all the brand's most advanced safety technology, with the comprehensive standard kit backed up by a broad range of optional systems.
It's no surprise that it received a full five-star rating in crash tests performed by Euro NCAP. It scored highly in all three protection categories, although the class-leading Volvo XC90 beats it for adult and child safety. It's a shame that there are only two Isofix mounting points for child seats in the X5's second row, and none at all in the optional third row, too.
It comes with a full complement of airbags, including driver's knee and side impact protection, but the latter don't reach all the way to the (optional) third row of seats, as they do on the Audi Q7. All the essentials are here, but the X5 also comes with lane departure warning, speed limit assist and Front Collision Warning.
The last one is BMW-speak for autonomous emergency braking (AEB). This system uses a forward facing camera to detect pedestrians, cyclists and cars, warning the driver and hitting the brakes to prevent a shunt.
As standard the X5 also comes with an extensive set of parking aids. These include front and rear acoustic sensors, a high-definition rear view camera, automatic bay and parallel parking (the car will do it all for you), and a reversing assistant. This can memorise your steering inputs and play them backwards if you have to suddenly back up in a narrow street or multi-storey - you just put it in reverse and the car retraces your tracks.
For maximum assistance, you can add the £2,295 Driving Assistant Professional Pack. It's an advanced set of active systems, including semi-autonomous driving aids like adaptive cruise, a system that can swerve to avoid obstacles in the road, and another that detects passing traffic if you're reversing onto a busy junction.
On normal tyres, you get a foam repair kit under the boot floor, but you can spec run-flats that let you drive 50 miles with a puncture (at speeds of up to 53mph) so you can limp to the nearest Kwik-fit for new rubber.
MPG and fuel costs: What does the BMW X5 cost to run?
"Choosing the plug-in hybrid BMW X5 will save you a lot of money on fuel, but only if you do lots of short journeys on electric power alone."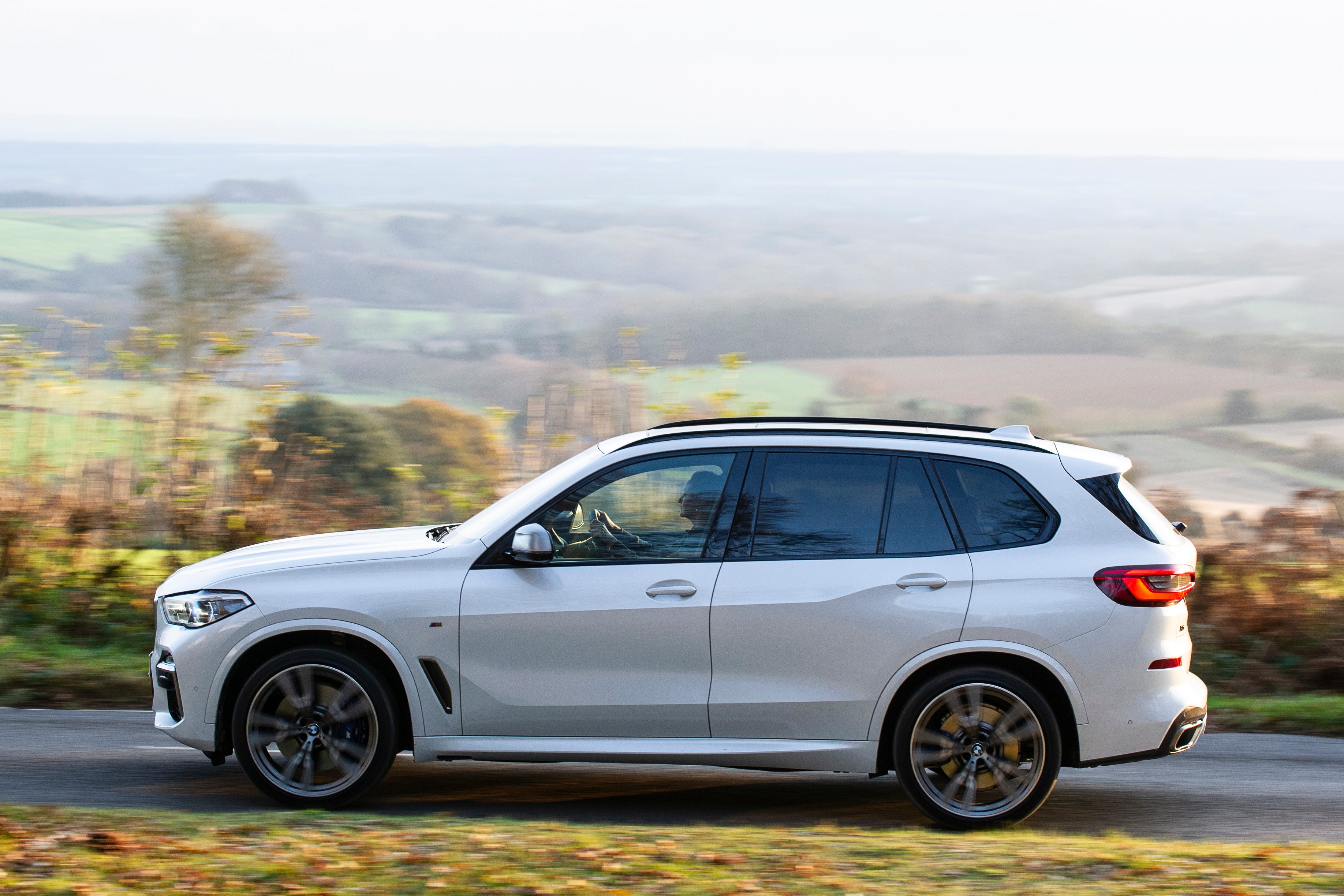 With a depleted battery in the hybrid you'll get closer to 25mpg than BMW's claimed 188.3mpg. It has a 54-mile electric range - significantly further than most plug-in SUVs - so if you have room to charge it at home and a shortish commute, running costs should be very reasonable.
It comes supplied with a three-pin and Type 2 fast charging cable, but a slow 3.7kW maximum charging speed means a seven hour top-up.
As for the popular diesel models, thanks to the recent introduction of mild-hybrid technology, they are really remarkably fuel efficient, with the 30d getting an official 41.5mpg, and the twin-turbo 40d returning 39mpg. Those figures are fairly realistic, too.
The pure petrols, on the other hand, are substantially less efficient. The 40i model can officially manage just over 30mpg, but you might struggle to manage that on anything but a motorway cruise. The M50i, meanwhile, officially manages 23mpg - and you'll do a lot less than that if you exploit its performance. The X5 M doesn't bear thinking about...
How reliable is the BMW X5?
BMW just finished in the bottom third of the manufacturer rankings in the latest HonestJohn.co.uk Satisfaction Index, which isn't a brilliant result. While that's right next to Audi, it's behind key rivals such as Volvo, Jaguar and Mercedes, and well behind the traditionally reliable Lexus brand.
Having said that, the recent scores in the survey are relatively close, and the sheer number of BMWs on the road mean it's more likely that problems will be reported more frequently. The BMW X5 shares most of its mechanical and electrical bits with the popular current generation 5 Series, which hasn't been particularly problematic according to reports. As long as the maintenance schedule has been rigidly stuck to, an X5 shouldn't prove any less reliable than most rivals.
Insurance groups and costs
Insuring such a fast and expensive car is going to cost a lot more than an average car, but the BMW X5 sits in the same brackets as comparable rivals, the Audi Q7 and Mercedes GLE, starting in Group 45 for the 30d model.
A Volvo XC90, Land Rover Discovery or Lexus RX L will all be a little bit cheaper to get comprehensive cover for - especially next to the high-performance variants of the BMW. The plug-in hybrid 45e sit in Group 48, the 50i is in Group 49, while the 50d, and X5 M are both (no surprises here) in the highest insurance band of 50.
VED car tax: What is the annual road tax on a BMW X5?
Keeping your BMW X5 on the road will be an expensive business. Much like other luxury SUVs, no version of the X5 costs less than £40,000 when new, so it is liable to pay the higher 'premium' rate of VED until the car is six years old. That means it'll cost you £475 a year, before reverting to a flat-rate fee, currently at £150.
You get a measly £10 discount if you buy the 45e hybrid, it counts as an alternatively fuelled vehicle, but since none of the diesels are RDE2 emissions compliant, the first-year rates will be steep. The M50d will cost a whopping £2,175.
If you're a company car driver then you'll be able to claw some of that money back by buying the 45e hybrid. Its long electric-only range and low CO2 emissions mean it attracts a BIK rate of just 6% - less than half what a Volvo XC90 T8 would set you back - for comparison all the diesel versions are in the top 37% BIK bracket.
How much should you be paying for a used BMW X5?
"The current BMW X5 was launched in 2018, and that means there are not that many bargains on the used market. You'll still need around £40,000 to get yourself into a X5 30d in xLine trim with a few choice options fitted."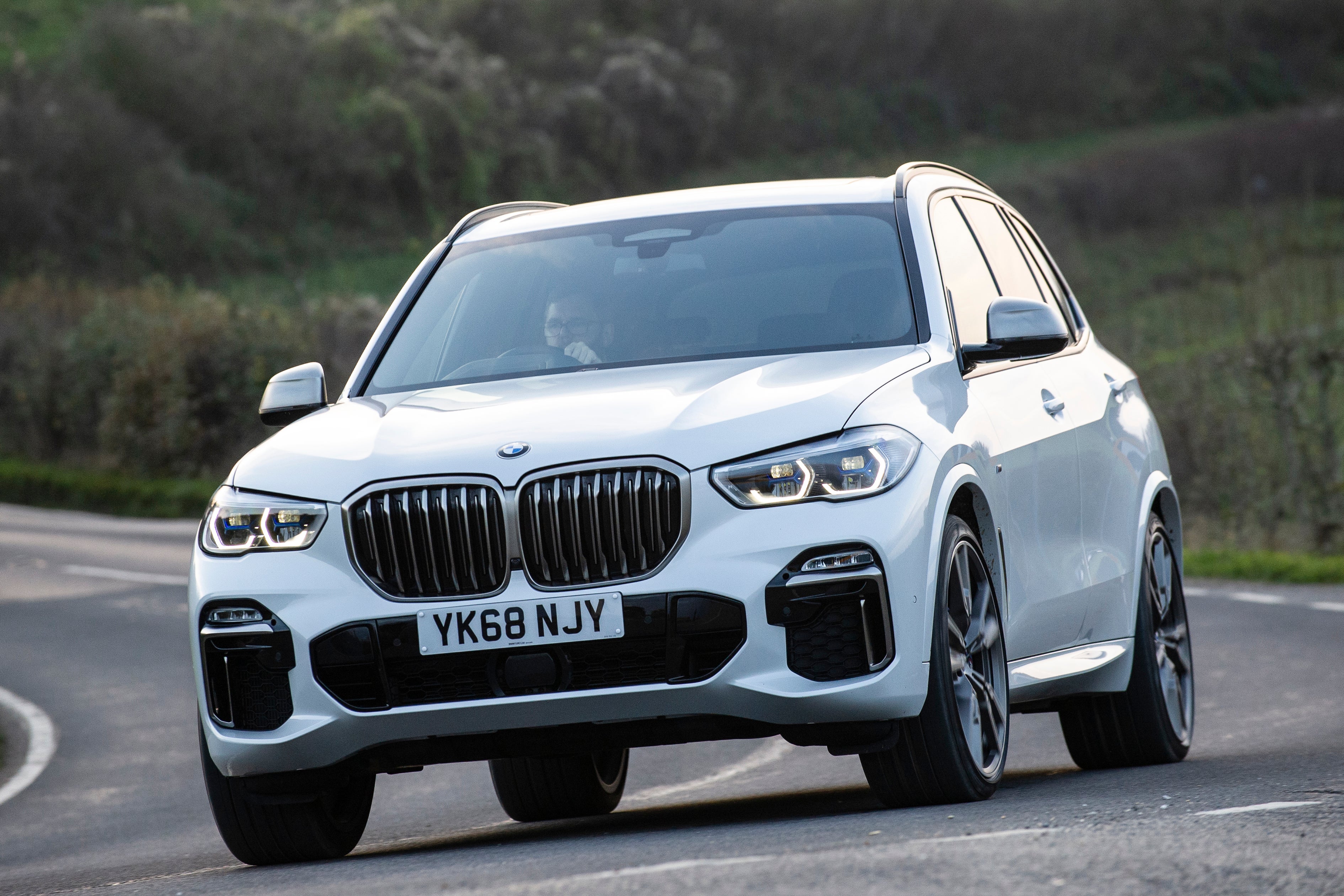 Cars at that price should have covered around 25,000 miles and most are from 2019. While that means the manufacturer warranty is no longer applied, at least heycar's 30 day warranty can give you initial peace of mind should problems arise early on.
M Sport models with the same straight-six diesel engine start from around £3,000 more. To secure the much rarer 40i petrol or thumpingly quick 50d model you'll need to budget around £50,000 or £55,000 respectively.
The plug-in hybrid 45e is in incredibly high demand, so there are virtually none available, and those that you can find are changing hands from almost exactly the same as the recommended retail price of £68,245.
Trim levels and standard equipment
The X5 is one of BMW's most luxurious cars, coming fully-loaded with all the kit you'd expect at this price. If you choose the 30d, 40i or PHEV 45e then you'll have a choice between two trim levels: xLine and M Sport.
Both are exceptionally generous, with the former giving you leather upholstery, electrically adjustable heated front seats, all-round parking sensors, LED headlights, 19-inch alloys, and BMW's iDrive infotainment system with Professional sat-nav, DAB radio, Bluetooth with wireless charging pad, and a 12.3-inch central display.
We can't think of any reason why you'd need to upgrade to the M Sport other than the styling upgrades. It certainly looks meaner than the standard car, with 20-inch wheels, black exterior styling details, a sportier steering wheel, and beefier brakes.
The high-performance M50d, M50i and X5 M get their own bespoke specifications, with lots of mechanical upgrades includes sportier (non-air) suspension, a sports exhaust system, and clever M Sport differential. Inside, you also get an upgraded Harmon/Kardon Hi-Fi and illuminated door sills showing the engine badge.
Fittingly for such a premium model, there's a laundry list of pricey options. From cutting-edge tech such as a set of laser beam headlights that are ten times brighter than standard LEDs, to a Bowers & Wilkins studio grade sound system that will delight music lovers. The latter is over £5,000 though, so we'd choose wisely.
The most useful options are the £1395 third row of seats allowing you to occasionally carry seven people. If you plan to go off-roading then the suitably named xOffroad Pack has got you covered for £2595. It includes a locking differential, unique gearbox settings, off-road driving modes and extra underbody protection.
Ask the heycar experts:
common questions
Does the BMW X5 come with seven seats?
As standard the X5 has five seats, but you can choose to add a third row of occasional seats that fold into the boot floor for an extra £1400, but not on the high-performance X5 M50i trim.

Is the BMW X5 a good car?
The current BMW X5 is more luxurious inside than its predecessors, and it's still one of the best driving large SUVs, with well judged suspension, sharp steering and very powerful engines.

What is the boot space of the BMW X5?
The X5 has a 650-litre boot with the seats up, which is a lot of room, but a little less than you find in the equivalent Mercedes GLE. It's the same story with the middle row folded, however it's 1869-litre capacity should be more than enough for most, and it's a well designed space.

How does a used BMW X5 compare to its rivals on price?
The latest X5 launched in 2018 so there aren't many used examples available. The older model is less plush, but can be found with fairly low mileages for a reasonable price. Porsches and Range Rovers in similar condition cost roughly 20 per cent more.

Is there a high-performance version of the BMW X5?
Oh yes. The X5 M Competition is one of the fastest, sportiest SUVs on sale. Its 4.4-litre twin-turbo V8 petrol engine produces 625PS and it's capable of 0-62mph in 3.8 seconds. You also get bespoke interior and exterior styling, massive brakes and a clever differential.

BMW X5 cars for sale on heycar
3,091
Number of cars available
£22K - £86K
Price bracket of these cars
Colours available on heycar
Keep me updated by email with the latest advice, news and offers from heycar
By submitting, you agree to our
privacy policy
.