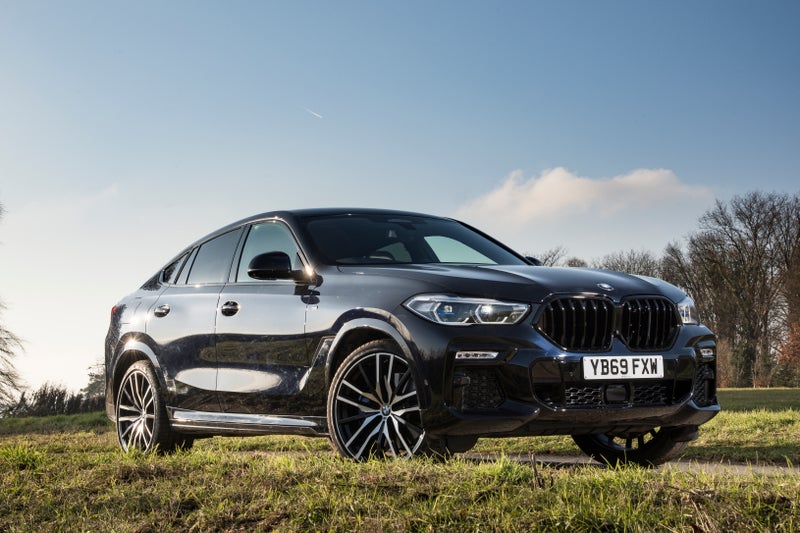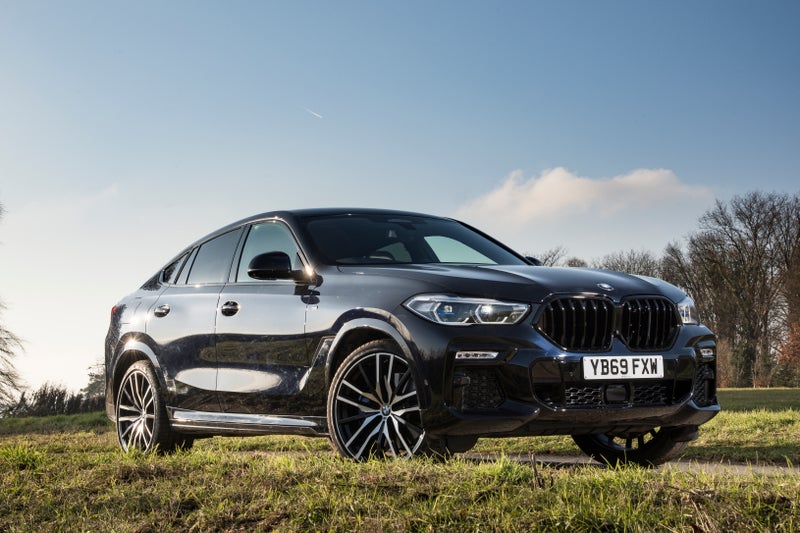 1/10
heycar rating
"Controversial, luxurious, good to drive"
Launched: 2019

SUV

Petrol, Diesel
Quick overview
Pros
More cohesive styling
Superb interior
Still drives extremely well
Cons
Haters still gonna hate
Bigger than ever
Pricier than ever, too
Overall verdict
On the inside
Driving
Cost to run
Prices and Specs
Overall verdict
"The latest BMW X6 makes a more convincing case for itself than ever. Sorry, diehard traditionalists, but even though you may hate the styling, you can't deny the coupe curves are convincing. Also, the interior is spot-on, engines are good and the handling is impressive."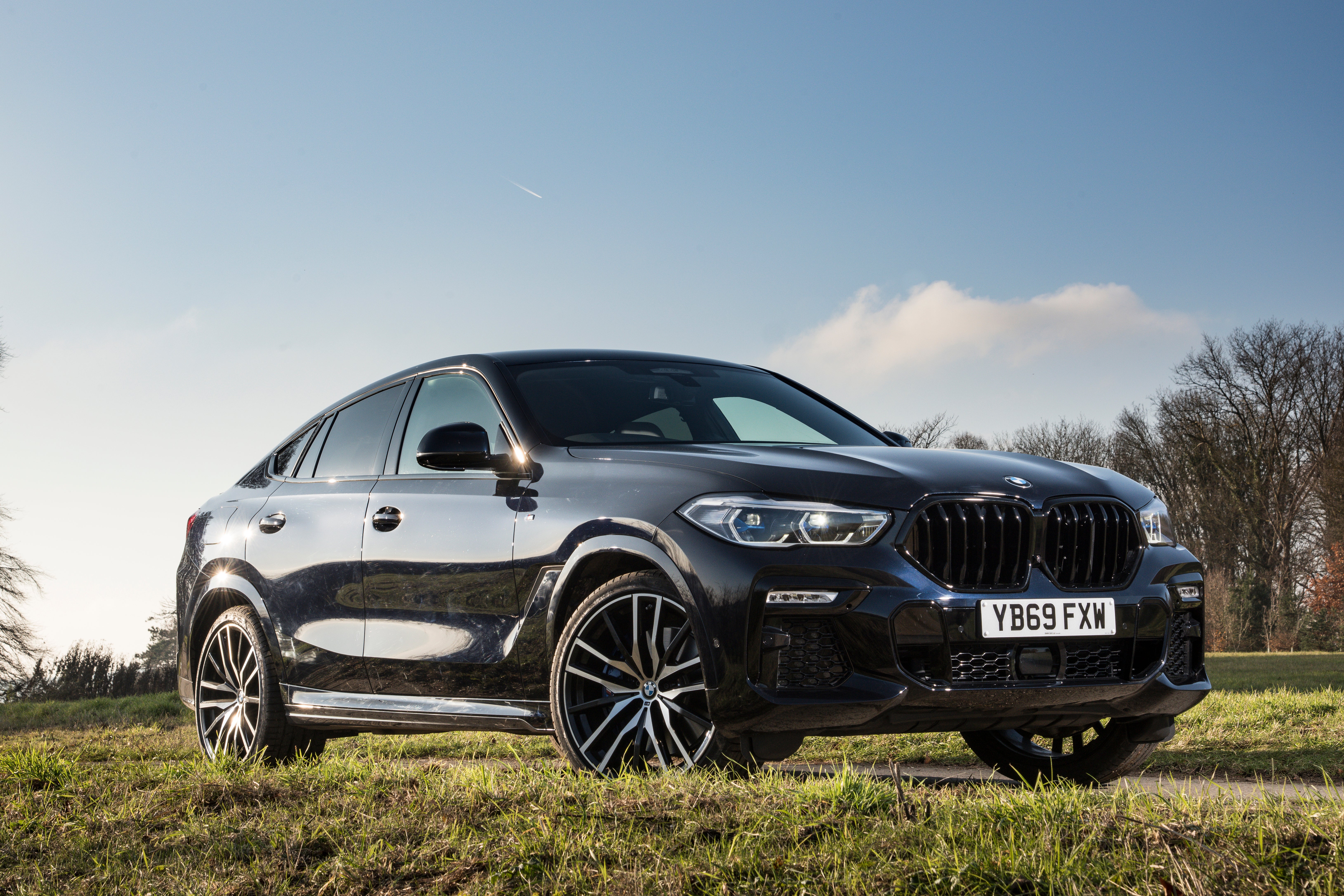 The BMW X6 has been a controversial car ever since it was first launched back in 2008. Traditionalists reacted strongly to its 'coupe SUV' design, which comprised a swooping and, yes, coupe-like rear roofline atop a regular premium SUV. Now into its third generation, launched as an all-new model in 2019, the X6 is still a car enthusiasts love to hate.
Customers think differently. BMW has sold almost half a million X6s in the space of 12 years, and its growing number of rivals proves this sector has plenty of appeal. As the market for traditional coupes fades, so the idea of combining their sleek lines with the must-have SUV body style only seems to grow in appeal.
Certainly, this is the most convincing BMW X6 yet. It looks less like a BMW X5 with a plunging rear end and more like a high-rise, high-impact coupe in its own right. The roofline has real drama, falling backwards before it even reaches the back of the front door, for a very distinctive and unique silhouette out on the road.
The front end is very 'modern BMW', with a massive grille and bold headlights. Rather bizarrely, BMW will even sell you an illuminated grille, as if the sheer size of it were not enough.
Inside, the X6 also wears the latest BMW layout, with bigger displays, fewer buttons and a fully electronic panel instead of traditional instruments ahead of the driver. We like the fact it feels more coupe-like to sit in, with a less 'perched' driving position. It still offers the desirably lofty view out, though, so X6 drivers can lord it over lesser mortals.
Despite the roofline, it's surprisingly roomy for up to five people, even if the alternative X5 is bigger and more practical still. The coupe rear deck does mean boot space is smaller, but the sheer size of the thing means it's still surprisingly accommodating – so long as you don't need to pack in anything too bulky.
BMW currently only offers petrol and diesel engines with the latest X6. All of them are turbocharged and the best-seller is certain to be the 3.0-litre six-cylinder xDrive30d, now producing a healthy 286PS. The petrol alternative is also a six-cylinder, the 340PS xDrive40i. At the top of the line-up are two M Performance versions: the 400PS M50d and 530PS M50i. A plug-in hybrid version follows later.
It goes without saying that the X6 is an expensive car, with new prices starting from almost £65,000 in the UK. And it won't take long on the configurator to notch that up to considerably more. However, it seems more realistic to spend big on this latest generation of X6, because it's so much more cohesive and convincing.
Read on to learn how this X6 has come on in leaps and bounds, and why you might want to consider BMW's entry into the premium SUV coupe sector.
Is the BMW X6 right for you?
One of the draws of the BMW X6 has always been its distinctive styling, and BMW has turned up the dial further with this one. It's more distinctive than ever, with its in-your-face front end, and the coupe roofline seems to work better than any previous X6. It looks less hunched and more free-flowing.
It's very luxurious inside, reflecting how BMW has upped its game with car interiors, and the array of electronic displays is certainly a talking point (even if they are less intuitive than BMW systems used to be). We like how the X6 now feels more coupe-like, and love the impressive amount of space BMWs still been able to pack inside. For this alone, we can see why you'd choose it over a regular coupe.
What's the best BMW X6 model/engine to choose?
The BMW X6 is so good, you don't need anything more than the entry-level xDrive30d diesel engine. With 286PS, it's more than powerful enough, and even this model will hit 62mph in 6.5 seconds. It doesn't sound too diesel-like and always has enough in reserve.
The petrol-powered xDrive40i is a more convincing alternative than old non-diesel X6. It's basically the same engine used in some smaller high-performance BMWs and, with 340PS plus a smooth engine note, it's a good choice for those who don't want a diesel.
BMW doesn't bother with 'un-sporty' X6 models these days: it's just Sport or M Sport. You're fine with Sport, but M Sport is very tempting for not that much extra on top.
What other cars are similar to the BMW X6?
Large SUV coupes have become quite a thing since BMW invented the sector more than a decade ago with the original X6. Today, we have the Mercedes-Benz GLE Coupe, Audi Q8 and even a Porsche Cayenne Coupe. It's a growing sector, much to the annoyance of enthusiasts.
Land Rover might argue it was a pioneer here with the Range Rover Sport, but while it's good looking, it doesn't have the plunging coupe roofline that characterises these vehicles. Also, Land Rover actually canned a more recent attempt at making a genuine coupe SUV.
Comfort and design
"The luxurious and welcoming interior of the latest BMW X6 is a very indulgent and high-end place to be. It's a step up over previous versions, which always felt too closely related to lesser models. With this car, BMW really has made the step into the luxury sector. It's a very special place to be."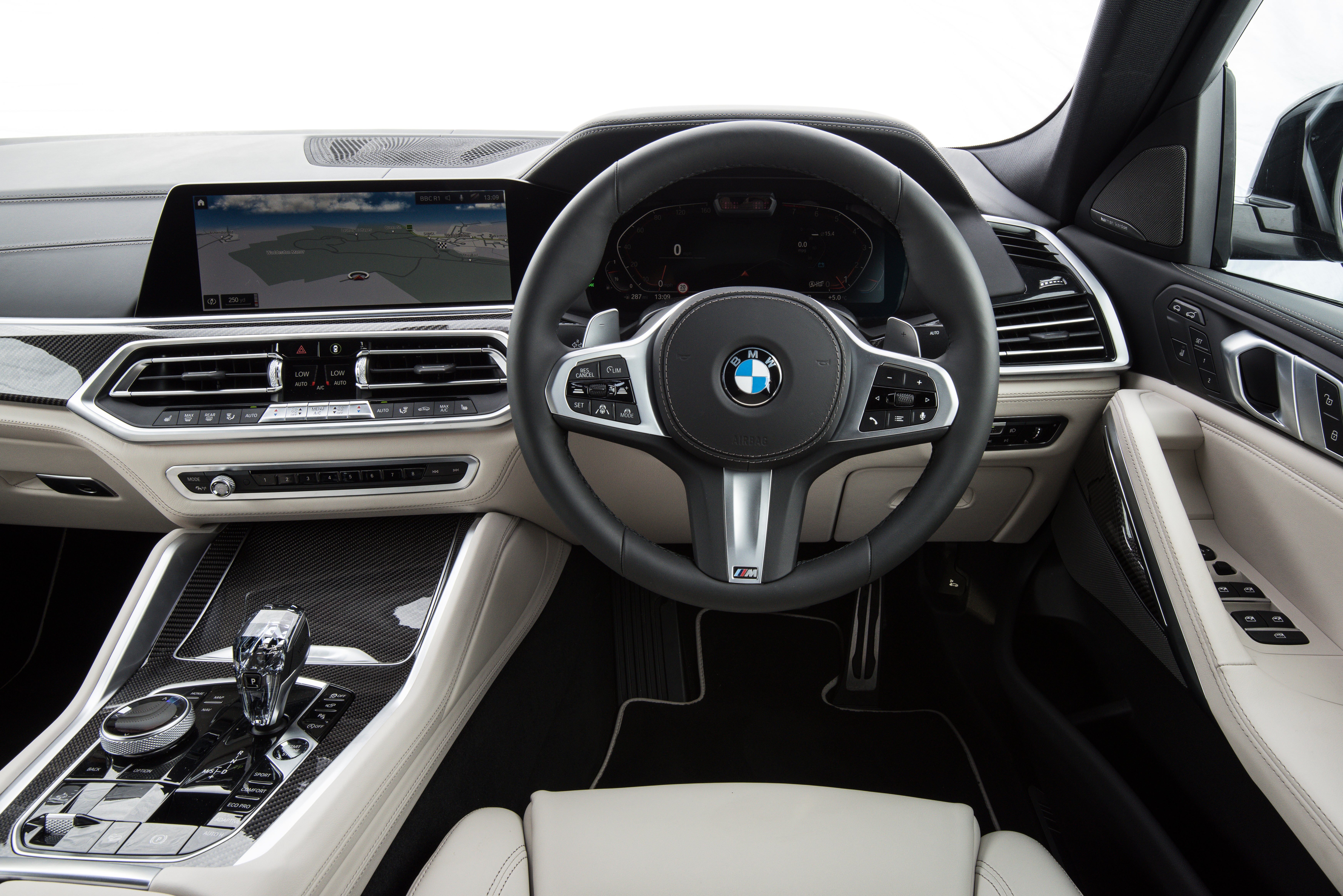 The driving position is improved a lot, with a less sit-up feel. It's now more reclined, with the pedals positioned further ahead and the steering wheel in a more natural position. It's more, well, coupe-like, rather than the slight commercial vehicle connotations you felt in the old one.
The design of the dashboard is angled towards the driver, in the traditional BMW way, but it's also open-plan, with a flowing look rather than a stark and severe one. It has a feeling of width, gently bowing into the door panels in a smooth curve from one side to the other.
We love some of the details – the metal air vents, the knurled knobs to control airflow and the jewel-like feel to the rotary BMW iDrive controller in the centre console. At night, gently bathed in colour-selectable ambient backlighting, it looks very appealing indeed.
Even in the base Sport, the seats are nicely bolstered and supportive. They feel like proper coupe seats, and hold you well through corners. M Sport models have alternative materials, and a sportier steering wheel, but no X6 feels particularly 'un-sporting'.
Quality and finish
BMW has upped its game in terms of quality. It's always been a brand that delivers a premium feel, but some of its earlier SUVs perhaps didn't quite make the leap from premium into luxury. This one certainly does, with some wonderful materials including a soft-touch, fully-stitched dashboard cover, plush plastics further down and some beautifully finished major controls to grasp – the steering wheel, gearlever, even the door handles.
Press the electric window switches and there's a muted click, rather than a cheap clack, and even the whirr of the window itself is damped and isolated, furthering the impression of quality. The high-resolution screen in the centre of the dash is also crisp and bright, as is the inset 'black panel' climate control system below.
The finishing touches are the soft leather, the sturdy and expensive-looking trim inlays, and the sheer tactility of the buttons that remain on the dashboard. It's a BMW that is definitely now a match for its new SUV coupe rival from Porsche.
Infotainment
The latest BMW infotainment set-up is called Operating System 7.0. This is billed as a fully connected system that links both the 12.3-inch touchscreen with the same-size digital instrument cluster – oh, and the BMW Connected app on your smartphone.
The system doesn't have the menu structure of older BMW iDrive systems. Instead, it's tile-based, and fully configurable, with shortcuts on the left-hand side. BMW packs so much into its latest infotainment, it was impossible to have the rotary menu of before. The system allows owners to configure what they want to see more of, and stick lesser-used functions in the background.
Sat-nav mapping is as brilliant as ever, and BMW's connected services beam in live traffic information, weather details, parking information, fuel prices and other real-time data.
BMW lets you use it in multiple different ways – the touch-sensitive iDrive rotary controller, the touchscreen, via voice (its "Hey, BMW" virtual assistant is surprisingly effective), even gesture control. Or any combination you may see fit. It's fully packed with technology and is now an extremely impressive modern infotainment system.
Space and practicality
Although it feels a little less SUV-like in terms of seating position, the BMW X6 still has the up-high stance that many find so appealing in an SUV. You look down at other vehicles, rather than go face-to-face with them, giving a reassuring and confidence-inspiring feeling of superiority behind the wheel. It's a big car with real presence, measuring almost five metres long and almost two metres wide. However, it is slightly lower than the old X6, which helps make it look more dynamic.
The vast cabin has plenty of stowage space, with no end of massive cubbies that will swallow even the largest of smartphones, plus door bins and cup holders that are a match for any reciprocal you can get from Starbucks.
It has less headroom than a BMW X5 in the rear, but it's still spacious back there, with plenty of legroom and a really comfortable, supportive bench seat. Perhaps the smaller coupe-style windows and raked rear roofline mean it might feel a little claustrophobic for three people, due to the lack of light, but for two it's fine. It feels safe and confidence-inspiring back there.
The boot is a real surprise. It's extremely long and very wide, which compensates for a lack of height due to the raked hatchback tailgate. Even with the seats up, it takes 580 litres of luggage, no less than 200 litres more than a Volkswagen Golf hatchback. Fold the seats and this grows to 1,530 litres. A BMW X5 is ultimately bigger and more practical, but the X6 is still a useful vehicle.
The fact it has lots of rear space and a large boot is also why some buyers may prefer the X6 over a regular coupe such as the BMW 8 Series. The X6 is more practical, more of the time, and requires far fewer compromises to live with day-to-day.
The outer two rear seats have Isofix mounts for child car seats, and there's a passenger airbag cut-off switch. Just be careful you don't knock your head on that plunging roofline as you get junior in the back.
Handling and ride quality
"The BMW X6 has always stood out for being logic-defying to drive. It looks like an SUV from the front, feels like an SUV to sit in, but certainly doesn't drive with anything like a lesser SUV's truck-like, tip-toe attitude. We discovered that you can drift it on a racetrack even in the very first 2008 model and BMW has only made it more dynamic and engaging since then."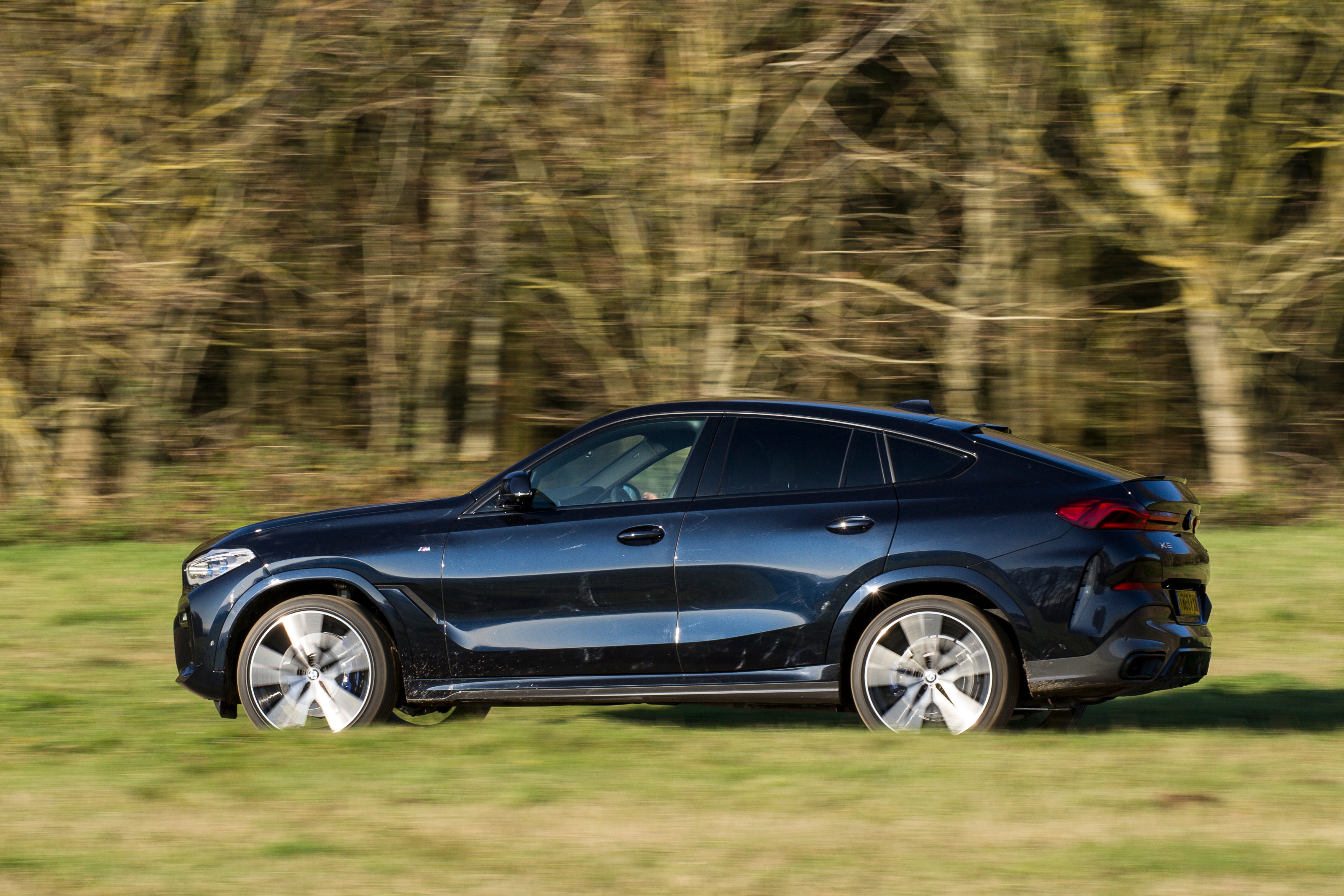 As standard, the X6 features adaptive dampers. This gives it a consistency of handling across all roads, at all speeds, in all conditions – and also allows the driver to choose just how sporty they want it. Even in regular mode, roll is well contained, and the steering responds quickly, without any sort of mushy delay. Dial up the sport modes and it becomes even more tied down and alert, with the steering gaining extra weight and feedback. It feels more like a proper coupe than you'd ever imagine.
The standard xDrive all-wheel-drive system is brilliant, constantly adjusting power distribution so the X6 feels stable and planted. Stomp on the accelerator coming out of a corner and it just sits down and fires you away, a feeling that's incredibly satisfying.
For even more agility at slower speeds and yet more stability at higher speeds, choose the integral rear-steer system. This turns the rear wheels in the opposite direction below a certain speed, reducing the car's turning circle, then steers them in the same direction as you go faster. It's very clever and effective.
Standard ride quality isn't bad, either. It's firmer than an X5, of course, but it's still not crashy or harsh – as you'd hope, given the size of the thing, and the sophisticated suspension's considerable travel. If you want a more cushioned X6, you can optionally add on air suspension, which also allows drivers to raise and lower the ride height.
Engines and gearboxes
You really don't need any more than the entry-level xDrive30d engine. It's now fitted with 48-volt mild hybrid technology, which comprises an integrated starter-generator and a lithium-ion battery. This boosts power up to 286PS and is able to release it in a surge when accelerating, clawing battery charge back again when you lift off to extend the engine-off range.
The engine feels snappier than ever thanks to this electric fill-in boost. Zero to 62mph takes 6.1 seconds and the surge it generates on the move makes it feel like a much bigger and more powerful engine. BMW has for a long time engineered alchemy into some of its engines and this entry-level diesel motor is one such example.
The xDrive40i petrol is, at last, a worthwhile alternative to diesel. Previously, owners of petrol X6s have always been a bit short-changed, because the engines don't quite serve up sufficient excitement or oomph given the extra fuel they consumed. This 3.0-litre straight-six turbo cures that, with an ample 340PS for 0-62mph in 5.5 seconds. It's a revvier, livelier engine than the gutsy diesel, and is a fun drive in its own right.
We really like the M50i's 4.4-litre V8, with a mighty 530PS, but it's a niche model. The M50d is likely to be marginally more popular, with its 3.0-litre six-cylinder quad-turbo motor putting out 400hp for 0-62mph in 5.2 seconds. All BMW X6s use an excellent eight-speed automatic gearbox, with paddle shifters if you prefer to do the work yourself.
Refinement and noise levels
Refinement also reflects the BMW X6's newfound status as a luxury model. It is very smooth-running, with even the diesel engines producing little more than a murmur. For such a big machine, it flows through the air quietly, showing the benefits of plenty of time in the wind tunnel and lots of acoustic noise-isolating features.
Some of the bigger alloy wheel options can generate a bit of tyre roar as speeds rise, but so long as you keep it fairly sensible here, it's not too excessive. And while both M Performance models have 22-inch alloys, they also have enthusiastic engine notes of their own that you won't mind hearing a bit more of – particularly the magnificent V8. Indeed, the M Sport exhaust system lets you choose what sort of noise you want, literally at the press of a button.
Safety equipment
As it is related to the BMW X5, safety organisation Euro NCAP encourages us to look at the 2018 crash-test of that vehicle to get an idea how the X6 performs. The X5 was rated a five-star car, with 89 percent for adult occupant protection, 86 percent for child occupant protection, 75 percent for the newer category of protecting vulnerable road users, and 75 percent for safety assist features.
Front airbags, including a driver's knee airbag, are backed up with side airbags for front and rear passengers, and standard chest and pelvis airbags for those in the front – the latter are optional for rear-seat passengers. BMW also fits a seatbelt reminder for all five seats.
There's a full set of active safety assist features: an active bonnet that pops up to protect pedestrians, autonomous emergency braking that detects pedestrians, cyclists and cars; a speed limiter and a lane-keep assist system – all as standard.
MPG and fuel costs
"Tested to the latest and more realistic WLTP fuel economy standard, the BMW X6 actually looks pretty decent in terms of efficiency."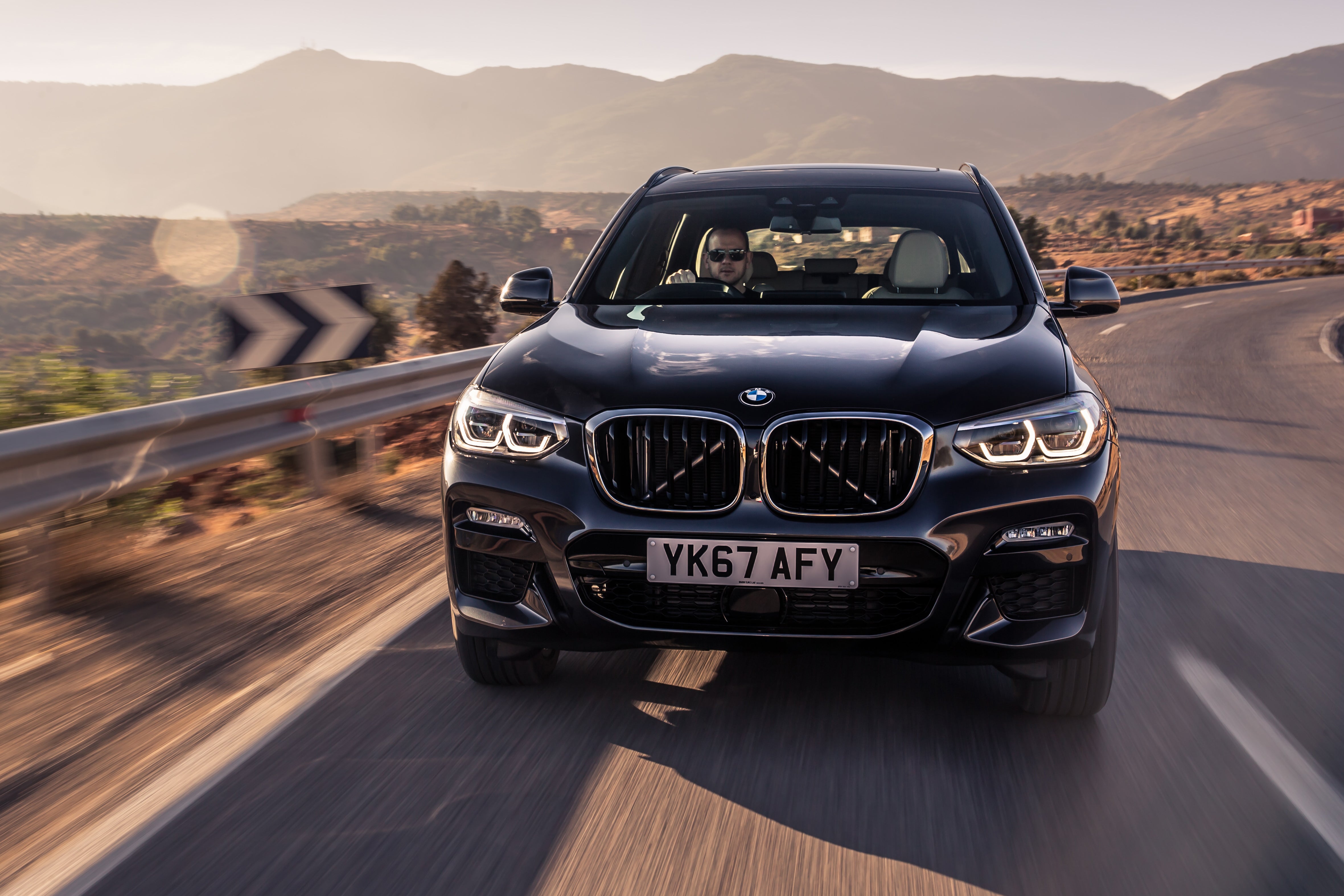 The xDrive30d averages over 37mpg, and even the xDrive40i isn't so bad at 28mpg, given its fruity 340PS power. The thirstiest is the M50i, which will average no more than 23.5mpg.
Insurance groups and costs
Insurance costs for the latest BMW X6 are likely to be high. Almost the entire range falls into the top group 50 insurance rating. Only the entry-level xDrive30d Sport fails to hit the big 5-0 (it's rated in insurance group 49).
The X6 is a desirable machine with a heady price tag and, even in base guise, very swift performance, so don't expect it to be a particular bargain on the insurance front.
VED car tax
All new BMW X6s are liable for the 'expensive car' VED (road tax) premium. This sees owners pay £475 in years two to six, instead of the standard rate of £150 – but it does revert to that afterwards.
The first-year VED bill for all versions is also high, with even the most fuel-efficient xDrive30d costing £1305. The petrol xDrive40i costs £1850 and the top-spec M50i is almost £2200.
How much should you be paying for a used BMW X6?
"The latest-generation X6 is starting to hit the used car market, usually sold by official BMW dealers via the manufacturer approved scheme."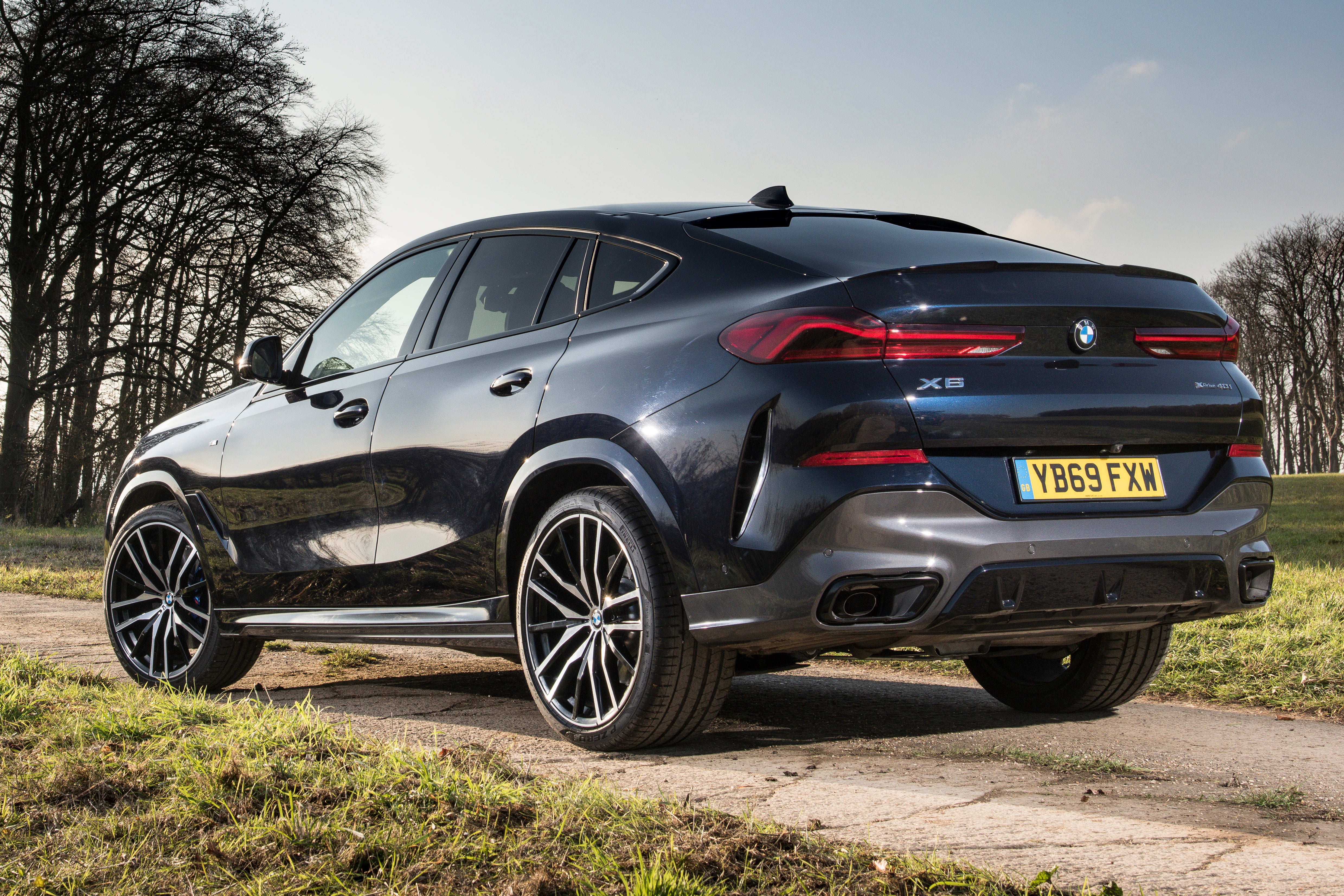 Naturally, the xDrive30d is most commonplace, with M Sport models starting from just over £55,000 for a 2019 version with a few thousand miles on the clock. M Sport seems to be rather more popular than regular Sport, reflecting the small jump up in price between the two.
Impressively, we spotted a 2020 M50d with just over 3,000 miles for £57,000, but the only xDrive40i we saw was up at £58,500. As for the M50i, we've yet to find one for sale second-hand.
Trim levels and standard equipment
All latest generation BMW X6s have a very extensive list of standard equipment. Even the smallest wheels are 19 inches in diameter, the headlights are adaptive LEDs with high beam assist, the stereo is enhanced with a BMW Advanced loudspeaker system, front sports seats are heated, and the BMW Parking Assistant kit is also included. Even the infotainment is the high-grade Connected Package Professional.
M Sport models add a more distinctive front and rear bumper design, high-gloss black side window surrounds, body colour wheelarches, an M Sport exhaust and blue M Sport brake calipers. M Performance versions have even larger 22-inch alloys, Adaptive M Suspension Professional and an M Sport differential that makes them even pointier and more responsive in corners.
BMW X6 cars for sale on heycar
3,194
Number of cars available
£25K - £85K
Price bracket of these cars
Colours available on heycar
Keep me updated by email with the latest advice, news and offers from heycar
By submitting, you agree to our
privacy policy
.