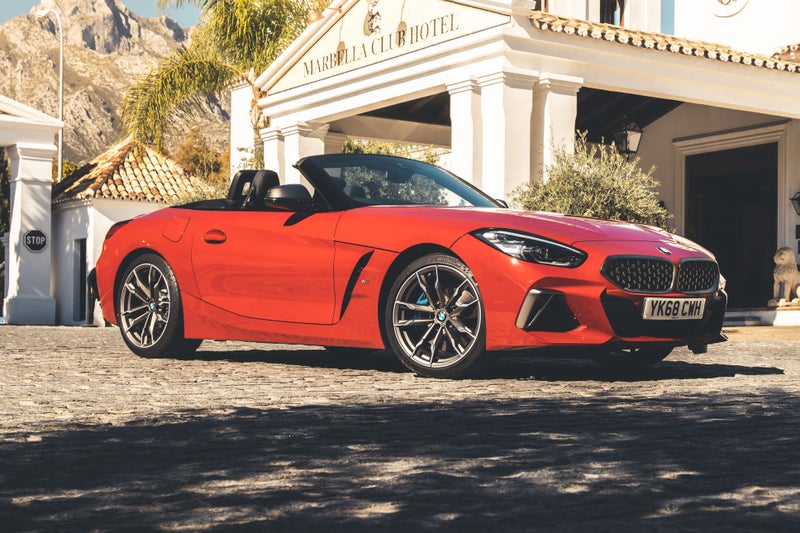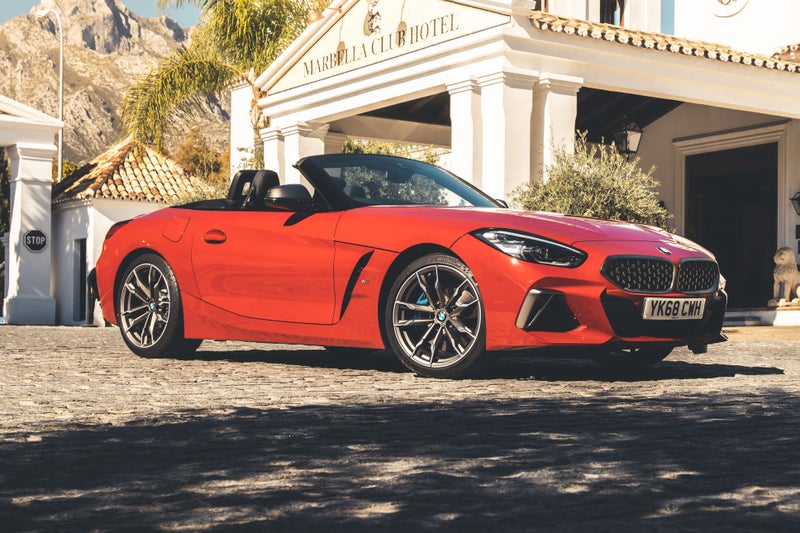 1/10
heycar rating
"BMW's classy all-round roadster "
Launched: 2019

Convertible

Petrol
Quick overview
Pros
Good looks, inside and out
Surprisingly practical for a roadster
Pricing is good compared to rivals
Cons
You'll have even more fun driving a Porsche 718 Boxster
There's no manual option, though that might still come in the future
The digital instruments aren't very clear, or good to look at
Overall verdict
On the inside
Driving
Cost to run
Prices and Specs
Overall verdict
"The BMW Z4 is not the sharpest driving roadster out there, but that's not necessarily a problem, indeed, the BMW Z4's all-round ability makes it a more appealing car if you're after an indulgent daily driver, that's not short of fun when you're in the mood for it. It's good looking and, against its rivals, it looks like decent value, too.  A great all-round roadster that mixes some fun with good looks and usability."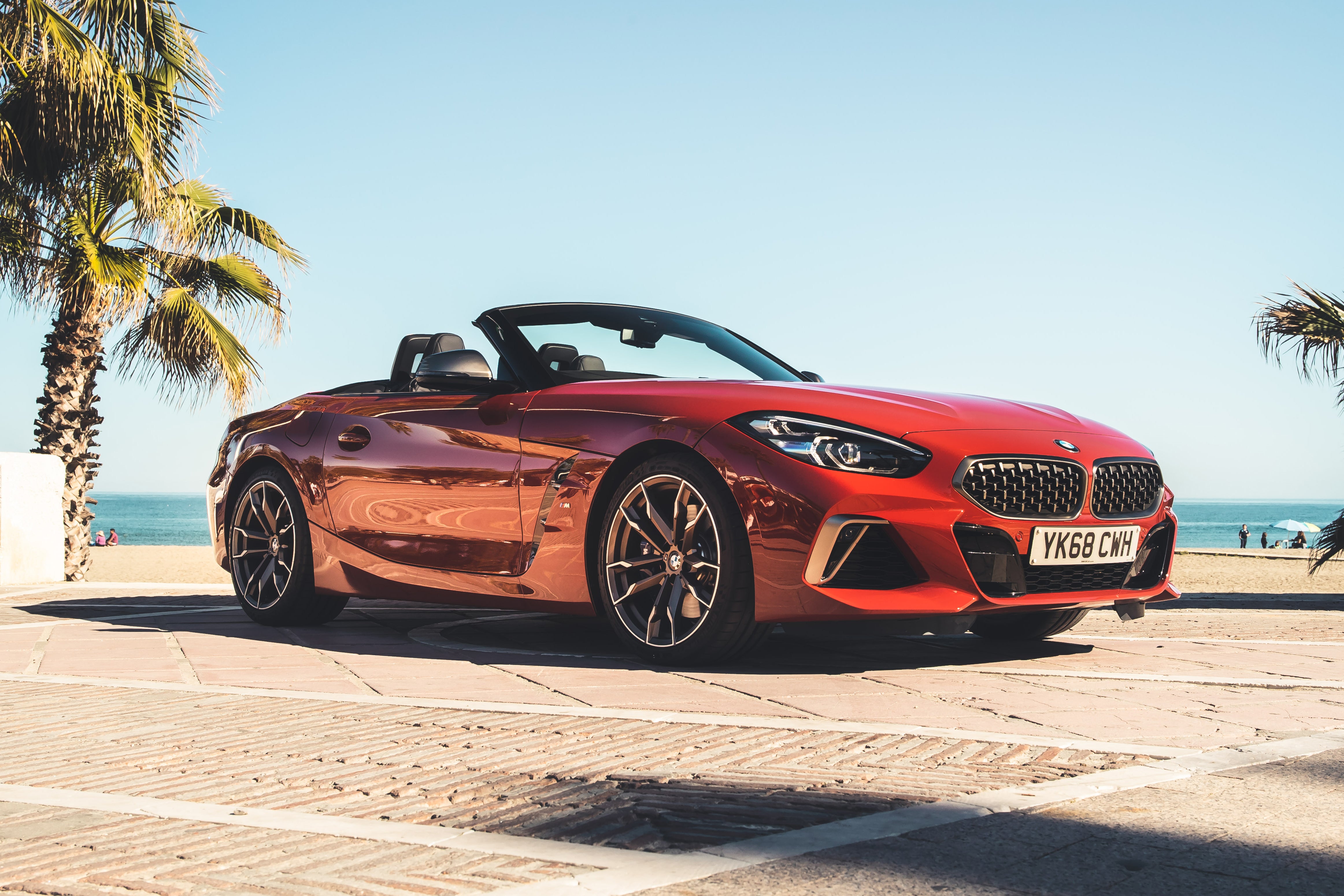 BMW has long history of producing two-seater roadsters, then, this current Z4 reaching BMW showrooms in 2019. Unlike the car it replaces, BMW has reverted to using a fabric roof for its folding roof, with the previous generation using a folding hardtop. That makes it immediately more recognisable as an indulgent, open-topped sports car even when the roof is in position, while BMW also went bolder with the Z4's styling, making it a real head-turner.
That's very deliberate, as you want to be seen in cars in this class. There's also an expectation that they'll be fun and engaging to drive, and the Z4's improved in this respect, too. It might not offer quite the driving fulfilment of Porsche's 718 Boxster, but it's close enough for most, while it's a car that's easy to live with as a day-to-day proposition.
The range is fairly simple to comprehend, too, with a choice of three engines and three trims, encompassing Sport, M Sport and M, that M badge being reserved exclusively for the range-topping M40i model.

They're all rear-wheel drive, with the engine out in front of you, rather than in the middle like a Porsche 718 Boxster. There's only a roadster, too, BMW not making a coupe version like most rivals, though if you want a closed version of the BMW Z4, you could always look at the Toyota Supra, the Japanese coupe co-developed alongside the BMW Z4, sharing a lot, including most of its interior, with the BMW Z4.
Unlike previous Z4s. BMW currently only offers the Z4 with an automatic transmission, though manual cars were spotted during the car's development, so those with a preference for three pedals and a gearstick might be offered this option in the future.
The roadster market is a relatively small one, though the BMW Z4 does have some direct rivals, notably that previously mentioned 718 Porsche Boxster, with Germany dishing up another couple of rivals in the form of Audi's TT Roadster and the ancient Mercedes SLC. Jaguar will also happily sell you an F-Type instead, while there are more specialist, driver-focused cars like the Lotus Elise if you're prepared to accept a few compromises in your two-seat sports car.
It's unlikely a typical Z4 buyer would ever consider that Lotus, the BMW being a good all-rounder rather than so singular in its focus. That's its appeal to many, as while there are some sports car compromises, the Z4's an easy daily driver, that's surprisingly practical. Ally that with its good looks and decent performance and it's an appealing all-round package.
Is the BMW Z4 right for you?
If you want something nice to sit in and be seen in, with a drop top and two seats that's fun to drive but not overly compromised, then step right up. The Z4 might not have quite the levels of driver engagement of a Porsche 718 Boxster, but it's got a better chassis, and is newer, than the Audi TT, likewise Mercedes' SLC.
It's surprisingly practical, too, with a capacious boot, while there's no denying that it'll turn more heads than any of its roadster rivals thanks to its striking exterior style and relative rarity in comparison to its rivals. It's about as sensible a sports car as you could ask for, which for the most demanding drivers won't hold a great deal of appeal, but for the rest of you it's a compelling all-round package.
What's the best BMW Z4 model/engine to choose?
That depends entirely on your budget, and expectations. It's easy just to recommend the range-topping M40i because of its superb 3.0-litre straight-six turbocharged engine, particularly as it's got the firepower to seriously trouble Porsche's entry-level 718 Boxster that its price roughly matches. It makes a great sound, and looks superb in M specification, too.
That said, you'll not feel short-changed with the four-cylinder choices, in either sDrive20i form, or sDrive30i form, the choice of either Sport trim of more overt M Sport down to your preference on the differing looks, with the price differential between them being around £1,800. All said, though, however tempting the cheaper Z4s might be, the M40i isn't so expensive as to ignore it, indeed, when compared like-for-like with rivals in relation to power and performance it actually looks like decent value.
What other cars are similar to the BMW Z4?
The list isn't very long, and it's largely German, with the Z4's long-held foes being the Audi TT Roadster, Porsche 718 Boxster and the Mercedes-Benz SLC, that Merc being old enough now that it's being run-out in Final Edition specification. Buyers from the UK could go for a Jaguar F-Type, too. If you're in the USA, then the Corvette Convertible could be considered a similar price rival for the sDrive M40i model, too.
Comfort and design
"BMW usually has good form when it comes to its interior styling, and the Z4's cabin exemplifies that."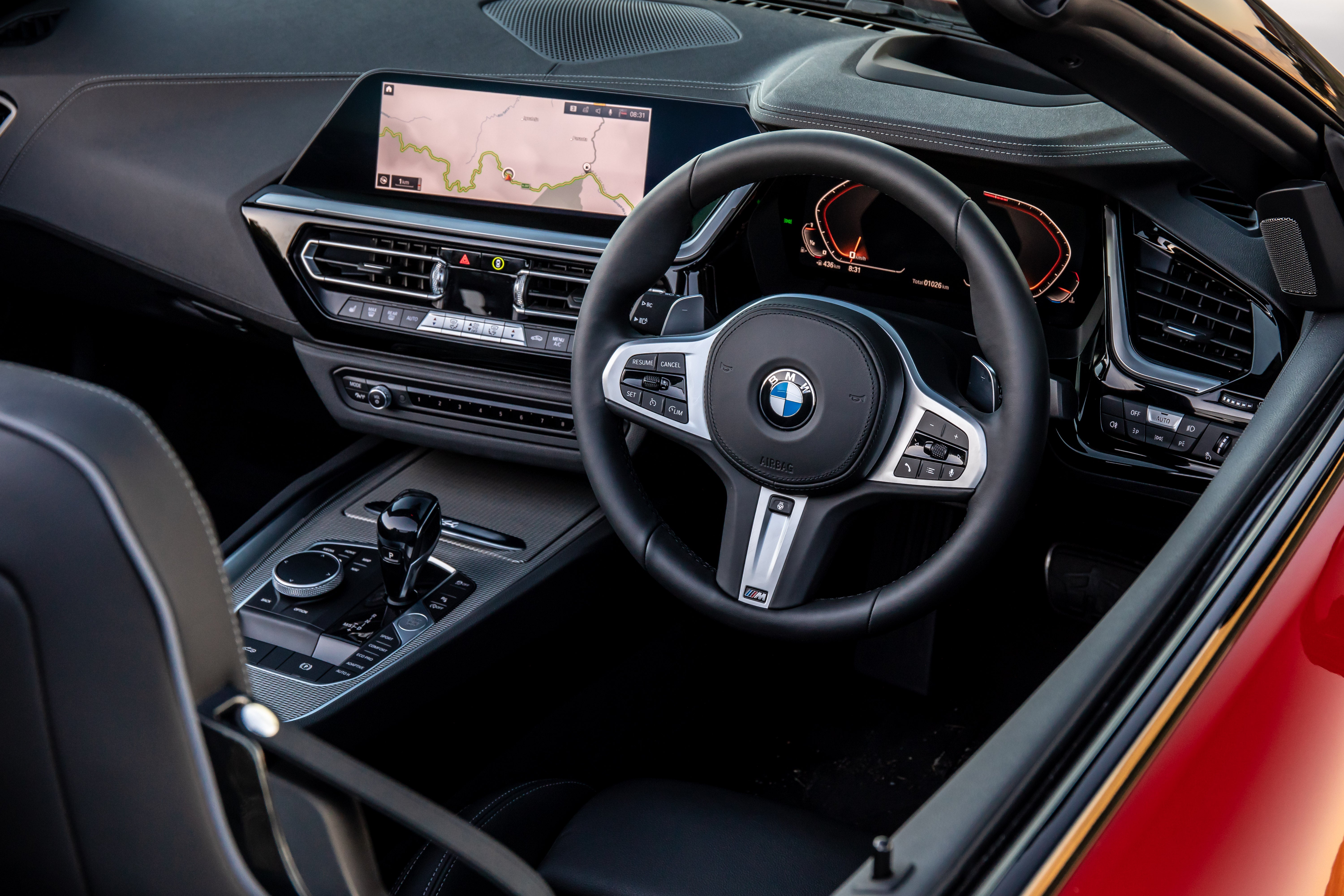 You sit low, tightly hugged by the heavily contoured sports seats, the centre console being angled towards you, and all the buttons and screens sensibly placed. The deep recess for the digital screen that replaces conventional instruments does look like you're staring into the dark abyss, but otherwise the design inside is nicely executed, and feels pretty special.
You'll be comfortable, too, even if you're at the taller end of the height spectrum, will plenty of head and legroom, the Z4 being quite generous for space for a two-seater sports car. All get the same M Sports seats as standard, but only the M40i gets lumbar support and electrical adjustment with memory on them.
Electric adjustment on the Sport and M Sport models comes as part of the Comfort Plus Package, which also adds the Comfort Pack, with brings steering wheel heating, a through load facility and a wind deflector for when the roof is down. All come with seat heating as standard, while leather upholstery also features across the entire range.
Quality and finish
It is not just the Z4's design that pleases, BMW's considered material choices make sure you feel like you're in a high quality car. It all feels superbly built, with no evidence of flimsy or hard/scratchy surfaces anywhere in the cockpit-like cabin.
Unlike its key Porsche rival, you don't have to spend lots of money on optional, upmarket trim materials, either, with the choices inside limited to the colour of your leather – these being black, cognac, ivory white or magma red – and whether you want aluminium or black high gloss trim, the choice not adding any additional price to your bill. Indeed, the only interior material option is that of Aluminium Mesh effect, which only adds £80 if it appeals to you.
Infotainment
BMW was among the first to adopt screens into its interiors, and its expertise here remains very evident, with the infotainment's operation being among the very best to operate.
The main screen is a touchscreen, but if you're unconvinced by it, or just don't want messy fingerprints showing up on it – these always more obvious in the sun with the roof down on a roadster – then the iDrive controller on the centre console can be used instead. Likewise, most of the controls that the iDrive manages is replicated by buttons on the steering wheel.
The main screen in 10.25 inches, it featuring DAB tuner, Apple CarPlay preparation, BMW's Connected Package Professional which bundles concierge services, real time traffic information, connected navigation, connected music and more connected things you'll probably never knew you needed or wanted.
There's the option of adding a Technology Package for £1,800, which adds harman/kardon audio, enhanced Bluetooth connection with wireless charging, a parking assistant, WIFI hotspot preparation and a head-up display. That head-up display is a useful feature, because the 10.25-inch configurable screen that replaces conventional instruments isn't particularly clear, or pleasing to look at, the head-up display projecting everything you need into your line of sight in the windscreen.
Space and practicality
Sports cars aren't really bought with practicality and space in mind, but the Z4 does at least have some concessions to practicality, indeed, it's among the best in its class here. The cabin itself feels spacious, there's a good amount of cubby storage, though the cup holders in the rearward section of the centre console do seem perilously close to elbows etc – best stick then to short espressos for your take-away beverage of choice, opposed to a super-sized Coke.
There's space behind the seats to stuff jackets, a slim laptop bag or suchlike, and if you've optioned that Technology Package there's a wireless charger for your smartphone in a cubby in front of the automatic gear selector.
The front passenger seat has an ISOFIX mount for baby and child seats, while the Comfort Plus Pack, an option we'd recommend for the other things its brings – electric memory seat adjustment – also adds a hatch between the seats for thru loading longer items in the unlikely event you take your Z4 skiing.
You'll not be short of space in that boot, either, which offers 281 litres of capacity. It's a good size and shape, too, being able to accommodate a decent amount of luggage, swallowing a proper suitcase as well as a set of golf clubs with relative ease. Unlike some rivals the Z4's boot space isn't impacted if you've got the roof down.
Handling and ride quality
"Front engined and rear-wheel drive are a pleasing mix for assured, but enjoyable handling, and while the Z4 isn't the last word in sporting dynamism it does offer a fine compromise of decent ride quality and comfort, which is arguably more desirable for a typical Z4 buyer."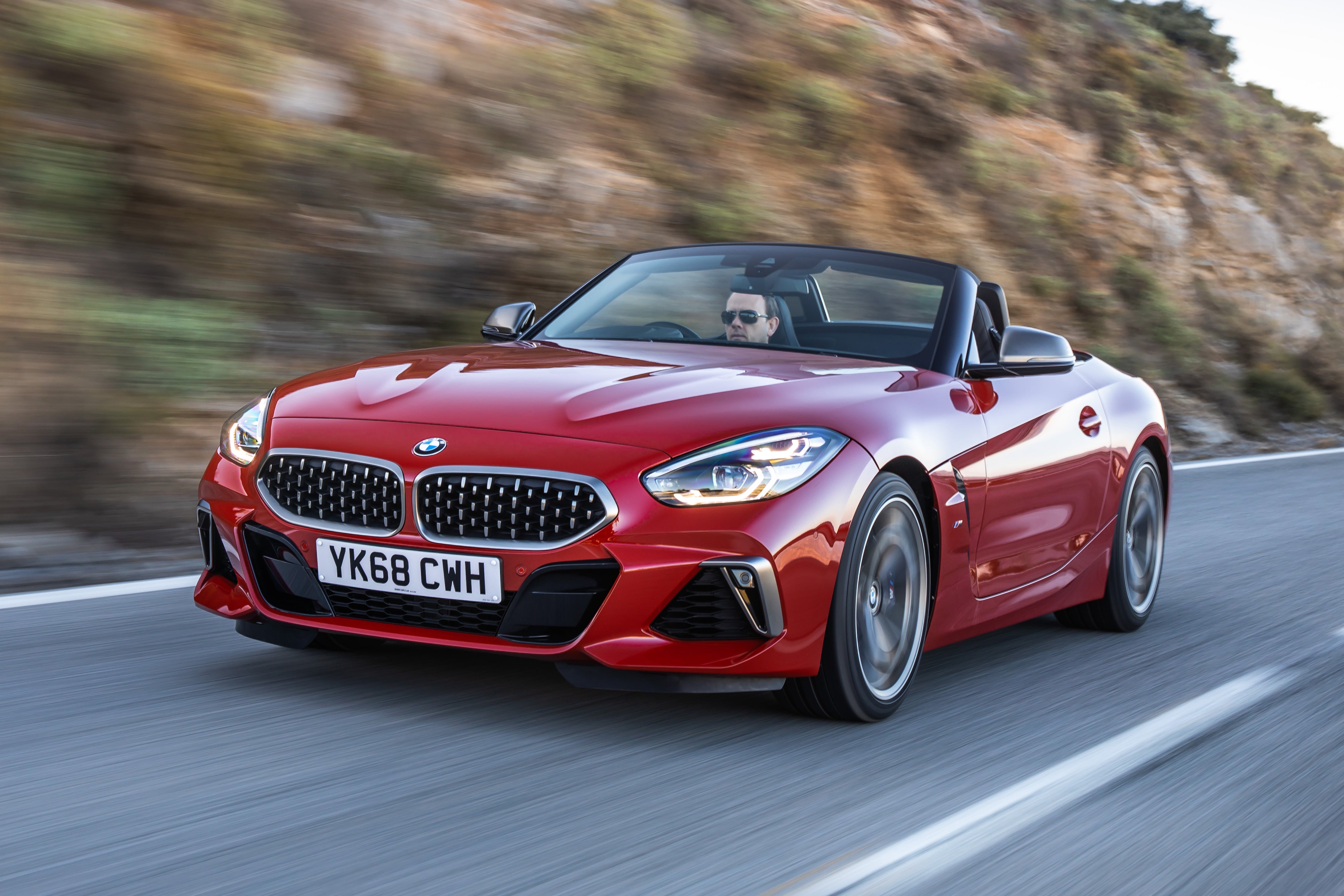 There's fun to be had, but push the Z4 in the bends as you might a Porsche 718 Boxster and you'll find more lean from the suspension, and not get anything like the sensations through the steering wheel, either. Indeed, the Z4's steering is pretty inert, something that's not helped by the drainpipe-rivalling girth of the wheel itself."
The ride is composed in all though, which for the majority of driving is likely to appeal, the M40i coming with BMW M Adaptive Suspension, which adds a 10mm drop in ride height along with adaptive damper control. It's available as an option on the M Sport models, as part of the M Sport Plus Package, it also adding extended exterior trim, an M Sport braking system and M Sport differential – the latter on the sDrive30i only.
So equipped the Z4 feels better resolved at speed, with improved body control in the bends, and less bounciness on undulations in the road, but it's not so transformative that we'd recommend it as a must have, because, really, if you're after a properly engaging drive then you'll be better served by one of the Z4's rivals.

Engines and gearboxes
The BMW Z4 is available with three different engine choices, with a pair of 2.0-litre turbocharged petrol four-cylinder units badged sDrive20i and sDrive30i, and the range topping M40i, which has a 3.0-litre turbocharged straight-six under its long bonnet.
The sDrive20i has 197PS, that enough to allow a respectable 6.6 second 0-62mph time, the sDrive30i improving that by having 258PS for a 5.4 second 0-62mph time. Pick that M40i and the turbocharged straight-six ups the power to 340PS and drops the 0-62mph time to 4.5 seconds, it sounding the best of the three, too.
Regardless of the engine choice all come fitted with an eight-speed automatic as standard, BMW not offering the Z4 with a manual transmission, unlike its Porsche 718 Boxster and Audi TT rivals.
It shifts well though, and offers the choice of controlling it yourself, via wheel-mounted paddle shifters. The M40i is effortlessly quick, but there's enjoyment to be had with the lesser engines, as you need to work them fairly hard to get the best performance out of them. Being turbocharged does mean there's good low rev flexibility for less hurried driving, and economy in the entry-level model is impressive for a sports car.
Refinement and noise levels
Sports cars come with some expectation of compromises, but the Z4 isn't quite as bad as some in this respect, indeed, in some areas it's a little too quiet.
The engines aren't particularly aural, BMW piping sounds through the audio system to supplement it, and it sounds a little bit false. The straight-six of the M40i is better in this respect, with a more purposeful growl than its four-cylinder relations. Elsewhere the Z4 is nicely muted, with the roof up it's very hushed, even at speed, with wind noise better contained than some of its roadster competition.
There's a bit of tyre noise on the road, it more notable on rougher surfaces, but it's not any worse than its rivals in that regard.
Safety equipment
The BMW Z4 has scored a five-star maximum score in the Euro NCAP crash tests, its performance so good it was singled out by the safety organisation as setting a new benchmark for safety for cars of this type. A lot of that is down to its strength in an impact, but also its active safety aids in helping you avoid one in the first place. As standard, all BMW Z4s come with Active Guard, which comprises of front collision warning with brake intervention, lane departure warning with steering pulse and speed limit assist.
All also come with tyre pressure monitoring and front and rear park distance control, too. Traction and stability control is also standard, while there's a standard fit Isofix child seat mount on the front passenger seat, too.
Driver and passenger front airbags, knee airbags and side airbags are all standard equipment with the Z4. Optional safety-related equipment includes the availability of a head-up display, as well as a Driving Assistant, with Approach Control Warning, Cross-traffic Warning, Lane Change Warning, rear collision prevention and speed limit information, this package adding around £900 to the Z4's list price.
MPG and fuel costs (EV - Charging times and cost)
"In its base 2.0-litre turbocharged form the Z4 officially returns 38.7-39.8mpg on the WLTP combined cycle."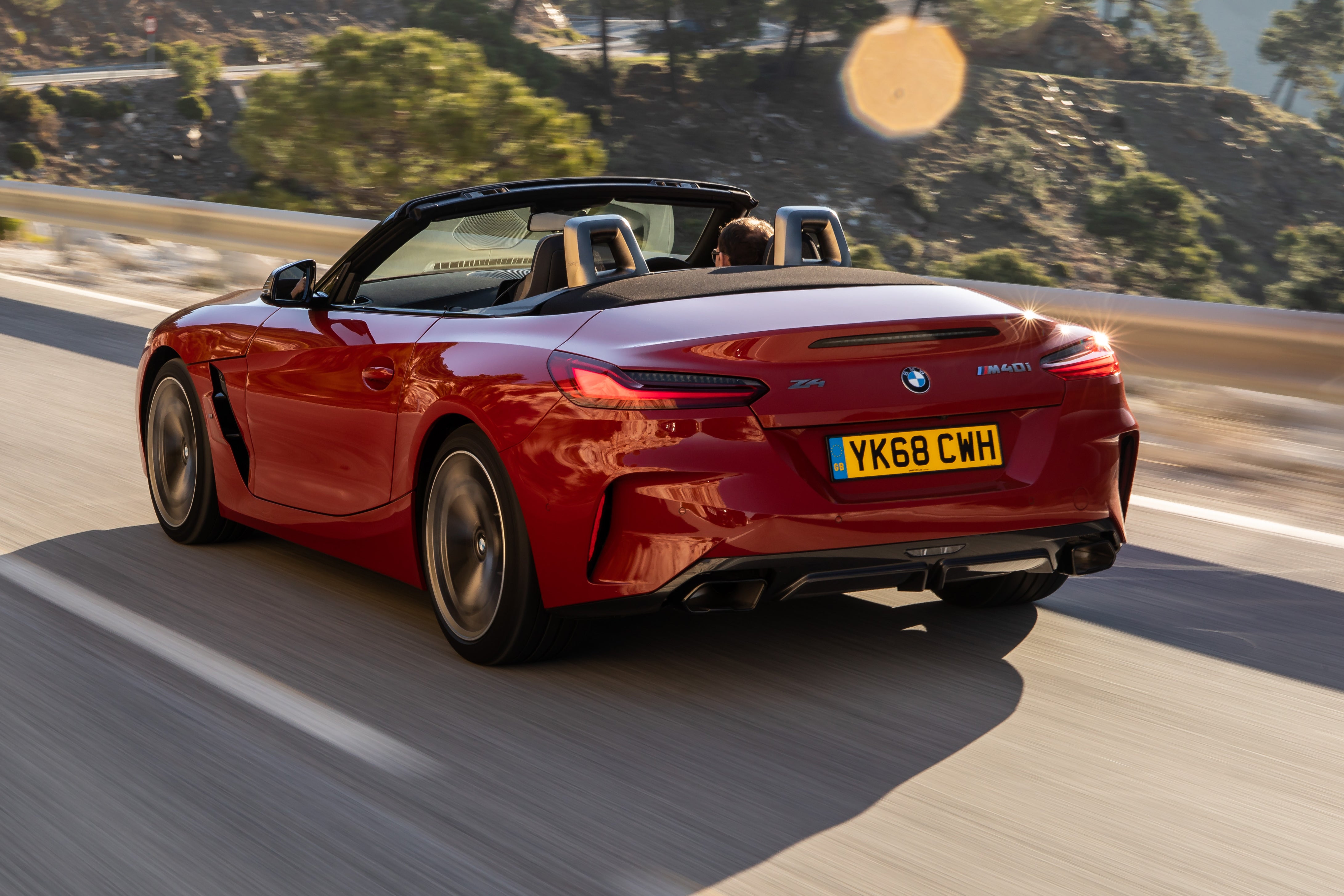 That's impressively parsimonious for a car of this type. Opting for the more powerful version of the same engine, badged sDrive30i doesn't hit you at the pumps either, with it able to return 37.7-38.7mpg on that same test cycle. Obviously the addition of a pair of cylinders and the greater performance of the M40i means some penalty in consumption, but 33.2-33.6mpg isn't disastrous for a car as quick as the Z4 M40i.
Insurance groups and costs
Sports cars are indulgent, performance focused cars, and they'll be more to insure because of that. The sDrive20i starts at group 30 insurance, with the M Sport version of the same engine adding a grouping to that for group 31. The bigger power sDrive30i Sport and sDrive30i M Sport are groups 33 and 34 respectively, and the M40i is up in group 37.
VED car tax
CO2 emissions for the sDrive2.0i are 161-166g/km, which means a first year VED tax payment of £540. The sDrive30i is between 166-171g/km, which means a first year payment of either £540 or, in the case of the car just tipping into the 171-190g/km category, a £870 first year payment.
The M40i is above 190g/km, so attracts a first year payment of £1,305. Only the base sDrive20i models have the chance of avoiding the additional £475 VED payment for the following four years, thanks to them costing, without any options, less than £40,000.
How much should you be paying for a used BMW Z4?
"The BMW Z4 was only introduced in 2019, but a few early cars are now available used."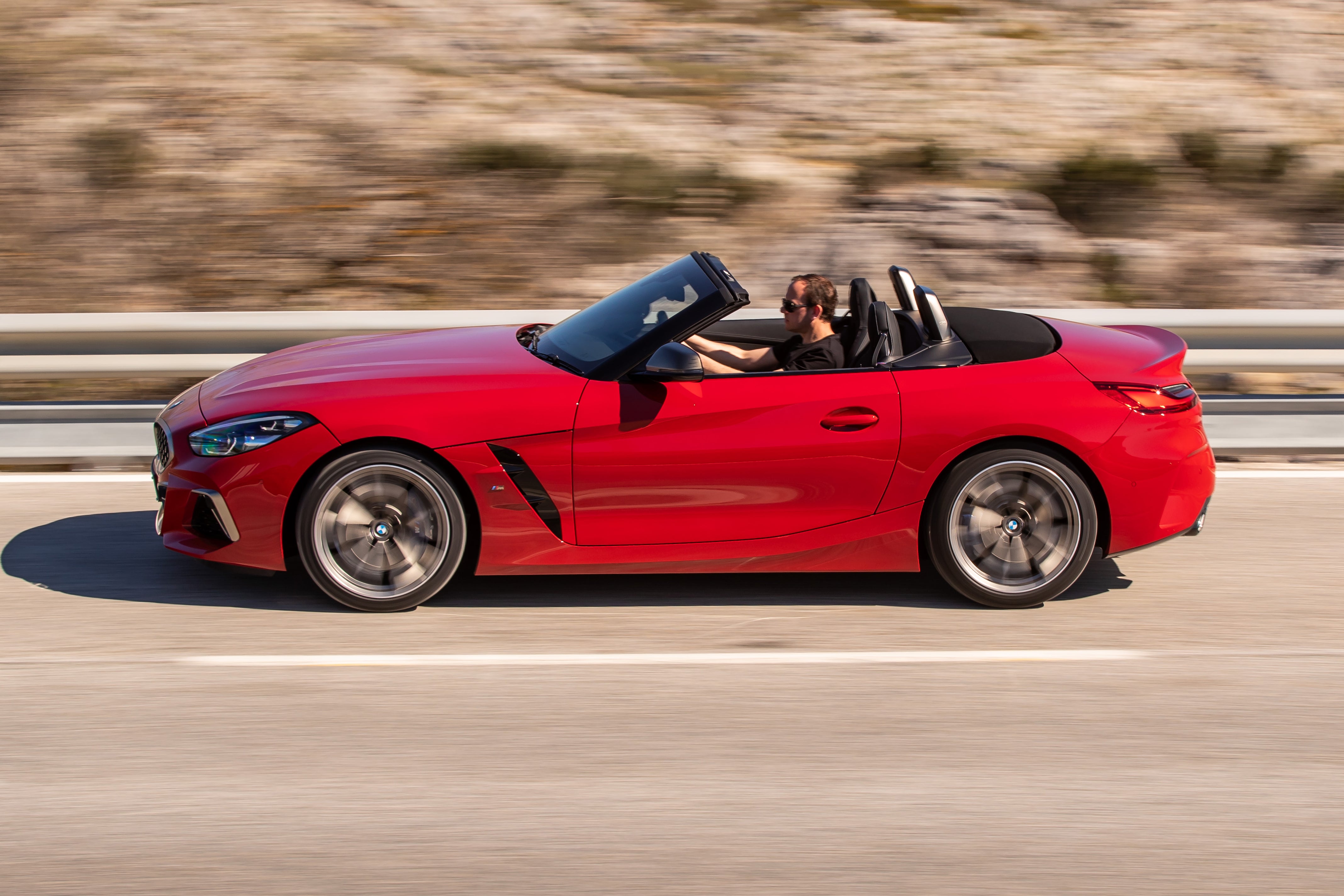 The BMW Z4 was only introduced in 2019, but a few early cars are now available used. The starting price seems to be around the £27,000 mark, for cars with around 5,000-8,000 miles on them, the majority being the sDrive2.0i Sport model. There's a good number of delivery mileage examples with substantial savings over new, so it's well worth checking BMW's used stock before checking out the configurator for a new car.
Trim levels and standard equipment
Sport has 18-inch alloy wheels, Bluetooth, Two-Zone control air conditioning, BMW Live cockpit Professional, Connected Drive Professional, Cruise Control, M Sport seats, Park Distance Control, seat heating, leather upholstery, tyre pressure monitoring and an eight-speed automatic transmission.
M Sport adds over Sport, M Sport alloy wheels, high gloss exterior trim, M body styling, M braking system (sDrive3.0i only) M Sport suspension and an M leather steering wheel. The M40i gets 19-inch alloy wheels, Adaptive M suspension, lumbar support in seats, and seat electric adjustment with memory function.
BMW Z4 cars for sale on heycar
3,195
Number of cars available
£12K - £49K
Price bracket of these cars
Colours available on heycar
Keep me updated by email with the latest advice, news and offers from heycar
By submitting, you agree to our
privacy policy
.