Citroen Berlingo MPV Review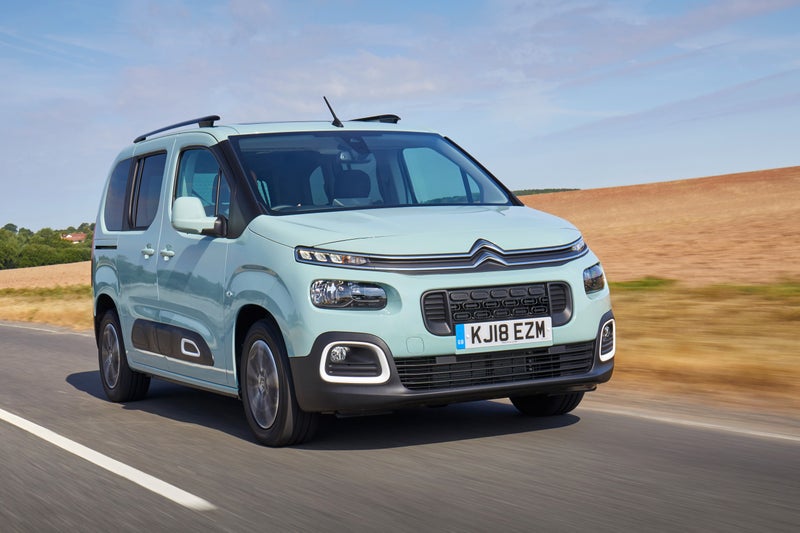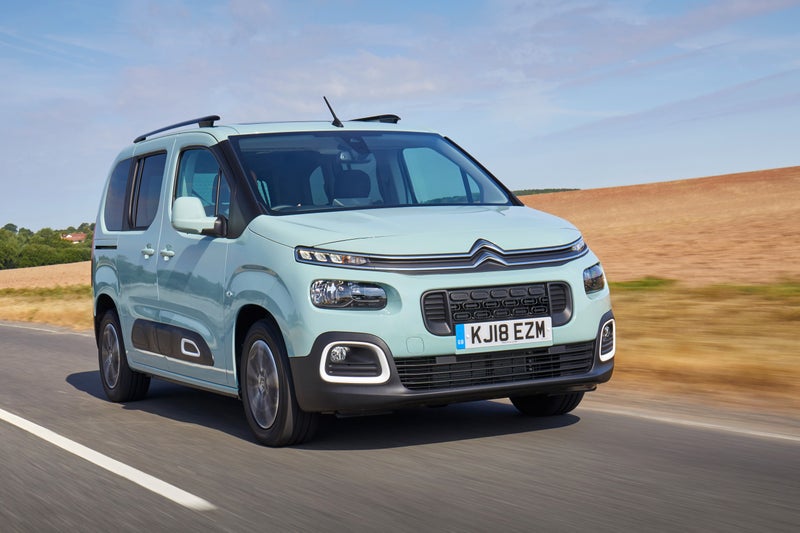 1/10
heycar rating
"Van-like and very spacious "
Launched: 2018

MPV

Petrol, Diesel
Quick overview
Pros
Masses of interior space
Standard infotainment has everything you need
130PS diesel is punchy and cheap to run
Cons
Not exactly the last word in style
Rolly polly in bends
Basic models don't have proper opening rear windows
Overall verdict
On the inside
Driving
Cost to run
Prices and Specs
Common questions
Overall verdict
"The Citroen Berlingo is well worth considering if you're looking for plenty of space and couldn't give a monkey's about style. It's not even that unstylish so long as you go for a Flair model with alloy wheels, you could even say that the Berlingo has a fun, just-back-from-the-beach look. "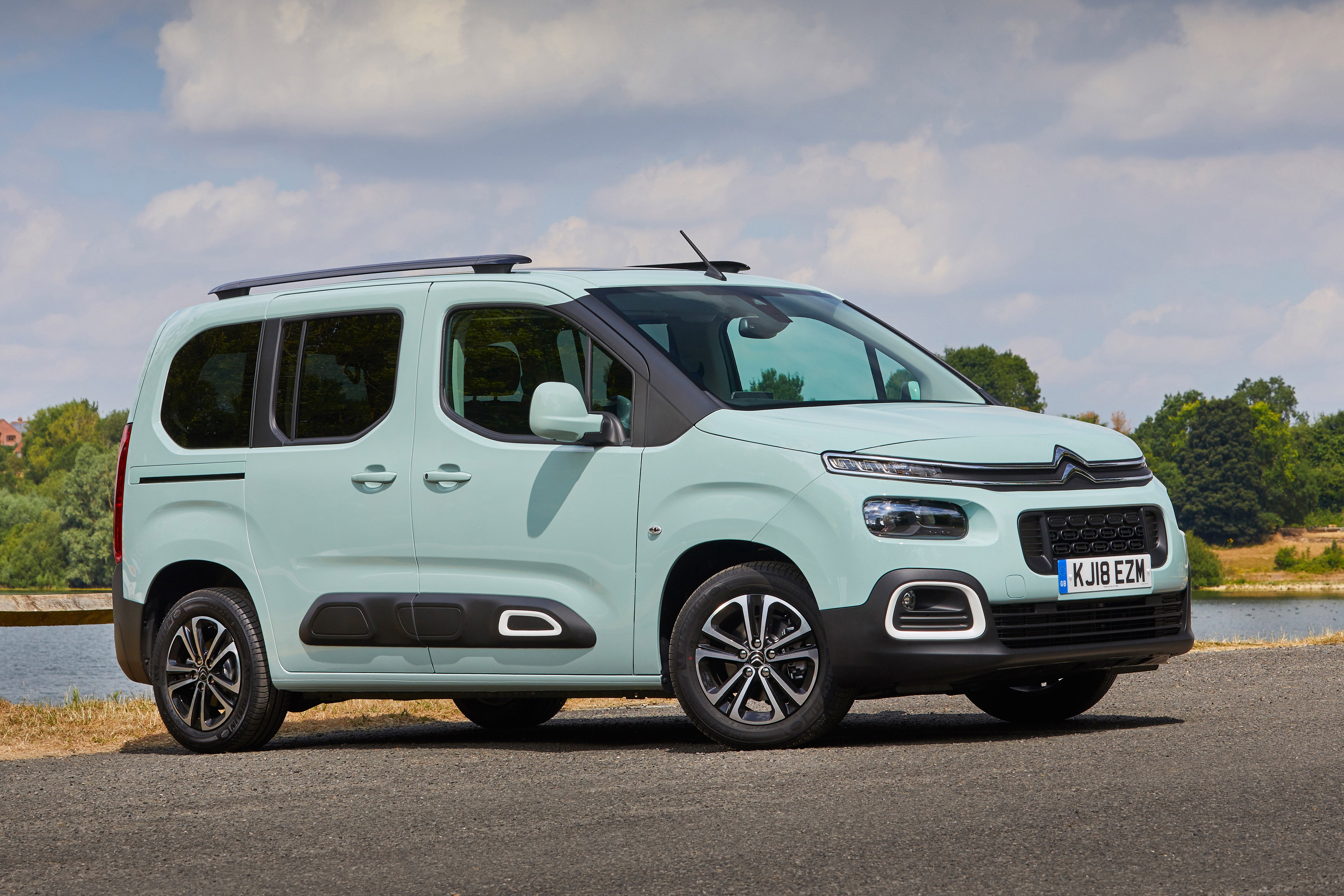 What there's no debate over is just how spacious it feels inside. There's loads of room in the front and the back and the boot is enormous – fold down the back seats and the Berlingo transforms itself into a plush removal van. Or you could go for an XL model that has an extra pair of seats in the back.
Even the cheapest Berlingos come with an eight-inch infotainment screen as standard, which has Android Auto and Apple CarPlay fitted, so you can use your phone's functions – for things like music playback and sat-nav – on the car's big screen.
Hit the road and there's plenty to hint at the Berlingo's van DNA. You get a tall driving position that makes it feel a bit like you're driving an SUV and the car's raised suspension means it copes well with speed humps. Light controls make the Berlingo easy to drive in start-stop traffic and an eight-speed automatic is an option worth considering if you'll often drive in town.
In the city, the Citroen's suspension is bumpy, but it settles down on the motorway, smoothing out bumps and taking the edge off poor surfaces. The only problem is wind noise that's more pronounced than in a normal low-slung family hatchback.
You get three engines to choose from. The 110PS petrol has plenty of oomph for town driving, but the 130PS diesel is a better all-rounder. Unlike the 100PS diesel, it shifts the Berlingo along at a decent rate of knots giving it enough pace to overtake slow traffic on A and B roads, cruises quietly on the motorway and doesn't feel overawed when the car has a full load of people and luggage.
Whichever engine you go for, the Berlingo never feels particularly sporty, it suffers from a reasonable amount of body lean and the steering is too light to inspire confidence when you're cornering quickly.
What the Citroen lacks in agility it makes up for in versatility, though. Fitted with Citroen's clever Grip Control system, the front-wheel-drive Berlingo can haul itself through snow and sand that would leave a rear-wheel-drive BMW looking red-faced.
Okay, so the Citroen isn't going to convince many people to hand over the keys to their BMW, but if you want a relatively inexpensive way to transport the family in luxurious levels of space, few can beat it. It's a worthy alternative to more conventional family cars like a Ford Focus or Volkswagen Golf.
Is the Citroen Berlingo right for you?
The Citroen Berlingo is right for you if you want a practical car at a very reasonable price. It might not woo you with huge infotainment screens and a super stylish interior, but what it does give you is luxurious levels of space that a posh SUV would be proud of.
Okay, so the Berlingo isn't great to drive, but the 130PS diesel provides plenty of poke and the optional eight-speed automatic gearbox takes the pain out of long journeys and stop-go traffic. So if you want more space than an SUV for less than the price of a regular hatchback such as the Volkswagen Golf then the Berlingo will be right up your street.
What's the best Citroen Berlingo model/engine to choose?
If you're planning on buying a Citroen Berlingo then consider the top-of-the-range 130PS diesel in mid-range Flair trim. The 130PS diesel engine is a great choice combining affordable fuel bills with plenty of grunt to keep the Berlingo moving when it's fully loaded, plus its sixth gear makes it quieter on the motorway than basic diesel with a five-speed gearbox.
Flair trim is worth paying a little bit extra for because it adds reversing sensors that make it easier to get the big Citroen parked and proper electric rear windows that let air in, unlike the pop-out versions fitted to basic cars.
What other cars are similar to the Citroen Berlingo?
The Citroen Berlingo most obvious rivals include the mechanically identical Peugeot Rifter and Vauxhall Combo Life, as well as other van-based family cars such as the 2021 Volkswagen Caddy.
That said, the Berlingo is also worth considering against a family estate car such as the Volkswagen Golf Estate, which has far less interior space, or a large SUV that'll cost a lot more to buy and run than the Citroen. Space is what the Berlingo does best – you could say you won't find more for less.
Comfort and design
"The Citroen Berlingo is based on a van so it doesn't feel as posh inside as a purpose-built family hatchback like the Volkswagen Golf, but it counters that by giving you a luxurious amount of space."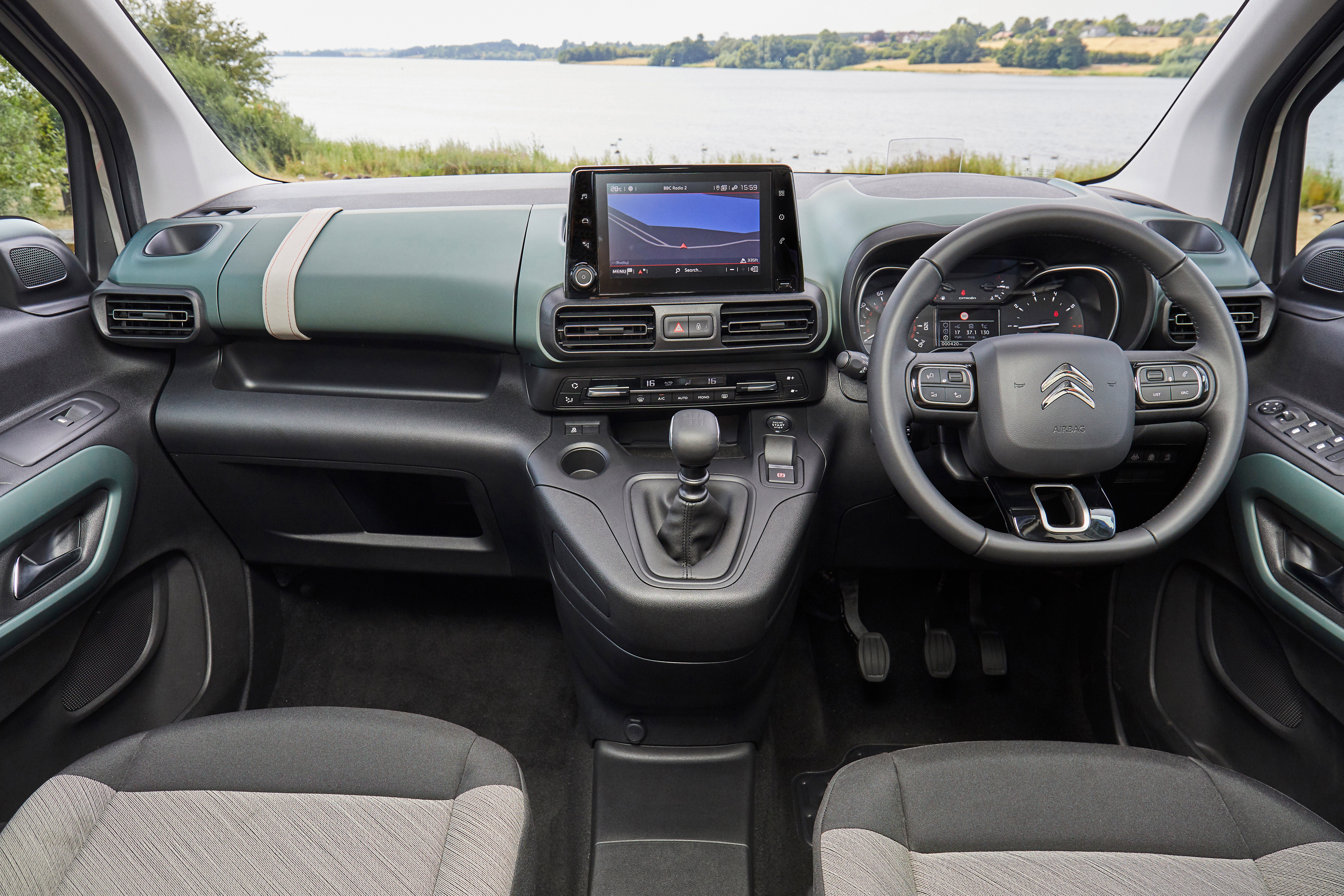 You don't get the digital dashboard seen in many family hatchbacks, but the Citroen's straight forward design makes the car easy to operate with conventional buttons for the ventilation system found high on the centre of the dashboard and controls for the stereo located conveniently on the steering wheel.
The upright seat gives you a high, SUV-like driving position in the Citroen, with a gear stick that sprouts out of the centre of the dashboard so that the knob sits almost parallel with the centre of the steering wheel. Next to the gearstick, you'll find the car's electric handbrake, with the controls for the car's ventilation system and hazard lights above it.
Helping the Citroen win points over the Peugeot Rifter is the Berlingo's standard large infotainment screen which sits on top of the centre of the dashboard right in your eye line. It looks much better than the old fashioned stereo you get in basic Rifter models and is a lot more usable.
Go for a top-of-the-range Berlingo Flair XTR and you get a head-up display that's even more user-friendly – it projects information such as speed onto the windscreen so you don't ever have to take your eyes off the road.
Quality and finish
If you're thinking of swapping your family hatchback for a car like the Citroen Berlingo then you'll have to get used to a slight drop off in interior quality. Most of the plastics in the Berlingo are hard and robust, and the Citroen does without the pretty trim pieces and cool mood lighting available in hatchbacks.
The interior design is pleasant rather than pleasingly modern and high-tech. Sure, the plastics aren't the soft spongy types you get in a Golf, but they are no worse than you'll find in the Citroen's direct rivals such as the Peugeot Rifter, Vauxhall Combo Life XL and Ford Grand Tourneo Connect.
Overall, the Citroen feels robustly built with consistent gaps between its plastic trims and none of the exposed metals you might expect to see in a van-based car like this.
You'll notice all models get a posh-feeling leather-trimmed steering wheel and even basic Feel models get Green Mica cloth upholstery that lightens up the cabin. Top-of-the-range models get Resada Green fabric that, despite the name, adds bright orange stripes across the seats.
Whichever model you go for, the Citroen has front seats like comfy armchairs and Flair XTR cars get three separate seats in the middle which are almost as comfy as the ones in the front.
Infotainment
It doesn't matter which Citroen Berlingo you go for, they all come with an eight-inch infotainment screen that sits proudly on top of the dashboard.
It comes as standard with Apple CarPlay and Android Auto so you can mirror the display of your smartphone on the car's big screen making it easy to follow directions.
All the functionality of your phone's sat-nav is carried over so you can route around congestion and get an accurate arrival time. Better still, you can do all this using your phone's easy-to-follow menus or, even better, via its voice activation system, so there's no need to take your hands off the wheel when you're driving.
The same goes for playing music. Just plug your phone into the car's USB port and you can hook up to music-playing apps such as iTunes and Spotify, playing music through the stereo.
Okay, so with just six speakers to fill the Citroen's vast cabin, the sound won't blow your socks off, but it does the job. Sadly, a stereo upgrade isn't available but Flair models get TomTom sat-nav integrated into the display so you don't need to rely on your phone, while Flair XTR versions get a head-up display which projects the car's speed and other info onto the windscreen like you're flying a high-tech jet fighter.
Space and practicality
Space and practicality are two of Citroen's biggest selling points. Upfront, you get a pair of soft and squidgy seats that could double as living room armchairs. The seats sit high so it feels like you're driving an SUV rather than a hatchback and you get driver's seat lumbar adjustment (on Flair models and above) with a storage tray hidden underneath the seat.
Flair trim and above also gives you armrests on both front seats and the front passenger seats fold flat so you can carry long loads that stretch the length of the car's passenger compartment.
The seating in the back varies depending on which model you go for. Feel and Flair cars get a back seat that splits 60:40, while Flair XTR (top-of-the-range) models have three separate seats that can be folded flat independently of each other.
Whichever model you go for, the Citroen has room for three adults in the back. There are acres of headroom and, although the seats are quite upright, it means there's loads of knee room and the car's completely flat floor gives space for everyone's feet.
Flair and Flair XTR models even have tables on the backs of the front seats so you can enjoy your picnic even if the weather isn't playing ball. Got kid seats to fit? Then you'll love the Citroen. It's two sliding rear doors leave loads of room for you to lift a baby seat into place and you get Isofix points on all three back seats.
In terms of boot space, the 775-litre boot is massive – giving you more room than you get in a gigantic SUV like the Audi Q7. Loading the Citroen is simple because the load opening is massive and the boot floor is completely flat, the only problem is the huge tailgate which you won't be able to get open if you park the Citroen tight against a wall or another car.
As if the big boot wasn't enough, you also get loads of interior storage with the Citroen having large interior door pockets, a big glovebox, hidden storage in the floor and various other nooks and crannies sprinkled throughout the cabin. Flair XTR cars also get extra room in the form of ledges and locking holdalls around the car's glass roof.
Need even more room? Then choose a Berlingo XL. Compared to the standard Berlingo M, XL models are 35cm longer which frees up room for another two seats in the boot. They're spacious enough for adults and, if they're not in use, can be completely removed to free up luggage space.
Handling and ride quality
"The Citroen Berlingo is a surprisingly easy big car to drive in town. "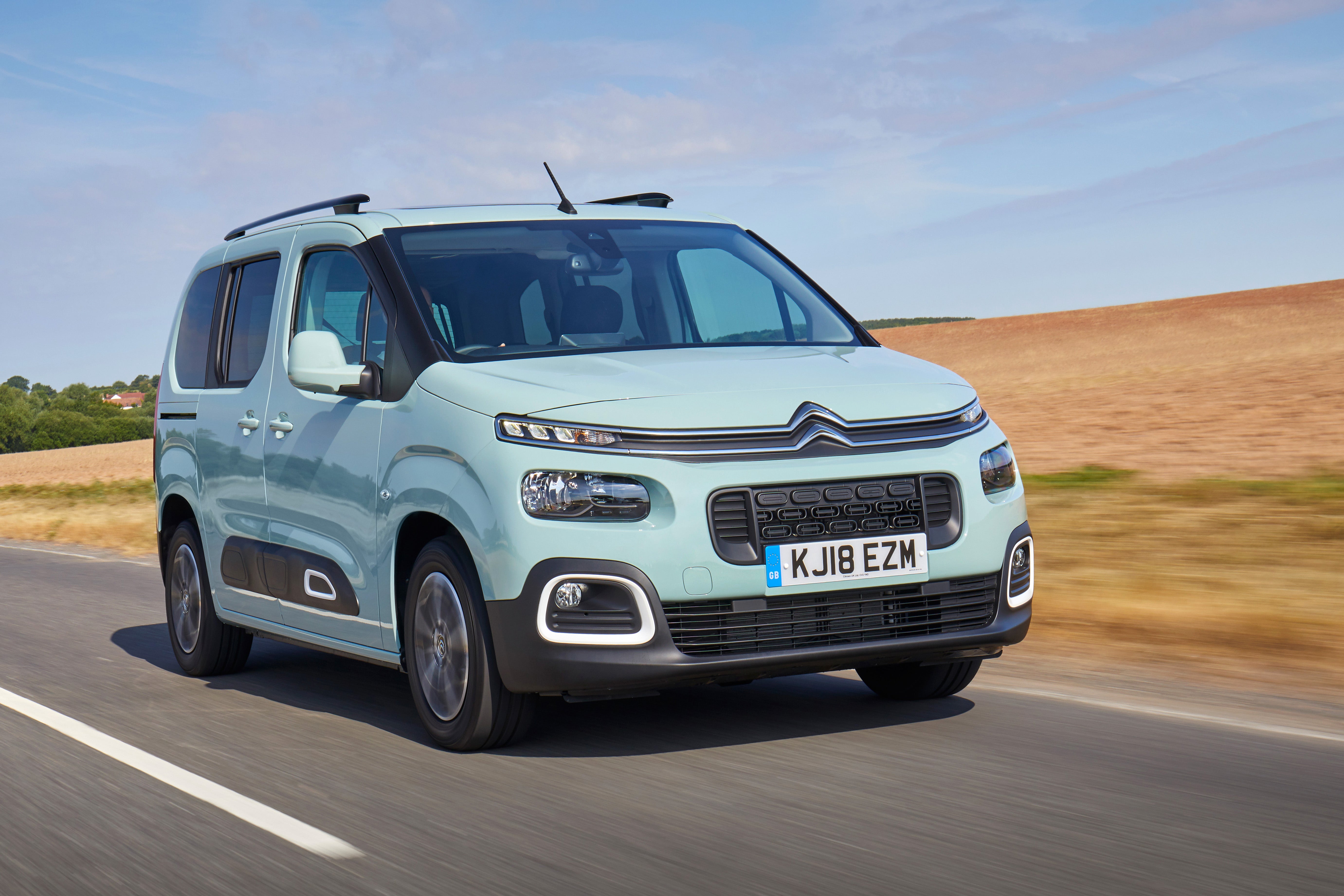 The raised driving position means you can look over lines of traffic, the Berlingo's boxy shape makes it easy to judge the car dimensions when you're squeezing through traffic or getting parked up, and the Airbump plastic cladding protects the car's sides from bumps and scrapes.
If you're not the biggest fan of parking, Flair models and above come with rear parking sensors as standard, and you can add a reversing camera and auto park as options. Want to make your Berlingo as city-friendly as possible? Then it's worth going for the smooth-shifting eight-speed automatic gearbox which gives your left footrest in stop-start traffic.
One area that comes in for criticism in town is the Citroen's bumpy suspension, but the ride smooths out when you get up to faster speeds on the motorway.
Take the exit onto a twisting B-road and the Citroen is unlikely to put a huge smile on your face. On the way into a corner, its light steering makes it feel imprecise and there's no shortage of body lean, while the lack of lateral support in the driver's seat leaves you clinging to the steering wheel just to stay in your chair. If you want a sporty family car, you'll be much better off with a Ford Focus.
That said, while its upright body doesn't make the Citroen feel very agile, it does have its advantages when you want to tackle unpaved roads or tracks that could damage a normal, low-slung family car.
Want to turn your Berlingo into a quasi SUV? Then go for the optional Grip Control system which can help the Citroen's front wheels bite even on very slippery roads by sending power to whichever tyre has the most grip. The system also includes hill descent control, which makes it easy for you to drive the Berlingo down steep inclines, all you do is a press a button, take your feet off the pedals and let the car's brain deal with the rest.
So the Berlingo isn't bad off-road, but it can't match the towing of a four-wheel-drive SUV. The Citroen can only pull up to 1600kg – in 130PS diesel form – when many SUVs this size can manage more than 2000kg. On the bright side, get your Citroen fitted with a tow bar and you also get a stability control system that can bring an unruly trailer back into line without you having to do a thing.
Engines and gearboxes
You get three engines to choose from in the Citroen Berlingo range – one petrol and two types of diesel. The diesels make the most sense and 130PS 1.5-litre version is the best of the pair. It has plenty of power in reserve so even if the car's fully loaded, you'll have no problems overtaking slower-moving vehicles on A and B roads or getting up to speed on the motorway.
That said, taking 10.3 seconds to get from 0-62mph, it's still not what you'd describe as quick but at least you get a six-speed manual gearbox that helps lower engine noise at a cruise. The basic 100PS diesel does without the six-speed gearbox, so it's noisier on the motorway.
The 110PS 1.2-litre is your only petrol option. It feels quite spritely at low speeds – the thrum of its three-cylinder engine even sounds quite sporty – but doesn't have the urge of the diesel models at faster speeds.
Refinement and noise levels
Choose the Citroen's 110PS petrol engine and you'll have to put up with more engine noise under acceleration than you do with either of the diesel models, which you don't have to work so hard to get up to speed.
That said, wind noise is noticeable when you're cruising on the motorway no matter which Berlingo model you're in, thanks to the car's boxy shape and large, square wing mirrors. That square shape also makes the Citroen prone to catching crosswinds on exposed roads.
Safety equipment
The Citroen Berlingo comes with lots of standard safety equipment, even if it could only score four stars for safety from Euro NCAP next to the five-star rating awarded to cars such as the Ford Focus and Volkswagen Golf.
Standard equipment on the Citroen includes numerous airbags and automatic emergency brakes that can detect other vehicles, pedestrians and cyclists and brake the car independently if it detects you're going to be involved in an imminent collision.
On top of that, you get a tyre pressure warning system that alerts you when you get a flat, active lane assist that can make tiny steering corrections to keep the car straight in lane and a road sign recognition system that can display the current speed limit on the car's infotainment screen.
Want to boost safety? Then it's worth considering the Driver Assistance Pack which is an optional extra on Flair and Flair XTR cars. It adds headlights that can dip themselves automatically and active cruise control, which can accelerate and brake the car automatically on the motorway to keep you a safe distance from the car in front.
MPG fuel costs
"The thirstiest Citroen Berlingo model is the 110PS 1.2-litre PureTech petrol which gets official fuel economy of 43mpg and should get high-30s without too much effort. That should give you a range of roughly 450 miles from the Citroen's 50-litre fuel tank."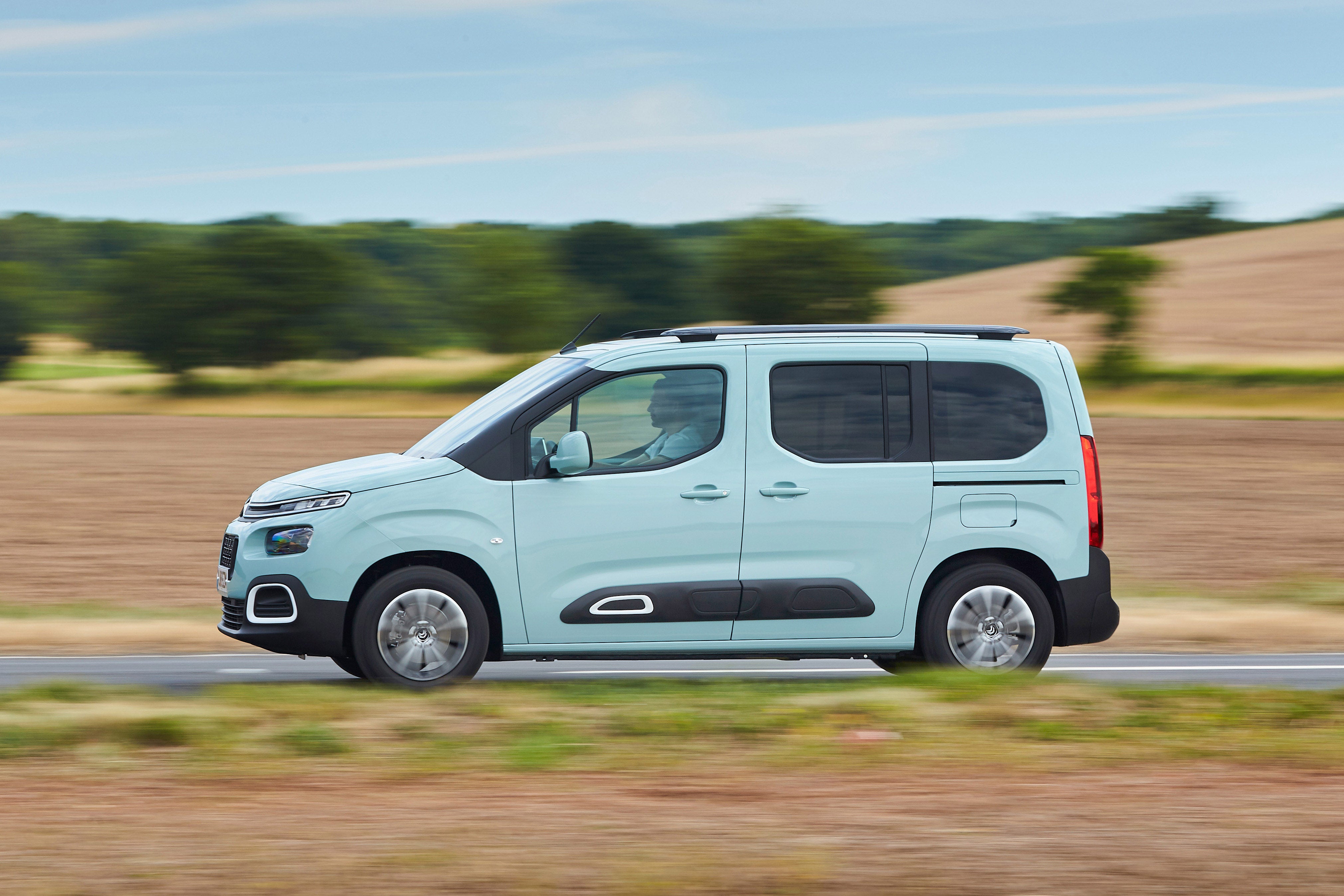 Diesel models are the cheapest of the lot to run, they'll have no problem returning 50mpg whether you go for the 110 or 130PS model – giving them a range of around 550 miles from a fill-up.
Fitting the optional automatic gearbox has a negligible effect on fuel economy as do the larger 17-inch alloy wheels fitted to Flair GTX cars.
Insurance groups and costs
Because the Citroen Berlingo is based on a simple van, you can expect it to have cheap repair costs which could explain why it's relatively affordable to insure. Feel models cost the least with insurance ranging from group 10E (110PS petrol) to 13E for a larger Berlingo XL model fitted with the 130PS diesel engine.
Flair and Flair XTR models fitted with the same engine are the most expensive to cover because they sit in insurance group 14. That said, even they'll be cheaper to insure than a family hatchback like a Ford Focus offering similar performance.
VED
Tax is another cost that won't break the bank in the Citroen Berlingo. The diesels are the cheapest of the lot, both cost £215 in the first year and £150 thereafter, irrespective of whether you fit Ciroen's eight-speed automatic gearbox.
Petrol models' higher CO2 emissions mean they'll cost £540 to tax in the first year and £150 thereafter. Go for the larger Berlingo XL seven-seater and prices also go up with road tax costing £540 in the first year for both the 110PS petrol and the 130PS diesel.
How much should you be paying for a Citroen Berlingo?
"The cheapest model in the Berlingo range is the 100PS diesel model in Feel trim, which starts from just over £21,000 on the road. The most expensive model is the 130PS diesel XL seven-seater with Citroen's eight-speed automatic gearbox, it costs just more than £29,500. "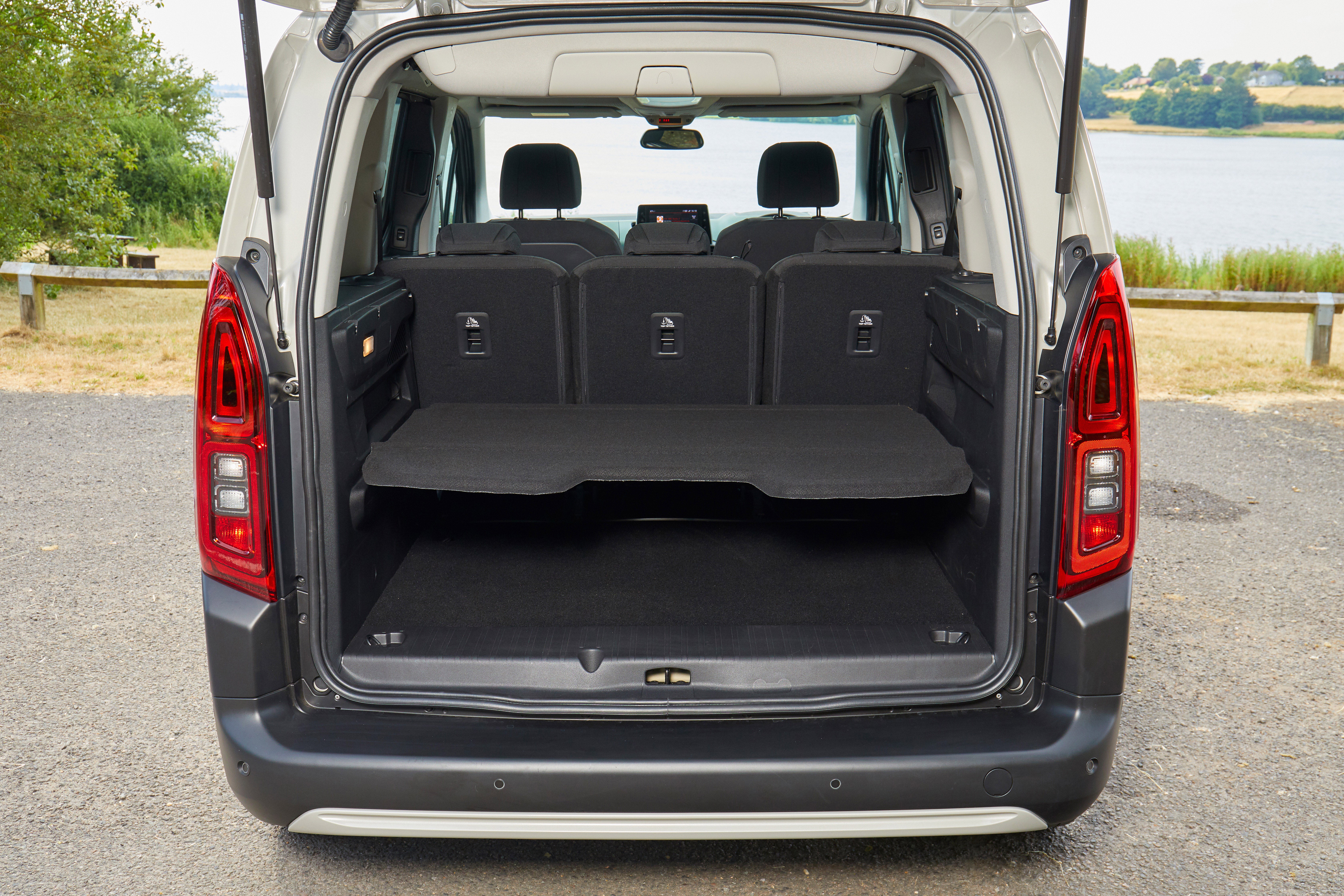 The most popular model to go for is Flair trim in combination with the 130PS diesel engine, which will cost you around £25,500 on the road. This combination gives you decent performance and cheap running costs as well as getting you additional kit over the basic model including lumbar adjustment on the driver's seat and reversing sensors that make parking that bit easier.
Don't fancy that price? Then there are significant savings to be made by buying used. We found a 2020 130PS Flair car with just 500 miles on the clock up for sale for less than £16,000.
Trim levels and standard equipment
The Citroen Berlingo is available in three trims levels – Feel, Flair and Flair XTR.
Feel models are the most reasonably priced of the lot and, it has to be said, they look it from the outside thanks to their cheap-looking plastic wheel trims. There's better news on the inside where you get kit such as air conditioning and cruise control that can hold the car at a set speed on the motorway without you having to keep your foot on the accelerator pedal. Flair models also get Citroen's eight-inch infotainment screen with Apple CarPlay and Android Auto.
Flair models look sharper on the outside thanks to their black-painted alloy wheels. On top of the kit you get in Feel cars, Flair models add an integrated sat-nav system, electric rear windows – way better than the pop-out windows you get on basic cars – rear parking sensors, lumbar adjustment on the driver's seat and picnic tables on the backs of the front seats.
Flair XTR models are the plushest of the bunch. They get sporty 17-inch wheels and glossy black roof bars that'll make it easy to fit a bike rack or a storage box. XTR models also get unique badging and orange highlights on the exterior plastics.
They're also loaded with extra kit including keyless entry – so you can open the car's doors without having to take your keys out your pocket – wing mirrors that fold away when you park, a head-up display that projects your current speed onto the windscreen and a handy opening rear window. It means you can drop smaller luggage into the boot without having to swing open the car's massive tailgate. Perhaps the nicest addition of all though is the panoramic glass roof that makes the interior feel light and airy.
Ask the heycar experts:
common questions
Is the Citroen Berlingo an MPV?
The Citroen Berlingo is an MPV that is based on a van, rather than being a standalone model. That actually makes the Berlingo very practical – a key feature for any MPV buyer. Its boxy shape means you get plenty of interior space and its van-based sliding doors can be opened in confined spaces and leave a huge opening that makes it easy to get in and out.

Is the Citroen Berlingo bigger than the Renault Kangoo?
Yes, the Citroen Berlingo is bigger than the Renault Kangoo in every way. Its 4753 mm length, 1848 mm width and 1849 mm height, compare to the Renault Kangoo's respective figures of 4666 mm, 1829 mm and 1802 mm.

Is the Citroen Berlingo the same as the Peugeot Rifter?
The Citroen Berlingo and the Peugeot Rifter are based on the same EMP2 platform and use the same engines. Basically, they are the same cars with slight exterior and interior variations and revised equipment lists.

Citroen Berlingo cars for sale on heycar
2,245
Number of cars available
£7K - £38K
Price bracket of these cars
Colours available on heycar
Keep me updated by email with the latest advice, news and offers from heycar
By submitting, you agree to our
privacy policy
.