Written by
heycar editorial team
Best bits
Easy to drive and to park but still capable on the open road
Feel and Flair models are well-specified
Cheap to buy, insure and run with strong reliability likely too
Not so great
Rear seats are relatively cramped
Looks might not win you over
Automatic saps the petrol engine's enthusiasm
Read by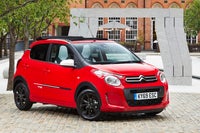 Overall verdict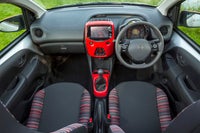 On the inside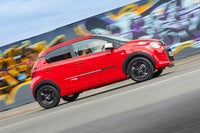 Driving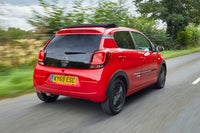 How much does it cost to run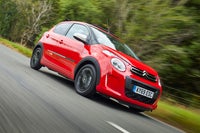 Prices, versions and specification
Overall verdict
Modern city cars may still wear the tag and have similarly dinky exterior dimensions and price tags, but buyers expect them to be as capable of long journeys as cars costing thousands more. The same goes for the specification, and a stripped-out bargain-basement just won't do anymore.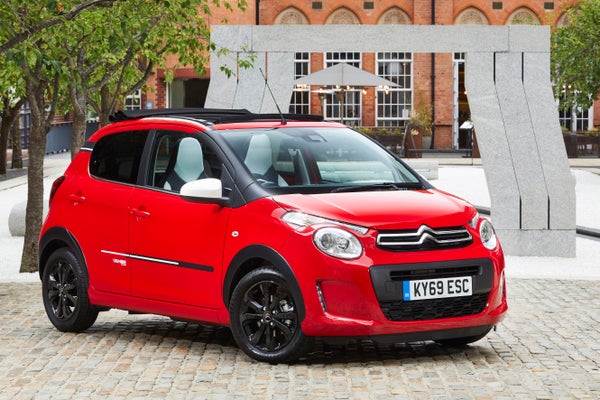 Citroen has played a big part in the 'grown-up' city car of today thanks to its C1. The first generation arrived in 2005, with this second-generation appearing in 2014. Both iterations were a joint venture with Peugeot and Toyota, with each manufacturer selling its own version. The collaboration meant reduced costs and boosted both the quality and specification.
The C1 range is simple, with a single petrol engine option, three- or five-door bodystyles and a choice of manual or automated manual gearboxes. Like any good city car, the C1 is compact; at under 3.5 metres in length, it's definitely short, although it maximises the available interior space thanks to its high roof. To keep costs down and save a little space, the rear windows on all versions are hinged to open rather than rolling down in the conventional manner.
On the inside, you'll find the C1 offers a decent amount of room depending on the size of person you're trying to put in it. Front seat passengers will have no complaints, with plenty of legroom and decent headroom thanks to the tall body. In the rear legroom is far less prevalent, so it is best kept for kids or very short journeys. The boot is also relatively small, although larger than some key rivals.
Despite the low sticker price, the C1 doesn't feel like a discount special in terms of comfort and equipment either. As long as you skip the base Touch model, you get smart interior trim, a 7-inch touchscreen with DAB and phone connectivity and air conditioning, all of which help it to feel more like a bigger car. There's also a fair amount of personalisation available should you wish to put your own spin on it.
The 1.0-litre petrol engine is a three-cylinder unit offering a modest 72PS, but thanks to the C1's light weight it offers respectable performance. Although it is happiest in town, there is enough power to make motorway journeys viable as long as it's not too loaded up with people. It also makes it frugal too, with over 50mpg well within reach.
Out on the road the C1 is sensibly designed for comfort and ease of driving rather than fun and frolics. The relatively soft suspension does a good job of absorbing poor road surfaces, although over longer undulations the C1's size hampers its ability to cope as well as a larger car might. The C1 handles well too; safe, secure and predictable, it keeps the driver in the loop and won't frighten inexperienced drivers.
Is the Citroen C1 right for you?
With its ultra-low-cost approach both in terms of purchase price and running costs, the C1 makes a strong case for itself as a first car, whether for you or a family member. The entry-level Touch model is very cheap and feels a little stripped out, but it doesn't cost much more to upgrade and give the C1 the modern features most buyers will want. It also would make a handy second car if you need a small and inexpensive runaround for occasional short journeys when a big car is unnecessary or undesirable.
The C1 doesn't feel quite as solid or sophisticated as the Skoda Citigo and SEAT Mii rivals, but it is a little cheaper than those models and should be just as reliable too. The C1 is frequently offered with attractive finance deals too, so you could get it at a useful discount.
What's the best C1 model/engine to choose?
With only one engine to choose from, there's not much to consider when it comes to making a selection there. Only the base Touch model is available in three-door form only, but unless you have small kids regularly jumping in the back, it makes sense to save yourself a few quid and choose three doors whatever model you go for.
If the bottom line is the most important thing then the Touch is the C1 for you, but an additional £1,750 moves you up to the Feel model and brings with it a slew of useful extra kit. Air conditioning, the 7-inch touchscreen system, DAB, Bluetooth, larger 15-inch wheels and seat height adjustment for the driver makes for a much more pleasant environment - as does the smarter seat trim.
Another £790 on top of that moves you up to the Flair model, which gains some further useful items like heated door mirrors and a reversing camera, but also takes the price past £13,000.
What other cars are similar to the Citroen C1?
You can't ignore the C1's relatives - the Toyota Aygo and Peugeot 108 - which drive in a very similar manner and are mainly differentiated by cost and looks, but either would be a good choice.
The SEAT Mii and Skoda Citigo are Volkswagen Group spin-offs of the Volkswagen Up!, and bring the solid engineering and efficiency you usually get, just with a smaller price tag than the VW version. Smart-looking and good to drive, both the Mii and Citigo are attractive options.
The Hyundai i10 is also a strong contender, and although the cheapest model is some way from the cheapest C1, it brings a quality feel and good specification.
Is the Citroen C1 right for you?
Anyone searching for a city car knows what they want - a low purchase price and low running costs, an easy driving experience and ideally trouble-free motoring. The C1 delivers all those things and a bit more, with a good specification on most models and a healthy dose of charm too.
Learn more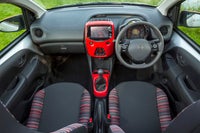 On the inside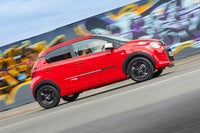 Driving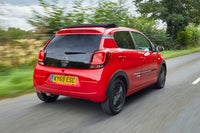 How much does it cost to run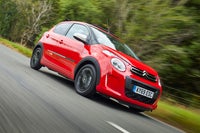 Prices, versions and specification
Reviews of similar cars
Quality checked, all cars less than 8 years old and warranty included