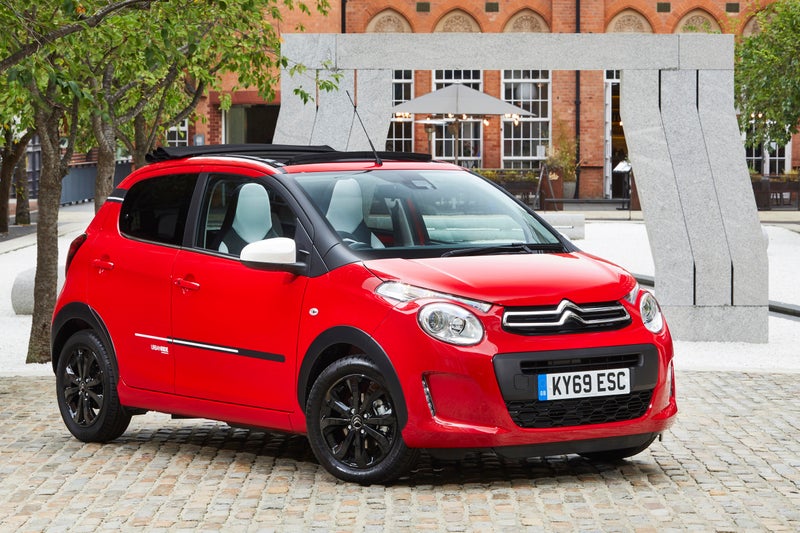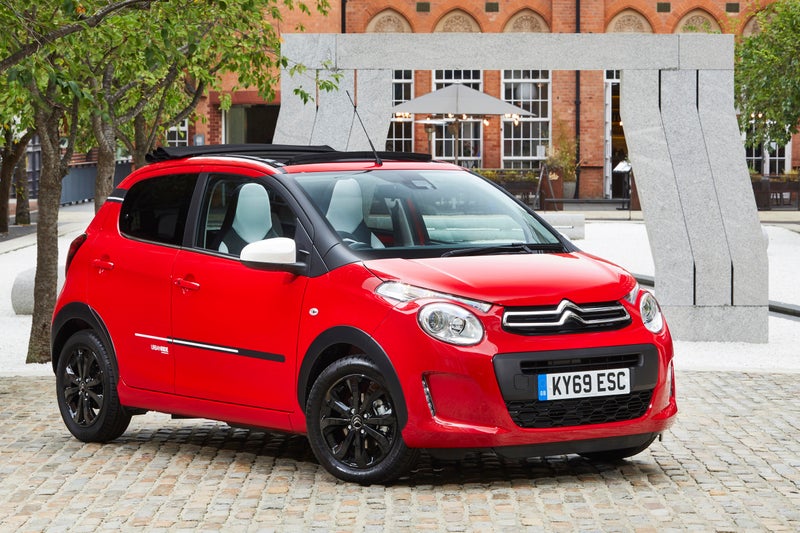 1/10
Launched: 2014

City car

Petrol
Quick overview
Pros
Easy to drive and to park but still capable on the open road
Feel and Flair models are well-specified
Cheap to buy, insure and run with strong reliability likely too
Cons
Rear seats are relatively cramped
Looks might not win you over
Automatic saps the petrol engine's enthusiasm
Overall verdict
On the inside
Driving
Cost to run
Prices and Specs
Common questions
Overall verdict on the Citroen C1
"Anyone searching for a city car knows what they want - a low purchase price and low running costs, an easy driving experience and ideally trouble-free motoring. The C1 delivers all those things and a bit more, with a good specification on most models and a healthy dose of charm too."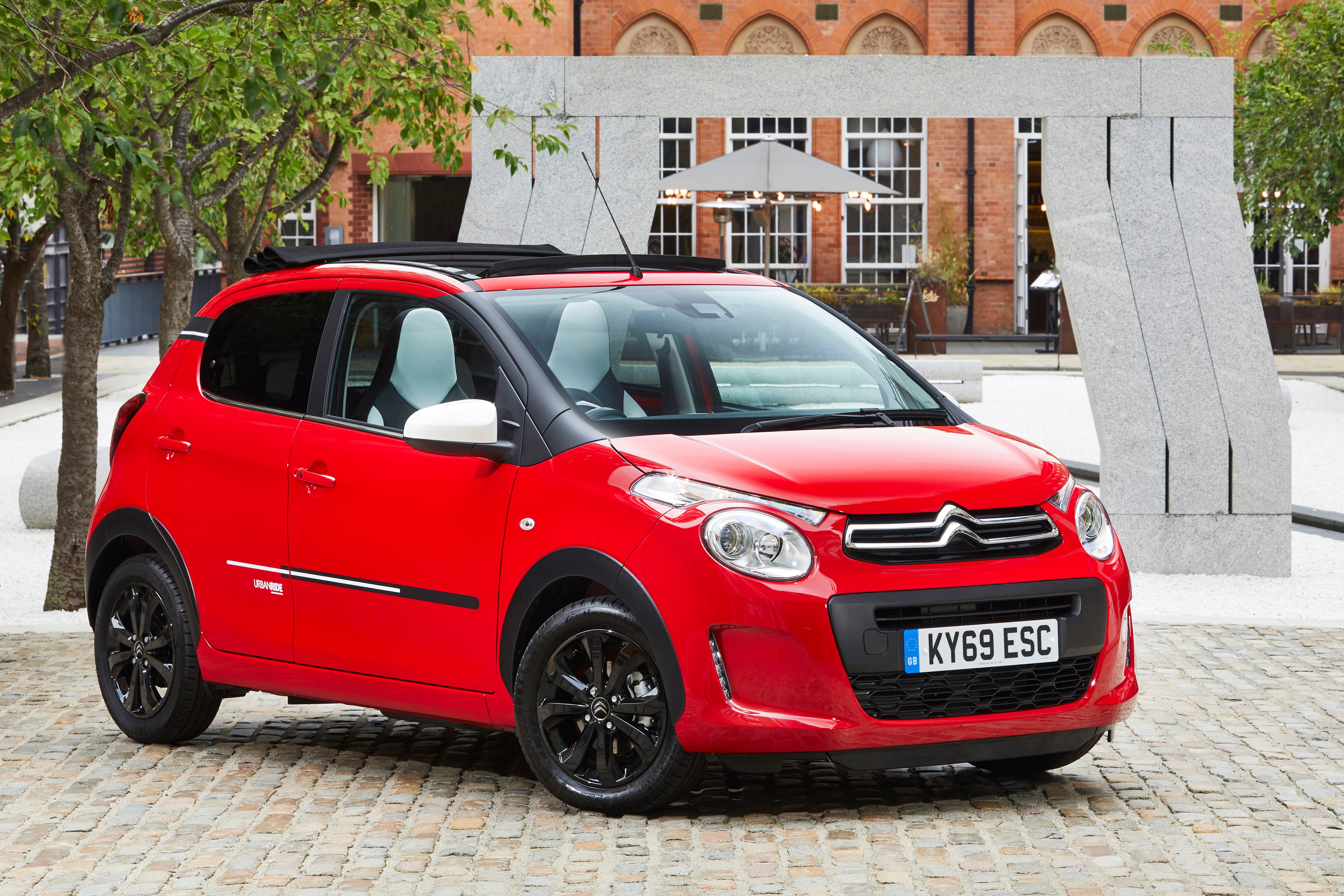 Modern city cars may still wear the tag and have similarly dinky exterior dimensions and price tags, but buyers expect them to be as capable of long journeys as cars costing thousands more. The same goes for the specification, and a stripped-out bargain-basement just won't do anymore.
Citroen has played a big part in the 'grown-up' city car of today thanks to its C1. The first generation arrived in 2005, with this second-generation appearing in 2014. Both iterations were a joint venture with Peugeot and Toyota, with each manufacturer selling its own version. The collaboration meant reduced costs and boosted both the quality and specification.
The C1 range is simple, with a single petrol engine option, three- or five-door bodystyles and a choice of manual or automated manual gearboxes. Like any good city car, the C1 is compact; at under 3.5 metres in length, it's definitely short, although it maximises the available interior space thanks to its high roof. To keep costs down and save a little space, the rear windows on all versions are hinged to open rather than rolling down in the conventional manner.
On the inside, you'll find the C1 offers a decent amount of room depending on the size of person you're trying to put in it. Front seat passengers will have no complaints, with plenty of legroom and decent headroom thanks to the tall body. In the rear legroom is far less prevalent, so it is best kept for kids or very short journeys. The boot is also relatively small, although larger than some key rivals.
Despite the low sticker price, the C1 doesn't feel like a discount special in terms of comfort and equipment either. As long as you skip the base Touch model, you get smart interior trim, a 7-inch touchscreen with DAB and phone connectivity and air conditioning, all of which help it to feel more like a bigger car. There's also a fair amount of personalisation available should you wish to put your own spin on it.
The 1.0-litre petrol engine is a three-cylinder unit offering a modest 72PS, but thanks to the C1's light weight it offers respectable performance. Although it is happiest in town, there is enough power to make motorway journeys viable as long as it's not too loaded up with people. It also makes it frugal too, with over 50mpg well within reach.
Out on the road the C1 is sensibly designed for comfort and ease of driving rather than fun and frolics. The relatively soft suspension does a good job of absorbing poor road surfaces, although over longer undulations the C1's size hampers its ability to cope as well as a larger car might. The C1 handles well too; safe, secure and predictable, it keeps the driver in the loop and won't frighten inexperienced drivers.
Is the Citroen C1 right for you?
With its ultra-low-cost approach both in terms of purchase price and running costs, the C1 makes a strong case for itself as a first car, whether for you or a family member. The entry-level Touch model is very cheap and feels a little stripped out, but it doesn't cost much more to upgrade and give the C1 the modern features most buyers will want. It also would make a handy second car if you need a small and inexpensive runaround for occasional short journeys when a big car is unnecessary or undesirable.
The C1 doesn't feel quite as solid or sophisticated as the Skoda Citigo and SEAT Mii rivals, but it is a little cheaper than those models and should be just as reliable too. The C1 is frequently offered with attractive finance deals too, so you could get it at a useful discount.
What's the best Citroen C1 model/engine to choose?
With only one engine to choose from, there's not much to consider when it comes to making a selection there. Only the base Touch model is available in three-door form only, but unless you have small kids regularly jumping in the back, it makes sense to save yourself a few quid and choose three doors whatever model you go for.
If the bottom line is the most important thing then the Touch is the C1 for you, but an additional £1,750 moves you up to the Feel model and brings with it a slew of useful extra kit. Air conditioning, the 7-inch touchscreen system, DAB, Bluetooth, larger 15-inch wheels and seat height adjustment for the driver makes for a much more pleasant environment - as does the smarter seat trim.
Another £790 on top of that moves you up to the Flair model, which gains some further useful items like heated door mirrors and a reversing camera, but also takes the price past £13,000.
What other cars are similar to the Citroen C1?
You can't ignore the C1's relatives - the Toyota Aygo and Peugeot 108 - which drive in a very similar manner and are mainly differentiated by cost and looks, but either would be a good choice.
The SEAT Mii and Skoda Citigo are Volkswagen Group spin-offs of the Volkswagen Up, and bring the solid engineering and efficiency you usually get, just with a smaller price tag than the Volkswagen version. Smart-looking and good to drive, both the Mii and Citigo are attractive options.
The Hyundai i10 is also a strong contender, and although the cheapest model is some way from the cheapest C1, it brings a quality feel and good specification.
Comfort and design: Citroen C1 interior
"With its city car dimensions and price tag, it should come as no surprise to find that the cabin of the C1 is a straightforward affair, but that doesn't mean it is completely spartan."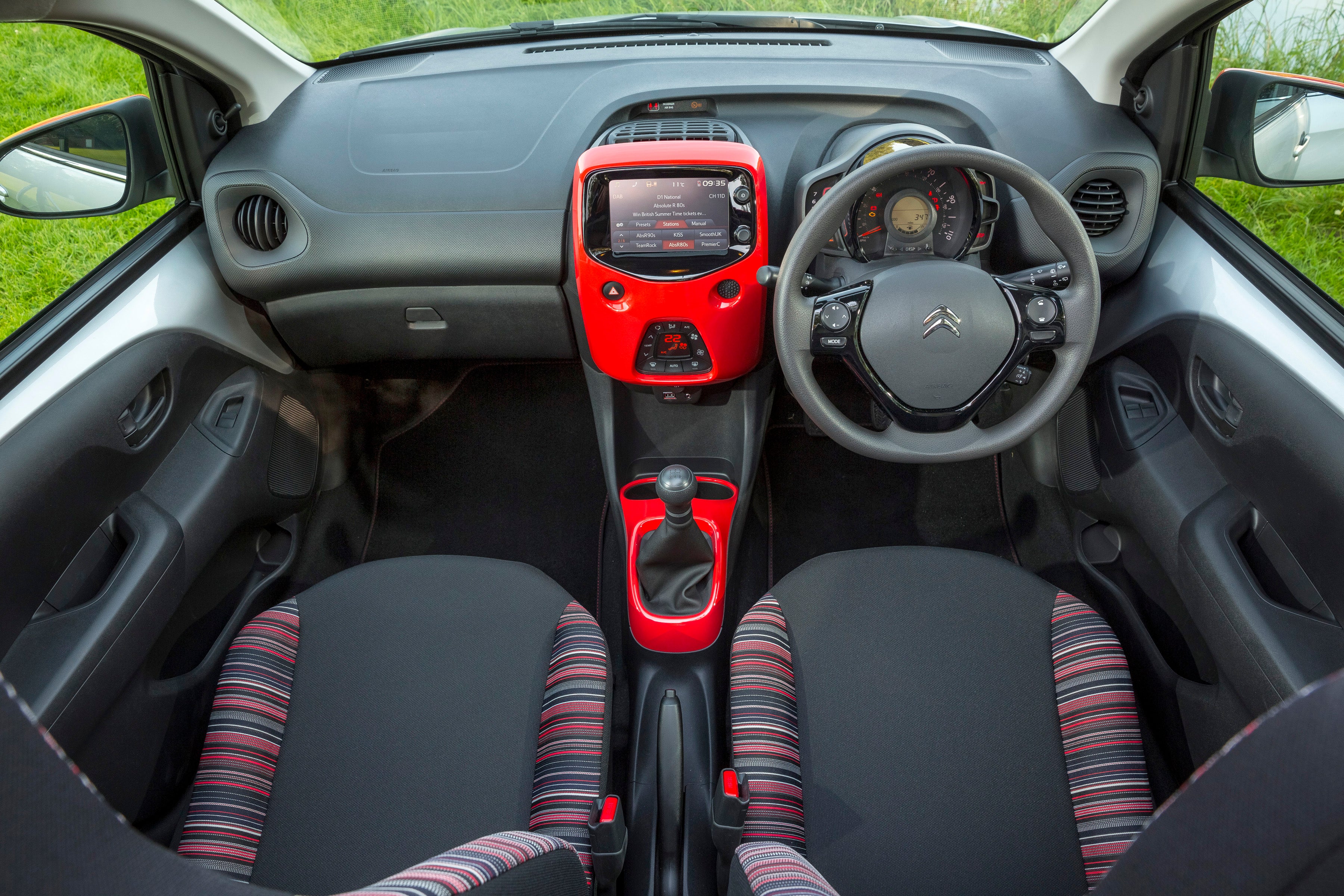 Climb into the driver's seat and you're greeted by a cheerful interior with all the main controls grouped closely around the driver. A large speedometer holds within it a digital display that shows fuel and outside temperature, while the rev counter and warning lights sit on the outside. The pleasingly chunky steering wheel also holds controls for the infotainment system (depending on the model), while the screen itself is close to the driver and easy to operate.
Getting comfortable is easy for those sat in the front seats, with height adjustment for the driver on Feel models and above, and despite its size, the C1 makes you feel safely enclosed, helped by the relatively high window line and the scope to set the seating position low down.
The driving position is good too with height and reach adjustment for the steering wheel, although shorter drivers will find that the short bonnet drops out of sight through the windscreen even if you jack the seat up high. That said, the window area is generous so the view out is good, and with such a vertical tailgate it's easy to judge where the back of the car is during parking manoeuvres.
The front seats are comfortable for most sizes of adult thanks to decent width and length in the base, although side support is somewhat lacking.
Quality and finish
The C1's cabin is never going to give Audi designers sleepless nights, but given the modest sticker price you might find the fit and finish a welcome surprise. Go for the basic Touch model and it's a little more obvious that this is a car built down to a price, but the rest of the range benefits from smarter seat fabrics and more colour throughout the cabin that helps lift the mood.
Clever touches all contribute to the positive vibes, like the way the body-coloured metal is incorporated into the doors as a design feature rather than simply saving a few Euros. You can go a stage further and dive into the options list, which offers a multitude of colours and graphics to give your C1 a greater degree of personalisation.
The materials used inside the C1 are designed to be hard-wearing rather than particularly plush, but the mix of colours and textures means it doesn't feel like a solid lump of dark plastic, and it's clearly put together well. The whole car is designed to be lightweight but it never feels insubstantial, which is good news if you plan to hang on to it for a few years.
Infotainment: Touchscreen, USB, nav and stereo in the Citroen C1
Plump for the lowest possible list price and your C1 Touch comes with the most humble of audio systems, amounting to an AM/FM radio with a USB input and two speakers. Technically that's enough to get by on but it's hardly the stuff of dreams. Given that it is designed to be a low-cost model there's no option to upgrade either.
Meanwhile, the rest of the range gets the far smarter 7-inch touchscreen that is well-loaded with desirable features for not a great deal more cash. It comes with DAB, USB input, an extra pair of speakers to give you four in total and controls on the steering wheel. It's designed to work hand-in-hand with smartphones too; there's Bluetooth for hands-free calling and streaming, plus Mirror Screen so you can operate certain functions on your phone directly through the car.
It works well too - the screen feels tough and has a slightly matte finish which bodes well for thousands of miles of prodding fingers, while it's easy to navigate through the screens and it rarely suffers from lag. You can also download specific apps that work as navigation if you don't want to use the native apps on your smartphone.
Space and practicality: Citroen C1 boot space
No one buys a city car expecting to carry a family of seven plus luggage across Europe, but there's no point buying one if it's too small to accommodate adult humans. As expected it's those up front who get the best deal - big doors on the three-door version mean a massive aperture to climb through and it's easy to get installed. Even getting into the rear seats is almost as easy on the three-door as it is on the five-door, so there's a strong case for choosing the cheaper option depending on your needs.
Up front there is plenty of space to accommodate tall adults, with good legroom and plenty of headroom thanks to the relatively tall body. Elbow room is a little less plentiful, but unless both you and your passenger are bouncers or are particularly fond of 1980s fashion it shouldn't be a problem. It less impressive when you step into the rear seats, with legroom in particular lacking for adults and even older children. Even if you just have small children in the rear, add in the bulk of a car seat and you'll find them putting their feet up on the back of the front seats in no time. Headroom is acceptable in the rear although it's not quite as generous as in front.
As for storage space, the C1 offers 196 litres and like most cars in this class the boot tends to be relatively narrow but deep, which can be restrictive depending on what kind of cargo you want to carry. That's more than 50 litres fewer than the SEAT Mii and Hyundai i10, but it is more than the almost-identical Toyota Aygo. Drop the rear seats and you have 780 litres to play with.
Storage in the cabin is acceptable too, with a decent glovebox but relatively slim door pockets - hardly a surprise given the car is quite narrow. Overall the C1 is pretty much par for the course in terms of space efficiency - you won't get much more space by going elsewhere.
Handling and ride quality: What is the Citroen C1 like to drive?
"Given that city cars are expected to be tramping tough urban streets for the majority of their lives the emphasis tends to be on ride comfort rather than razor-sharp handling, and the C1 is happy to oblige."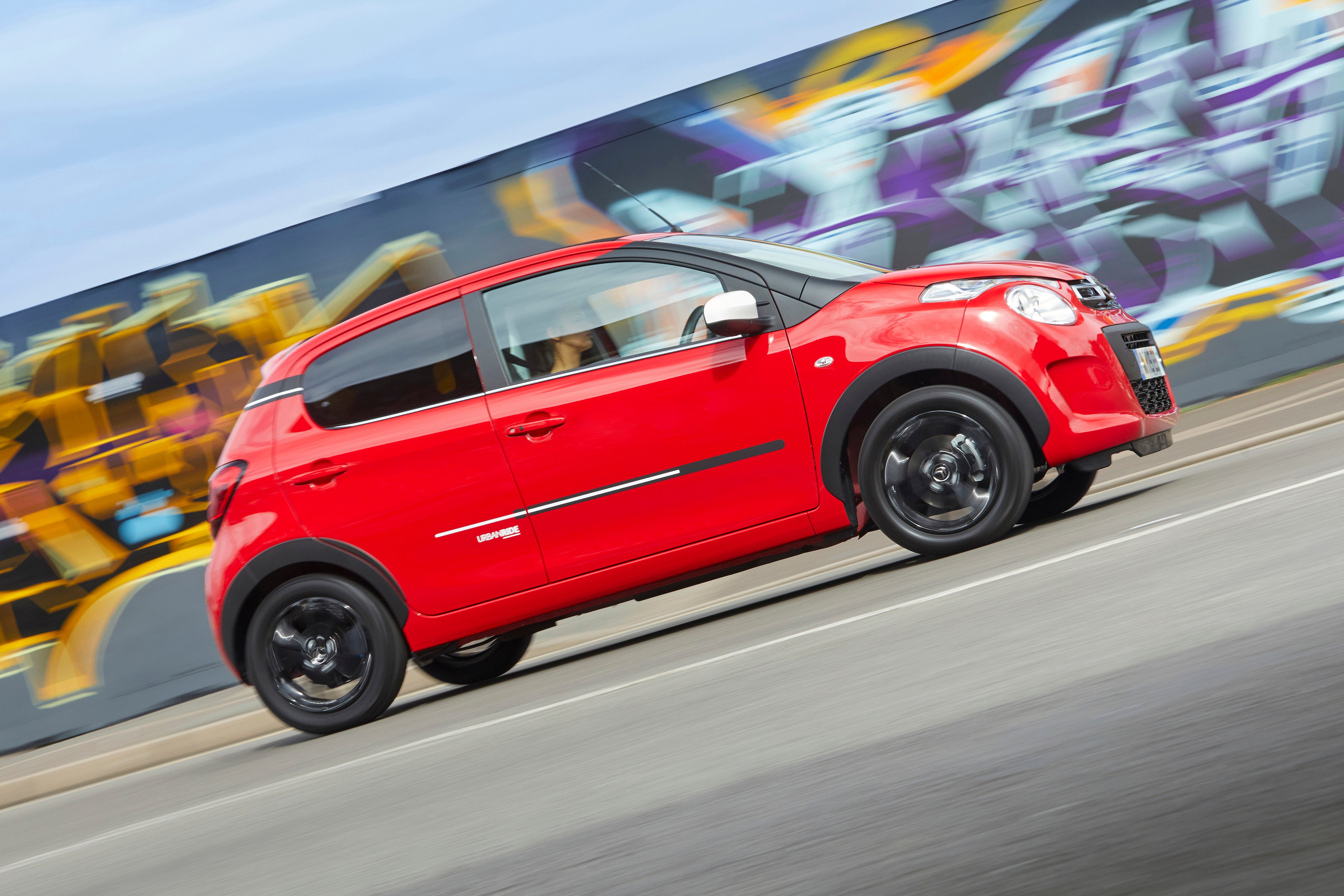 The power-assisted steering is light, but not so light you feel disconnected from what's going on at the front wheels, and it inspires confidence in the driver. It's quick to respond to drive inputs too, which adds to the feeling of nippiness when you're darting around city streets. It doesn't fall apart at motorway speeds either, without feeling overly-light or skittish. Like most cars of this size, you need a steady hand in strong crosswinds, but it's rare that the C1 feels anything other than secure on the road.
Cars with a short wheelbase like the C1 can suffer from indifferent ride quality, but for the most part it avoids falling into this common trap. The suspension is deliberately soft in its tuning, and does a good job of soaking up the worst that poor roads can throw at it. It's not a magic carpet, and the bigger 15-inch wheels on the Feel and above models are better able to cope than the standard 14-inch versions on the basic Touch model, but it's unlikely to have you grumbling.
The flip side of this softly-softly approach is that the C1 is less comfortable should you ask it to behave like a mini hot hatch. It's certainly game enough to try, but there's more body roll than you would hope for and the seats are designed to cope with high cornering forces either. It feels safe and secure if a little out of its depth, but this is unlikely to matter to most buyers interested in a car like this.
What engines and gearboxes are available in the Citroen C1?
Following the discontinuation of the larger 1.2-litre engine, the C1 is limited to the single option of a 1.0-litre, three-cylinder unit dishing out a heady 72PS and 93Nm of torque. That doesn't sound like - and isn't - much, but it weighs as little as 840kg (about half the weight of a BMW 5 Series) so it doesn't have to pull too much, as long as it's not loaded up with people and luggage. More importantly, like many three-cylinder units it is smoother and more characterful than similarly-sized four-cylinder offerings: it's keen to rev and feels willing, however unrealistic your acceleration demands might be.
The C1 is in its element in the city, where it can get away from the traffic lights smartly and is sufficiently quick to keep up with urban traffic. Out on quicker country roads or the motorway you may need a little more patience, but wind it all the way up and it will do 99mph - more than enough to get you in trouble.
The standard five-speed manual gearbox won't cause you any problems either. It has a lightweight feel when you change gears and the ratios are well-chosen to give decent acceleration without running out of puff at higher speeds. The C1 was previously offered with an automated manual gearbox on a limited number of models, but this has now been dropped, in part because of low take-up but also probably because it was a bit rubbish.
Refinement and noise levels
For a car of this size, the Citroen C1 does a fine job of keeping your ears and your sanity intact. For starters, that three-cylinder engine does create a little bit of noise when you start to exercise it, but it's a pleasing sound rather than a cacophonous one and will rarely bother you or your passengers - impressive for one so small.
The same goes for wind and tyre noise levels. Skinny tyres certainly help, and although the C1 hasn't got the space to pack in lots of sound deadening, you don't feel like the last biscuit in the tin. Wind noise picks up a little when you get to motorway speeds but the same goes for most of its rivals, and in truth this will likely be an occasional occurrence rather than being a frequent motorway hack.
The front seats, in particular, offer decent support even on longer journeys, but the rear seats are best left to the kids or for short hops. Further pluses for the cabin environment are the air conditioning and audio system, both of which do their bit to make you feel like you're in a bigger car.
Safety equipment: How safe is the Citroen C1?
The Citroen C1 was last tested by EuroNCAP in 2014, where it scored an impressive four stars out of five. It achieved an 80 per cent rating for both adult and child protection, a strong score for a car of this size, although it did less well on pedestrian impact at 62 per cent and 56 per cent on safety assist, although the latter would be improved with the addition of the Active City Brake pack.
One of the ways in which the C1's sticker price is kept so low is the careful selection of standard equipment. All C1 models are fitted with six airbags, a low tyre pressure warning system and ESP as standard, while Flair models add to that a speed limiter. C1s also come with Isofix child seat mounting points and a space-saver spare wheel.
From the options list you can add in Active City Brake for £480, which also incorporates a lane departure warning system and traffic sign recognition, which is a significant boost for a small price. Top-spec Flair models are also fitted with a reversing camera, and you can also add rear parking sensors to the mid-range Feel trim for £244, although this is a dealer-fit accessory rather than something installed at the factory, so you might go for an aftermarket system instead.
MPG and fuel costs: What does a Citroen C1 cost to run?
"A big plus of running a small car like the Citroen C1 is the low running costs. "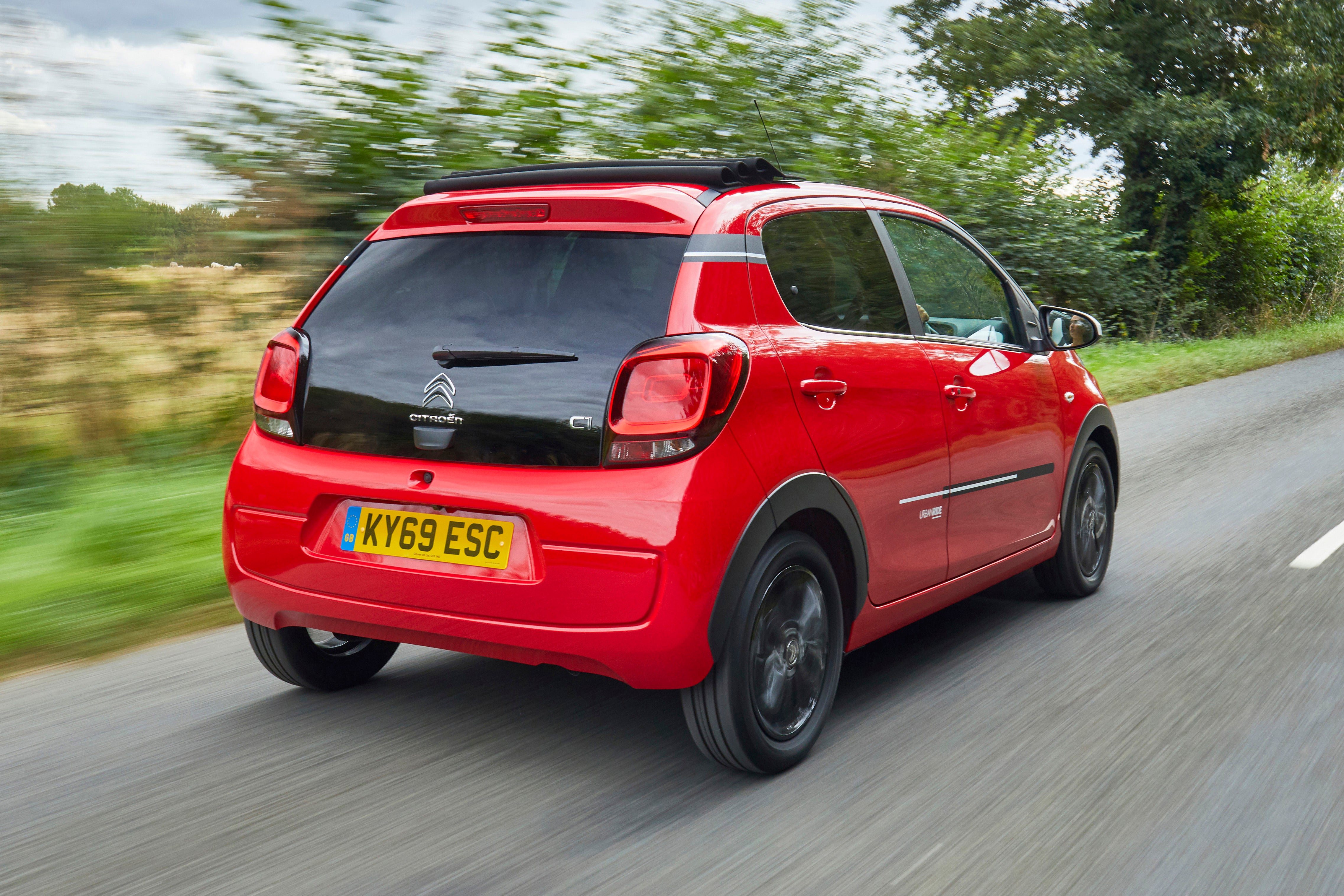 Whichever version you choose you should be able to crack 50mpg without trying very hard - the official WLTP fuel consumption figures say it is capable of a combined 52.2mpg, or 67.3mpg combined by the old NEDC standard. Driven with a light touch the C1 will return strong fuel consumption figures, but it's worth remembering that because of its modest performance, if you hurry it along you will drink significantly more fuel as a result.
Insurance groups and costs
All versions of the C1 are rated group 8E, which is one of the lowest insurance groups of any car on sale today, so you can expect your premium to be about as low as it can go. This is another reason why the C1 is so popular as a first car, and insurers can look favourably on buying something new (or newish) because they are more likely to be fitted with key safety features like ESP. The C1 also makes sense if you are a bit older and just need a runaround - your premium might end up being smaller than your fuel bill.
VED car tax: What is the annual road tax on a Citroen C1?
With the recent changes in VED and CO2 ratings, the C1 has suffered a little here. Previously it was rated at under 99g/km which meant zero road tax, but it has now moved up a band and so you can expect to pay £150 per year for most models. If the thought of buying a slightly used car instead of brand-new doesn't bother you it is possible to cut this cost - for example, most pre-March 2017 C1s are in the old band A, which attracts zero VED.
How much should you be paying for a used Citroen C1?
"Although cars like the C1 have a low new price, that doesn't necessarily translate into low used prices; depreciation on city cars tends to be less steep than you might think, partly because they don't have as far to fall. It remains a popular model though, so there are plenty of pre-reg examples that are still relatively close to list price."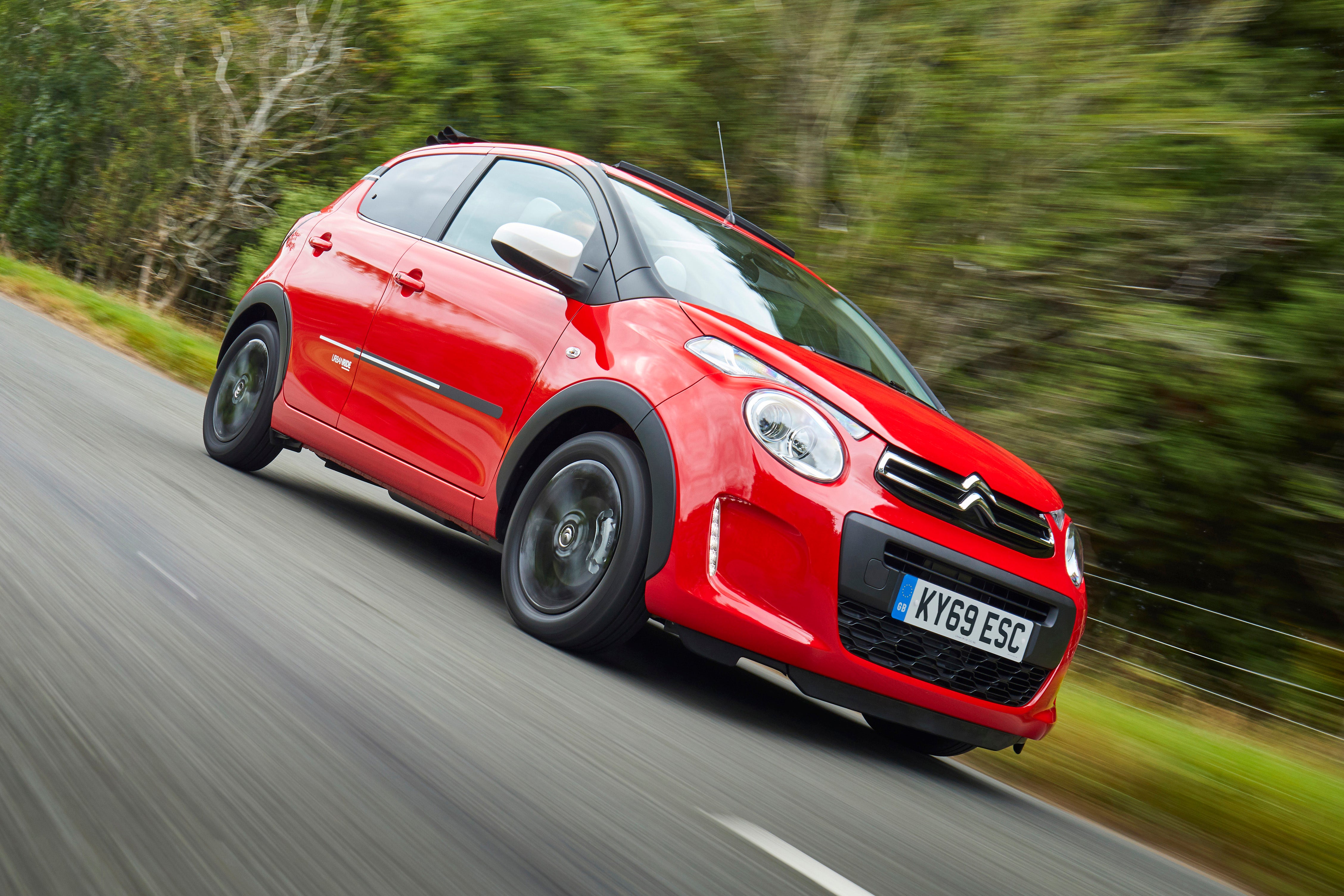 As for older cars, there have been no major changes to the C1 since the second-generation version arrived in 2014, so you can go for a car within your budget and not feel like you are missing out. The earliest models are now close to the £3,000 mark, while first-generation C1s are well into bargain basement territory and can be picked up for a few hundred pounds.
Trim levels and standard equipment
Look down the price list and the headline figure of £10,800 for the C1 Touch model seems like the most obvious value, but it really does do without everything but the most basic of equipment. When the specification highlights include a USB input for the two-speaker stereo and electric front windows you can be sure that travelling in a Touch will be far from a luxurious experience.
Far better to stump up an additional £1,700 to move up to the Feel model, which nets you not only desirable stuff like air conditioning and that feature-packed infotainment system, but also things like the bigger 15-inch wheels that help the ride and handling, the height-adjustable driver's seat and the smarter trim which helps to lift the cabin. We think it's the best value in the range.
The Flair model is a further £790 and adds a reversing camera, 15-inch alloy wheels, electrically heated and adjustable door mirrors and some chrome trim, which is also good value but not all of it is absolutely essential. The Airscape models add a full-length fabric sunroof for something close to a convertible feel, but is another £1,300 on top of the Feel or Flair price tags.
Ask the heycar experts:
common questions
Does the Citroen C1 have a Toyota engine?
The Citroen C1's 1.0-litre engine is derived from Toyota, while the 1.2-litre unit is a Citroen derived unit.

Does the Citroen C1 have a timing belt or chain?
The Citroen C1 1.0-litre has a timing chain, which is more durable than the belt which is fitted to the 1.2-litre model.

Is a Citroen C1 a good first car?
The Citroen C1 is an excellent first car. Its small size and light controls make it easy to drive and its tiny engines mean it's cheap to run and insure. It's plenty quick in town and handles neatly, while the interior has plenty of space for tall adults up front and will take four at a pinch.

Citroen C1 cars for sale on heycar
1,615
Number of cars available
£5.2K - £14K
Price bracket of these cars
Colours available on heycar
Keep me updated by email with the latest advice, news and offers from heycar
By submitting, you agree to our
privacy policy
.