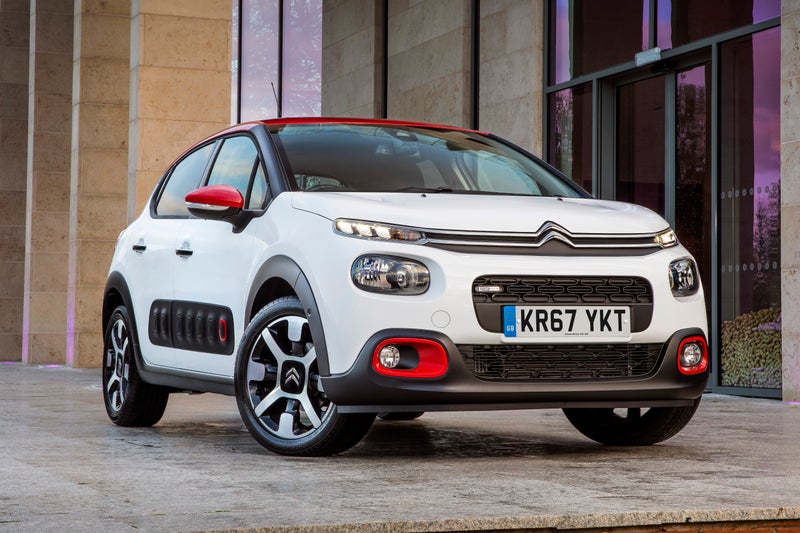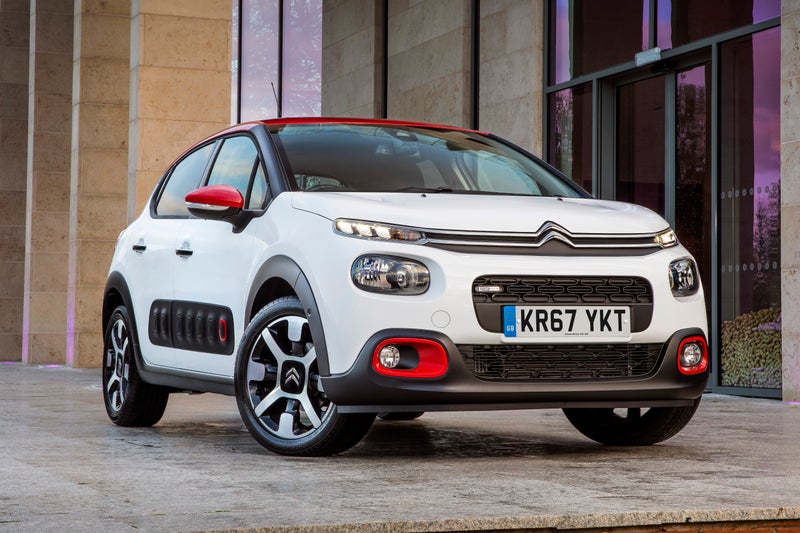 1/10
heycar rating
"Stylish and relaxing small car"
Launched: 2017

Small hatch

Petrol, Diesel
Quick overview
Pros
Fun-loving design inside and out
Decent standard kit
Efficient engines
Cons
Lots of body roll in corners
Cramped in the back
Auto is jerky and expensive
Overall verdict
On the inside
Driving
Cost to run
Prices and Specs
Common questions
Overall verdict on the Citroen C3
"Some buyers drawn in by its funky looks will really gel with the Citroen C3's relaxed way of doing things. It's a soft, steady car that is best enjoyed driven in a steady manner, where its refinement and perky engine can shine. Still, its cramped rear seats, so-so quality and disjointed driving experience mean there are better choices."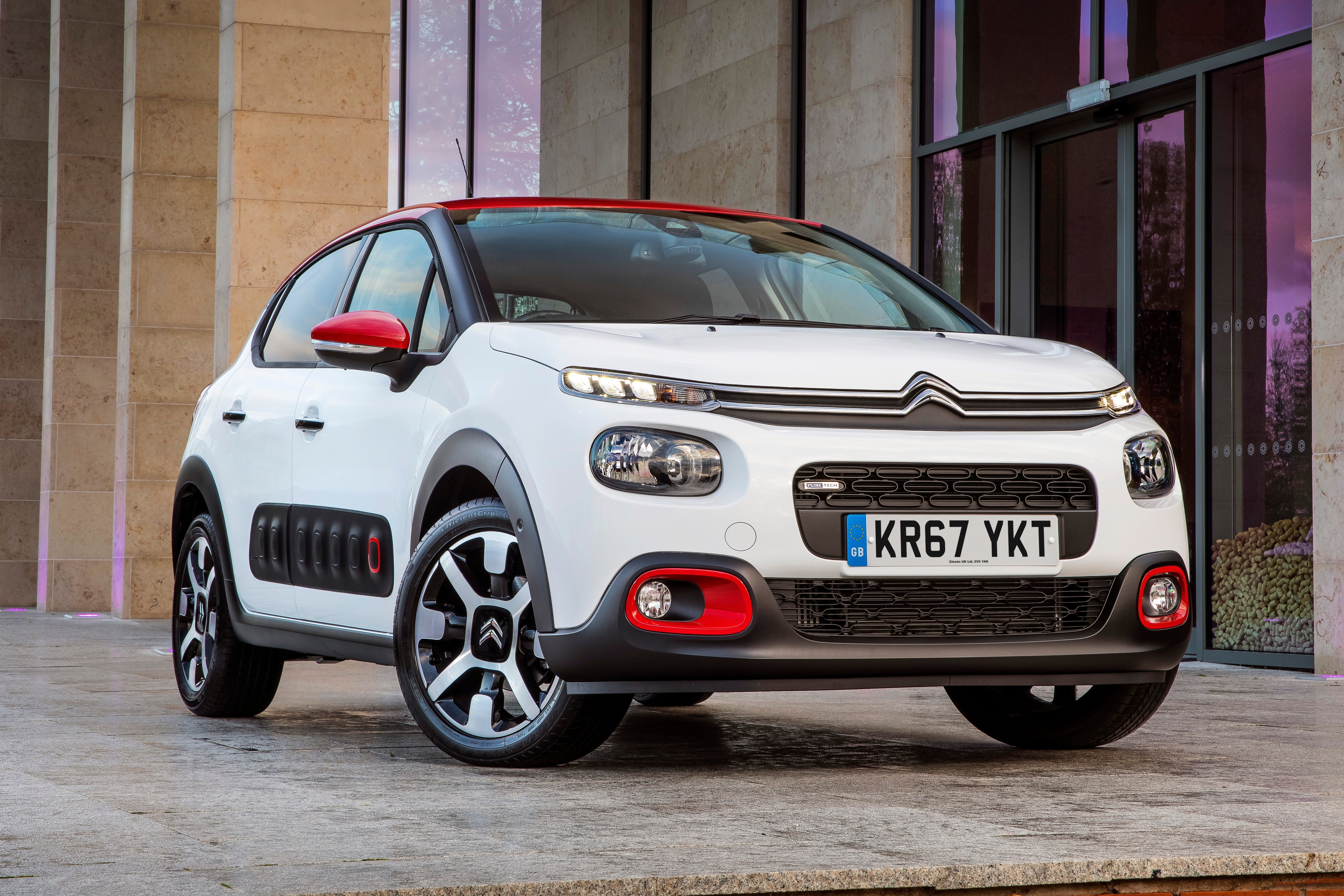 The Citroen C3 has zeroed in on comfort and style as its defining features and aims to offer plenty of both to distinguish itself from its rivals. The current car takes inspiration from the C4 Cactus, with distinctive split headlights, bright colours, and rubber 'Airbumps' in the doors to protect against carpark dings. Is it one of the best small hatchbacks available? Our 2022 Citroen C3 review will look to answer that.
If you're sold on the styling of the Citroen C3, and the wide range of personalisation opportunities it provides, the chances are you've already made up your mind, but under that chic design is a fairly ordinary, but very likeable small car.
The Citroen C3 goes its own way by having no sporty pretensions at all. Instead, it offers a soft, compliant low-speed ride, very light controls, and suspension that has a lot of give, but struggles to control the car's movements. It's cushy to drive in urban streets as a result, but faster, more challenging roads soon see it run out of ideas.
That's too bad, because its 1.2-litre PureTech petrol engine is really impressive, especially in its most powerful 110PS guise. This version has a turbocharger, making it really responsive and surprisingly zingy, with decent acceleration and enough pulling power to keep up with motorway traffic without getting flustered or strained.
It comes with a six-speed manual gearbox that's less woolly than the vague five-speed in the lower-powered 83PS version of this engine, and since this model is a lot slower and less efficient, we'd avoid it if you can.
The quicker Citroen C3 model comes with the option of a six-speed automatic transmission, but it's jerky and dim-witted. There is also a diesel model that's incredibly efficient but also quite expensive. You'd have to cover seriously high annual mileages before the parsimonious 67mpg economy recouped the higher initial purchase price.
Inside, the Citroen C3's cabin layout is as quirky and original as the exterior, with a fun 'rounded rectangle' theme in the doors, air vents, even the steering wheel controls - it's supposed to echo the shape of the grille; we like it. The front seats continue the comfort mantra of the driving experience, with lots of pillowy foam padding, but the driving position is less than ideal - especially for taller drivers - and its ergonomic foibles are frustrating.
Speaking of which, space in the back is more restrictive than in close rivals such as the Skoda Fabia. Adults will find the sloping roof eats into the available headroom, and knee room is also tighter than is comfortable.
The 2022 Citroen C3 has got a good-sized boot capacity at 300 litres, meaning that it should cope with a variety of luggage. It's deep and wide, making it easy to load items in and out, but we wish it had better functionality to make greater use of the available space. You do get a decent level of equipment for a reasonable price though. After its 2020 facelift all models come with a 7.0-inch touchscreen, climate control, Apple CarPlay and Android Auto, LED headlights and cruise. It doesn't cover all the essentials though; rear electric windows, alloy wheels and a leather wheel are missing.
In the right specification, the Citroen C3 is a pleasant small car with lots of personality, an excellent engine, and lots of kit, but its flawed driving experience, some patchy plastics and practicality issues are major drawbacks.
Is the 2022 Citroen C3 right for you?
With so many small cars to choose from, why should you pick the Citroen C3? Citroen hopes that its styling will win you over, and if you're the sort of person that likes to accessorise then you'll love the level of personalisation.
There are seven exterior colours , four different contrasting roof shades, colour packs for exterior trim in the bumpers and funky 'airbump' rubber panels - that's before starting on the interior fabric and dash options. So if you want a small car that says something about you the C3 is one of the best. Apart from its looks, this is a fairly practical small car, with a decent boot, although taller people will find the rear seats a little tight.
It has very light controls and soft suspension, so if you value comfort and drive in a steady manner, it'll match up perfectly with your needs. However for keener drivers, there are several better options out there. Pick the right trim and it's decent value for money, something that's helped by the low running costs, and decent kit.
What's the best C3 model/engine to choose?
The entry-level Citroen C3 is only available with one engine; the sluggish 1.2-litre non-turbo petrol. We would avoid both this engine and trim, unless you're on a budget. It'll be cheap to insure, but has little else to recommend. Go for the PureTech 110 petrol instead and you'll have a much more capable car that will be easier to drive, cost you less to run, and be more refined on the motorway when you do need to take it on longer journeys.
Jumping up to the top-spec Citroen C3 Flair Plus will cost you £1400 but we think you're better off sticking to the Flair and just adding a few choice options like the Safety Pack and fancy soft seats to save yourself some cash.
While the BlueHDi diesel is exceptionally economical, it's also more expensive than the excellent petrol and feels less refined around town, so unless you do a lot of motorway miles then it's not worth paying extra for.
What other cars are similar to the Citroen C3?
There's no shortage of rivals for the Citroen C3. The supermini segment it belongs to is one of the biggest and most popular in the entire new car market, with the Ford Fiesta, Vauxhall Corsa and Volkswagen Polo topping sales charts.
Of that trio, the Fiesta is the best for keen drivers, with better body control and finely-weighted controls that make it easier to drive smoothly than the C3, while the Polo leads the pack for cabin quality and technology. If you need plenty of passenger space and a flexible boot then none do it better than the boxy Honda Jazz, which has clever flip-up rear seats and an efficient hybrid powertrain that gives it very low CO2 emissions.
To take it one step (and several thousand pounds) further you can order the new Peugeot 208 and Vauxhall Corsa as pure-electric cars with zero tailpipe emissions, and around a 200-mile range on a full charge.
Comfort and design: Citroen C3 interior
"Citroen's 'Advanced Comfort' mission statement extends to its interior. That means you get wide, spongey seats that you sink into, while top-spec cars get extra thick memory foam-like padding that's very supportive."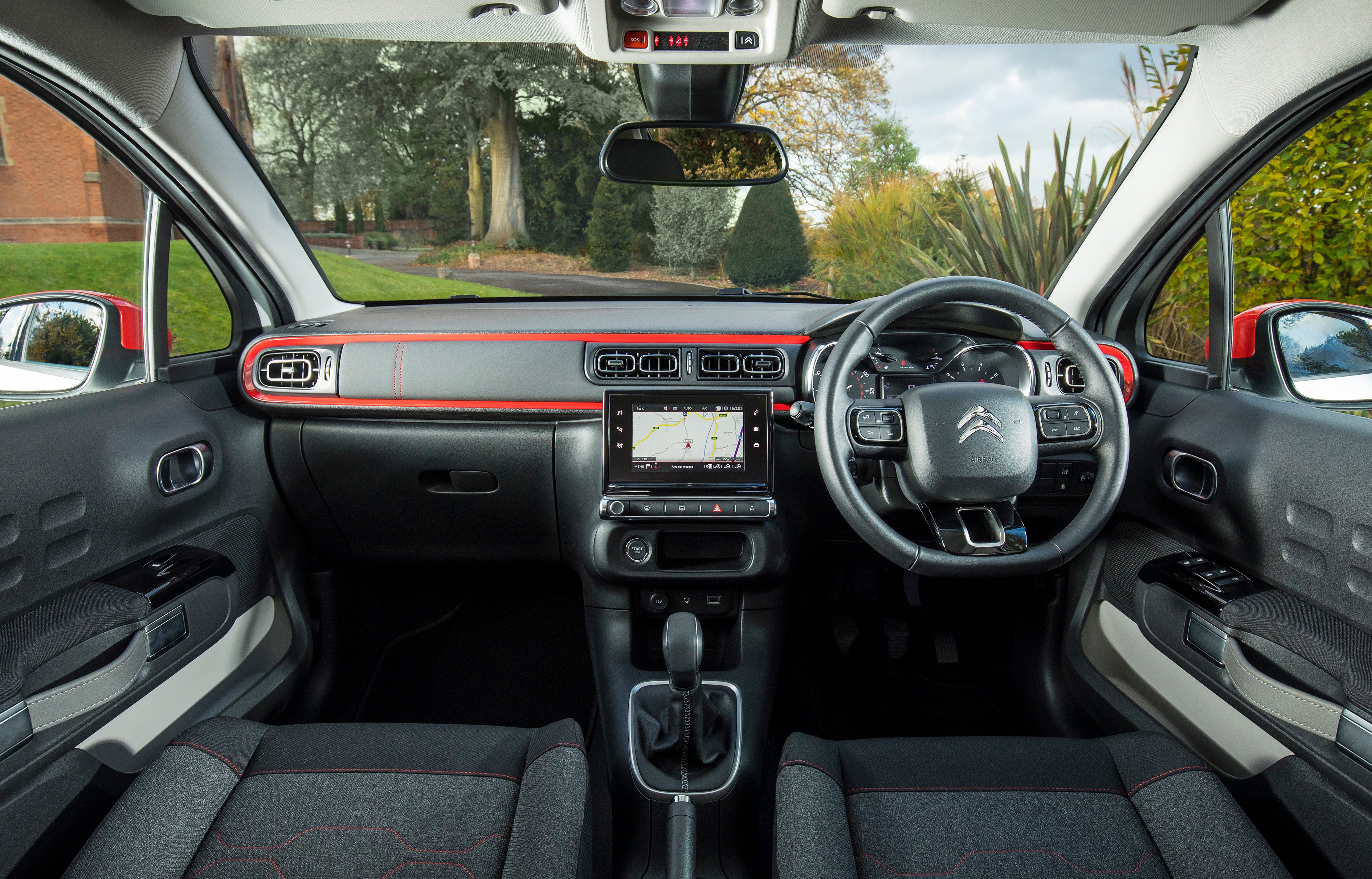 The standard seats in the Citroen C3 are comfortable, but have little in the way of side support. You'll find yourself almost sliding out of them in tighter corners, and holding the steering wheel to keep you in place instead.
They're also mounted higher up than on most superminis, and combined with the low window line and dash give you a pretty good view out of the road ahead. The driver gets backrest and height adjustment, but not lumbar support - you can spec it on any version at extra cost - annoying if you start to get backache after longer stints.
The front passenger is not so lucky in the Citroen C3, with the seat mounted very high and no way to lower it further. It feels like being in a highchair and it's not the only ergonomic issue. The pedals are very close together, and the gap between the clutch and transmission tunnel bulkhead is just too narrow to get a large shoe through.
We also have grievances with the high clutch pedal, which forces longer-legged drivers to raise their knees close to the steering wheel to disengage. These are basics in most cars, and things Citroen need to address. In other ways the Citroen C3's quirky design is very successful. It's smart, with few buttons to confuse you, a clear set of dials, and large steering wheel audio controls, although the trip computer already looks quite dated.
Quality and finish
There is some attractive design work going on in the interior of the Citroen C3, and we're big fans of how it looks. It has a simple layout but manages to be more appealing to sit in than drab rivals like the Volkswagen Polo.
The trouble is, for every neat detail like the 'luggage strap' faux leather door pulls, colourful dash inserts and sharp infotainment screen, there's a cheap-feeling hard piece of plastic to spoil the overall impression of the Citroen C3.
Knock on the tops of the doors for example, and they give out a hollow, tinny sound. Adjust one of the stylish air vents and it feels lightweight and flimsy. It's a shame, because touch points such as the multifunction steering wheel and gearstick are nice to hold; some of the few items in the Citroen C3 that feel as good as they look.
We're glad Citroen spent money on the bits you'll regularly be in contact with, but this car still falls short of the finish and exacting panel gaps you'll find in cars like the Polo, but also the Renault Clio and new 208.
As standard on the Citroen C3 Feel and Flair models the materials are all pretty dark and subdued, with a gloss black finish on the wide horizontal section of the centre console containing the vents. Flair Plus gets what Citroen calls its 'Techwood ambiance' which is as bad as it sounds, having little to do with either technology or trees. Fortunately, you can swap this finish out for the 'Emerald Ambiance' as a no-cost option, it's a bit less tacky.
Infotainment: Touchscreen, USB, nav and stereo in the Citroen C3
As long as you avoid the pre-facelift Citroen C3 Touch, you'll get a modern 7.0-inch touchscreen. It's set close to the steering wheel, so it's easy to reach, but mounted a little lower in the cabin than in some rivals.
That means glancing at it for more than a second diverts your attention quite far from the road. It comes with necessities like Bluetooth, DAB radio, and full smartphone compatibility via Android Auto and Apple CarPlay. The last feature is probably the most important. It allows you access to your own personal home screen, so you can use navigation apps like Waze and music streaming services like Spotify through the C3's display.
If you'd prefer a proprietary sat-nav, then it's standard on Flair Plus models, but can be added to Flair trim for £850 and comes with a three-year subscription for connected online services including live traffic updates.
However, we'd save your money and use your phone for route finding duties instead, since the nav isn't very good, and the pricier system has the same six-speakers and touchscreen size as the cheaper models. There are niggles with this system though. While it looks quite slick, the touch response is laggy, especially on the capacitive buttons bordering the screen, and the confusing menus and small icons hamper usability.
Worse still, there are no physical controls for changing the fan speed or temperature, so if you want to make a quick adjustment you have to leave the nav or media menu and hit several icons instead of turning a dial.
Space and practicality: Citroen C3 boot space
On the surface, the Citroen C3 looks like one of the more generously-sized small cars, measuring at just under 4m long and a smidge under 1.75m wide. There's room for four (just) and a 300-litre boot capacity that places it well above average for carrying capacity, but the figures only tell half of the story.
Let's start with the boot. Yes it's an ok size, but the Volkswagen Polo (352 litres) and Renault Clio (391 litres) trounce it when you need to cram in as much as possible. The former also has nice added functionality, since it uses a adjustable floor to remove the load lip, and ensure you get a flat area when you fold the rear seats down.
The Citroen C3 doesn't have any of these tricks. The boot is just a big, square space, with a few tethering points and a large drop from the opening to the floor. It is nice and wide, so you can fit a pushchair, with room to spare for the weekly shop. Fold the rear seats, and the C3 can carry even more, but the seat backs leave a large hump in the floor, so you can't slide heavier stuff all the way in when you're trying to fill it up to the roof.
Inside the cabin, there are clever touches, like the white coloured door pockets that make it easier to see any loose items you've chucked in there and forgotten about, but some odd choices as well. There is a big cubby slot below the infotainment screen that's a bit too shallow to hold a phone, and the glovebox is miniscule.
The cupholders in the front can hold a coffee cup in place but not plastic bottles, and you don't get any at all in the back. Only top-spec Flair Plus models get a central armrest and map pockets in the front seat backs.
Still, not having anywhere to put their maps will be the least of the worries for those in the rear seats. Those of average height will be fine, but taller passengers will find head and legroom pretty tight. You get ISOFIX points for fitting a child seat, and they're easy to access, but the rear doors don't open as wide as its rivals.
The Citroen C3 will be fine coping with family life if you have small kids, but if you regularly want to carry grown-ups then there are better options out there, especially cars like the SEAT Ibiza, Skoda Fabia and Honda Jazz.
Handling and ride quality: What is the Citroen C3 like to drive?
"Citroen knows that its customers want comfort over sporty handling, so if you're expecting thrills behind the wheel a C3 is the wrong car for you. It doesn't have the fancy 'cushion' suspension from its larger siblings the C4 Cactus and C5 Aircross, but the springs are a lot softer than what you'll find on most of its competitors."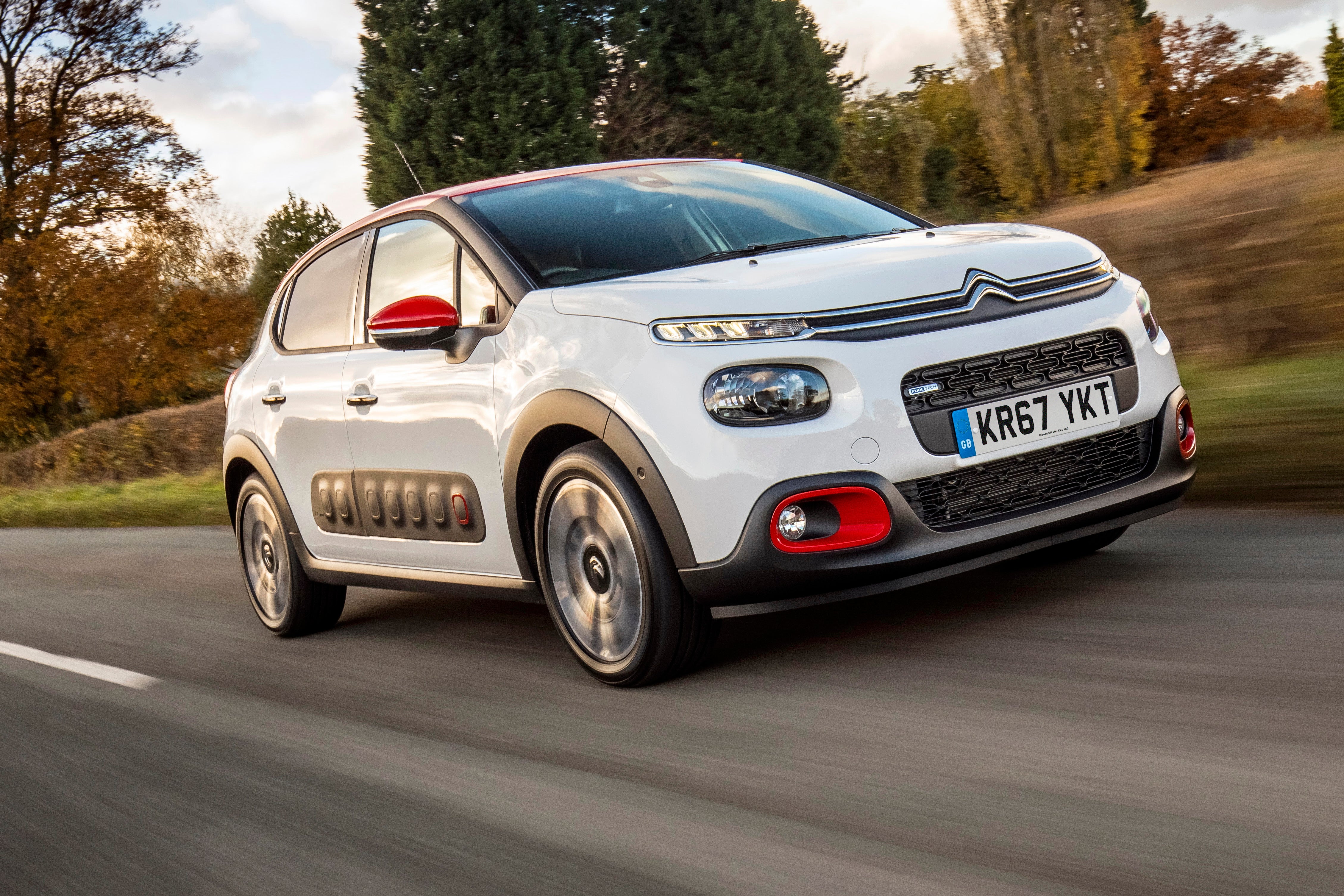 That makes the Citroen C3 feel squidgy, and it allows a lot of travel in the wheels to try and absorb bumps and ruts. In normal driving at a moderate speed, it works fairly well. There's enough compliance to soak up poorer road surfaces and isolate passengers from discomfort. Mind you, there are limits to what it can cope with.
If you go a little quicker, body roll through corners becomes pronounced, and if you hit a bump wrong it can bounce about in an uncontrolled and unpleasant way, sending a nasty jolt up into the cabin as it does so. It's something you'll notice when running a wheel over a bad pothole or expansion joint, and it'll make you wince.
Whether you'll mind this depends on your driving style, and where you're mostly likely to use the car, but we would argue that it's less comfortable then a firmer, more tied-down setup in the majority of driving scenarios.
Naturally, the focus on comfort (with mixed success) comes at the expense of driver enjoyment. The steering is light, making the Citroen C3 easy to manoeuvre in tight spaces, but there is too much play around the centre, so it can feel a bit unstable at higher speeds. The grip is ok, but if you come too hot into a corner it'll push straight and the steering gives you very little warning that grip's running out.
Rival small cars such as the Ford Fiesta, Mazda 2, and even Skoda Fabia all give their drivers a sharper set of tools to work with, including communicative steering, tighter handling and improved grip through corners.
What engines and gearboxes are available in the Citroen C3?
There are two engines available in the Citroen C3 but only one that you should actually go ahead and buy. The first is a 1.2-litre 'PureTech' petrol that is offered in two different states of tune; either 83PS or 110PS. In its low-powered guise it feels gutless, with very sedate performance, demanding full throttle just to get up to speed.
The quicker version adds a turbo, which totally transforms its character. It's keen to rev, delivering punchy and smooth acceleration from low in the rev range, and is a massive FIVE seconds quicker from 0-62mph.
Normally we would't highlight specific performance figures, but in this case it's illustrative of the enormous difference that turbocharging makes to the response and flexibility of these small three-cylinder engines.
Despite feeling a lot brawnier, the PureTech 110 is also more efficient, and a quieter motorway companion thanks to its six-speed manual gearbox (a five-speed is standard on the entry-level car). It's also the only C3 to come with the option of an automatic, although the hesitant, jerky EAT6 gearbox is not the best of its type.
On the diesel side, previously the Citroen C3 was available with a 1.6-litre diesel badged BlueHDi in various states of tune, but that unit has now been replaced with a 1.5-litre model with 100PS and a useful slug of torque. This engine is exceptionally economical, but it's more suitable for motorway drives than nipping around town.
Refinement and noise levels
Unwelcome wind and tyre noise are nicely suppressed in the 2021 Citroen C3 and it's a capable little cruiser as a result. As with many of its rivals, the petrol engines have a three-cylinder layout, so they make a thrumming noise if you accelerate with too much vigour. Still, they're smooth and hushed around town, and you'll only really start to notice them when working them hard, which is why the punchier high-powered engine feels more refined.
The diesel is not as peaceful, with a coarser note at lower speeds, and it also sends plenty of vibrations into the cabin through the pedals and steering wheel. It's not overly unpleasant but the petrol is a smoother unit.
Both the 83PS petrol and the sole diesel model use a five-speed manual gearbox. Unfortunately it's not one of the best, with a long throw and sloppy shift that feels a bit like stirring a big screwdriver in a can of paint. The six-speed manual in the PureTech 110 is a minor improvement, but still less positive than a Ford Fiesta.
If you'd prefer to delegate gear changing duties altogether the latter is available with a six-speed automatic. While it's fairly smooth on faster roads, it can be slow and indecisive in city traffic, an issue made worse by the stop-start system. The dual-clutch transmissions in cars like the Skoda Fabia are a lot more relaxing.
Safety equipment: How safe is the Citroen C3?
The 2021 Citroen C3 received four out of five stars when it was crash tested by Euro NCAP. That sounds ok, but in a class where most of its rivals get the maximum safety rating, it's actually below average, with important kit missing.
It's still reasonably safe, and the tests revealed it performed well for both adult and child protection, but a poor showing in the pedestrian and safety assist categories dragged down the overall score. What's odd is all Citroen C3s come with equipment like lane-departure warning, traffic sign recognition, and six airbags. That's over and above mandatory essentials like tyre pressure monitors, electronic stability control, and anti-lock brakes.
However, automatic emergency braking (AEB) is only standard on the top-spec versions. It's a system that scans the road ahead and if it senses an obstacle, it'll alert you, before hitting the brakes to prevent a crash. You can add it an option to Flair models as part of the Safety Pack for £350, but it should be free.
Rear parking sensors are standard on the top two trims (you can add them for £150 on the Feel trim) but if you want front parking sensors too you can only add them to the priciest model. That's also true of Citroen's ConnectedCam - an integrated dash camera that can record accidents to help save your no-claims bonus if you're not at fault.
Another cool feature that's reserved for Flair Plus models is the Connect Box Emergency System. It's a small red button in the roof marked 'SOS' that you can hit to call emergency services if the worst happens. Basic models get a foam tyre repair kit for punctures, but the PureTech 110 has a space saver spare wheel.
MPG and fuel costs: What does a Citroen C3 cost to run?
"Citroen is big on affordability, and most of its cars are very efficient, helping to reduce the cost of ownership. Even measured by the tough new WLTP standard, all the petrol models will return close to 50mpg on a careful run."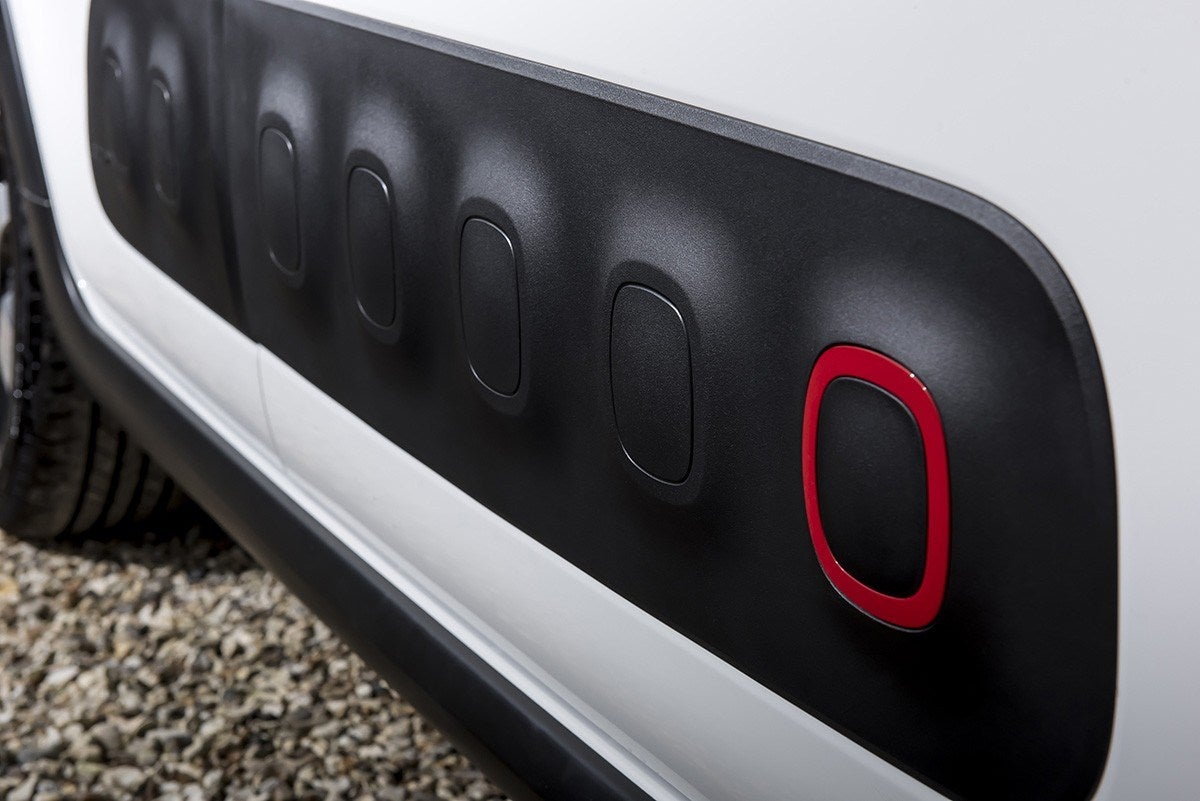 The turbocharged PureTech 110 is actually slightly lighter on fuel than the lower-powered model, since it has six gears instead of five in its manual gearbox, and doesn't need to be worked as hard to get going. However if you don't drive it gently that figure can quickly drop - our Real MPG testers averaged just 42.5mpg overall.
If you do much higher annual mileages then it's worth considering the 1.5-litre diesel, which returns an official 67mpg - among the most frugal in the class - giving it an impressive range of over 550 miles from one tank.
How reliable is a Citroen C3?
Citroen's reliability record seems to be improving, but it still performed poorly in the 2020 HonestJohn.co.uk Satisfaction Index. The brand was the fourth least reliable manufacturer, behind Vauxhall, Tesla and Jeep.
A few build quality issues aside (things like condensation inside the rear lights), we've not heard of many issues with the Citroen C3. The 1.2-litre Puretech engine doesn't have the best reliability record, but that could be said about a lot of small turbocharged petrol engines.
Insurance groups and costs
The Citroen C3 can't match city cars like the Citroen C1 and Volkswagen Up for their tiny insurance costs, but it's not going to break the bank either. If you're a younger driver or lacking in no-claims bonus, then the PureTech 83 1.2 petrol will be the most affordable. It's in Group 8 - but only in Flair Plus spec with the additional safety kit.
The Citroen C3 Feel is rated Group 11, while the quicker petrol sits in Group 15, whether manual or automatic. The entry-level diesel - again thanks to its basic safety equipment - has the highest rating, right up in Group 19. The Volkswagen Polo equipped with a similar sized engine and power output is a whole ten groups lower.
VED car tax: What is the annual road tax on a Citroen C3?
Almost all Citroen C3s from this generation were registered after April 1st 2017, so they'll all incur the exact same rate of tax. You'll be coughing up £150 a year to keep it on the road regardless of the engine you choose.
You'll also need to pay a first-year registration fee based on the CO2 emissions if you're buying new. Every C3 is pretty efficient, so this will be between £175 - £215, and is usually rolled into the on-the-road price.
Despite the extra 4% surcharge for diesel cars the 1.5-litre BlueHDi is still the best option for company car drivers, since its 117g/km output means it's in the 26% BIK tax bracket - the 1.2-litre 110PS petrol is 28%.
How much should you be paying for a used Citroen C3?
"Between £6,000 - £7,000 will get you into a 2017 C3 with the low-powered 1.2-litre petrol engine in Touch or Feel trim. Cars at this price will have covered around 30,000 miles, and should have a full service history."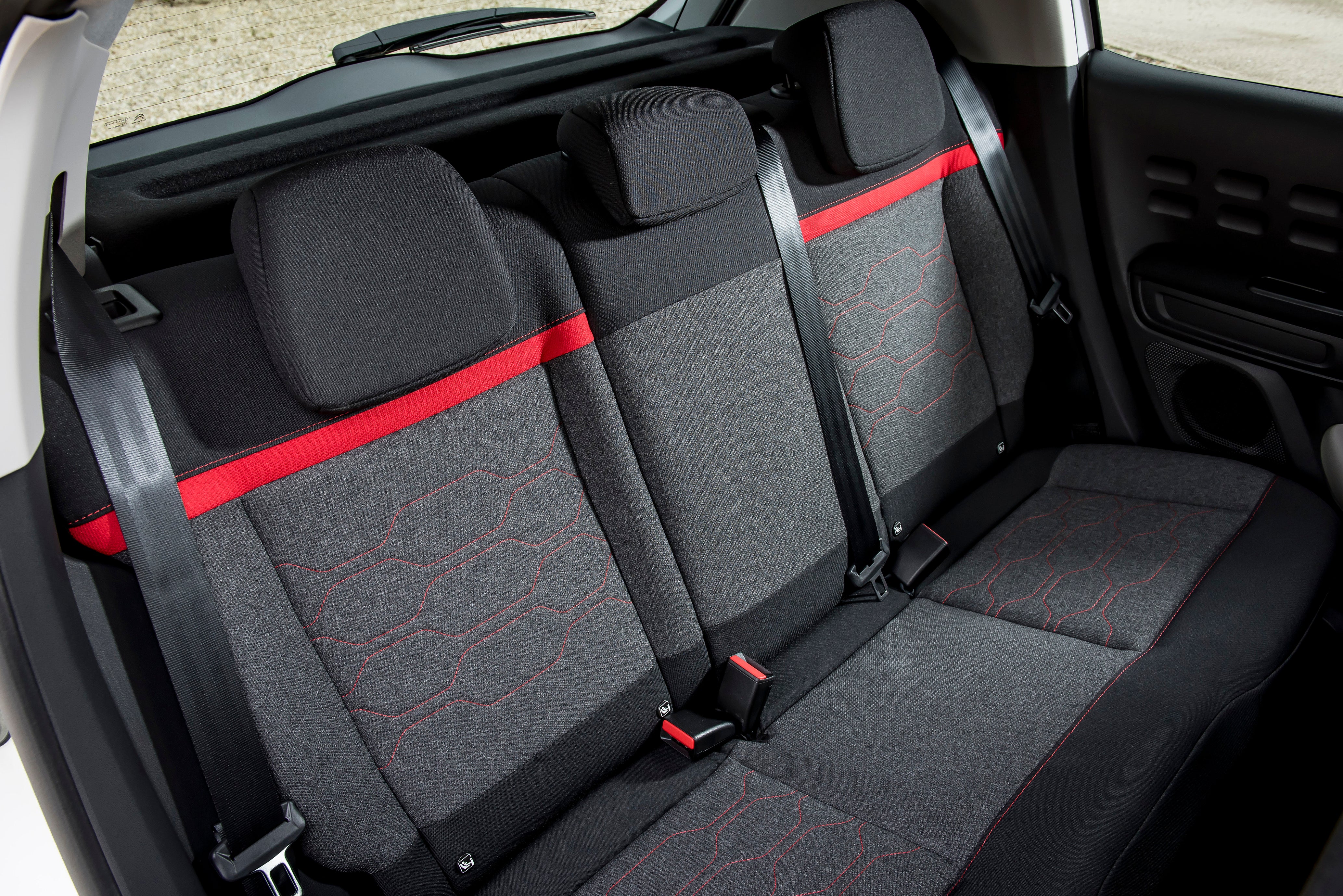 You'll need to find another £1000 to get a 1.6-litre diesel, although these cars tend to have covered higher mileages than their petrol counterparts. Our favourite engine, the PureTech 110, starts from £9000 but that will secure you a 2018 model with less than 20,000 miles on the clock, in the decently-specced Flair trim. Be prepared to pay around £10,000 if you want an automatic version, since it's a lot rarer than the manual.
The facelifted Citroen C3 has only just gone on sale so there are no used examples available yet, but that means the dealers are desperate to shift old stock, making for cracking deals on pre-registered brand new examples. A 2019 model year PureTech 110 with the automatic gearbox and in range-topping Flair Plus spec is £14,000.
Trim levels and standard equipment
Citroen has recently refreshed the C3 and given it a spec bump over the older car, which is good news, since the old entry-level Touch trim was fairly basic, and did without air-con, alloy wheels or a touchscreen display.
The newly minted Citroen C3 Feel still rides on steel wheels, but now comes with LED headlights, a 7.0-inch infotainment screen, DAB radio, climate and cruise control, six speakers, Apple CarPlay and Android Auto.
We still think it's worth upgrading to the Citroen C3 Flair to get a leather steering wheel, rear parking sensors, and automatic lights and wipers, and you get 16-inch alloy wheels too, but only manually winding rear windows.
The top-spec Citroen C3 Flair Plus is the only Citroen C3 to come with an integrated sat-nav, electric windows all round, and a set of the brand's sofa-like 'Advanced Comfort' padded seats. It's also the safest version, since it includes a safety pack with automatic emergency brake assist, a reversing camera and driver attention alert included.
Luckily, Citroen lets you add most of those desirable features to the mid-range C3 for a reasonable price, so you can choose to upgrade with Comfort Seats (£400) or the Safety Pack (£350) as you wish. There's also a choice of roof, interior and seat styling, colours and trims, so you can go nuts and tailor it to your own tastes.
Ask the heycar experts:
common questions
Is the Citroën C3 a reliable car?
The Citroen C3 uses engines that have been tried and tested in other Peugeot and DS cars, but it also has similar electronics to the C4 Cactus, which doesn't have the best reliability record.

Where is the Citroen C3 made?
Citroen is part of Stellantis, a conglomerate with Peugeot, DS, Opel, Vauxhall, Fiat, Jeep and others – so the Citroen C3 is built in two different places, the Poissy plant in France, and a shared facility in Slovakia.

What type of car is the Citroen C3?
This current generation of Citroen C3 is a small hatch, so it sits below family cars and compact SUVs in terms of size and price. It only comes in one body style, but previous models were offered as a convertible (the C3 Pluriel), while the C3 Aircross is an SUV version of the current car.

Answered by
heycar editorial team
What colours are available on the Citroen C3?
There are nine body colours and three roof colours to choose from, giving a total of 33 possible combinations. Almond Green and Power Orange Metallic are the most striking.

Citroen C3 cars for sale on heycar
1,626
Number of cars available
£5.8K - £21K
Price bracket of these cars
Colours available on heycar
Keep me updated by email with the latest advice, news and offers from heycar
By submitting, you agree to our
privacy policy
.