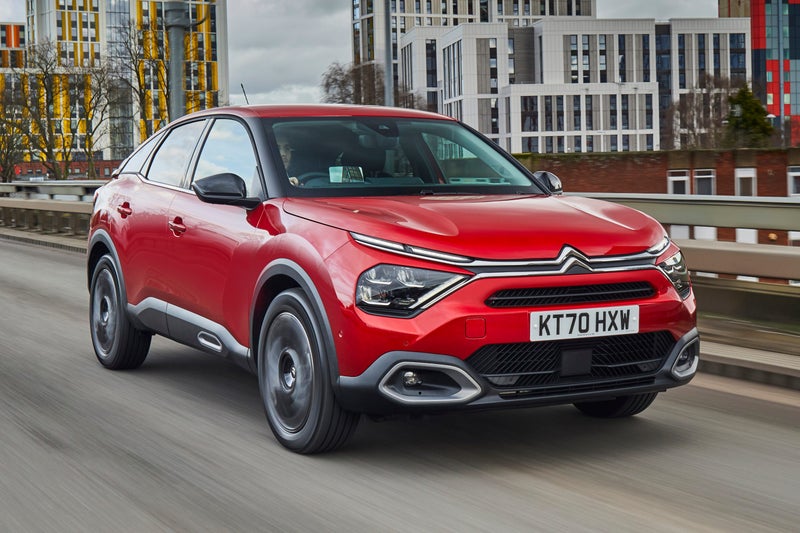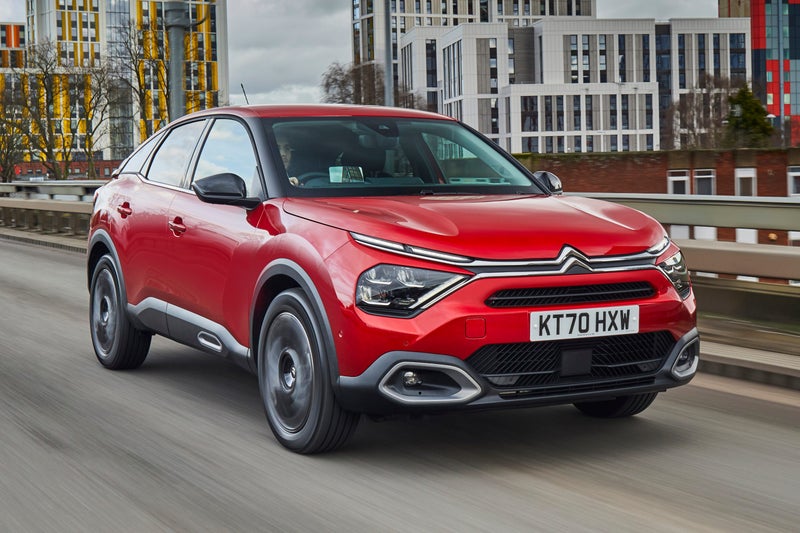 1/10
heycar rating
"Left-field but comfortable Golf rival"
Launched: 2021

Family hatch

Petrol, Diesel
Quick overview
Pros
High-riding car with easy access
Punchy little petrol engines
Excellent ride quality
Cons
A few harsh interior finishes
Not as fun to drive as some alternatives
It's not pretty, is it?
Overall verdict
On the inside
Driving
Cost to run
Prices and Specs
Common questions
Overall verdict on the Citroen C4
"The Citroen C4 is a high-riding alternative to mainstream hatchbacks like the Volkswagen Golf and Ford Focus. It's uber comfortable, pretty efficient and packed with personality – while it also represents very good value for money."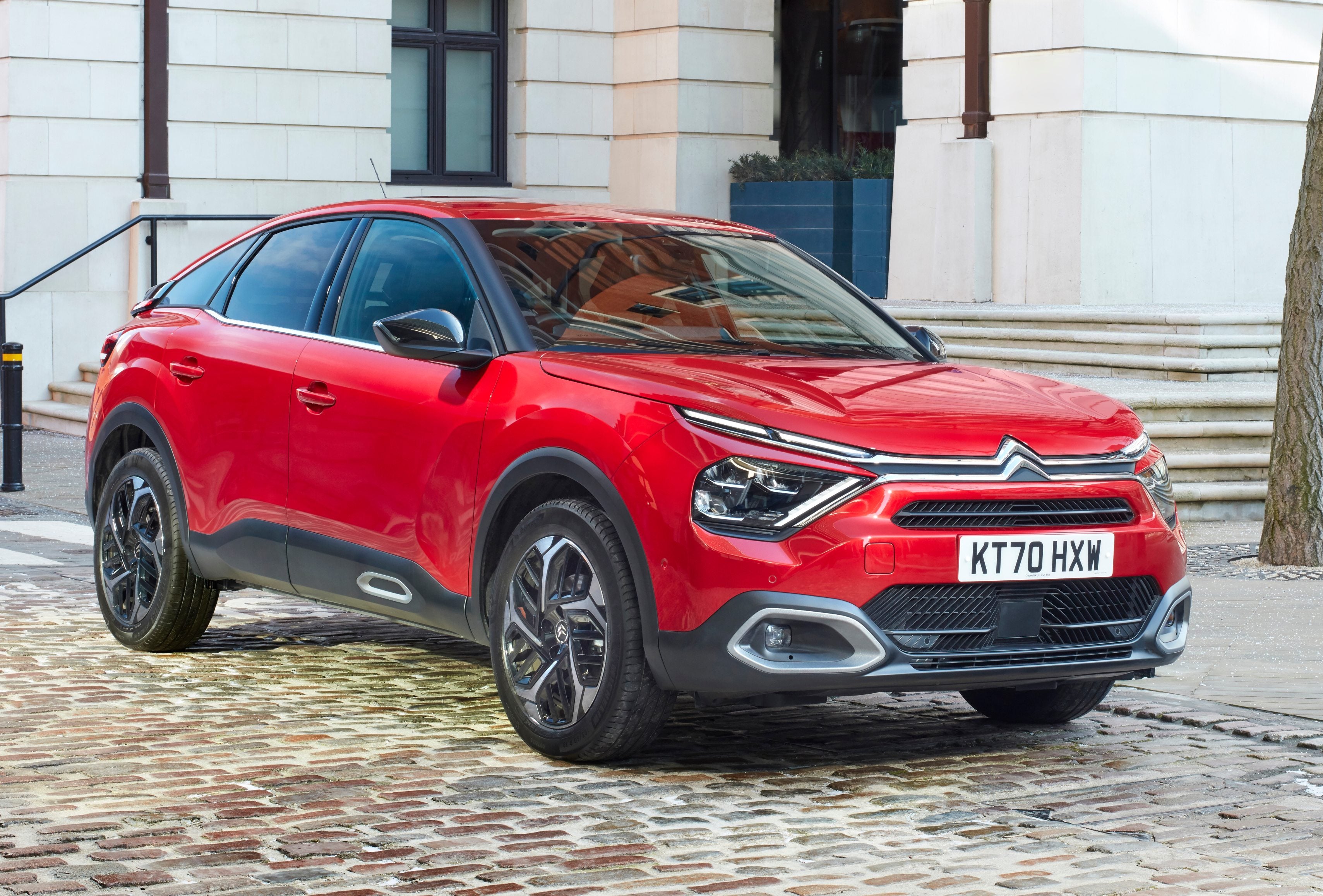 In many ways, the latest Citroen C4 is exactly the kind of car the French brand ought to be making in 2022. It's a car that refuses to be pigoeonholed, meaning rivals range from the aforementioned hatchbacks to conventional family SUVs like the Skoda Karoq and Nissan Qashqai. In reality, you're probably going to be considering it alongside cars like the Mazda CX-30, Renault Arkana and Toyota C-HR.
As well as crossing numerous different segments, the Citroen C4 is unusual in that it's offered with petrol, diesel and electric power (the latter in the form of the Citroen e-C4). The majority of buyers will opt for one with the 1.2-litre Puretech petrol engine, which is available with a variety of power outputs. We've sampled in Puretech 130 and Puretech 155 flavours – both are quite punchy and characterful, but neither are as refined as Volkswagen Group rivals fitted with the 1.5-litre petrol engine.
The Citroen C4 is easy to drive, although the split rear window does take some getting used to and you'll find yourself relying on the standard-fit rear parking sensors when reversing. You'll notice a bit more lean on twisty roads than lower-riding alternatives, too, but no one buys a Citroen for its sporty handling. If that's what you're after, look at a Ford Focus or the latest SEAT Leon instead.
Thanks to its clever Progressive Hydraulic Cushion suspension, the Citroen C4's selling point is its superb ride quality. Even with 18-inch alloy wheels as standard across the range, the C4 will float happily over broken road surfaces. Don't expect to clout potholes without feeling them, but it does an impressive job of smoothing out imperfections.
The Citroen C4's interior isn't the last word in plushness, while the infotainment system isn't as fancy as you'll get in some alternatives. You get a relatively high seating position, but interior space isn't all that impressive – rear-seat passengers won't be hugely impressed with the space on offer, while the boot isn't all that impressive. If you're looking for a practical family SUV, you'd be better looking at the bigger Citroen C5 Aircross instead.
There's a lot going for the Citroen C4, though, and one of its most impressive features is the value for money it offers. With its SUV appearance and high equipment levels, you'd expect it to be significantly pricier than alternatives. Prices start at less than £21,000, though, and you'd struggle to spend close to £30,000 on a petrol or diesel model. For comparison, a regular Ford Focus starts at £22,210 and goes up to nearly £31,000. Citroen's no stranger to offering hefty pre-reg discounts, either.
Is the Citroen C4 right for you?
If you want a car that'll stand out in a car park of Volkswagen Golfs and Vauxhall Astras, the Citroen C4 is a great choice. It's grown up since the old C4 Cactus but it remains a quirky alternative to mainstream family hatchbacks. While there are more practical alternatives on the market, the Citroen C4's excellent ride quality and supportive seats make it our pick for buyers seeking a car that puts comfort over driving dynamics.
What's the best Citroen C4 model/engine to choose?
Go for one of the petrol motors, unless you cover mega miles. The mid-range PureTech 130 offers a decent combination of performance and low running costs, while deciding between a manual or automatic gearbox will come down to budget and personal preference. We think the auto suits the car, though.
What other cars are similar to the Citroen C4?
Comfort and design: Citroen C4 interior
"If the Citroen C4's exterior leaves you undecided whether it's a family hatchback or small SUV, the interior won't be much help either."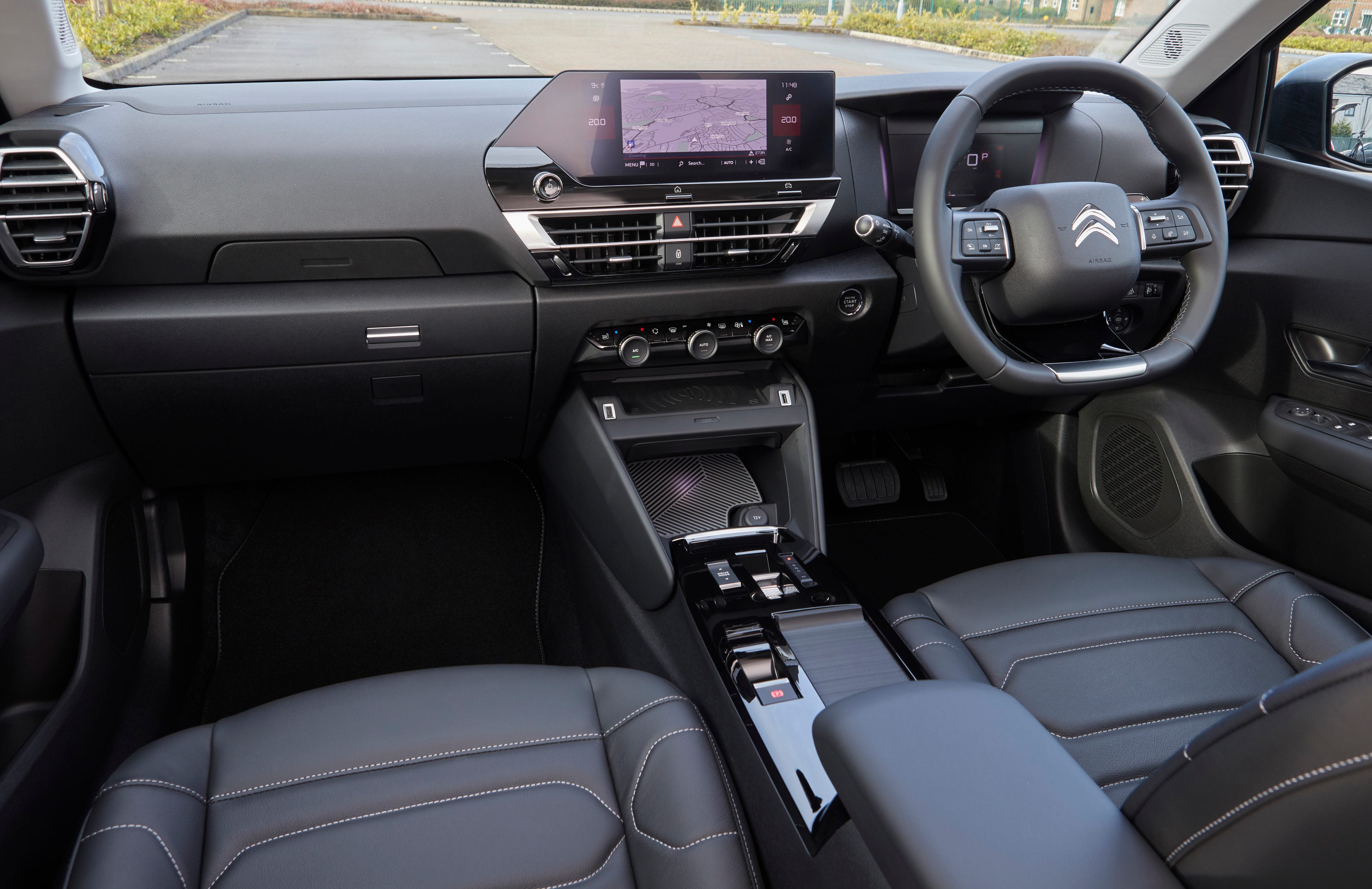 You'll certainly sit a bit higher than you do in a Ford Focus, but you're not going to be lording over other motorists like you might in a Vauxhall Mokka. Still, you slide across (rather than down) into the seat, which means access is easy, while the seats are very comfortable and supportive. Height adjustment is standard on the front two seats, while the driver can also tweak the lumbar support – great for long journeys if you wish to avoid an aching back.
Most models come as standard with what Citroen describes as the 'Urban Grey interior ambience', which features grey and black part-leather seats with green stitching. This looks pretty smart, but you'll need a top-spec Shine Plus model for full leather as part of the Hype Black interior ambience (also available as an £800 option on the C4 Shine).
It's a noticeably more grown-up interior than smaller Citroen models (and the old C4 Cactus), but it manages to look refreshingly different compared to conventional rivals. We'll come onto the infotainment below, but it's good to see manual controls for the climate control system on the centre console. The brand has form for hiding them in the media system, which adds a layer of complexity you can do without when all you want to do is turn up the temperature.
One cool quirk of the C4's interior is the tablet tray which slides out from above the glovebox. There's even a mount which means your front-seat passenger can watch videos on their iPad while on the move.
Quality and finish
You're not going to mistake the Citroen C4's interior for a more expensive alternative, but it's just as good as you'd find in something like a Ford Focus. The textured dash looks (and feels) a bit scratchy for our liking, but there are soft-touch materials aplenty on the door cards and elsewhere in the cabin. The glossy black plastic on the centre console lifts the interior, while touch points like the climate control toggles are pretty smart. Overall, the interior of the C4 feels much better than we're used to from the French brand.
That said, you'll find a few disappointingly flimsy finishes lower down in the car – things like the door bins and the glove box – but the cabin feels like it'll wear well over time.
Infotainment: Touchscreen, USB, nav and stereo in the Citroen C4
All Citroen C4 models come with a 10-inch media system perched high up on the dashboard. It's usefully positioned for glancing at while driving without being too distracting, and we're pleased to say it's not entirely reliant on touch operation. There are a couple of physical shortcut buttons, as well as a well-finished toggle for the volume, although we'd still like to be able to navigate it through a rotary controller similar to that used in the Mazda CX-30.
Apple CarPlay and Android Auto are standard across the range, meaning you can use the C4's media system to access apps on your phone. This is great for using Google Maps, for example, or playing your favourite Spotify playlists. If you want built-in navigation, though, you'll need to look for a Sense Plus model, which brings with it TomTom Live services including traffic info and speed camera alerts.
The widescreen display looks smart, while the graphics are clear enough and it responds quickly to inputs. Some of the sub-menus aren't the most logically laid out but you'll soon learn your way around it.
Space and practicality: Citroen C4 boot space
With 380 litres of luggage space, the Citroen C4's boot isn't particularly big, but it is usefully square. Access is fairly high, like in an SUV, but a height-adjustable boot floor means you can avoid an annoying lip for lifting things over. The rear seats split 60/40 but they don't drop entirely flat… still, there's quite a lot of space with them lowered.
Space for rear passengers is pretty good. Three adults would feel a bit cramped but there's a reasonable amount of room for two. Headroom is fine although foot and legroom is a bit limited – not helped by a lump in the middle of the floor.
The C4's at its best in the front. There's loads of space, with a generous amount of adjustment in the steering wheel. You'll need to hunt out a top-spec Shine Plus model if you want electrically adjustable seats, but there's plenty of manual adjustment provided elsewhere in the range.
You'll find a useful amount of stowage areas, too. There's a tray for playing your smartphone, cup holders in the centre console and more room under the central armrest. The door bins are big enough for a water bottle, too.
Handling and ride quality: What is the Citroen C4 like to drive?
"Citroen tries to sell itself by providing a soft ride quality rather than outstanding driving dynamics (leaving sister brand Peugeot to cater for that market). It's had mixed results with other models but the C4 does the comfort thing very convincingly indeed."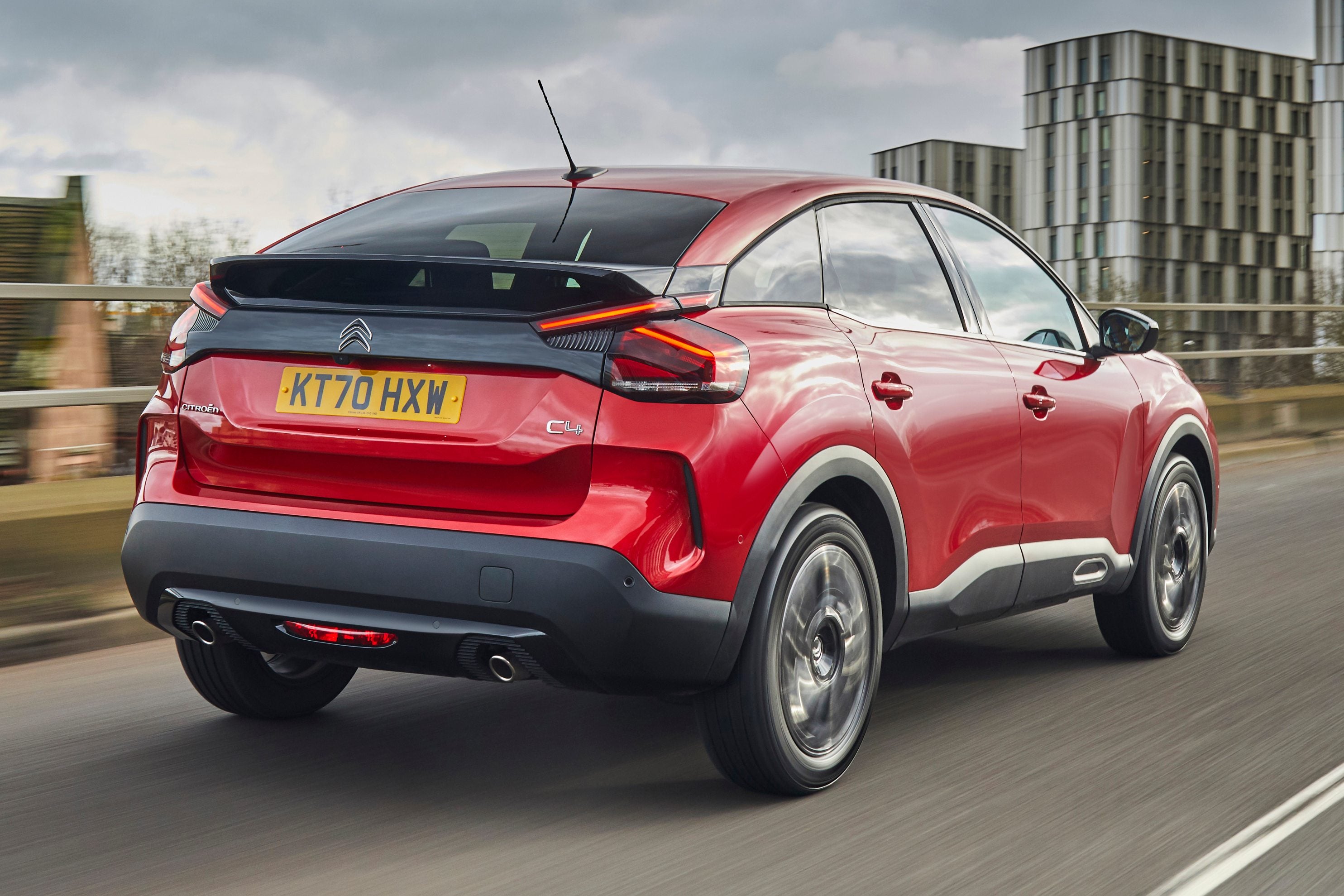 The suspension uses innovative Progressive Hydraulic Cushions to prevent jolting movements when you hit a bump in the road. The brand claims it provides a magic carpet effect and, while we wouldn't go that far, it certainly seems more compliant than a lot of alternatives – even with the relatively large 18-inch alloy wheels that are fitted across the range.
It's particularly comfortable around town, isolating passengers from potholes and speed bumps, while it's just as impressive out of town, too. On the flip side, it's not as agile as something like a Toyota C-HR or SEAT Leon – indeed, it's quite amusing how much it leans in corners and your passengers won't thank you for taking a roundabout at pace.
The steering doesn't encourage this, either – it's quite light, which is great around town, but it doesn't inspire you to chuck the C4 about at all. But why would you in a car like this? Ultimately, the Citroen C4 feels safe and reassuring, with plenty of grip. If you're expecting thrills, though, look elsewhere.
What engines and gearboxes are available in the Citroen C4?
Although the electric Citroen e-C4 is tempting for its low running costs and excellent eco-credentials, a lot of buyers will be after a C4 with a petrol engine. The only one on offer is the brand's peppy little 1.2-litre PureTech motor, which is available with three different power outputs: 100PS, 130PS or 155PS.
The PureTech 100 is available exclusively with a six-speed manual gearbox, while the mid-range PureTech 130 is offered with a choice of six-speed manual or eight-speed automatic transmission. The range-topping PureTech 155 is solely paired with the eight-speed auto 'box.
We've sampled the PureTech 130 with both the manual and automatic gearbox. It's a good engine - peppy enough to keep up with traffic or join a motorway without any fuss. The manual transmission is inoffensive, although its change is a little stodgy compared to rivals like the Mazda CX-30. We rate the auto, though – it's not easily flustered and suits the car's more relaxed nature.
The range-topping Citroen C4 Puretech 155 is noticeably peppier, although it does start to highlight the limitations in the car's soft suspension setup. You'll feel the car pitch up under heavy acceleration, which is quite amusing in a childish kind of way.
There's also a diesel: a 1.5-litre BlueHDi unit available as a 110PS manual or a 130PS auto. We've yet to try this.
Refinement and noise levels
The almost universal move towards smaller, turbocharged petrol engines in cars like the Citroen C4 isn't a good one for noise levels. The C4's 1.2-litre PureTech petrol engine is no thrummier than alternatives like Volkswagen's 1.0 TSI or Ford's 1.0 EcoBoost, though, and it's certainly refined enough at low revs. Pick up the pace and it makes quite a characterful noise which shouldn't cause any great offence – if you do want silent running, look at the electric Citroen e-C4 instead.
On the move, you'll notice a fair bit of wind noise from outside of the car – not helped by the C4's SUV-like dimensions compared to conventional hatchbacks like the Ford Focus and Volkswagen Golf. The standard 18-inch wheels create a bit of a rumble, too, but nothing that can't be drowned out by the radio.
Safety equipment: How safe is the Citroen C4?
There's plenty of standard autonomous safety kit fitted across the Citroen C4 range, designed to prevent you from being in a crash in the first place. This includes a standard safety pack, with Active Safety Brake ready to apply the brakes to prevent a collision. There's Lane Keeping Assist, which nudges the steering if you stray from your lane on the motorway and Driver Attention Alert which will tell you off if you're not paying enough attention.
Citroen's Connect Box Emergency and Assistance System is standard – giving you a big red 'SOS' button to contact the emergency services, while in-crash braking will prevent further collisions during an incident.
Shine models come with the Safety Pack Plus, which adds features like a Driver Attention Alert and an Active Safety Brake system, assisted by video and radar with night-time and cyclist detection built in.
MPG and fuel costs: What does a Citroen C4 cost to run?
"The Citroen C4 might look like a big crossover SUV, but it needn't cost any more than a Volkswagen Golf to run. Fuel economy figures for the entire range are yet to be announced but, for the time being, the most efficient is the BlueHDi 130 which returns up to 64.9mpg in official fuel economy tests."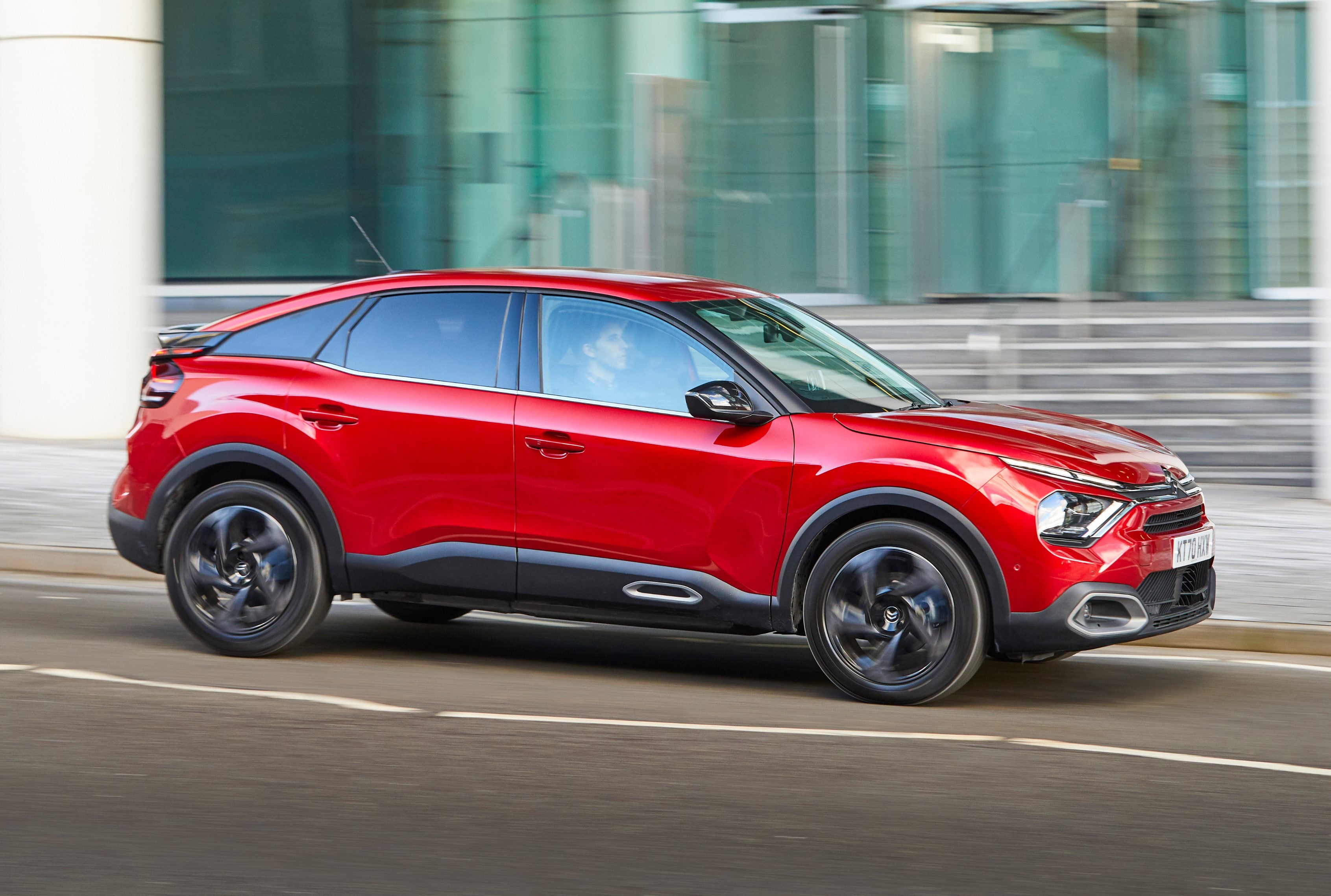 If you don't cover many motorway miles, though, stick to the 1.2-litre petrol. In PureTech 130 form this will return up to 54.7mpg with the manual gearbox and 50.3mpg as an auto.
Insurance groups and costs
Insurance groups for the Citroen C4 are yet to be announced but it should be as cheap to insure as a standard hatchback like the Ford Focus.
VED car tax: What is the annual road tax on a Citroen C4?
Most Citroen C4 models attract £175 first-year VED (which is lumped into the on-the-road price). This is based on CO2 emissions and, as certain engines (namely the PureTech 130 auto and PureTech 155) emit more, they'll cost £215 for the first year.
This is irrelevant if you're buying a second-hand or nearly-new. After the first year, all petrol and diesel C4 models will cost £150 a year to tax. This is a flat rate which'll also apply to alternatives, except for hybrids – which are eligible for a £10 discount.
How much should you be paying for a used Citroen C4?
"Citroen C4 pricing starts from £20,990 for a Sense model with the PureTech 100 petrol engine and six-speed manual gearbox. The same trim level with the BlueHDi diesel engine can be picked up for £22,740, while the Sense Plus starts from £22,990 with the PureTech 130 engine."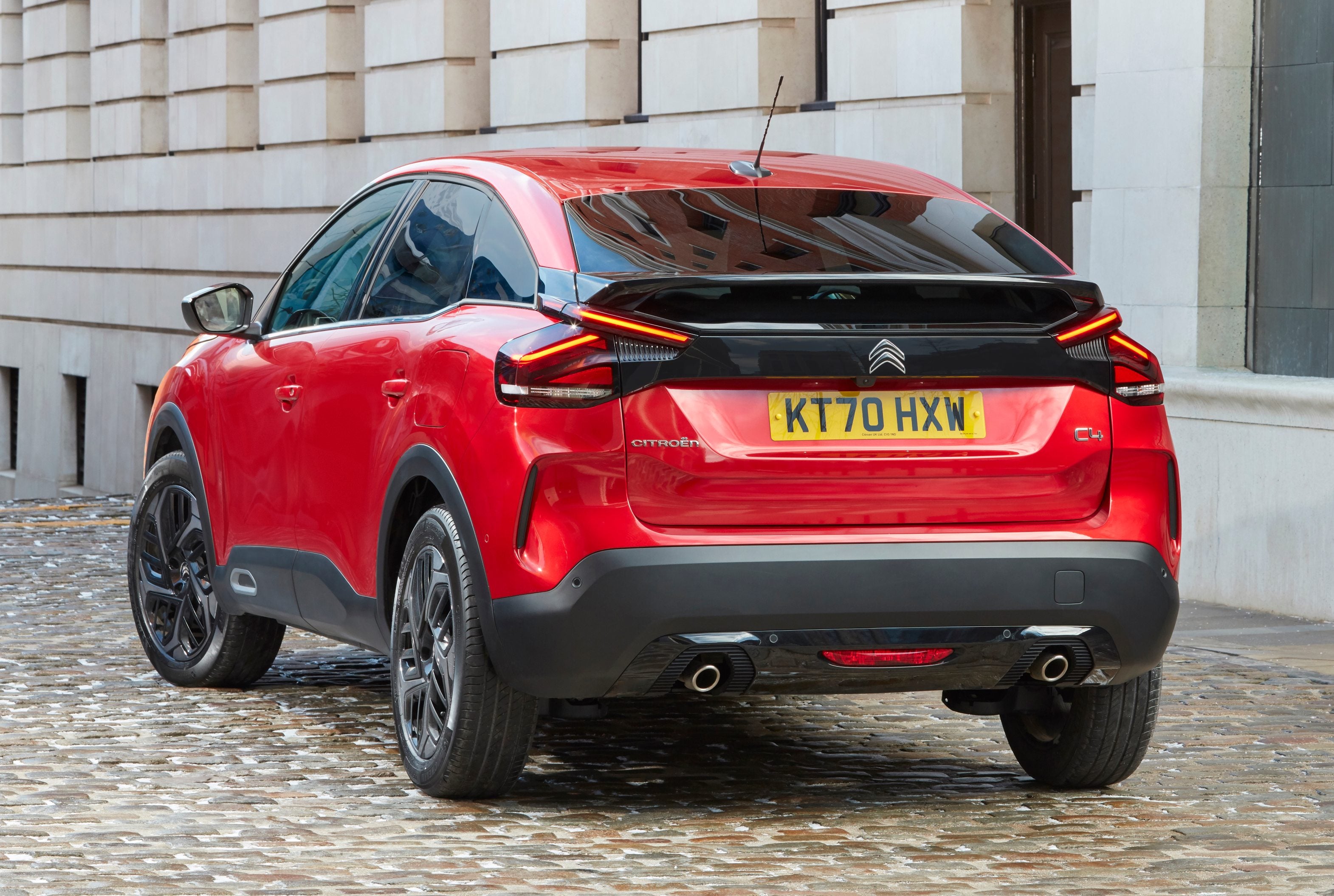 The most affordable automatic is the Sense Plus PureTech 130 EAT8, which starts from £24,390.
The high-spec Shine is available from £23,990 with the PureTech 130 petrol engine and manual gearbox, while the powerful PureTech 155 auto is priced from £26,390. A top-spec Shine Plus starts from £26,590 (with the PureTech 130 engine and EAT8 automatic transmission), while the range tops out at £28,240. That's for a Shine Plus BlueHDi 130 EAT8 auto.
As the Citroen C4 is so new, it's yet to filter down onto the used market. That said, Citroen dealers are usually quite keen to offer discounted pre-registered examples. Hold tight and you could skip the queue while saving money.
Trim levels and standard equipment
The Citroen C4 is available in four trim levels: Sense, Sense Plus, Shine and Shine Plus.
Entry-level Sense models come with LED headlights and 18-inch alloy wheels as standard. Inside, there's a 10-inch touchscreen display with Apple CarPlay and Android Auto, as well as DAB radio.
Safety equipment includes Citroen's Standard Safety Pack with video-assisted Active Safety Brake, Speed Limit Information, Lane Keeping Assist and Driver Attention Alert and Forward Collision Warning. Additional standard specification includes an electric parking brake, rear parking sensors, dual-zone climate control and Citroen's Connect Box Emergency and Assistance System. For improved comfort, all Sense models come with Citroen's Progressive Hydraulic Cushions suspension system and Advanced Comfort seats.
Sense Plus adds a head-up display, navigation (with TomTom Live services) and a clever tablet computer holder for front-seat passengers. LED interior lighting, auto-dimming rear-view mirror and two USB sockets are also standard. To assist with manoeuvring tight spots, Sense Plus models also come with a rear parking camera, while there are also electrically folding door mirrors and an alarm – the latter a strange omission on the basic car.
The Shine trim level adds dark tinted rear windows and keyless entry/start, as well as a host of driver-assist systems. These include the Safety Pack Plus (Active Safety Brake with video and radar technology), Speed Limit Information and Extended Traffic Sign Recognition, Adaptive Cruise Control and Active Blind Spot Detection.
Topping the range is the Shine Plus model with its premium sound system and opulent Hype Black interior ambiance. Black leather and textile upholstery is standard as well as electric driver's seat adjustment and heated front seats. A wireless phone charger is standard, as well as four USB sockets. The C4 Shine also comes with Highway Driver Assist, which uses cameras to adjust the speed and direction of the car within its lane.
Ask the heycar experts:
common questions
Is the Citroen C4 a crossover?
While the Citroen C4 is intended to rival hatchbacks like the Ford Focus and Volkswagen Golf, it does have a crossover SUV appearance. That puts it alongside cars like the Kia XCeed, Toyota C-HR and Mazda CX-30.

How reliable is the Citroen C4?
Although Citroen performs poorly in the HonestJohn.co.uk Satisfaction Index, anecdotal evidence suggests that the brand has improved reliability in recent years. It's too new to know how reliable the Citroen C4 will be in the long term, but its engines are widely used in other models.

Answered by
heycar editorial team
What engine size is the Citroen C4?
The petrol Citroen C4 Puretech uses a 1.2-litre engine available with 100, 130 or 155PS. There's also a 1.5-litre diesel badged the BlueHDi, available with 110 or 130PS.

Is the Citroen C4 a good car?
While the older Citroen C4 isn't as good as alternatives like the Volkswagen Golf, the latest model really is good enough to tempt buyers away from mainstream rivals. It puts it focus on comfort, while also representing excellent value for money and returning low running costs.

Citroen C4 cars for sale on heycar
1,626
Number of cars available
£7.6K - £35K
Price bracket of these cars
Colours available on heycar
Keep me updated by email with the latest advice, news and offers from heycar
By submitting, you agree to our
privacy policy
.