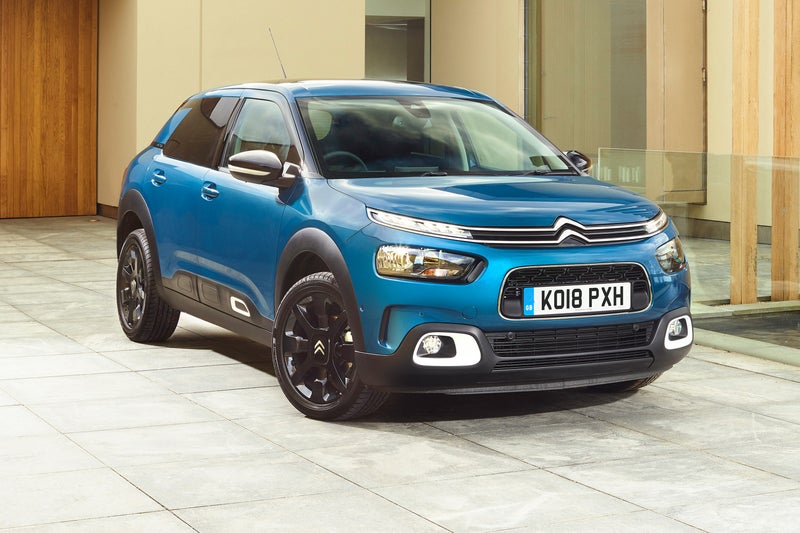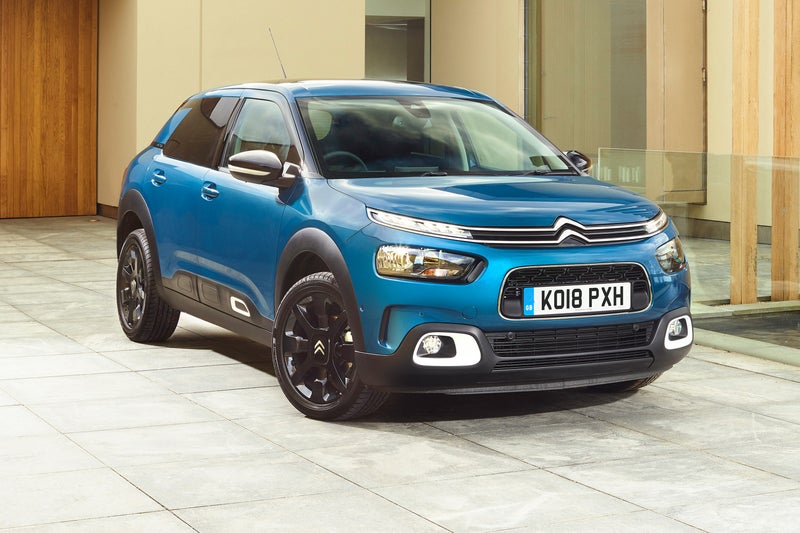 1/10
heycar rating
"Funky but flawed family hatch"
Launched: 2014

Family hatch

Petrol, Diesel
Quick overview
Pros
Funky design gives scope for personalisation
Frugal diesel models
Competitively priced
Cons
Not the biggest or cleverest boot
Fiddly touchscreen display
Pop-out rear windows not great for kids
Overall verdict
On the inside
Driving
Cost to run
Prices and Specs
Common questions
Overall verdict
"The Citroën C4 Cactus is an unconventional family hatchback that has a lot of character and style, but not enough substance to make it a proper all-rounder. The iffy cabin quality, coupled with overly soft suspension and so-so driving dynamics, make it hard to recommend over a diverse range of more talented rivals."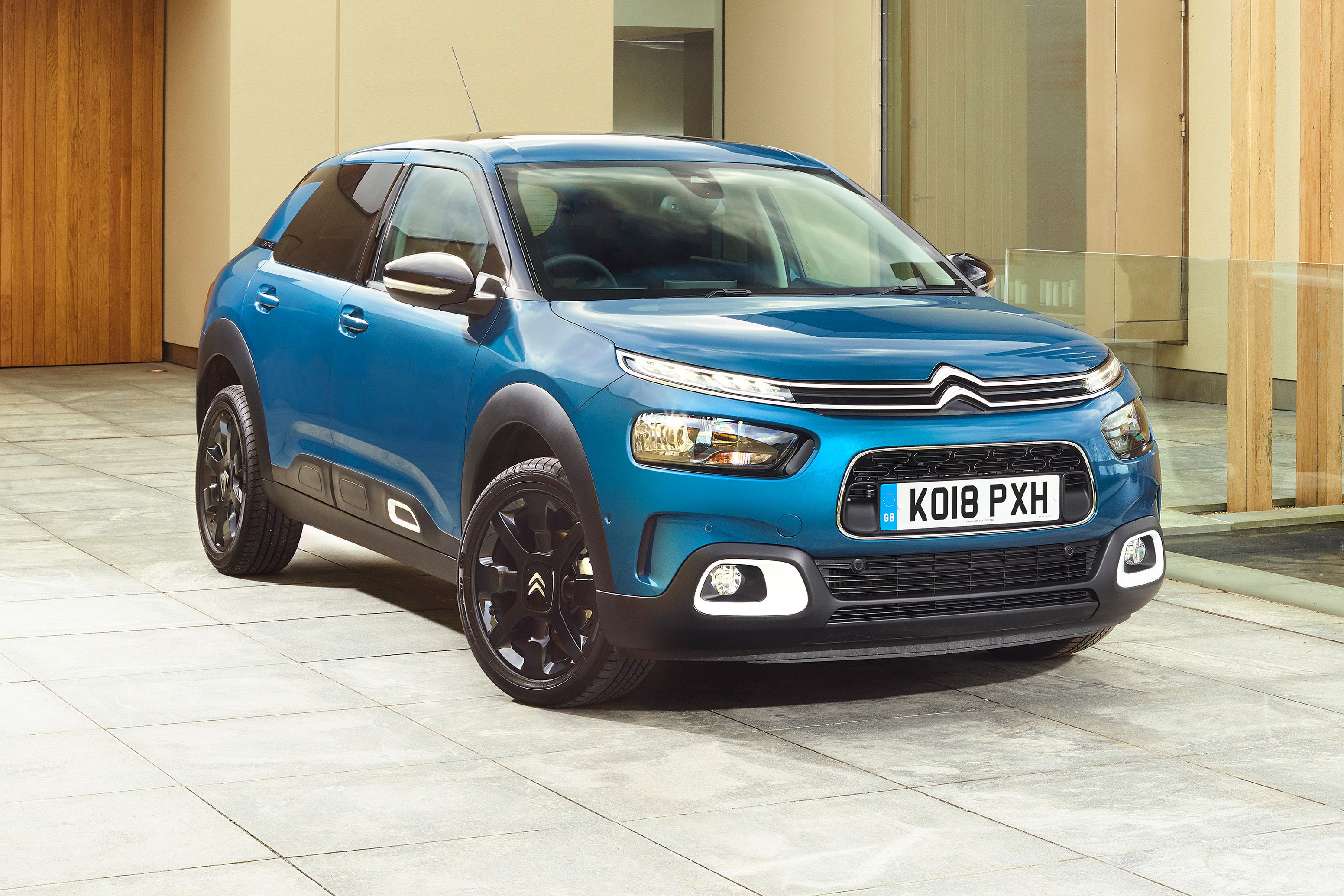 "The Citroen C4 Cactus was the French brand's attempt to cash-in on the surging popularity of crossovers, but unlike many cookie-cutter small SUVs, this was a car that defied narrow definitions. It was stylish but cheap, a roomy family car that was very light, and put its focus on interior comfort and fresh design above all else.
It was also - despite plenty of media attention - a bit of a sales flop. The outlandish looks and vivid colour schemes proved too polarising, and it didn't have the high driving position that buyers in this segment loved.
Fast-forward to 2018, and Citroen took another stab at the Cactus, this time as a distinctive family hatchback. Firstly, the brand toned down the looks. The latest Cactus has less garish paint hues, no roof rails, and no rubber 'Airbump' protective panels in the doors. It still looks unusual, just not like a lime-coloured spaceship.
Citroen also doubled down on comfort, with a trick new suspension setup and super padded sofa-like seats. As long as you get on with its unusual driving position, this is one of the most cosseting seats on the market. It feels like an armchair, with your legs propped up, and the memory foam-like cushions giving loads of support.
Passenger space is decent, and the cabin has some smartly finished details, and a minimal, modern look. However it's also built down to a price, with cheap materials in places, and quirks like pop-out rear windows.
Originally it was offered in three different trims: Touch, Feel, and Flair but customers wanted more standard equipment than the basic cars had, so now the Cactus is only available as the fully-loaded Flair. That gives it a higher starting price, but this trim comes with very generous standard specification and lots of safety tech.
Despite the impressive equipment haul, the C4 Cactus is very light for a five-seat family car, giving it superb fuel economy. The most efficient diesel version will achieve well over 60mpg, and even the quickest 1.2-litre turbo petrol claims an official 46.3mpg, and that's with its standard power-sapping automatic transmission.
For us though, the entry-level 1.2 petrol with a six-speed manual is the best fit with the C4 Cactus. It may be small in size, but it feels usefully quicker than its 110PS, with decent oomph in-gear, and solid refinement. It feels easier to drive smoothly than the previous five-speed manual, but the handling trails most of its rivals.
Its super-soft suspension gives the Cactus a calm, low speed ride, and it can glide over speed bumps without disturbing its passengers, but the trade-off is roly-poly cornering and poor body control. The steering is light, but too remote, and the grabby brakes and vague gearshift mean driving smoothly demands concentration.
When you combine these dynamic shortcomings with its below average boot capacity, a fiddly touchscreen infotainment system, and a four-star safety rating, the negatives start to outweigh its positives. Citroen made a stylish attempt to step outside the mainstream with the C4 Cactus, but it's destined to remain a niche car.
Is the Citroen C4 Cactus right for you?
The Citroen C4 Cactus is an unusual car for unusual people. The first version was a bold style statement that came in outlandish colours and turned heads wherever it went, mostly competing with compact crossovers.
The current model (with its toned down design) is pitched as a rival to sensible family hatchbacks that look as conservative as a stiff white collared shirt, so the Citroen is still an interesting and quirky alternative buy.
If you want your family car to have low running costs, a comfortable ride, and an affordable price (without feeling like a soulless budget option) the C4 Cactus is tailor made to fit your needs, but there are caveats.
Mainly, these are to do with the way it drives. It has light steering with an artificial, disconnected feel, grabby brakes and a notchy gearbox that isn't very precise. The very soft suspension will also not be for everyone.
What's the best C4 Cactus model/engine to choose?
If you want a truly distinctive design that looks like nothing else on the road, then the original Cactus will be hard to beat. It's peculiar - but never dull - although it's strange 'airbumps' are not known for their durability.
However, once you look past the aesthetics, the revised post-2018 model is a much better car, with many of its predecessors irritating kinks ironed out. The seats are more comfortable, it's quieter, with a nicer gearbox.
We like the comprehensive amount of kit in the Flair trim, but you'll save yourself a chunk of change by buying a used Feel version, and it still has all the important everyday stuff like air-con, cruise and DAB.
As for the engines, we'd avoid the entry-level PureTech 82PS petrol unless you're desperate for cheap insurance. It's too slow to keep up with traffic outside city limits, and the turbocharged versions of the same unit are a lot more flexible and fun to drive, while still returning decent fuel economy. We'd get the 110PS car.
What other cars are similar to the Citroen C4 Cactus?
We could be flippant and say there's nothing quite like it, but that's no longer as true as it once was. It has the style and personalisation options to attract crossover buyers, but rides lower than most compact SUVs, and won't be as good for carrying luggage as cars such as the Renault Captur, Peugeot 2008 or SEAT Arona.
The latest model was toned down a lot (we miss you, curvy roof rails) to compete with conventional family hatchbacks, but will still stand out in a car park chock-full of Vauxhalls Astras, Volkswagen Golfs and Skoda Octavias.
While they are less interesting, all of those models have fewer compromises than the Citroen is saddled with.
As a used buy, the Kia Soul checks a lot of the same boxes as the Cactus, with interesting looks, a spacious cabin and loads of standard kit. It's not as softly-sprung as the Citroen, but the cabin feels more robust, and it comes with a seven-year warranty from new that's transferable to multiple owners, for total peace of mind.
Comfort and design
"Much like its bold exterior styling, the unusual driving position in the Cactus won't be for everyone. It has the standard range of height and reach adjustment to the steering wheel, driver's seat, and lumbar support too."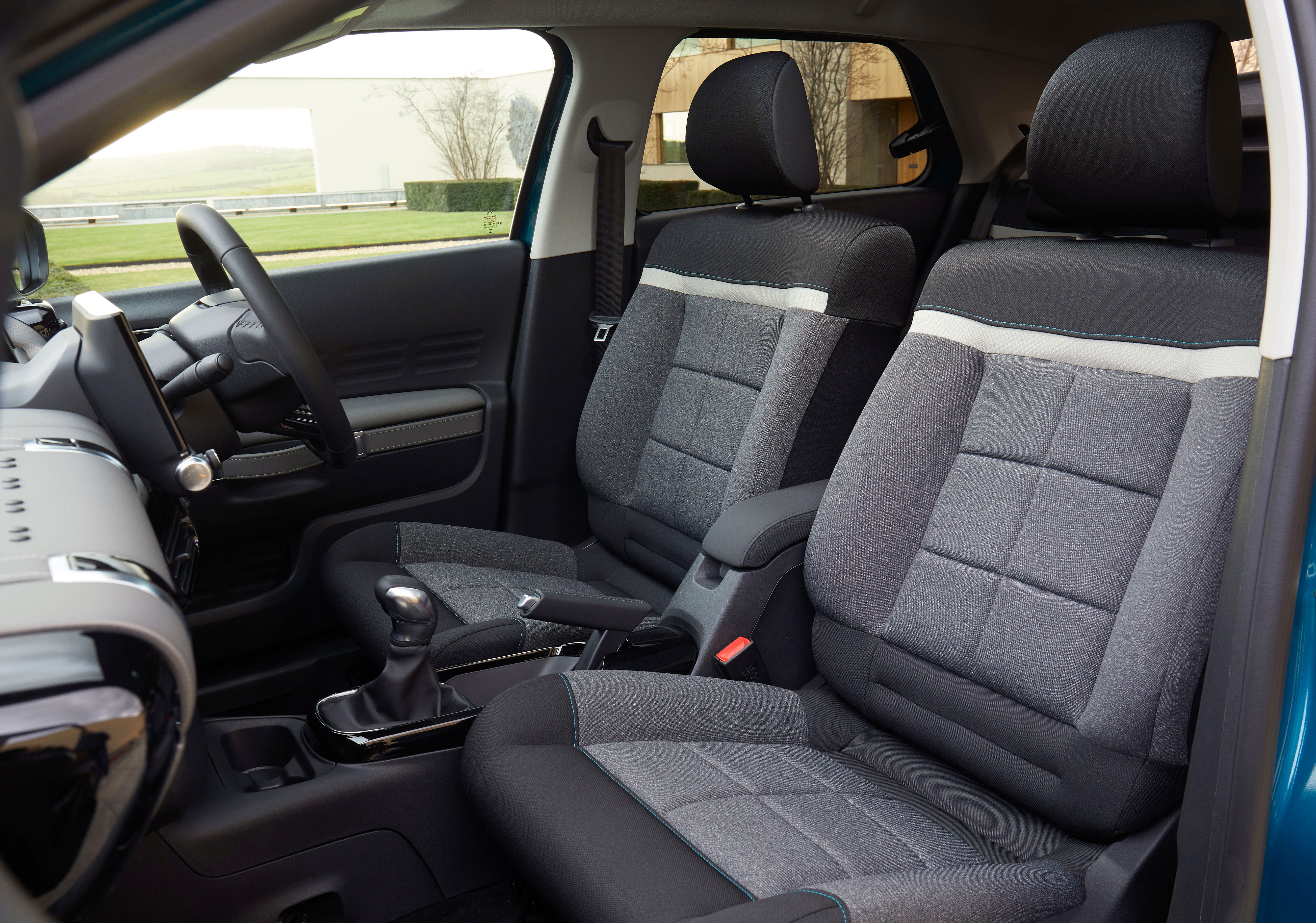 However, the low base of the squidgy soft seats is angled upwards, forcing your legs to rise, and it feels like you're sinking down into it rather than perched on top of it. This will cause issues for taller drivers, who may find their knees catch on the rim of the steering wheel when turning, so check that it suits you before buying.
Citroen didn't change a huge amount inside the Cactus for its facelift. It's a modern looking cabin, with plenty of nice design touches, including the 'treasure chest' glove box built into the top of the dash, leather straps in the doors for pulling them shut, and an integrated 7.0-inch touch screen that controls all the main functions.
It's so minimal in fact, that you'll find more buttons on the steering wheel than on the centre console. You get a volume knob, a switch for the front and rear screen defrost and door locks, and that's about it. Hard to lose your bearings then, but the pared down mantra also means your front passenger only gets a single air vent.
Some other quirks, like the lack of a rev counter, and the pop out rear windows (electric rear windows are not available, even on top spec cars) will make some of your passengers feel a little claustrophobic in the back.
The thickly padded seats are a real boon on longer journeys though, as long as they fit your size and shape.
Quality and finish
The thoughtful design of the dashboard and some stylish interior details make the C4 Cactus look upmarket, with the attractive seats fabrics, dense soft-touch plastics on the centre console, and a smart gear selector.
Everything you'll touch regularly has a reassuring heft and decent finish, but the Cactus was designed to be affordable, and in places that cost-cutting is more obvious. Most of the trim below your eyeline is hard black plastic - as are the door cards - but it's the stark contrast with the interior's posh bits that makes them stand out.
Few family hatchbacks have such an interesting looking interior, but most of them deliver a more consistent level of build quality. One moment your hand is met by soft stitched leather, the next rough textured plastic.
At least Citroen spent money in the right places. The important areas you'll interact with regularly being nice to hold is preferable to having a beautifully finished fuse box cover, but this patchy overall impression gives you doubts about the longevity of this interior - will it still look sharp in two years, or five? We're not so sure.
Infotainment
Whichever C4 Cactus you choose, you'll be controlling its media functions through a smart-looking 7.0-inch colour touchscreen that's mounted within convenient reach of the steering wheel. It's surrounded by a black bezel with two rows of touch sensitive buttons, which let you quickly snap between its different functions.
It's backed up by a charmingly retro LCD speedo plonked in front of the driver. Weirdly, this second display has no rev counter, and is a far cry from the slick 'Virtual Cockpit' digital dials available in the Audi Q2.
Earlier entry-level models missed out on many of its best features, but all C4 Cacti now get DAB digital radio, Bluetooth, Apple CarPlay and Android Auto smartphone mirroring, and even a built-in sat-nav and sim-card.
That's a generous feature set, but trying to use all of those functions can be a test of patience. The shortcut buttons are particularly inconsistent in their response, sometimes requiring several presses to work properly.
Combine this reticence with a main screen that is glitchy and slow when scrolling, and usability isn't great.
There are no separate controls for the heater either, so if you want to change the fan setting or temperature it's a three- or four-stage process instead of being able to just twist a dial, hardly ideal when you are driving.
Space and practicality
As with so much about the Cactus, practicality is a frustratingly mixed bag. There's lots to like, with some clever solutions to interior storage - especially the large top-hinged dash compartment - but plenty of niggles.
The slimline centre console and big windows give you a fantastic feeling of space in the front, and two adults will fit comfortably in the back seats, with knee-room to spare. Headroom is tighter though, especially if you fit the optional panoramic (fixed) glass roof, so we'd avoid cars with this unless you've got younger children.
Sitting in the back on long journeys is made easier with pockets in the front seat backs, deep door bins for drinks bottles, an armrest each, and a shallower extra cubby in the door for sweets, phones or loose change.
There are no charging ports or cupholders, and pop-out rear windows mean you can't let a cool breeze in.
Both outer seats have ISOFIX mounts and top tethers for fitting child seats, and with wide opening doors and easy access to the anchor points, doing so is straight-forward, but you'll struggle to fit an adult between two.
Unlike many crossovers, you can't slide the rear seats to increase the amount of room, but they do split/fold.
Thoughtful touches like the grippy rubber dots on the top of the dash are tempered by design oversights like the shallow front cupholders, and a phone tray that's too narrow to hold the majority of modern smartphones.
The boot is a reasonable size, but gives you less flexibility than its rivals, with no false floor or load dividers. With the seats up, you get a 358-litre space, enough for a buggy and several small suitcases, but the access isn't great, with a high loading lip to lug things over and a narrower boot aperture than many family hatches.
The original Cactus had a one-piece rear bench, but the newer model gets a traditional 60:40 split-folding layout that gives you a lot more flexibility, but there's still a significant hump in the floor when they're folded.
Handling and ride quality
"Citroens of old were prized for their soft, smooth ride quality, and the brand has attempted to reclaim that reputation for comfort with its latest models, including the C3 and C5 Aircross, and the updated C4 Cactus."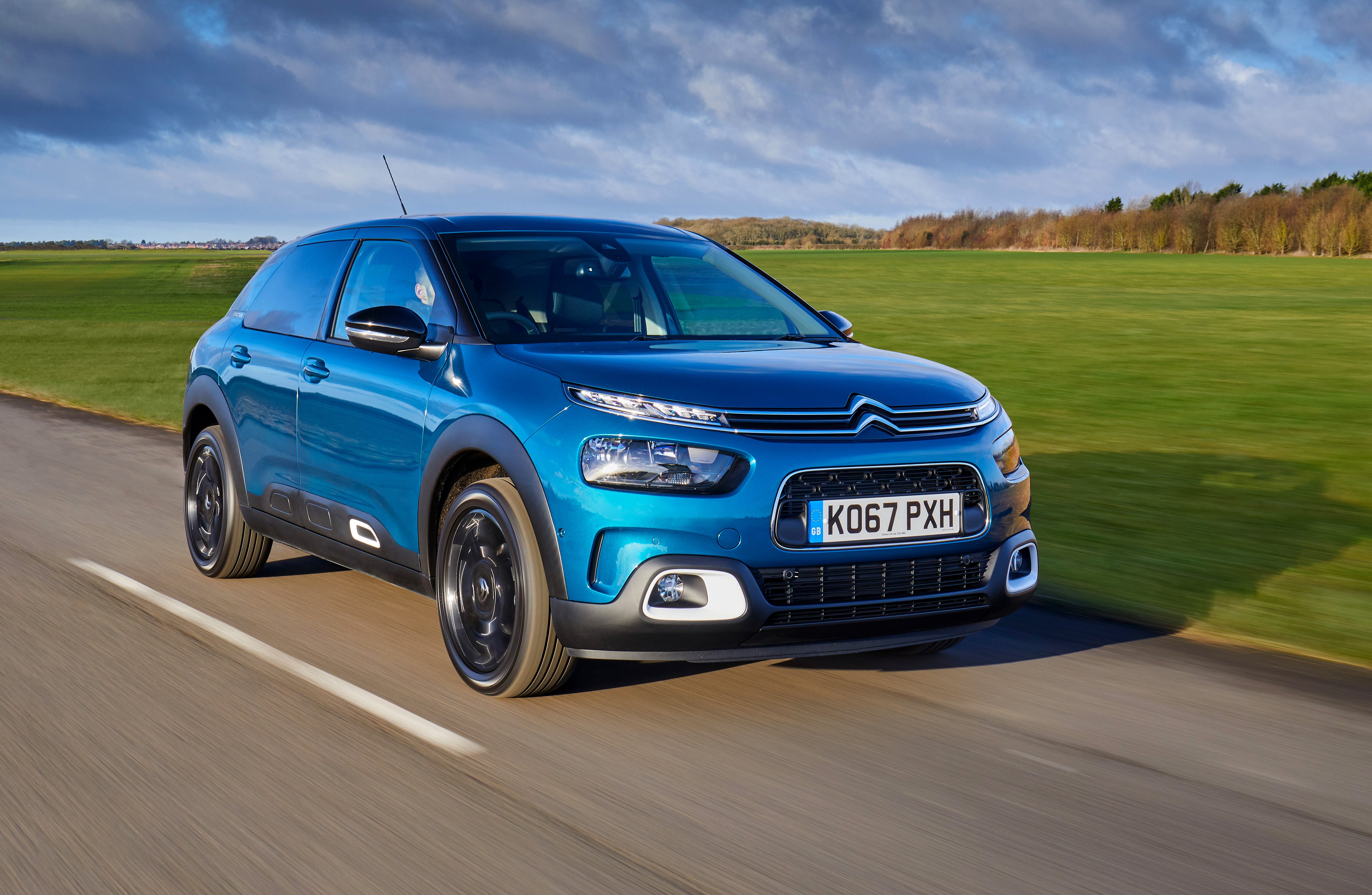 The previous car was already pretty spongy, but would crash over sharper imperfections once its soft springs ran out of travel. Citroen has added hydraulic 'cushions' inside the C4's suspension to help it soak up speed bumps and dips much better. It works in some situations, but there are some rather unwelcome side-effects.
While the super-soft setup helps with smaller bumps and ripples, it comes at the expense of body control. So the whole car leans over dramatically in corners. This roly-poly nature makes it feel unstable, and it bounces and sways on uneven roads. The quicker you hit a bump, the more pronounced this pitching movement gets.
How you'll feel about this will depend on how and where you drive the Cactus, and some will like its pillowy suspension at lower speeds, but many rivals can smooth out the road surface without losing any composure. The artificially light, vague steering doesn't help matters, and requires constant corrections for it to stay straight.
That makes it hard to judge how much grip there is, and although the C4 Cactus handles tidily enough once you get past its tendency to pitch and roll through corners, with reasonable grip, it's not much fun. We would forgive it in a heartbeat if the C4 was soft and composed, but one without the other leaves it feeling lopsided.
Ultimately, it's a car that demands to be driven slowly, with steady and careful inputs from the driver needed to remain comfortable. To us that makes it rather one-dimensional to drive, even it does feel different to most.
Engines and gearboxes
There are two engines offered in the Cactus, a petrol and a diesel, each offered in two power outputs. The PureTech petrol is a 1.2-litre three-cylinder turbo with either 110PS or 130PS, the BlueHDi diesel a 1.5-litre with 100PS or 120PS. The less powerful models are paired up with a six-speed manual, while the quicker cars get a six-speed automatic, although Citroen did previously let you have the 1.2 130 with a manual 'box.
That's a decent spread of choice, but for our money the best option is the entry-level petrol. Its 1.2-litre PureTech is a terrific engine; zingy, eager to rev and more than quick enough to keep up with other traffic.
Citroen used to offer it without a turbo (and just 82PS) making the Cactus very slow, and quite hard work.
The newer six-speed manual is a lot better resolved then the shonky five-speed that was fitted previously, with a more direct shift action and better spaced ratios, so it's easier to keep the engine spinning smoothly.
Driving smoothly in the early models was made challenging by the oddly weighted controls. The clutch was abrupt, the throttle overly sensitive, and the shift action was vague, making stop-start traffic really onerous.
Choosing an automatic didn't improve things much, since the EAT6 transmission was a bit sluggish in its responses and could be jerky when changing into a higher gear, but it's also been improved in the update.
All of these engines have decent performance, but the 1.5-litre diesel is incredibly economical, and has a useful extra slug of torque, so if you plan on many long journeys with a fully loaded car, it'll save you money.
Refinement and noise levels
How old your C4 Cactus is will have a big impact on how quiet it will be, especially at speed. In its quest to shed weight, Citroen took lots of sound insulation out of the original; increasing road, wind and engine noise.
Customers didn't appreciate this stripped back approach, so in the 2018 refresh they added it back in, fitted a new 'acoustic' windscreen and thicker side windows, even going to the trouble of putting in new door seals and adding sound proofing to the dash, all in an effort to make the Cactus feel a bit more demure at speed.
Those changes were not as successful as the brand might have hoped for. Road and tyre noise on the newer car is rarely intrusive, but you'll hear more wind noise in the Citroen than its rivals from Volkswagen or Skoda.
The 1.2-litre petrol is smooth at low speeds around town, and settles down when cruising (especially now it comes with a six-speed manual gearbox) but can be gruff at higher revs when pushed. It also sends a gentle buzz of vibrations through the pedals and gearstick, but that's quite common with three-cylinder engines.
Pick a diesel and rumbling engine noise - especially clatter when cold - will be a constant companion. Once again the later model does a better job of disguising it than the older version, which has a five-speed 'box.
Safety equipment
The Cactus features an impressive array of safety kit, especially now that it's only offered in top Flair trim.
Previously, every car in the line-up came equipped with passive essentials like six-airbags, electronic stability and traction control, plus you could set and control your speed with the limiter function on the cruise control.
That little bundle helped the C4 to gain a four-star (out of five) Euro NCAP crash safety rating back in 2014. That's not too bad, but bear in mind most of its rivals achieved the five-star score. Those cars also do better in the individual categories, with rivals such as Skoda's Scala getting a near-perfect 97% for adult protection.
The current Cactus has not yet been crash tested, but the latest Flair trim brings with it a generous suite of active assistance systems that would almost certainly help the Citroen gain that elusive final star it needs.
Driver attention alert warns you if the car thinks you're getting sleepy and drifting out of lane. It monitors your distance from the road markings, and then pings a visual and audio warning if you start driving too erratically.
Add to that lane departure warning, a system that shows you the local speed limits, hill start assist to get you going again on steep junctions, front and rear parking sensors and parking camera, and it's an extensive list. Auto-emergency braking is also standard, which will stop you if it think's you're about to have an accident.
There's a red 'SOS' button next to the interior lights too, which uses the car's inbuilt sim-card to call the emergency services if the worst does happen. If the full kitchen sink isn't enough, you can also add Blind Spot monitors and a space saver spare wheel as options, although you do get a foam repair kit as standard.
MPG and fuel costs
"The Cactus is a light car - no model weighs much over a tonne - and you can feel the benefits at the pumps. A 1.2-litre petrol with 110PS and a manual gearbox returns an official 48.7mpg, and based on our Real MPG test figures we would expect you to get fairly close to that figure on the road as long as you drive it sensibly."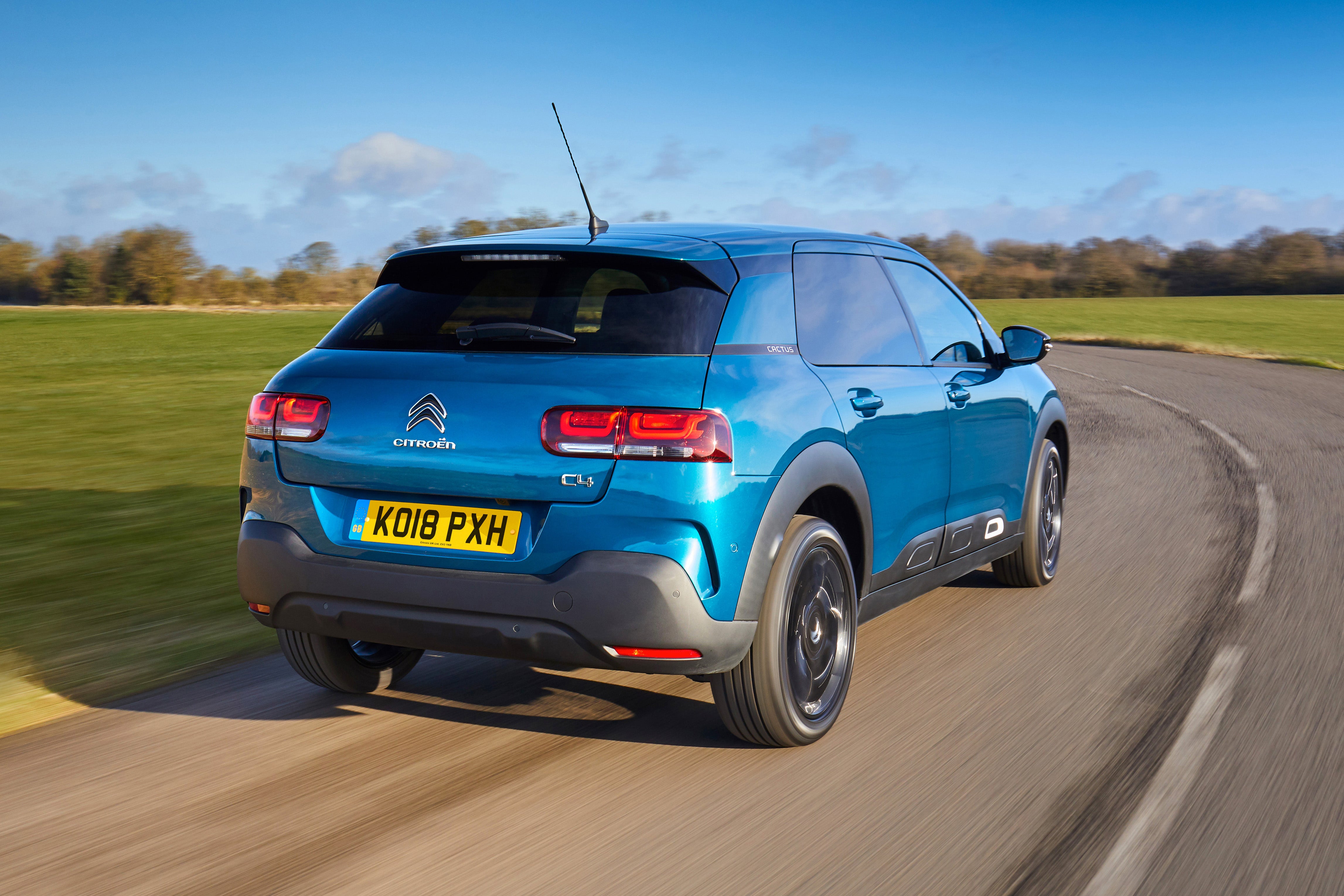 We really like this engine, but if you drive higher annual mileages then the 1.5-litre BlueHDi 100PS diesel could make more financial sense. It's extremely frugal for a reasonably sized family car, capable of getting over 70mpg according to the official figures, and our experience tells us that it's a fairly realistic expectation.
That miserly fuel consumption is great news for range; you'll be able to go more than 650 miles on a full tank.
However we'd avoid the automatic models if running costs are a priority, they're around 10 per cent thirstier.
Insurance groups and costs
There's a wide spread of insurance groups for the Cactus. The most affordable model is the woefully slow 82PS 1.2-litre petrol, which was in Group 9 in the pre-facelift model, but Group 11 in the updated version.
From the current line-up with its bumped up spec sheet, the low-powered diesel is actually the cheapest, it's in Group 14. The popular petrol is in Group 16, while the automatic version with more grunt is in Group 21.
That's about on a par with conventional hatchback rivals like the Skoda Octavia, but a Volkswagen Golf costs less.
VED car tax
Another benefit of the C4's featherweight design is low running costs across the board. According to the old NEDC tests, non of the line-up emitted more than 110g/km of CO2 - impressive considering its decent size.
If you buy a car registered before April 1st 2017, those low tailpipe emissions will decide how much tax you'll need to pay, but most of the range is either totally exempt, or will cost you no more than £20 a year in VED.
Any Cactus built after that date will have to pay a fixed £150 per year, while new buyers will also have to pay a first year charge based on the tougher new WLTP emissions standards, this will be between £175 or £215.
If you want to use the Cactus as a company vehicle then the Blue HDi 1.5-litre diesel with a manual gearbox is the most affordable option from the current range, with a 26% BIK rate, the PureTech petrols start at 29%.
How much should you be paying for a used Citroen C4 Cactus?
"The first generation Cactus did not prove popular, but has become a very affordable used buy as a result. You can pick one up for around £5,000, and for that money you'll get a 2015 model with a higher mileage."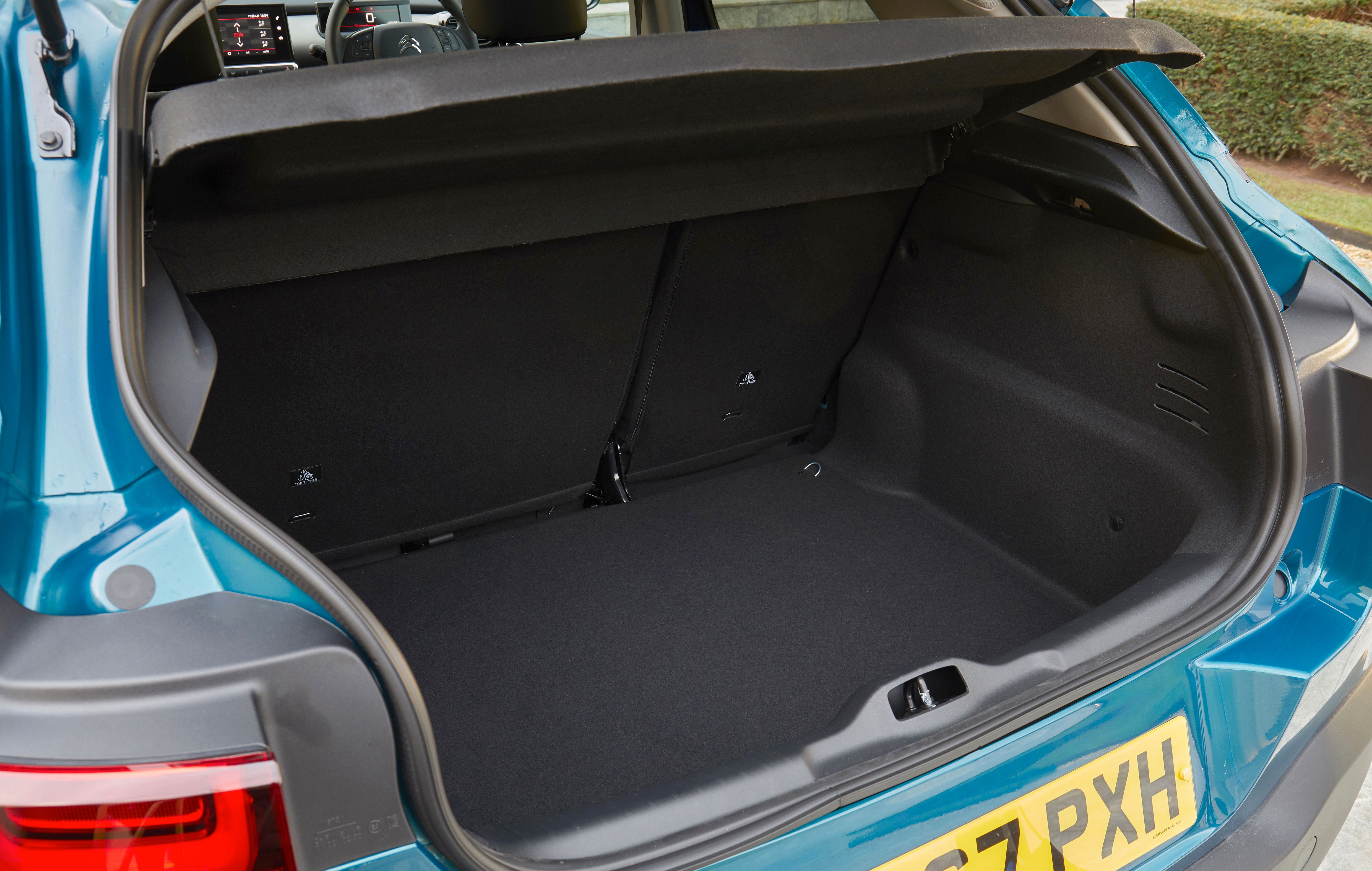 Most cars at that price come in the popular mid-range 'Feel' trim and with either the 1.2-litre petrol with 82PS or the 1.6-litre 'BlueHDi' diesel. We'd urge you to pick the latter, specifically on cars nearing 100,000 miles.
Up your budget to around £6,500 and you'll find a good number of lower mileage cars with a wider selection of trims and engines available, including the automatic version. You'll need to pay over £8,500 if you want the new shape Cactus - which has nicer seats and more sound deadening - with the revvy 1.2-litre 82PS motor.
There are also massive savings available on brand new pre-registered models, with some dealers offering over £5,000 off the list price on every engine in the line-up. It's so good we're not sure why you'd buy new?
Trim levels and standard equipment
If you're buying a new C4 Cactus the range has now been paired back to a single specification. The good news is that it's fully loaded Flair model comes with all the goodies you could want, but it's pricey.
As standard the Flair gets with 17-inch wheels, a 7.0-inch touchscreen with integrated sat-nav, rear parking sensors and back-up camera, DAB radio, Bluetooth, climate and cruise control, and smartphone mirroring.
It's so well appointed that the only options worth mentioning are the panoramic glass roof and metallic paint, so your chat at the dealership should be relatively short, and mainly about what colour you'd like your car.
If you're buying a used Cactus in the entry-level 'Touch' trim don't fret, you're still be fairly well catered for, with the same touchscreen, DAB radio, USB connectivity, and cruise control, but no air-con or Bluetooth. It also has a nasty plastic steering wheel, and misses out on the excellent safety features standard in the Flair.
It's a shame that the better value Feel trim - which had a nice balance of kit at a more affordable price - is no longer offered, since it's the one we'd recommend, although there are plenty of used models to choose from.
Ask the heycar experts:
common questions
Is Citroen C4 Cactus a good car?
The Cactus is deliberately different from most cars in its class. It's designed to look good, but also be simple and light, making it cheap to run and affordable to buy. How you feel about its looks will be a big factor in your wanting to buy one, but it does demand a few sacrifices too.

Is the Citroen C4 Cactus a reliable car?
Citroen as a brand doesn't enjoy the best reputation for reliability, and the C4 Cactus seems to follow that trend, with owners reporting a glitchy infotainment system. Some cars have had issues with the automatic gearbox too, and even pieces of bumper trim coming unstuck.

Answered by
heycar editorial team
Is the Citroen C4 Cactus an SUV?
The C4 Cactus is a crossover rather than an SUV so it competes with the likes of the Peugeot 2008 and Nissan Juke, although it looks more hatchback than SUV compared to its main rivals.

Is the Citroen C4 Cactus a 4x4?
Despite the funky off-road styling and tall ride height, the Cactus is only available with front-wheel drive. It can be specified with 'Grip Control' however, a five stage traction control system paired with all season tyres that will help when tackling tricky weather conditions.

Answered by
heycar editorial team
What is the difference between a C4, C4 Cactus and C4 Picasso?
So this is obviously confusing, but let us try and explain. At first there was just the C4, which was a family hatchback to rival the likes of the Volkswagen Golf, and even had sporty versions called the VTS and VTR. Then Citroen added the C4 badge to its roomy Picasso, a people carrier that came with either five or seven seats (now called SpaceTourer). Finally, the brand took advantage of the compact SUV craze, and launched the new C4 Cactus, a bespoke model.

Citroen C4 Cactus cars for sale on heycar
2,245
Number of cars available
£6.8K - £18K
Price bracket of these cars
Colours available on heycar
Keep me updated by email with the latest advice, news and offers from heycar
By submitting, you agree to our
privacy policy
.