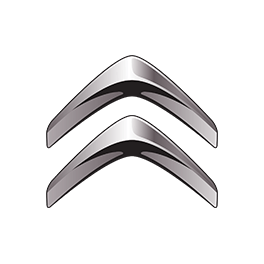 Citroen C5 Aircross Review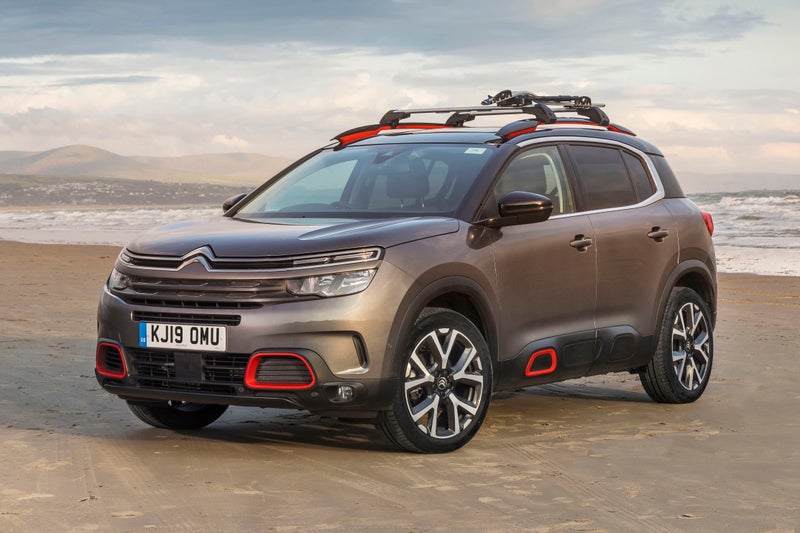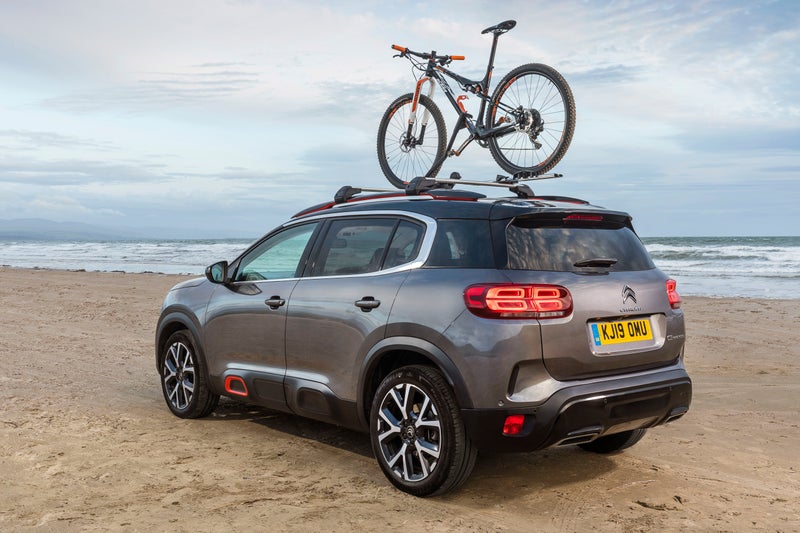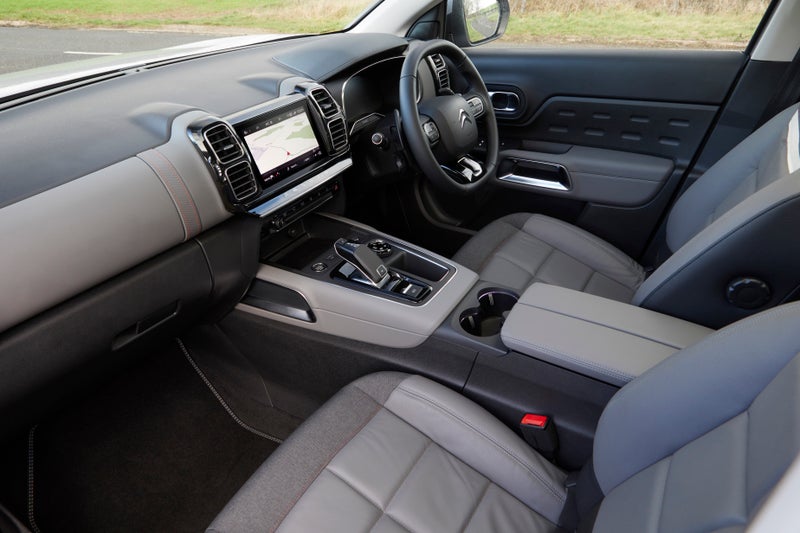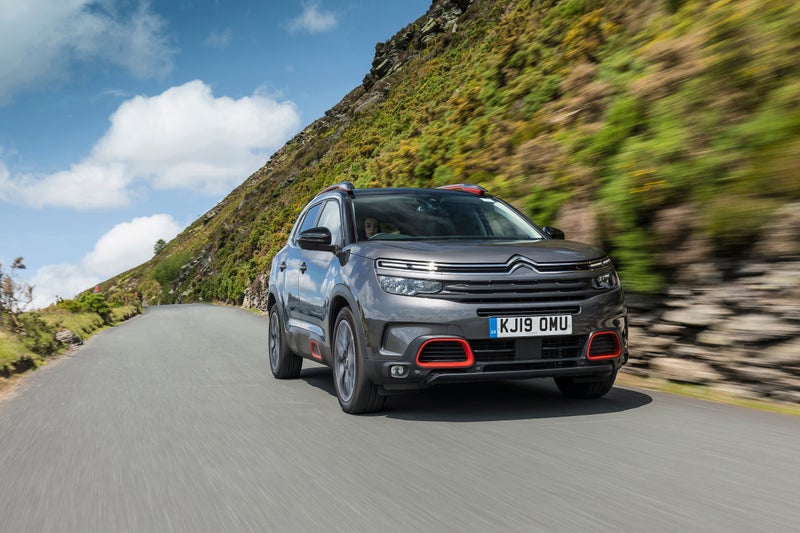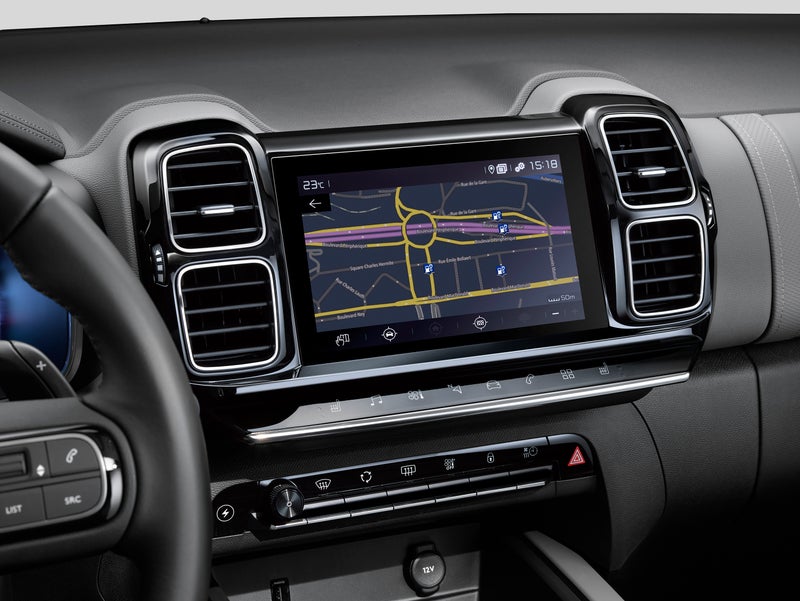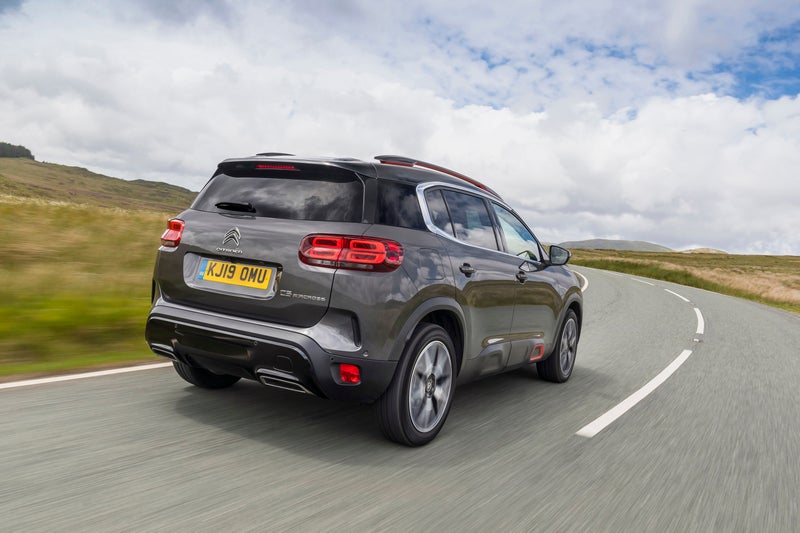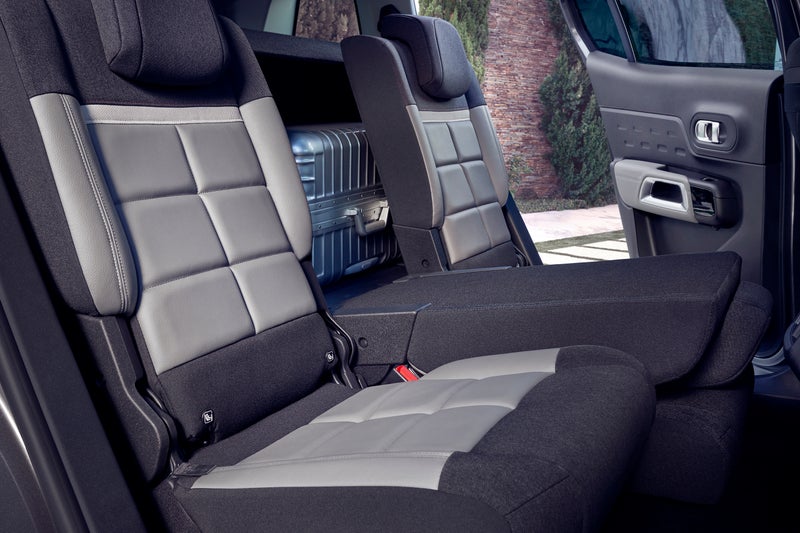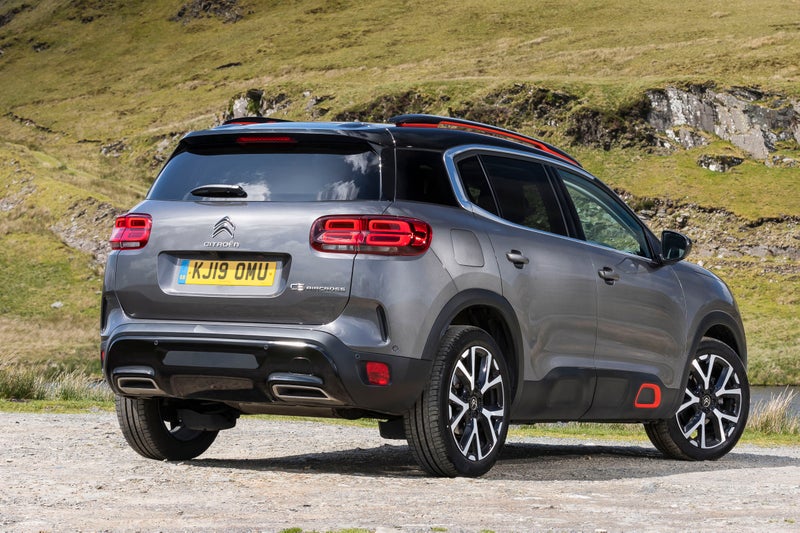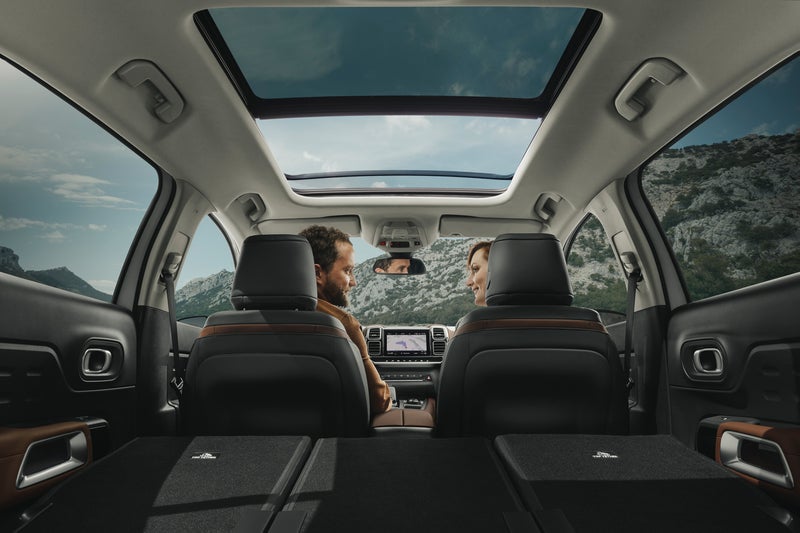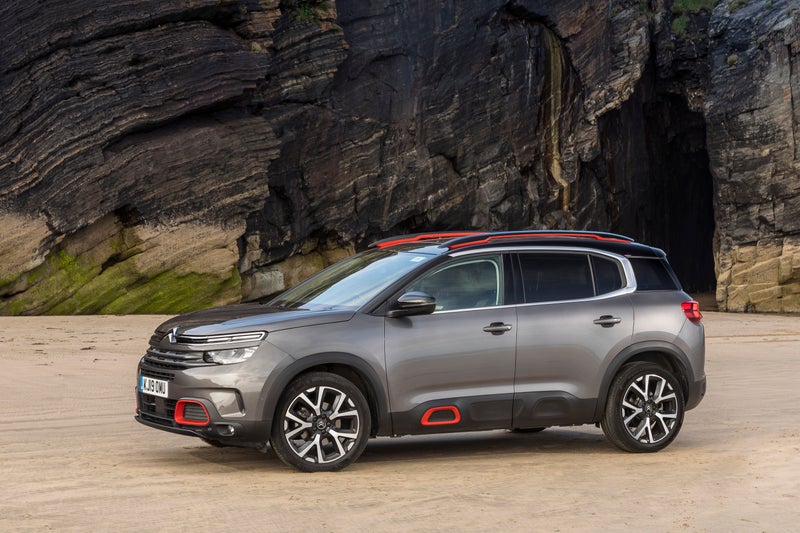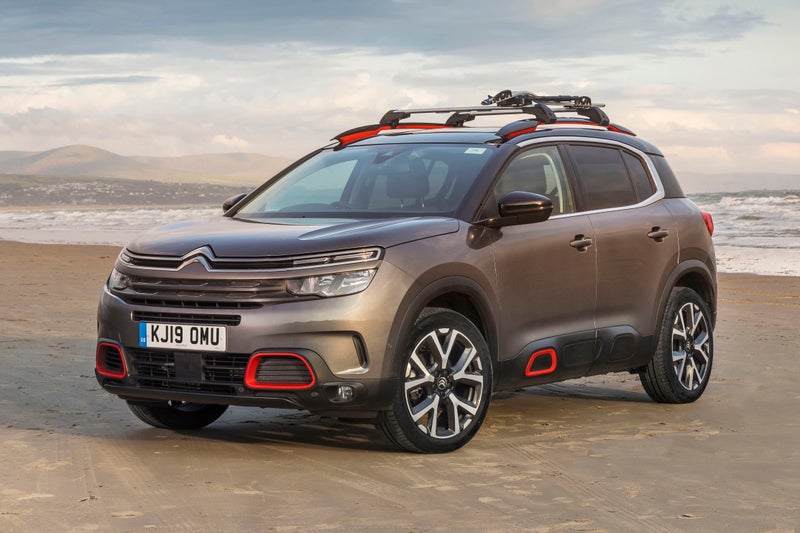 1/10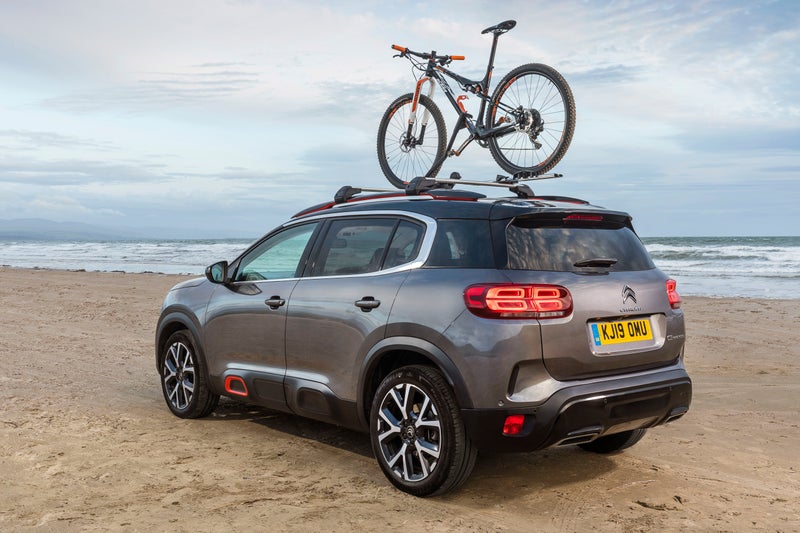 2/10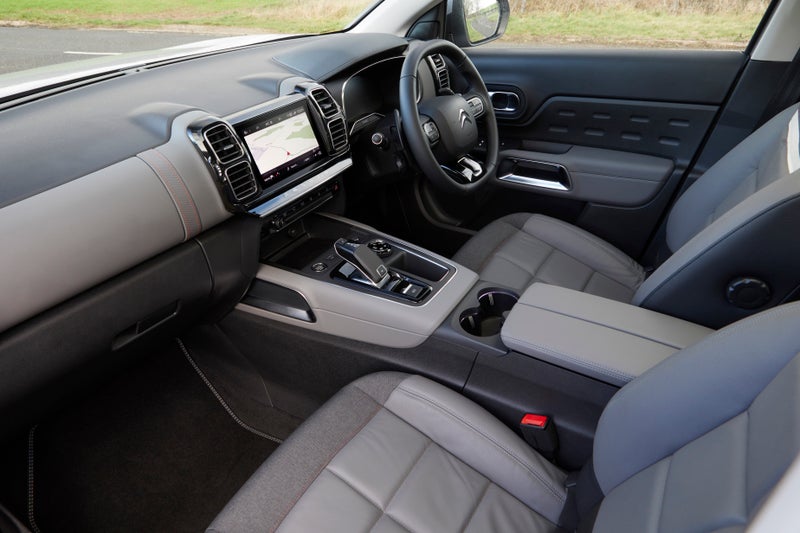 3/10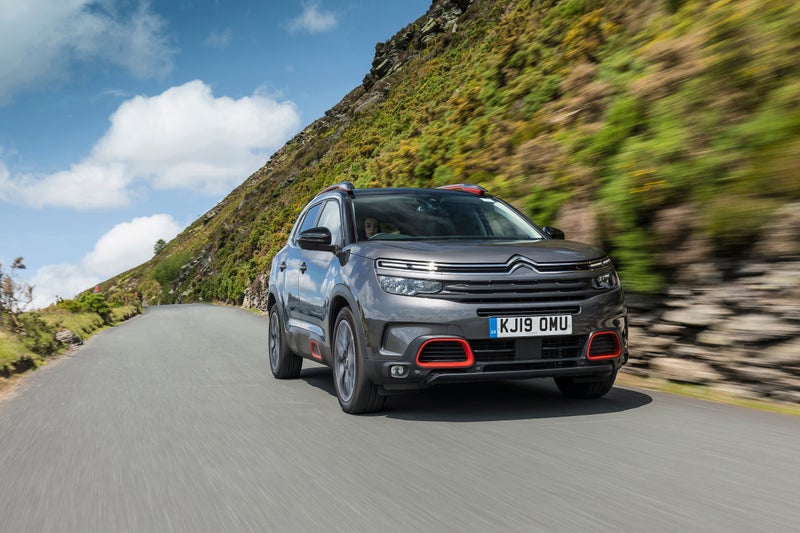 4/10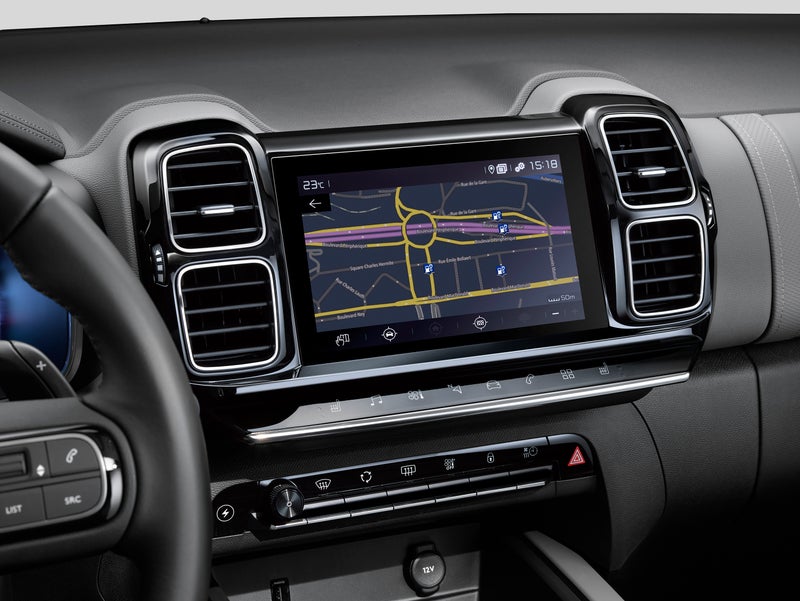 5/10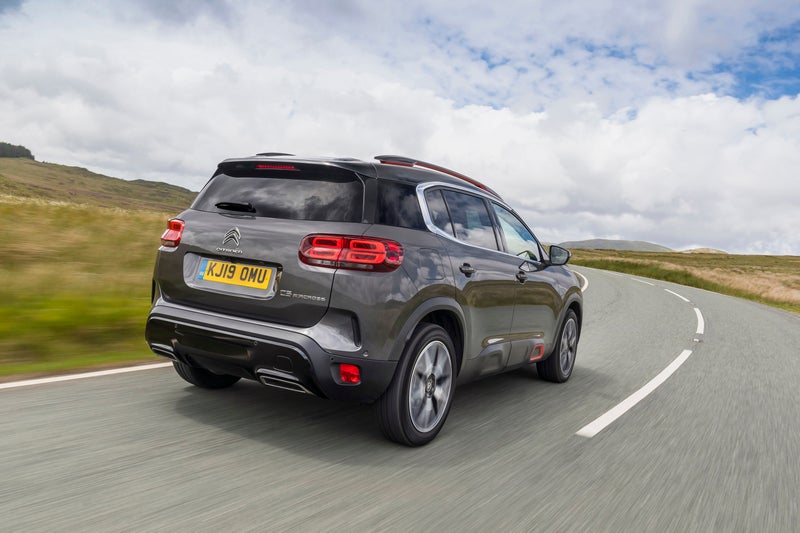 6/10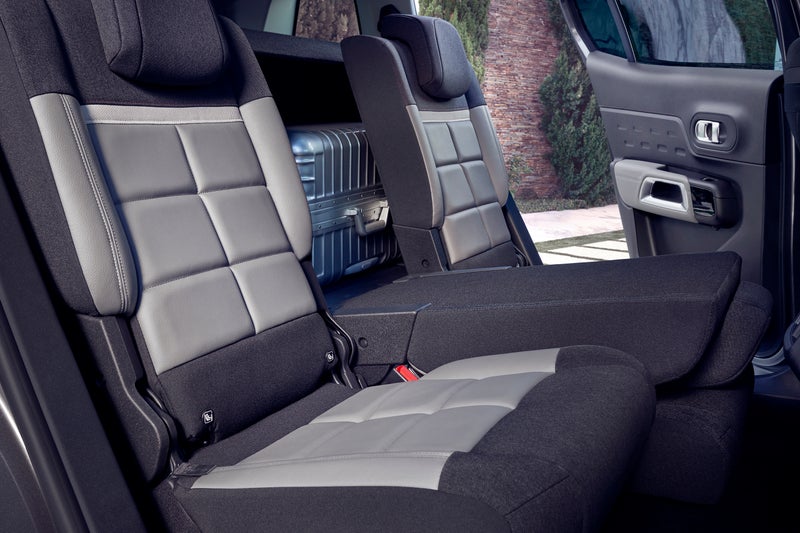 7/10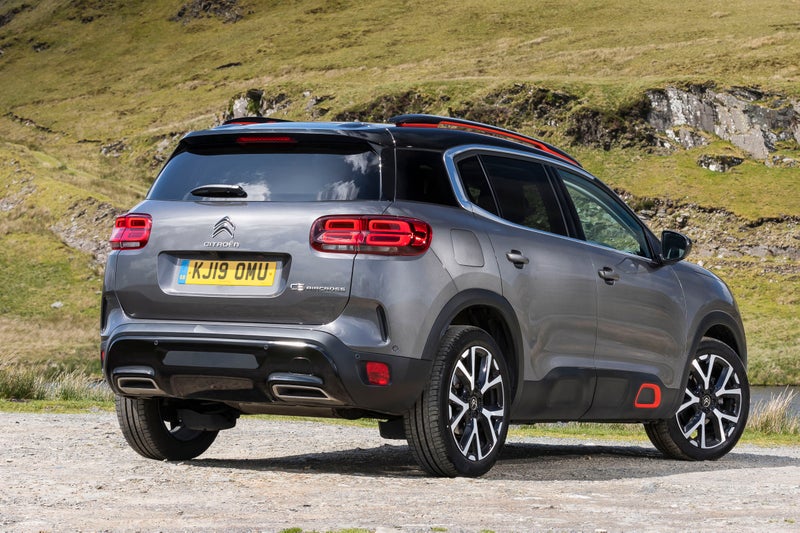 8/10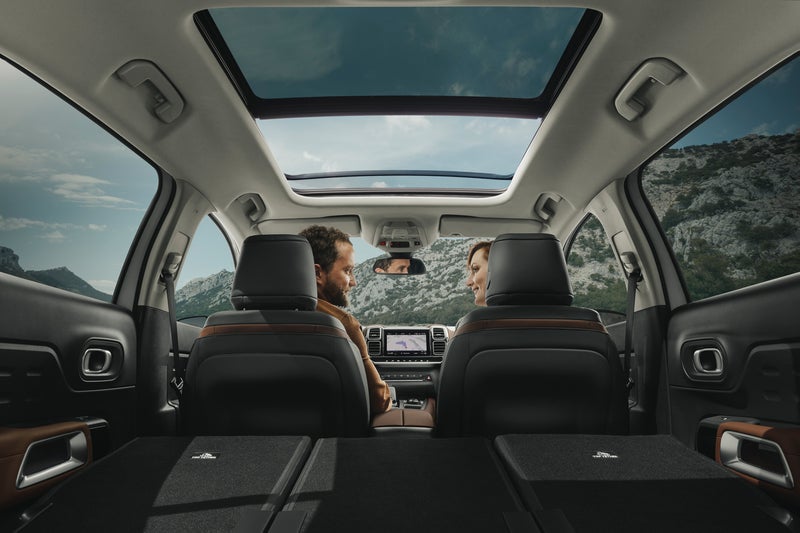 9/10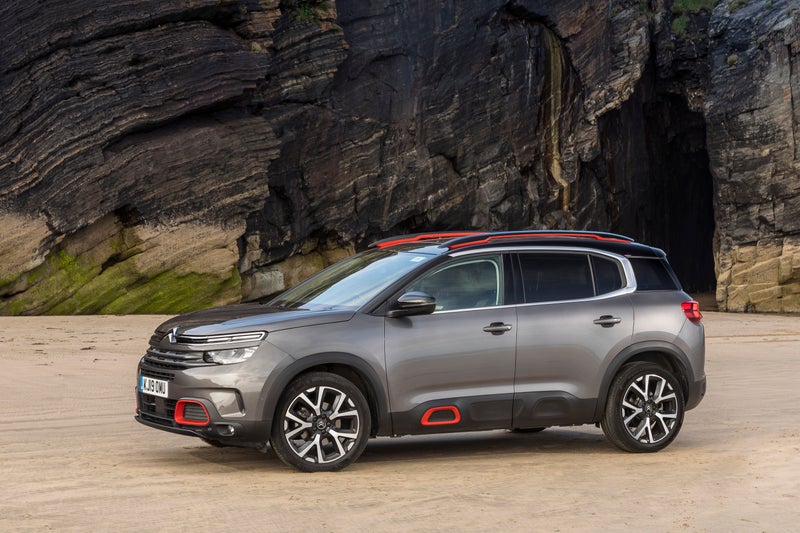 10/10
Launched in 2019

Crossover

Petrol, Diesel, PHEV
Launch year

2019

Body type

Crossover

Fuel type

Petrol, Diesel, PHEV


heycar rating
Comfortably different from the rest
Best bits
Versatile cabin with three individual rear seats and large boot
Very comfortable thanks to clever suspension and seats with extra padding
Strong line-up of very refined engines
Not so great
Not as composed around corners as rivals like the Peugeot 3008
Infotainment system is infuriating
No seven-seat option
Read by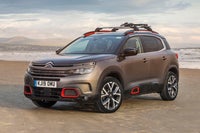 Overall verdict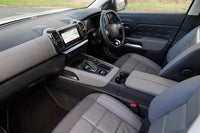 On the inside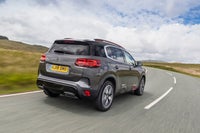 Driving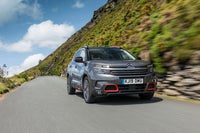 How much does it cost to run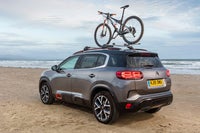 Prices, versions and specification
Overall verdict on the Citroen C5 Aircross
"The Citroen C5 Aircross is sufficiently different to make it stand out in a very crowded market. There are competitors that drive better, some that feel more premium, and others that are even more practical. But as an SUV for carrying all the family, the C5 Aircross makes a very strong case for itself."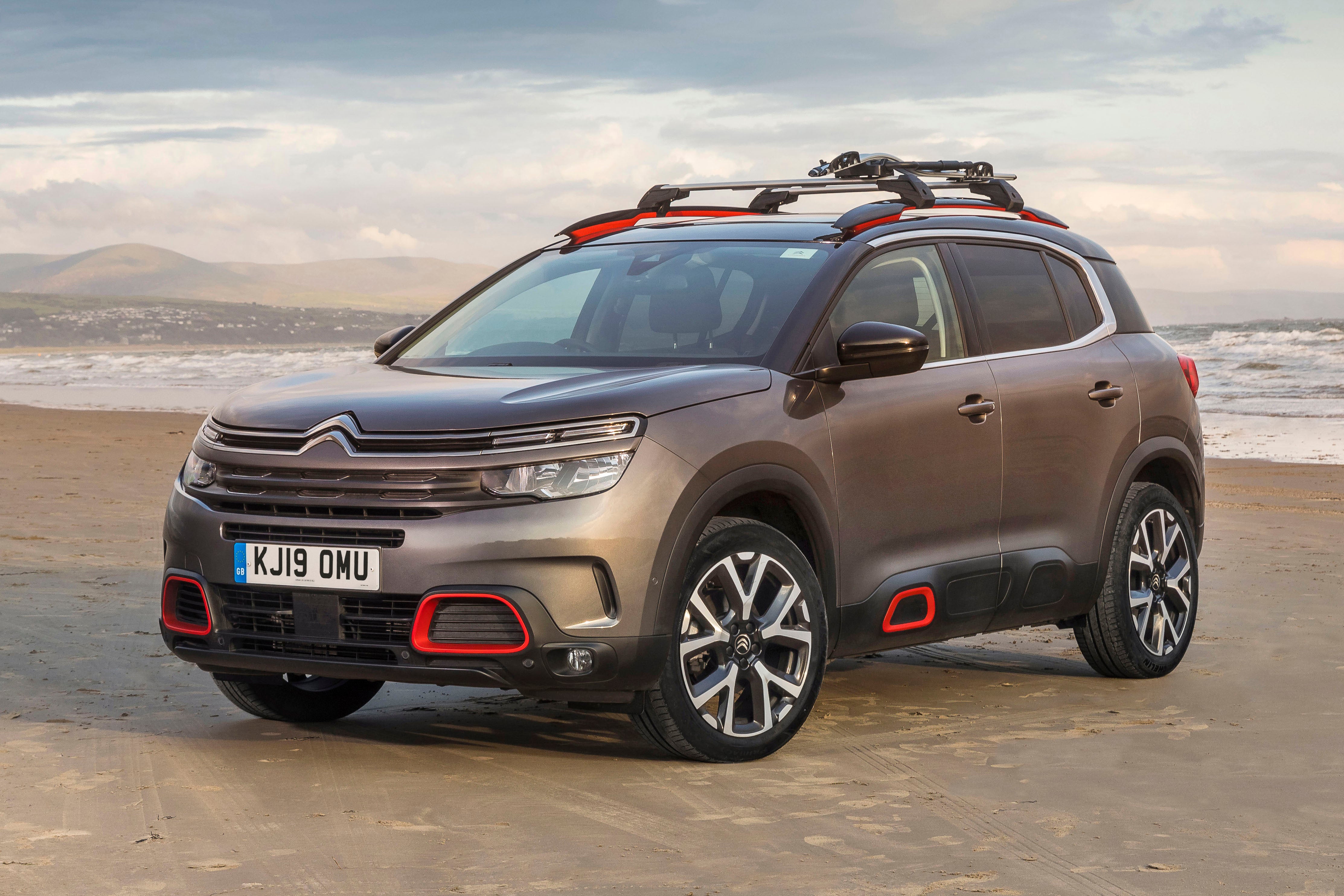 It's easy to become overwhelmed with choice in the used SUV market. The Nissan Qashqai is the go-to crossover for many buyers, while the Kia Sportage is a great value-for-money offering backed up by a long warranty. We rate both the Skoda Karoq and Peugeot 3008 highly, while the SEAT Ateca should be on your shortlist if you're after something a little sportier.
In some ways, the Citroen C5 Aircross is a polar opposite of the SEAT Ateca. The Citroen arrived in 2019 and, desperate to stand out in a competitive segment, it focused on comfort and versatility over things like driver enjoyment and sportiness.
As such, it's got a 'magic carpet' ride (Citroen's words) and a line-up of very quiet, refined engines. One of our favourites, the Puretech 180 petrol engine wasn't sold for long, but the smaller Puretech 130 will be fine for most buyers. There are also very quiet diesels - great if you cover a lot of miles - and a plug-in hybrid model arrived in 2020.
All C5 Aircross models are front-wheel drive (including the hybrid), but Citroen's clever grip control feature was available as an option. This fiddles with the traction control system to provide optimum grip when negotiating a muddy field or snow, say.
Under normal driving, the C5 Aircross wallows a bit more than competitors, while its vague steering means you're not going to go chucking it into bends. It's easy to drive around town, however, with good visibility thanks to its high driving position and large door mirrors. It's in its element on the motorway, where its supple suspension enables it to float along quite happily.
It's versatility where the C5 Aircross really excels. The rear bench has three equal-sized seats - so no one's going to feel hard done by when it comes to space. As well as being able to slide backwards and forwards, each can be individually reclined, and there's loads of head and legroom. It's a shame there isn't a seven-seat version of the C5 Aircross seeing as there are plenty of competitors that tick that box (the Peugeot 5008, for example).
The cabin feels quirky and well-built, although you will find some harsh plastics in there. Buyers are offered a range of interior ambiances which changes things like the seat trims and even add a band of fabric across the dash.
It's the media system which lets the interior down. It's slow and cumbersome to operate, proving particularly irritating as you need to negotiate its menus to perform tasks as simple as adjusting the climate control. Still, at least you can circumvent this to some extent by using Apple CarPlay and Android Auto - both of which are standard across the range.
While it has its negative points, the C5 Aircross is ultimately a much more interesting choice than something like a Nissan Qashqai. Its practicality means it is easy to justify - and it also represents decent value for money on the used market. Just look for one of the higher-spec models to get a classier interior ambiance.
Comfort and design: Citroen C5 Aircross interior
"Citroen doesn't like to call its C5 Aircross a 'crossover'. It's a full-blown SUV, it insists. And that's particularly evident in the cabin, which features a big, imposing dashboard with 'squircle' vents and a chunky centre console between the driver and front-seat passenger."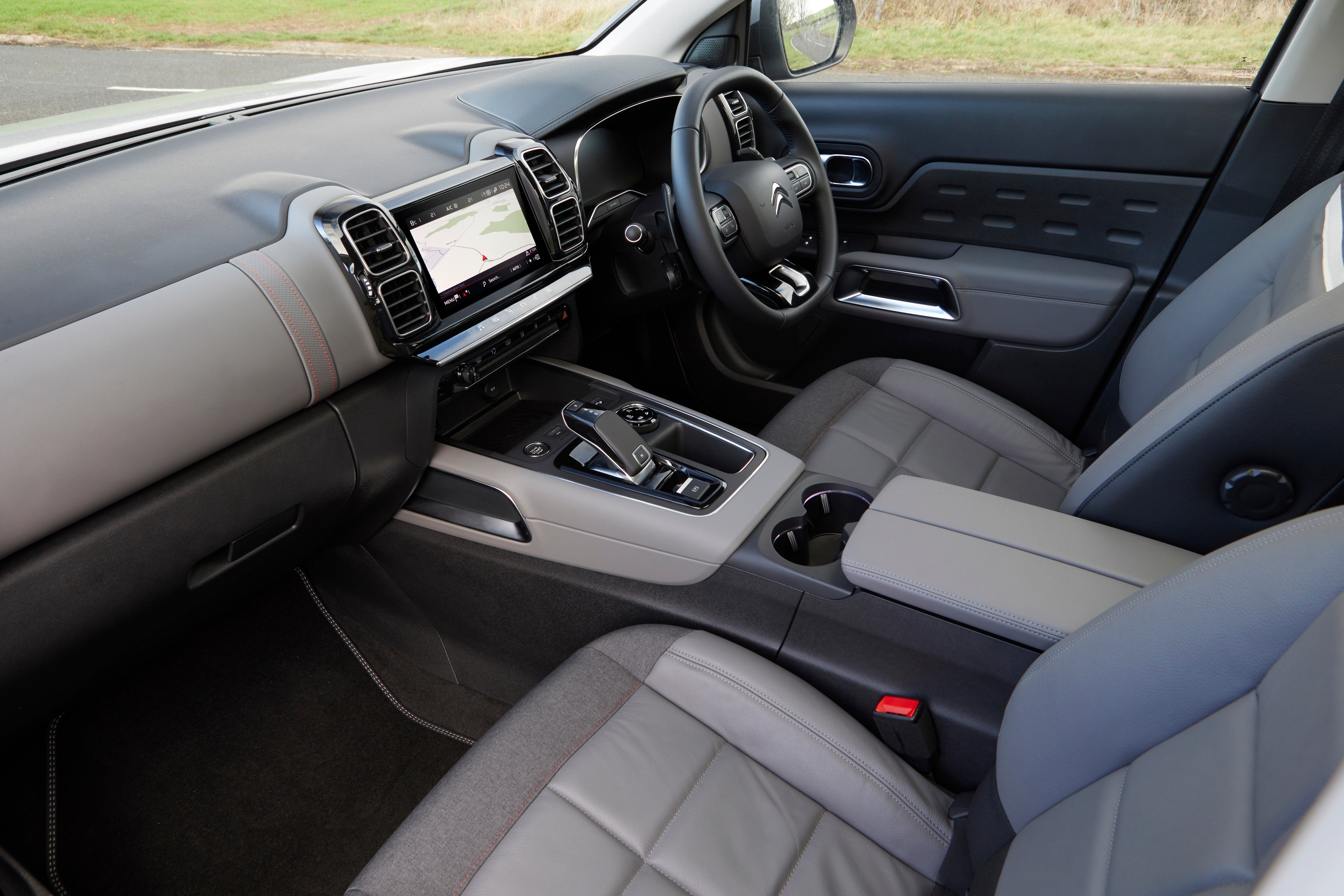 It feels more off-roader-like than something like a Nissan Qashqai. That means you get a higher, more upright seating position. We quite like this - it helps with visibility and is very comfortable on long journeys, particularly as your legs are angled downwards (like in an armchair) rather than up in front of you.
Most C5 Aircross models come with Citroen's advanced comfort seats. These take a brilliantly simple approach to providing more comfort… an extra 15mm of foam has been added. It works, though, the seats will leave you feeling fresh after a long journey. Adjustable lumbar support helps here, too.
The C5 Aircross is sold with three different interior 'ambiances'. Feel models get the standard plain grey cloth seats but, if you'd like something more special, look for the Metropolitan Grey finish. This is optional on the Feel and standard on Flair and Flair Plus models, with part-leather seats and a grey finish on the centre console and dashboard.
The Hype Brown ambiance is quite rare on used models, yet it's our favourite of the trio. It features brown part-leather seats while the centre console, dashboard top and instrument panel cover are also all brown. It even gets a black and brown leather steering wheel which looks real fancy.
Handling and ride quality: What is the Citroen C5 Aircross like to drive?
"Citroen claims its clever progressive hydraulic suspension provides a 'magic carpet' ride and, certainly on fairly smooth motorways, we'd find it hard to disagree with that. It's a brilliant long-distance car with an exceptionally compliant ride."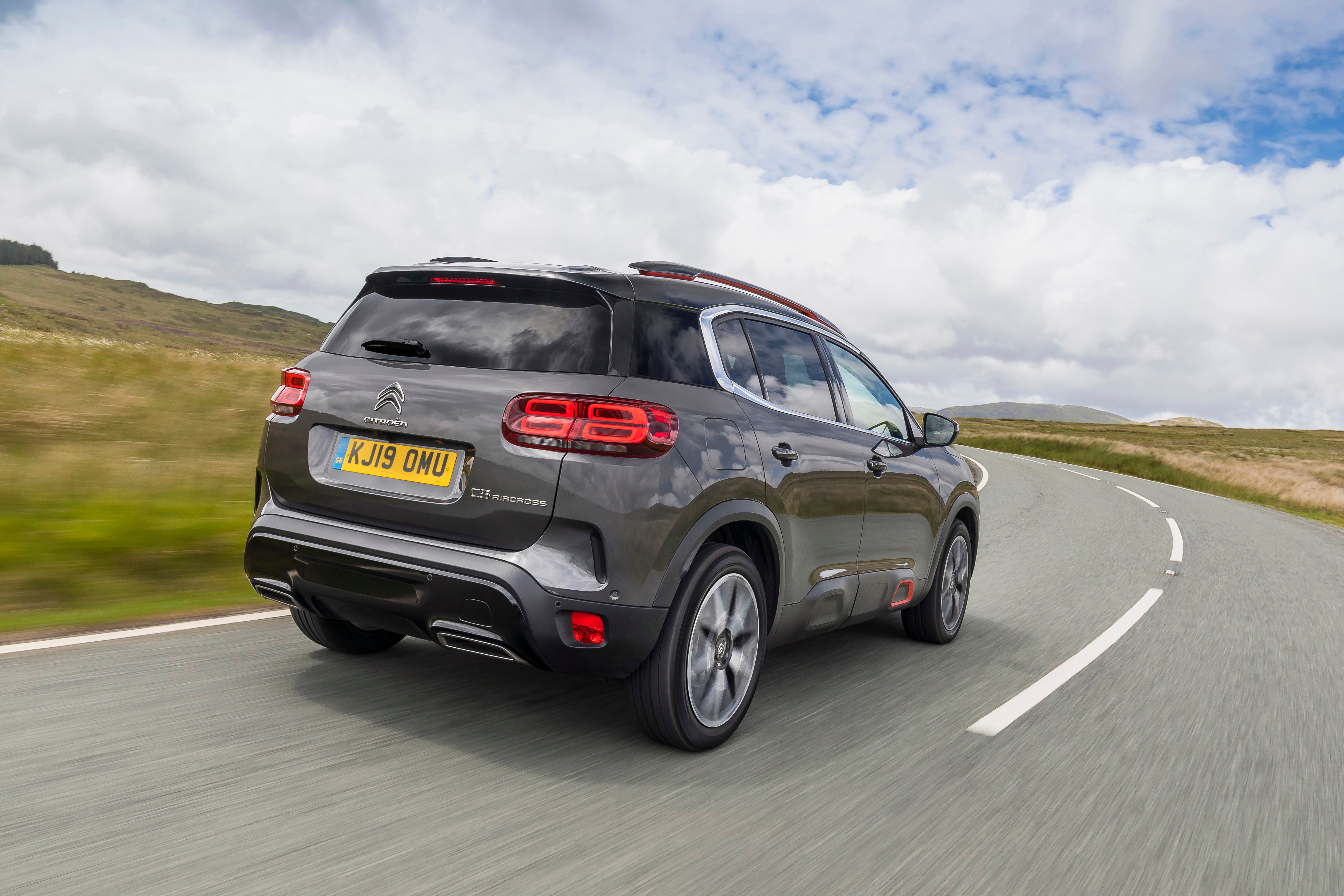 Even on rural roads, it's impressive how the C5 Aircross will soak up any lumps and bumps without passing them into the cabin. If you violently clout a pothole you'll know about it (particularly on bigger 19-inch wheels), but it handles sudden changes in road surfaces very well indeed.
The downside of that is it's not the most agile choice on a twisting rural road. It leans considerably in bends (which won't help with travel sickness if you've got kids in the back), and you'll find yourself being a lot more restrained than you would in a sporty SEAT Ateca.
The steering is pretty numb in this situation, too. It's very light and you don't really know how much grip you have left, although the fairly wide tyres mean it doesn't really struggle on that front.
Around town, the C5 Aircross is very good. You get that high-up SUV driving position and visibility is generally acceptable. It does feel like quite a big car when you're trying to negotiate narrow streets, but the hefty door mirrors and near-horizontal bonnet make it easy to position.
Rear visibility isn't great, but Flair and Flair Plus models come with a reversing camera while even the entry-level Feel cars gets rear parking sensors. The C5 Aircross's light steering is useful when you're negotiating tight multi-storey car parks, too.
MPG and fuel costs: What does a Citroen C5 Aircross cost to run?
"It should come as no surprise that diesel models are the most efficient in the real world, with the BlueHDi 130 engine officially returning between 48.2 and 55.1mpg in the combined WLTP fuel economy test."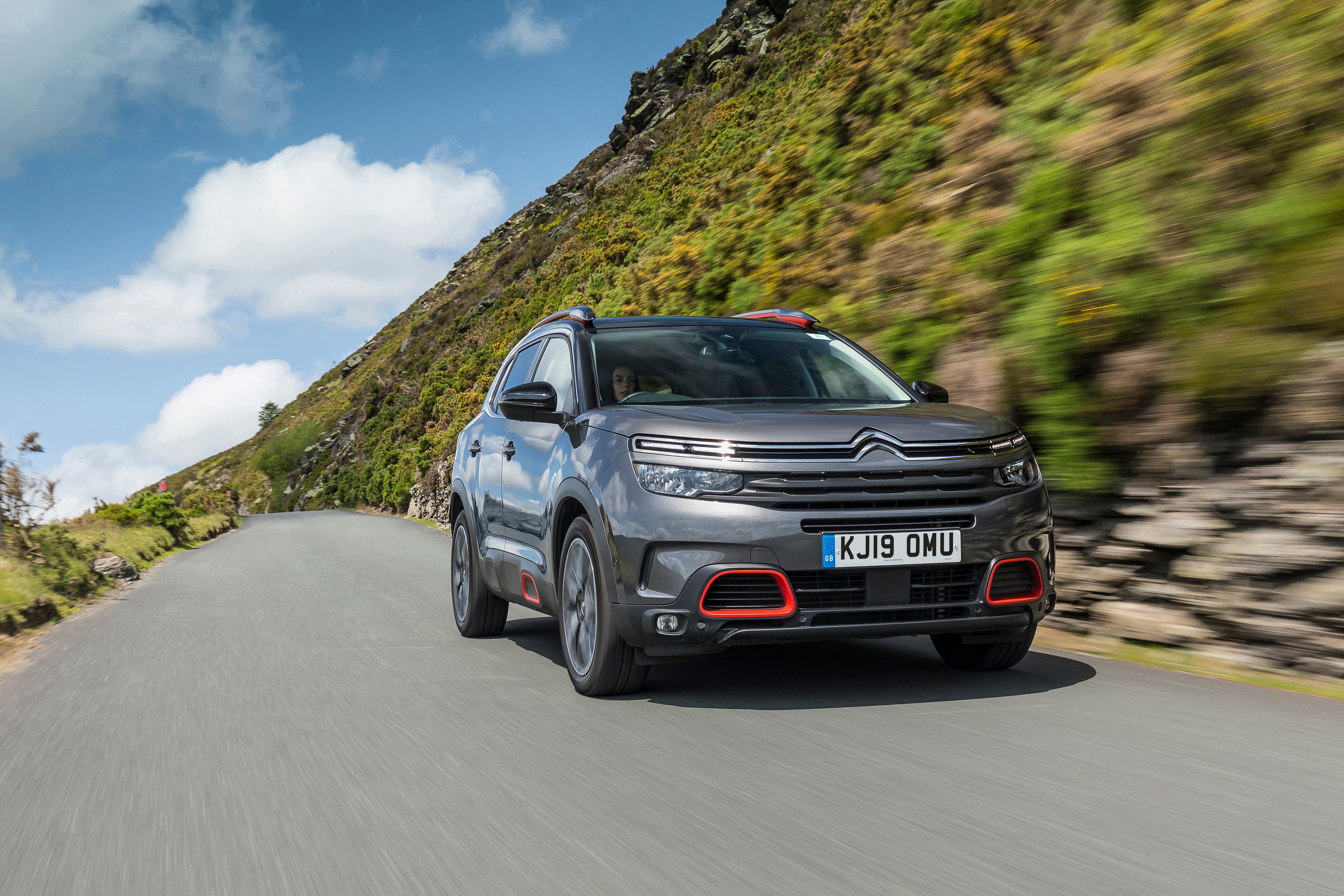 That's with the manual gearbox, although the auto is similarly efficient - returning 48.0 to 56.3mpg. The more powerful BlueHDI 180 is a little less efficient, returning between 42.3 and 47.1mpg.
The standard Puretech 130 petrol is pretty efficient, too - capable of 36.6 to 44.2mpg. The more powerful Puretech 180 returns between 35.2 and 39.6mpg.
If you can charge a car at home (you'll need a driveway and a socket), the plug-in hybrid model (badged simply as a Citroen C5 Aircross Hybrid) can be very efficient, too. It'll officially return up to 168mpg - but you'll have to cover most of your journeys under electric power only to see anywhere near that. Officially it can travel up to 34 miles under electric power alone.
How much should you be paying for a used Citroen C5 Aircross?
"If you want an as-new car but would like to save money (who doesn't?), we'd recommend looking for a pre-registered model. These are cars which have been ordered and registered by dealers in order to meet targets, but have usually covered very few miles."
They can represent huge savings off the list price and allow you to skip the waiting list, although you won't be able to choose things like the colour and optional extras.
We've seen as-new C5 Aircross models in Feel trim with the 1.2-litre PureTech petrol engine for around £22,000 - saving £3000 off the retail price. Higher-spec Flair models are available with the 1.5 diesel engine for £24,000, slashing more than £4000 off list.
A one-year-old Flair will set you back around £19,000 with the Puretech 130 petrol engine and manual gearbox, while a Flair Plus model with the Puretech 180 engine and auto transmission, will cost you in the region of £22,000.
Ready to get your top quality Citroen C5 Aircross?
All cars come with a warranty
Selected dealers only
All quality checked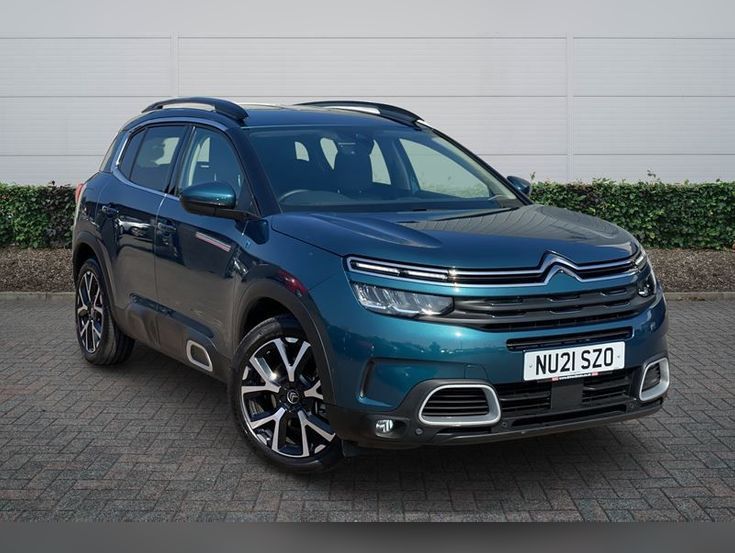 Citroen C5 Aircross
1.6 Plug-in Hybrid 225 Shine Plus 5dr e-EAT8
Manufacturer Approved
Drive Vauxhall Stockton-on-Tees

Durham, TS183SB
PCP: £436.30/mo
Representative example: Contract Length: 36 months, 35 Monthly Payments: £436.30, Customer Deposit: £4,392.00, Total Deposit: £4,392.15, Optional Final Payment: £13,500.00, Total Charge For Credit: £3,881.65, Total Amount Payable: £33,162.65, Representative APR: 6.9%, Interest Rate (Fixed): 6.69%, Excess Mileage Charge: 9ppm, Mileage Per Annum: 10,000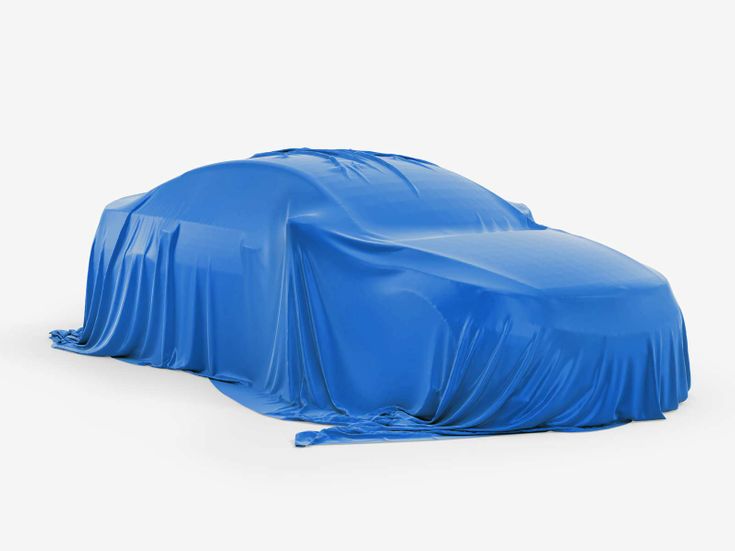 Citroen C5 Aircross
1.5 BlueHDi 130 Flair Plus 5dr
Manufacturer Approved
Drive Vauxhall Stockton-on-Tees

Durham, TS183SB
PCP: £467.38/mo
Representative example: Contract Length: 36 months, 35 Monthly Payments: £467.38, Customer Deposit: £3,558.00, Total Deposit: £3,558.00, Optional Final Payment: £8,800.00, Total Charge For Credit: £4,996.30, Total Amount Payable: £28,716.30, Representative APR: 11.9%, Interest Rate (Fixed): 11.3%, Excess Mileage Charge: 9ppm, Mileage Per Annum: 10,000
Is the Citroen C5 Aircross right for you?
If you're after an SUV that's almost as practical as a people carrier, with extremely comfortable seats and no delusions of sportiness, the Citroen C5 Aircross is a very good choice.
It arrived late to the SUV party, meaning there aren't as many used examples on the market as something like a Nissan Qashqai. If you can find one within budget, though, we'd recommend it. Indeed, it wasn't an expensive choice when it was new - despite feeling premium, in some ways - so a second-hand C5 Aircross shouldn't break the bank.
If you're likely to need seven seats, you'll need something bigger like the Skoda Kodiaq. Otherwise, alternatives like the SEAT Ateca are better to drive.
What's the best Citroen C5 Aircross model/engine to choose
If you want a Citroen C5 Aircross that feels more expensive than it really is, look for a top-spec Flair Plus model. Be careful, though, as this comes as standard with an opening panoramic sunroof. This does a brilliant job of brightening up the cabin but it also hinders headroom - something to bear in mind if you (or anyone in your family) is more than six-foot tall.
Most buyers will find the mid-spec Flair meets their needs, with highlights including the advanced comfort seats, navigation and Citroen's built-in dashcam.
In terms of engines, it depends on your requirements. We'd usually recommend a petrol or hybrid if you don't cover many miles - the Puretech 130 is very good, particularly when combined with the automatic gearbox. If you'd like more power, look for a Puretech 180, although this was dropped early in 2020. High-mileage users should look at the BlueHDi 130 or, if you need a particularly grunty SUV, the BlueHDi 180.
What other cars are similar to the Citroen C5 Aircross?
There's no shortage of strong competition for the Citroen C5 Aircross. The Skoda Karoq is one of the best, with a versatile interior and representing good value for money. We also rate the Peugeot 3008, which shares a platform with the C5 Aircross. The Kia Sportage and Hyundai Tucson are also great budget options, while the Nissan Qashqai is eternally popular. You could also consider the Mazda CX-5, with its premium interior, or the good-value Renault Kadjar.
Quality and finish
As well as looking the part, Flair and Flair Plus models feel that bit more special thanks to the interesting interior combinations. The Hype Brown ambiance is particularly classy - it could easily sport a DS badge on its steering wheel (DS is Citroen's much-maligned posh brand).
In some ways, the C5 Aircross feels like a premium choice but, when you start digging around, you'll find harsh plastics aplenty (particularly on the door cards and the lower half of the dashboard).
If you're looking for a premium SUV, you'd be better off with an Audi Q5 or a Volvo XC60. The C5 Aircross is more about practicality than pampering the driver (and passengers) with an extremely posh finish, but it has a robust cabin that feels like it'll stand up to the crumbs, spills and tantrums of family life.
Infotainment: Touchscreen, USB, nav and stereo in the Citroen C5 Aircross
An 8.0-inch infotainment screen is positioned in the centre of the dashboard across the C5 Aircross range. Entry-level Feel models miss out on navigation but that's no great loss as Apple CarPlay and Android Auto are standard across the range. This means you can plug your phone in and access third-party apps, including music streaming services like Spotify and navigation tools such as Google Maps or Waze.
As with other Peugeot-Citroen models, the built-in media system in the C5 Aircross is a distinct weakness. Its graphics already look past their sell-by date, and it's a really cumbersome system to use - especially on the move. Menus are difficult to navigate, while touch-sensitive shortcut buttons below the screen require glancing at while you're driving.
One of our biggest gripes is having to use this system to adjust the car's heater. Just wait until you need to see navigation directions at the same time as your passenger decides they're cold.
One plus point is the 12.3-inch digital instrument cluster that's standard across the range. Although it's not quite in the same league as Audi's Virtual Cockpit, it's easily customised and looks much smarter than old-school analogue dials.
Space and practicality: Citroen C5 Aircross boot space
Unusually, middle-seat passengers in the back of the C5 Aircross won't feel short changed. The rear bench is split into three equal seats and there's a flat floor, meaning those sitting in the middle won't have to straddle the transmission tunnel.
Despite having three full-size seats, only the outer ones have Isofix points for fitting child seats. There are Isofix points on the front passenger seat, too, though.
The clever rear bench can split into three and slide backwards and forwards, depending on whether you need to prioritise rear legroom or space in the boot. It's a shame, though, that Citroen doesn't offer a seven-seat version of the C5 Aircross. If you need more seats, we'd recommend looking at the slightly bigger Skoda Kodiaq or Peugeot 5008.
Up front, there's loads of space in the Citroen - especially in terms of width. A large centre console means the driver won't be bashing elbows with their passenger and vice versa. You sit high up but there's still bags of headroom, provided you don't spec the panoramic sunroof (which is standard on Flair Plus models).
With the bench slid forward, there's room for an impressive 720 litres of luggage in the boot of the C5 Aircross. This drops to 580 litres with the seat in its rearmost position - still considerably more than a Nissan Qashqai or Kia Sportage.
Not only is it big, but the boot's also a very handy shape. It's usefully square with a false floor, reducing the boot lip for lifting bulky items over. The high-spec Flair Plus model has an electric tailgate which can be opened hands-free by shaking your foot under the rear bumper - very useful when your hands are full with shopping bags, for example.
What engines and gearboxes are available in the Citroen C5 Aircross?
Most buyers will find the Puretech 130 petrol engine suits their needs very well. This is a 1.2-litre three-cylinder engine, which might sound tiny for a car of this size, but it's actually more than up to the job of shifting the C5 Aircross. Its 10.5-second 0-62mph time is a bit lazy on paper, but it'll happily accelerate to the limit within the distance of a motorway slip road.
This engine is offered with either a six-speed manual or eight-speed automatic transmission. Unless you're particularly keen on changing gears yourself, we'd recommend the auto 'box. It suits the relaxed nature of the car, while the manual gearbox feels stodgy to use and has an irritatingly spongy clutch pedal.
Citroen did briefly offer a Puretech 180 model using a 1.6-litre petrol engine with an eight-speed automatic transmission. This is a very refined setup that we wouldn't hesitate to recommend if you'd prefer a bit more performance, although it's obviously not going to be quite so frugal.
Diesel buyers get a choice of a 1.5-litre BlueHDi 130 (with a manual or automatic gearbox - again, we'd recommend the auto), and a 2.0-litre BlueHDi 180 (which comes with an automatic transmission as standard).
Most buyers will opt for the more efficient 130 model, although you should consider the 180 if you plan to do any serious towing. The more powerful diesel is rated to tow a braked trailer up to 1650kg, while its 400Nm of torque should make light work of lugging a caravan.
A plug-in hybrid version was added to the range in 2020, combining an 80kW electric motor with the Puretech 180 petrol engine and eight-speed automatic gearbox. This produces a combined 225PS and can cover 34 miles on a charge.
Refinement and noise levels
As you'd expect for an SUV that puts the emphasis on comfort, the Citroen C5 Aircross is a very refined choice. In fact, we'd go as far as saying it's almost as refined as premium rivals like the Mercedes-Benz GLC.
The Puretech 130 is quite vocal in other Citroens, but it's been hushed in the C5 Aircross. You'll notice a distinctive thrum if you're heavy with the accelerator pedal but, generally, it's no noisier than similar engines offered in rivals.
For the ultimate in petrol refinement, look for a C5 Aircross with the PureTech 180 engine that was offered until early 2020. This is so quiet you could be forgiven for thinking the motor isn't running at motorway speeds.
The diesels are equally impressive, especially the BlueHDi 180. Aside from the usual diesel grumble on startup, this is a very muted engine that really suits the refined C5 Aircross.
When it's charged, the plug-in hybrid model can glide around town in silence for up to 34 miles - obviously making it a very refined choice. Once it's out of electricity, the Puretech 180 engine kicks in with only a slight drop in refinement. This is particularly noticeable if you floor the throttle in sport mode, but this isn't the car to be doing that in anyway.
Safety equipment: How safe is the Citroen C5 Aircross?
The Citroen C5 Aircross is available with no fewer than 19 safety and driver aid systems, ranging from trailer stability control (which applies the brakes if it detects a swaying trailer) to active lane departure system (which will nudge the steering if you start straying from your lane).
If these appeal, it's worth looking for models with the optional Safety Plus Pack fitted. This is standard on top-spec Flair Plus models and was offered as a £200 option on lesser trim levels. It added things like the active city brake, coffee break alert, lane keeping assist and active blind spot monitoring - all of which are genuinely useful, acting almost like a second pair of eyes.
When the Citroen C5 Aircross was crash tested by Euro NCAP in 2019, it actually tested two C5 Aircross models: with the Safety Plus Pack and without it. With it, the car was awarded a maximum five-out-of-five safety rating. Without it, that dropped to four stars.
While Euro NCAP clearly favours cars with technology intended to prevent a crash, the C5 Aircross is still a very safe car with or without these features. The standard car achieved an 87 per cent rating for adult occupants, which is very good, and an similarly good 86 per cent rating for children.
Isofix and iSize points are fitted to the front passenger seat, as well as the outer rear seats - meaning you can easily fit up to three child seats in the C5 Aircross.
Insurance groups and costs
Insurance groups range from 16 to 25 for the Citroen C5 Aircross. That's comparable to rivals, with the cheapest model to insure being the Feel with the Puretech 130 engine. The priciest is the BlueHDi 180 diesel in Flair or Flair Plus trim.
The C5 Aircross's focus on comfort rather than sportiness should help with insurance costs. No models should be expensive to insure but it's always worth shopping around for quotes.
VED car tax: What is the annual road tax on a Citroen C5 Aircross?
You'll pay a flat rate of £150 a year for most Citroen C5 Aircross models under the latest VED car tax rules. Only the first year is affected by CO2 emissions and the first owner will have picked up the tab for this. Plug-in hybrid models will cost £140 a year in tax.
Trim levels and standard equipment
Entry-level Feel models come with the standard Safety Pack (with active safety brake and active lane departure warning system), automatic dual-zone climate control, rear parking sensors, an acoustic laminated windscreen with rain and brightness sensors, heated door mirrors, front fog lights with cornering function, a multi-function leather steering wheel, height-adjustable driver and front passenger seat, DAB radio, Mirror Screen (with Apple CarPlay and Android Auto), 17-inch alloy wheels and the Visibility Pack (with automatic headlights and windscreen wipers).
Flair adds a beefier two-tone horn, active blind spot monitoring, front parking sensors, a reversing camera, advanced comfort seats, driver's seat lumbar adjustment, an electrochrome rear-view mirror, stainless steel front door sills, a built-in dashcam, navigation, voice recognition, 18-inch alloy wheels, electrically-folding door mirrors with integrated LED indicators, tinted rear windows and 'follow me home' lighting.
Top-spec Flair Plus models come with such luxuries as driver attention alert, auto-dipping main beam headlights, Safety Plus Pack, an electric rear tailgate, keyless entry and start, acoustic laminated front windows, active cruise control, highway driver assist, aluminium pedals, an opening panoramic glass roof with electric blind and 19-inch diamond-cut alloy wheels.
Learn more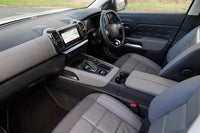 On the inside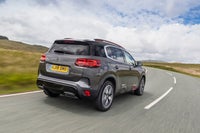 Driving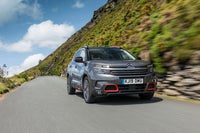 How much does it cost to run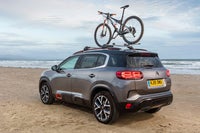 Prices, versions and specification
Ask the heycar experts:
common questions
Is the Citroen C5 Aircross a good car?
Yes. We rate the Citroen C5 Aircross highly – it scores 8/10 in the full heycar review. While it's not quite as fun to drive as a SEAT Ateca, it's a more comfortable (and practical) choice than many similar crossover SUVs.

Answered by
Russell Campbell
Does the Citroen C5 Aircross Hybrid need charging?
The Citroen C5 Aircross Hybrid is a plug-in hybrid. This means it has a bigger battery than a conventional hybrid and needs charging to get the best from it. Its 13.2kWh battery can be charged in around two hours using a standard 7kW home charger. It has an electric range of up to 34 miles.

Is the Citroen C5 Aircross a 4x4?
No – all Citroen C5 Aircross models, including the Hybrid, are front-wheel drive. You can, however, opt for Citroen's clever grip control feature. This fiddles with the traction control system to provide optimum grip when negotiating slippery conditions.

Answered by
heycar editorial team
Reviews of similar cars
Quality checked, all cars less than 8 years old and warranty included
Looking for other Citroen cars?
Quality checked, all cars less than 8 years old and warranty included
Keep me updated by email with the latest advice, news and offers from heycar
By submitting, you agree to our
privacy policy
.