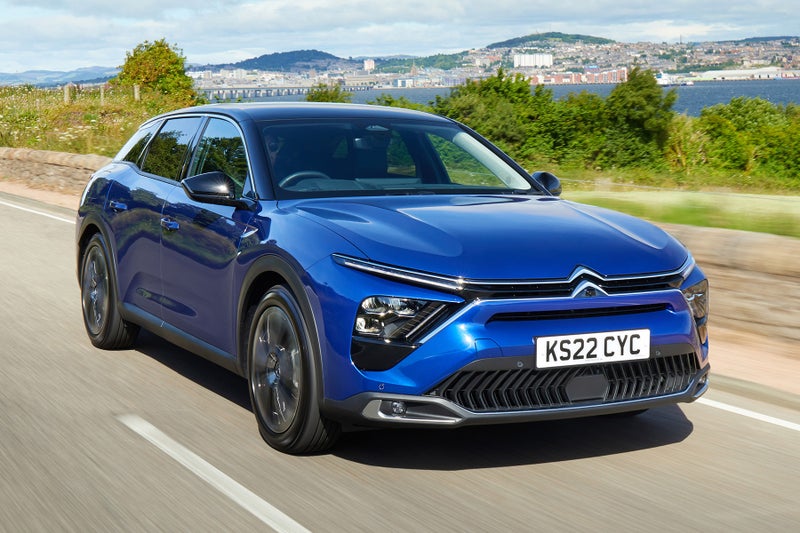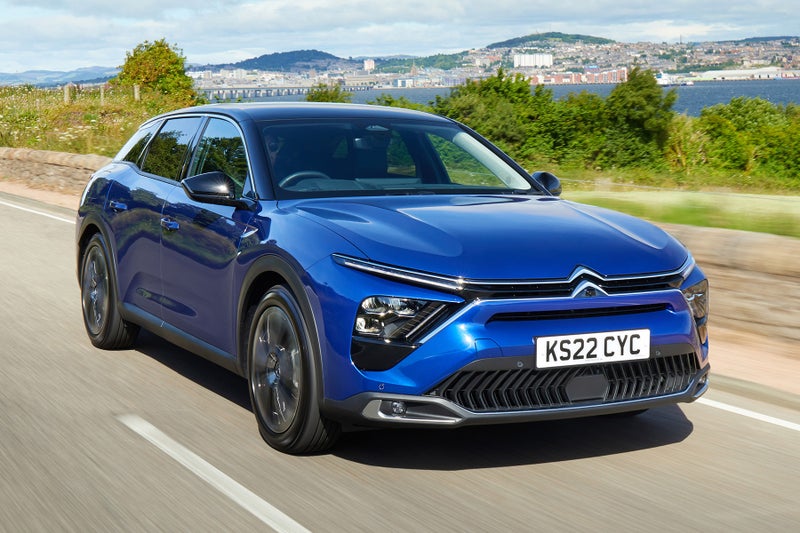 1/10
heycar rating
"Comfortable and likeable French oddity"
Launched: 2022

SUV

Petrol, Hybrid
Quick overview
Pros
Characterful yet practical
Very comfortable and refined
Nice place to sit with accessible tech
Cons
Not fast or remotely sporty
Quirky looks won't be to all tastes
Hybrid's gearbox could be better
Overall verdict
On the inside
Driving
Cost to run
Prices and Specs
Common questions
Overall verdict on the Citroen C5 X
"The Citroen C5 X is a new type of car from a French brand known for innovating. Is it a big hatchback? Is it a svelte estate? Is it a low-slung SUV? Whatever it is, and despite its challenging looks, it's the best Citroen we've driven in years."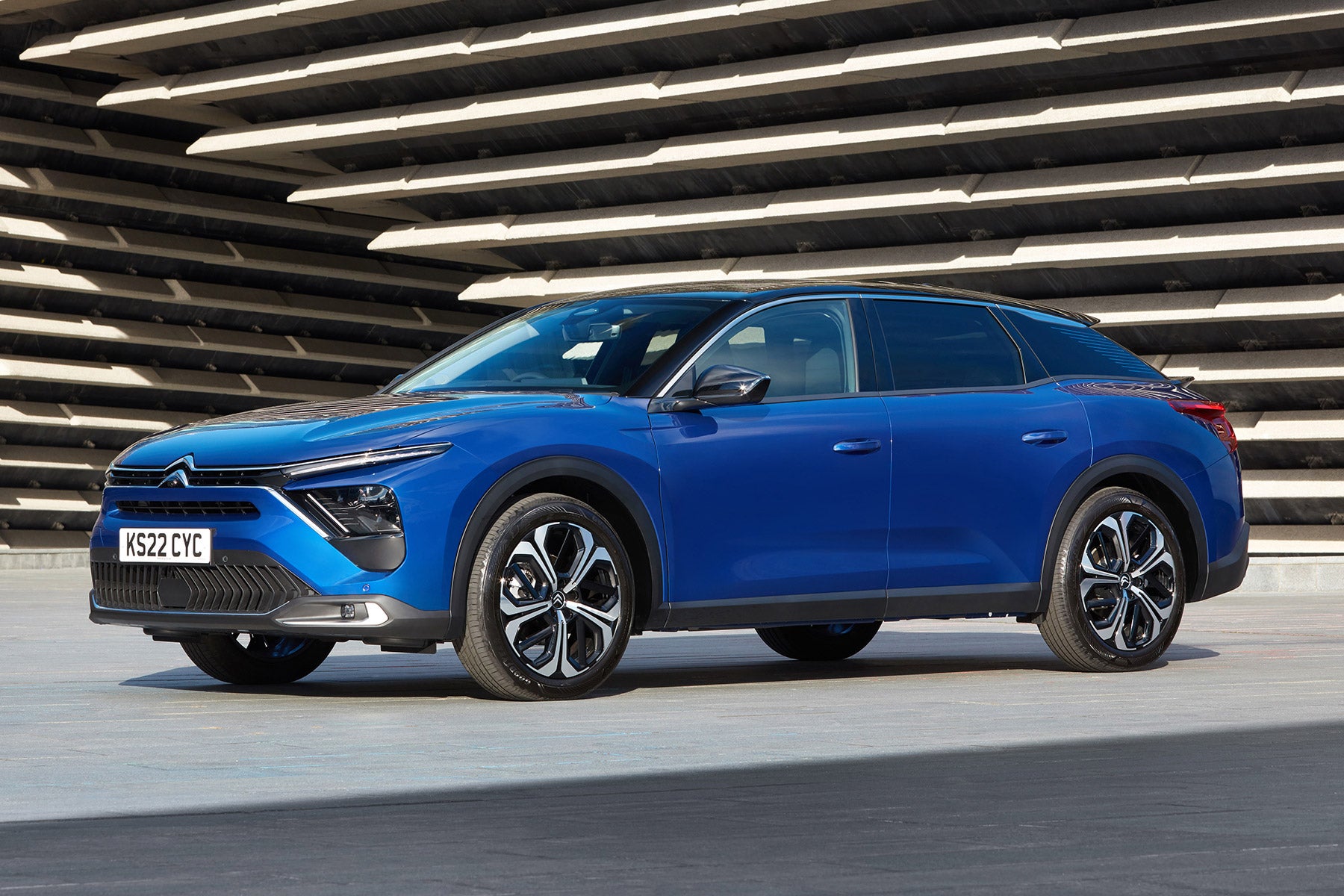 The new Citroen C5 X is a rather unusual car from a carmaker that (historically at least) hasn't been afraid of doing things a bit differently. It's effectively a long-awaited replacement for the old Citroen C5 saloon and estate, or even the older C6 luxury car, but it's more difficult to pigeonhole than that.
You see, Citroen is a bit tired of the conventional bodystyle categories that define the car industry. It reckons many buyers are too, claiming that the explosion in popularity of tall, boxy and inefficient big SUVs is one that has already peaked, and will wane over the coming years. It reckons customers are once again ready for a new type of large family car, as they were a decade or so ago when those SUVs flooded in.
This is the sort of thinking that saw Citroen make some seriously outside-the-box cars in the second half of the 20th century, which is a good thing in a market of increasing homogeneity. The 'X' in Citroen C5 X represents a combination of estate, saloon and SUV in one car, and pays homage to the similarly unconventional Citroen CX and XM.
Rivals for the C5 X, therefore, are spread far and wide. There's the usual large three-box family cars such as the Vauxhall Insignia, the (now-defunct and once hugely popular) Ford Mondeo and the Skoda Superb, but such cars are a dying breed. To succeed, it'll need to pull buyers out of family SUVs such as the Hyundai Tucson, Volkswagen Tiguan and Mazda CX-5.
Of course, Citroen already competes in the family SUV sphere with the C5 Aircross. But that's a fairly conventional car, and this, well, isn't. And that brings us onto the looks: it's certainly distinctive and challenging, but is it pretty? We're not completely sold, yet. Citroen's design boss said they wanted the first people who see it to not quite understand it (like the now-iconic DS and CX), and they've certainly managed that.
Get past the divisive design and there's familiar stuff going on underneath. The Citroen C5 X uses the same platform as other large Citroen, Peugeot and DS models, plus the same range of petrol and plug-in hybrid engine options. As the brand's flagship it's priced above the C5 Aircross, but undercuts cars like the Insignia and sits between the base price of VW's Tiguan and Passat.
The smart interior is befitting of a flagship model, with more space, quality materials and technology than any new Citroen. On the latter point, there's new infotainment that's far more advanced and intuitive than the brand's previous mediocre efforts. With immensely comfortable seats, room for four six-footers to stretch out and a big boot, it's pretty practical, too.
Citroen doesn't really do sporty these days, so the Citroen C5 X's driving experience is geared towards comfort. It uses a more advanced version of the brand's special suspension tech (more on that in a bit) to give a wafty feel that gives some executive cars a run for their money. Things such as acoustic glass on top models and chunky tyre sidewalls mean it's a quiet place to do long distances, too.
Even so, because it's not as tall and top-heavy as most SUVs, it doesn't lollop around too much in the bends. The light steering and relaxed engines and gearboxes don't encourage sporty driving, but for most family car buyers its ability to smother Britain's broken road surfaces is more important.
Overall, the Citroen C5 X is refreshingly different and left-field, yet not compromised in any real area like big Citroens of old. For a brand flagship demonstrating advanced technology it's pretty affordable, too, and makes some of the DS brand's efforts look overpriced. Really, it's just the exterior design that is likely to split opinion.
Is the 2022 Citroen C5 X right for you?
The Citroen C5 X might be right for you if you're just not interested in the vast array of common-as-muck, similar-looking SUVs and large family saloons or hatchbacks out there. It's something a little bit different, with a design that may polarise but will certainly have your neighbours wanting to know more.
If you're a current owner of a large saloon or hatchback like the Passat or Mondeo, but desire easier entry and exit and a high driving position without the image associated with an SUV, then here's your vehicle.
It also makes a great family car. No, it's not ultimately as practical as a seven-seat SUV or as roomy as a Skoda Superb Estate, but it's plenty spacious enough for most people's needs. It even serves as an affordable alternative to an executive saloon or estate, given its comfort and refinement levels.
What's the best Citroen C5 X model/engine to choose?
The range of Citroen C5 X engines, versions and trim levels is relatively straightforward. There are three petrol engines on offer (one of them a plug-in hybrid), no diesels and three trim levels. There's no saloon or estate version to choose from, either, because the C5 X aims to combine the two bodystyles.
For most people the entry-level Puretech 130 turbo petrol engine will suit, offering performance than punches above its modest 1.2-litre capacity. The middling Puretech 180 feels a bit smoother and more effortless but doesn't offer a big jump in performance, while the plug-in hybrid is relatively expensive to buy but will suit those who do lots of in-town journeys and have the ability to charge at home.
In terms of trim level, even the most basic Sense Plus spec comes with most of the kit you'll need and feels anything but basic. However, mid-spec Shine adds the desired larger infotainment screen, plus a large head-up display, wireless phone charging and half-leather trim. Top-end Shine Plus comes fully loaded, though, with kit that is often part of pricey option packs on the C5 X's German rivals.
What other cars are similar to the Citroen C5 X?
There are no hard-and-fast competitors for the Citroen C5 X because it's such an unusual bodystyle, but it'll aim to poach buyers from the conventional family SUV and large hatchback, saloon and estate models.
In reality, you're probably going to be considering the C5 X alongside the brand's own C5 Aircross, as well as conventional estate cars like the Skoda Superb and Volkswagen Passat. The style-led Volkswagen Arteon Shooting Brake is worth a look too, as well as premium wagons like the BMW 3 Series Touring or Volvo V60.
If you need a practical family SUV, you may also want to look at large SUVs such as the Skoda Kodiaq, Hyundai Santa Fe and Kia Sorento.
Comfort and design: Citroen C5 X interior
"The Citroen C5 X brings new levels of quality finish and useable technology to a brand that previously struggled to deliver on both counts. It's spacious, too, although large estates are roomier still and visibility could be better."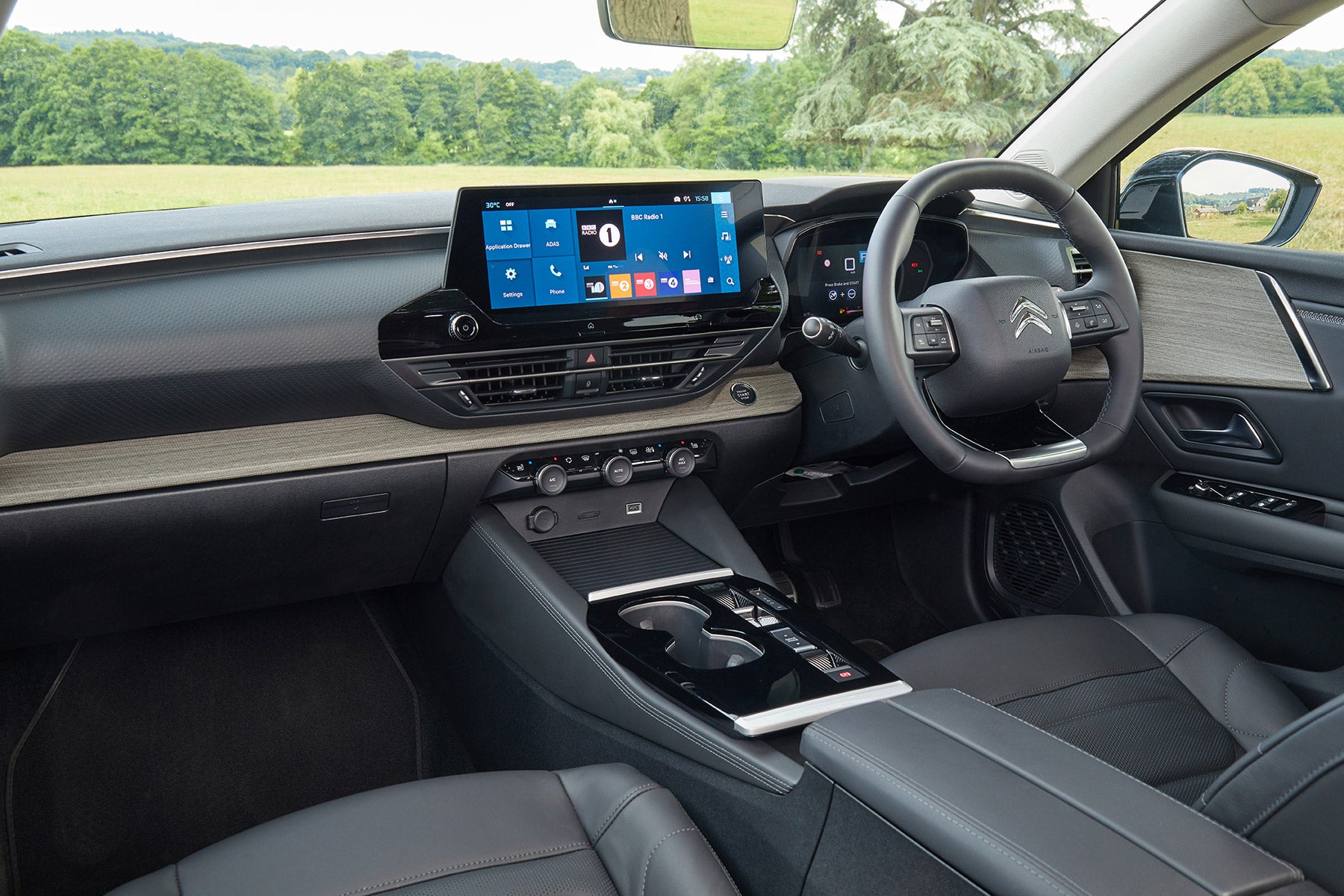 Many Citroens of the Sixties, Seventies and Eighties had radically different interiors from the norm, which sometimes worked and sometimes didn't. But for twenty odd years after that, the brand's cabins became more conservative and bland. In recent years it's got its mojo back, and the Citroen C5 X is the best representation of that yet.
Okay, so the C5 X's cabin isn't massively radical, but it is elegantly designed and more pleasing on the eye than the rather austere German equivalents. Quality is impressive for this price point, too, with a variety of pleasing materials and soft-touch finishes. Most importantly, it's a calming and relaxing place to sit, which plays into Citroen's desire to enhance 'wellbeing' behind the wheel.
There's some lovely details, too, such as Citroen's chevron logos cleverly stitched into the door upholstery, on the wood trim and soft-touch dash plastic and, on higher-end trims in the perforated leather on the seats. Ambient lighting used in intricate places helps further add to the upmarket feel without lighting the cabin up like a floodlit football pitch at night.
Certainly, it's classier and better put together than anything Citroen has turned out for decades. But it's not all show and no substance, with thoughtful ergonomic touches. Like the smaller C4, the Citroen C5 X gets physical dials for the climate controls in a separate stack, which is much better than burying them in the touchscreen. There's also big door bins and a useful armrest-cum-centre cubby, although the glovebox isn't huge.
Mercifully, the C5 X also gets a brand new infotainment system that's much easier to get along with than Citroen's earlier efforts. We haven't tried the smaller entry-level screen yet, but the 12-inch HD touchscreen is crisp, responsive and uses smartphone-style menus that (once you've figured out the layout) work surprisingly well. All models get digital dials, while mid-spec models and above have a large head-up display.
The driving position isn't as high as in full-size SUVs, but nor is it as low-slung as a saloon, meeting nicely in the middle. There's plenty of adjustment to suit all shapes and sizes, while the memory foam-lined Citroen Advanced Comfort seats are supremely comfortable for long distances. Visibility could be better, though, with a sharply raked windscreen, thick A-pillars and a narrow rear-window due to that sloping roofline. Still, all models get all-round parking sensors, while a proper 360-degree camera is standard on top trim.
Step into the rear and it's clear Citroen has managed to extract more space from this platform than any other brand. There's loads of legroom, and although the roofline means exceptionally tall people will be closer to the roof than in an SUV, it's far from cramped. The boot, meanwhile, is pretty large and well-shaped, but ultimately isn't as useful as that of the best estate cars.
Quality and finish
Early 2000s Citroens never had a stellar reputation for quality finish, with flaky trim and so-so materials. In recent years the brand has been improving, though, and the C5 X marks a largely impressive leap forward.
Most of the things you can prod and poke feel of high quality, with (depending on trim) fabric of leather-lined door cards, plenty of soft-touch materials on the upper areas of the dash and a nice mixture of two-tone colours and textures. The seats, too, either have upmarket-feeling fabric or soft, classy leather. We're not especially keen on the piano black trim on the lower centre console that collects dust and fingerprints, but many other carmakers are guilty of that.
It's only when you get to the lower reaches of the cabin are you reminded of the Citroen C5 X's relative affordability, with hard and scratchy plastics used for the glovebox lid and door bins. A VW Passat feels that bit more granite-hewn, but the Citroen's design-led approach is certainly appealing.
Infotainment: Touchscreen, USB, nav and stereo in the Citroen C5 X
There's big improvements for Citroen here, at least on the top level trims we've tried. This was a real weak-point on Citroens in the 2010s, and has only been improved in the last year or so on facelifted or new models.
All C5 X models get a digital instrument display of a fairly modest size. It displays the essential information and you can switch through different views and information on the stalks, plus customise the layout via the touchscreen, but it's not as clear and crisp as VW Group's efforts.
Thankfully, mid-spec Shine trim and above adds a head-up display. This is no fold-out piece of perspex on the dash top, or tiny speed display you have to squint at, but a proper windscreen projection with a perceived image width of 21 inches. Sounds distracting? It actually works pretty well in practice, providing plenty of information but not restricting your ability to see through it.
Entry-level Sense Plus trim uses a 10-inch touchscreen infotainment system, and although we've not yet tried that setup it uses the same software as the larger screens. Step up to Shine and Shine Plus and you'll get a high-definition 12-inch setup. Both use a completely new interface called My Citroen Drive Plus, which can be updated over-the-air.
Like most higher-end touchscreens these days there's plenty of menus and features dotted around the interface, but because the big, clear screen responds nicely and quickly to the touch, it's not a great faff going through the various functions. Plus, because the menu tiles are customisable, you can select which functions you access most and arrange them on the car's home screen. There's also a more advanced voice command system if you'd prefer to bypass all that.
Two shortcut buttons below the screen take you home or to the car's driver assist tech, allowing you to disable things such as lane keep assist without a great deal of faff. 3D navigation works far better than in Citroens of old, but the C5 X is the first car from the brand to also have wireless integration for Apple CarPlay and Android Auto smartphone connectivity.
A wireless smartphone charging pad ensures using those connectivity features doesn't eat up your phone's battery, and this is standard on mid-spec Shine and above. There's also some USB charging sockets front and rear, while the plug-in hybrid model can be had with a smartphone app that lets you check its charge status and pre-condition (as in pre-heat or cool) the C5 X's interior ready for your journey.
Low and mid-spec models get a typical reversing camera setup, but shell out for Shine Plus and you'll get a clear and sharp 360-degree camera system that lets you select four different views depending on which part of the car you need to see from.
Space and practicality: Citroen C5 X boot space
The Citroen C5 X is 4,805mm long, 1865mm wide and 1,485mm tall, making it over 300mm longer and 200mm lower than the brand's next largest model, the C5 Aircross. It also makes it longer than a VW Passat, although it's not quite as lengthy as the Vauxhall Insignia and Skoda Superb.
That increased length over the C5 Aircross SUV makes the C5 X much more accommodating for passengers. Space in the front is very good, with our 6ft 3 tester finding no issues with finding a comfortable driving position thanks to plenty of adjustment in the wheel and seats. The panoramic sunroof on our test cars does eat into headroom a little bit, but not drastically so.
If you're after the sort imposing, perched-up seat position that a full-height SUV will give you, the C5 X probably isn't the car for you. But it's raised up noticeably more than its hatchback or saloon rivals, while still managing to make it feel like you're sitting in the car rather than on it. The Advanced Comfort seats are plushly cushioned and well-shaped even for broader-bodied drivers, but don't grip you in place like some of the sports seats available in rivals (that's a positive or a negative depending on your size).
Things in the back are pretty good, too. The EMP2 platform on which this car is based has previously produced cars which seem to prioritise boot room over rear legroom, but there's loads of space for taller occupants to move their knees and slide their feet under the dash. On first impressions it doesn't seem quite as limo-like as the Skoda Superb, but it's not that far off. The wide door aperture also means access is good, which is useful if you're often fitting child seats.
One negative is that the side windows aren't that wide and the roofline is fairly low, so taller adults might feel slightly hemmed in compared with rivals. The actual headroom is fine is unless you're exceptionally tall, and the panoramic sunroof doesn't come as far back as it does in some cars, meaning it doesn't eat into the space. Seat comfort is impressive, too, while there's decent shoulder room, and the low central tunnel means a third adults could squeeze into the middle row without being too annoyed about it.
The boot is 545 litres with the rear seats in place. That's not as big in capacity terms as some of the largest estates, but it's still a useful size, while the low load lip (lower than taller SUVs) and wide opening means that, according to Citroen, you could get a washing machine in there if you needed to without folding the seats.
There's classy chrome runners on the floor and handles either side of the boot to easily fold the rear seats, while there's some (but not loads) of under floor storage. It's worth noting that the hybrid versions lose 60 litres of space, with a higher floor to allow for the batteries to sit underneath. The load cover moves up with the tailgate to keep it out the way, but one bugbear is the sheer weight of the tailgate - lesser models without the hands-free electric opening need two hands to close it.
Handling and ride quality: What is the Citroen C5 X like to drive?
"Comfort is the name of the game here, and the Citroen C5 X delivers that in spades. It also doesn't roll around quite as much as taller SUVs, although very little about the way it drives encourages you to throw it about the place."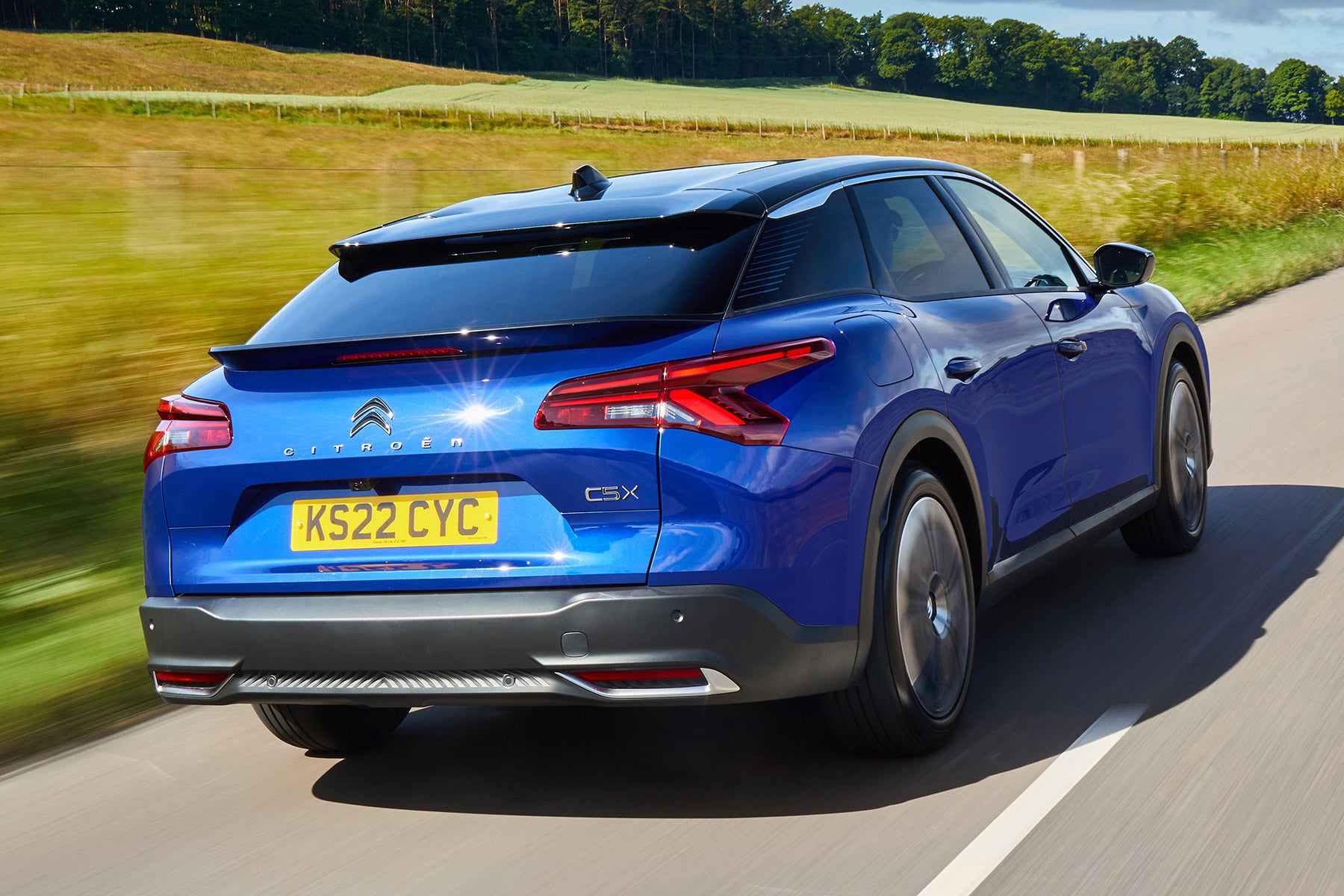 A big part of Citroen's intention to make the C5 X a calming, effortless place to travel is how it drives. Like all of the brand's models in the last few years, the balanced is skewed away from tight body control and sharp steering to a relaxed suspension and steering tune.
Too many ordinary family cars these days insist on big wheels, low-profile tyres and a sporty, tied-down setup, even though they spend far more time pootling around town and cruising down motorways than they do on a Welsh B-road. The Citroen C5 X is the perfect antidote to that thanks to the use of something called 'Progressive Hydraulic Dampers'.
Essentially, oil filled suspension components help slow down suspension movement to avoid sudden jolts, and also allow Citroen to make it feel softer without it wallowing around too much in the bends. Plug-in hybrid C5 X models also get adaptive suspension which varies how the car rides and handles depending on your drive mode. All versions gets 19in wheels, but fairly chunky tyres means there's plenty of give.
The result is a ride that feels plush and supple around town, smoothing out nasty ruts and potholes as better than almost any rival and as well as some much more expensive executive cars. It's not quite like a Rolls-Royce, as sharper bumps will still make themselves known, but it's really very good for a car at this price point. It's worth noting that we've not driven the C5 X in the UK yet, however.
On faster roads the C5 X wafts along nicely, keeping the body pretty level and isolating you from the tarmac without inducing car sickness. It's also superb on the motorway, with that soft ride combining with low road and wind noise levels.
However, this isn't a car that lends itself to being hustled down a twisty road in a hurry. Granted, because it's not as high up as an SUV it doesn't lean over like a cross-channel ferry during hard cornering, but there is still a fair bit of pitch and roll. The steering is fairly precise and there's plenty of grip, but at no point during any sort of fast cornering would you say you're having fun.
Frankly, though, the Citroen C5 X is all the better for that. There's plenty of cars that will thrill you down your favourite road, but not as many affordable cars that cosset you and project an air of calm like this does. Put simply, if you want an easy and relaxing driving experience, it doesn't get much better than this without spending tens of thousands more.
What engines and gearboxes are available in the Citroen C5 X?
There are three engines available in the Citroen C5 X, and all of them have petrol power. Diesels just aren't desirable to new car buyers any more, and are increasingly difficult to get through stricter emissions standards.
The entry-level engine is a 1.2-litre three-cylinder turbocharged unit that's seen in a variety of Citroen, Peugeot and Vauxhall models. With 130PS, it doesn't sounds like it'll move the big C5 X with any sense of gusto, but its strong mid-range means it punches above its weight. Only the slightly shuddery three-cylinder thrum detracts from the upmarket feel of the C5 X.
The middling engine is again pure petrol, and it's a turbocharged 1.6-litre unit. This has 180PS, which translates to more effortless performance, and because it's a four-cylinder it's that bit smoother and more cultured. It does get a bit boomy at high revs, but because it doesn't need revving to get the best out of it you'll rarely venture up there.
Topping the range is the plug-in hybrid (PHEV), which mates the same 1.6-litre turbo unit to an electric motor and a 12.4kWh battery pack. The result is a healthy 225PS, although because it's significantly heavier than the pure petrol models it doesn't feel a great deal faster. Still, a 0-62mph time of 7.8 seconds is sprightly enough, while it'll officially manage 34 miles and can travel up to motorway speeds on electric power alone.
The plug-in hybrid suits the C5 X's relaxing and quiet approach, making it exceptionally smooth around town and hushed on the open road. There are a couple of issues, though: the eight-speed automatic gearbox doesn't like being caught out by surprise, sometimes taking a long time to kick down or dropping too many ratios when you just want a bit of acceleration. The brakes, too, are sometimes difficult to judge at low speeds because of the regenerative braking that helps charge up the batteries.
All models get that same eight-speed automatic gearbox, which is a little smoother on the pure petrol models (but not as sharp as a dual-clutch gearbox), with no manual being offered.
Refinement and noise levels
Low noise levels are another factor to increasing the effortless nature of the Citroen C5 X. Top-spec models even get acoustic laminated front and side windows – it's basically double glazing, something which was the reserve of much more expensive models only a few years ago.
Granted, some wind rustle does make itself heard even on models with that fitted, but it's generally hushed, while road noise is kept at bay thanks to the relatively thick tyre sidewalls.
The four-cylinder engines are smooth and refined for the most part, only becoming a bit boomy when you're right at the top of the rev range. The three-cylinder, meanwhile, is quieter than it is in other applications, but some vibration does make its way through to the cabin under acceleration.
Safety equipment: How safe is the Citroen C5 X?
Every Citroen C5 X comes with a full suite of active safety kit, including autonomous emergency braking with forward collision warning, lane keep assist, traffic sign recognition and a driver attention alert system.
Citroen doesn't specify if the emergency braking detects pedestrians and cyclists, but the rear-cross traffic alert system does. There's also 'long-range' blind spot monitoring and automatic high beam, while all models have all-round parking sensors to reduce the likelihood of low-speed scrapes.
The C5 X has yet to be put through the Euro NCAP crash testing regime. But it's been on sale in China for several months now, and the China NCAP test awarded it five stars. The Citroen C5 Aircross was awarded four stars by Euro NCAP in 2019.
MPG and fuel costs: What does the Citroen C5 X cost to run?
"The fairly modest petrol engines for the Citroen C5 X means all are relatively economical, while the plug-in hybrid will chalk up impressive figures if used correctly. Some may mourn the lack of a diesel, however."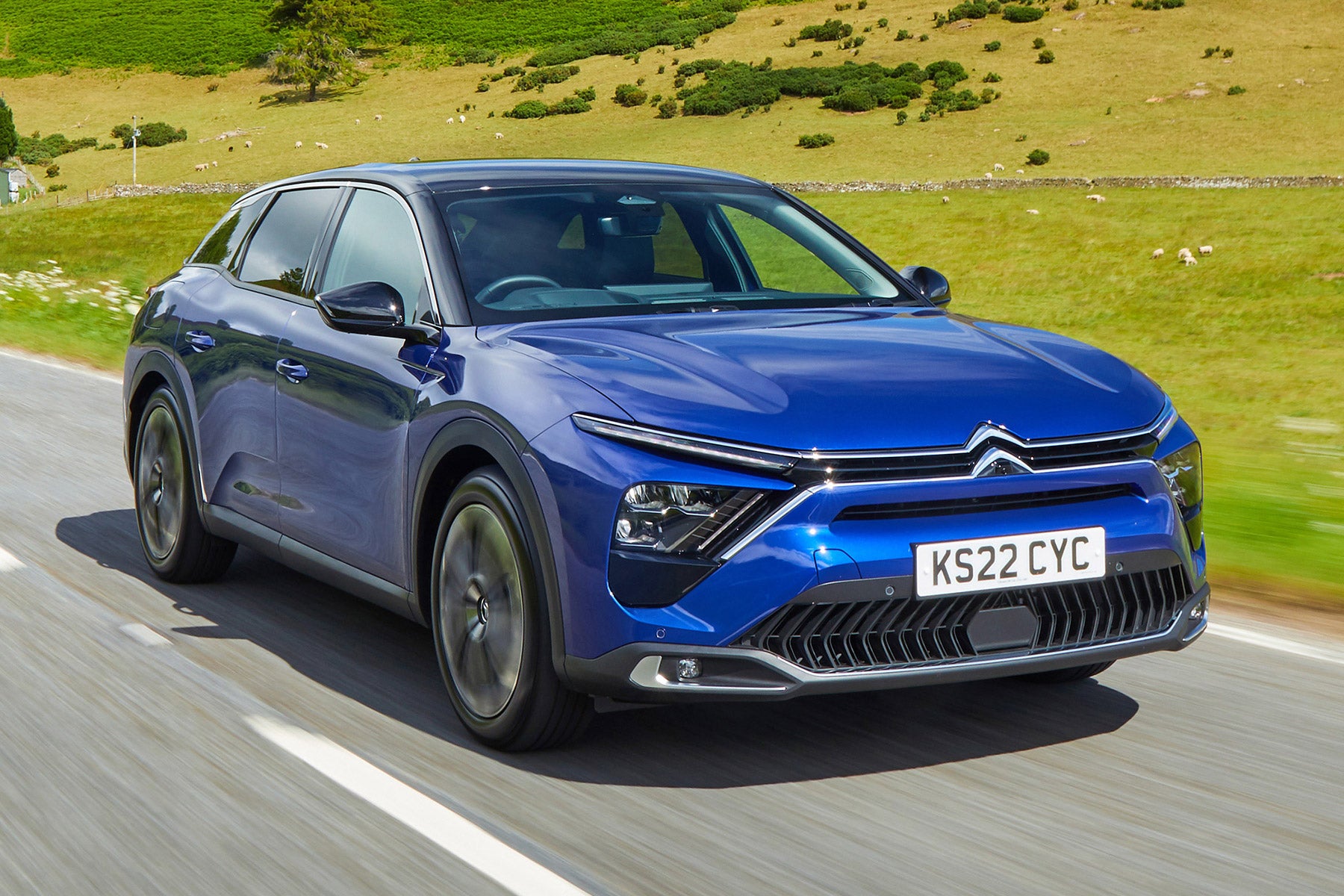 Unsurprisingly, the cheapest to run Citroen C5 X on paper is the plug-in hybrid. Officially it'll manage up to 232mpg, but as always with PHEVs you'll only get those sorts of figures if you're doing relatively short journeys mostly under electric power. You'll also need to be able to charge it up as regularly as possible, and of course account for the fact that it's more expensive to buy in the first place.
If you don't charge the plug-in hybrid up that much, or use it on a very long journey where you'll spend the majority of time with the engine running, expect it to be about as economical as the regular 180PS 1.6-litre petrol engine. Officially this manages between 38 and 44mpg on the WLTP cycle.
The entry-level Puretech 130 petrol officially manages 41-48mpg, which isn't a huge amount more than the 180. But that's probably because it needs to be worked harder than the bigger engine to get up to speed.
How reliable is the Citroen C5 X?
Citroens have historically not had a stellar reputation for reliability, and sure enough the brand only just finished outside the bottom five manufacturers in the latest HonestJohn.co.uk Satisfaction Index, next to sister brand Peugeot. That applies to older models as well as the more recent cars, however.
Generally there's less to choose between brands on the reliability front than ever before, meaning the C5 X shouldn't be too problematic. The engines are all well-proven and found across a multitude of other models from Citroen, Peugeot, Vauxhall and DS, too. There's more potential issues to be found with the new technology and electrical systems, but it's too new to tell and that sort of thing will be covered under warranty.
Insurance groups and costs
The cheapest Citroen C5 X to insure will be those powered by the 1.2-litre Puretech 130 petrol engine. Sense Plus and Shine models with this engine have been provisionally placed in insurance group 20, while the top-spec C5 X Shine Plus is in insurance group 21.
The bigger 1.6-litre petrol sits in insurance group 25 or 26 (depending on trim), while the plug-in hybrid models might cost a little more to insure, with insurance groups ranging from 26 to 31.
As ever, insurance costs will vary a lot depending on your personal circumstances. We'd always recommend shopping around for an insurance quote.
VED car tax: What is the annual road tax on the Citroen C5 X?
While the first year's VED (road tax) is based on emissions, you'll pay a flat rate of £165/year for petrol Citroen C5 X models after that. That's the same as any other conventional petrol car. Plug-in hybrid models qualify for a £10/year discount, meaning you'll pay £155. There is a caveat, though – if you buy a Citroen C5 X with a list price when new of more than £40,000 (including options) you'll be hit with an extra £355 surcharge for five years.
If you're looking for free road tax, you'll need to look at electric alternatives like the Citroen e-C4.
How much should you be paying for a used Citroen C5 X?
"Despite being very new, you can already save cash on a Citroen C5 X by looking for a used example. We've seen dealers slashing four-figure sums off the list price on pre-registered cars, not only giving you a healthy saving but also allowing you to skip the waiting list for a new model."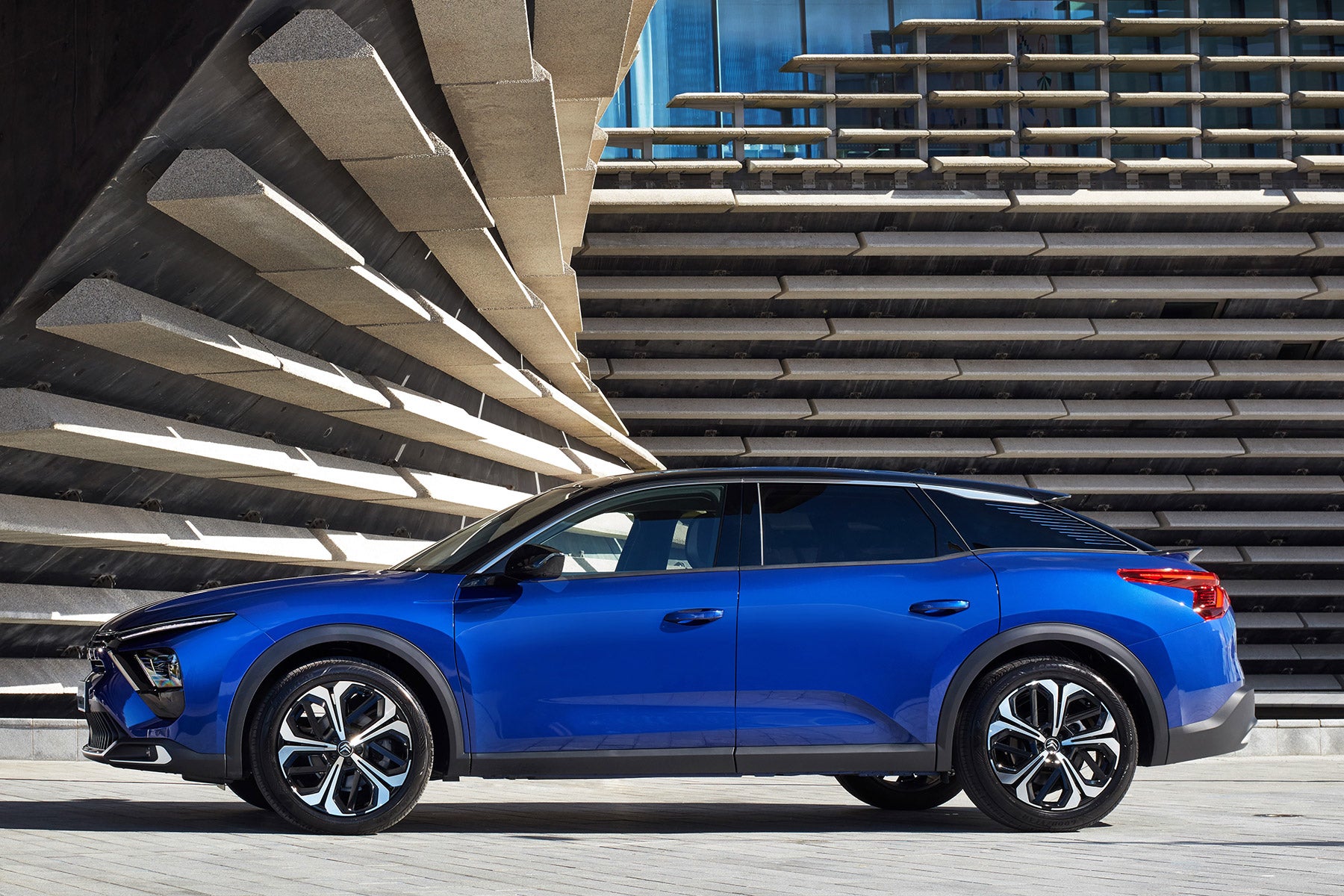 The cheapest Citroen C5 X is a Sense Plus model with the Puretech 130 petrol engine. The retail price of this is just under £28,000, while the Shine Plus is an extra £1500. The mid-spec C5 X Shine is also available with the bigger Puretech 180 engine, which starts from around £32,000.
Topping the range is the Citroen C5 X Shine Plus, which starts from around £31,000 with the Puretech 130 engine.
The plug-in hybrid is a good deal more expensive even in the entry-level trim, starting from around £36,500 and rising to just under £40,000. This brings it a few options away from the £40,000 barrier where UK buyers will have to pay a 'premium car' tax for five years.
Big Citroens have historically been a bit of a horror story when it comes to depreciation. Citroen reckons the extra desirability of the SUV-like body, plus the relatively modest list prices, mean it'll perform much better on that front. Although barely anybody buys cars outright these days, what that should mean is competitive leasing deals.
Trim levels and standard equipment
Opt for the entry-level Citroen C5 X Sense Plus gets you 19-inch alloy wheels, LED headlights, synthetic part-leather trim, front and rear parking sensors and a reversing camera. You'll also get dual-zone climate control, wireless smartphone mirroring, digital dials and a 10-inch touchscreen infotainment system with sat-nav.
Stepping up to Shine trim changes to a mix of synthetic and full leather, while adding some satin chrome trim on the rear bumper. Further to that there's a heated steering wheel and ambient interior lighting. The infotainment screen is upgraded to 12-inches, while also included is that large head-up display.
The C5 X Shine Plus tops the range, bringing extended privacy glass with acoustic laminated treatment, full leather upholstery, heated and electrically adjustable front seats, extended blindspot monitoring, an electric tailgate and a 360-degree around-view camera.
Ask the heycar experts:
common questions
How much is a Citroen C5 X?
The most affordable Citroen C5 X Sense Plus starts from around £28,000, while the top-spec C5 X Shine Plus is more than £31,000. That's with the 1.2-litre petrol engine. You'll be spending at least £36,500 if you want the plug-in hybrid.

Is the Citroen C5 X electric?
There is not yet an all-electric version of the Citroen C5 X, but at launch there is a plug-in hybrid model. This will do up to 34 miles on pure electric power before the petrol engine kicks in.

Why did Citroen stop making the C5?
The Citroen C5 disappeared mainly because the market has moved away from traditional saloons and estates, and the C5 just couldn't compete with the Germans. Instead, it's been indirectly replaced by two models: the Citroen C5 Aircross and the C5 X.

Answered by
Lawrence Allan
Citroen C5 X cars for sale on heycar
1,615
Number of cars available
£27K - £30K
Price bracket of these cars
Keep me updated by email with the latest advice, news and offers from heycar
By submitting, you agree to our
privacy policy
.