Citroen Grand C4 Picasso Review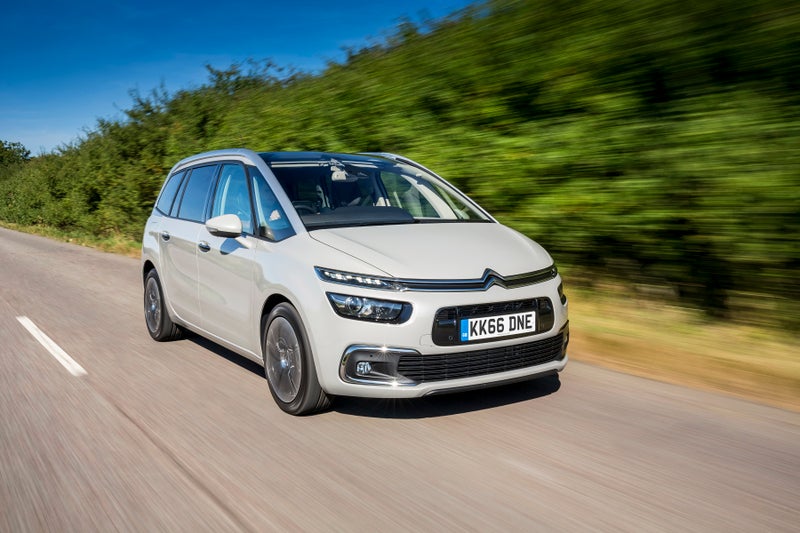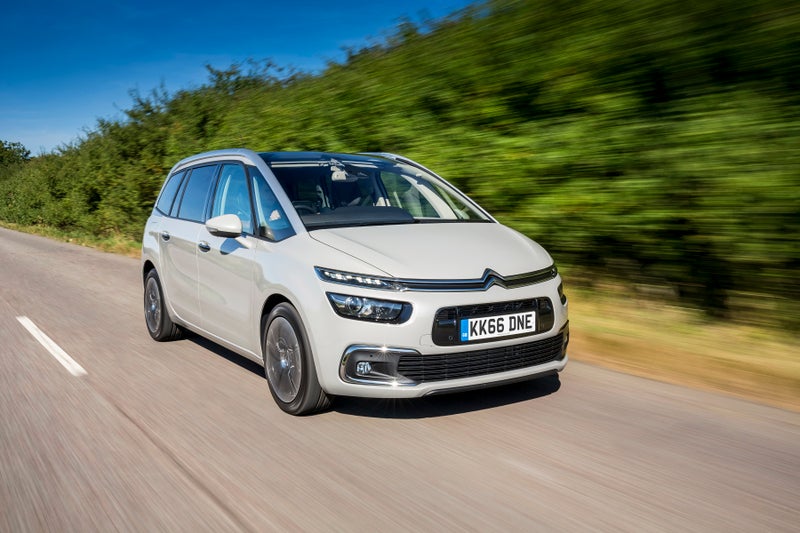 1/10
heycar rating
"Family-friendly transport for seven"
Launched: 2013

MPV

Petrol, Diesel
Quick overview
Pros
Stylish inside and out
Excellent space for seven
Room for three child seats
Cons
Touchscreen is not easy to use
Poor automatic gearbox on pre-facelift models
Not the best interior quality
Overall verdict
On the inside
Driving
Cost to run
Prices and Specs
Overall verdict
"Big family cars need not be shapeless boxes that signal you've chosen practicality over any form of style – that's the thinking behind the Citroen Grand C4 Picasso in any rate."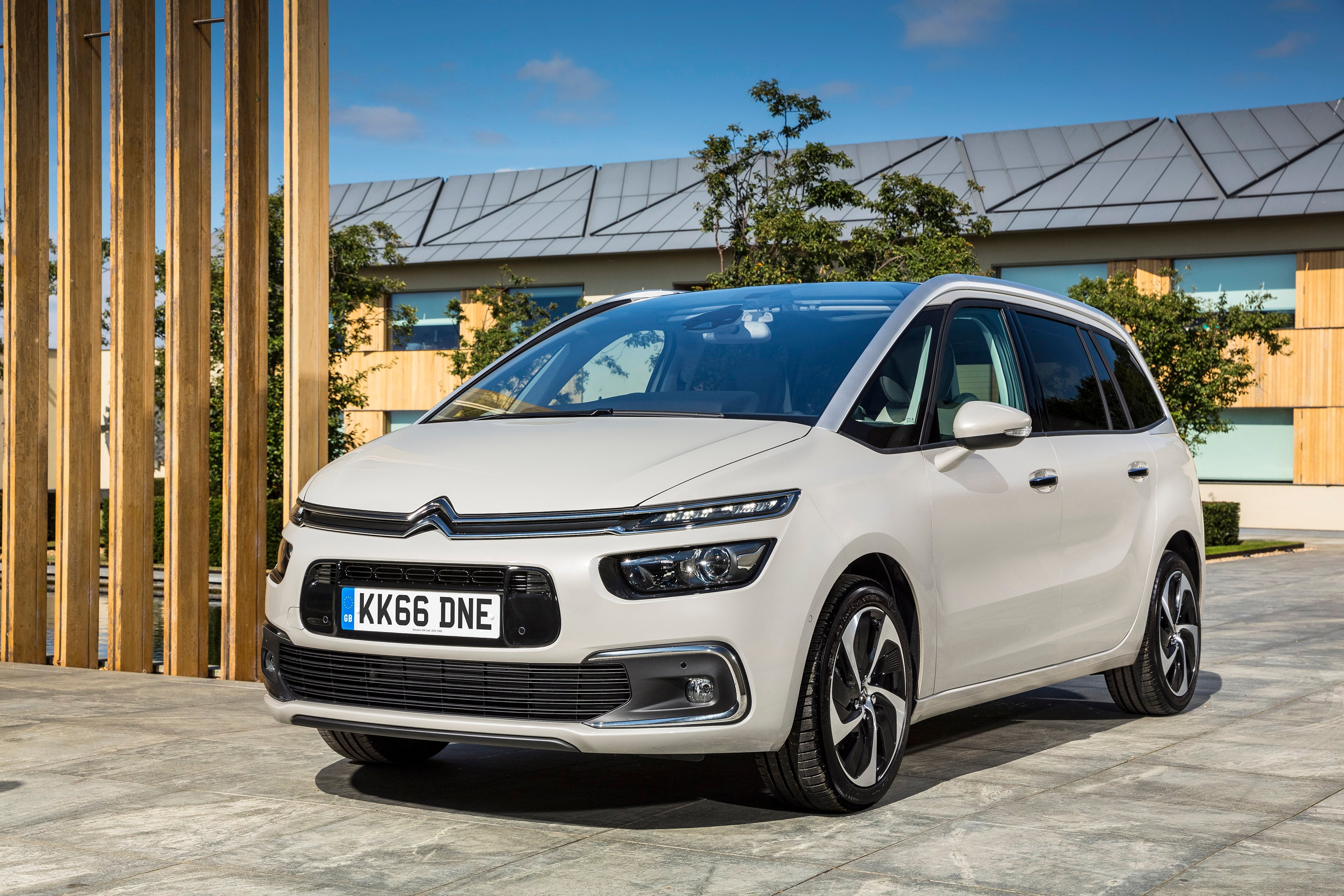 The stylish and swooping lines don't come at the expense of practicality, though, as this seven-seater is fantastically roomy inside with room for a large family and plenty of kit for long trips away, or just daily life.
One of the Grand C4 Picasso's biggest assets is its rear five seats, and the versatility of those seats is a real boost to those with families with members of different ages. The seats in the middle row can be slid forwards and backwards individually and each comes with Isofix points. This means that this is one of only a few cars that can accommodate three separate child seats across the rear – a real bonus if you regularly carry around more than two kids.
The third row of two seats are not ones you would want to use for full-sized adults all the time – you could get a couple of grown-ups in there but they are not going to thank you for it if it is going to be a regular occurrence. It's better suited to those shorter of stature.
You get a great amount of boot space, too – drop all the seats and you get up to 2,181 litres in total, which makes the Citroen feel like a well-appointed van. Another van-like trick is the feature on top-spec versions that lets you drop the front passenger seat. This means you can slide in long thin items up to nine feet in length.
All this practicality is great, but the Citroen Grand C4 Picasso isn't perfect. The interior materials are a bit mixed for example. The ones up top are alright, with some soft touch plastic and metal higher up on the dash and doors, but head a bit further down and things feel a bit scratchy and cheap. The upholstery on the lower trims feels a bit rough too, but it does feel as though it should stand up to the rigours of family life at least.
The engine range in the Grand C4 Picasso is fairly conventional, with one petrol engines and three diesels. Originally the petrol was a 1.6-litre unit, but at the 2016 facelift this was swapped for a 1.2-litre engine, which was a better option and more than capable of carrying around a full complement of passengers and kit despite its small capacity. There isn't really a weak spot in the engine range, though, so it is a case of picking what suits your needs the best. The two lower powered diesels are 1.6-litre units while the top-of-the-range is a 2.0-litre engine.
The Grand C4 Picasso came with either a six-speed manual or a six-speed automatic gearbox. It's worth noting that the pre-2016 models came with an automated manual (ETG6) transmission, which was slow and jerky, and this was swapped out for a far superior EAT6 auto gearbox at the facelift. This was much smoother and more relaxed, but you could only get it with the more powerful engines.
Driving enjoyment probably comes a long way down your list of priorities when it comes to choosing a seven-set MPV – it's comfy rather than entertaining. It's competitively priced, too, so will appeal to those who are after something that makes practical sense rather than something to excite.
If you're looking for the newer version, you need our Citroen Grand C4 SpaceTourer (2018-) review.
Is the Citroen Grand C4 Picasso right for you?
The Citroen Grand C4 Picasso is fairly unashamed about what it is – it's a sensible, practical and family-oriented seven-seat people carrier. Perfect for those that don't want a big SUV but do have a big family to carry around.
It stands out from its rivals, and from the traditional MPV image, by being comparatively good looking rather than being a boring box on wheels. The inside is pretty smart, too – this is a car designed to make your family life easier rather than requiring you to adapt around the quirks of your car. Folding seats, space for three child seats and a comfy ride mean it is good for those for whom family is the top reason for buying a new car.
What's the best Citroen Grand C4 Picasso model/engine to choose?
You won't be disappointed if the used Grand C4 Picasso that looks perfect in every other way turns out to be an entry-level Touch Edition – it comes with some excellent kit, in the form of cruise control with a speed limiter, two-zone climate control, rear parking sensors, auto lights and wipers and USB and Bluetooth connections.
If you have the ability to step up to Feel then that would be the pick of the bunch as you get rear electric windows, the huge panoramic windscreen and front parking sensors.
The diesel engines with the more modern EAT6 automatic gearbox are the best fit for the Citroen's relaxed character. The 120PS model is more efficient, so edges it as an all-round option.
What other cars are similar to the Citroen Grand C4 Picasso?
Comfort and design
"The front seats come with a wide range of adjustment on the Citroen Grand C4 Picasso, including lumbar support and even a massage function should your back still suffer from a few aches and pains. It'll go up and down as well as the more conventional forward and back, too."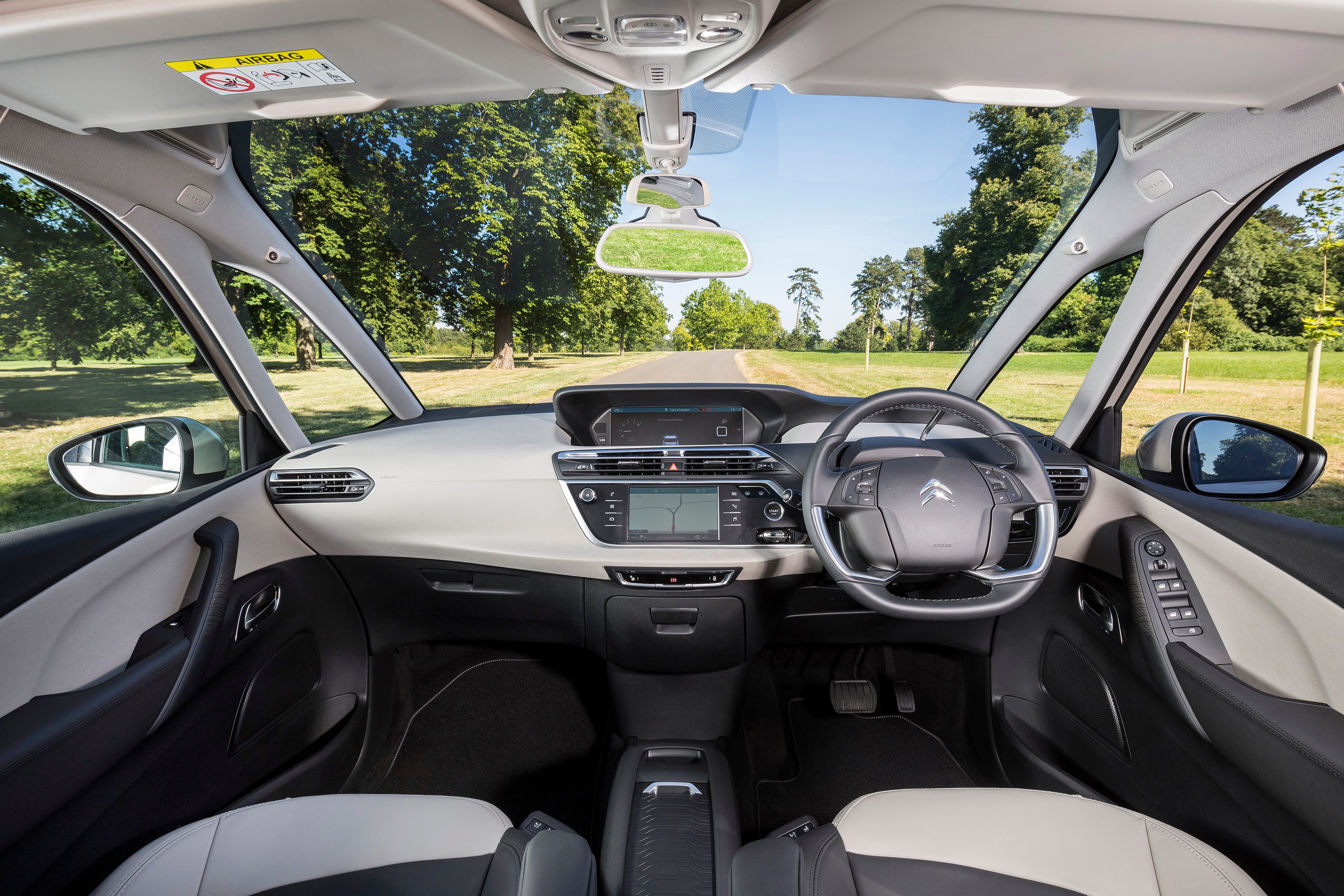 Visibility is glorious in the Citroen, with the panoramic windscreen and huge side windows all combing to mean that you don't have to strain or lean around in your seat to see out. The front passenger can have that bit more customisation, too, with an adjustable foot rest available should you so wish.
The rest of the interior is designed to make family life easy. Pretty much all the standard functions can be controlled through the many buttons on the steering wheel and there are, so long as you don't go for the most basic version, a pair of huge and clear screens that display all relevant information about driving, navigation and the temperature.
The main screen is positioned up towards the centre of the dash, which will take a little adjusting to for those that are more used to having their speed displayed in line with the steering wheel.
Quality and finish
The materials in the Citroen Grand C4 Picasso are a mixed bunch. The ones up on the top of the dash and on the doors are decent, with soft touch plastics and metal but the further down you go the less impressive it gets. The plastics lower down feel scratchy and cheap, though, which is not great given that small fingers tend to explore the areas that adults don't think are the sort of bits you would usually come into contact with.
That said, the surfaces are generally easily wiped clean and are durable, which is arguably more important. The upholstery depends on which model you go for. The lower trim levels feel a little rugged and rough, but once again up to the rigours of family life. The higher trims get leather upholstery that feels of a good quality.
Infotainment
On all but the lowest trim, the Citroen Grand C4 Picasso comes with two large screens in the centre of its dashboard. The one up top is a huge 12-inch display that shows all manner of information such as speed, temperature, navigation details and the time. You can configure it to be laid out in different styles or even put your own wallpaper image up there.
The one below is the one you will come into more regular contact with, as it is a seven-inch touch screen that you use to control most of the functions in the cabin. Sadly it isn't the best system as it is fiddly and slow to react, and several of the functions are buried in the menus. It's particularly frustrating that the climate control is one of the functions that is tucked away and only controlled by the screen – there are no standard dials to adjust the temperature.
You do get Apple CarPlay and Android Auto on the post-2016 models, so you can opt for the more user-friendly interface of those if you prefer.
Space and practicality
Space and practicality would be the Citroen Grand C4 Picasso's specialist subject on even the toughest of TV quiz shows – this is where it excels.
The three rows of seats are capable of taking a full complement of passengers in pretty much any combination. The middle row has that rare of features – a full set of Isofix points so you can put a child seat in any of them. Better than that, it is wide enough that you can get three alongside one another, which will be music to the ears of parents with more than two small people in their family.
Those seats slide back and forward, too, so you can make the most of space in the boot or slide your passengers further back so they can't kick the back of your seat. The third row isn't quite as spacious but you will be able to get two adults back there with some careful sliding of those middle seats. You'll have to ask smaller adults if they are ok with going in the third row, though, as taller grown-ups won't thank you for it.
If you're using the Citroen as a five-seater than the boot is an excellent size and shape. You get 638 litres with the middle row slid back and up to 793 litres if you slide them forwards. You don't get much in the way of clever tricks like underfloor storage as that's where the third row of seats is, but it gets an even and wide boot entrance with no lip to haul things over.
The cabin storage is decent, but let down by the glovebox – the fuse box is in the same position as the left-hand drive models, so the space left behind is good for actual gloves, but not masses of other stuff.
Handling and ride quality
"Comfort is king for families, with preventing car sickness much higher on the list of priorities than an enjoyable driving experience."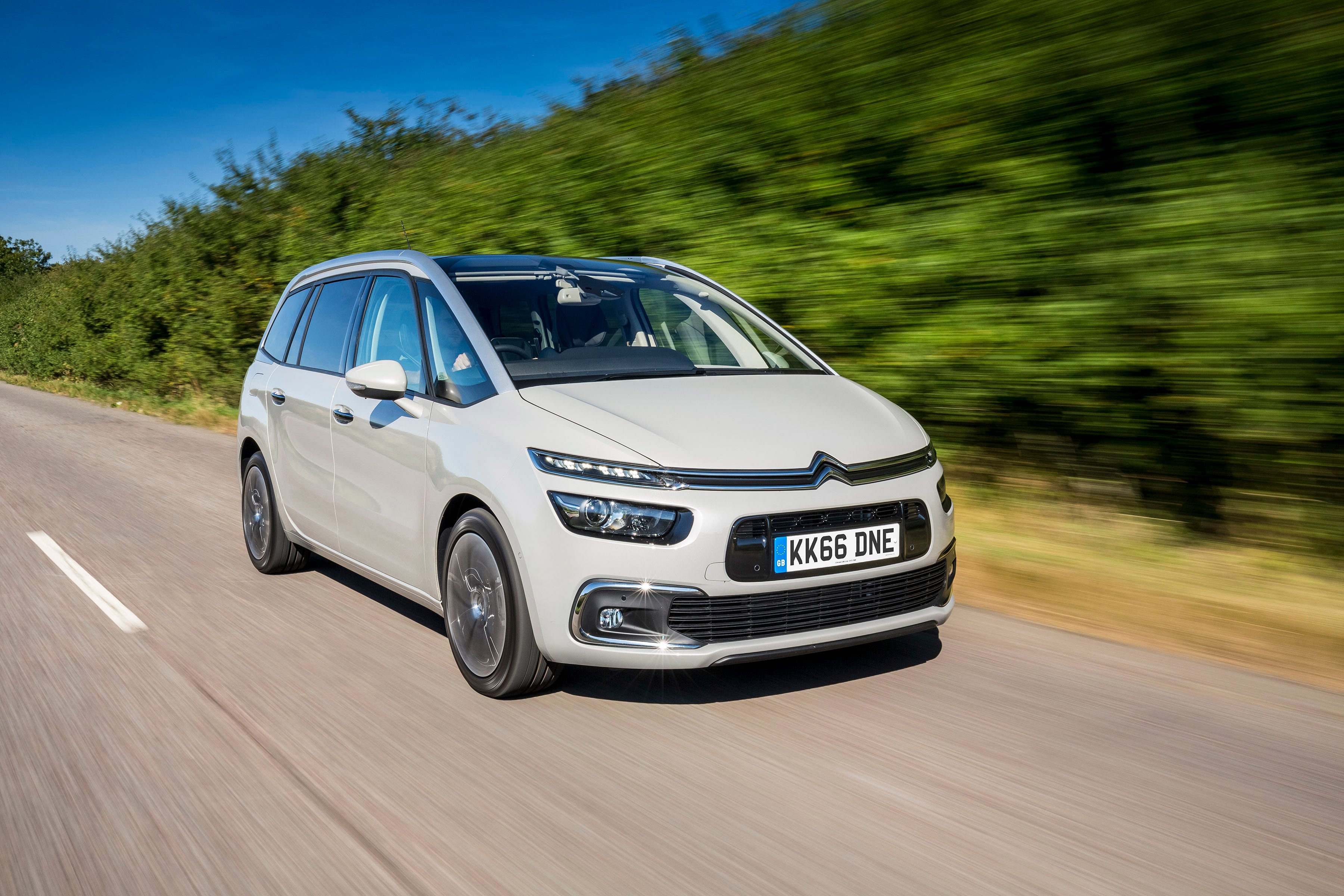 The Citroen Grand C4 Picasso does well on this front, with a driving experience that is relaxed and comfortable. Despite this, it still manages to keep things in check through the corners. There is a little lean but no more than you would expect of a tall-sided car and it stops a long way short of wallowing around.
The steering is light but it is precise and responds fairly quickly, which makes heading through tighter town streets pretty easy too. If you are caught out by a tight corner arriving sooner than you expected then the brakes are strong and there is plenty of reassuring front-end grip.
Visibility is another absolute trump card if you have the panoramic windscreen that extends up over your heads. Not only does this help flood the cabin with light it means you can see loads more of the surrounding area. The extra windows in between the door windows and the windscreen help too, really maximising the visibility at junctions and roundabouts.
Engines and gearboxes
The most recent engines on the Grand C4 Picasso were a 130PS 1.2-litre petrol and a trio of diesels in 100PS, 120PS and 150PS formats.
Despite being relatively small, the 1.2-litre engine is more than up to the task of carrying the Citroen's bulk around, it works well and it's quiet, too.
The diesel engines are the better all-round fit for the Grand C4 Picasso's relaxed nature, though, particularly if you go for the automatic gearbox. This means you get the 120PS or 150PS version. This big bonus of the more powerful engines is the levels of torque that they offer. They pull really easily even when you are in a higher gear than you would normally expect. Need to pull past that slow-moving lorry, up a hill, with a fully-laden boot? Sure, no problem. It might not be quick in a straight line, but it will accelerate in gear and cope with a heavy load with no bother.
The older versions came with slightly different diesel engines, with lower power outputs, but the older petrol engine was a larger but not as impressive 1.6-litre version. If petrol is your thing then the newer models are much better.
If you're after an automatic model then the post-facelift models are the better bet, too. Before the 2016 update the automatic gearbox was a jerky and slow-responding automated manual but this was changed for a much smoother unit in 2016 that is far superior in every way.
Refinement and noise levels
The lower down the engine range you go in the Citroen Grand C4 Picasso, the quieter it gets. The petrol is the king of them all, as you would expect, as the quiet engine is barely audible at all when you sit at traffic lights, and it never really kicks up much in the way of noise unless you really blast away from a standstill.
As far as the diesels are concerned, the two smaller engines are marginally less grumbly than the biggest 150PS model, but there isn't a vast amount in it. It's most apparent when you're at a standstill, and the likes of the Renault Grand Scenic are slightly quieter.
Safety equipment
It's been a while since the Citroen Grand C4 Picasso went through the Euro NCAP testing procedure, with its latest test in 2013. At that time it did manage the full five stars but things have got a bit stricter since then as far as the test is concerned.
The safety kit is good, though, but it wasn't all standard fit so it is worth checking whether a used car had the right boxes ticked or not. At the time of the 2016 facelift the Grand C4 Picasso could have one of two packs. The first had active lane departure warning system, active blind spot monitoring system, speed limit recognition, automatically adjusting headlights and driver attention alert. The second included all of the above plus active radar guided cruise control.
MPG and fuel costs
"Official fuel economy figures ranged from 55mpg for the petrol to around 74mpg for the diesel engines, with the most economical models the two lower-powered diesel engines - they both came in at 74.3mpg officially. In the real world a figure around 50mpg or just over would be a more realistic bet."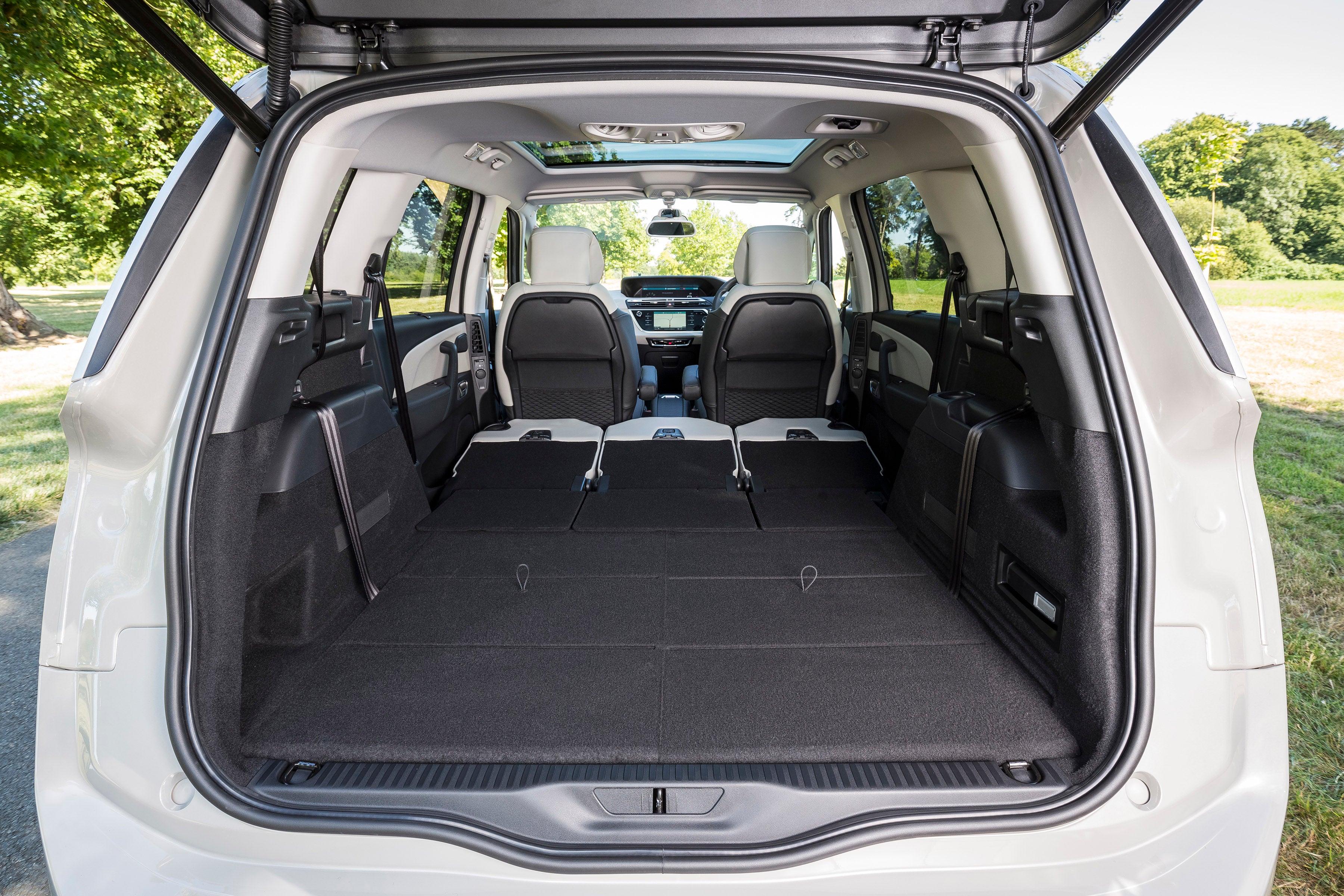 The good news is that this is the case regardless of whether you went for a manual or an auto – there is no penalty in terms of efficiency for choosing an automatic gearbox.
Insurance groups and costs
Insurance groups stayed consistent throughout the Grand C4 Picasso's life, ranging from 13E on the lowest powered petrol with the manual gearbox up to 26E for the highest-powered diesel with the automatic gearbox. This doesn't stand out either way in the class, with it being competitive with similarly priced and sized rivals.
VED car tax
The Citroen Grand C4 Picasso managed impressively low CO2 emissions. Post 2016, even the petrol managed to keep its official rating at 115g/km, while the rest of the range was all close to or just over 100g/km. Given the size of the car, this is impressive and means that VED is much lower than alternatives like the Renault Grand Scenic and the Ford S-Max.
How much should you be paying for a used Citroen Grand C4 Picasso?
"Big Citroens aren't top of the list when it comes to holding onto their value and the Grand C4 Picasso is no different. This is handy when it comes to picking one up on the used market though, as there should be good value out there."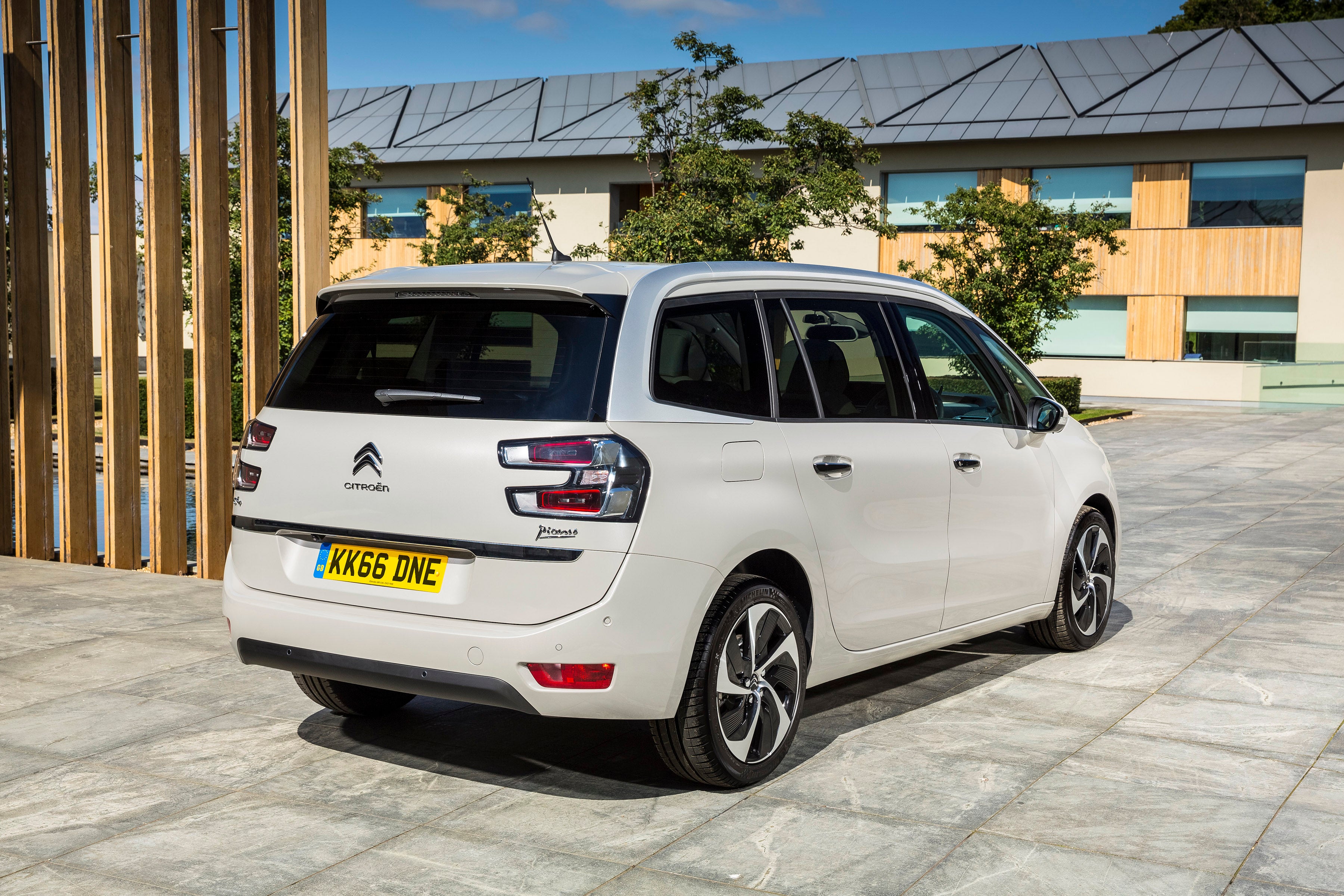 This is little different to the rivals in the class, though, as the Renault and Ford alternatives lose similar amounts of value over the same period.
The renamed and updated version of the Grand C4 Picasso – the Grand C4 SpaceTourer – has seen its prices increase with the range starting from just under £26,000 and heading up to just shy of £35,000. It does come with a lot more kit in each trim, though, so you do get more for your money.
Trim levels and standard equipment
The Touch Edition includes a decent level of equipment including 16-inch alloy wheels, cruise control, speed limiter, two-zone climate control, reversing sensors, engine start button, auto lights, auto wipers, Bluetooth, USB and AUX connections.
Stepping up to Feel is worthwhile though as it adds emergency brake assistance, rear electric windows, row two air vents, additional 12V outputs for rear passengers, front parking sensors and that huge panoramic windscreen.
Flair adds more safety kit including the blind spot monitor and more comfort equipment including air conditioning in the third row, an electric tailgate, park assist, integrated rear window blinds, driver and passenger massage function seats, fold flat front passenger seat and the electric front passenger foot rest.
Citroen C4 Grand Picasso cars for sale on heycar
2,245
Number of cars available
£9.8K - £19K
Price bracket of these cars
Colours available on heycar
Keep me updated by email with the latest advice, news and offers from heycar
By submitting, you agree to our
privacy policy
.