Grand C4 SpaceTourer Review
Citroen Grand C4 SpaceTourer Review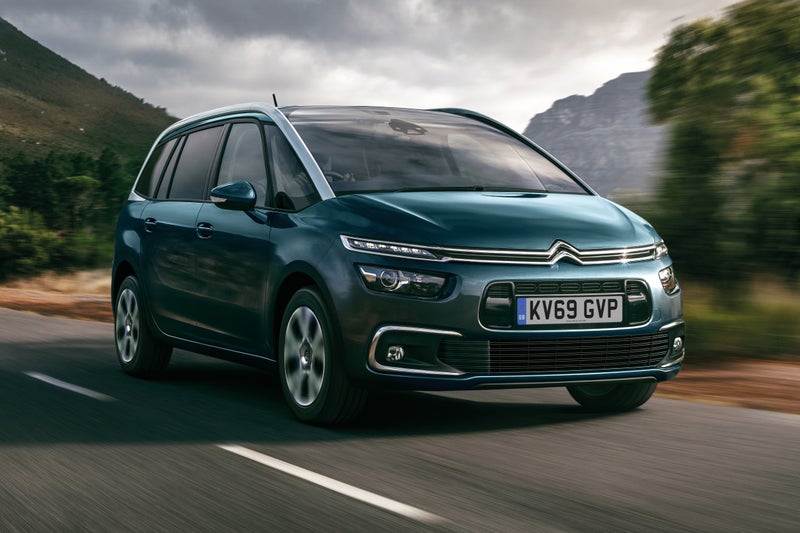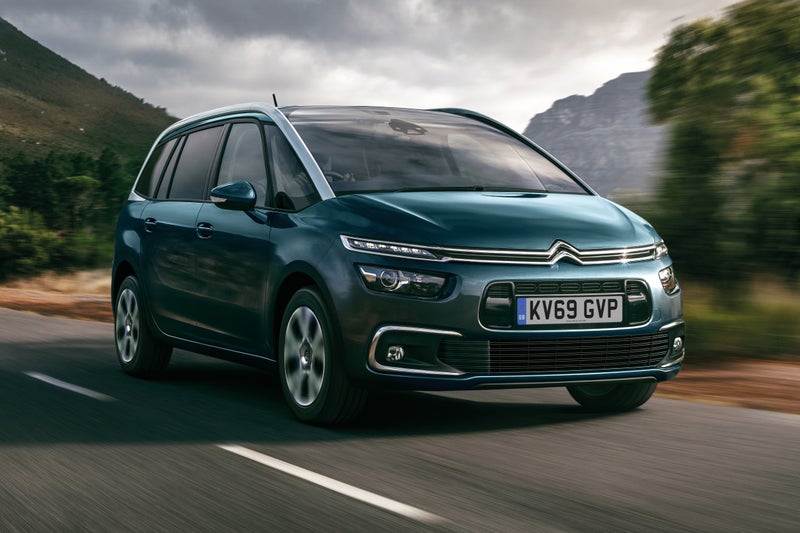 1/6
heycar rating
"Spacious yet handsome looking MPV"
Launched: 2018

MPV

Petrol, Diesel
Quick overview
Pros
A family car that can carry seven people with room left over for luggage
The 1.5-litre diesel engine is smooth, punchy and cheap to run
It doesn't look as drab as other spacious family cars
Cons
Folding away the seats is a laborious task
The dashboard controls are unintuitive
The 2.0-litre diesel is grumbly and gruff
Overall verdict
On the inside
Driving
Cost to run
Prices and Specs
Common questions
Overall verdict on the Citroen Grand C4 SpaceTourer
"The Citroen Grand C4 SpaceTourer is an MPV or Multi-Purpose Vehicle, which is just another way of saying it's a great family car. It's one of the best. Perfect if you're looking for a car that's got loads of room, doesn't come with eye-watering running costs and even manages to look relatively stylish."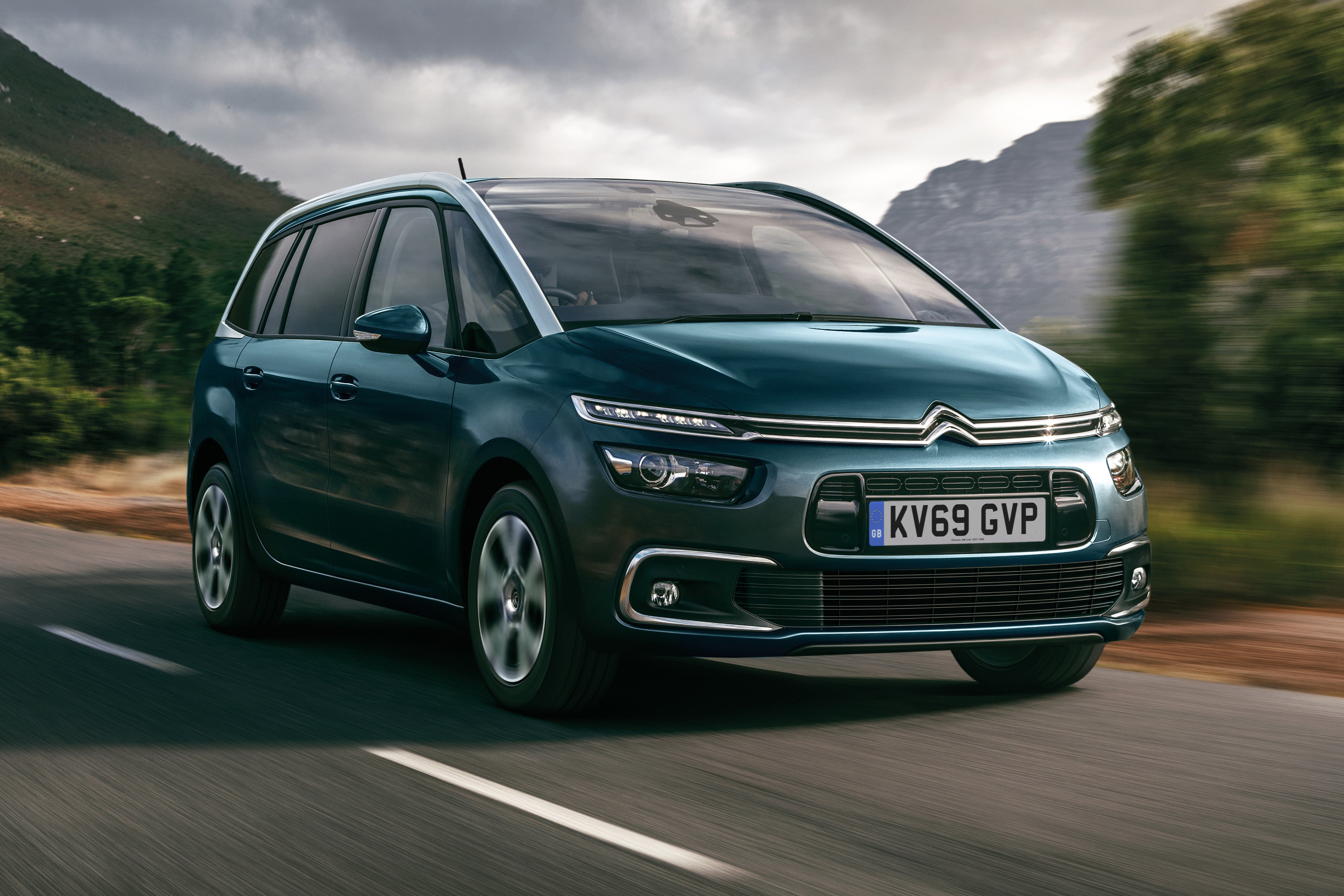 That's saying something because the SpaceTourer can match a boxy van for interior space – it's one of the largest MPVs you can buy.
As a result, the Citroen has seven seats – all of which are big enough for adults – and there's enough boot space left over for a couple of small suitcases. Fold away the third row and you're left with space for five people and a boot big enough to get lost in.
That's not to say the SpaceTourer rules the roost in terms of practicality. Its interior storage isn't as generous as you get in the Volkswagen Touran and its seats are also more of a pain to fold up and down thanks to their hefty weight and fiddly latches.
There's not a whole lot wrong with the way the Citroen drives. Okay, so the Volkswagen might just edge things in terms of comfort but for the most part, the SpaceTourer's suspension soaks up bumps well enough and it's a relaxed car on the motorway.
The light steering makes it easy to drive in town but also means it doesn't feel very precise on faster country roads and the body also rolls like a listing ship in corners.
Because you're unlikely to ever want to drive the Citroen quickly anyway, we would avoid the more powerful of the car's two diesel engines (with 160PS) and head straight for the 130PS 1.5-litre diesel.
It'll keep pace with traffic (in town and on faster roads), is grunty enough to handle the SpaceTourer when it's fully loaded and is also pretty quiet with little of the pronounced clatter you might expect from a diesel.
Fuel economy is also a big selling point and you can expect the Citroen to return around 50mpg when fitted with this engine.
The only petrol is the 130ps 1.2-litre PureTech but, because it's a three-cylinder, it's not any smoother than the four-cylinder diesels and won't get near their fuel economy.
The top-of-the-range Flair Plus trim level gets nice kit such as active cruise control and a glass roof and it's the Citroen's most popular trim level.
That said, Mid-range Feel Plus is more affordable and still gets handy extras such as a reversing camera and keyless entry. They'll make the Citroen – which is already an excellent family car – that bit easier to live with every day.
Okay, so it's not the best-designed MPV you can buy, but it makes up for this with its stylish design and commodious passenger space. If room is what you need, you'll not find many cars better at the price.
If you're looking for the previous version, you need our Citroen Grand C4 Picasso (2013-2018) review.
Is the Citroen Grand C4 SpaceTourer right for you?
If you're looking for a roomy family car then the Citroen Grand C4 SpaceTourer is hard to fault, not only does it have room for seven people but you'll have space left over for a couple of small suitcases in the boot.
On the road, it's comfortable and easy to drive and no models cost the earth to run.
Yet despite being huge inside, comfortable and cheap to run, it's space-age looks mean this is one sensible car that stands out, making it more desirable than conservative rivals such as Volkswagen's Touran.
What's the best Citroen Grand C4 SpaceTourer model/engine to choose?
The SpaceTourer's 1.5-litre diesel engine is cheap to run and has plenty of oomph to get the Citroen up to speed even when it's fully loaded. It's also smoother and quieter than the more expensive 2.0-litre diesel.
If you mostly drive short distances in town then the 1.2-litre PureTech petrol is worth considering and, as with every model in the range, you can have it with an eight-speed automatic gearbox that gives your clutch footrest in stop-go traffic. It's an expensive option, though, and also not as smooth as the automatic gearbox fitted to the Volkswagen Touran.
Flair Plus is the C4 SpaceTourer's most popular trim level and it comes with lots of handy features that make the car easier to live with.
Keyless entry means no more fumbling in your pockets to get the doors open, its huge glass roof makes the cabin feel light and airy and the active cruise control takes the pain out of long motorway hikes. All you do is set your cruising speed and the car will accelerate and brake for you.
That being said, even entry-level Touch Plus models have rear parking sensors, passive cruise control and climate control, so they're far ungenerous with their options.
What other cars are similar to the Citroen Grand C4 SpaceTourer?
There are plenty of alternatives worth considering if you're buying a C4 SpaceTourer and the strongest is the Volkswagen Touran. The Citroen doesn't look as dull as the Volkswagen and it also has more interior space, but the Volkswagen counters with its sturdy build quality and more intuitive design.
The Kia Carens is also worth a look. It might not have the interior space of either the Citroen or the Volkswagen but it does come with a seven-year, which is four years longer than the ones offered by its rivals. Want a sporty drive? Then consider the seven-seater Ford S-Max, though it's pricier and not as spacious as Citroen's alternative.
Comfort and design: Citroen Grand C4 SpaceTourer interior
"The Citroen's eye-catching exterior carries through to the interior where you'll find a swooping design and a huge colour screen in the centre of the dash instead of conventional dials behind the steering wheel. Unfortunately, you do also get the sense that usability has been sacrificed for style."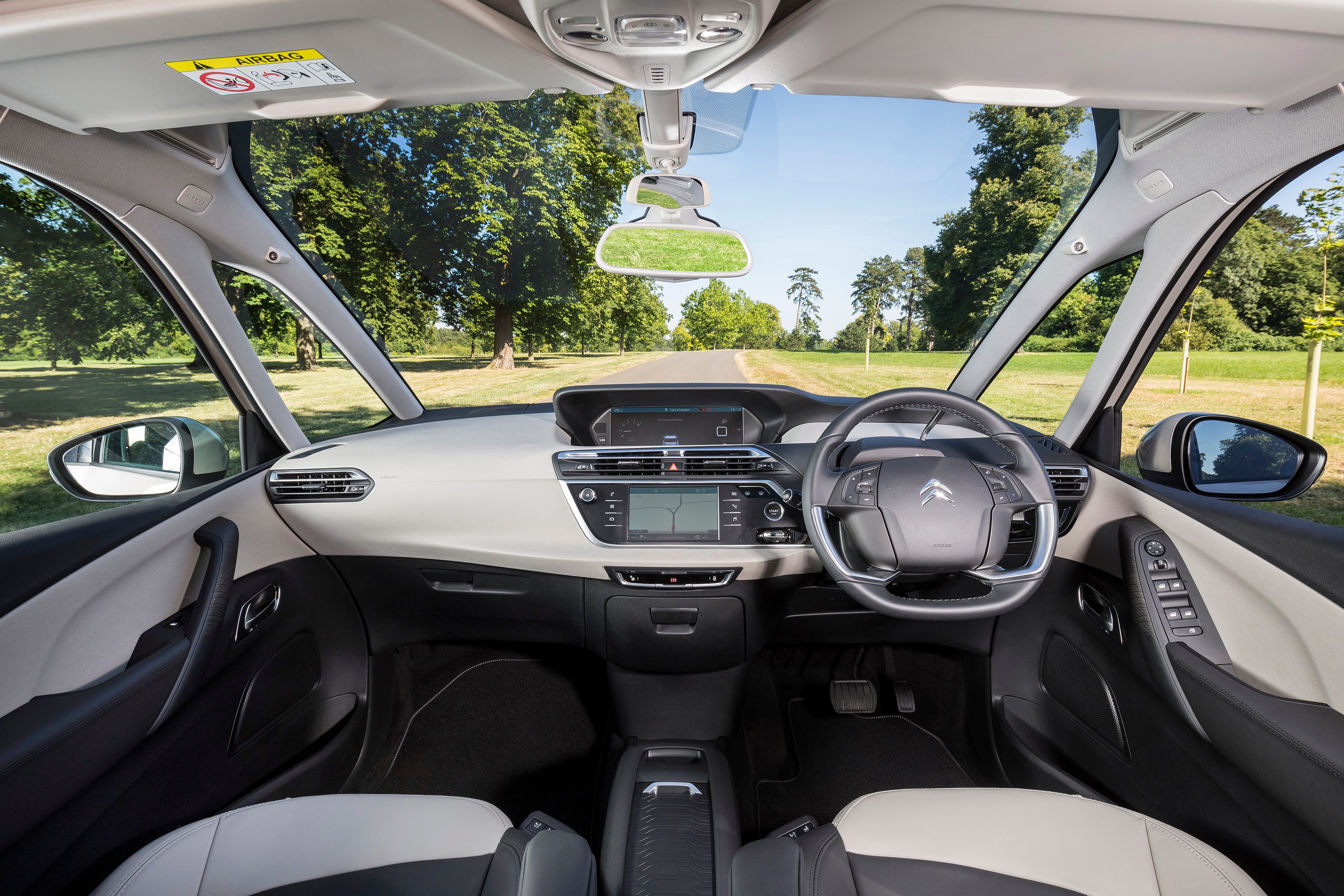 There are no major complaints about the seating position, though. A steering wheel that you can pull towards you and adjust for height means anyone can get comfy and you can crank up the squidgy driver's seat to give you a great view of the road, helped by the large glass quarter lights at the edges of the windscreen. Our only complaint is the slightly offset pedals.
Manual models' raised centre console keeps the gear shifter close to hand while automatic versions dispense with the gear shifter altogether, instead, you change gears using a stalk behind the steering wheel. That frees up room for a huge centre storage bin.
Not all of the design is so clever though, so while the lack of conventional buttons removes clutter, it also means you have to sift through screen menus just to turn up the heater. Not so easy when you're concentrating on driving.
The Volkswagen Touran's physical controls are much easier to reach for when you're driving but, like its exterior, inside it lacks the flair you get in the Citroen.
So, for the most part, the Citroen is a comfortable car to while away the miles in and you'll appreciate it's smart design every time you get sat behind the steering wheel.
Quality and finish
Most of the Citroen's interior plastics are soft and squidgy to the touch. On top of that, the inner door handles have a metal finish and you get metallic trim on the dashboard and steering wheel, while the two-tone plastic colour scheme set things off nicely.
It's only when you hunt below your eye line that you'll find cheaper plastics that are hard and scratchy. In this respect, a Touran has a more consistent feeling of quality.
That's also true of the Citroen's switchgear. The stalks behind the SpaceTourer's steering wheel feel light and a little flimsy and the buttons on the dashboard don't have the precise, oily movement of the ones you'll find in the Touran.
That said, even basic Touch Plus versions of the SpaceTourer get dark cloth trim that looks expensive and will hide stains – handy in a family car – while the rest of the range gets half-leather seats. Flair Plus models can be specified with a full leather interior, but it's an expensive option.
The standard panoramic windscreen, meanwhile, stretches over your head, helping to make the interior feel light and air, especially when it's combined with the glass roof fitted to Flare Plus models.
Infotainment: Touchscreen, USB, nav and stereo in the Citroen Grand C4 SpaceTourer
All versions of the Citroen Grand C4 SpaceTourer come with a 12-inch display that sits in the centre of the dashboard with a seven-inch screen sitting below it.
As well as giving you driving information such as speed and remaining fuel, the larger screen also provides colourful 3D maps for the car's standard sat-nav system.
It's powered by TomTom and includes a three-year subscription to that company's live service. As a result, the sat-nav gets live fuel prices, can find you a parking space and even give you weather updates. TomTom's magic touch also means it'll be much better at detecting congestion and steering you round it than the OEM systems fitted to other cars.
That's just as well though because the screens' blocky graphics make them look dated and the smaller seven-inch screen is also a pain to use requiring far too many screen prods to do things like entering a postcode.
It's a lot easier to give up and use the car's standard Apple CarPlay and Android Auto, which can mirror many of your smartphone's features onto the car's seven-inch screen. As well as giving you more intuitive menus, doing this also means you can do almost anything using voice commands.
What it doesn't improve is the Citroen's underwhelming six-speaker stereo, two fewer speakers than you get in a Touran.
Space and practicality: Citroen Grand C4 SpaceTourer boot space
Space is one of the things the Citroen Grand C4 SpaceTourer does best.
Up front, you get seats like captain's chairs with individual armrests, although you have to skip the basic Touch Plus model to get a height-adjustable passenger seat.
Touch Plus models are also the only models not to get a massage function as standard, although it's far from vigorous, using airbags that feel like they're being inflated by a convulsing pufferfish.
Want to ramp up the comfort levels? Then you want the optional RELAX pack (o Flair Plus models) which adds an electrically operated footrest to your front passenger's seat and – in the front and middle rows – headrests that support your head laterally like the ones you get on a jumbo jet.
Even without this fancy pack, the middle row is very comfortable. Each of your three passengers gets their own separate seat so whoever's sitting in the centre won't feel as crushed as they would in a Kia Carens, say.
As a result, there's also room to make use of all three Isofix points. They're easy to access and there's plenty of room to get the base of larger seats fitted with the top half slotting in on top.
Everyone also gets plenty of adjustment with all three seats reclining and sliding forwards and backwards on floor runners so you can free up more knee room for the people sitting behind or, if there's no one there, slide the seats right back and lounge out in the resulting acres of legroom.
The only thing we don't like is the seat's low position which does make it feel like your knees are sitting unnaturally high.
Accessing the last row is a little bit of a squeeze because the middle chairs don't pivot straight out the way like they do in a Volkswagen Touran. Once you're in though, even adults will have enough legroom, the only downside is headroom that even average adults will find a bit tight.
One of the beauties of the Citroen is that even with seven adults aboard, you still get a usable boot – big enough to fit a couple of small suitcases or a kid's buggy.
Fold away the back seats and you'll easily fit a week's worth of luggage for a family of five and with the middle row stored away too, well, you're essentially left with an extremely plush van that'll make short work of flat moves.
Loading is easy both thanks to the huge boot opening and the Citroen's completely flat floor, the only pinch point is folding the seats – they're heavy and the mechanisms are fiddly and stiff. Folding a Touran's seats away is a paragon of simplicity by comparison.
The Volkswagen also offers more consistent interior storage. Okay, so all the Citroen's doors have big pockets and all but the basic model get drawers hidden under the front seats, but, oddly, the glovebox is tiny.
Handling and ride quality: What is the Citroen Grand C4 SpaceTourer like to drive?
"The Citroen Grand C4 SpaceTourer is an easy car to drive in any situation. Even in town, where a large car like this could feel cumbersome. The Citroen's big windscreen and helpful quarter lights give you great forward vision and you also get a higher position than you would in a hatchback such as a Volkswagen Golf. It's almost as good as sitting in a tall SUV."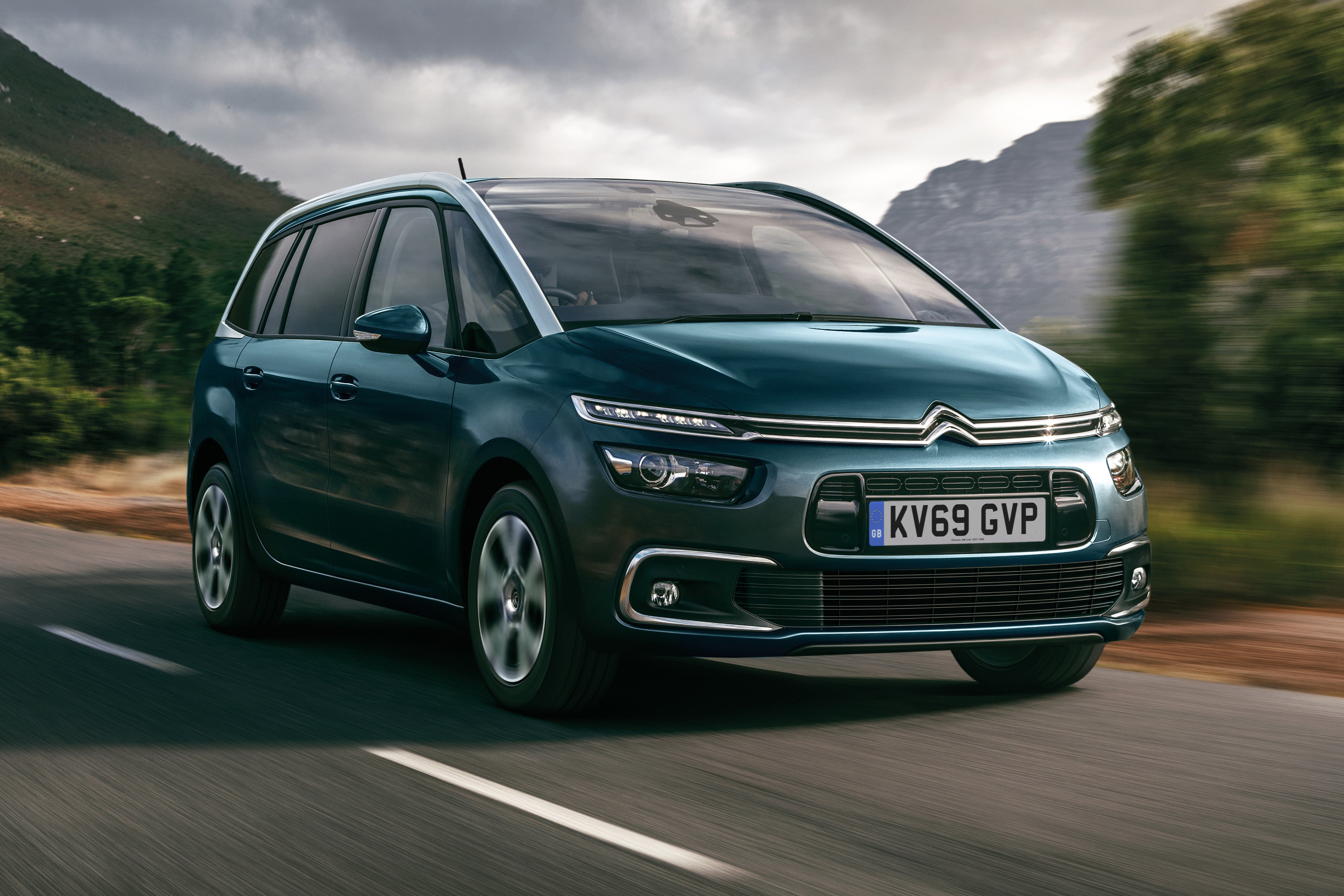 Light controls make the Citroen easy to manoeuvre at low speeds and rear parking sensors are standard so you don't have to worry about damaging the distant rear end.
Meanwhile, mid-range Feel Plus models get a rearwards facing camera, while top-of-the-range Flair Plus cars can reverse park themselves – turning the steering while you operate the pedals.
Hit the motorway and you'll find the Citroen's suspension soaks up bumps better than it does at low speeds, though the light steering can feel imprecise when you're trying to stay in the dead centre of your lane.
On the bright side, even basic models have cruise control so you can set your cruising speed and give your foot a rest from pressing the accelerator pedal for hours on end.
There's little to complain about on country roads, too. Steam into a corner too quickly and the Citroen will wash wide predictably, with no surprise antics to catch you off guard.
If there's one criticism it's that you feel so detached from the whole experience there's little fun to be had from going quickly. In that respect, the Volkswagen Touran is more agile, while the Ford S-MAX seven-seater is genuinely fun.
What engines and gearboxes are available in the Citroen Grand C4 SpaceTourer?
The Citroen Grand C4 SpaceTourer is available with one petrol engine and two diesels, there's no mild-hybrid offered and it's not available as a pure-electric either.
Of the three engines, it's the 130PS 1.5-litre four-cylinder diesel that makes the most sense. It might not sound like much, but the smaller diesel has plenty of grunt where you need it – when overtaking or joining motorways – and it's also pretty quiet, quieter than the Volkswagen Touran's 1.6-litre diesel and the Citroen's larger 2.0-litre.
The 1.5 diesel's only slight negative is that it costs more than the noisier three-cylinder 1.2-litre petrol (which is still worth considering if you'll do most of your driving in town because it offers spritely performance at slower speeds).
If you do lots of town driving, it's worth considering the eight-speed automatic, but it's an expensive option and its jerky changes mean most people will be better off sticking with the standard six-speed manual. That said, the 2.0-litre diesel only comes as an automatic.
Refinement and noise levels
If you're buying a family car, you want it to be comfortable and the Citroen Grand C4 SpaceTourer fits the brief.
Out of town, the C4 takes the strain out of long-distance motorway cruises. It's quiet at the speed limit with little of the wind noise you get in seven-seater SUVs such as the Land Rover Discovery Sport. Tyre noise is also hushed even on Feel and Flair models, which have wheels an inch larger than the basic car's 16-inch alloys.
For the most part, the engines are also quiet – the 130PS 1.5-litre diesel proving the quietest of the bunch. Sure, the Citroen's petrol and 2.0-litre diesel can be a little noisy under acceleration but once you're up to speed, you'll barely hear them working.
The three-cylinder 130PS 1.2-litre petrol sounds quite sporty if you like that sort of thing.
Safety equipment: How safe is the Citroen Grand C4 SpaceTourer?
The Citroen Grand C4 SpaceTourer comes with a selection of safety features that increases the further you go up the range.
All models come with a tyre pressure warning system that can alert you to a flat, a system that passively warns you to take a break when driving for long periods, six airbags and three Isofix points for the safe fitting of a child seat.
Move up from basic Touch Plus to mid-range Feel Plus and you get equipment such as an electro-chrome rear-view mirror (it reduces the glare of following cars' headlights), speed limit recognition that displays the current speed limit on the car's infotainment screen and driver attention alert. It monitors your driving and recommends when you should take a break based on your concentration level.
Even the illumination gets upgraded with cornering fog lights that light up to correspond with what direction the front wheels are pointing.
The most important addition, however, is automatic emergency braking that monitors the front of the car and can warn of an imminent collision, slamming on the brakes autonomously if you don't take action. Unlike a Volkswagen Touran's system though, which can detect pedestrians and cyclists, Citroen's automatic brakes only respond to other vehicles.
It's also worth mentioning that the Touran comes as standard with active cruise control, which you only get on top-of-the-range Flair Pro versions of the SpaceTourer. It's a handy feature which uses radar to keep a safe distance from the car in front, before accelerating back to your predetermined cruising speed when the road clears.
Also included with the top-of-the-range Citroen is active lane departure warning that can gently guide the car in lane if it senses you're drifting over the white lines. It acts in tandem with a blind spot monitoring system that can detect a car hidden in your blind spot and warns you of its presence.
Flair Pro cars also add headlights that dip their main beam automatically so they don't blind other drivers.
Car safety body NCAP has never crash-tested the Grand C4 SpaceTourer but the smaller C4 SpaceTourer was awarded a five-star rating with NCAP saying it was "satisfied that a similar level of protection is offered by the seven-seat SpaceTourer".
Finally, a spare wheel doesn't come as standard but you can have a space saver as a relatively cheap extra. Oh, and 12 months roadside assistance also comes as standard.
MPG and fuel costs: What does a Citroen Grand C4 SpaceTourer cost to run?
"Of the Citroen Grand C4 SpaceTourer's three engines, it's the 1.5-litre diesel that's cheapest to run – it returns a claimed figure of up to 60mpg on the combined WLTP cycle, so 50mpg should be easily attainable in mixed driving."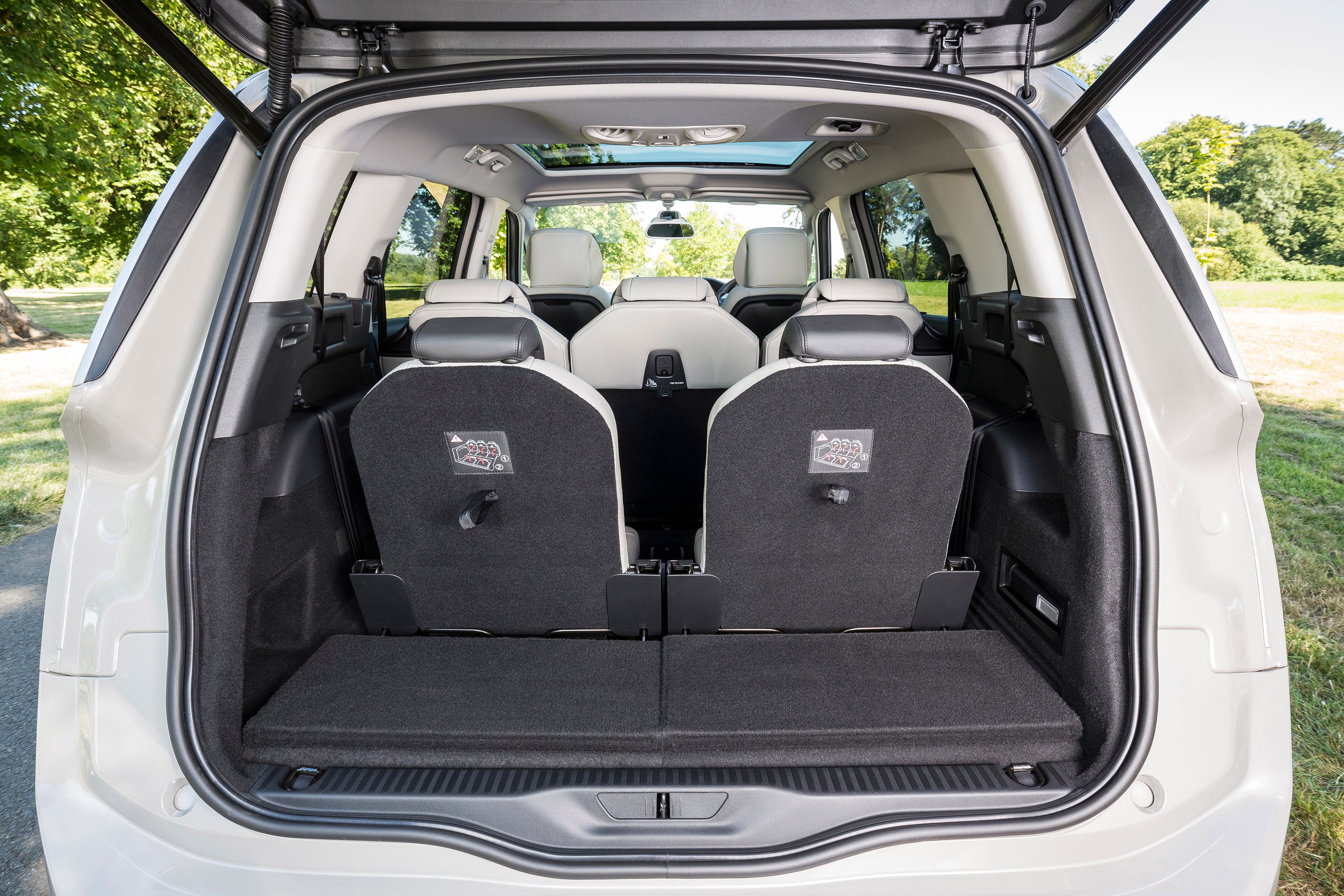 That would give you a real-world range of more than 600 miles from the C4's 55-litre fuel tank.
The 1.2-litre petrol is thirstier. It claims fuel economy of up to 47mpg so you can expect to get around 40mpg in the real world. Both the 1.2-litre petrol and 1.5-litre diesel can be fitted with Citroen's optional automatic gearbox and fuel economy shouldn't suffer beyond a few miles per gallon.
The 2.0-litre diesel comes with the automatic gearbox as standard, Citroen claims 47mpg fuel economy so you can expect to get 40mpg without having to drive like a saint. Trouble is, it doesn't feel that much quicker than the 1.5-litre diesel which will lead you to ask the question: why bother?
Insurance groups and costs
The Citroen Grand C4 SpaceTourer's insurance group ranges from 21E in Feel Plus trim with the basic 1.5-litre diesel engine to group 29A for a top-of-the-range Flair plus model fitted with the 2.0-litre diesel engine.
Adding the automatic gearbox as an option has only a minor effect on overall insurance costs.
There are substantial savings to be made by choosing the Citroen's rival, the Volkswagen Touran, though. Its insurance groups range from 9E to 21E.
VED car tax: What is the annual road tax on a Citroen Grand C4 Picasso?
The Citroen Grand C4 SpaceTourer's CO2 emissions range from 136g/km for the 1.5-litre diesel, up to 172g/km (for both the 2.0-litre diesel and 1.2-litre petrol fitted with an automatic gearbox.
As a result, road tax ranges in the first year from £215 for the 1.5-litre diesel and 1.2-litre petrol up to £540 for the 2.0-litre diesel.
If you're buying your SpaceTourer as a company vehicle, BIK ranges from 30% for the 1.5-litre diesel (with or without an automatic gearbox) to 35% for the 2.0-litre diesel.
How much should you be paying for a used Citroen Grand C4 SpaceTourer?
"The Citroen Grand C4 SpaceTourer isn't the cheapest family car on sale, but you don't get many roomier cars for the money."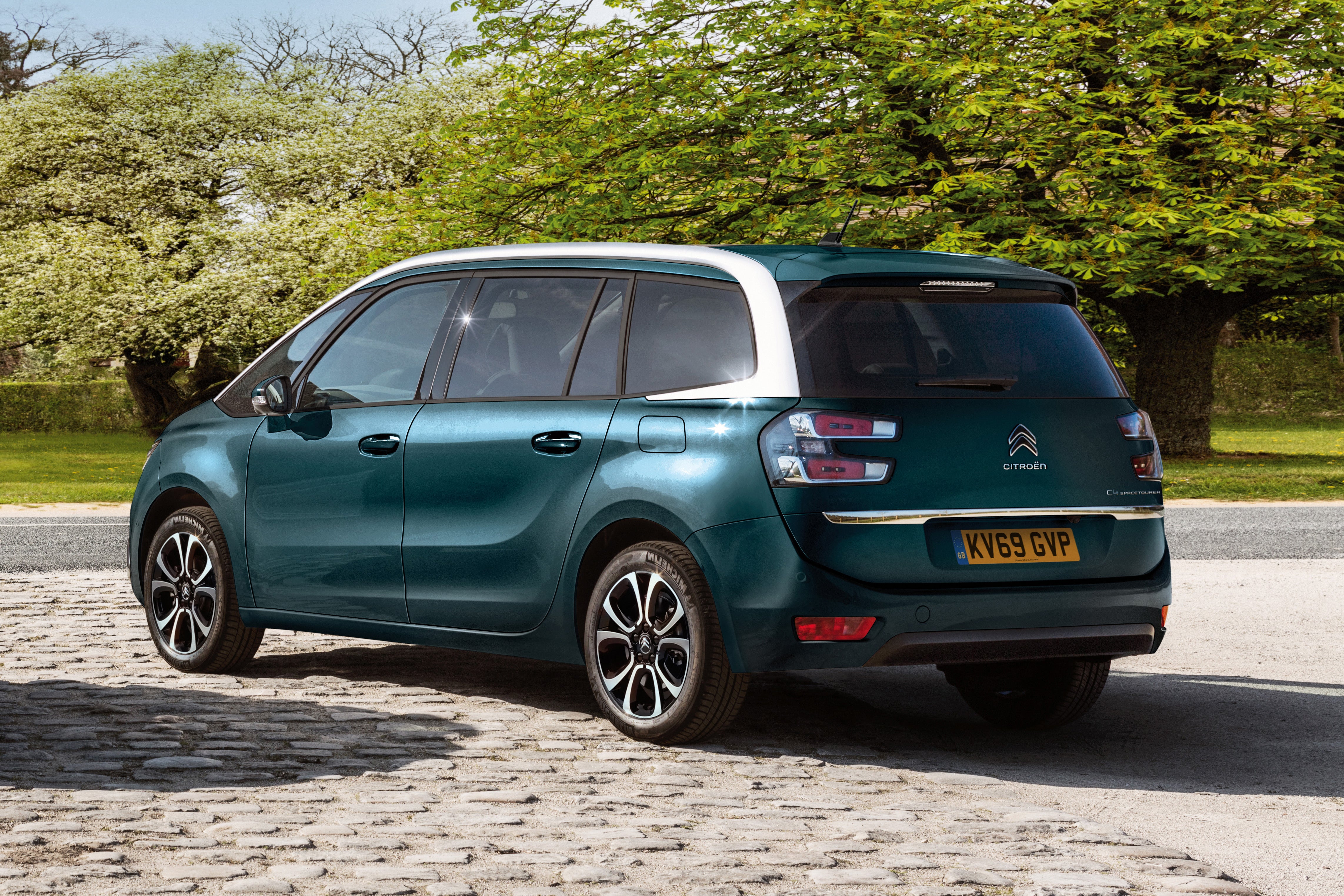 As of 1 April 2020, the Citroen costs from £27,000 for a 1.2-litre petrol fitted with a manual gearbox and in Touch Plus trim. At the top of the range, you'll find the £35,910 2.0-litre diesel in Flair Plus trim.
The car we recommend is the 1.5-litre diesel manual in Flair Plus trim which has an RRP of £32,815, though you won't need to do too much digging to find pre-registered cars going for less than £30,000.
Trim levels and standard equipment
The Citroen Grand C4 SpaceTourer comes in three trim levels – Touch Plus, Feel Plus and Flair Plus.
Basic Touch Plus models still look smart because they get 16-inch alloys as standard, as well as roof bars that'll make it easier to mount a cycle rack or roof box. Stand out features include a seven-inch sat-nav display with Android Auto and Apple CarPlay, climate control, cruise control and rear parking sensors.
Feel Plus cars add useful features such as keyless entry, a reversing camera and half-leather seats.
Flair Plus models come stacked with kit. They add equipment such as an electrically operated rear boot lid, powerful Xenon headlights with auto dip, automatic parking, active cruise control and a huge panoramic glass sunroof. Flair Plus is a popular trim level and, if you're buying used, you shouldn't have to pay a huge premium for it.
It's also worth noting that a posh full leather interior was an expensive, £2,150 option that shouldn't carry much of a premium on the used market.
Ask the heycar experts:
common questions
Is the Citroen Grand C4 SpaceTourer good?
The Citroen Grand C4 SpaceTourer is a great family car with loads of passenger space, a big boot and an interior that is littered with tiny storage spaces. It's cheap to run for a large car, while it's setup for comfort rather than sporty driving.

Will there be a new Citroen Grand C4 SpaceTourer?
The Citroen Grand C4 SpaceTourer can be traced back to the 2006, when MPVs were still very popular. A lot has changed since then and buyers looking for a spacious family car now tend to choose a more stylish MPV. As a result, the Grand C4 SpaceTourer is unlikely to be replaced.

What is the best MPV?
The Citroen Grand C4 SpaceTourer is the best MPV you can buy if you need lots of passenger space. Its interior is huge, with room for seven people and space leftover in the boot for a couple of carry-on suitcases. That being said, the Ford S-Max in nicer to drive and the Volkswagen Touran is better designed.

Citroen Grand C4 Spacetourer cars for sale on heycar
1,615
Number of cars available
£15K - £35K
Price bracket of these cars
Colours available on heycar
Keep me updated by email with the latest advice, news and offers from heycar
By submitting, you agree to our
privacy policy
.