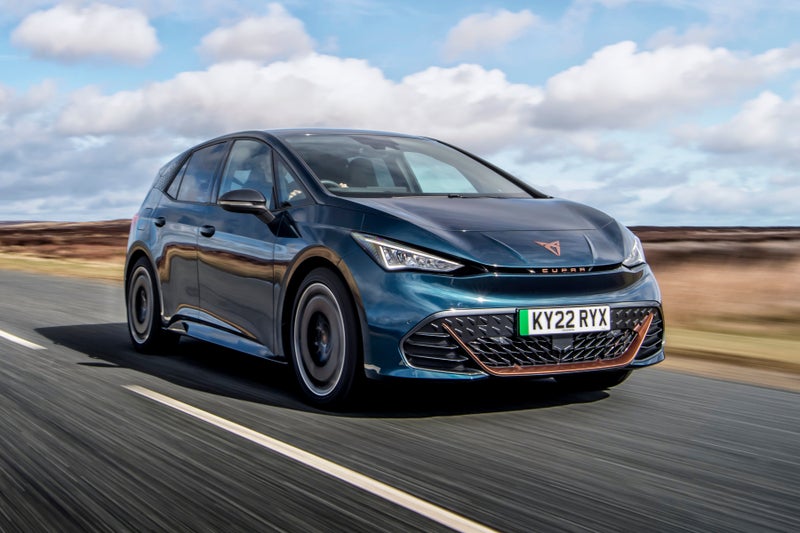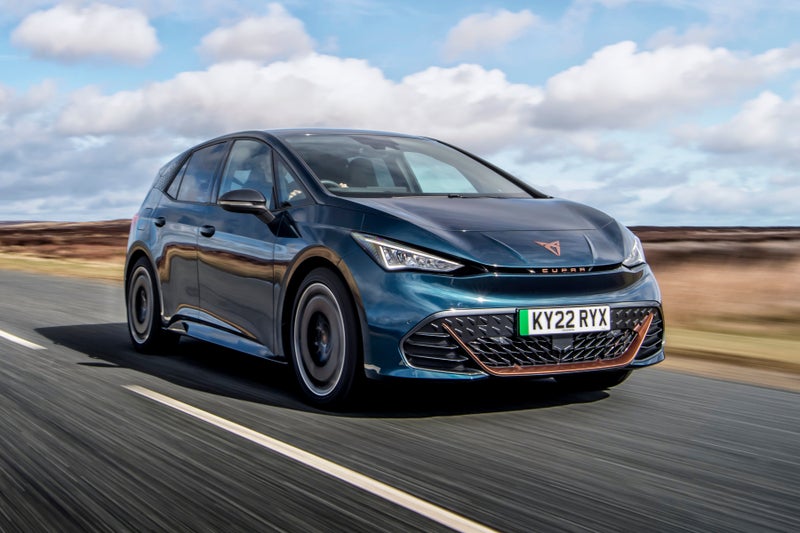 1/10
heycar rating
"Like an ID.3 but better"
Launched: 2022

Family hatch

EV
Quick overview
Pros
More striking design and nicer cabin than Volkswagen ID.3
Strong electric range for the money
Enjoyable to drive yet still comfortable
Cons
Some cheap-feeling cabin materials
Infuriating touch-sensitive switchgear
You'll get bored of people asking what it is
Overall verdict
On the inside
Driving
Cost to run
Prices and Specs
Common questions
Overall verdict on the 2022 Cupra Born
"The Cupra Born is, for all intents and purposes, a Volkswagen ID.3 with a racier look inside and out, plus more of a focus on sportiness in the driving experience. That means the Born still retains the largely excellent all-round qualities of its sibling, yet adds a bit of character that the VW is sorely lacking."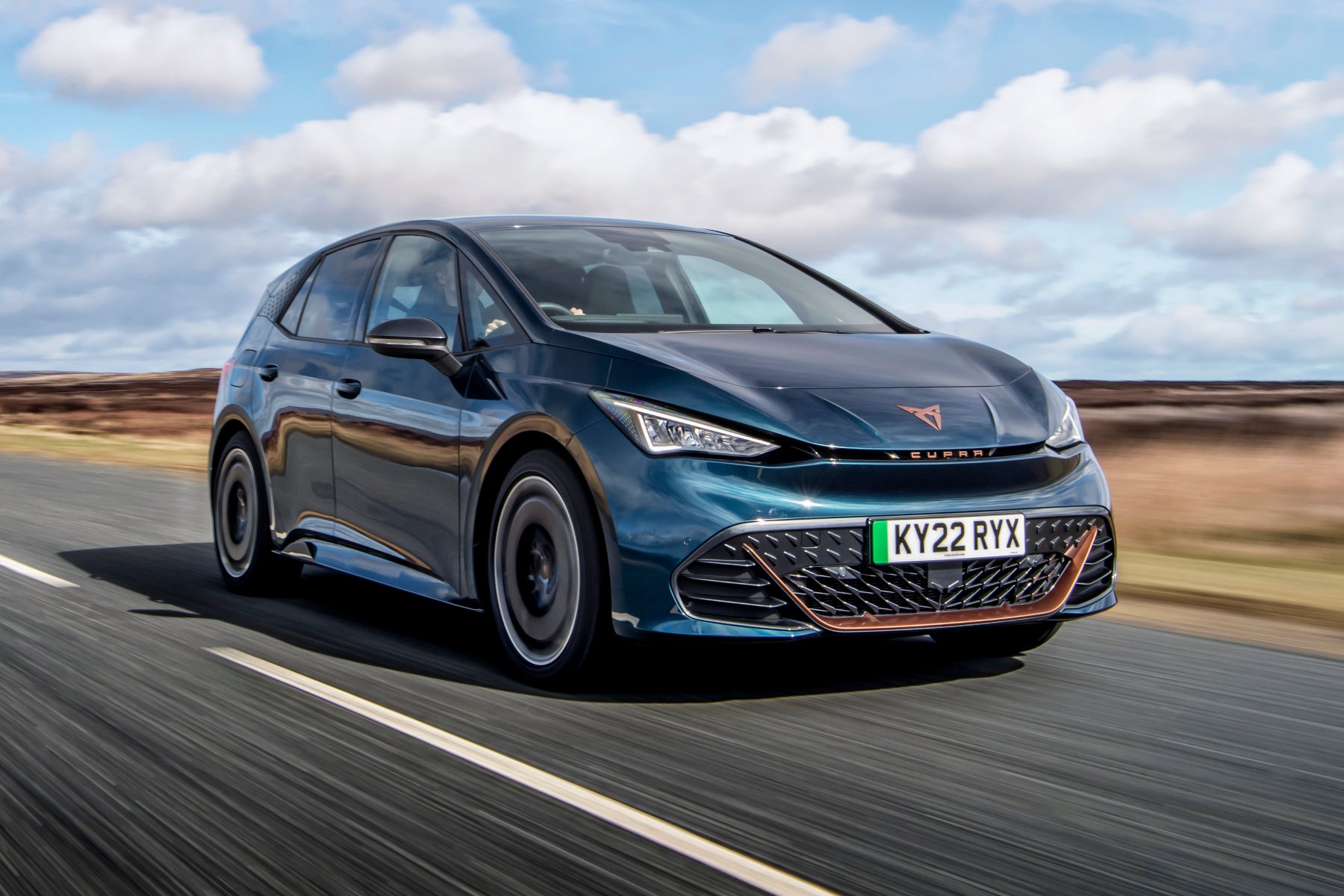 There's an electric car for everyone in the Volkswagen Group stable. There's the ultra-versatile Skoda Enyaq iV, the posh Audi Q4 e-tron and the almost boringly sensible Volkswagen ID.3 and ID.4. And then there's this – the Cupra Born, also known as "the sporty one."
Arguably the world's first electric hot hatch, the Cupra Born is a Volkwagen ID.3 that's had a scowling front-end slapped on it as well as an edgier-looking backside. In this review we'll demonstrate why it might be more appealing than its German cousin but, first, it's worth reminding ourselves what exactly Cupra is.
A relatively new brand in its own right, Cupra was formerly a long-standing sporty sub-brand of SEAT. It began its journey alone with the lightly rebadged hot Cupra Ateca and Leon but has since branched out into its own bespoke models, such as the Formentor coupe-SUV.
The Cupra Born is the second bespoke car from the brand – at least in terms of its design. While to some eyes it looks like an ID.3 that's been photoshopped to look really angry, the angular nose, sharp surfacing and full-width light bar over the tailgate works better in the metal. Think of it as the ID.3's evil twin, which will suit those who reckon VW's effort is too bland and gawky.
Inside, too, the basic architecture of the ID.3 is largely familiar, with the same overall dashboard architecture. The Volkswagen ID.3 feels surprisingly downmarket in some ways and, although the Cupra Born couldn't be described as posh, it does at least look and feel a bit more interesting than the VW.
That added spice doesn't come at the expense of practicality. Although this is a family hatchback and not a more fashionable SUV bodystyle, you get more space than inside a Cupra Leon. Four adults should be pretty comfortable inside the Born, while wide opening doors means life easier, too.
Being based on the ID.3 means it gets very similar specs in terms of electric range and charging. There's rapid charging at up to 135kW with the bigger battery, enough for 62 miles of range to be added in just seven minutes. 58 and 77kWh battery options are available, with the latter offering up to 340 miles on a charge. Cupra also claims the Born is delivered net carbon neutral, offsetting the production impact on the environment.
With the intention of the Born being a sportier model, Cupra's cheapest version offers more power than a base ID.3 (you can either have 204PS or 230PS). Both offer perky performance and are rear-wheel drive, which means the Born feels supremely agile both in and out of town.
The Cupra Born also sits lower to the ground than the ID.3 on which it's based, with a sportier suspension tune and optional Dynamic Chassis Control with five modes. The Born also gets specifically developed wider tyres and optimised brake feel, resulting in a sharper and more engaging overall feel than the VW on twisty roads.
The trade-off is a ride that's a touch firmer than the ID.3, so if comfort is the priority the VW is the better bet. Thankfully, though, the Born is never harsh or uncomfortable, feeling well-controlled over even the worst surfaces.
What's the best Cupra Born model/engine to choose?
So far we've only sampled the Cupra Born with the 58kWh battery and 204PS output. We reckon this'll be sufficient for the majority of buyers, with plenty of power and a decent electric range. If you want true hot hatch perforamnce, though, look for a 230PS e-Boost model, while long-distance drivers might prefer a Born with the bigger 77kWh battery pack.
What other cars are similar to the Cupra Born?
The Cupra Born's obvious rival is the Volkswagen ID.3 (it's practically the same car, albeit with a happier face and a focus on comfort rather than performance). You might also want to look at the Hyundai Ioniq 5 and Kia EV6 (two of our favourite electric cars), as well as the smaller Kia Niro EV. The Mazda MX-30 is another stylish choice, albeit one with a pretty poor range, while the Citroen e-C4 and Vauxhall Mokka-e do things slightly differently. Of course, if you want a desirable electric hatch that handles well, you should also be looking at the Tesla Model 3.
Comfort and design: Cupra Born interior
"The Cupra Born's interior is light and airy with a modern design, and has a more upmarket look and feel than its VW sibling. Space is great, although the boot isn't hugely practical and there are some cost-cutting elements that let it down."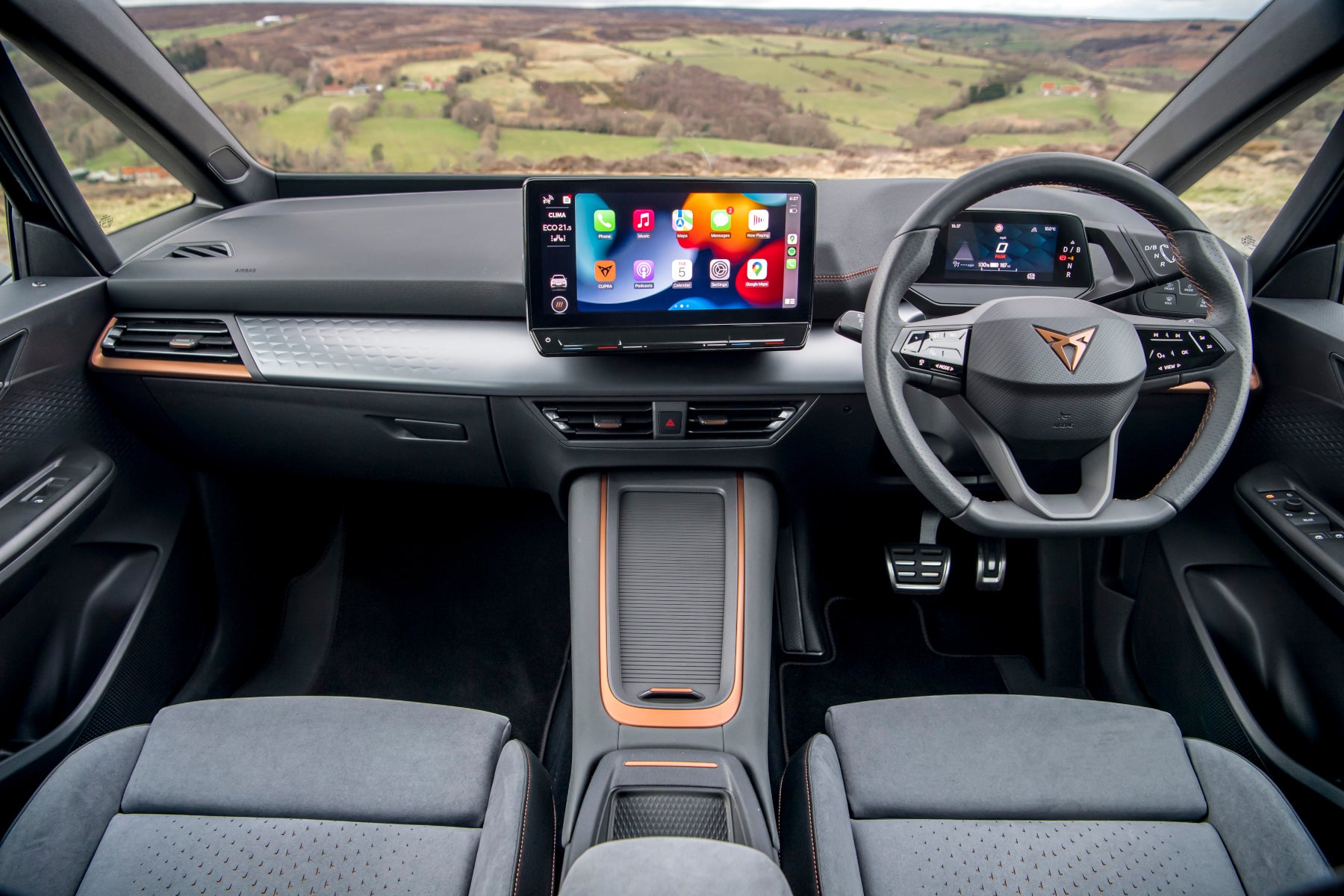 You'll forgive us for mentioning the Volkswagen ID.3 so much in this review, but the similarities cannot be ignored. Strip away the badging, some details and the finishes and the basic cabin architecture is nearly identical.
That does mean, though, that you get great forward visibility thanks to a deep windscreen and slightly raised-up driving position. The steeply raked pillars to obstruct your junction view a bit, but it's not bad. Rearward visibility is limited by a narrow rear window, but you get parking sensors and a camera as standard to help with that.
The standard single-piece sports seats are comfortable yet supportive, and there's plenty of adjustment in the wheel. Like the ID.3, the digital dial display pod is mounted to the steering column and moves with it, meaning you can't obscure it.
Generally it's a very light and airy cabin, helped by large glass areas and good headroom. Cupra prefers moodier, sportier trim colours to some of the light and bright options available on certain ID.3s, but we like the copper inserts dotted around the dash, as well as the fabric on the doors and centra armrest. We also like that Cupra has decided to put a sliding cover over the central cupholders, differing from the VW.
Some areas of the cabin are a little disappointing, though. There's more hard plastic than you might expect in places such as the door cards, and although general build quality seems solid, there's more of a plush feel to Peugeot's smaller electric cars, for example.
That's not our only complaint, either. While the physical toggle switch for the 'gears' is pleasant to use, the VW Group's obsession with minimalist controls and touch sensitive switchgear frustrates here, too.
The touch buttons for the lights are mildly irritating, as is the silly haptic 'slider' for the temperature and volume control below the touchscreen. But most annoying is the touch sensitive wheel controls with volume buttons that do nothing if you simply press them – you have to caress them in a certain way to get them to respond.
Other annoyances include the several jabs of the touchscreen display required simply to turn the heated seats on or off, while there are no physical rear window controls up front – you have to switch between controlling the front and rear windows with the same switches – which strikes us as a cynical piece of cost-cutting.
We're less frustrated by the infotainment screen itself, which is slightly easier to use than VW's similar system. Overall, you also get a good level of standard equipment, too.
Quality and finish
The Cupra Born's interior is a mixed bag for perceived quality. That's because fit and finish is generally very good, while there are nice fabric touches, some metal effect trim on the dash and a soft-touch upper dash panel with contrasting stitching. Nothing feels flimsy and like it won't stand up to hard use, either.
But, we do take issue with the amount of hard plastic on the door cards beyond the little fabric panel, and some scratchy plastic on the bottom half of the dash. Given upper-tier Borns venture beyond the base price of the Hyundai Ioniq 5, it's a little disappointing. But it's not bad overall, and certainly a more pleasant place to sit than a Nissan Leaf.
Infotainment: Touchscreen, USB, nav and stereo in the Cupra Born
Whereas entry-level ID.3s come with a 10-inch infotainment touchscreen, every Cupra Born gets the full-size 12-inch centre display. Mounted within your line of sight and angled towards the driver, we've no issues with the sharp graphics and clear screen.
It's also reasonably responsive to the touch, while Cupra's approach to the menu layout is a little more intuitive than VW's. Sat-nav is standard, too, as is Apple CarPlay and Android Auto smartphone connectivity. Overall, it's a pretty good system. The problem is that the Born relies so heavily on it, with no physical shortcut buttons to help you navigate it more easily while driving.
V2 and V3 models also get an augmented reality head-up display, which projects arrows onto the screen that direct you down the correct junction or turning when the sat-nav is engaged. The system works pretty well, and is handy if you turn off annoying voice commands.
Space and practicality: Cupra Born boot space
There's very little to complain about here. For a car with a relatively small external footprint, the Cupra Born is more spacious than you might think inside.
In terms of external dimensions the Born is 4322mm long, 1809mm wide and 1537mm tall. That's actually around 60mm longer than the ID.3, but that can largely be attributed to the chunkier front-end design and bumpers.
There's plenty of space up front even for six-footers, plus a good amount of storage including cupholders behind a sliding cover in the centre. The door bins are a respectable size, too, as is the glovebox.
Move into the back and you'll find the doors open nice and wide, while the Born manages to avoid the pitfall of some EVs by having a relatively low floor leaving some (but not loads) of space to slide your feet under the front seats. Six-footers will have no complaints with leg or head space back there, although while there's no transmission tunnel the middle seat is a bit narrow.
It's a shame that the rear seats only fold in a 60/40 split, while there isn't a ski hatch available either. Still, the boot is a decent size, being ever so slightly larger than that of a VW Golf's at 385-litres. There isn't a false floor to hide your charging cables in, though - and nor is there a 'froot/frunk' at the front like there is in a Tesla Model 3.
Ride quality and handling: What is the Cupra Born like to drive?
Very few cheaper electric cars deliver even a vaguely sporty driving experience, so it's nice that the Cupra Born feels agile and somewhat engaging. It's far from a hot hatch, but it's enjoyable enough without making you suffer an uncomfortable ride.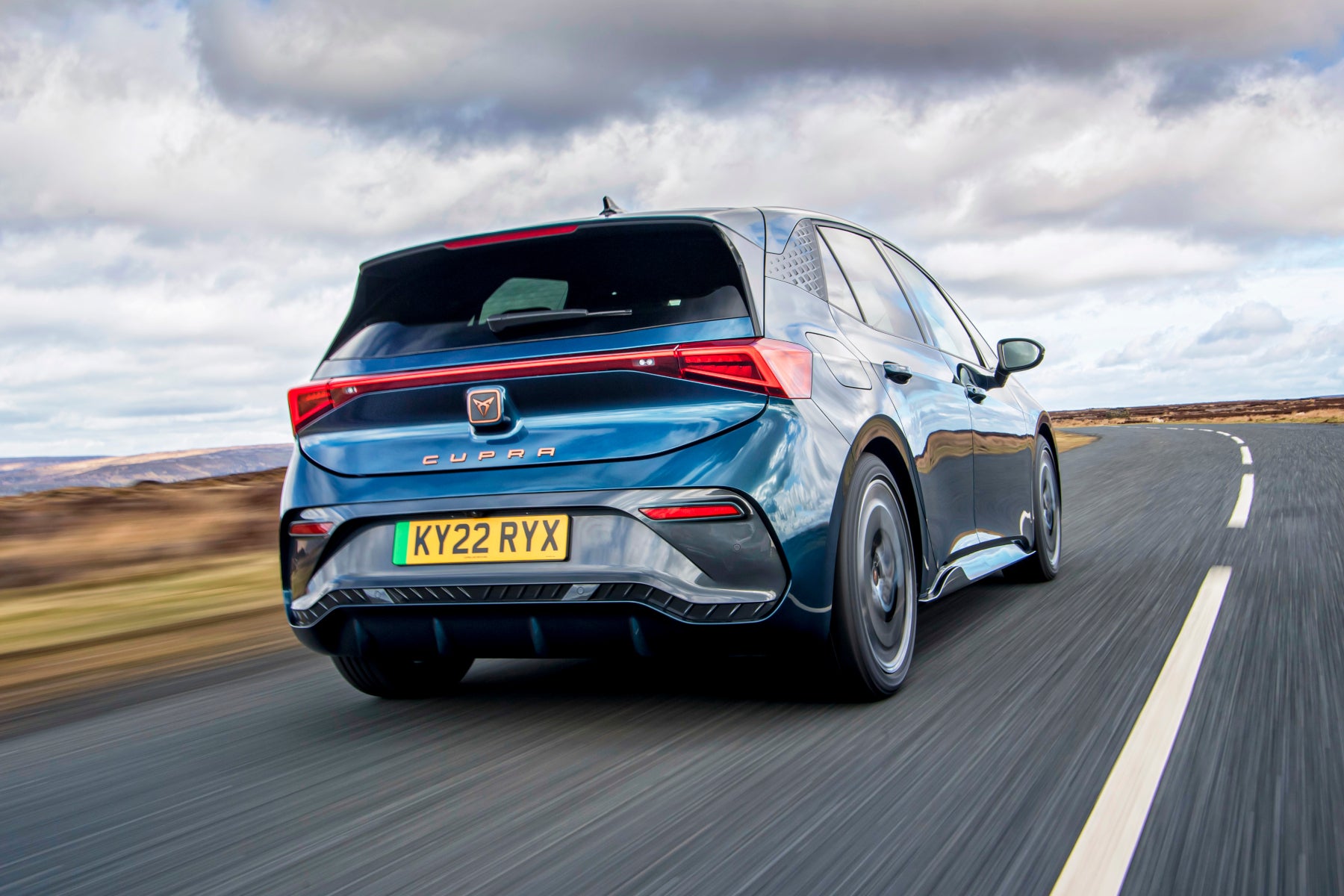 As you'd expect with Cupra being one of the VW Group stable's sporting brands, the Born has had a few changes made to it over the ID.3 to increase its appeal with keener drivers.
For starters, it sits lower to the ground (10mm at the front, 15mm at the rear), has bigger wheels, and wider tyres specifically designed for the car. The optional adaptive dampers have a specific tune for the Born, too. It also has a more lenient mode to the stability control, although it doesn't let you turn it fully off.
The latter point is a shame because, as the Cupra Born is rear-wheel drive, it could've been the first hot hatch capable of full-on oversteer since the last-generation BMW 1 Series. But that's hardly relevant to road driving, and we suspect given the Born weighs around 1750kg Cupra didn't want people pushing it beyond the limit.
The changes aren't extensive, then, and sure enough it doesn't take long for you to realise this isn't a full-on hot hatchback like the Cupra Leon. For starters, the ride is still pretty comfortable, feeling a little tighter than the ID.3 but not letting big potholes thump into the cabin too much.
Try to drive it like a lunatic and it won't thrill you like a hot hatch, either, refusing to engage in any playfulness and gripping relentlessly. However, accept that and wind the speed down a bit and there is fun to be had. Body control is very good for something so heavy, which combined with that instant power delivery, accurate, well-weighted steering and a reluctance to understeer means you can enjoy threading it down a twisty B-road.
It's certainly more fun than most small electric cars, which feel heavy and wallowy. But it's also great to drive around town thanks to the short overhangs, good visibility and a tight 10.2m turning circle. On the motorway, while it does fidget a bit more than more softly sprung rivals, it cruises pretty nicely too.
The brakes are strong and more natural feeling than in some EVs, where the pedal feel is artificial and it's difficult to come to a stop smoothly. Sport mode will increase the regenerative braking effect to simulate engine braking, as well as adding weight to the steering. But you can increase the regen braking by selecting 'B' mode on the drive rocker switch.
That, combined with the lack of gearchanges and the need to even worry about turning it on when you step in makes it a doddle to drive. It's a pretty impressive all-rounder, then. But we suspect Cupra has more up its sleeve as higher performance, even sportier variants are in the works.
What engines and gearboxes are available in the Cupra Born?
At initial launch the Cupra Born is available with two power outputs and two battery sizes. All versions are currently rear-wheel drive, but expect higher powered four-wheel drive versions to come later.
The current entry level version puts out 204PS and 310Nm of torque. That might not sound a lot given the Born weighs (on paper) about as much as a BMW M3, but because full torque is delivered the second you squeeze the throttle it feels pretty perky.
It's certainly enough power to have a bit of fun on tight, twisty UK roads, and while the 0-62mph time of 7.3 seconds isn't lightning fast, the brisk 0-30mph time means you can dart out of junctions with gusto around town. At motorway speeds the performance tails off, as is always the way with EVs, but it never feels gutless. A Tesla Model 3 it isn't, but not everyone needs that.
The only other motor option right now is the e-Boost variant, which is available on both the 58kWh and 77kWh battery. It puts out the same 310Nm of torque but peak power is boosted to 230PS. The 0-62mph time is improved to 6.6 seconds, so it should feel a touch more potent. But the real performance variants are to come later on.
Maximum EV range in the Cupra Born
The Cupra Born in entry level 58kWh form with the 204PS motor has a claimed WLTP range of between 223 and 264 miles. Expect the former figure to be more realistic in mixed driving, and the latter to be possible in town with frequent regenerative braking.
That maximum range drops ever so slightly to 261 miles when you opt for the faster e-Boost version with the same battery. However, there is also the 77kWh battery option, which promises between 306 and 340 miles on a charge.
Both figures are very competitive in the smaller electric car sector, blowing the Nissan Leaf and Renault Zoe out of the water. The bigger battery variant also beats the claimed range of the standard Tesla Model 3.
Refinement and noise levels
Unsurprisingly being an electric car there's no irritating vibrations or groans from an engine to contend with. What that sometimes means in EVs is that you hear more in the way of creaks and rattles from the cabin, clonks from the suspension or road roar from the tyres.
Thankfully, the Cupra Born is pretty well isolated from all of these things. We didn't notice any trim rattles at all, the suspension seems pretty quiet, and while those bigger wheels and tyres kick up a little more road noise than in the ID.3 it's hardly intrusive.
Safety equipment: How safe is the Cupra Born?
The Cupra Born has been tested by Euro NCAP and awarded a full five-star safety rating, meaning it's a very safe car for carrying your family.
Every version of the Cupra Born comes as standard with autonomous emergency braking, lane assist that'll nudge you back into your lane, adaptive cruise control, a dynamic road sign display and driver tiredness recognition. You also get front and rear parking sensors and a rear camera on every model to help you avoid low-speed parking prangs.
Charging times and cost: How much does it cost to charge the Cupra Born?
"The Cupra Born is as cheap to run as any electric car, although rapid charging isn't as affordable as it used to be."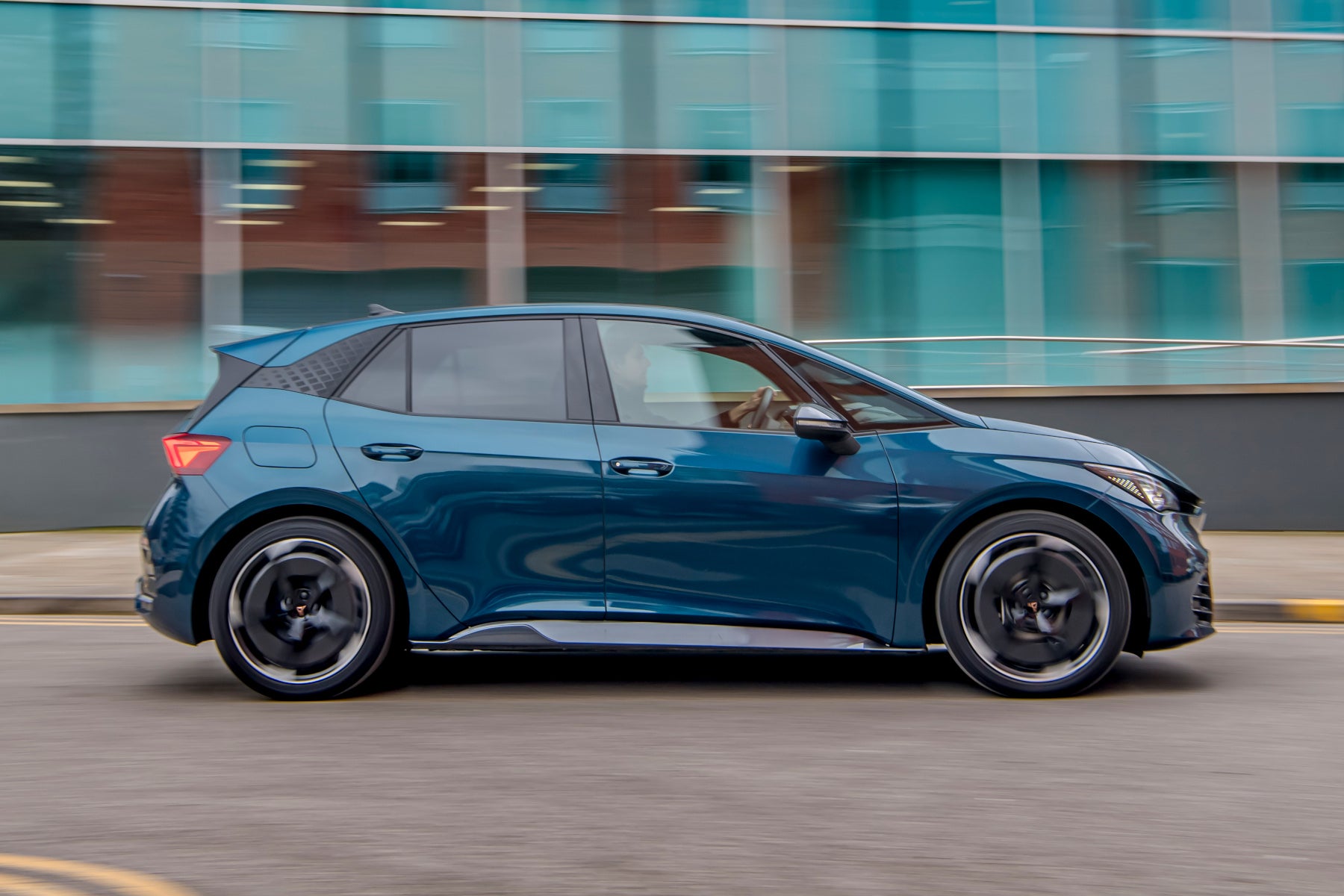 To make the most of the potential for super low running costs with the Cupra Born you'll need to be able to charge at home. With energy costs rising it's not as cheap as it used to be to do so, but topping up your battery overnight is still vastly cheaper than filling up a petrol or diesel car with fuel.
A domestic three-pin plug will take the best part of a full day to charge a 58kWh Born, but invest in a 7kW home wallbox and a full charge can be done in nine hours or so. Expect to add a couple of hours to that for the 77kWh battery version.
If you need to do longer journeys you'll be at the mercy of the UK's public charging network, which is variable depending on where you live. Find a working rapid charger that can pump the full 100kWh speeds into the Born and you'll take it from 10-80% charge in around half an hour.
The 77kWh Cupra Born can charge even faster at up to 125kW, meaning you can (in theory) achieve the same state of charge in a similar time with more range.
How reliable is a Cupra Born?
The Cupra Born is far too new for anybody to accurately predict how reliable it will be. Generally speaking, electric cars have fewer components and moving parts to go wrong, and servicing should be cheaper. The only issues we're aware of with the related ID.3 are infotainment glitches which plagued some early cars.
Cupra hasn't featured in the Honest John Satisfaction Index as a brand, but Volkswagen scraped into the top 10 brands, meaning owners find them pretty dependable overall.
Insurance groups and costs
Insurance groups for the Cupra Born have yet to be confirmed as it's only just gone on sale. We know that the closely related VW ID.3 starts at group 19 and rises to group 26, and it's unclear if the sportier approach to Cupra's marketing will increase this.
As a general rule electric cars can be a little more expensive to insure than similarly sized petrol or diesel equivalents. Why not check out our guide to the cheapest electric cars to insure?
VED car tax: What is the annual road tax on a Cupra Born?
Like all pure-electric cars, all versions of the Cupra Born are completely free of road tax (VED) because they emit nothing from a tailpipe. That's a hefty saving over a petrol or diesel car – especially one with a price tag of more than £40,000.
How much should you be paying for a Cupra Born?
"The Cupra Born is competitively priced given its size, equipment levels and range potential."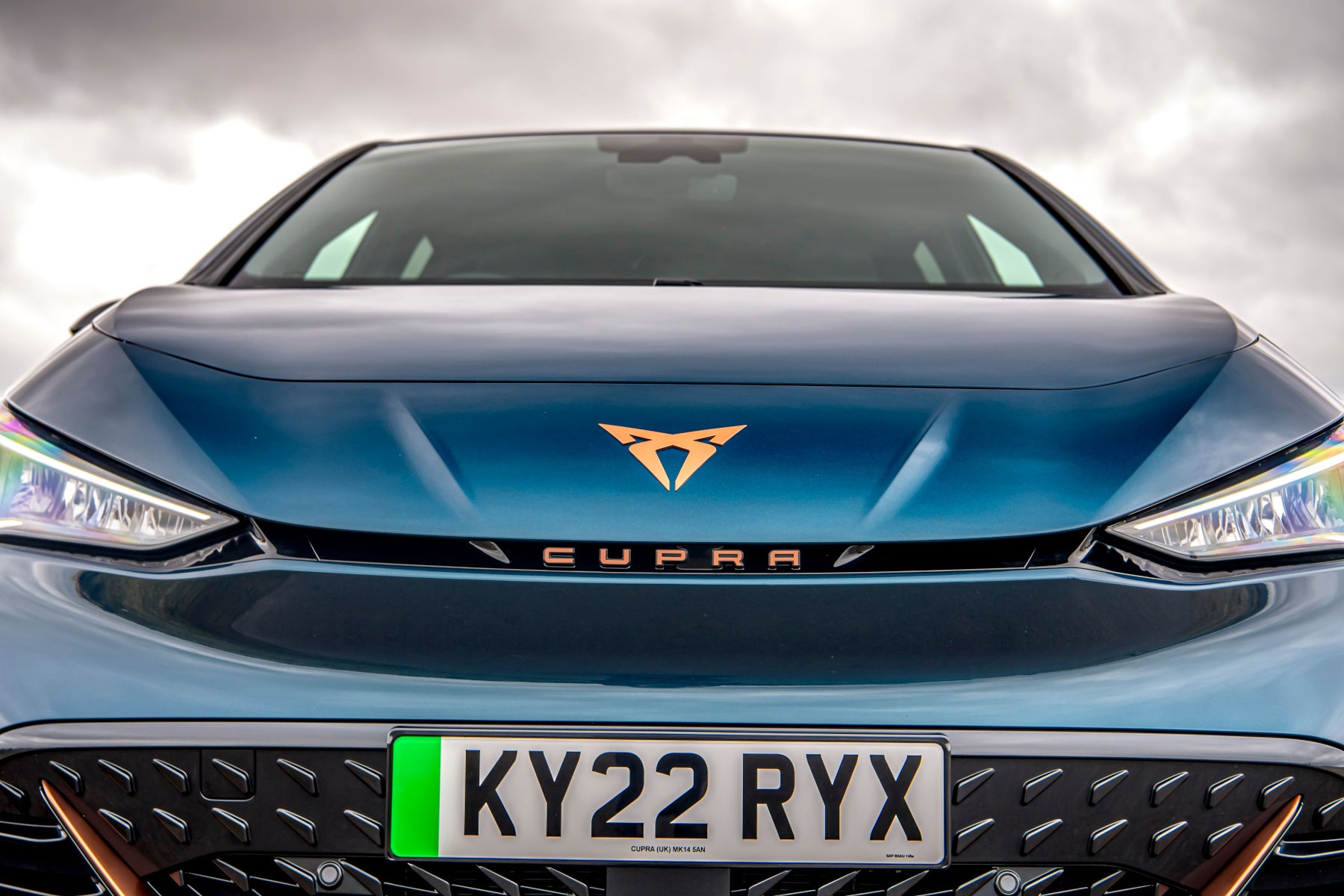 At the moment the cheapest Cupra Born on the market is the 204PS model in V1 trim with the 58kWh battery, which starts from £34,715.
Step up to V2 trim and you'll pay £36,635, while V3 trim commands at least £38,390 at the time of writing. V2 and V3 trim also give you the option of the bigger battery and more powerful motor, starting from £40,215 and £41,975 respectively.
You're not going to save a huge chunk of cash by seeking out a used Cupra Born (in fact, you'll probably pay a premium) – but there are a handful available on the used market, giving you the opportunity to skip the lengthy waiting list.
Trim levels and standard equipment
The Cupra Born is well-equipped even in base V1 form, meaning most people will see no need to upgrade to the higher trim levels.
V1 trim includes kit such as 18-inch alloy wheels, auto lights and wipers, LED lights all-round, the full infotainment roaster, adaptive cruise control, remote pre-heating and cooling, front and rear parking sensors and a rear-view camera, ambient lighting, keyless start, sports seats, a heated steering wheel and 11kW AC charging capability with a Mode 3 charging cable.
Upgrading to V2 trim only gets you a few extra niceties including 19-inch alloy wheels, tinted rear windows, heated front seats, heated washer nozzles and an augmented reality head-up display.
V3 trim upgrades the alloy wheel size to 20-inches, while also bringing Dinamica (faux suede) upholstery for the front seats. Those seats are also 12-way electrically adjustable, with heating and a massage function.
Ask the heycar experts:
common questions
What is a Cupra Born?
The Born is Cupra's first electric car, based on the Volkswagen ID.3. It's name comes from the El Born region of Barcelona.

Where is the Cupra Born manufactured?
The Cupra Born is produced in Zwickau, Germany - the Volkswagen Group's dedicated electric car factory. As well as the Born it produces electric ID models for VW and e-tron models for Audi.

Answered by
Lawrence Allan
Is the Cupra Born a SEAT?
No, not really. Although the two brands are linked in some ways, Cupra officially split from SEAT a few years ago to become a separate brand in its own right. Previously, it was the sporty sub-brand of SEAT.

Cupra Born cars for sale on heycar
168
Number of cars available
£34K - £42K
Price bracket of these cars
Colours available on heycar
Keep me updated by email with the latest advice, news and offers from heycar
By submitting, you agree to our
privacy policy
.