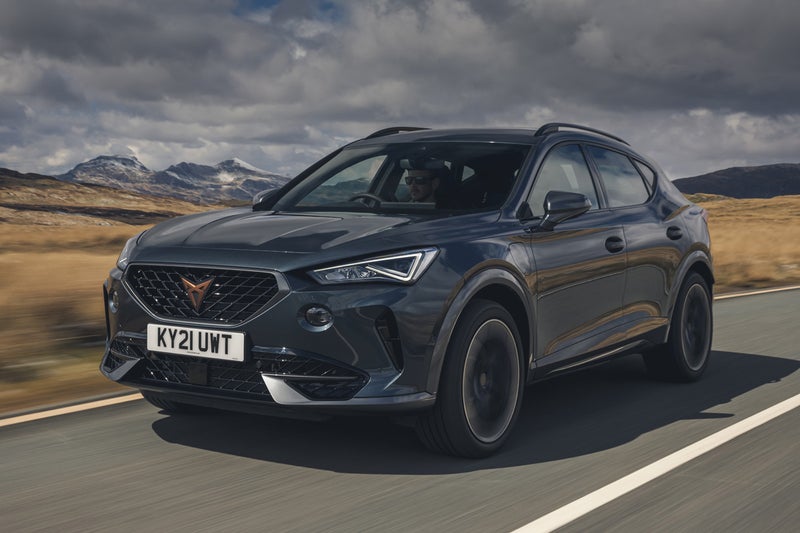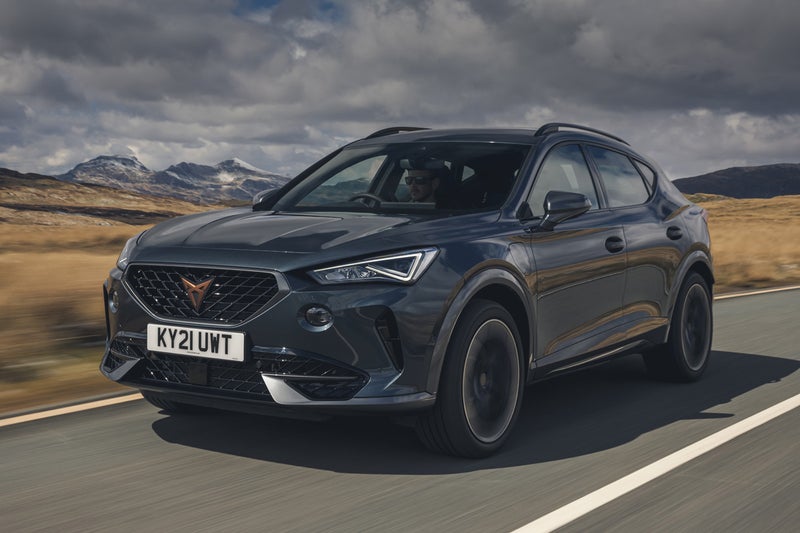 1/10
heycar rating
"Crossover is Cupra going solo"
Launched: 2020

Family hatch

Petrol, PHEV
Quick overview
Pros
Smart looking
Well equipped and spacious
Nice to drive
Cons
Fiddly infotainment
A hot hatch is more fun
High-end models pay premium car tax
Overall verdict
On the inside
Driving
Cost to run
Prices and Specs
Common questions
Overall verdict on the Cupra Formentor
"If the Cupra was a person it would be Beyonce. Bored being held back by the less creative members of the group – Volkswagen, SEAT and Skoda – Cupra has untangled itself from its fellow carmakers to become a standalone brand and the Formentor is its first solo attempt."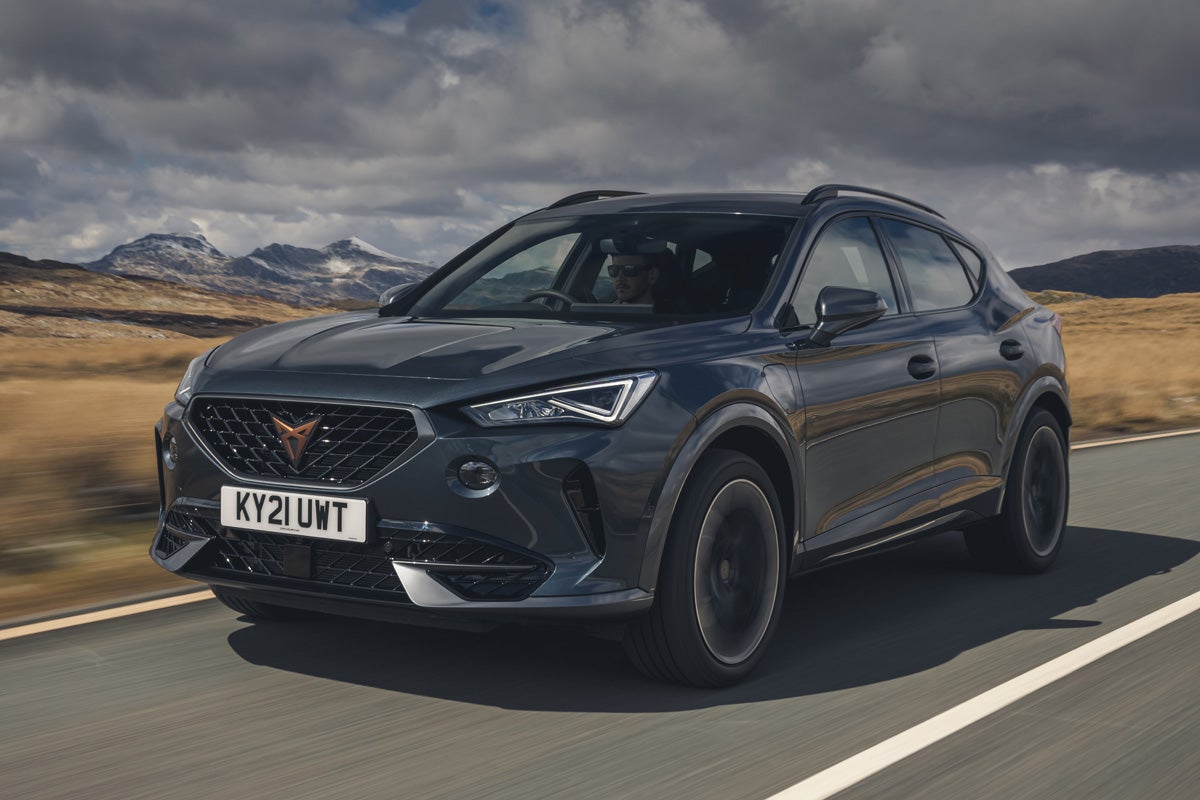 Like every wannabe chart topper, the Formentor is designed to appeal to the masses. It has an evergreen crossover body, big wheels, a tidy body kit and a sporty drive – factors that have made the likes of Audi's S line and BMW's M Sport the most popular versions in their respective lineups.


So it's a car that can appeal to your heart, how does it appeal when your head chimes in with its opinion? Pretty well. Loosening its SEAT shackles has allowed Cupra to be more creative, but it still has the construction and design you'd expect of a VW Group product.


Interior quality is on the whole good and the cabin has space for four people. The back seats fold neatly into the floor if you need to a carry a bike or whatnot and there are loads of smaller storage spaces to help keep the place tidy.


Alright, so the infotainment isn't quite so well thought out. The screens are large and colourful, but the car's too reliant on them – even the temperature, volume and lights are operated via fiddly touchpads.
Apple CarPlay and Android Auto are fitted as standard, however, so if you've got a smartphone, it's worth plugging it in to use those more intuitive systems.


More good news comes in the form of the Cupra's excellent range of engines. The 1.5-litre 150PS petrol is all things to all people, cheap to run but also pretty brisk when you put the hammer down. At the other end of the scale, you'll find the hot 310PS 2.0-litre petrol and below it, two petrol-electric hybrids sandwiched between the two.


Most of the range gets a slick-shifting seven-speed automatic gearbox and front-wheel drive, striking a neutral balance between being comfortable but also well-controlled in corners. The 310PS model adds serious performance and unbreakable traction to the mix, while the hybrids are perfect if you do lots of short journeys interspersed with the occasional longer trip.


So does the Formentor have the potential to be a chart topper? Yes, in fact, it already is – Cupra's contribution to SEAT sales has doubled (up from 10 to 20%) since the Formentor's launch, taking even Cupra by surprise. Going solo's always a risk but Beyonce will be the first to tell you that sometimes it pays off.
Is the Cupra Formentor right for you?
The Cupra Formentor is right for you if you want a relatively compact car that is cool, but has more space inside than a small family hatchback. It's nice to drive and comfortable and has a broad range of engines that'll suit most people's performance needs and budgets.
What's the best Cupra Formentor model/engine to choose?
The entry-level 150PS petrol engine will suit most people. It's not searingly rapid, but it never feels slow and the engine is refined and very economical. You get lots of kit as standard with the Formentor, however we'd take one step up from basic V1 trim to get a V2 model. They look smarter thanks to their 19-inch wheels and feel posher inside due to their Nappa leather interiors. The seats are electrically adjustable and heated, you get a heated steering wheel, park assist and a very handy reversing camera.
What other cars are similar to the Cupra Formentor?
The Cupra Formentor is a stylish and sporty SUV, so you might consider it against models such as the BMW X2 and Audi A3 Sportback. The Cupra isn't quite as sporty to drive as the BMW, but it's cheaper and has more back seat space. It's also more comfortable than the hard-riding German. The Audi, meanwhile, trumps the Cupra for badge appeal and has a posher interior but it's not as nice to drive and is expensive.
Comfort and design: Cupra Formentor interior
"The Cupra Formentor feels sportier inside than your average VW Group product. You get touches like bronze stitching on the dashboard, doors and steering wheel (which has a large Cupra badge that looks like it belongs to something far more exotic)."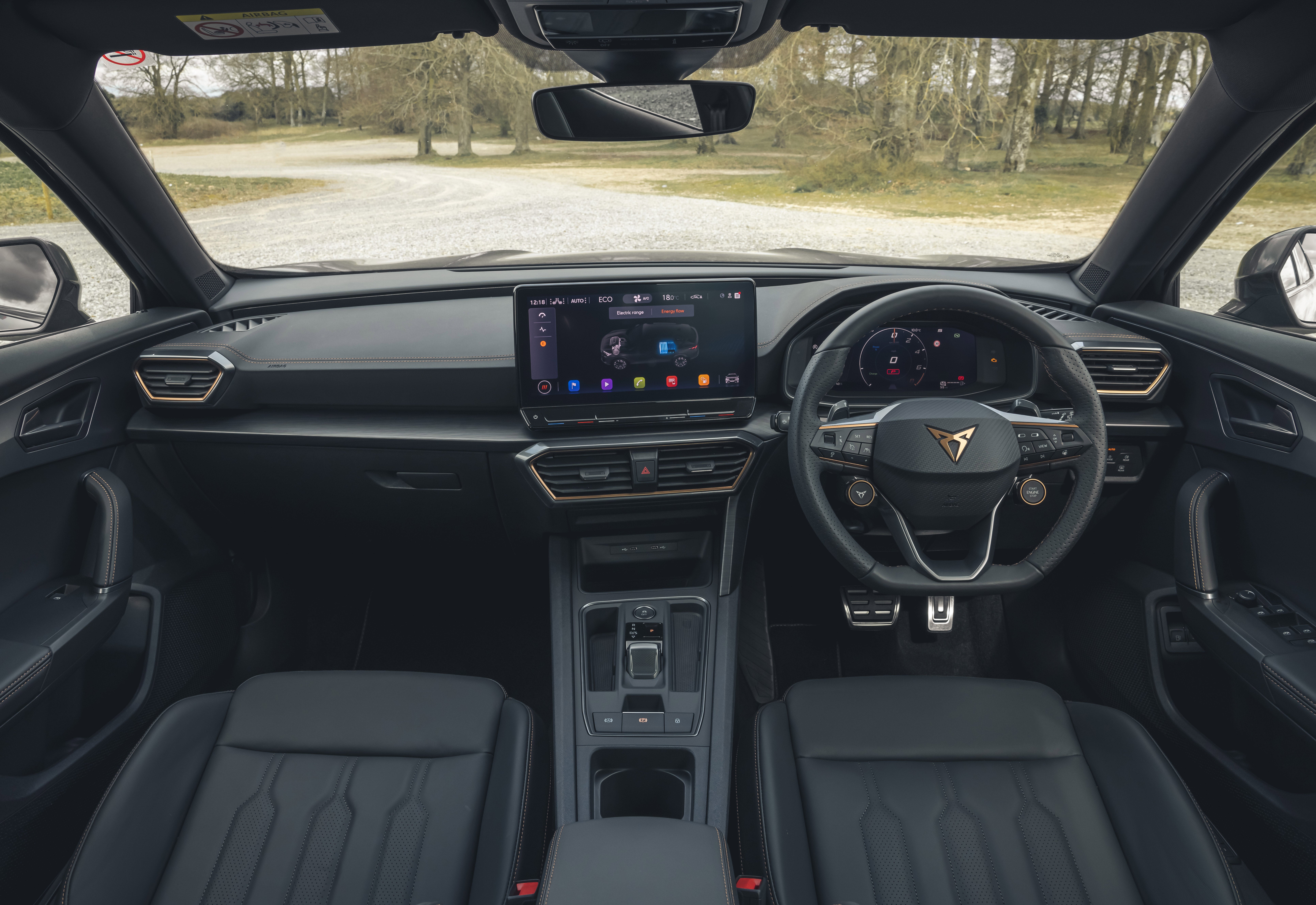 There's also carbon fibre look plastic that's more appealing than it sounds and all cars have coloured ambient interior lighting and LEDs that shine a modern pure white light.
Basic V1 and VZ1 cars get PVC upholstery that looks (but definitely doesn't feel) like leather, while the rest of the range has real Nappa leather upholstery – which is used on the seats as well as the doors and dashboard – and you also get electrically adjustable seats.
Quality and finish
Cupra has attempted to forge its own unique identity on the interior, but this is still very much a VW Group car – so nicely built if somewhat bland. The dashboard and insides of the doors are made of soft-to-the-touch plastics, but the lower centre console feels cheaper and you get harder plastics in the back of the car.
Infotainment: Touchscreen, USB, nav and stereo in the Cupra Formentor
Much has been said about the VW Group's latest family of infotainment screens (a lot of it not positive), so while the 12-inch screen is colourful and clever – it understands smartphone gestures, for example – it can also be infuriating. It looks more modern, but is less intuitive and more fiddly to use than an older car with buttons.
That's not going to change, but you can console yourself that at least Apple CarPlay and Android Auto come as standard, meaning you can use their far more intuitive menus and voice activation systems. Annoyingly, even in this brand new car, it's not possible to transmit your smartphone's maps onto the 12.3-inch screen, which would be the most sensible place for them. You can do that with the car's built-in sat-nav.
Space and practicality: Cupra Fermentor boot space
The Cupra Formentor's sporty ambitions don't get in the way of it being a great family car

The front seats might not have as much lateral support as you expect based on how they look, but they do offer loads of adjustment, including lumbar so all shapes and sizes should get an excellent view out and find a comfortable seating position.
With no gap between the headrest and the main body of the chair, the front seats can make your passenger in the back feel a little claustrophobic by blocking their view of the road, but there's little to complain about in terms of space. Tall adults in the back will have plenty of room even if they're sitting behind someone who is tall and the middle seat is more comfortable than you'll find in most family hatchbacks. Headroom is also plentiful across the rear bench.
Both of the outer seats in the back have Isofix points as does the front passenger seat and the Formentor's raised height should make it easier to slot a seat into place.
Four USB sockets mean there's plenty of space to slot in your chargers and smaller cubby space is excellent. You get a big tray for your phone in front of the gearstick, large door pockets and big glovebox. The door pockets in the back are smaller, but still big enough for a water bottle.
The 450 litre boot is also big when compared to a conventional hatchback – a VW Golf has a 381-litre capacity – but smaller than direct rivals like the BMW X2 (550 litres) and Audi Q3 Sportback (530 litres).
You don't get an adjustable boot floor in the Formentor, but there is somewhere to store the parcel shelf and the the back seats fold flat so you can slide big items into place through the large boot opening. Electric operation of the heavy bootlid is a useful option on some models.
Handling and ride quality: What is the Cupra Formentor like to drive?
"SEAT's reason for existing is to build cars that are a hint sportier than a Volkswagen equivalent and Cupra's models are even further distilled towards performance".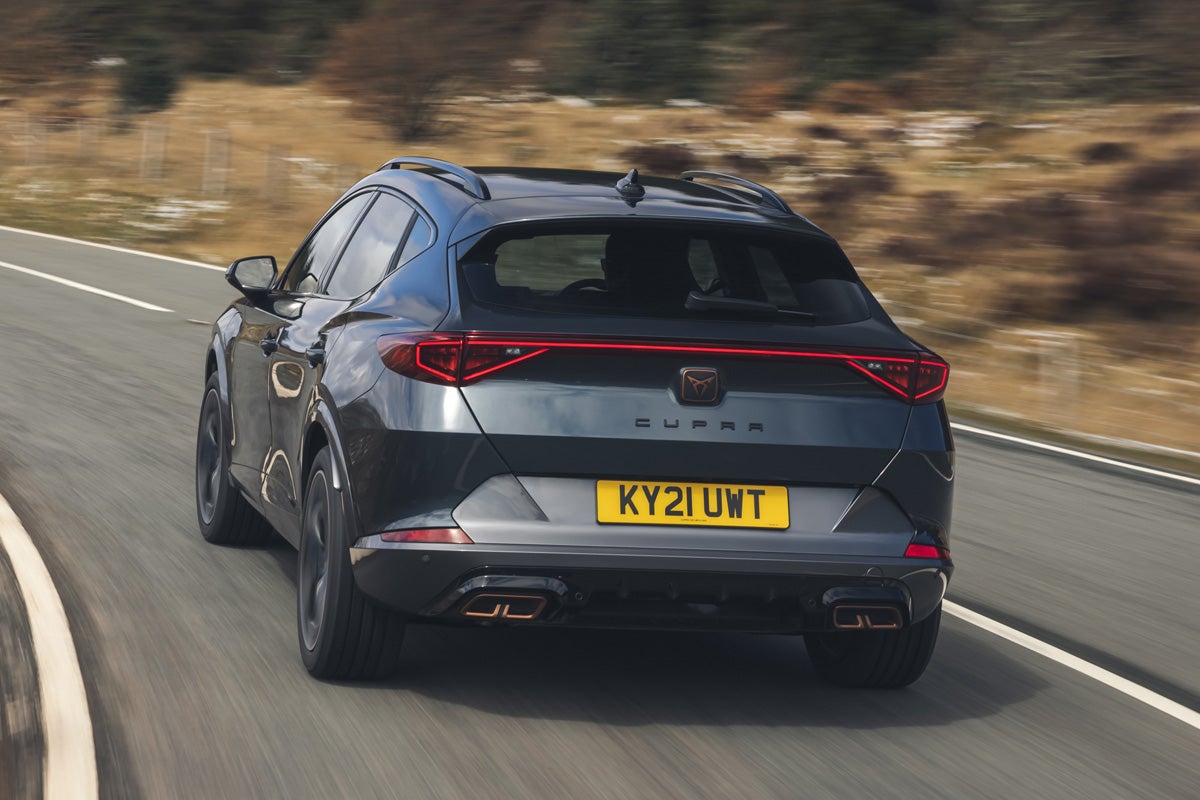 Even if the Formentor's crossover body will never feel as agile as a low-slung hatchback, it can provide comical slides if you let the front tyres load up and take your foot off the gas. Sounds crazy, but it's true. Perhaps this is why turning the stability control off is followed by the message: 'are you sure?'.
With its larger wheels, bigger tyres and four-wheel drive, the 310PS model is in some respects better behaved than the less sporty versions. Its four-wheel drive means wheel spin is nonexistent no matter how much you try and provoke it and it feels nailed down in bends.
Despite being fun, the Fermentor also proves itself to be comfortable – taught, but not overly bouncy over bumps and surface changes. The standard setup serves up a decent halfway house, while VZ models get Dynamic Chassis control so you can set the car to be firm for sharp cornering or softer for added comfort on a long journey.
At a cruise, the Formentor performs well on the motorway. Active cruise control is fitted as standard so the car will follow others from a safe distance and its lane assist does a good job of keeping the car in lane (useful given how distracting the infotainment can be).
The infotainment wins back points because it can find you a parking space and the Formentor is an easy car to drive in town. It's raised suspension give you a decent view out the front – and means ypu can cream over speed humps – and although the back window seems quite far away, even the basic model has rear parking sensors, while every other model gets a camera and park assist as well.
The park assist can slot the Formentor into parallel and perpendicular parking space, steering you in as you operate the accelerator. If you prefer to do your own parking, DSG automatic cars creep – rather than jerking into motion – for less hand-in-mouth moments when you're manoeuvring.
Hybrid models serve up their own driving experience. Their ability to accelerate up to a cruise on electric power makes them very relaxing, however they pay off is slightly heavier steering and handling that tends to push through corners like a skateboard made from lead. You'll only notice this if you're really pushing on though.
What engines and gearboxes are available in the Cupra Formentor?
The Cupra Formentor is available with four, four-cylinder petrol engines: a 150PS 1.5-litre and three 2.0-litre models producing 190, 245 and 310PS.
The least powerful engine gets a six-speed manual, although the seven-speed dual-clutch automatic is optional. It's standard fit on the rest of the petrol range and serves up slick and smooth changes whether you're cruising along or driving more energetically.
Whether you choose the optional auto or not, the 150PS model is a fine entry-level car. Its engine is smooth and quiet and serves up decent performance of 0-62mph in 8.9 seconds whether you choose the auto or stick with the manual. A top speed of up to 127mph means cruising is relaxed, in fact, you'll struggle to pin point engine noise at the legal limit.
The 190 4Drive and 245PS models serve up incremental performance gains - they get from 0-62mph in 7.1 and 6.8 seconds, respectively. The 190PS model has four-wheel drive which gives you plenty of traction in slippery conditions, but both versions have useful overtaking power if you do lots of driving on country roads.
The 310PS model is the quickest car here by some margin. It gets from 0-62mph in 4.9 seconds – less than a second off a Porsche 911's figure – and quicker than the Cupra Leon hot hatch (5.7 seconds).
That said, much of this is down to the four-wheel system that launches it from a standstill like it's been hooked up to carrier's catapult. It could just be the raised driving position, but to us it lacks the Cupra Leon's explosive mid-range fizz – perhaps that's because the Formentor tips the scales at 1644kg compared to the Leon's 1490kg.
Weight's not something the hybrid models will be keen to talk about. They're the lardiest of the lot at 1681kg (204PS model) and 1704kg (245PS), yet they post decent respective figures of 0-62mph in 7.8 and seven seconds dead.
Acceleration can be frustrating in practice, though. Push your foot flat on the throttle and it's as if the car is running through a pilot-style checklist before serving up forward motion: ignite engine? Check. Engage drive? Check. Drop down a few gears? Check. Increase engine revs? Check. An, what seems like a long second later – you're away.
If you can live with this, there's not a lot else to complain about. Unlike PHEVs of old, it's easy to chunter about on electricity without ever engaging the engine, even accelerating from a standstill to 60mph won't produce the slightest whiff of an exhaust fume, making it a relaxing cat to travel in.
Refinement and noise levels
The Cupra Formentor's large wheels (no less than 18-inches in size) drum up quite a lot of road noise, which is amplified by the car's relatively sporty suspension setup. A more comfort-orientated SUV – a Skoda Karoq on 17-inch wheels, say – would be quieter in this respect.
There's not a lot else to complain about, though. Engine noise is well muted in the petrol models (and non existent when the e-Hybirds are running on electricity), there's no wind noise and no squeaks or rattles.
Safety equipment: How safe is the Cupra Formentor?
The Cupra Formentor was given a five-star rating for safety when it was crash tested by Euro NCAP in 2021 so you can expect it to stand up well in an accident.
All models get adaptive cruise control that can accelerate and brake the car for you, along with lane assist that keeps the car on your side of the road using the steering rather than by dabbing the brakes like lesser systems.
To that lot you can add road-sign recognition, which displays signs on the infotainment screen – handy for those tricky 20mph in-town limits – and high-beam assist which dips your full-beams when another car is detected.
VZ2 models and above get the Driving Pack XL. It adds a blind spot warning system that detects cars in your blind spot, lane change assist – if it is safe to do so, the car pulls out automatically when you indicate to overtake – and emergency assist, which means the car can steer around collisions in an emergency. You also get exit assist, which will warn you if you try to open your door in the path of a cyclist.
MPG and fuel costs: What does a Cupra Formentor cost to run?
"The Cupra Formentor's decent range of engines means you can choose one – weighing full economy against performance – that won't suck your wallet dry of its contents. The basic petrol's moderate thirst means most people won't miss the lack of a diesel option."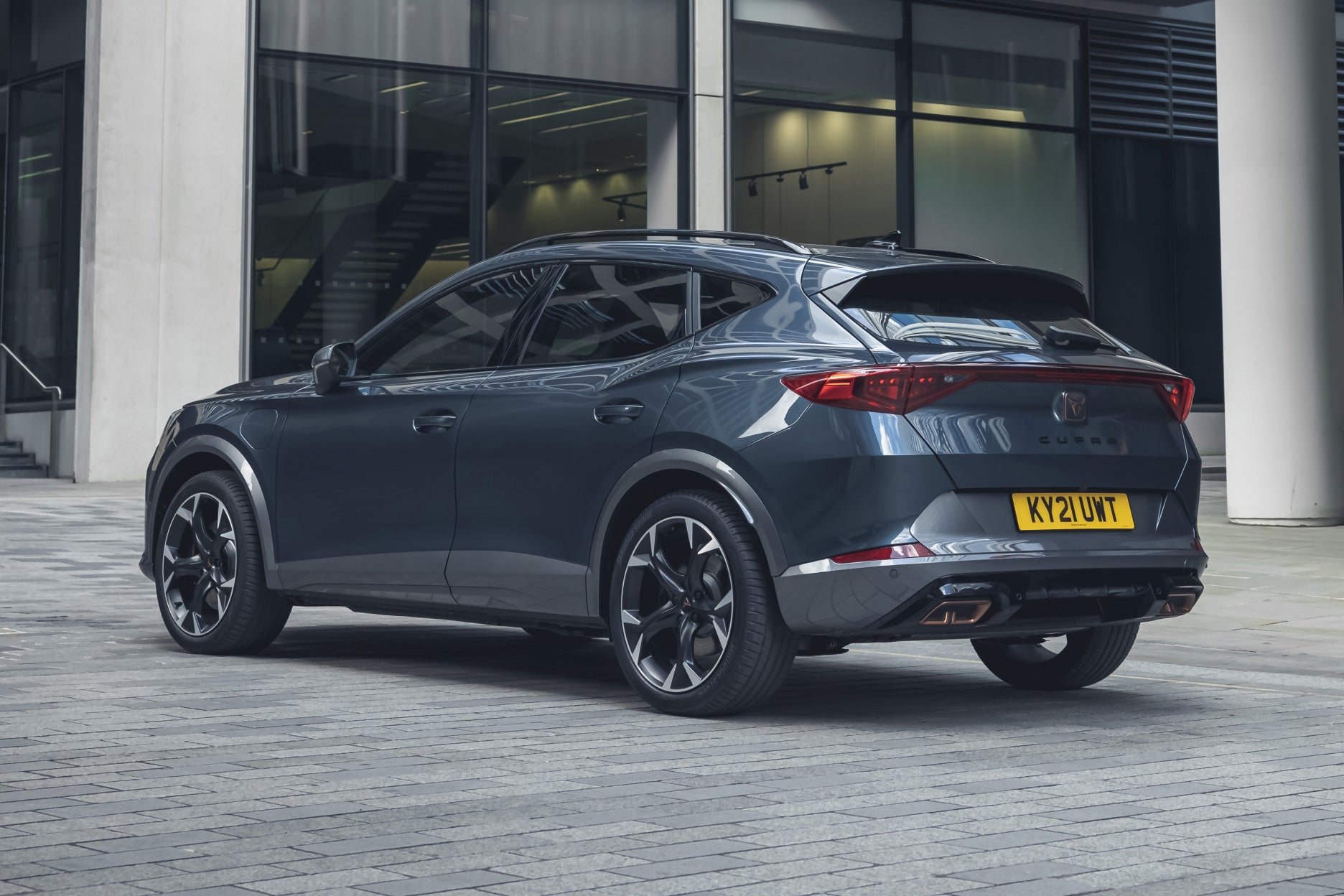 The 150PS automatic model we spent the most time in serves up reasonable performance yet it'll return fuel economy of 42mpg officially – we got 38mpg while paying no attention to driving frugally. Even a pacy run couldn't get that figure to drop below 35mpg.
Armed with this knowledge, it's safe to assume the rest of the range will be capable of returning its official figures in the real world driving, which is the whole point of the WLTP testing regime.
As a result, the manual 150PS will be a tad more economical than the auto – it'll return up to 44mpg. Want a significant jump in power and the reassurance of four-wheel drive? You'll want the 190PS 4Drive or 245PS model they see fuel economy drop to a perfectly respectable 37.7 or 36.7mpg, respectively.
Fancy a more significant hike in power? Then try the blistering 310PS version on for size, its fuel economy drops to 33mpg – not great, but not that bad either when you consider the performance on offer.
That leaves the 204 and 245PS e-Hybrids, which we'll call the have-your-cake-and-eat-it models. They're quick but because they can run on electricity alone for up to 34 miles, post figures of up to 235mpg. That's a misleading figure in some respects. Perhaps a better way to look at it is that if you have a short commute and somewhere to charge the car, you'll be able to get to work and back without ever burning expensive petrol.
Insurance groups and costs
Cupra Formentor insurance groups range from Group 19 (150PS V1) to Group 33 for any model fitted with the 310PS engine.
VED car tax: What is the annual road tax on a Cupra Formentor?
Year one road tax for petrol Cupra Formentor models ranges from £220 for the 150PS 1.5-litre model to £1345 for the 310PS 2.0-litre. The 245PS petrol-electric hybrid scores a big win here, their 33g/km CO2 emissions mean they cost just £10 to tax in the first year. Every year after that, the petrol models pay £155 and the hybrid costs £145.
Buy a VZ3 or VZ2 model – they only come in 310PS petrol or 245PS petrol-electric hybrid form – and you'll raise your head above the £40,000 premium car parapet, meaning you'll be liable to pay a further £335 a year for the first five years.
How much should you be paying for a Cupra Formentor?
"The Cupra Formentor hit showrooms in the spring of 2021 with new prices ranging from £27,400 for a 150PS V1 model to £42,240 for a 310PS VZ3 car. The Formentor's popularity means there are already plenty of models available on the used market."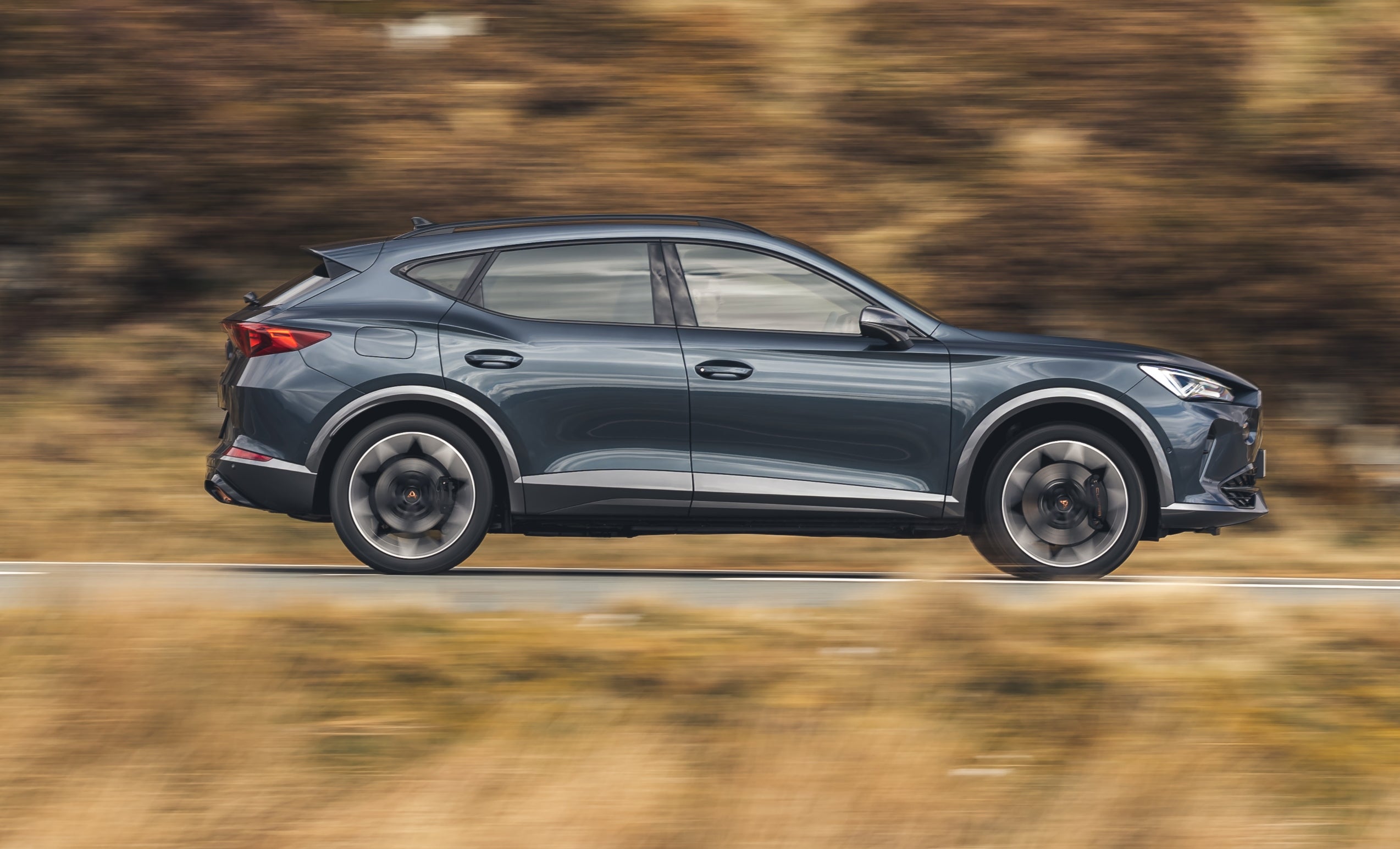 Unfortunately, it also means there aren't huge savings to be made, with 150PS V1 models with less than 5000 miles on the clock going for just £2000 under list price. You'll save less than £1000 on a pre-registered 310PS VZ3 car.
Stronger savings can be made on the 245PS petrol-electric hybrid – we saw a brand-new VZ2 up for £38,995 – a £1265 saving on list.
Trim levels and standard equipment
The Cupra Formentor is available in five trim levels – V1, V2, VZ1, VZ2 and VZ3.
In isolation, it would be easy confuse the basic V1 as a top-of-the-range model. It looks great – thanks to its body kit, roof bars, 18-inch alloy wheels and all-round LED lights.
There's plenty of kit to talk about, too. You get auto headlights, auto wipers, rear parking sensors, tri-zone climate control and keyless entry. Infotainment is also comprehensive with the car getting a digital instrument binnacle and a large 12-inch screen that has connected navigation as well as Apple CarPlay and Android Auto.
That all being said, V2 models are noticeably nicer. On the outside they get prettier 19-inch alloy wheels, whilst inside you'll find a real Nappa leather interior. The seats are also electrically adjustable (with a memory function) and, like the steering wheel, they're heated. V2s are also easier to park, adding front sensors and a rearview camera to the mix.
VZ1 models are sportier. Using V1 as a base, they add 19-inch wheels and a diffuser-look rear bumper, plus you get Dynamic Chassis Control, so you can adjust the suspension to be comfy or firmer for more control. Inside, you get manually adjustable bucket seats and a boot that opens when you waggle your foot under the bumper. Safety kit is boosted with auto-dipping headlights, traffic-sign recognition and a system that can warn you not to open your door into the path of other cyclists.
VZ2 adds to VZ1 with a Nappa leather interior, adds electrically adjustable seats that are heated and you get a heated steering wheel. VZ3, meanwhile, is reserved for the 310PS model, adding 19-inch wheels with copper highlights and uprated Brembo brakes.
Ask the heycar experts:
common questions
Who makes Cupra Formentor?
The Cupra Formentor is the first standalone model from Cupra – SEAT's offshoot sporty brand which takes its name from Cup-Racing. The Cupra range includes the Cupra Leon and Cupra Leon ST and will soon be joined by the Born EV.

What kind of car is a Cupra Formentor?
With its raised body and sporty shape, you could call the Cupra Formentor a coupe crossover. However you classify the Cupra, it makes an ideal family car with loads of interior space for its size.

Is the Cupra Formentor a hybrid?
The Cupra Formentor is available as a hybrid model called the e-Hybrid. It uses a combination of a petrol engine, batteries and an electric motor to get it from 0-62mph in as little as seven seconds and onto a top speed of 130mph. It has a pure electric range of up to 34 miles.

Cupra Formentor cars for sale on heycar
181
Number of cars available
£26K - £46K
Price bracket of these cars
Colours available on heycar
Keep me updated by email with the latest advice, news and offers from heycar
By submitting, you agree to our
privacy policy
.
Popular models
Similar models